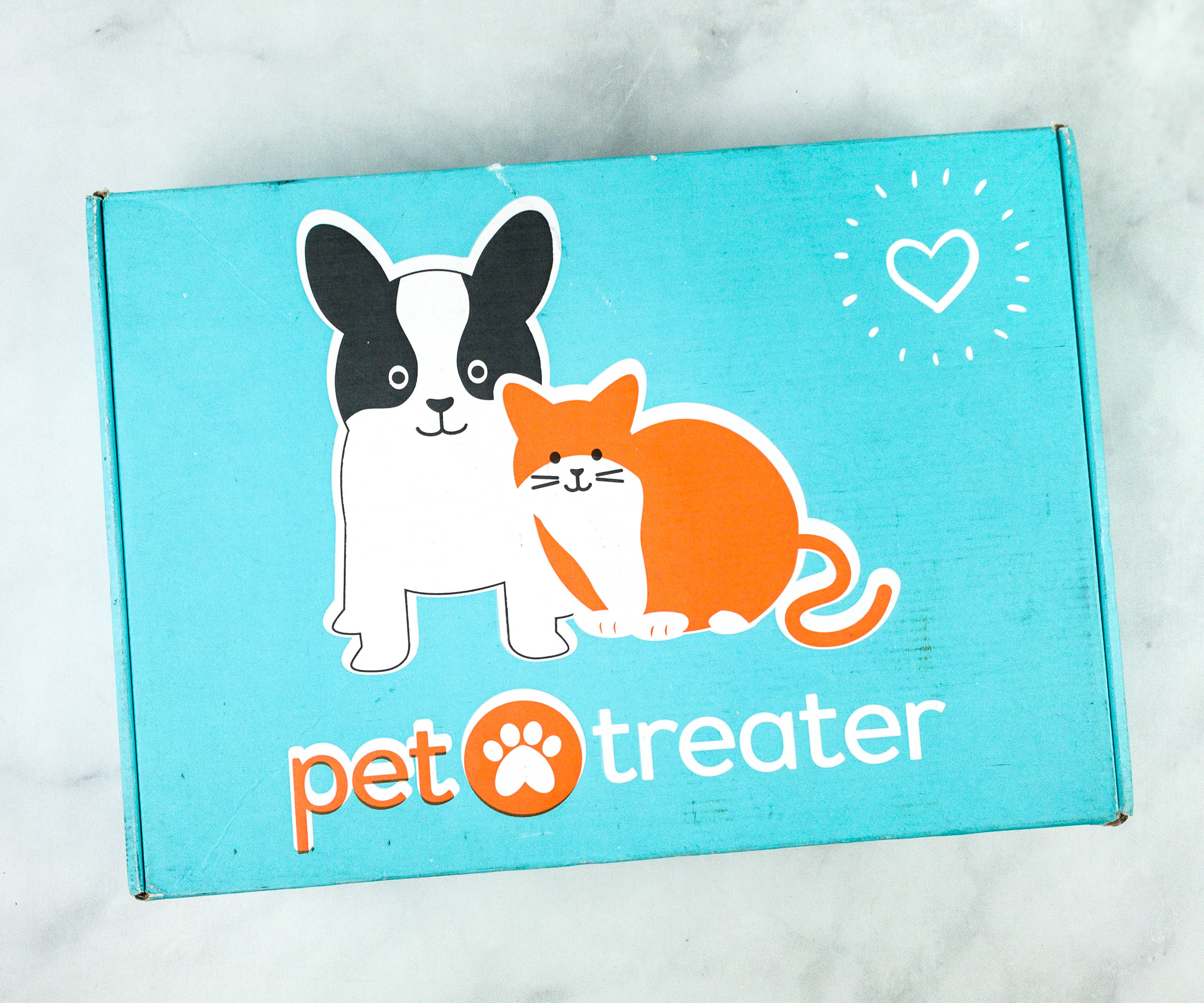 Pet Treater Deluxe Dog Pack is a monthly dog subscription. For $25 a month, each pack is filled with 5-8 hand-selected items which may include fun toys, mostly USA & Canada made treats, and extra goodies! Small, medium, and large dog options are available. They also offer a smaller version for $15 called Pet Treater Dog Pack.
DEAL: Get 10% off your first month with coupon code DOGPACK10.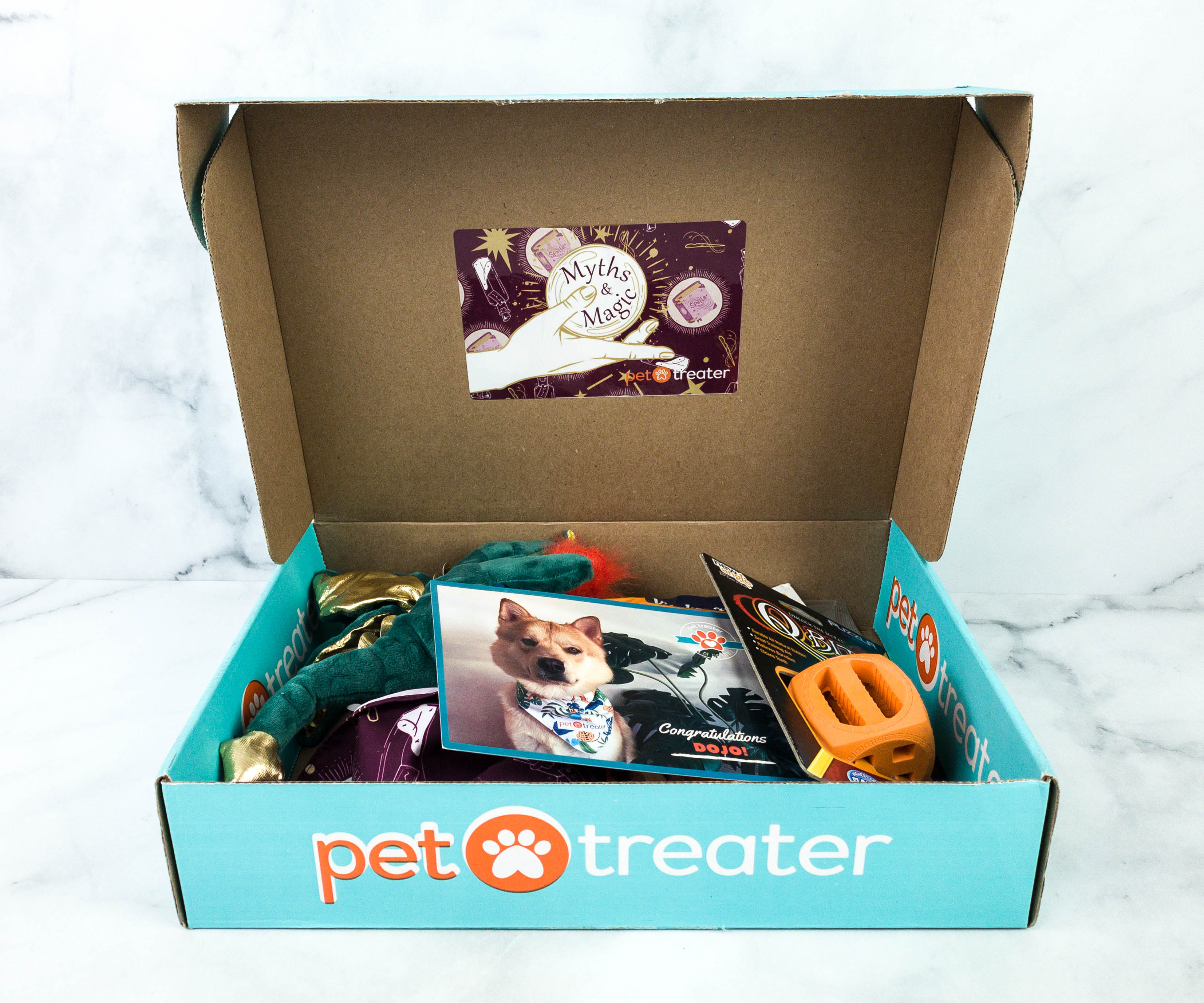 The items came in a sturdy, blue box.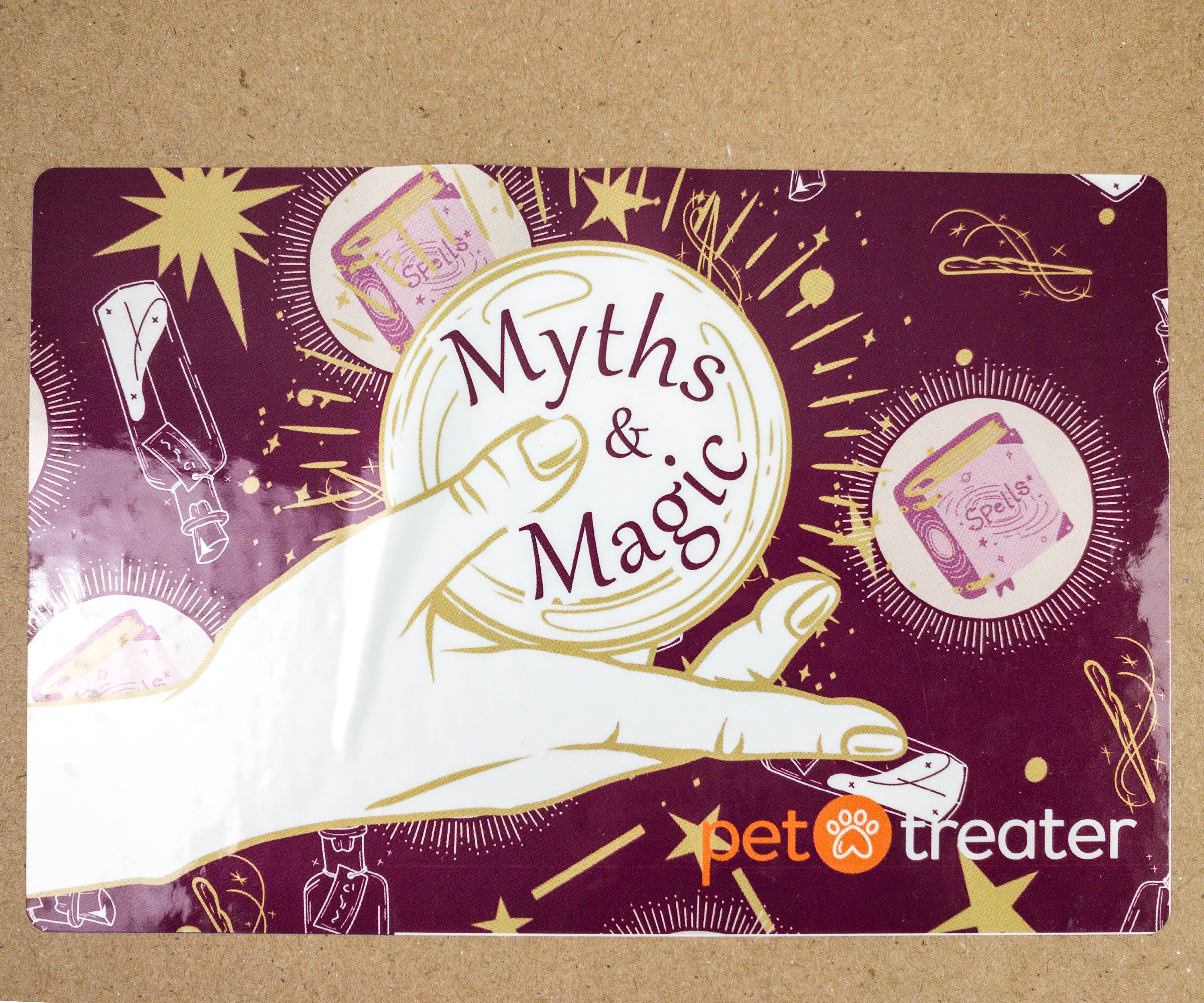 The box's flap comes with a sticker featuring the box's theme. This month's theme is Myths & Magic!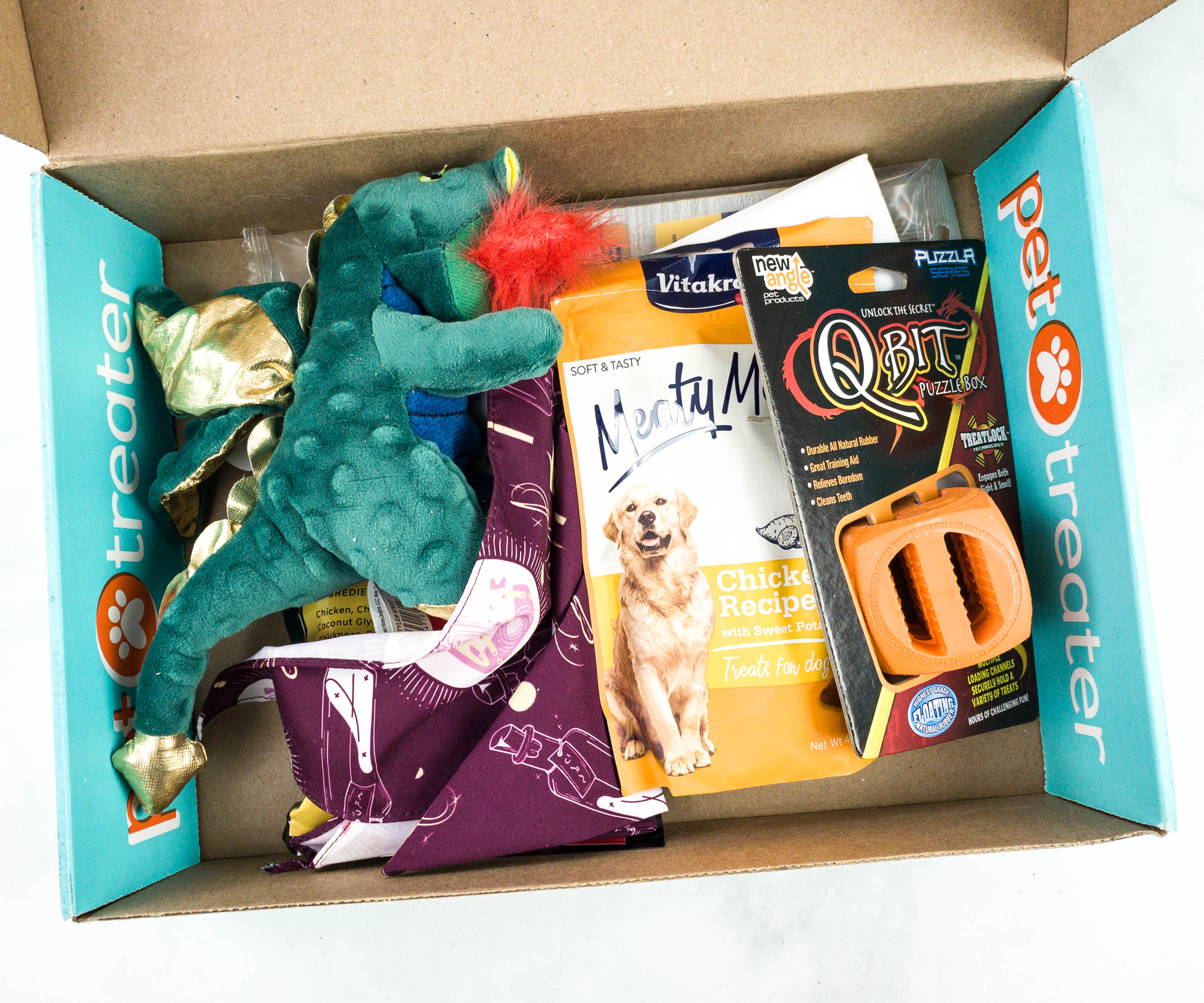 There are no fillers or extra packaging yet all the items arrived in great condition.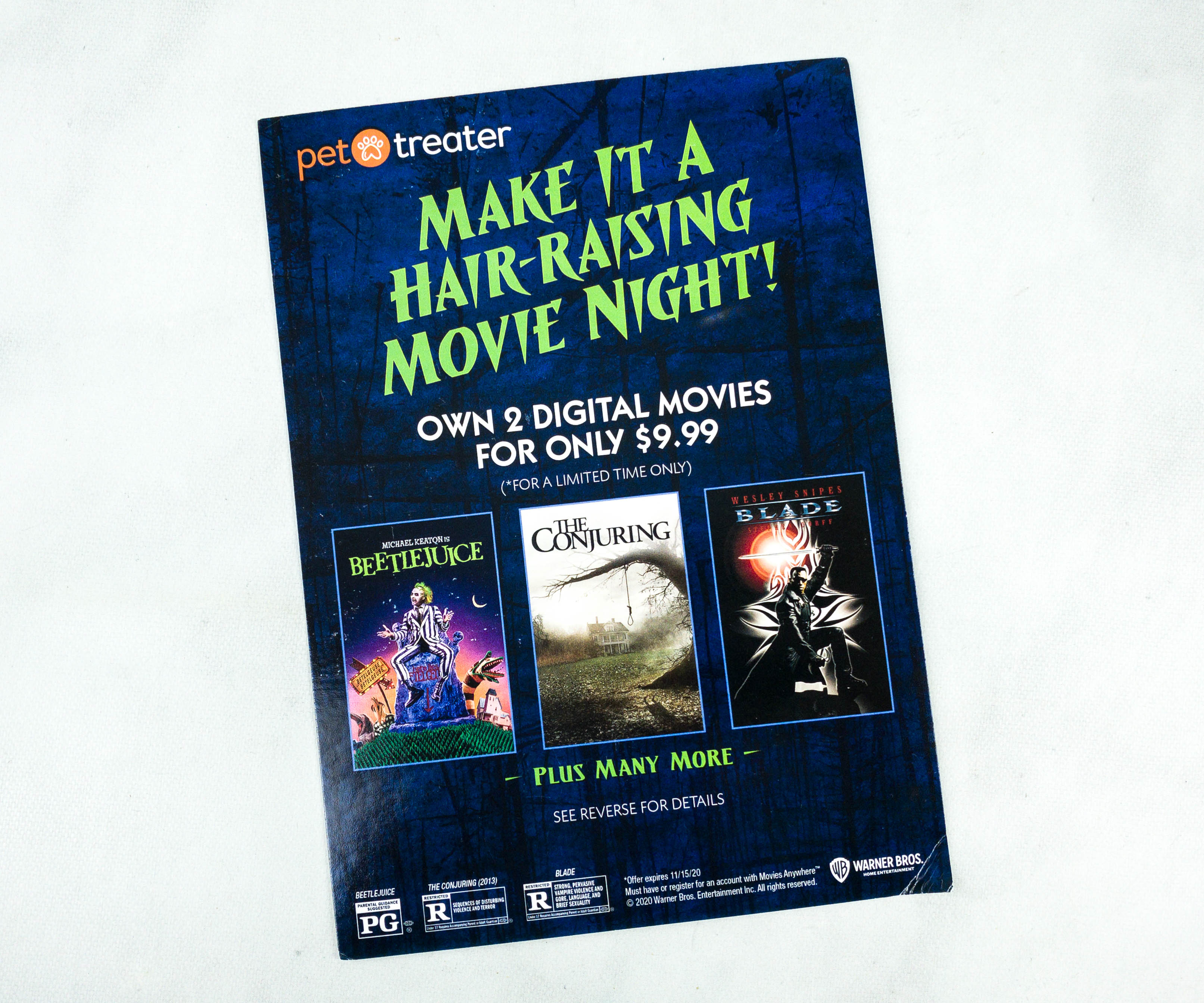 Included in the pack is a promotional card from Pet Treater. It tells us that we can own 2 digital Halloween movies for $9.99.
Everything in our October 2020 Deluxe Box!
Bandana. This month's box includes a beautiful bandana made from premium-quality fabric!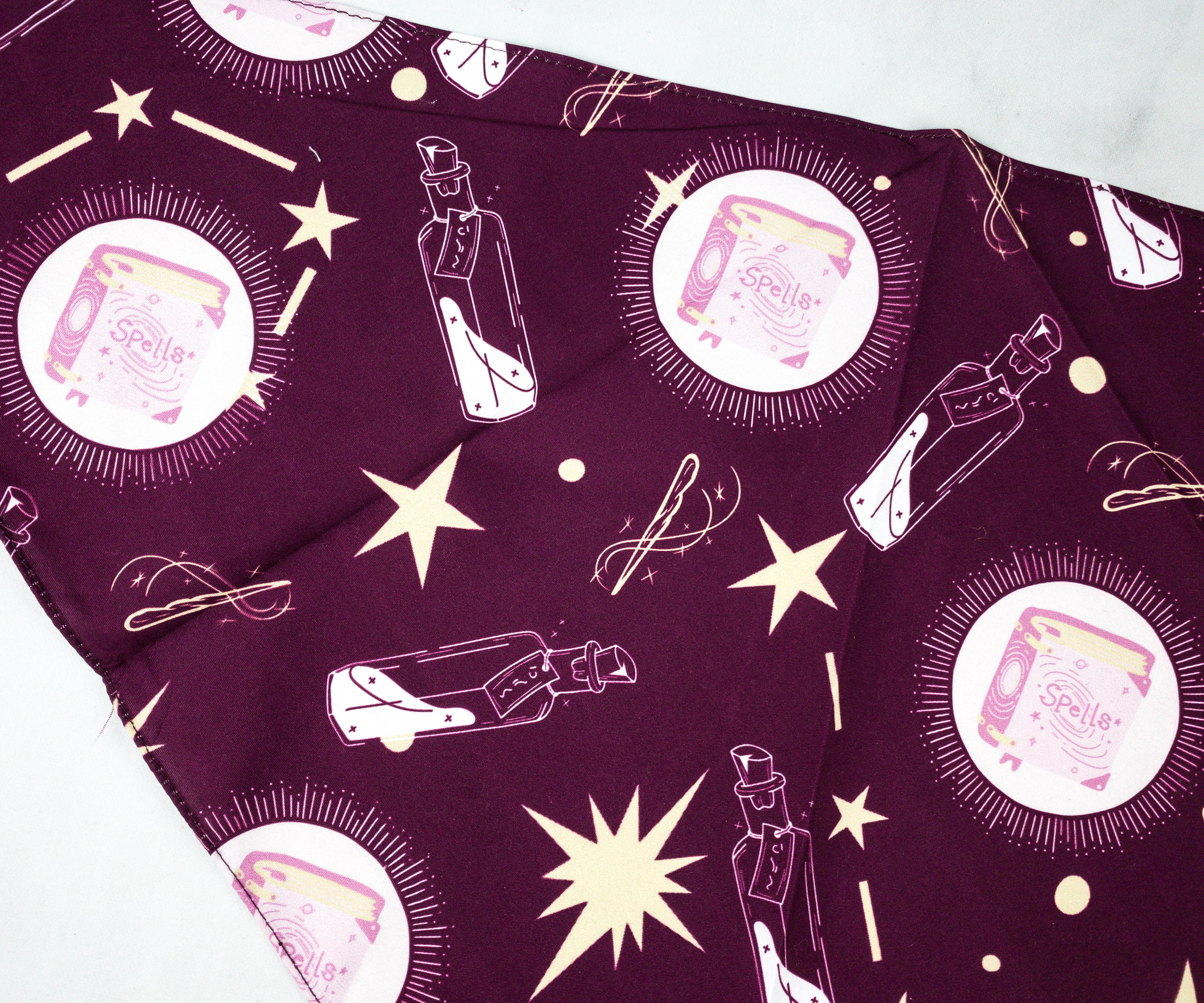 It's a purple-colored bandana that features magical tools which include spell books, magic powder, magic wands, and more!
Also printed on the bottom part of the bandana is Pet Treater's logo!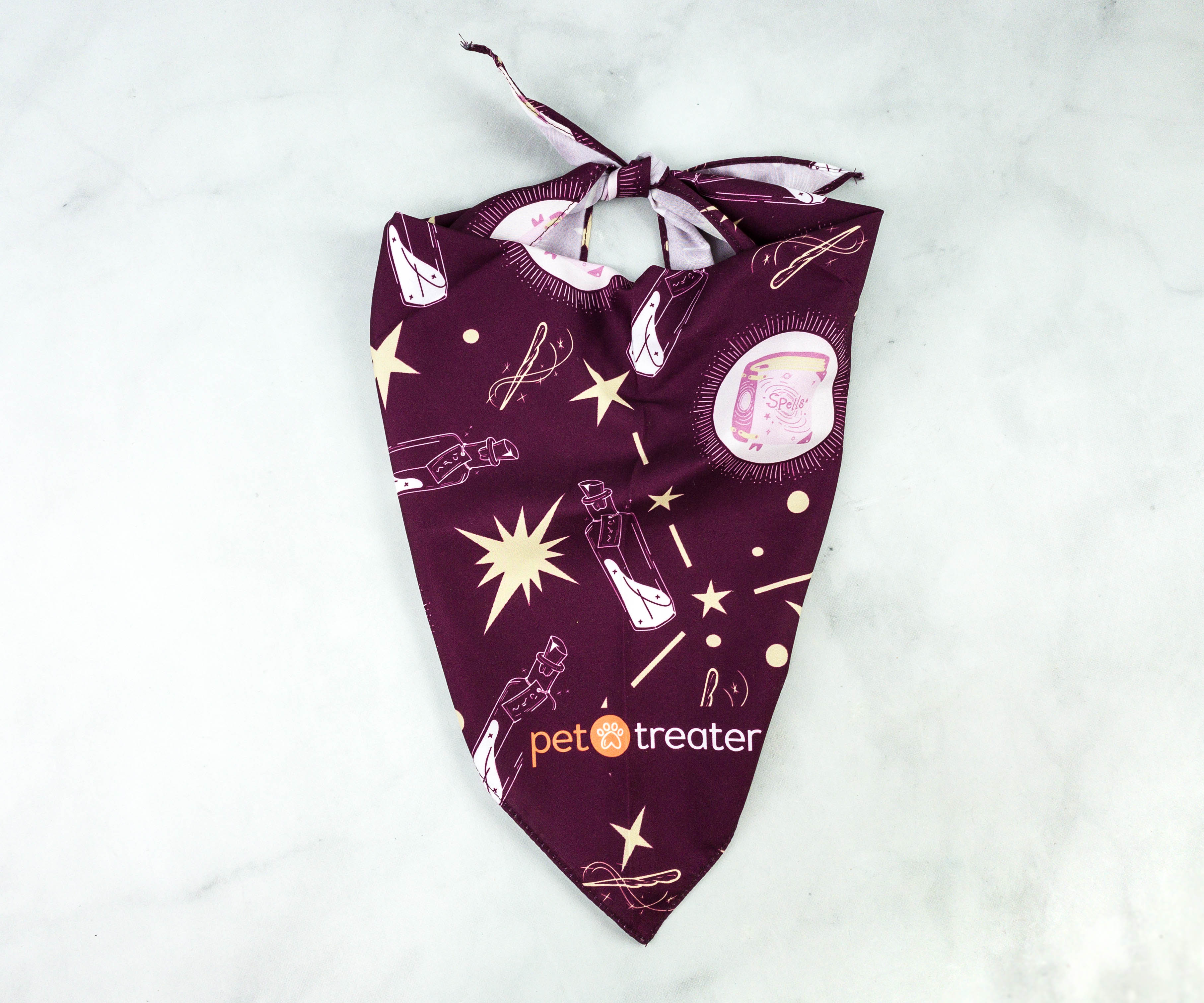 This bandana is soft and lightweight, making it easy to tie and adjust around my pup's neck!
Yogurt Iced Honey Oat Dog Biscuit. This gourmet canine cookie features a blend of wheat flour, oats, canola oil, and honey topped with delicious icing made with sugar, whey powder, and whole milk solids.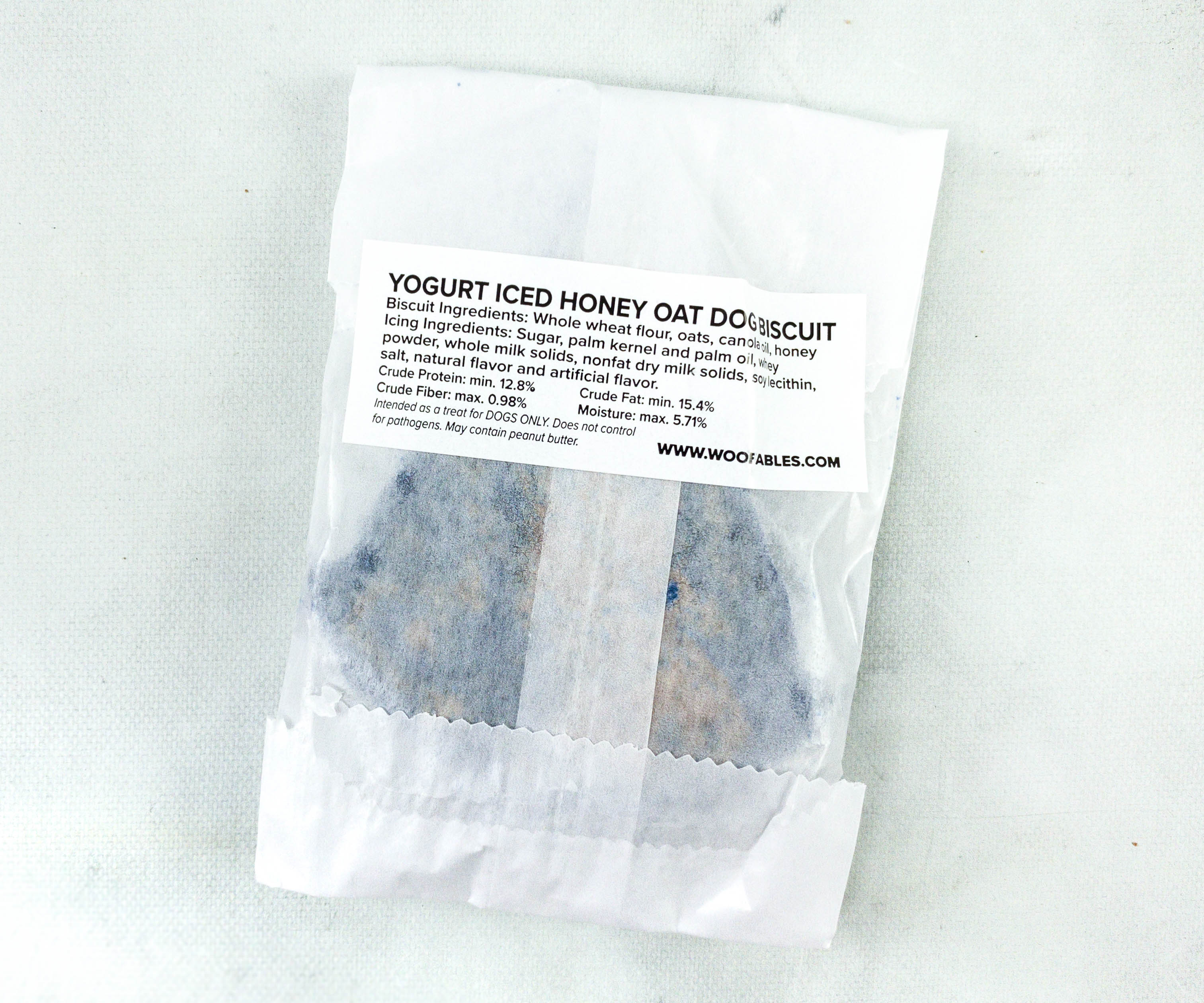 It's a nutritious cookie treat packed with protein, fiber, moisture, and healthy fats!
The biscuit looks like a wizard hat!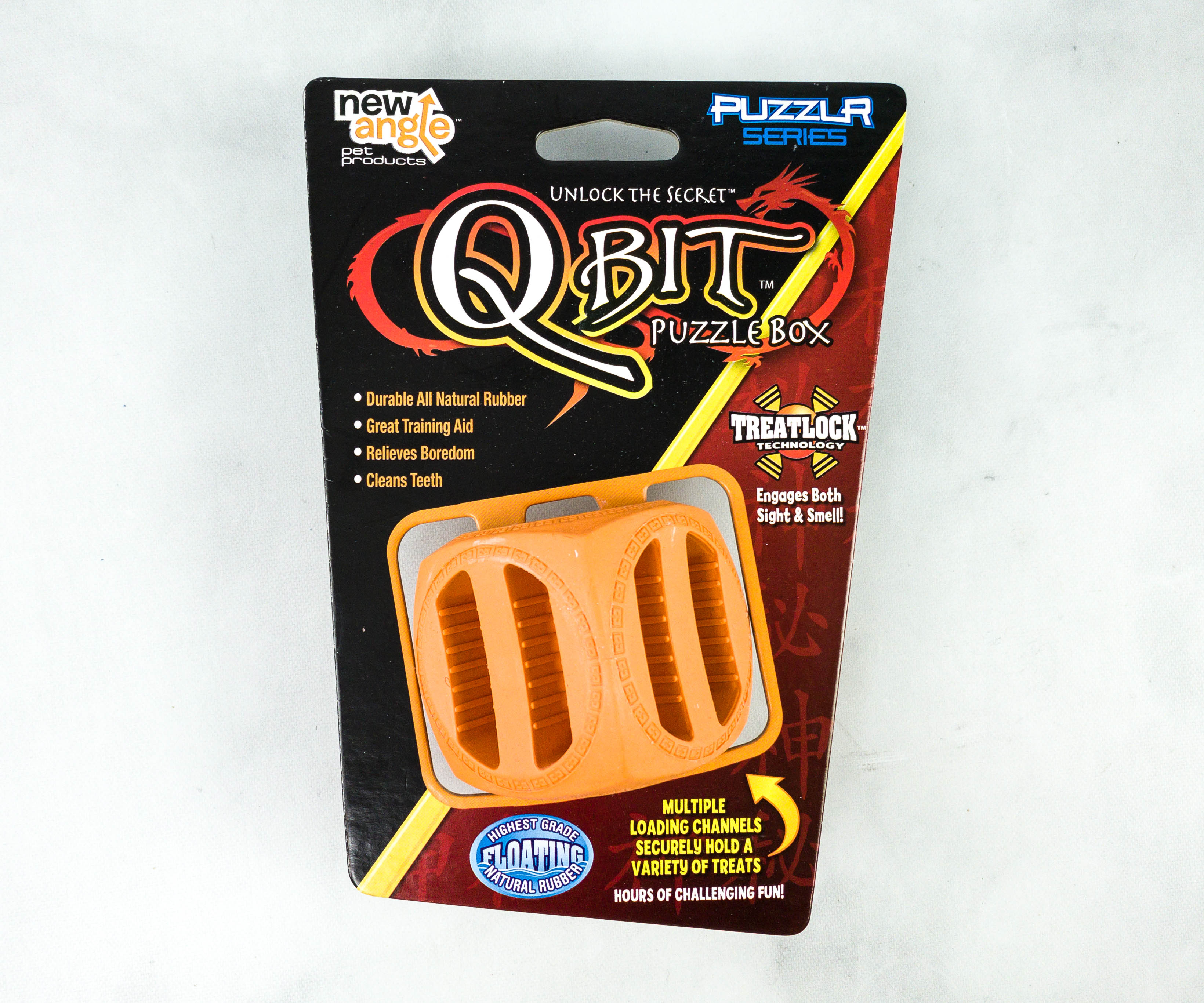 New Angle Pet Products Q-Bit Puzzle Box ($10.75) This is a toy and treat holder in one! It's cube-shaped and made from a high-grade and durable all-natural rubber material.
This was designed to make treat time more fun and help relieve the boredom of dogs!
Each side features different loading channels where you can put treats in different shapes and sizes. These slots also help clean a dog's teeth!
Bow Wow Pet Drool & Dragons Dog Toy. This box wouldn't be complete without a plush toy for dogs. This month, it's a fire-breathing dragon!
It's a well-designed plush toy made from soft, fuzzy fabric with reinforced stitching for durability.
This cute, squishy dragon also features a pair of golden wings, a spiny tail, and furry "fire" on its mouth!
Vitakraft Treaties Smoked Chicken Recipe Dog Treat ($4.24) It's a delectable chewy stick made from 90% chicken, making it healthy for dogs and rich in protein.
This treat doesn't contain artificial colors, flavors, or even preservatives. Other ingredients include tapioca starch, vegetable glycerin, and natural smoke flavor.
This nutritious dog snack can be served as is, or broken down into smaller pieces for smaller dogs!
Vitakraft Meaty Morsels Chicken Recipe with Sweet Potatoes Dog Treats. This month, we received 2 bags of healthy and delicious treats for dogs! This one is made from real chicken blended with sweet potato and pork and chicken liver.
These treats don't contain added sugar, artificial colors, and flavors either.
Here are the soft, bite-sized treats packed with protein which is essential to keep a dog strong and active! My senior dog Lindy is wild over these!
Lucky Nuggets Chicken with Chickpeas & Turmeric Dog Treats. The second bag of treats is also a chicken-based dog snack! Aside from real chicken, it contains chickpeas, pea flour, turmeric, molasses, and sunflower oil together with sorbic, lactic, and citric acids.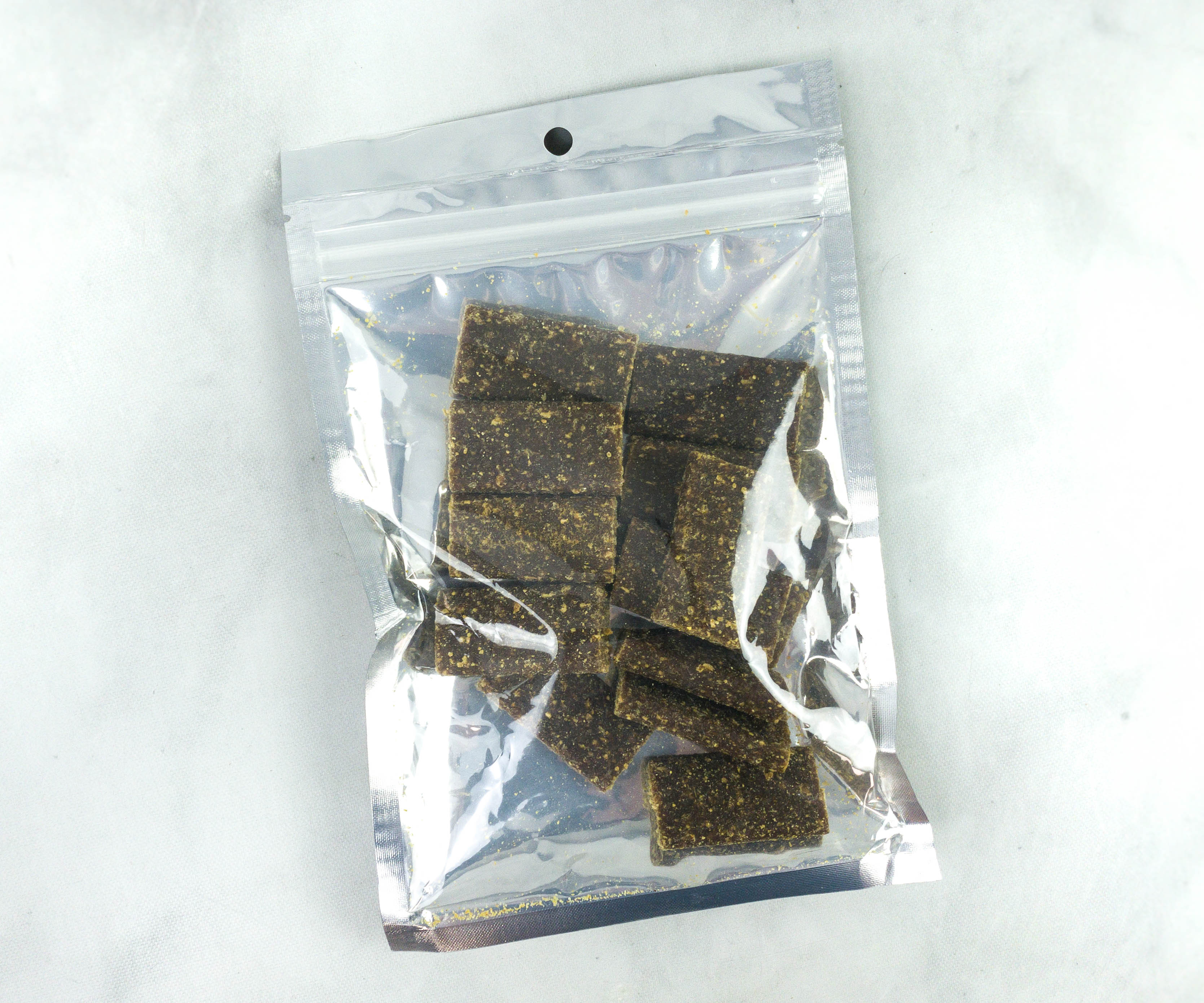 They are packed in a resealable pouch. One side is clear, so you can easily see how many treats are left.
Each piece is chewy! This makes a great snack for dogs and even a training treat!
Dean looks really cool with his magical bandana, and he loves his new dragon plush toy!
Pet Treater boxes always have cute themes and great items for dogs! This month, the box has a magical theme as it included a dragon plushie and a bandana featuring mystical objects on its print. Of course, there are also delicious treats, including bite-sized snacks, a gourmet cookie, and a snack stick. Dean loves all of them. Another thing I love about this subscription is that the treats they send are made with healthy ingredients so I don't have to feel guilty about feeding them to my dogs! Of course, let's not forget the treat holder because that's a pretty awesome inclusion as well, and it even helps relieve a dog's boredom. It's a fun-filled box overall!
What do you think of this dog subscription?