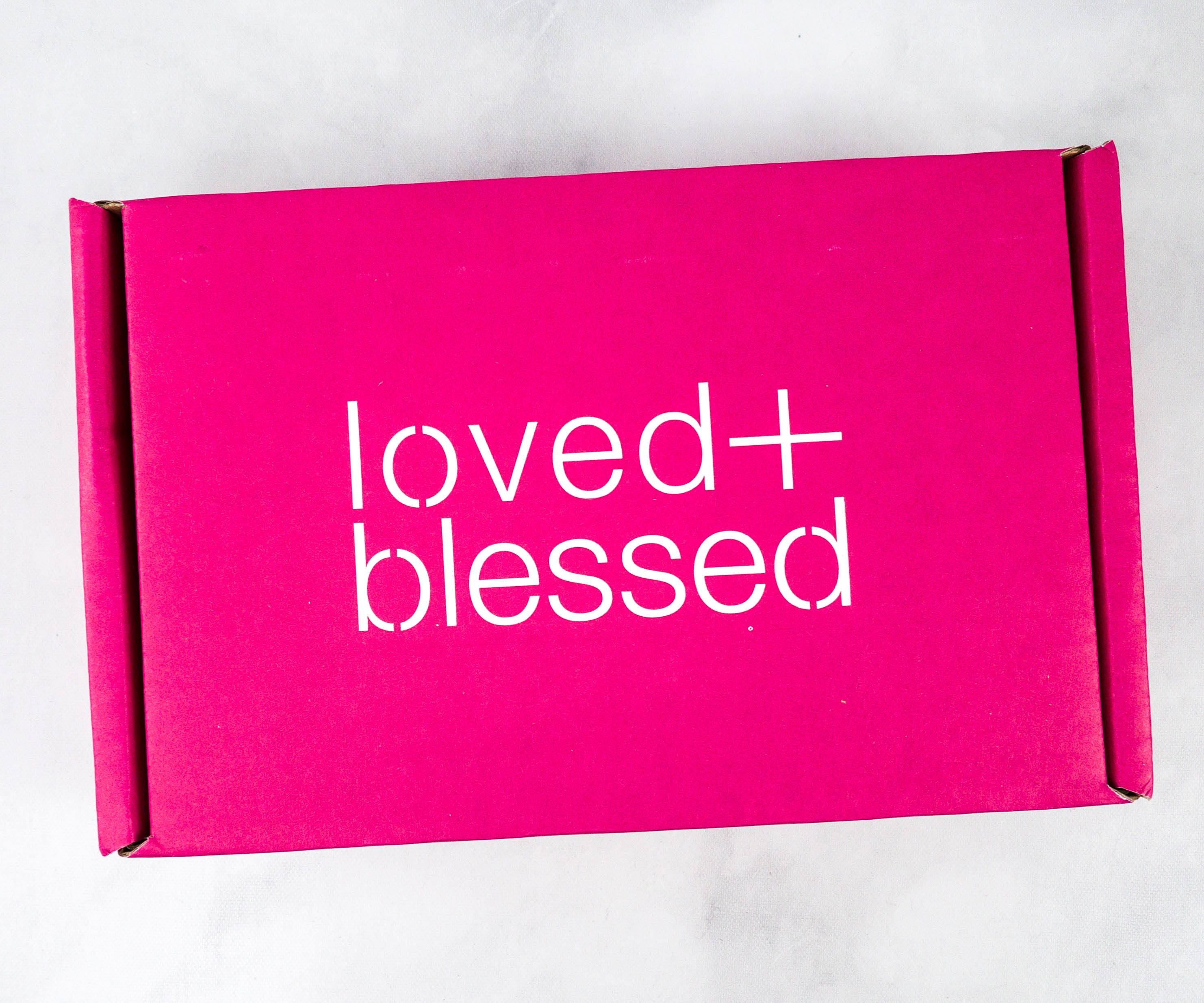 Loved + Blessed is a monthly membership and Christian subscription care package for women who want to live life encouraged. Aside from the box of encouragement, subscribers will also receive access to a blog article, a 4-week life appreciation workbook, 4 video lessons, an online fellowship in their private community, and access to their library of past videos and workbooks. A month-to-month subscription costs $25 and you can also opt to get a 3-month prepaid subscription for $60, which means you'll save $15!
DEAL: Get $5 off your first box! Use coupon code HELLO5. Cannot be combined with other offers.
I love the color of the box! There was a slight dent on one part of the box but other than that, it arrived in excellent condition.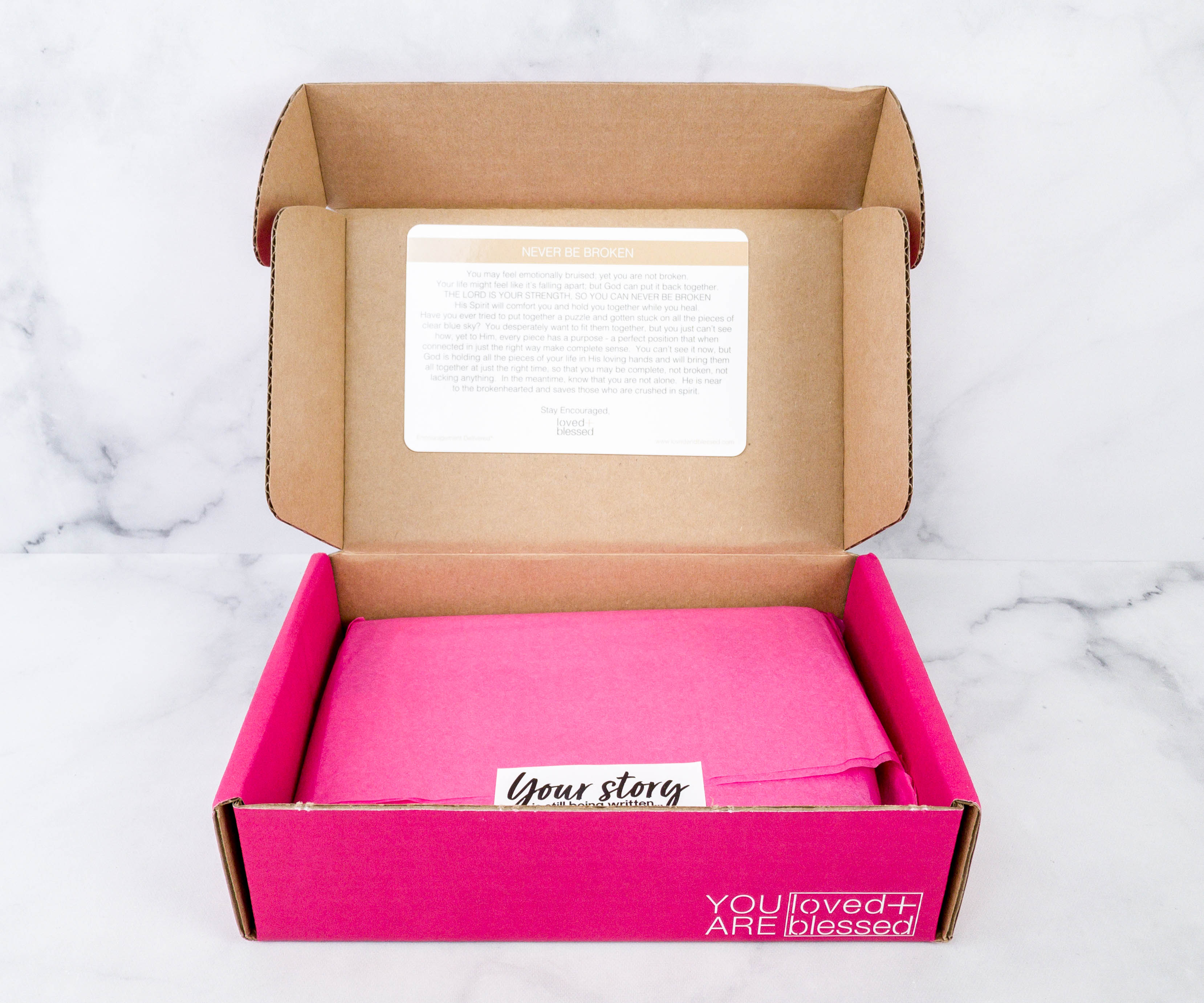 The items were packed with bright pink wrapping paper.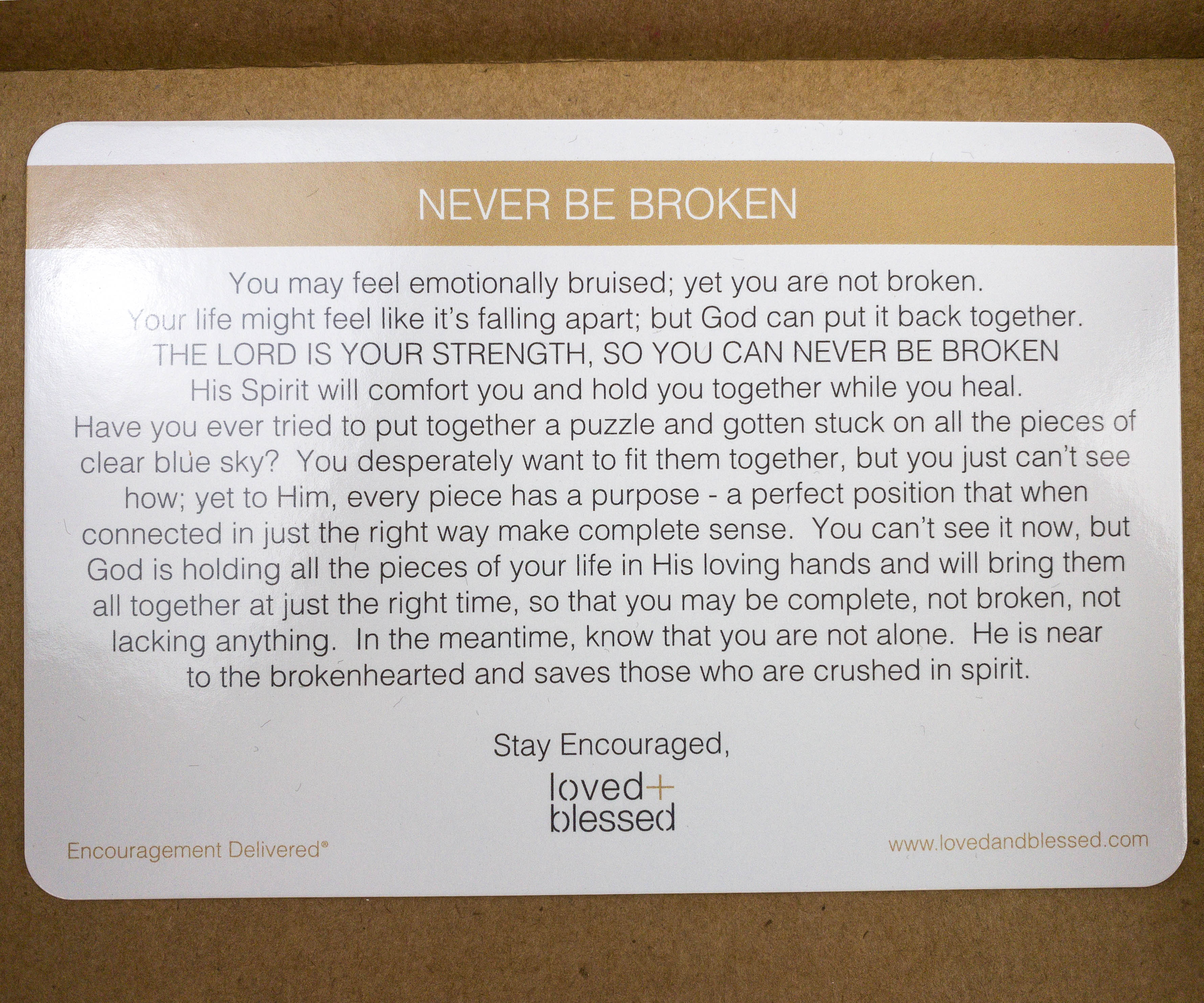 This month's theme is NEVER BE BROKEN.
There's a sticker that seals the wrapping paper. It says "Your story is still being written…"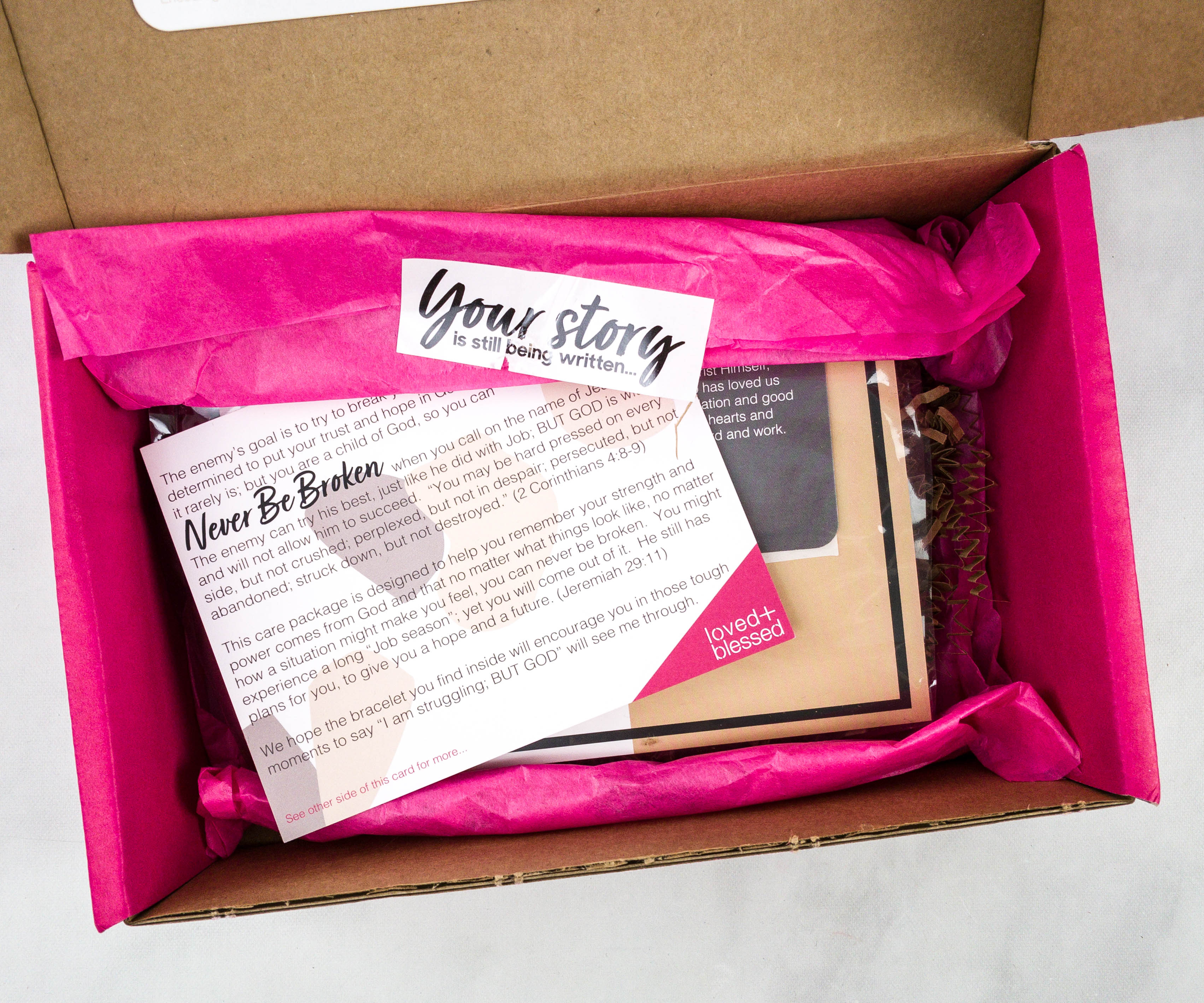 The items were also cushioned with brown squiggles.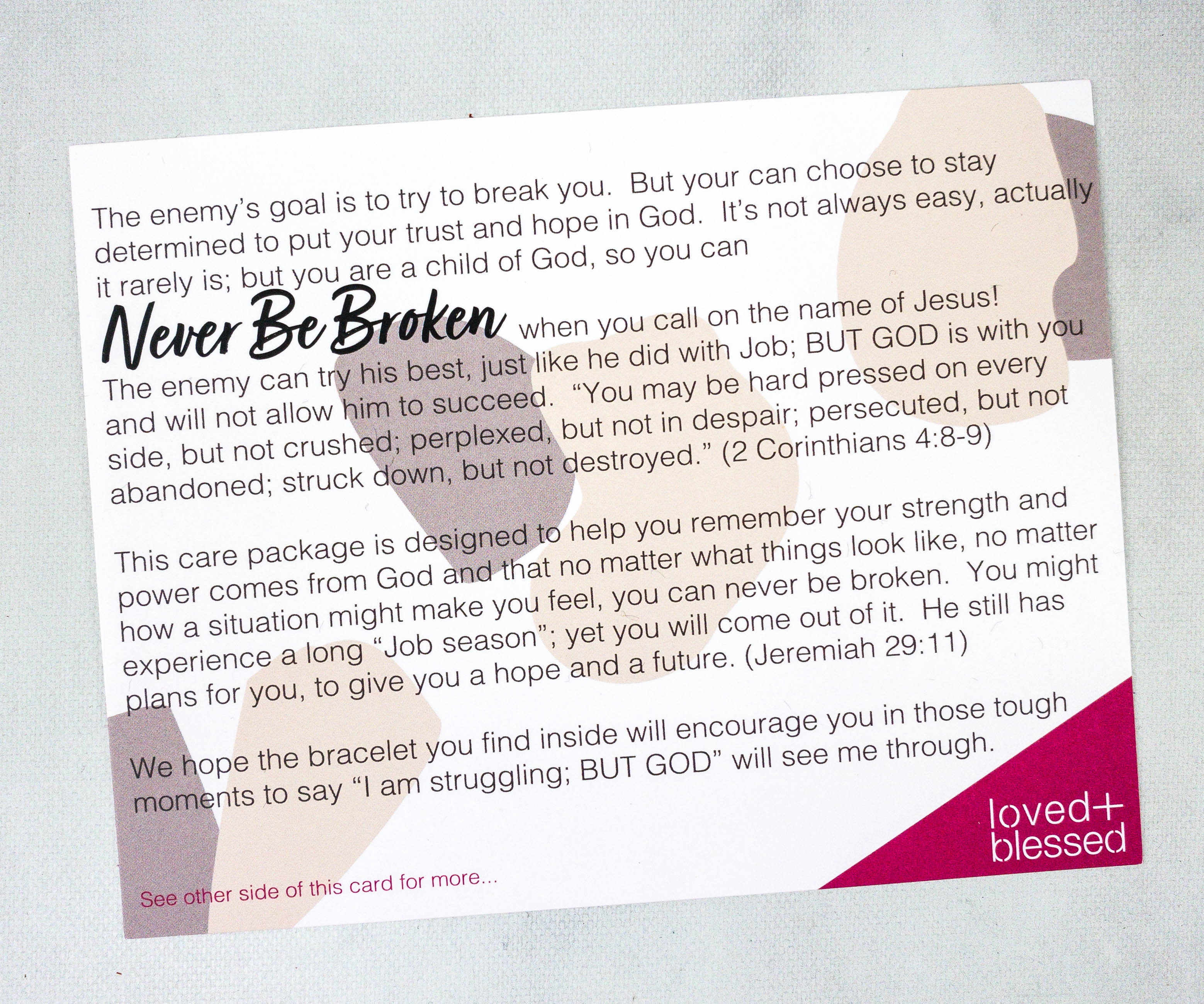 The card features a lot of nice things about this month's box and theme.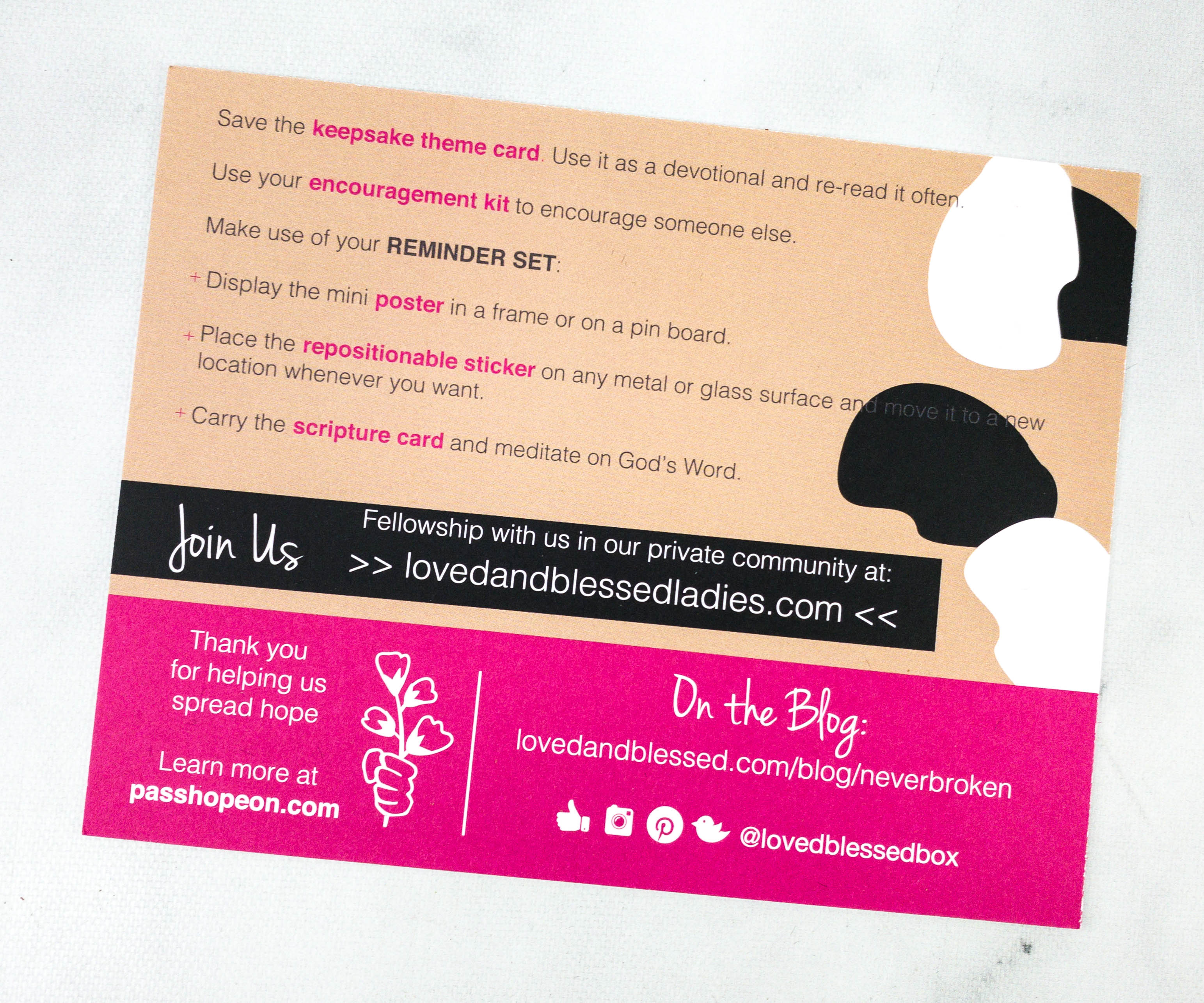 Listed at the back of the card are some reminders about the items inside the box.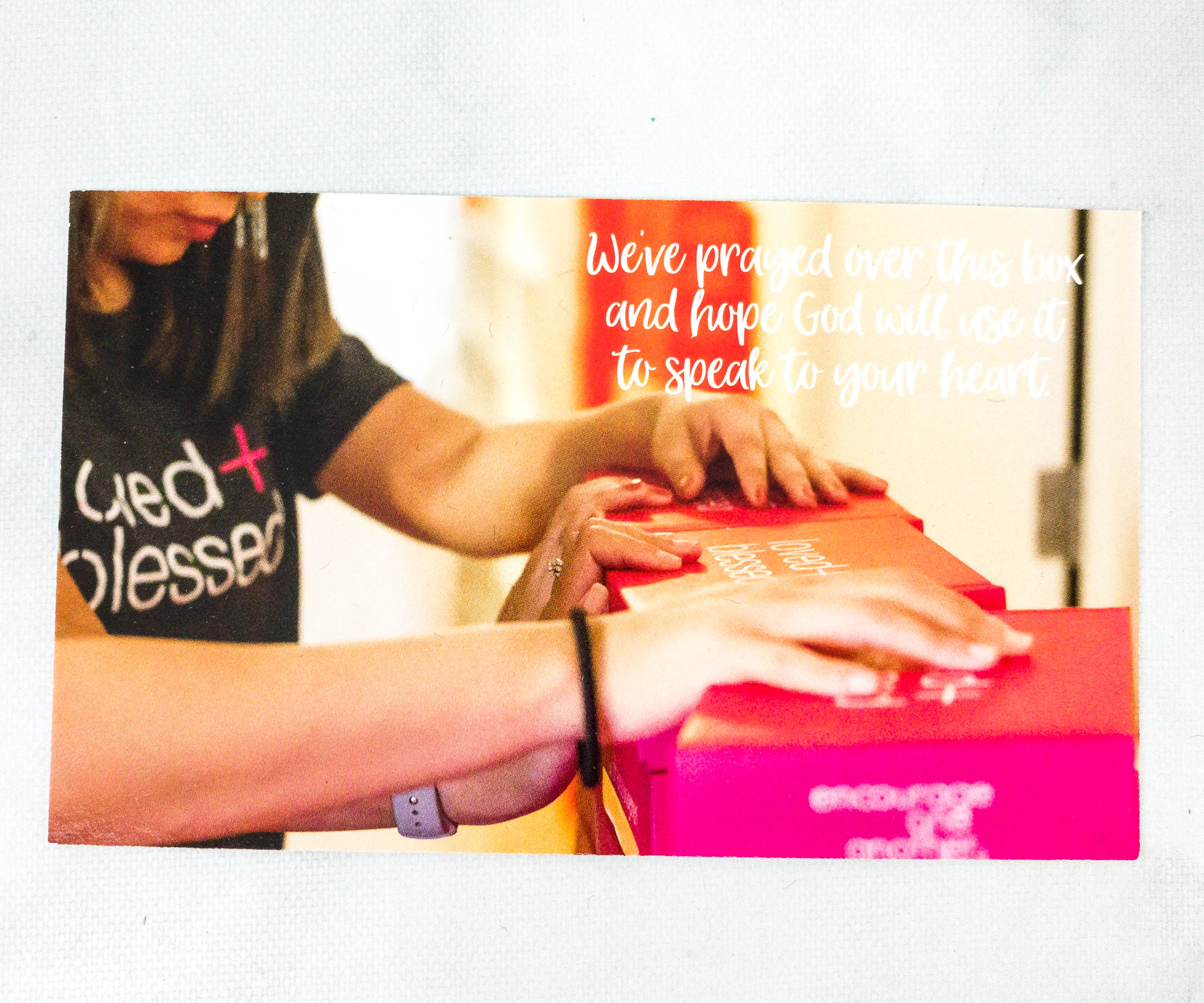 Here's another info card! It features a heartwarming message:
We've prayed over this box and hope God will use it to speak to your heart.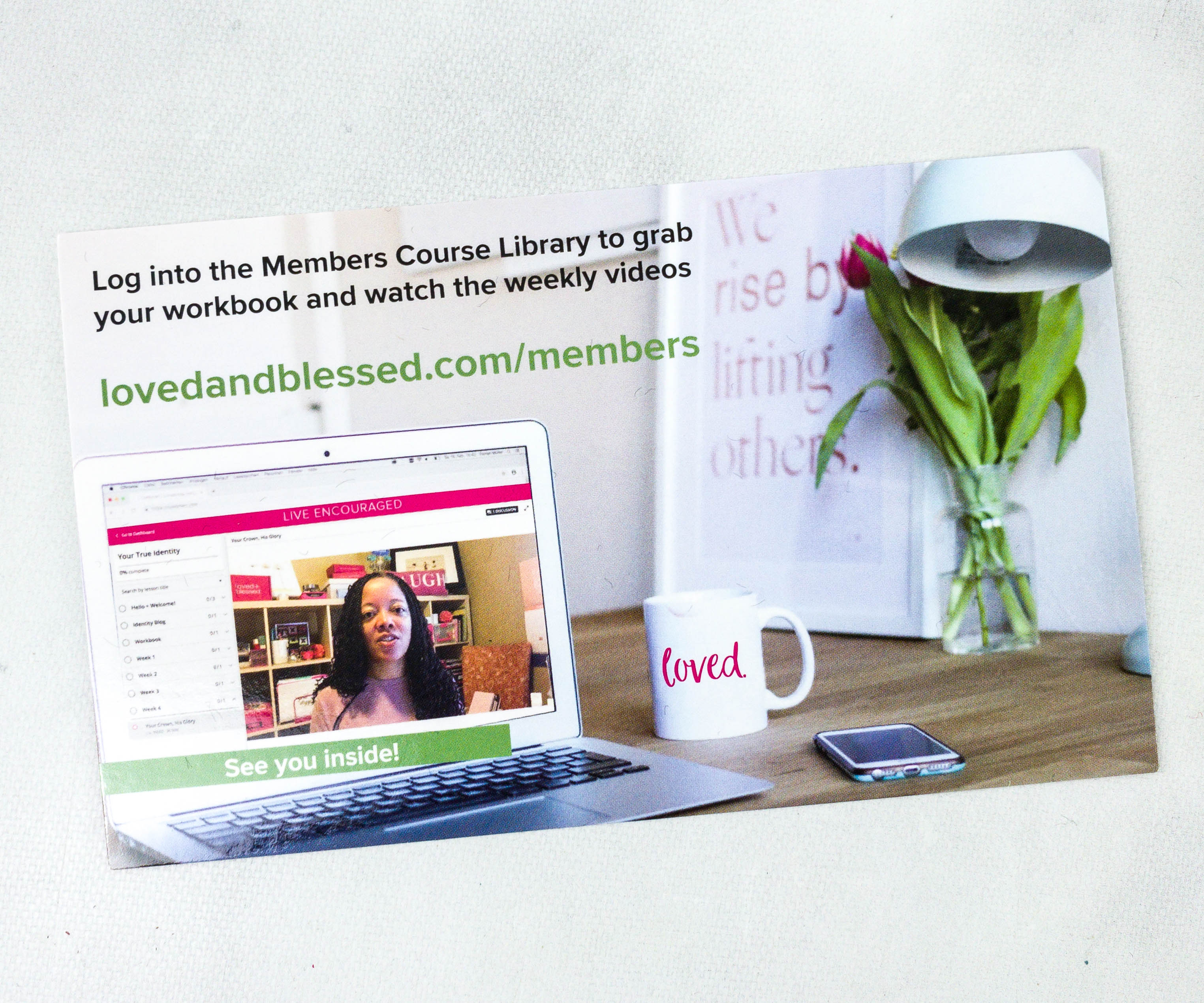 On the other side of the card, there's a reminder to log into the Members Course Library!
Everything in the November 2020 box!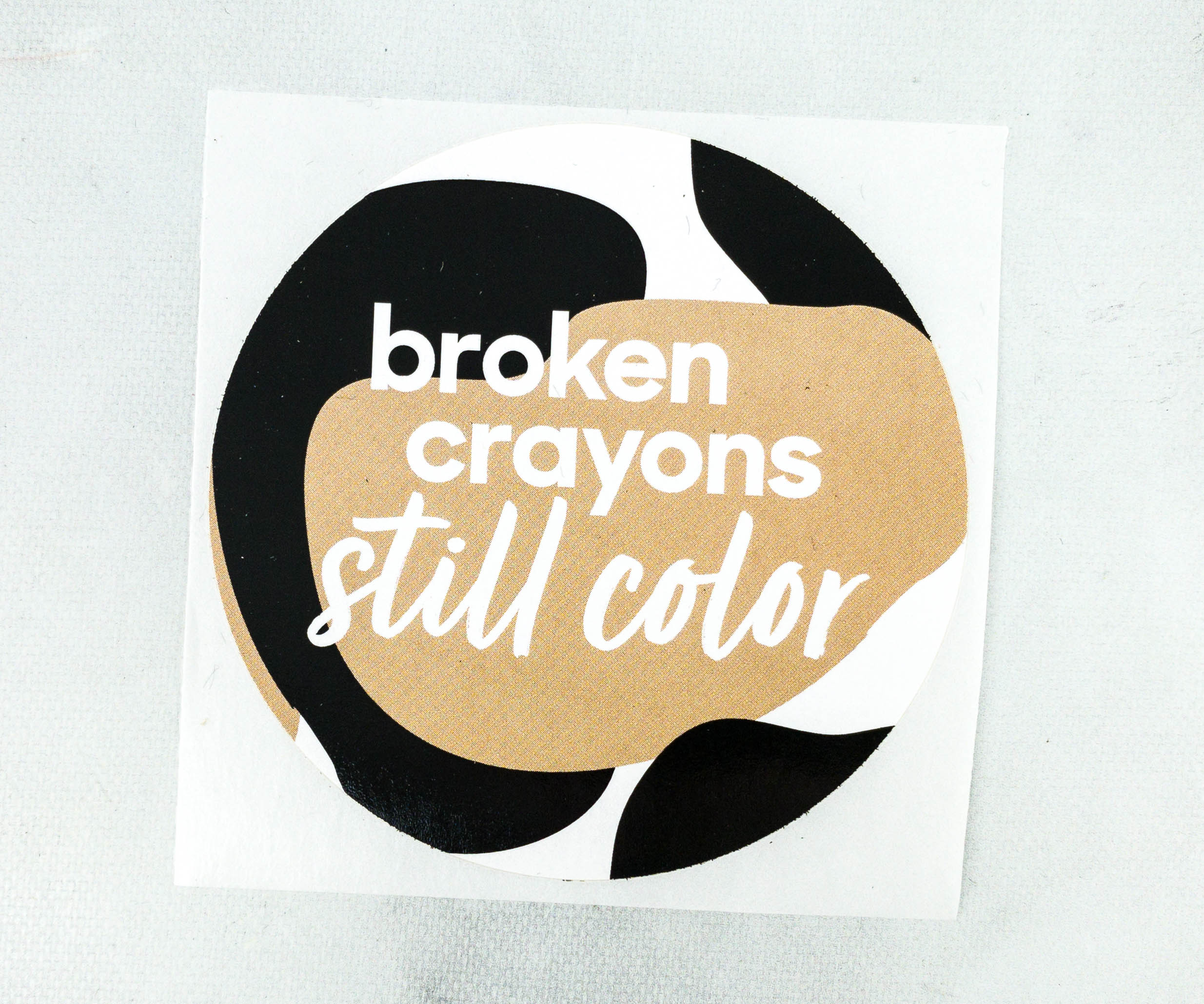 Repositionable Sticker. The sticker sends a strong message, reminding us that no matter how broken or weak or tired we feel, we still have value.
Broken crayons still color.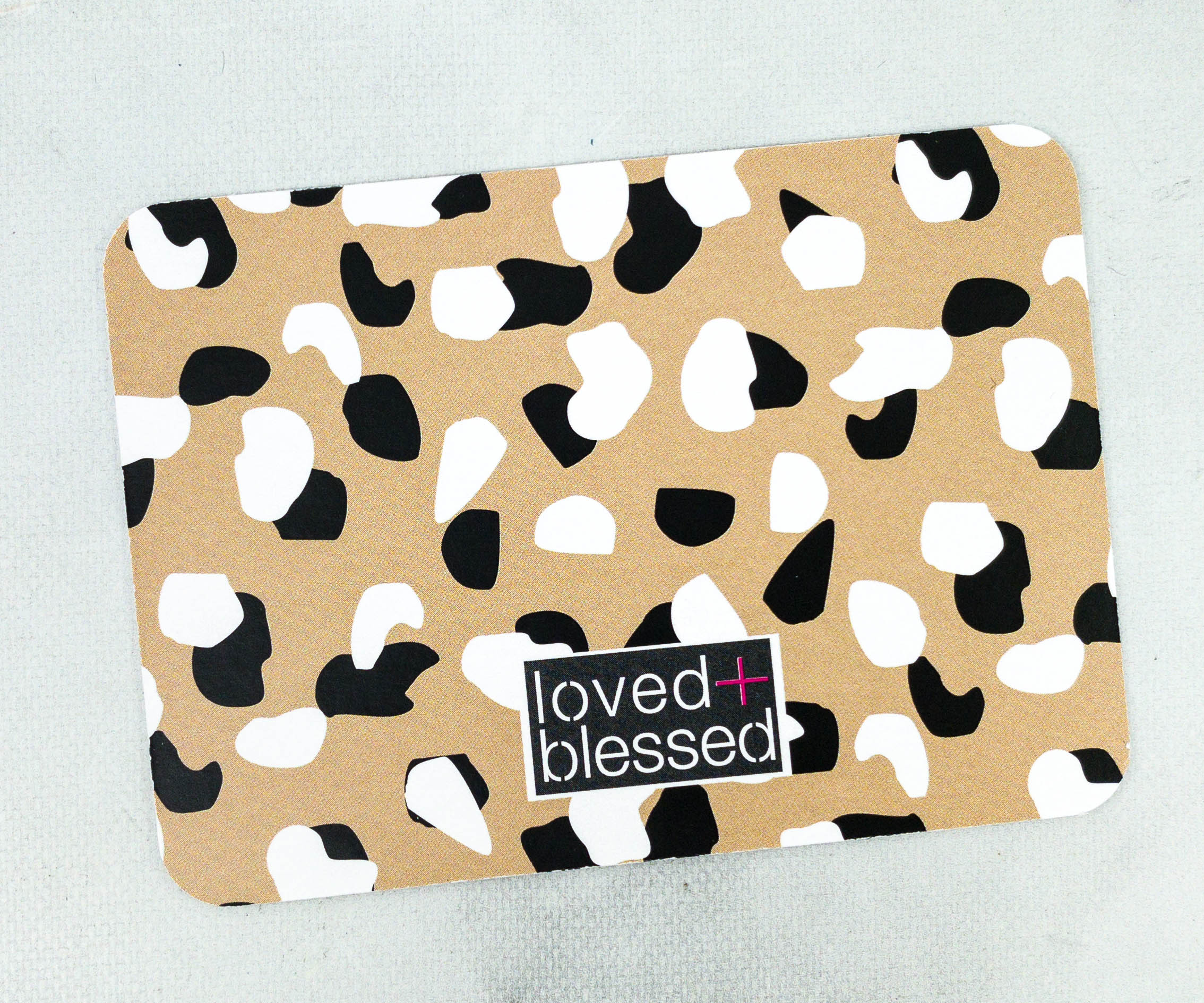 Scripture Card. This month's scripture card features a leopard inspired print in front!
The scripture on the flipside is from 2 Thessalonians 16-17.
Now may our Lord Jesus Christ Himself, and our God and Father, who has loved us and given us everlasting consolation and good hope by grace, comfort your hearts and establish you in every good word and work.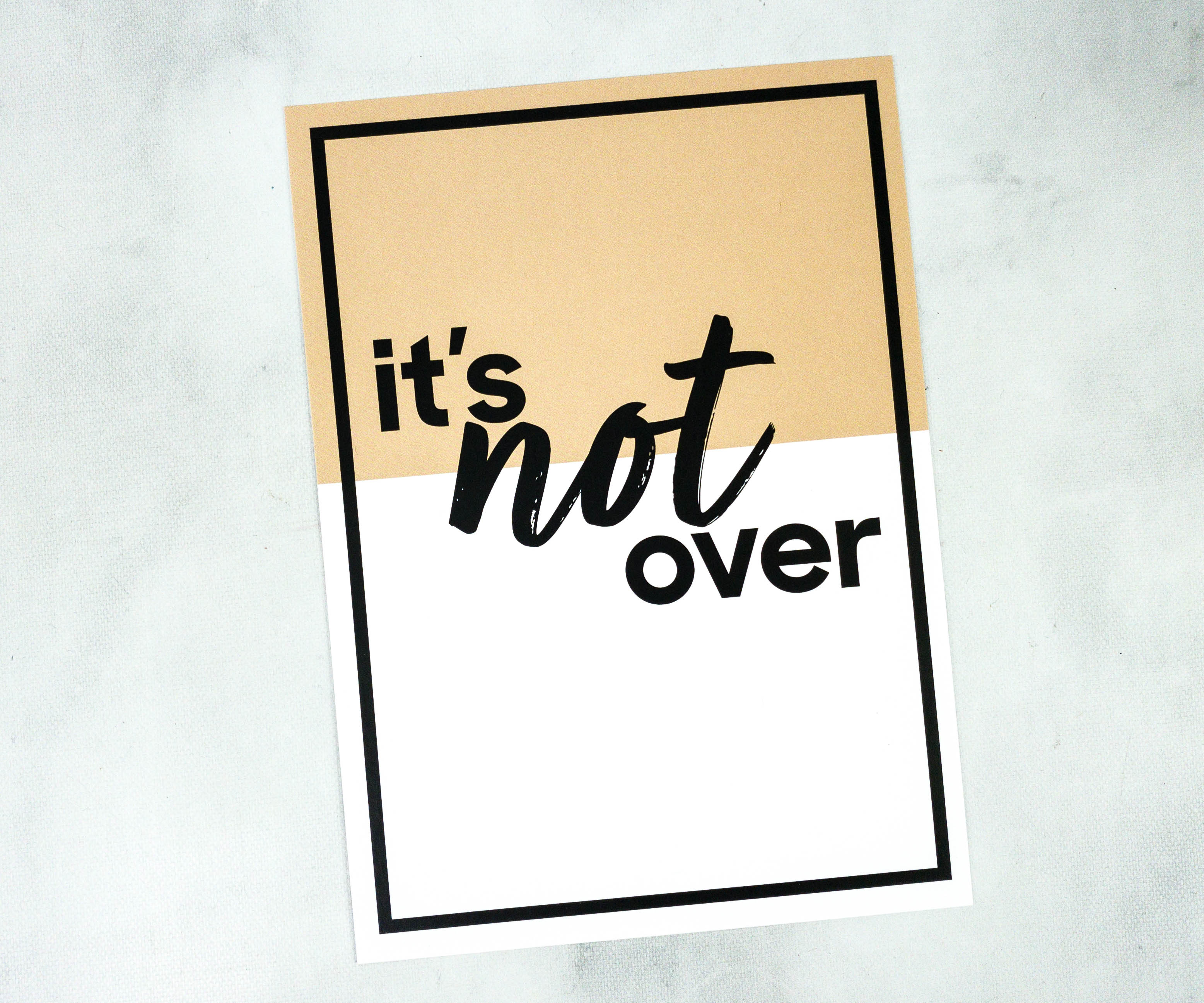 Mini Poster. There's also a mini reversible poster that says, "it's not over".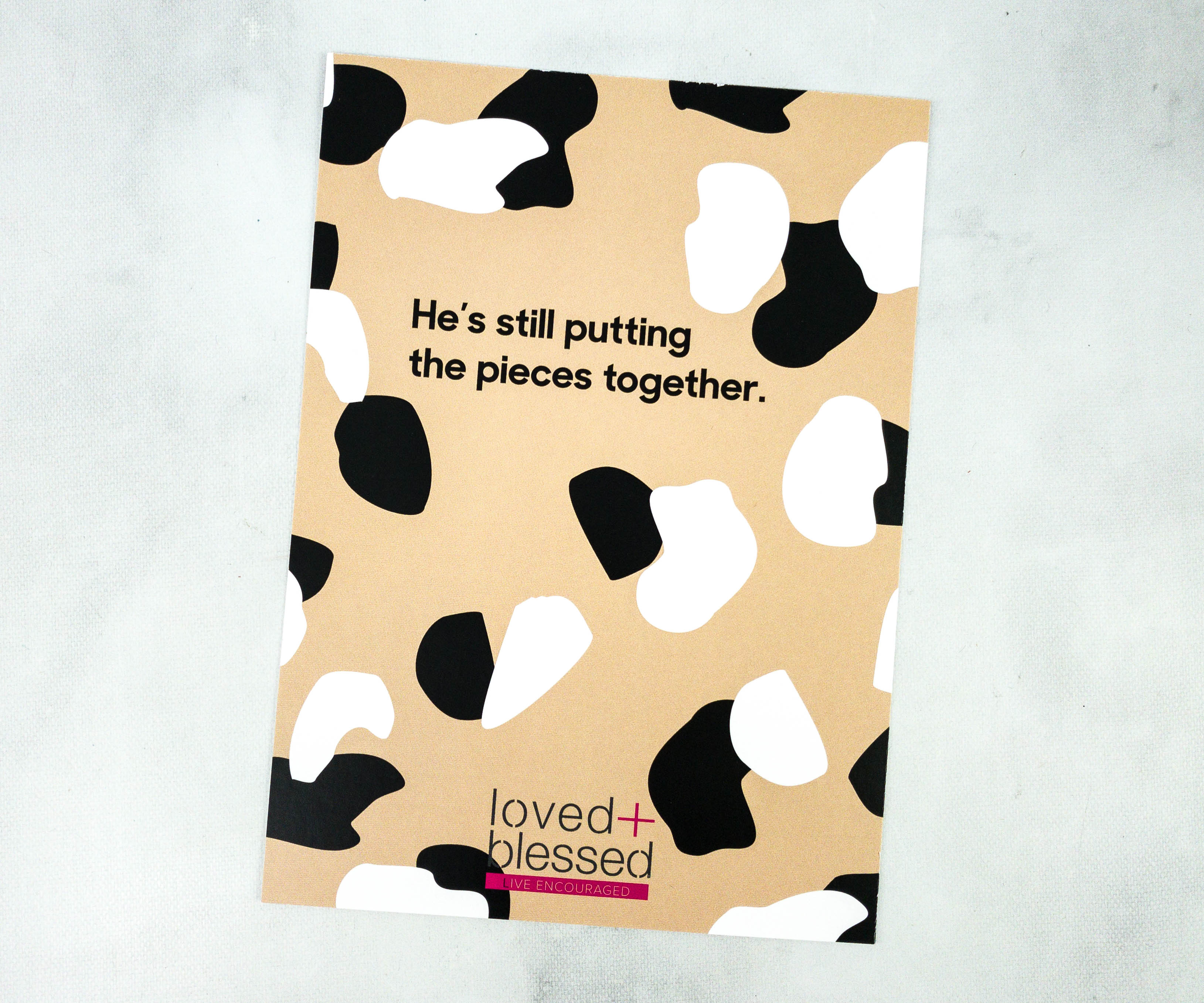 At the back, it gives us a reminder to have patience and faith because He's still with us and that "He's still putting the pieces together".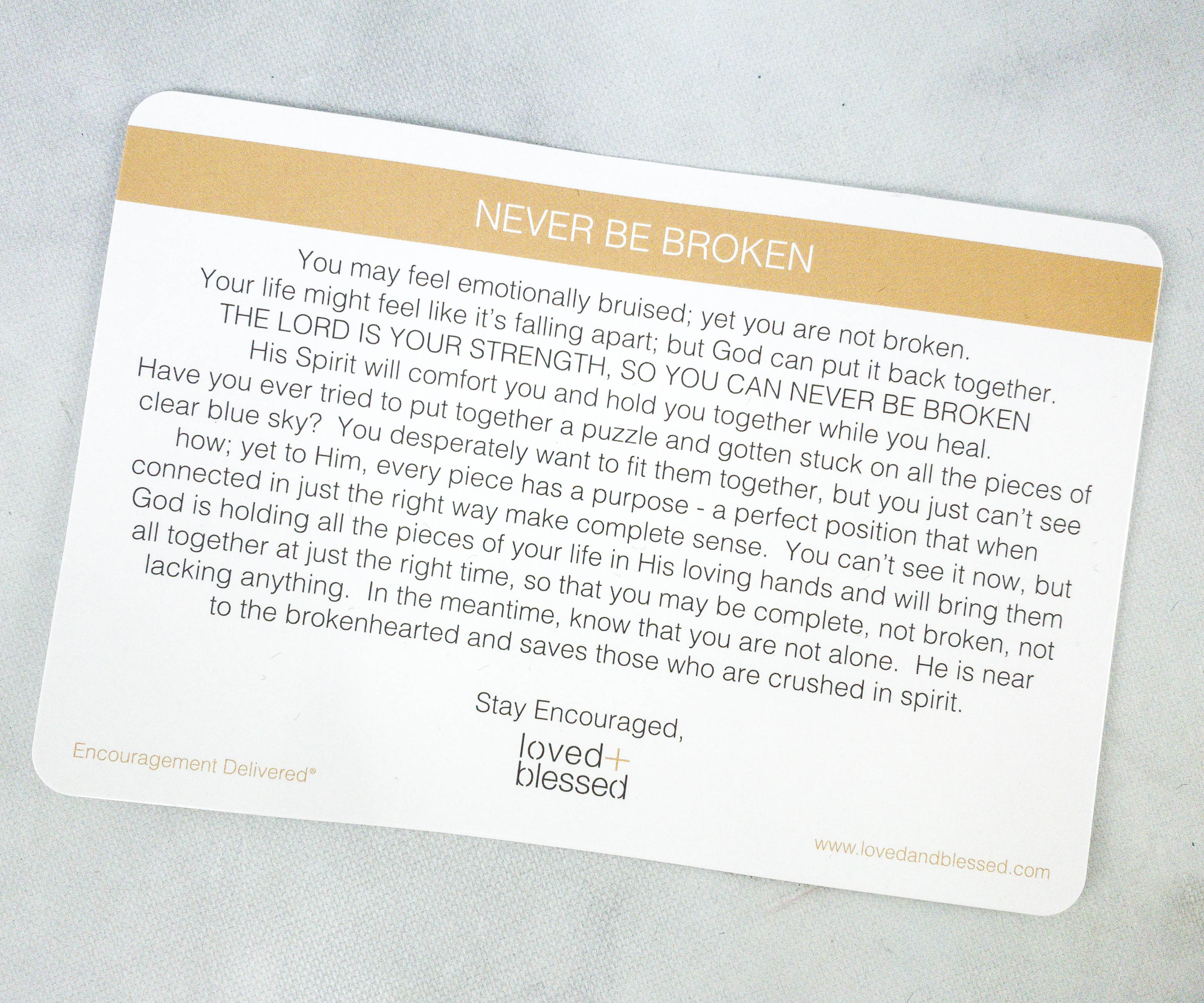 Keepsake Theme Card. This theme card discusses patience and trust in the Lord. No matter how bad we may feel, He is with us. It keeps me inspired and I think it can be used as a devotional as well.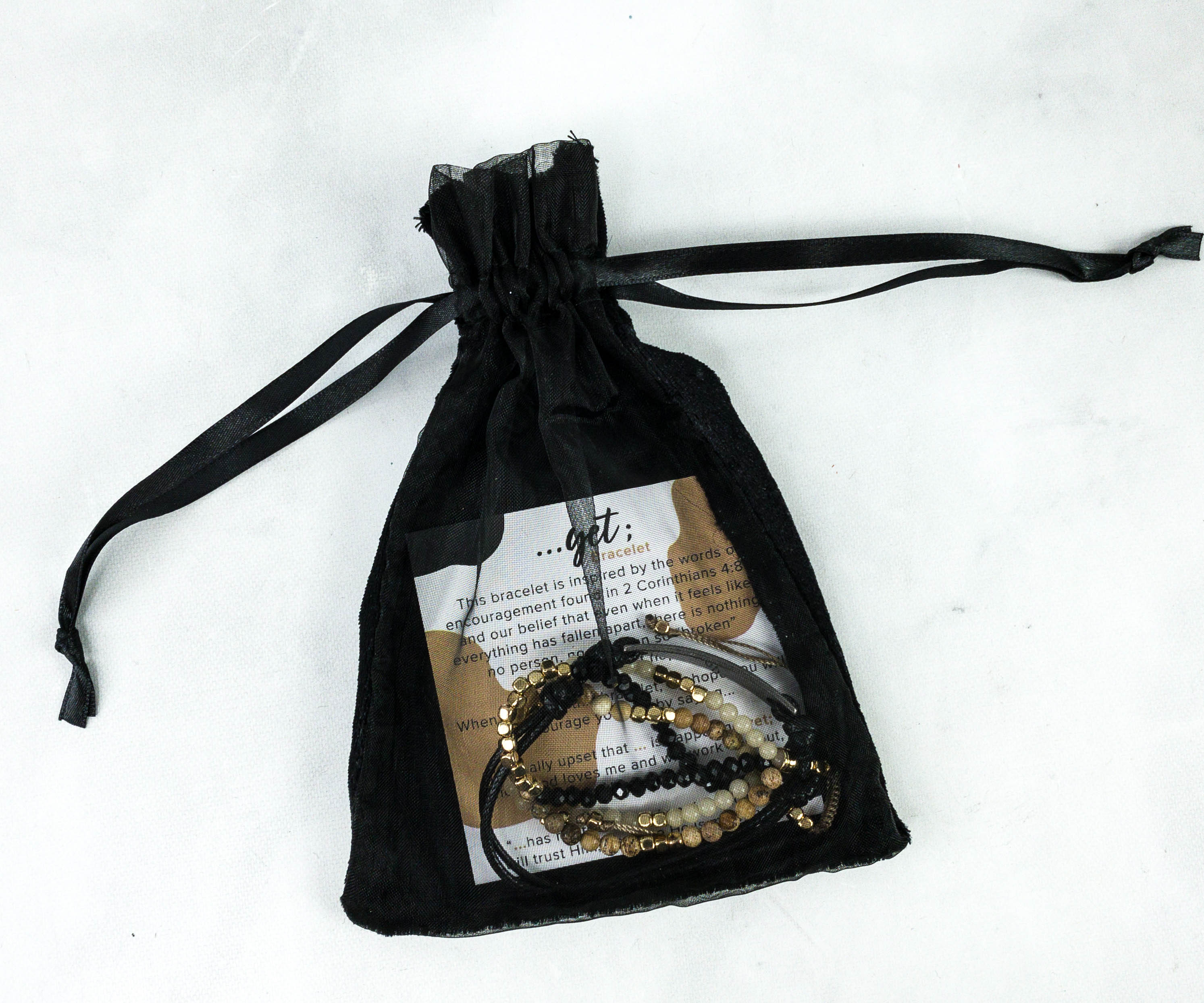 Bracelet. The bracelets were packed inside a black see-through drawstring pouch.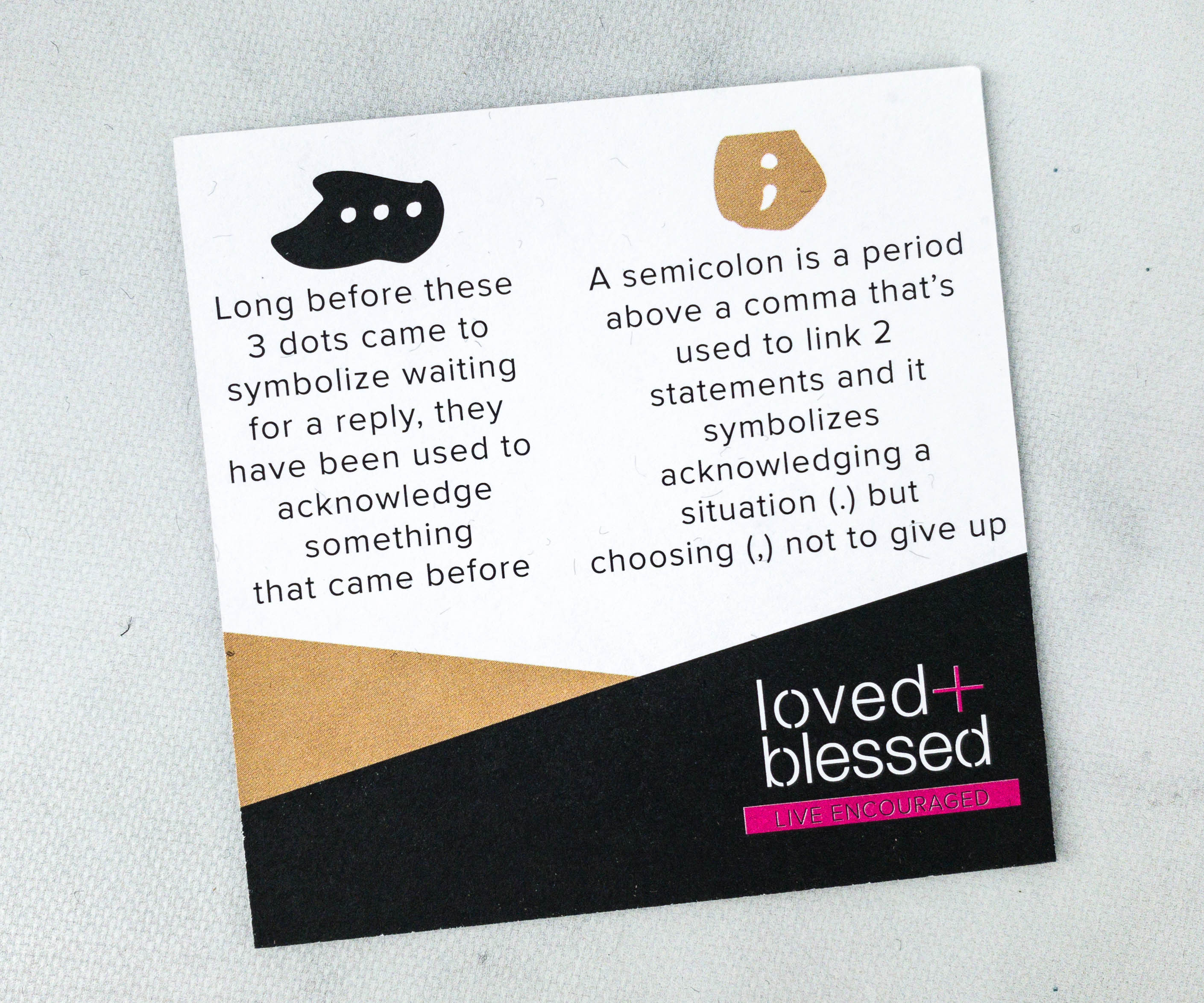 There is also a small card inside and it tells us more about the meaning of the ellipsis and the semicolon.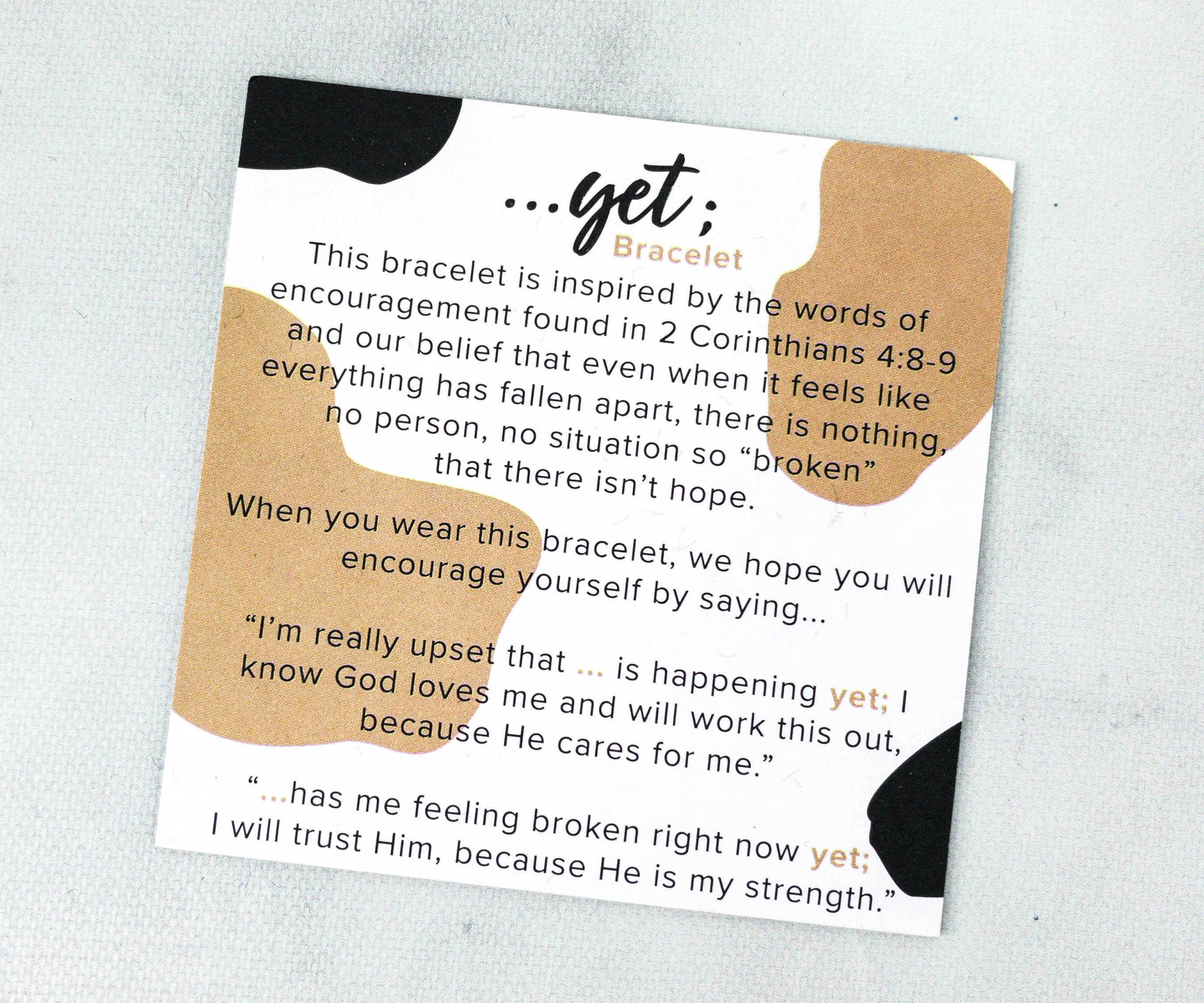 At the back, they explain why they put "…yet;" in the bracelet. It tells us that no matter how broken we feel, there is always hope.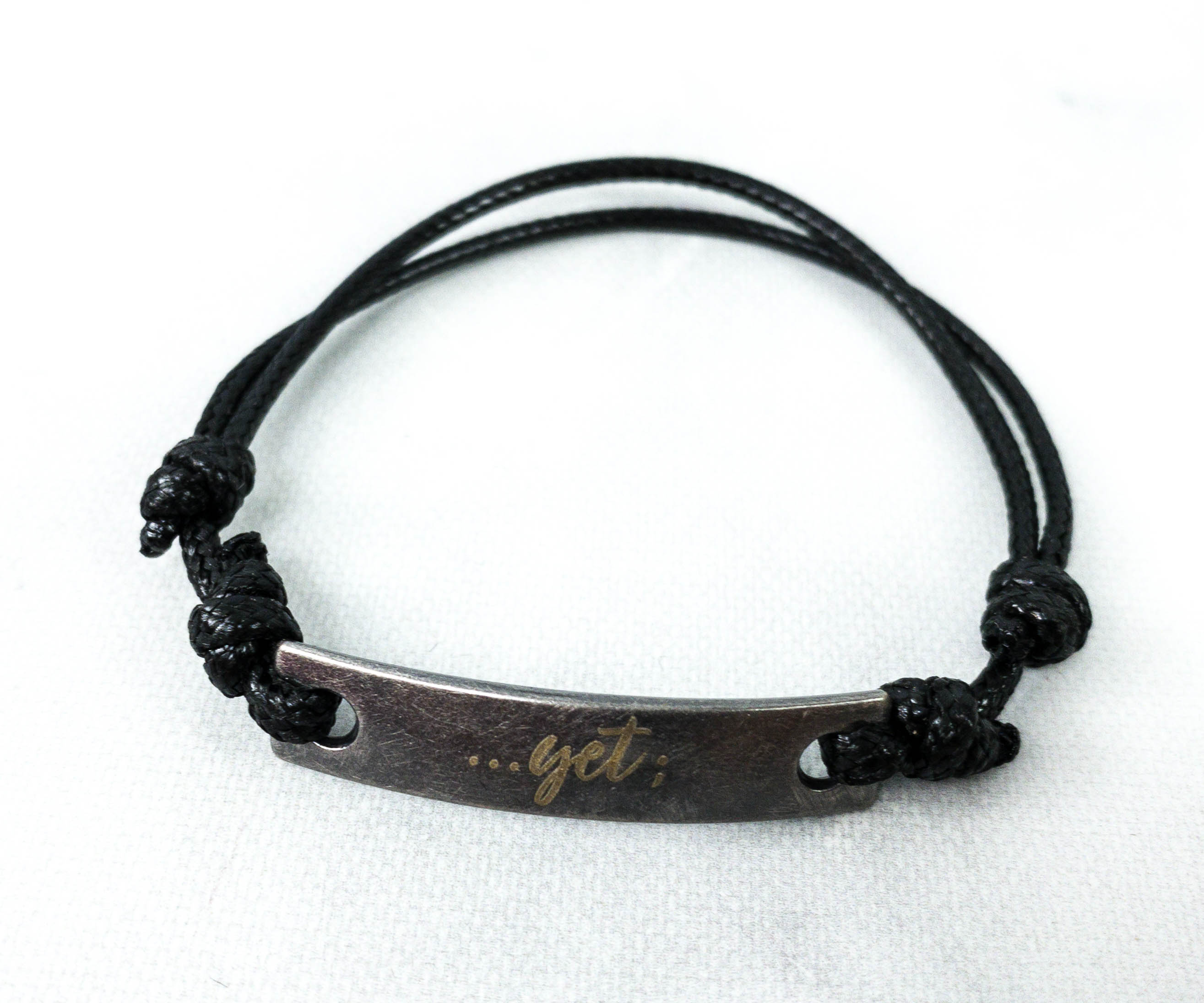 This bracelet is a nice reminder to never lose hope despite anything and everything. I like how simple the bracelet is yet it carries such a powerful message.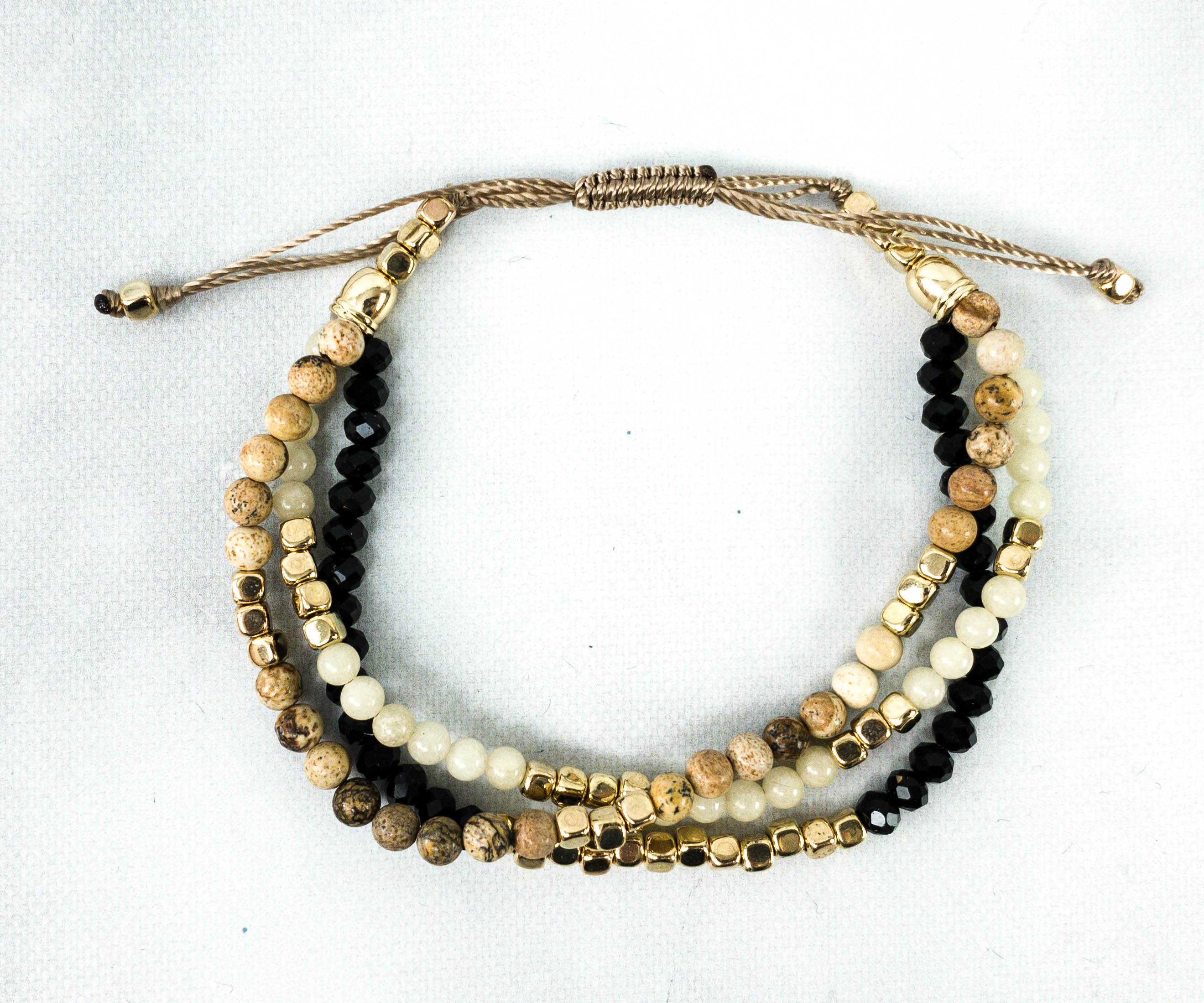 I also received this beaded bracelet that contains light colors with golden features.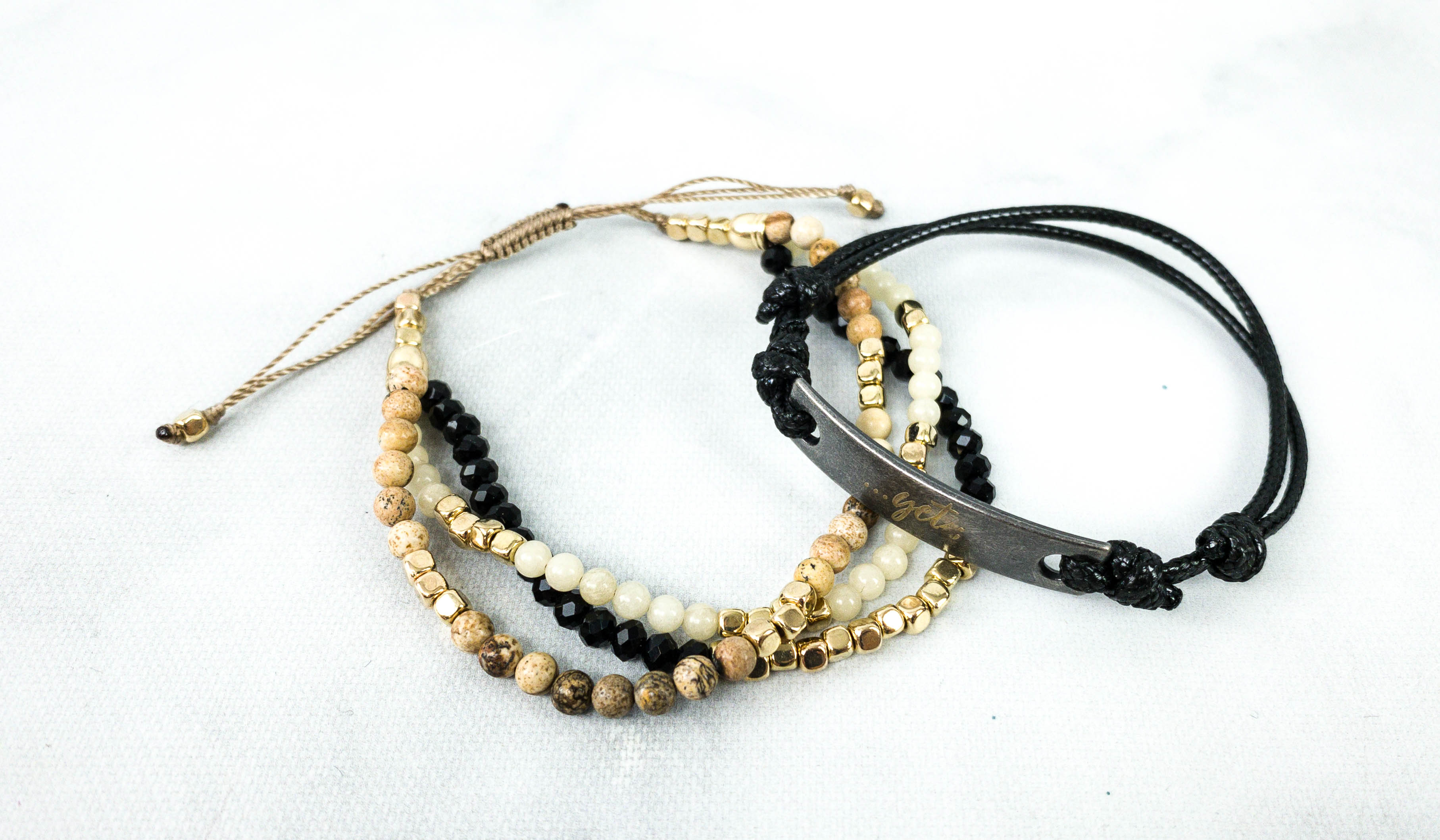 These bracelets are my constant reminder to never lose hope and always look at the brighter side of things!
Encouragement Kit. The kit came in this polka-dot paper pouch.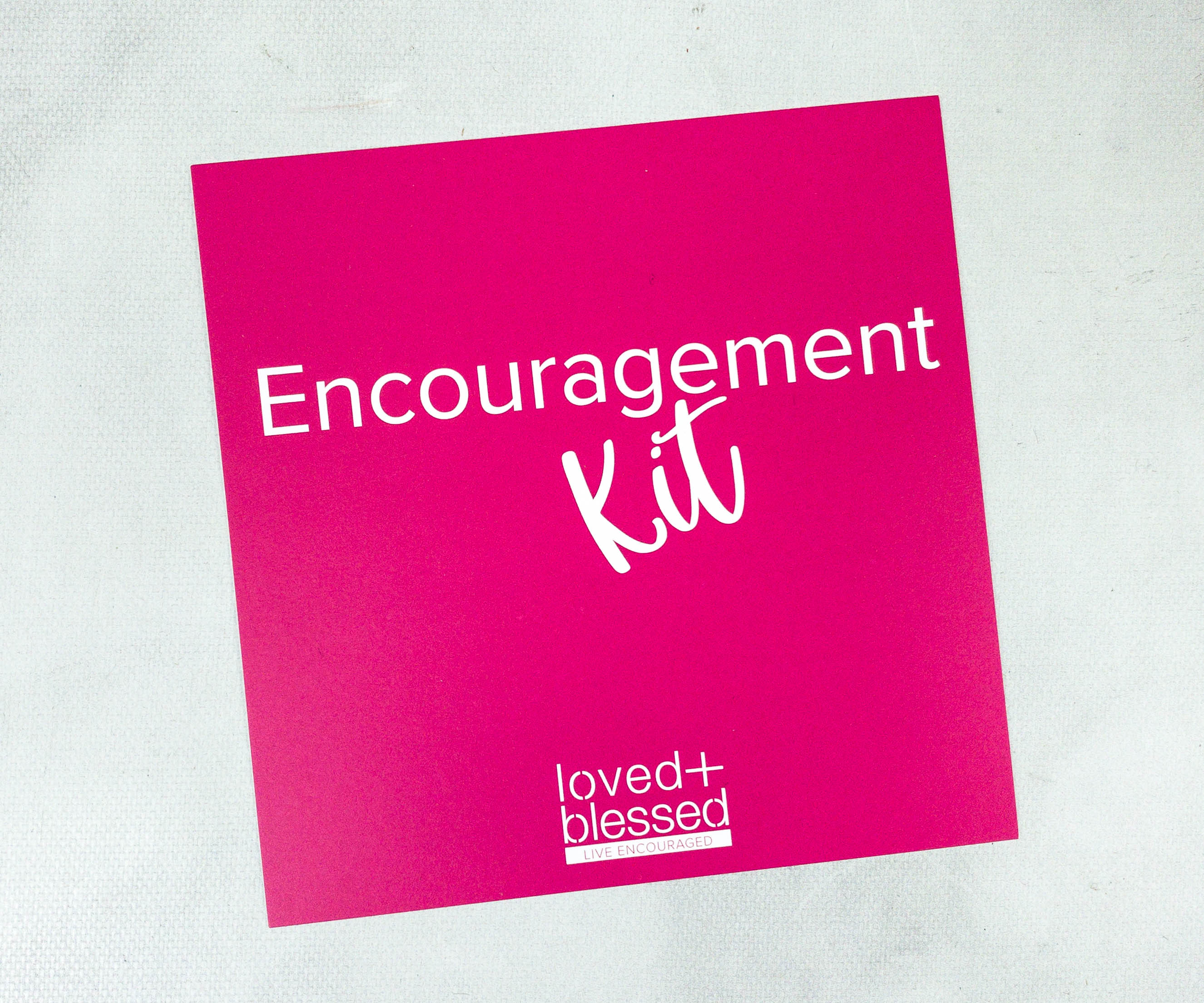 It's great for sharing with a family member, a friend, or even a stranger!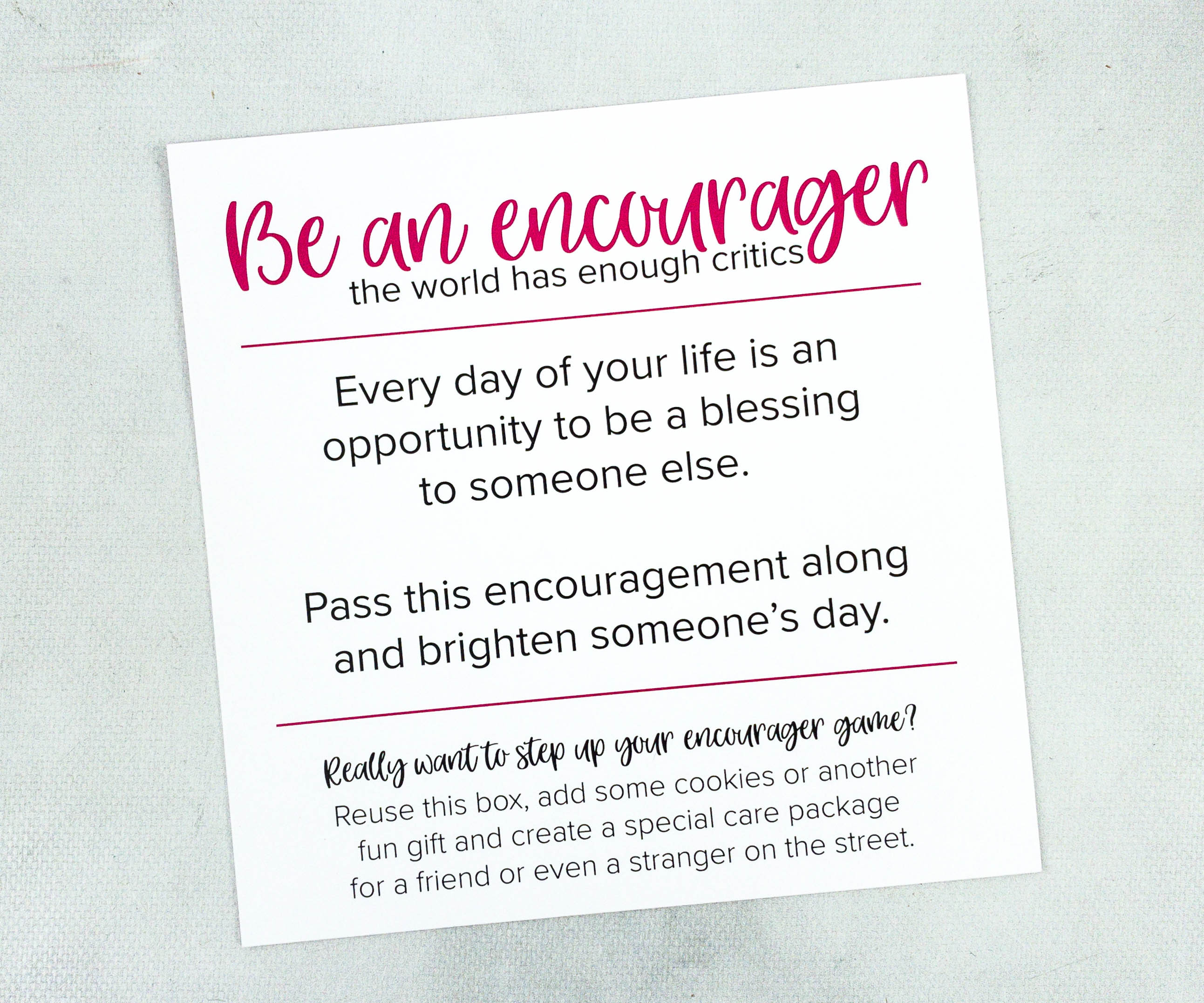 This card also suggests to reuse the box and add some goodies to create a special care package for someone who might need it!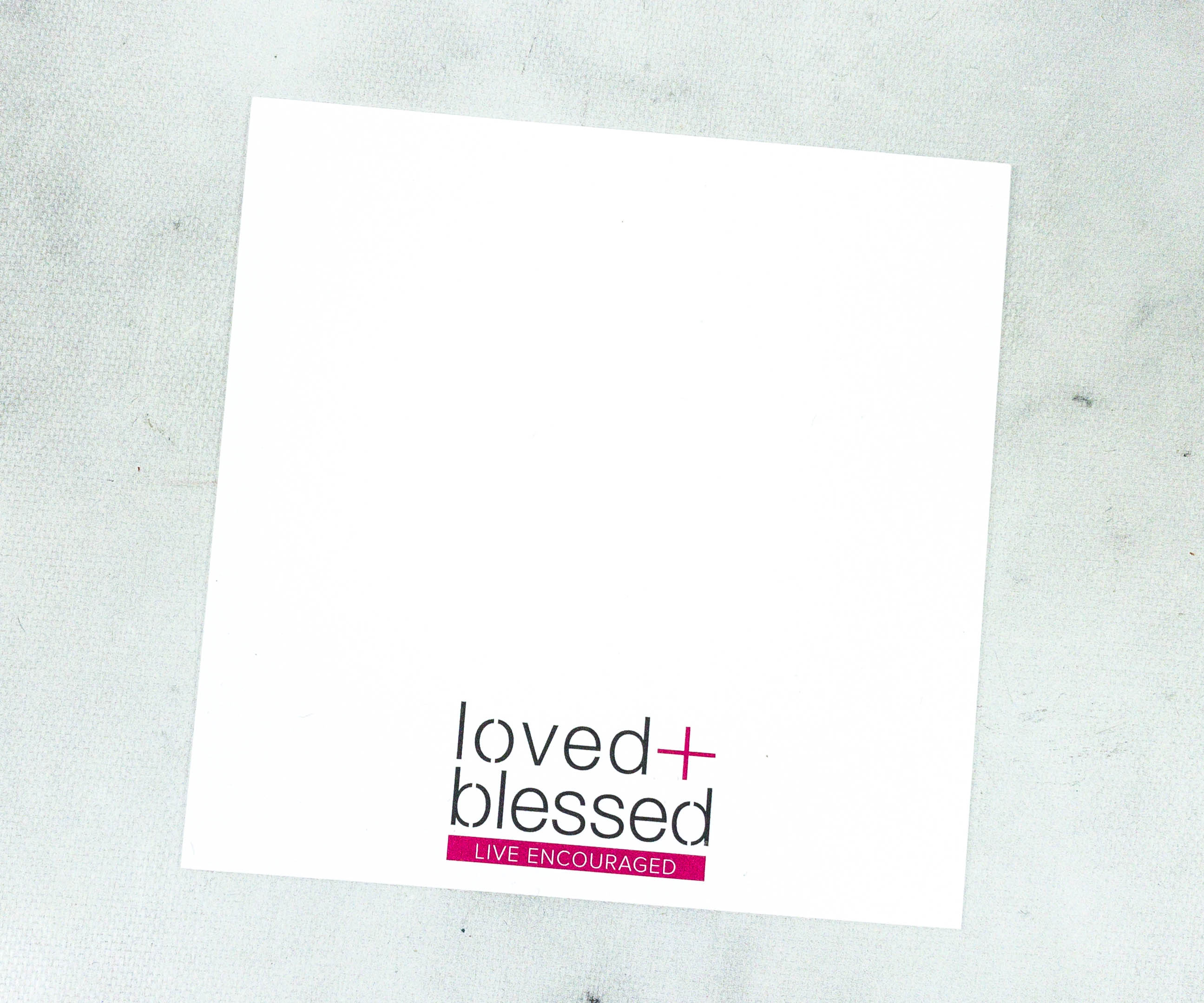 There's a blank space where you can write a personal message.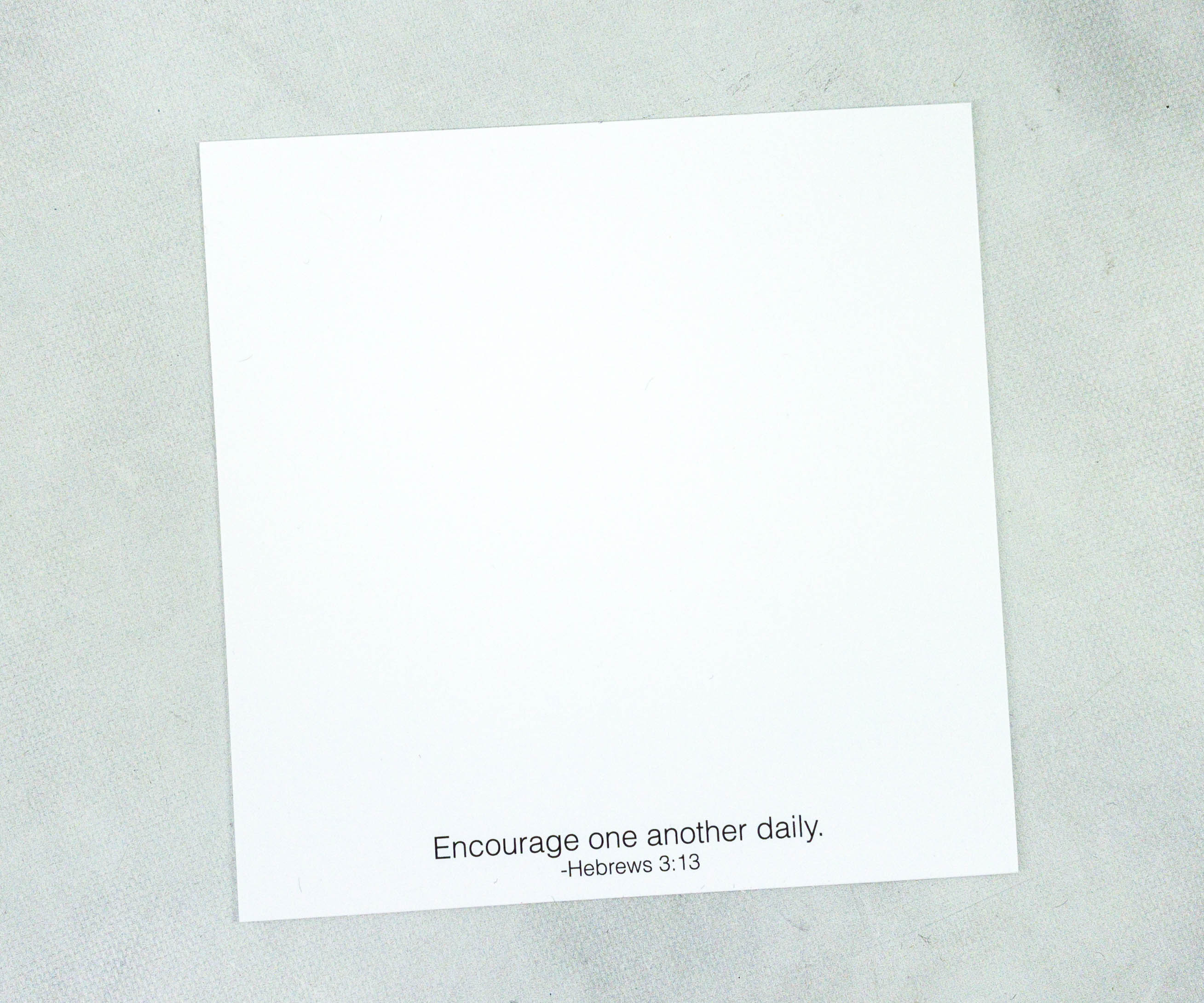 Encourage one another daily.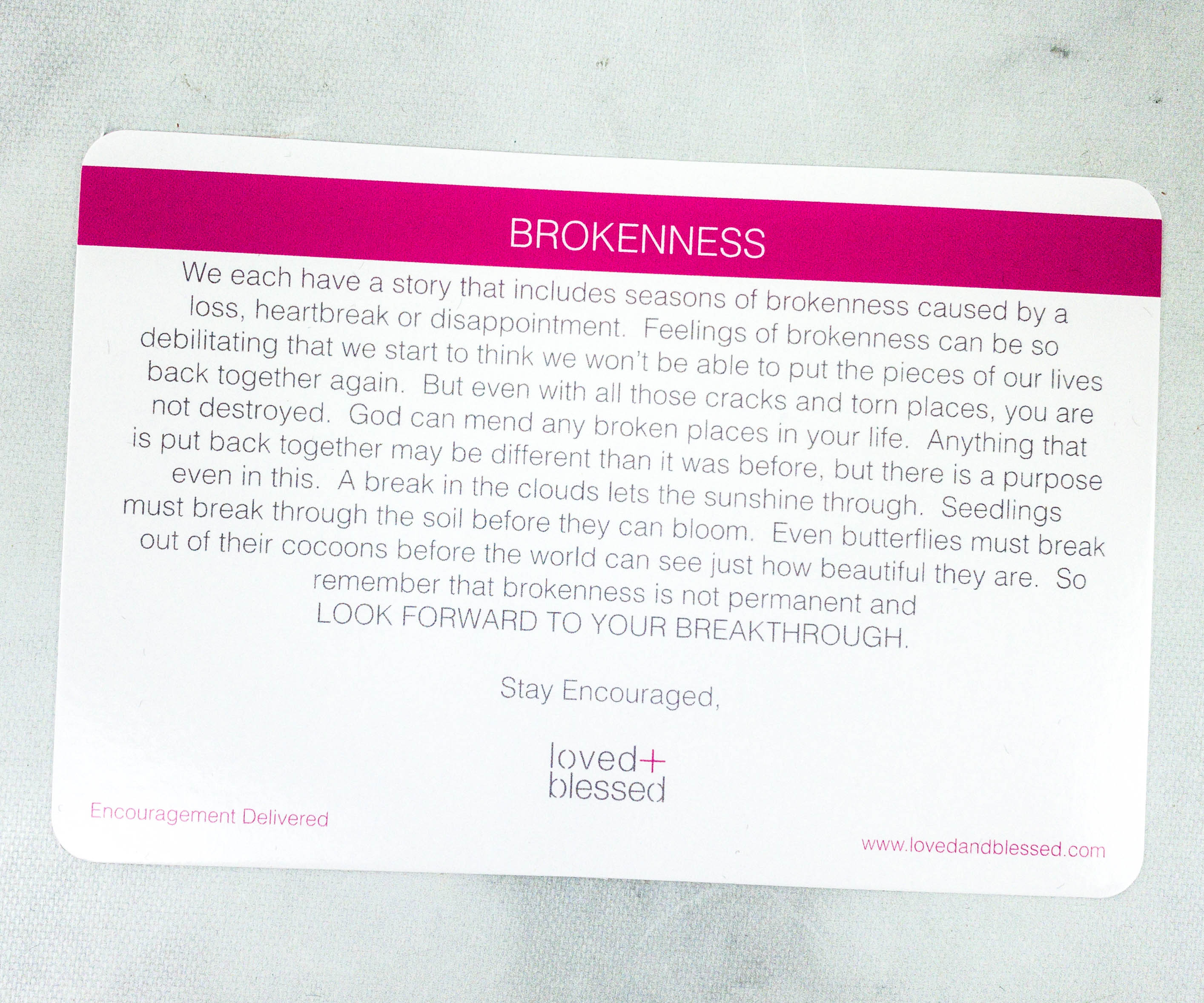 Here's the last card in the box and it talks about brokenness and breakthroughs. You can also add it to the encouragement kit, as a reminder that there's always a rainbow after the rain.
The theme for this month really got me as it is a reminder that no matter how much we fail and break ourselves, He is always with us and He will never let us stay broken! It's like a gentle push for us to keep going despite the struggles because we are nearing our breakthrough. I really loved the bracelet because it's a constant reminder for me to never lose hope and just trust in Him. Loved + Blessed always sends a strong message through the simplest of things. Each curation is well-thought-out! So whether it's you or a friend who needs some inspiration or encouragement, this subscription has what you need!
What did you think of Loved + Blessed this month?