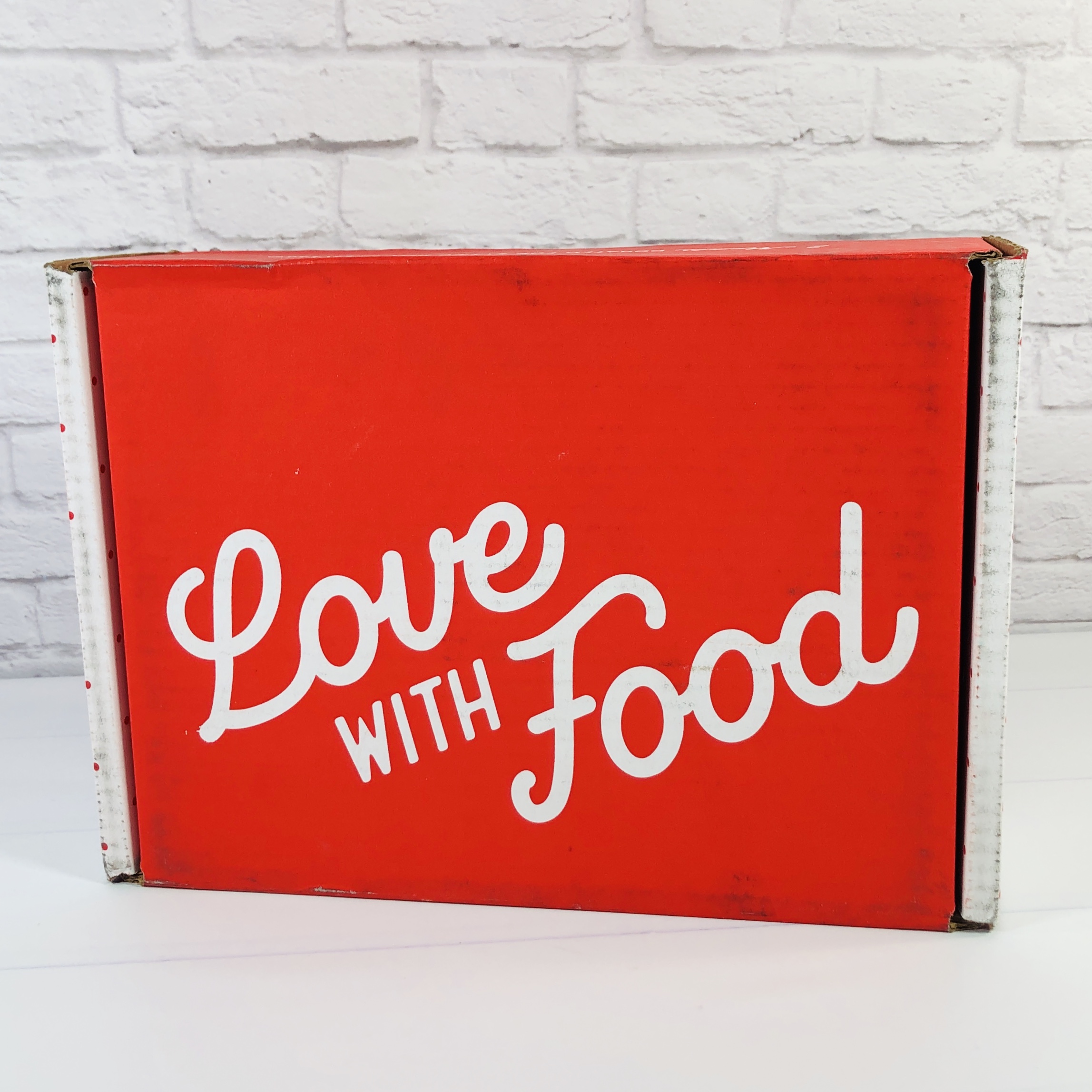 Love with Food Deluxe Box sends 15+ surprise snacks from various healthy snack brands each month. It's an ideal snack box for sharing at home or if you are a heavy snacker. This particular plan promises to include plenty of snacks for everyone and a few duplicates. Also, the snack box only includes snacks made with real ingredients and no added chemicals. The Deluxe Box is $19.95 a month. Love with Food also offers other snack boxes such as the classic Tasting box and the Gluten-free box.
Our team scours hundreds of brands every month and chooses the best tasting, feel good options for your box.

No chemicals, artificial flavoring, MSG or high fructose corn syrup
Clean and delicious snacks made with real ingredients
Every snack passes our 73 Banned Ingredients List
Expertly sourced, vetted and curated
DEAL: Save 40% off your first Love With Food Box:
Or, save 25% off your first Gluten-Free Box: use this link to subscribe!
BLACK FRIDAY SALE: Get 20% off on all subscription plans. No coupon code needed, just use this link to activate the deal.
Packed to the top! You can find some of the items sampled each month on the Love With Food website.
For every box sent to subscribers, Love With Food donates 2 meals to families in need. Don't forget to review your snacks so you can earn points for even more snacks!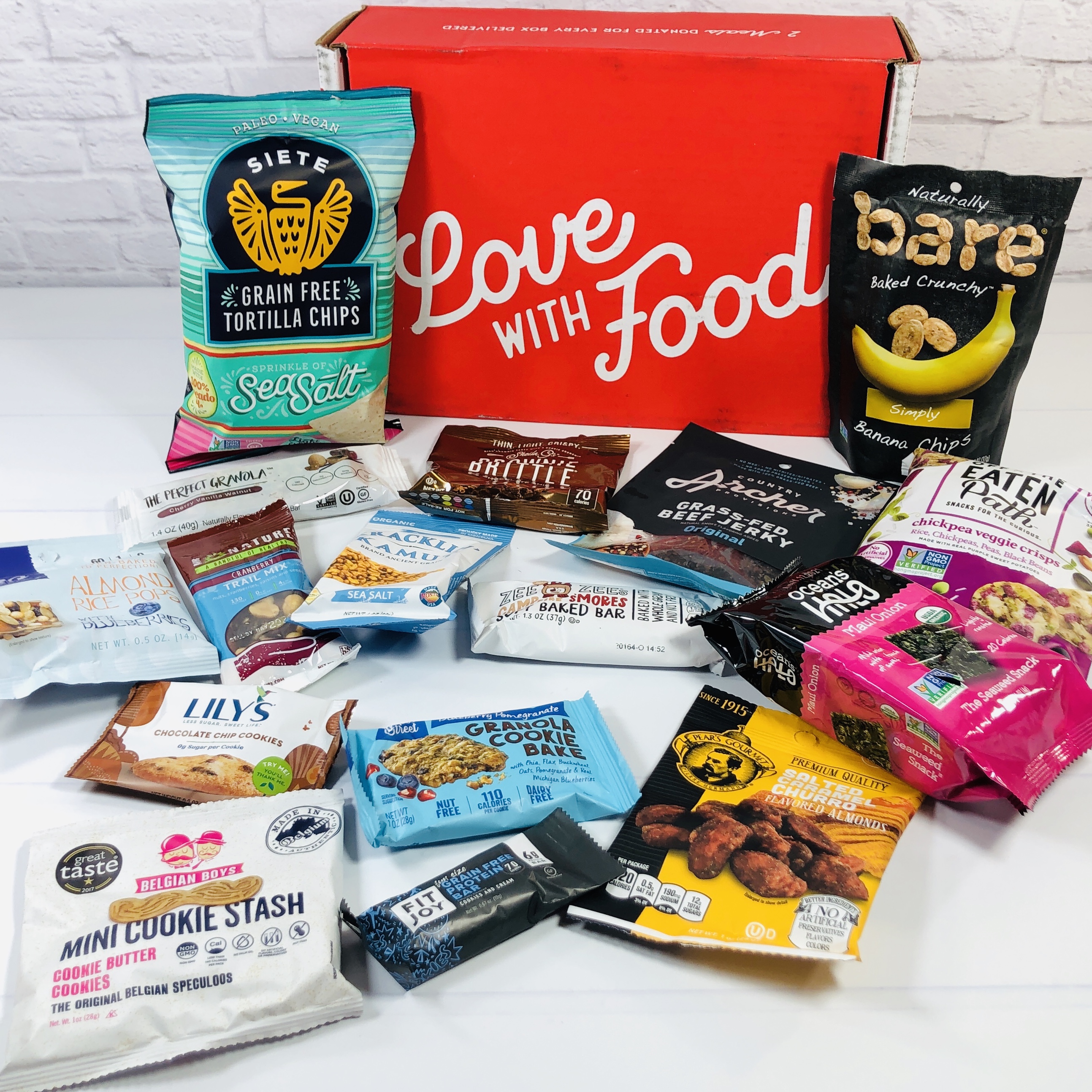 Everything in my box! I usually find some past favorites as well as new flavors and products each month.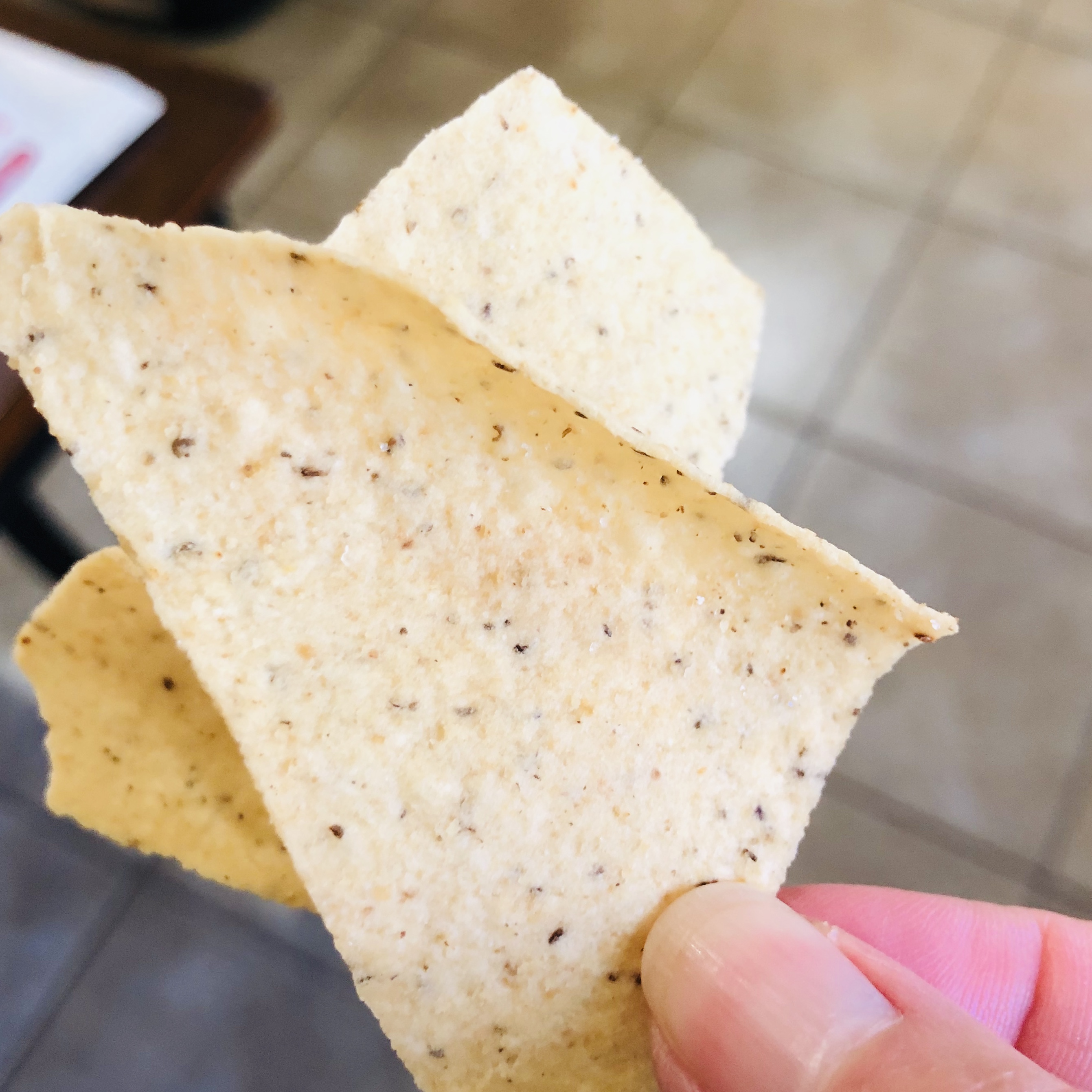 Siete Grain Free Sea Salt Tortilla Chips I was skeptical that a tortilla chip that wasn't made with any corn at all would taste the same, but I was wrong! These are made with cassava flour, avocado oil, coconut flour, chia, and salt. They have the same texture as regular tortilla chips and were lightly salty. Perfect for those who can't or who choose not to eat corn.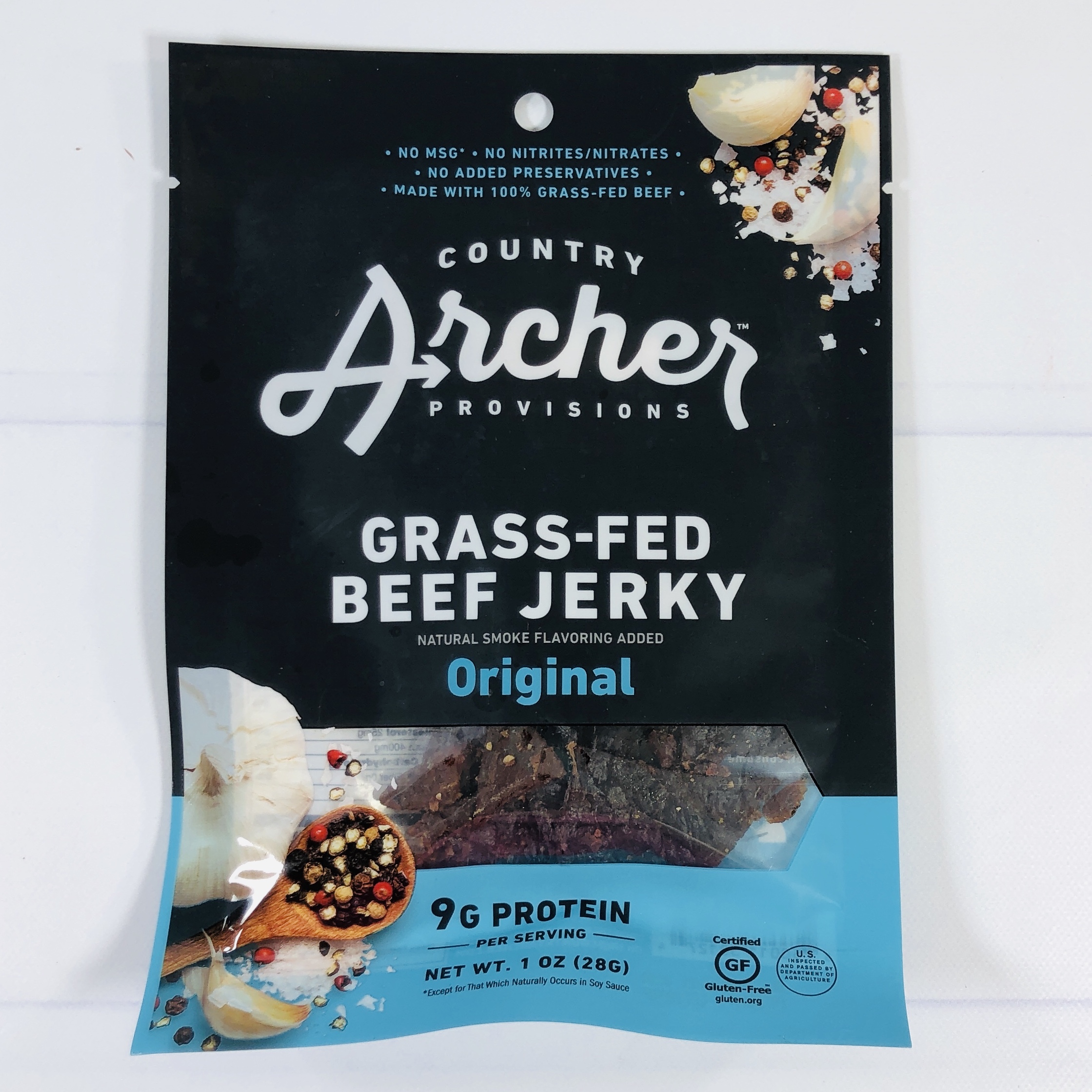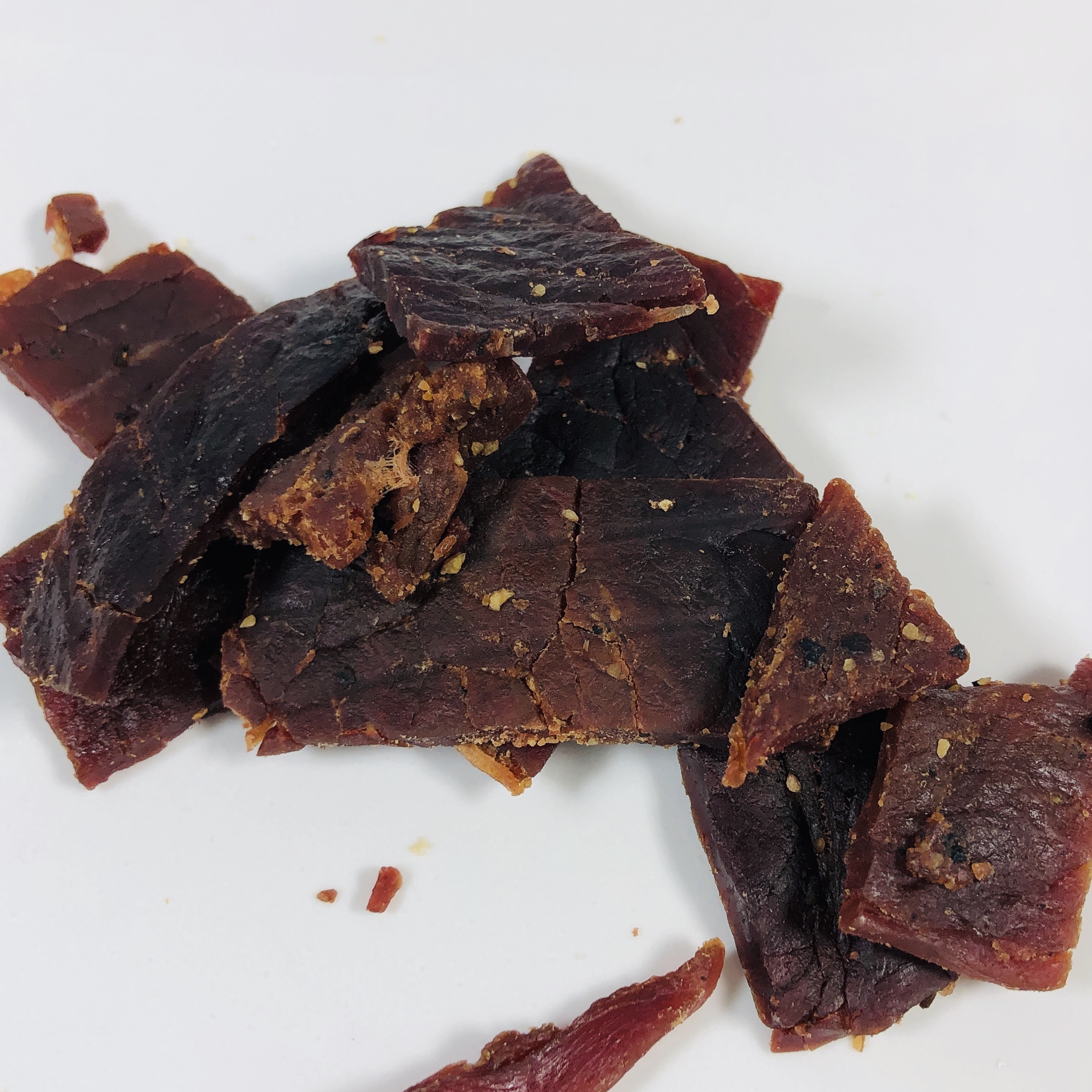 Country Archer Grass-Fed Beef Jerky I usually don't eat jerky but I gave this a try. It was soft and easy to chew and I thought it was both sweet and spicy. This is probably one of the best I have tried, simply because it wasn't like chewing shoe leather.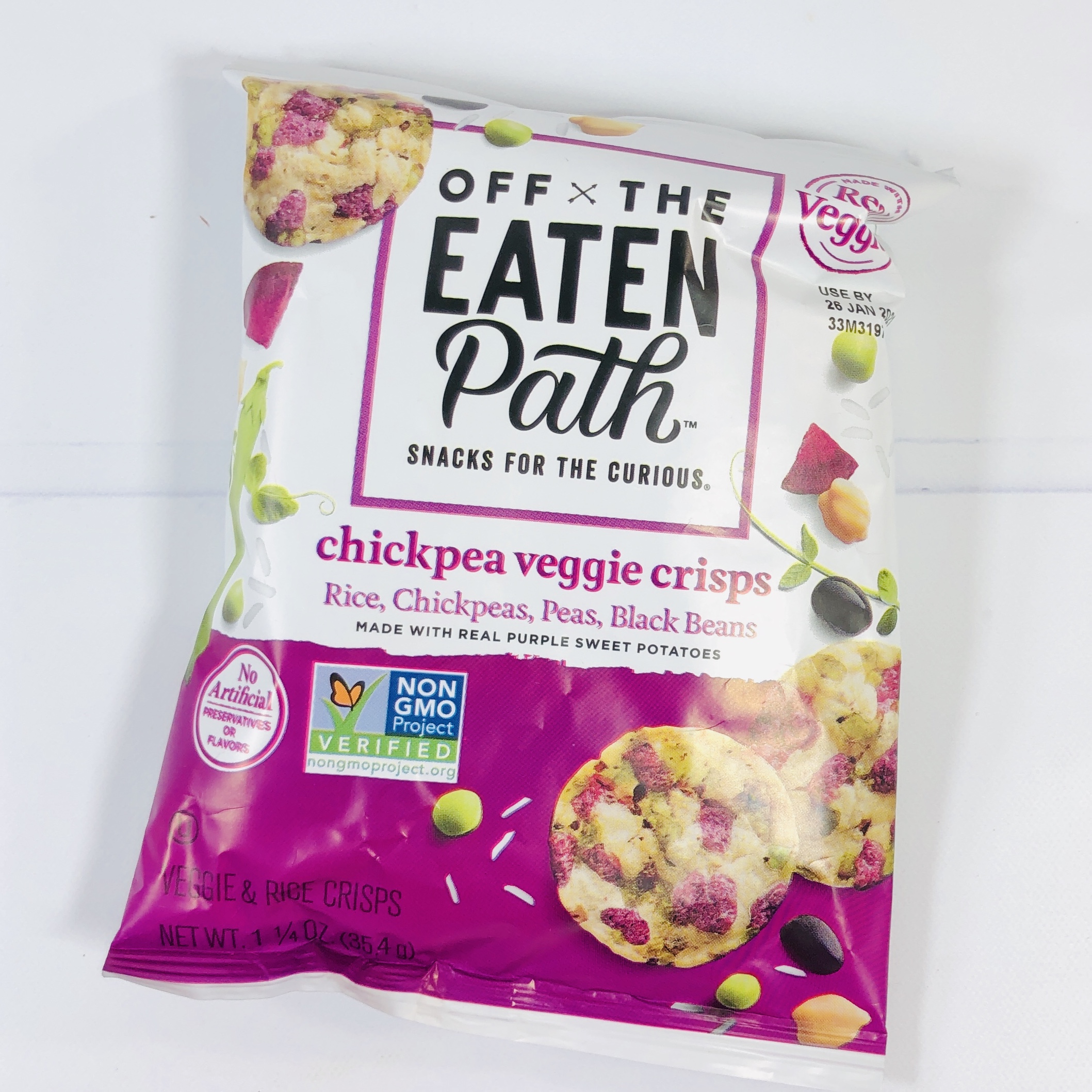 Off The Eaten Path Chick Pea Veggie Crisps These are so tasty, my new favorite chip! They are puffy and have just the right amount of salt. They are made with rice and chickpea flours plus peas, beans, and purple sweet potato. They look pretty and taste yummy.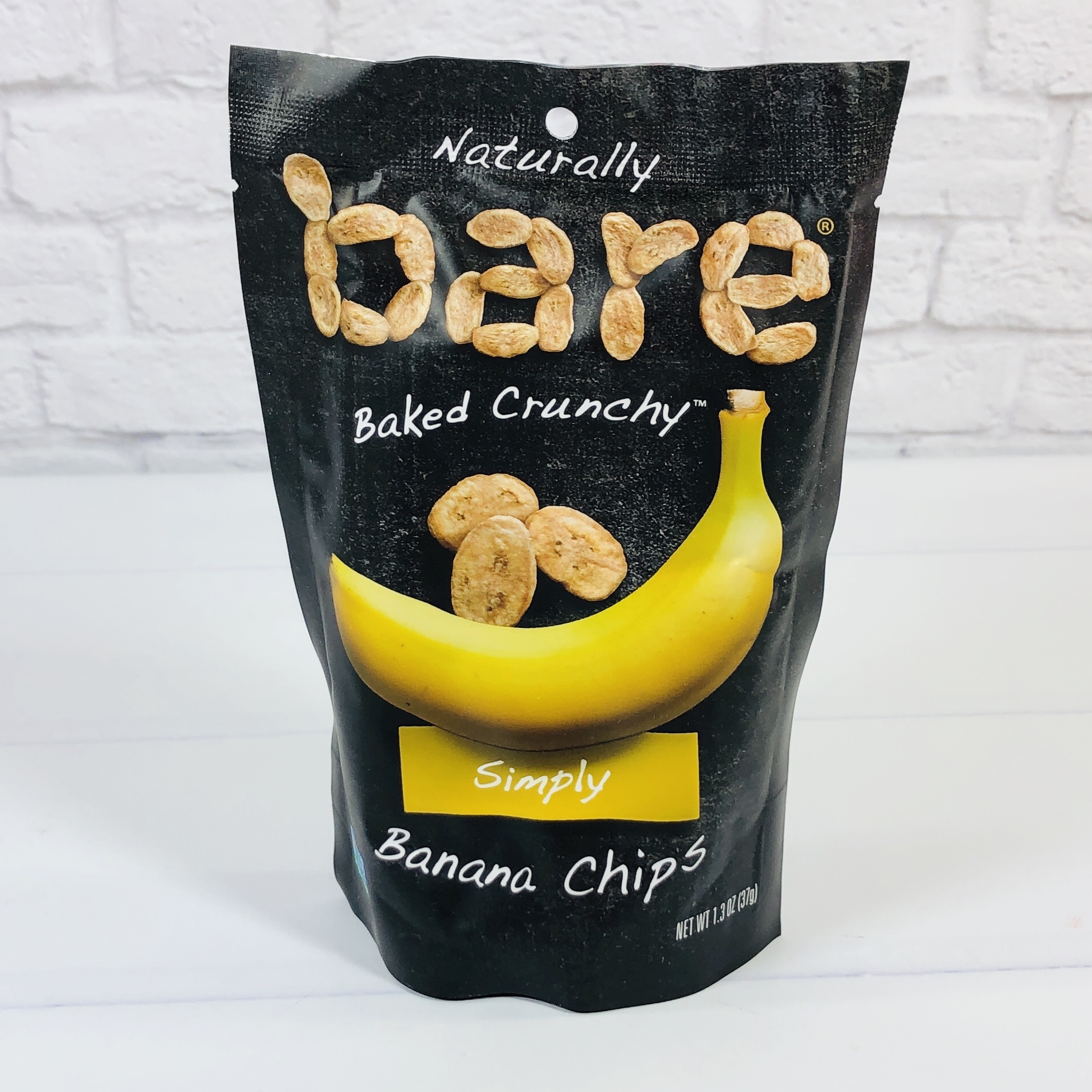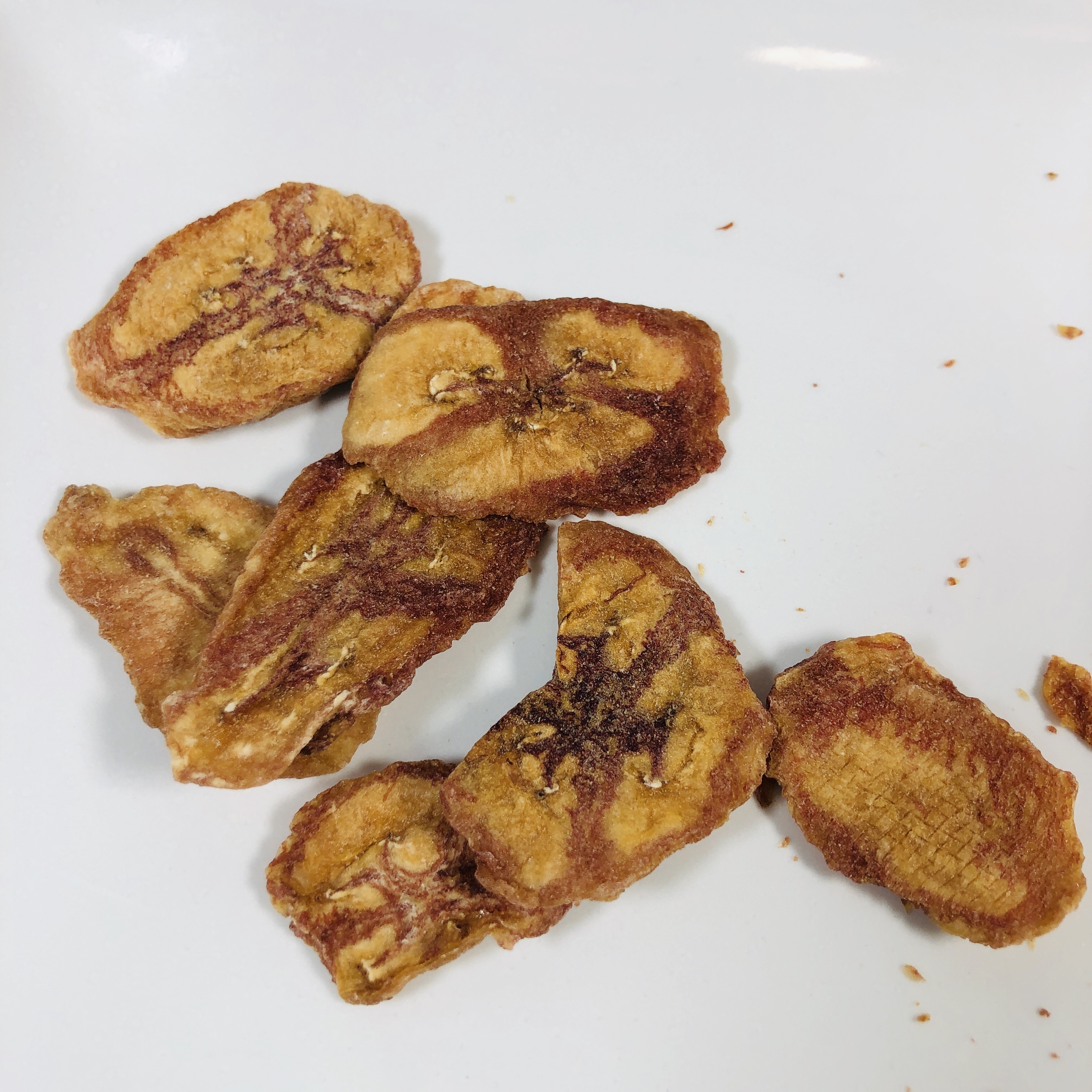 Naturally Bare Baked Crunchy Banana Chips I wanted to like these chips, they taste like super sweet banana baby food! These are just too crisp, I mean it sounded like I was pouring glass onto a plate. I was worried I would break a tooth.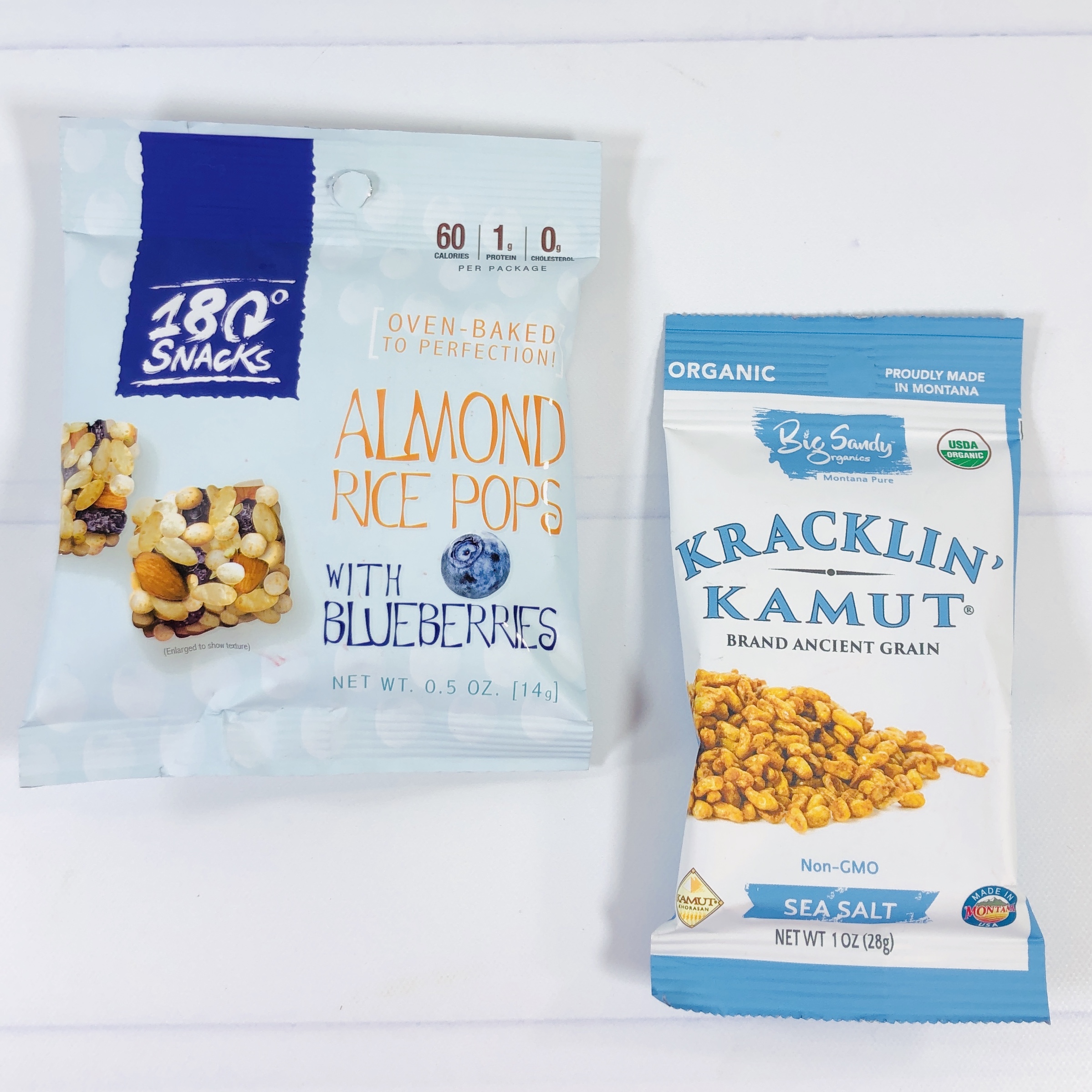 180 Degree Snacks Almond Rice Pops With Blueberries remind me of Rice Krispy treats but with nuts and dried fruit added.
Big Sandy Kraklin' Kamut Sea Salt Brand Ancient Grains is cracked wheat that is roasted in safflower oil and then tossed with sea salt. Just pop into your mouth and get 5 grams of fiber in one bag!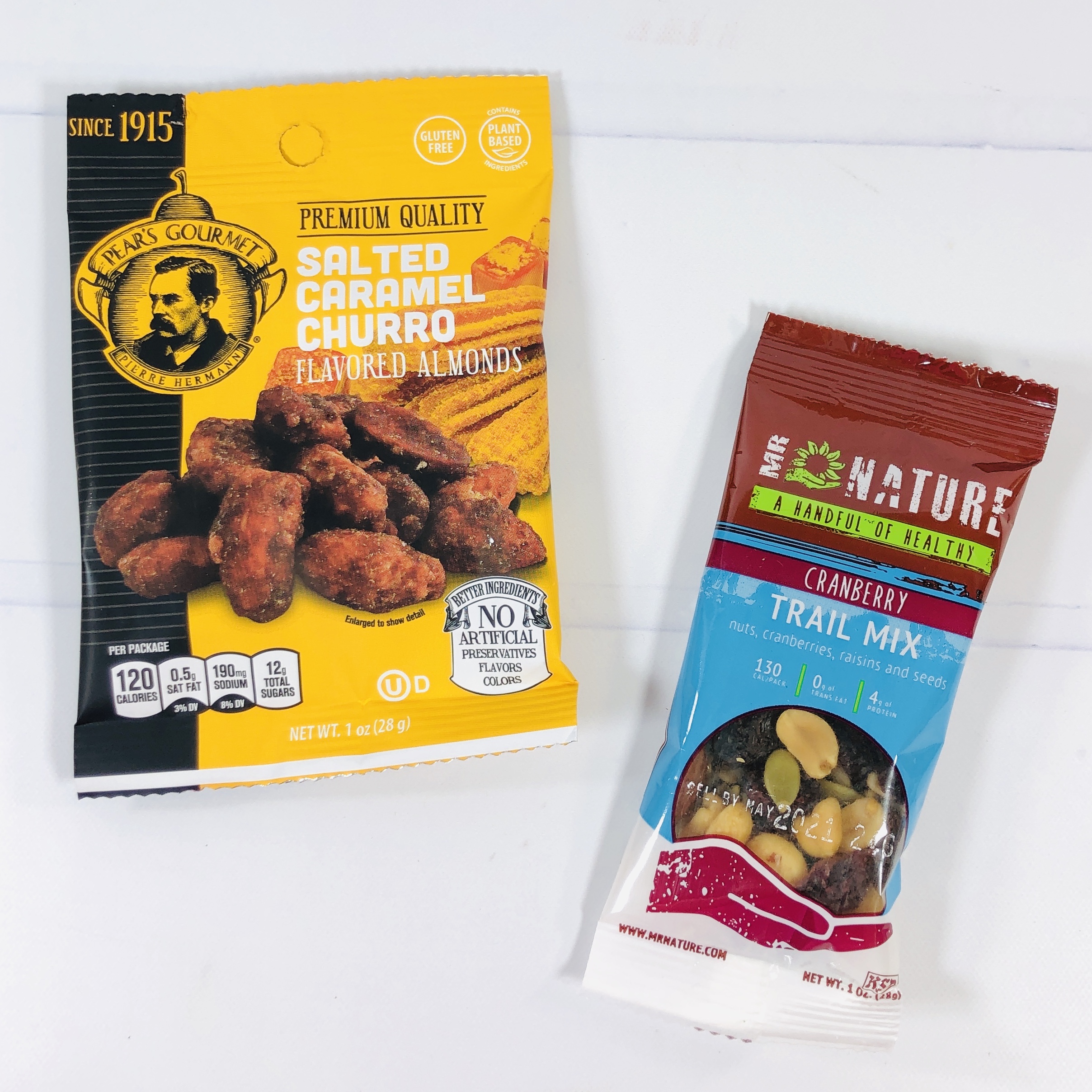 Pear's Gourmet Salted Caramel Churro Flavored Almonds I haven't had a churro in years but they tried to capture that flavor and put it on a nut! It is sweet, salty, buttery, and cinnamon sugary. Yum yum! I still want a churro though.
Mr. Nature Cranberry Trail Mix Good old raisins and peanuts, plus craisins, pepitas, and sunflower seeds made for a tasty and filling snack. There is just a bit of salt added and it enhanced the flavor of the mix, for some reason I find it more palatable than unsalted, raw nuts. So good!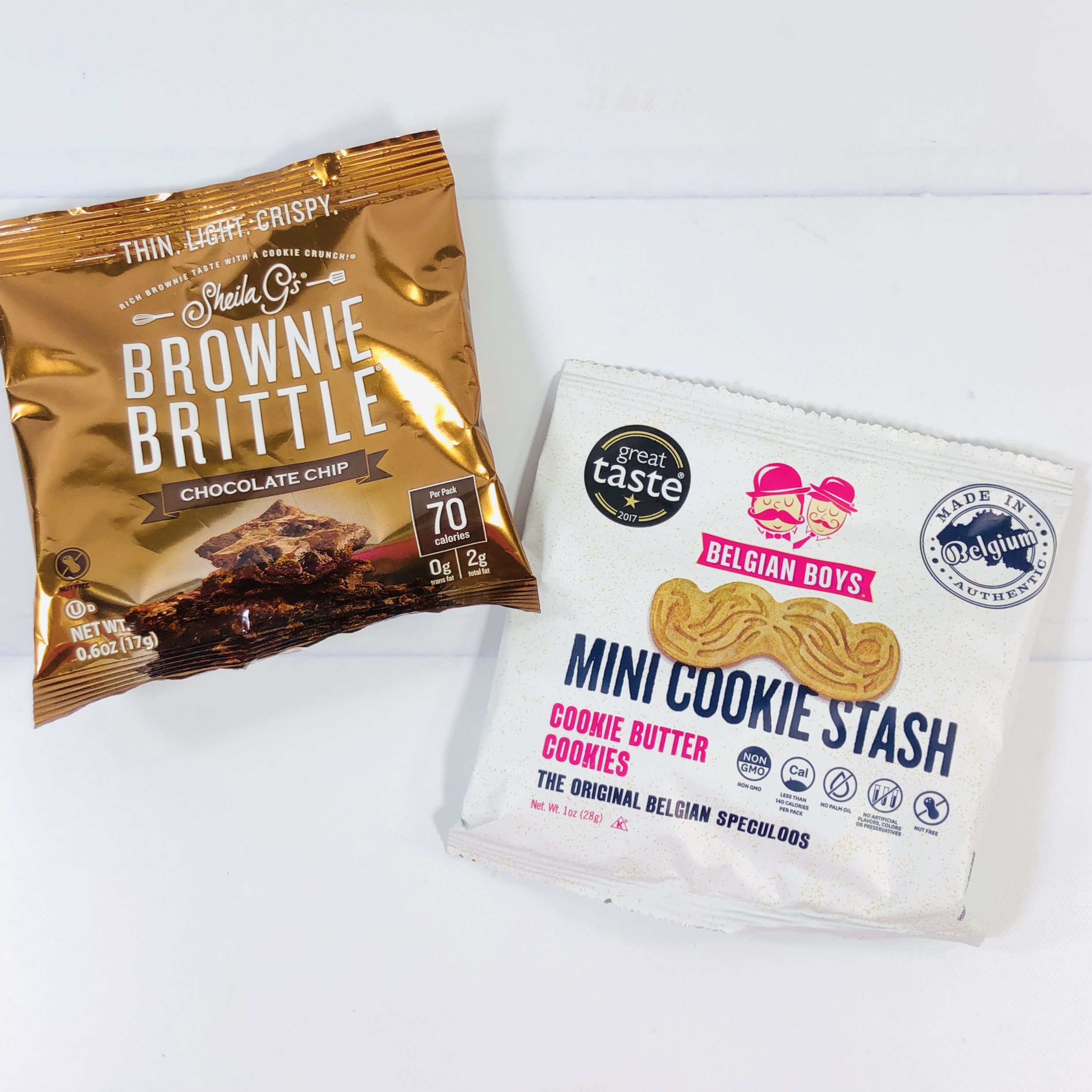 Shiela G's Brownie Brittle Chocolate Chip This little bag of cookies was almost completely crumbled. The idea here is that those who love the crispy edge of a brownie will get a whole bag full of those pieces. They are very sweet.
Belgian Boys Mini Cookie Stash are like those little cookies you get on an airplane, like a gingersnap with no ginger. They are shaped like a mustache so you can take silly pictures: yes, you can play with your food!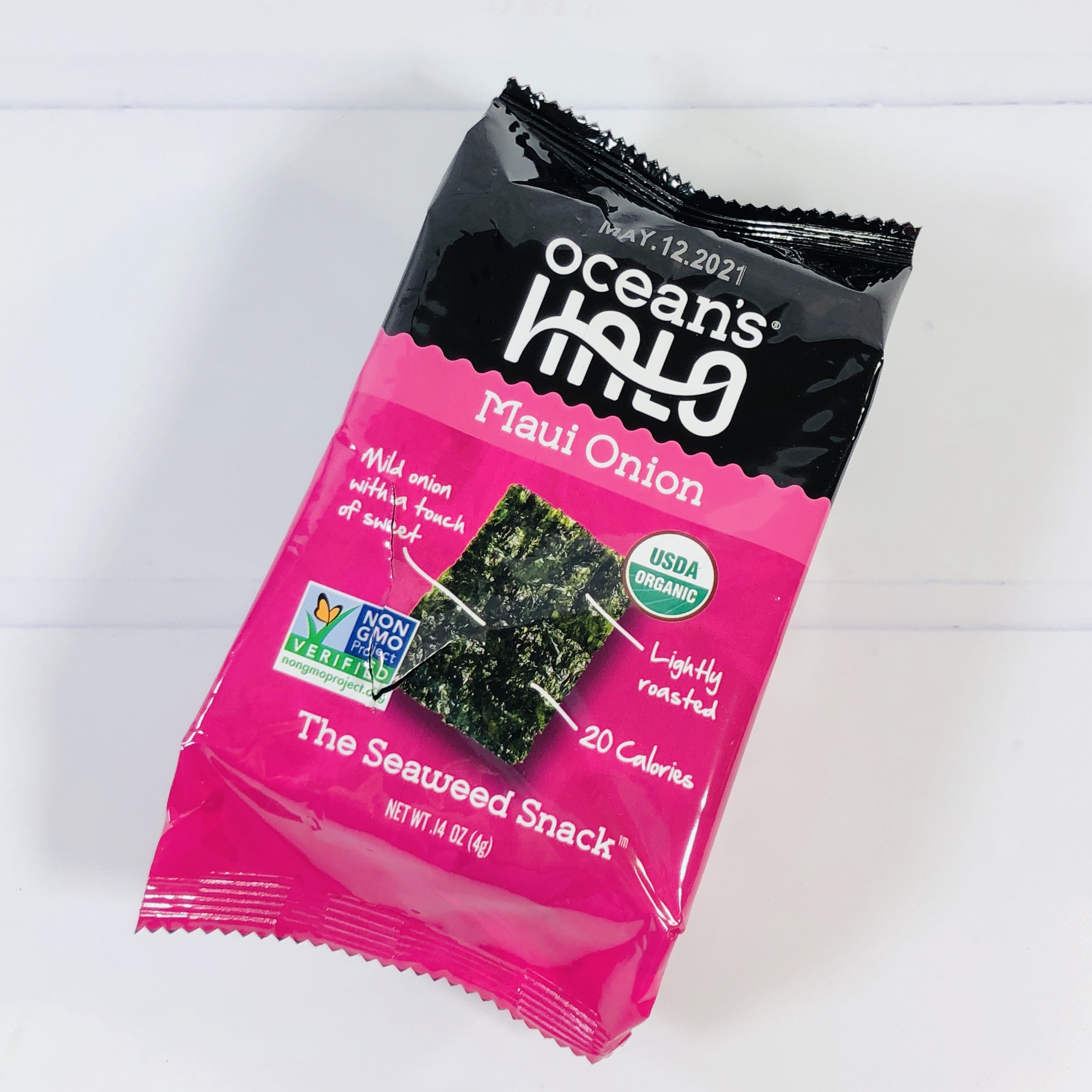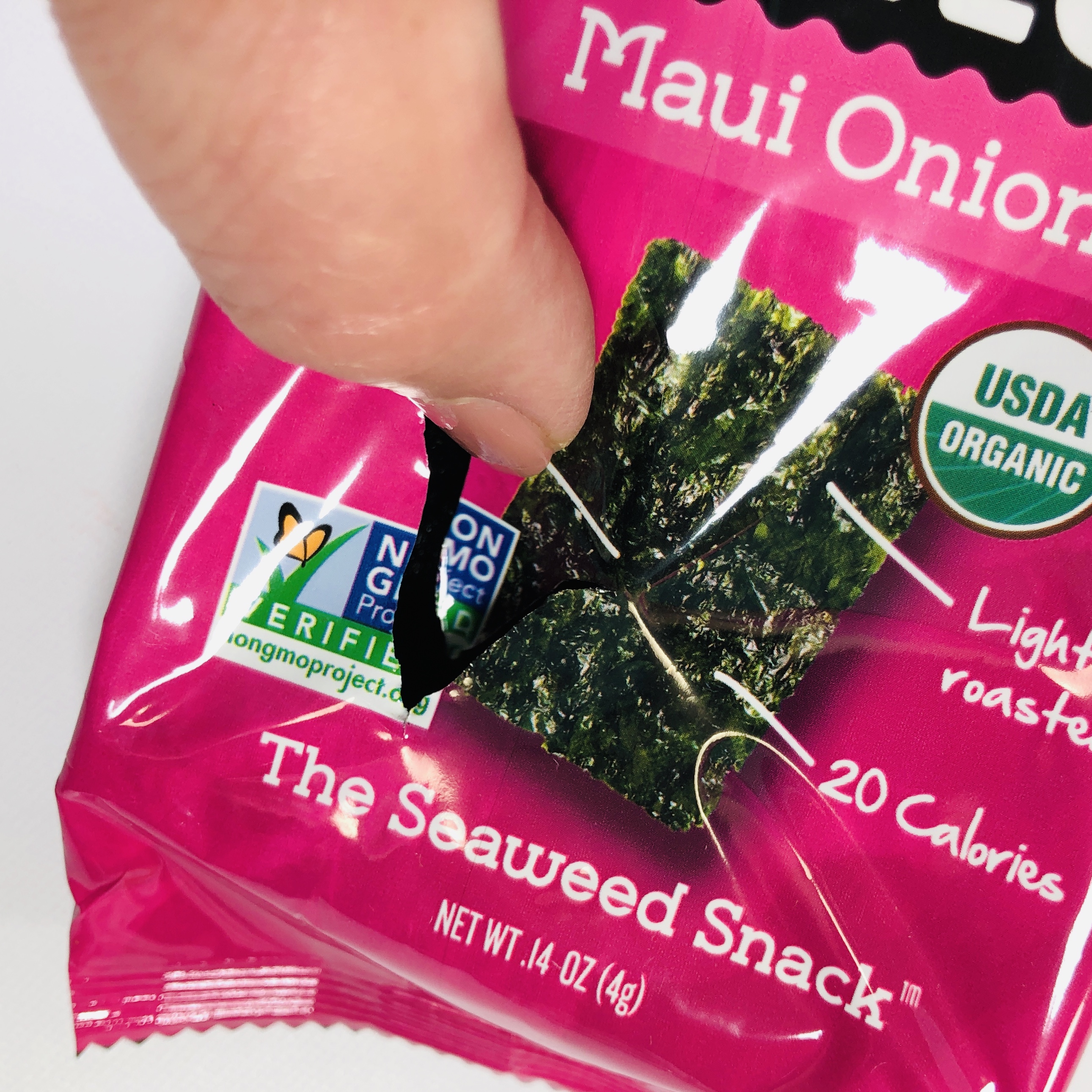 Ocean's Halo Maui Onion The Seaweed Snack Aww, my bag came busted so I didn't get to try this seaweed sheet, which is flavored with sweet onions. It certainly smells good!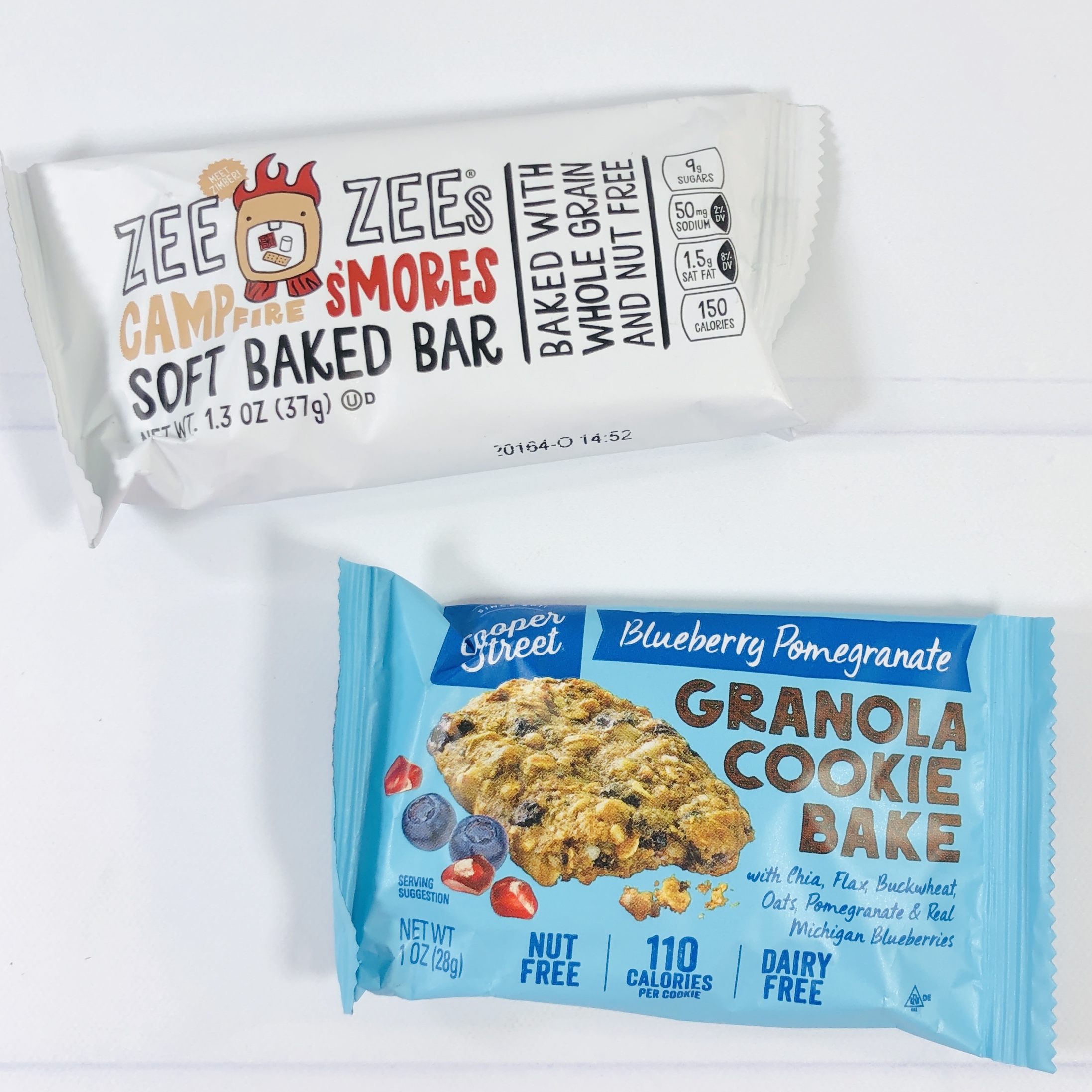 Zee Zee's Campfire Smores Soft Baked Bar is a soft-baked snack bar made with oats and raisin paste. It has little bits of marshmallow and a chocolate drizzle over top.
Cooper Street Blueberry Pomegranate Granola Cookie Bake is also a soft baked bar, but with crunchy bits inside. It is made with oats, flax, chia, and dried pieces of blueberry and cranberry. Both bars can fill in as breakfast on the go and would go great with a glass of milk.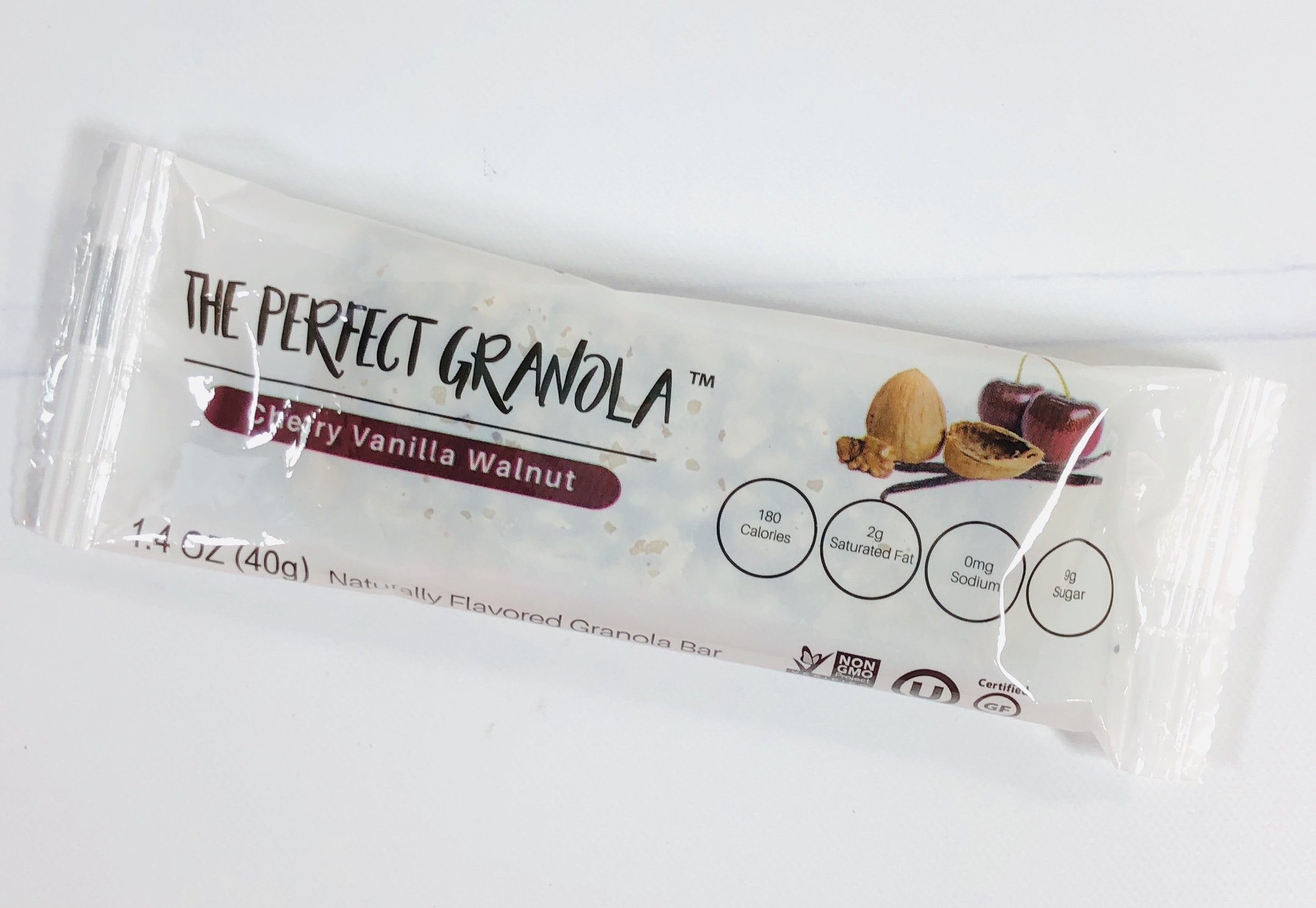 The Perfect Granola Cherry Vanilla Walnut Bar I adore granola bars and this one was super soft, it reminded me of my mom's homemade granola before she baked it, moist and sweet. Made with oats, sunflower seeds, walnuts, and chia seeds.
Fit Joy Grain-Free Protein Bar in Cookies And Cream I really liked the sweet flavor of this protein bar. It had a chewy middle and a chocolatey glaze and was about the size of a fun-size Snickers bar.
Lily's Chocolate Chip Cookies This mini cookie was interesting and it was pretty cool to try a sugar-free cookie. The texture wasn't working for me though, although the flavor was good. I think it's a pretty good trade off.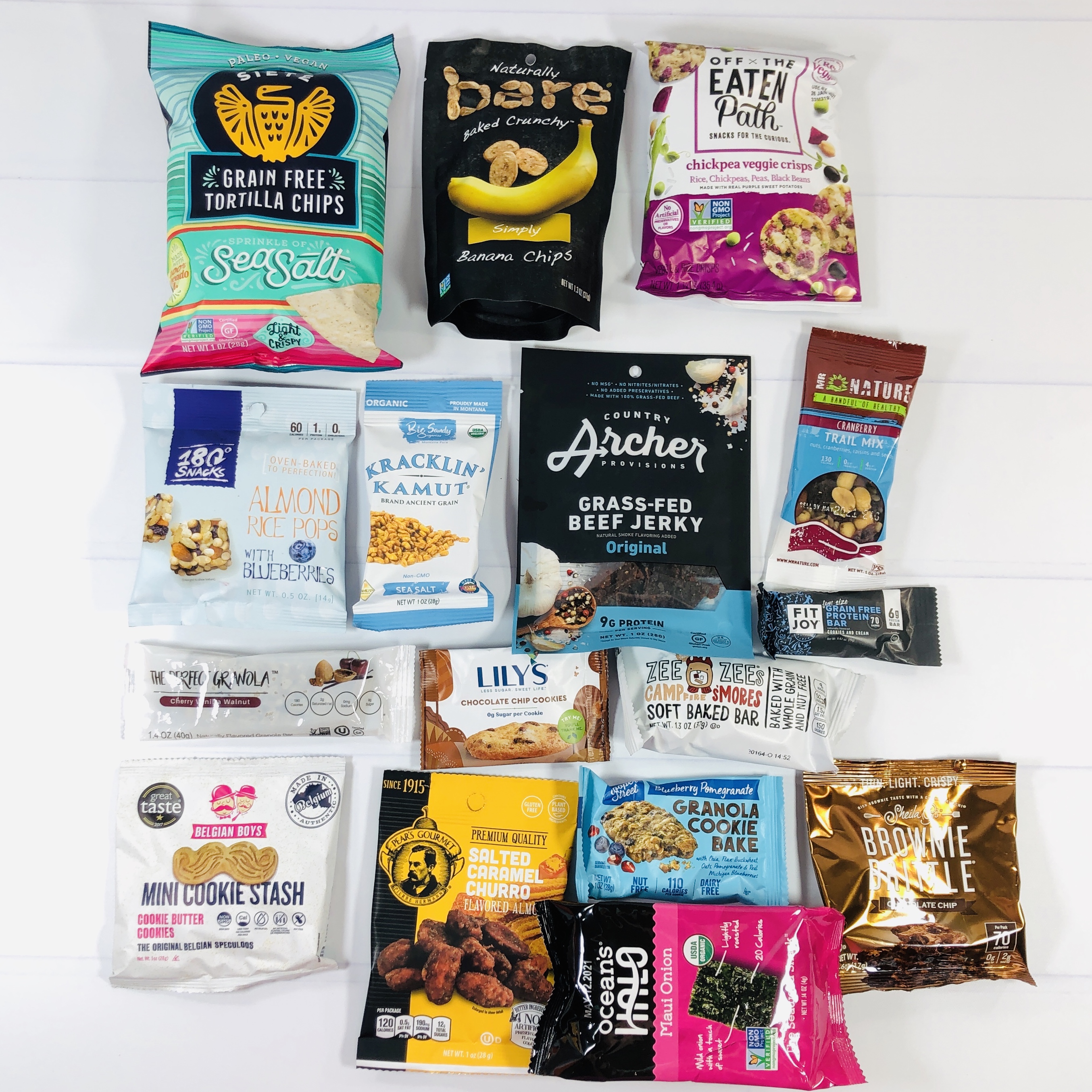 Love With Food always sends a variety of tasty snacks! They always send a combo of new and older snacks and I am happy with the variety. There's chips, bars, cookies, nuts, and even jerky so no matter what I'm in the mood for I can find it in this box. There were 16 snacks in all so that works out to about $1.25 per snack and it helps me decide which ones I want to purchase in bulk to keep on hand.
What's your favorite snack from the Love With Food Deluxe Box this month?
Visit Love with Food Deluxe Box to subscribe or find out more!