We have the FULL spoilers for the LOVE GOODLY Essential and VIP boxes for December 2020-January 2021!
DEAL: Use this link and coupon code TRYLOVE for 20% off the first box in a subscription (save $6.99 on Essential, $9.79 on VIP!)
You can gift this box as a one-time purchase, gift a subscription, and if you purchase any 3 or more gift boxes or gift bundle receive 20% off with coupon code LOVEHOLIDAY
Each Essential Box includes: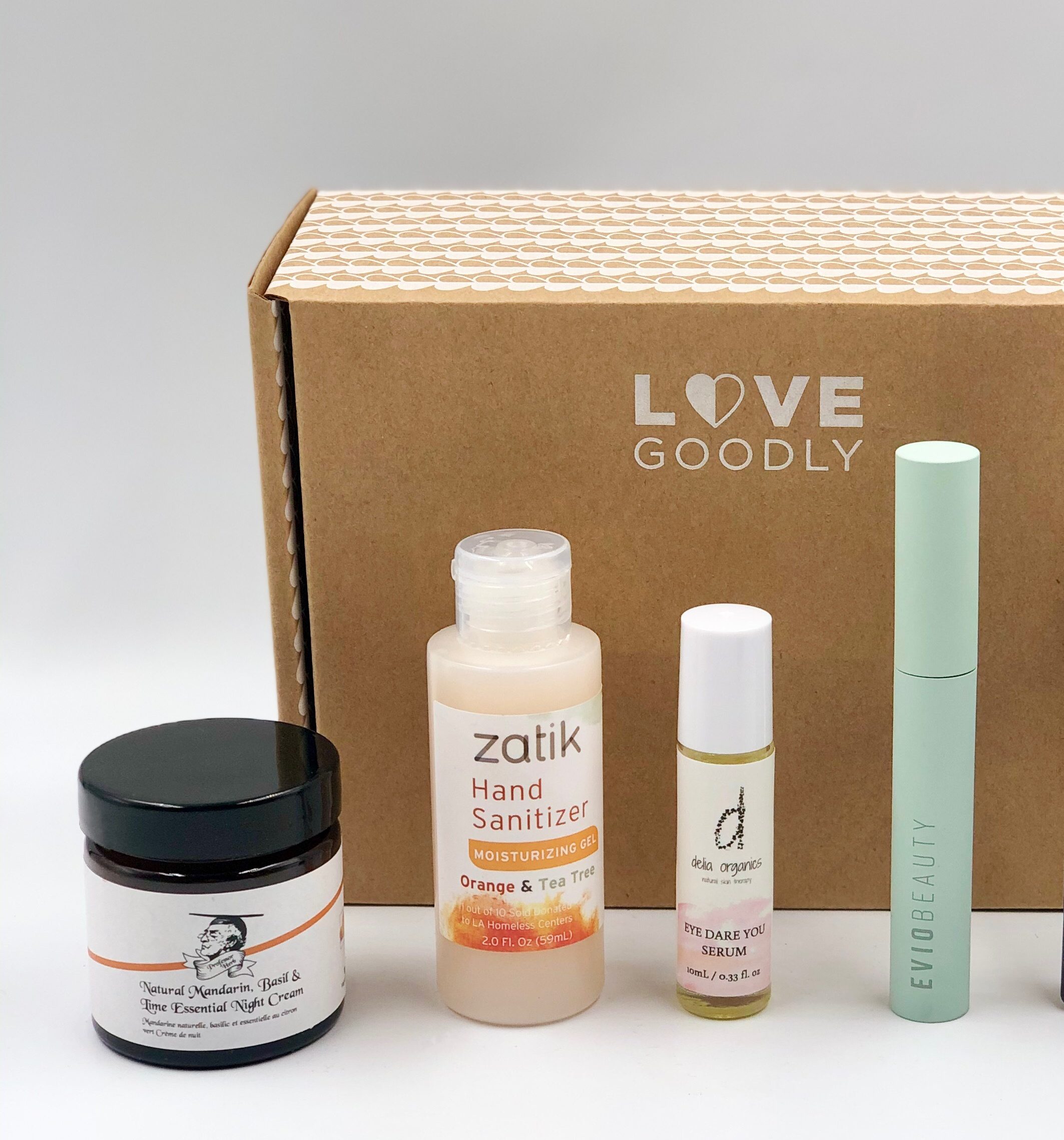 Delia Organics – Eye Dare You Eye Serum (Value $25.99)
Eye Dare You Serum is a lightweight, hydrating eye serum that is loaded with Cranberry Seed Oil with beneficial antioxidant properties to help soothe, hydrate and even the skin tone. With regular use, you can see an increase in hydration and brighten eye area. How To Use: Roll around your eye contour area and lightly massage into your skin with light dabbing movements with your third finger. 0.33 fl. oz / 10mL glass roller bottle. Nontoxic, Cruelty free, Vegan.
Professor Herb UK – Mandarin, Basil, and Lime Night Cream (Value $24.50)
Yes, Vegan Collagen is real! Boost collagen, hydrate your skin and even out your complexion in your sleep. This Night Cream from London-based Professor Herb promises to restore elasticity, renew cells and nourish your skin in the easiest possible way overnight. Mandarin comes packed with antioxidants and Vitamin C, helping to fight free radicals in our skin. Disarming free radicals, the mandarin protects your skin from infection & disease and keeps it glowing all day long. Working hand-in-hand with Mandarin comes Basil & Lime, joining forces to replenish your skin from within and looking beautiful all day and night! Nontoxic, Cruelty free, Vegan.
EVIO – Clean Mascara (Value $19)
Evio has newly launched its reformulated CLEAN Mascara, and it's the latest hot ticket item.  The Evio Clean Mascara is a volumizing mascara to give your lashes a boost and natural effect. Its HERO ingredient? Cannabis sativa seed oil (also known as hemp seed oil) nourishes and helps reduce damage to lash follicles. One coat for a defined look or layer on without clumping or crunching. The brush separates and lengthens lashes with a precise tip to coat inner or bottom lashes. Good for sensitive eyes.
Zatik – Orange & Tea Tree Hand Sanitizer ($8)
Stay sanitized on the go with USDA Certified Organic hand sanitizer with 80% Alcohol to help reduce bacteria on skin, featuring nourishing nonactive ingredients like aloe leaf juice, sweet orange peel oil, and rosemary leaf extract, and tea tree leaf oil.
Total Value of "Essential Box" is $78 (Retail $34.95)
Each VIP Box (scroll down on home page here to subscribe) includes: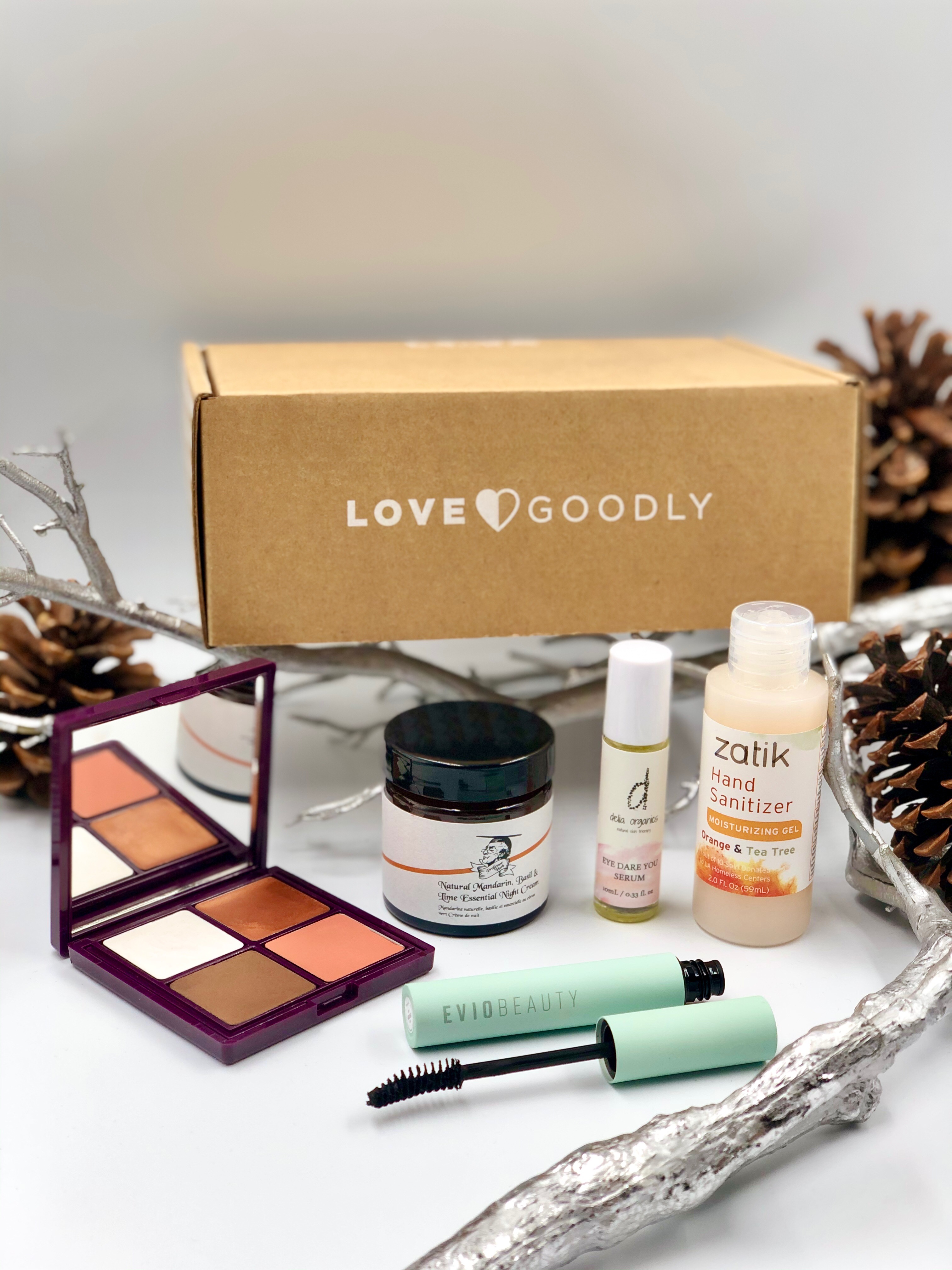 The Dec/Jan VIP Bi-monthly Subscription Box features a glowing Bijou Palette by Nude and Noir (Total Value $98; Retail: $48.95)
LA-based Nude and Noir – Bijou Palette (Value $36)
This palette is a dream for that healthy, nude glow featuring hero ingredient: coconut oil!  Diamond is an ideal highlighter for inner eye corners, bridge of the nose, brow and cheek bone. COLORWAYS INCLUDED: Amber is a warm-toned cream for a pop of color on the eyes or cheeks. Obsidian is a neutral brown for your favorite bronzer or smokey eye. Jasper is a multi-use lip color and/or cheek color for that perfectly dramatic nude look. How to use: Coconut oil is our star and can be a firmer oil, especially in colder temperatures. Be sure to use your finger and not a brush.