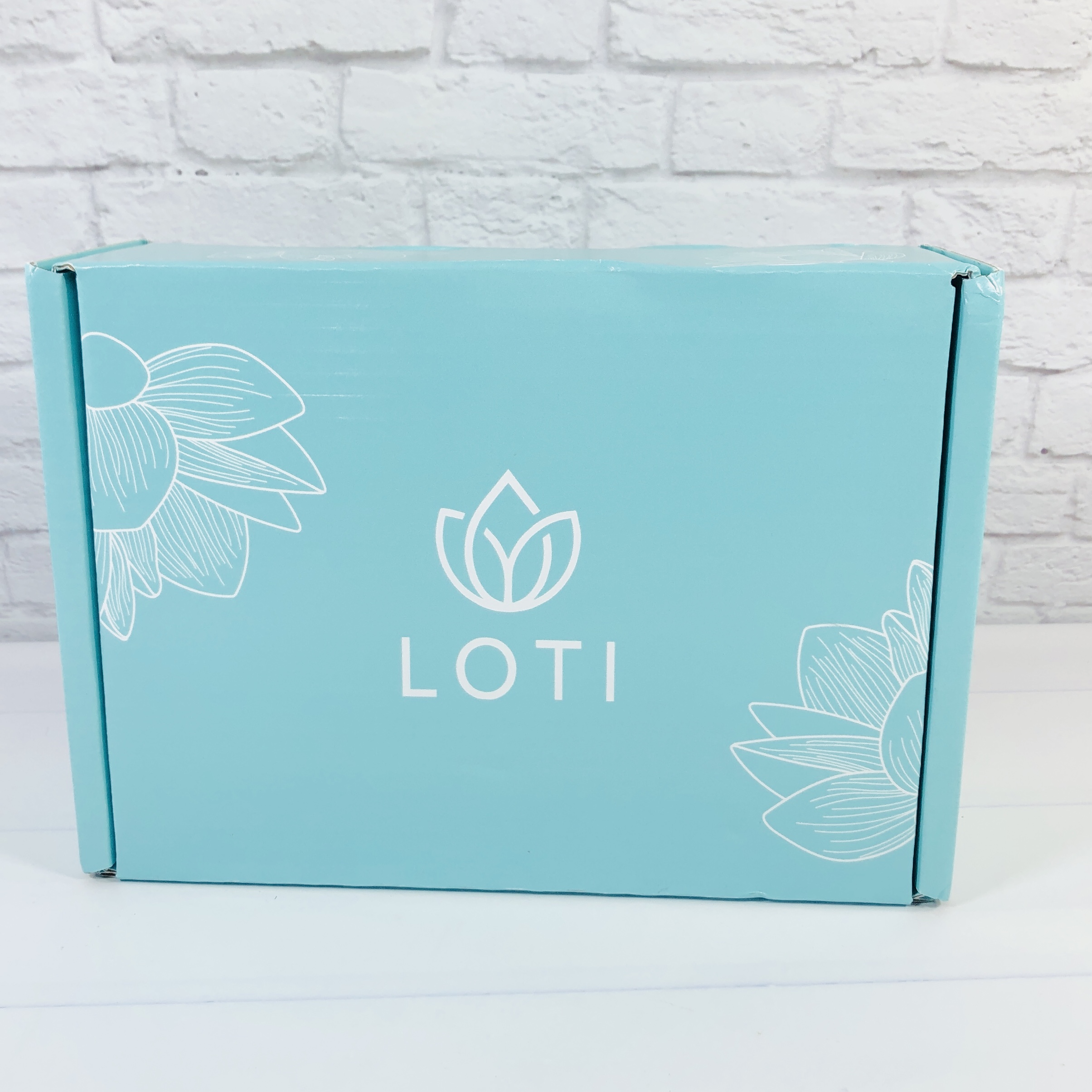 Loti Wellness is a subscription box with a focus on self-care. The box has a monthly theme curated by therapists to focus on items and rituals to promote positivity and improving one's self. Loti Wellness works with local brands and small businesses whenever they can, and choose cruelty-free and natural products. The box will have 5-8 products for self-care and wellness. The box is $49.95 CAD with lower prices on annual subscriptions – about $35 USD. Shipping is $5.99 CAD to Canada and $7.99 CAD to the US (about $6 USD). A portion of proceeds go to CanadaHelps COVID-19 Fund.
A lotus is a flower that blooms from the mud. It symbolizes overcoming adversity and achieving your greatest potential. The Loti Wellness Box offers practical skills and products to reduce stress and anxiety, and improve your overall wellbeing.

Each Loti Wellness Box delivers the tools and strategies you need to cope with life's challenges, using research based in psychology and psychotherapy. The monthly themes focus on topics like reducing anxiety, setting goals, and even boosting positive mindsets to help you discover self-care and self-love.
DEAL: Save 10% on your first box! Just use this link and coupon code SUBSCRIBE10.
My items arrived in a lovely blue box and were wrapped in white tissue paper that was sealed with a sticker.
The items were snuggled into white paper squiggles.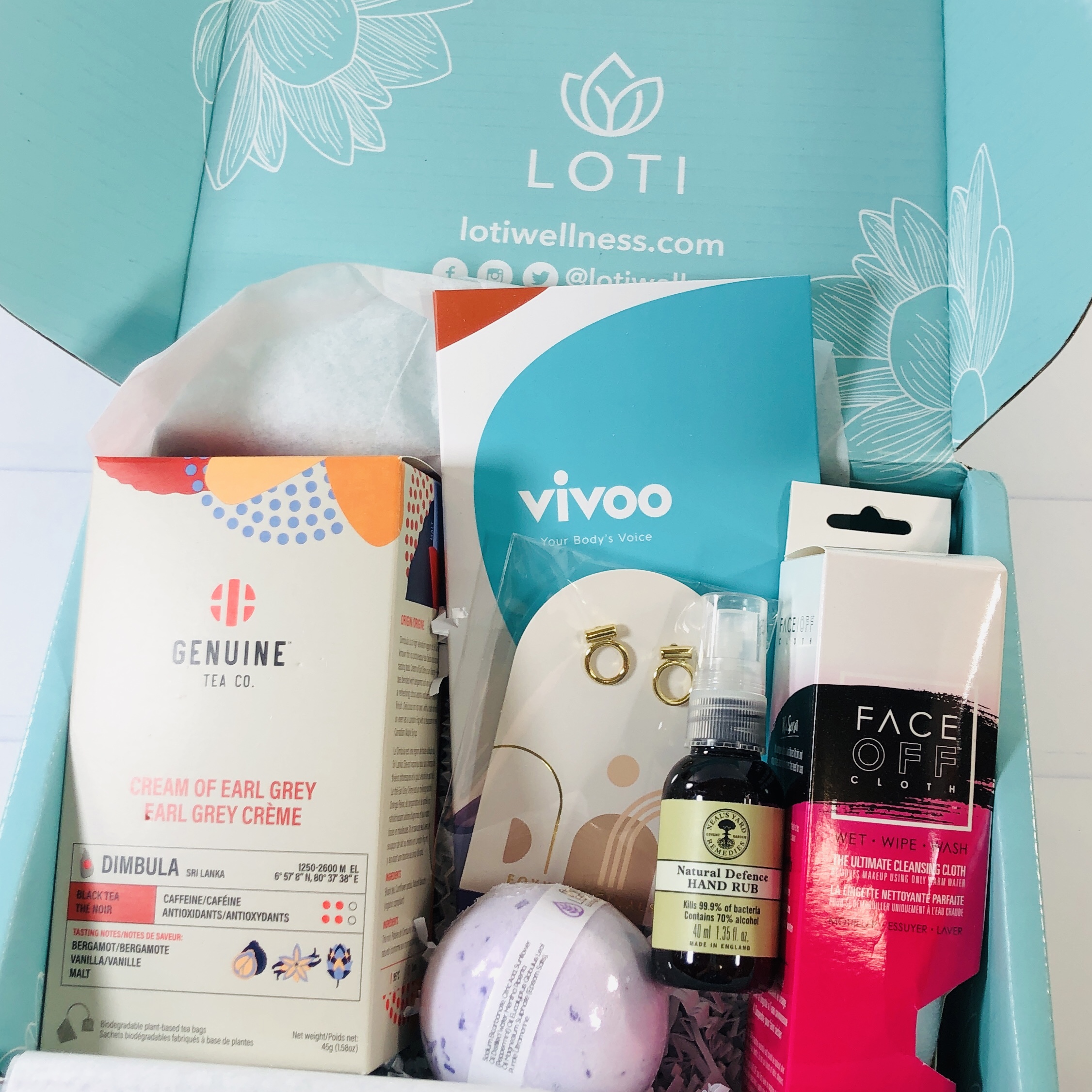 Some products came in their original boxes.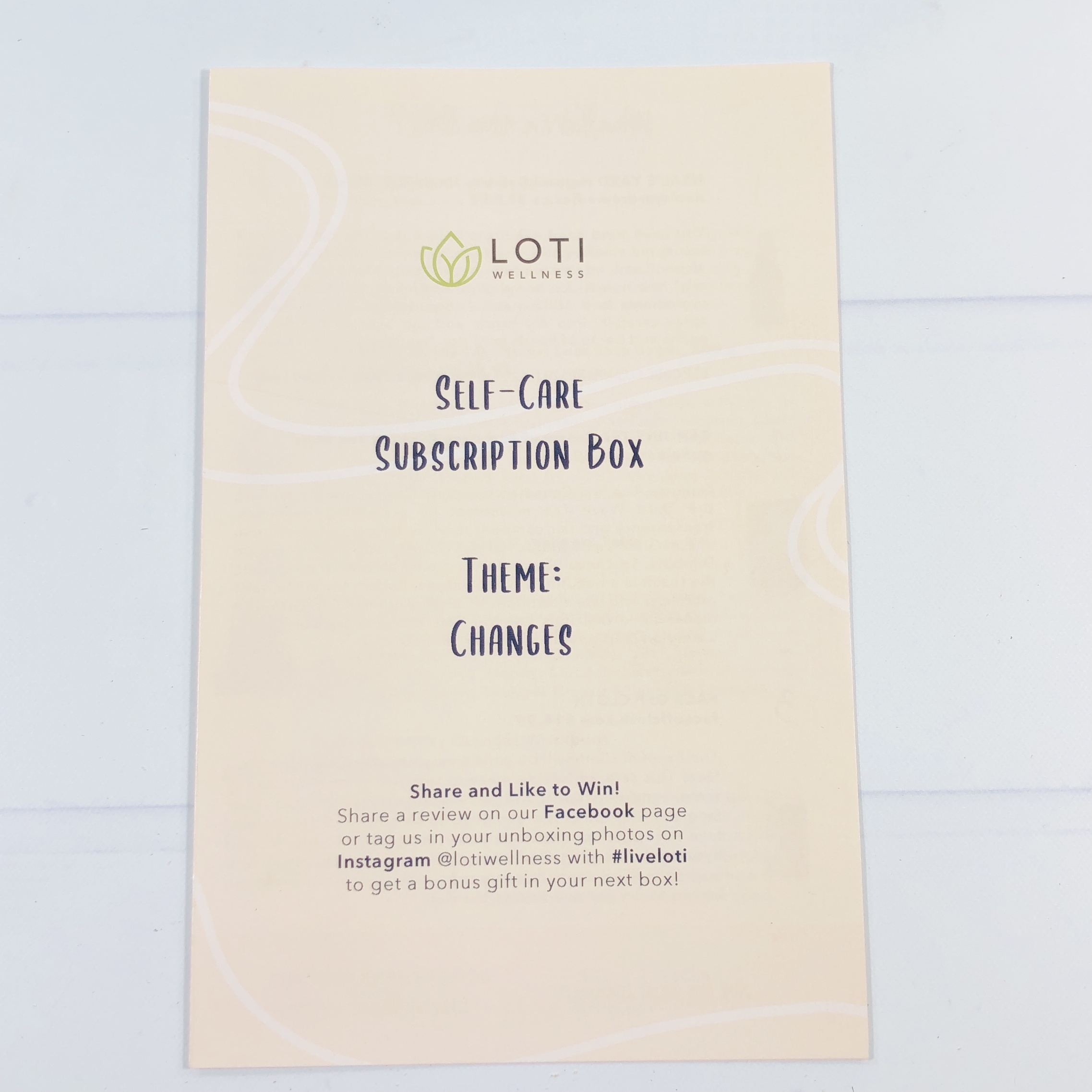 I received a brochure with the theme for November: Changes!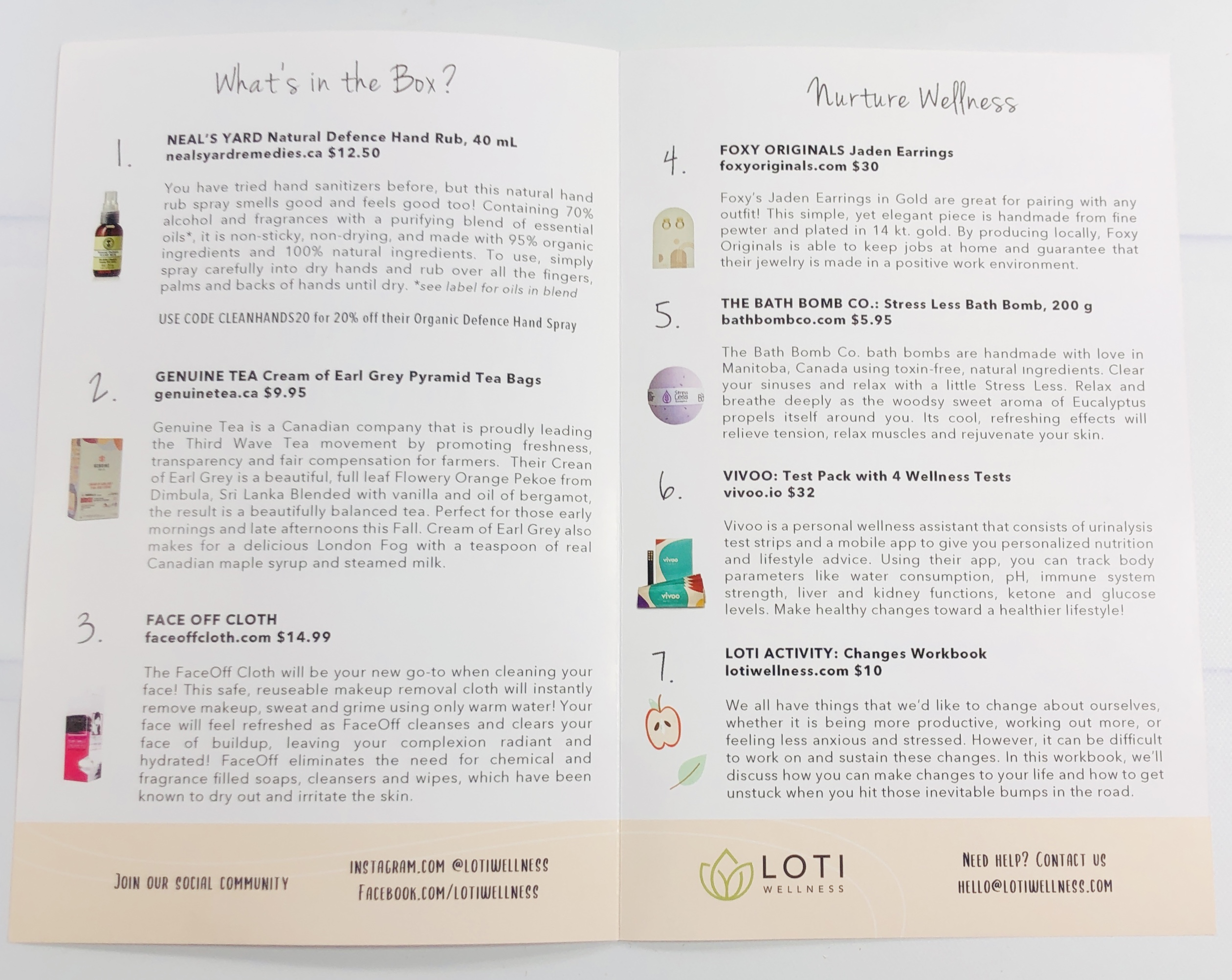 The inside of the brochure listed each item, MSRP, and website so you can stock up on more wonderful items from these brands.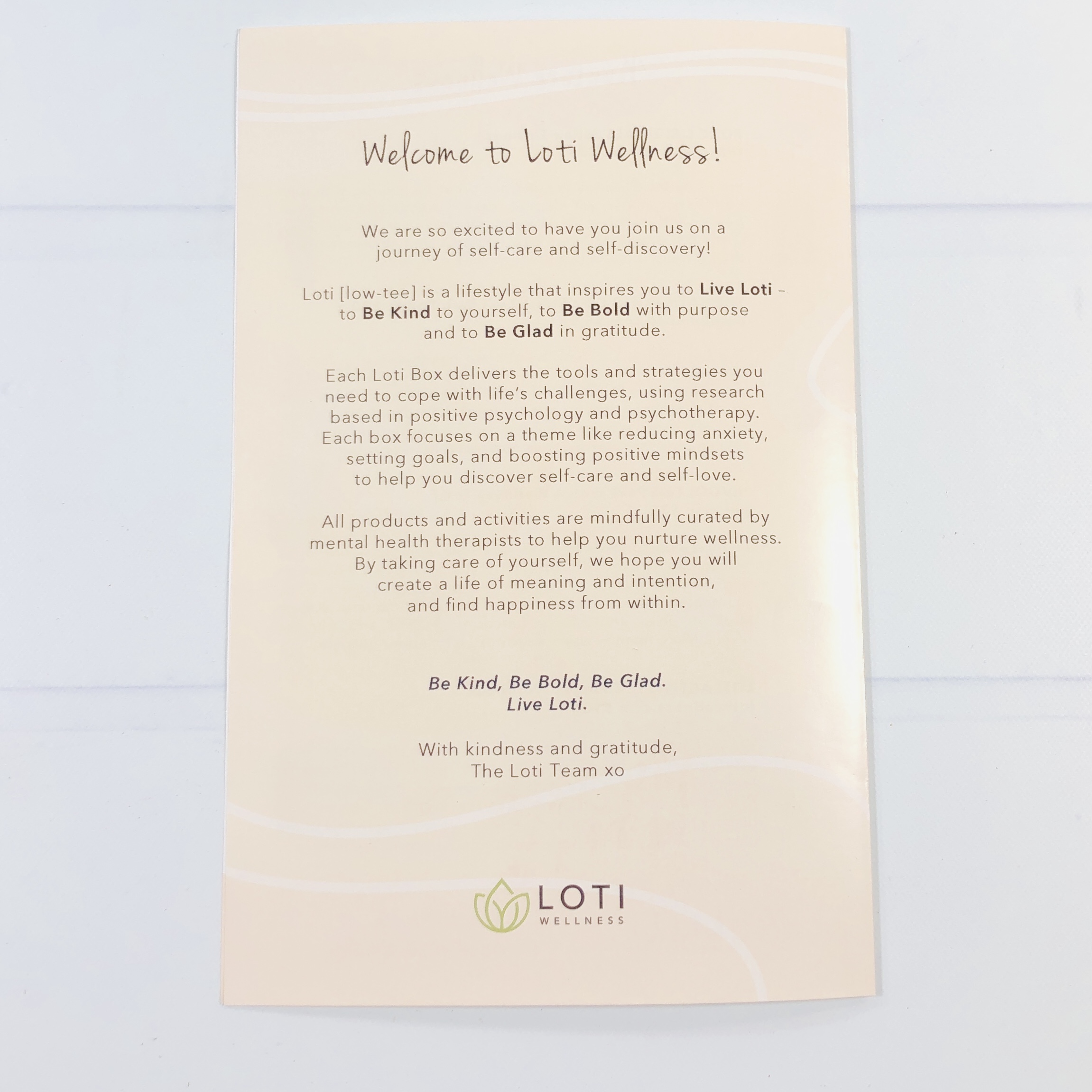 The back of the brochure discussed some of the intentions of Loti.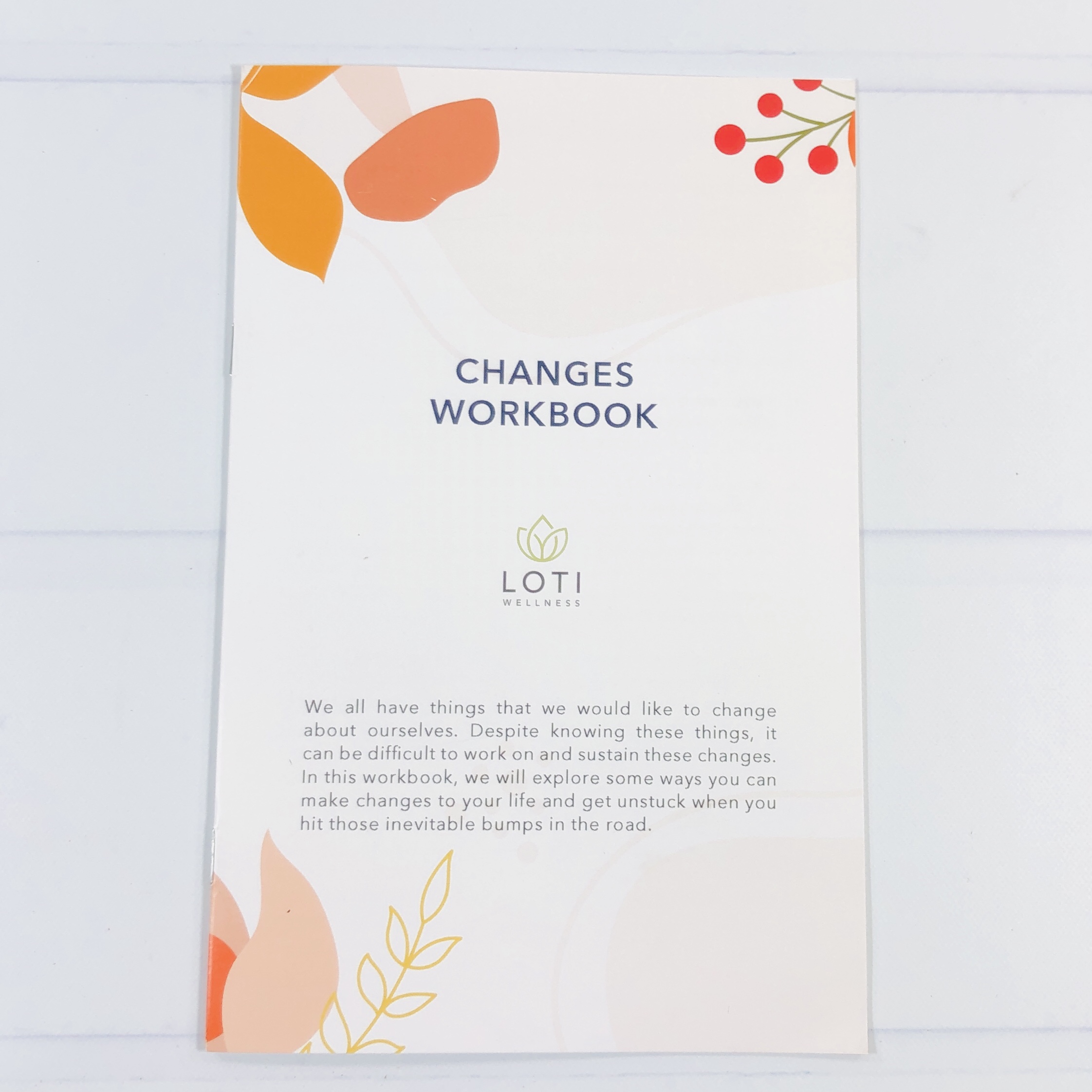 Next up was a workbook.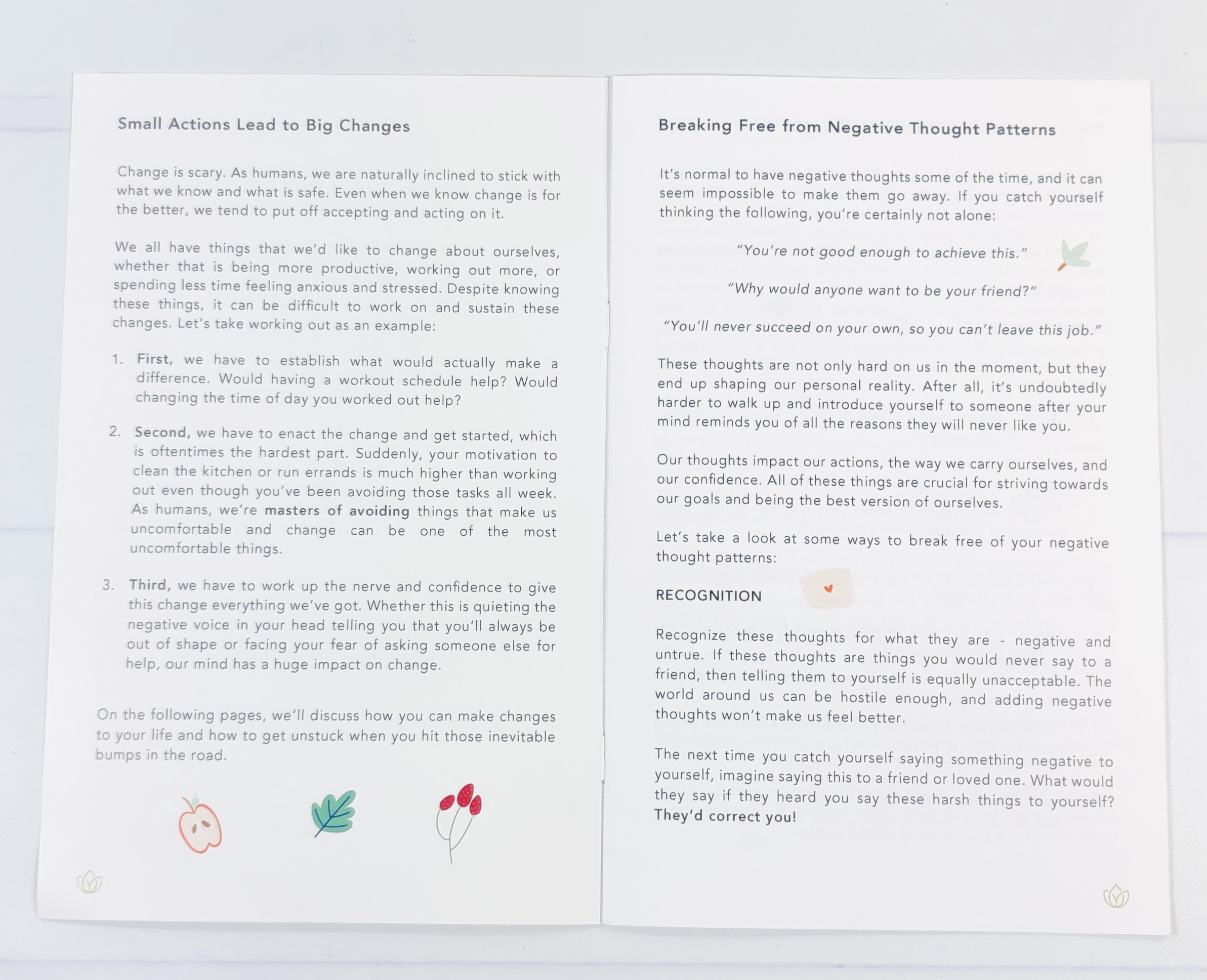 This month's focus was Change, which can be very hard. I think this is a big year for change all around. Some of the next few pages discussed breaking free from negative thought patterns, the importance of action, and listed some positive activities.
On this page you can jot down your own list of activities and there is an action plan.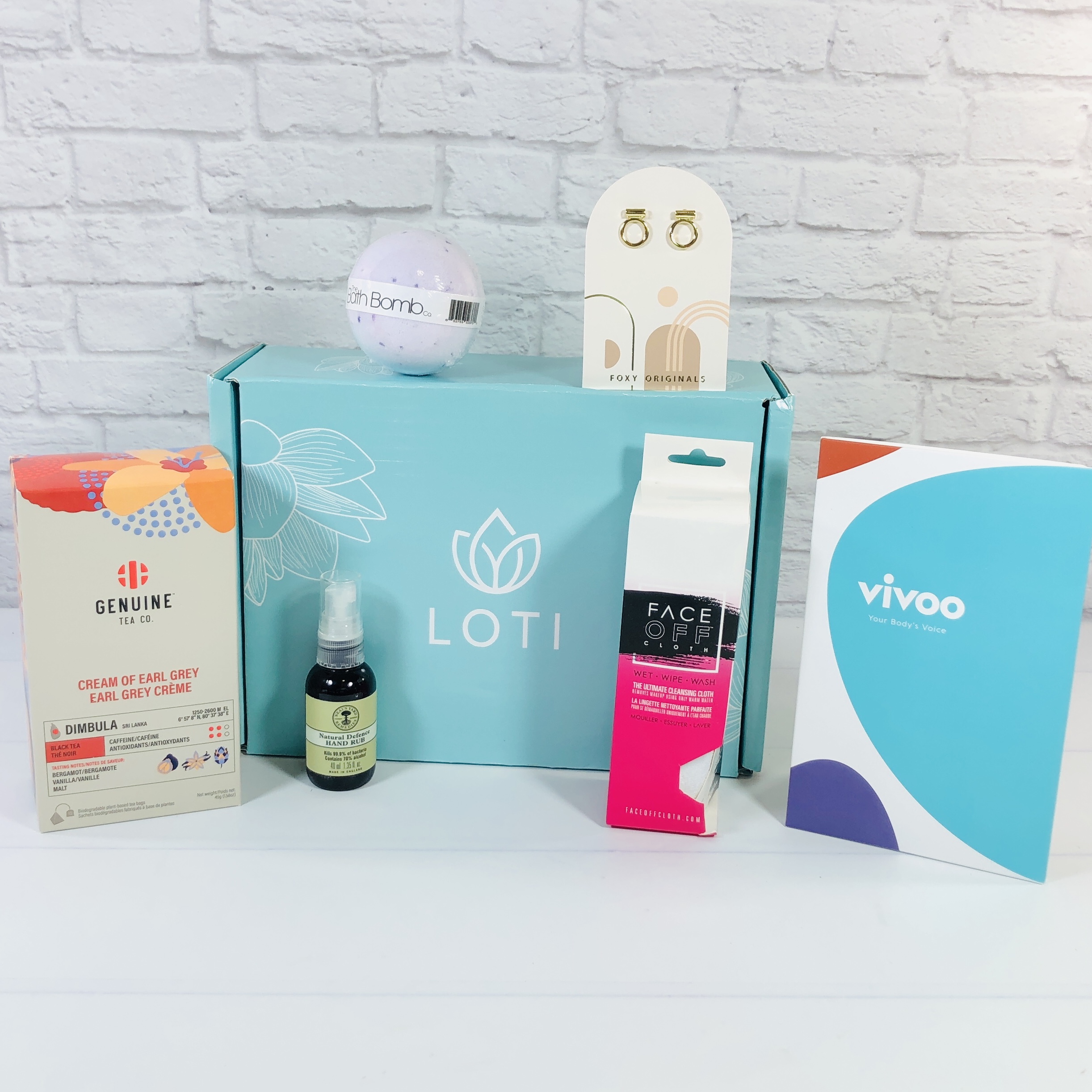 Everything in my box!
Foxy Originals Jaden Earrings ($30) Look at how pretty these earrings are!
They are made of pewter that is covered in 14k gold.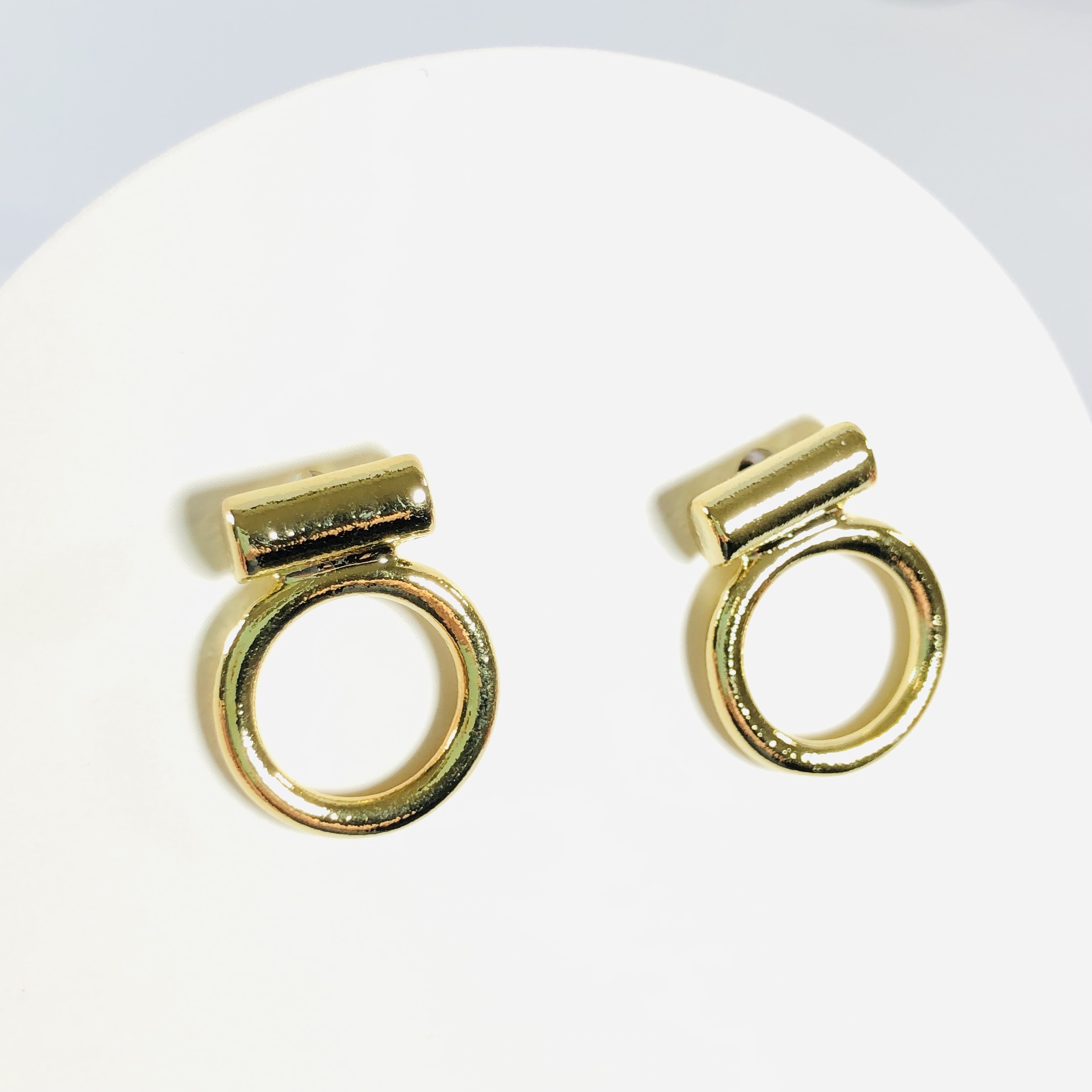 They have a bar with a circle underneath. They fit all kinds of style categories: classy, low-key, stylish. So versatile!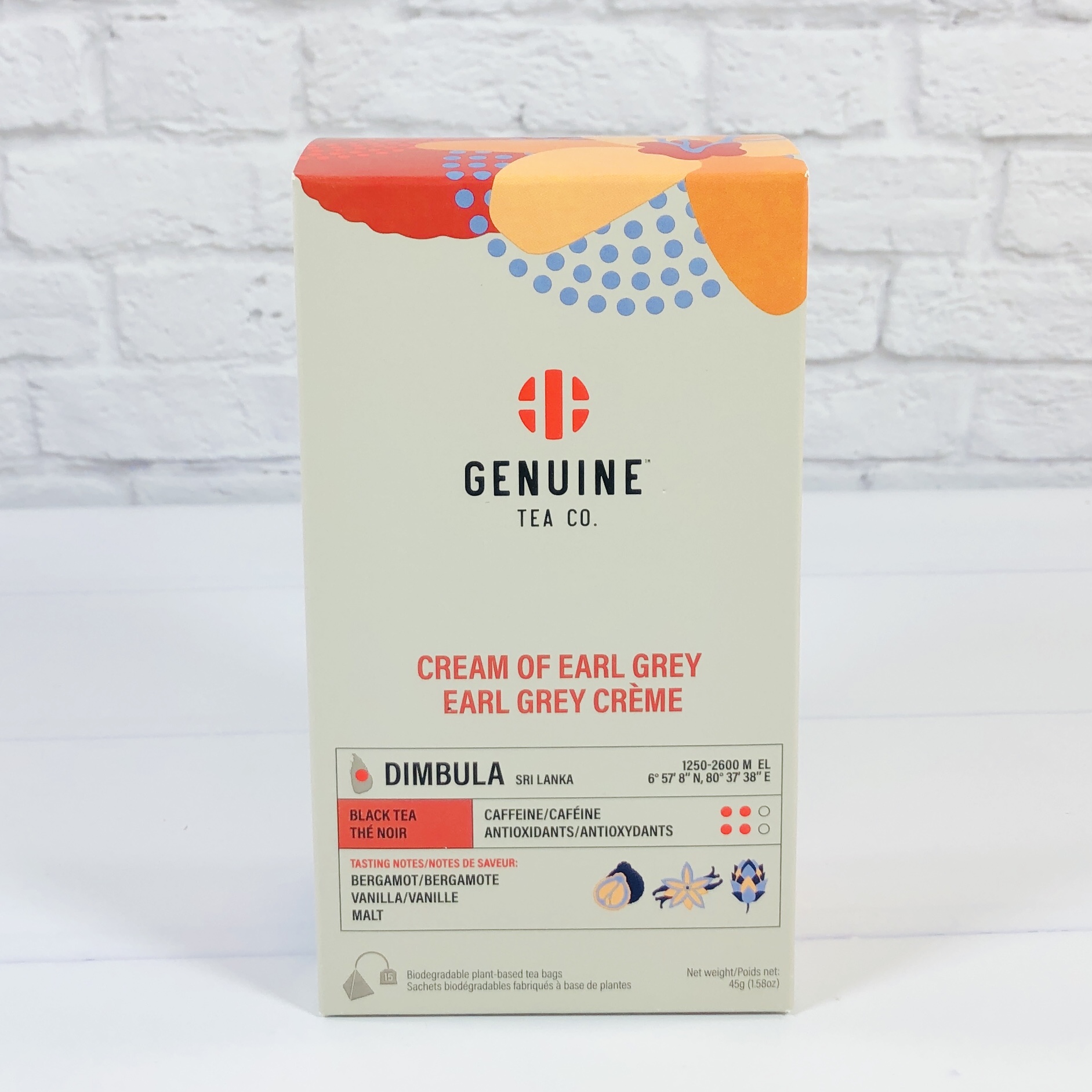 Genuine Tea Cream of Earl Grey Pyramid Tea Bags ($9.95) This was a big hit for me because a.) it's tea, b.) it's black tea, and c.) it's flavored black tea.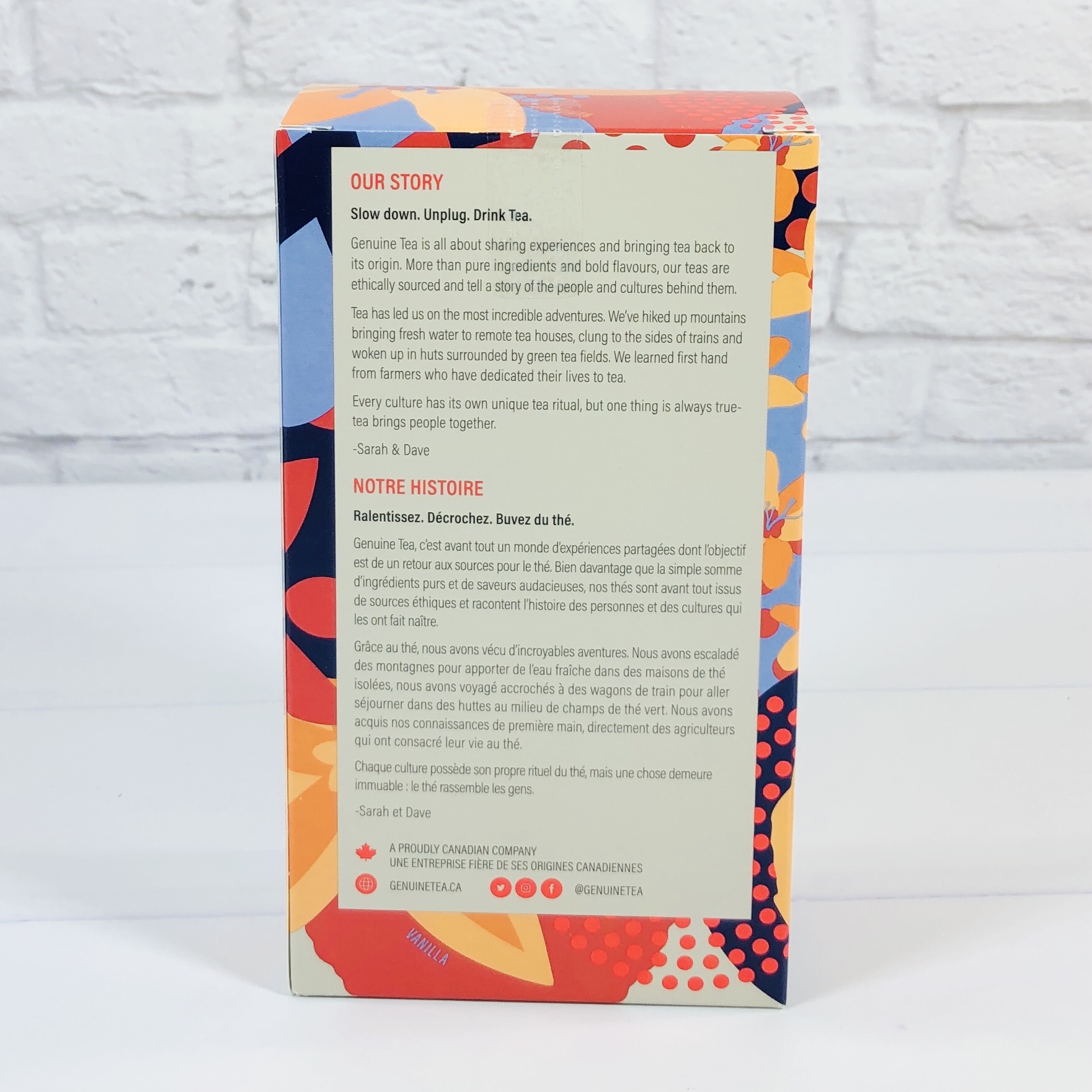 A whole box of tea bags? Yes, please! There were 15 sachets in this box. Ingredients are black tea grown in Dimbula, Sri Lanka; cornflower petals; and natural flavors. Earl Grey is typically flavored with bergamot oil, which comes from a small bitter orange, but this blend also includes vanilla.
The flavor here was so pretty, with a hint of floral notes. I added milk and sugar but I also think this would be lovely over ice on a warm day.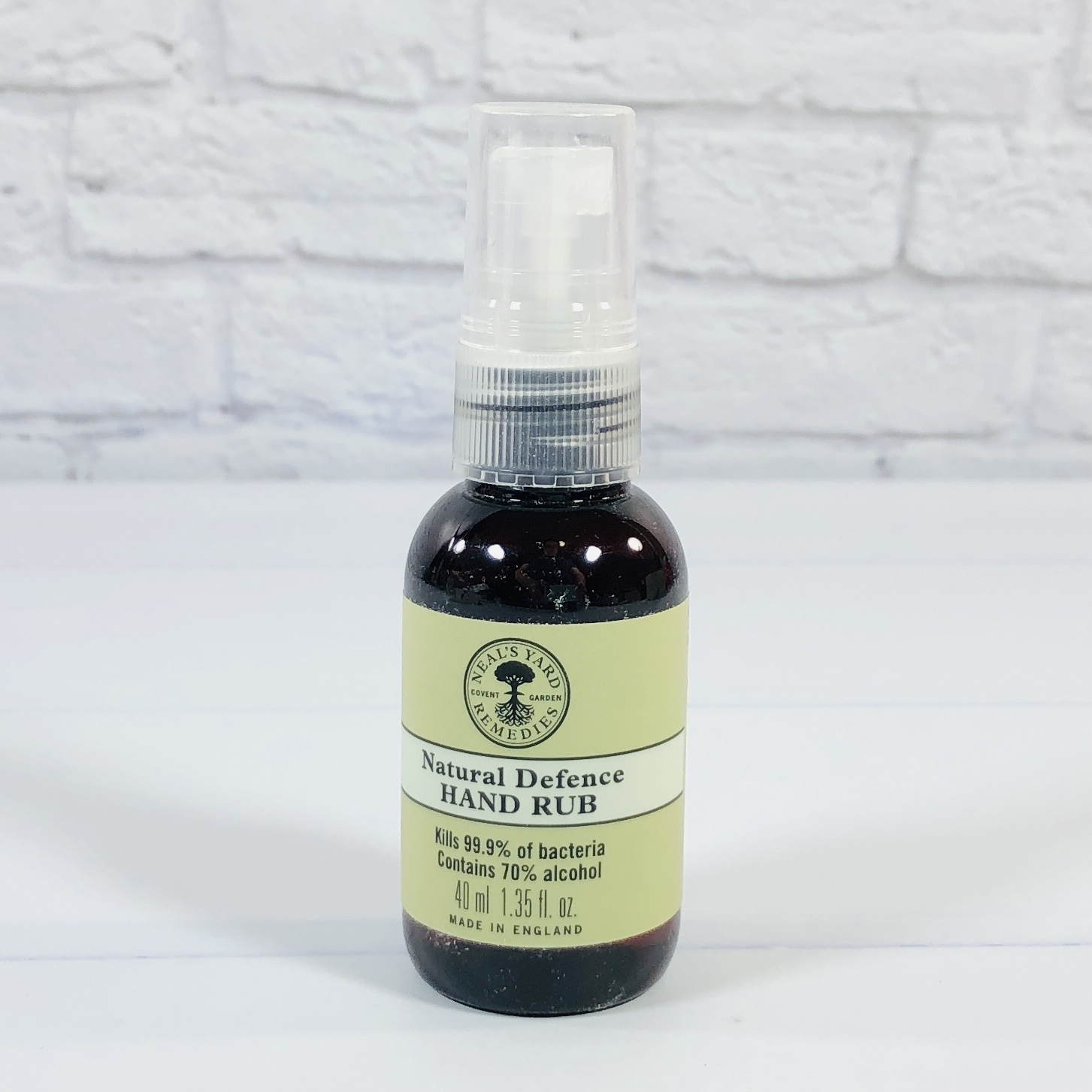 Neal's Yard Remedies Natural Defence Hand Rub ($8.50) Hand sanitizer was a popular product this year, right up there with toilet paper and sanitizing wipes.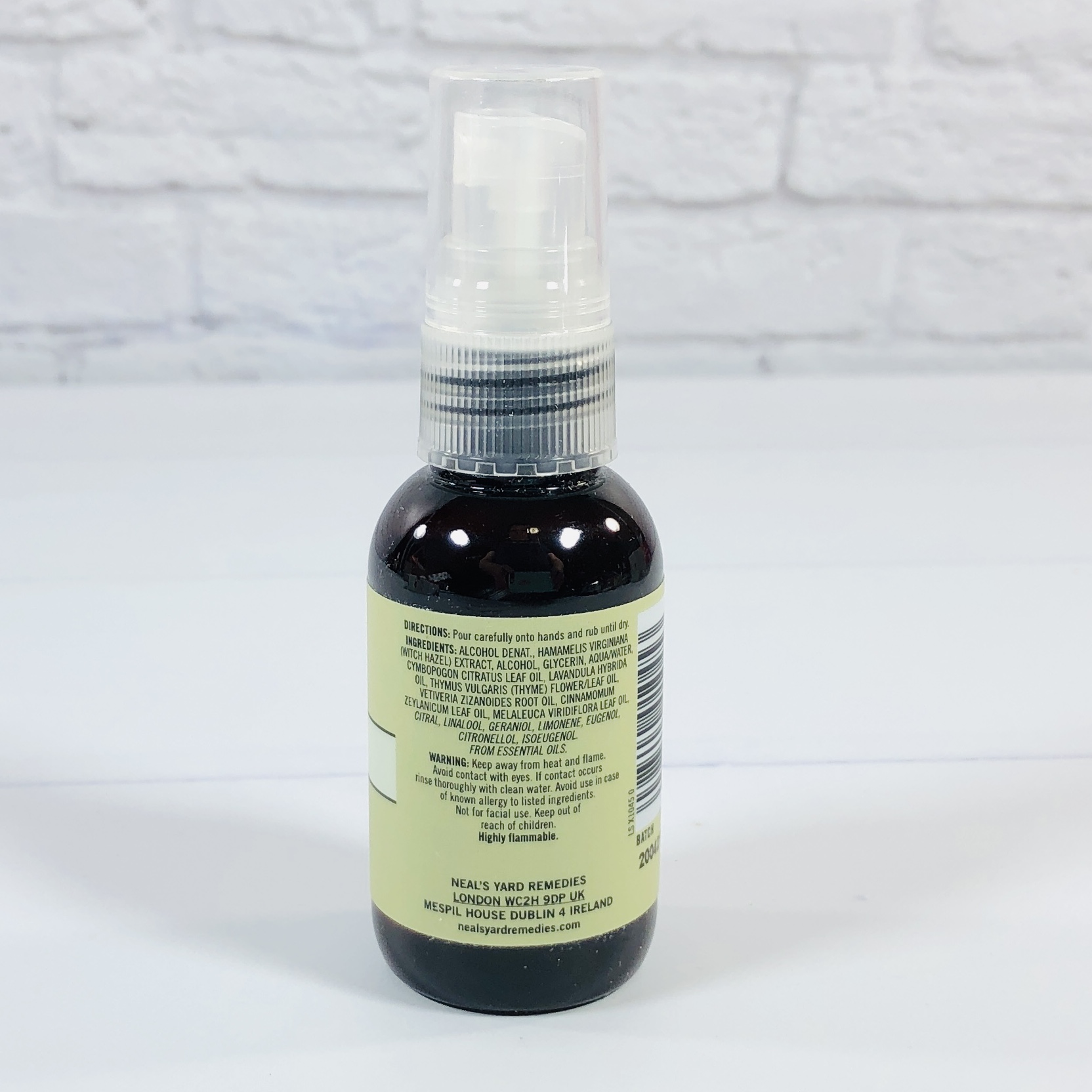 This one starts with alcohol and also has witch hazel, glycerin, and essential oils such as lavender and thyme. Spray on hands when needed (like while running errands) and give them a quick rub before it evaporates. The scent of herbs, spices, and citrus is left behind. It is non-sticky too!
The Bath Bomb Co. Stress Less Bath Bomb ($5.95) Here is another item that is just so pretty. How am I supposed to throw this in the tub, I just want to look at it all day!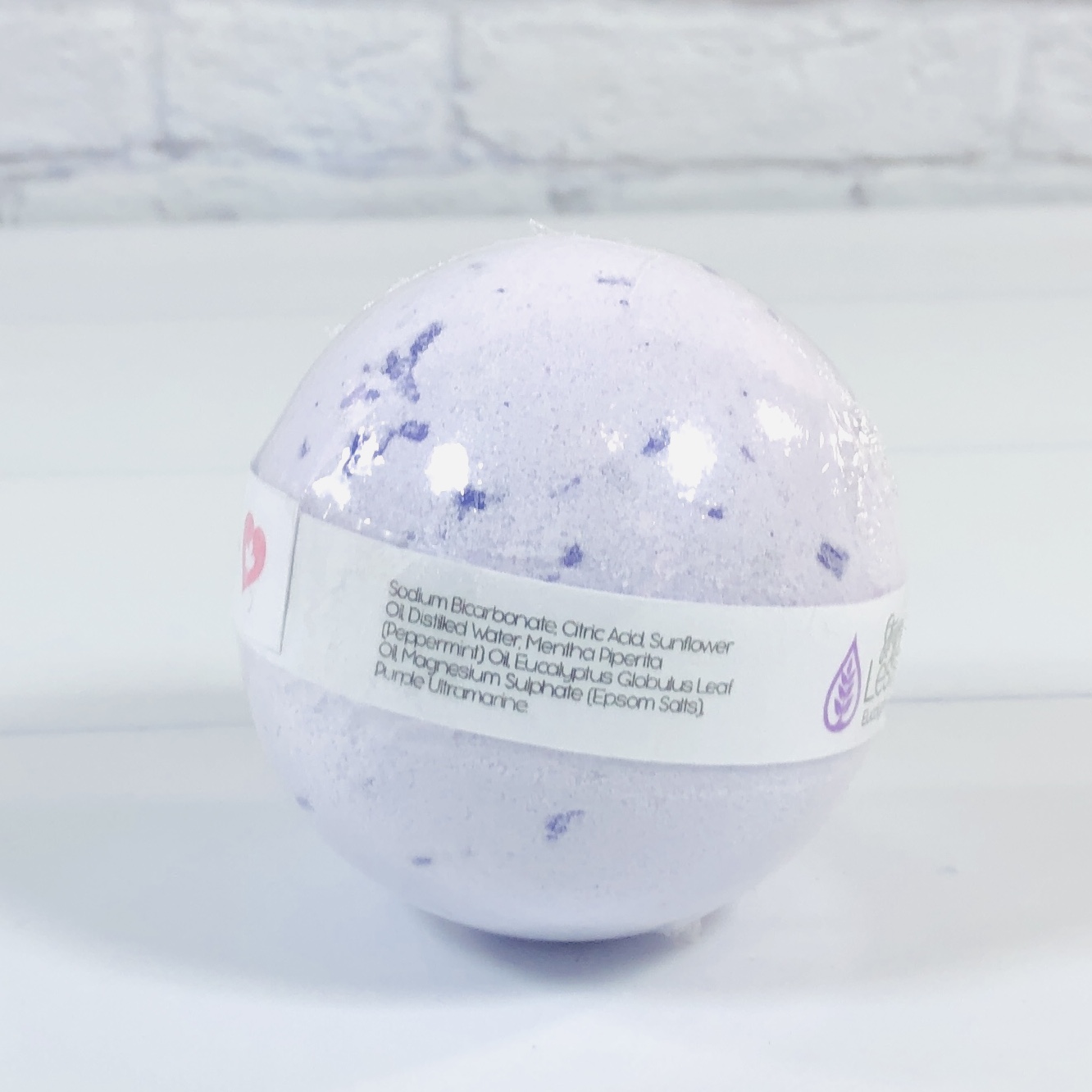 Just like most classic bath bombs it starts with a base of citric acid and baking soda, which starts that fizzy action. There is also sunflower oil (be careful, as the tub may turn slippery!) and essential oils of peppermint and eucalyptus. Epsom salts and colorant round out the ingredients of this uplifting bath bomb.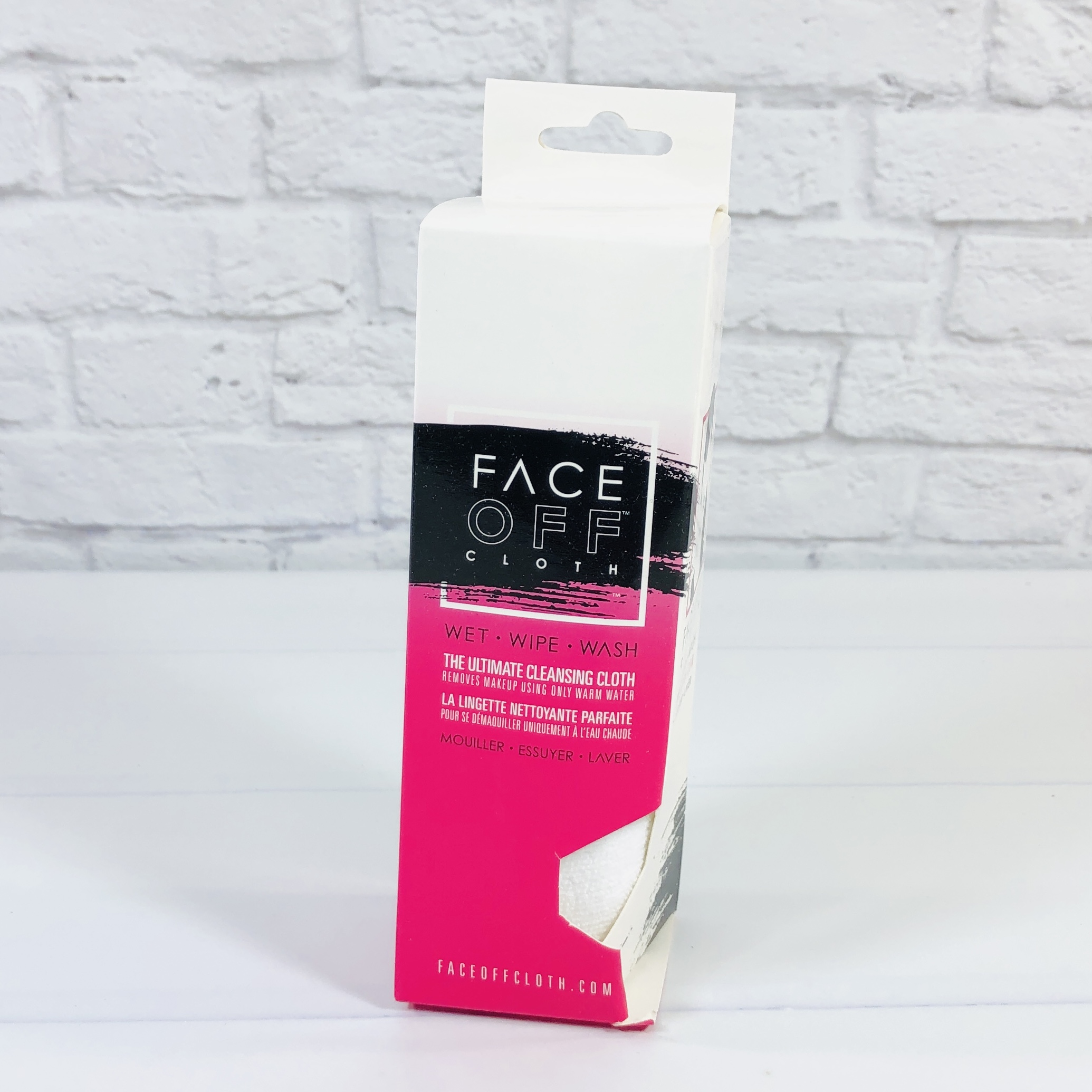 Face Off Cloth ($14.99) I love face cloths! I prefer to think of them as makeup removers, a first step before going on to the big guns.
It is supposed to remove face and eye makeup with just water! The cloth can be used again and again. I have washed it with my load of towels several times already and it is no worse for wear.
One side is a little softer than the other. I used one side first, then turned it over to remove the rest of my makeup. I have never had 100% effectiveness from any type of water-only face cloth but it saves my washcloths from getting stained and it does a great job of removing most of my eye and face makeup so I don't have to use as much cleanser as I used before I started using this type of product.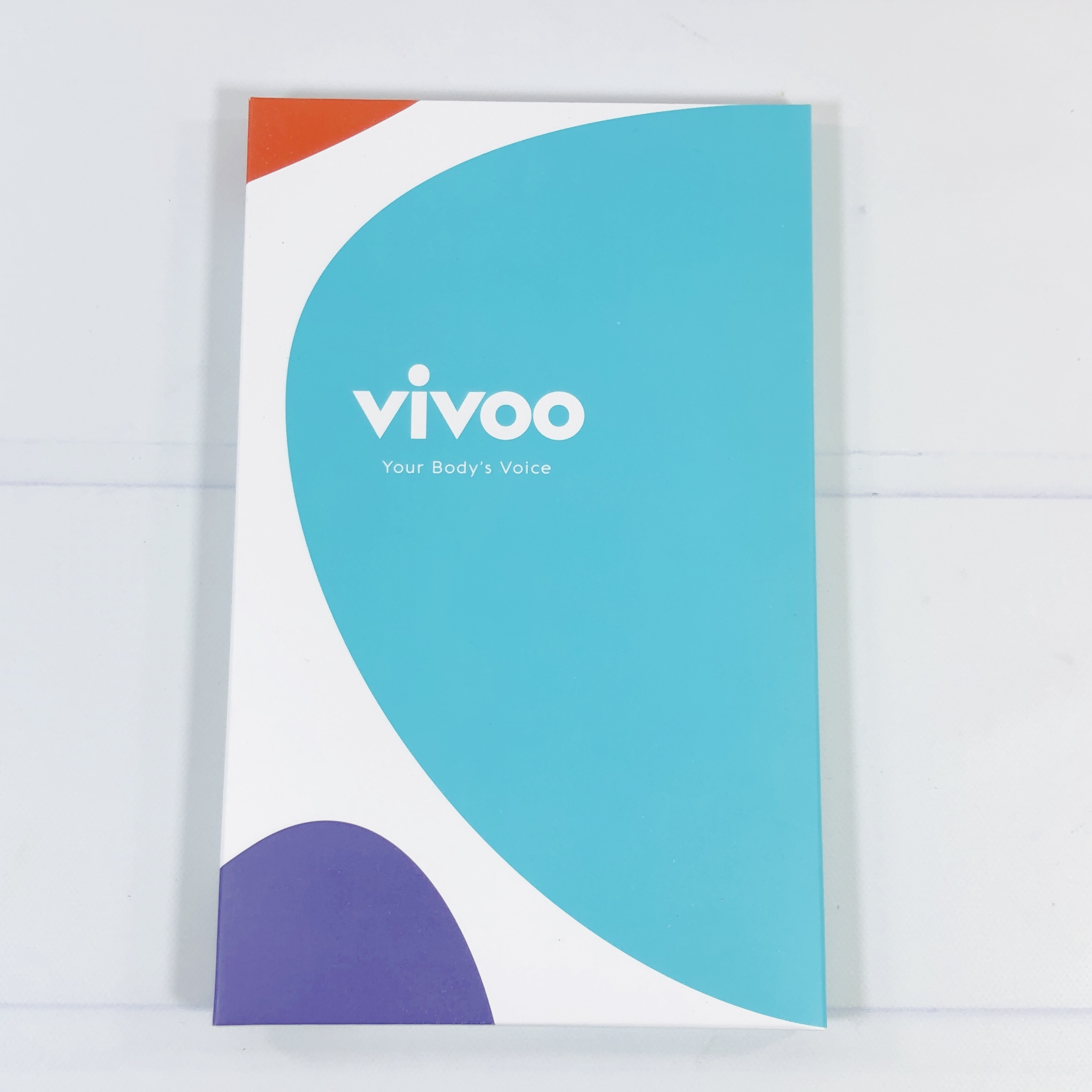 Vivoo Test Pack With 4 Wellness Tests ($25.99) Vivoo is an app that tracks health factors like if you're drinking enough water, liver and kidney function, and UTI status.
The first thing you need to do is download the app.
Inside I found 4 test strips and a discount code for more. Basically you pee on the strip, wait two minutes, and then scan it with the app to find out if you need to drink more water or if there are white blood cells in the urine (indicating an infection). There were all kinds of disclaimers so make sure to see your doctor if you are having any problems. I had to put some info in the app such as any health problems I have and weight, height, etc. It gave me some general health-improving tips and after scanning a strip it said I need to drink more water and to eat dates to balance my pH.
I liked the Changes theme for the November Loti Wellness Box! You can make a simple change such as  wearing new earrings or in how you wash your face, or you can try something a bit extra like using a natural hand sanitizer or a wellness test strip. Of course my favorite change was from plain black tea to a tasty twist on Earl Grey. The workbook helps implement changes from within too. I feel like 2021 will be another year of changes for me personally so this box helped me feel like I got this. Tell me if the box has helped you make any changes too!
What do you think of this self-care subscription?