The JerkyGent Limited Edition Craft Jerky Holiday Gift Box is now available! This box is $74.99, and includes 7 bags of delicious craft jerky handpicked by JerkyGent curators.
The JerkyGent Holiday Box includes 7 bags of delicious craft jerky, hand selected by our jerky curators. From maple brown sugar to vanilla bourbon, your friends and family will enjoy trying new flavors of jerky they can't find anywhere else!
DEAL: Get $10 off the Limited Edition Holiday Gift Box! Deal applies automatically, just use this link to grab the deal.
Not yet a subscriber? Get 25% off your first subscription box! Use coupon code JERKYGENT25.
The Holiday Gift Box includes:
7 bags of delicious craft beef jerky
Ships in a limited edition holiday box
1 limited edition maple brown sugar jerky
Personalized gift note
One-time purchase
Free shipping
About JerkyGent: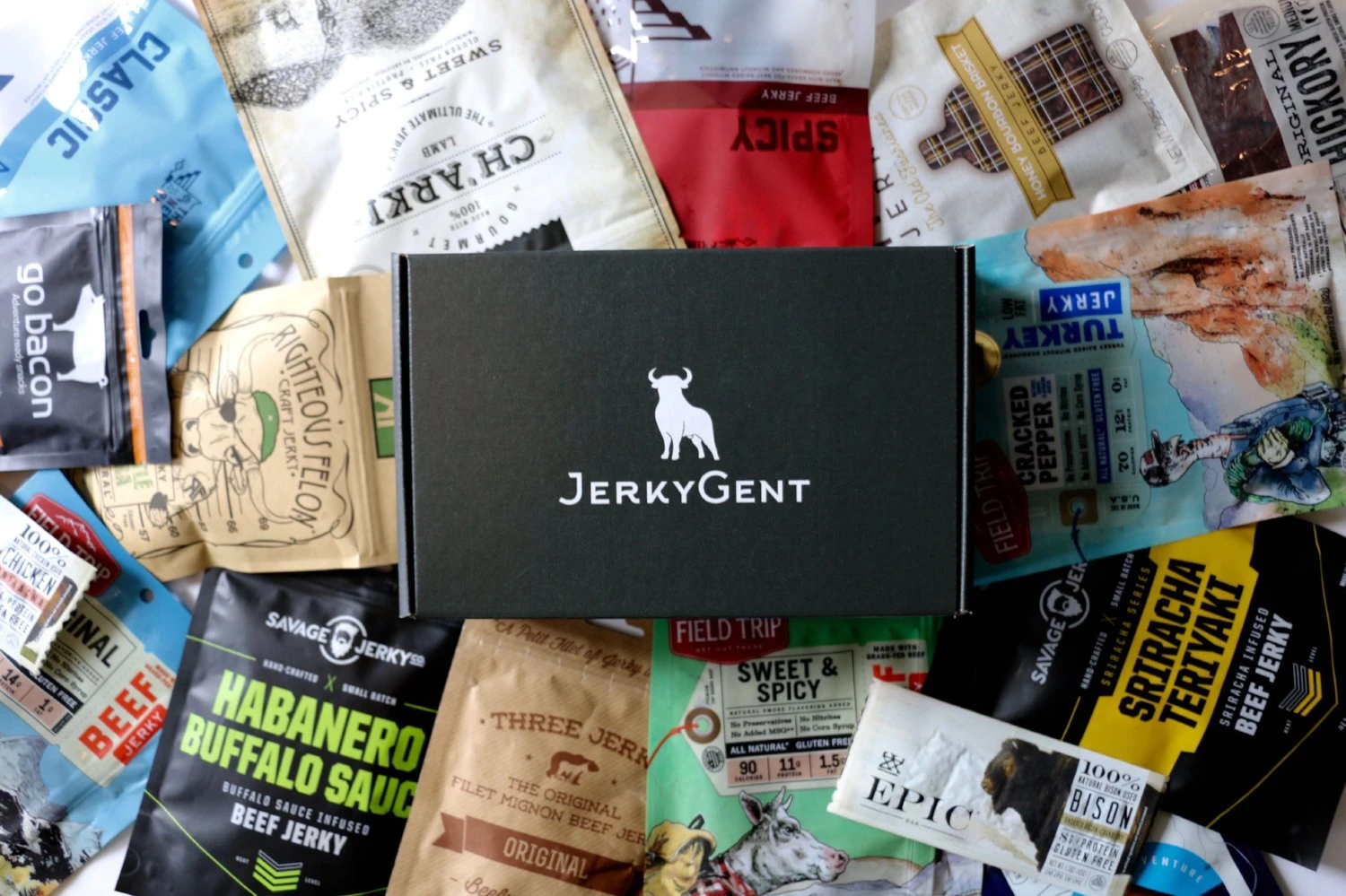 JerkyGent premium jerky subscription! Subscriptions start at $16 per month+ shipping, and will include delicious artisanal craft jerky picked by expert jerky curators!
You love beef jerky, but let's face it – you wouldn't waste your time snacking on dull, tasteless jerky. With a JerkyGent subscription box, it's easy to discover and try the best-tasting craft jerky at home.

Our jerky curators sample and select only the finest artisan jerky, so all you need to do is sit back and enjoy delicious jerky each month.
Here's how it works:
Jerky is Sourced We scout the country for the top artisan jerky makers. Searching high and low for the best-tasting jerky.
Jerky is Selected Our expert jerky curators review your preferences and select the perfect jerky brands and flavors just for you.
Jerky is Delivered We pack your jerky and ship it to your door, so you get to try new craft jerky every month!
Here are the plans:
JerkyGent Mini – $16 + $3.95 Shipping
JerkyGent Classic – $28 + $3.95 Shipping
JerkyGent XL – $56 + FREE Shipping
Here's what you'll get:
Mini (2 bags): At least 1/4lb (4oz) of beef jerky.
Classic (4 bags): At least 1/2lb (8oz) of beef jerky.
XL (8 bags): At least 1lb (16oz) of beef jerky.
Are you getting anything from JerkyGent?