Israel Pack is a monthly subscription box with unique products from Israel handmade by local farmers and artisans. Each month you will receive 6-8 full-sized products such as tea, honey, olives, soap, home decor, or snacks. The subscription box is family-friendly and aims to promote a learning of the culture and history of Israel while giving back to the local farmers and artisans who make the products included in the box. Israel Pack is $99 a month and includes free worldwide shipping!
Learn about Israel's history & culture and acquaint your children with the Holy Land
We believe that engaging with the world of Jewish arts, crafts and cuisine is the best way to learn about the Holy Land and to pass on the traditions to future generations.
DEAL: Get 35% off of your first box! Use coupon code GET35.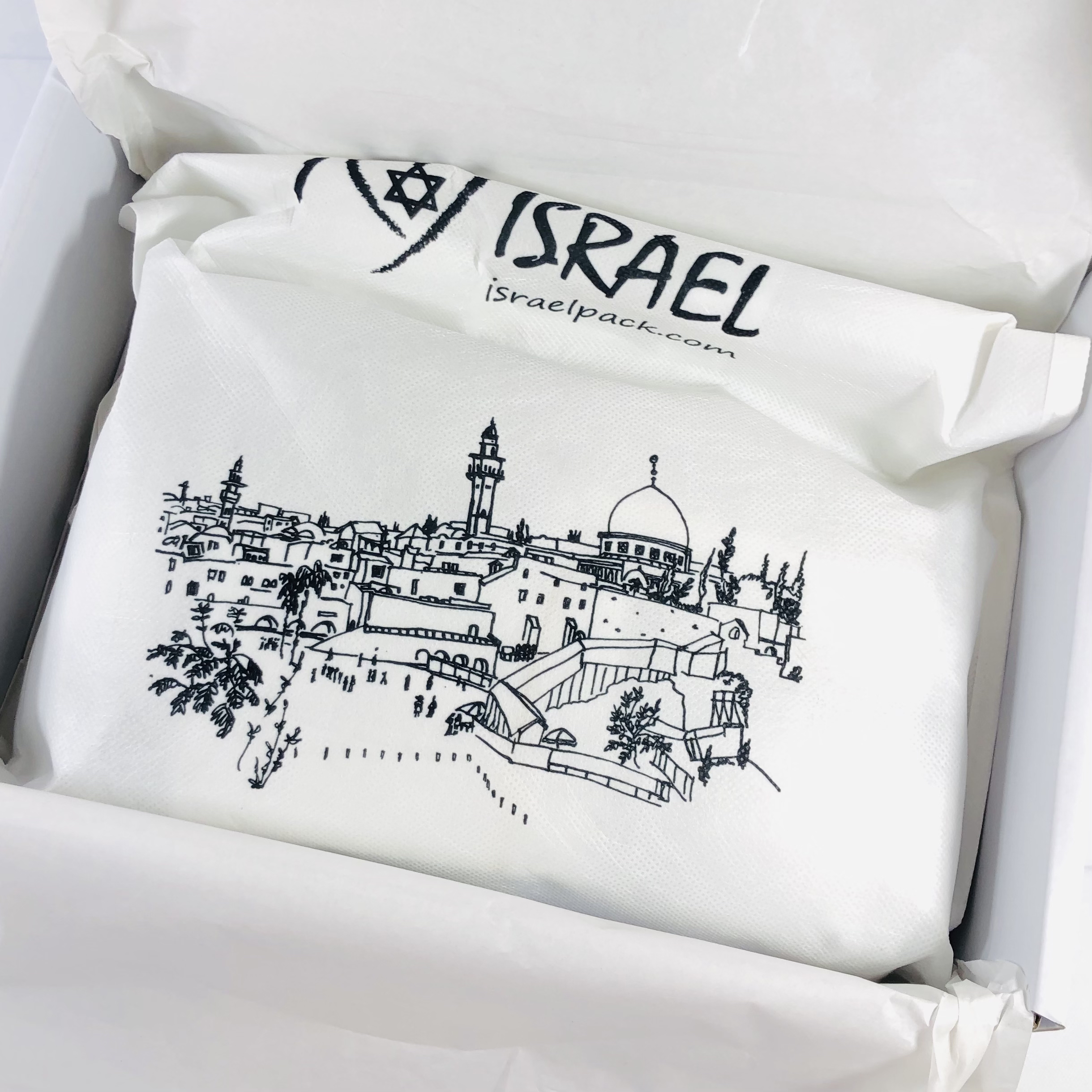 My items were wrapped in tissue paper and sealed with a sticker.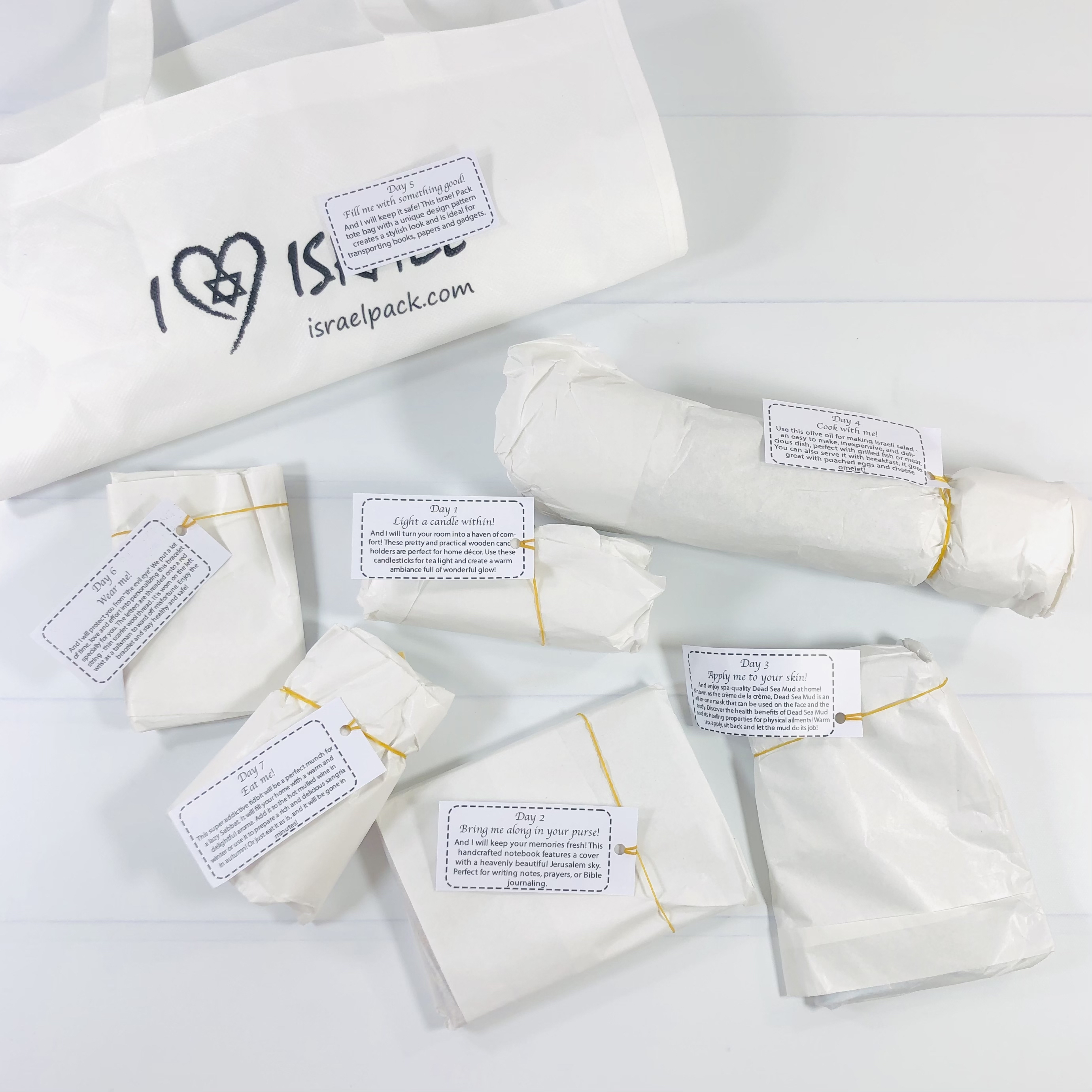 Everything's wrapped individually so it's like opening a box of presents!
The theme this month is Bereshit Box!
The catalog discussed the items and makers featured in this box. I would encourage you to read their stories here, and I will describe my experience with their products below. This box is themed around Bereshit, which is the creation of the world, and there are 7 items to go with each of those 7 days.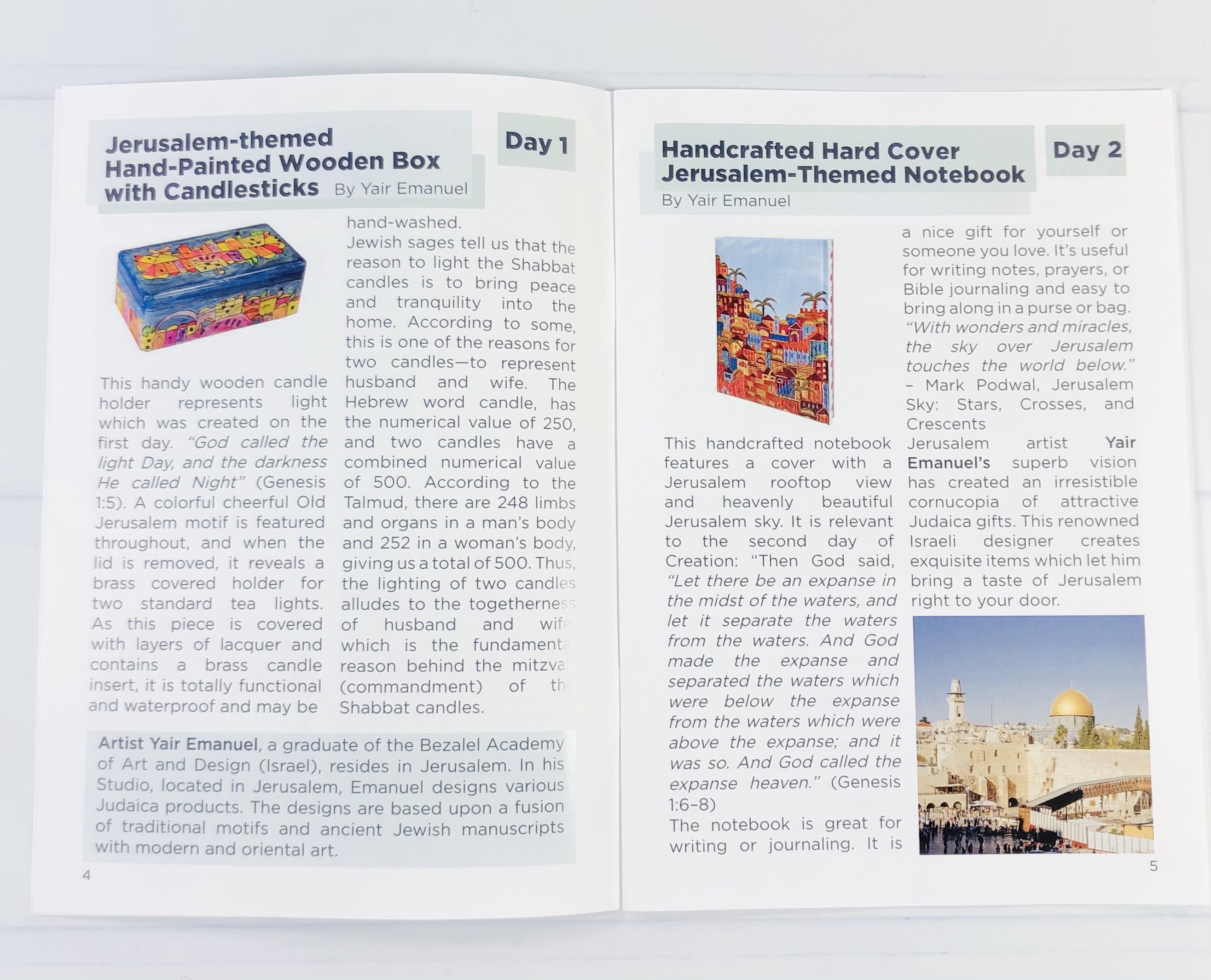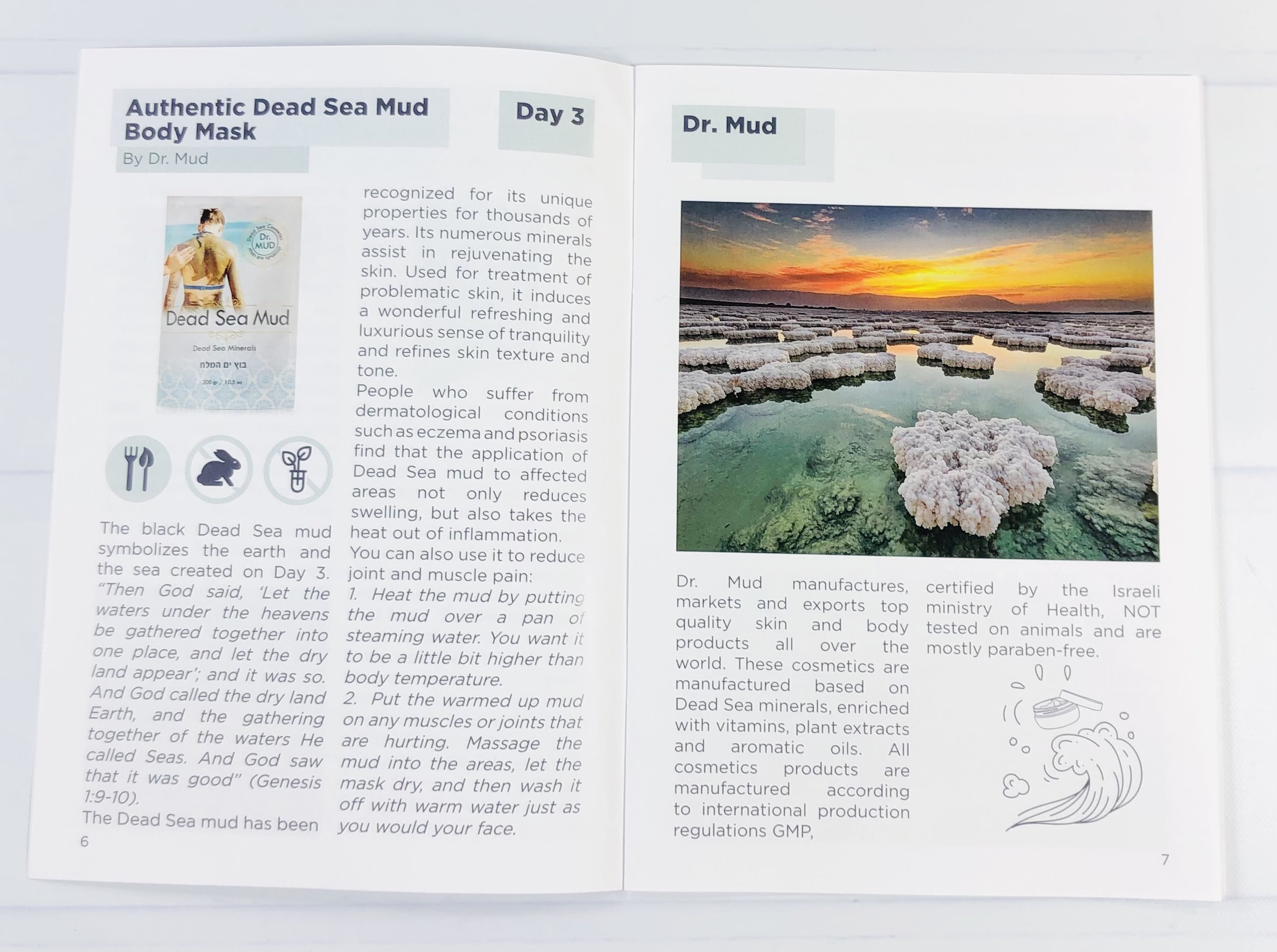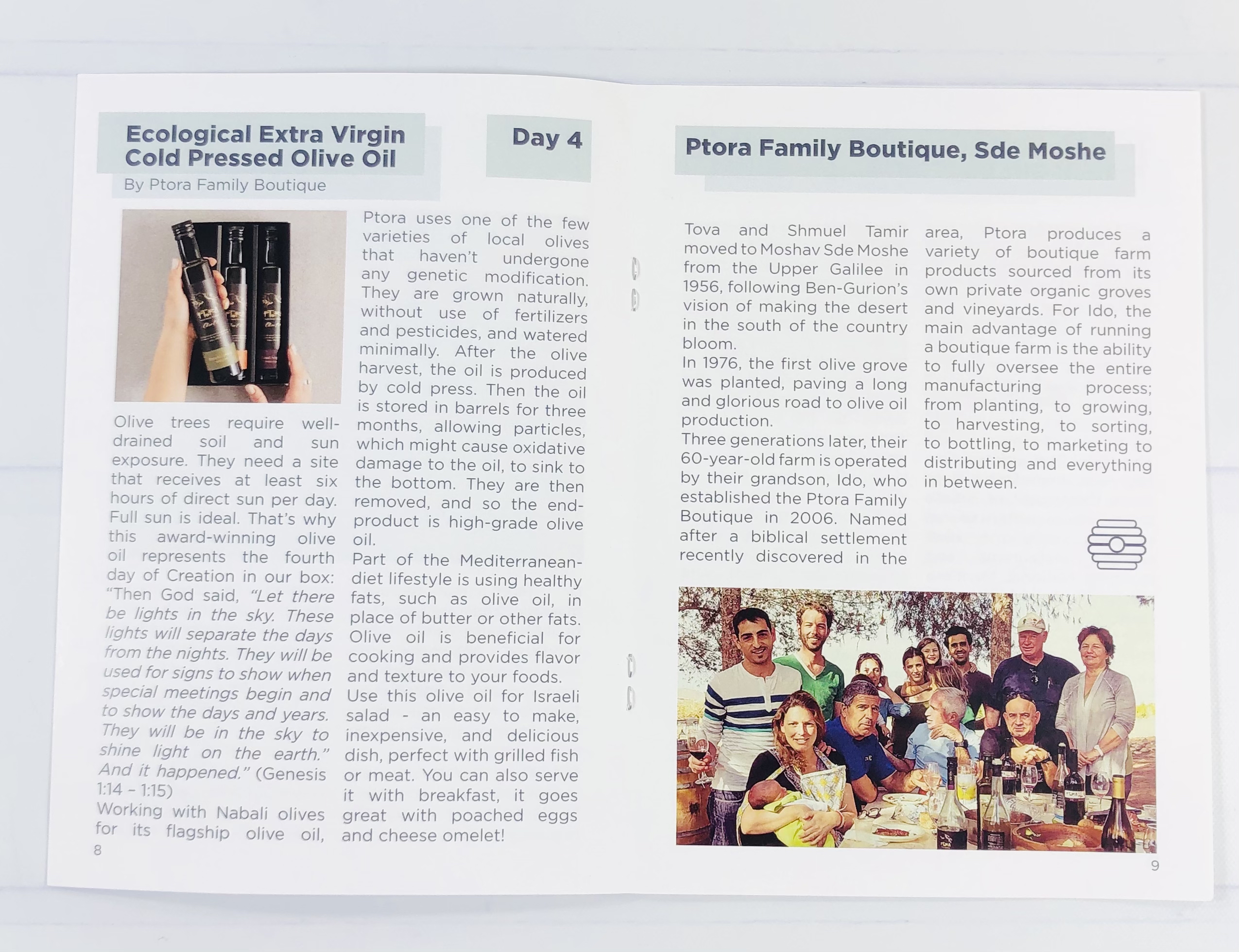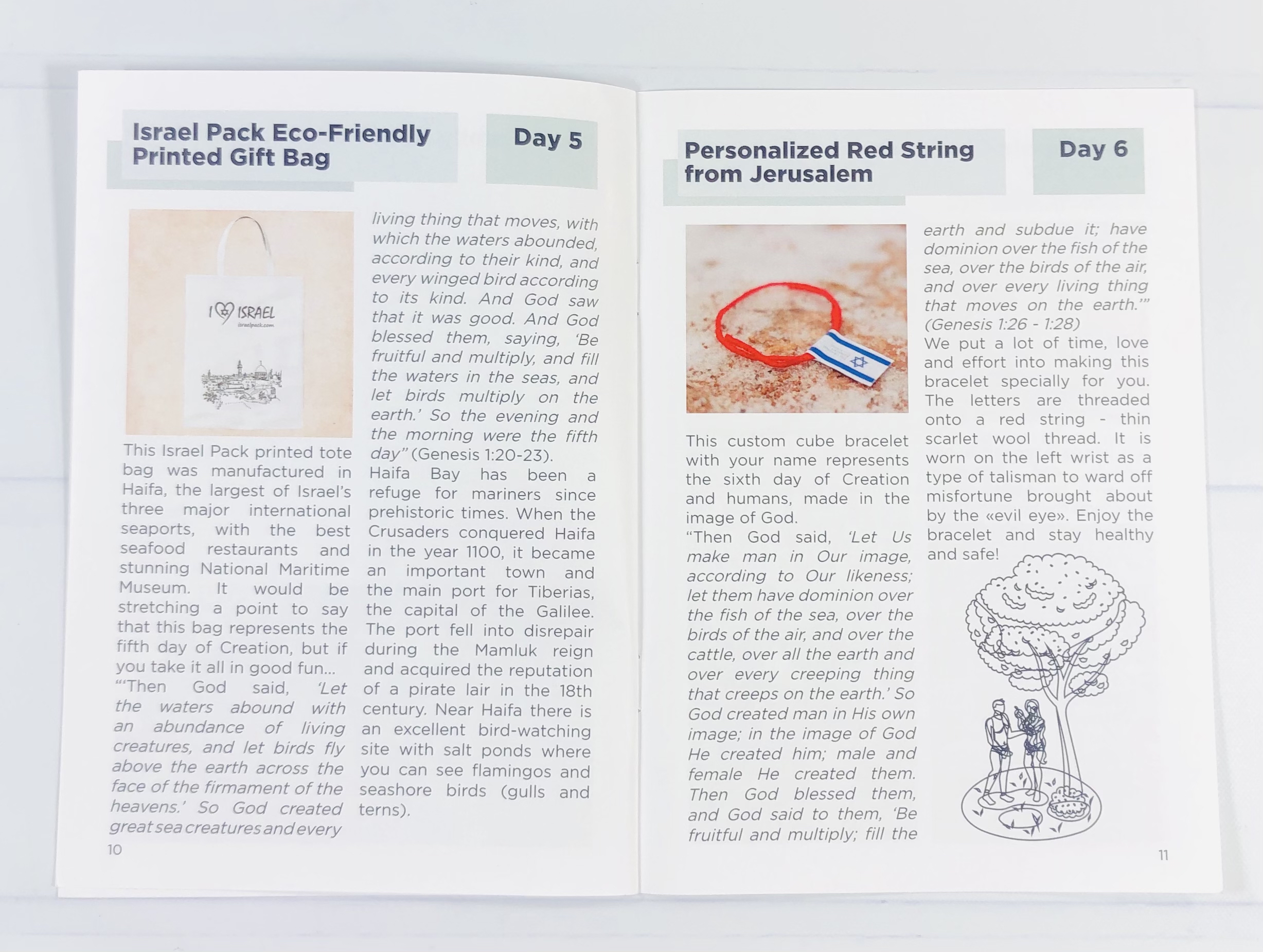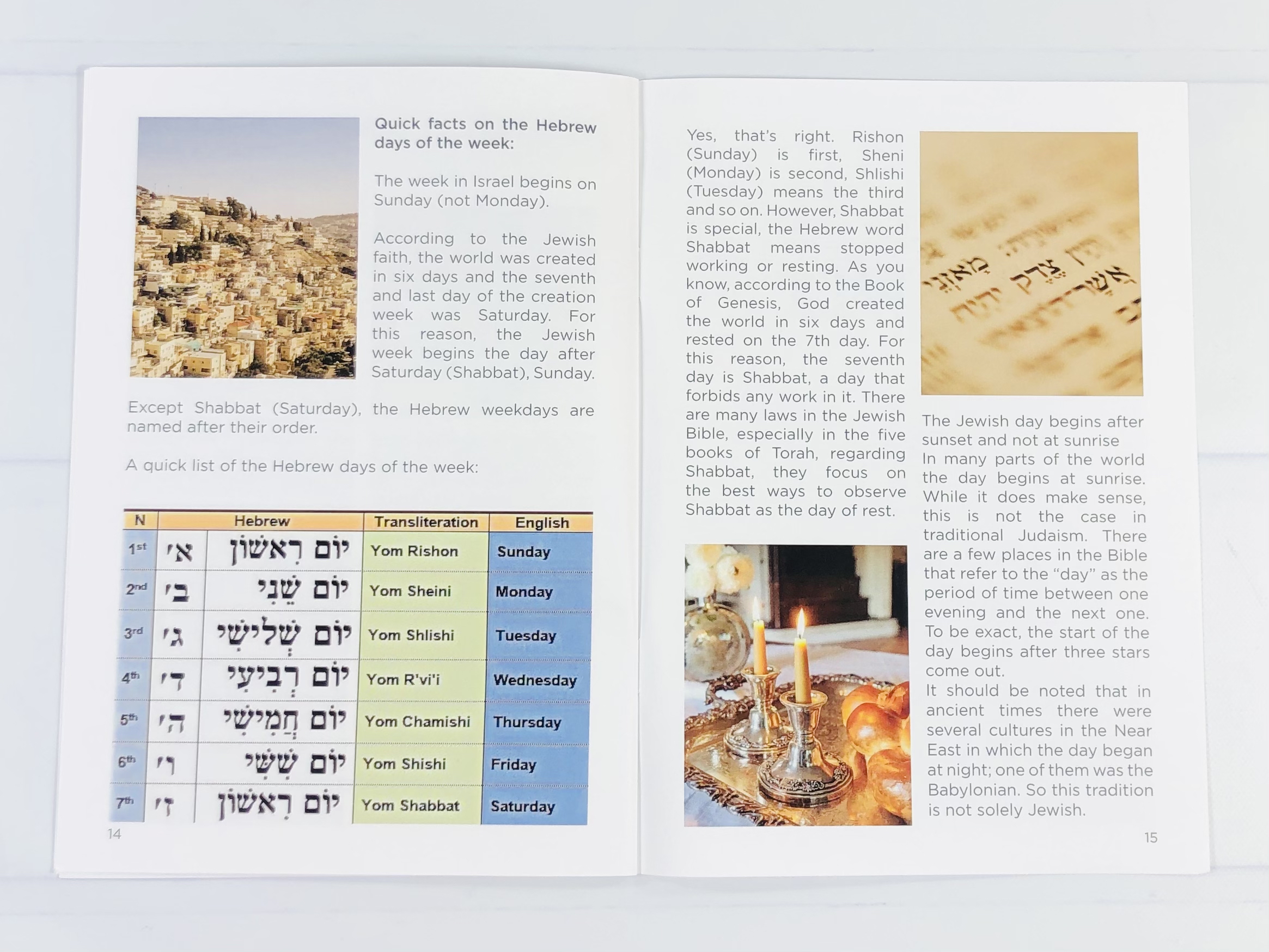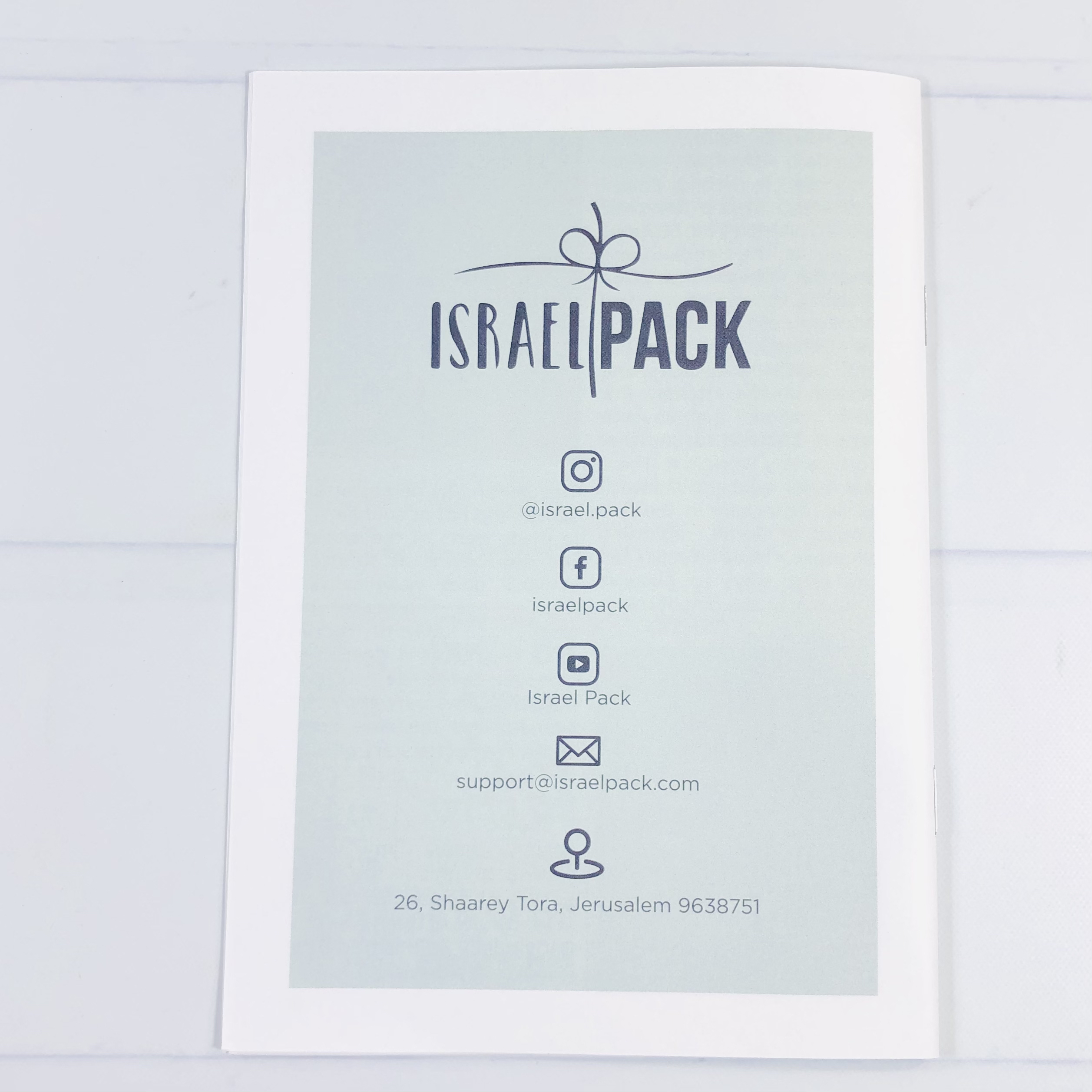 The back of the catalog had contact info and social media accounts listed.
Everything in my box!
Please note: These items shipped direct from Israel and the writing on some of the containers is in Hebrew, which I cannot read. I linked to websites where available, but you may need Google to translate the linked pages.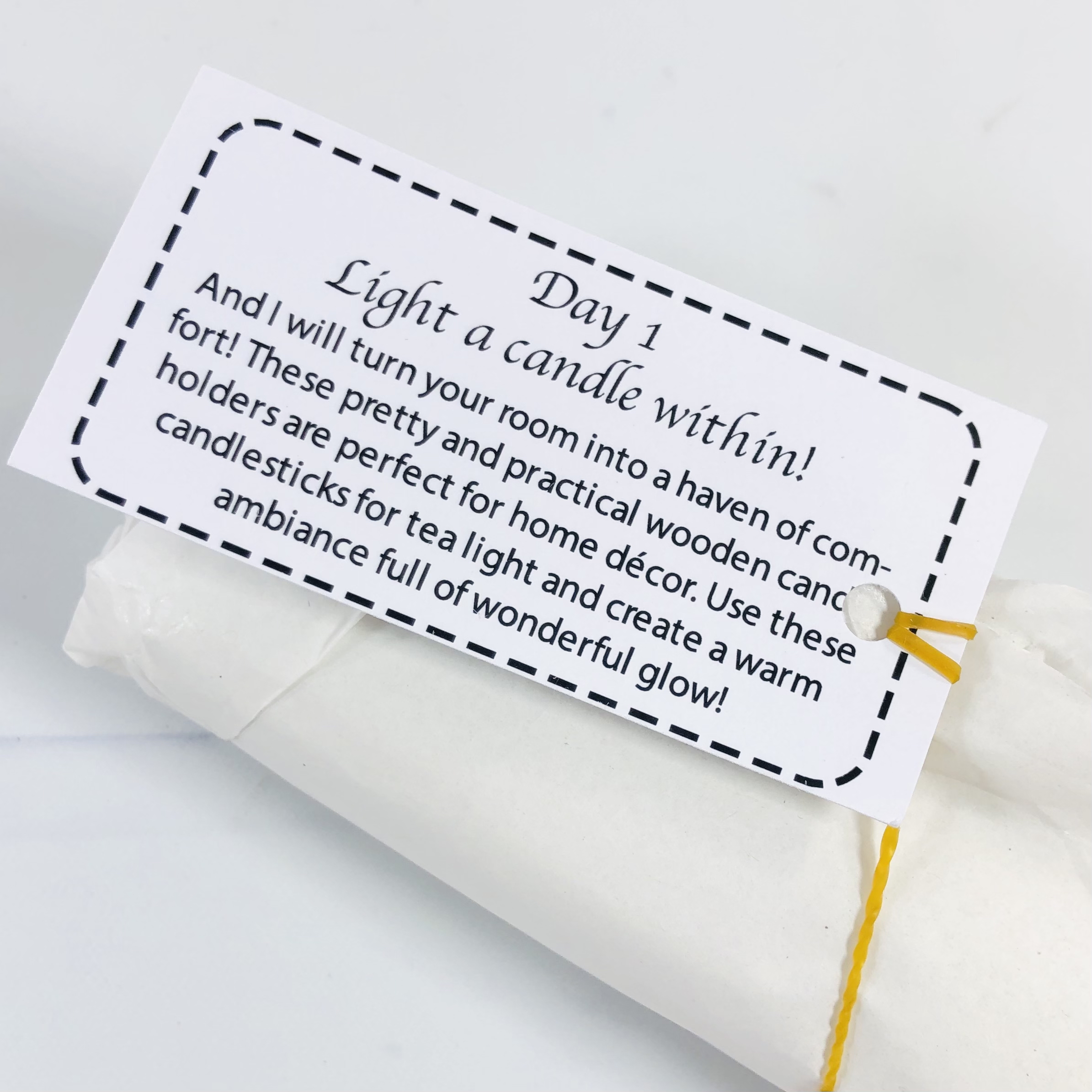 Our first item goes with Day 1 of creation: Light.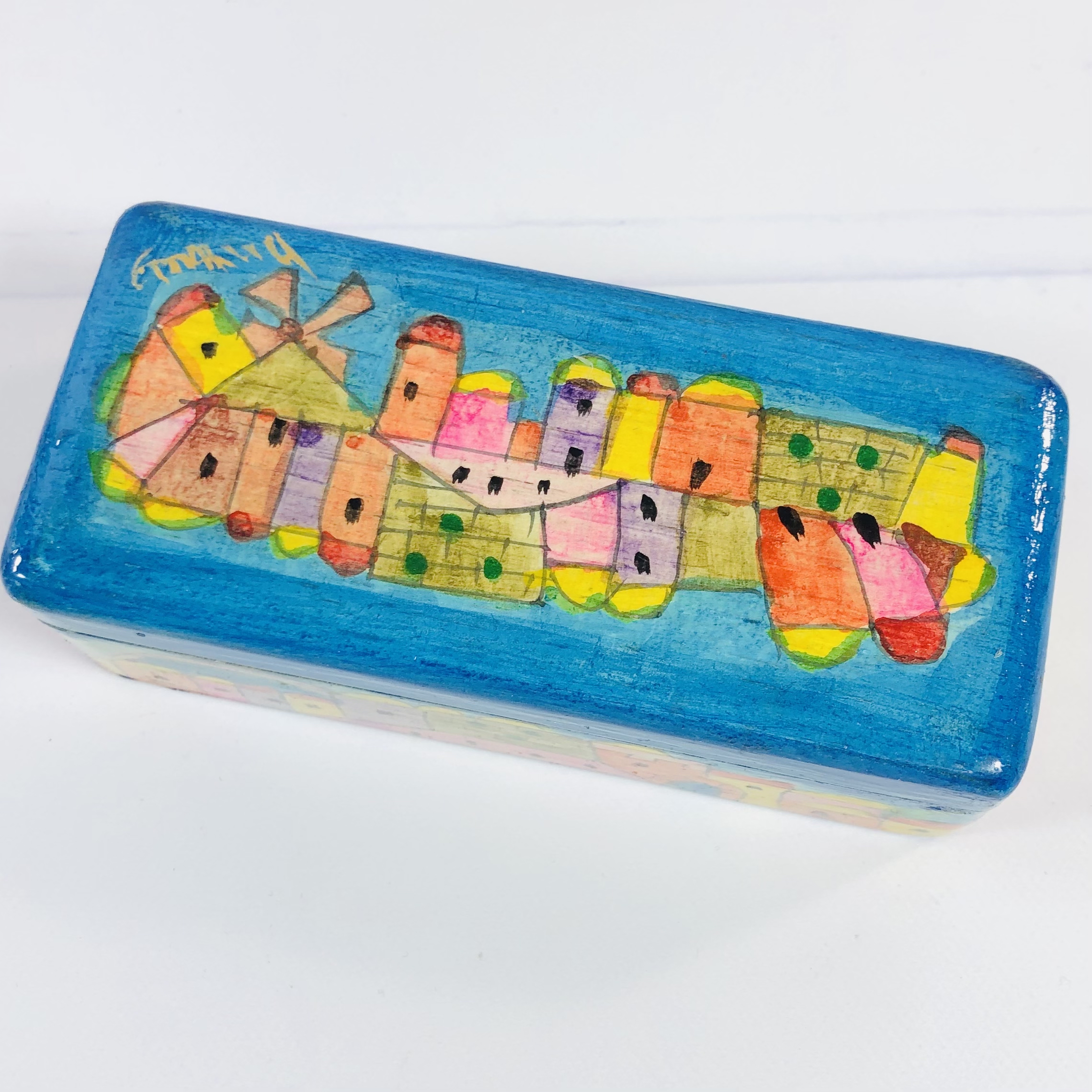 Yair Emanuel Travel Candle Holder ($19 for similar item here) It is a travel-sized candle holder!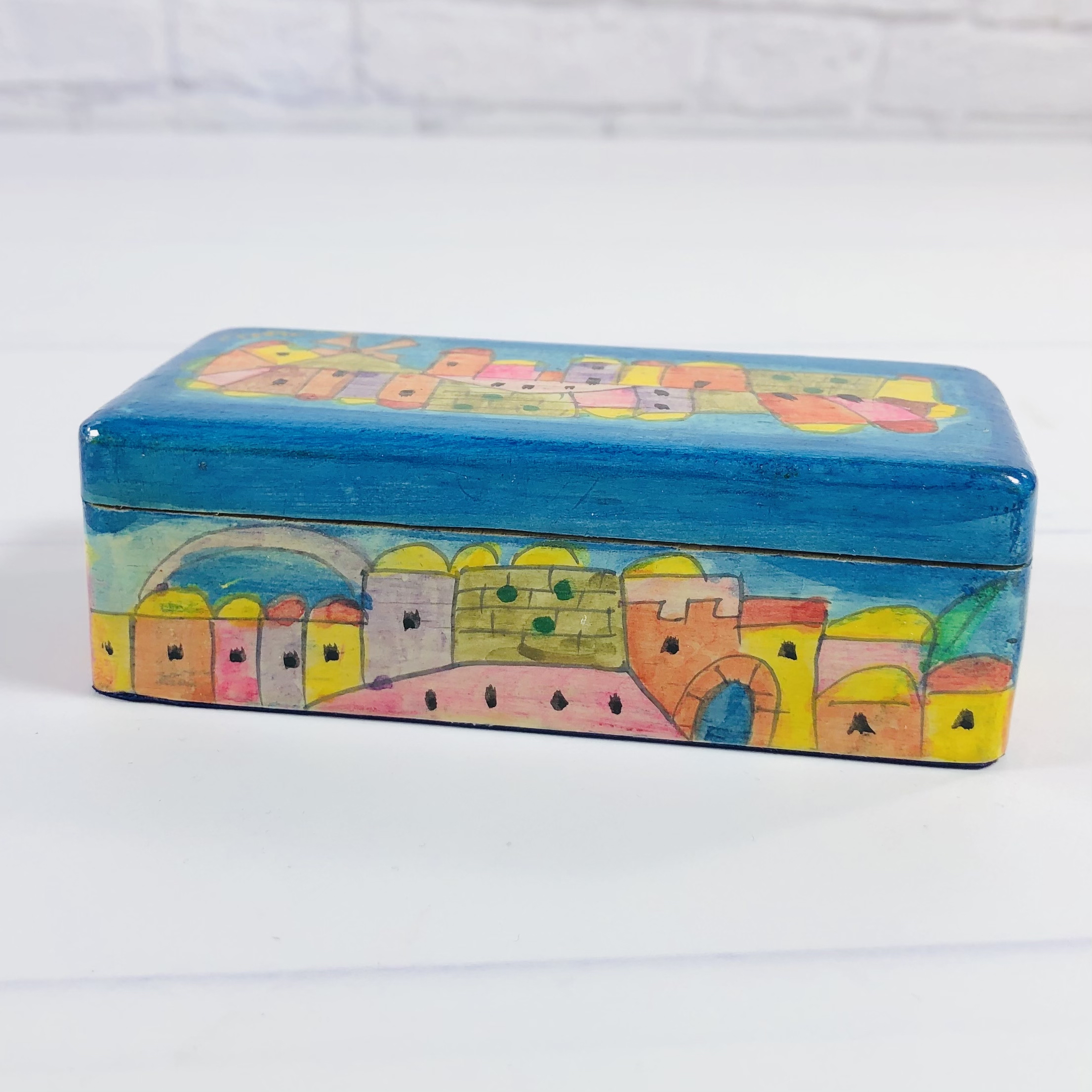 The container is lacquered and is decorated with a picture of Jerusalem.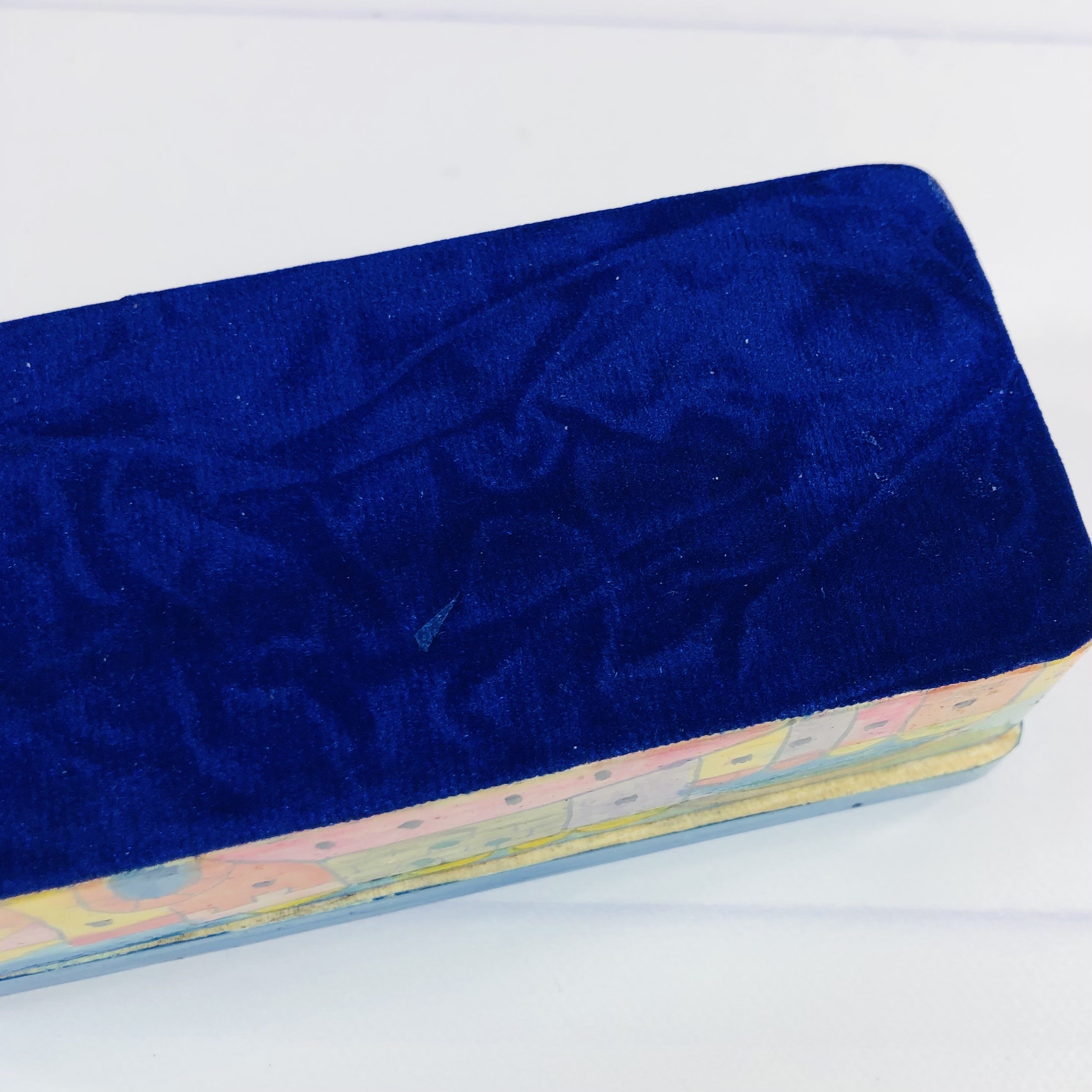 The bottom is covered in felt so it won't scratch the surface of a table.
The inside slides open to reveal two tea light candles. The box is about 1.5″ X 2″ X 4″.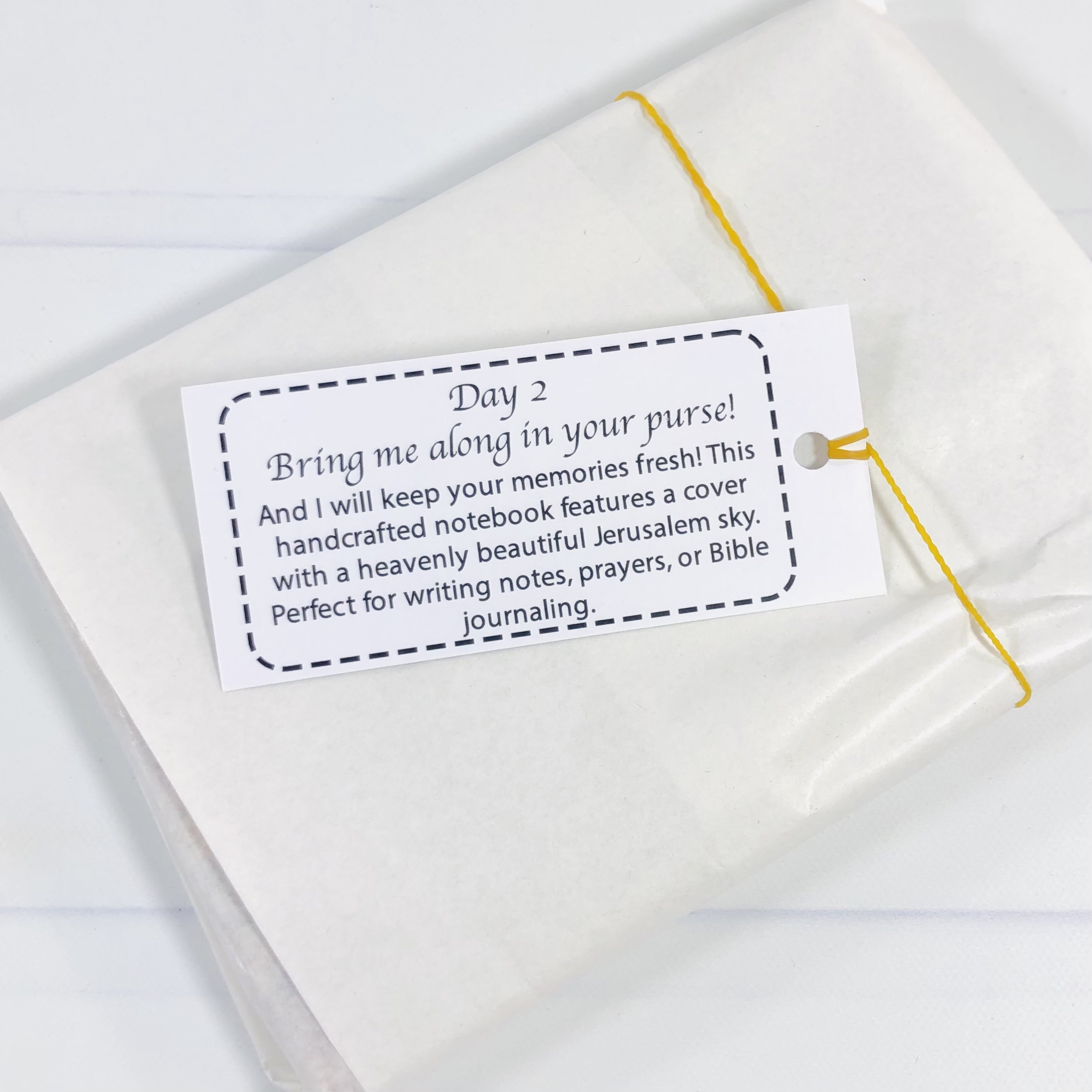 The next item goes with Day 2: firmament.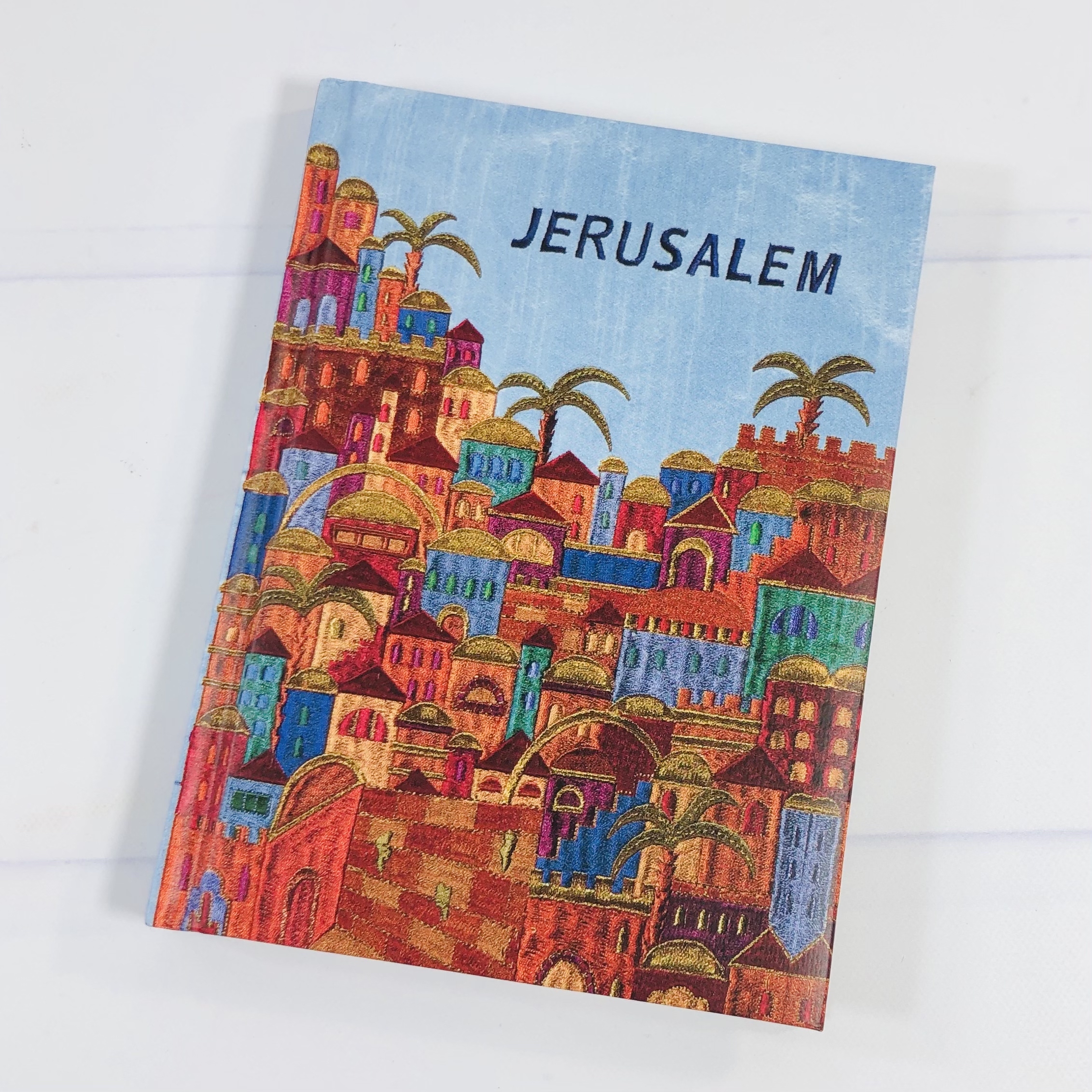 Handcrafted Hard Cover Jerusalem-Themed Notebook It's a notebook decorated with a scene from Jerusalem!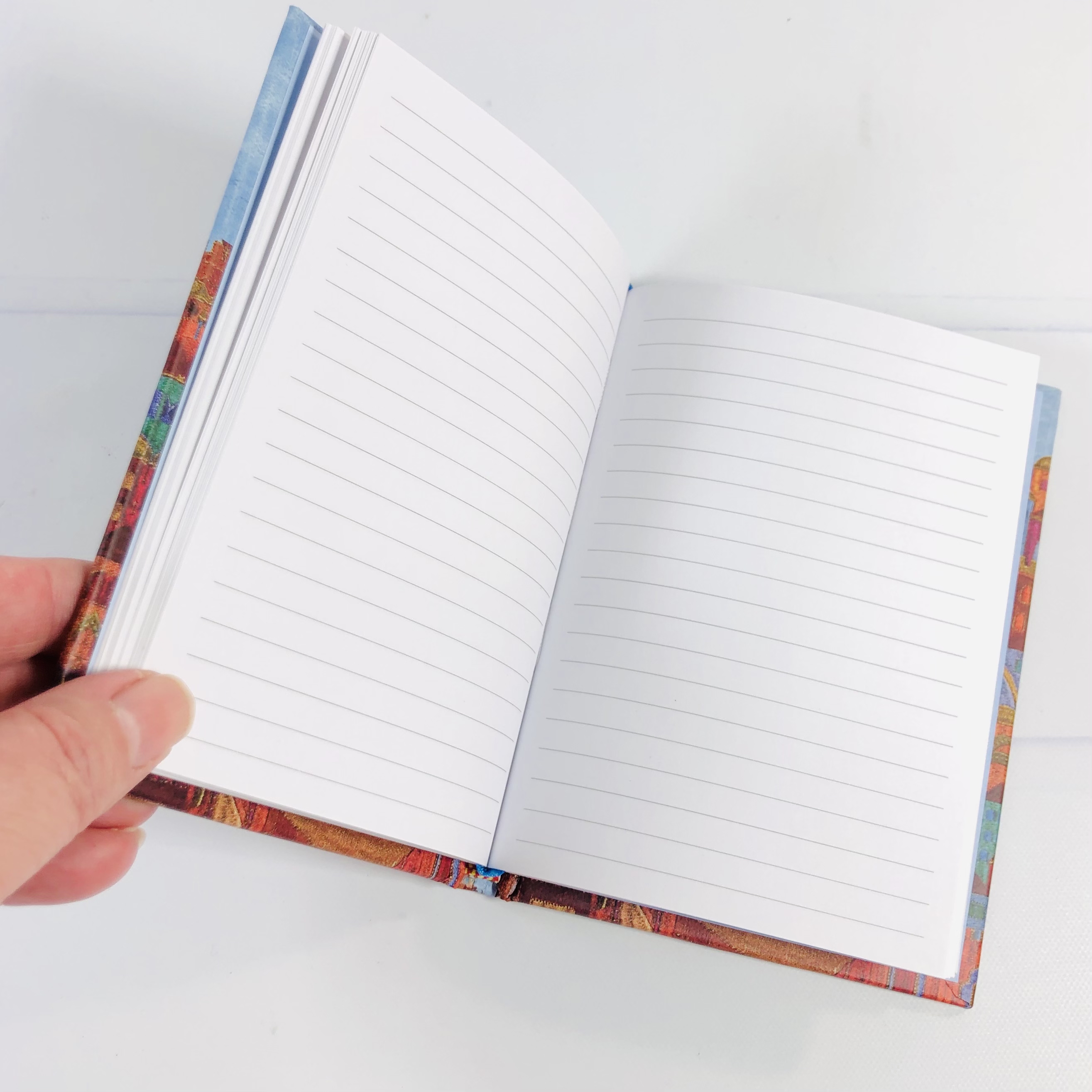 The inside has lined pages and there is a ribbon bookmark. The back cover is the same as the front so it can be used back to front if desired. The book is about 6″ x 4.5″.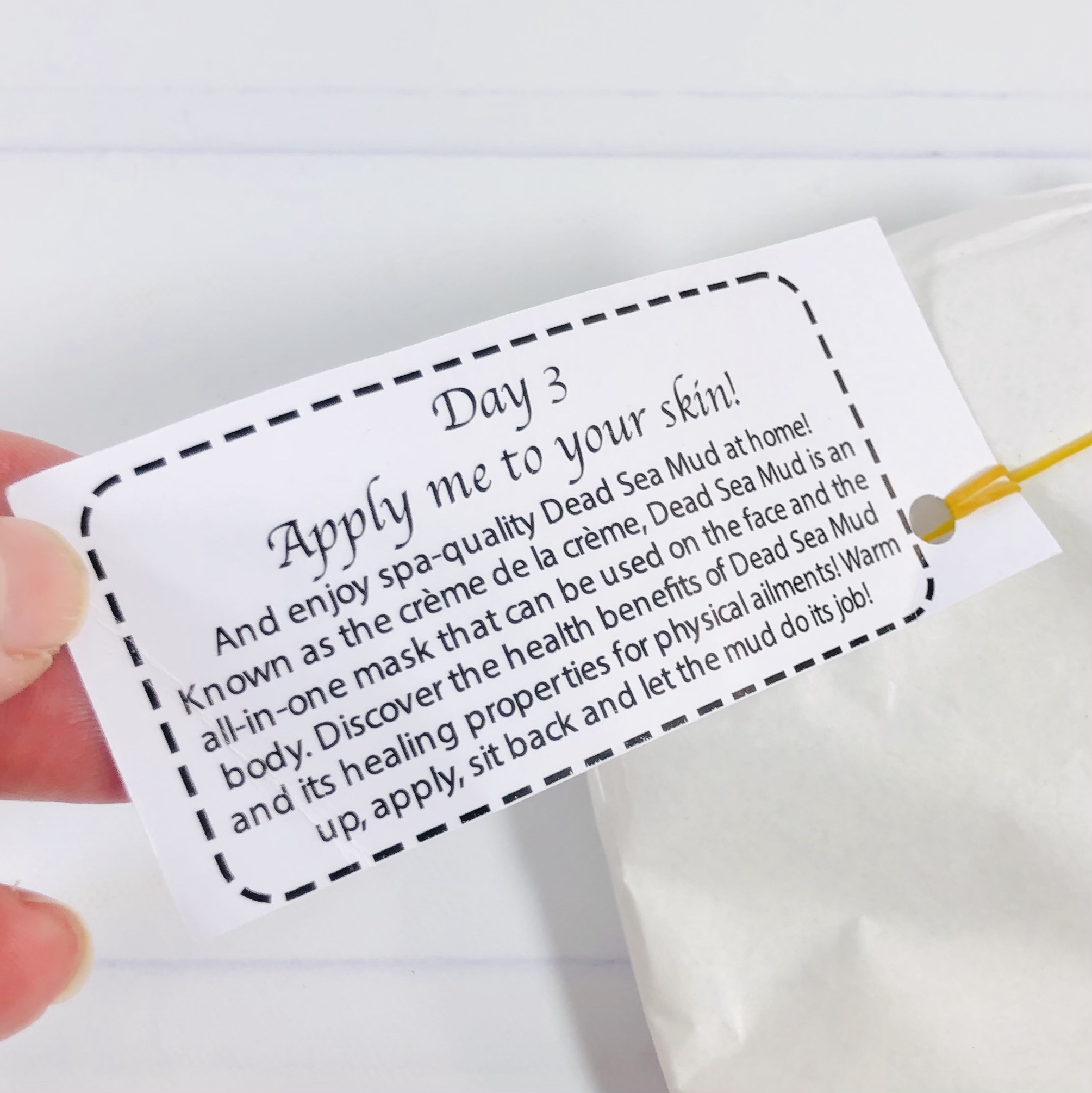 Day 3 is about: Dry ground and plants.
Dr. Mud Authentic Dead Sea Mud Body Mask ($11.90) It's a mud mask for the body!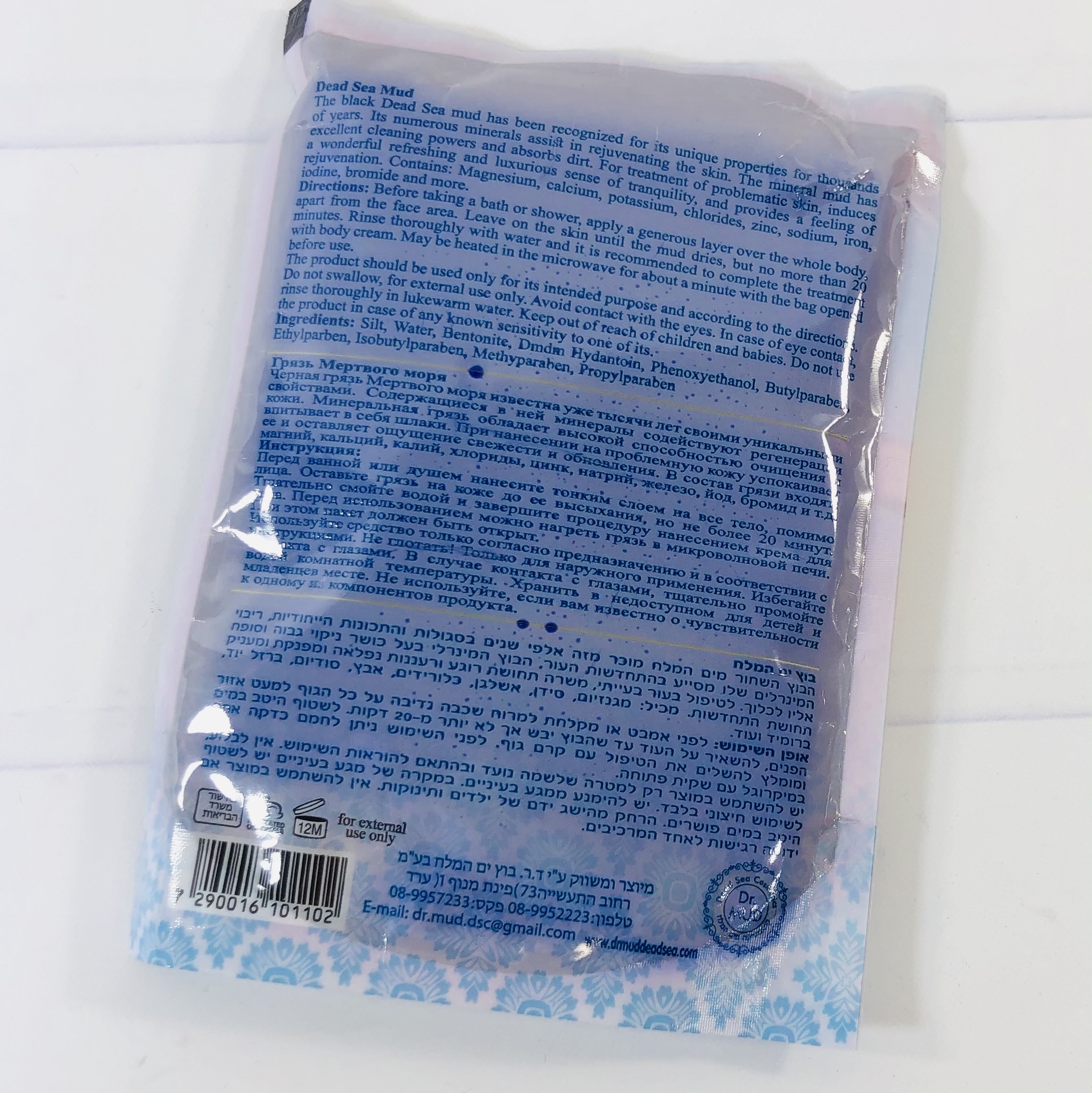 Apply to the body and let set for about 20 minutes before rinsing off. It's going to be a mess, no way around that I'm afraid. If it's warm where you live then I would suggest wearing a bathing suit in the backyard and have someone hose it all off afterwards! The mud has 40 minerals and is supposed to help rejuvenate the skin. This is a body mask so avoid using near the face.
Day 4 is about the sun, moon, and stars.
Ptora Family Boutique Ecological Extra Virgin Cold Pressed Olive Oil (25 shekels, about $7.42 USD) Israel Pack could send a bottle of olive oil every month and to me it would never get old. I love using olive oil in salad dressings and recipes, I go through a bottle a month I'm sure.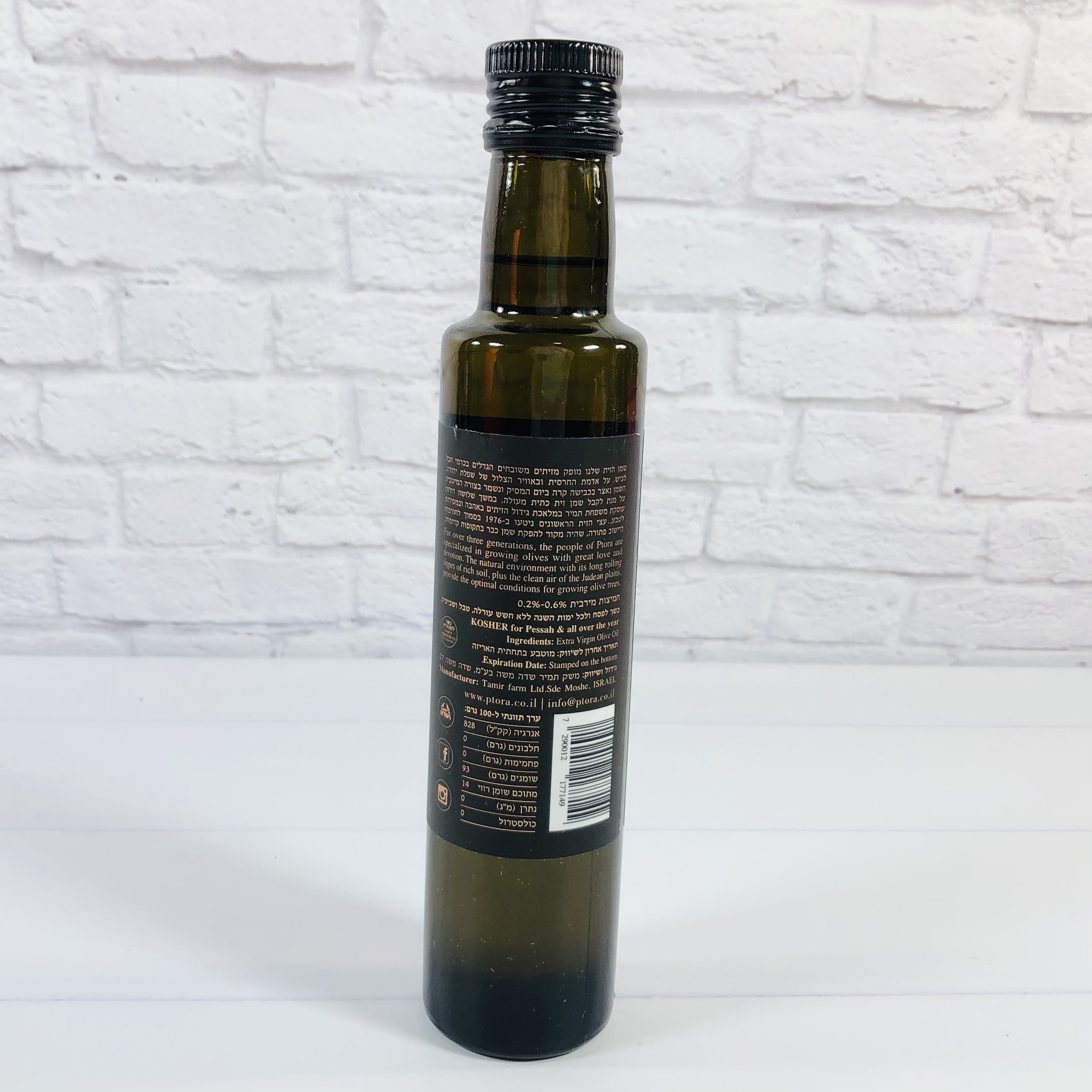 This one is different from what some of us are used to. It is extra virgin, so the flavor is a lot stronger than what I find in my grocery store. I poured a bit on a spoon and tasted it and it was fruity, a bit bitter, and burned the back of my throat a little. Believe it or not, those are signs of an EXCEPTIONAL olive oil! Olive is a fruit, it grows on trees, and the bitterness means this is fresh. The pepperiness that burns a bit is from polyphenols, antioxidants that give this some health benefits. If you think the bitterness is not for you, then use it in recipes or for sautéing, but not at a super high heat.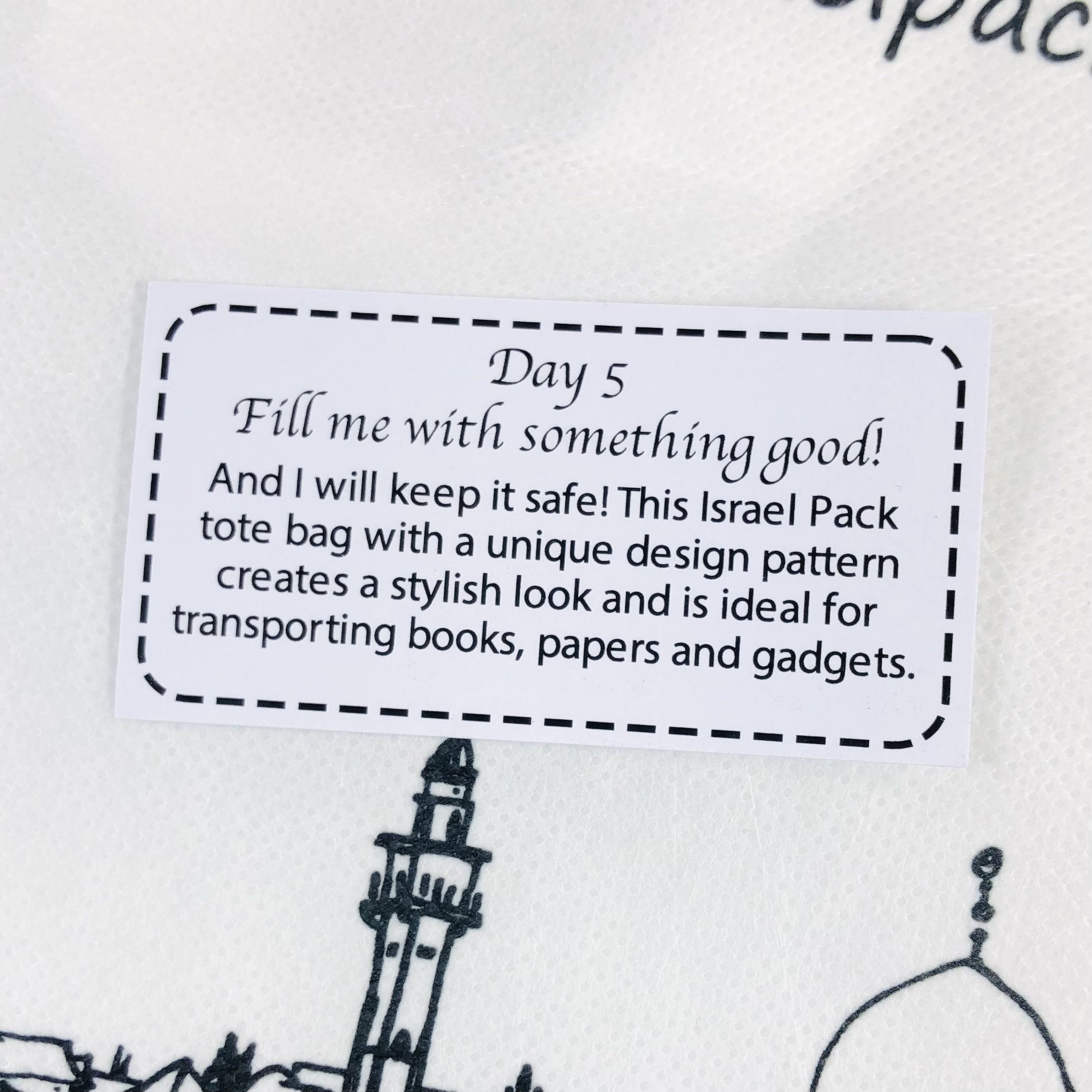 Day 5 is sea and birds.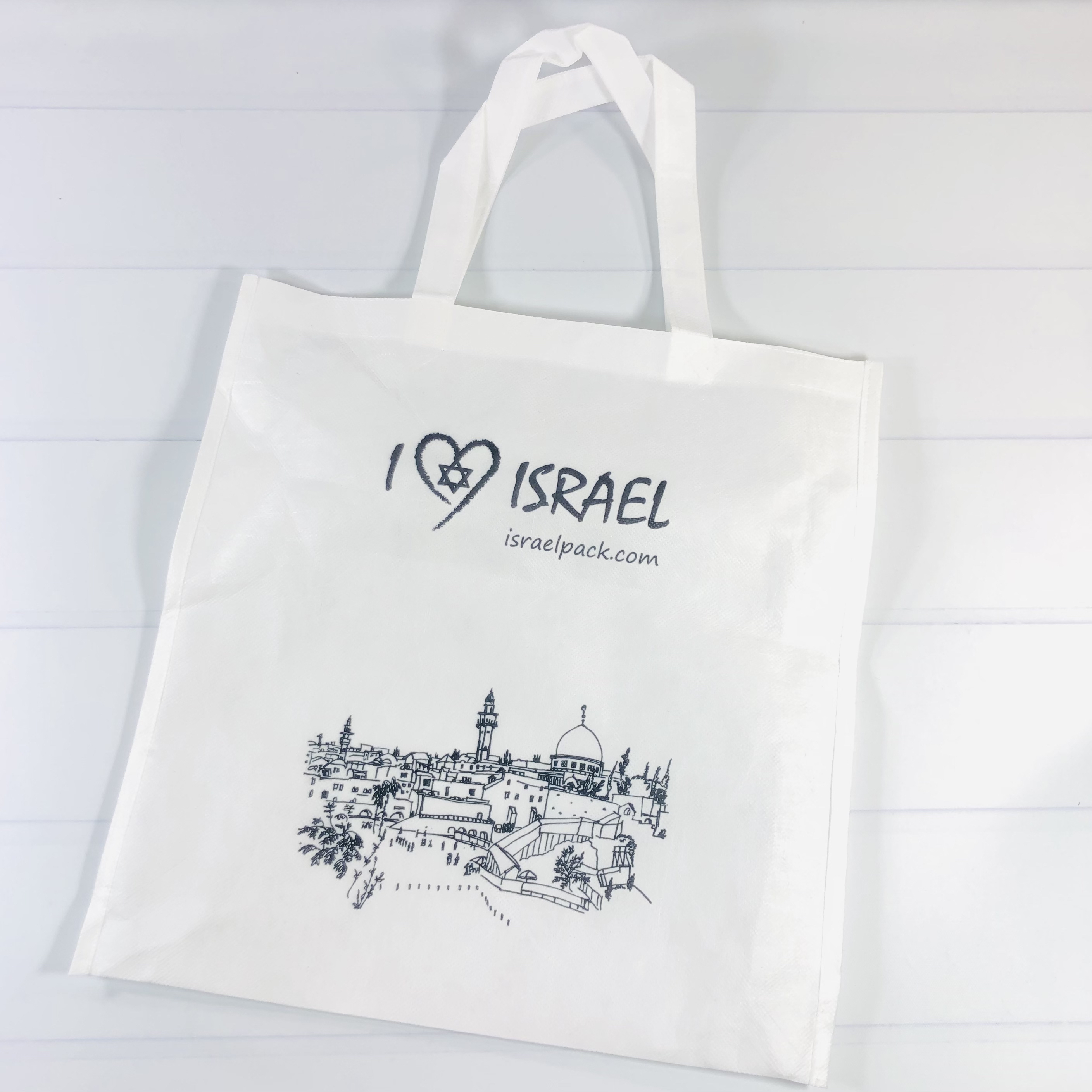 Israel Pack Eco-Friendly Printed Gift Bag It's a promotional tote bag! It's white with a black picture of Jerusalem. The bag is about 15″ x 15.5″. I'm not sure of the material used, maybe non-woven polypropylene, but it's the kind they hand out at fairs or you might be able to buy at the grocery store.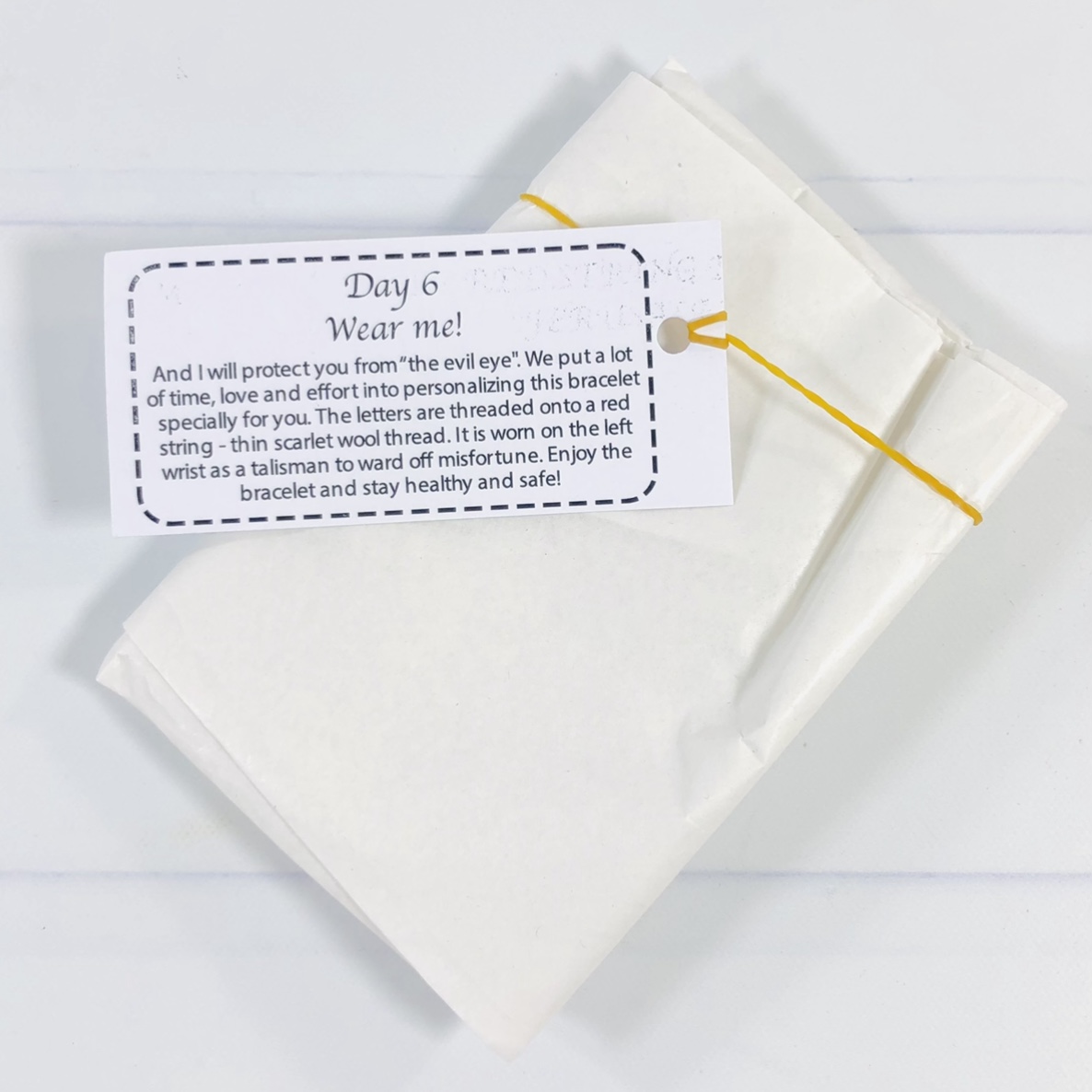 Day 6 is land animals and humans.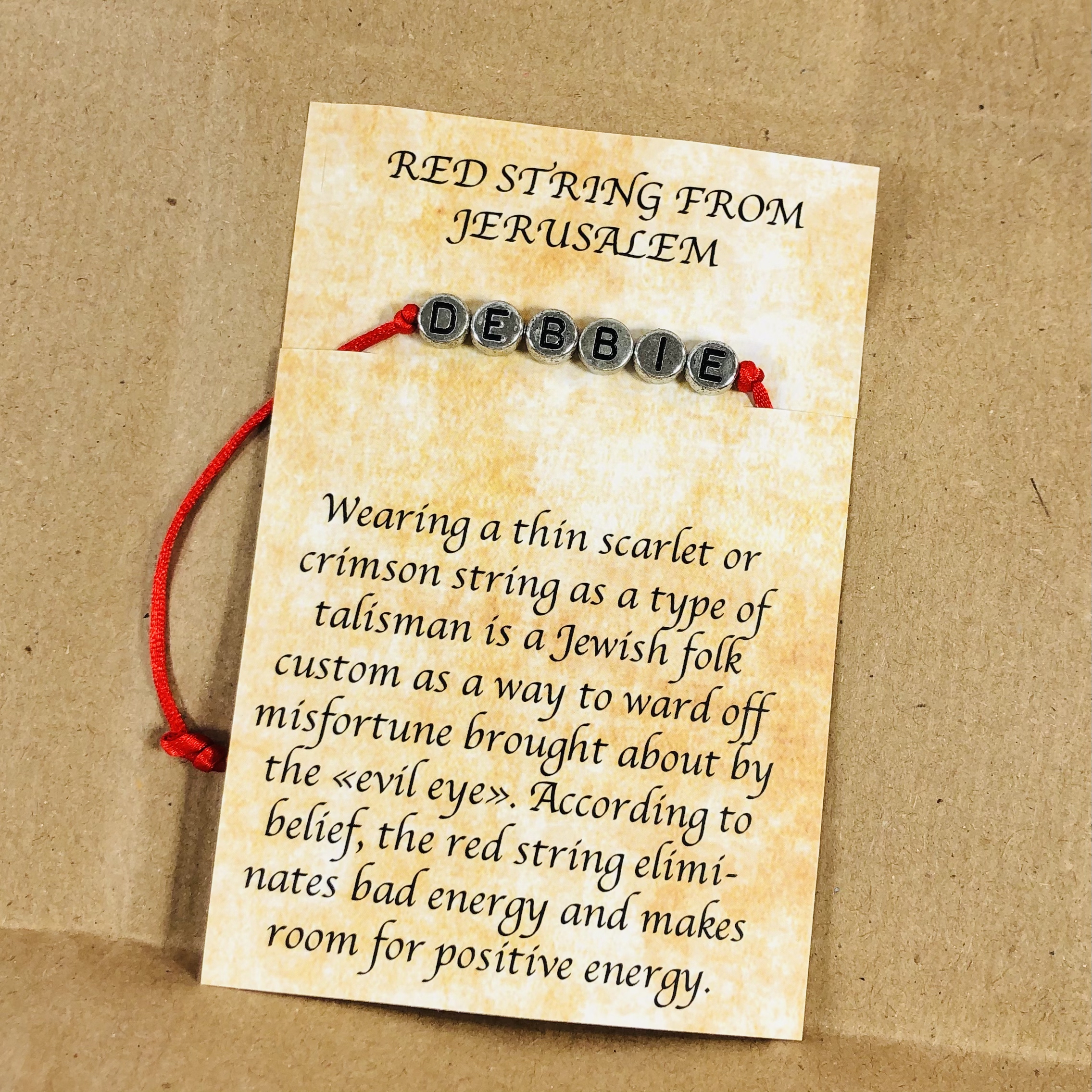 Personalized Red String Bracelet From Jerusalem It's got my name! I was floored when I saw a personalized bracelet in my box. My name is from Hebrew and was very popular back in the day.
It has letters strung on red string. Amulets for protection from the evil eye or jealous types are found in many cultures and my husband's family calls it "mal de ojo".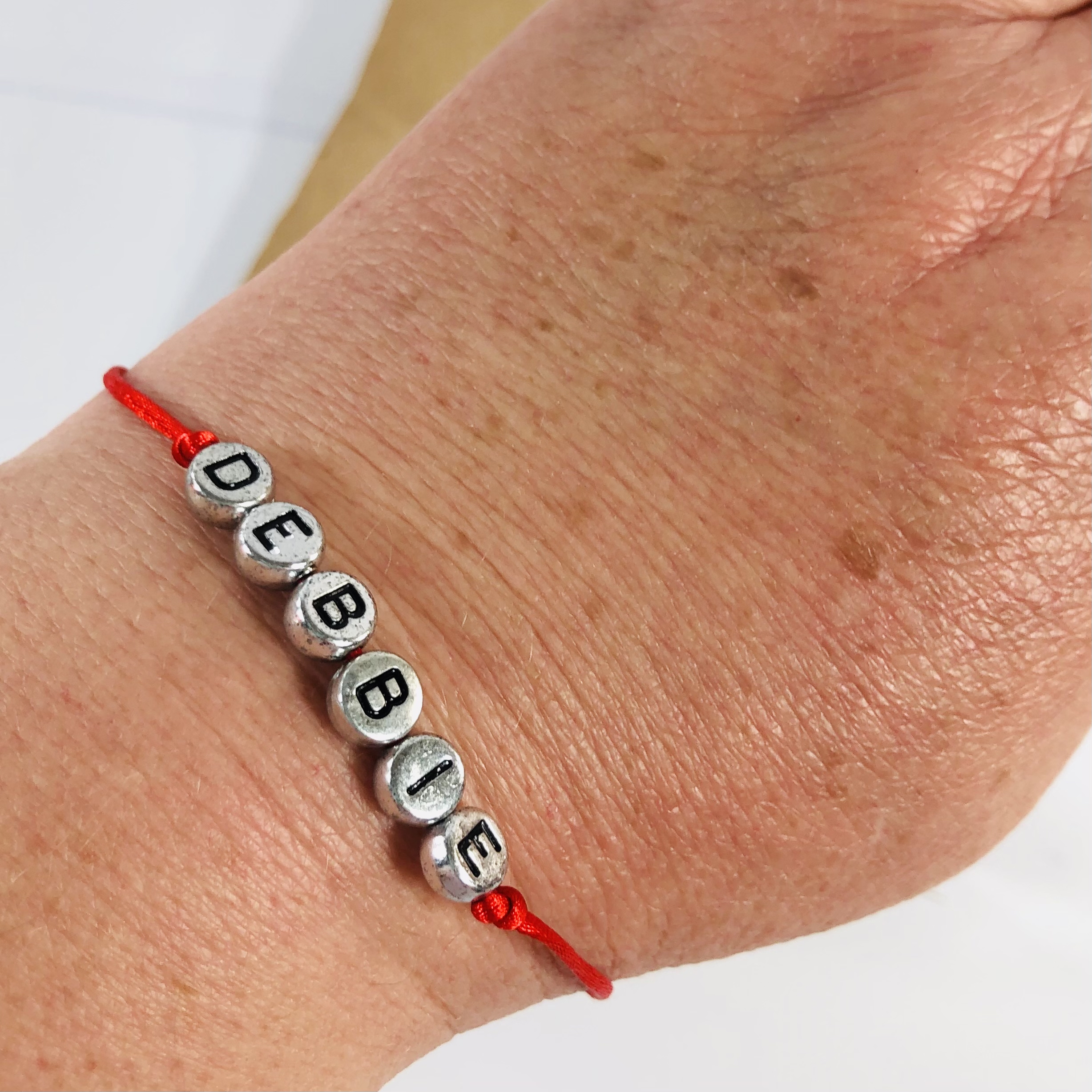 The bracelet is adjustable and fit me with no problem.
Day 7 is about keeping the Sabbath holy.
Tavlinsky Dried Apple Cinnamon Mix is a blend of dried fruits and nuts that can be eaten as is or added to apple cider or mulled wine.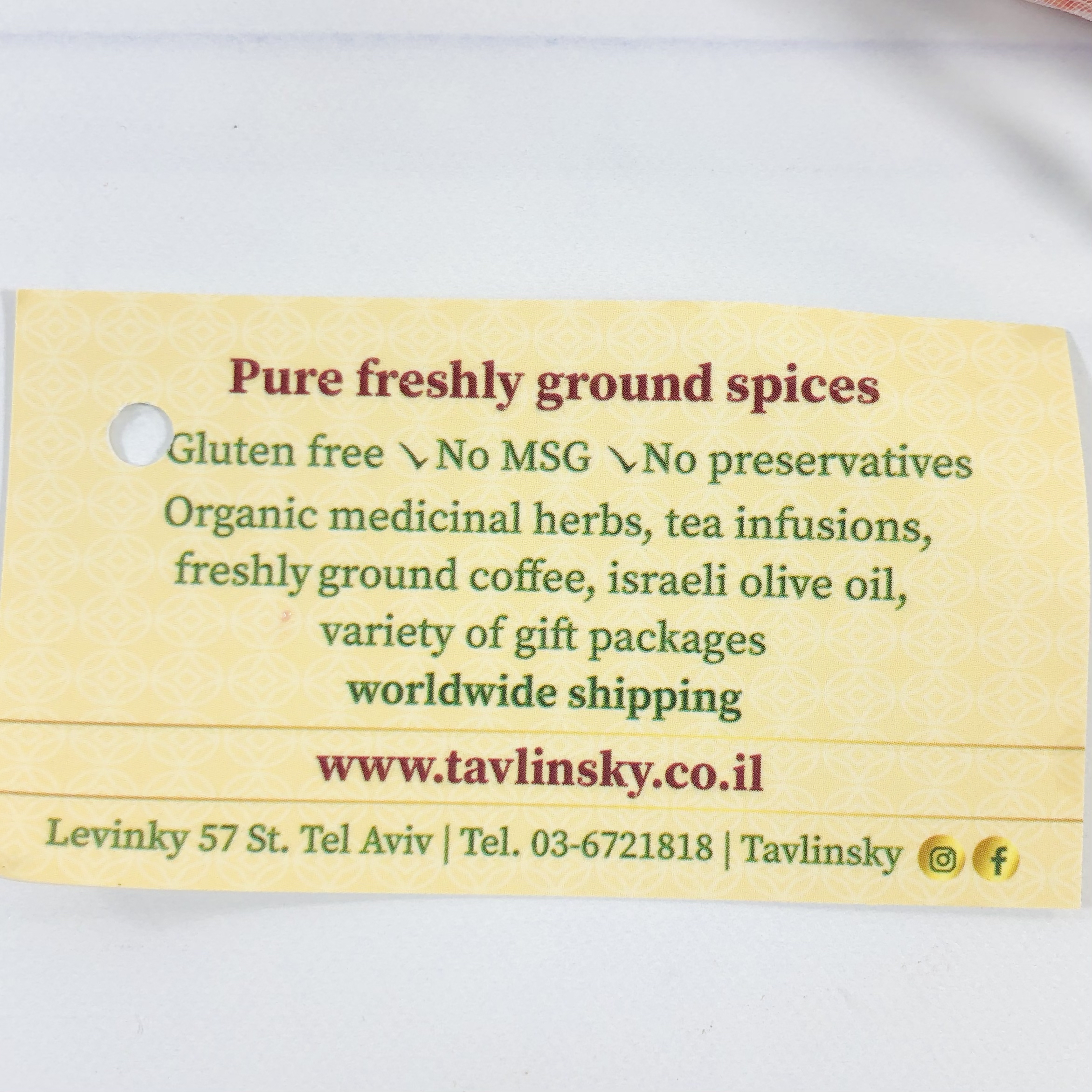 I think it has dried apples, raisins, and almonds at the very least and smells very fruity, my husband thought it was potpourri! It would also make a nice fruit tea, just steep with water.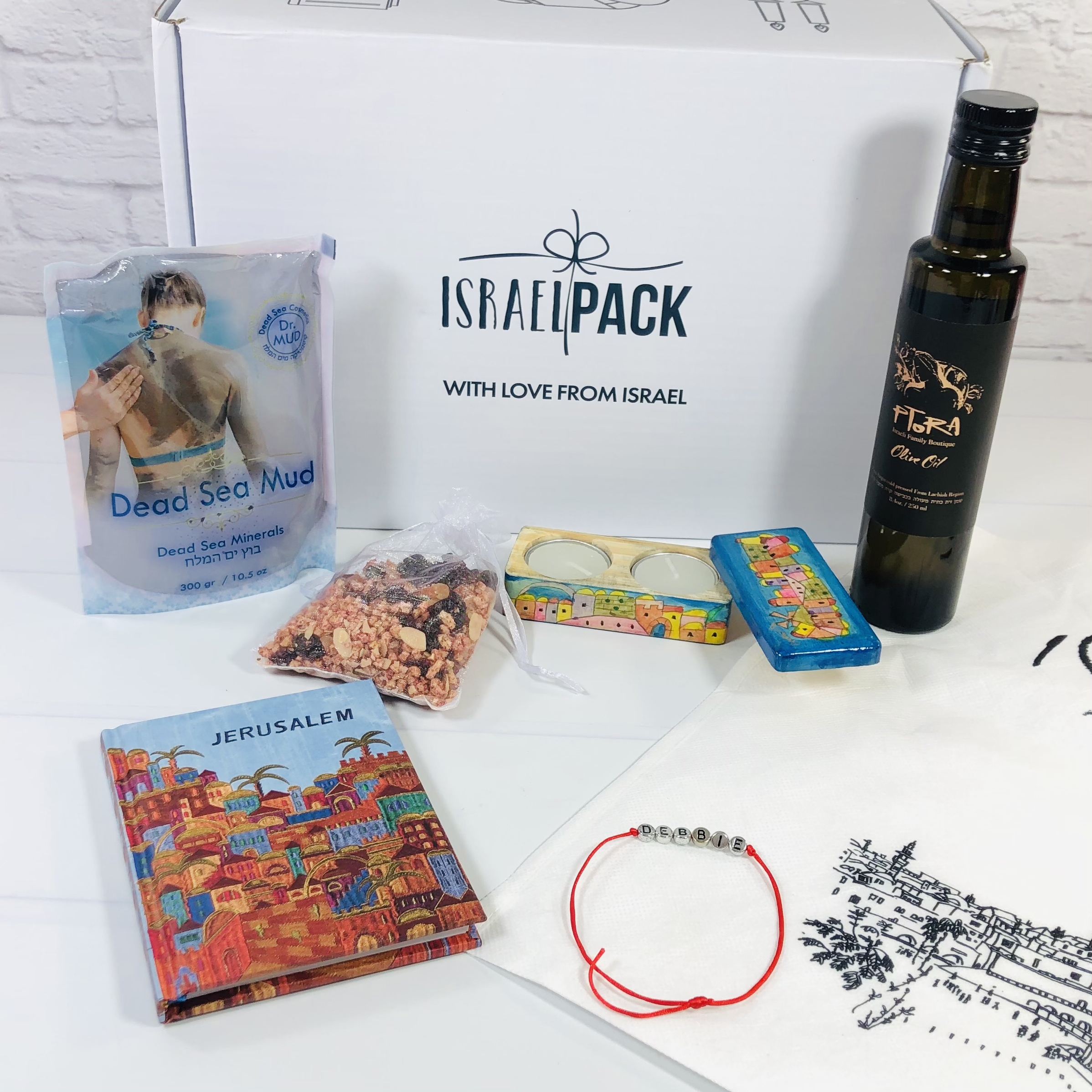 Israel Pack always teaches me something I didn't know about Israel! I had never heard the word "Bereshit" but now I know it's the term for the creation of the world as found in Genesis. The products are unique gifts and occasionally might be something you would grab in a tourist shop. The bracelet was too cute and the olive oil was amazing. The box holding the candles was decorated so prettily and the notebook practically matches. The other items rounded out the box nicely. I always enjoy reading about the makers and appreciate how Israel Pack worked each item into the theme!
What do you think of the Israel Pack review? Let us know your thoughts!