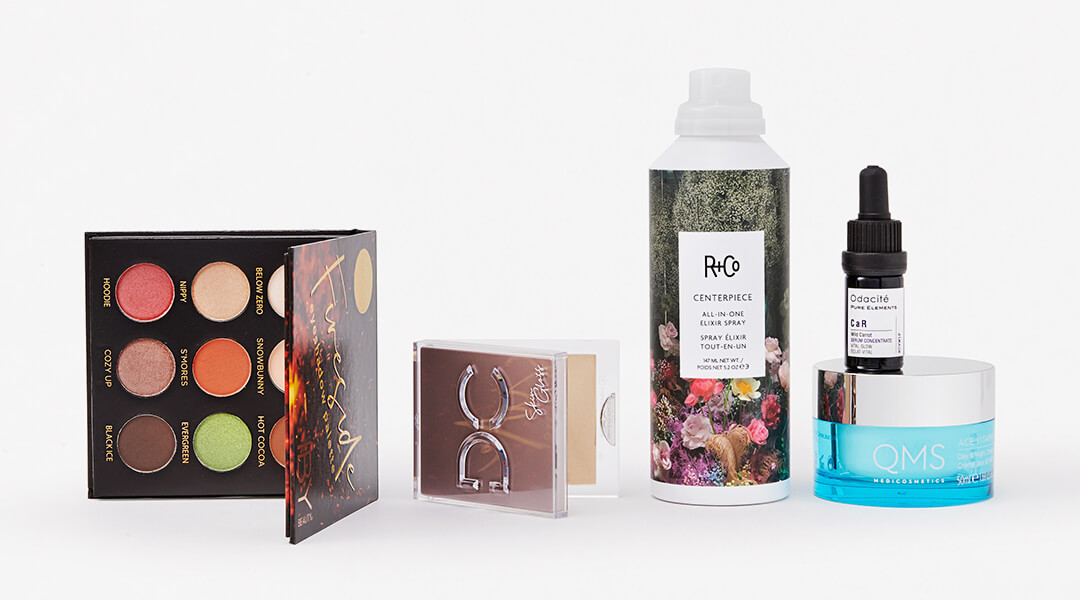 We have MORE spoilers for the December 2020 Ipsy Glam Bag Plus Ultra Personalization. On the 2nd-3rd you'll be selecting three of your items, and Ipsy will select two (you can also opt to have Ipsy select all of them). Add-ons will be open during this time, too!
Snow days, twinkling lights, lots of shimmer—the holidays are around the corner and we're so excited for the merry moments you'll create with December's Glam Bag Plus products. Whether you're celebrating at home or at a social-distanced gathering, serve up some holiday magic with your beauty looks—think sparkling eyes, a glimmering highlight, velvety lips, and more—that'll help you kiss 2020 goodbye in style. And as always, your Glam Bag Plus is here to deliver all the inspo you need.
December's Glam Bag Plus is giving us all the feels. With a fuzzy red texture that screams put-me-under-a-tree, this drawstring (and your five full-sized products) will make you feel like the gift you are.
FYI – for December, you can add on up to TEN items! Here's some of the goodies you'll find in Add-Ons:
VIOLET VOSS Single Eyeshadow in Nude Sparks
This single eyeshadow is the perfect "just because" gift for someone else—or a much-needed treat to yourself, depending on your mood. Nude Sparks is a buttery rose gold shimmer that blends seamlessly with your other shadows while still delivering max pigment (just look at that color!). Rock it alone for a simple-but-elevated eye look, or use it on top of your matte shadows for added dimension.
GRACE & STELLA Microneedle Derma Roller Set
We love a good skincare tool, and this one tops our list this month. If you've got scarring, large pores, or stretch marks, derma rolling might be for you. This skincare technique helps you generate new collagen and skin tissue for smoother, firmer skin by penetrating your skin with ultra-fine titanium needles, but we promise it's not as scary as it sounds. Just pair it with the hyaluronic acid serum in this set to start repairing your skin and help soften wrinkles, fine lines, and scars.
BEAUTYBLENDER Original Sponge in Queen
BEAUTYBLENDER tools really need no introduction, but in case you need a refresher, these best-selling beauty sponges offer quick, flawless, and precise product application. This sponge can pretty much do it all, from applying a liquid foundation to setting your face with powder. Simply wet the sponge with water and squeeze out the excess; when wet, the super-soft material gives you an even and smooth blend. If you already have one in your arsenal, it's time to get a backup; and if you haven't tried it yet, it's time to grab one and transform your beauty routine.
JUICE BEAUTY Green Apple Age Defying Moisturizer
Hydrating, plumping, nourishing—there's a lot you'll love about this moisturizer. It helps your skin appear brighter and smoother with a combo of organic juices, vitamins, peptides, alpha hydroxy acids, and botanicals, and the age-defying results are what totally sold us on adding this one to our skincare lineup. Grab it if you can, then let us know if you're as obsessed as we are.
AND, peep these previous spoilers! Ipsters signed up to receive a Glam Bag Plus this December might receive:
1. 111SKIN 3 Phase Anti Blemish Booster
Things that don't spark joy: Breakouts. And wearing masks + dry winter air is a recipe for well, more breakouts. To stop them before they start, reach for this super smart treatment made with potent active ingredients that target acne-causing bacteria, reduce inflammation, and heal skin.
2. CIATE LONDON Eye Lustre Creme Eyeshadow in Cupid
Consider this gorgeous, glittery rose gold eyeshadow your plus one for every holiday occasion. Metallics are a winter staple for us and this cream-liquid formula will light up your looks with one swipe. Wear it alone for a wash of shimmer, as a topper to glam up your eye looks, or even blend it onto cheekbones as a highlighter—there are so manys ways to use it.
3. DOMINIQUE COSMETICS Skin Gloss in Golden Dew
If we had it our way, we'd fill all our stockings with beauty guru Christen Dominique's highly-pigmented products—including this super unique Skin Gloss. Eyes, face, lips, body—use it anywhere for an instant hit of golden luminosity. Bonus: It's infused with hyaluronic acid to boost moisture for a truly dewy glow.
4. R+CO Centerpiece
This multitasking styling spray is the secret to smooth, super manageable hair. It's packed with oils (like shine-boosting buckthorn), nourishing and strengthening vitamins E, A, and C, and hyaluronic acid to lock in moisture and combat dryness. The result? No frizz, just happy, shiny hair.
5. TULA So Polished Exfoliating Sugar Scrub
Fact: The holidays season can be stressful, and (just like you), your skin deserves a little extra TLC. Treat your complexion to this super gentle (and so satisfying) scrub. It's made with superfoods and probiotics like papaya and pineapple to smooth, brighten, and gently exfoliate your skin. Plus, it smells just like a tropical getaway.
6. QMS Ace Vitamin Day and Night Cream
Skincare that (actually) works around the clock—it does exist. Use this vitamin-packed face moisturizer to protect your skin from environmental aggressors during the day, and to help rejuvenate your complexion at night. No matter when you apply, it boosts hydration, smooths texture, and brightens you up overall.
7. IBY BEAUTY Fireside Eye Shadow Palette
It's the season for warm, toasty, glowy eye makeup—you know, the kind that lights up your whole look—and this palette of highly-pigmented shadows is here to turn up the heat. Wear them alone, layer them together, every shade is a total winter vibe.
8. COMPLEX CULTURE SET, GO Translucent Finishing Powder
For days (or nights) when you need to set it and forget it, this setting powder will be your go-to. The talc-free loose powder formula flawlessly sets, blurs, and mattifies your complexion in one simple step. It's also made with hydrolyzed silk and ceramides that draw moisture in, so you'll look soft and radiant, never dry.
9. ODACITÉ Wild Carrot Facial Serum Concentrate Vital Glow
This brightening serum = the ultimate gift to your skin. Super rare hand-pressed wild carrot seed oil (it's made in a small French Village) is the key ingredient here, and it's packed with antioxidants that protect, nourish your skin, and majorly amp up your glow. Smooth it on daily and (trust us) everything will be merry and bright.
What do you think of the Ipsy Glam Bag Plus spoilers this month?