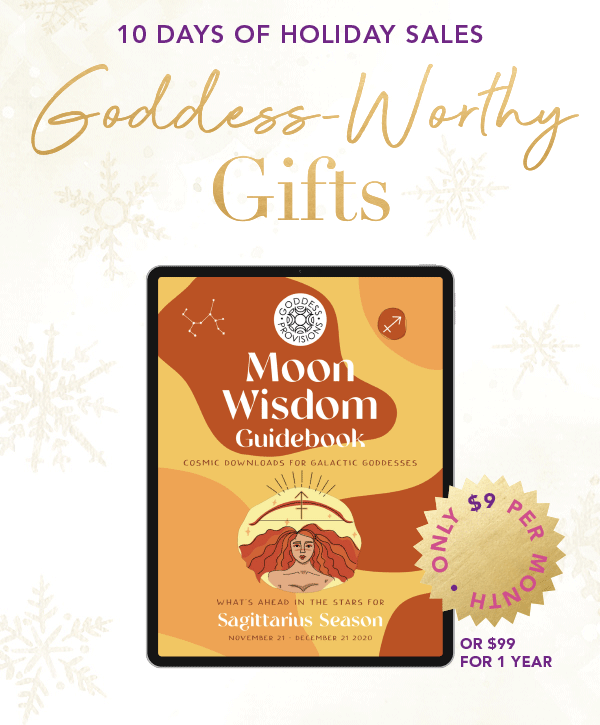 Goddess Provisions Moon Wisdom has a Black Friday coupon!
Get access for $9 for your first month or $99 for the year! Use this link and coupon code JOINTHECLUB at checkout. Ends 12/02.
Get the Goddess Provisions Moon Wisdom Black Friday deal!

Goddess Provisions Moon Wisdom is a new digital membership from Goddess Provisions. With Moon Wisdom Club "receive the guidance, rituals, inspiration and support you need to sync with the Moon and tune in with the astrological influences each month."
Harness the power of the Moon's cycle to manifest your deepest desires.
When you join the Moon Wisdom Club you'll be tapping into the lunar knowledge that is your birthright. Embrace your moon goddess status by connecting to this ancient wisdom each new astrological season, and see the ways the stars shine brighter on your path guiding you forward.
Join the club if you want to:
Sync with the Moon's cycle to maximize manifestation powers
Experience New Moon & Full Moon rituals each month
Learn more about the Moon's cycles, astrology, herbalism, goddess archetype, crystals & more
Keep self-care top-of-mind
The club is $11/mo or $111 per year. You'll receive
Digital PDFs packed with with guidance, inspiration, rituals & journal prompts.
New Moon and Full Moon energy reports
Ritual guidance and inspiration
Updates on significant astrological transits, and how they affect the collective
Affirmations designed to help you stay in alignment to the cosmic energy all month long
Information about plant allies and what they can do to help support you in the astrological season
Suggested crystals to help amplify and ground the energy of the current cycle
An introduction to a different Goddess archetypes who embodies the themes of the current astrology
Journal prompts to help you reflect on and integrate
Visit Goddess Provisions Moon Wisdom to get this deal!