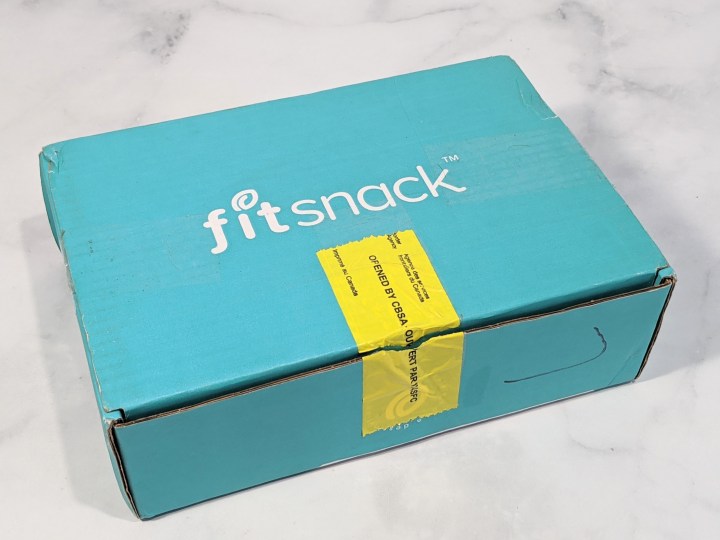 Fit Snack is a monthly subscription box delivering healthy nutritious snacks directly to your door. Fit Snack curates its boxes according to the following criteria:
Each product always containing two or more of the following: GMO-free, high in protein, low in sugar, gluten-free, organic, raw, vegan, and all-natural.
Plus, we add in bonus items such as energy boosters, nutritional supplements, or refreshing beverages.
If you sign up for a 6 month or 1-year plan, you will receive exclusive fitness inspired bonus items.
DEAL: Save $3 on your first box! No coupon code needed, just visit and subscribe.
As usual, the box is full to the brim!
The information card tells us the snacks this month are rich in key nutrients our body needs as well as the cravings we desire most.
Inside the booklet, we have a list of all this month's snacks.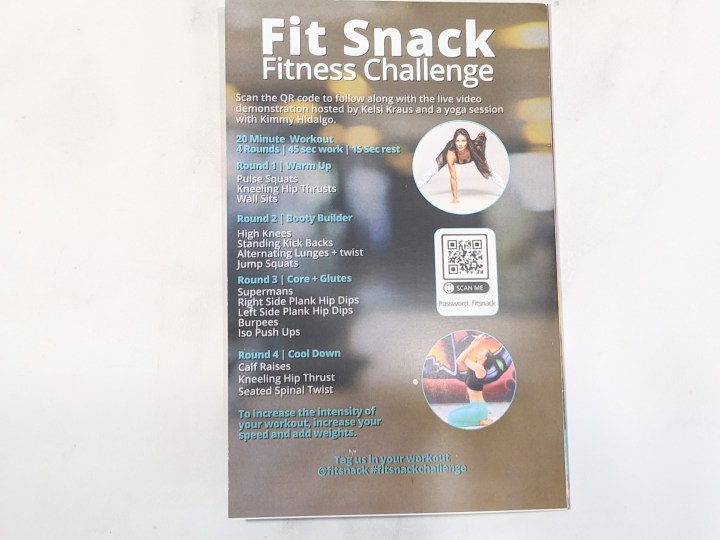 On the back of the box, we have our Fitness Challenge / 20 minutes workout. There's also a QR code to watch the live video demonstration of the workout, as well as a yoga session.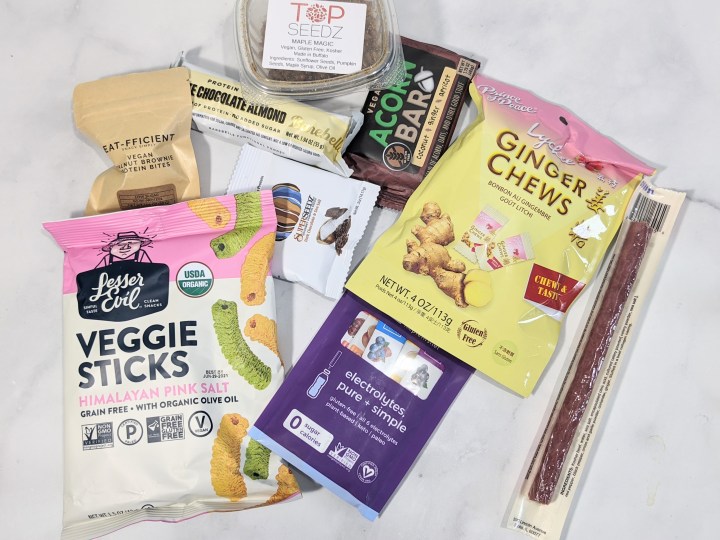 Everything in the box.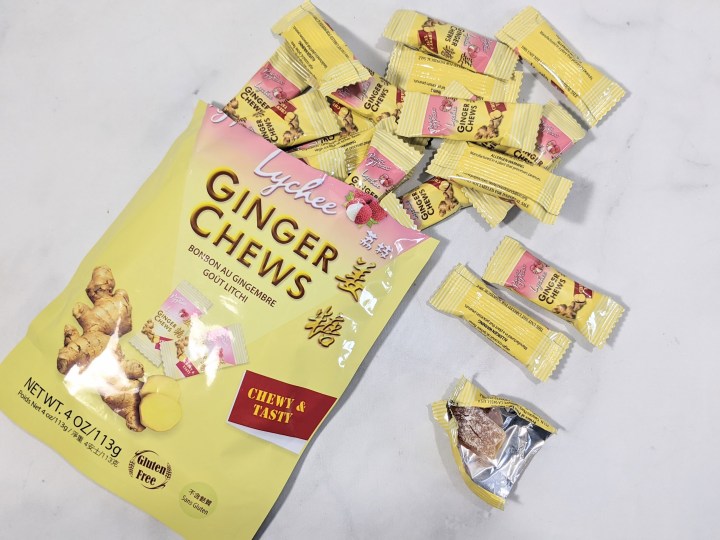 Prince of Peace Ginger Chew. – Lychee flavor. We received a ginger chews bag in one of the latest bag, but I'm not mad about getting an other one, especially since this flavor is so so so good! It doesn't have the strong spicy ginger flavor as the original, it's more of a sweet, slightly flowery taste. It's really good!
They are individually wrapped so I can keep some everywhere in my office, my purse, living room.
Lesser Evil – Paleo Puffs Himalayan Pink Salt. Delicious puffs type stics with just a hint of salt.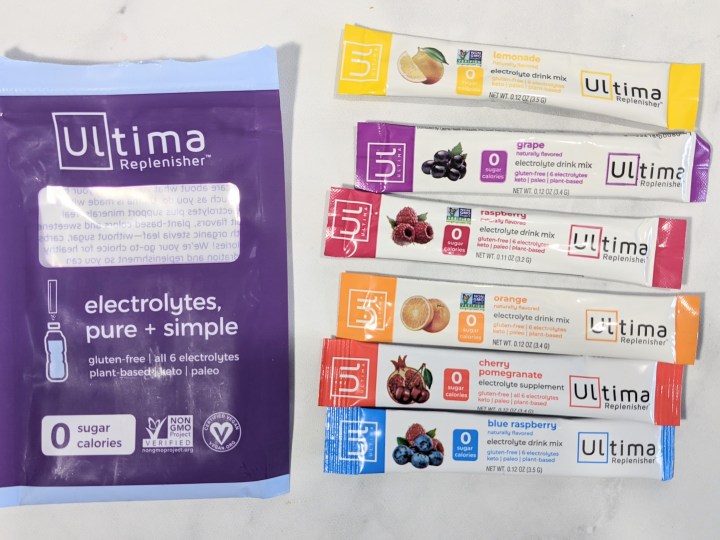 Ultima Replenisher. These single-serve electrolytes contain no sugar for a 0 calorie drink. They are sweetened with stevia leaf, and they have that strong stevia leaf taste.  We've received quite a lot of these electrolytes through this subscribtion, it almost has become a staple. We received 6 flavors : lemonade, grape, raspberry, orange, cherry-pomegranate and blue raspberry.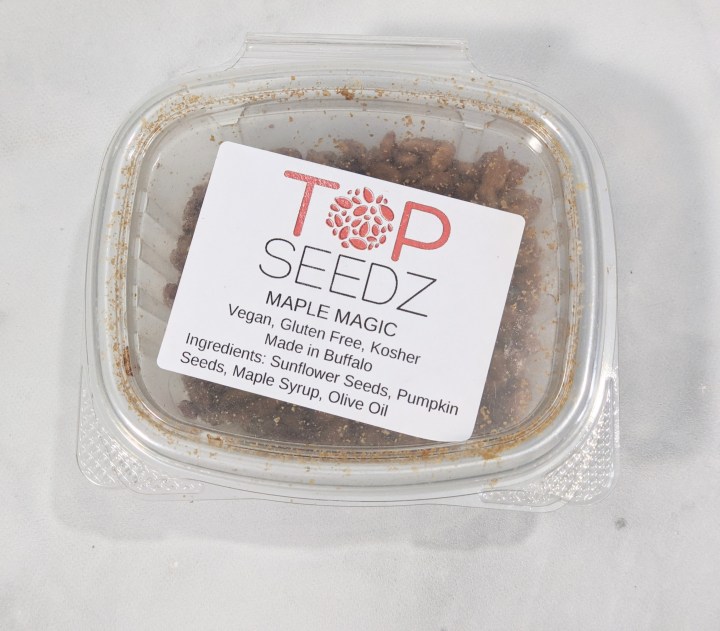 Top Seedz – Maple Magic. These are so good! Sunflower seeds and pumpkin seeds with a hint of sweetness from the maple syrup.
They may have disappeared right after this picture was taken. They were lovelingly crunchy, and not oily.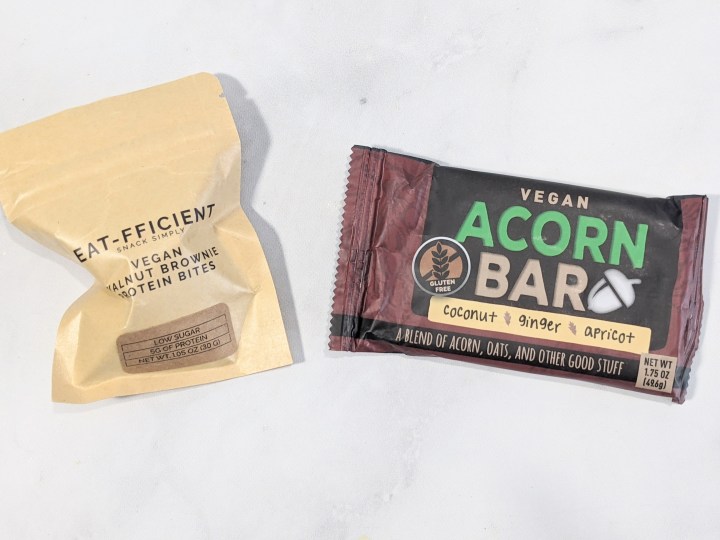 Eat-Fficient – Vegan Walnut Brownie Protein Bites. These are supposed to taste and feel like brownies, but mine were powdery right out of the bag.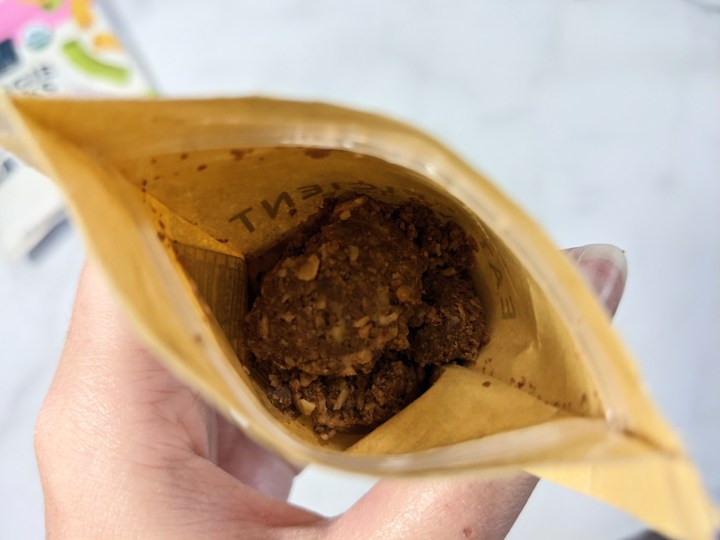 They were still good with a strong walnut flavor and a nice chocolate flavor.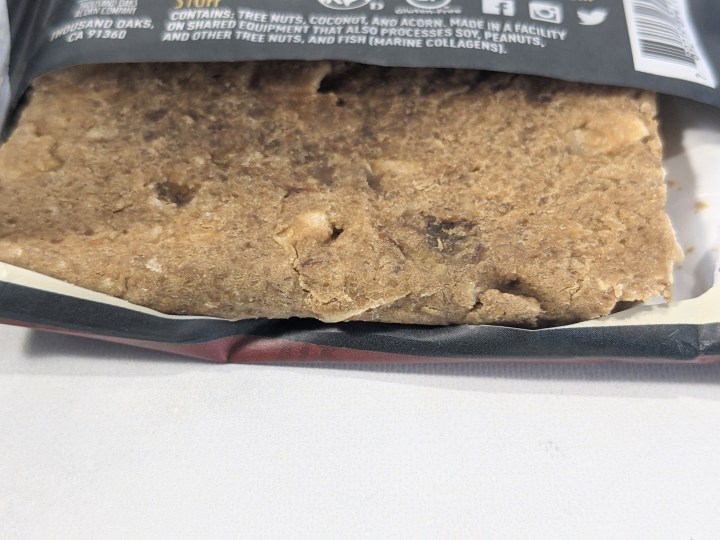 Acorn Bar. Made with tasty ingredients (Brown Cane Sugar, Oats, Real Butter, Eggs, Acorn Starch, Coconut Flakes, Dried Apricots, Organic Ginger Chips and Vanilla), thus bar us gluten-free and contains only 100 calories. It crumbles easily and is really sweet. I'm not a big fan of coconut, so that was the only flavor I could get out of this bar, but it's quite good otherwise.
SuperSeedz – Dark Chocolate & Sea Salt. A lovely mix of light sweetness and salt, the pumpkin seed flavor was not overwhelmed by them and I wished there would be more.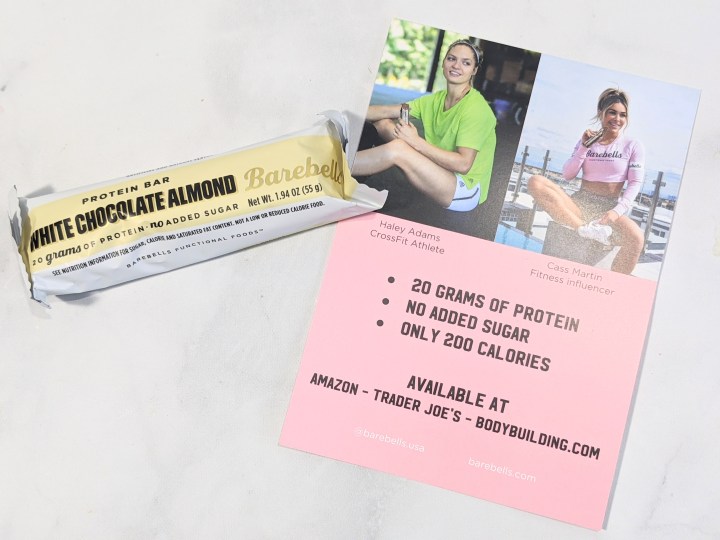 Barebells Protein Bar – White Chocolate Almond. Each bar has 20g of protein for 200 calories, and its sweetened with glycerol, sucralose and maltitol.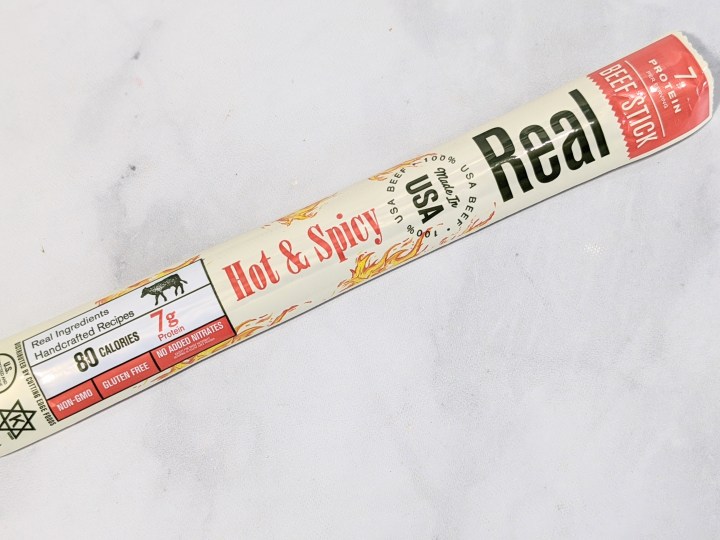 Real Snacks Hot & Spicy Beef Stick. This beef stick is made of 100% Kosher Angus Beef, with some crushed red pepper.
We always like the mix of sweet and savory treats we get in this box. My favorite is definitely the ginger chez, but there's nothing we didn't like.
What do you think of this month's box?