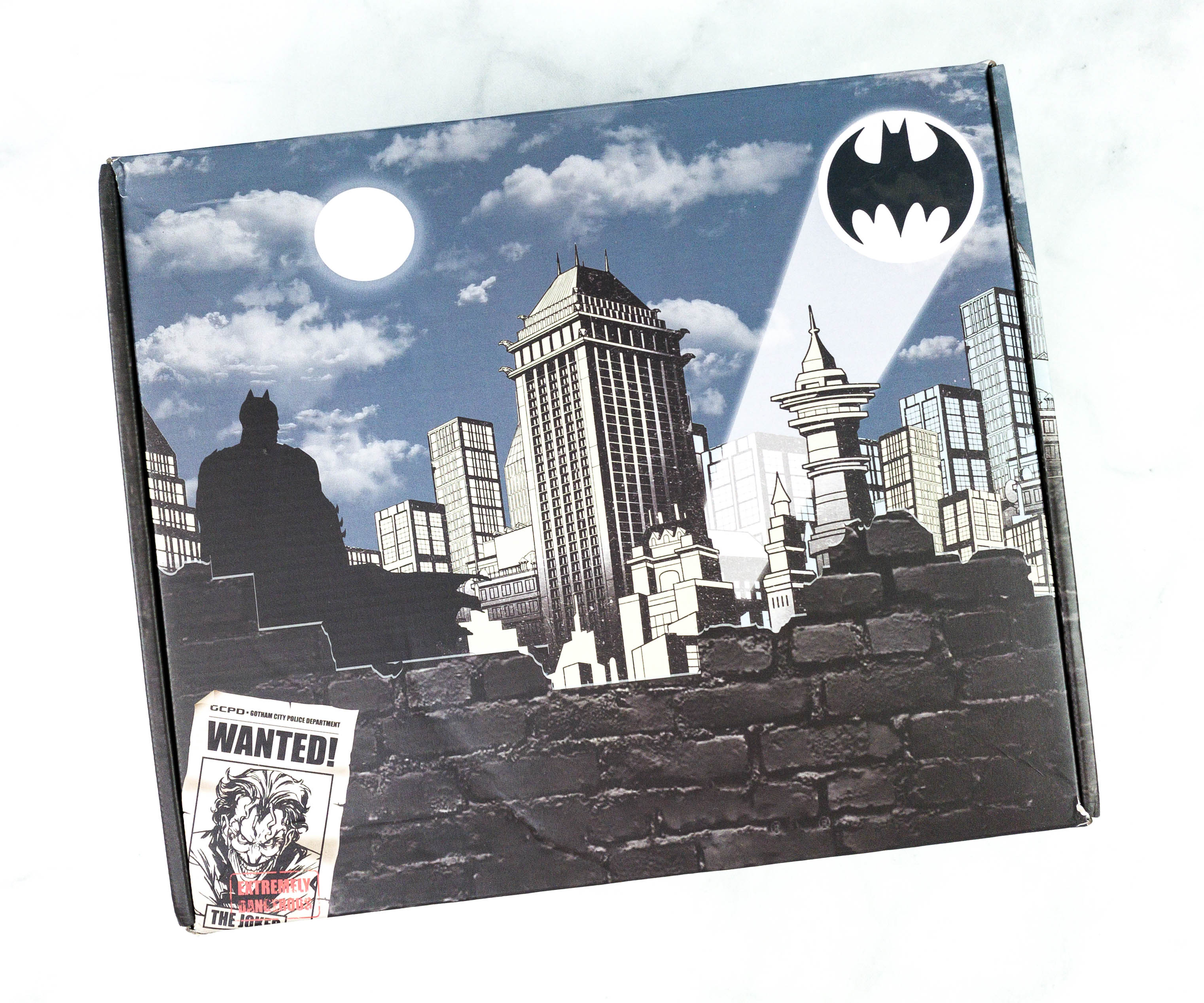 DC Comics World's Finest: The Collection is a subscription box that delivers 8-10 100% exclusive DC Comics items every quarter, including apparel, accessories, homewares, and a unique vinyl figure. The subscription costs $48.99 per season + shipping with a retail value of over $120.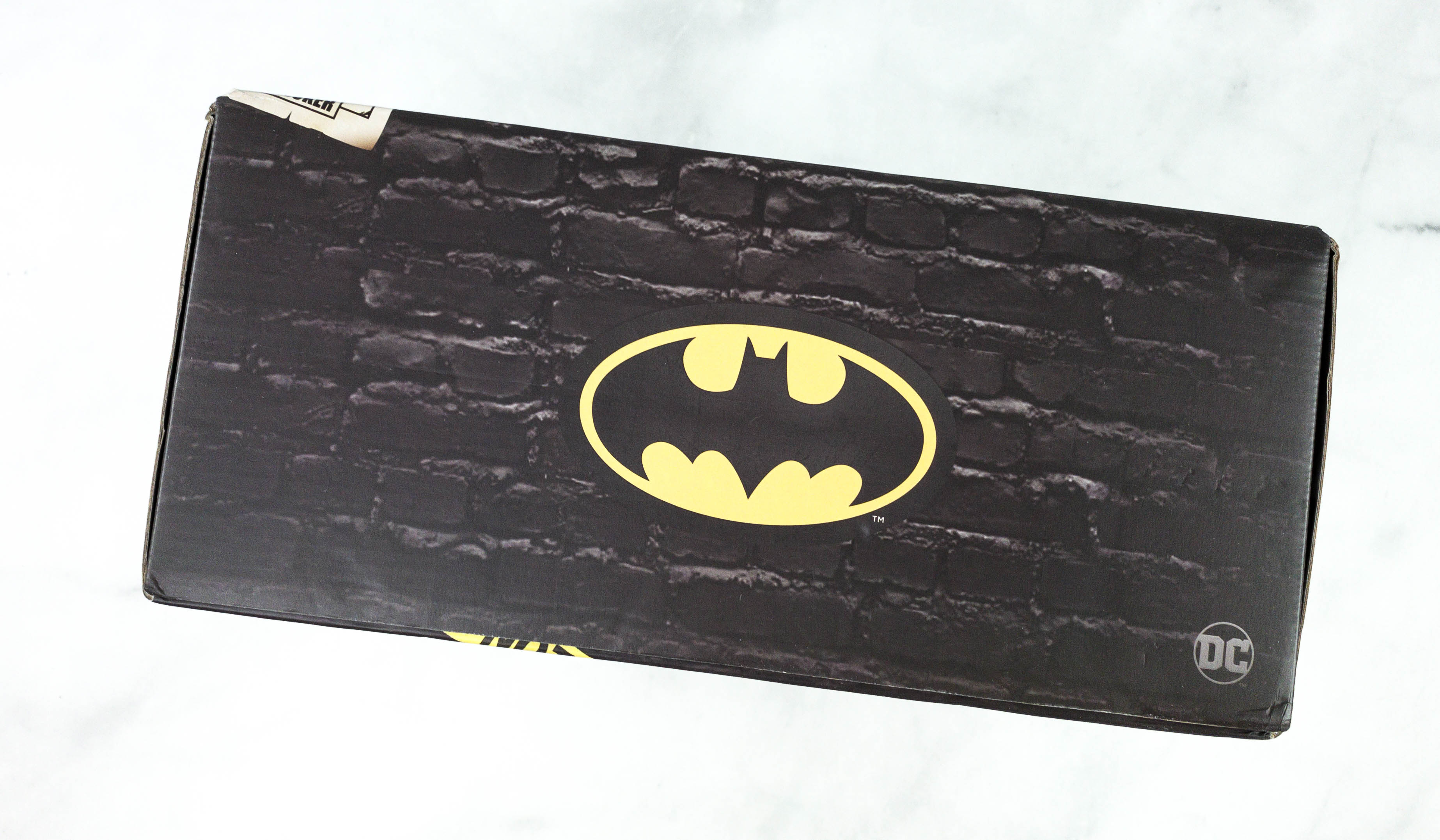 The box has a logo of Batman!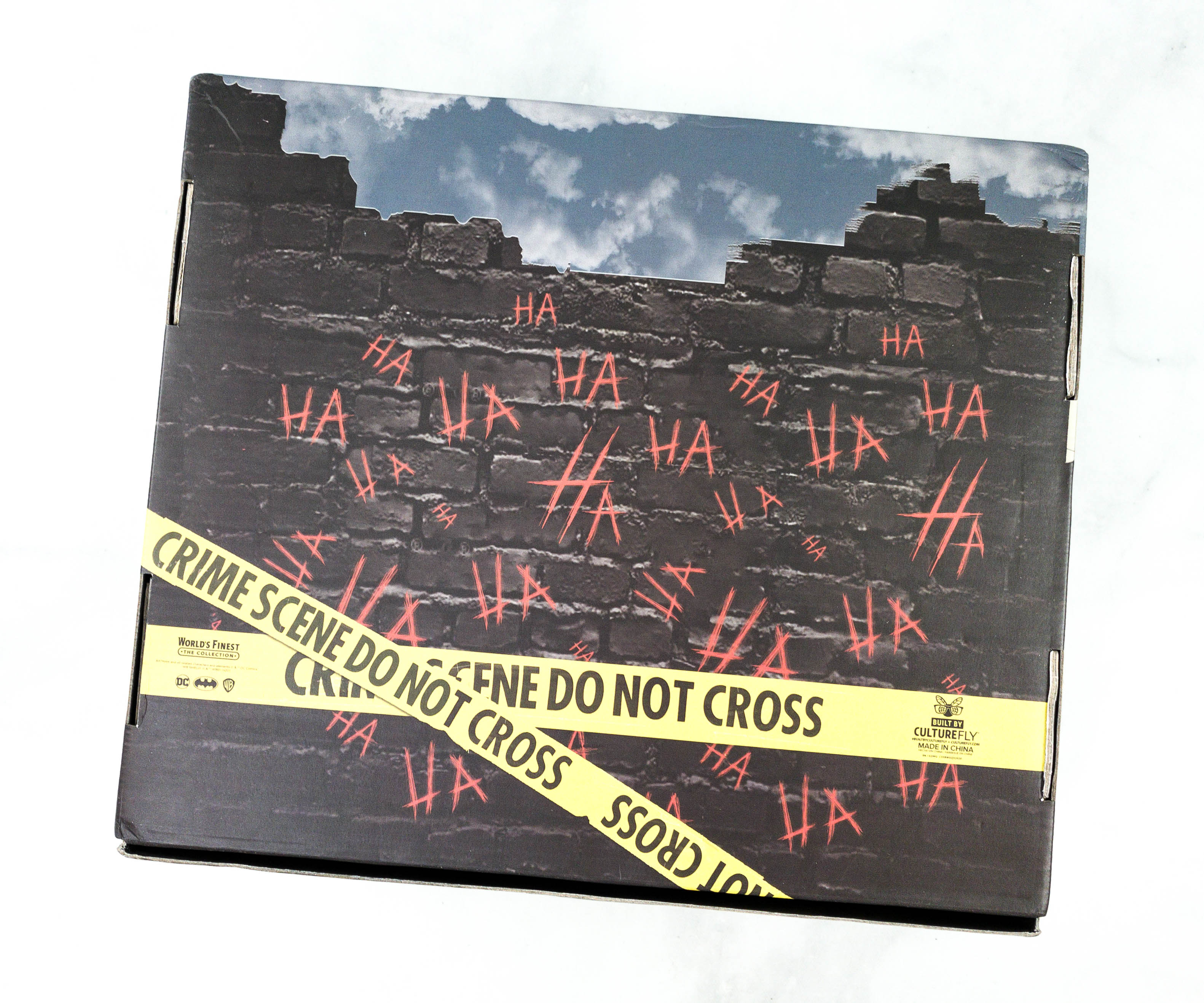 The top part of the box has an illustration of a brick wall with vandals of Joker's trademark laugh.
There's also a World's Finest logo on one side of the box.
The theme this quarter is GOTHAM CITY NIGHTLIFE!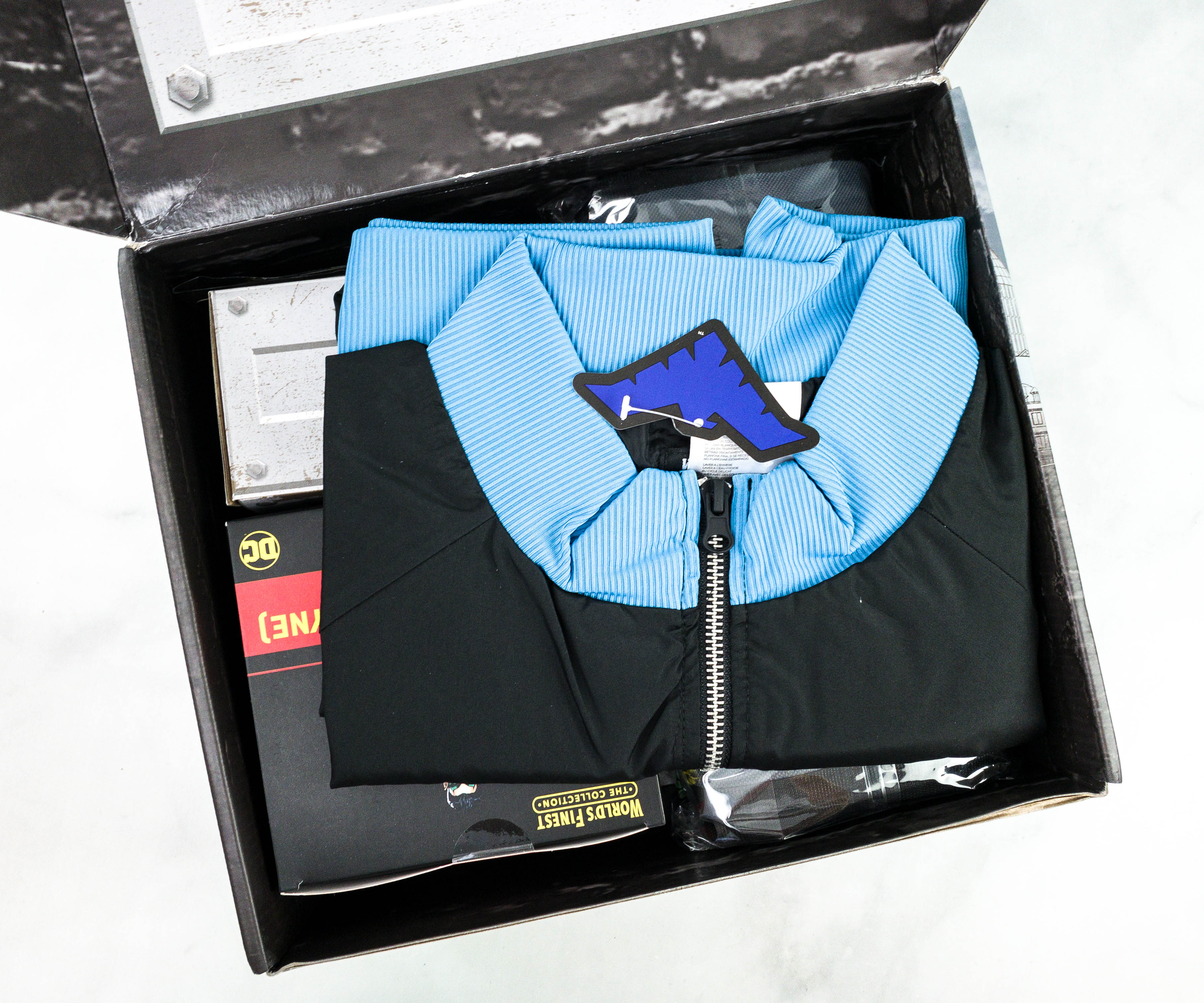 Everything in the box came neatly packed.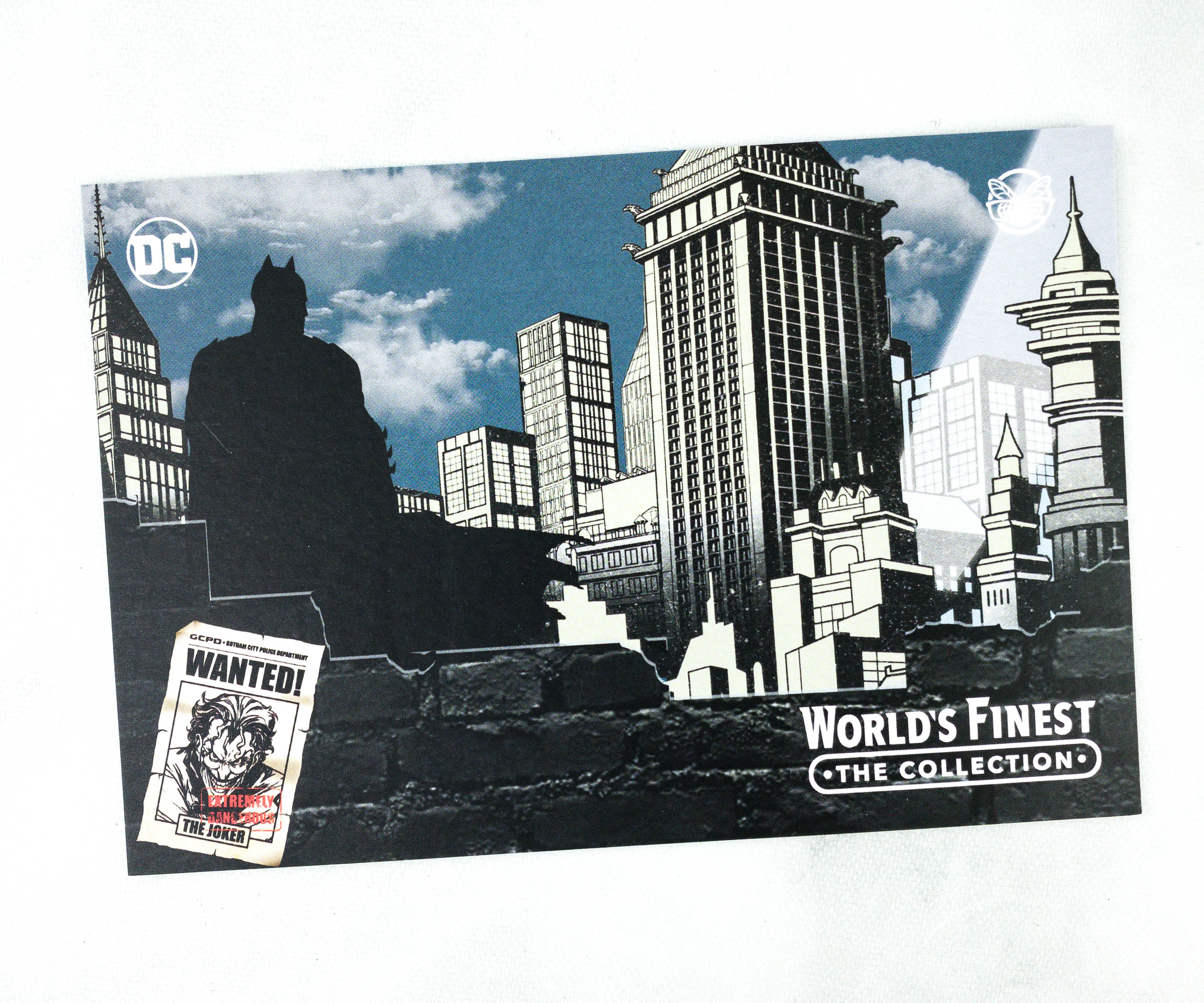 The box includes an information card.
At the back, it features photos of the items included in the box.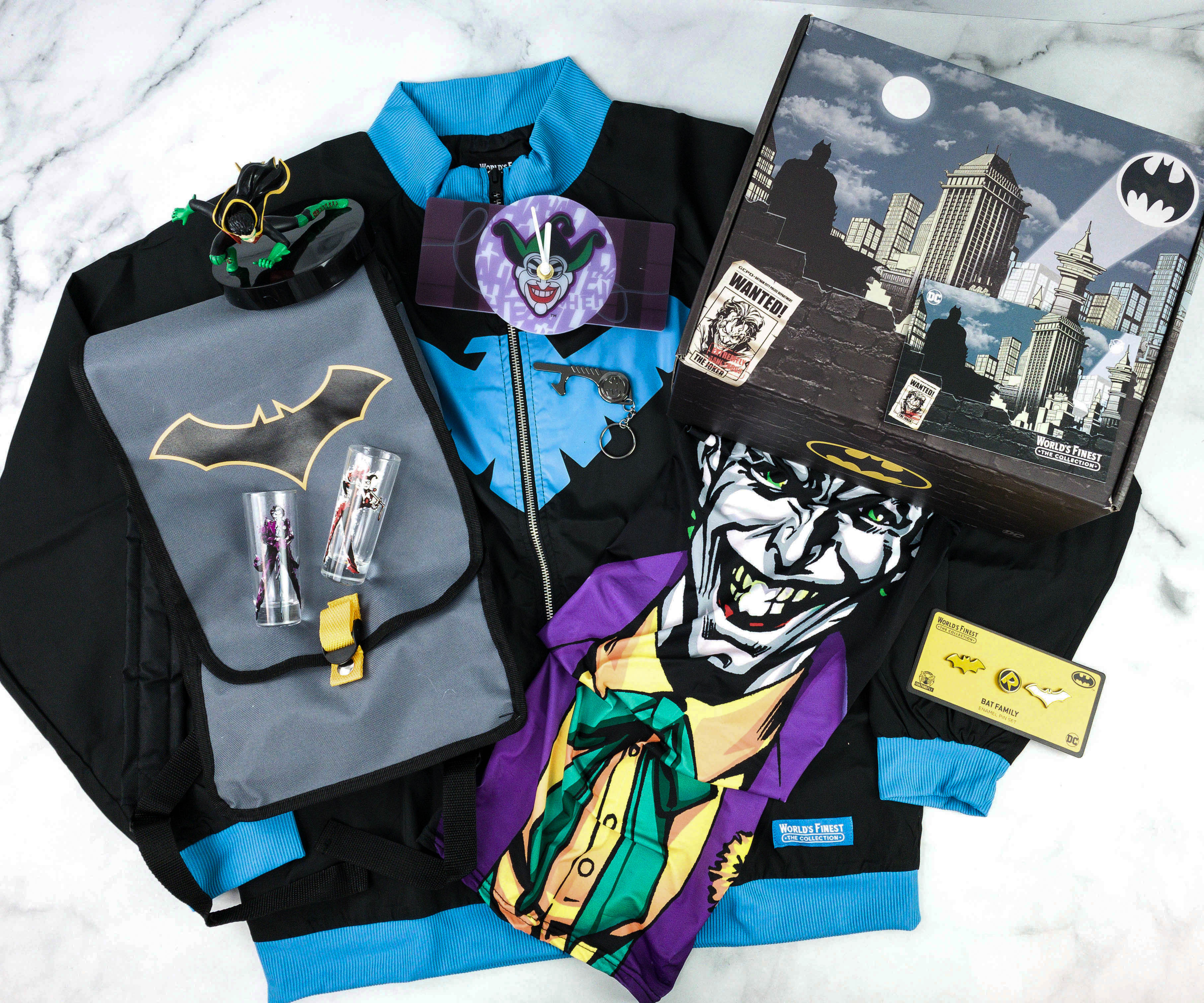 All the geeky goodies! Everything is totally exclusive to this box!
Bat Family Pins. This quarter's featured pin is a set that features the Bat Family! It's composed of 3 pins and each represents a different character.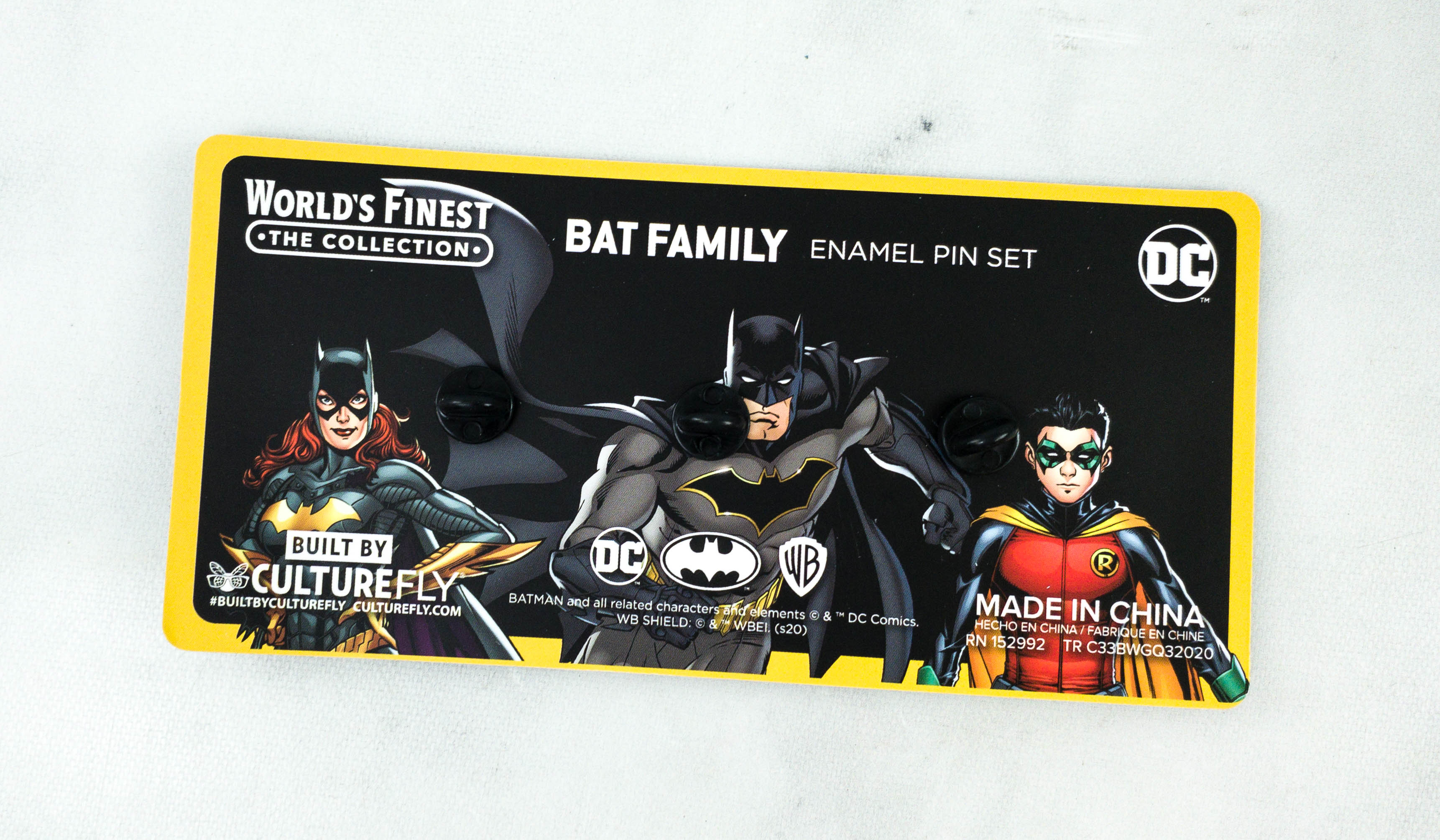 Batwoman, Batman, and Robin are the primary members of the Bat Family. It eventually expanded and included other characters to help them fight the villains!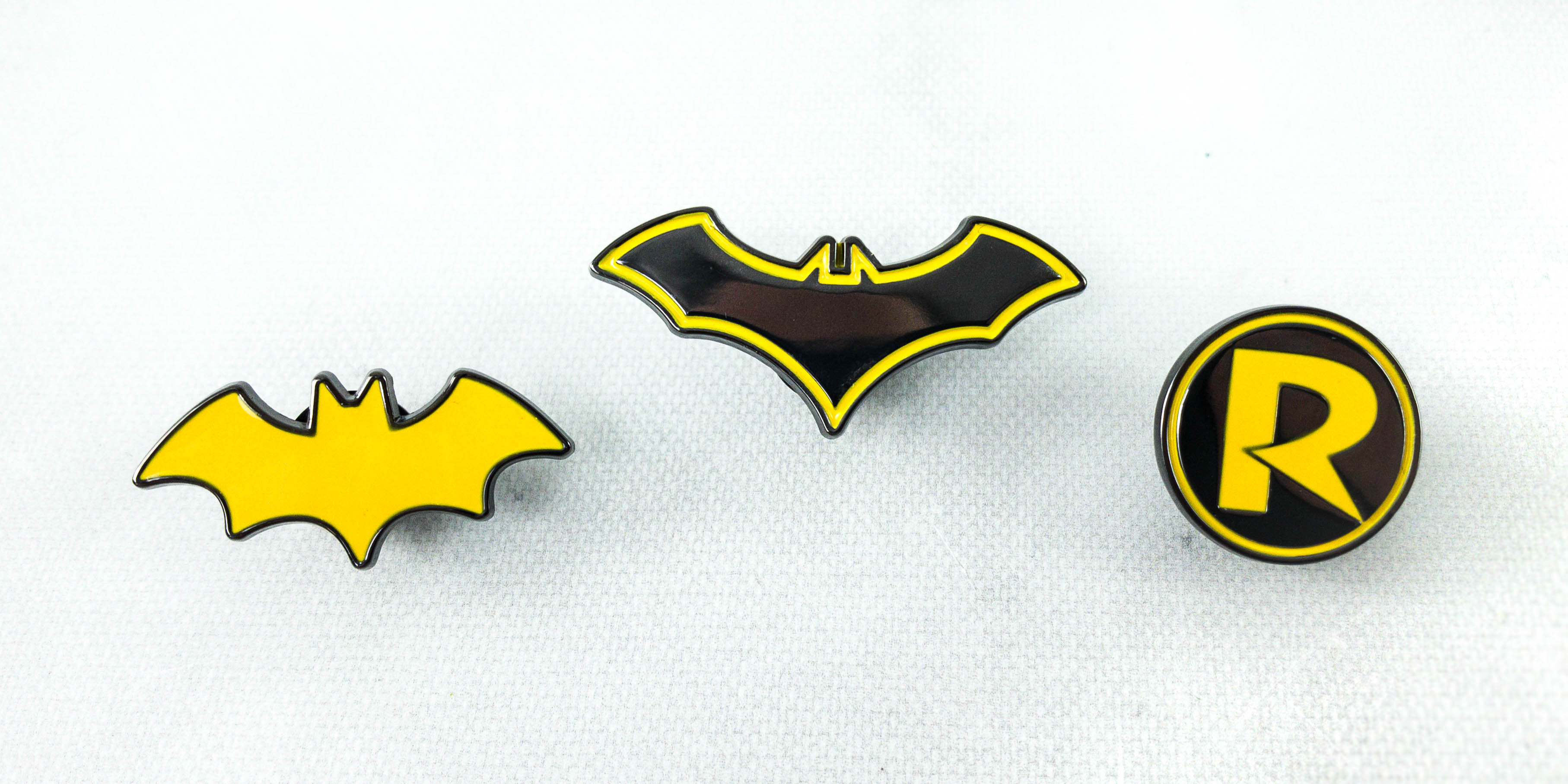 The designs are the individual logos of each character. They are all sleek!
Batman Safe Touch Keychain. I also received a Batman-themed safe touch tool. It comes with a chain so I can easily attach it to my keys or pouch.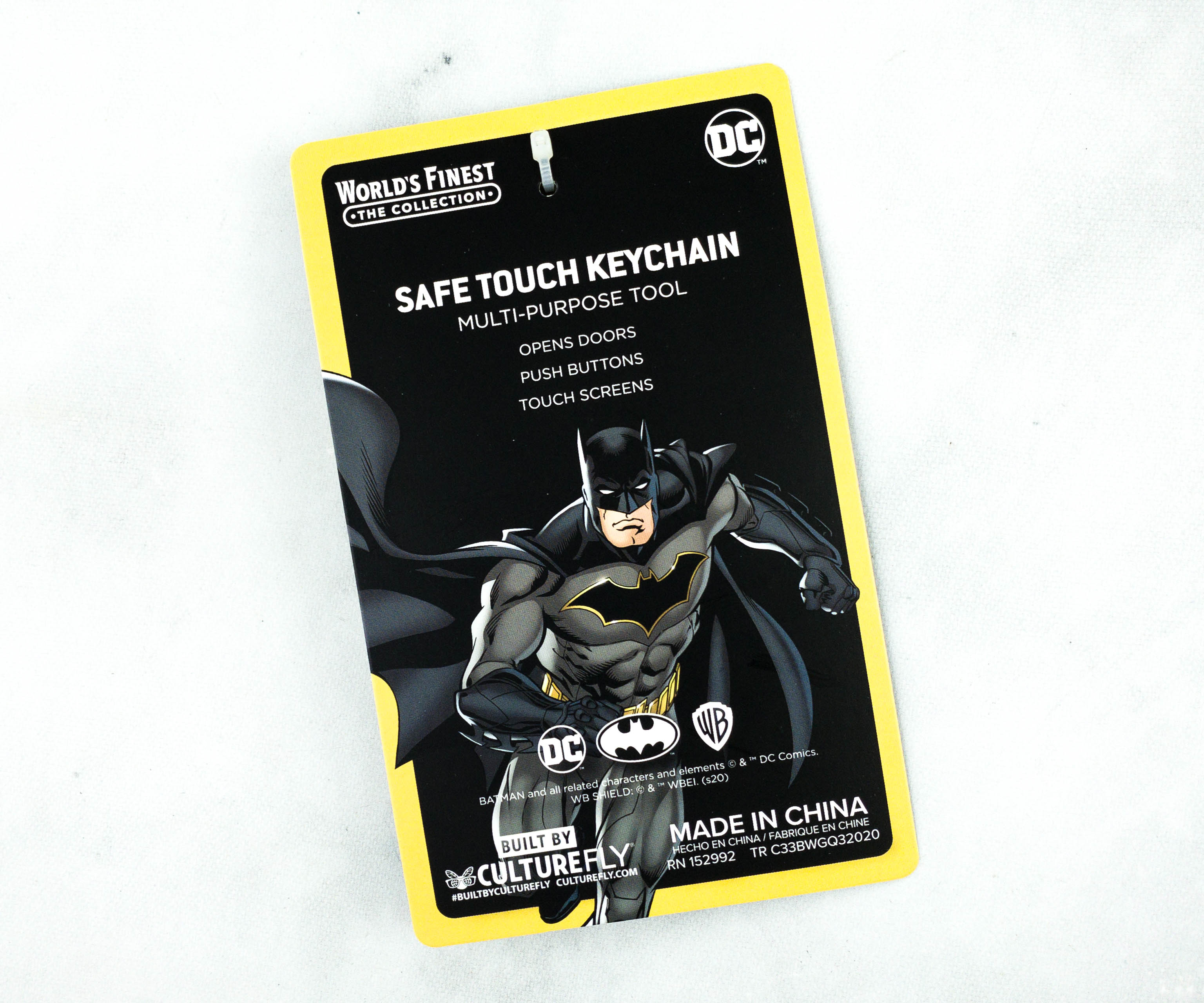 This can be used as a non-contact tool to avoid touching shared surfaces, like doors, touch screens, and elevator buttons.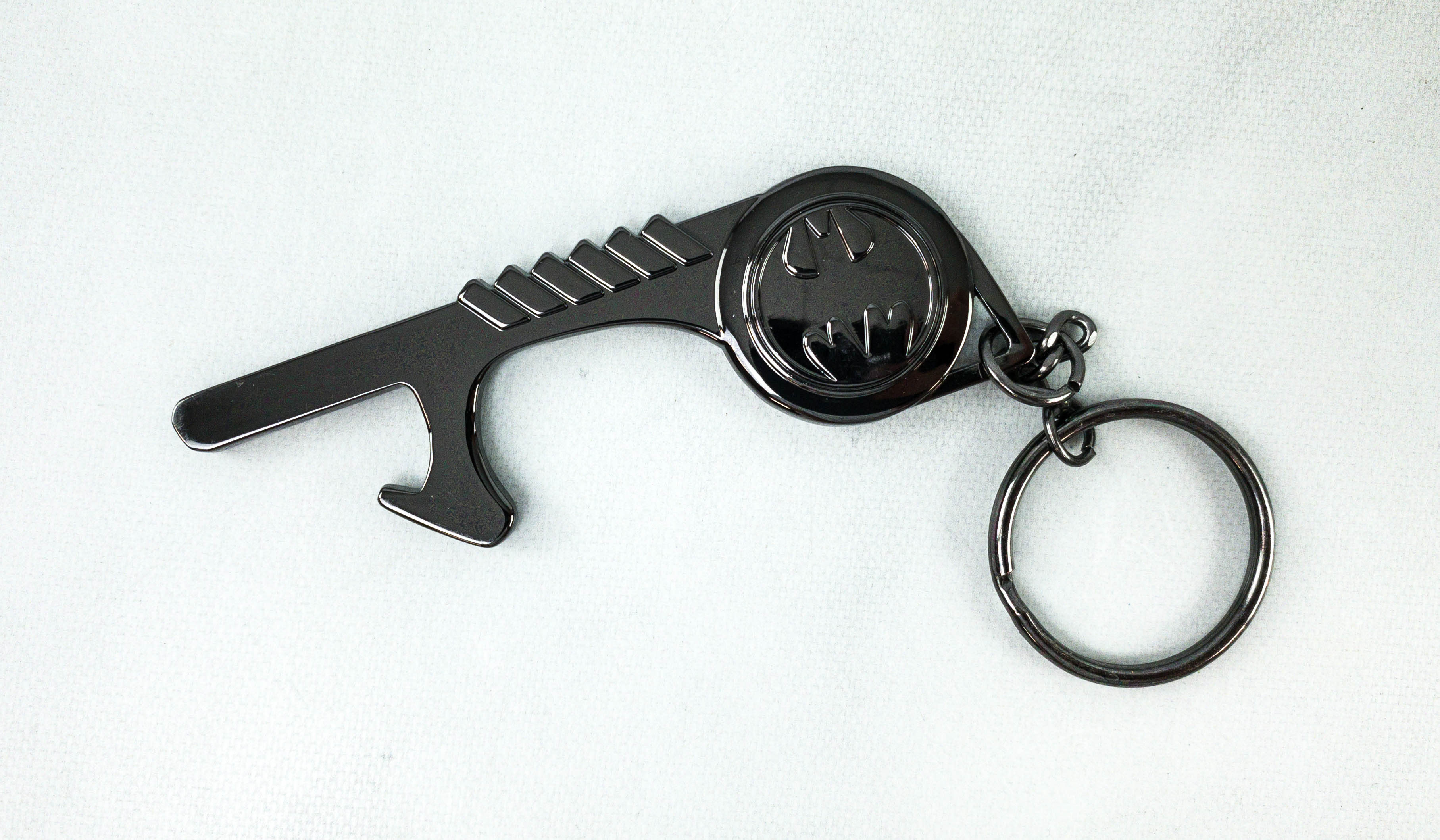 It looks cool with its metallic black finish!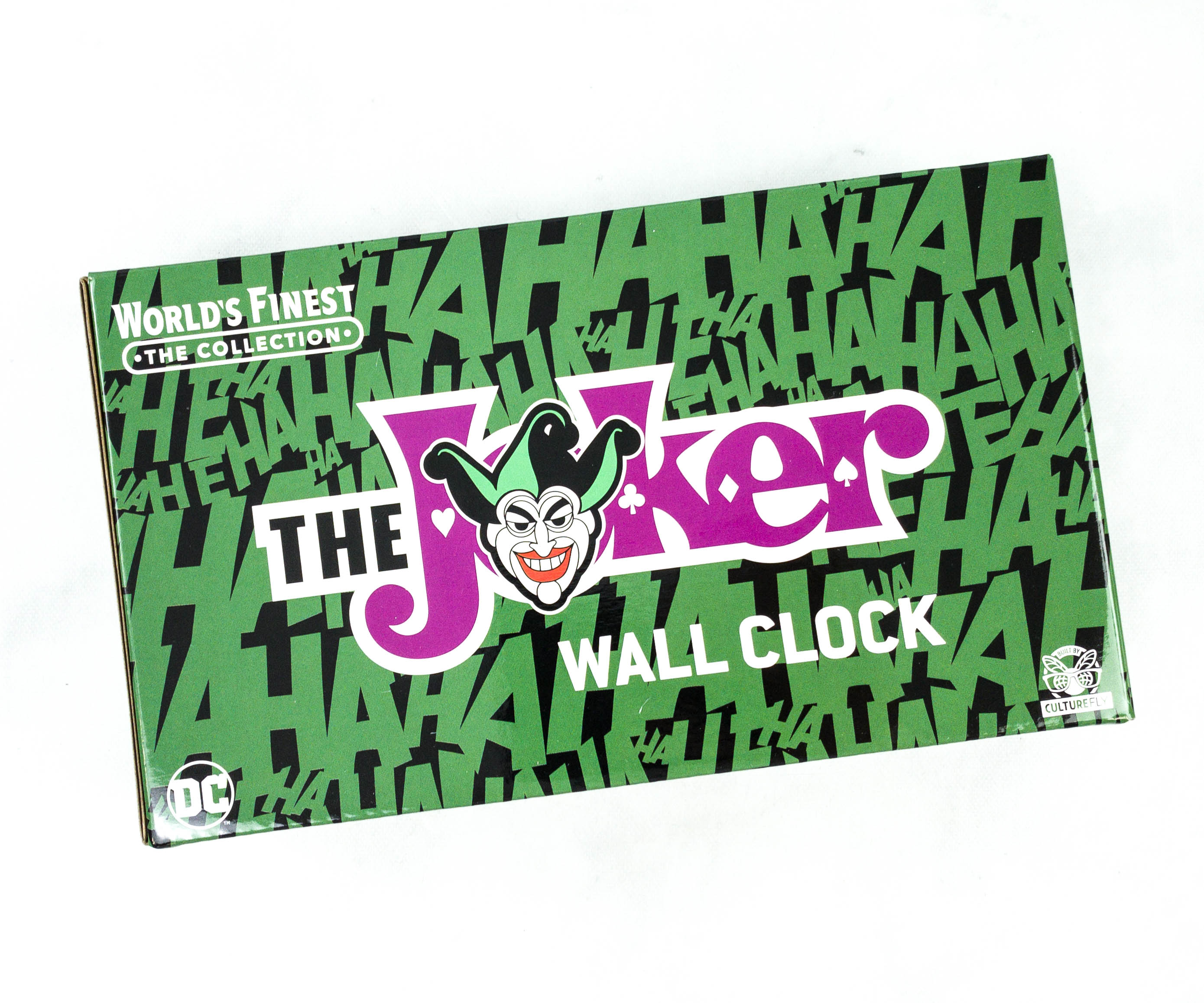 Joker Wall Clock. This is probably the coolest and most clock I've received in a subscription box, and it's a Joker wall clock!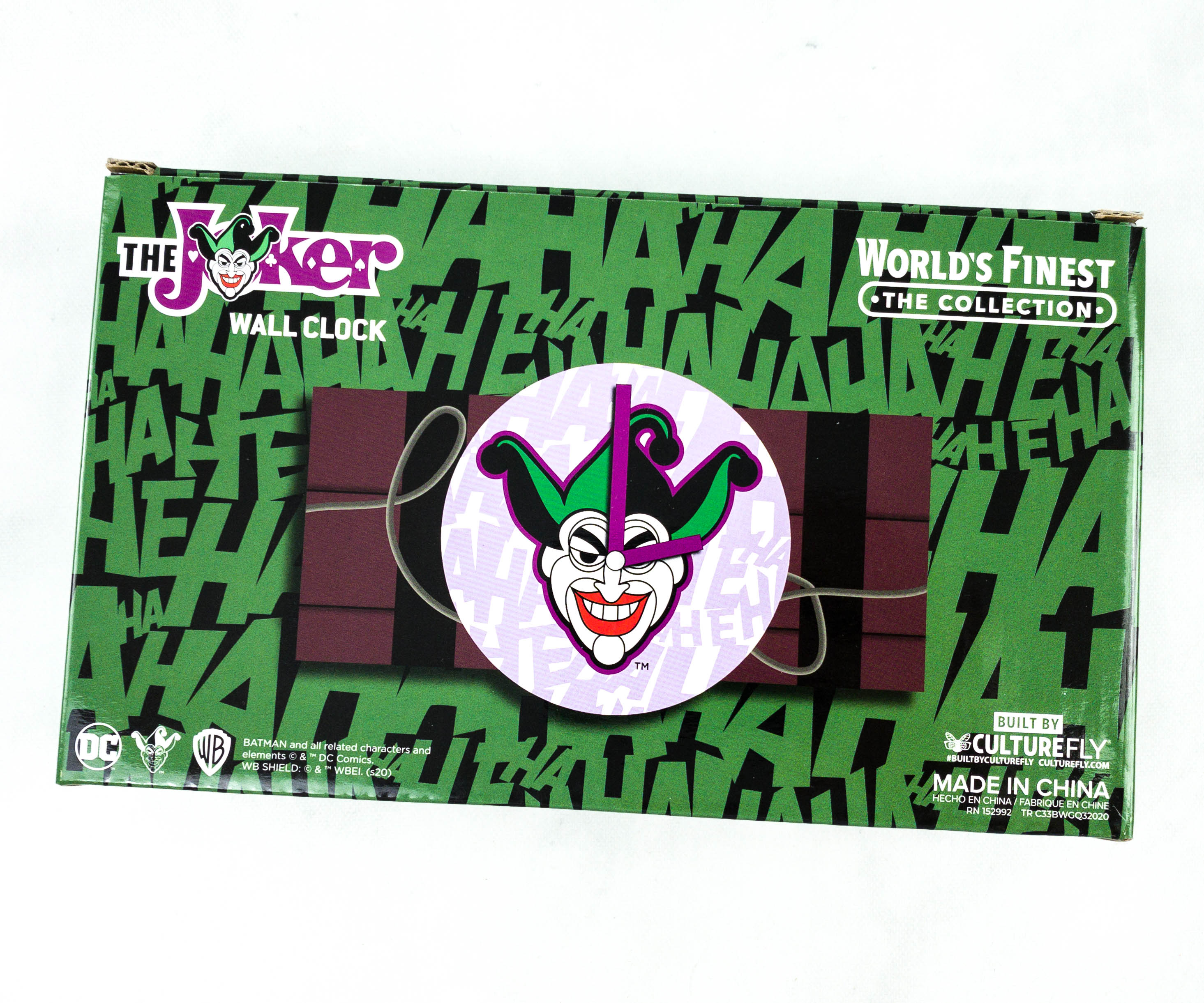 It came in its own box packaging to keep it safe.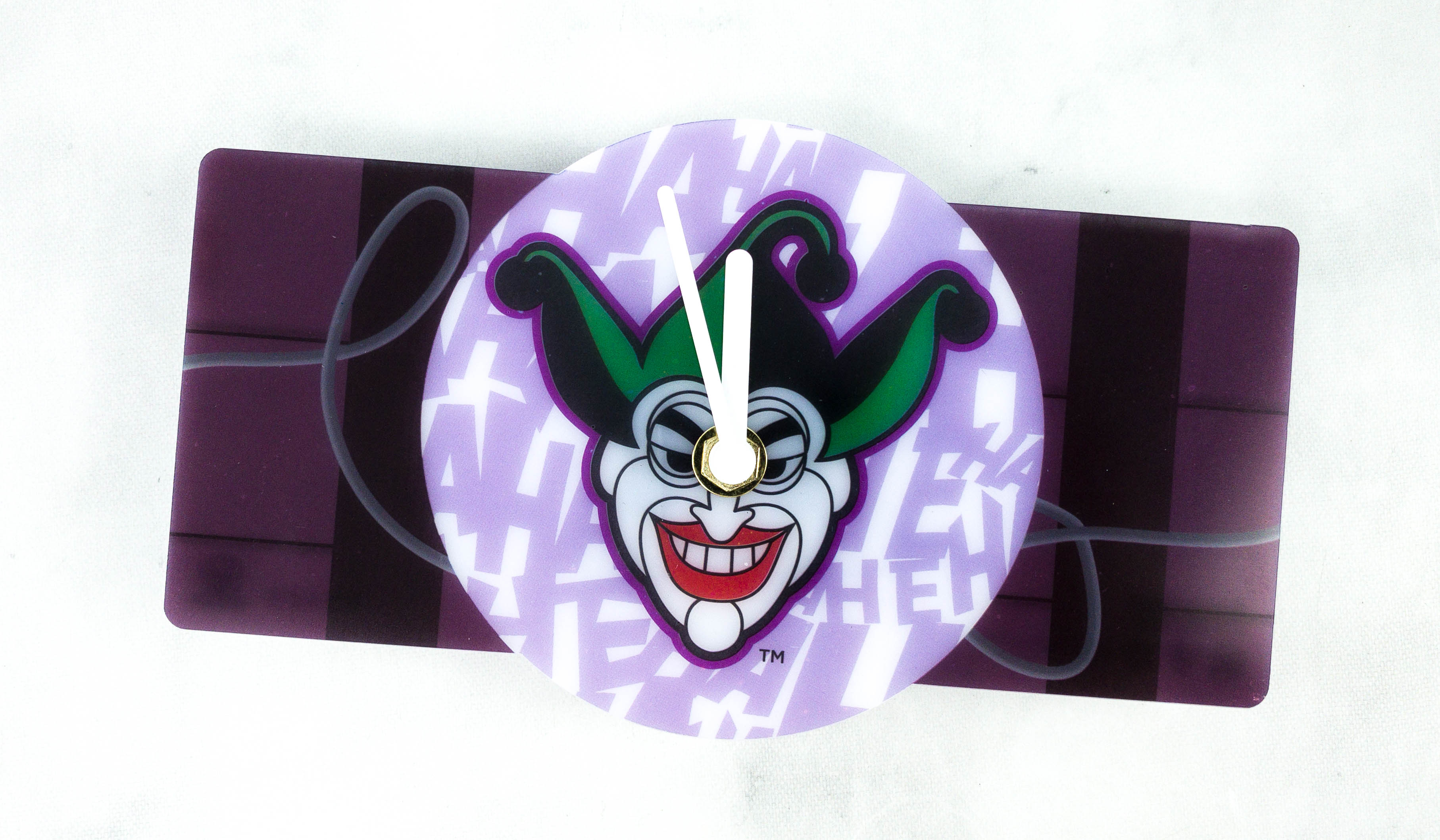 The clock looks like a time bomb! On top is a Joker illustration and it's where the clock's arms are placed.
It needs an AA battery to operate, but that isn't included in the box.
Joker and Harley Quinn Shotglasses. These shot glasses are packed in a box featuring Arkham Asylum, a psychiatric hospital and prison at the same time in the Batman series. This is where Joker and Harley Quinn met.
I received 2 shot glasses, one had Harley Quinn on it and the other had Joker. I like that they used the earlier versions of these characters!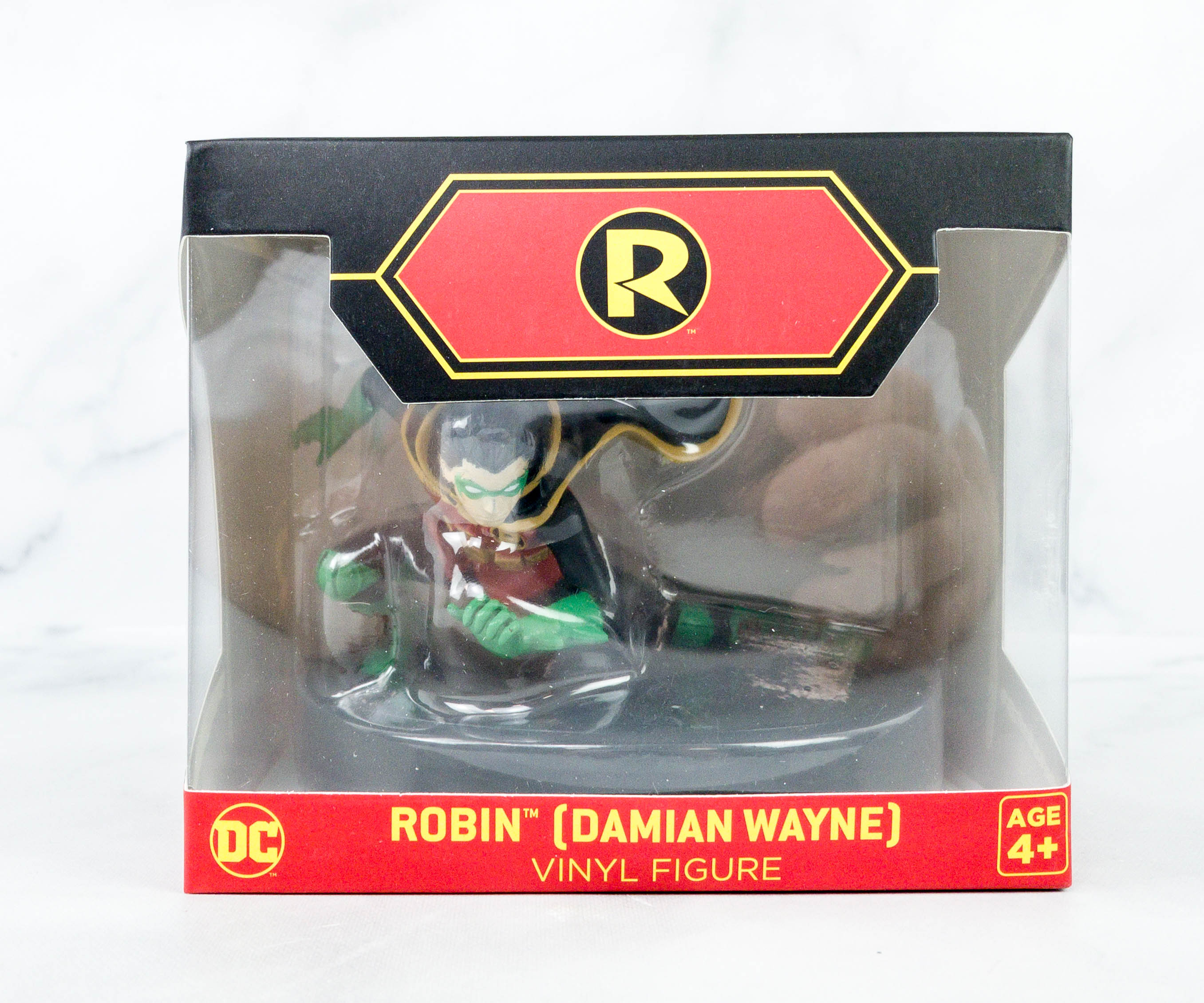 Robin Vinyl Figure. This month's featured vinyl figure is Robin, Batman's most trusted and reliable partner!
The box has an illustration of Robin and the character's logo.
I like the position used in this figure to represent him. It looks like he's ready for his attack!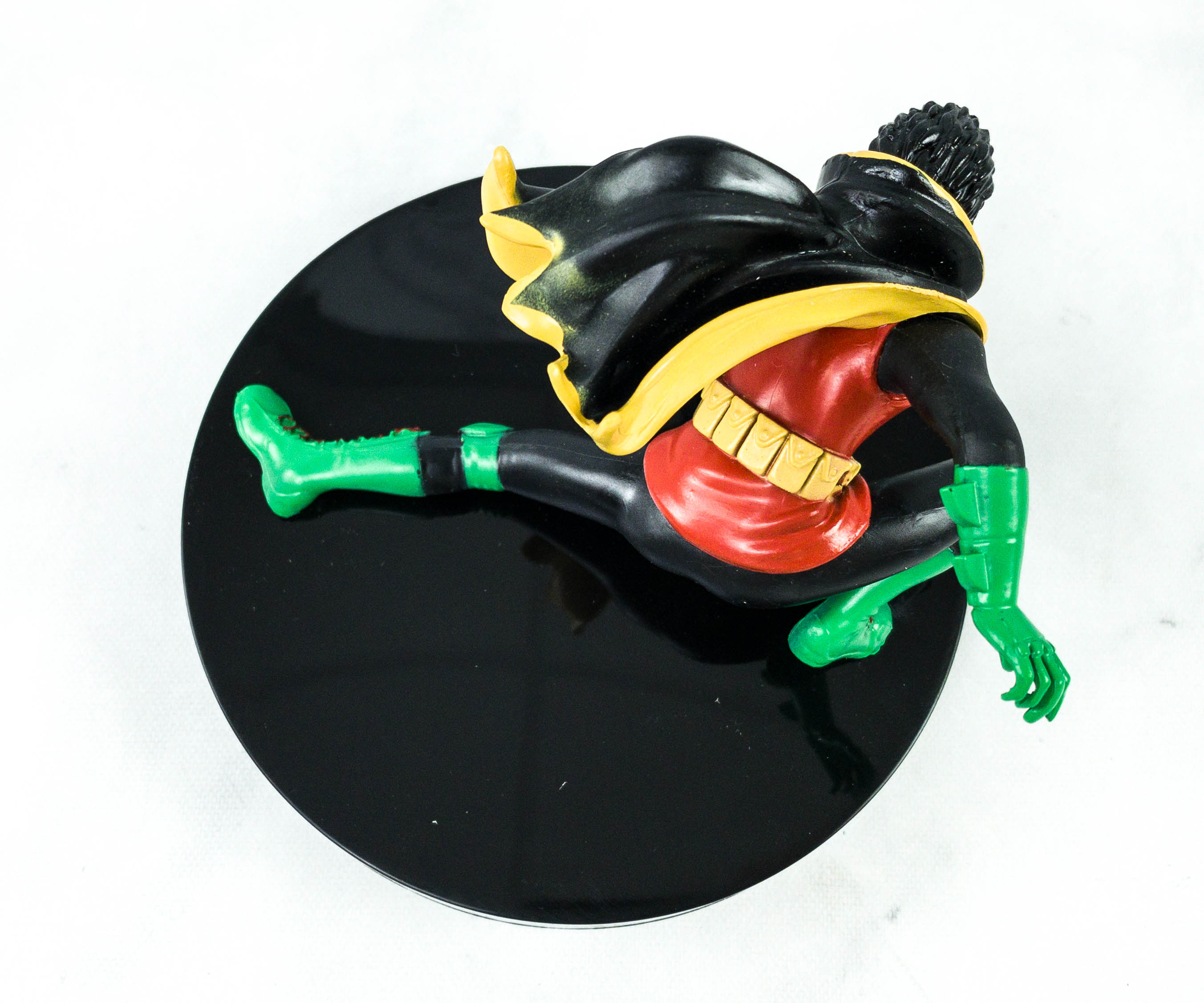 It has minor flaws in its paint job, but overall it's quite acceptable.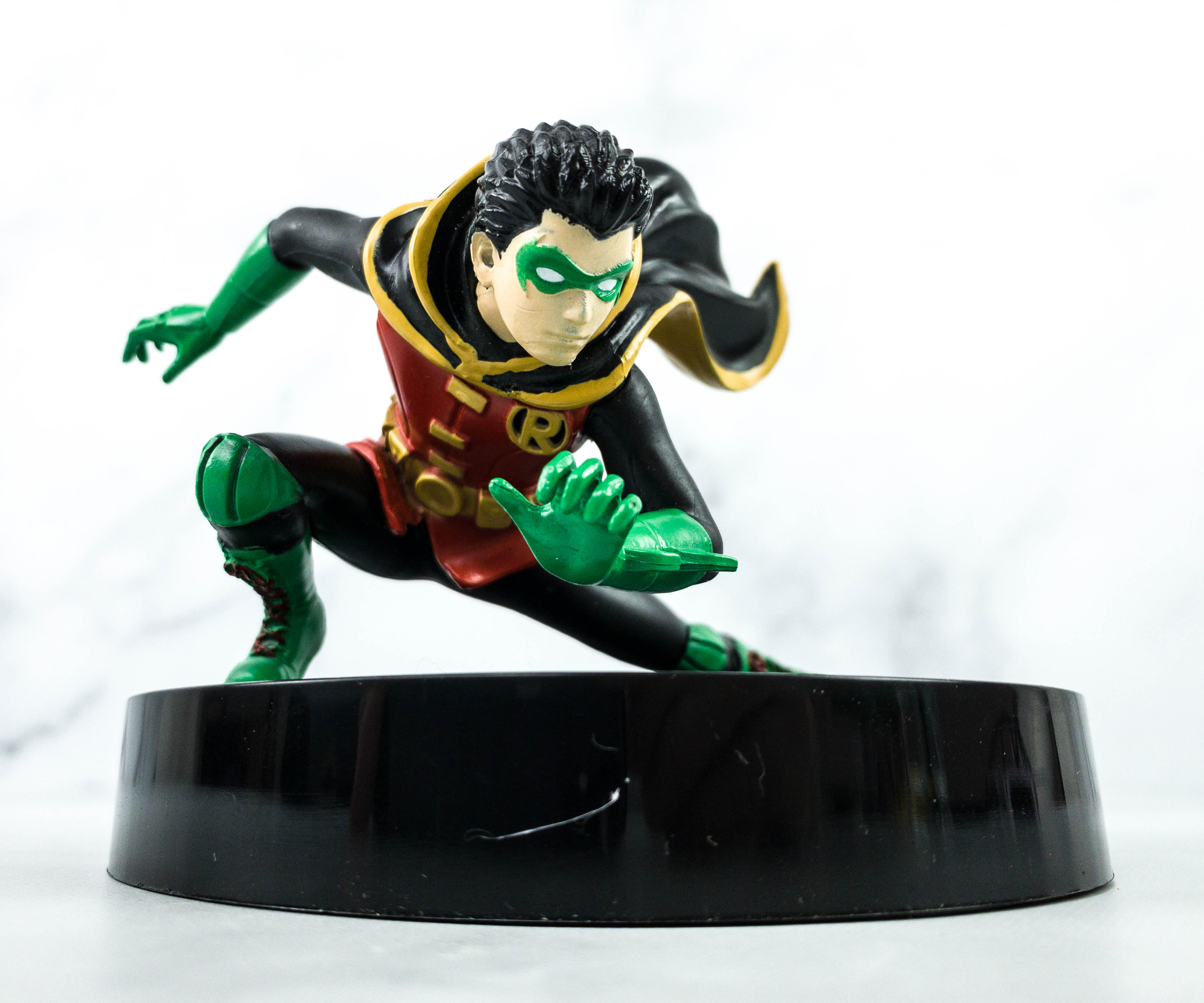 It also has a base that can be used for display.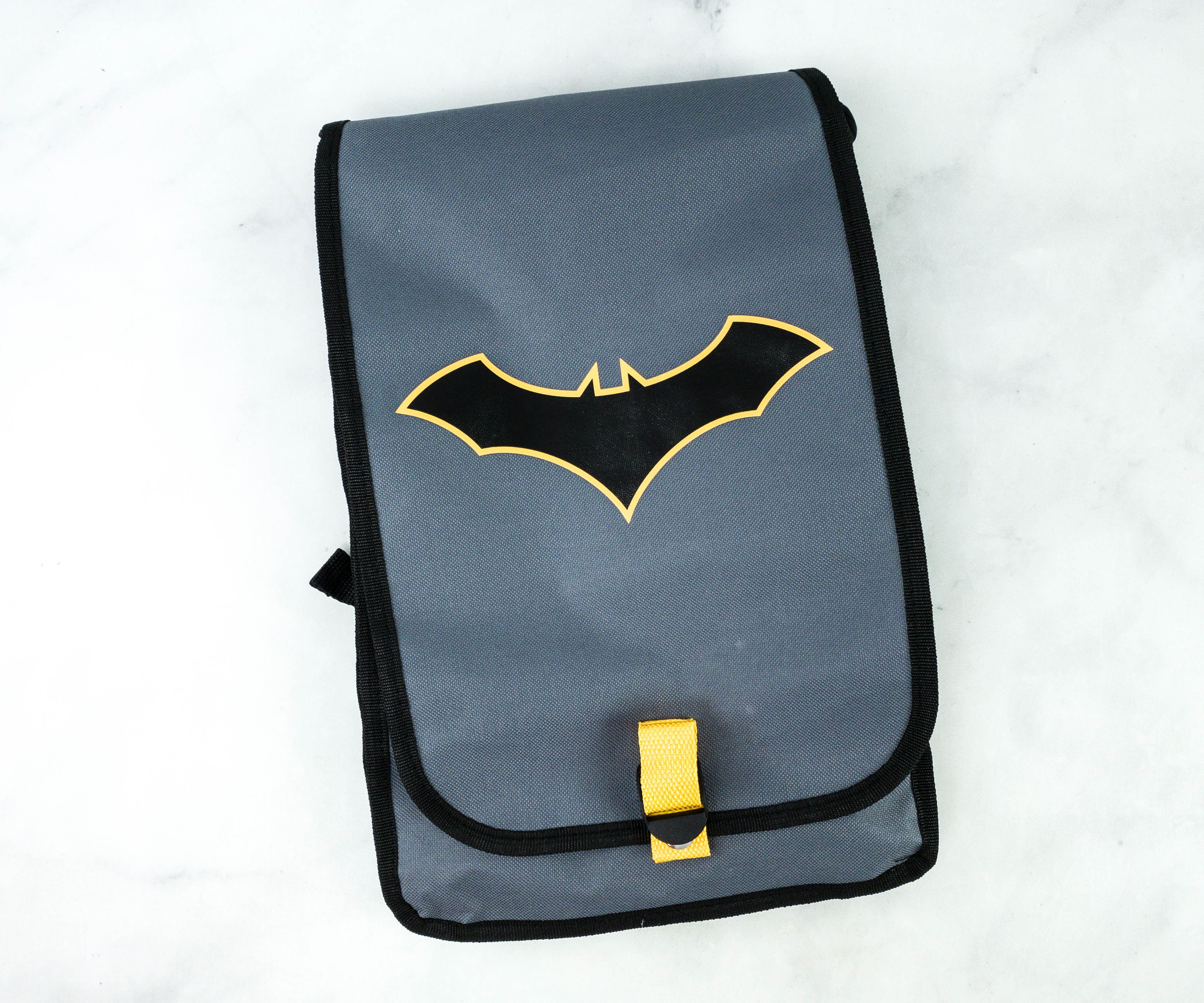 Batman Bag. A gray bag is also included in the items that I received! The size is enough to fit several items comfortably.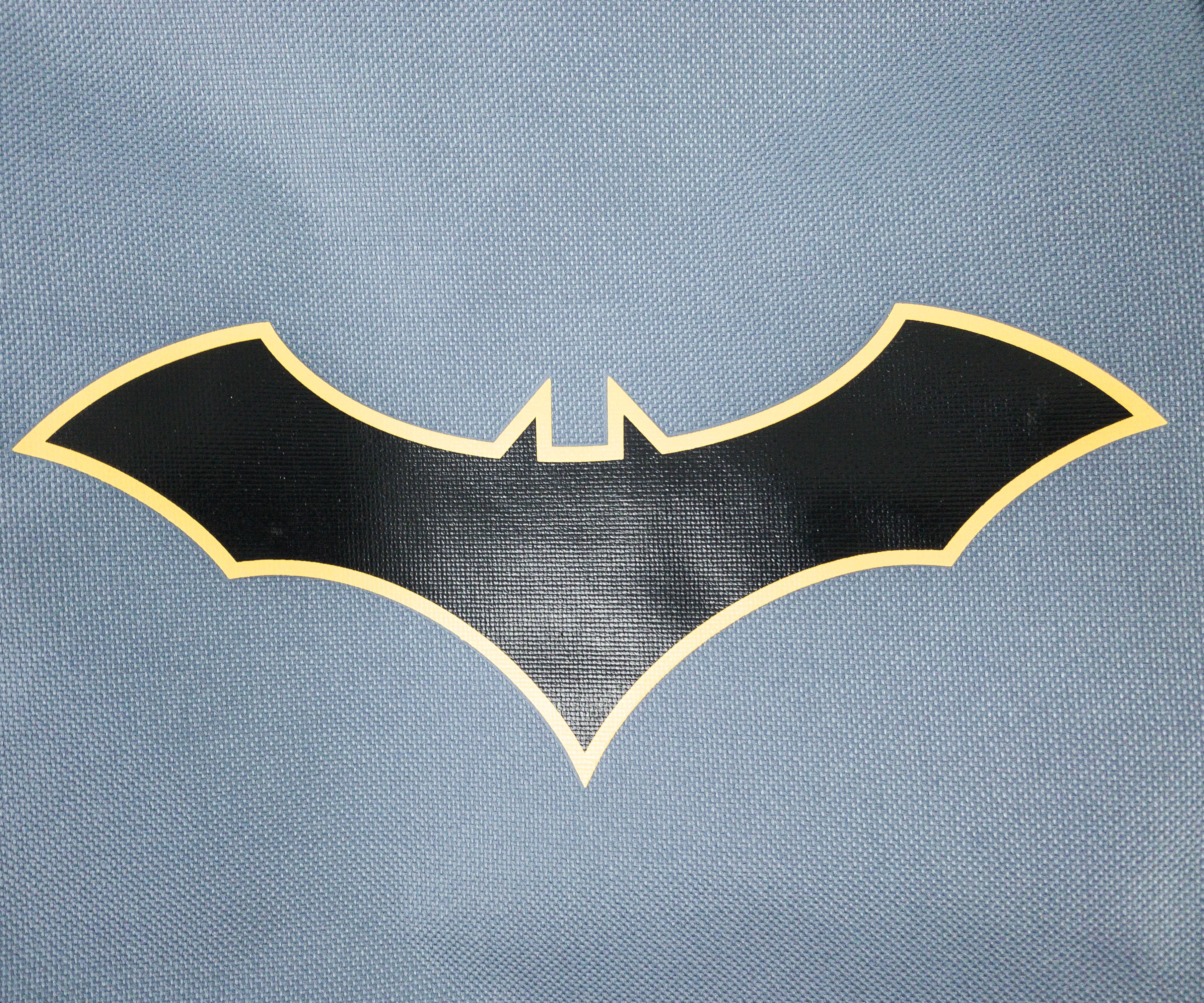 It has a traditional Batman logo print on its flap.
There's also a metal snap to hold the flap of the bag in place.
The shoulder straps and the back panel looks tough.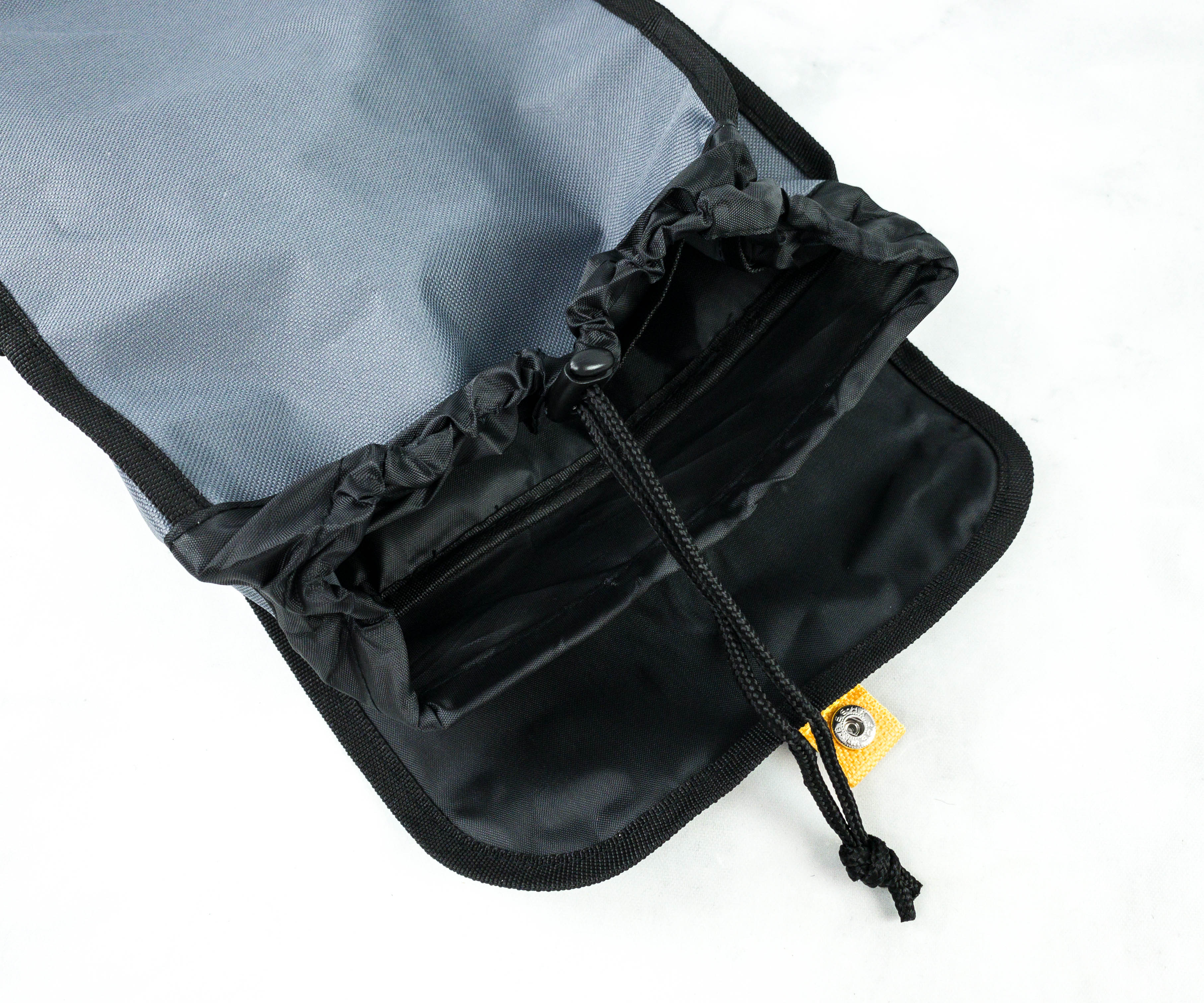 It also has a cord lock for added security. I love this but I am tucking it away for a birthday present for my son – who is a true Batman fanatic!
Joker Gaiter/Face Mask. It's a gaiter which can also double as a face mask! It has a vibrant Joker print on it, which makes it quite eye-catching.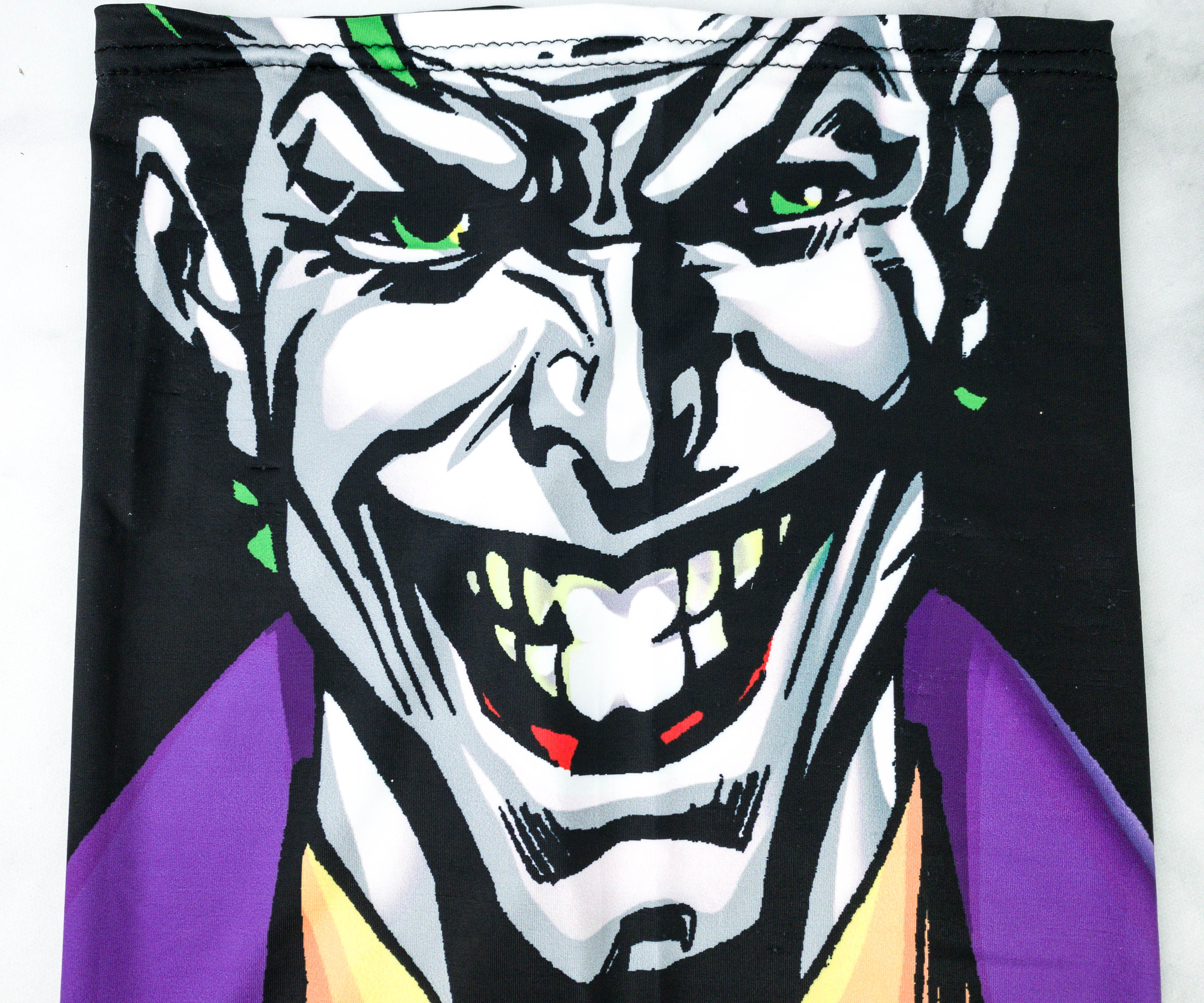 This version of Joker is portrayed by Neal Adams!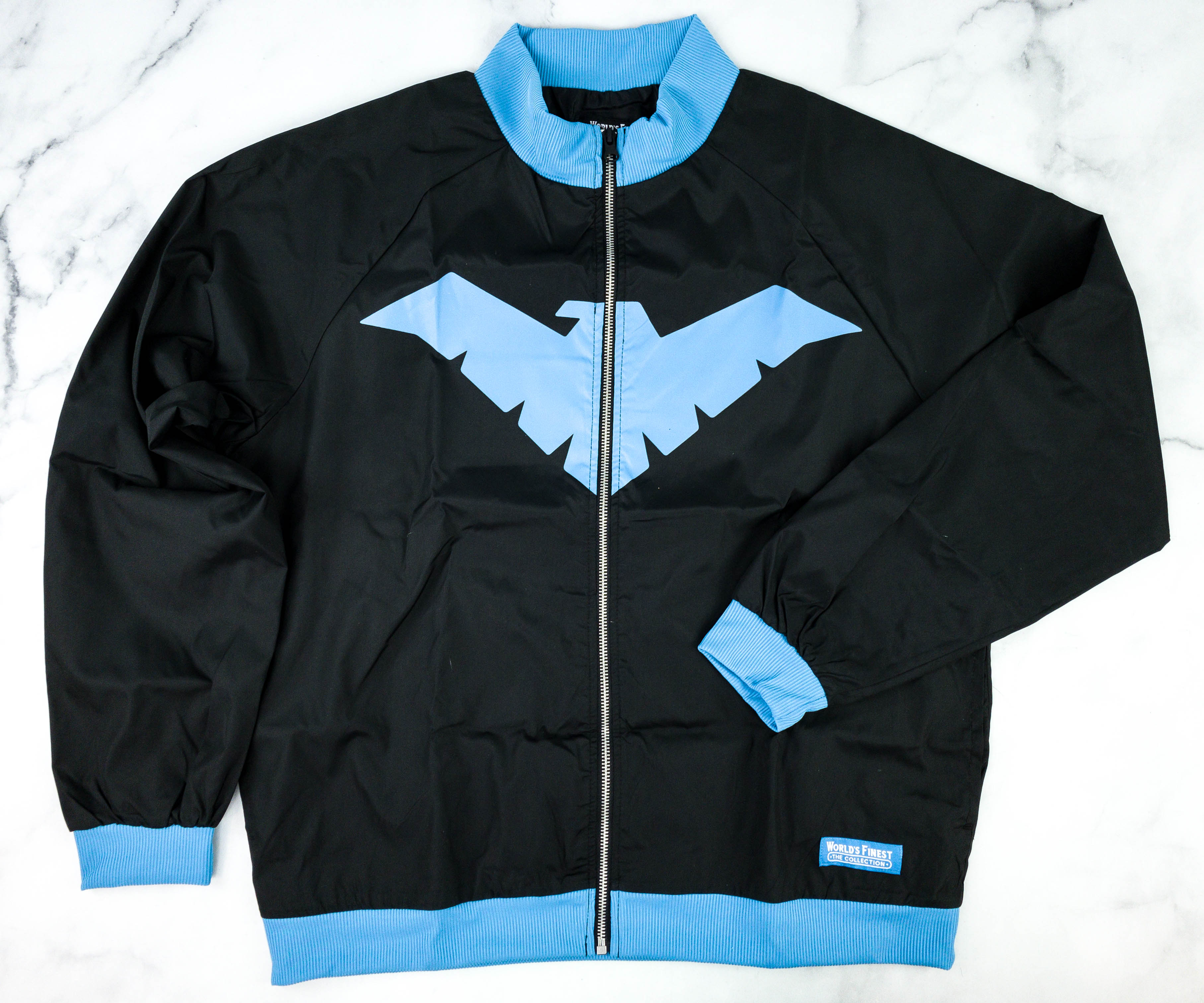 Nightwing Windbreaker. Another unique geeky item I received is this Batman-inspired windbreaker! This is perfect since it's starting to get cold these days.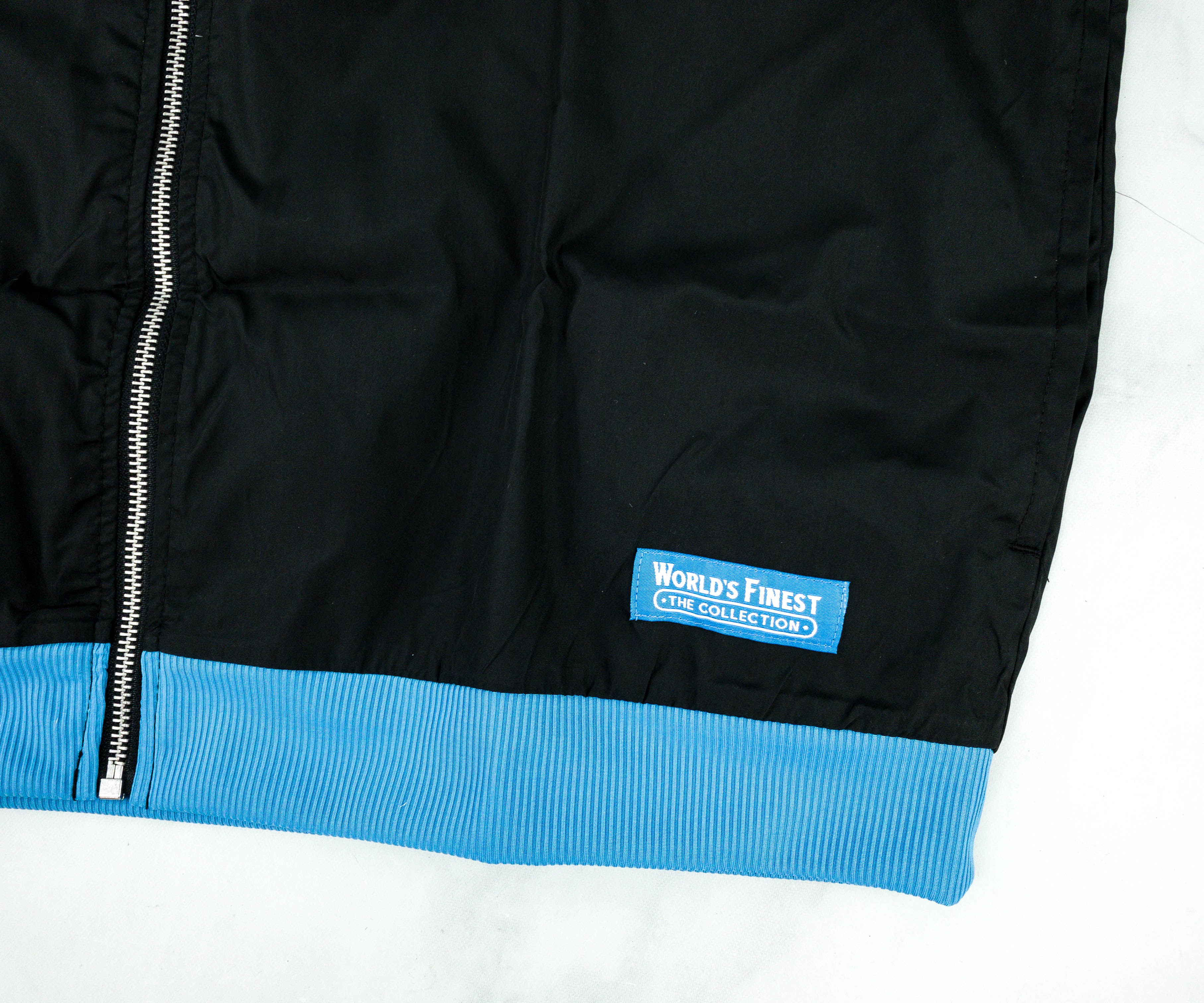 A brand tag of the World's Finest The Collection is located at the bottom part.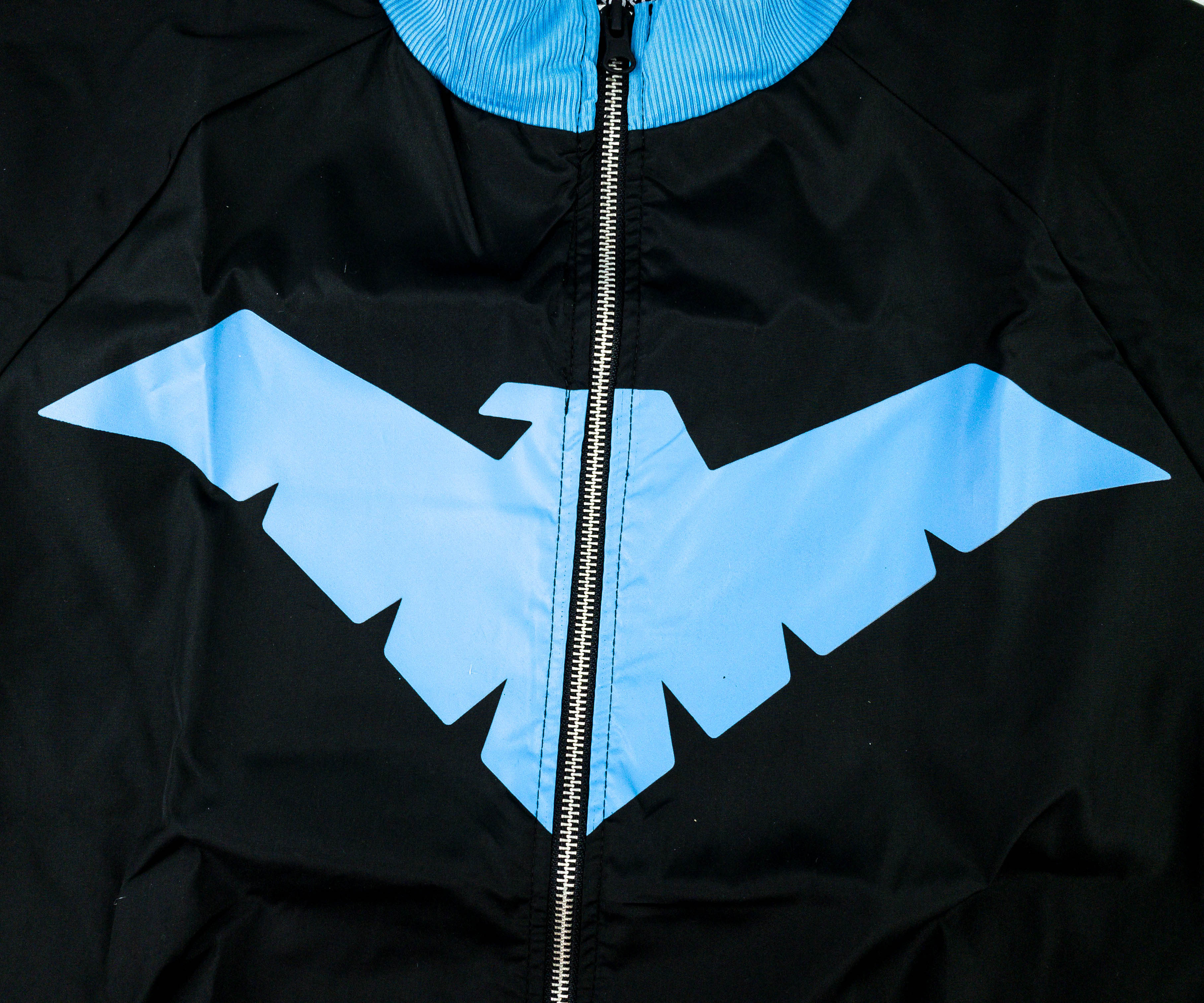 A zipper goes all the way to the top. It also has ribbed cuffs, collar, and hem to keep me warm when wearing it.
I totally loved this month's concept which is GOTHAM CITY NIGHTLIFE! Everything is exclusive and worthy of adding to my collection. I'm a figure lover but my favorite item this month is the Joker wall clock because it's really one of a kind. I also like that they used the old versions of the characters on some of the items, especially Joker and Harley Quinn! If you're a fan of DC like me, this subscription isworth it. They send the best DC merch every quarter and you can't get them anywhere else!
What did you think of this quarter's box?
Visit World's Finest: The Collection to subscribe or find out more!