The Cleancult Holiday Gift Sets are now available! There are three gift sets available – the Complete Home Gift Set ($120), the Complete Studio Gift Set ($90), and the Complete Hand Soap Gift Set ($60).
GIVE THE GIFT OF CLEANCULT

We're making it easy for you to share the cleanest clean with the people in your life.
DEAL: Save 10% off on your first Cleancult order! Just use this link and use the coupon code CLEAN10 at checkout. Doesn't apply to the holiday gift sets.
Here are the Holiday Gift Sets available:
COMPLETE HOME GIFT SET – $120
Everything your friend needs to start their new clean routine, at our best value! Our fullest set is packed with over 25% off in savings, essentials, and more! This bundle includes our entire suite of refillable glass bottles in your choice of color, a complete set of our best-selling refills in CocoClean Technology Formulas, a free silicone funnel, and our customer-favorite, all-natural bar soap in bamboo lily (also on us!). Once the bundle arrives, your friend will simply fill their glass bottles and dive into a natural and effective clean routine.
COMPLETE STUDIO GIFT SET – $90
Does your friend not have a dishwasher? No problem – you can still treat them to our Complete Studio Set! It's packed with all the home cleaning essentials, minus our dishwasher tablets. This bundle includes our reusable empty glass bottles, a set of matching refills to dispensers, a bar of our customer favorite, all-natural soap (first one's on us!), a complimentary funnel, and free shipping. Once it arrives, your friend will simply fill up their glass bottles and begin their new, natural clean routine.
COMPLETE HAND SOAP GIFT SET – $60
Whoever gets this gift is about to have some very happy hands. Our hand soap assortment includes two empty refillable glass bottles, four 32 oz Liquid Hand Soap refill cartons in Sweet Honeysuckle, Blue Sage, Lavender, and Grapefruit Basil, and a free funnel. Each refill is packaged in our recyclable milk cartons and sealed fresh with our innovative plant-based cap. The natural, non-toxic power of our CocoClean Technology gently cleanses and nourishes hands. Once it arrives, your friend will simply fill up their glass bottles to begin their new clean routine. And then they'll probably call you to say, "My hands feel amazing."
Here's how it works:
PICK THE PERFECT GIFT Choose the gift that's right for your lucky friend. It's a one-time thing, so there's no sneaky fees or membership required.
SEND TO A FRIEND Want to deliver the gift yourself? Want us to handle it? Either way, we'll ensure it's sent exactly the way you want.
SIT BACK & RELAX Give yourself a pat on the back, 'cause you just did something nice for a friend (and the planet).
FAQs:
Does my gift come with a subscription?
No, there is no membership required to give or receive a gift. We want to make it easy for your pal to enjoy their first Cleancult experience.
Can I add more items to the gift?
Only our predesignated bundles can be gifted to people. But based on what we've heard, gift recipients are loving our bundles… and it's making gift givers like you look really good.
Can I send a gift to myself?
Oh yes. Treat yourself, you deserve it.
Can I add a discount to a gift?
Discounts are not applicable to gifts. Instead, our gift bundles are priced at a (pretty awesome) promotional value. So don't worry about coupon codes, because you're giving the gift of clean for a fraction of the price.
Can I send multiple gifts?
Yes! But keep in mind you can only purchase one gift per checkout. To send more than one gift, complete the checkout process, return to the gift page, and repeat for each lucky recipient. Also, multiple gifts? Wow, you're so generous. Can we be friends?
About Cleancult:
THE CLEANEST HOUSEHOLD CLEANERS FOR YOU AND THE PLANET

Real ingredients, zero-waste packaging, and a powerful clean that's better for you and the planet.
How it works:
Easy, Zero-Waste Refills Pick your refills, tell us how often you need them, and we'll deliver them in our recyclable milk cartons that reduce waste and plastic!
Refillable Glass Bottles Refill our stylish, shatter-resistant bottles with our formulas whenever you're cleaning, and show them off in your home whenever you're not.
Naturally Powerful Formulas The science behind our CocoClean Technology looks to nature, not toxic chemicals, to deliver a pure and powerful clean.
Here are the products:
BUNDLES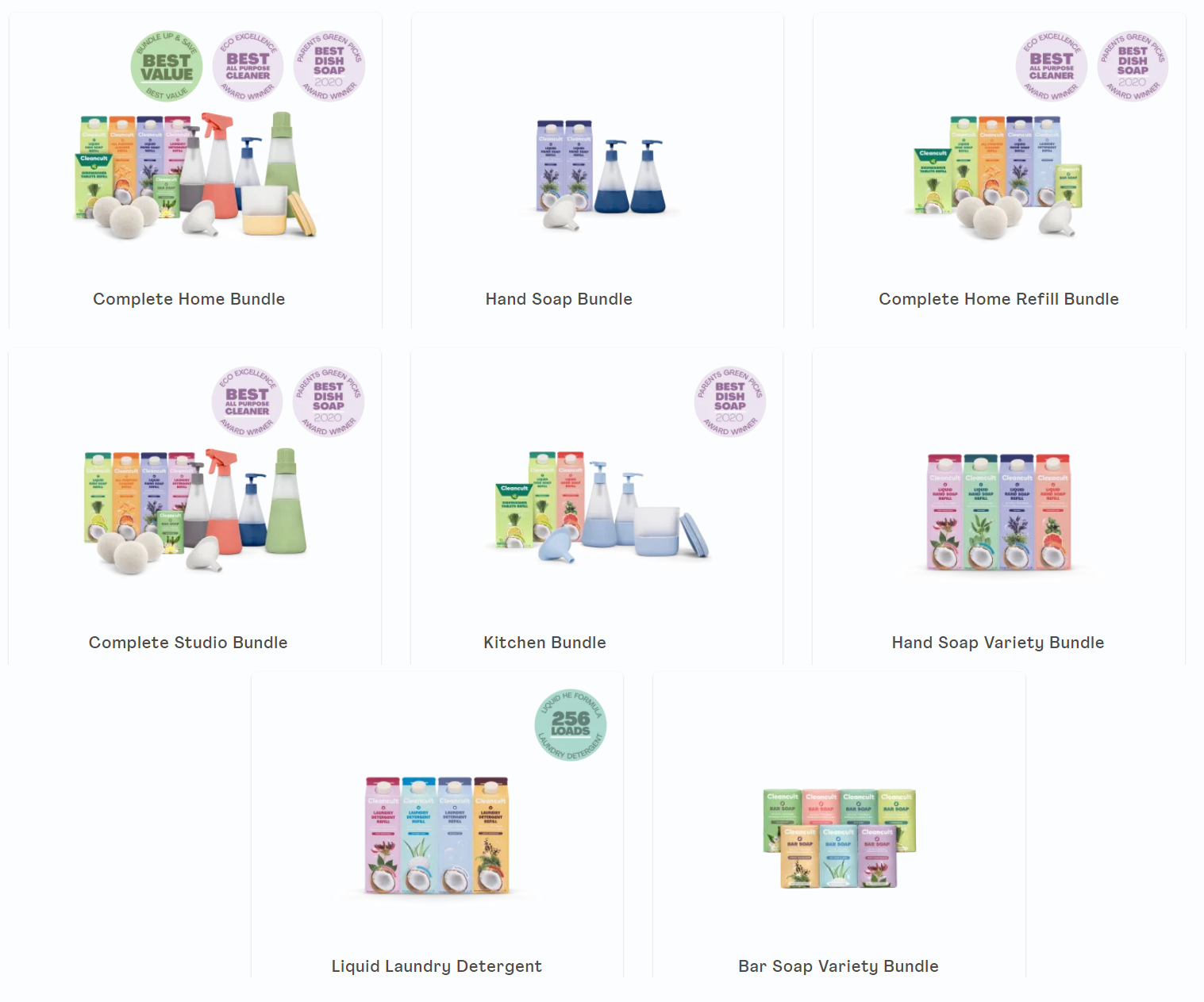 Complete Home Bundle $139.89 $99.99
Hand Soap Bundle $49.96 $44.99
Complete Home Refill Bundle $64.94 $54.99
Complete Studio Bundle $109.91 $89.99
Kitchen Bundle $79.94 $69.99
Hand Soap Variety Bundle $39.96 $34.99
Liquid Laundry Detergent Variety Bundle $39.96 $34.99
Bar Soap Variety Bundle $34.93 $29.99
REFILLS
Liquid Hand Soap Refill $9.99
Liquid Dish Soap Refill $9.99
All Purpose Cleaner Refill $9.99
Dishwasher Tablets Refill $14.99
Liquid Laundry Detergent Refill $9.99
Natural Bar Soap $4.99
REFILL BOTTLES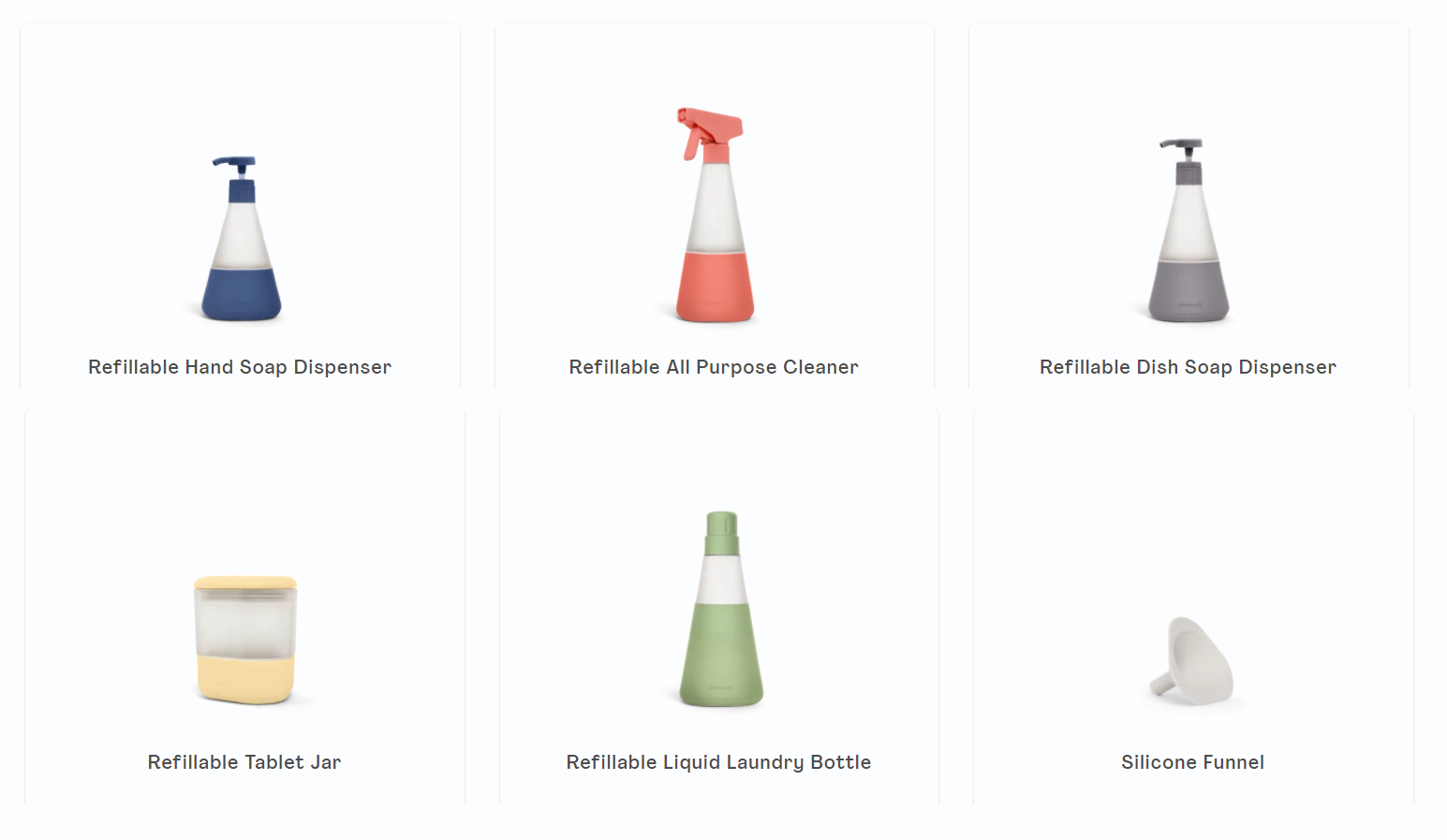 Refillable Hand Soap Dispenser $14.99
Refillable All Purpose Cleaner Spray Bottle $14.99
Refillable Dish Soap Dispenser $14.99
Refillable Tablet Jar Color Options $14.99