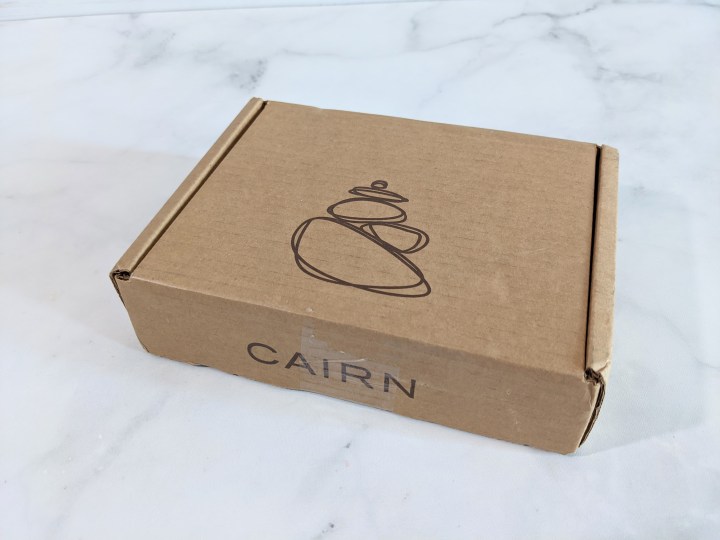 Cairn is a monthly subscription box for those who love spending time in the outdoors. Each month, you can expect to receive 3-6 cool products that will help you enjoy your time in the outdoors even more. Subscriptions cost $29.99 each month, but the cost goes down with longer subscriptions. Shipping is free for US subscribers and $5 to Canada.
Cairn promises that the total retail value of the items in each box will exceed $50, with a mix of gear, apparel, food, skin care, and emergency tools. If you complete the subscriber profile, the box will be curated to best match your outdoor lifestyle. As such, most months will see a variation of boxes, while there may be some months when everyone will get the same thing.
DEALS:
This subscription comes in either a box or an envelop, depending on the items.
Every month, you receive a newsletter with some information and discount codes to the products included in this month's collection. This month's theme is Small & Mighty and this collection was curated for a grab and go!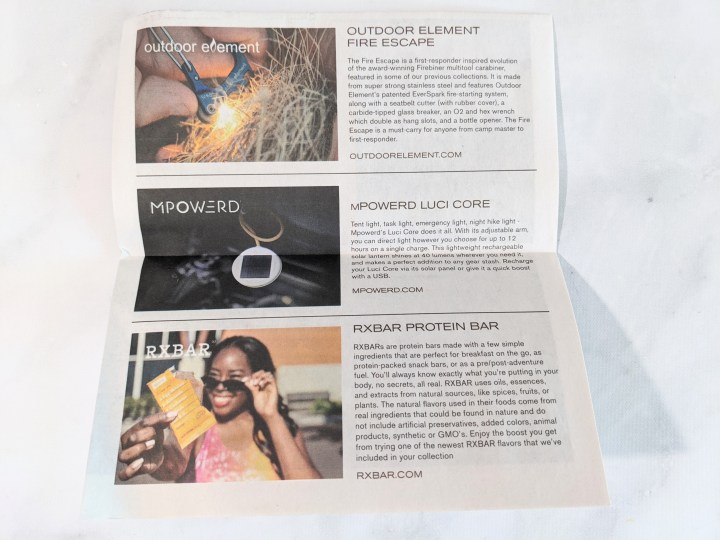 We get full information about the items included in the box.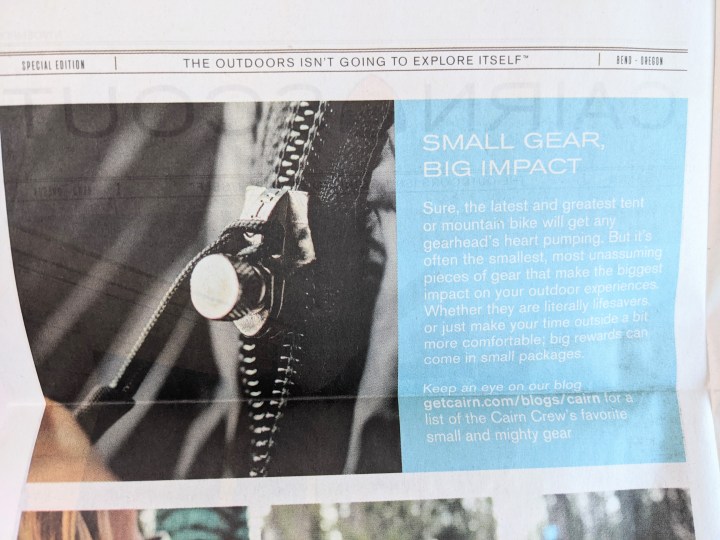 There's also a link to Cairn's blogs where Cairn Crews share their favorite small and mighty gear.
Every month, some lucky Cairn subscribers will be randomly selected to win an upgrade. All you have to do is being a Cairn Subscriber!
Mpowerd Luci Core Solar Portable Light. This small portable light is rechargeable via solar or USB.
It has adjustable arms and comes with a charging cable.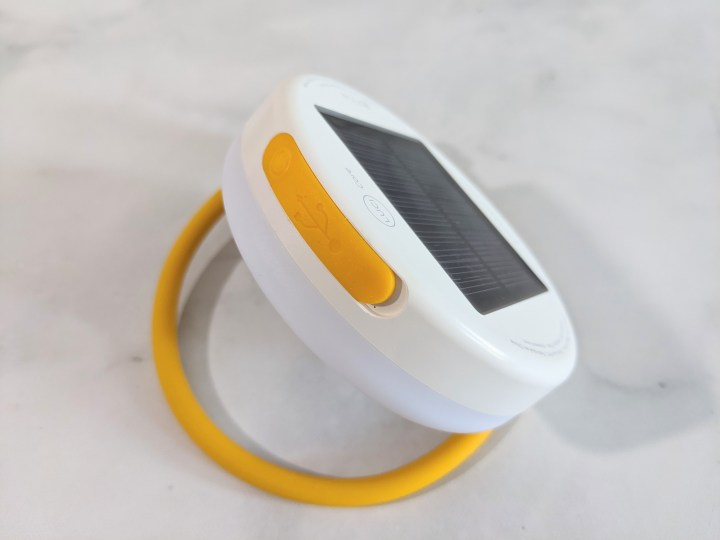 The arms are strong enough to support the light in any way you need it, or you can wrap it around a pole or small tree.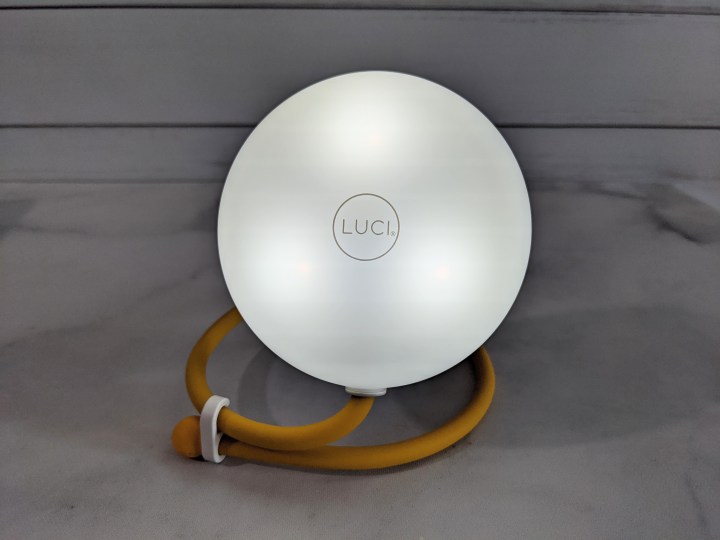 You have four light mode : low, medium, high and flashing. One charge gives you up to 12 hours of "low" mode light.
Outdoor Element – Fire Escape. This carabiner is a multi-tool with a fire-starting system.
It has a spark wheel to help start fires easily, a safety blade to cut ropes, cords, string, etc, a bottle opener, screwdriver tip, etc.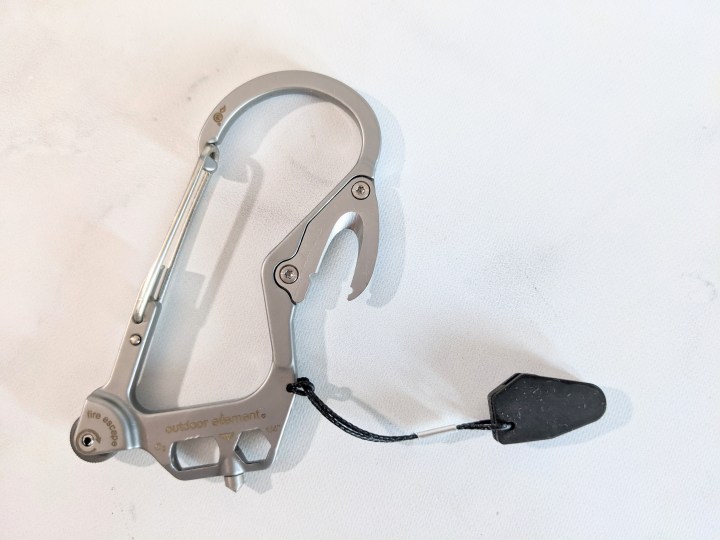 The safety blade has a cover to protect it. There's also a pin to break windows.
RXBAR Vanilla Almond. Made with real food ingredients, this bar is a gluten-free and perfect on-the-go protein bar with 12g of protein per bar for 210 calories. It's chewy but with nice chunks or almonds with a nice sweetness that is not overwhelming.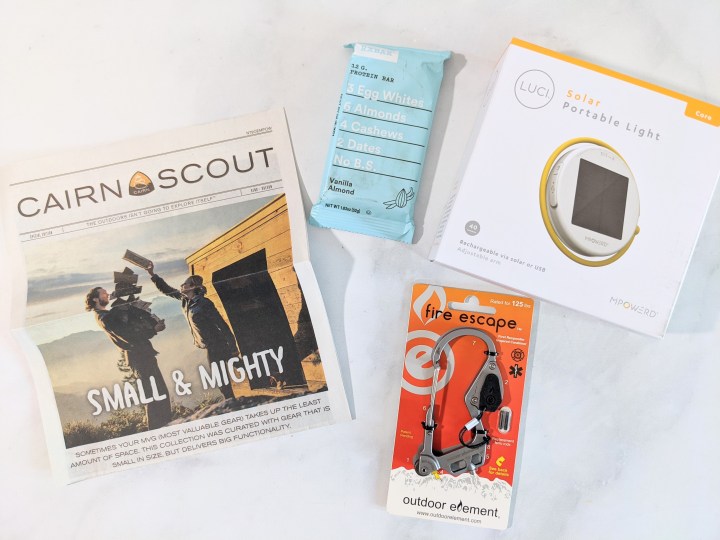 This was another simple yet convenient box. We like that the light is solar rechargeable as we don't always have access to electricity when we go out in the woods. The carabiner is easy to carry and a great multitool while the RXBar is one of my favorite protein bars with it's simple and natural ingredients.
What did you think of this month's Cairn box?