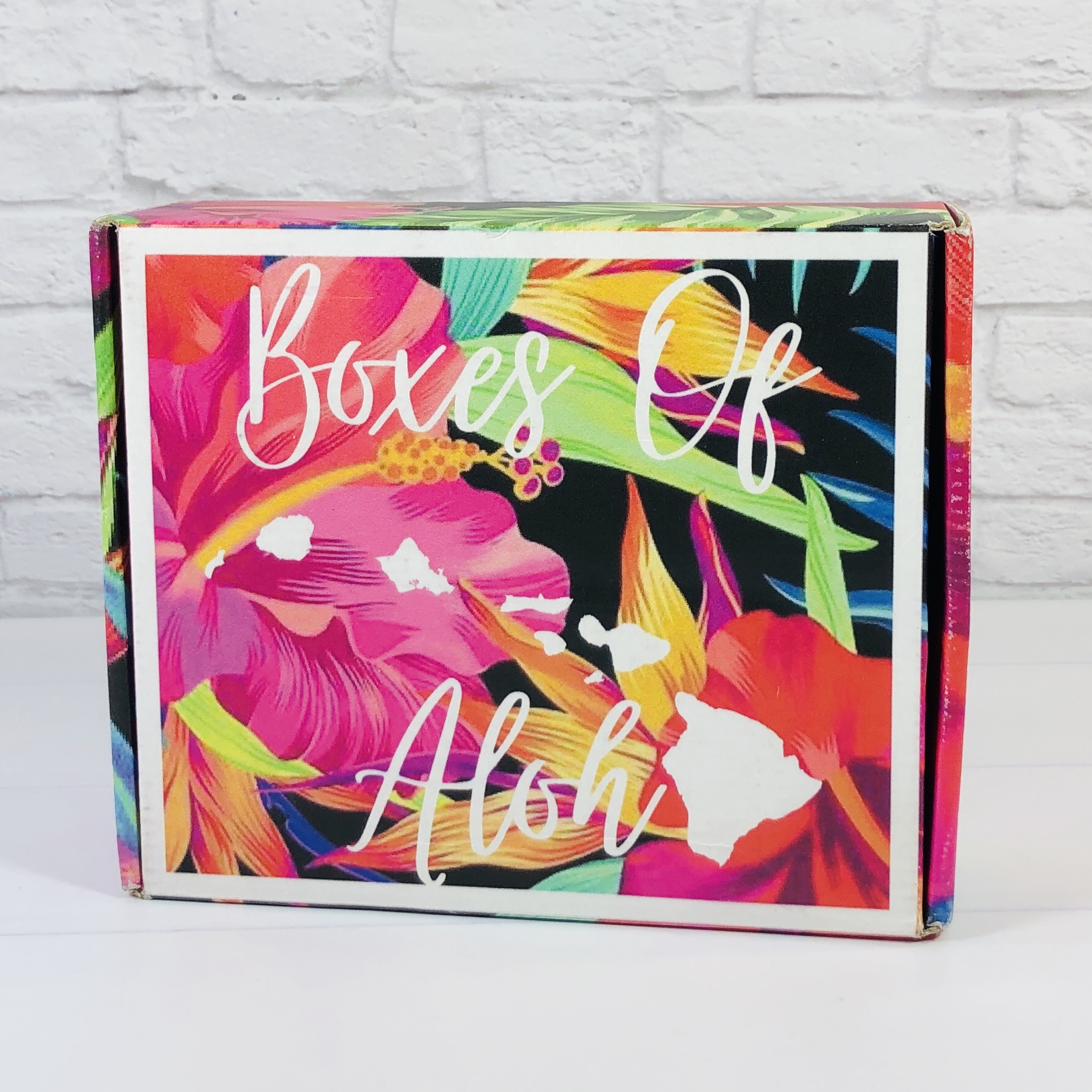 Boxes of Aloha is a monthly subscription box that sends tasty treats and other goodies from the 50th state – Hawaii! They hand select locally sourced Hawaiian items and feature small Hawaiian businesses and emerging local artists in every box. There are two options: The Aloha Nui Premium Box has 10-13 items for $64.99/month or the Mini Aloha Box with 5-8 items for $44.99/month. Shipping is free. There are extras in each box to teach Hawaiian words, culture and history!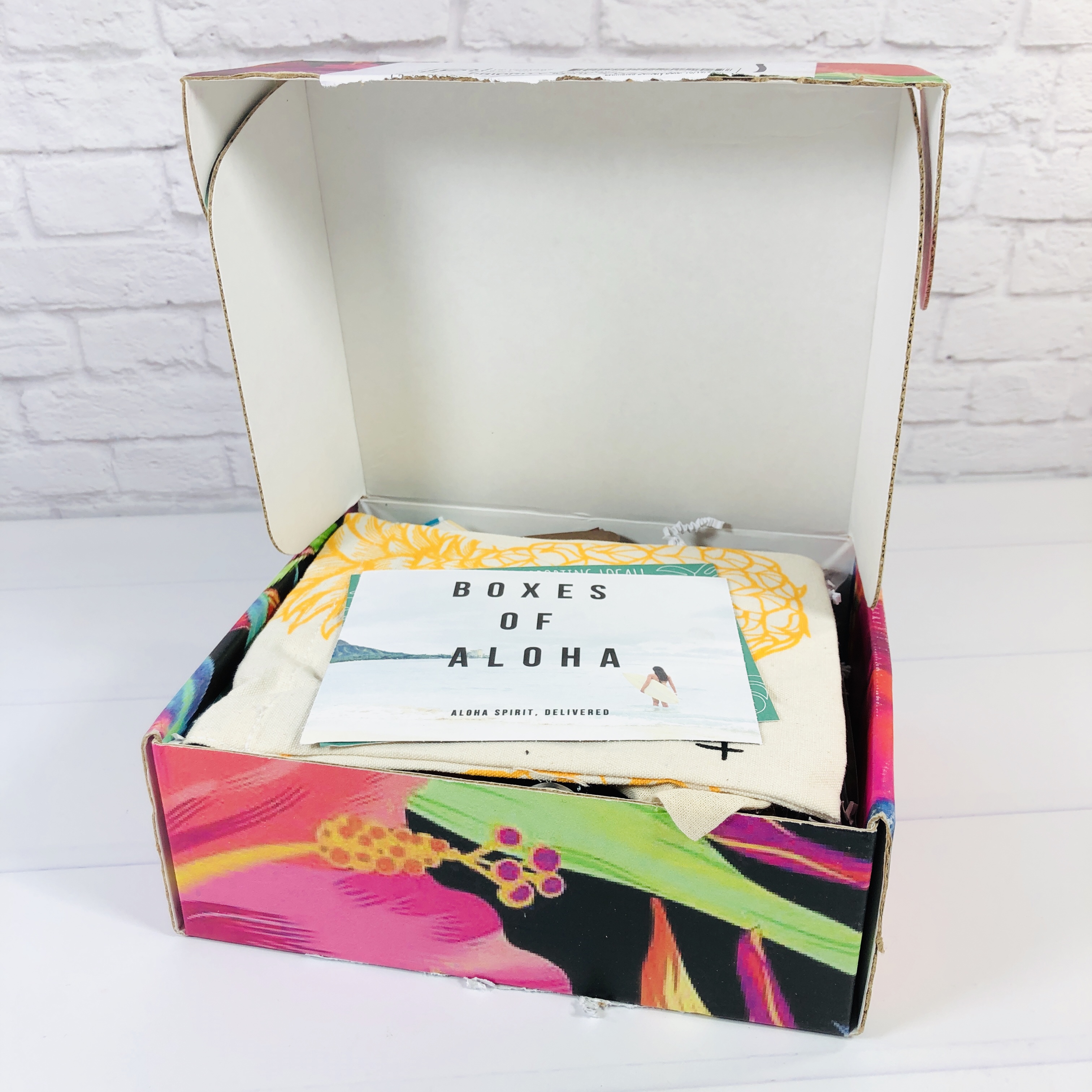 This is my first box from Boxes of Aloha!
I received a card with a surfer on the front.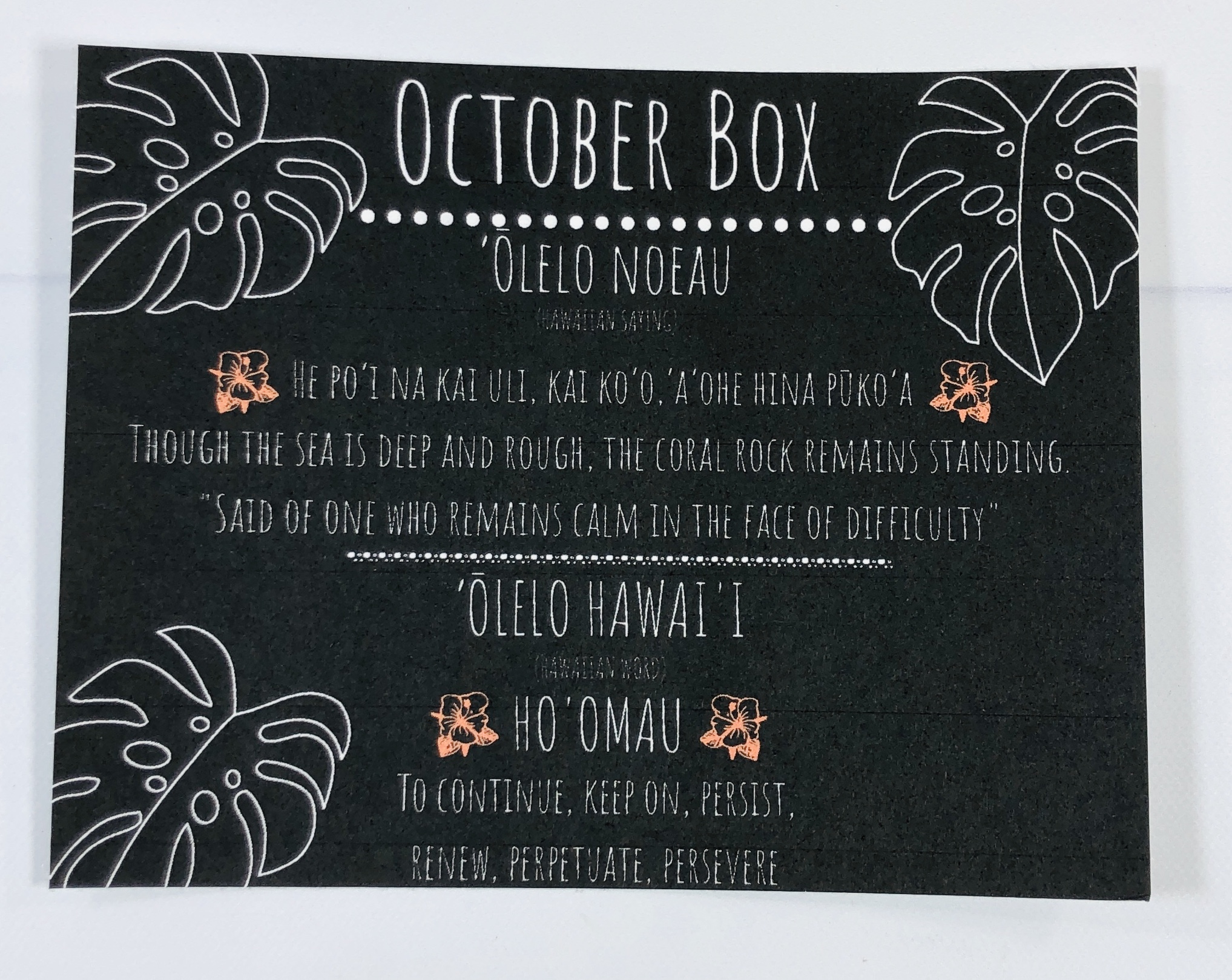 The back informed me that this is the October box. This features a Hawaiian proverb about remaining calm during difficult times (like during a pandemic perhaps). There was also a word, Ho'omau, and its definition, which is about perseverance.
There was one other card which listed small businesses featured in the box and their websites.
This box ships directly from Hawaii!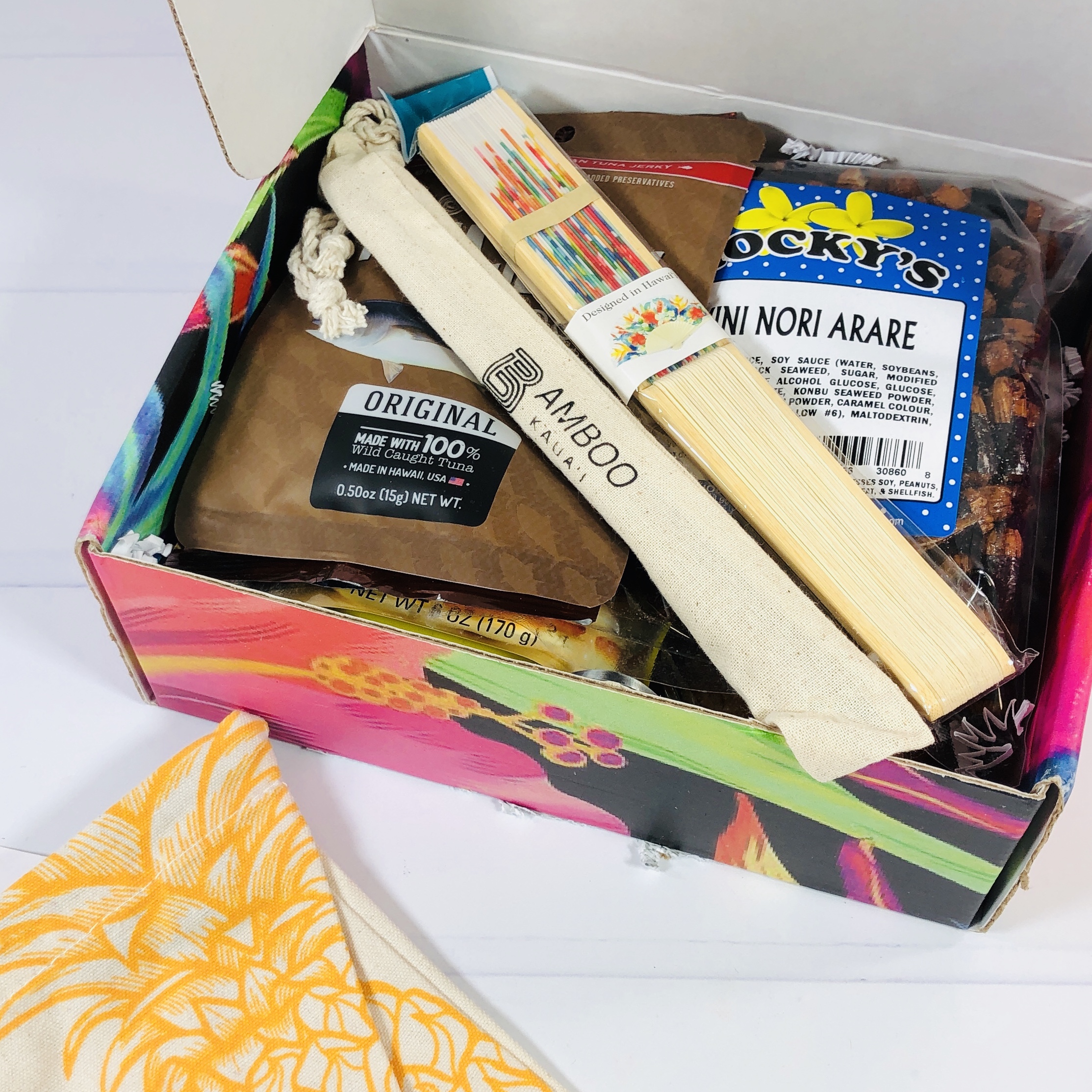 Everything in my box!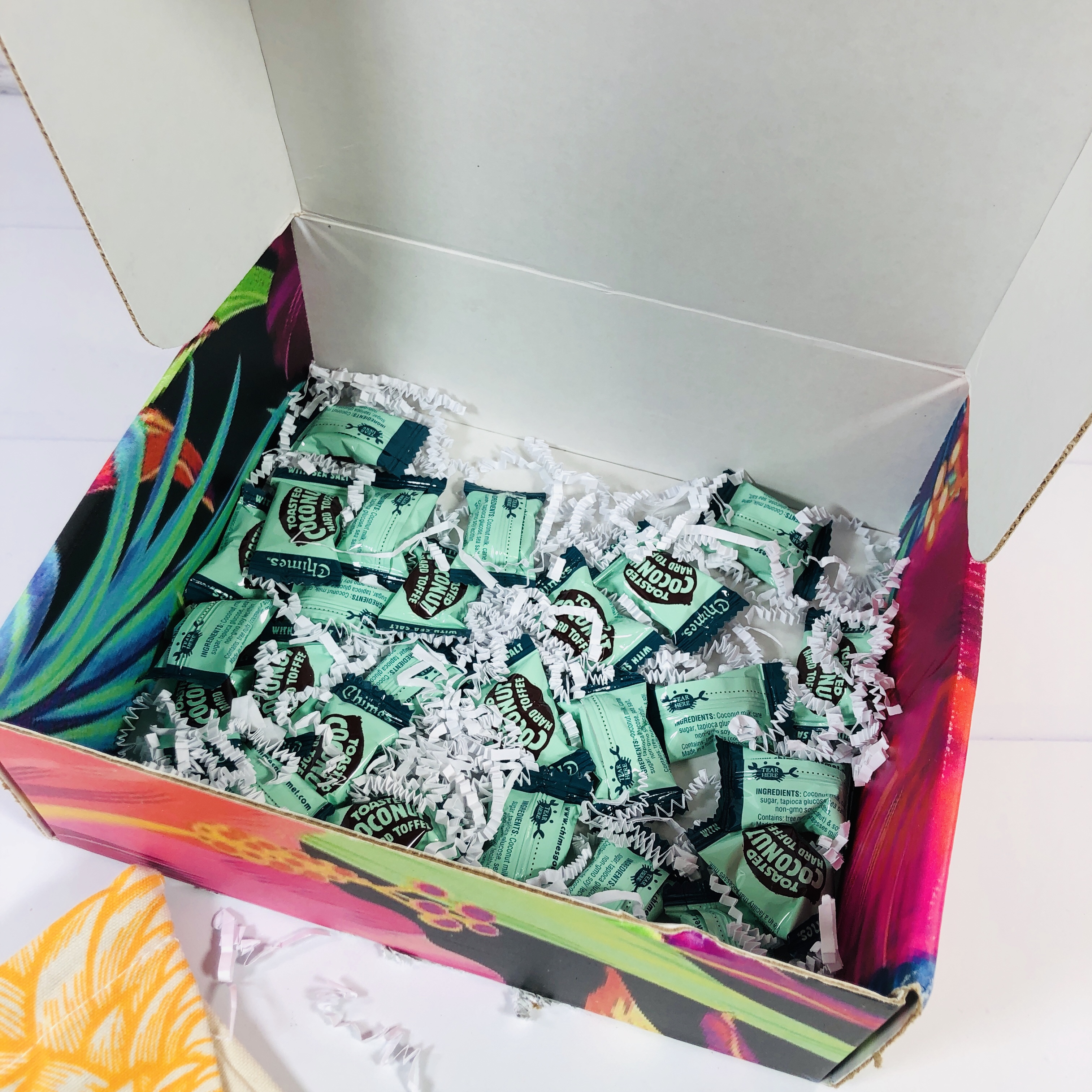 I found a ton of candies in the bottom, yum!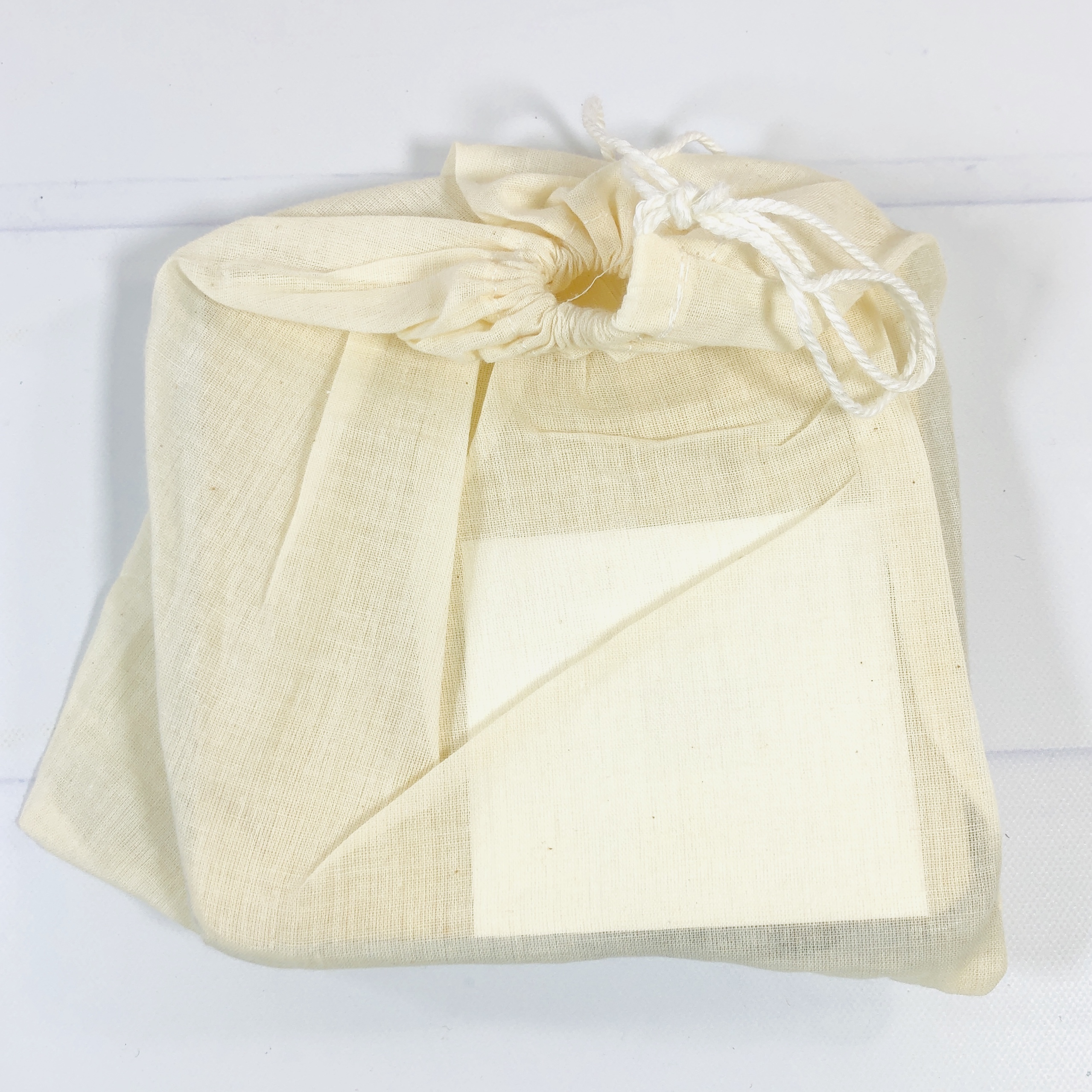 Our first item came in a carrying bag with a drawstring closure.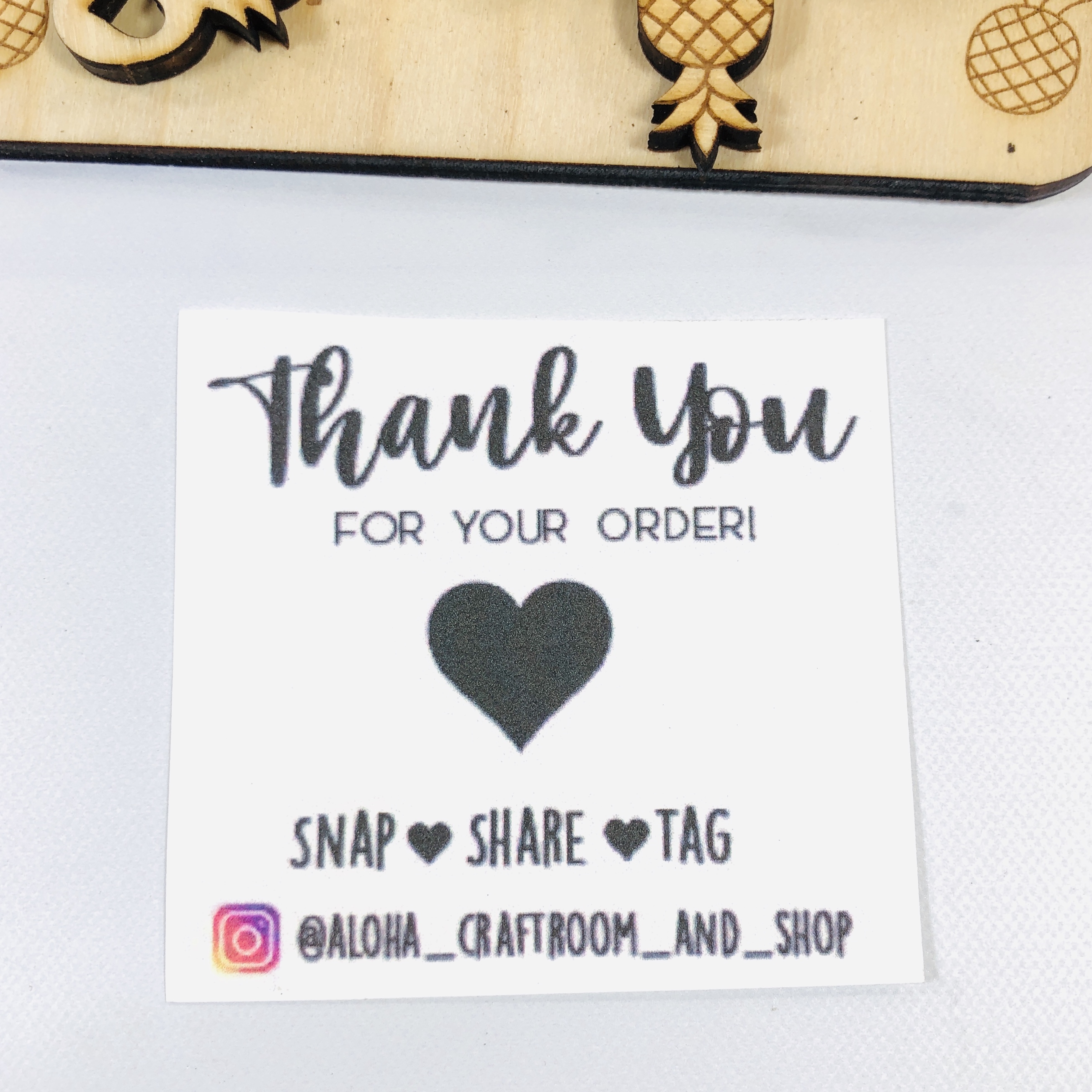 It is a game from Aloha Craftroom and Shop. I could only find their Instagram account, but if you are interested in any of their items, they accept Venmo and PayPal.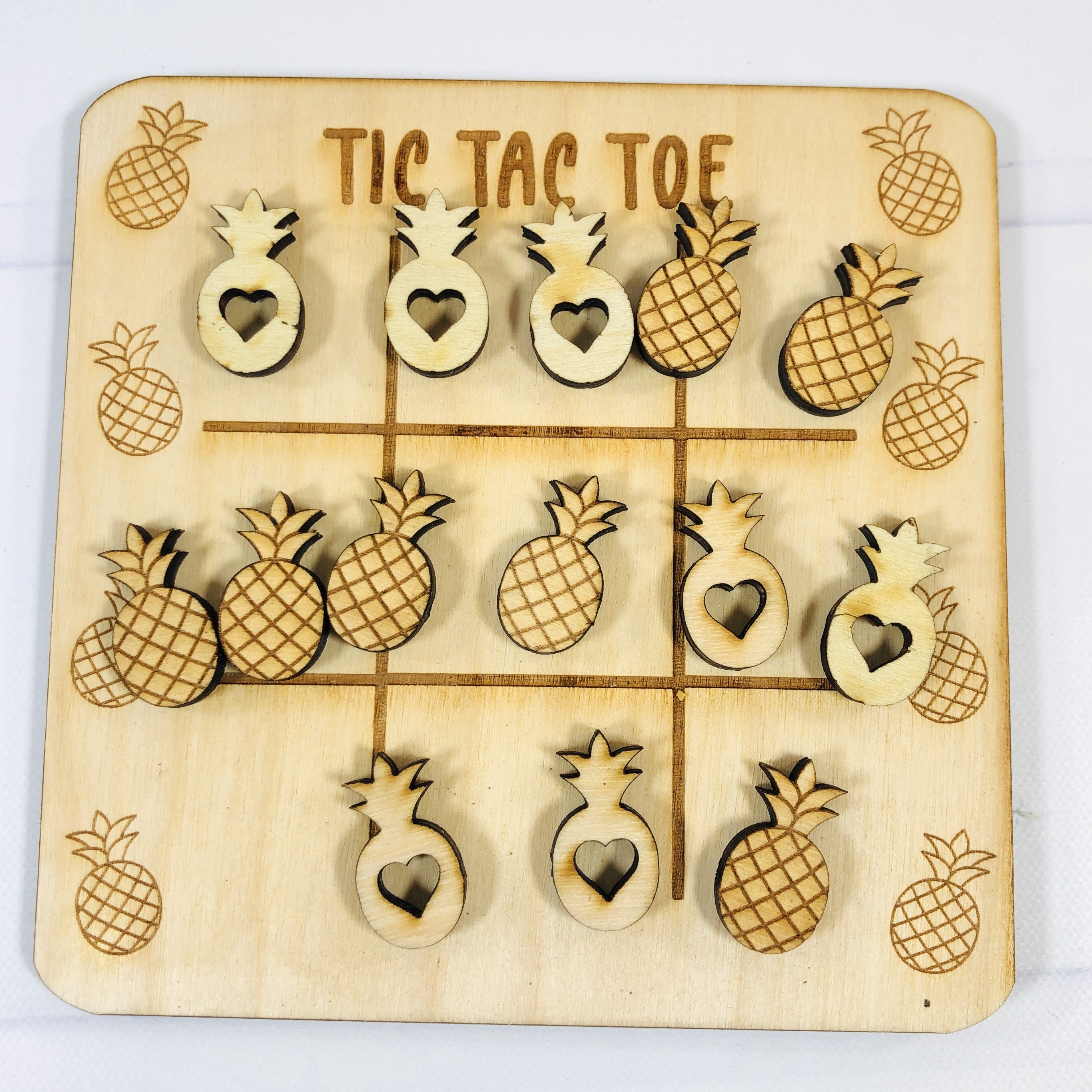 It's a Tic Tac Toe Game ($6)!  The board is 5″ square and has 14 playing pieces which are about 1″ each. What a unique and totally adorable take on a classic game!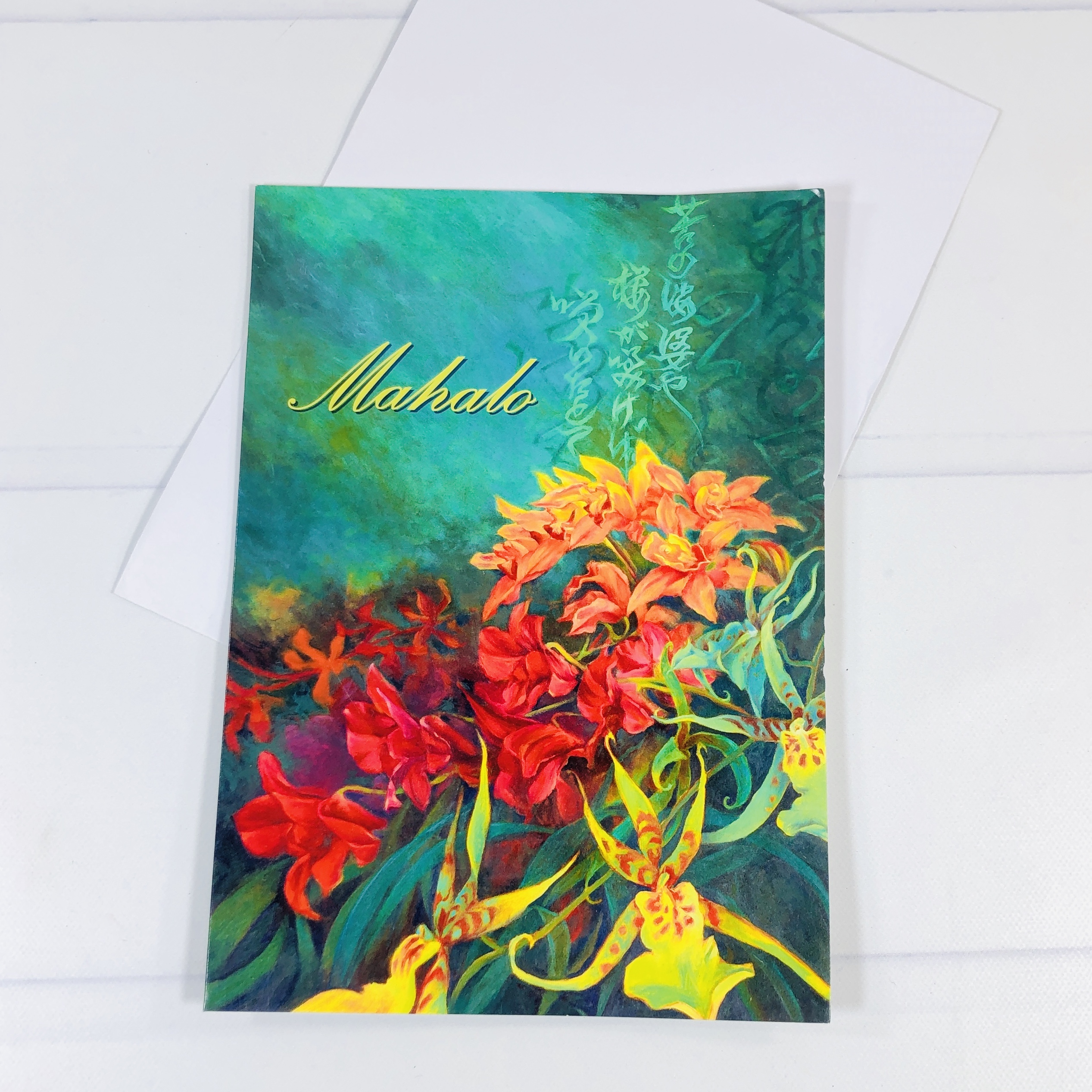 Pacifica Island Art Flowers Bloom Even Then Greeting Card ($3) Such vibrant colors are found on the front of this 5″ x 7″ greeting card! The front says "Mahalo", which is an expression of gratitude in the Hawaiian language.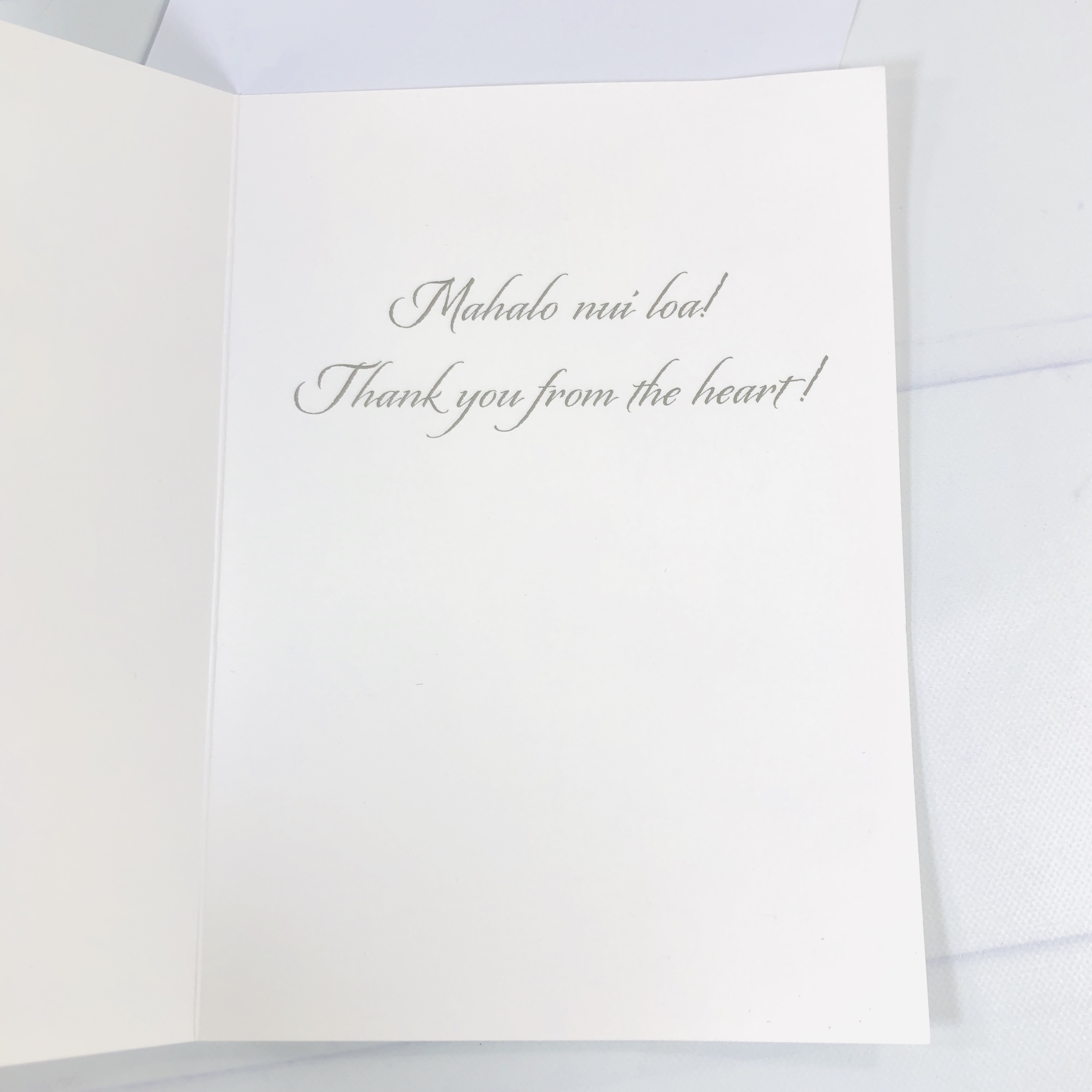 The inside has even more of an enthusiastic thank you, both in Hawaiian and English. Comes with a matching white envelope.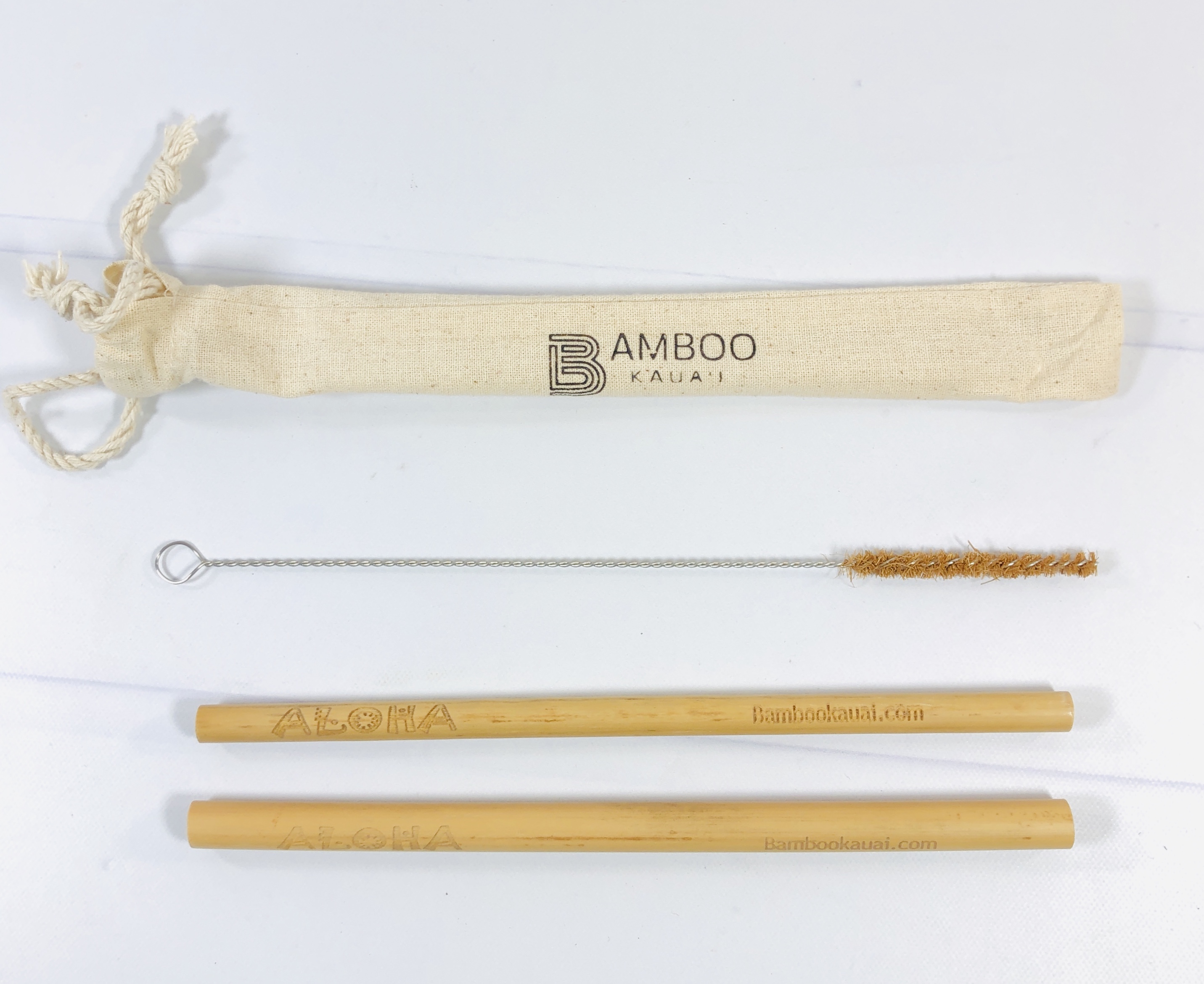 Bamboo Kauai Bamboo Straw Set ($5.99 for similar) A push to replace plastic drinking straws with more earth-friendly substitutes is a good thing, as plastic straws can cause damage to wildlife as well as the ecosystem.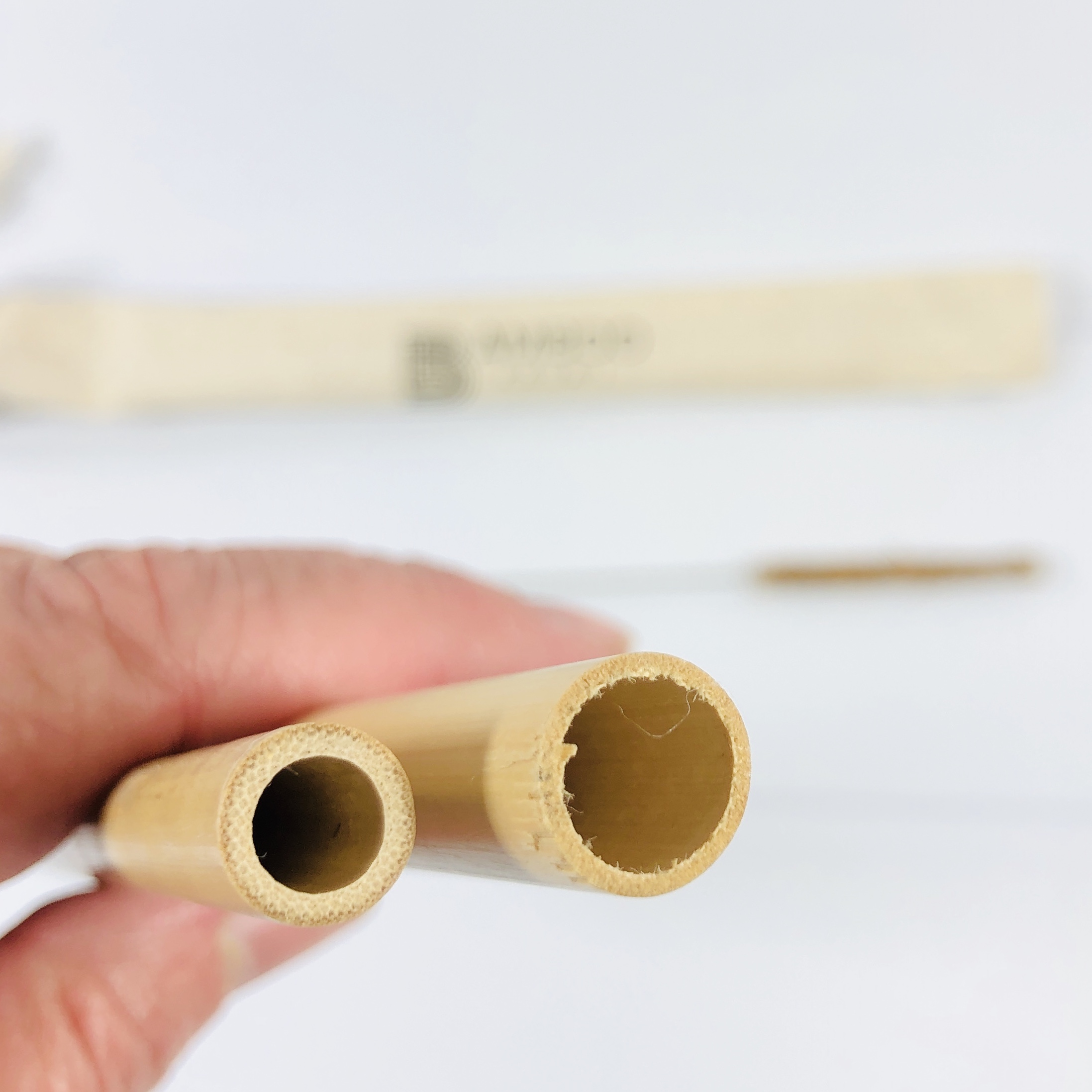 These 8″ straws have two different diameters so you can slurp a smoothie or a soda. They come in a carrying bag and also have a cleaning brush. The word "Aloha" is printed on the side.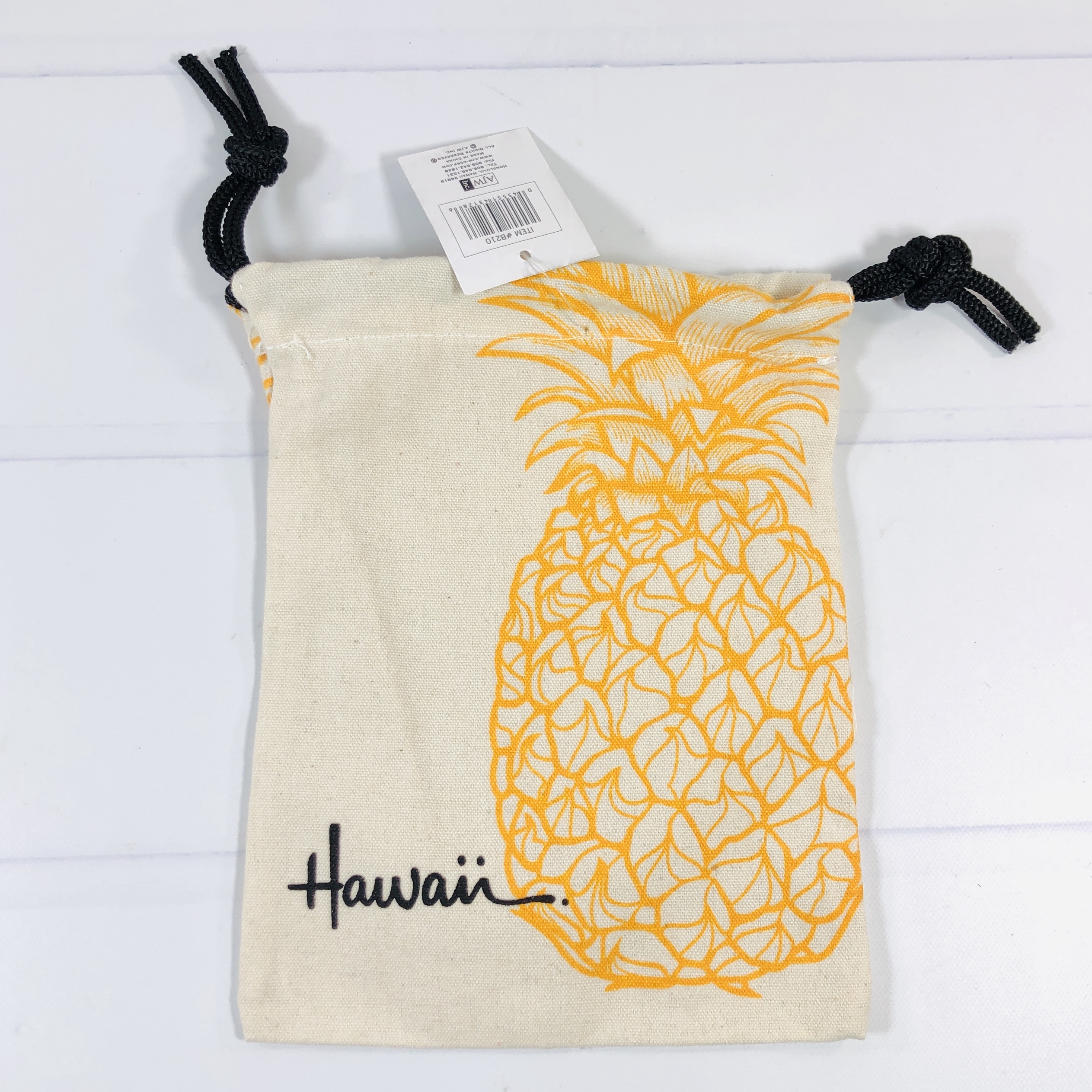 A.J. & W Corp Pouch A pouch for carrying all of my little candies, or anything else that might fit, is handy. It's 7.5″ x 6″ and has a pineapple print and the word Hawaii on both sides. It has a drawstring top to keep items secure and looks like it is made of cotton, but it is heavier than the bag the Tic Tac Toe game was in.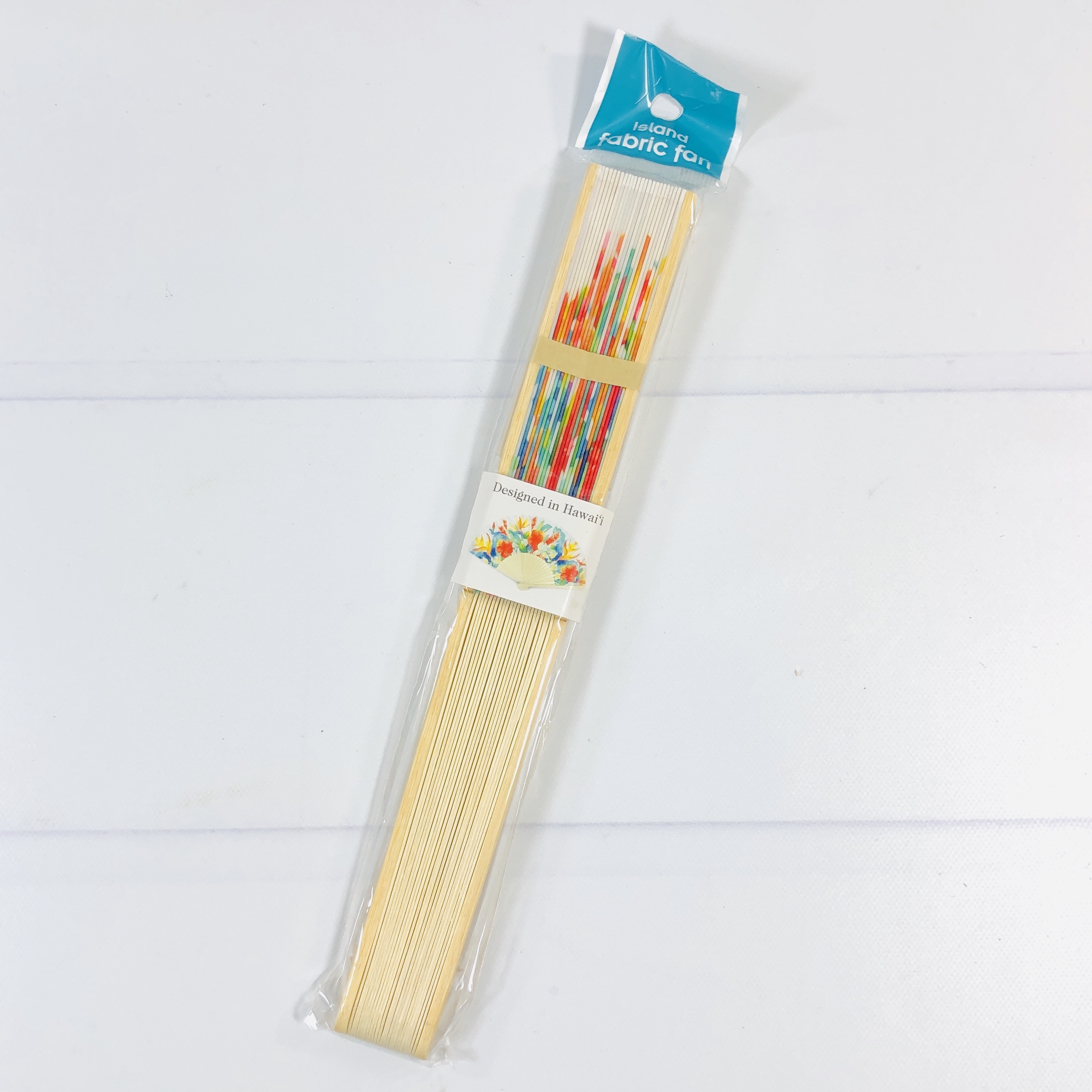 Welcome to the Islands Fabric Fan in Island Garden ($10.88) I live in Texas and it is usually hot here, so you would think I would carry a fan all the time. I never even considered it until I received this foldable fan. I can carry it around just like I carry hand sanitizer and lip gloss!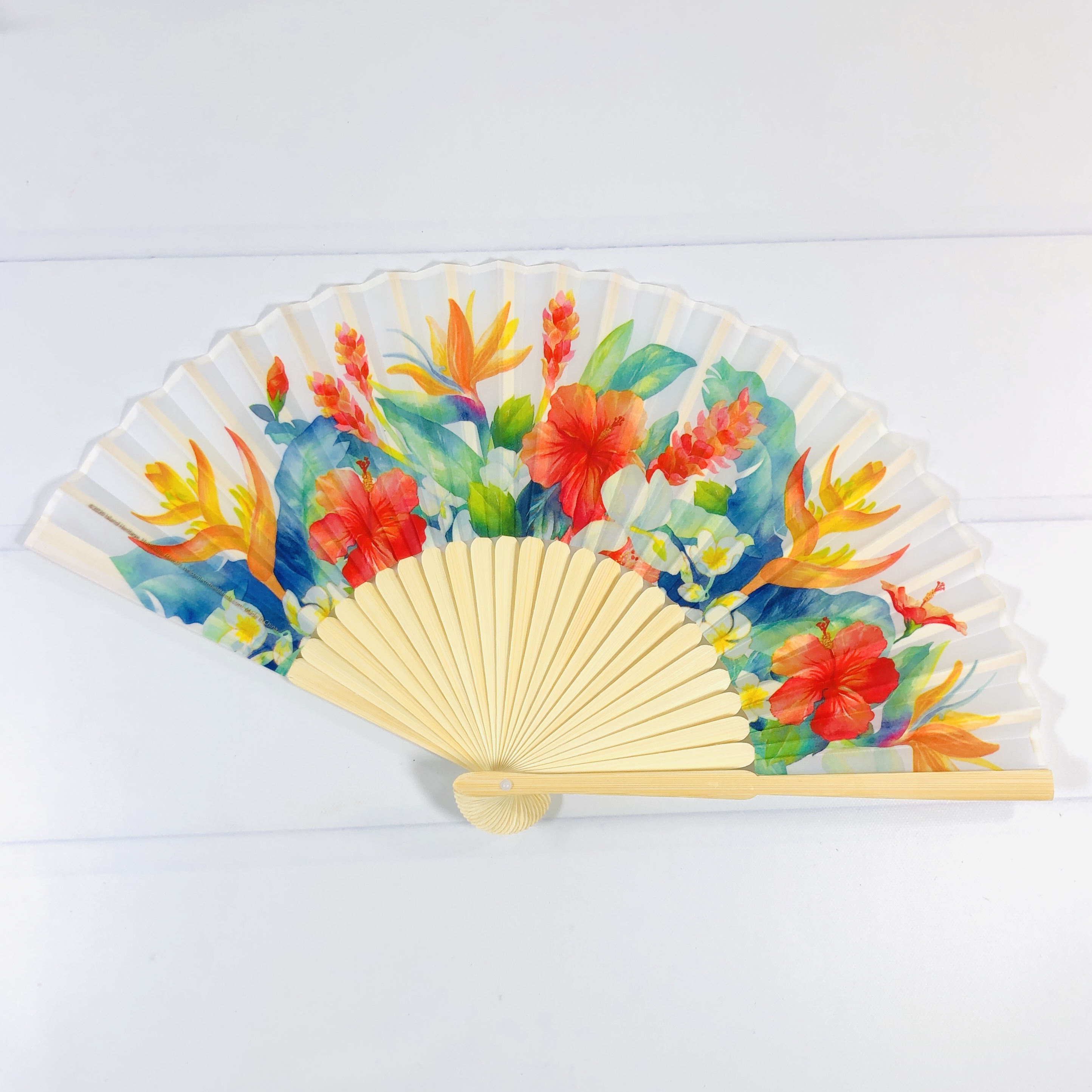 It has ginger, hibiscus, and bird of paradise flowers in bright colors and is so pretty.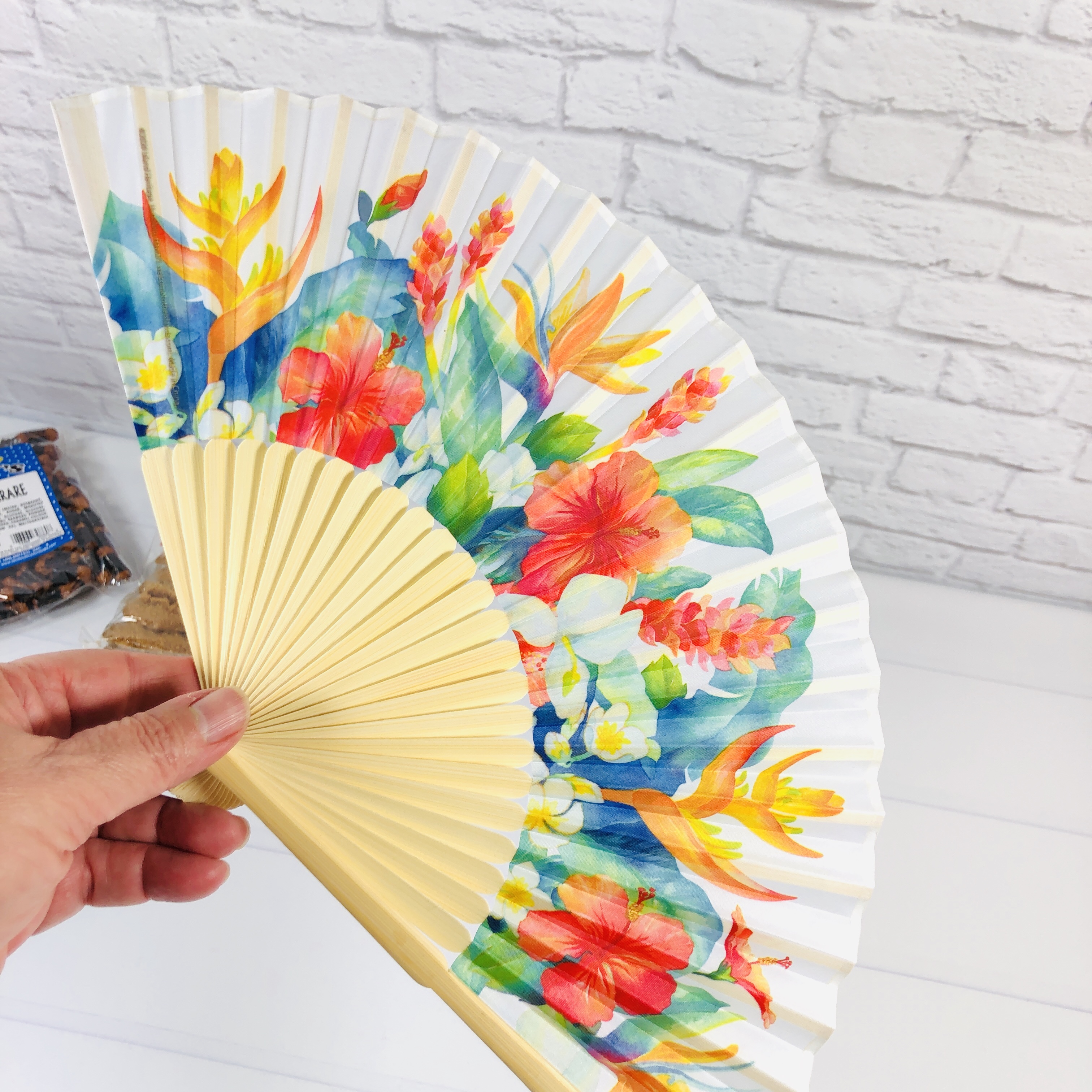 It's 8.25″ long and made of rayon fabric with a bamboo frame. I am seriously stashing this in my bag or glove compartment.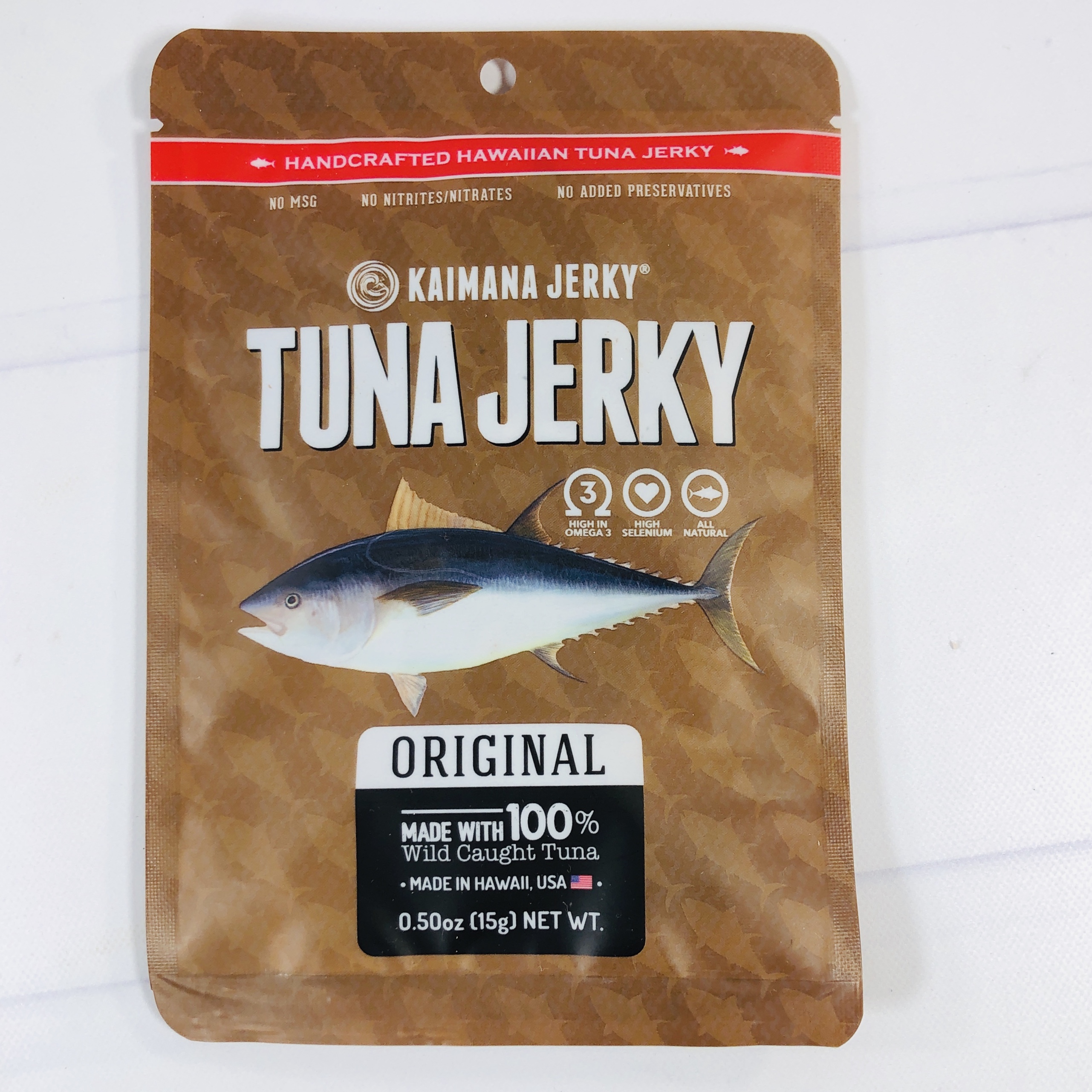 Kaimana Wild Caught Ahi Tuna Jerky Original Flavor At first when I saw this I thought, hmm, no thank you. Then I opened the bag and the smell was delicious so I tried it!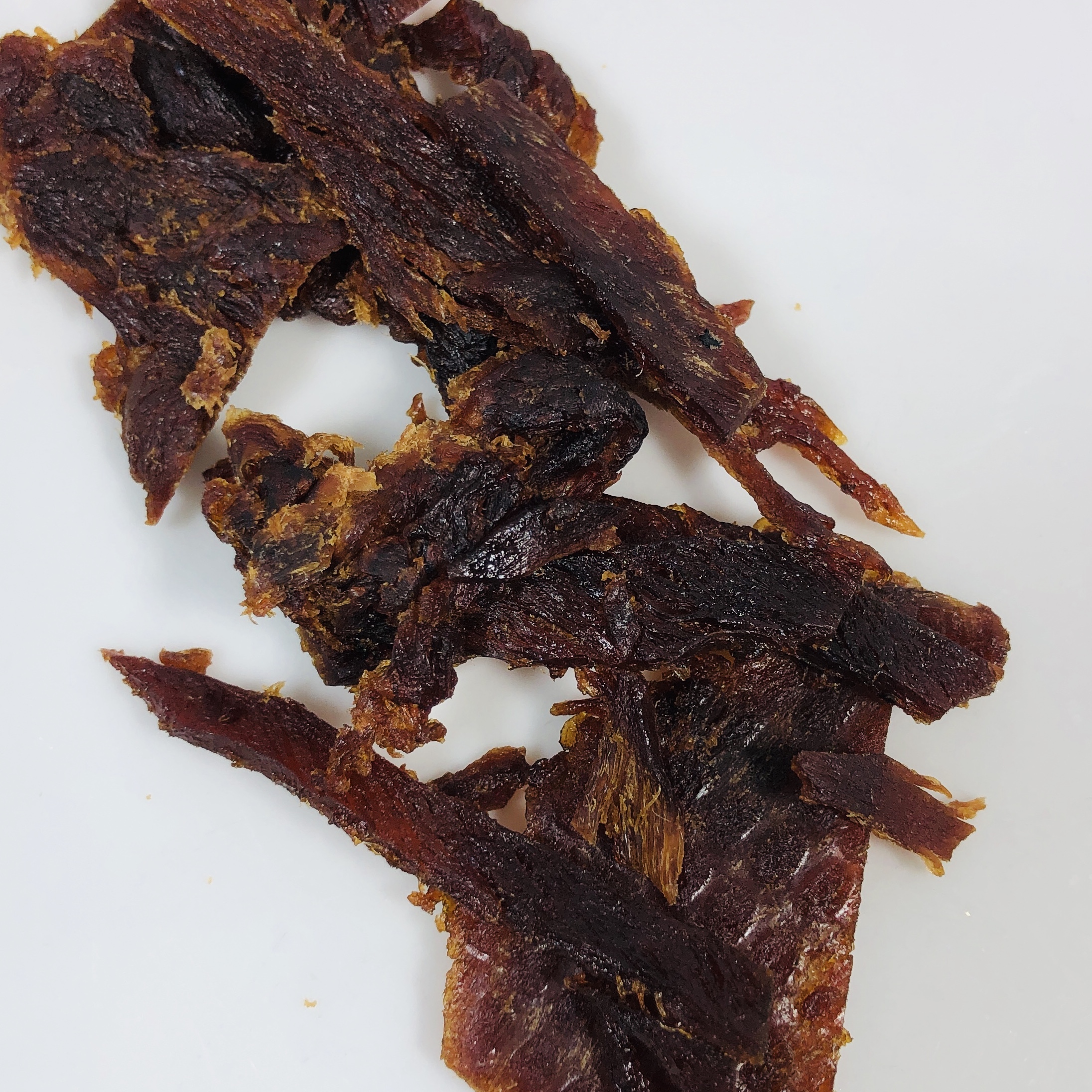 It smelled just like the smoked fish I used to eat at a restaurant. It is hickory smoked and a little sweet, a little fishy, but overall I liked it!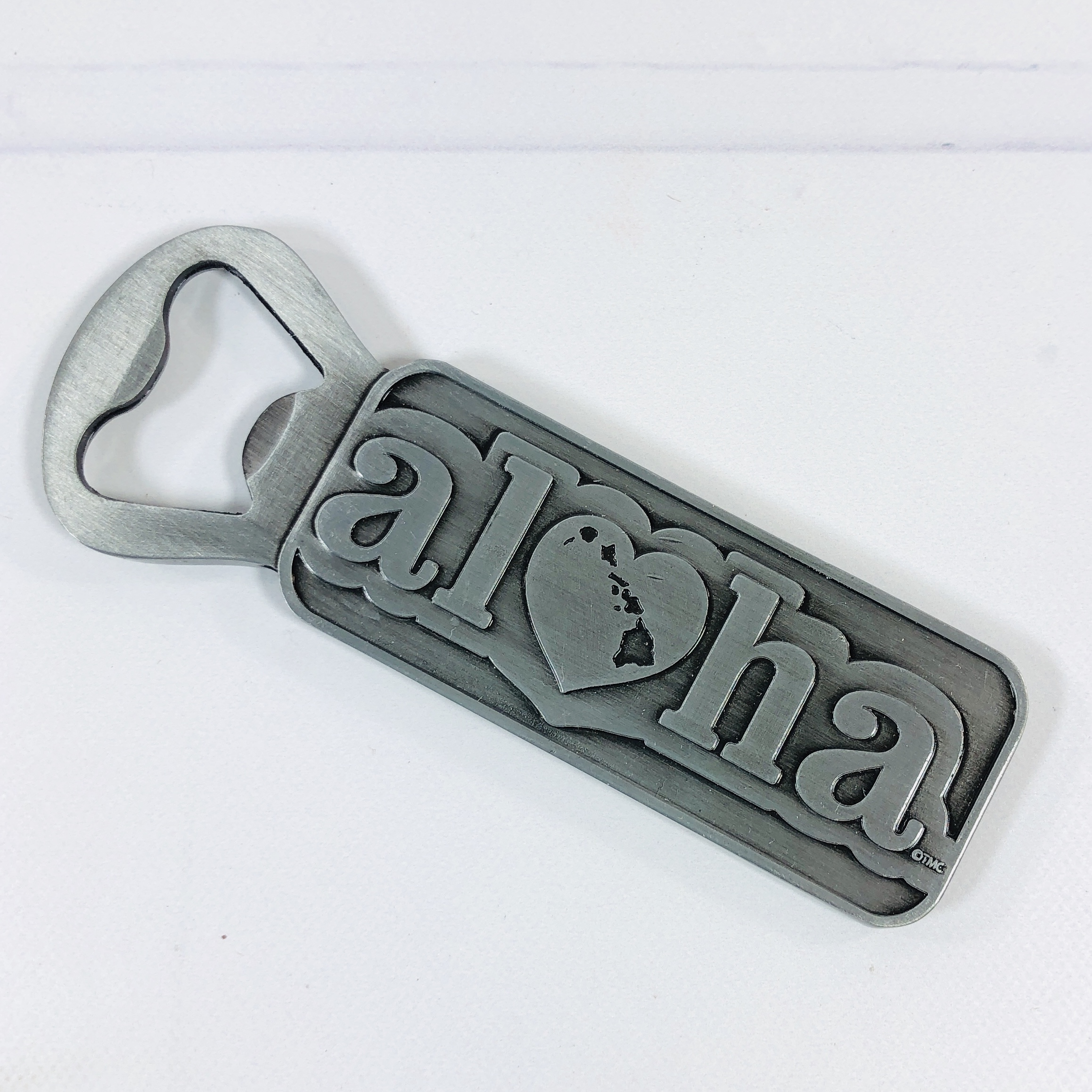 Island Heritage Heart of Hawaii Bottle Opener ($9.88) A bottle opener that happens to have the islands on the heart in the middle, and a magnet on the back, is perfect for my fridge! The opener is made of zinc alloy with pewter finish. It is about 4″ long.
Hawaiian Sun Banana Macadamia Nut Pancake Mix ($5.30) This is the only food product I didn't get a chance to try, so I will keep it on hand for a quick breakfast next month. It certainly sounds tasty and I only need to mix it with water and then cook it like any other pancake. I'll save it for a cold morning so I can enjoy a taste of the tropics.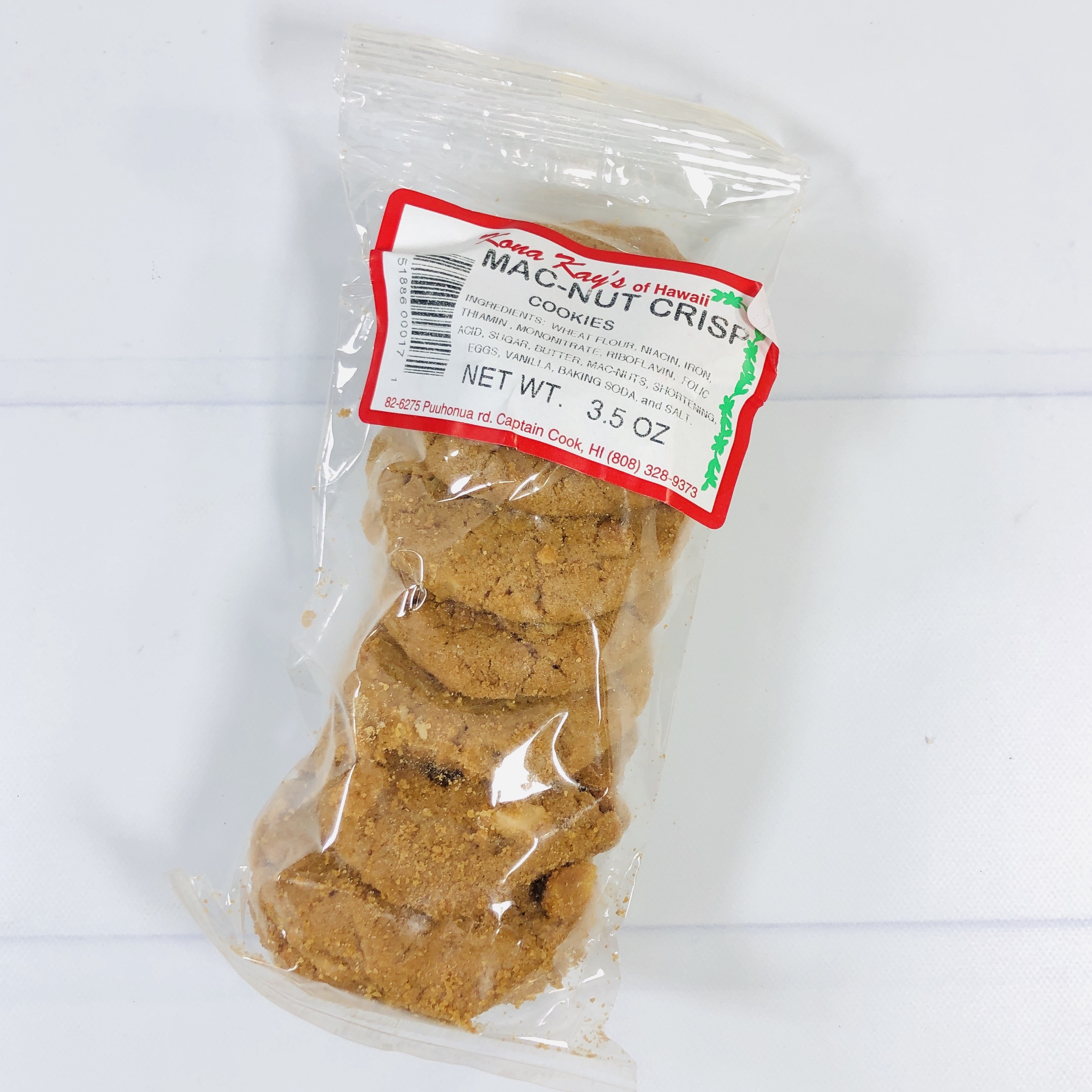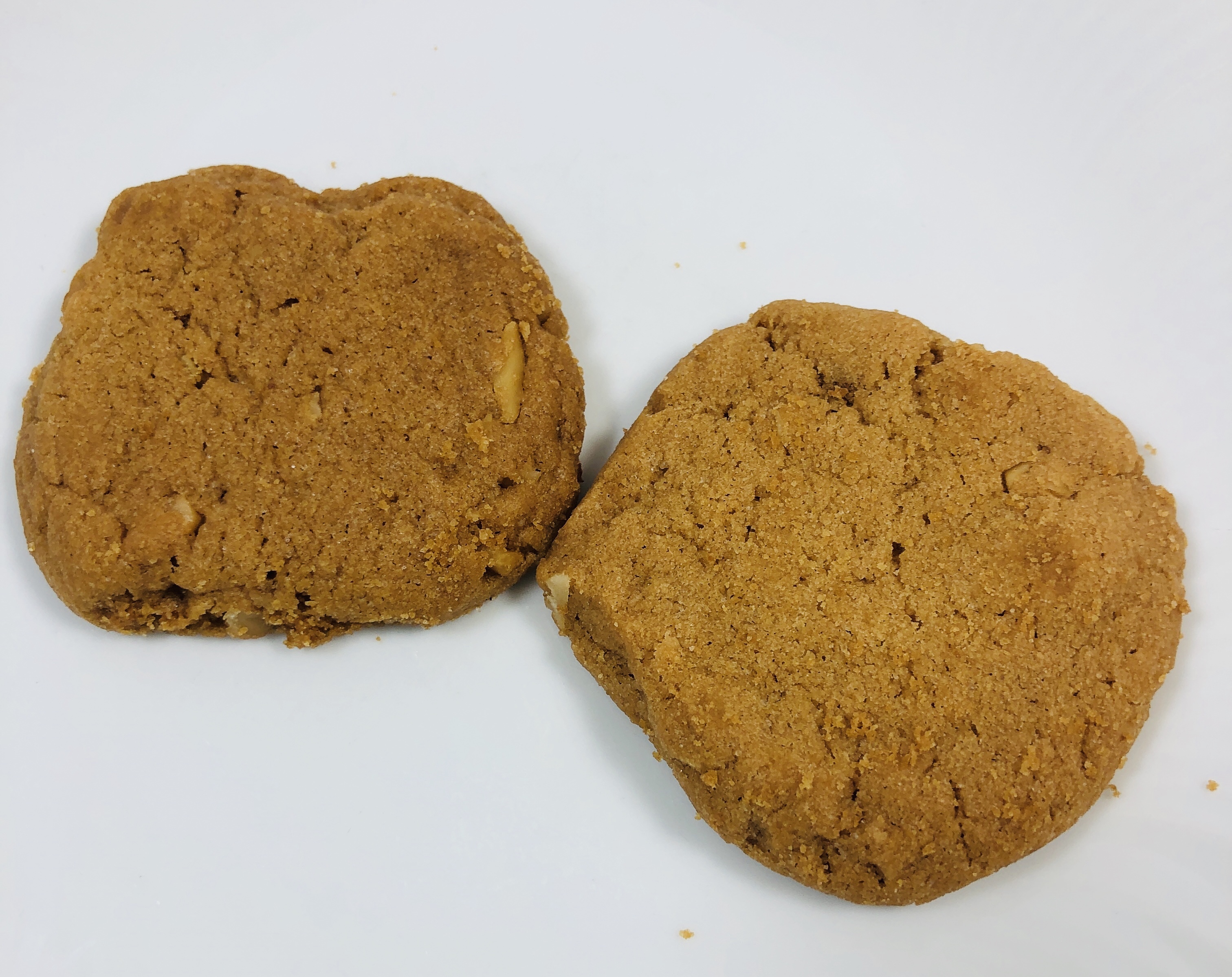 Kona Kay's Mac-Nut Crisp Cookies Shortbread cookies with macadamia nuts? Oh yeah! These are classic buttery shortbread cookies with pieces of macadamia inside. Would go great with milk, coffee, or tea.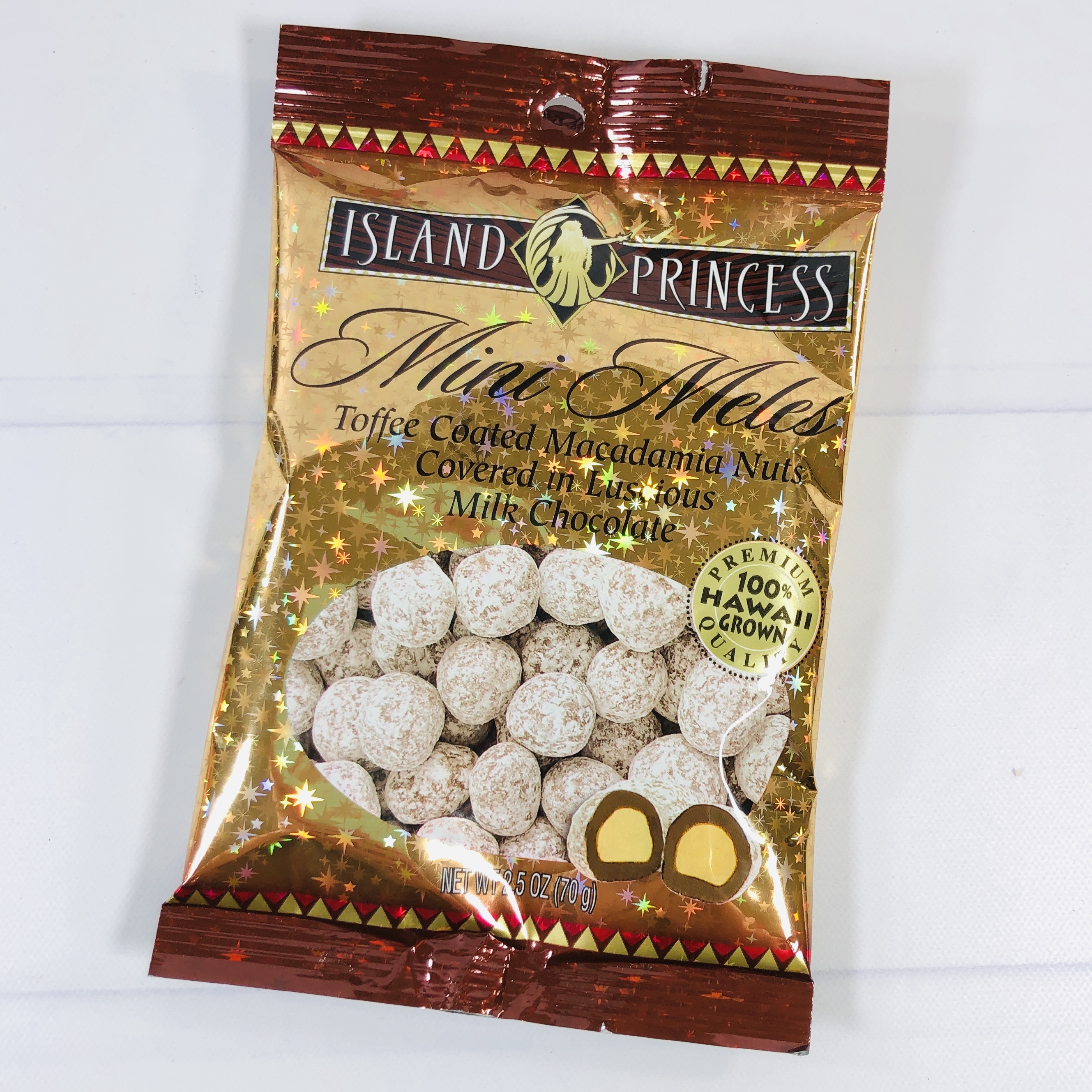 Island Princess Toffee Coated Macadamia Nuts ($12) I didn't bring much back with me from Hawaii but I made sure to pack 3 boxes of chocolate covered macadamia nuts. In this version, the nuts are coated with toffee (that isn't super sticky or thick) and then it is coated with milk chocolate. Powdered sugar coats these nuggets.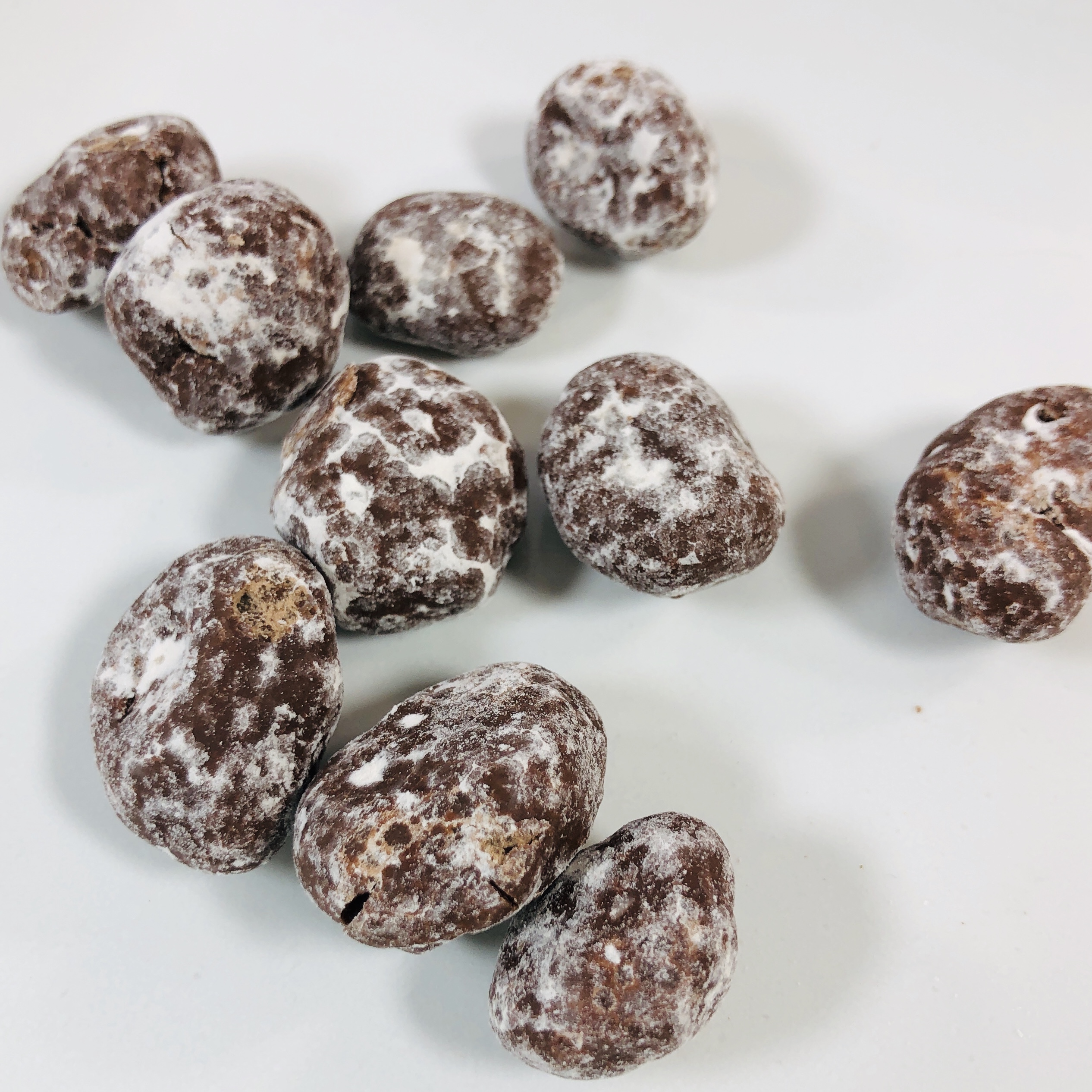 These are super delicious, but then again, it's chocolate and macadamias! Yum!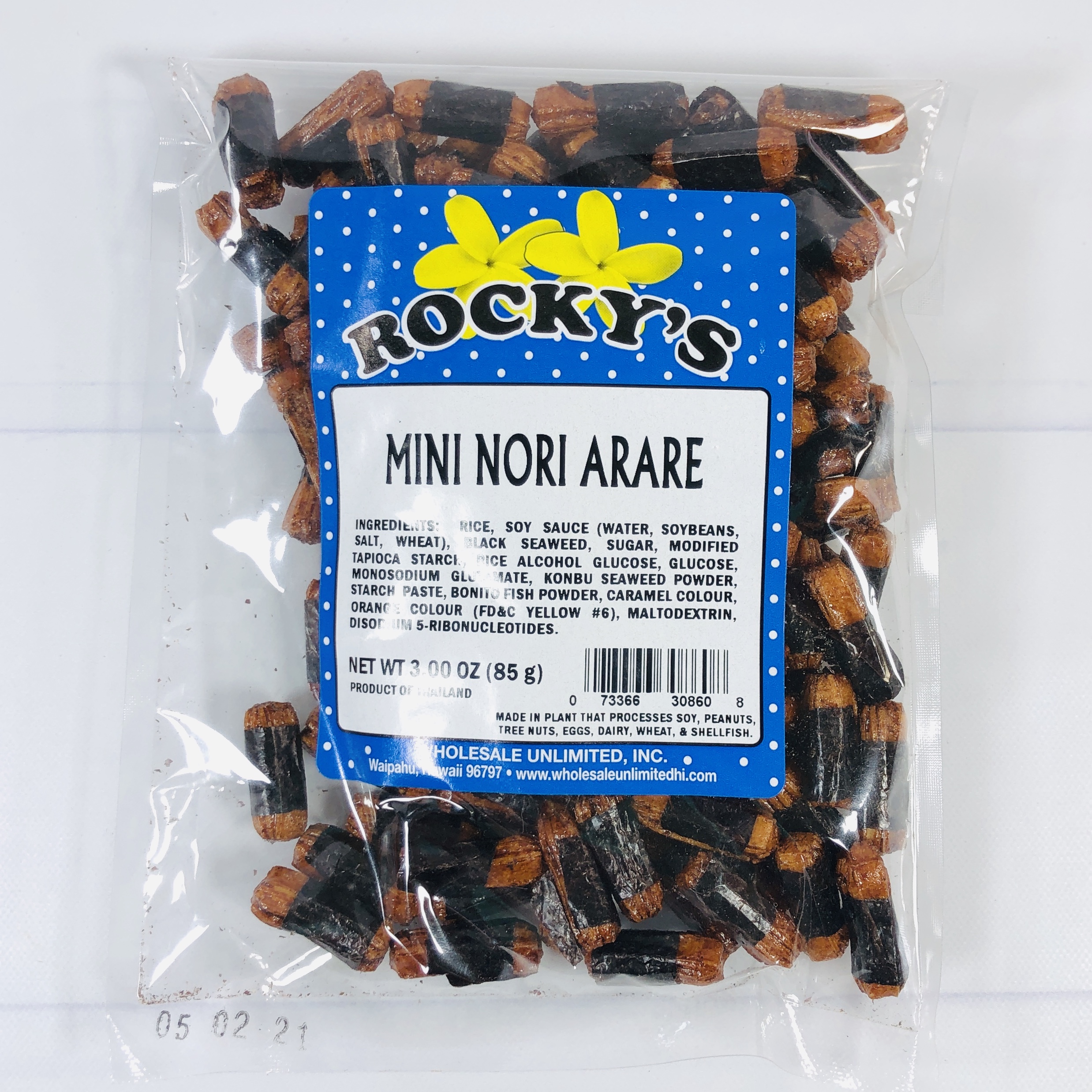 Mini Nori Arare I have tried arare thanks to Japanese subscription boxes and love the sweet/salty/umami flavor of these rice crackers. This one happens to have nori (seaweed) wrapped around the mini crackers and they have a bit of a fishy flavor thanks to bonito powder.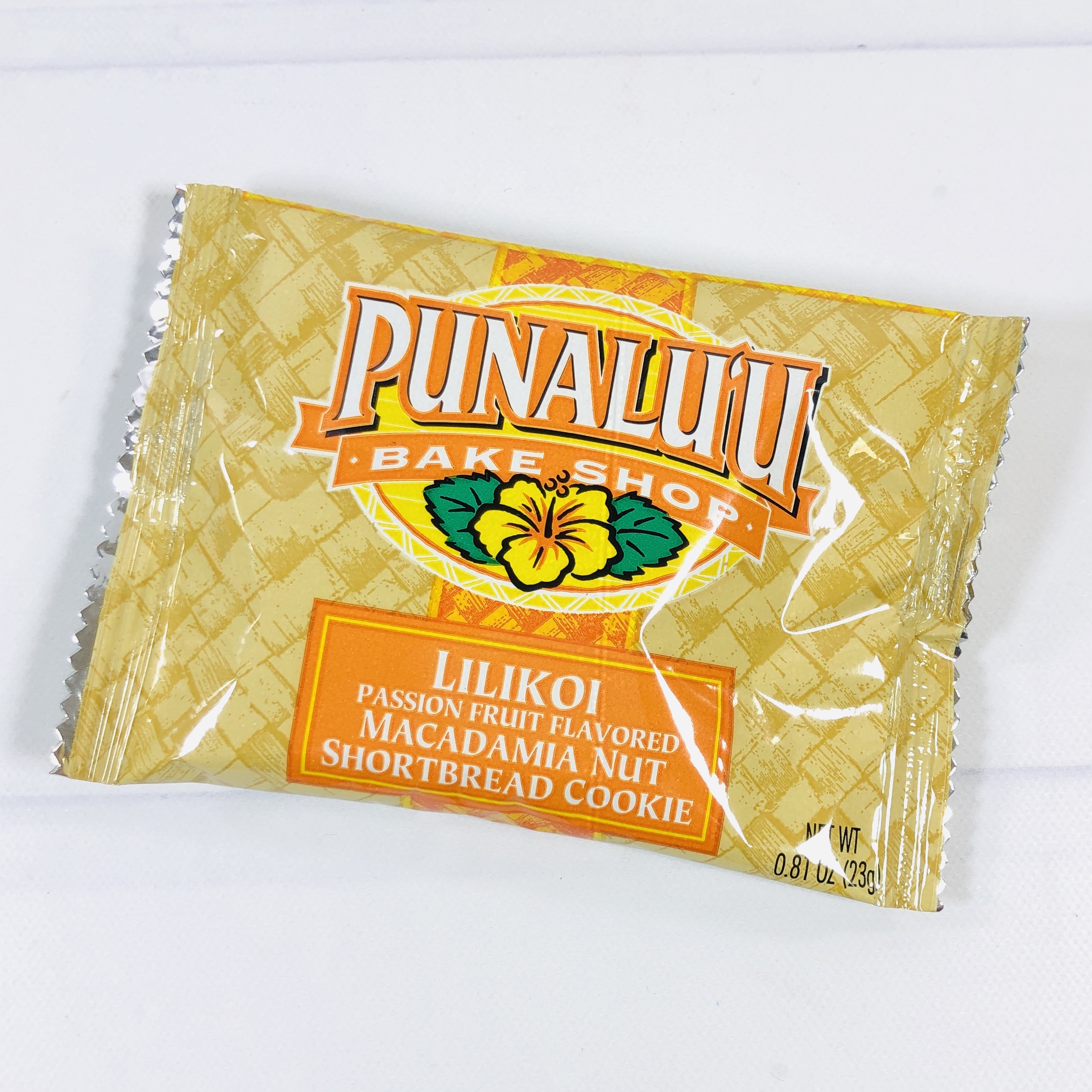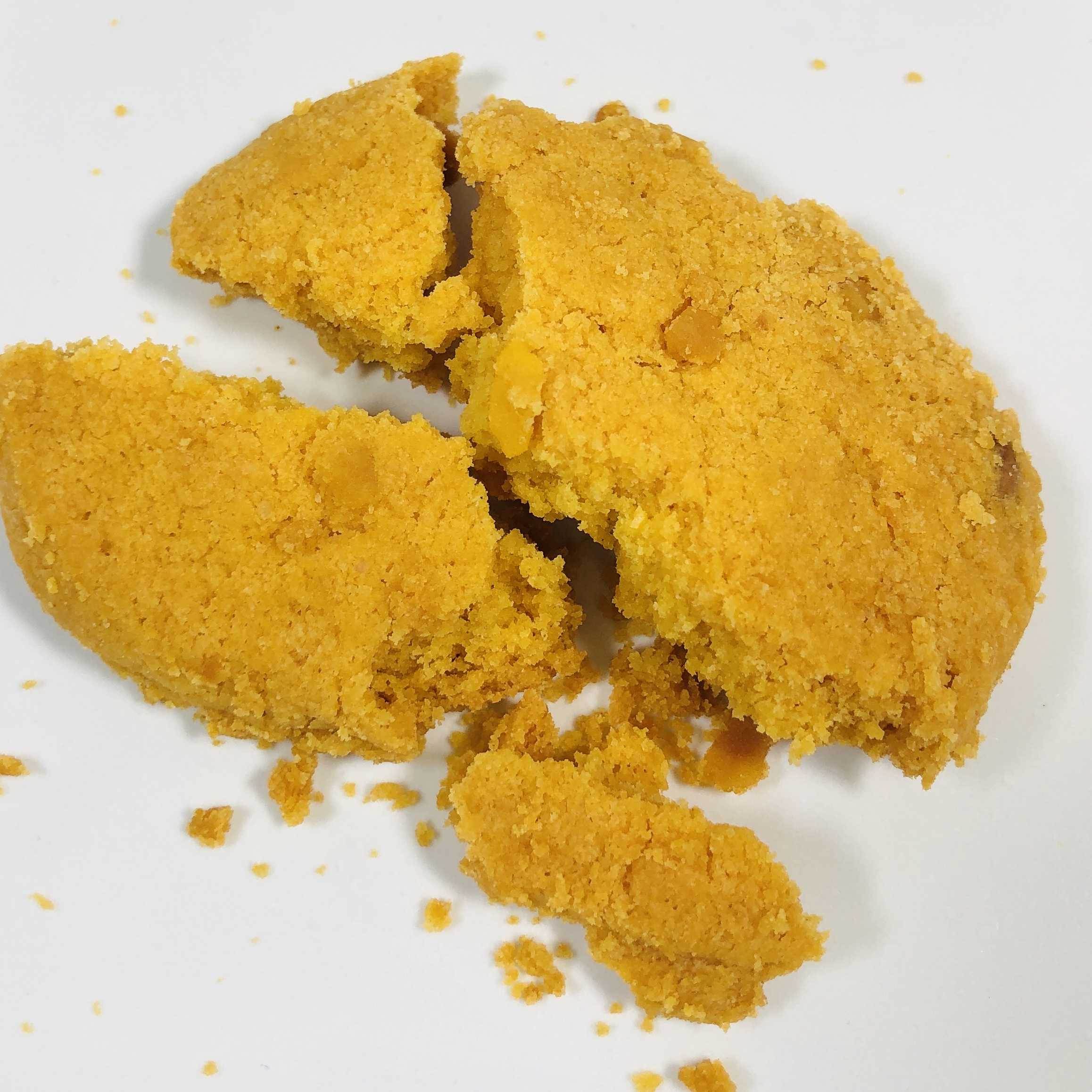 Punalu'u Lilikoi Macadamia Nut Shortbread Cookie Lilikoi is another word for passion fruit, which flavors this shortbread cookie. It has a hint of fruity flavor, nut pieces, and lots of buttery goodness.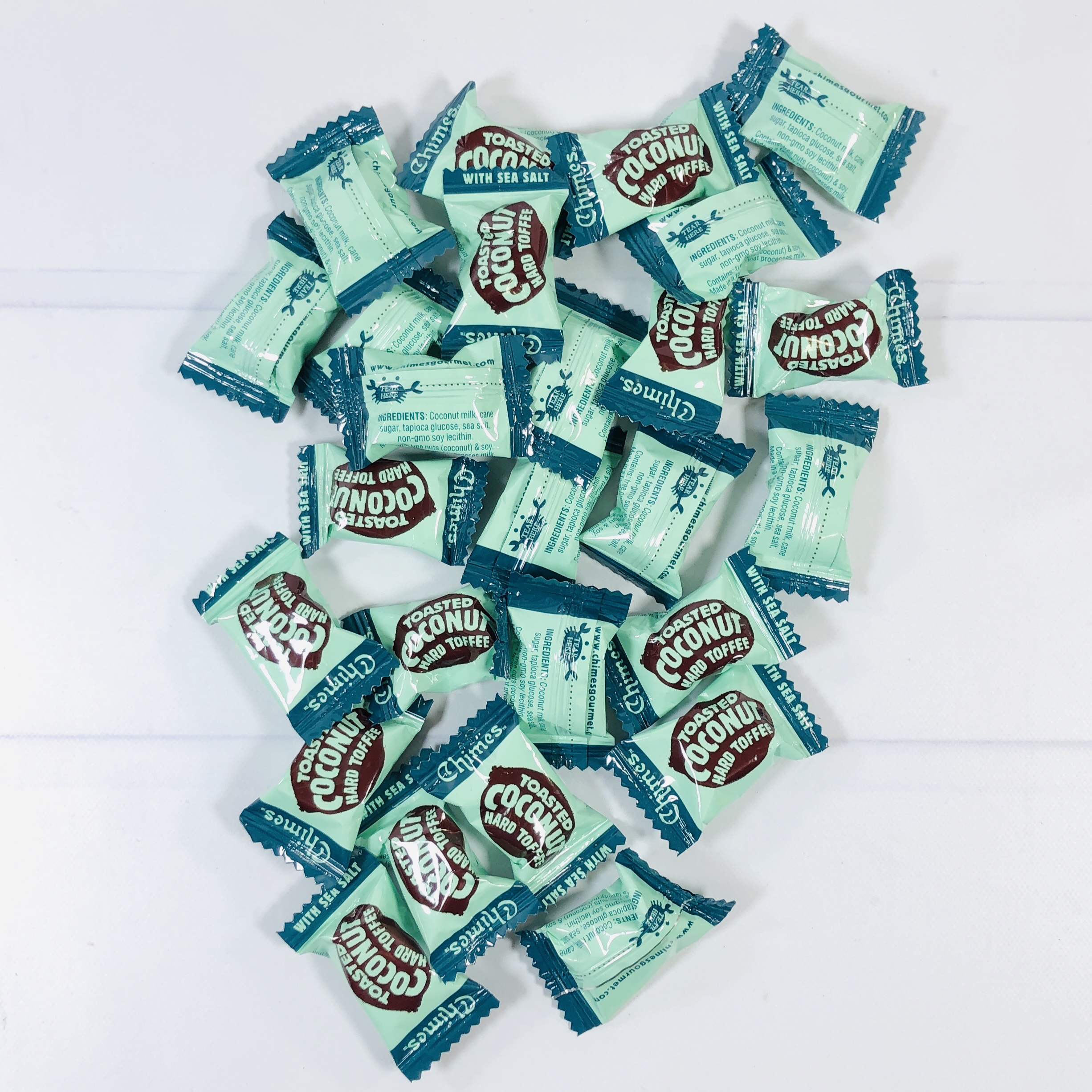 Chimes Toasted Coconut Hard Toffee The bottom of my box was covered with what looks to be a whole bag of these individually wrapped coconut toffees! They are made with coconut milk and have sea salt and are so tasty!
I had a wonderful time discovering the goodies in my October Boxes of Aloha! I had the best trip ever to Hawaii last summer and this box had all of the stuff I wish I had looked for on my trip, but I was too busy splashing in the water and climbing Diamond Head to really shop. I love macadamia nuts and it was featured in several of the food items. Arare is another favorite of mine, along with toffee, so tasty. The bamboo straws remind me to be kind to the Earth and her creatures and the other items rounded out the box nicely. If you are looking for a box to remind you of a trip of a lifetime, or maybe you've never been and would like a taste of the Islands, check out Boxes of Aloha!
What do you think of the Boxes of Aloha review?