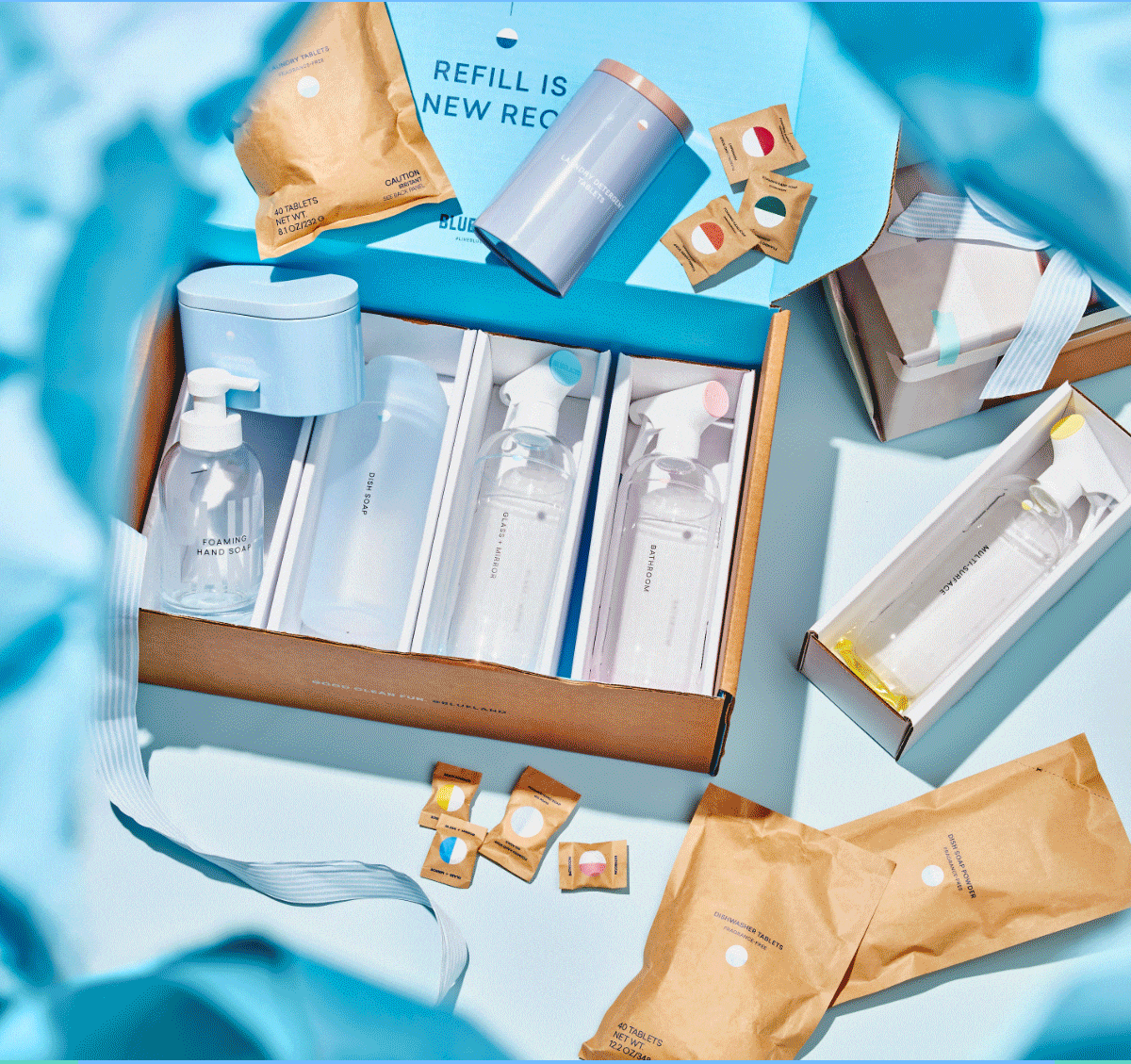 Blueland has a Cyber Monday deal for 2020 that starts now!
Get 3 FREE Hand Soap Tablets with $50+ orders! PLUS, get a FREE Hand Soap Starter Set with $75+ Orders ( includes Signature Foaming Hand Soap bottle and 1 of each of Hand Soap refill tablet)! No coupon code needed, just use this link!
Get the Blueland Cyber monday deal
Blueland was designed to reduce single-use packaging waste from your cleanup purchasing habits, and to reduce waste associated with packaging water with your products.
  The Blueland Everyday Clean Kit ($69) includes:
The perfect way to start cutting out single-use plastic from your home. Includes 6 reusable containers and non-toxic cleaning formulas.

3 Acrylic Spray Bottles and 3 Cleaning Tablets (Multi-Surface, Glass + Mirror, Bathroom)
1 Glass Foaming Hand Soap Bottle and 1 Hand Soap Tablet
1 Silicone Dish Soap Shaker and 16 oz Powder Dish Soap
1 Steel Dishwasher Tablets Tin and 40 Dishwasher Tablets
The Blueland Clean Essentials Kit ($39) includes:
3 Reusable Cleaning Bottles
1 Reusable Foaming Hand Soap Bottle
4 Tablets (Multi-Surface, Glass + Mirror, Bathroom, Foaming Hand Soap)
OR
The Clean Up Kit is $29 and includes 3 Forever Bottles and 3 Tablets (Multi-Surface, Glass + Mirror, Bathroom)
OR:
Each Cleaning Tablet makes 20oz of cleaning solution. There are three Cleaning Tablet options: Multi-Surface, Bathroom, and Glass + Mirror.
3 tablets for $6
6 tablets for $11
9 tablets for $14
More details on the tablets:
Multi-Surface: Cuts Grease & grime – Fresh Lemon Scent for countertops, stone, wood
Bathroom: Removes mold & mildew – Eucalyptus Mint Scent for tub and tiles
Glass + Mirror: Leavese no streaks or residue – Unscented for glass, mirror, windows
Here's how it works:
Blueland's products are sold as a refillable system. Blueland's reusable Forever Bottles are shatterproof, BPA free and designed to last. Blueland's Forever Bottle is not only 100% BPA free, but also assessed for Cradle to Cradle Certified's Material Health standards, which go beyond restricted substances to encourage healthier and safer materials in packaging and cleaning solutions optimized for human and environmental health. The Forever Bottle is designed to not break down or leach toxic chemicals when it is reused and the solution tablets dissolve inside the bottle as a waste-free cleaning system.
Are you getting Blueland?