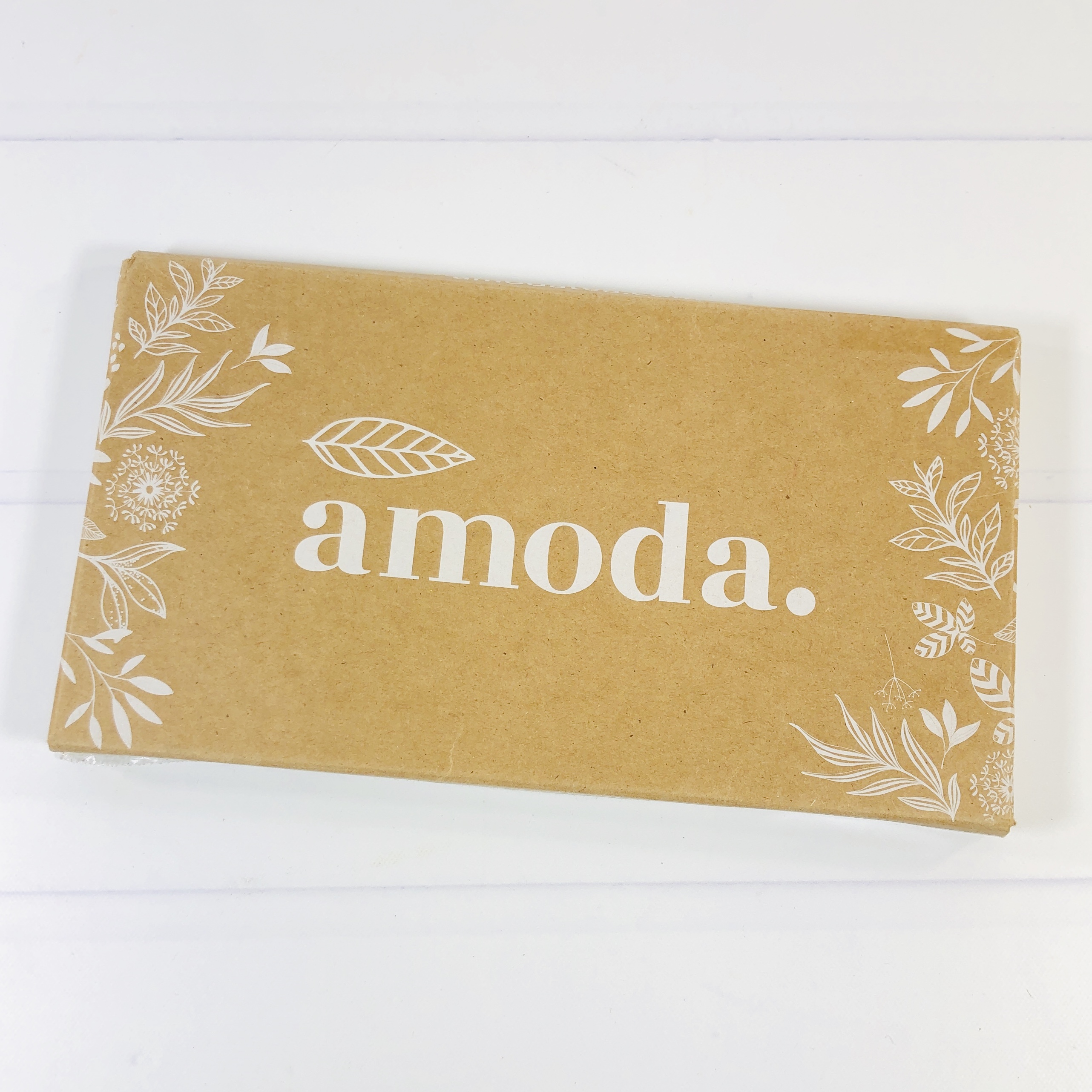 Amoda Tea is a premium tea subscription that sends hand-selected teas sourced from small, independent tea companies. There are two choices of box available — the Original Monthly Tea Box and The Low Caff. Both cost $20, have free shipping to Canada/US (no international shipping yet), and you can also add on some extra bonuses like a perfect teaspoon or extra tea bags. They also have a tasty tea guarantee — if you don't like a tea in your box, they'll replace it in your next box!
We scour the shelves of independent tea companies across North America to find unique teas, delicious blends and fun flavours. We offer a way to discover the hidden gems of the tea world, support the up-and-coming tea companies and taste the very best they have to offer.
This is a review of the Original box.
DEAL: Get 40% off of your first month! Use coupon code HELLO40.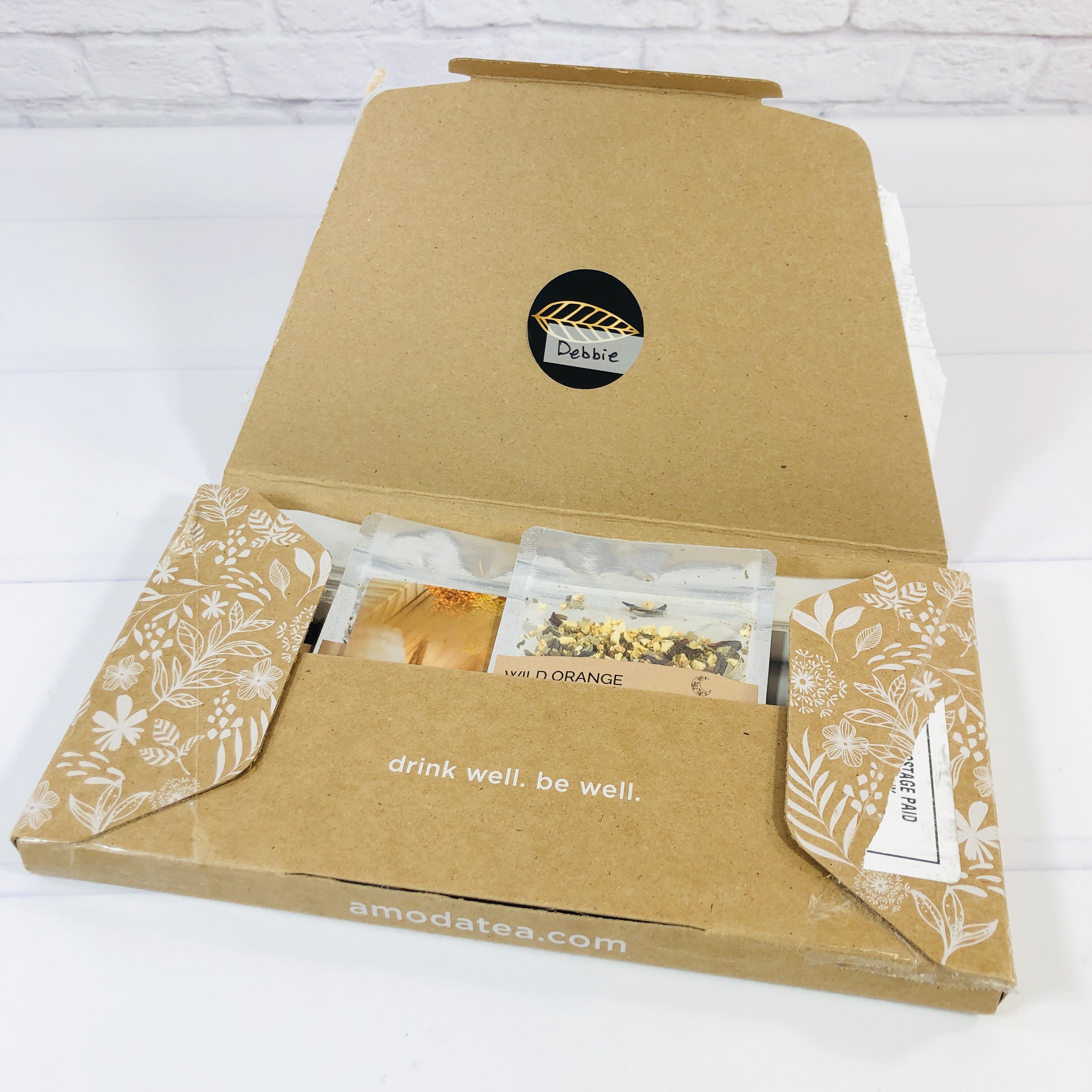 I can't wait to see what's inside!
Everything in my box!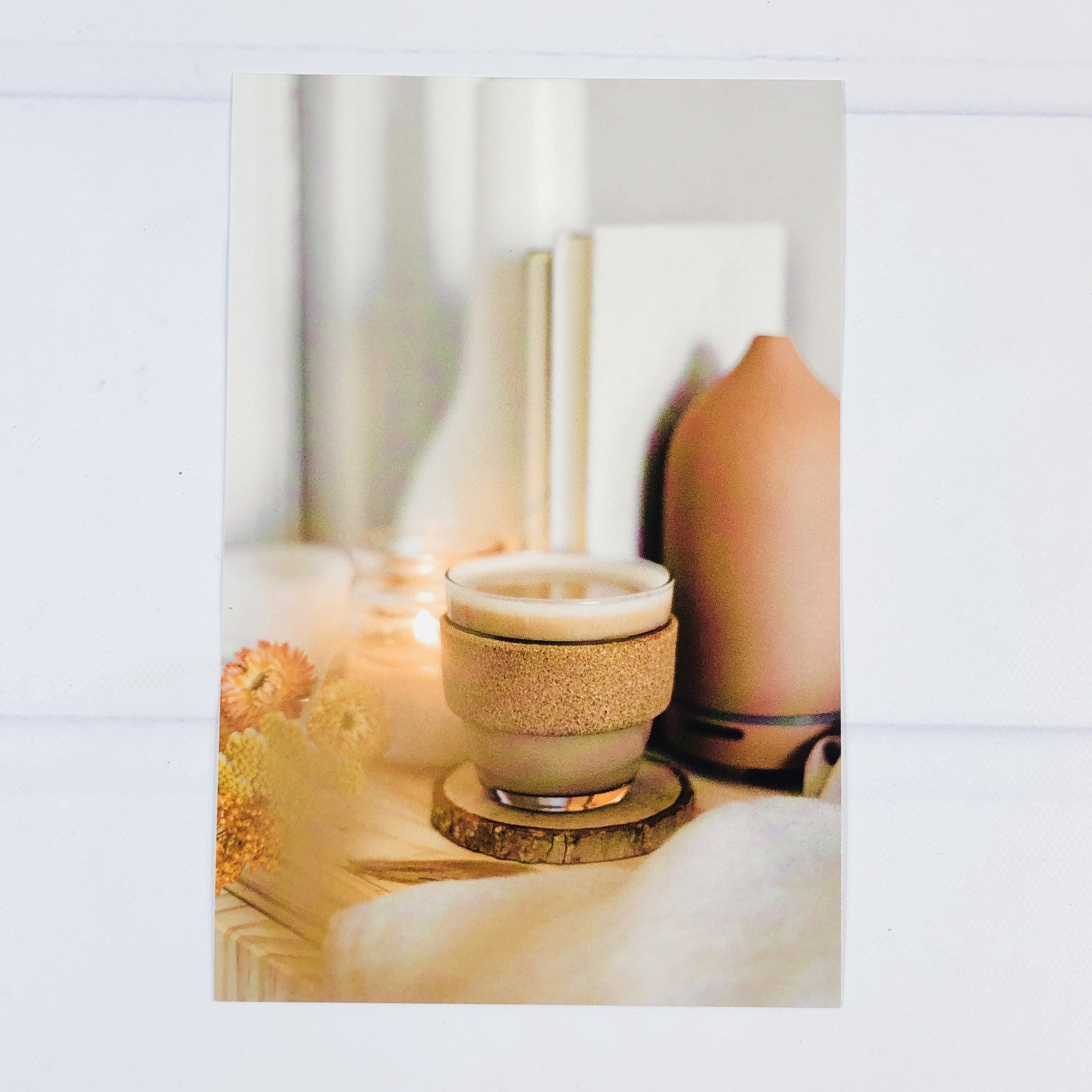 I always get a tea postcard. I usually place it on my desk to look at throughout the day.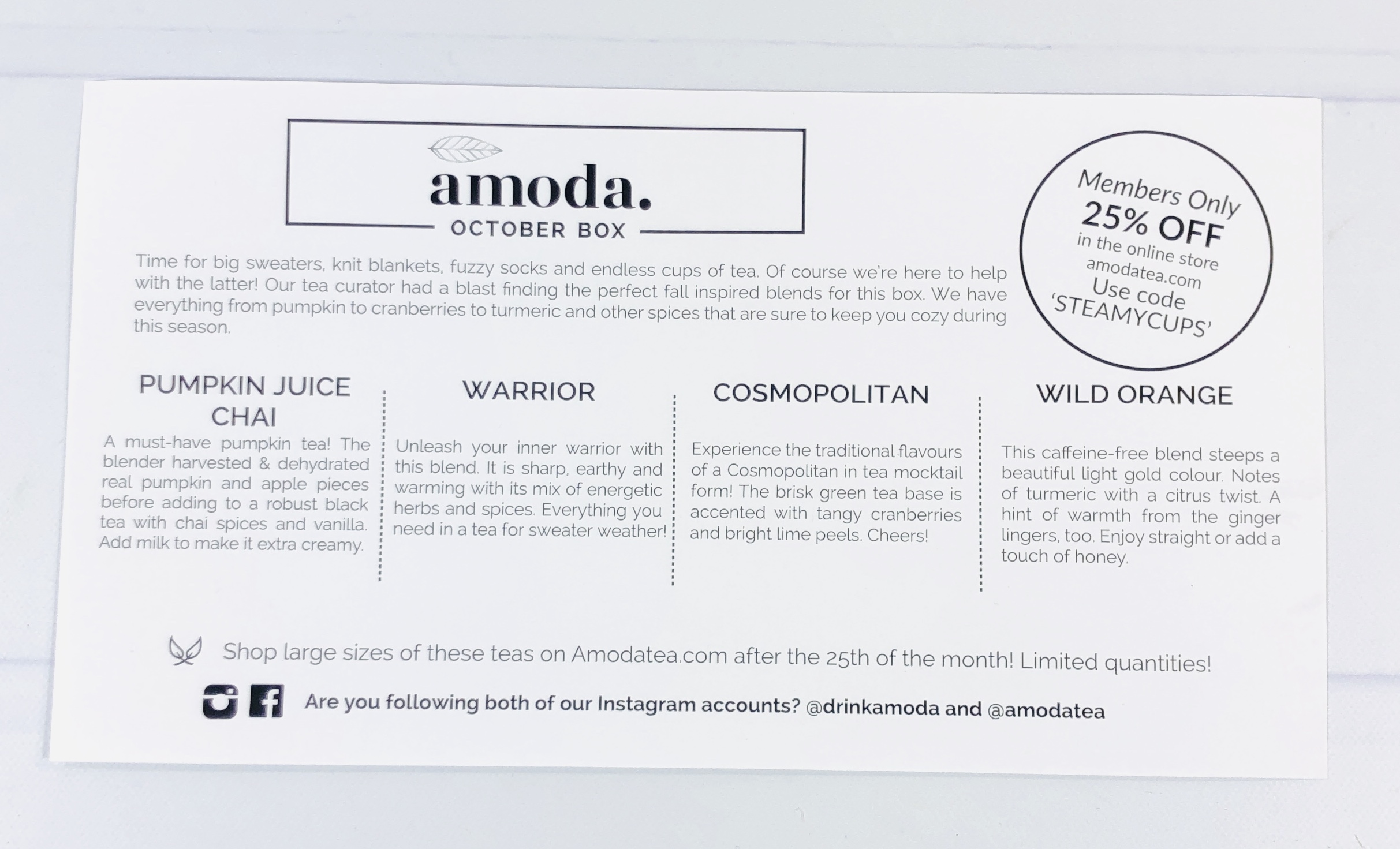 I received a sheet with all of the teas listed. It has a coupon code for an online shop purchase so I can save more on my favorites! Get ready for fall flavors!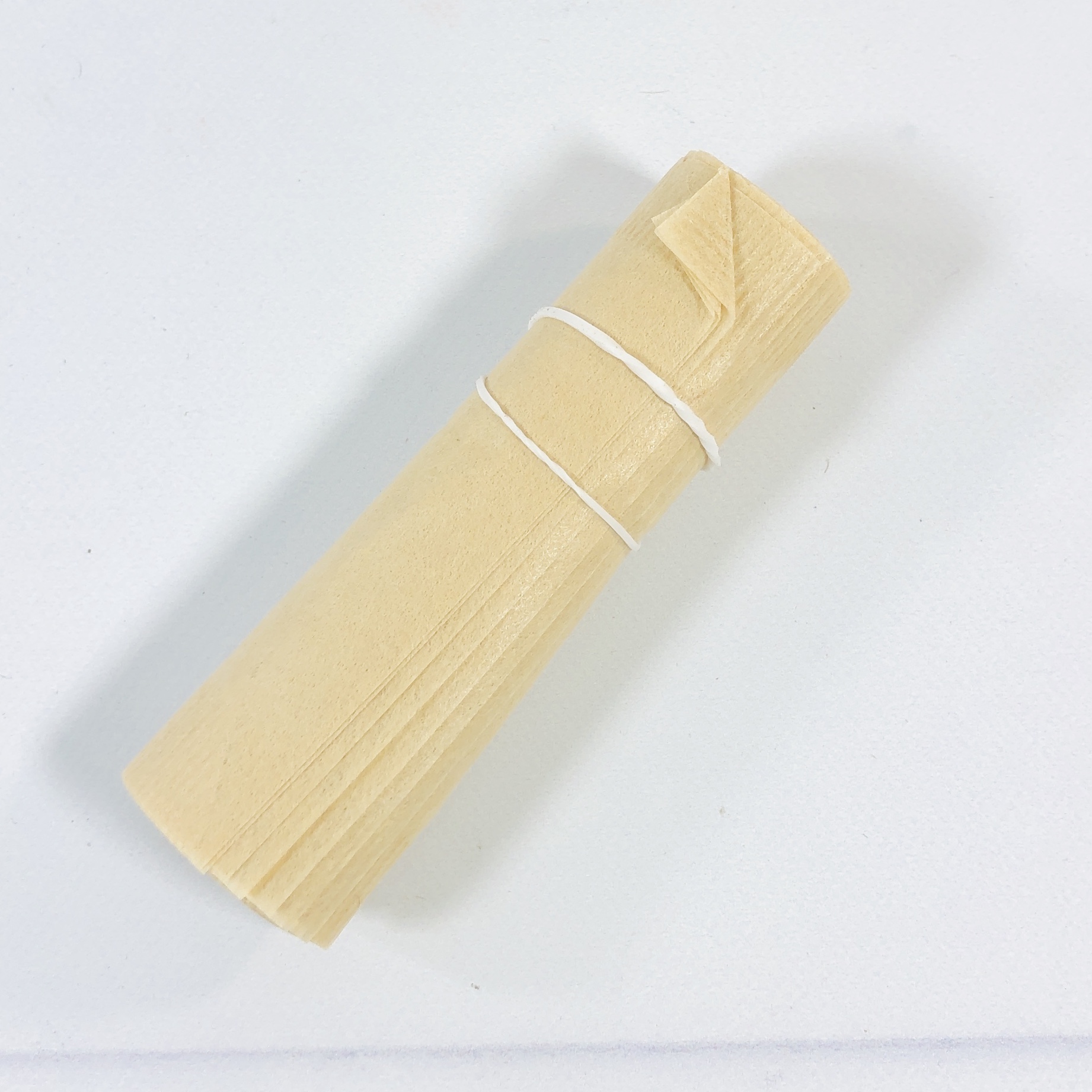 I also found some disposable tea bags. This is loose leaf tea so we need a way to separate the tea leaves when finished steeping.
All of my teas! Amoda sends a combo of black, green, white, and herbal pretty much every month. Most of the time they send tea blends, just like all four teas sent this month.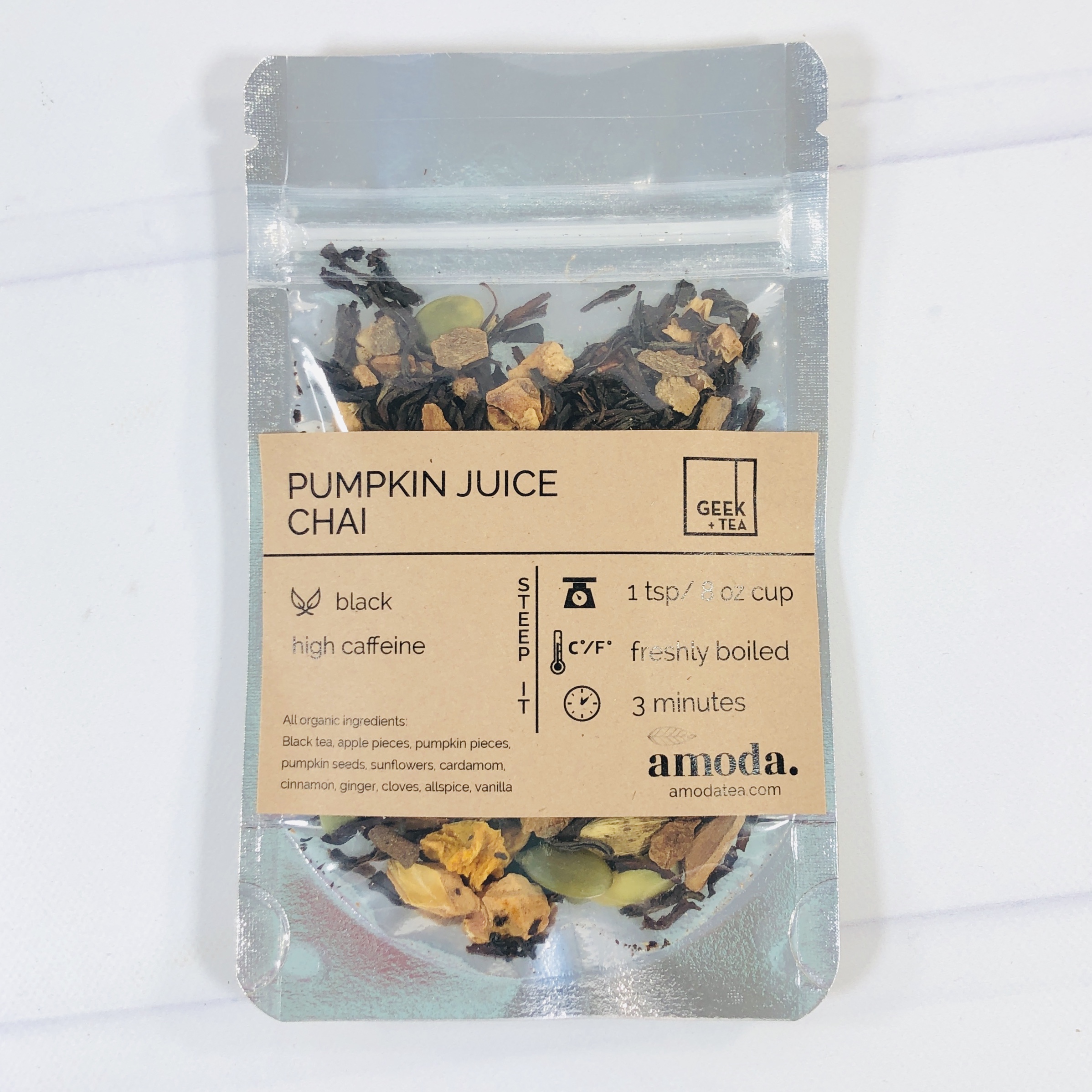 Geek + Tea Pumpkin Juice Chai is from a company that does fandoms but with teas! This flavor was inspired by Harry Potter.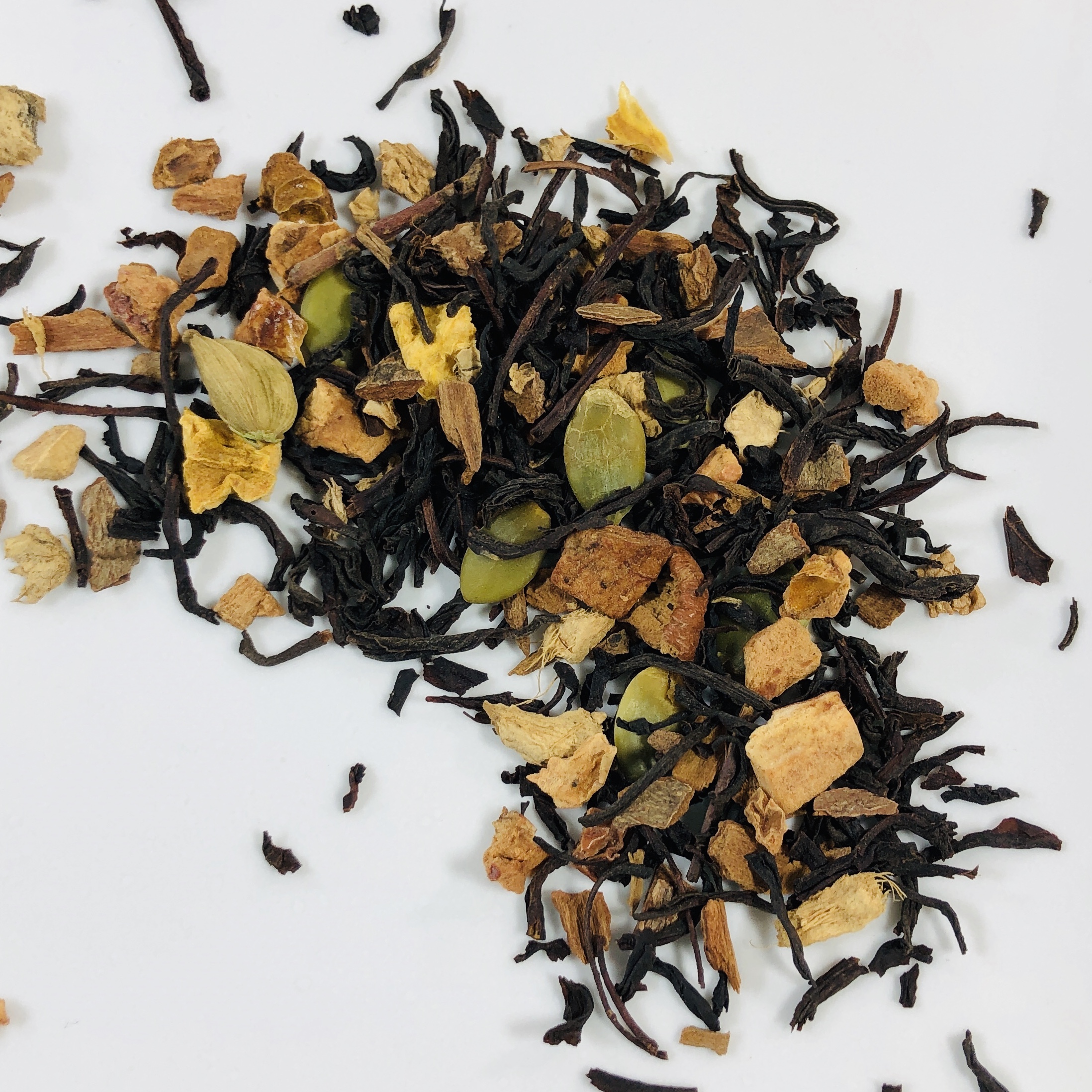 I thought this was less like tea and more like spiced apple cider. There's so many chunks of seed, fruit, and spices and not so many tea leaves and it reminded me of an herbal tea, with lots of yummy, warm, spicy notes.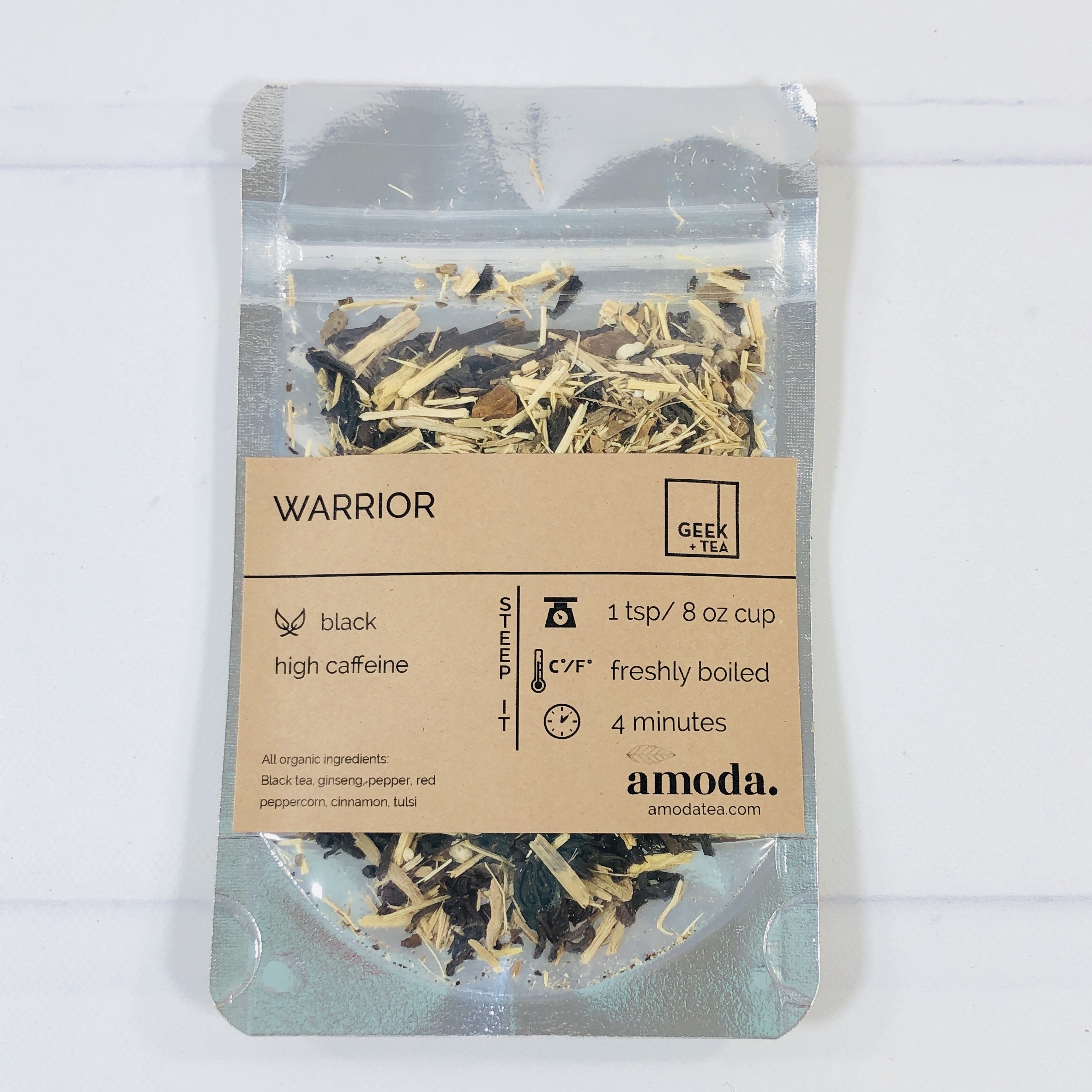 Greek + Tea Warrior Black Tea The fandom this tea is based on is Star Trek and it is inspired by Worf, a Klingon.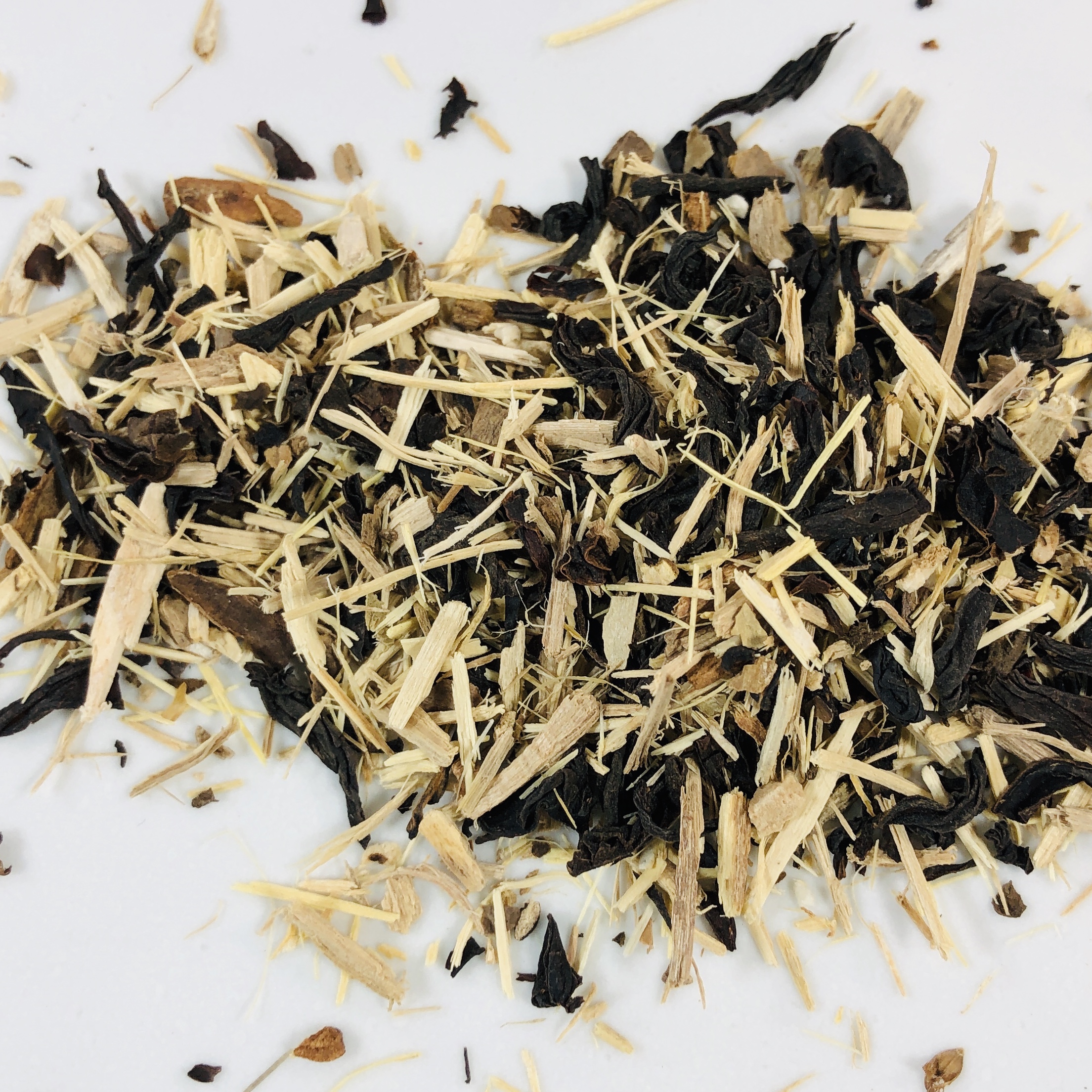 I couldn't really smell anything when I opened this bag. It has black tea, tulsi, and a few spices. The flavor and body was light and there was just the barest hint of cinnamon. I'm not sure what ginseng is supposed to taste or smell like but there was a hint of something that reminded me of pencil shavings.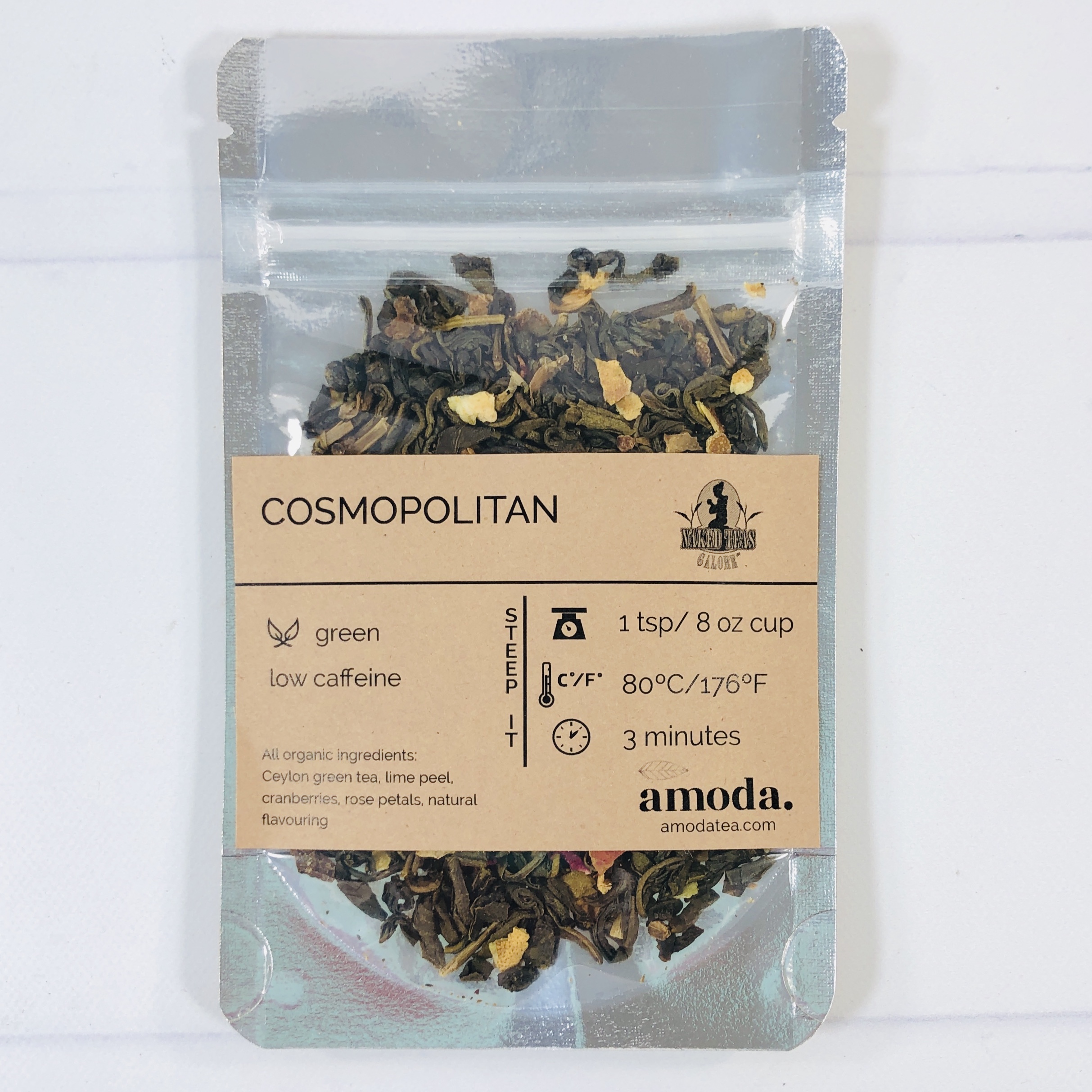 Naked Teas Galore Cosmopolitan Green Tea While I couldn't find this tea flavor on the brand's website, it is available on the Amoda online shop, along with the other flavors from this and previous months.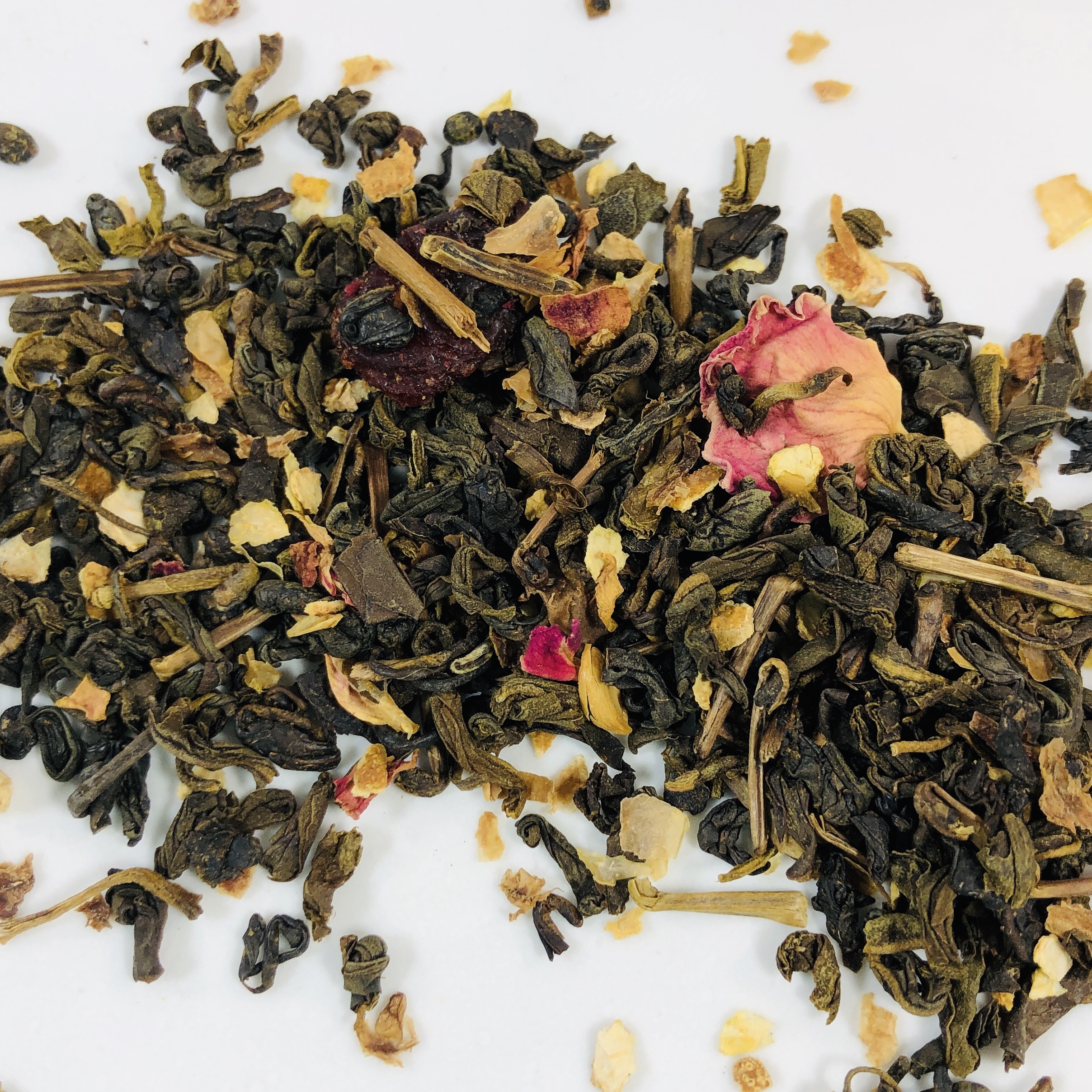 Green tea, lime, cranberries, and rose petals form the base of this flavorful tea. It smells like lime candy but the scent mellowed after steeping and the rose shone through. I'm not sure if it was the cranberries that gave it some of that mouth puckering feel or if I used water that was too hot, but it was a little bitter. My husband had no complaints though and really enjoyed this blend.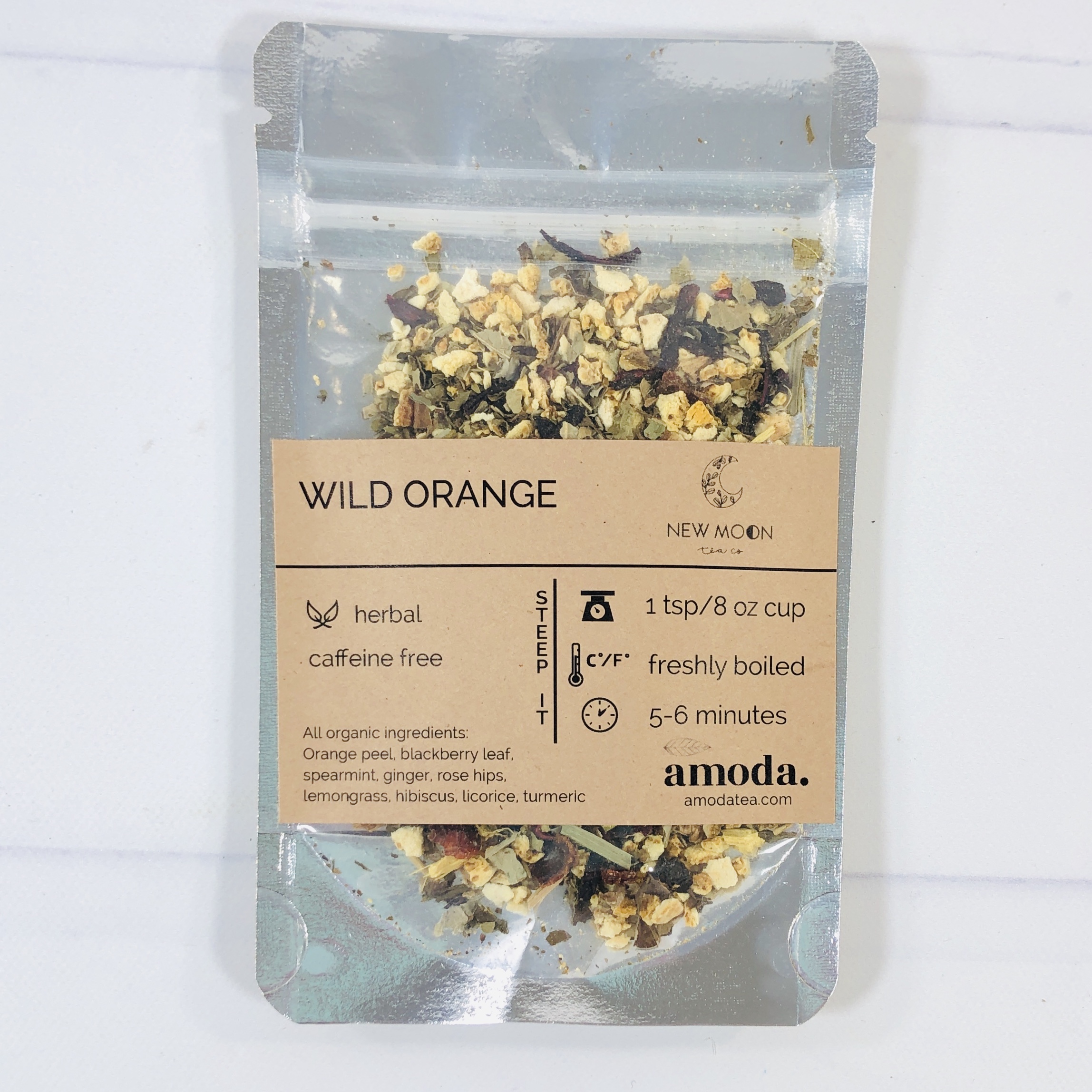 New Moon Tea Co Wild Orange Herbal Tea I believe this brand and the one shown previously are new to me. I love that Amoda is always introducing us to new brands.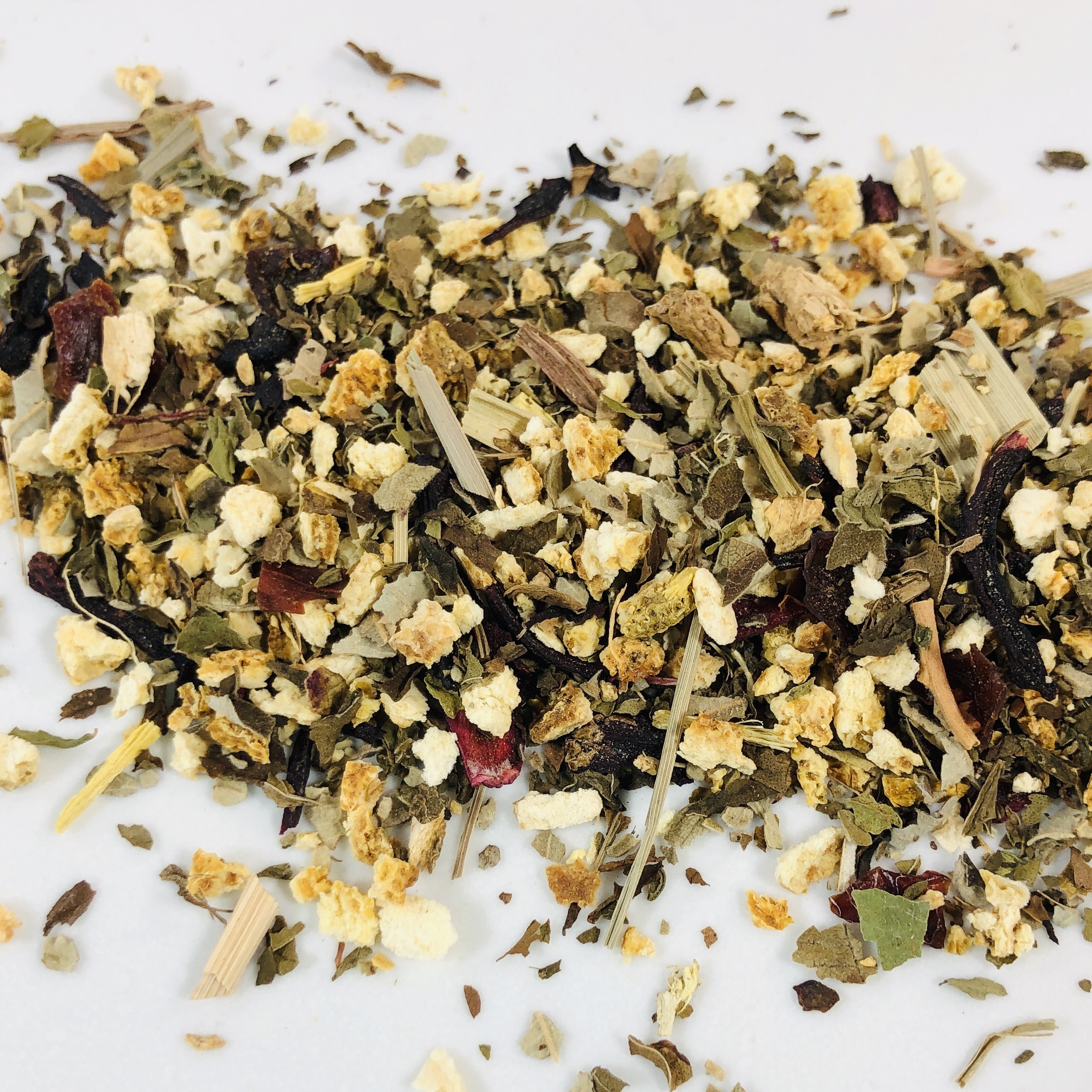 Orange peel, spearmint, and blackberry are some of the ingredients along with some spices. To me, this was a minty hibiscus, the orange wasn't that prominent. It left behind a feeling in my mouth that I usually get when I drink grapefruit juice!
Amoda gently reintroduced fall flavors in the October shipment. I think my very favorite of the bunch was the Harry Potter-inspired Pumpkin Juice Chai, while my husband really liked the Cosmopolitan. As always I appreciate the variety of caffeine levels and can even sip the caffeine-free tea on cool evenings.
Which tea was your favorite? Let me know in the comments!