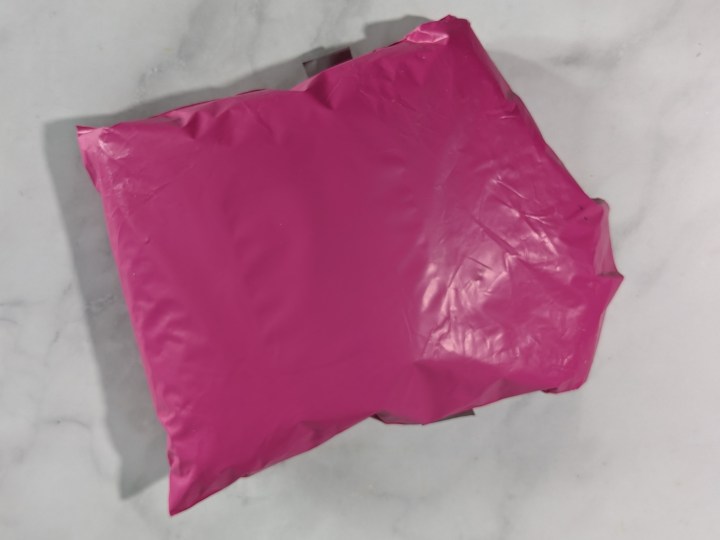 YogaClub is a monthly yoga clothing and apparel subscription box curated based on your preferences. They send brand name clothes, but at a fraction of the retail prices! Upon sign up, there's a fun style quiz that subscribers can use to tell them about your style preferences. You can subscribe to the Guru Monthly for $79. Shipping is $6.95 to USA and $9.95 to Canada, Alaska & Hawaii. They are also shipping to the UK.
DEAL: Use the coupon code HELLO to get your YogaClub Guru Box subscription for just $59 for life! That's $20 savings per month!
Prefer fewer items? Get your first 2-outfit box for just $39, instead of $49! That's $10 savings! Use this link and use the coupon code KARMA10 at checkout OR Take $10 off your first seasonal legging subscription box! Use this link and the coupon code TAKE10 at checkout.
Yoga Club now has services to make exchanges on your items, and there's even a community for Canadian subscribers!
From now on, the box has been replaced by a pink plastic envelop. This month, I've receive black and burgundy. No whites!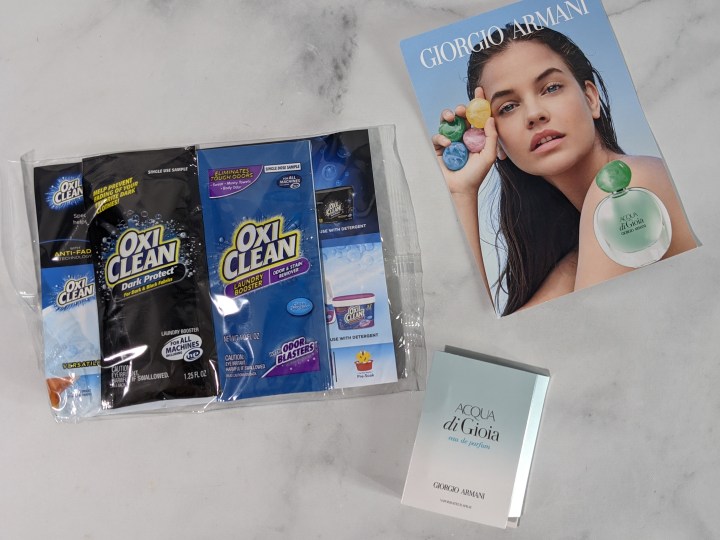 Bonus this month is a perfume sample (Acqua di Gioia, the same as last month) and some oxycklean laundry booster.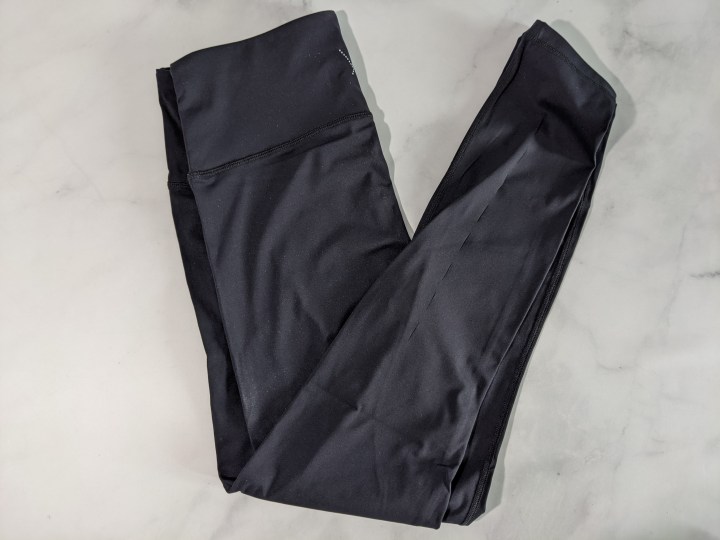 Whisper Tara Legging Black. This is a cute basic pair of black leggings. The fabric is very lightweight.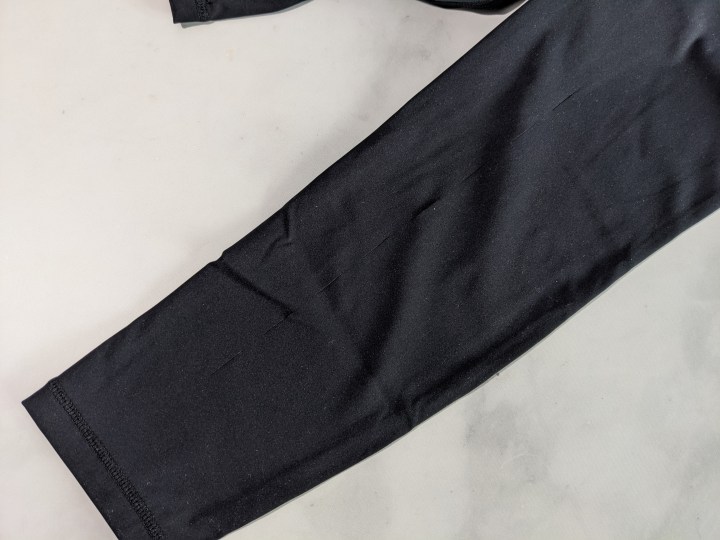 They have little cutouts on the back of the leg.
They are small enough that I didn't feel like my skin and fat were spilling out through the holes.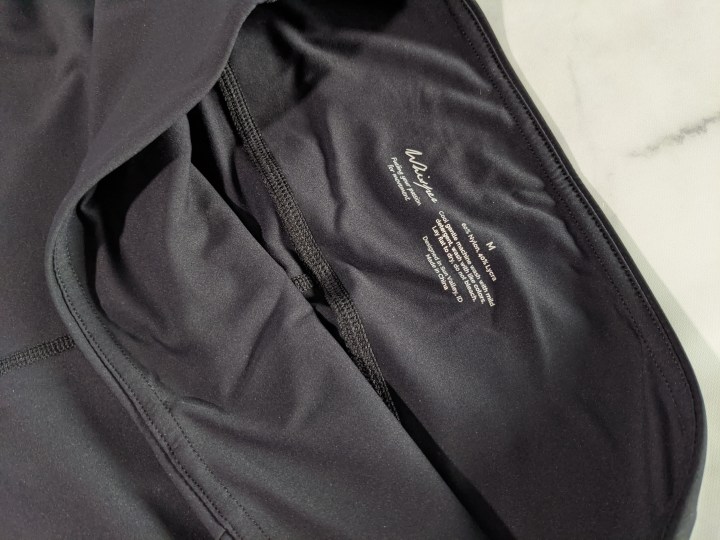 The waistband is wide and the fabric is made of Nylon and Lycra. The fabric feels very smooth, but with a "cold plastic" feel to it. They stayed in place throughout my workout.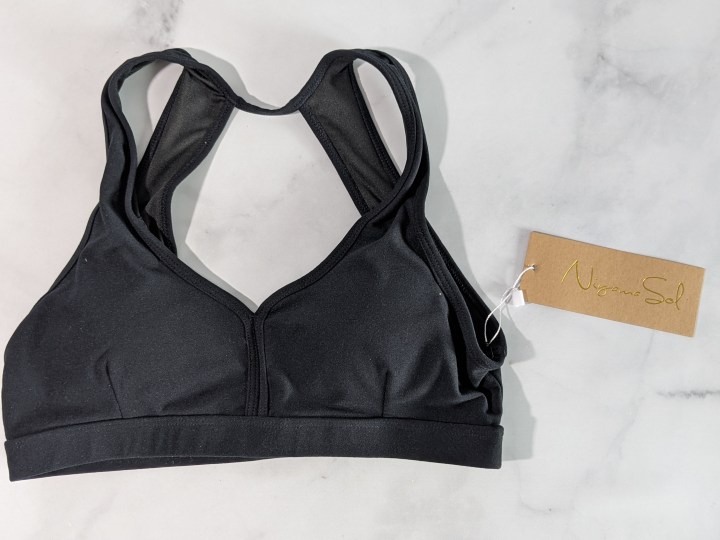 Niyama Sol Eclipse Sports Bar. I own a couple of leggings that I love from this brand, but no bra and I wasn't disappointed. The bra is comfortable, with the perfect low cut away from the armpits, and the clivage isn't to revealing.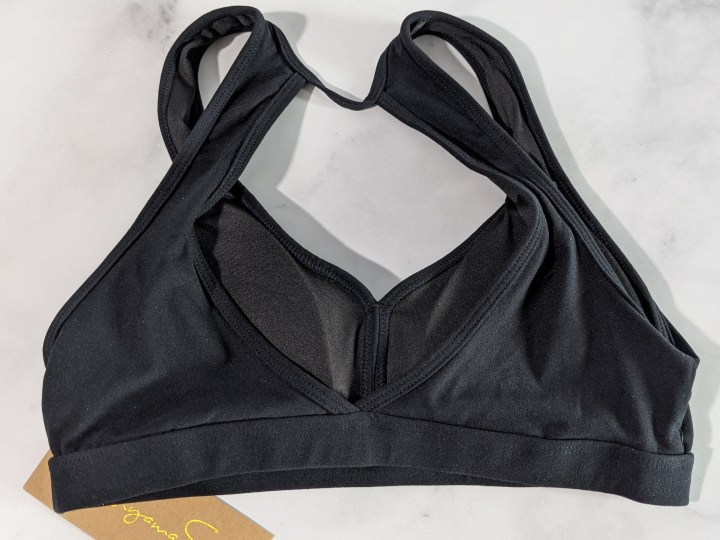 The back is wide open. I found it strange at first, I'm so used to multiple straps, but it gives a nice freedom. I've actually started wearing it outside of the gym.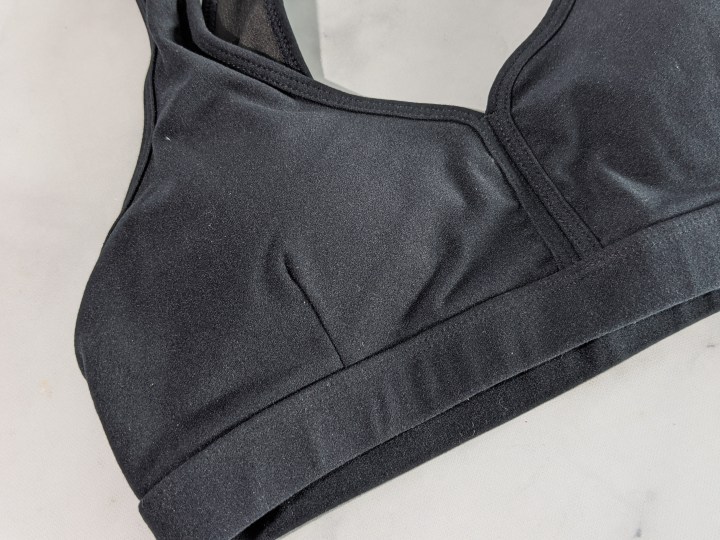 It has removable cups and the band isn't too wide and stays under the breast even when I lift my arms above my shoulder. Love it.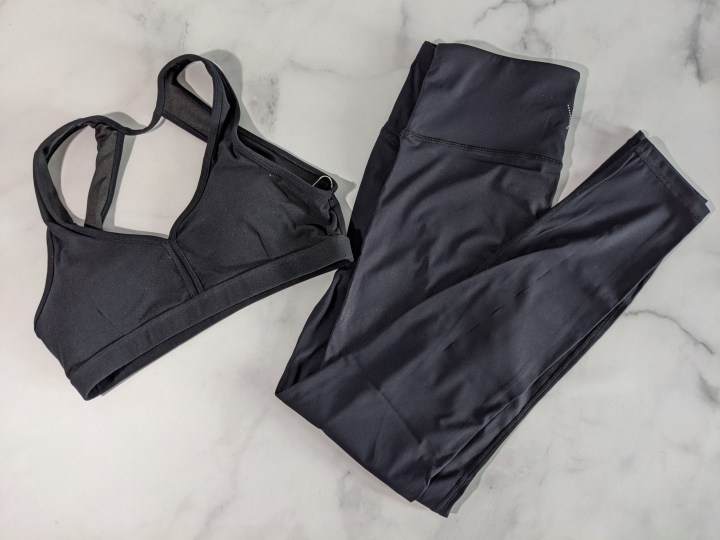 And of course, a black outfit is a nice looking one!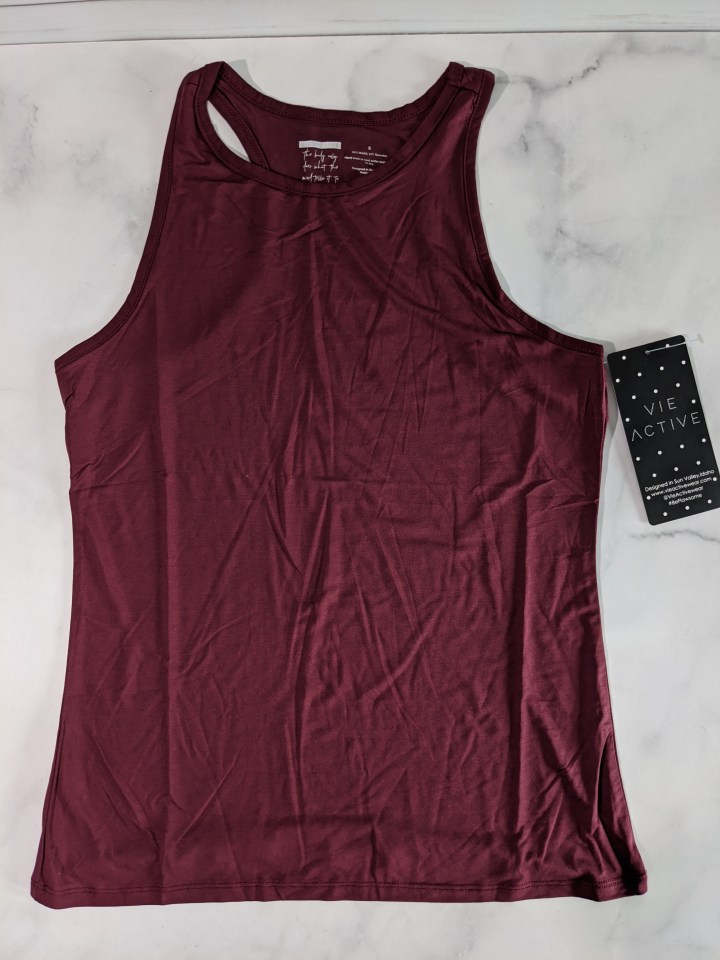 Vie Active Tammy Tank Burgundy. This is a lovely brugundy tank top. It's very soft and silky.
The back features cute little slits.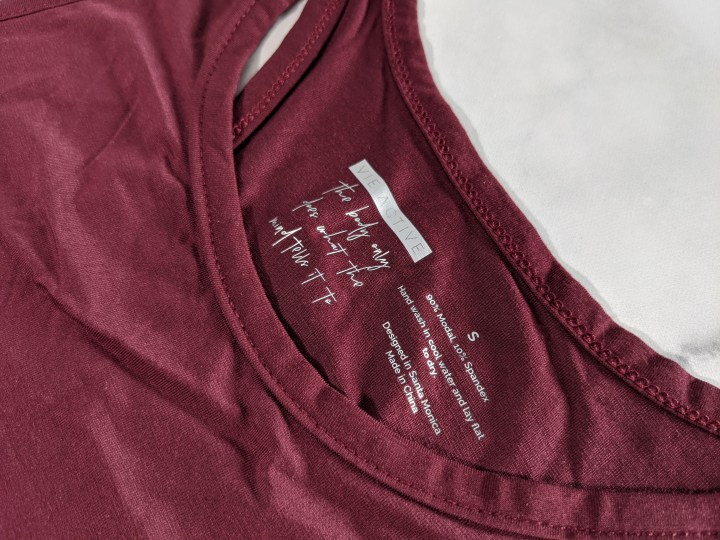 The fabric is a blend of Modal and Spandex. It's really comfortable, but after trying it at the gym, I wouldn't wear it for anything with a lot of sweat as the water rolled down the shirt instead of being absorbed, so I ended up with a puddle on the floor!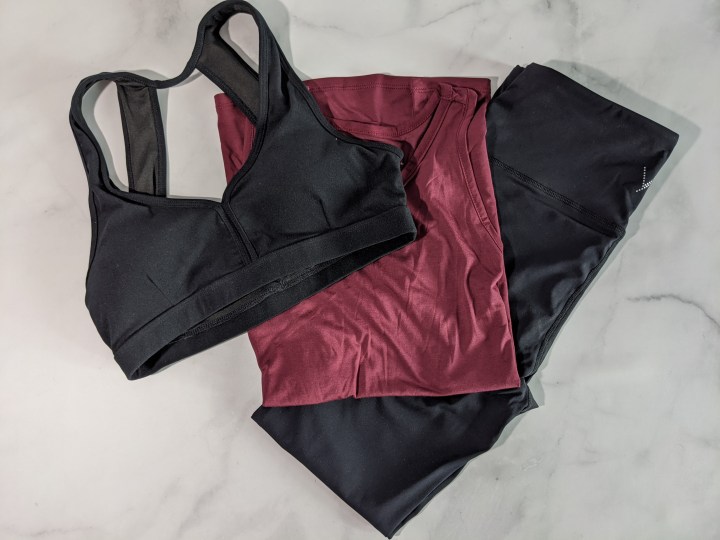 This month's outfit was a perfect fit for my profile and preferences. I'm in love with my new bra and everything was comfortable and cute!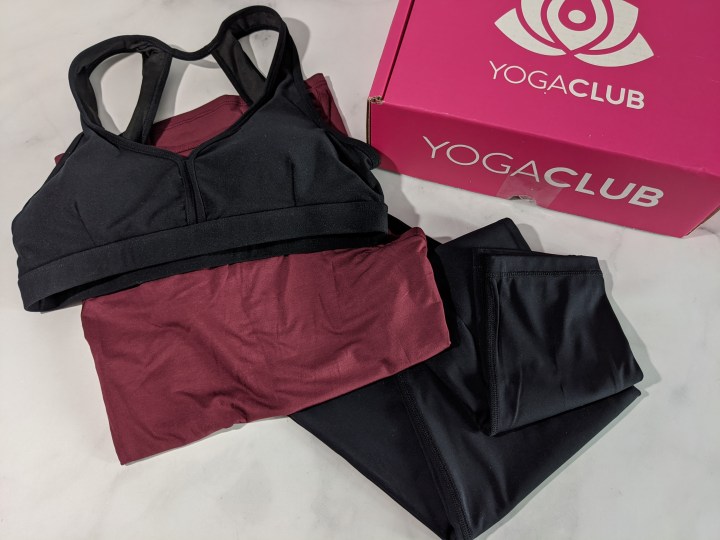 After being mostly unimpressed by the last couple of boxes, this outfit is what I expect to receive based on my profile, so this is a win. I love the red with the black, and the little slits in both the shirt and the leggings are the perfect small details that make this outfit special. The bra is just amazing and I love the open back feel I have when I wear it.
I like that you can change your sizing pretty much whenever you want, but I wish there was a way to add a bit more personality in the profile such as colors you don't like.
If you know of a brand that doesn't fit you or that you don't want, a style that you prefer, or any other thing you want to let them know, you can send them an email and they will make a note to your account. And if you want to change your subscription or the schedule (instead of monthly, you want the box quarterly), you just need to send them a message through your account and they will make the arrangements as soon as possible.
Have you tried YogaClub? What do you think of this month's personalized selection?