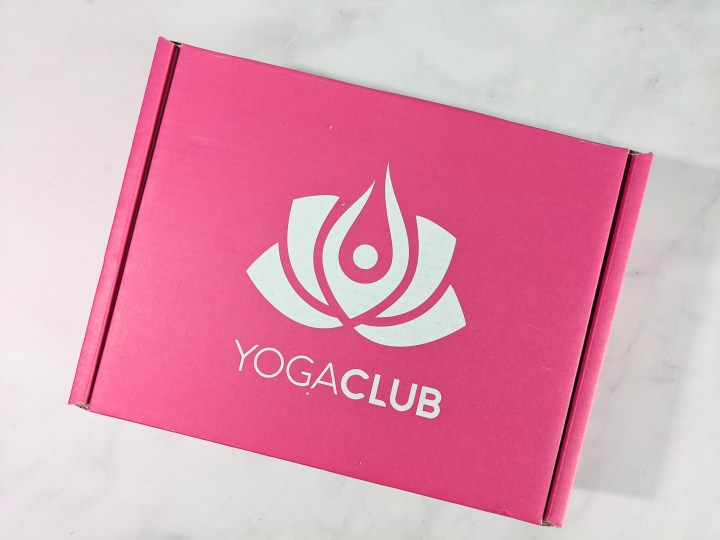 YogaClub is a monthly yoga clothing and apparel subscription box curated based on your preferences. They send brand name clothes, but at a fraction of the retail prices! Upon sign up, there's a fun style quiz that subscribers can use to tell them about your style preferences. The quiz has been updated in the last couple of weeks to better fit you. You can now add you height and specify your body shape. You can subscribe to the Guru Monthly for $79. Shipping is $6.95 to USA and $9.95 to Canada, Alaska & Hawaii. They are also shipping to the UK.
DEAL: Use the coupon code HELLO to get your YogaClub Guru Box subscription for just $59 for life! That's $20 savings per month.
Yoga Club now has services to make exchanges on your items, and there's even a community for Canadian subscribers!
Everything was nicely wrapped in the box. This month, I've received some reds and white.
Bonus were a perfume sample (Acqua di Gioia) and a gift card to Vincero Watches.
Whisper Burg Stripe Sierra Legging. Whisper is a brand I find often in this subscription box, but it's the first time I received red/burgundy leggings.
The leggings are made with a blend of polyester, "cationic" and spandex. They are thicker than other leggings, and they are a bit stiffer than what I like, but they absorb sweat nicely and are squat proof.
They have wide waistband and a tiny little pocket in the back.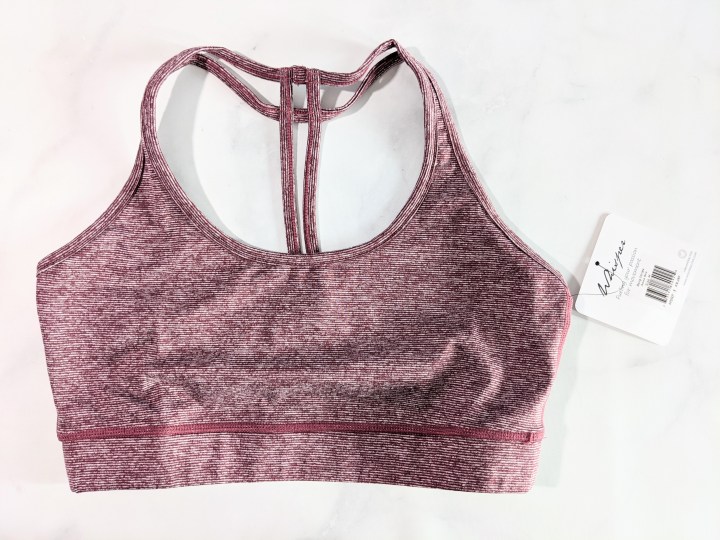 Whisper Burg Stripe Anna Bra. I received the matching bra! Like for the leggings, the fabric is a bit stiff and thick, but I really like the style.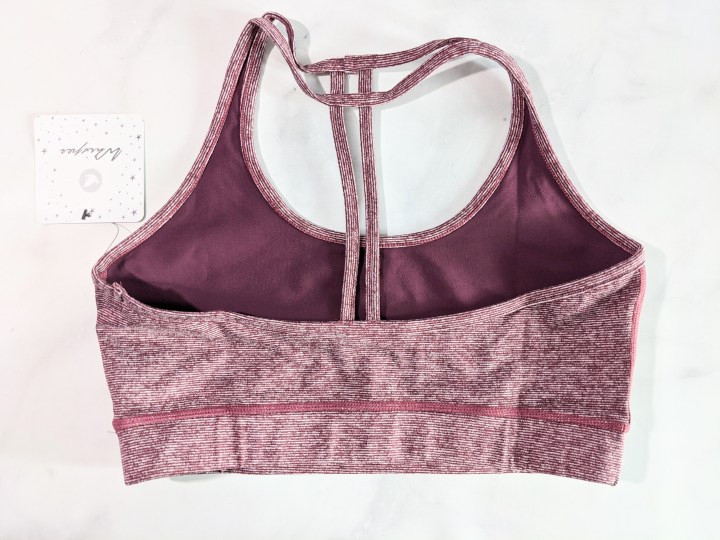 The neck straps dig a bit into my neck, but it's the kind of sports bra I go for for cardio, but not for yoga or strength training where I have to lift my arms over the shoulder.
The wide band stays in place and even though the fabric is not silky, it doesn't scratch the skin. It's also lined, but doesn't have pockets for removable cups.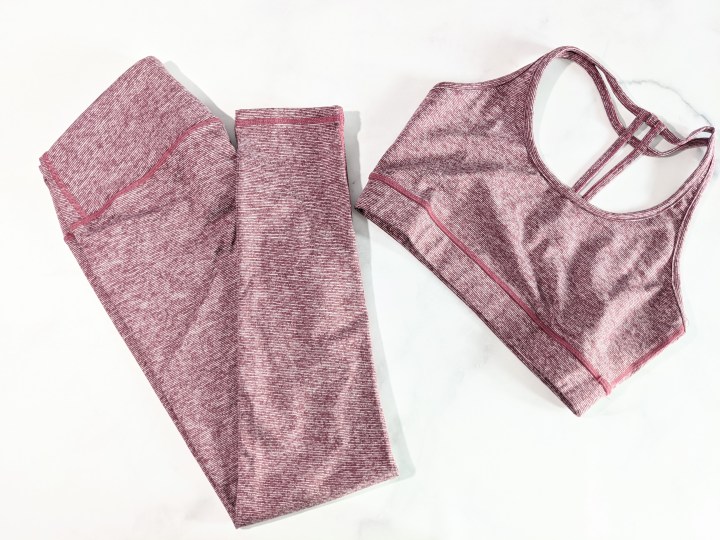 And it had been a while since I got an actual matching leggings and bra outfits!
Onzie White Sleeveless Drape V-Back. Once again, I received a white top even though I mentioned often in the survey that I really don't like white tops.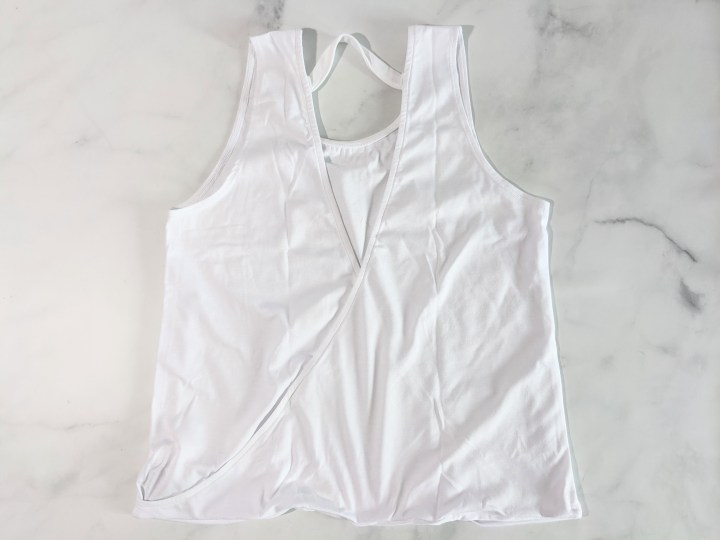 It's a nice tank top with a draping at the back and a strap at the neck.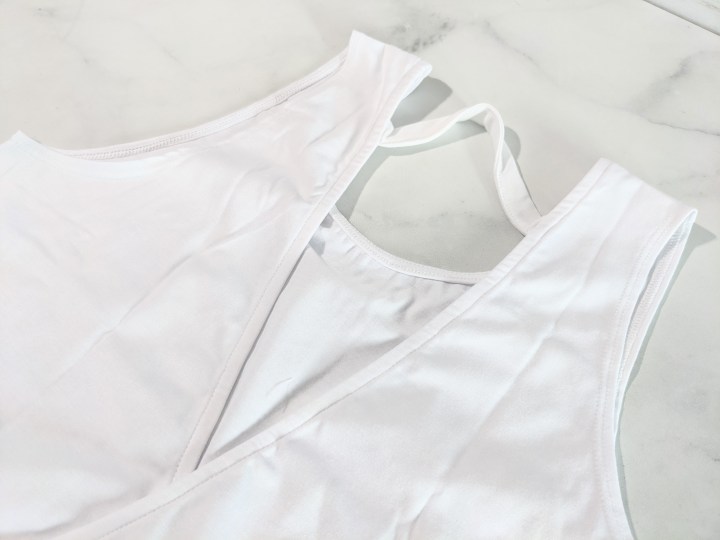 Its really soft and light.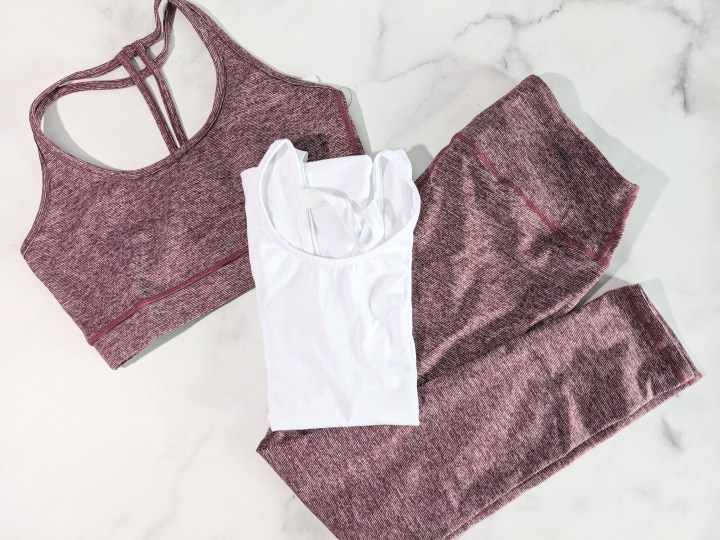 At least, it's a nice matching outfit, if you like whites.
I was really excited to received some red in this month's box and that it was a matching set, but I was disappointed to recieve yet another white top. I do fill out my feedback for each outfit after getting my box, and I've mentioned more than once that I really don't care for whites, but it looks like that's all they have for me. I want some blacks, deep reds, blues, grey, even greens or purple. Anything but whites.
I'm kind of confused about their styling. I like that we can change our profile as much as we want, especially for sizing. But I'm not sure if they actually follow our other preferences. I wish they would have an option about colors we don't care for. At least, having the option yo choose "dark" colors or "light" ones as not everyone who likes "neutral" colors like wearing white.
If you know of a brand that doesn't fit you or that you don't want, a style that you prefer, or any other thing you want to let them know, you can send them an email and they will make a note to your account. And if you want to change your subscription or the schedule (instead of monthly, you want the box quarterly), you just need to send them a message through your account and they will make the arrangements as soon as possible.
Have you tried YogaClub? What do you think of this month's personalized selection?