Vellabox is a monthly candle subscription! The candles are always in seasonally inspired scents and are created by the finest American artisans. Each box features a different candle brand. The candles are from small businesses and are made of all-natural wax, cotton braided wicks, and premium fragrance oils. Vellabox also includes a surprise lifestyle gift in every box!
Our Vellabox Candle Curator handpicks the candles and guarantees that they are always all-natural, seasonally relevant and bound to bring warmth and joy to any space. The surprise gift in your box each month is chosen carefully to align with our team's health-centric values.
DEAL: Save 50% on your first box! Use coupon code HELLOSUB50.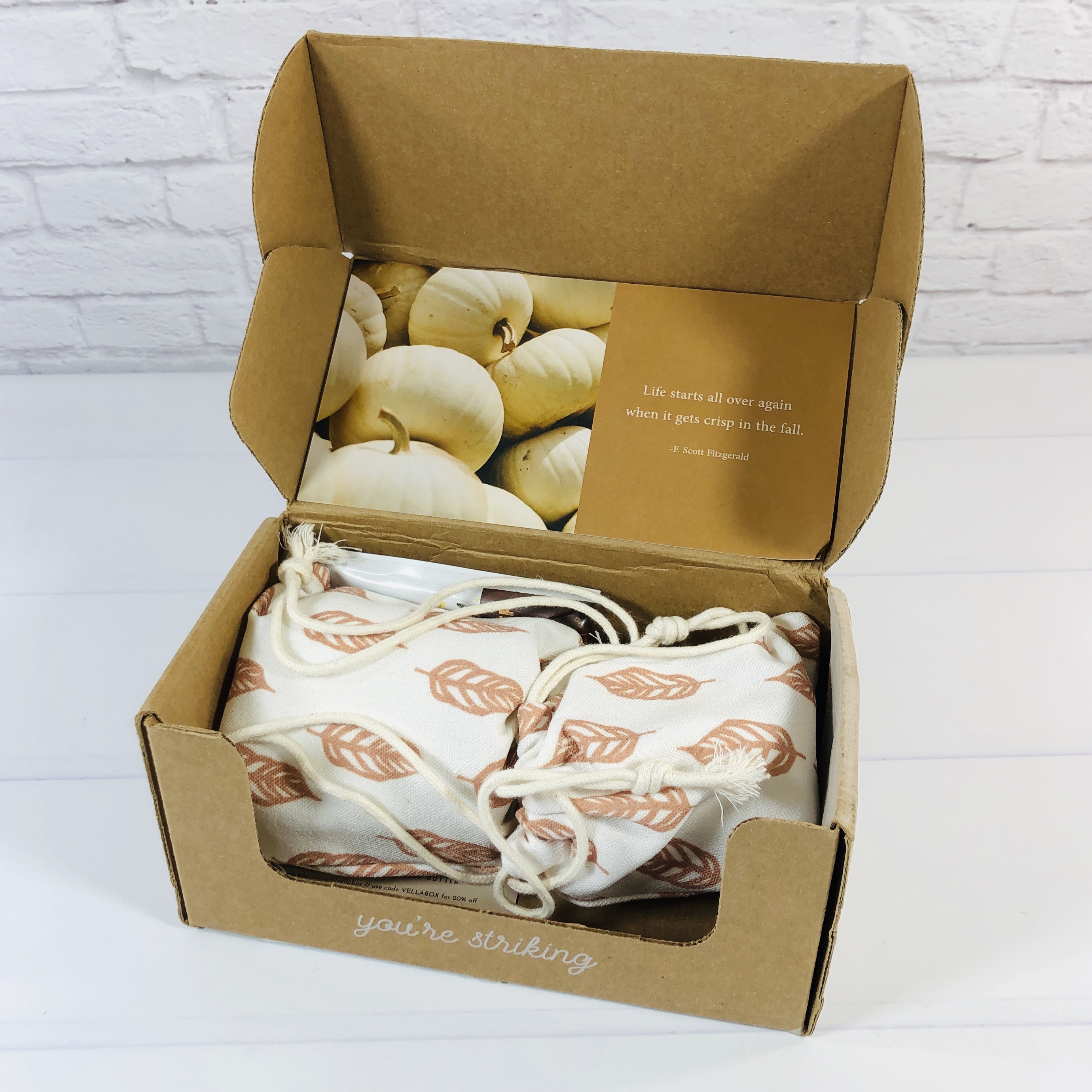 The first thing you need to do is decide which level you prefer. You can choose from The Lucerna Box ($10) which includes a 4 oz candle monthly, The Ignis Box ($20) with an 8 oz candle monthly, and The Vivere Box ($30) with an 8oz + a 4 oz candle monthly. Each level receives the bonus lifestyle gift, and the biggest box includes free shipping.
I am reviewing The Vivere Box.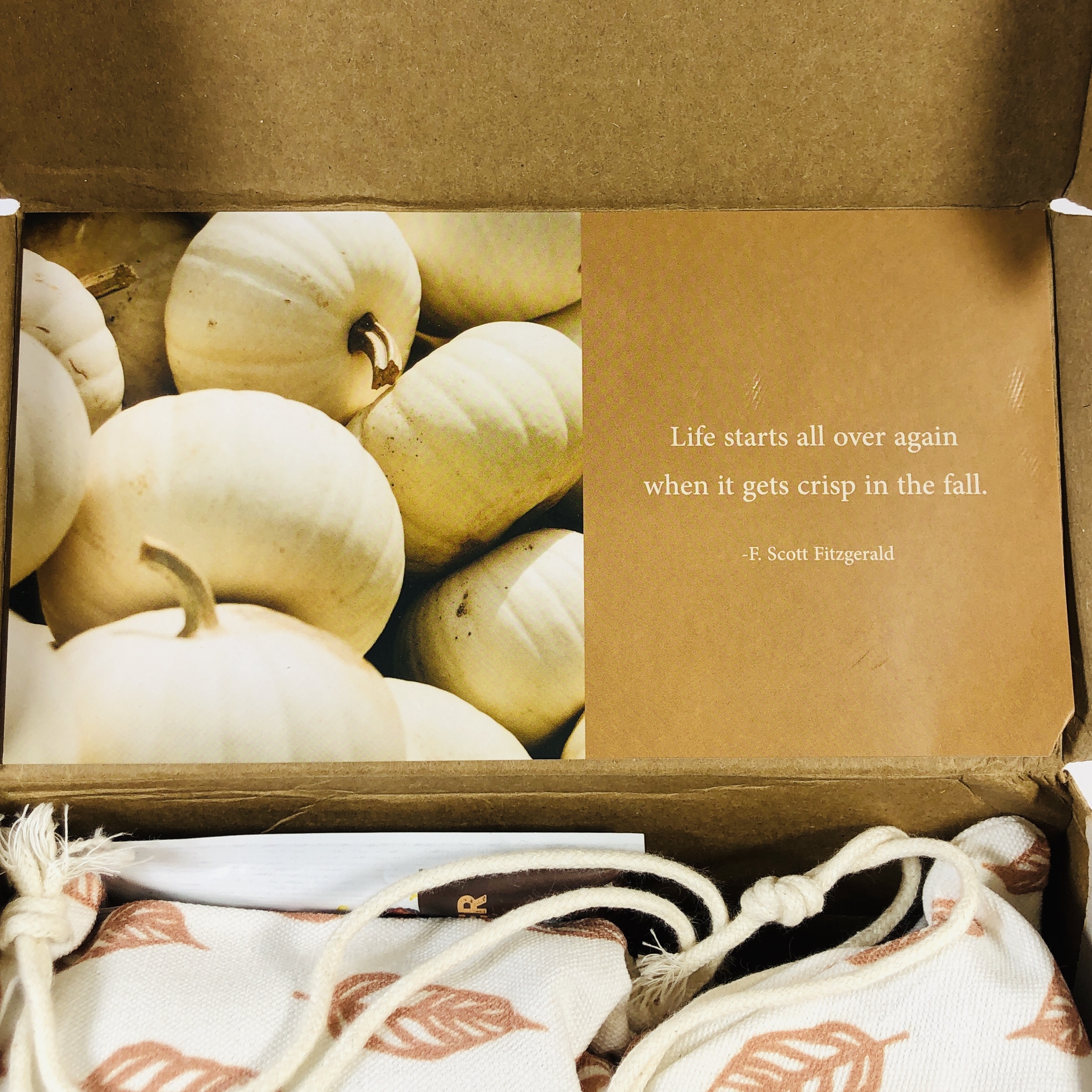 The inside of the box had a pretty card, and it looks nice propped on a desk as art.
The candles were in reusable drawstring canvas bags. The bags can hold items like jewelry or other trinkets.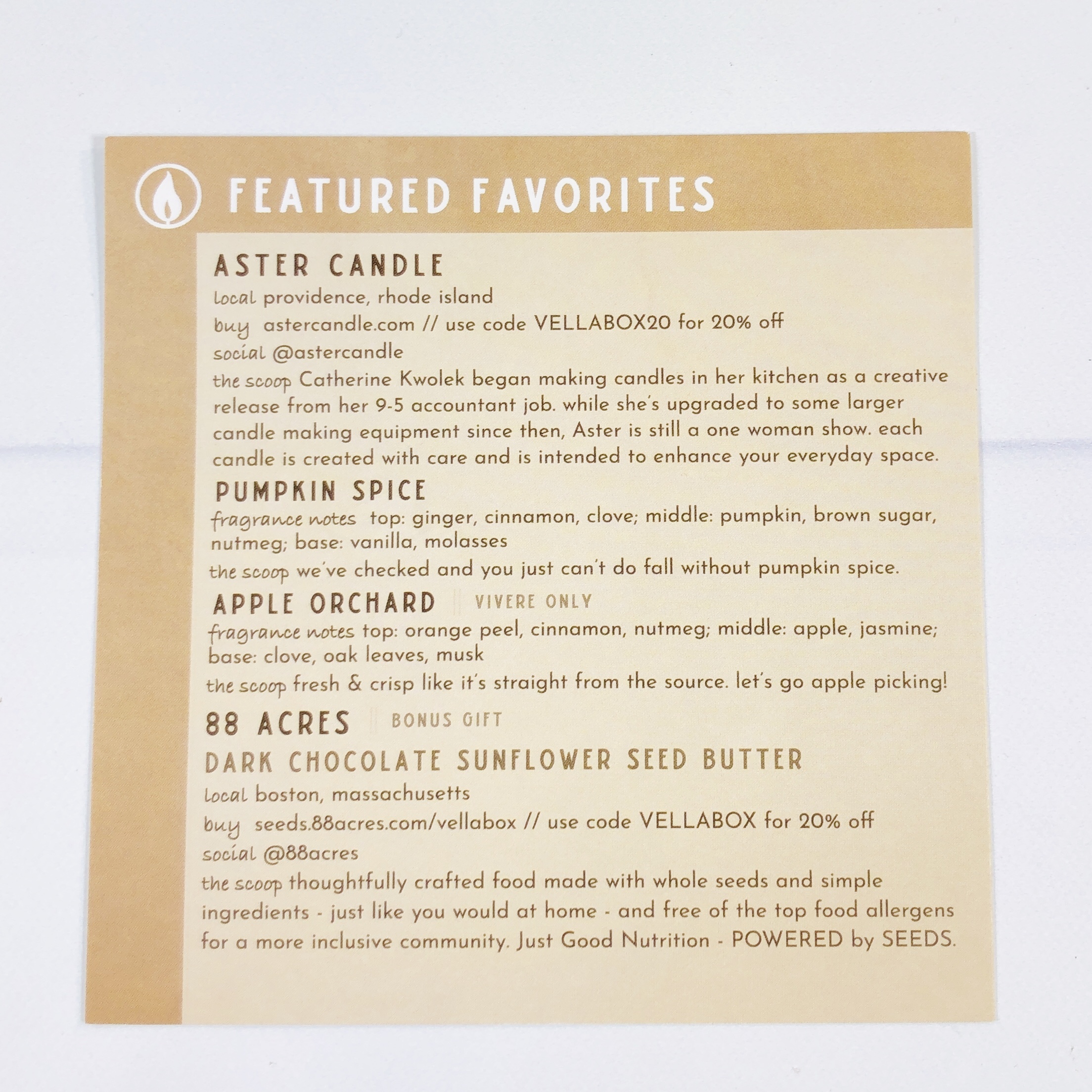 There was a card with info on the brand, Aster Candle, as well as a description of each candle's scent. There was even a coupon code for future purchases!
Aster Candle was born out of the desire to create; and the notion that fragrance can both enhance everyday spaces and evoke special moments in time. The strike of a match can take you places – back into the arms of your first crush, back to the time you ate too many churros at a farmer's market…both if you're lucky.

Made with love in Rhode Island. Aster Candles are hand poured in small batches, using soy wax from American grown soybeans. Thoughtfully blended fragrance and essential oils, combined with lead-free, cotton wicks create a longer, cleaner burning candle that smells just as good as it looks.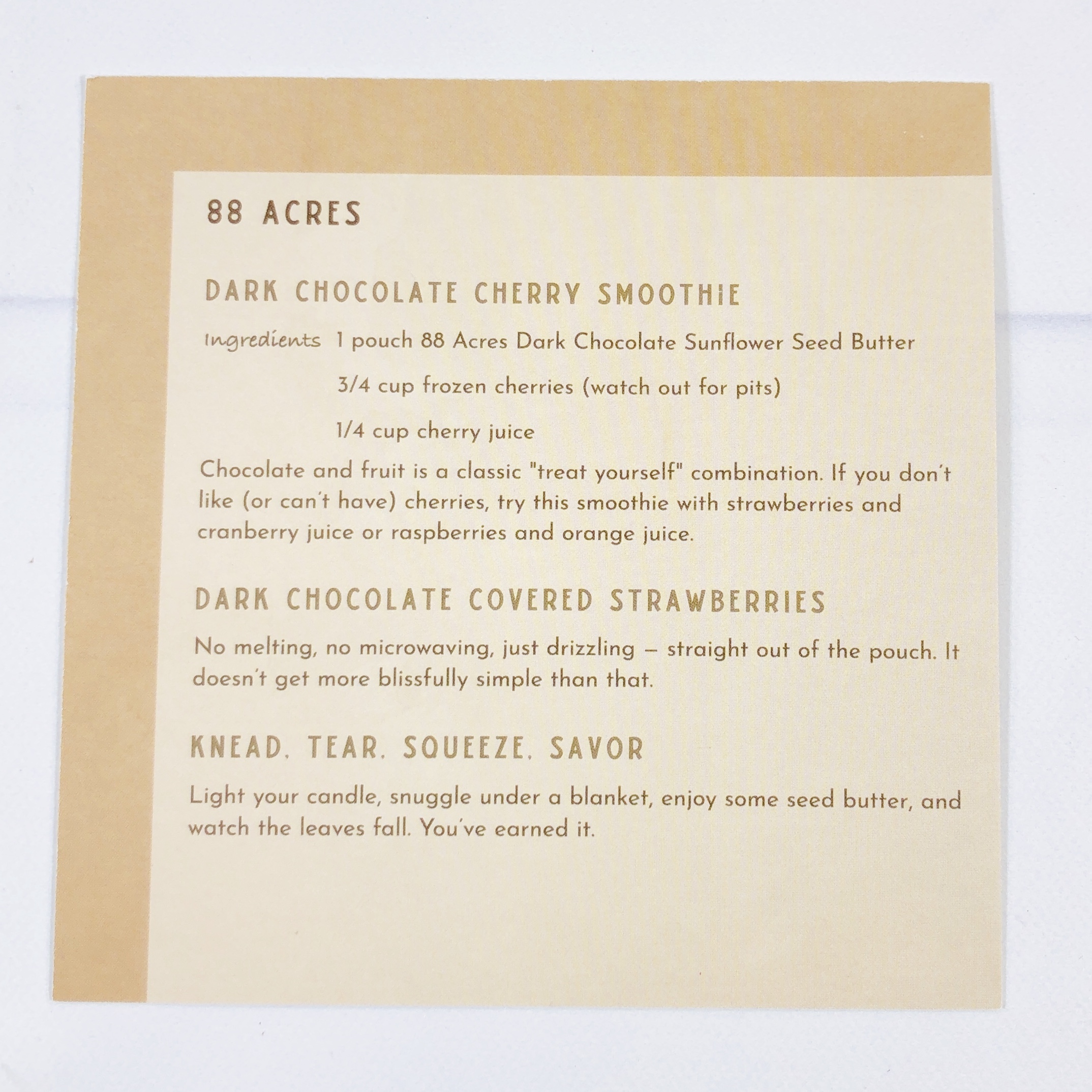 The back of the card had some serving suggestions for the bonus item, which is edible this month!
Here's everything in the box! I'm reviewing The Vivere Box and it includes one 8 oz candle (the same size from The Ignis Box) and one 4 oz candle (the same size from The Lucerna Box), plus a bonus item.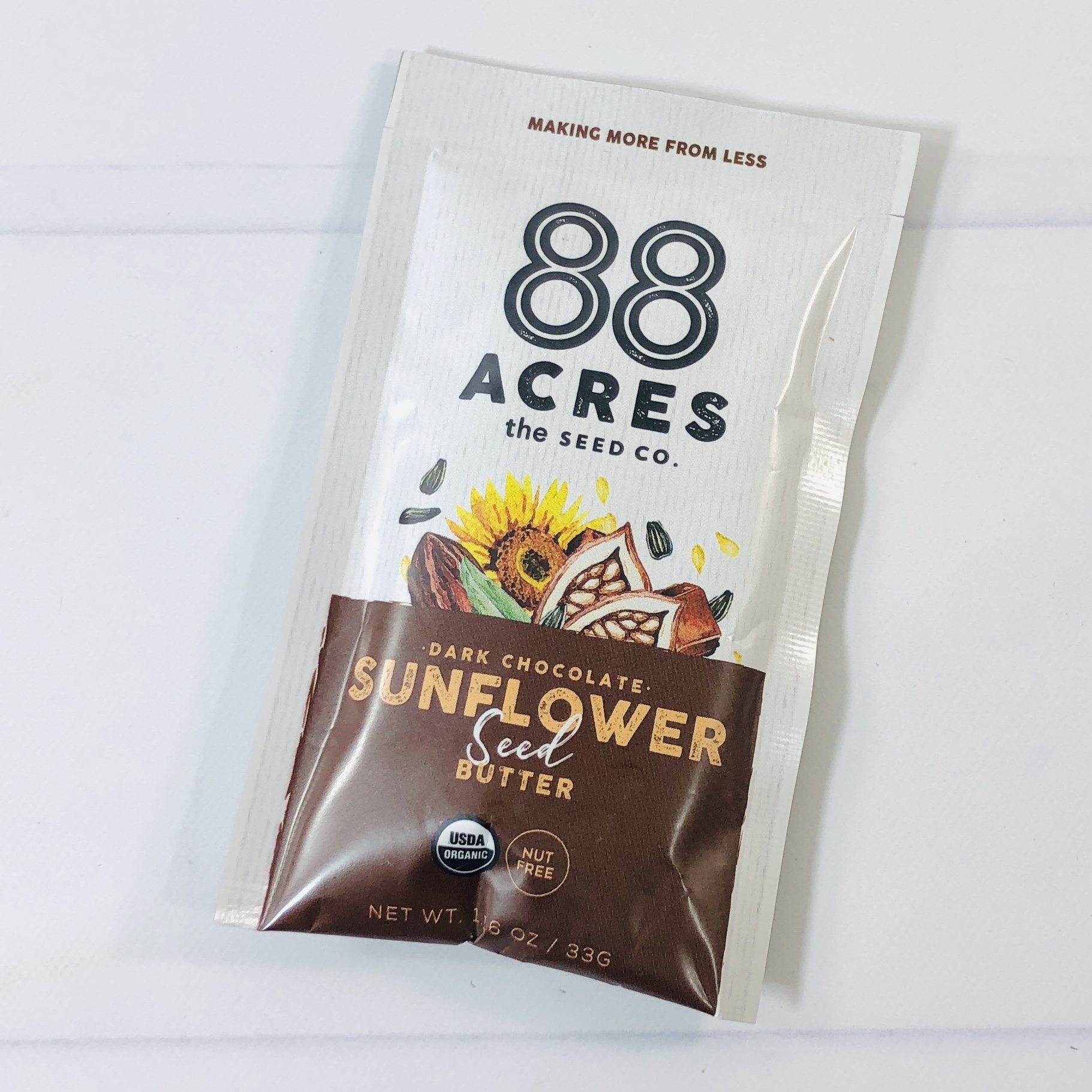 88 Acres Dark Chocolate Sunflower Seed Butter ($1.79) A pack of chocolate sunflower nut butter had me instantly drooling!
Sunflower seeds, sugar, and cocoa powder are a few of the ingredients and it seems like a tasty twist to my usual strawberries and Nutella. I gave the pack a lot of squeezes to mix everything up before opening. I love sunflower seeds and could tell they were there. This would also go good with pretzels.
Now on to the candles, which are made with soy wax and cotton wicks.
Aster Pumpkin Spice Soy Candle Aster carries this candle in two sizes, but I think they did a special size just for this box. This scent is available in Mini (burns for 25 hours, $14), or Large (burns for 85 hours, $32).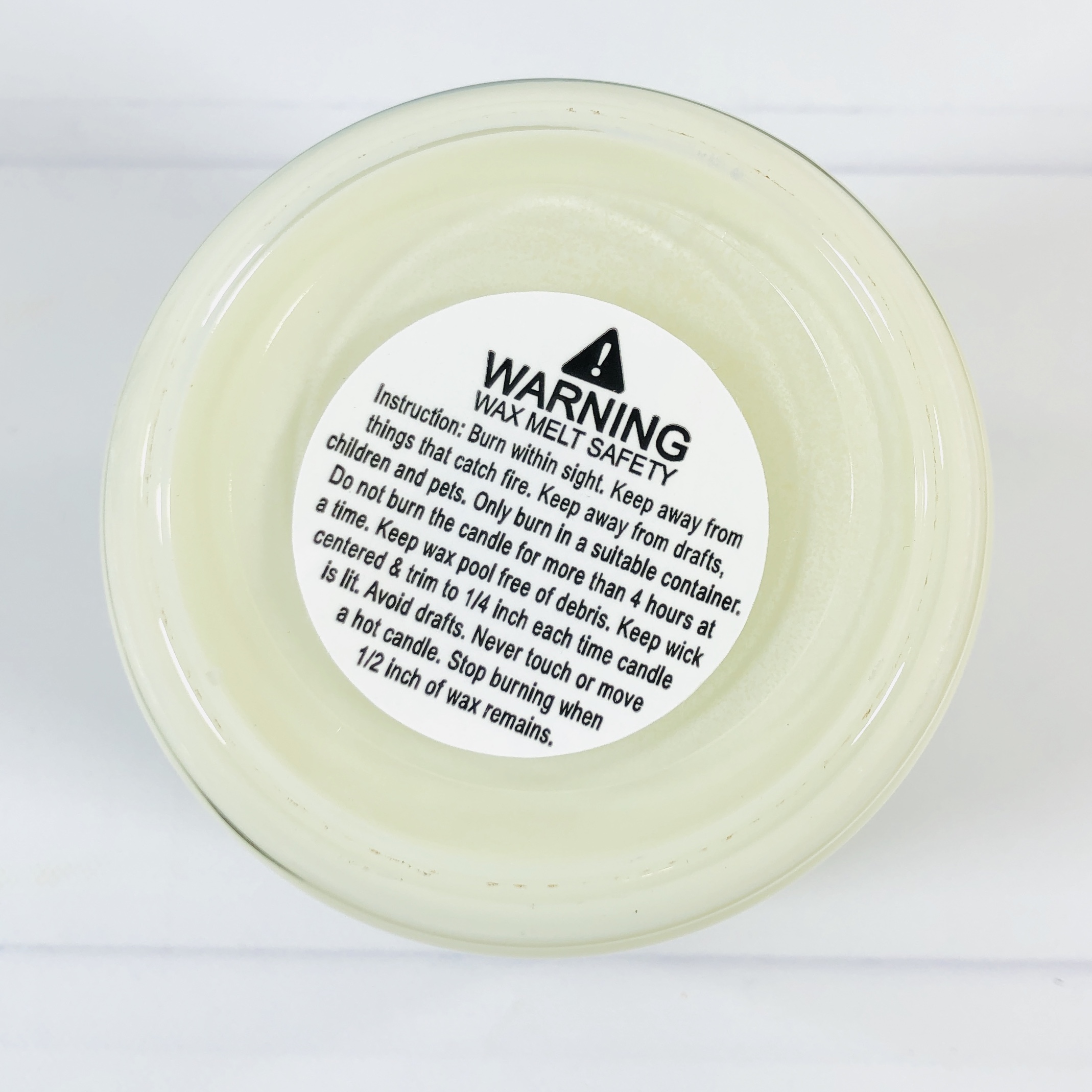 Make sure to keep a close eye on a burning candle and keep away from pets and children.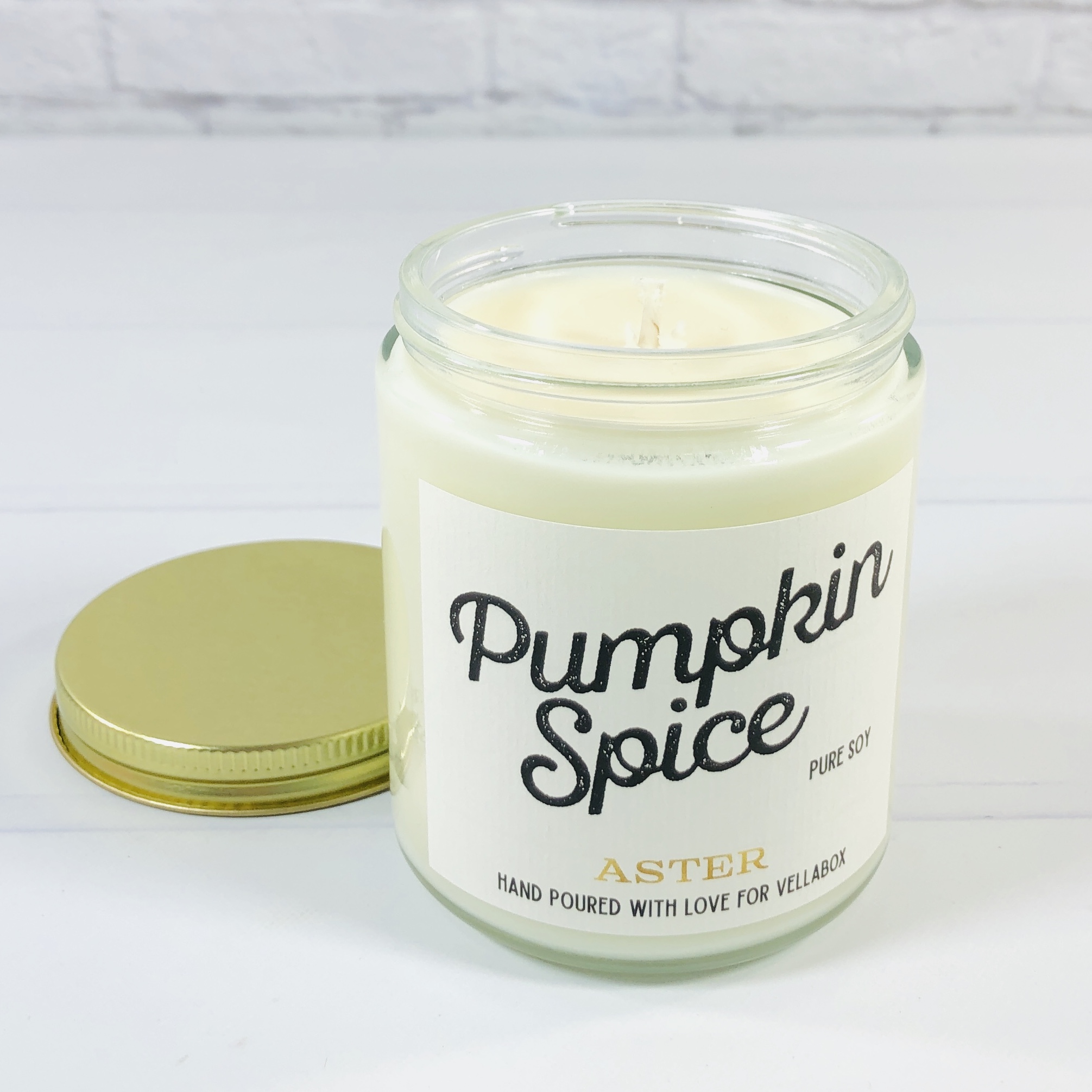 Pumpkin Spice has notes of ginger and other baking spices, pumpkin, and brown sugar. It smells exactly as you would expect: sweet, warm, and spicy! This is my favorite of any pumpkin spice candle I've ever burned, with a scent that isn't sickly sweet and that I could smell from the next room over. Autumn may now begin.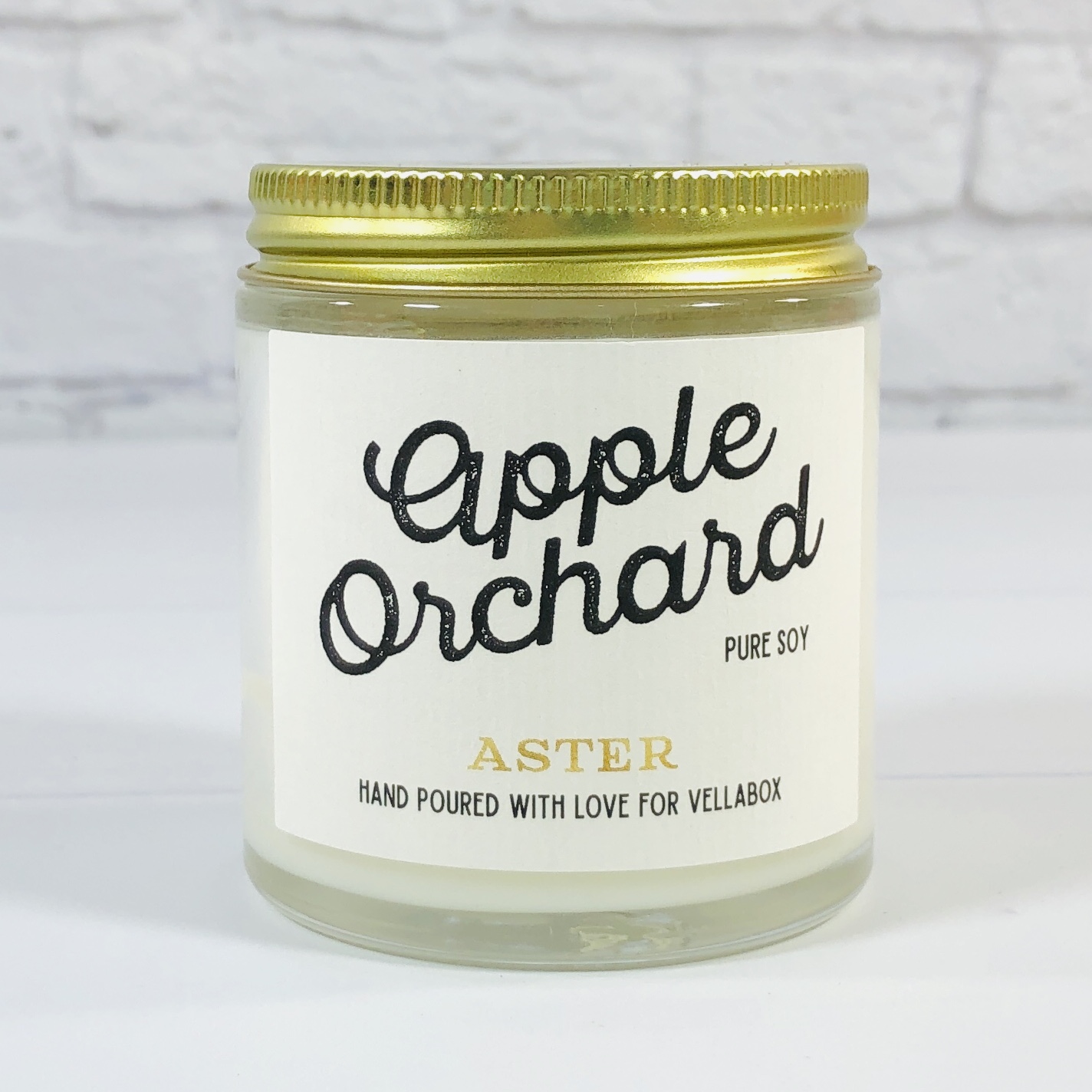 Aster Apple Orchard Soy Candle ($14) Apple Orchard is the smaller of our two candles and has notes of apple, cinnamon, oak leaves, and musk. Before burning I could smell the apples and spices and again, it is one of the best apple spice candles I've ever smelled before!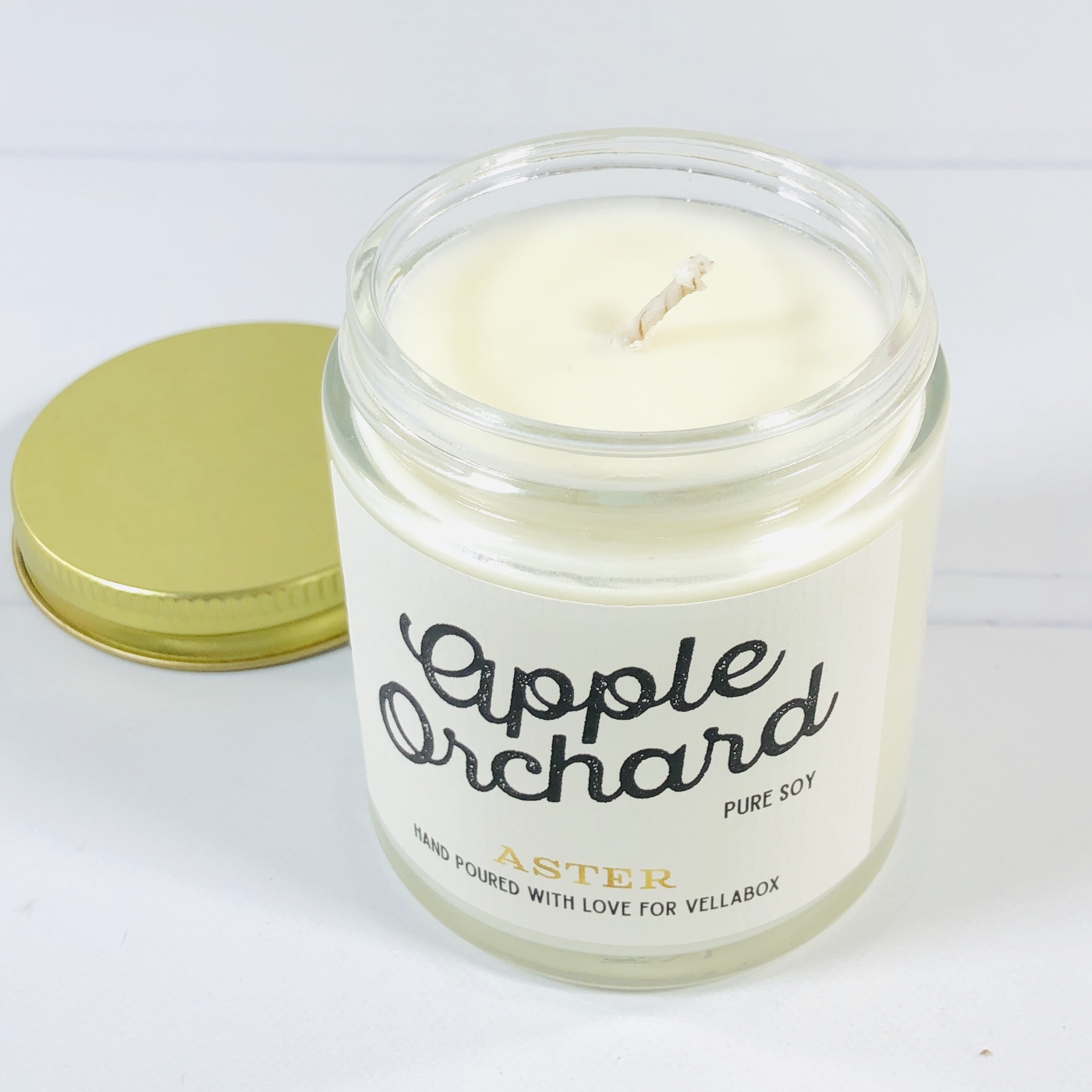 This scent wasn't as bold as the Pumpkin Spice while burning, so it would probably project more in a smaller room like a kitchen or bathroom. I certainly notice it when I walk past the table and it's cold, it wafts up so sweetly.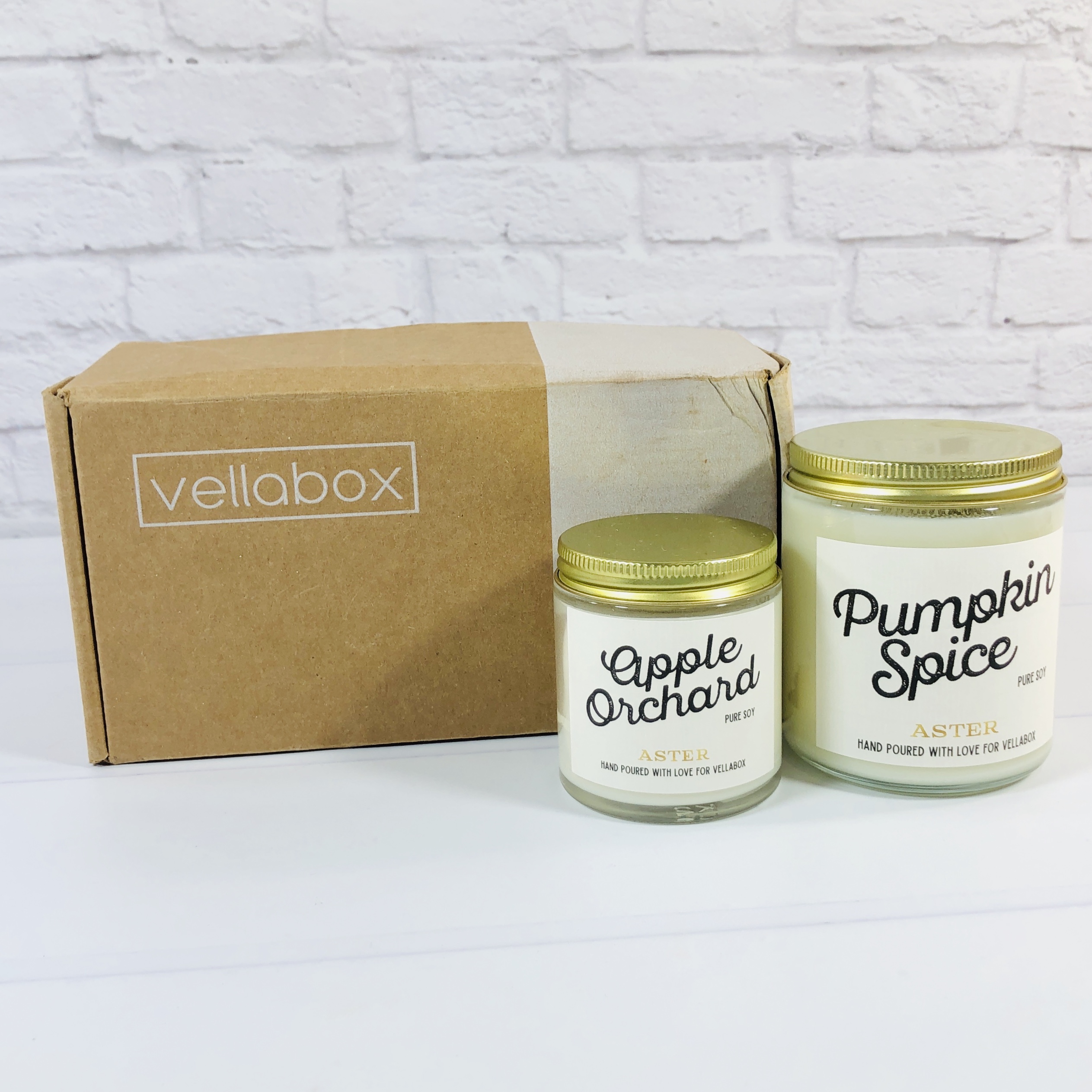 I am loving the fall scented candles from my October Vellabox! This was my first time receiving a candle from Aster Candles and I would feel confident purchasing other candles from this brand. The Pumpkin Spice candle is a classic and one of the best I've ever smelled, and while Apple Orchard is a little shy, it still smells amazing, but might fit better in a smaller space. Both candles are high quality and provide a warm, cozy atmosphere when I burn them.
What do you think of this box?