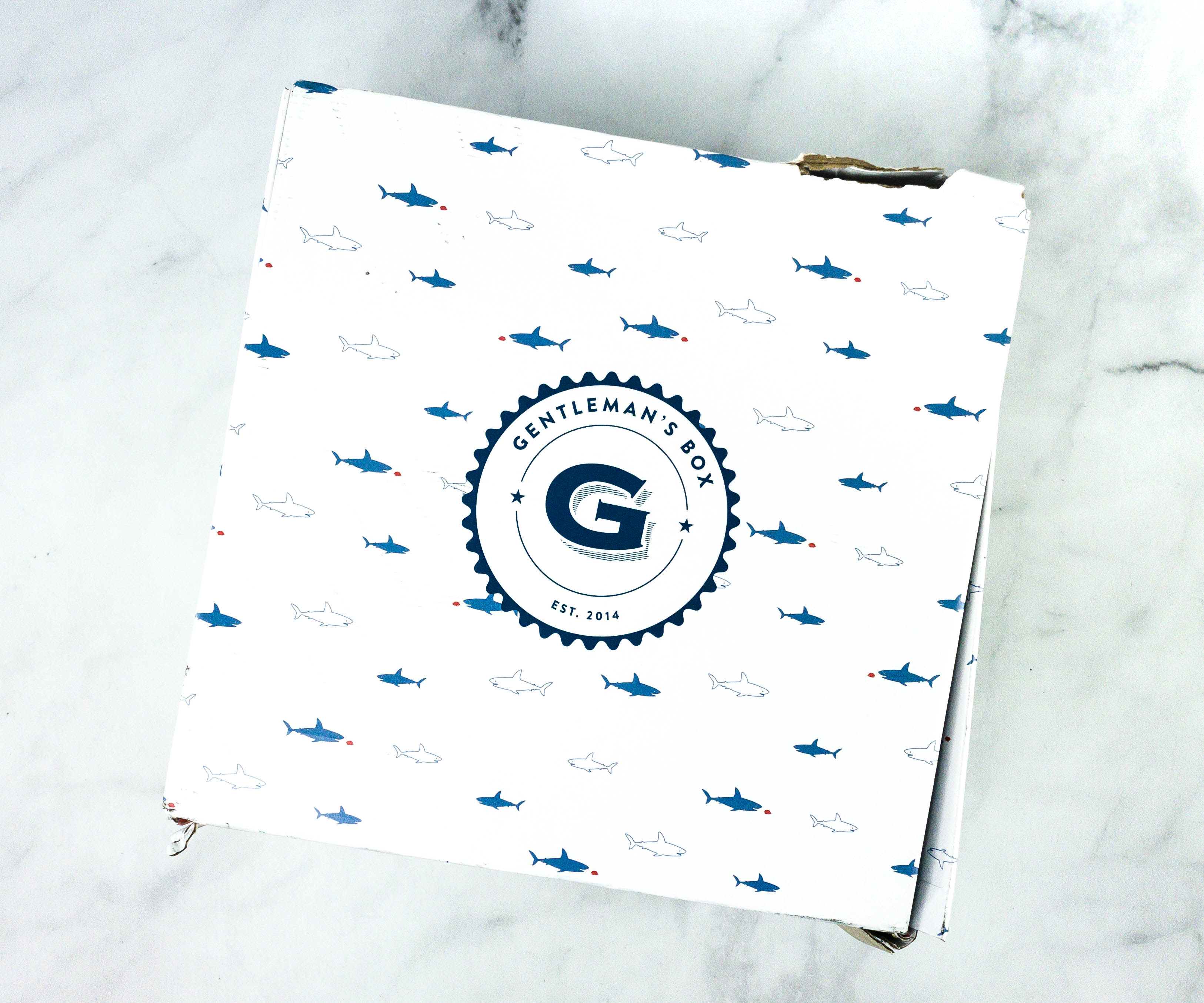 The Gentleman's Box Premium Box is a quarterly luxury subscription for men. For $100 every quarter, they curate premium lifestyle and fashion goods that fits the current season and a unique theme. Boxes may also include electronics, home & lifestyle products, and premium leather goods. The promised retail value of each box is at least $200. If you join when the current edition is sold out, you will start with an Editor's Box that contains previous Premium Box items. Also available is The Gentleman's Box Classic subscription, which ships monthly for $29.
DEAL: Save 20% on your first Premium Box! Just use the coupon code HELLO20.
OR For a limited time only, use coupon code GBxTOB to save $40 off your first box!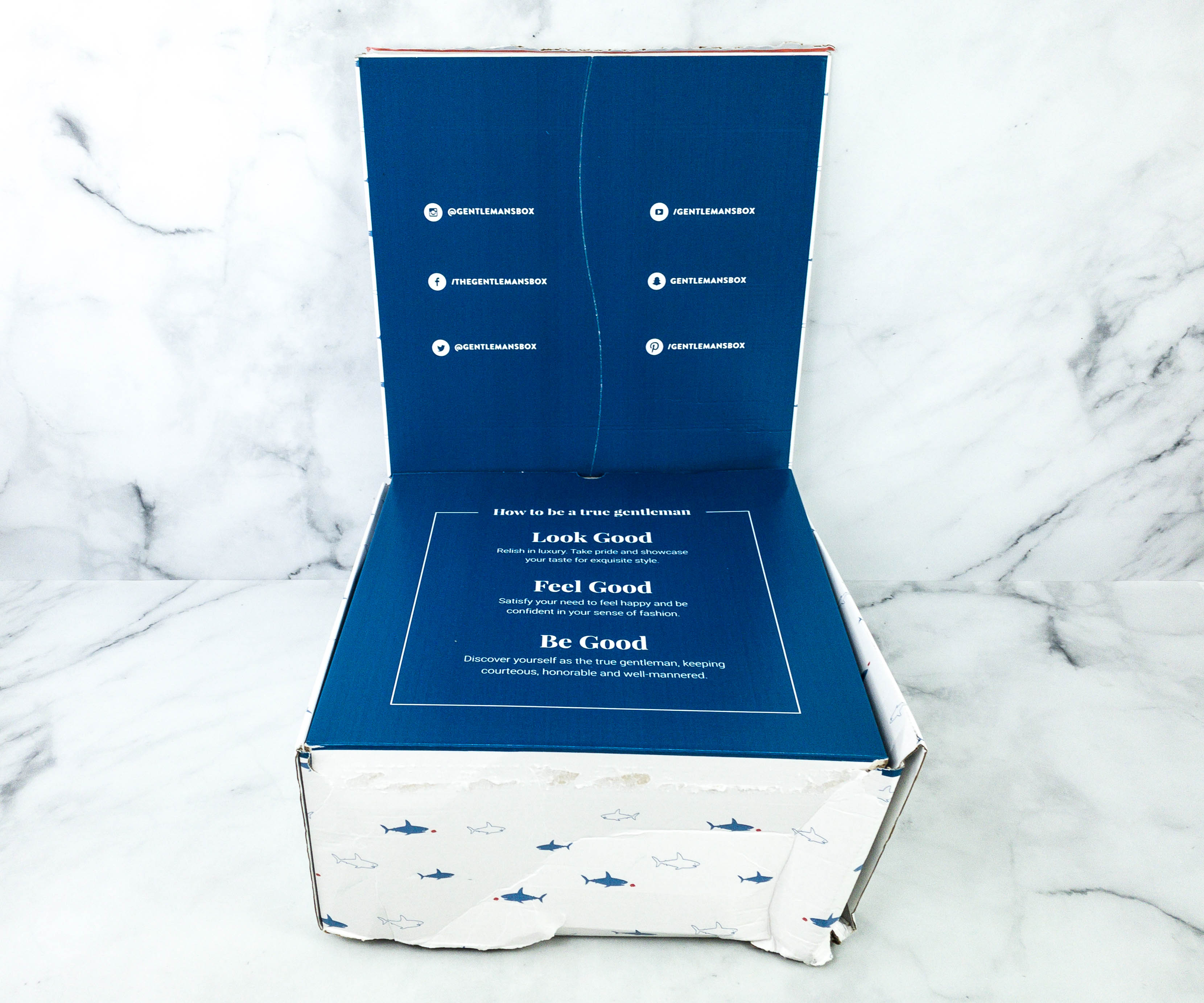 My box had a damage on the front part when it arrived.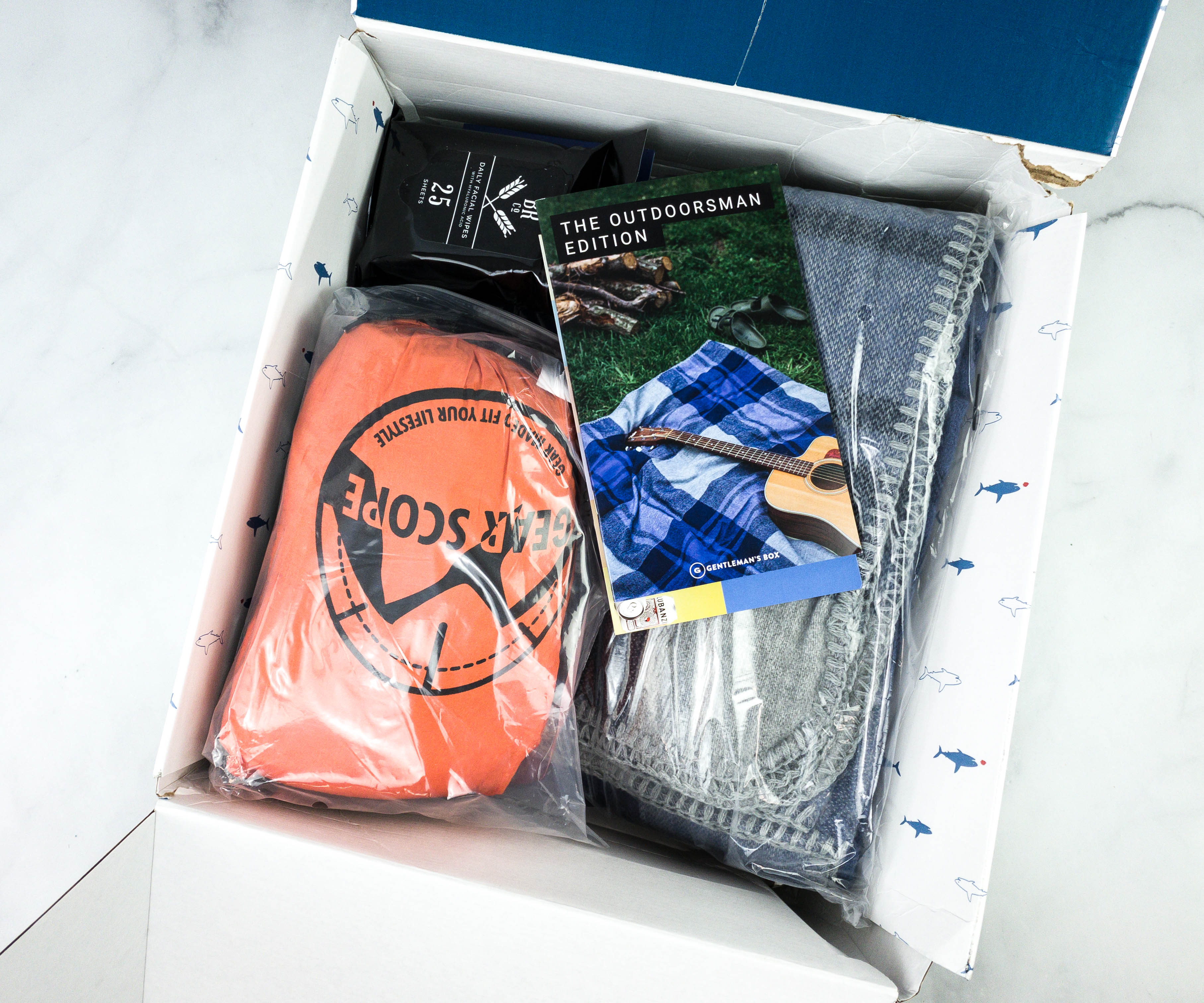 Although the box was damaged, the items were still in great condition!
The Fall 2020 box is THE OUTDOORSMAN EDITION. Each box includes a well-designed booklet describing the products and offering use or styling suggestions for each one.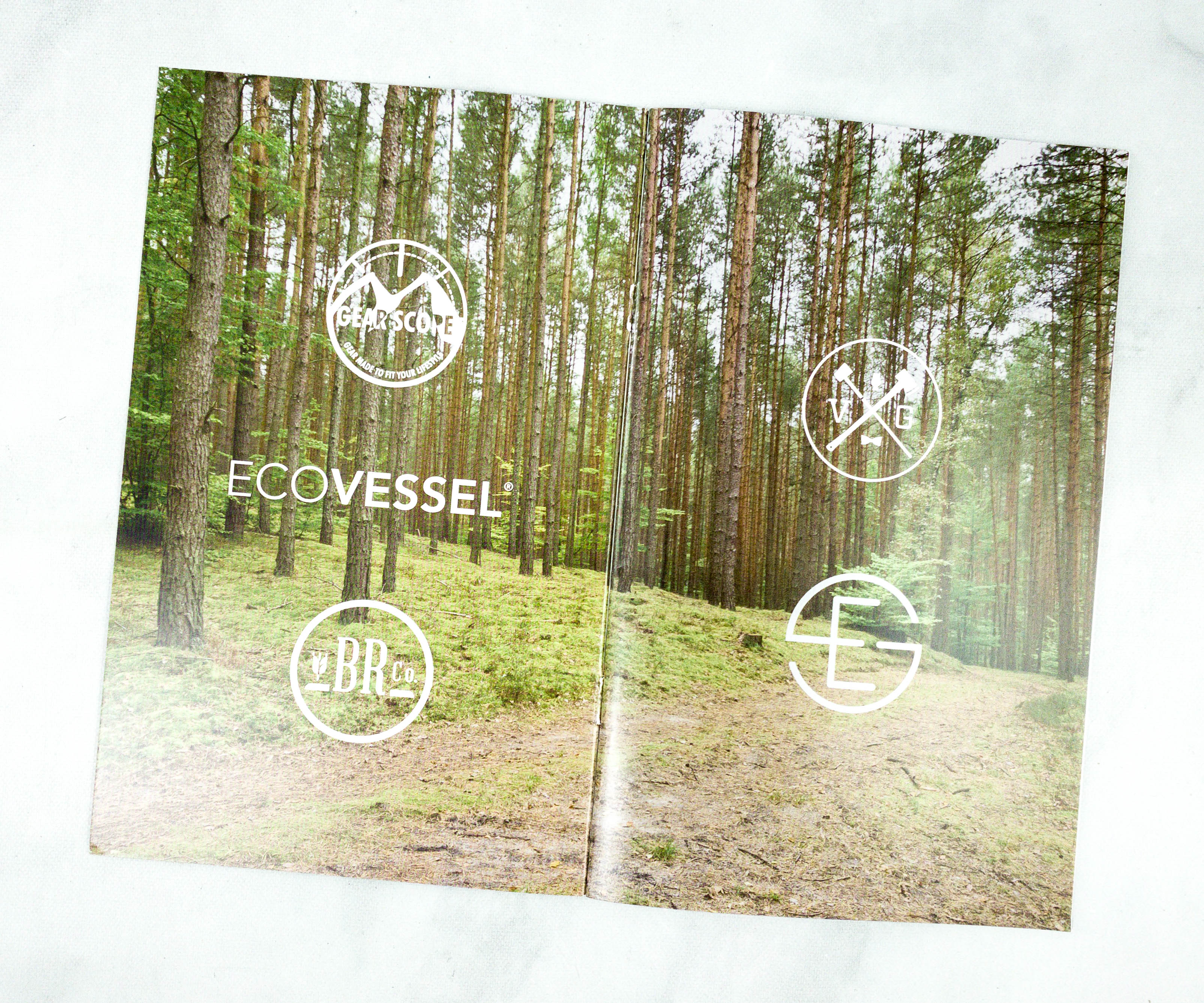 It also lists all the brands featured in this quarter's box.
This part of the booklet features a short article about the curator's inspiration for this quarter's items.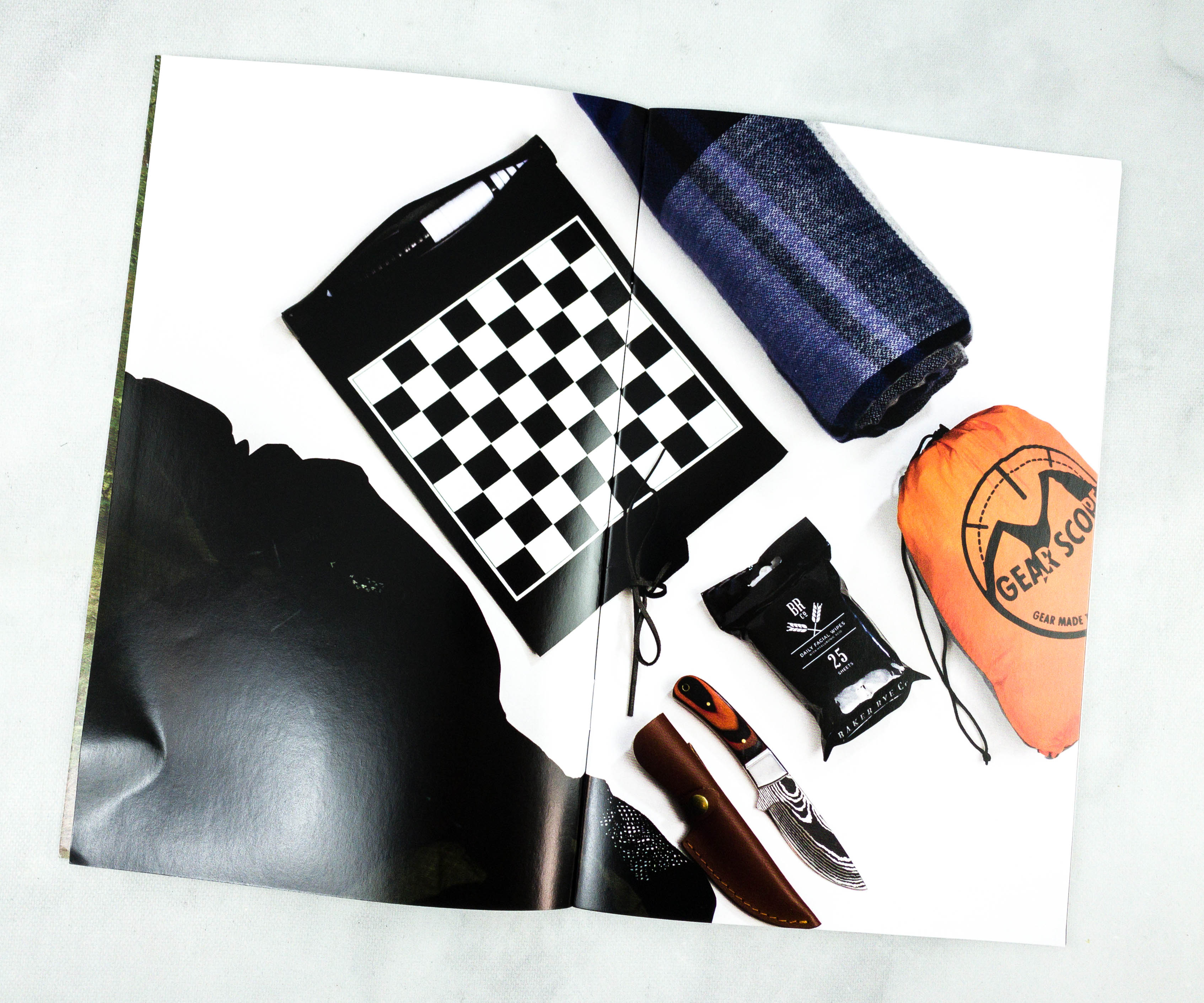 The booklet normally includes a group picture of all the items included inside the box.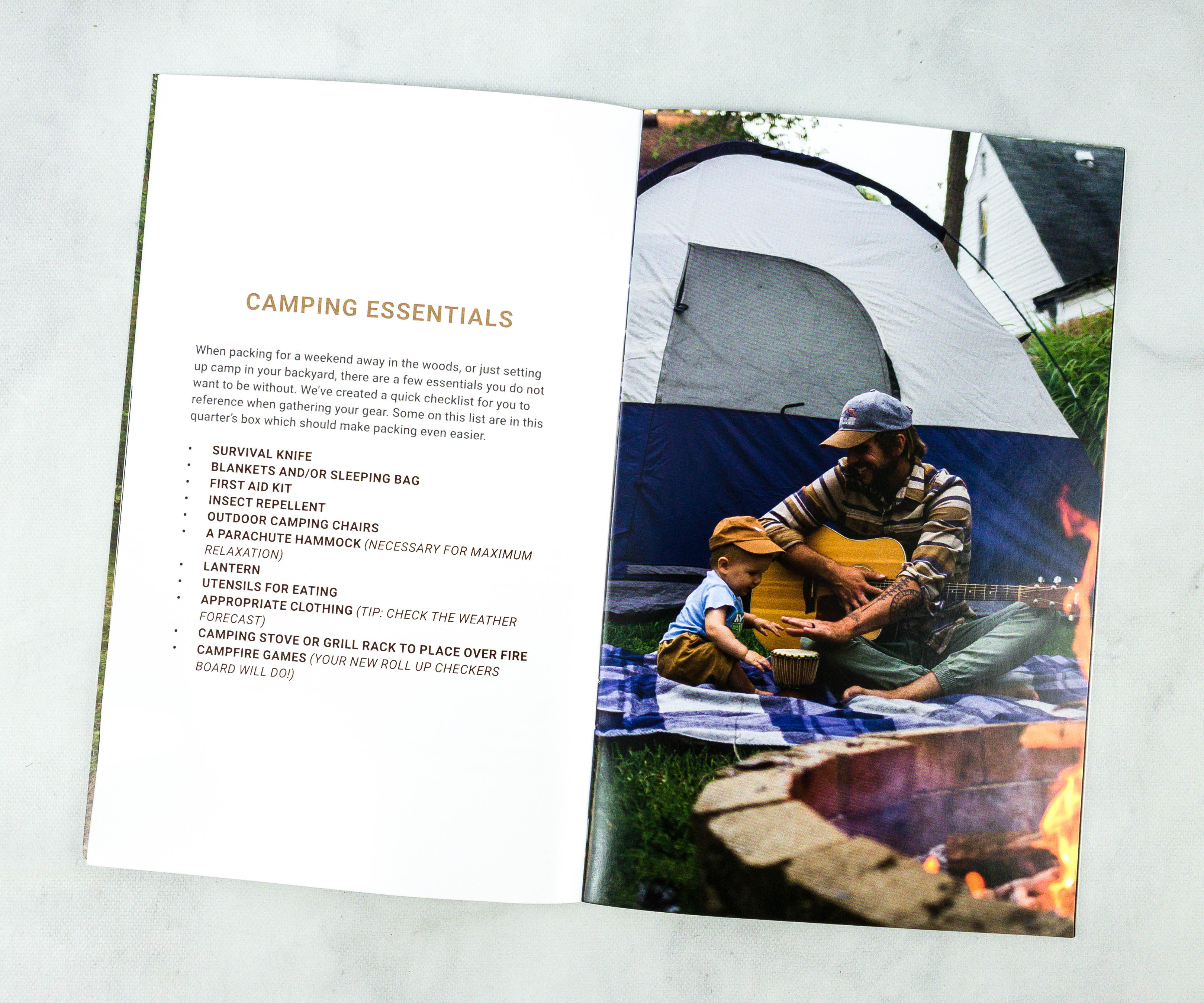 In line with the theme, they shared a list of camping essentials!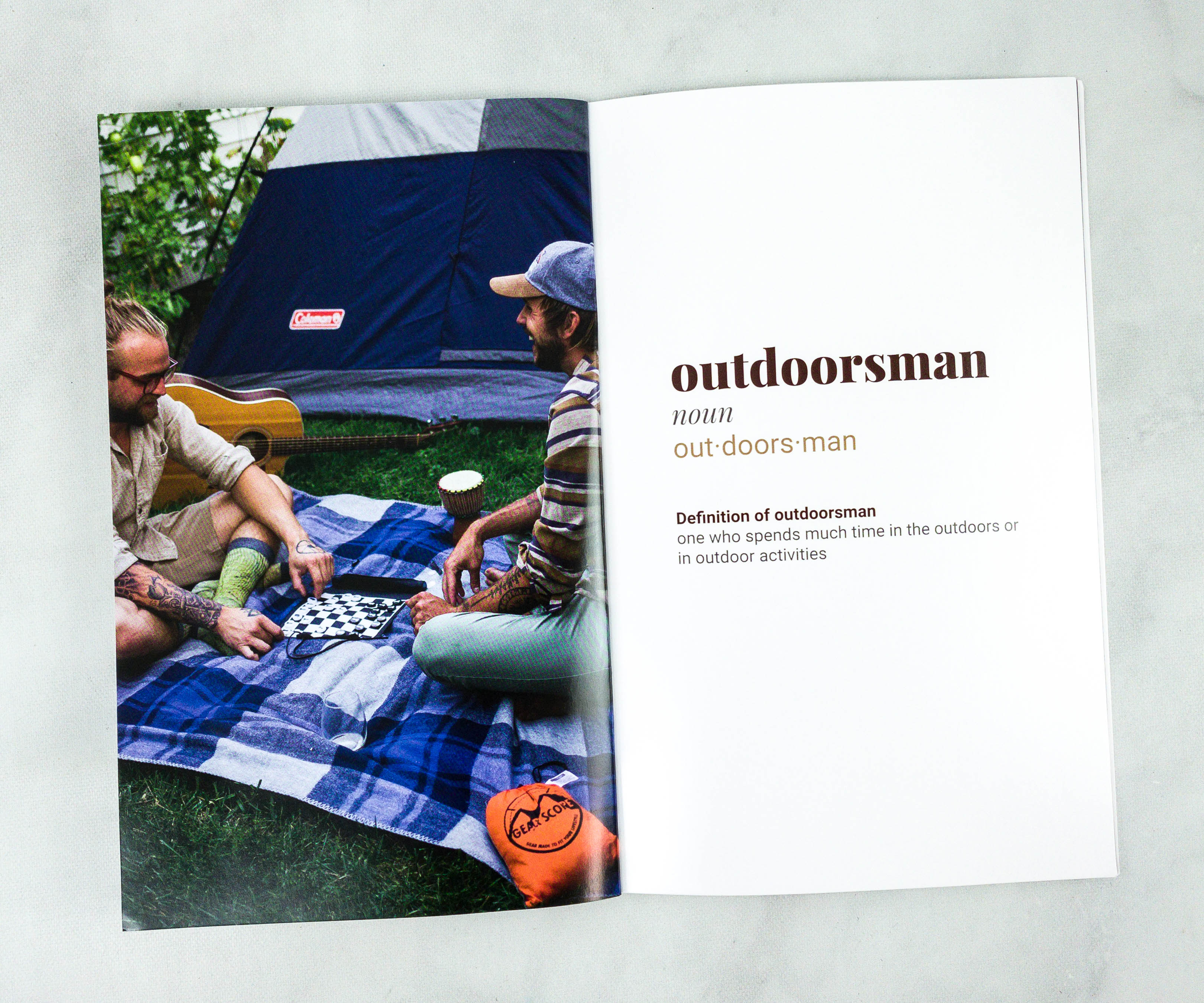 Outdoorsman is the one who spends much time in the outdoors or in outdoor activities.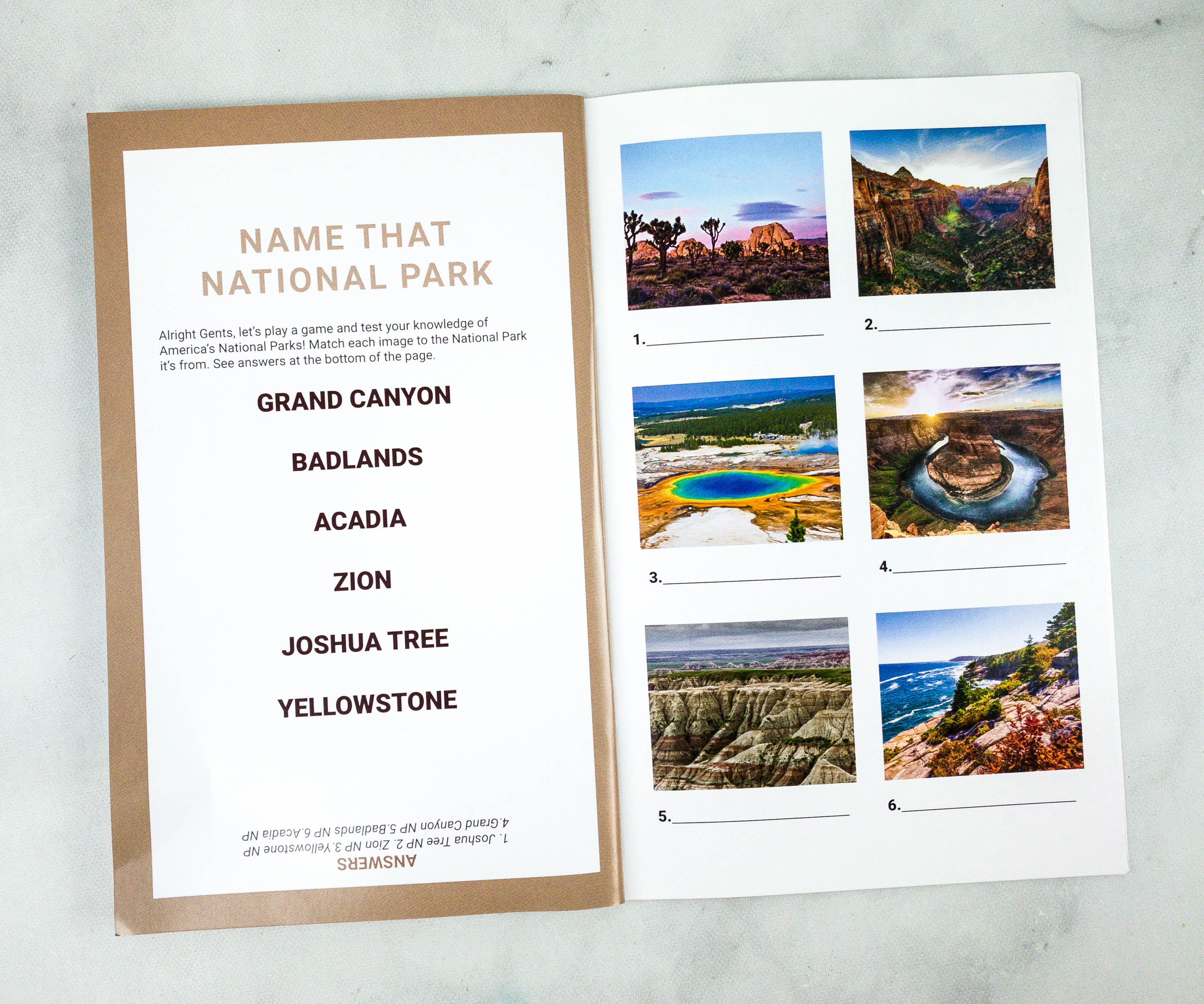 The booklet also includes a mini activity, which is about identifying the National Parks featured on the photos!
The featured brand for this quarter is Think Outside. It's a company that specializes in getting your kids outside and active using their unique outdoor gear and resources.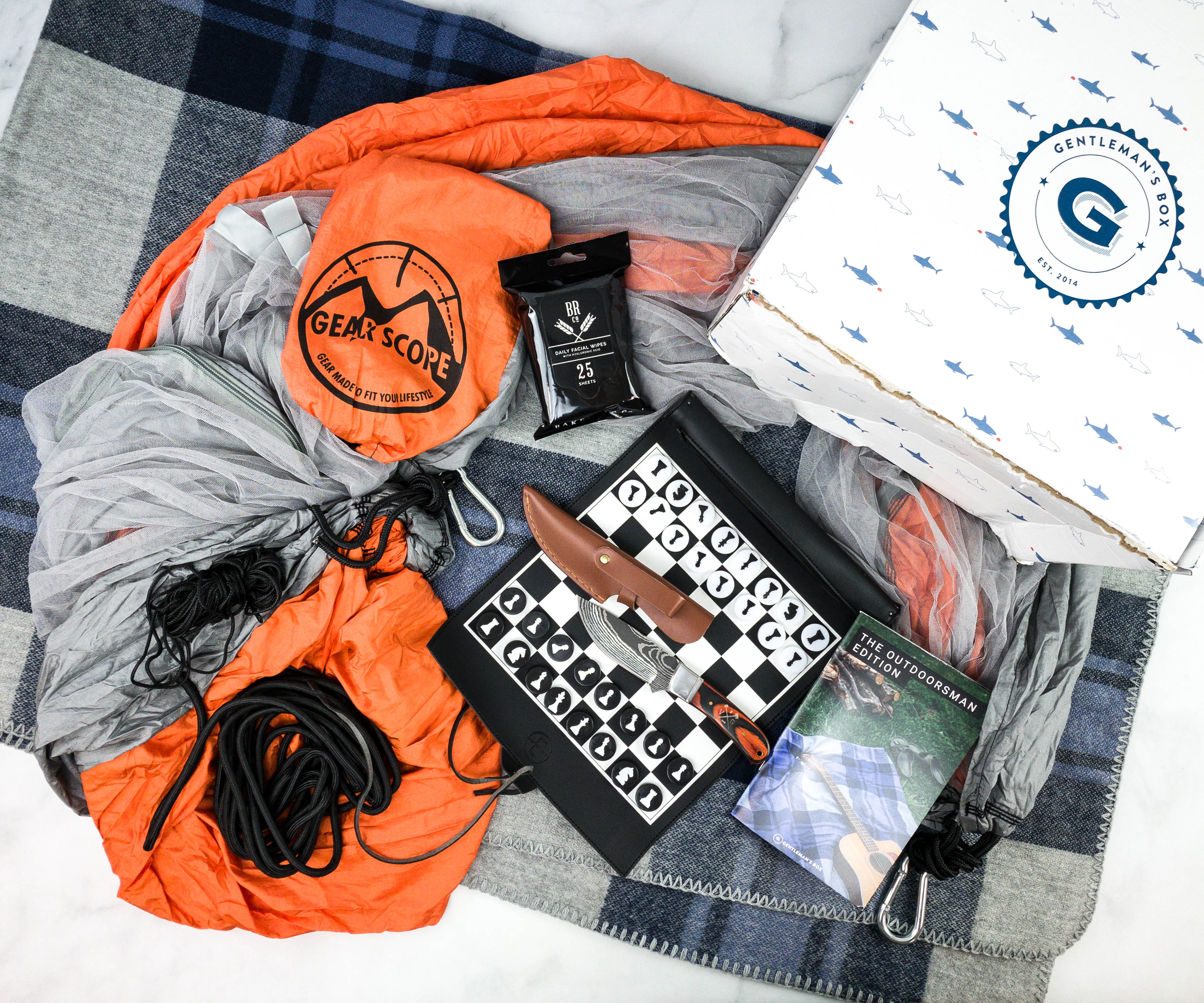 Everything in my box!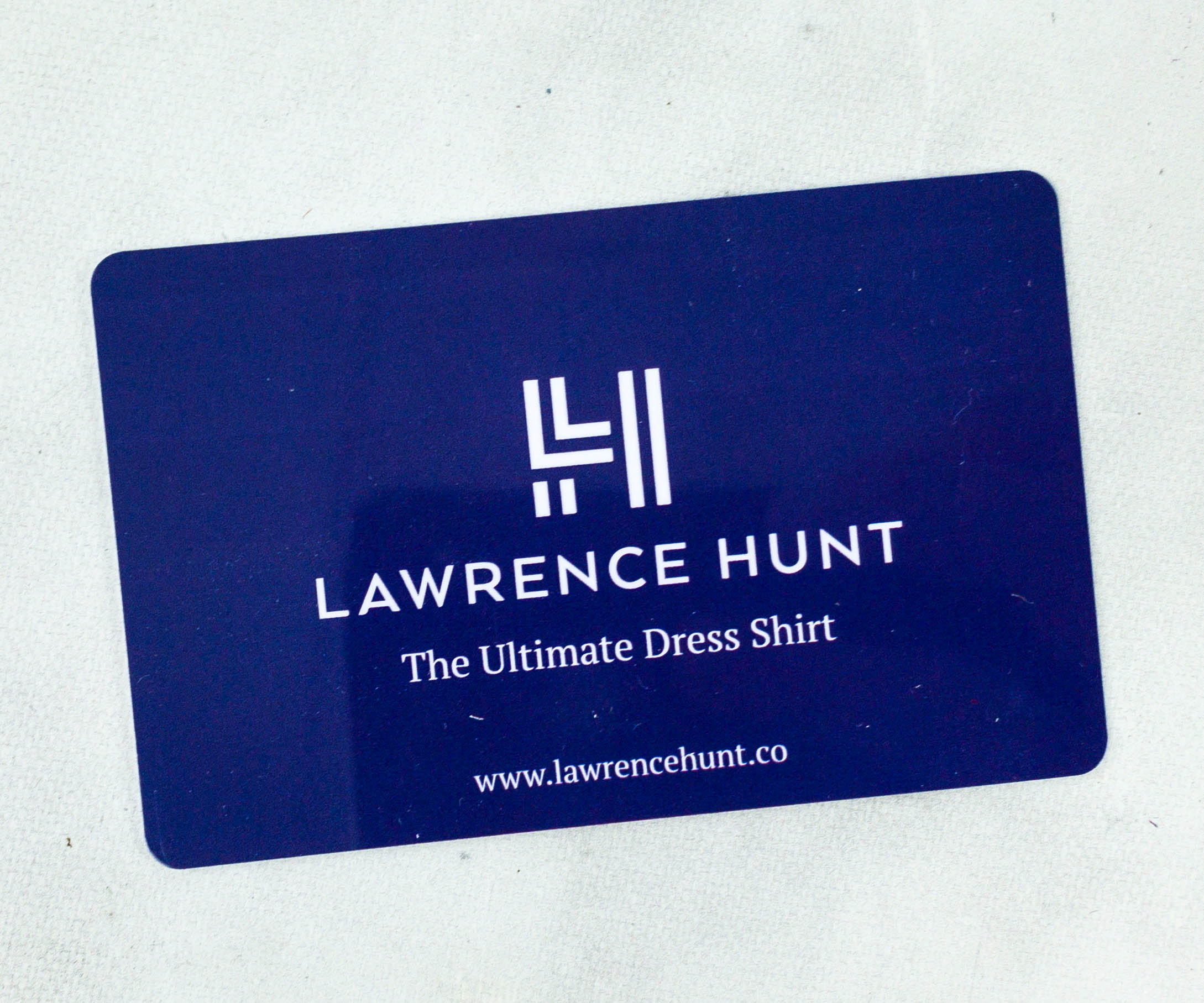 Lawrence Hunt Gift Card ($50) Included in the box is a $50 gift card from Lawrence Hunt.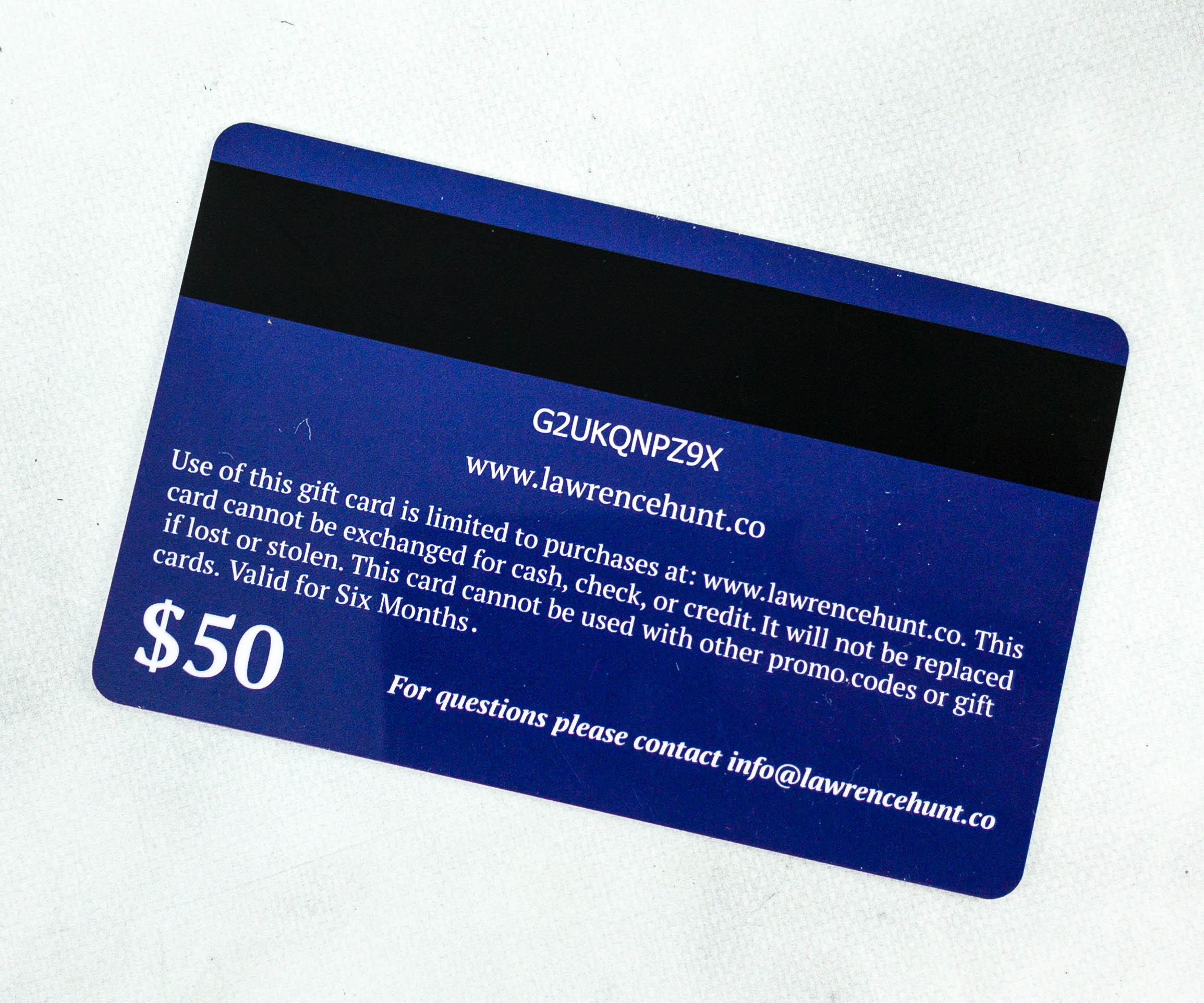 This card can be used to purchase items on their website! It cannot be used with other promo codes or gift cards.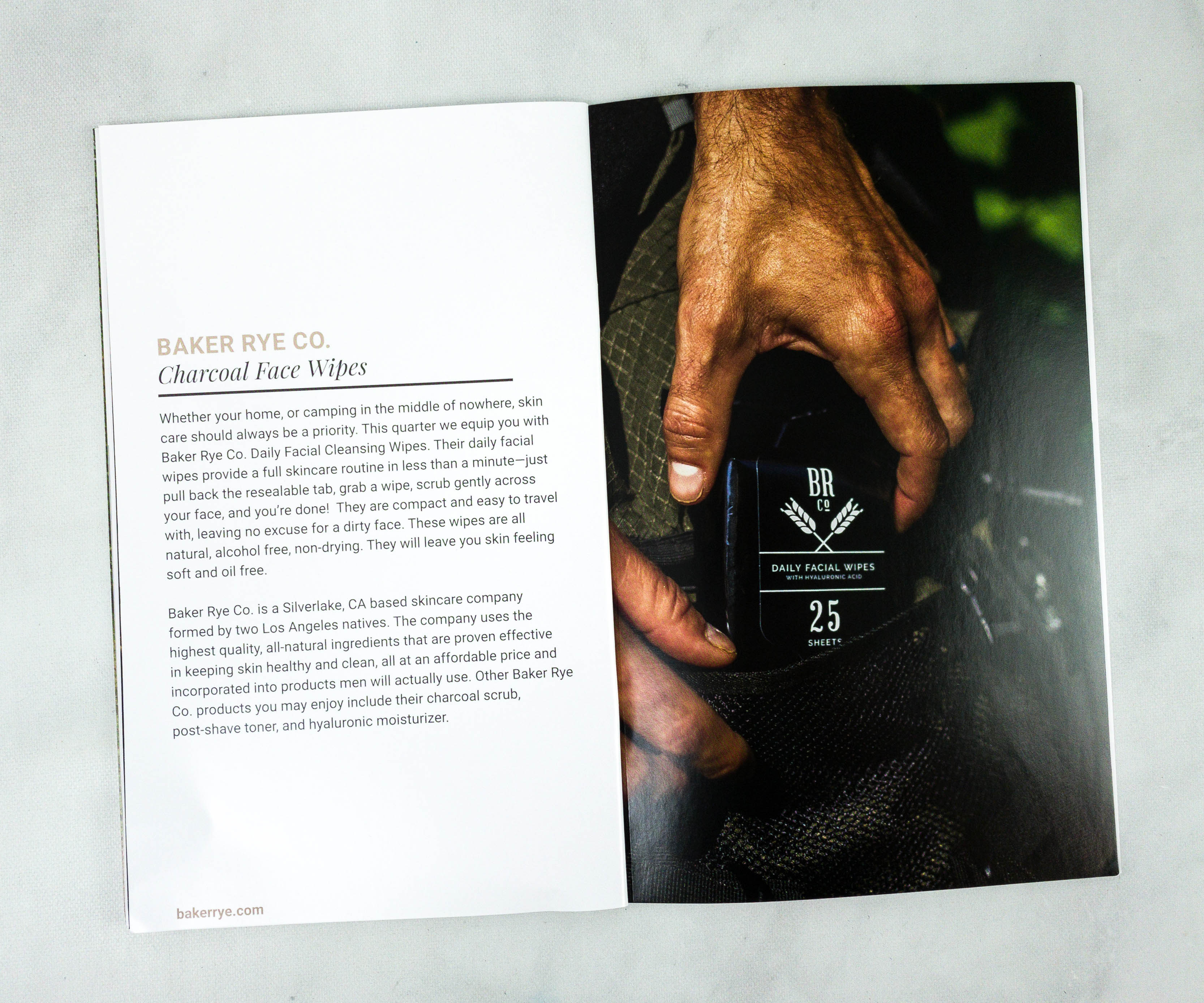 Baker Rye Co. Charcoal Face Wipes ($19.99) To keep our face clean and nourished all the time even when outdoors, they sent this pack of facial cleansing wipes!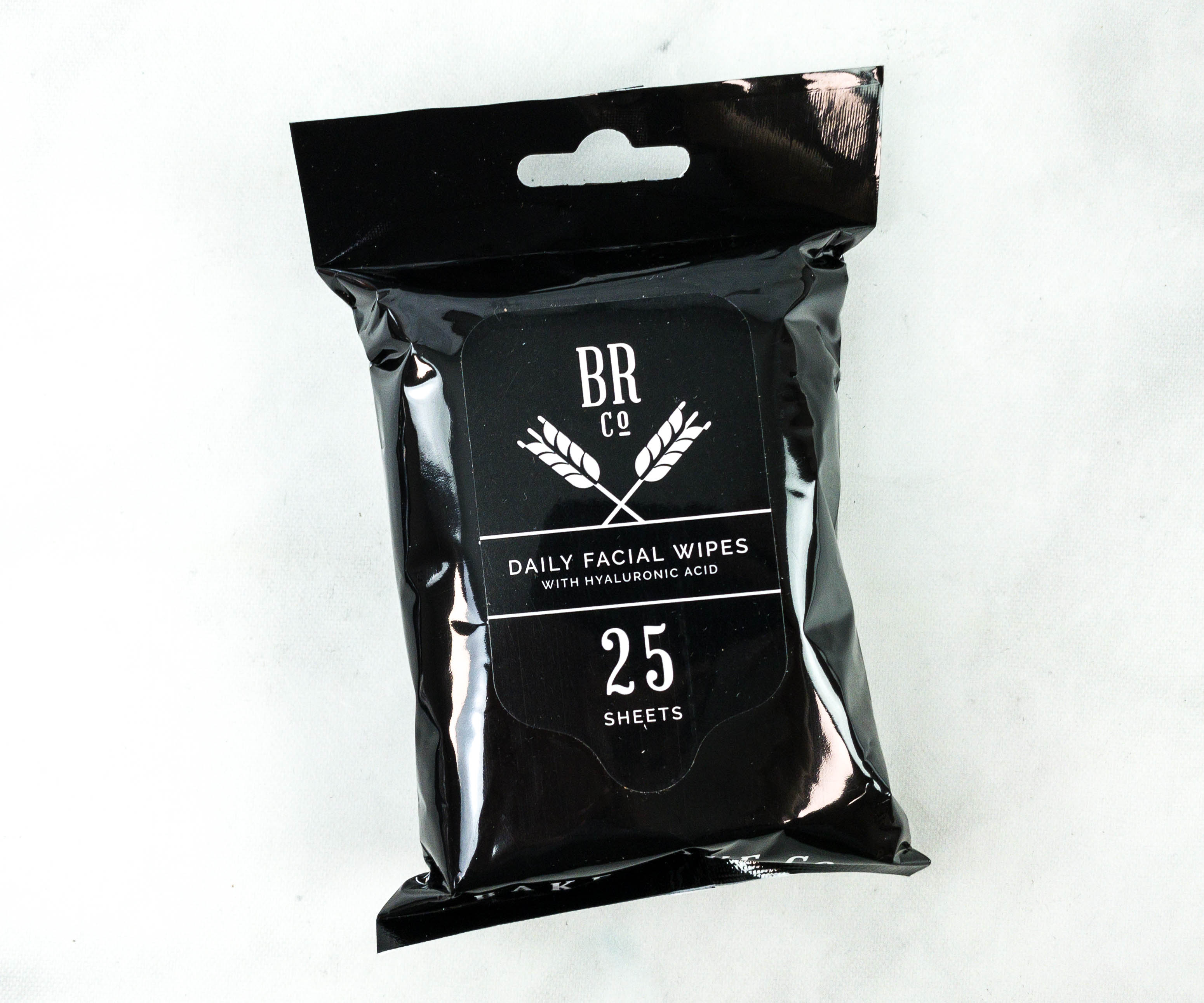 It's a handy facial care product that you can use and bring on-the-go, whether you are at home, in the office, gym, or even in the middle of nowhere. All you just need to do is open the re-sealable tab, pull out a tissue, and gently wipe it on your face.
These wipes are made with skin-friendly ingredients such as grapefruit extract, charcoal, and hyaluronic acid. It's also alcohol-free, so it leaves the skin clean without drying it.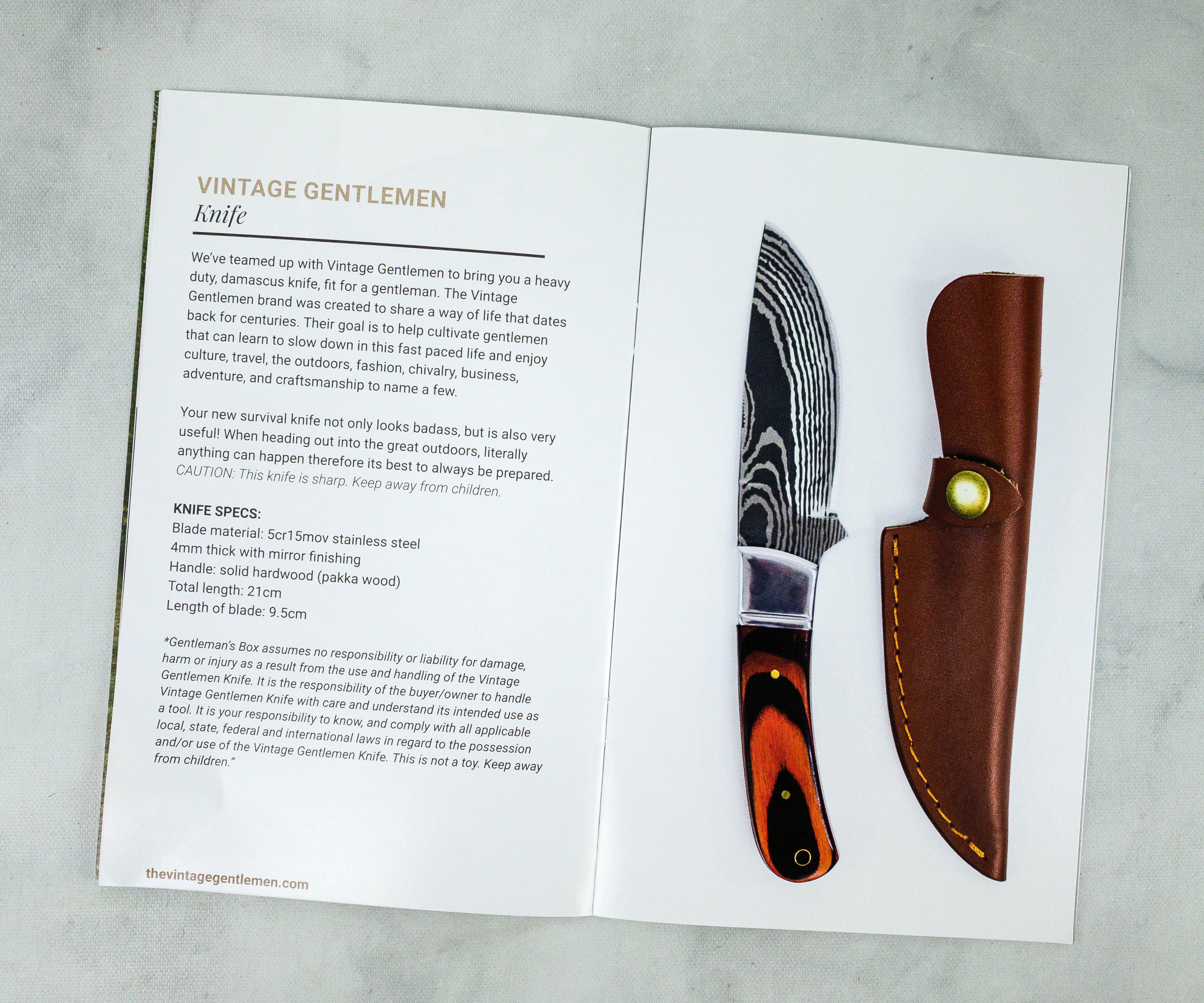 Vintage Gentlemen Knife – This knife is a classic outdoor survival tool. It's an excellent camping aid you can use for cutting, slicing, and even marking trails.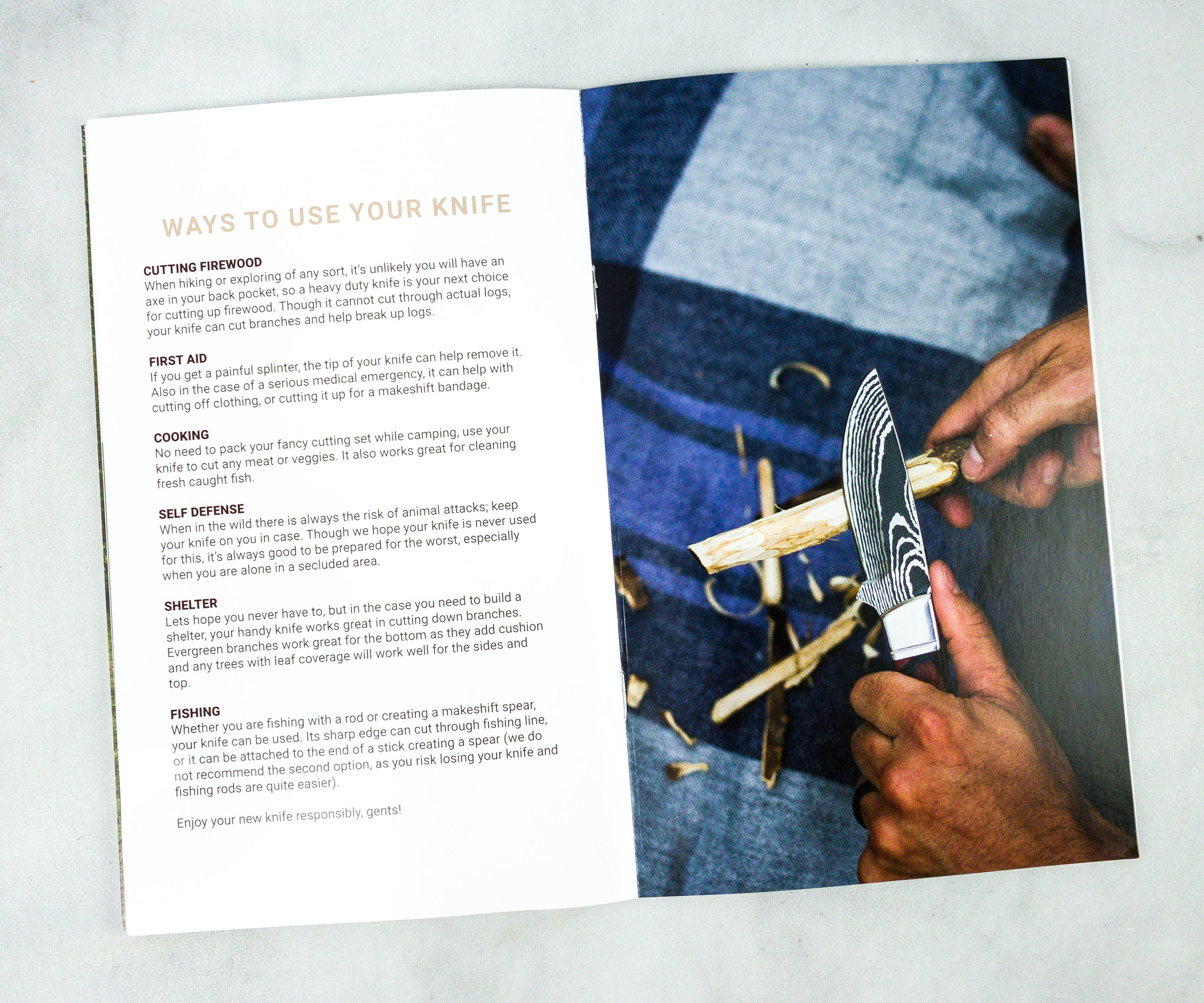 Featured on this page of the booklet are the different ways you can use your knife. It includes cutting firewood, first aid, cooking, self-defense, shelter, and fishing.
The knife came with a 100% full-cover leather casing with a smooth texture, buttoned-closure, and reinforced stitching.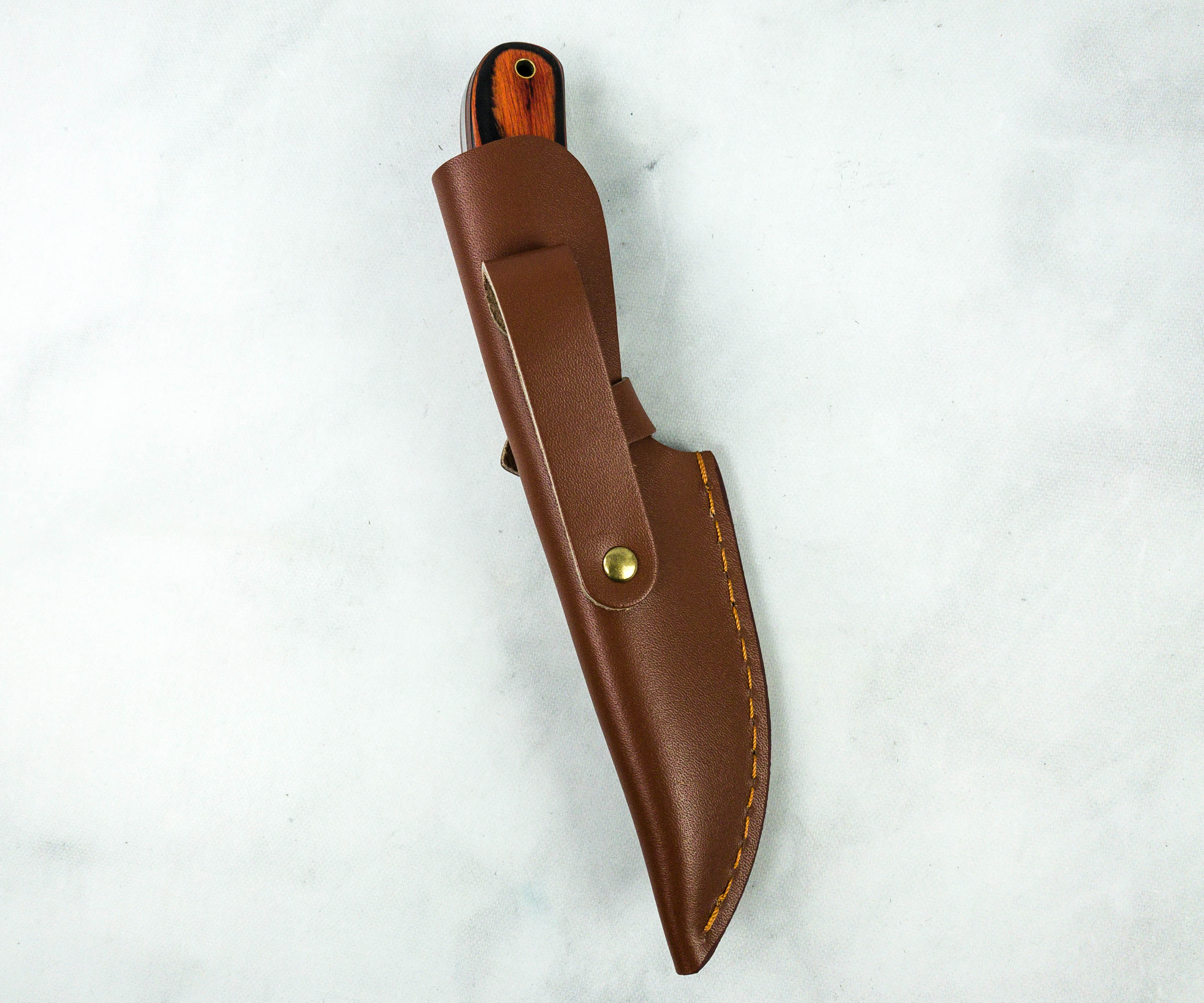 The other side of the case features a leather loop in the middle for easier handling.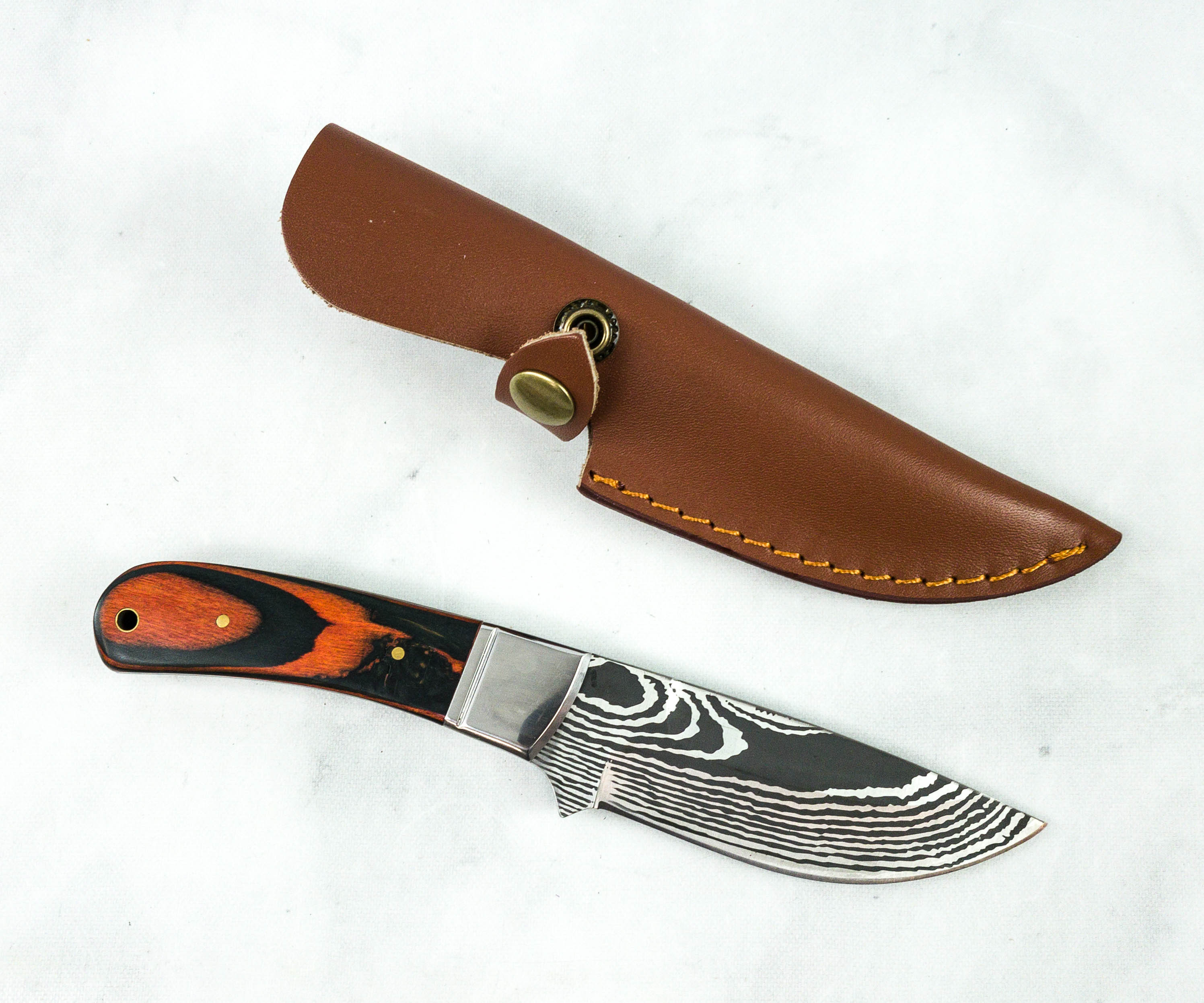 The Damascus knife is made from premium-quality, stainless steel blade. It measures 21-centimeter long!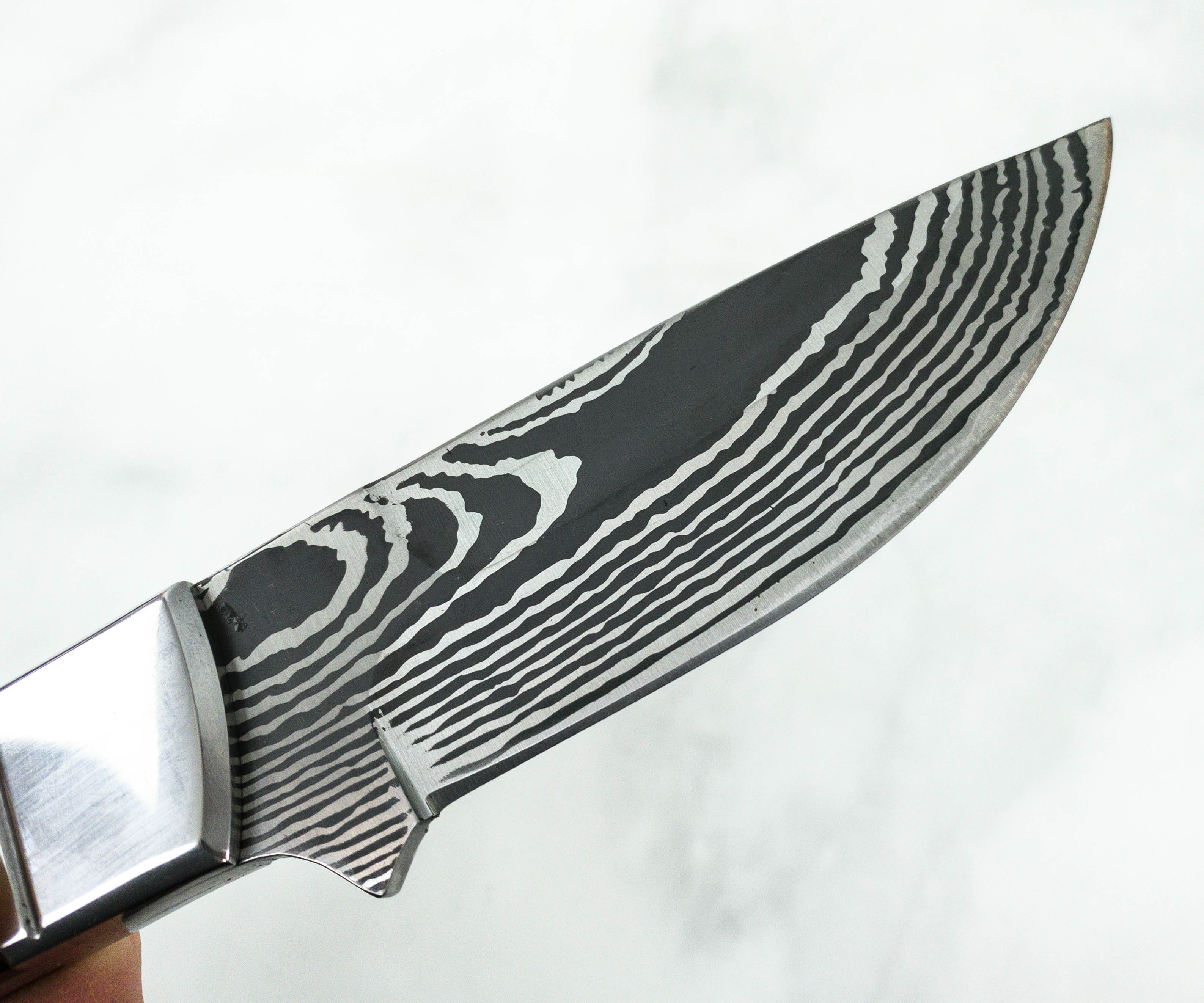 Its blade features a unique striped design. Also featured on the bottom end part of the blade is a 4 mm thick mirror finish, which adds accent to the blade.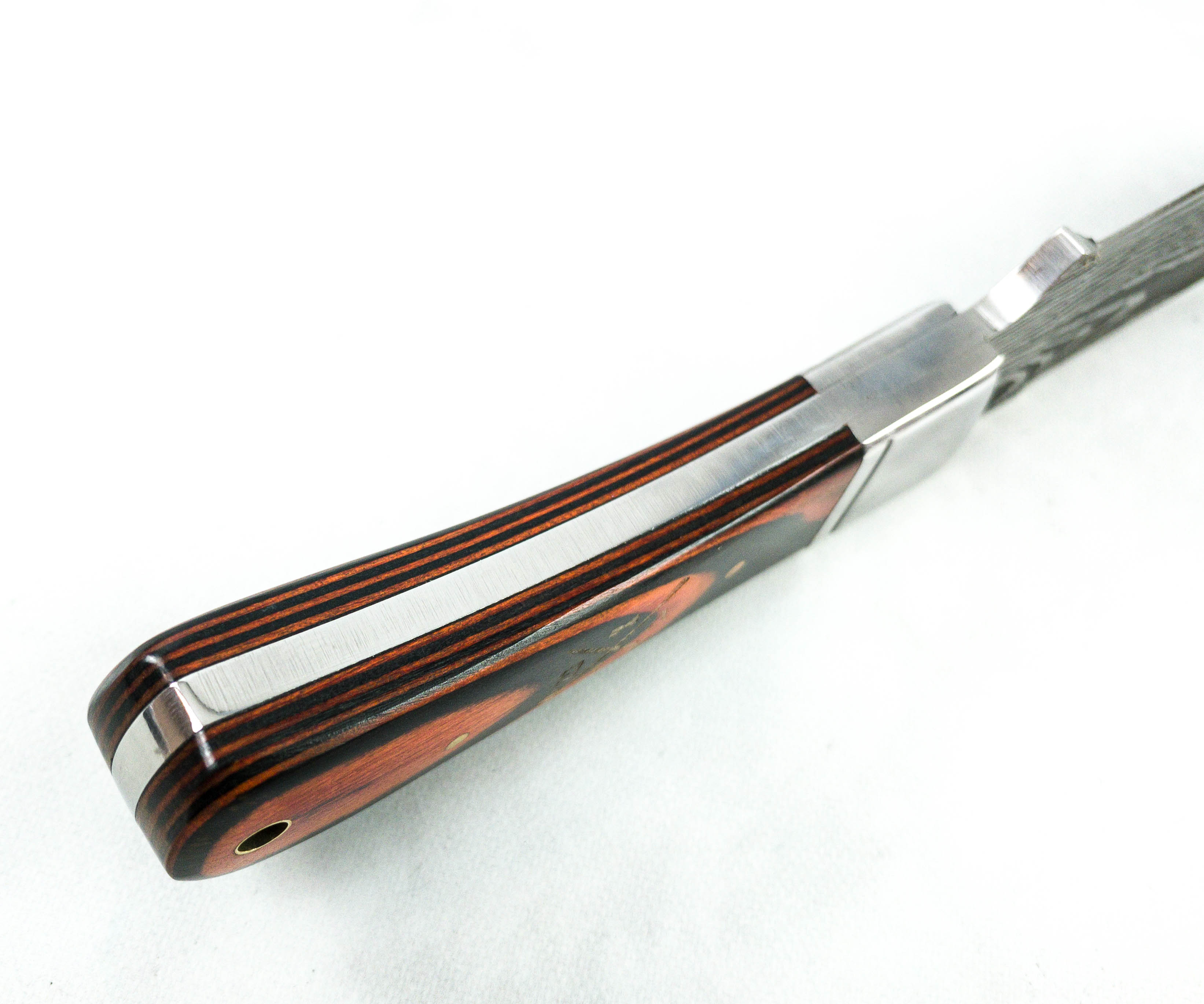 The handle is made from pakkawood, a hard wooden laminate known for its durability, smooth texture, and polished finish!
Printed on one side of the handle is the brand logo. I like its overall vintage look!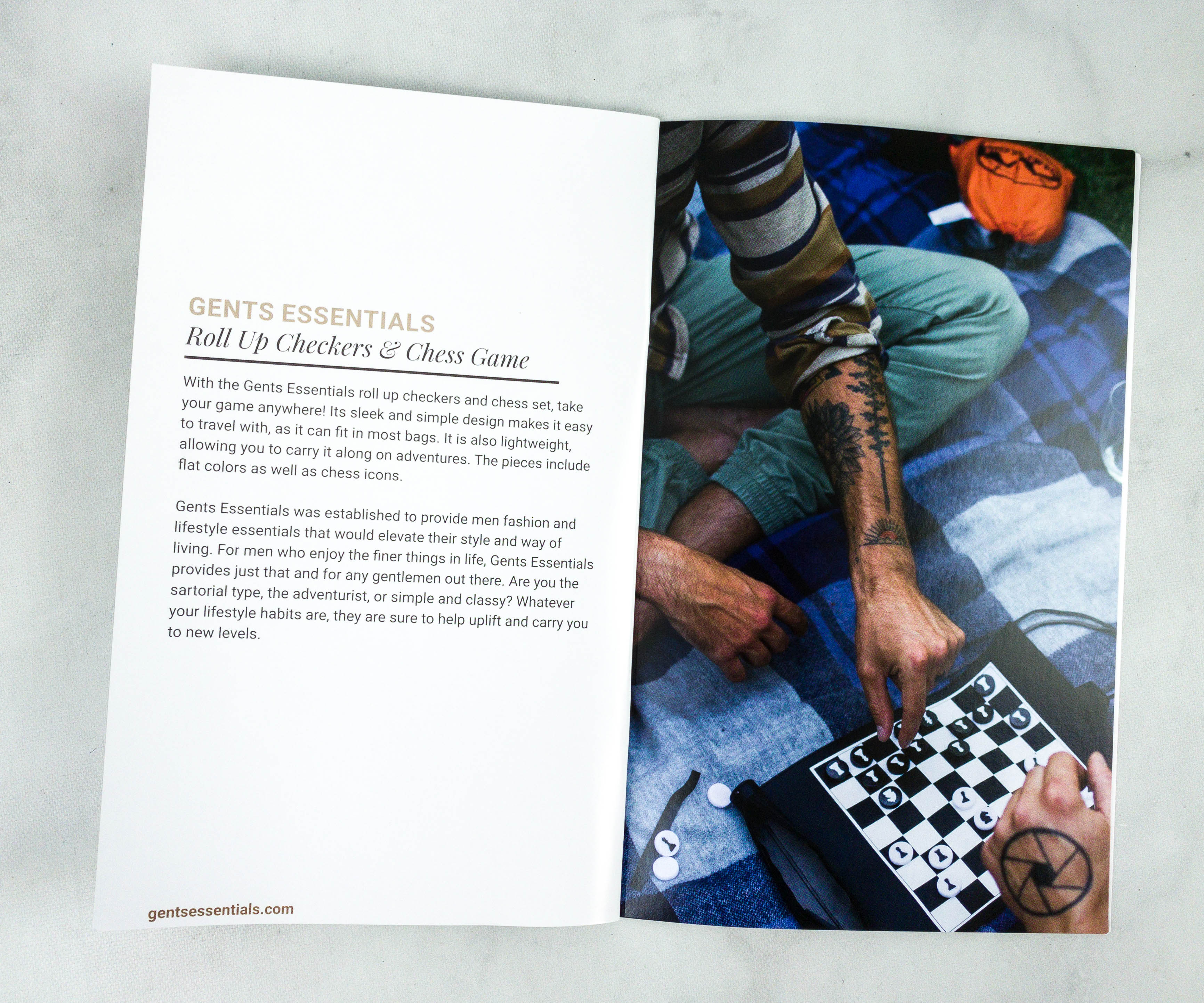 Roll Up Checkers & Chess Game. You can now play chess or checkers anytime and anywhere using this very handy and portable roll-up version!
The item came in its own box packaging.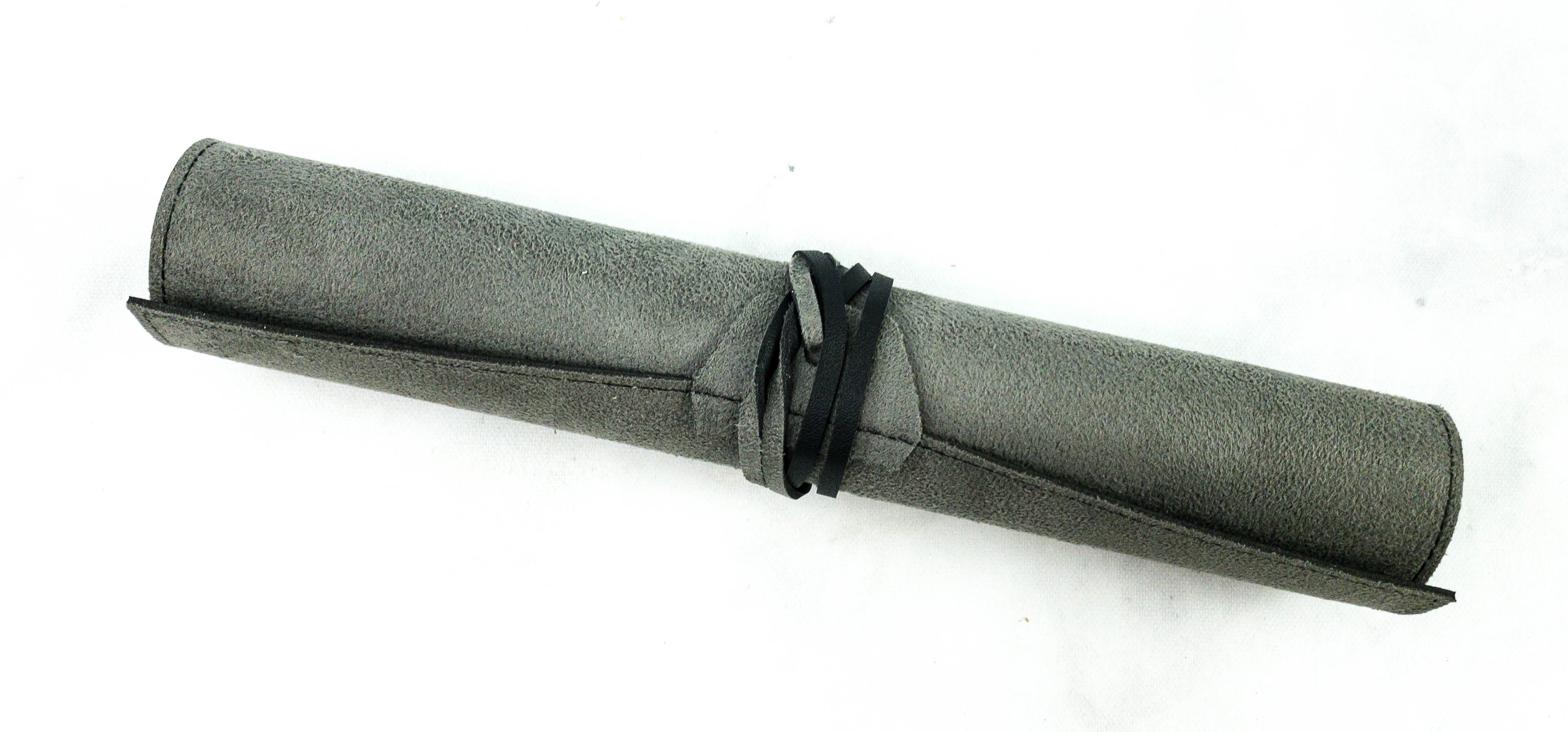 Inside the box is a rolled-up leather casing secured with leather strings.
It's so easy to use, simply untie the knot, roll flat the game board, and play!
Featured on one end of the board game is a zipper enclosure where all the chess and checker pieces are hidden.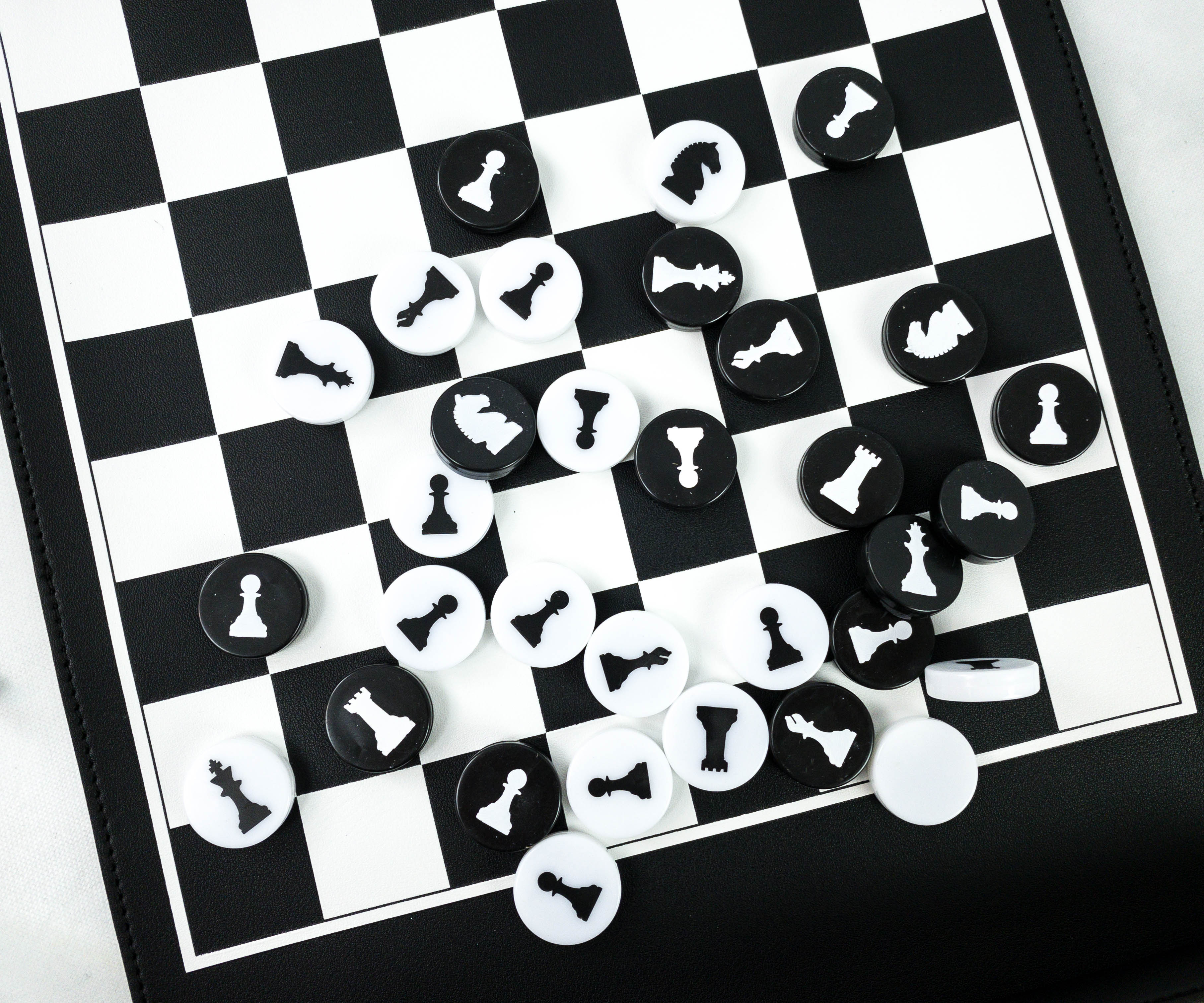 Like any ordinary chess and checker, we received 32 chess pieces. The only difference is that they are flat and button-shaped.
Gear Scope Parachute Hammock. The hammock is an important camping must-have! I received one in this box and I love that it's so easy to set-up so I can relax right away!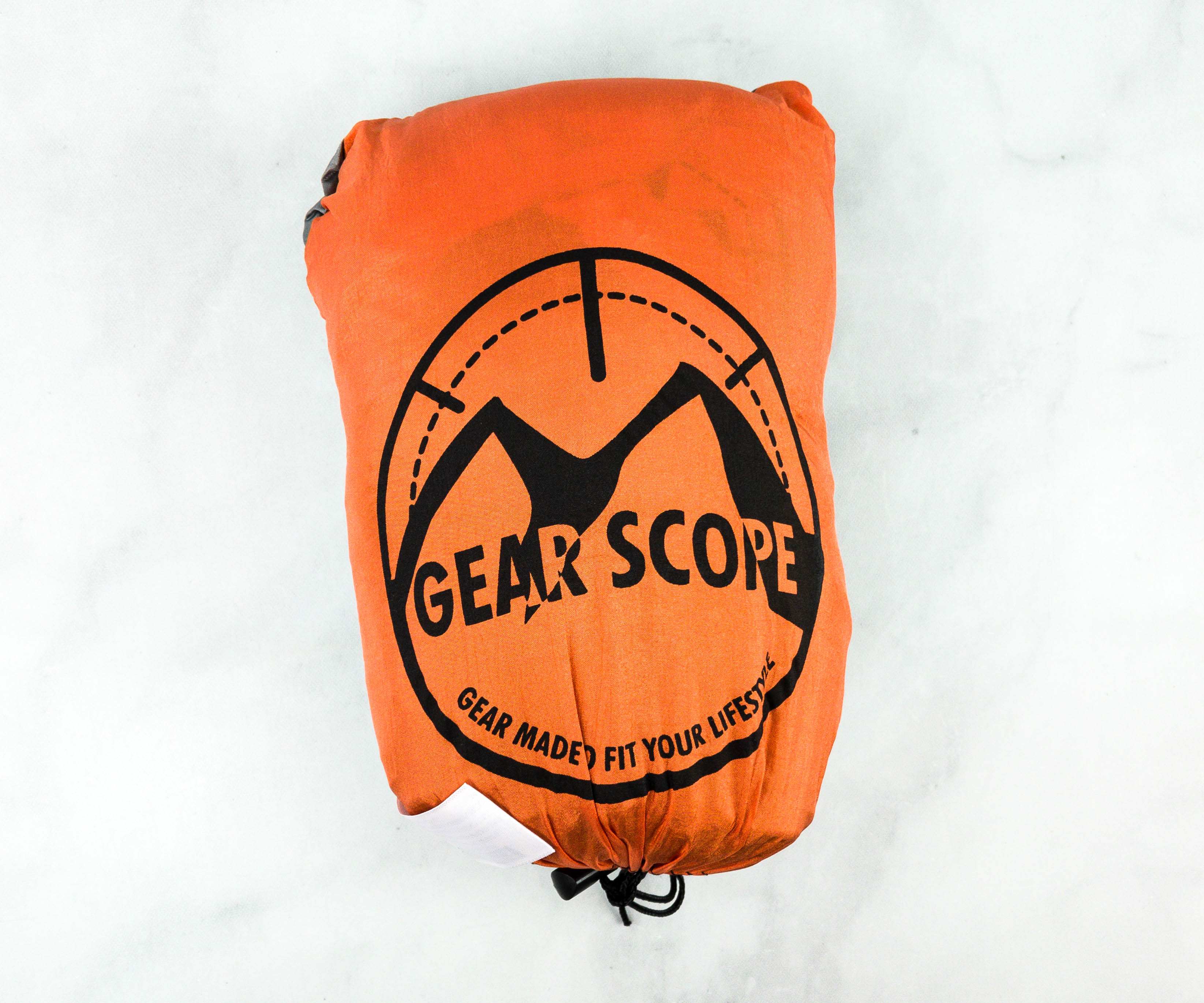 The hammock came in an orange drawstring bag.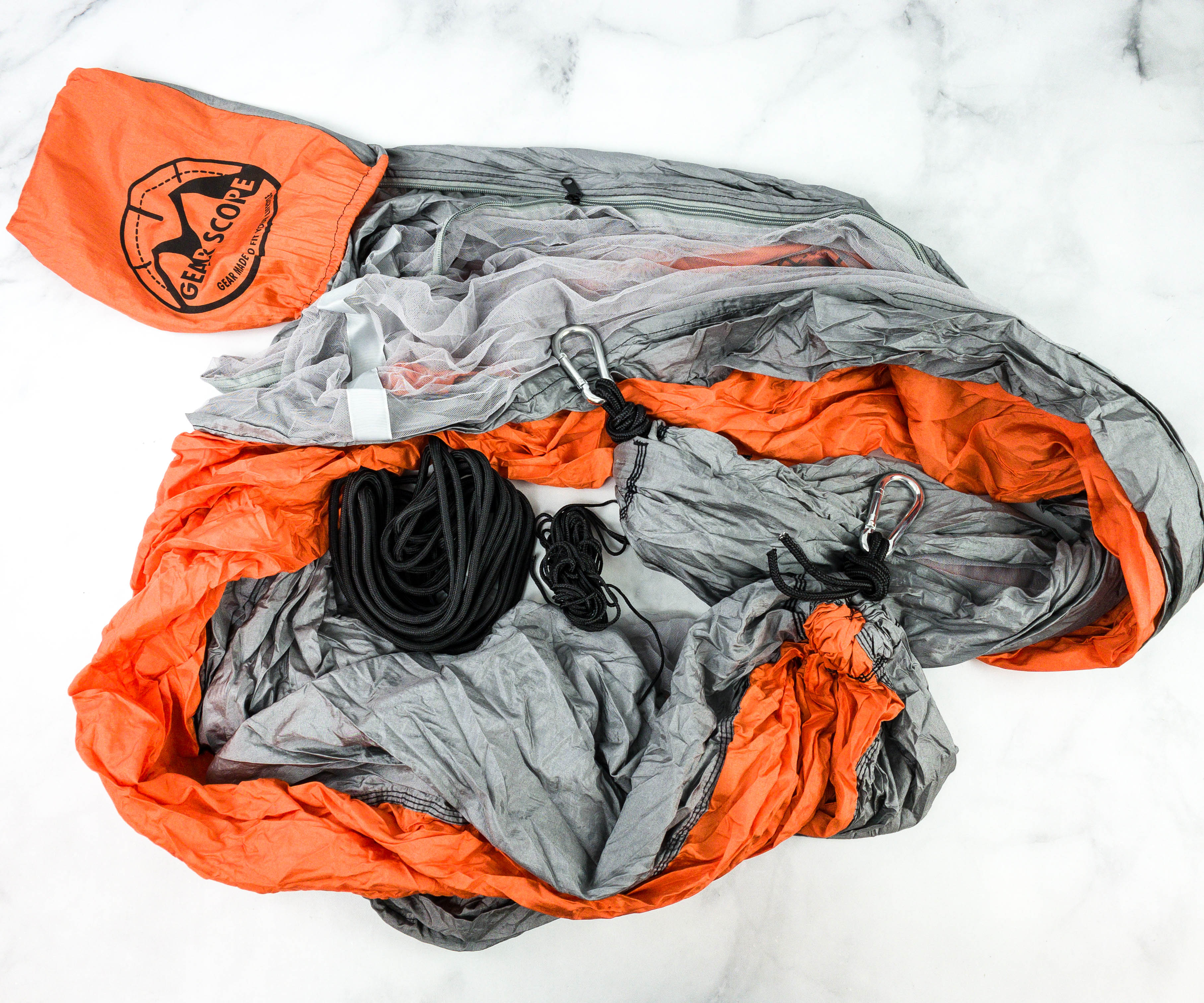 This heavy-duty hammock can support up to 200 kg or 440 lbs of gross weight. It also came with a pair of stainless steel carabiner and thick ropes for hanging.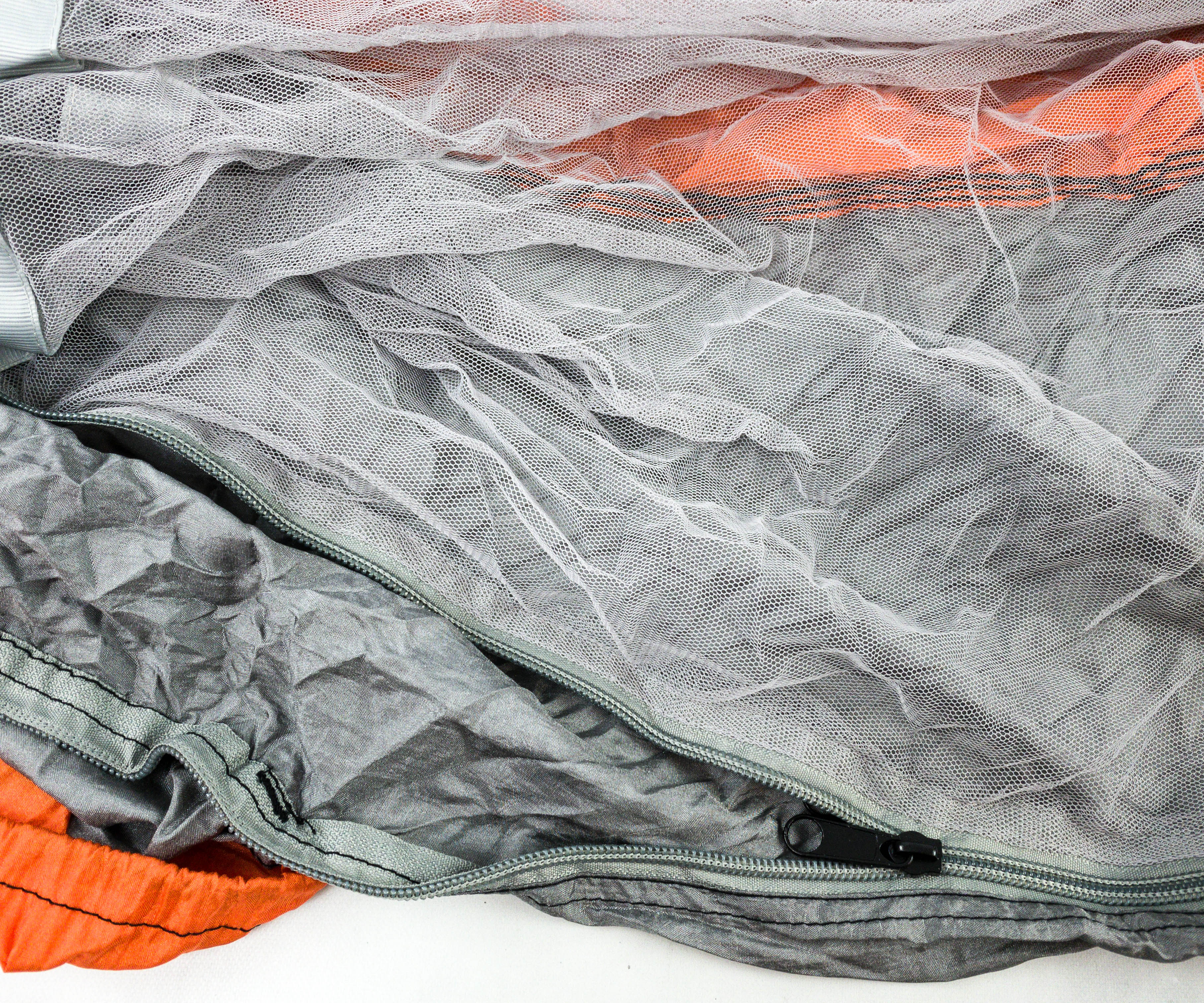 It even has a pair of thin ropes where you can hang the mosquito nets that will protect you from different kinds of insects while getting a rest.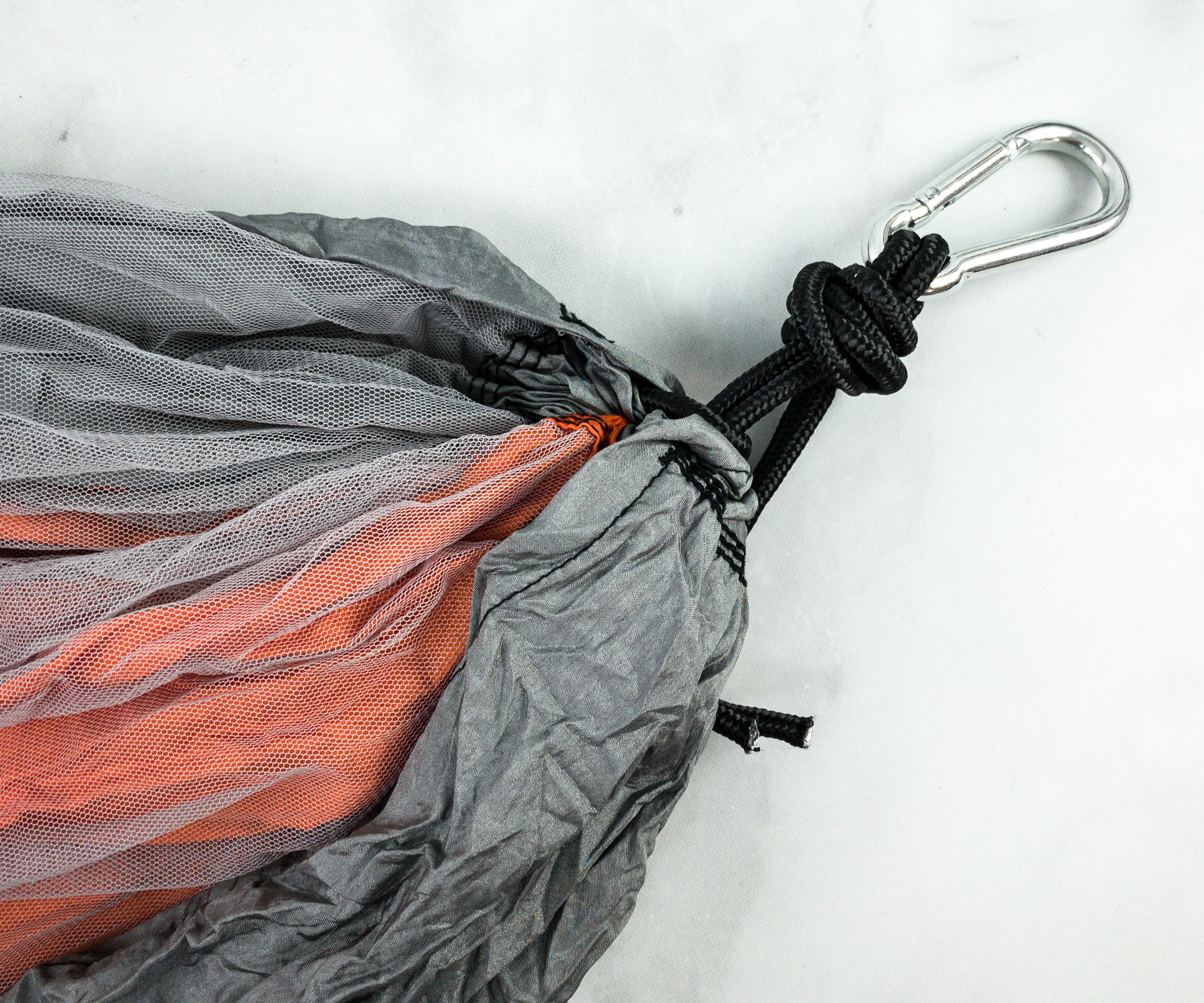 According to the booklet, this hammock's set-up time is approximately 15-20 minutes. All you just need to do is find a pair of sturdy trees or poles, tie the ropes and hook the carabiner, and set-up the mosquito net! It is definitely a great tool to bring for camping, backpacking, and even when hiking!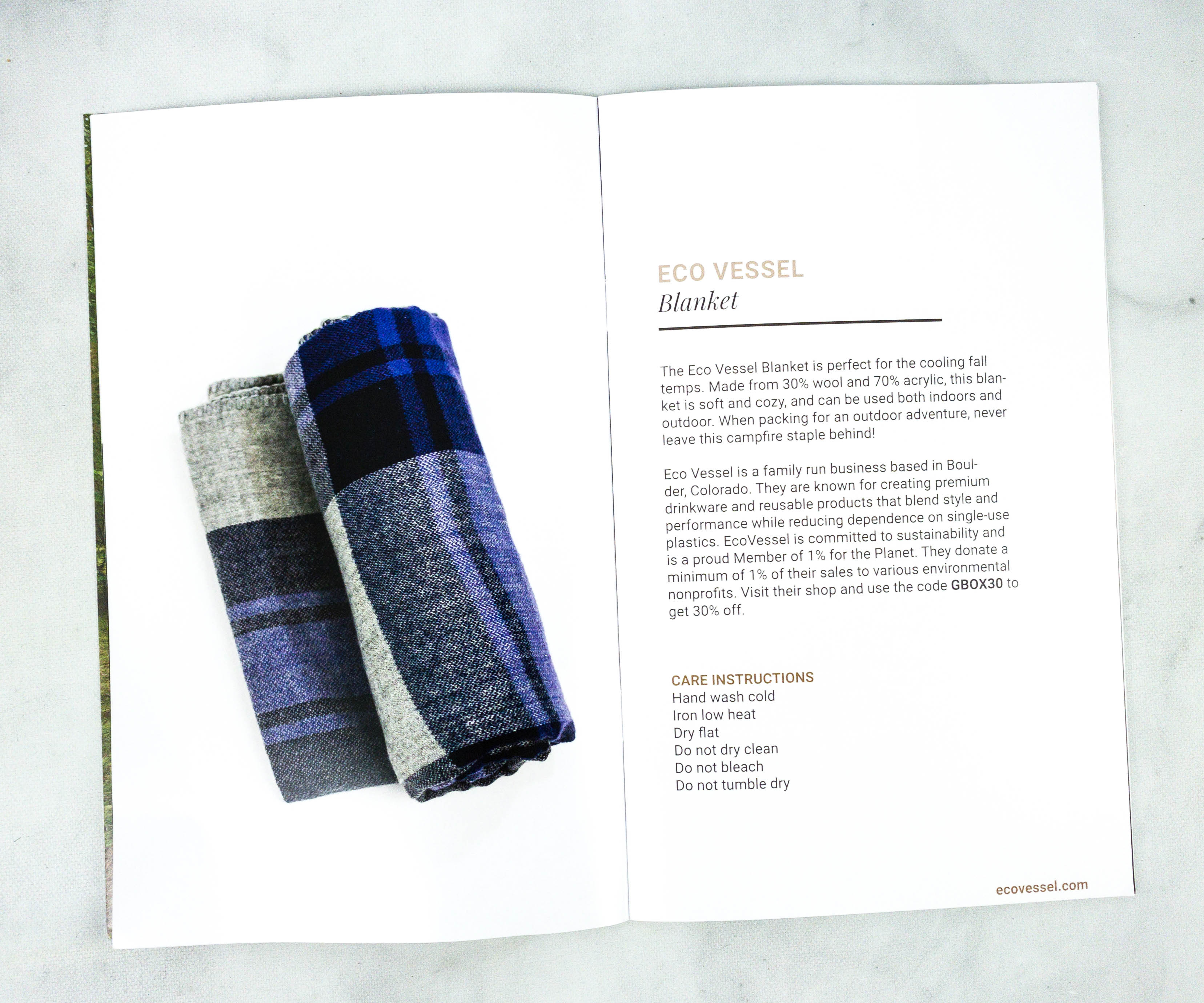 Eco Vessel Blanket. This blanket consists of 30% wool and 70% acrylic, making it soft, warm, and comfortable. It's great to bring outdoors, whether when going to the mountains or to the beach!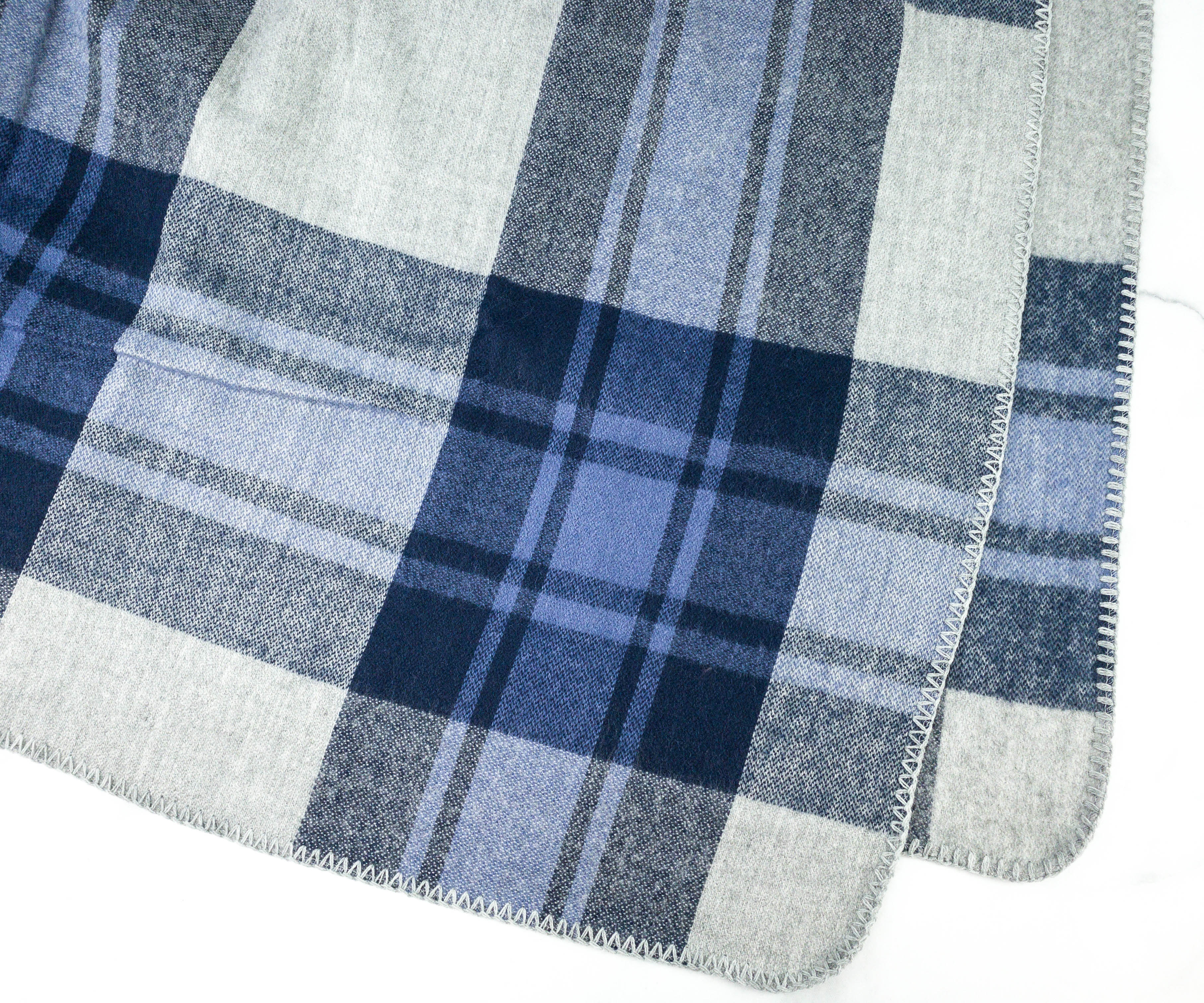 It features a classic checkered design, as well as reinforced stitching on all the edges of the blanket.
According to the booklet, for this blanket to stay thick, soft, and comfy to use for a longer period of time, it should be hand washed using cold water, iron with low temperature, dry flat, and most importantly, do not bleach.
This quarter's The Gentleman's Box Premium lived up to my expectations! It includes a useful curation of tools, equipment, and accessories for outdoor use and I simply loved everything. Seeing them got me all excited to go on adventures once again. The curation includes outdoor must-haves such as a hammock, a blanket, a pack of facial wipes, and even a utility knife. My favorite is the hammock because it's easy to set-up and it makes a great place to relax. They even included a roll-up board game to entertain us without having to rely on gadgets! Considering the value and the variety of items, this is probably one of the best premium boxes from The Gentleman's Box this year. I'm excited to see how they will top this next quarter!
What do you think of Gentleman's Box Premium this quarter?
Visit The Gentleman's Box Premium Box to subscribe or find out more!