The Dapper Dog Box is a monthly box for your best friend in the world – your dog! They source organic and natural items from passionate small companies that love dogs, hand-picking each item for your dog based on a personalized survey. The survey lets you customize your box for gender, five different dog sizes, and also any allergies. The regular sized box has 4-6 items with an average $50 value.
DEAL: Save 10% off your first shipment! Use coupon code HELLOSUBSCRIPTION.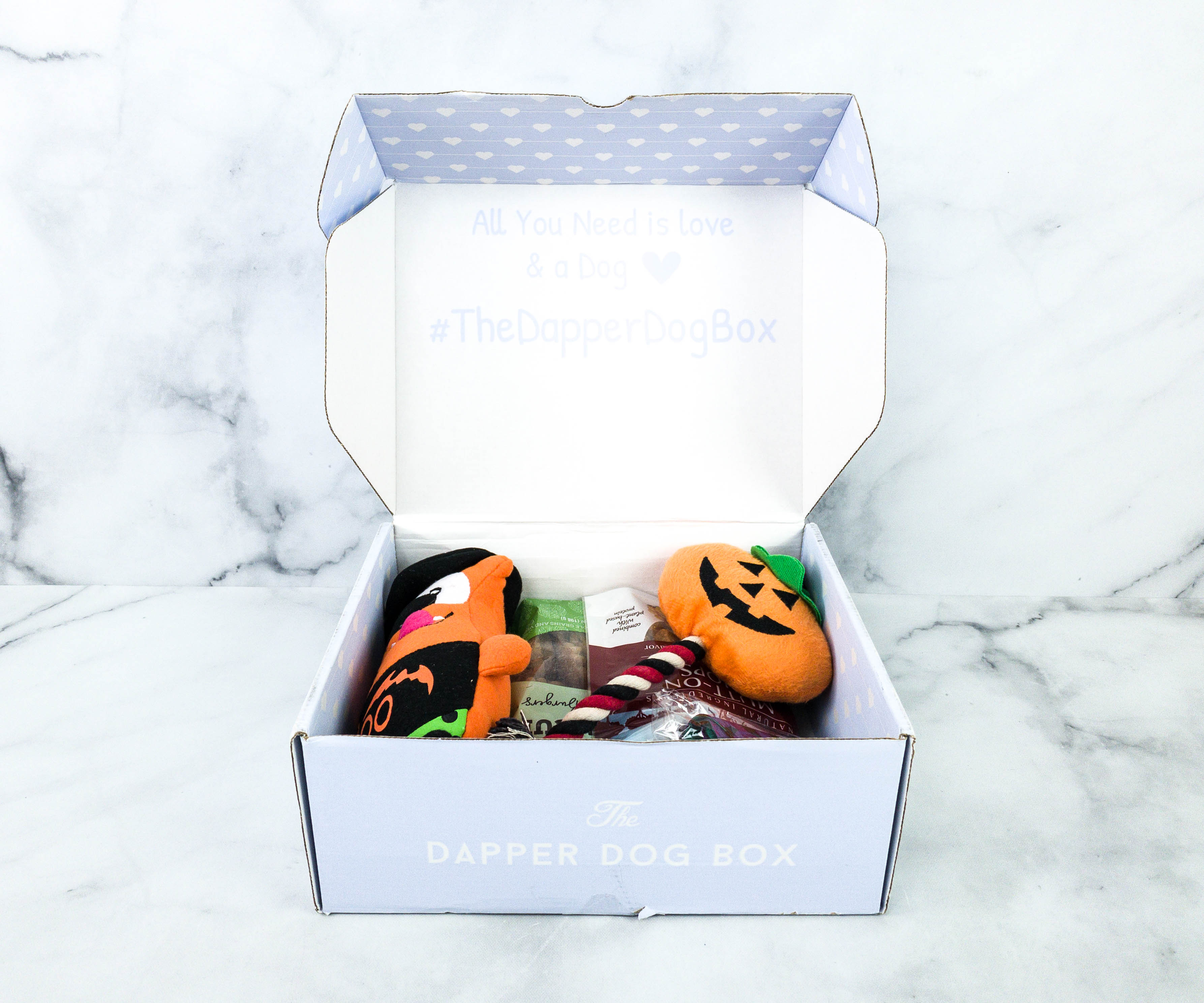 The interior of the box cover says "all you need is love and a dog" and I couldn't agree more.
All the items are neatly stuffed inside the box.
Every box comes with a cute information card.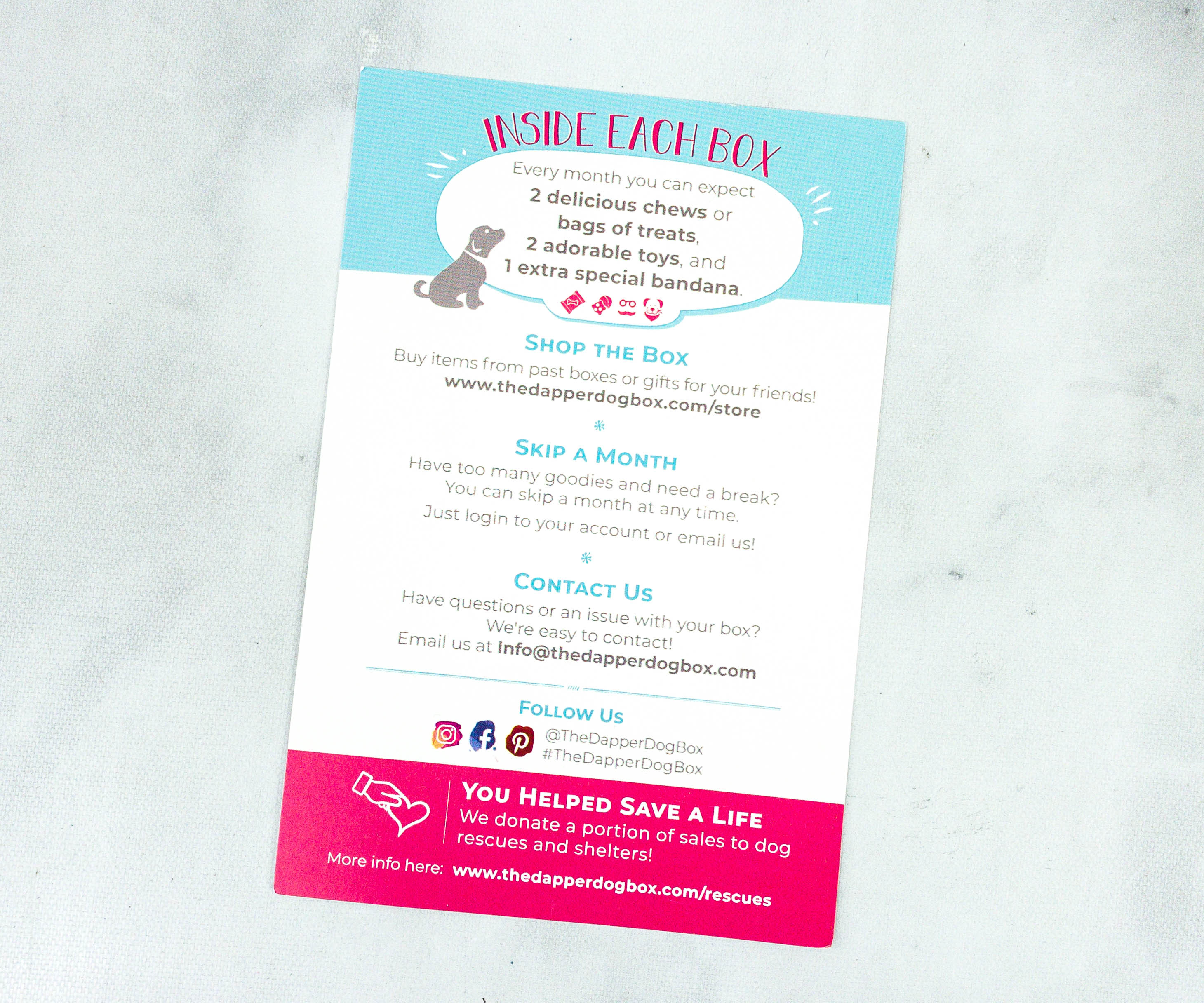 This card provides all the information you need to know about the box.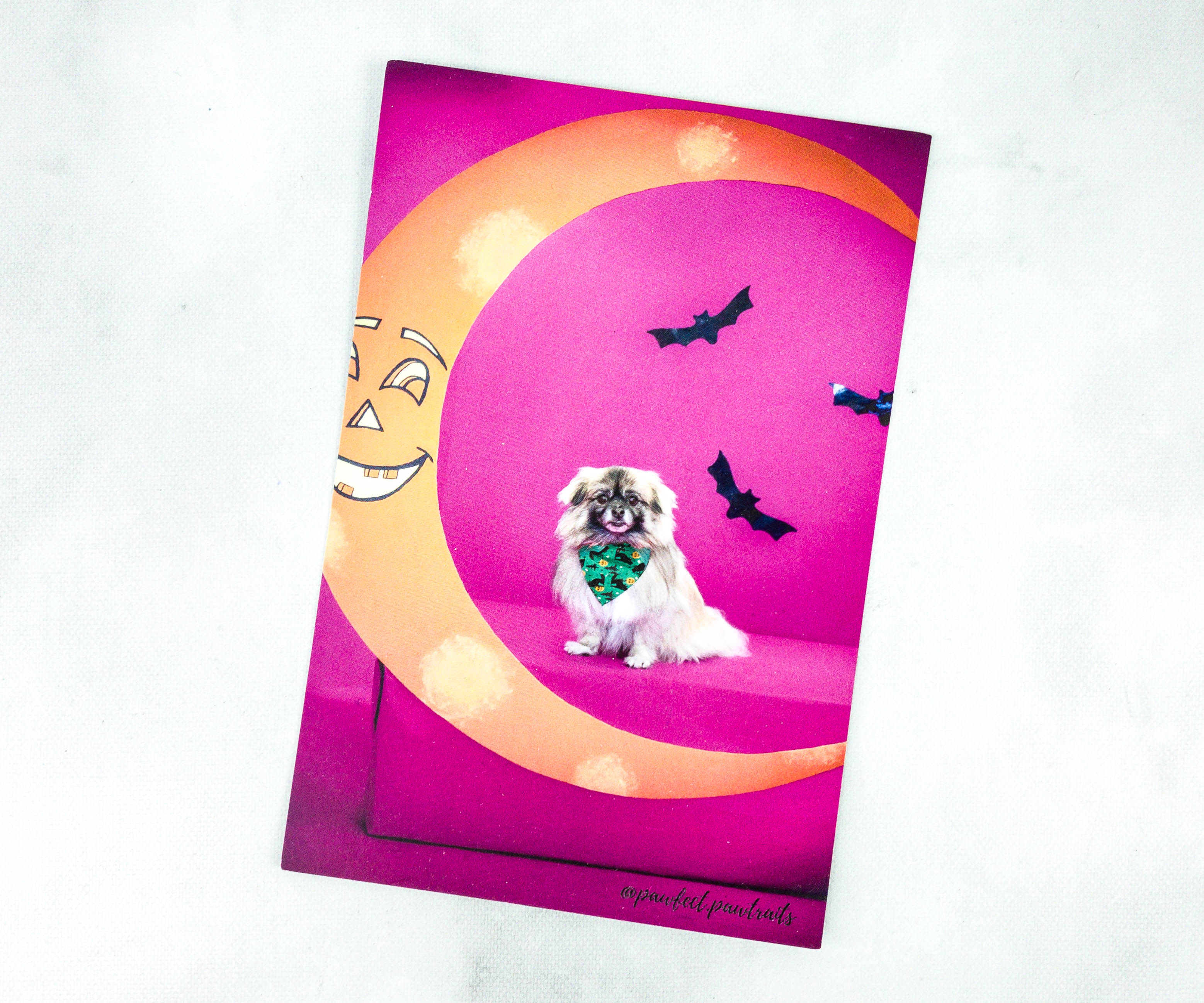 This month's theme is Happy Howl-O-Ween!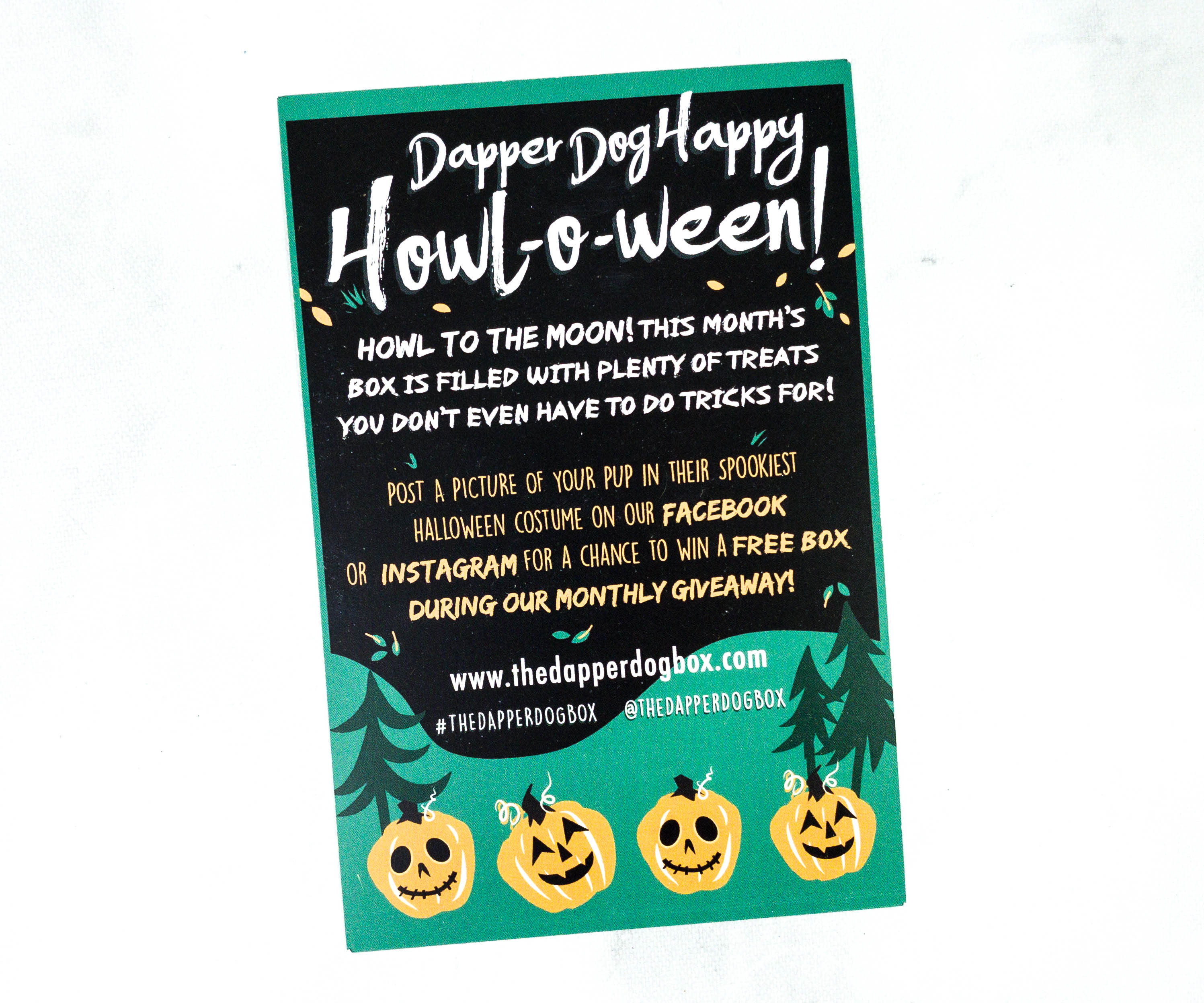 They also encourage us to join their photo challenge on Facebook or Instagram for a chance to win a FREE box!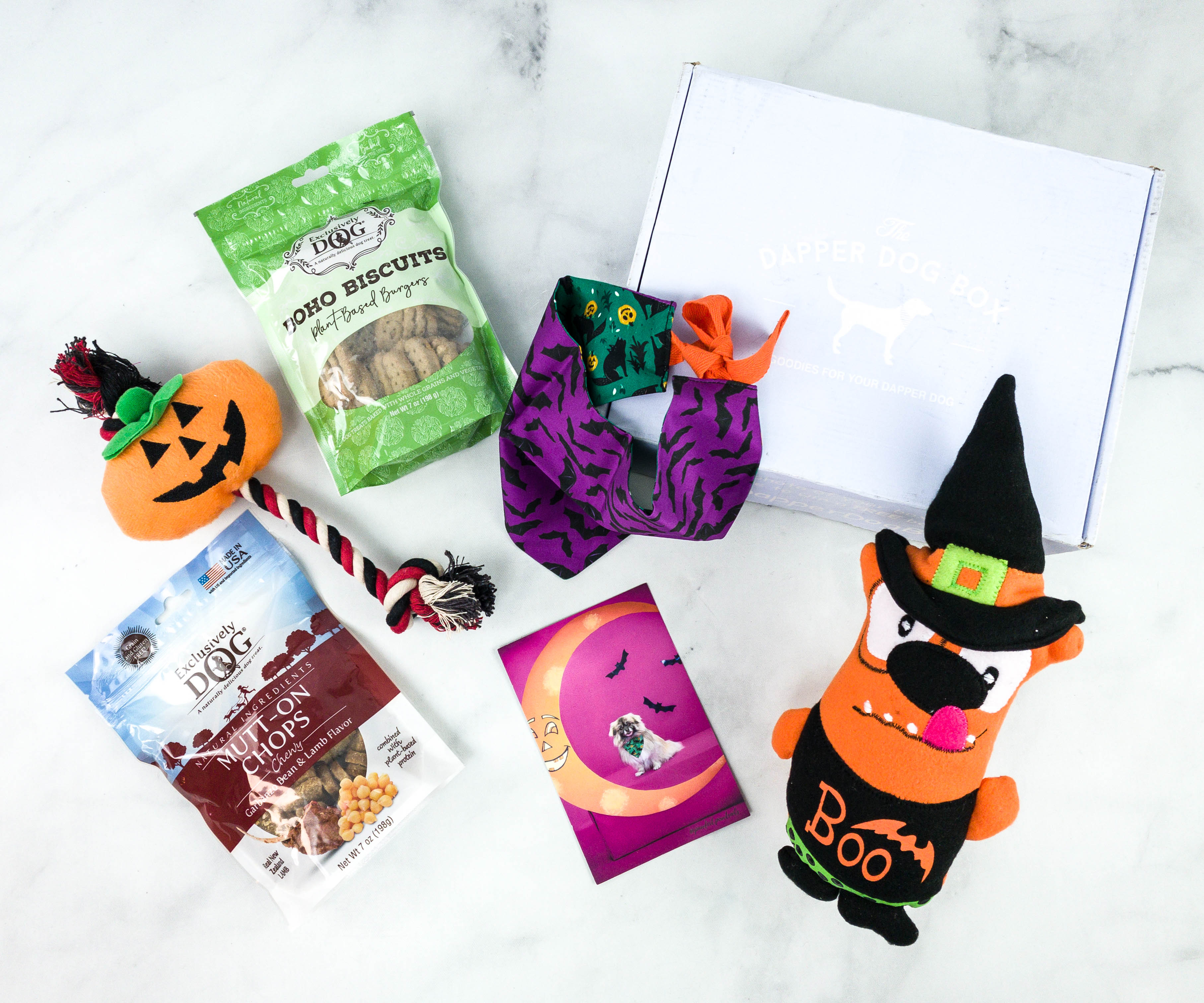 Here are all the items in the October 2020 box!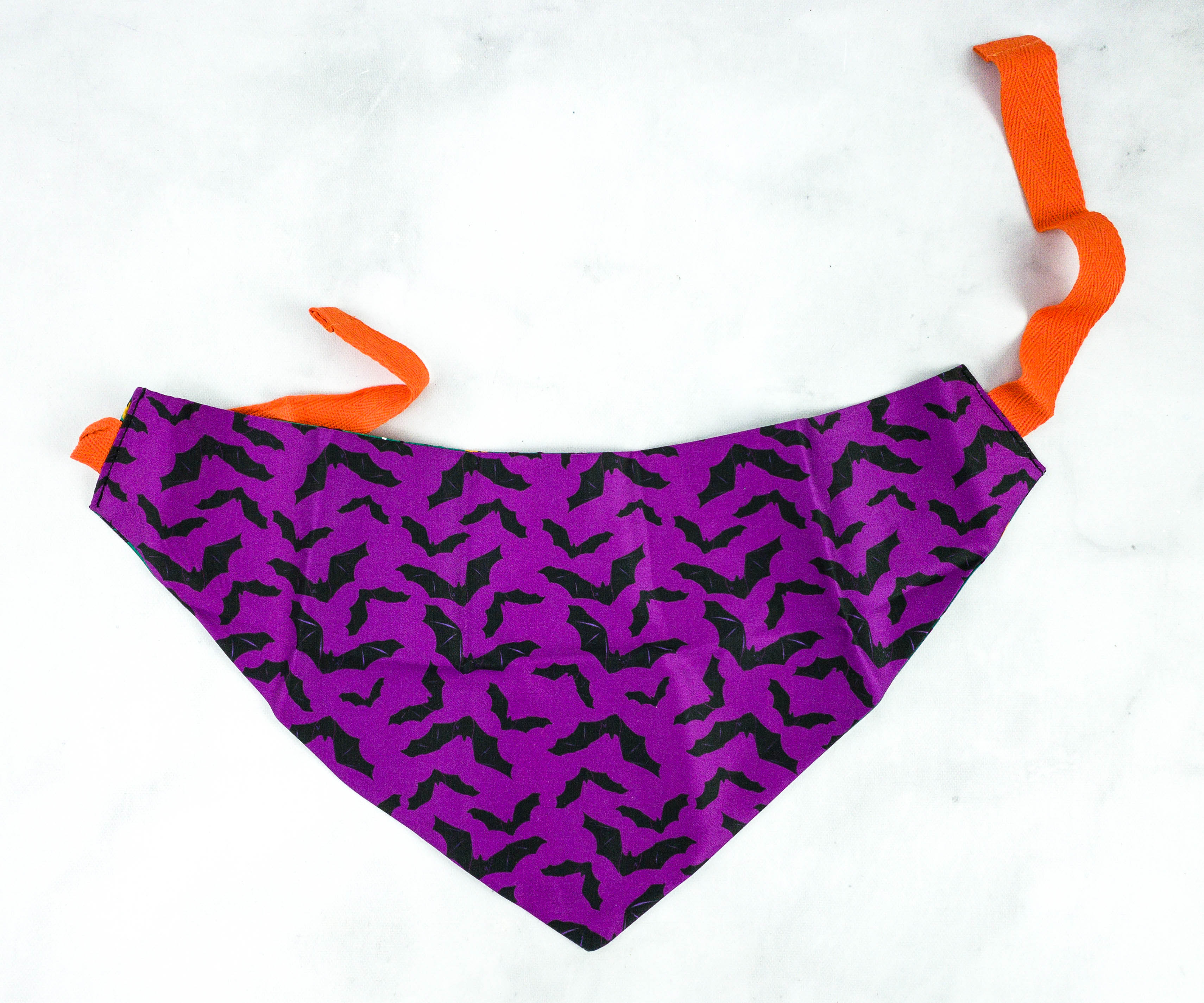 Bandana. This month's box includes a double-sided bandana made from soft, high-quality fabric. One side has a purple base color and bat prints all over!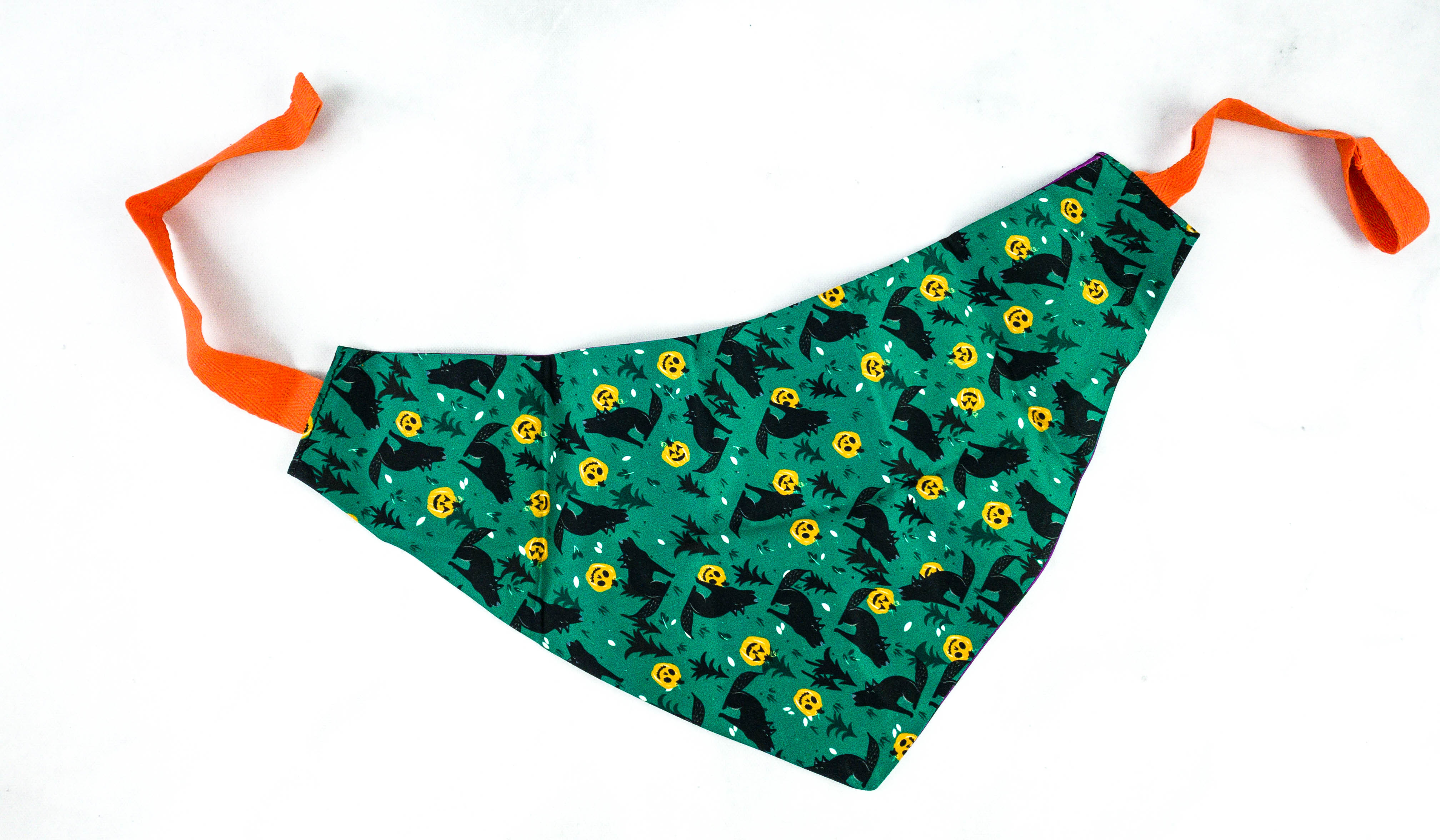 The other side of the bandana is in green, with classic Halloween prints that include a werewolf and a jack-o-lantern!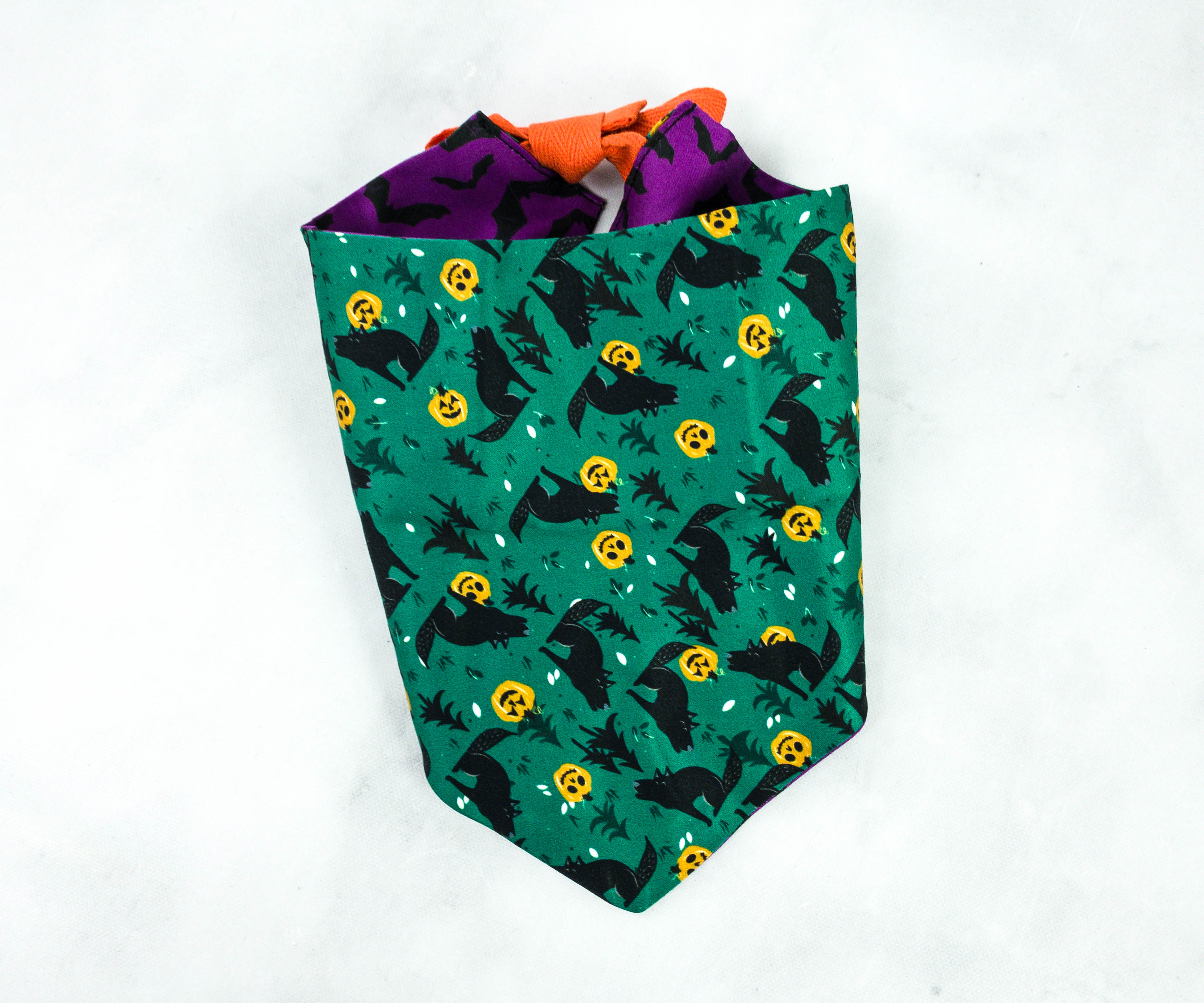 The strap makes it easy to tie the bandana on my dog's neck.
Dog Toy. This Halloween-themed toy is a dog dressed up as a witch, and it's so cute and fluffy!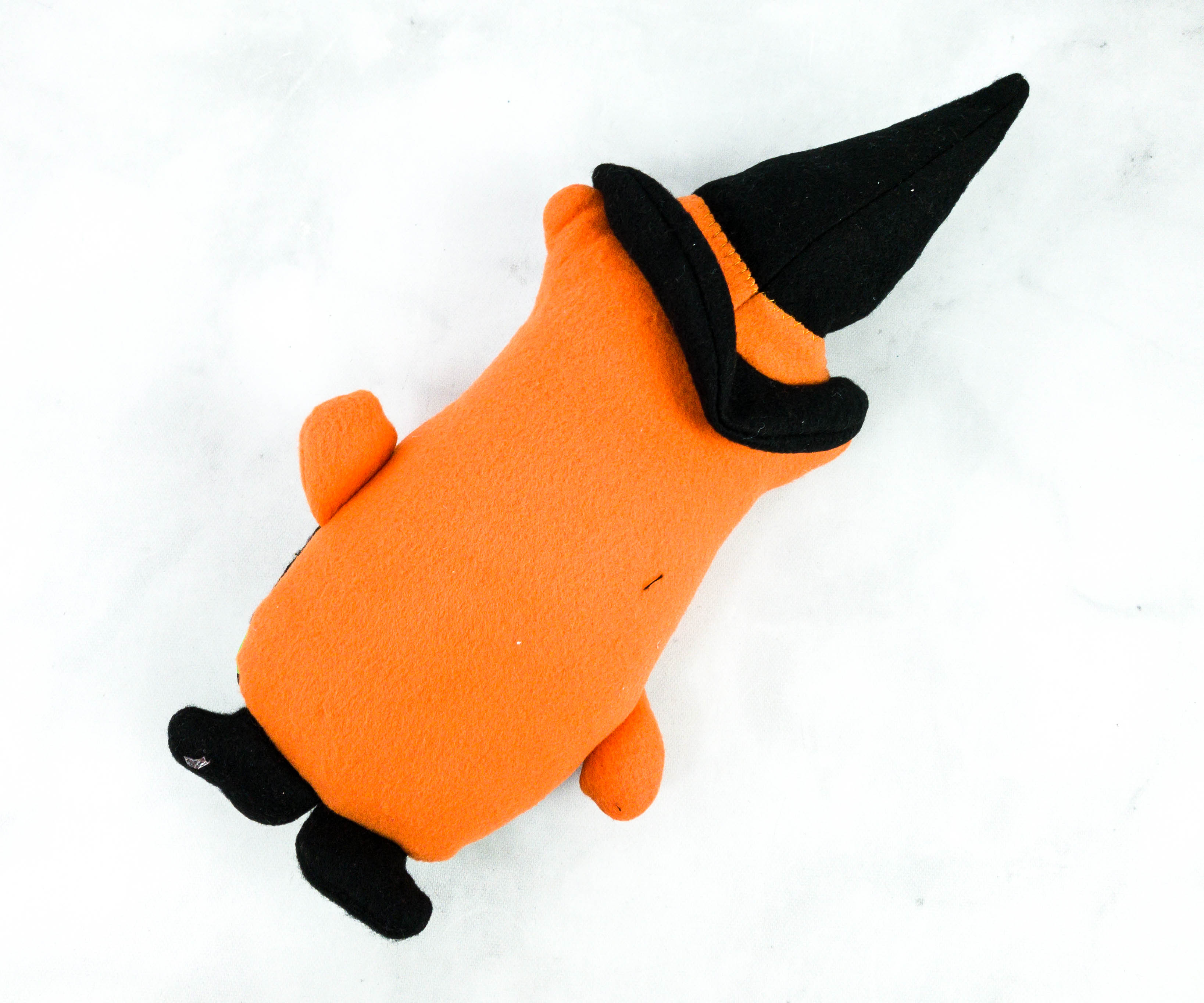 It's even wearing a hat!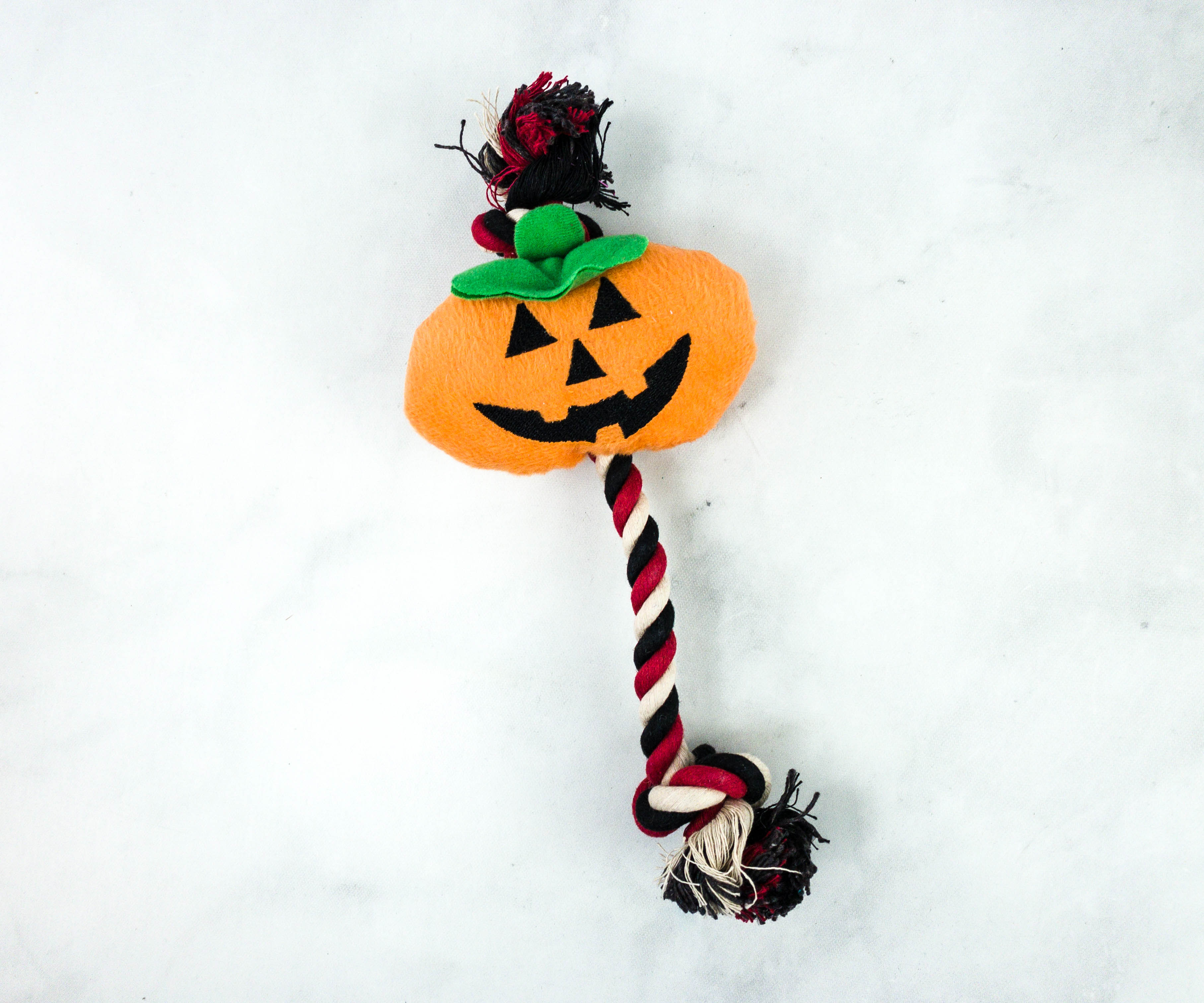 Dog Toy. Another fun dog toy for Halloween is this jack-o-lantern! It comes with a thick knotted rope which is ideal for playing tug of war.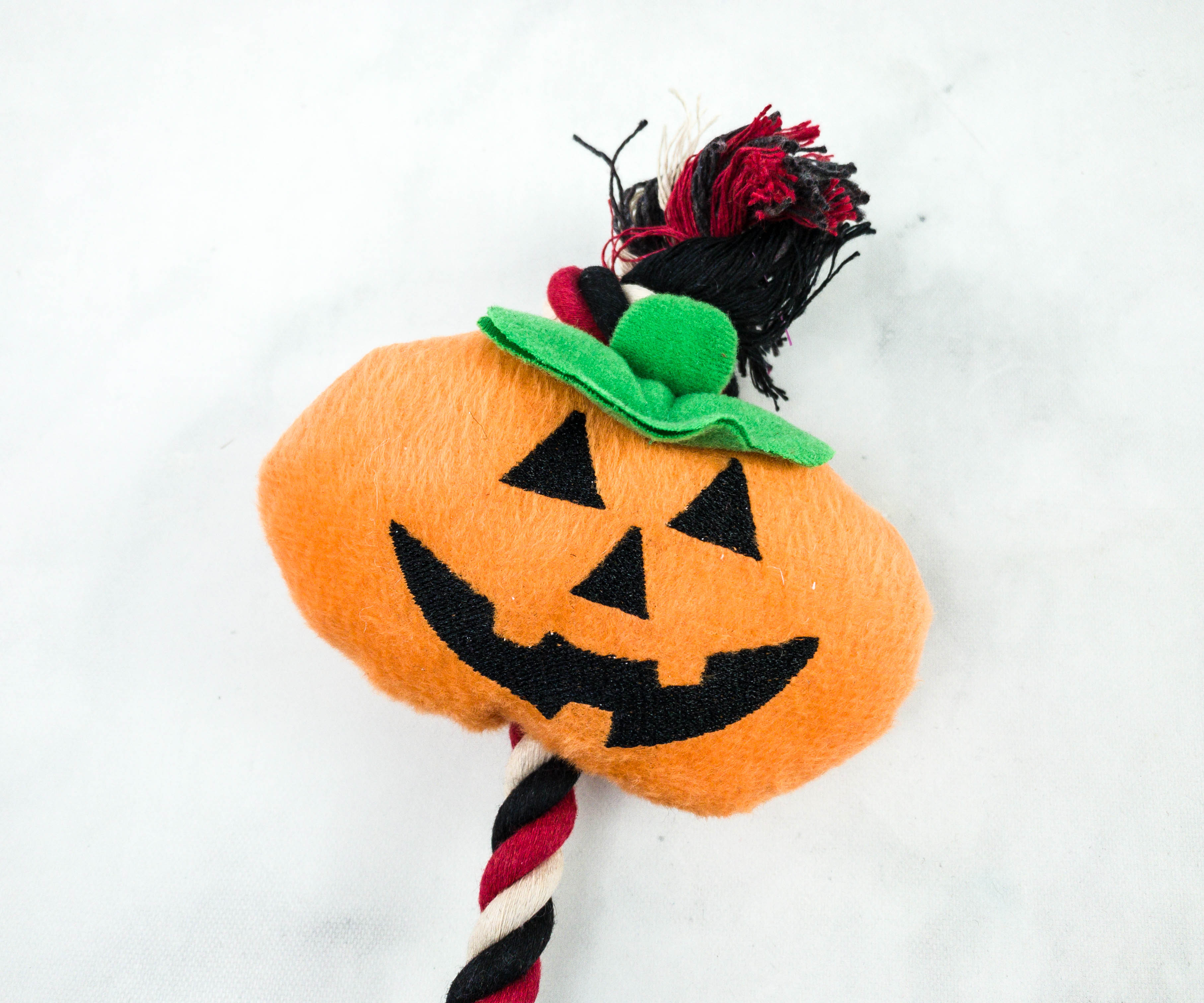 Here's a closer look at the cute and cuddly jack-o-lantern. It also produces a squeaky sound when bitten!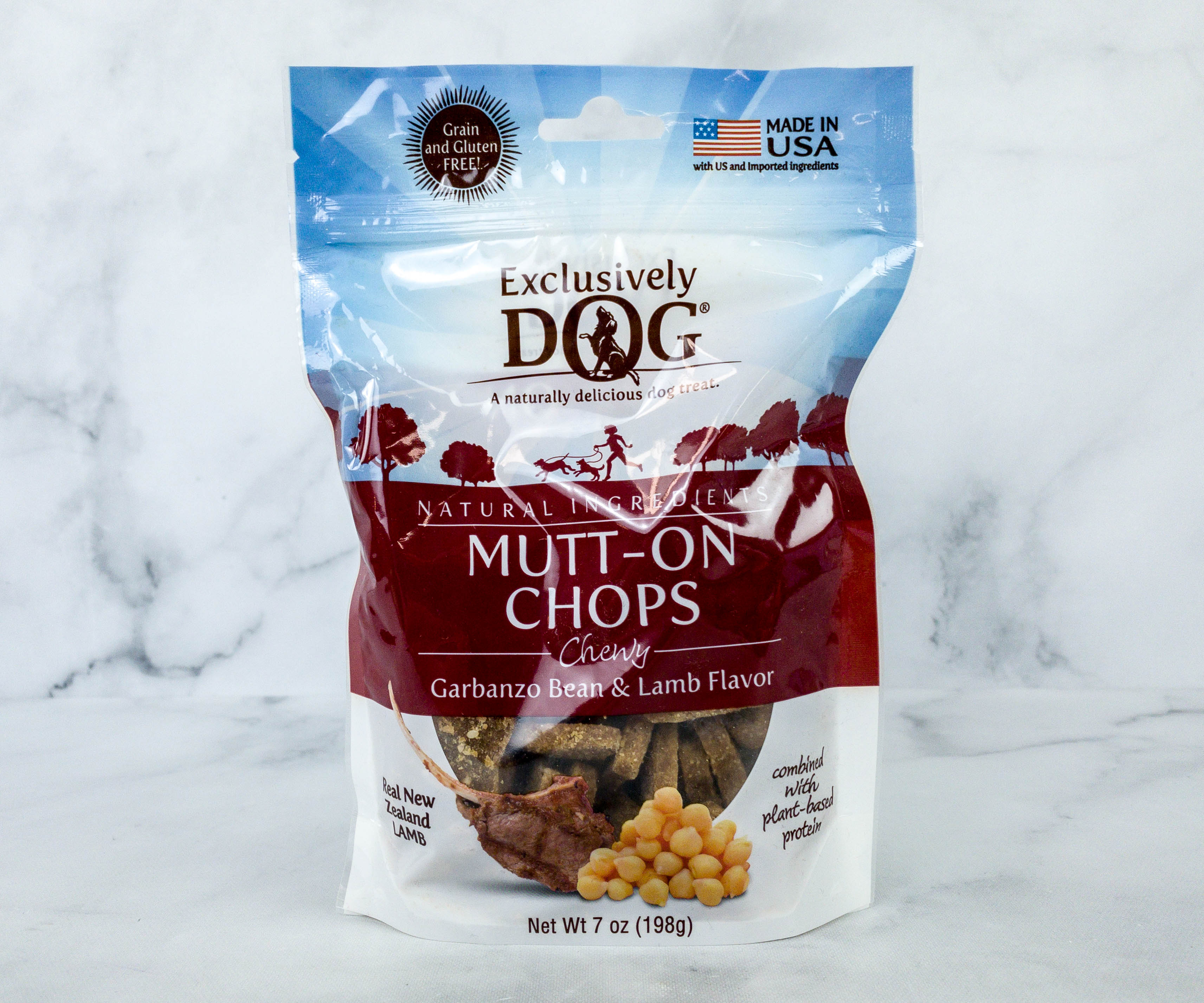 Exclusively Dog Mutt-On Chops Chewy Garbanzo Bean & Lamb Flavor ($6.79) This month's box includes two bags of dog treats! The first one is made with real lamb and dried ground garbanzo bean.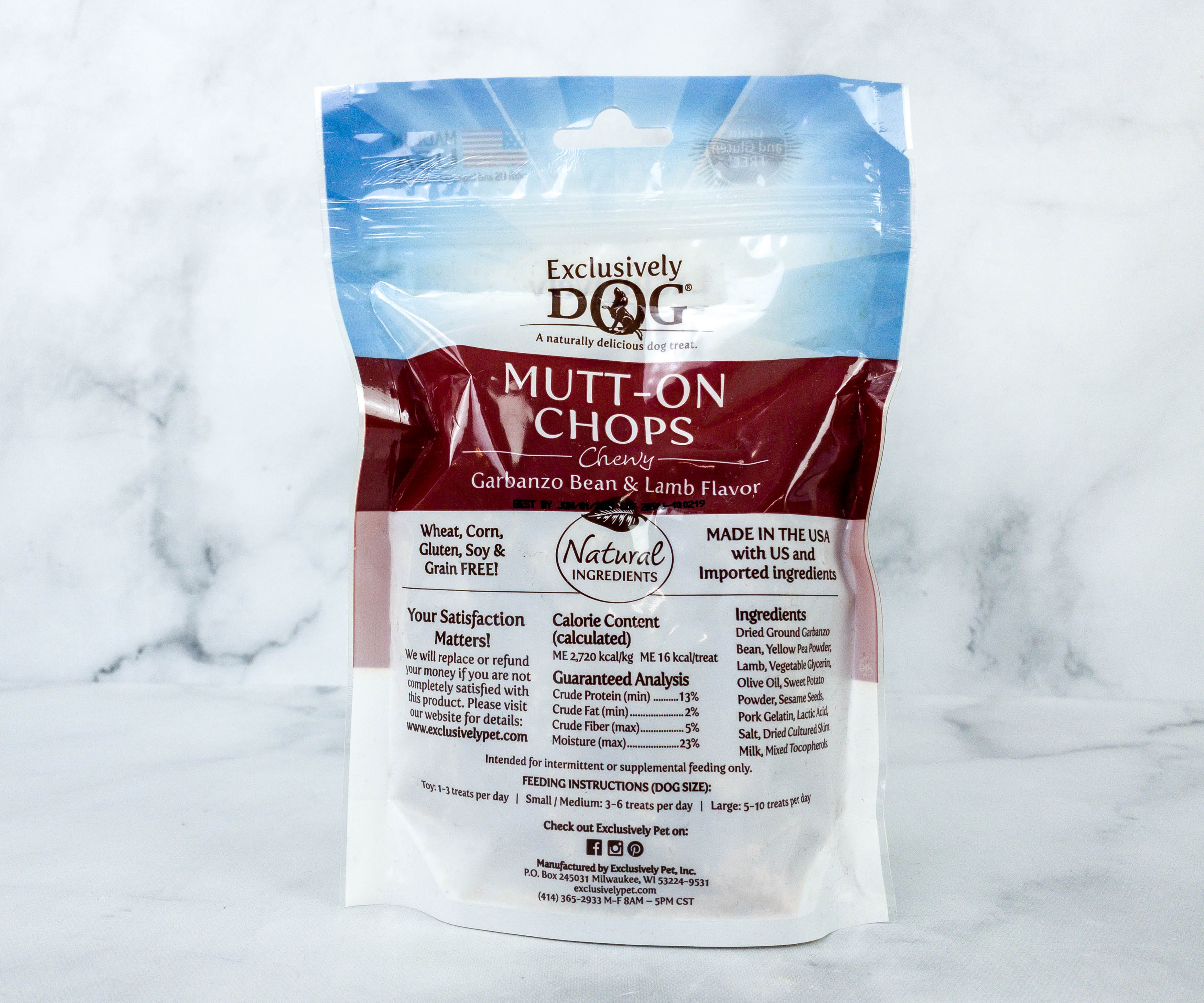 These treats are also made with yellow pea powder, vegetable glycerin, olive oil, sweet potato, sesame seeds, pork gelatin, and dried cultured slim milk.
Inside the bag are chewy treats packed with vitamins and nutrients. Since they are already in bite-sized pieces, you can easily serve them as a snack or feed as a training treat.
Exclusively Dog Boho Biscuits Plant-Based Burgers ($5.85) The second bag is also made in the USA using clean, human-grade ingredients that includes barley, oats, potatoes, brown rice, flaxseed, green split pea, carrots, and spinach.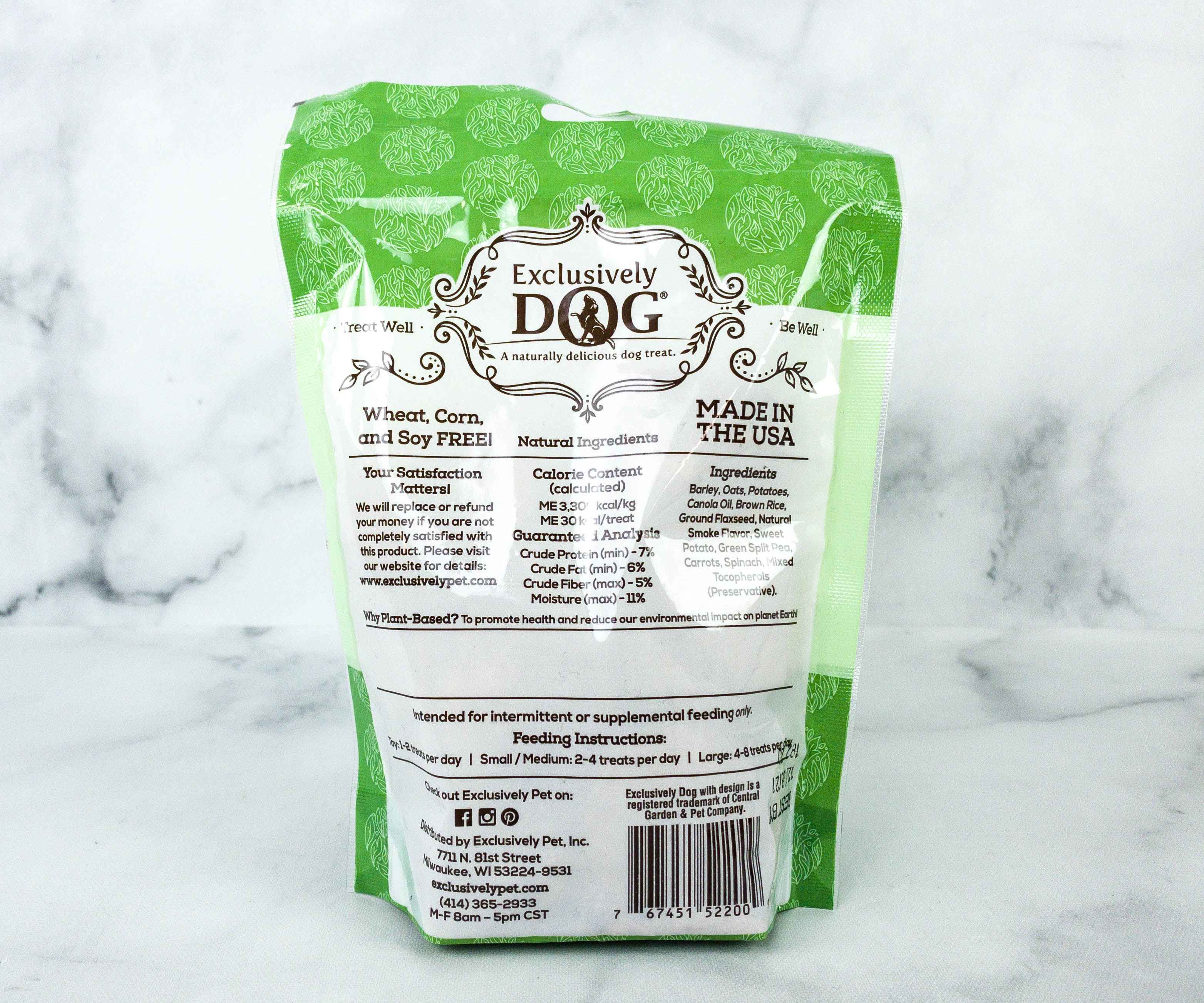 These treats don't contain wheat, corn, and soy!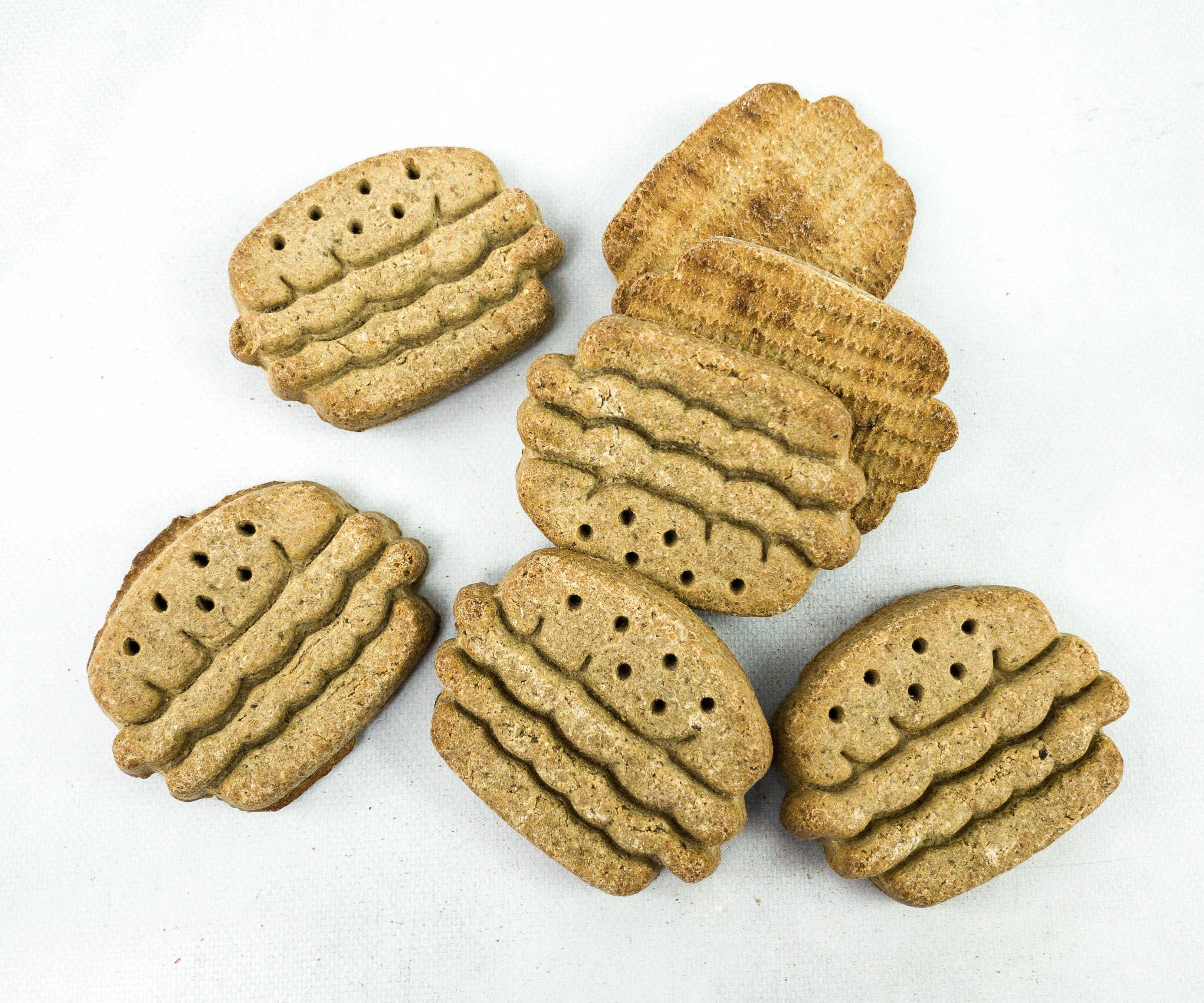 Look at these cute hamburger-shaped biscuits! They are so crunchy and we know that they are tasty by the way our pups wag their tail whenever they see these treats.
Here's Dean posing with his new Halloween-themed toys and wearing the spooky bandana!
Dapper Dog Box always does a great job of curating toys and treats for dogs and this month's box isn't an exception. Dean loved both the hamburger-shaped biscuits and the bite-sized lamb treats in the box! We've also played tug of war using the rope toy and had a lot of fun. Even the other toy didn't disappoint, it's so fluffy and it's now Dean's new cuddle buddy. Of course, we also received a high-quality dog bandana! It features Halloween-themed prints! This is a worthy subscription for pet parents who want top-quality goodies for their fur babies. It's also customizable for your dog's size, so you're sure that you'll only get treats and toys that are ideal for them!
Did you love this month's box as much as we did?