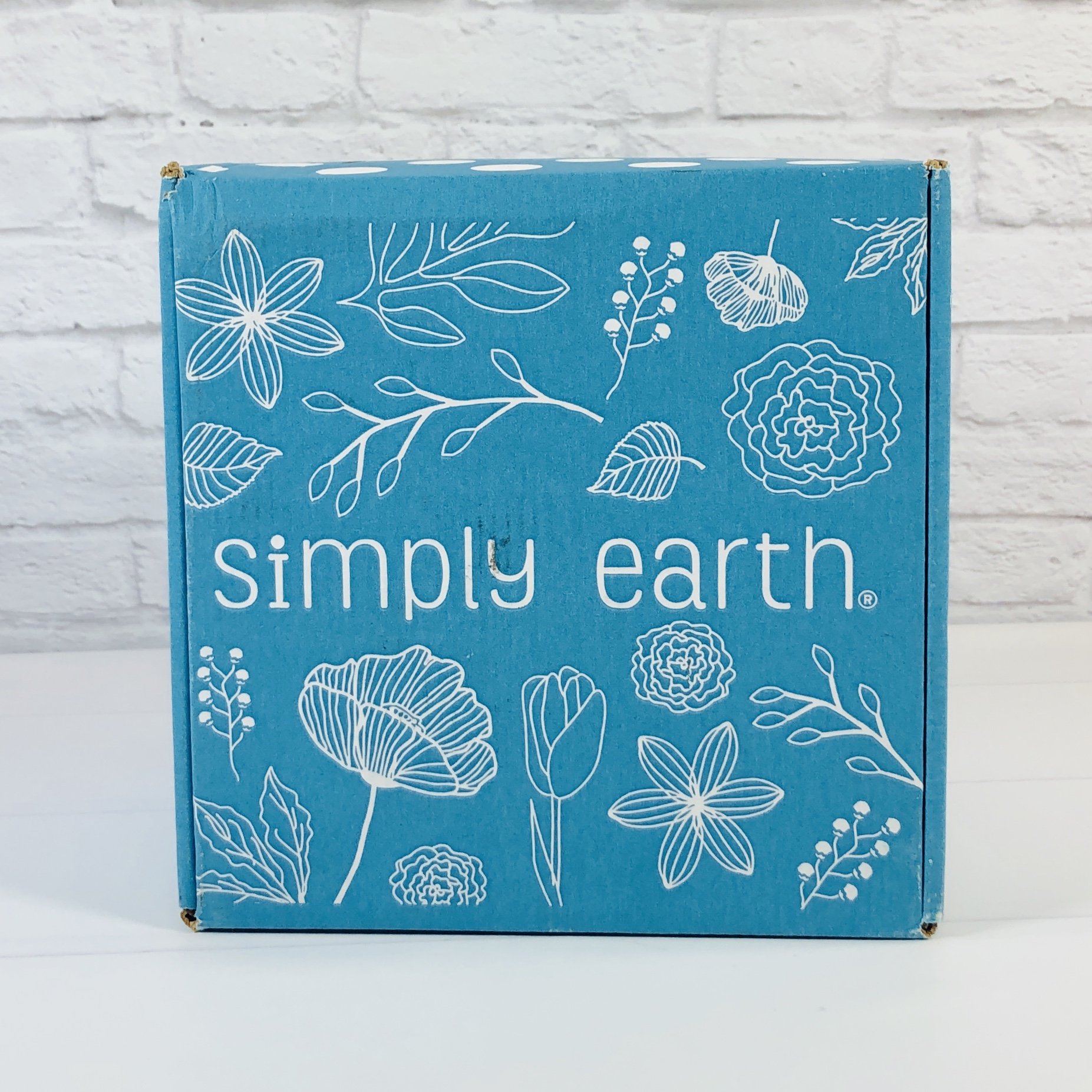 Simply Earth is a monthly subscription that sends high-quality essential oils along with recipes and ingredients to make natural beauty and home products! Each box comes with 4 essential oils, containers, extra ingredients to make the recipes, and 5 – 7 recipes on recipe cards. When you sign up (and every 6 months thereafter) you will receive a free Bonus Box full of extra containers and ingredients needed for the recipes, such as carrier oils and beeswax. Simply Earth is $39 a month. They feel strongly about giving back and donate 13% of all profits to help end human trafficking.

Every month is designed around a new theme with ingredients, containers, and extras you need to make 6 natural recipes (this includes 4 full-sized bottles of essential oils!) … delivered right to your doorstep.

We loved making our own natural products and knowing what was in them, so we created. With the essential oil recipe box, you get everything you need to make your home natural; easy and fun recipes to follow, honest prices, and products that work. It puts you in charge and you can enjoy time together making natural recipes with friends and family.
DEALS: Receive a FREE Big Bonus Box with your first box. Deal applies automatically, just VISIT AND SUBSCRIBE. Plus, get a $40 gift card you can use for your next box or future purchases!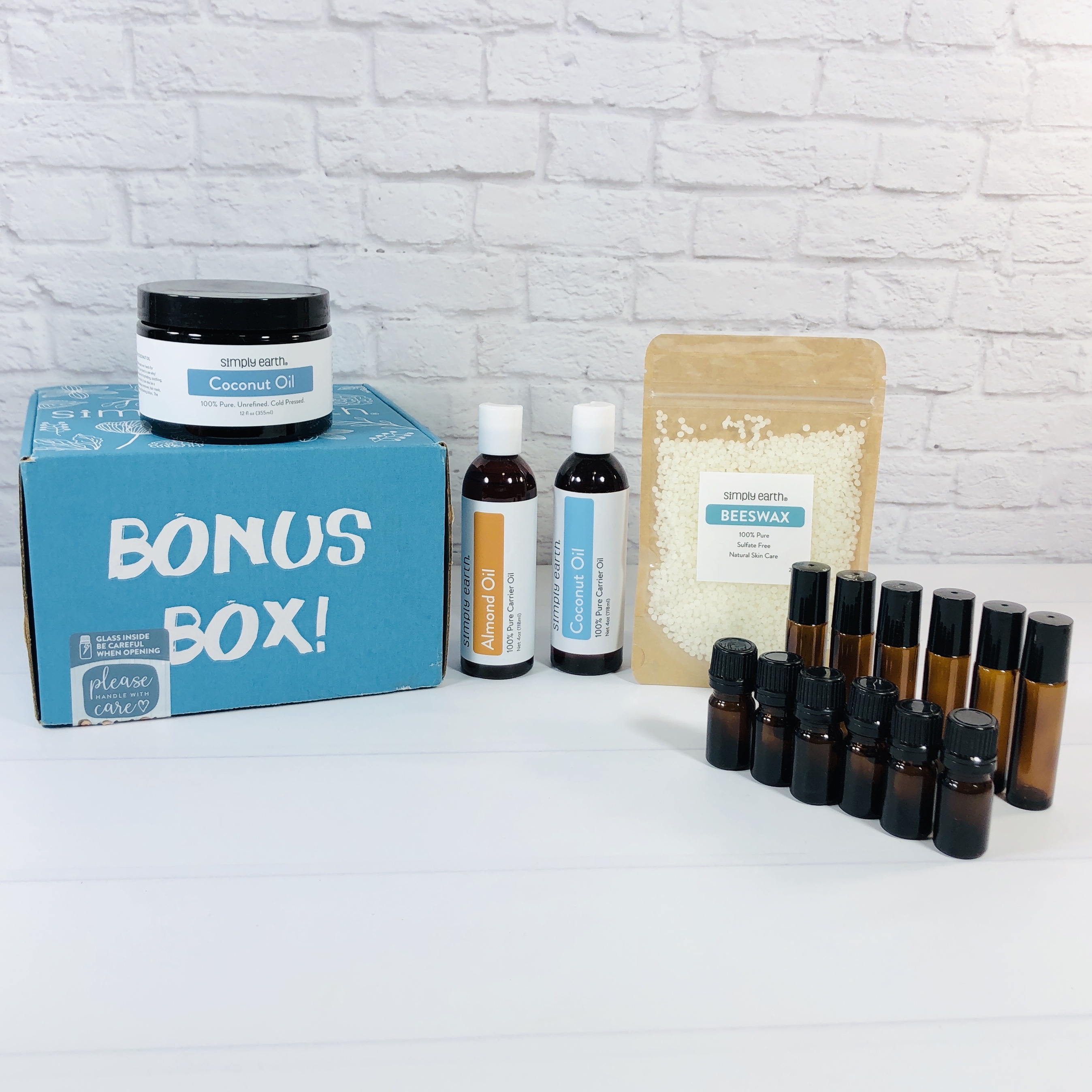 Here's a pic of the Bonus Box, which came with my first recipe box – they are shipped together! You can read all about the Bonus Box here!
Here is my Recipe Box!
My items were packed neatly inside.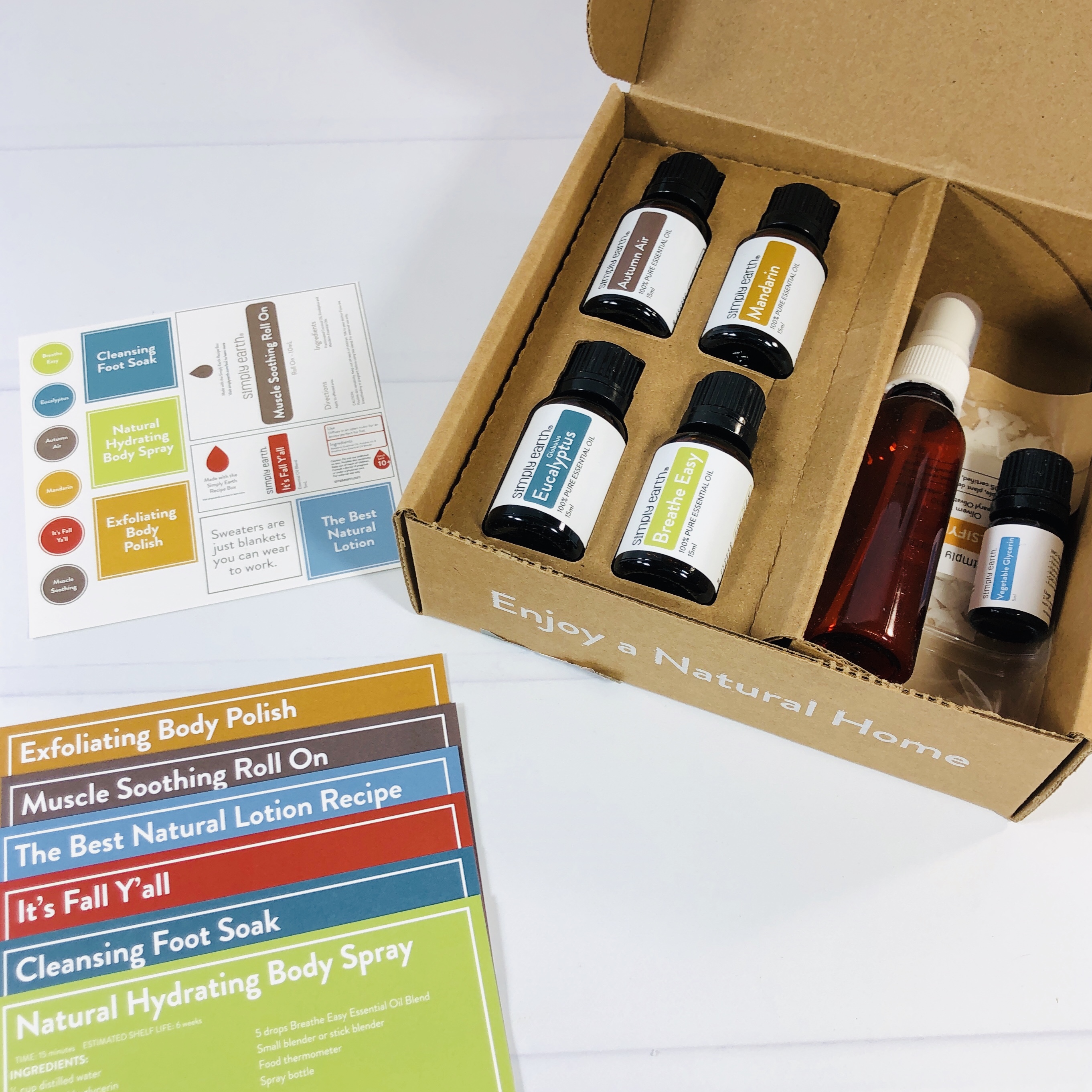 Look at those bottles, plus the recipes sound so cool!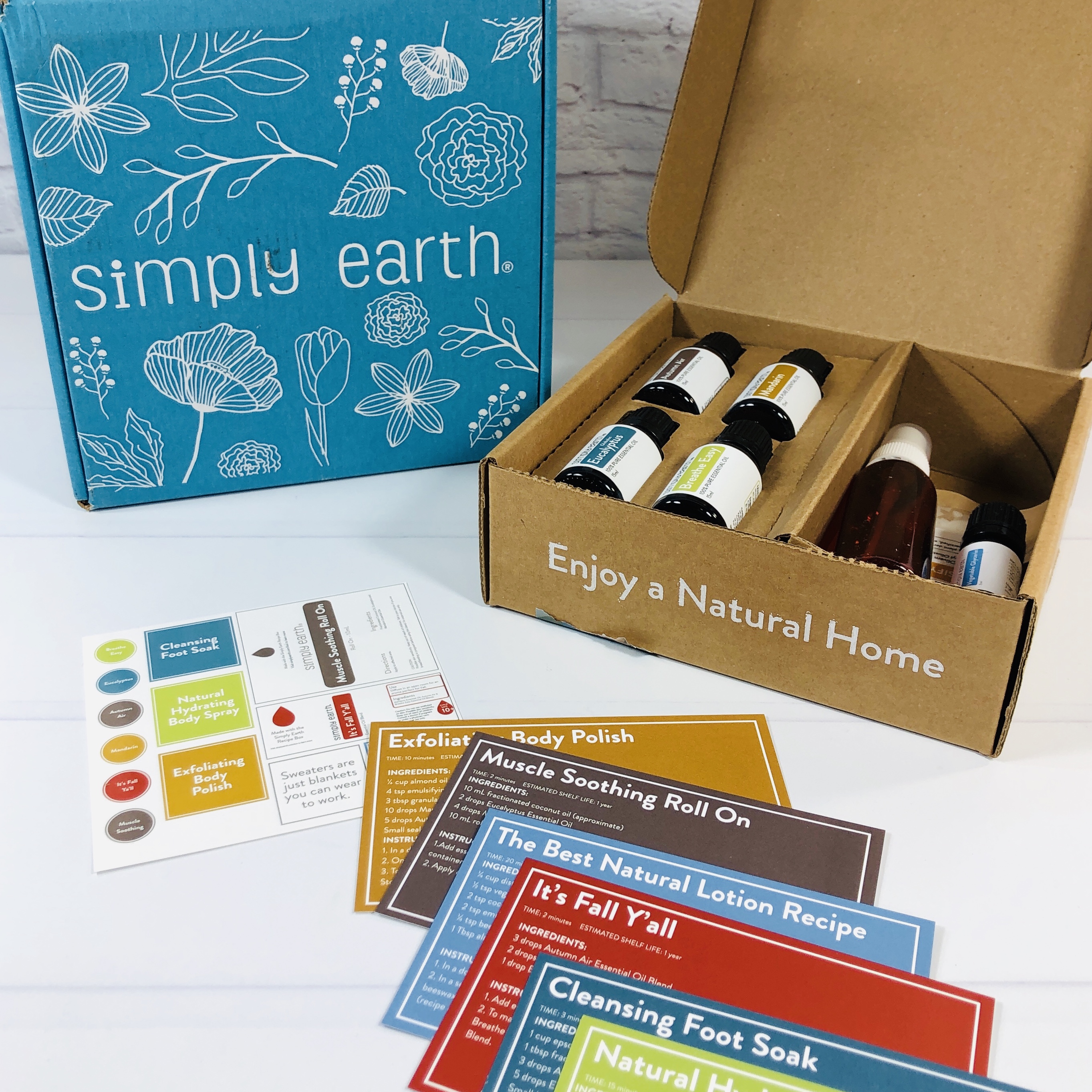 Everything in my box!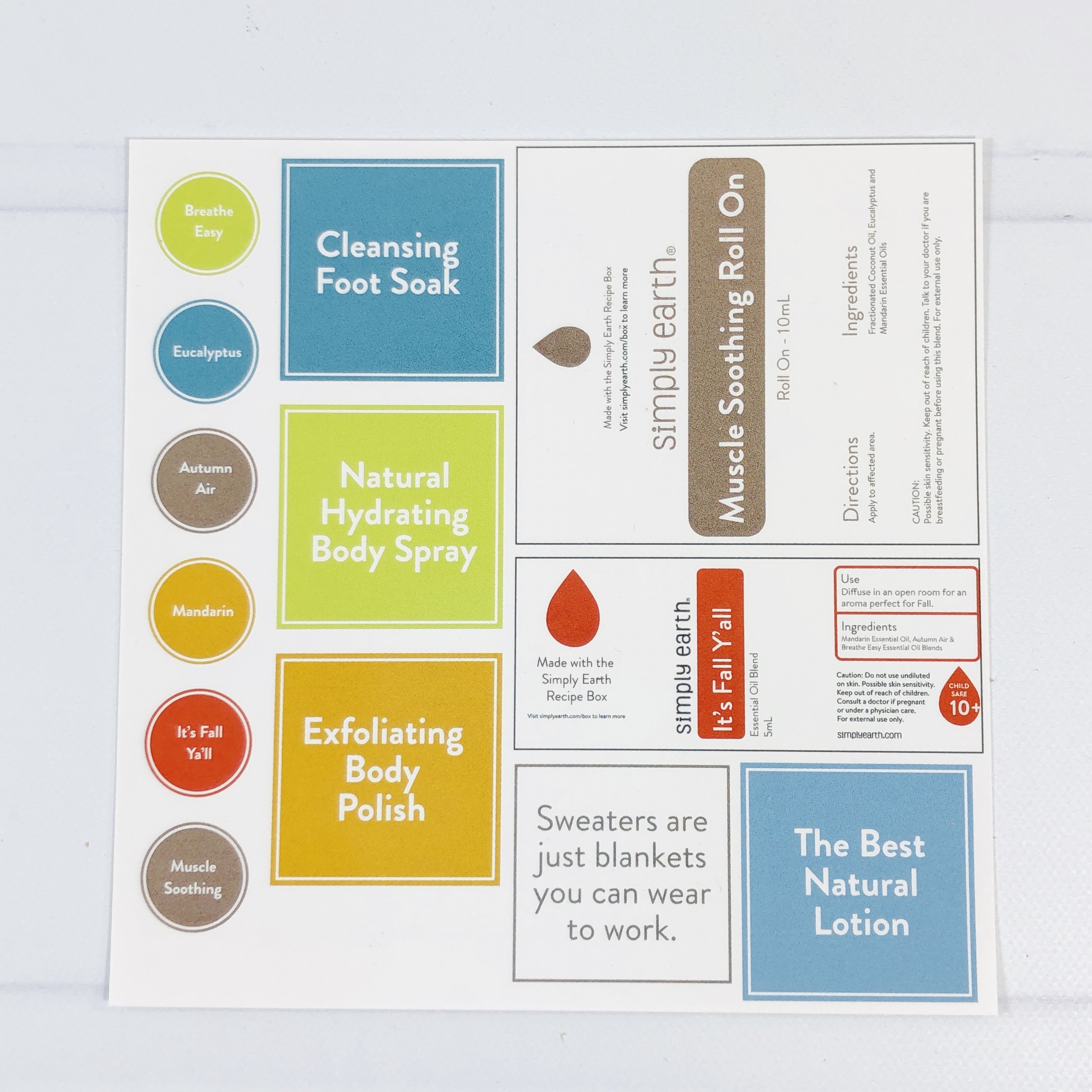 When making your recipes you will need to label the containers and this sheet makes it simple. Just cut out the label you want to use and peel of the backing before sticking it on.
Simply Earth Emulsifying Wax Emulsifying wax is necessary when making natural lotions because oil and water won't mix or stay combined unless you use something to bind them together.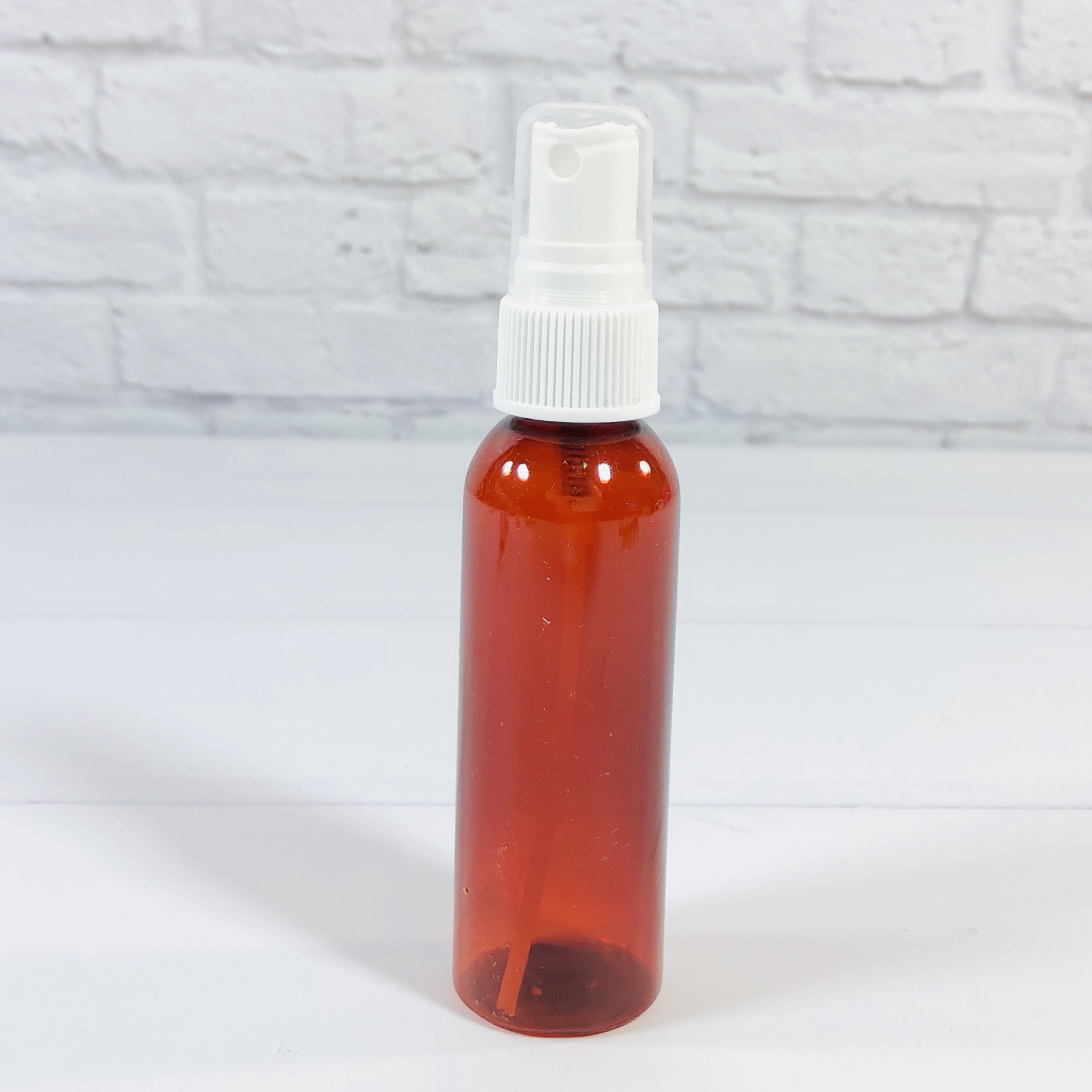 Spray Bottle is used in another of the recipes this month.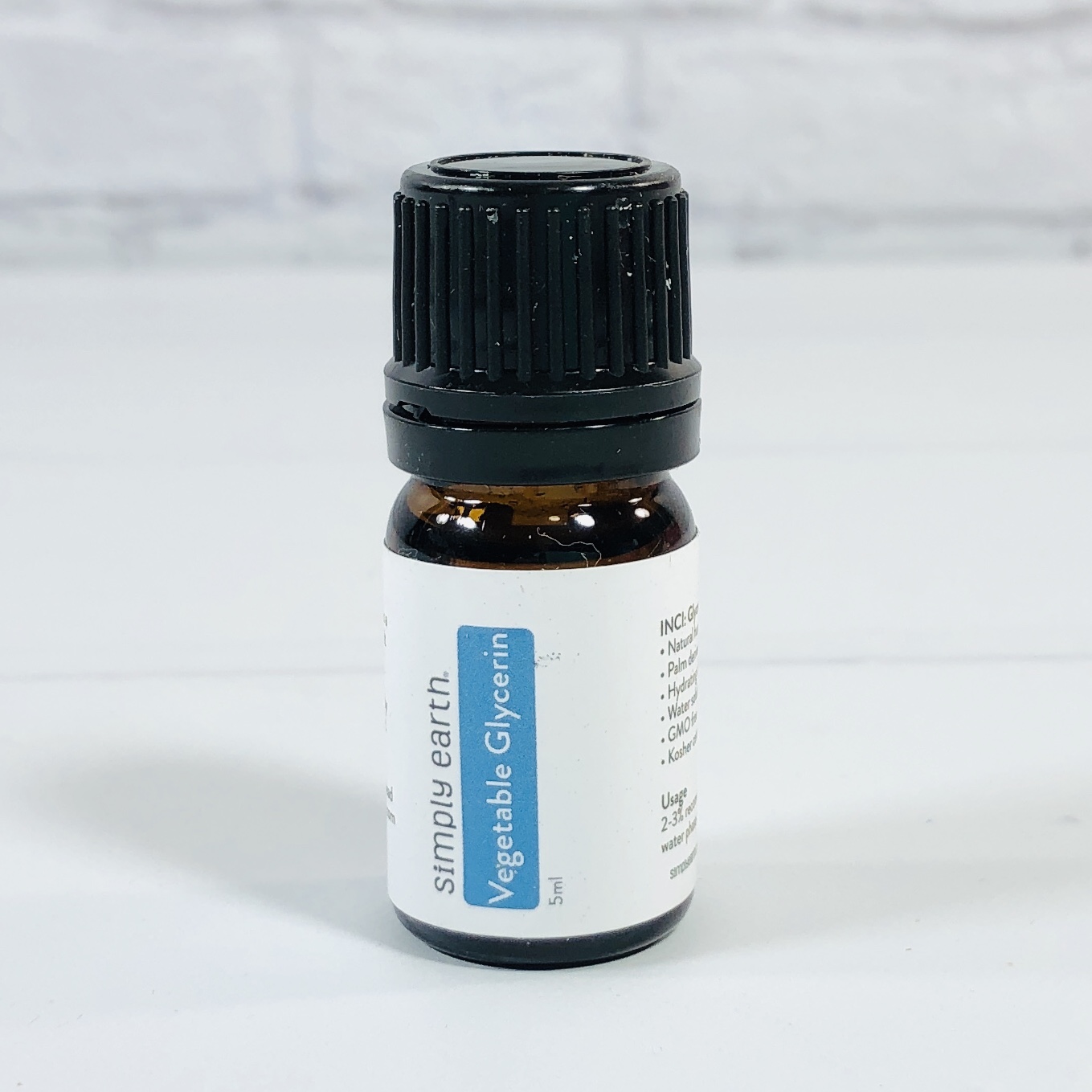 Simply Earth Vegetable Glycerin Oil Glycerin is added to lotions and such to provide moisture.
It draws water to the skin, much like hyaluronic acid. It is used in two of the recipes this month.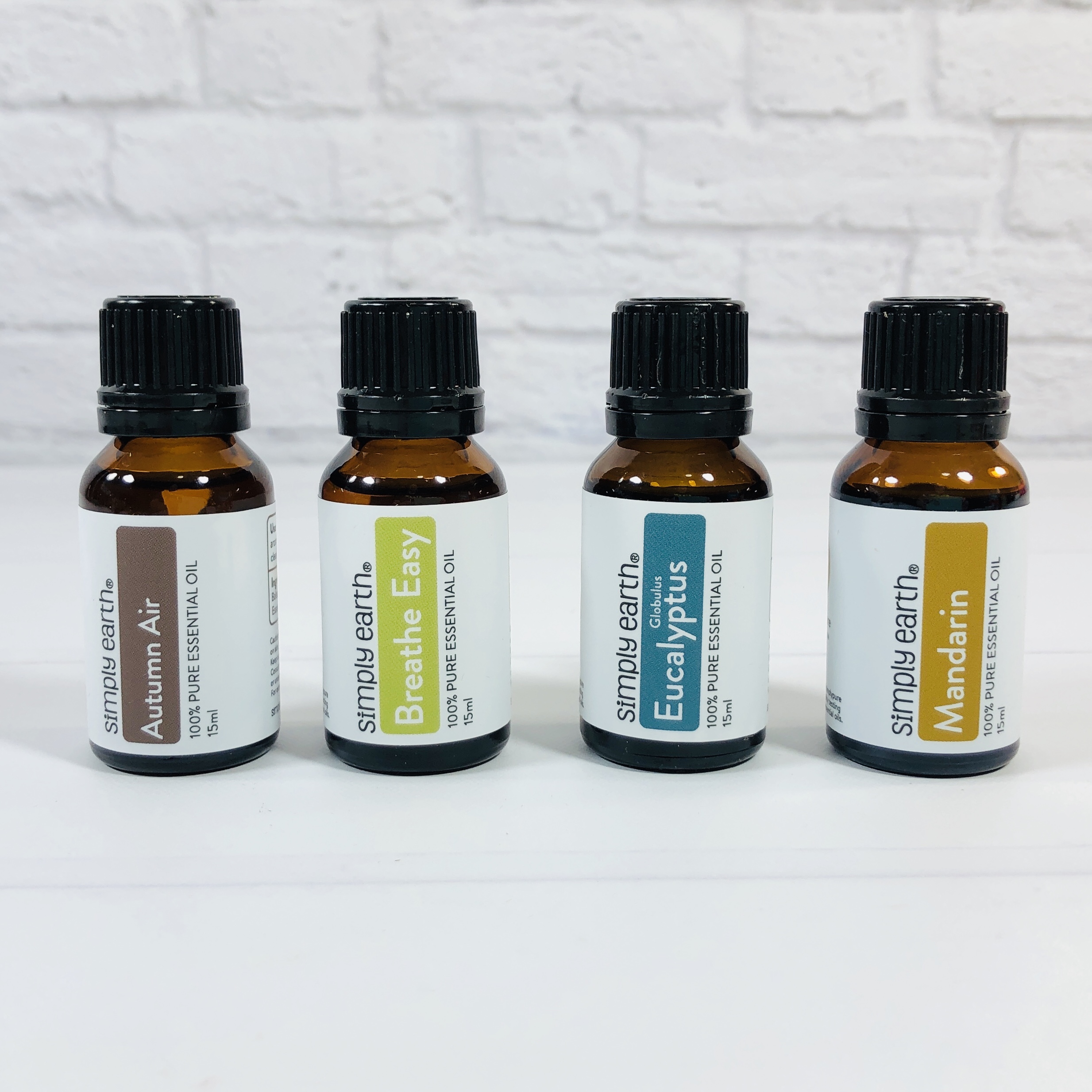 Here are the 4 essential oils for the month! Two are single oils, and two are blends!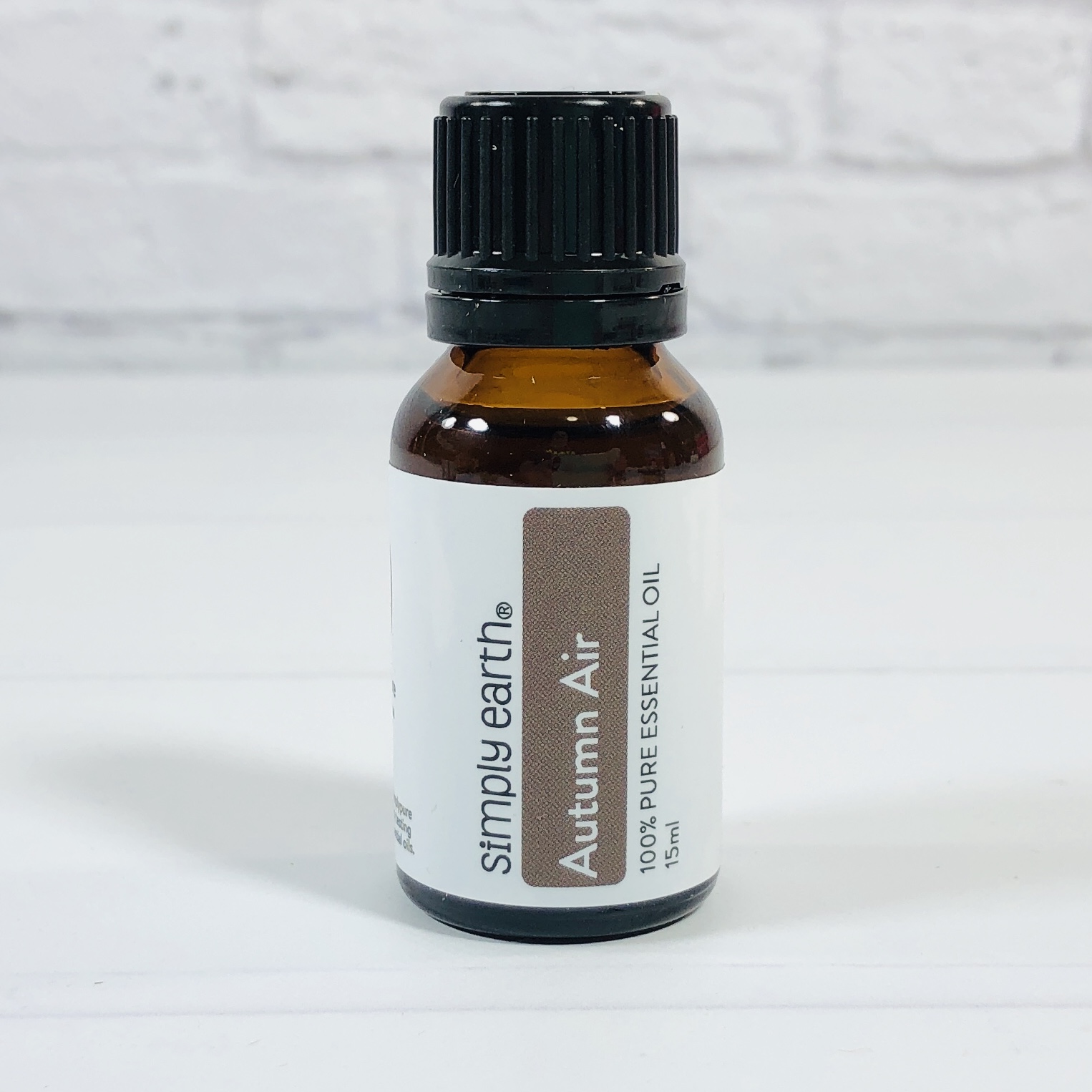 Simply Earth Autumn Air Essential Oil is a blend and I didn't see it on the Simply Earth website: it could be an exclusive or coming soon.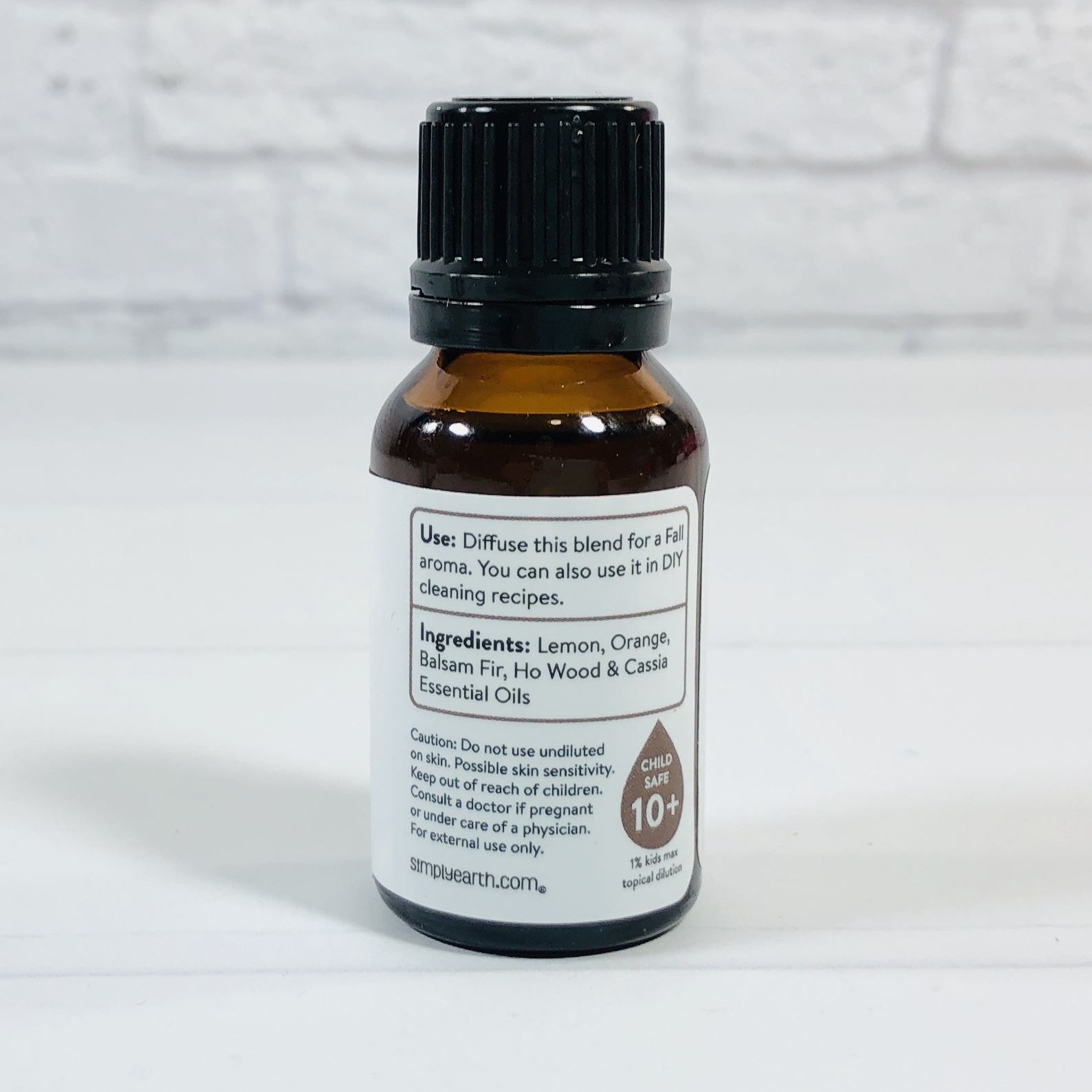 It is a blend of lemon, orange, balsam fir, ho wood, and cassia essential oils. It smells warm and sweet, like cinnamon orange muffins are baking in the oven.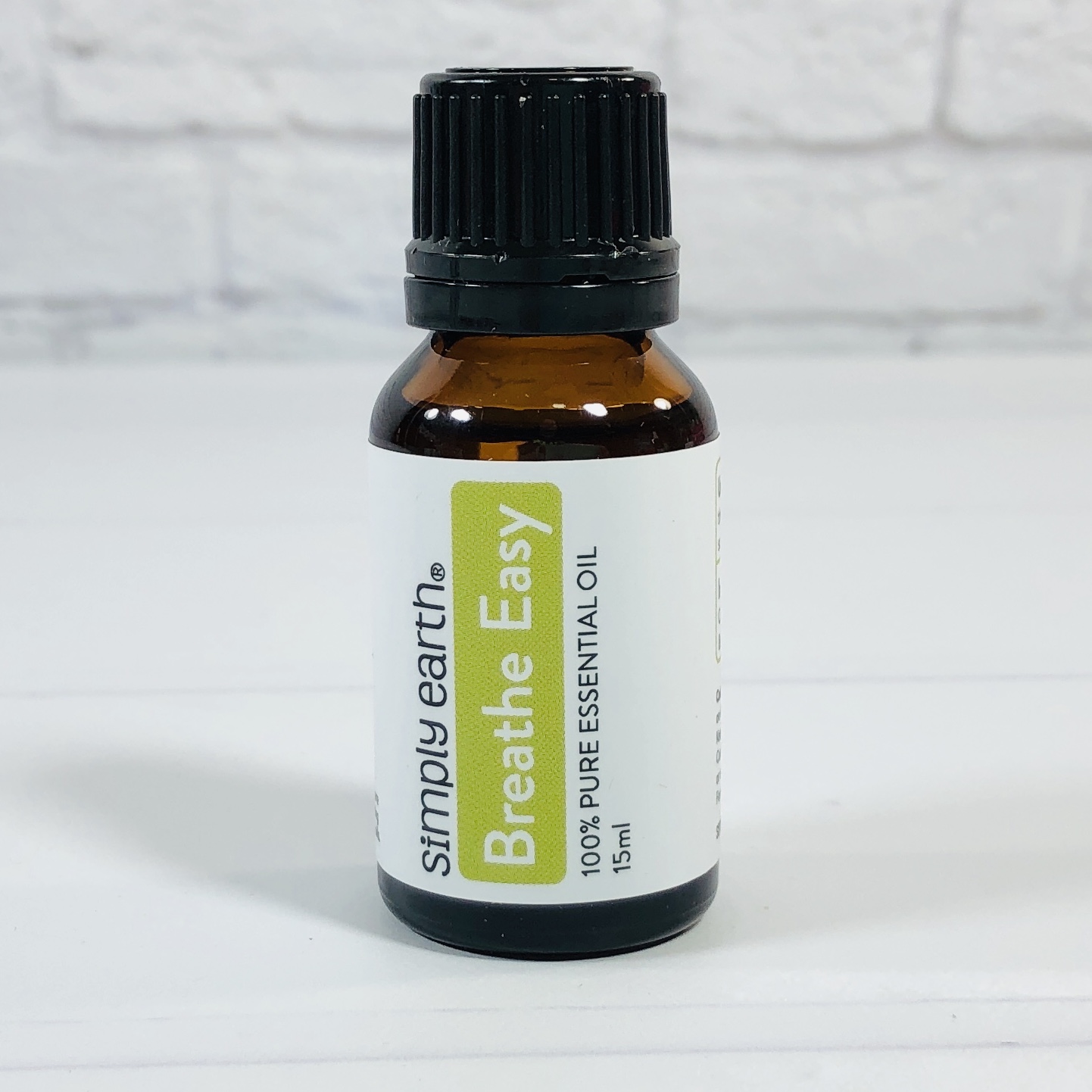 Simply Earth Breathe Easy Essential Oil Blend ($12.99) may help clear nasal passages and would be good in a chest rub.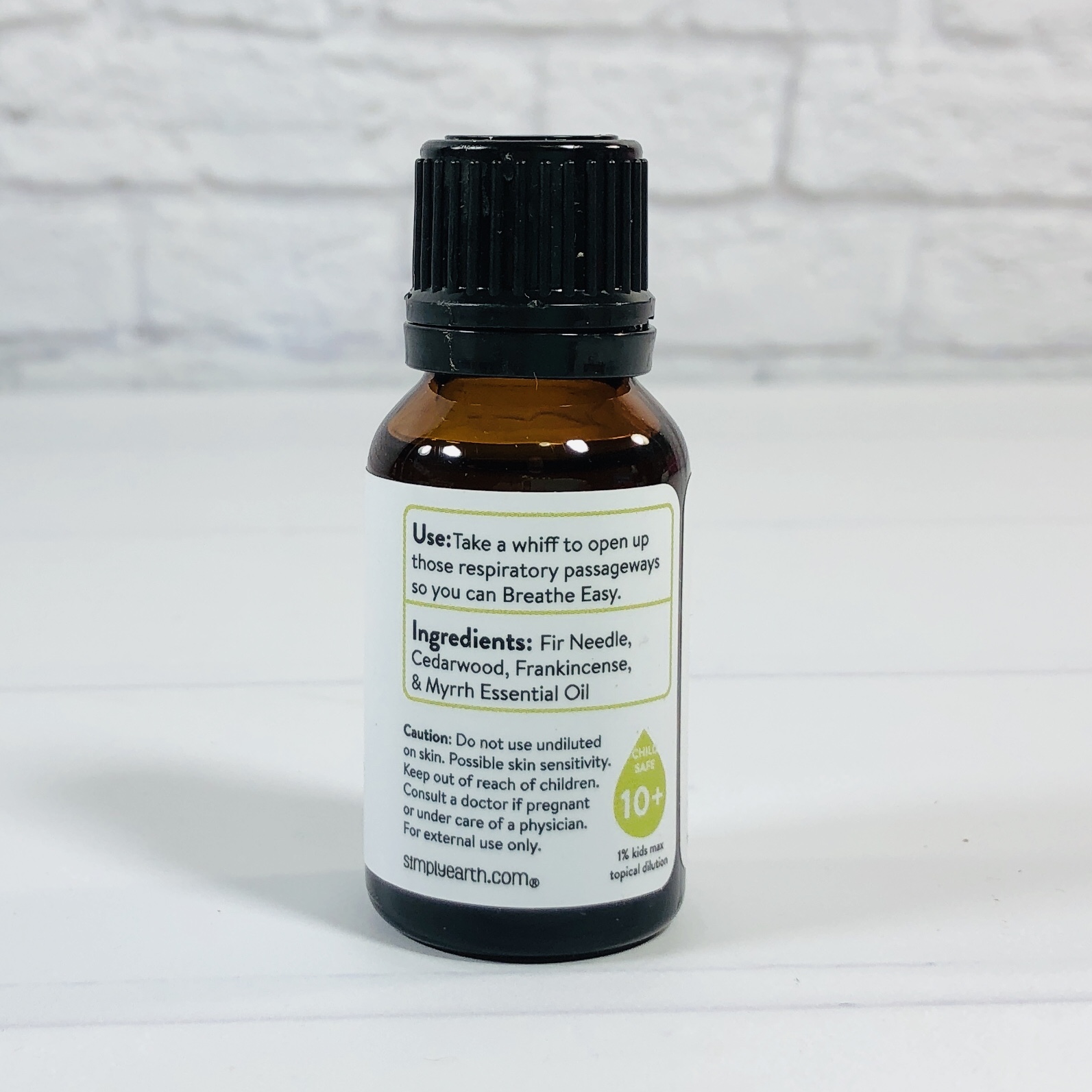 It is made of fir needle, cedarwood, frankincense, and myrrh. It smells like walking through a forest, with pine and fresh cut wood notes.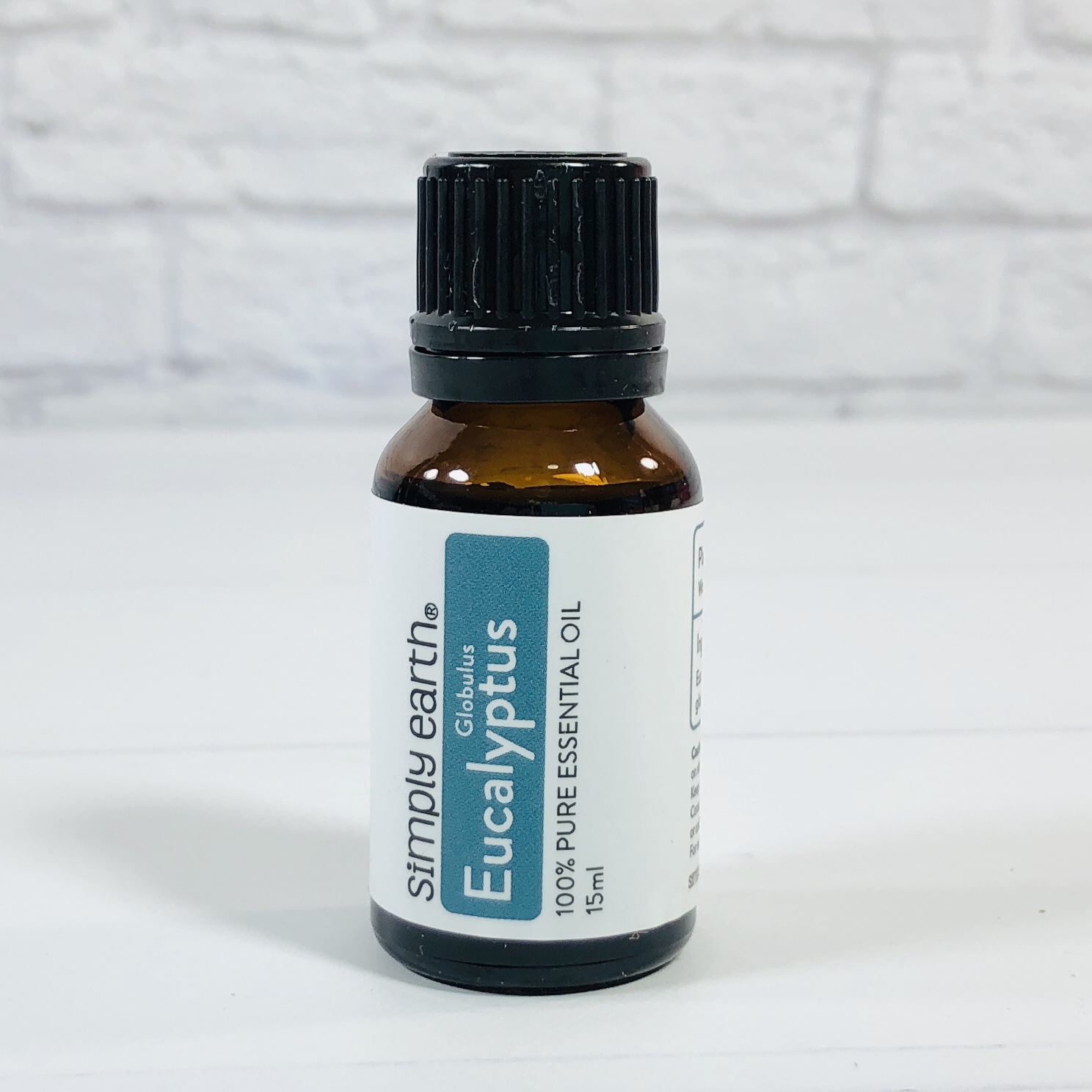 Simply Earth Eucalyptus Essential Oil ($10.99) There are a few different varieties of eucalyptus, and this is the globulus type, which is stronger than e. radiata.
It has a strong, uplifting medicinal smell that helps open the sinuses. There are tons of uses for this oil, and I would suggest visiting Simply Earth or other websites, or consult an essential oil guide, to get more ideas.
Simply Earth Mandarin Essential Oil Blend ($13.99) comes from the peel of the mandarin orange and smells just the same as that fresh burst you get when peeling a tangerine.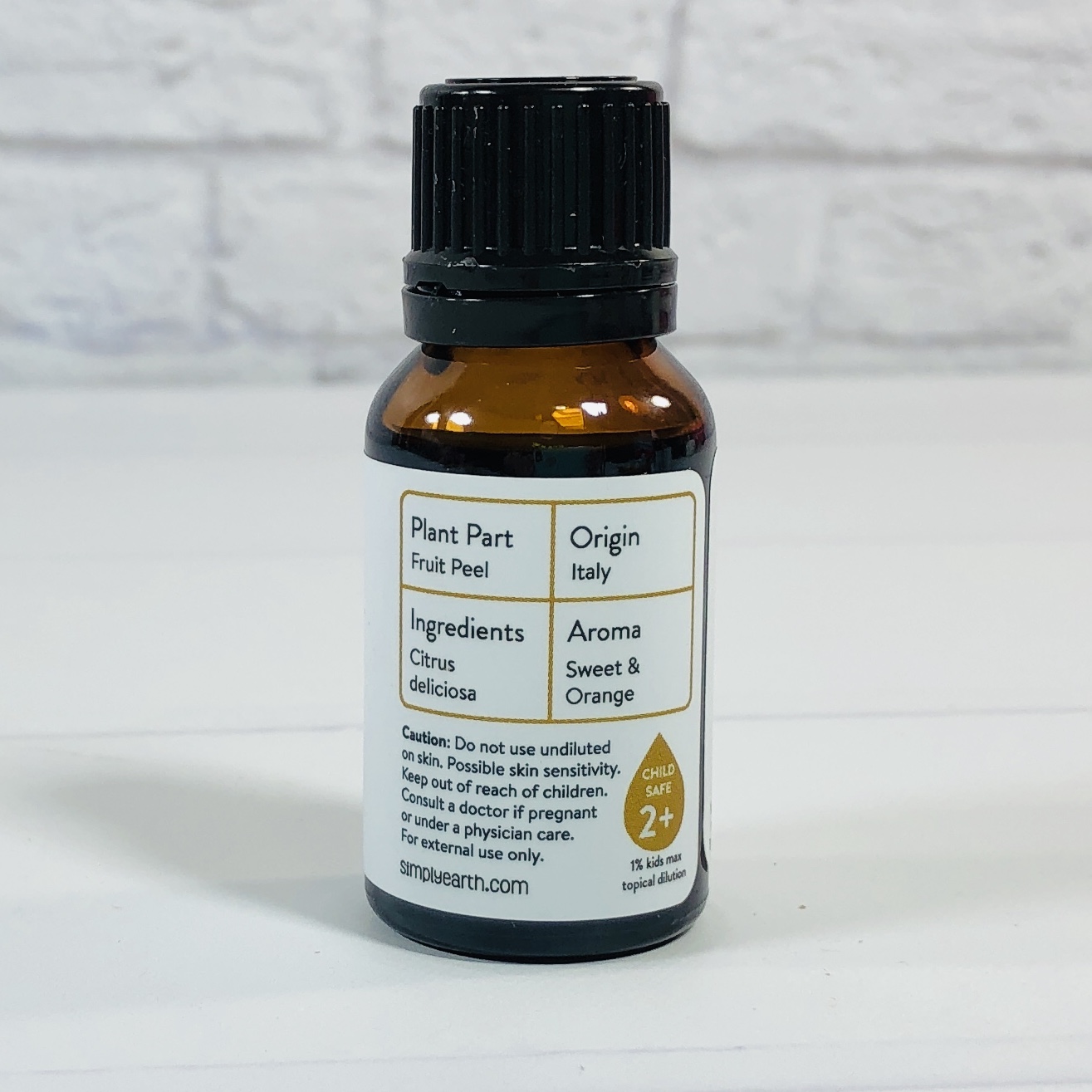 It is perfect for diffusing because it smells clean and fruity!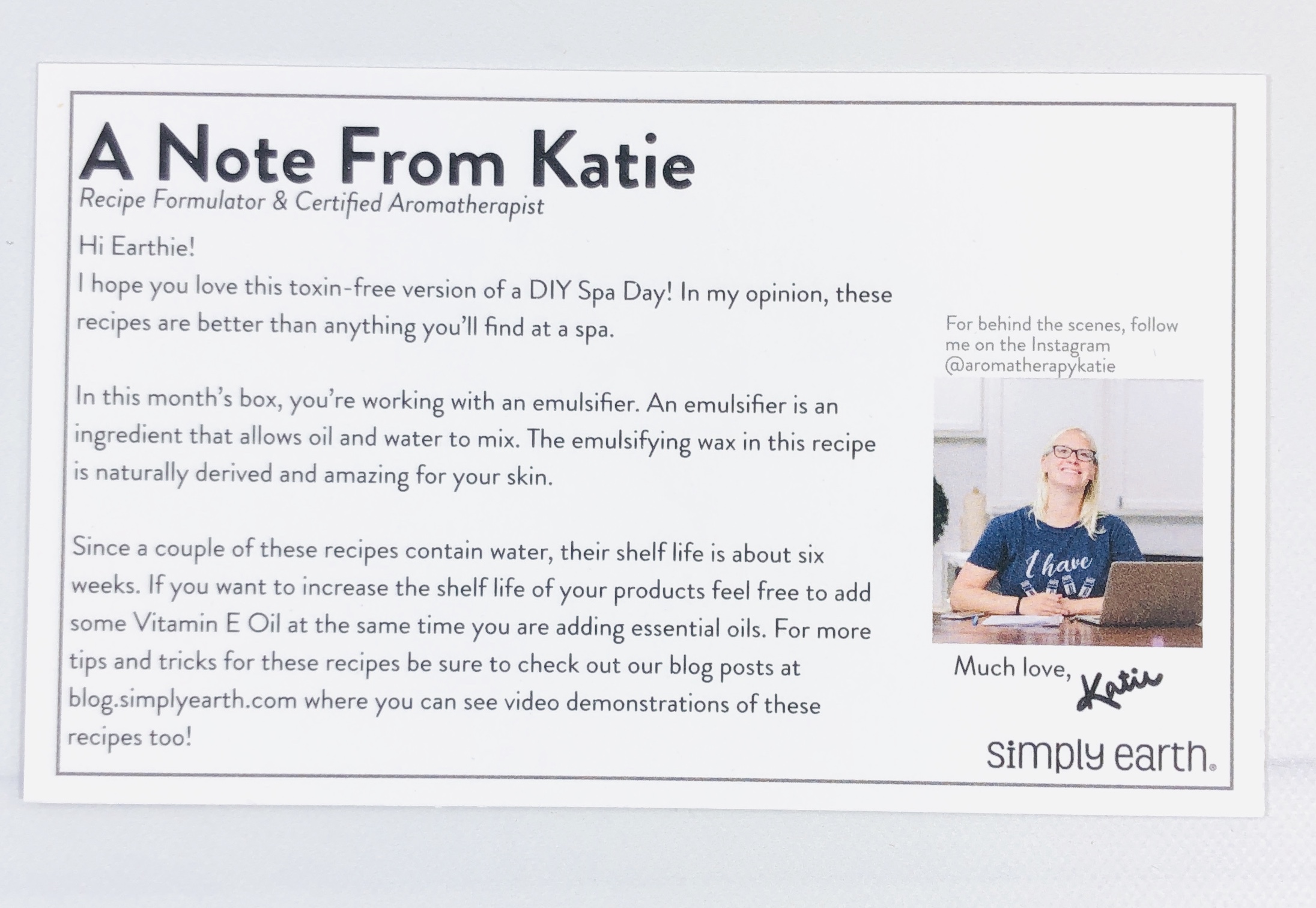 Next came the recipe cards. All of the cards had a recipe on one side, and some had either a continuation on the backside, or additional info. I will show the additional info first. Here, owner Katie tells us that the box recipes are for making your own spa products! She also mentions that we will be using an emulsifying technique and tells us that some of the items have a shelf life of 6 weeks, and how we might extend it for slightly longer. Conventional beauty products from the store typically have chemicals, preservatives, and other additives to make them feel and smell the same 2 years after opening as on the day the were first opened.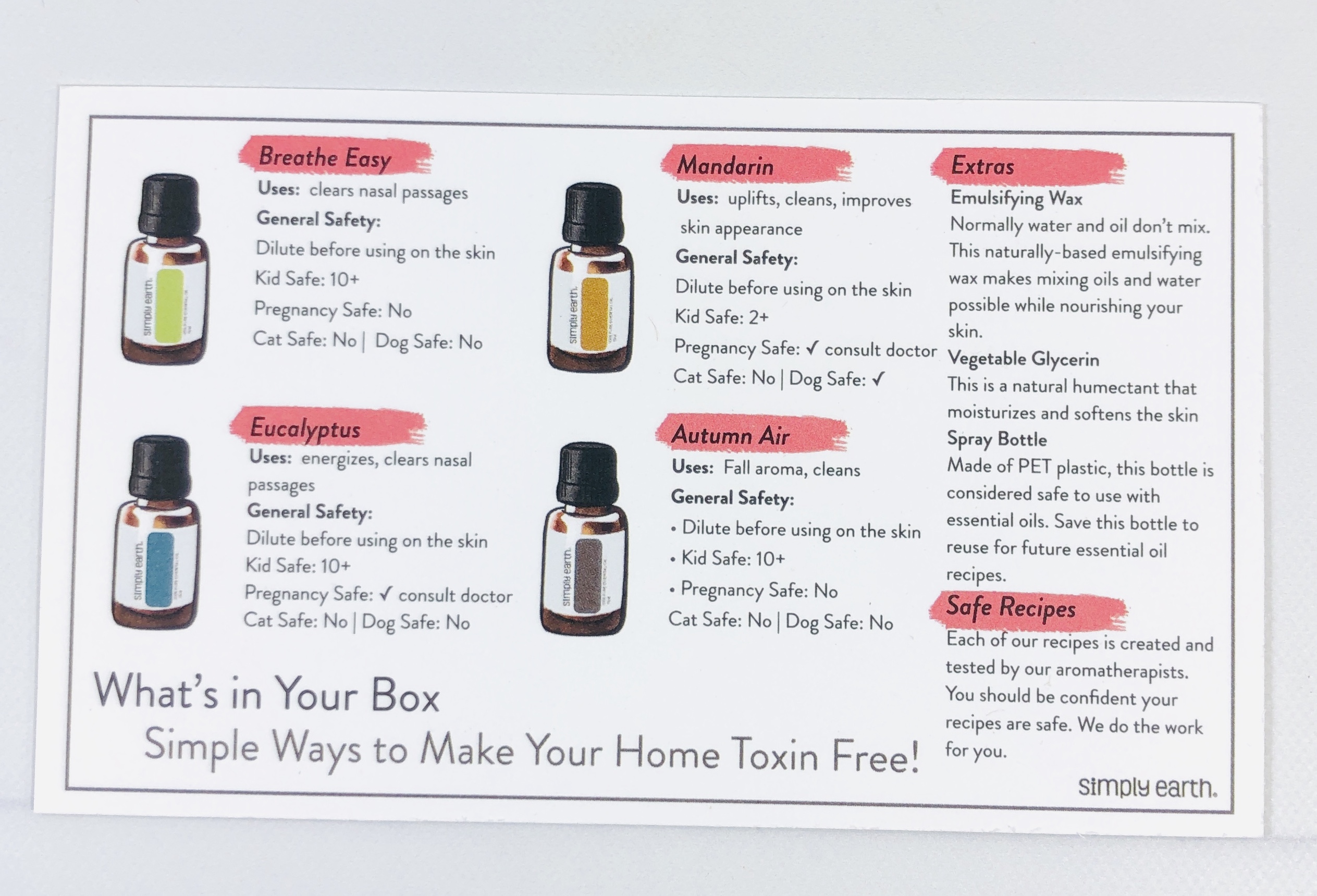 This card tells us what we received, general uses for the oils, and general safety tips. Speaking of safety, please consult with your doctor before using if needed, especially if you are pregnant or nursing.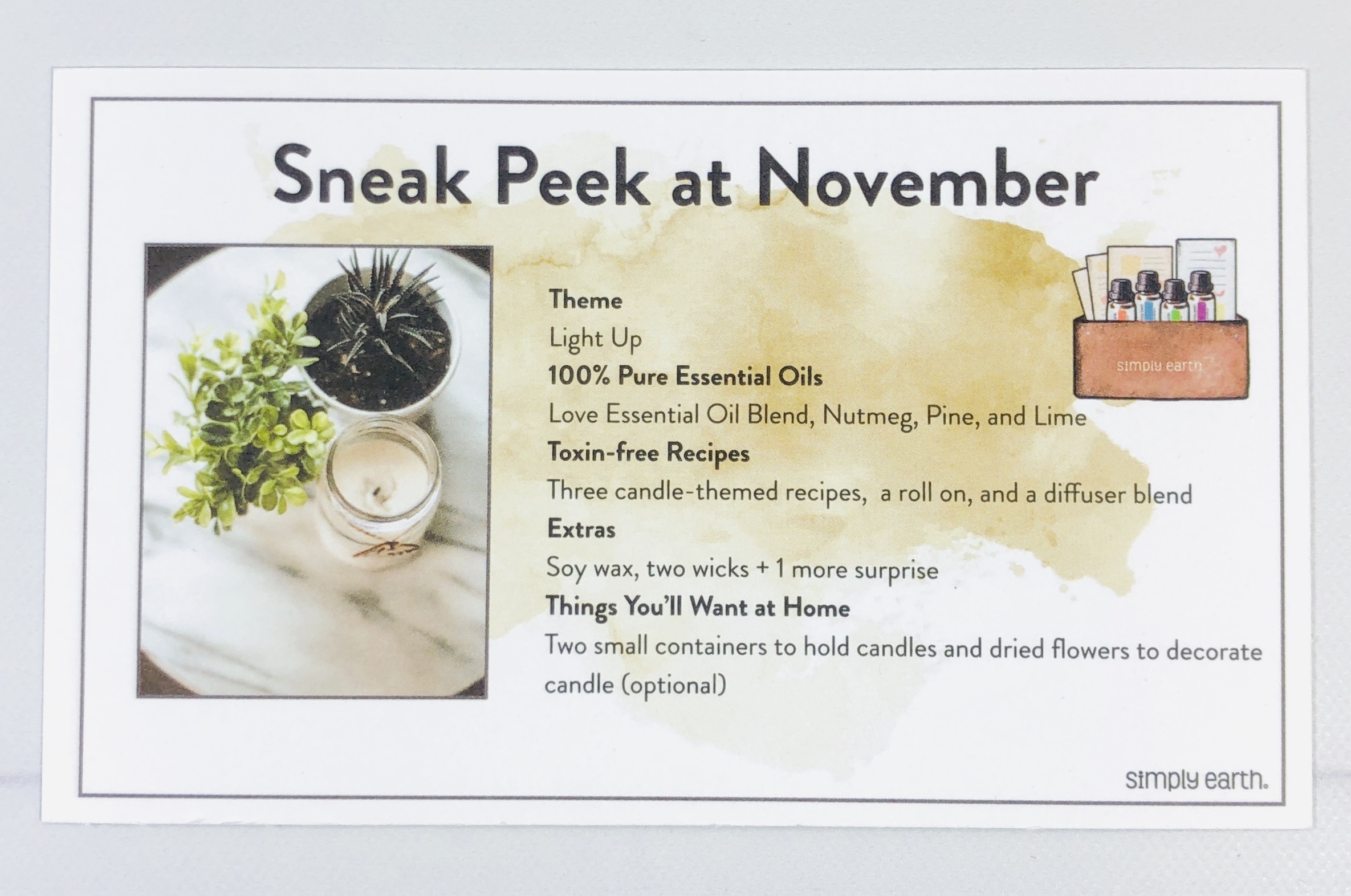 A sneak peek at November's box was shown, and it looks like candles will be featured so make sure to save any small containers as holders!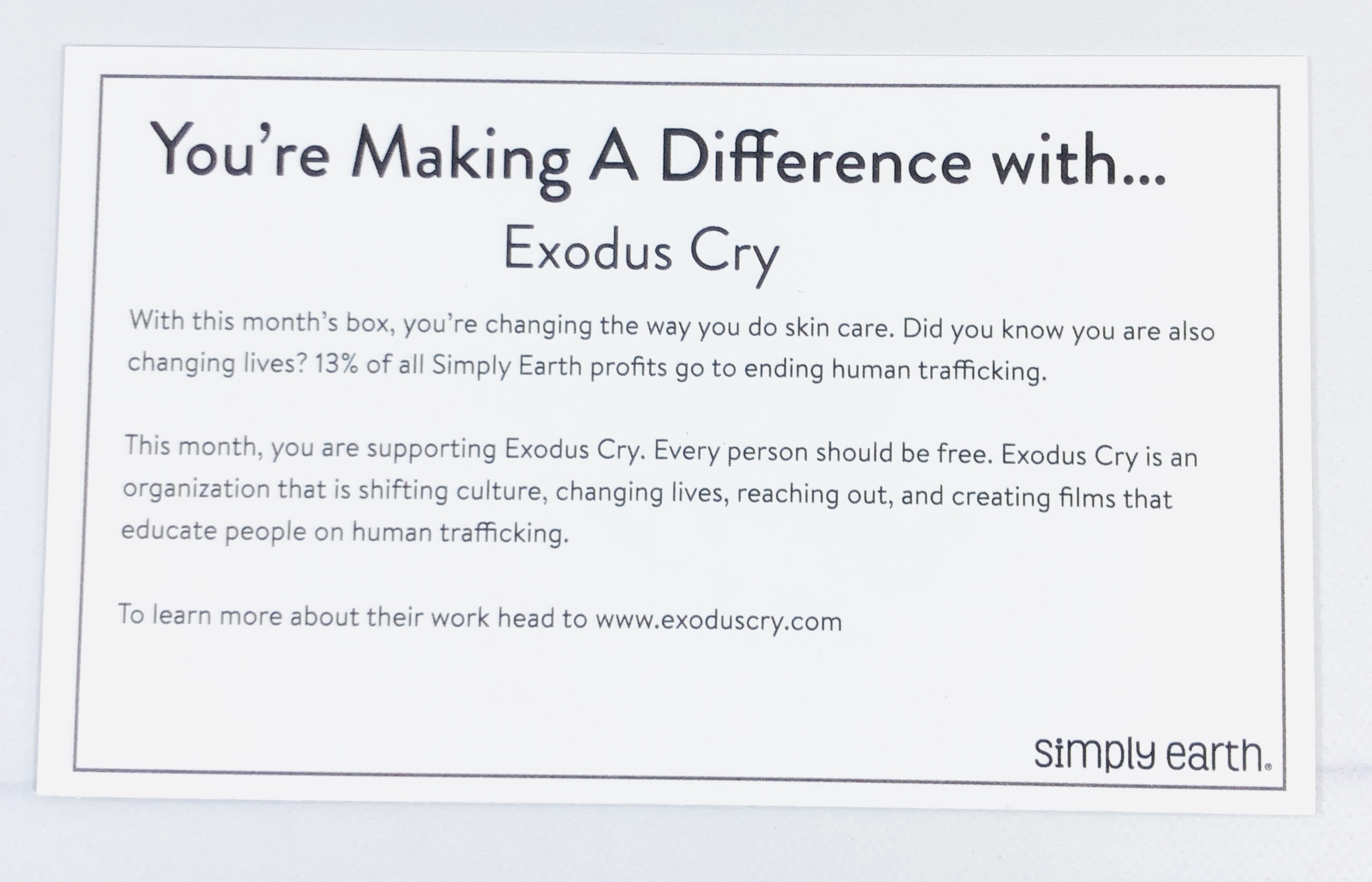 Simply Earth donates 13% of profits to a charitable cause and for October that money is going to Exodus Cry, who aim to change the culture that drives the human trafficking trade.
All 6 cards had a recipe on the front. Some of them are as easy as placing drops and water in a diffuser or mixing a few ingredients together, others required more techniques and supplies, like a double boiler, candy thermometer, and blender or immersion blender.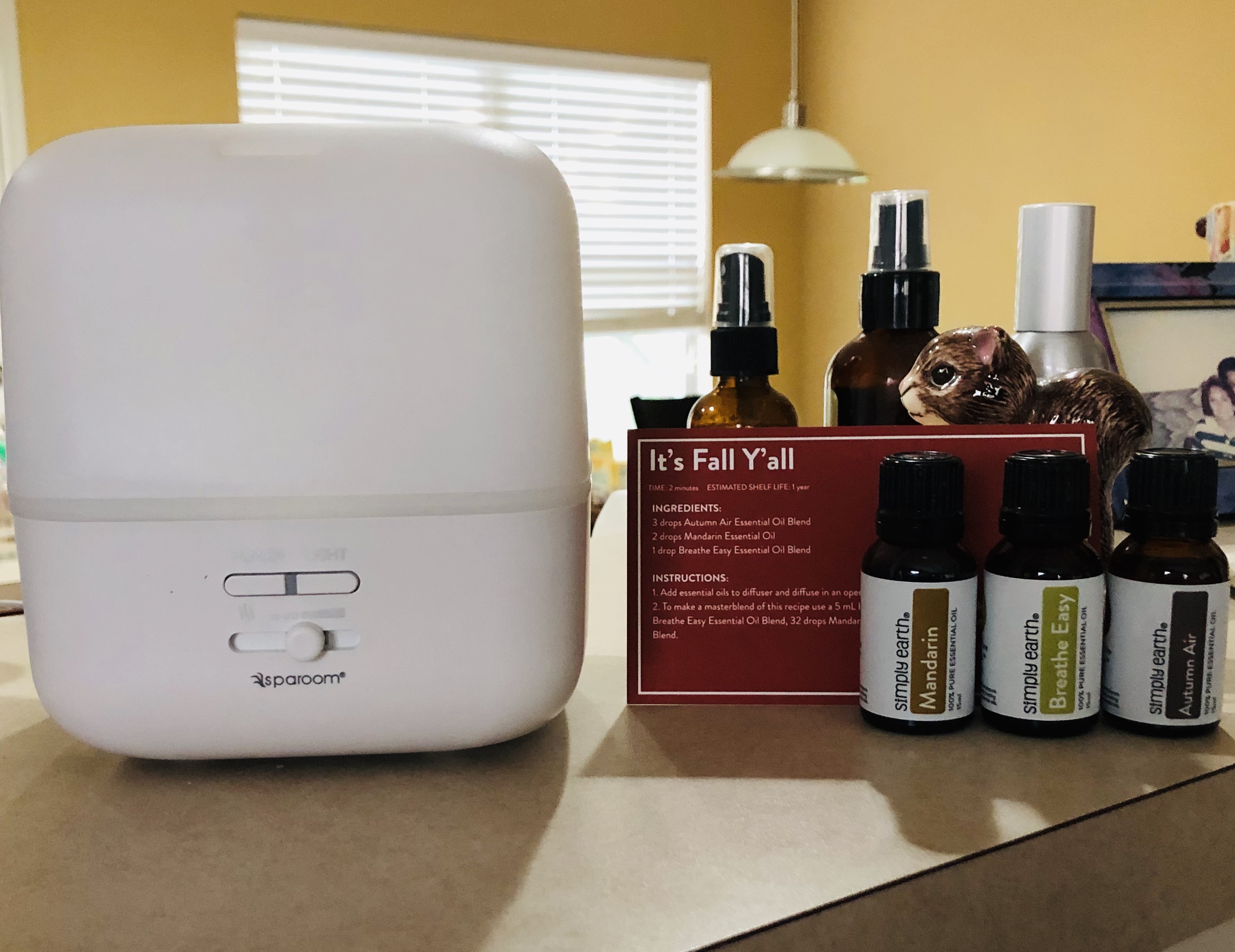 The easiest recipe of all was simply placing some drops in my diffuser and adding water. The scent made my living room smell cozy, with orange being the most dominant scent note.
Next I decided to make the Muscle Soothing Roll On. I needed a couple of items from my Bonus Box – the fractionated coconut oil and one of the roller ball containers. I cut out the label from the sheet included in this box, peeled off the backing, and placed it on the bottle.
I removed the roller ball from the top, poured the number of drops from the essential oils that was called for in the recipe, and then filled it up the rest of the way with the coconut oil.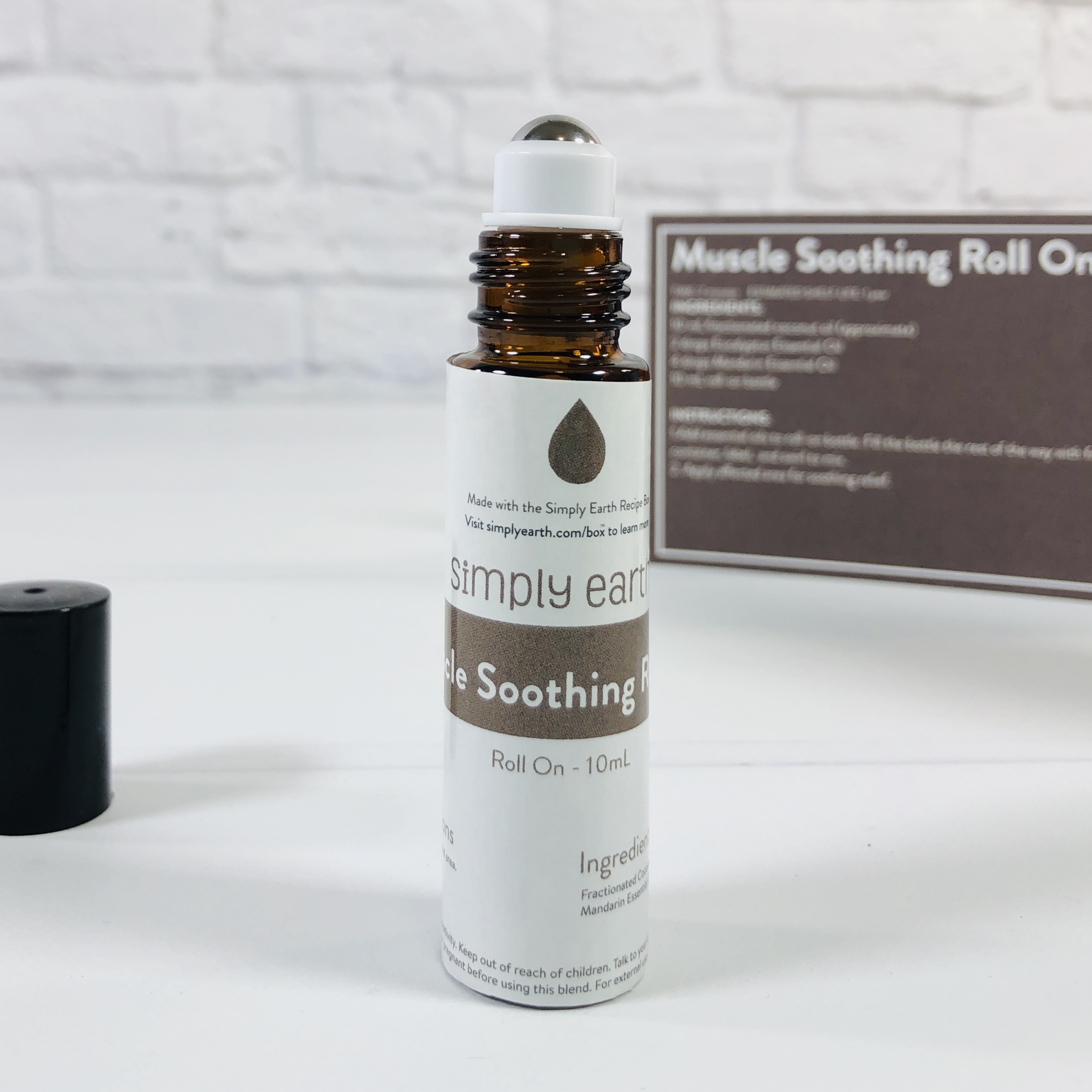 I placed the rollerball back on top and gave it a good shake. Now I can roll this on sore muscles (I'm thinking of you, lower back!) and get some natural pain relief.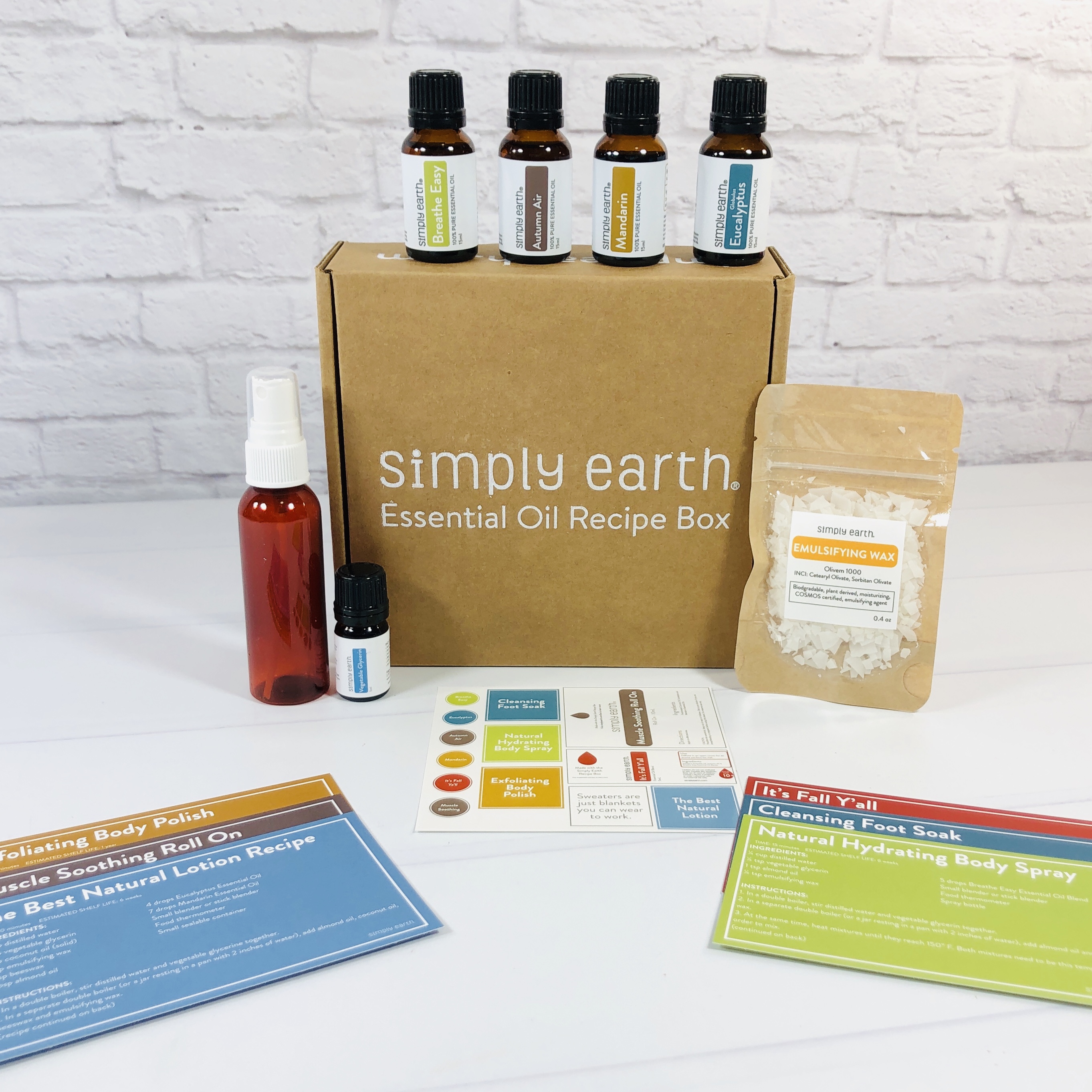 I really enjoyed the experience of the October Simply Earth Recipe Box! I loved the oils and blends, they make great additions to my oil collection! The recipe cards had recipes that were as simple as placing drops and water in a diffuser. They also had some that were a little more involved and required more work, but nothing too difficult. I need to buy some Epsom salts at the grocery store so I can make the foot soak, and I need a candy thermometer so I can make the body lotion and body spray. I am looking forward to making the body scrub soon. Of course, you can use different essential oils and blends to come up with your own custom scents, just use the steps in the recipes!
What do you think of the Simply Earth box?