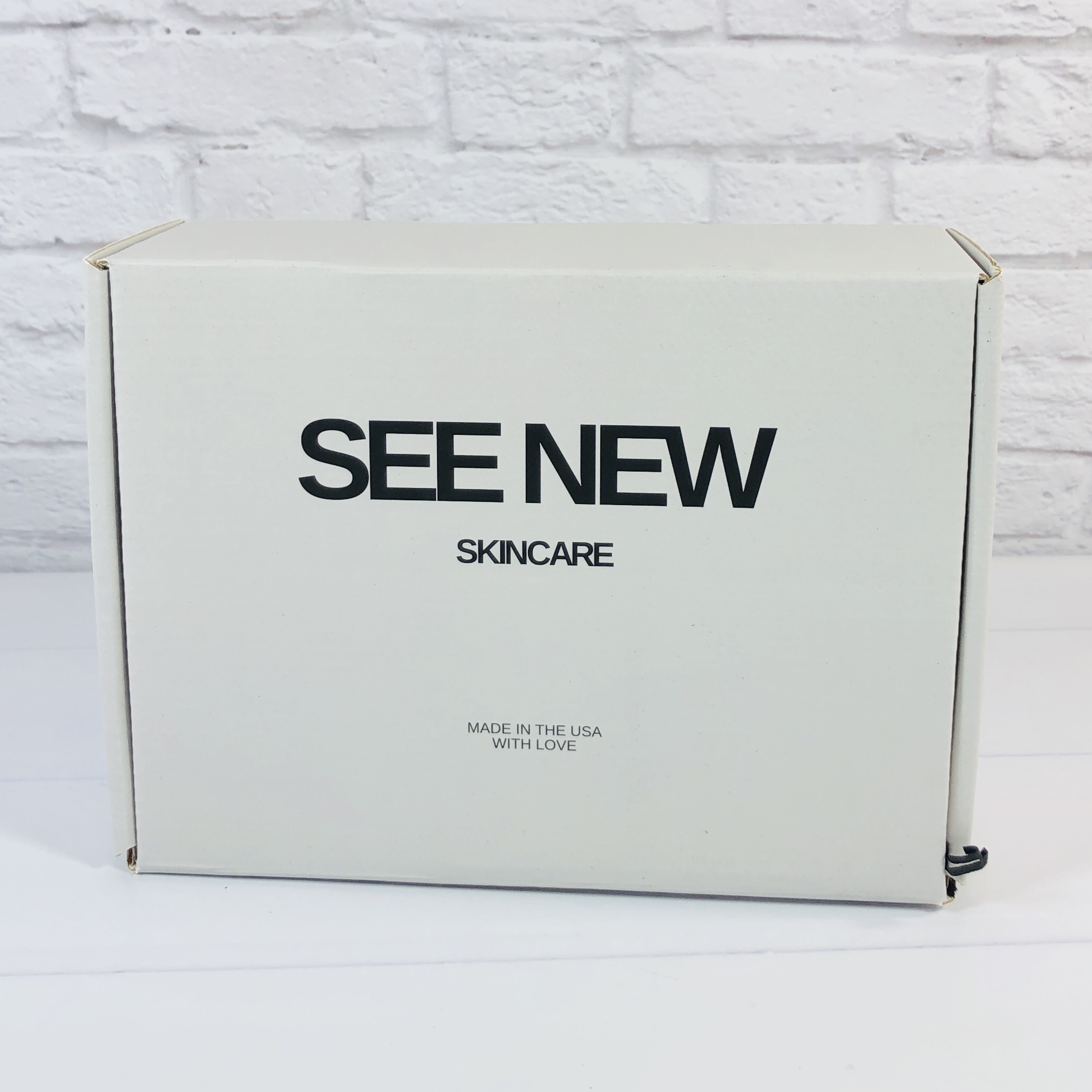 See New, The Skincare Box, is a bi-monthly subscription box that features one clean and cruelty-free beauty brand. They send several products so you can get a real feel for the brand and also it is just about a whole routine in one box. The featured brands are from companies that are focused on cruelty-free, chemical-free, and sustainably sourced ingredients. For every subscription sold See New will donate a subscription to Dress for Success. See New is $44 a box.
We believe beauty is about showing yourself Self-Love. Beauty is not about altering your already stunning appearance it is about accentuating your natural beauty and enhancing your self-confidence.
DEAL: Get 10% off sitewide! Use coupon code HELLO.
I received a card inside!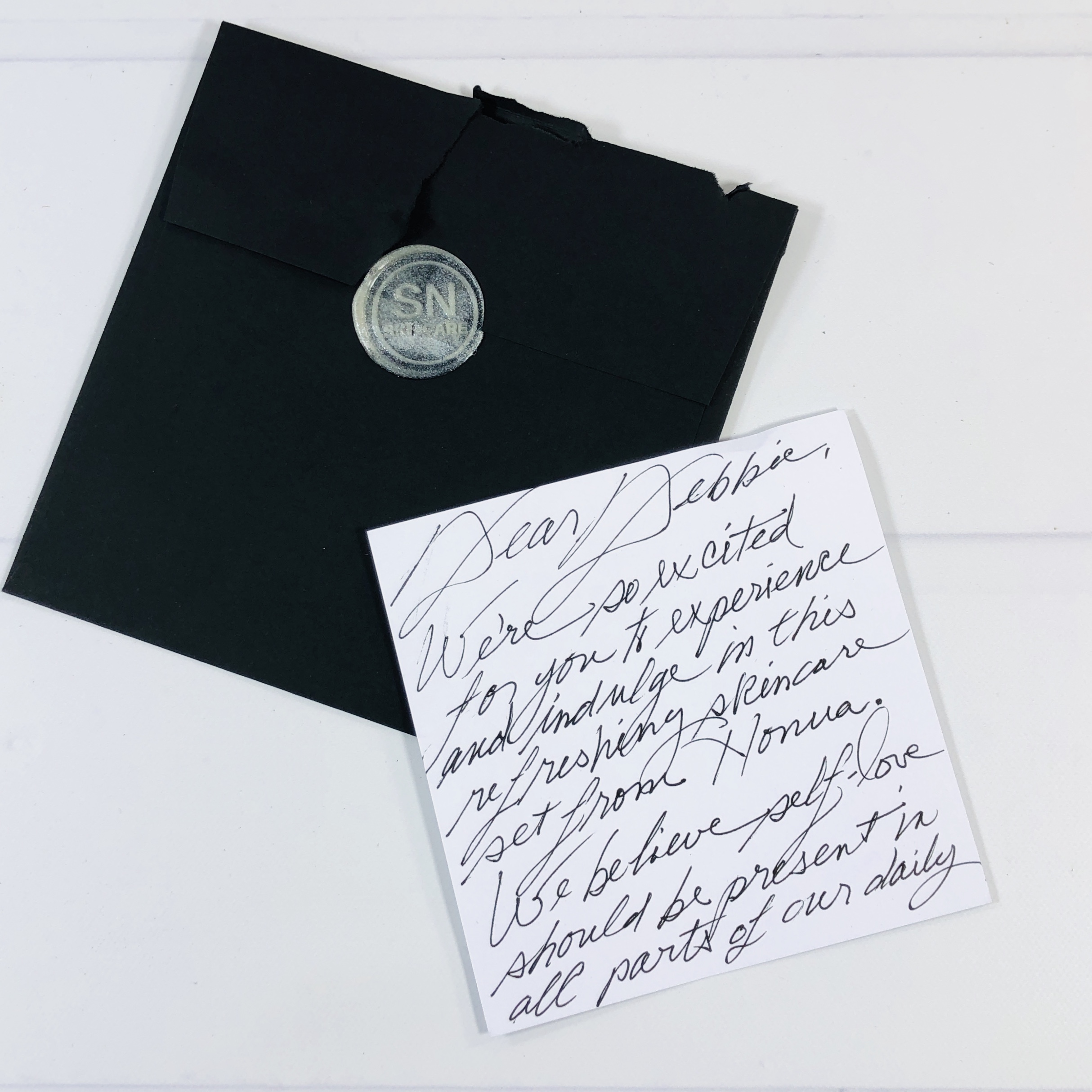 I always appreciate a hand-written note!
First look!
I received a card with info about the brand this shipment, Honua Skincare:
Our innovative products combine traditional Hawaiian healing botanicals and methodologies, with modern skincare technology. Focusing on the root cause of major skin conditions, we have developed a single line for all skin types.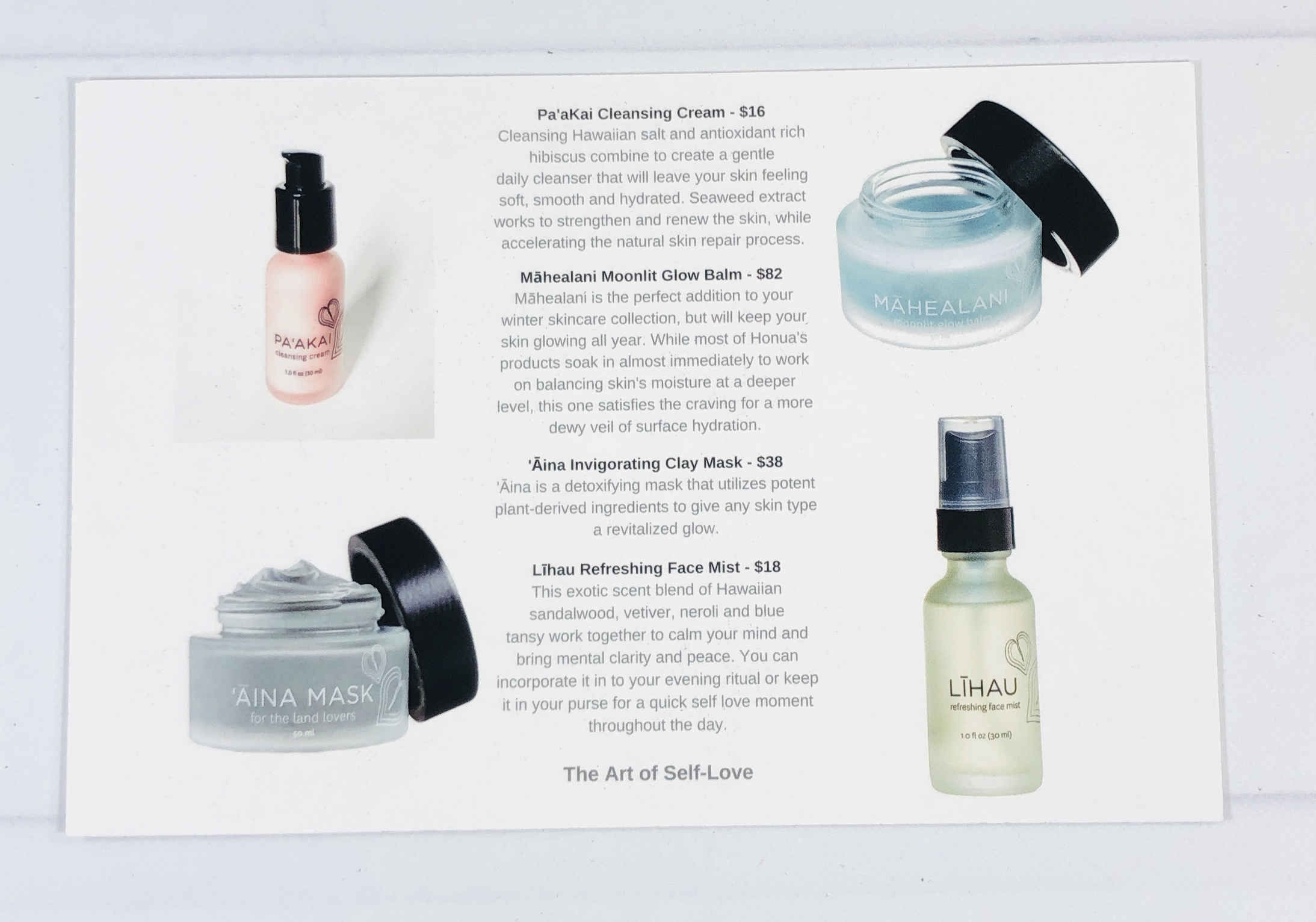 The back of the card listed the products and suggested order of use.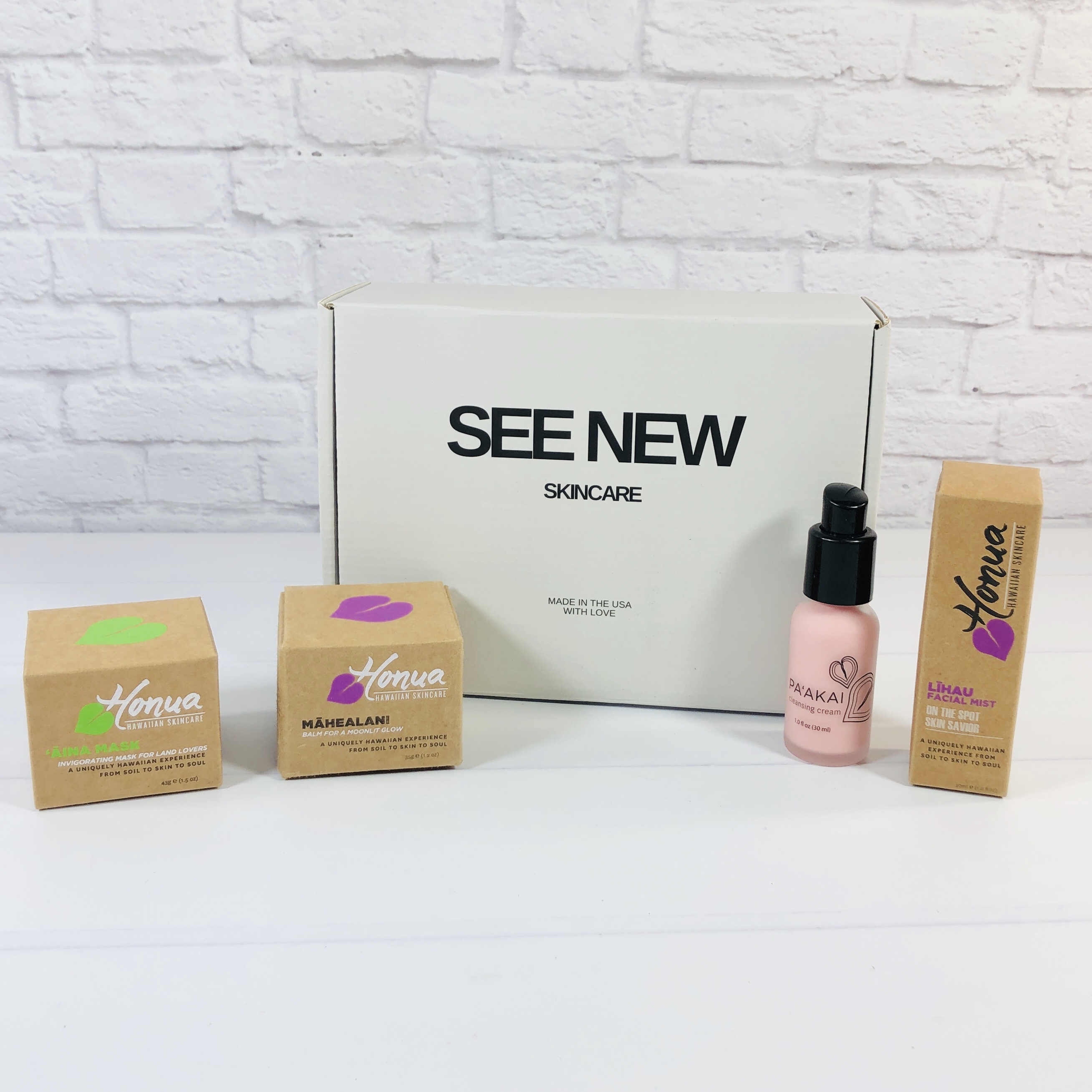 Some of the items came in their original boxes.
Everything in my See New box! Click the link to see how to use each product, or just keep reading!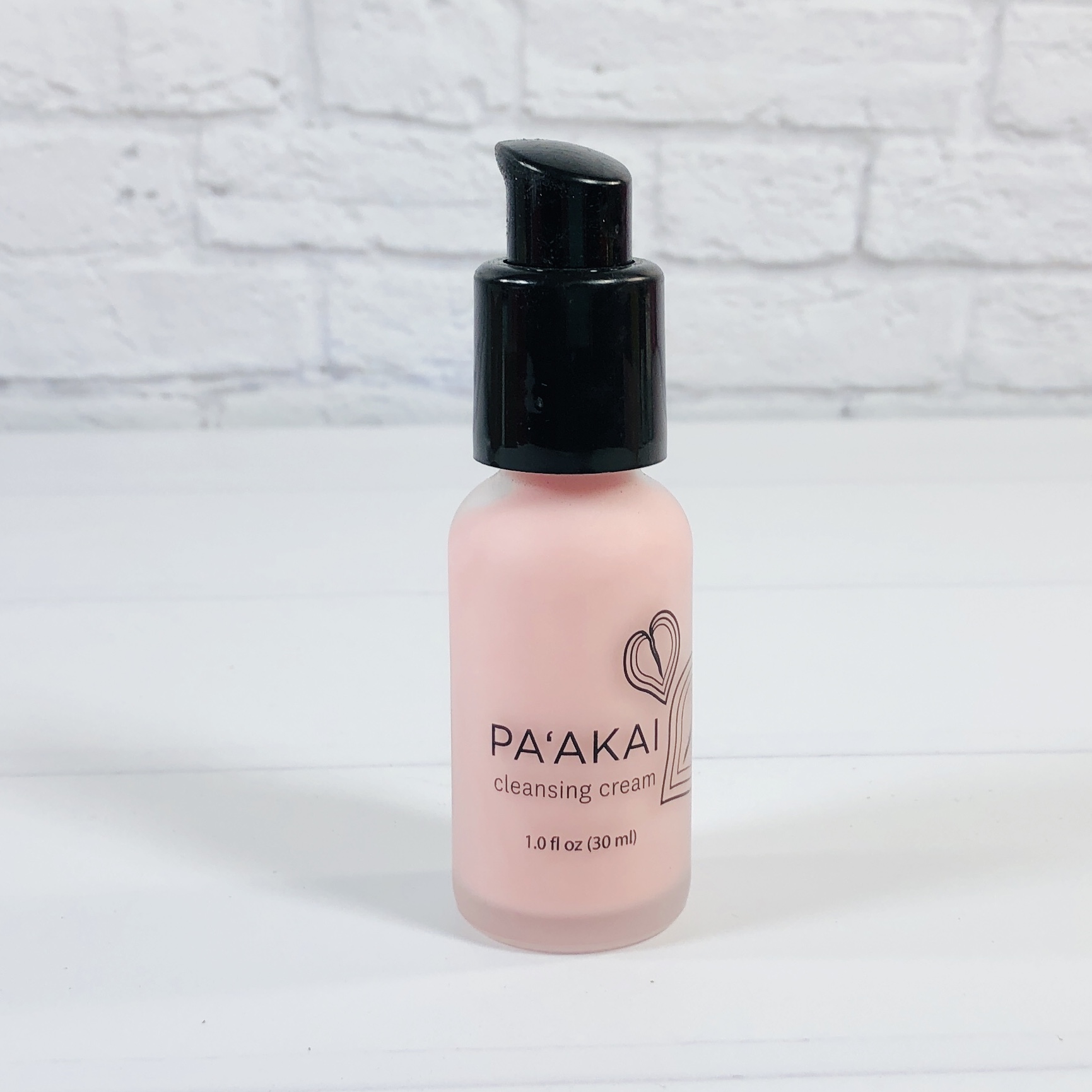 Pa'akai Cleansing Cream ($16) I used this cleansing cream before using the mask shown later in this review. If using in the evening, I would follow with a second cleanse because this felt very soft and gentle to my skin and I feel like I might need a little more oomph to remove all my makeup. I applied it to dry skin and my skin almost ate it up, but then I added water and it was back, and very creamy. It smelled lightly of roses, and since rose hydrosol is the second ingredient then that makes sense. It also has hibiscus, witch hazel, and Hawaiian salt and left my skin soft.
Cleansing Hawaiian salt and antioxidant rich hibiscus combine to create a gentle daily cleanser that will leave your skin feeling soft, smooth and hydrated. Seaweed extract works to strengthen and renew the skin, while accelerating the natural skin repair process.  Our Pa'akai Cleansing Cream is great for ALL skin types – including yours!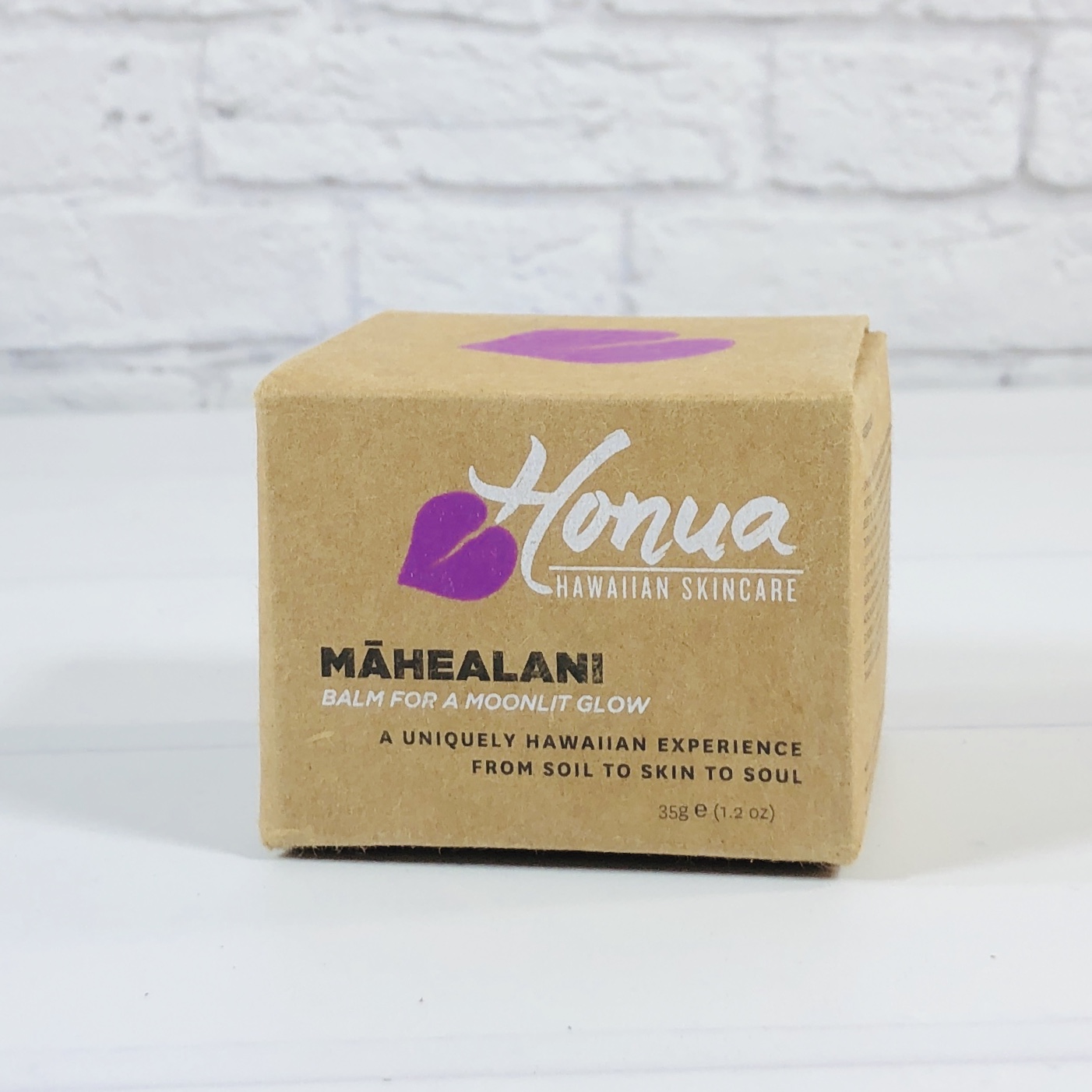 Honua MāHealani Moonlit Glow Balm ($82) A full sized balm worth $82 in a $44 subscription box? This item alone is worth almost twice the price of the subscription and comes with 3 other products!
Ingredients include illipe seed butter, shea butter, and jojoba oil plus other plant oils and butters.
The boxes that Honua products come in have so much info on them.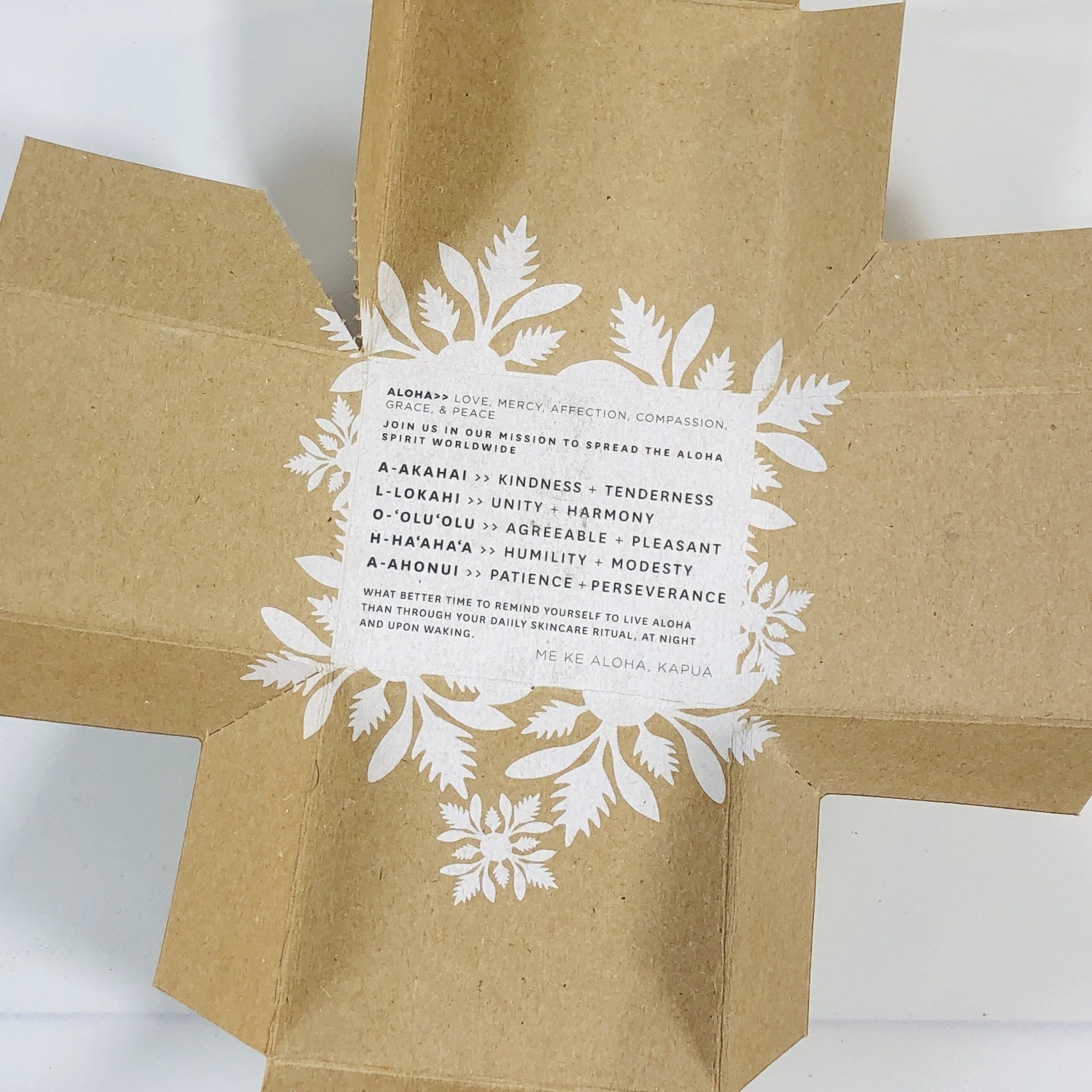 They open up, like some kind of amazing box origami.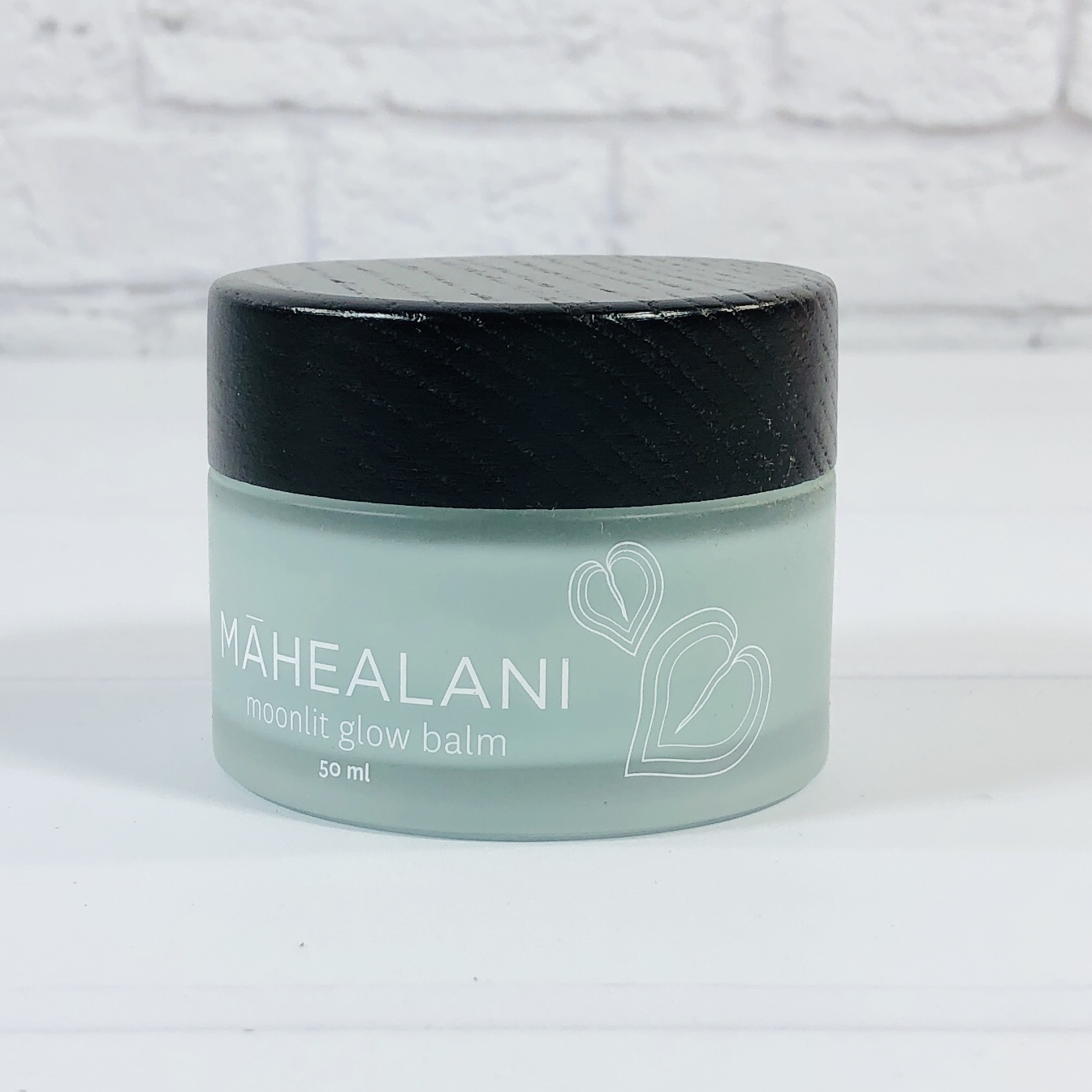 Māhealani is the perfect addition to your winter skincare collection, but will keep your skin glowing all year. While most of Honua's products soak in almost immediately to work on balancing skin's moisture at a deeper level, this one satisfies the craving for a more dewy veil of surface hydration. It layers beautifully over our light and silky Aloha Youth Serum or our healing 'Olena Beauty Oil.
Check out that color, which comes from blue tansy. It also smells of blue tansy, which has such a unique aroma. I took out probably a pea sized amount and it felt so good on my face that I probably massaged it in longer than I normally would. I had extra and used it on my throat. My skin didn't really soak it in, it stayed on top of my face to protect it from wind and cold. My face really did look radiant!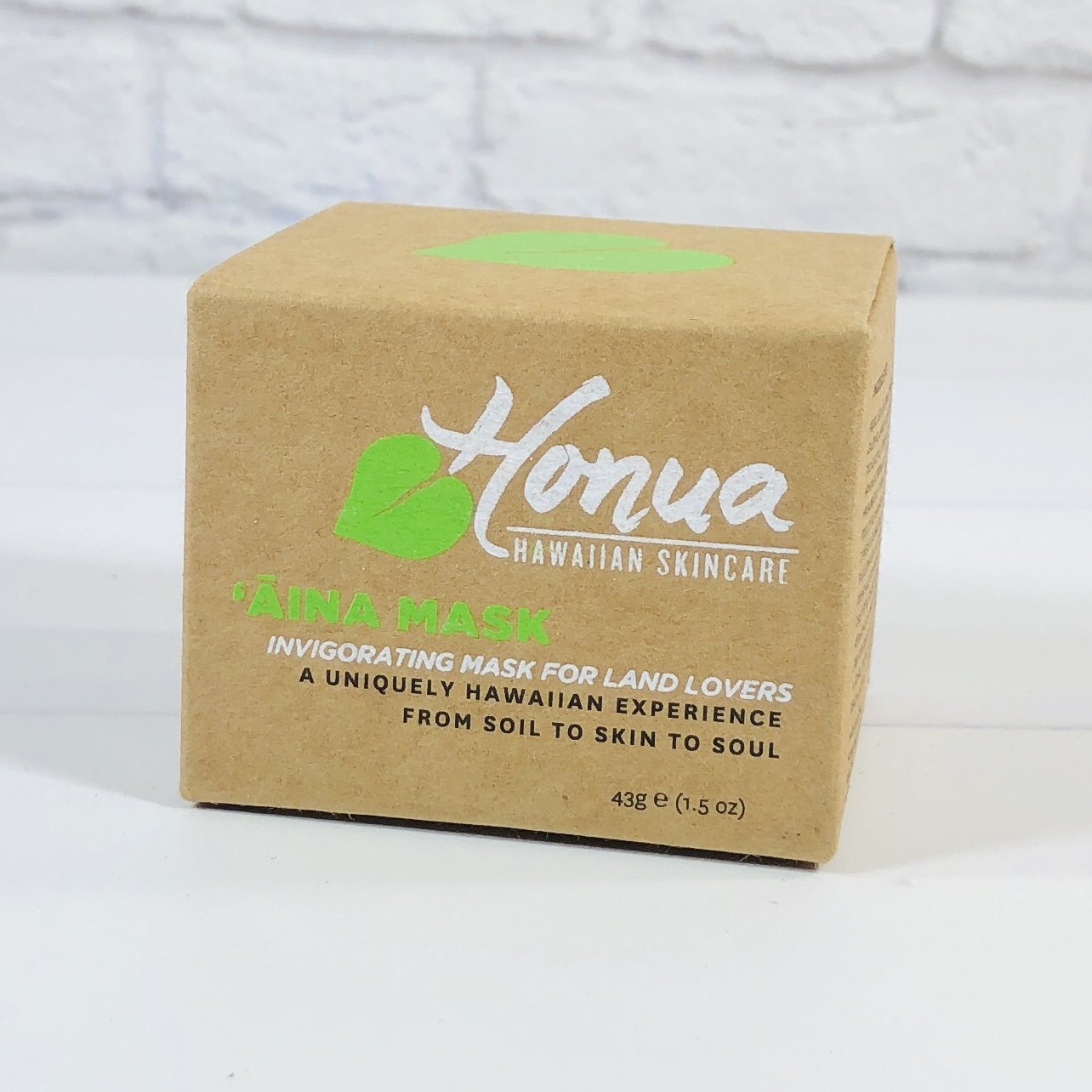 Honua 'Āina Invigorating Face Mask ($38) gets skin glowing thanks to turmeric and Hawaiian pepper, but also draws out impurities with bamboo charcoal.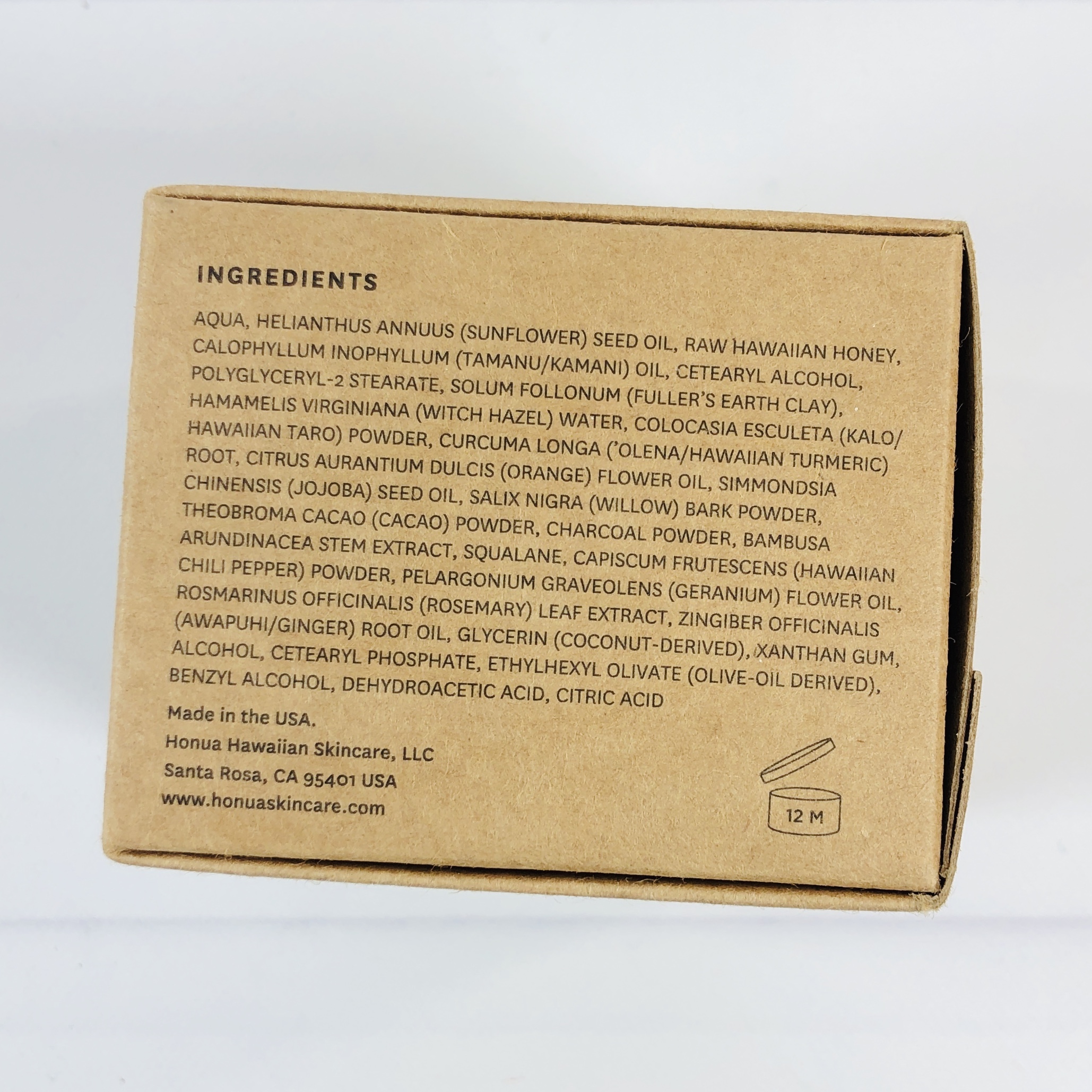 Hawaiian honey and jojoba oil are also near the top of the list along with clay, tamanu oil, and taro powder.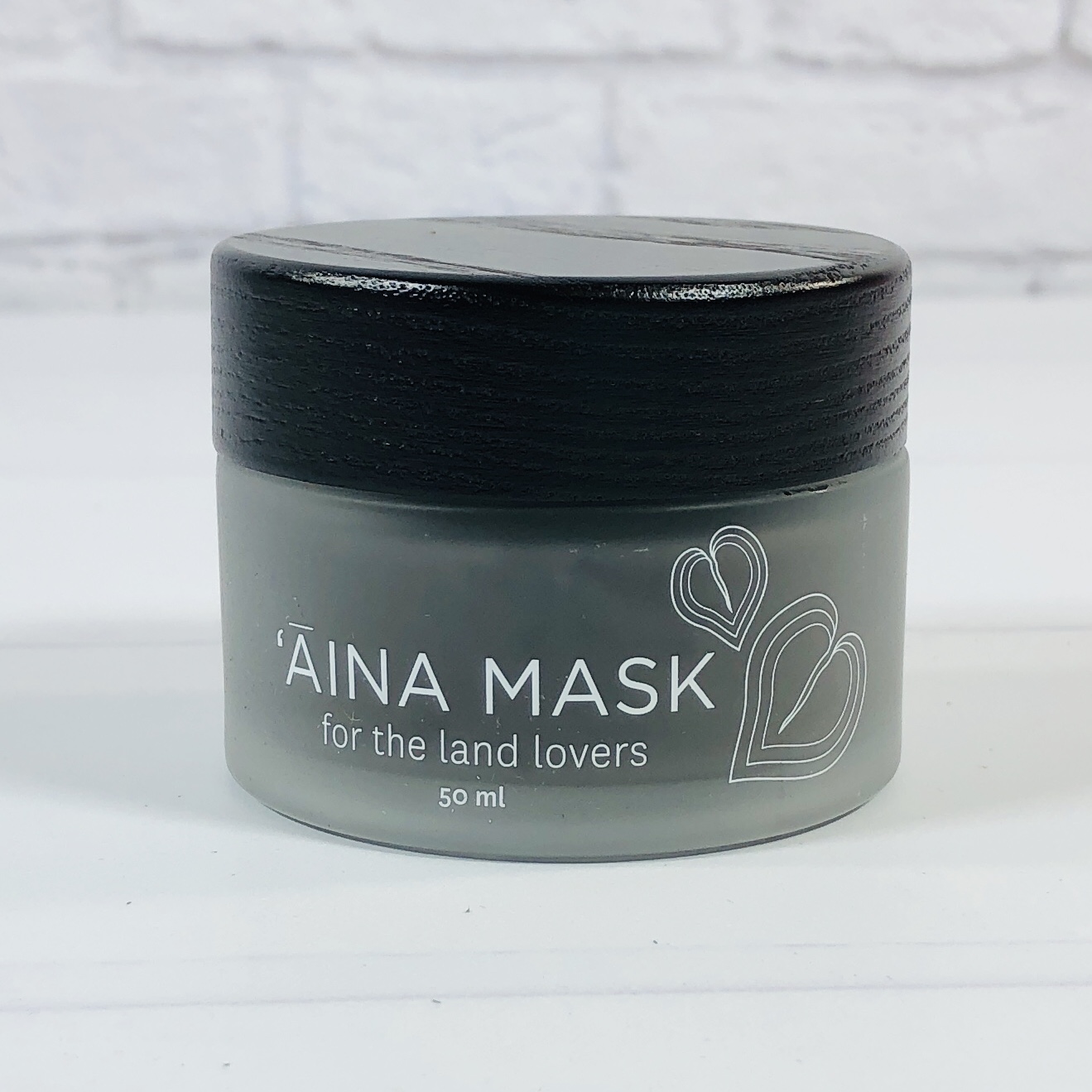 'Āina is a detoxifying mask that utilizes potent plant-derived ingredients to give any skin type a revitalized glow. Bamboo charcoal draws out impurities from the skin while the ni'oi (Hawaiian chili pepper) aids in detoxification and stimulation of blood flow. While this mask is deeply cleansing, it does not leave skin feeling dry like most charcoal masks as it also feeds the skin with kalo (Hawaiian taro root).  This plant is filled with skin loving phytonutrients, vitamins and minerals, such as beta-carotene, anti-aging vitamins A and C, and skin repairing manganese. 'Ōlena (turmeric) brightens while tamanu oil brings balance and hydration to this active mask.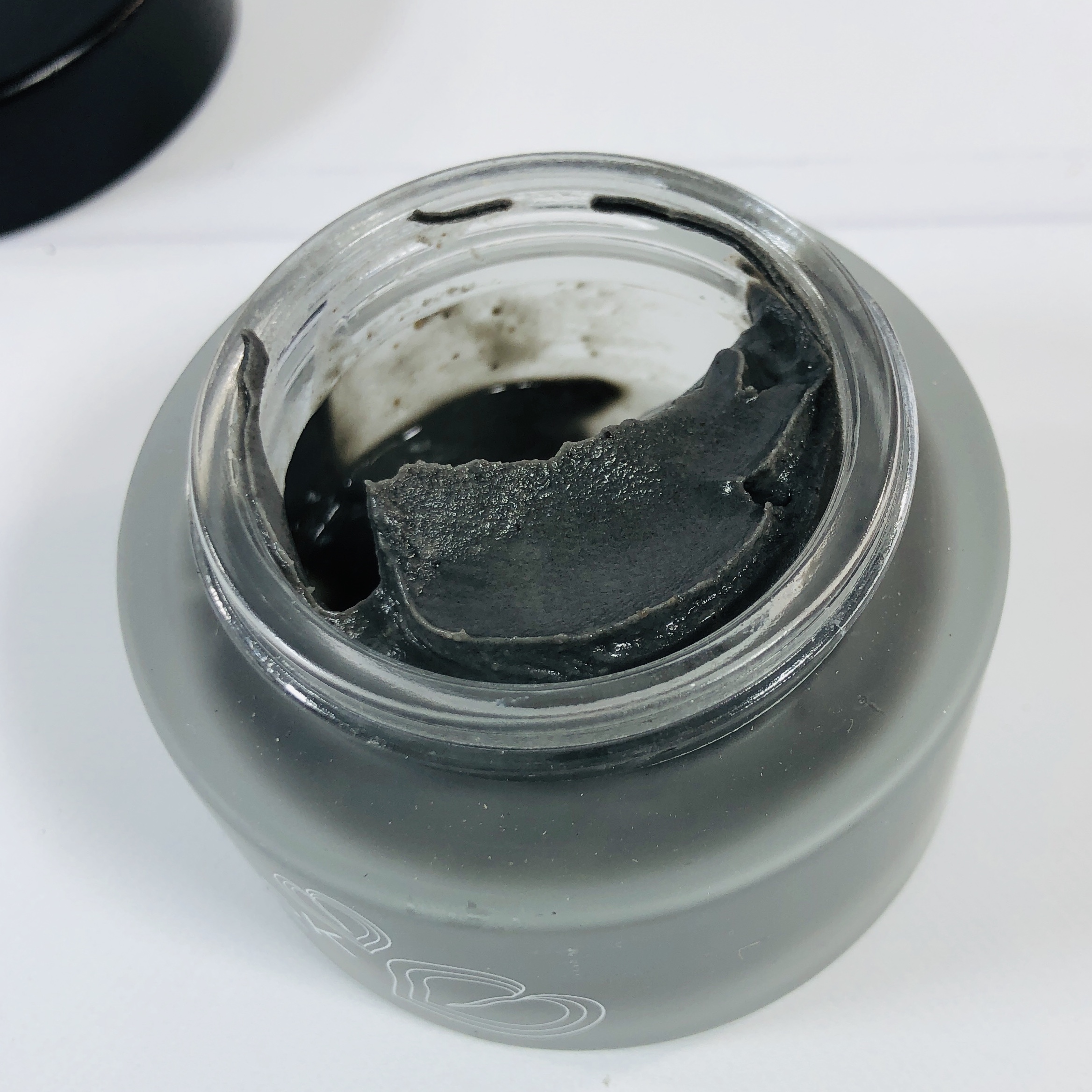 Apply after cleansing and let dry for 10-15 minutes. You can remove before it fully dries if you have dry skin like mine. I always prefer to rinse under the shower so I don't leave a mess at the sink. It didn't dry completely anyways and left behind a moisturizing feeling on my face. I felt a tingle in a couple of places but it didn't irritate my sensitive skin.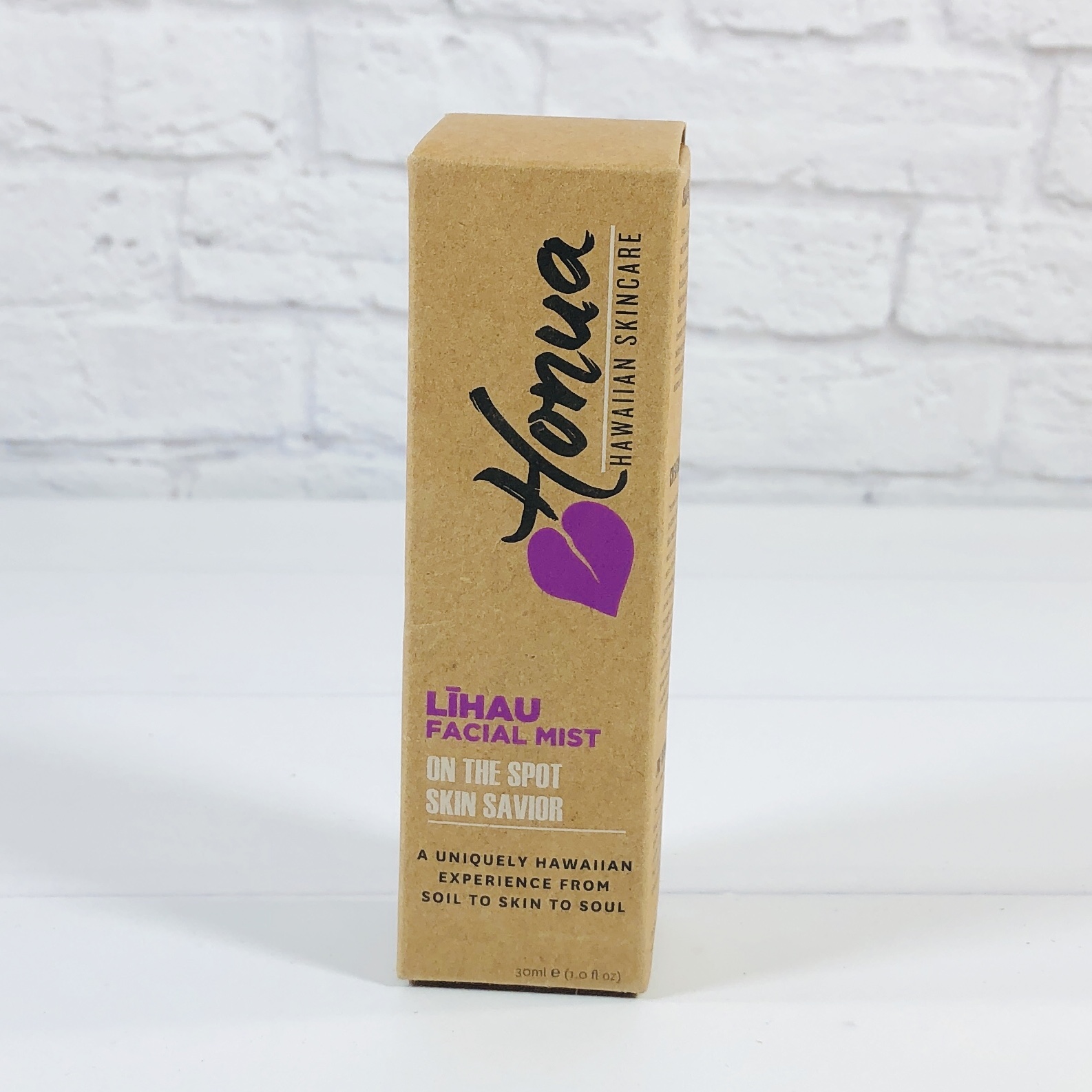 Honua Līhau Face Mist ($18) Blue tansy makes an appearance again in this lushly scented skin spritz.
This exotic scent blend of Hawaiian sandalwood, vetiver, neroli and blue tansy work together to calm your mind and bring mental clarity and peace. You can incorporate it in to your evening ritual or keep it in your purse for a quick self love moment throughout the day. Aside from its beautiful aromatherapy benefits, Līhau is skin tightening, toning and hydrating and can help fight off breakouts or irritations with its powerful anti-bacterial and anti-inflammatory benefits.
Separation is normal and you may find that the pump has blue residue all over thanks to the tansy. I sprayed this on my face after cleansing and took a deep breath, it smells so good. Ingredients include aloe, sandalwood hydrosol, and witch hazel. You can also spray skin throughout the day, if for nothing else than to indulge in a bit of aromatherapy!
I am super thrilled with the beautiful products in my September/October See New box! I really enjoy using Honua products: they feel good on my skin, look pretty (that blue balm and pink cleanser!), and smell good to my nose, naturally! The frosted glass jars and wood-grained lids feel upscale and look pretty on a vanity or sink area. They work well and don't bother my sensitive skin. I think See New does a great job of introducing clean skincare brands and they sent a good combo of products – a cleanser, spritz/toner, mask, and super moisturizing balm. This box had a spectacular value of $154, more than 3 times the price of the box!
What do you think of this box?