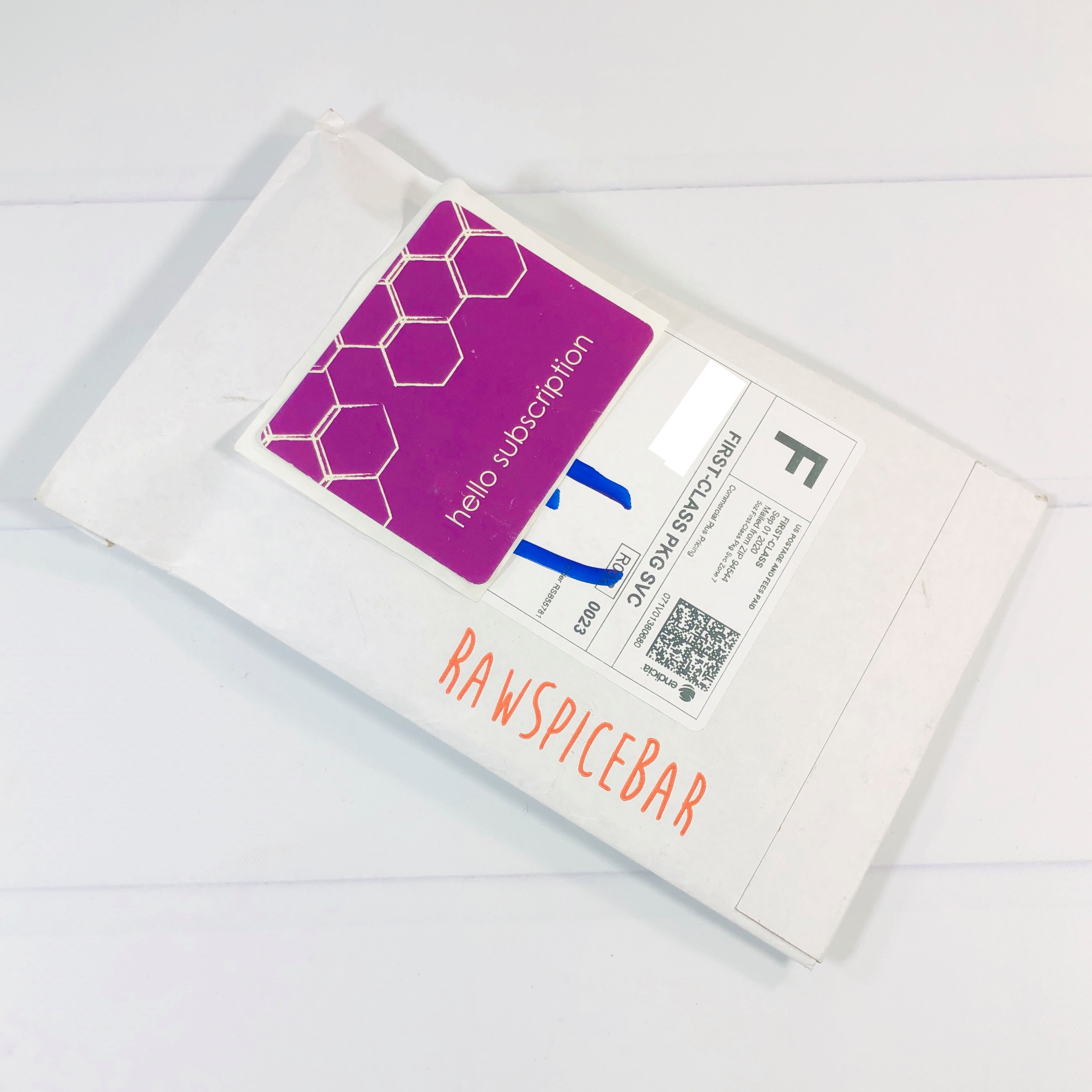 RawSpiceBar is a monthly subscription that sends authentic spice blends that are created by top chefs for globally inspired home meals. You can also find seasonal recipes in which to use the spices and introduce new, exciting flavors into your kitchen.
Start cooking new dishes with our monthly spice subscription. Each month, we'll send a new full size 2 oz blend, with recipes for all diets. All blends are healthy, freshly ground, primarily salt free and hand blended in house. Just $10/month, always free shipping.
Everything in my box! I received two spice blends in my mailer and no other inserts or info. The spice blend for the month of September is Furikake but I received something different, perhaps because it's my first box?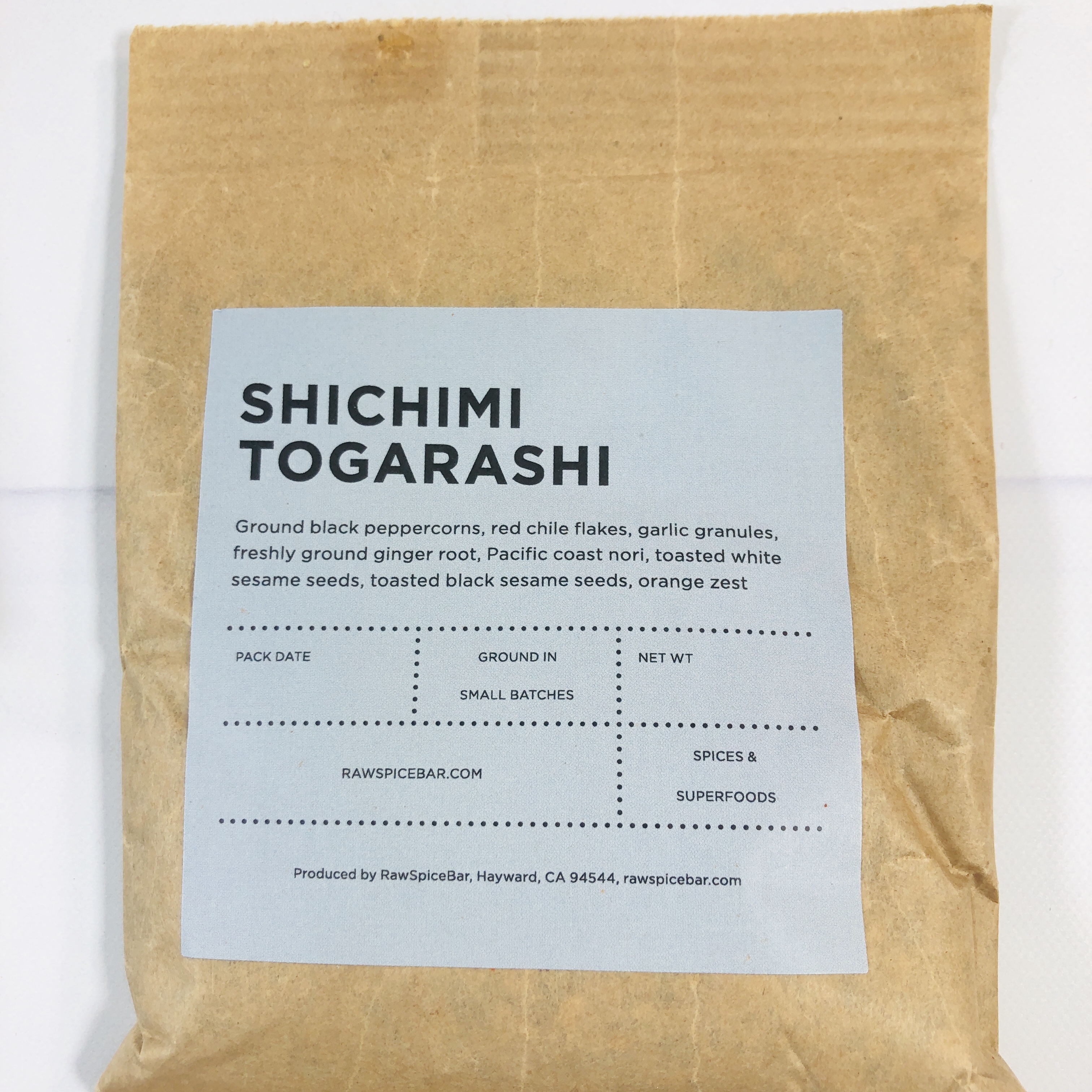 Shichimi Togarashi ($6) I have never used this seasoning blend before, but I have heard of shichimi thanks to my Bokksu subscription, sometimes a snack will mention this flavor.
Literally translating to "seven flavor chile pepper", shichimi togarashi is a Japanese spice blend that dates back to the 1600's and brings out the clean, simple flavors of Japanese cooking. We love this shichimi togarashi seasoning as a marinade for yakitori or grilled meats, added in rice bowls or soba or udon noodles. Some of our favorite shichimi togarashi recipes include use of fatty foods like broiled eel, tempuras. The Japanese spice blend nanami togarashi is closely related to shichimi togarashi, with a slightly different proportion of ingredients and a larger proportion of citrus zest.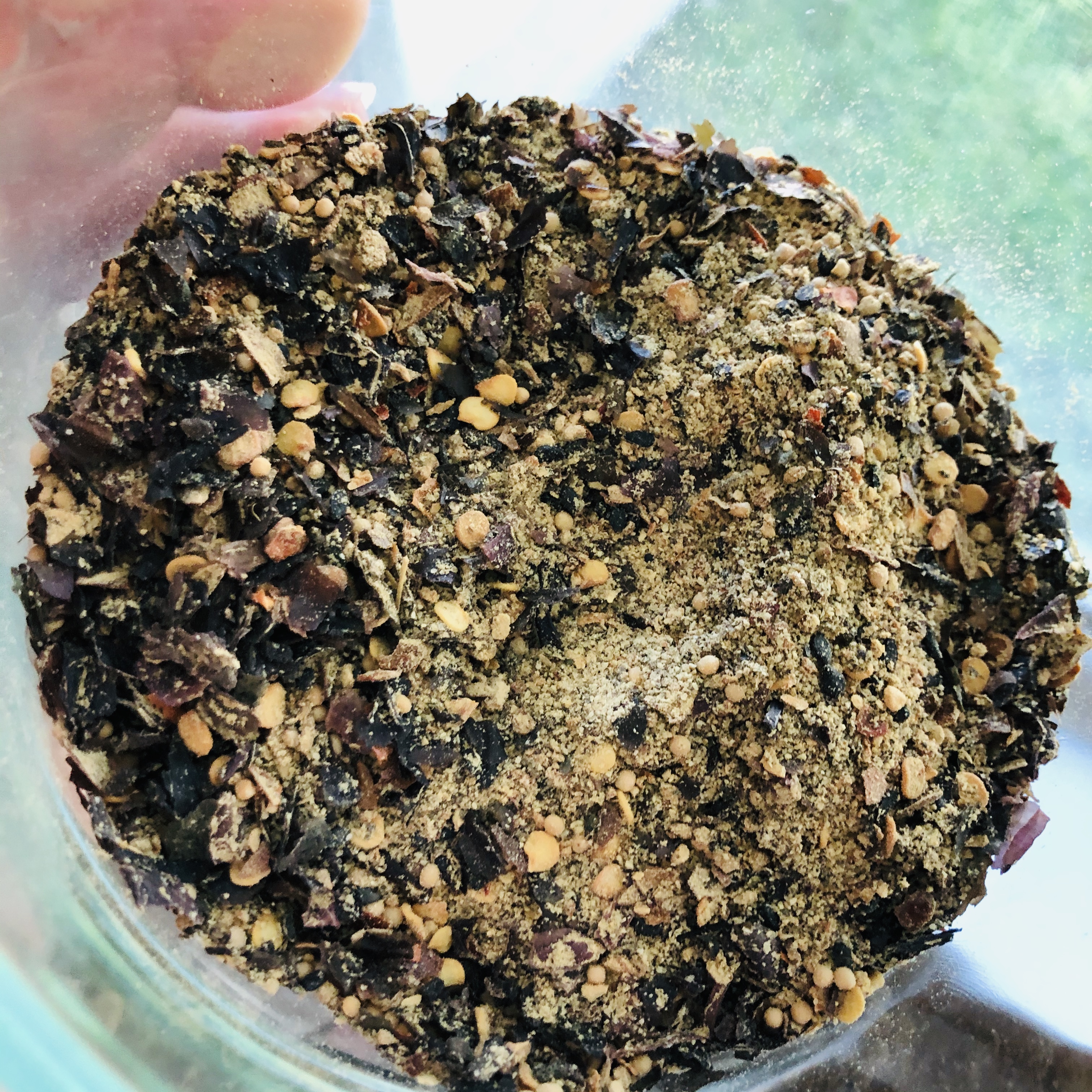 The blend is a combo of black peppercorns, red chile flakes, garlic granules, freshly ground ginger root, Pacific coast nori, toasted white sesame seeds, toasted black sesame seeds, and orange zest. I tried a bit on its own and wowza, it's spicy!
There were 3 recipes on the RawSpiceBar website for this ingredient. I decided to try Chicken Katsu, but I noticed the recipe had incomplete instructions. I knew I could figure it out on my own though. I mixed some of the shichimi togarashi with flour in one dish, placed a beaten egg in another, and a third bowl held panko crumbs. I dipped flattened chicken breasts first in the spice/flour mixture, then the egg, and finally in the panko.
I sautéed them in a non-stick skillet in canola oil. If you have an air fryer then it might work there too. I don't own a deep fryer but that would probably be the classic way to prepare this dish.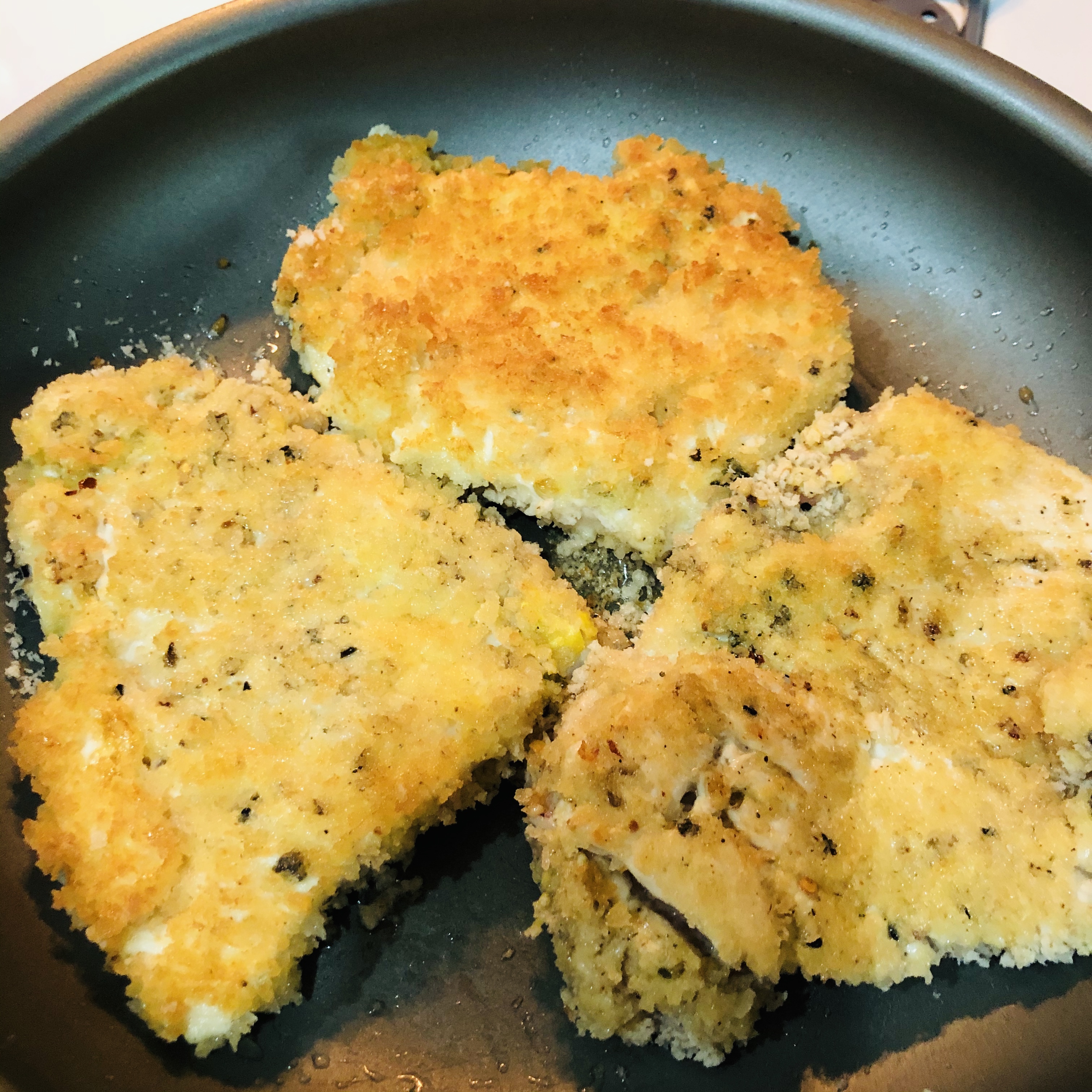 Looking good so far, but I ended up turning it a couple more times to cook through. In the meantime I mixed up a homemade katsu sauce, which was mostly ketchup but with soy sauce, ponzu, and a few other ingredients.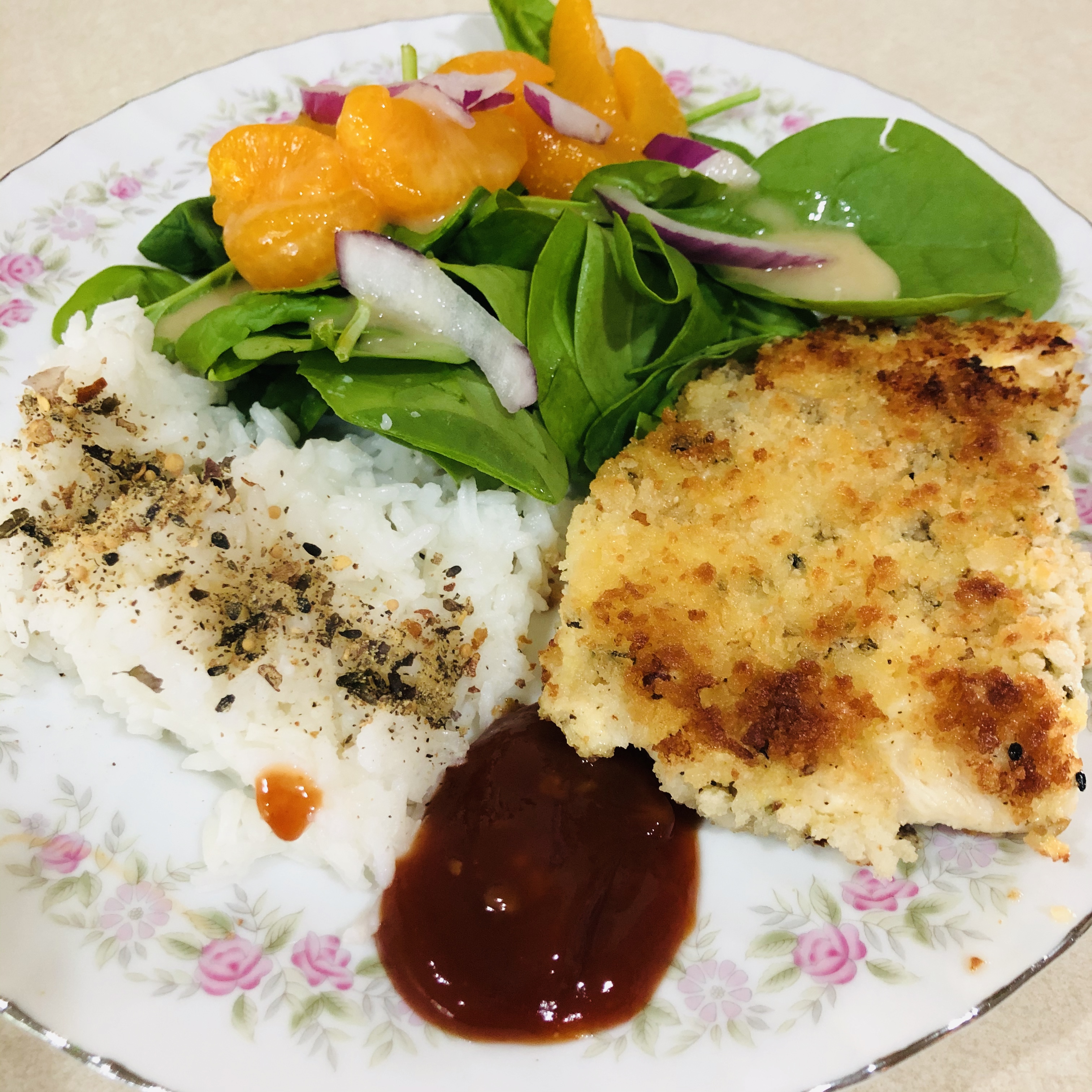 Here is my Friday night dinner! I thought the chicken was tasty and my husband recognized that it was supposed to be an Asian dish. I served it with rice and a spinach salad and gave an extra boost to the plain rice by simply sprinkling more of the seasoning on top!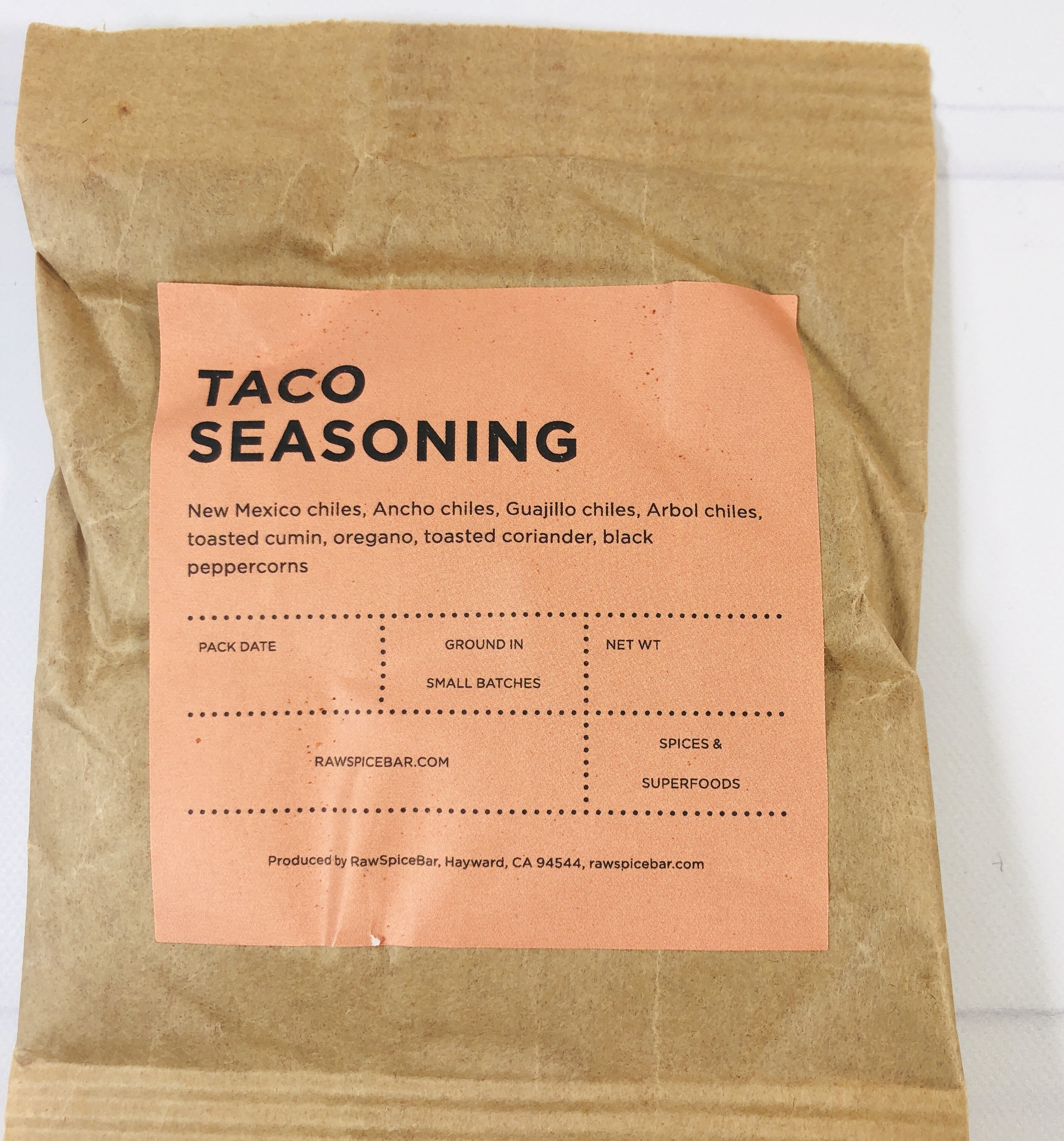 Taco Seasoning ($6) I am no stranger to taco seasoning, although nowadays I just make up my own mix when cooking tacos for dinner. Since I am kind of set in my taco ways, I decided to use this blend in Chicken Quesadillas, seasoning my chicken breasts with this mixture before using my grill pan to cook the meat.
Taco seasoning is a blend of spices and herbs to make it easy to create taco mix at home! This seasoning consists of easy-to-find spices such as cumin, paprika, chili powder, garlic powder, onion powder, oregano, and red pepper flakes.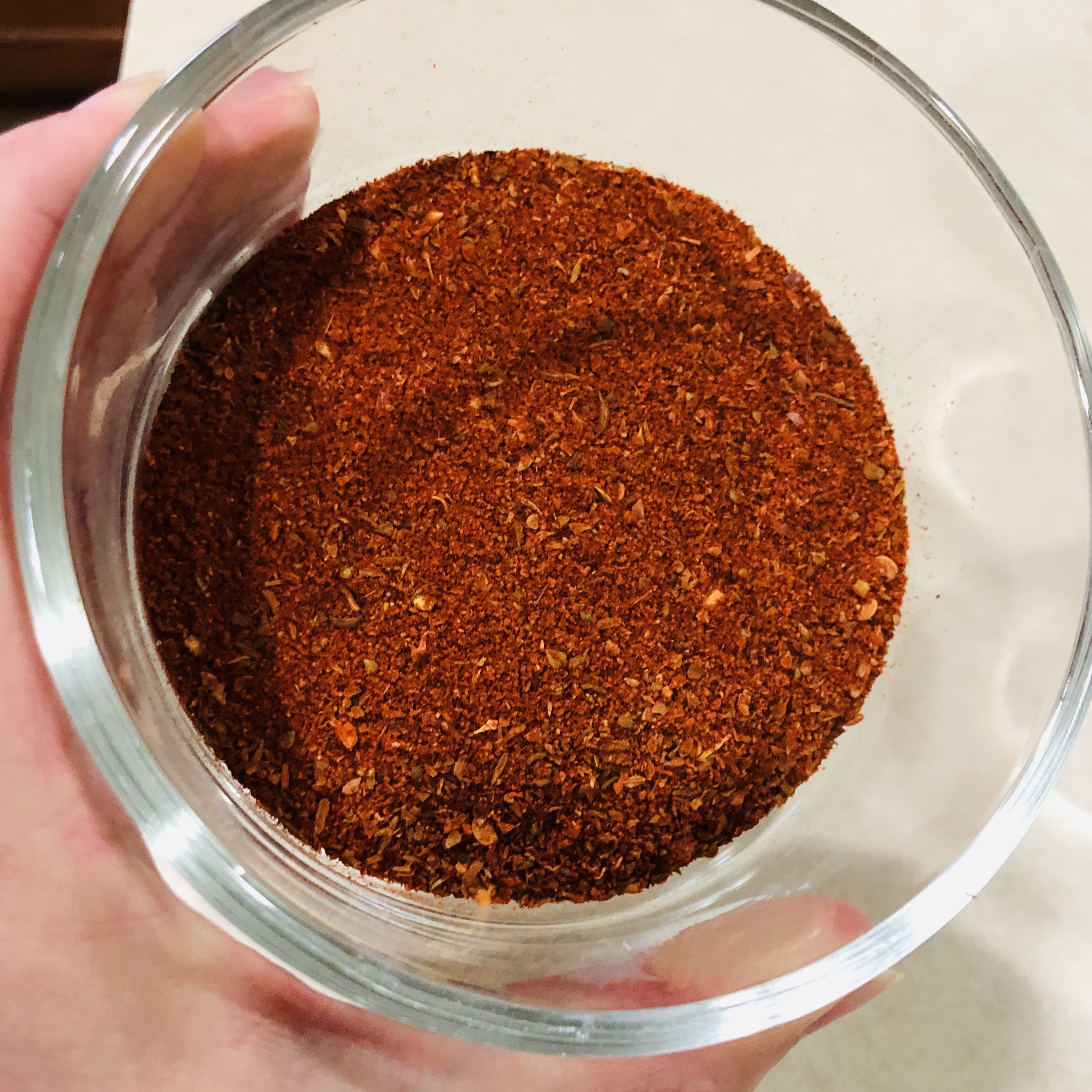 The seasoning is a blend of New Mexico chiles, Ancho chiles, Guajillo chiles, Arbol chiles, toasted cumin, oregano, toasted coriander, and black peppercorns.
I sprinkled it on sliced chicken breasts, annnnnd then forgot to take any more pictures! I grilled the chicken, some sliced onion, and sliced yellow and orange bell peppers until everything was cooked. I diced it after cooking and placed in a large tortilla along with shredded Monterey Jack cheese. I cooked them on the griddle until the cheese was melted and the tortillas were toasty and served with guacamole and sour cream on the side. The spice was more intense than I'm used to and I thought the cumin was a bit much for my personal tastes so I will simply mix a portion of the blend with some plain chili powder before using in the future but other than that it added some fire to my dish that my family loved!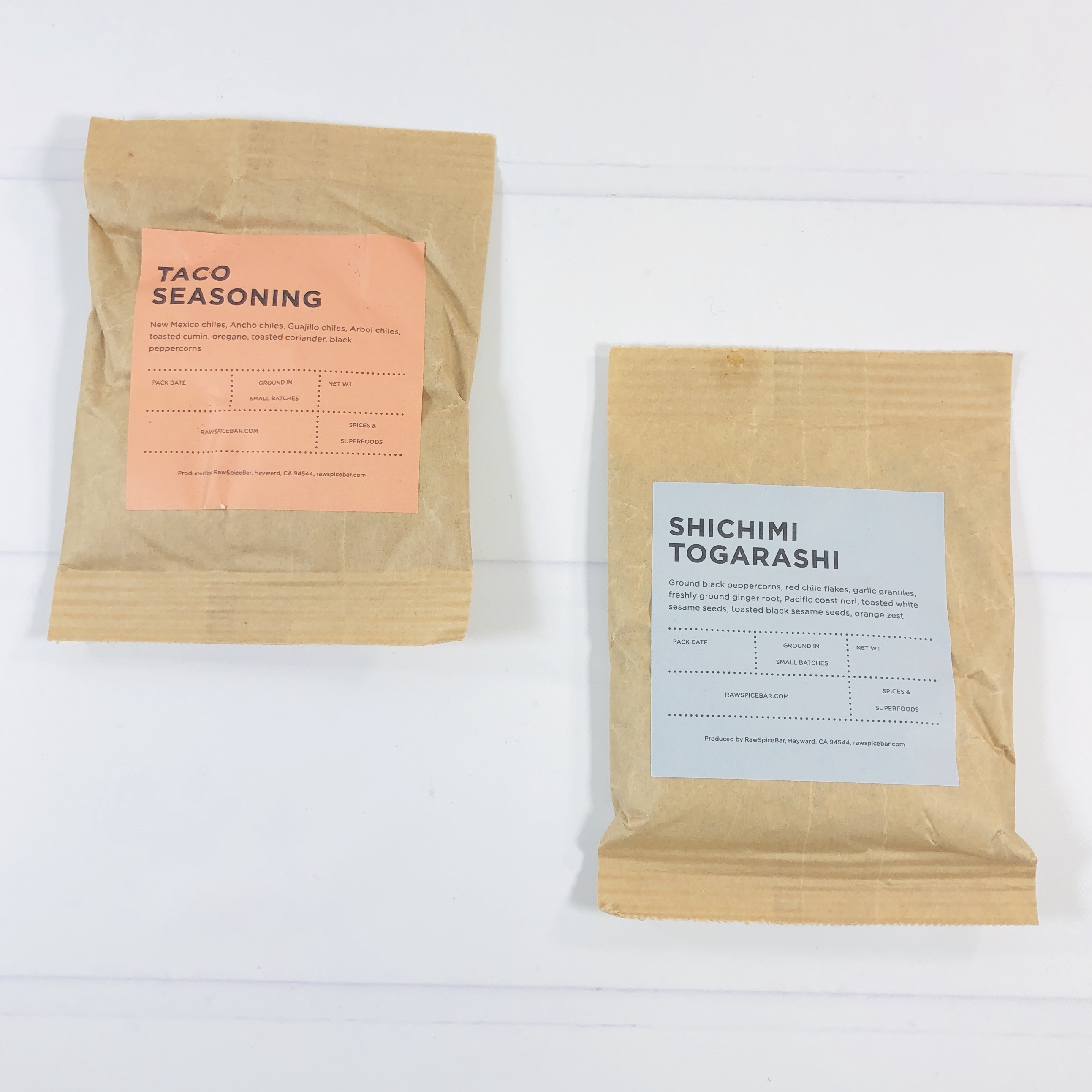 I had fun trying the spices from RawSpiceBar! I even tried a new recipe and it worked out really well, the Shichimi Togarashi added such a tasty addition to my dinner. The Taco Seasoning is so much better than the kind in the grocery store that has ingredients that I would prefer not to eat (what is maltodextrin anyways?). I am looking forward to trying these spices in some other recipes too! The spices smelled fresh and made my mouth water when I opened them up! They will need to go into some type of container or a zipper bag after opening since there is plenty for several recipes depending on how much you use each time, but there are at least a few tablespoons worth in each bag.
What do you think of the RawSpiceBar box?