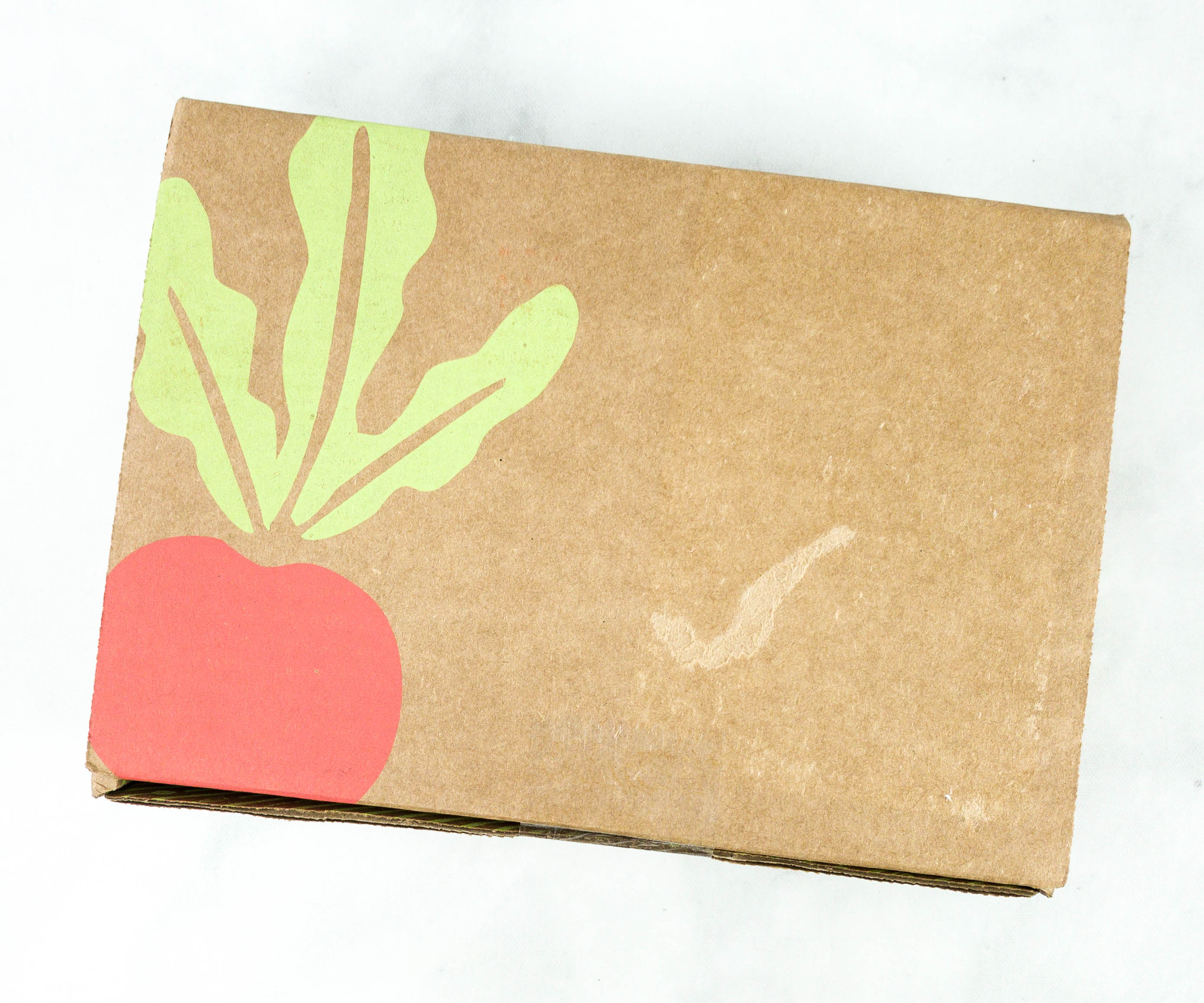 Raddish is a monthly kids' activity box centering around food and cooking! Designed for kids 4 to 14+, each themed box will include 3 illustrated recipe guides, 3 culinary skill cards, a creative kitchen project, kid-friendly tools and collectibles such as Table Talk cards, a culinary tool, and an iron-on Raddish patch. Themes range from Seasonal Spotlights to Global Cuisine and Creative Cookery to Holiday Celebrations. Although the ingredients are not included, they email you a shopping list for each month's recipes before your kit is shipped.
DEALS:
Get $15 off when you sign up for a 6 month subscription! Just use this link and use the coupon code ATHOME at checkout.
Get $20 off when you sign up for a 12 month subscription! Just use this link and use the coupon code CHEF20 at checkout.
PLUS Get a FREE apron with your first box when you sign up for a 6+ month subscription!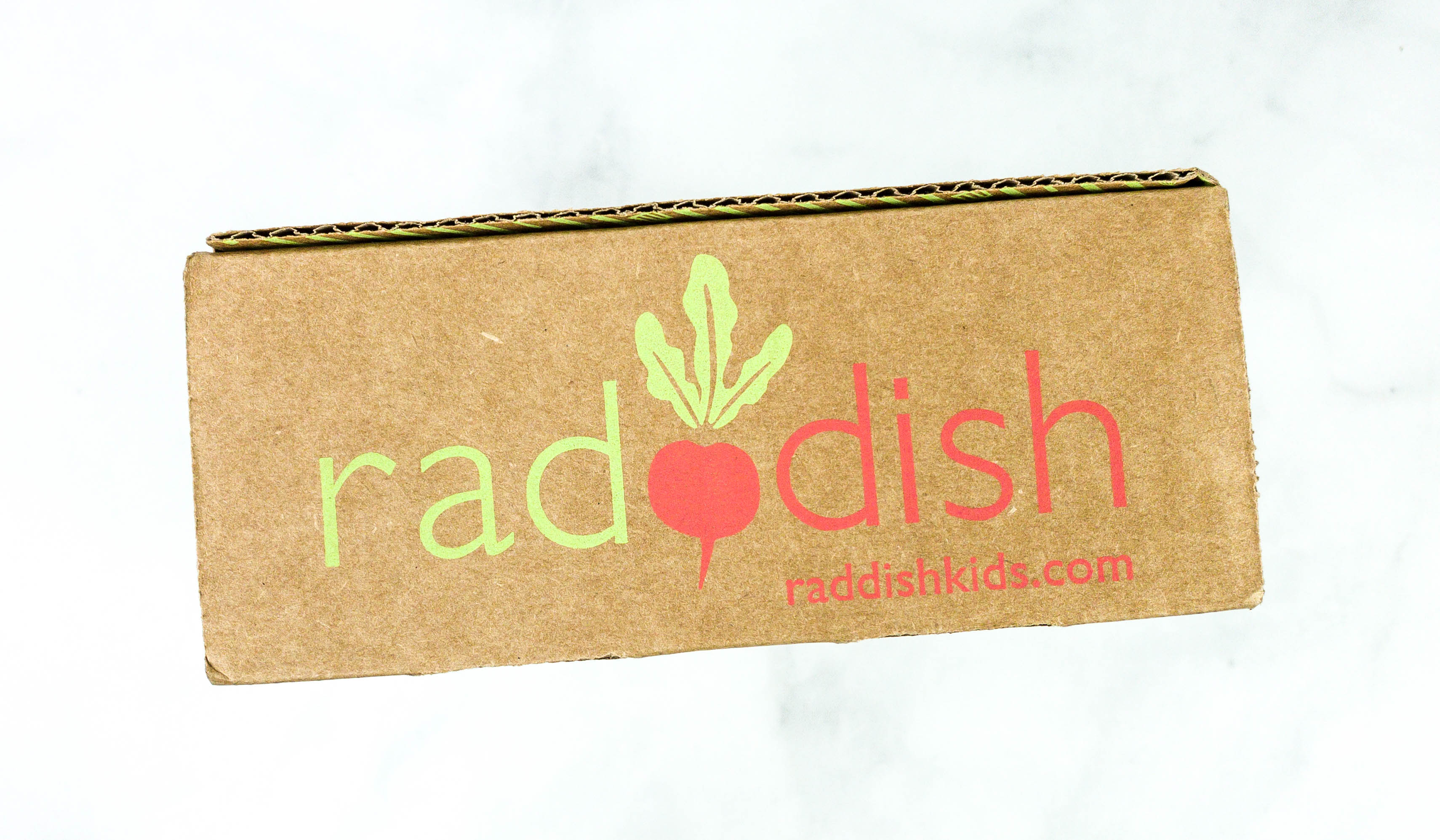 They offer a monthly membership for $24/month, a 6-month membership for an upfront payment of $132 ($22/month), and a 12-month membership for an upfront payment of $240 ($20/month). For those who are getting the 6 and 12-month memberships, expect a free apron in your box.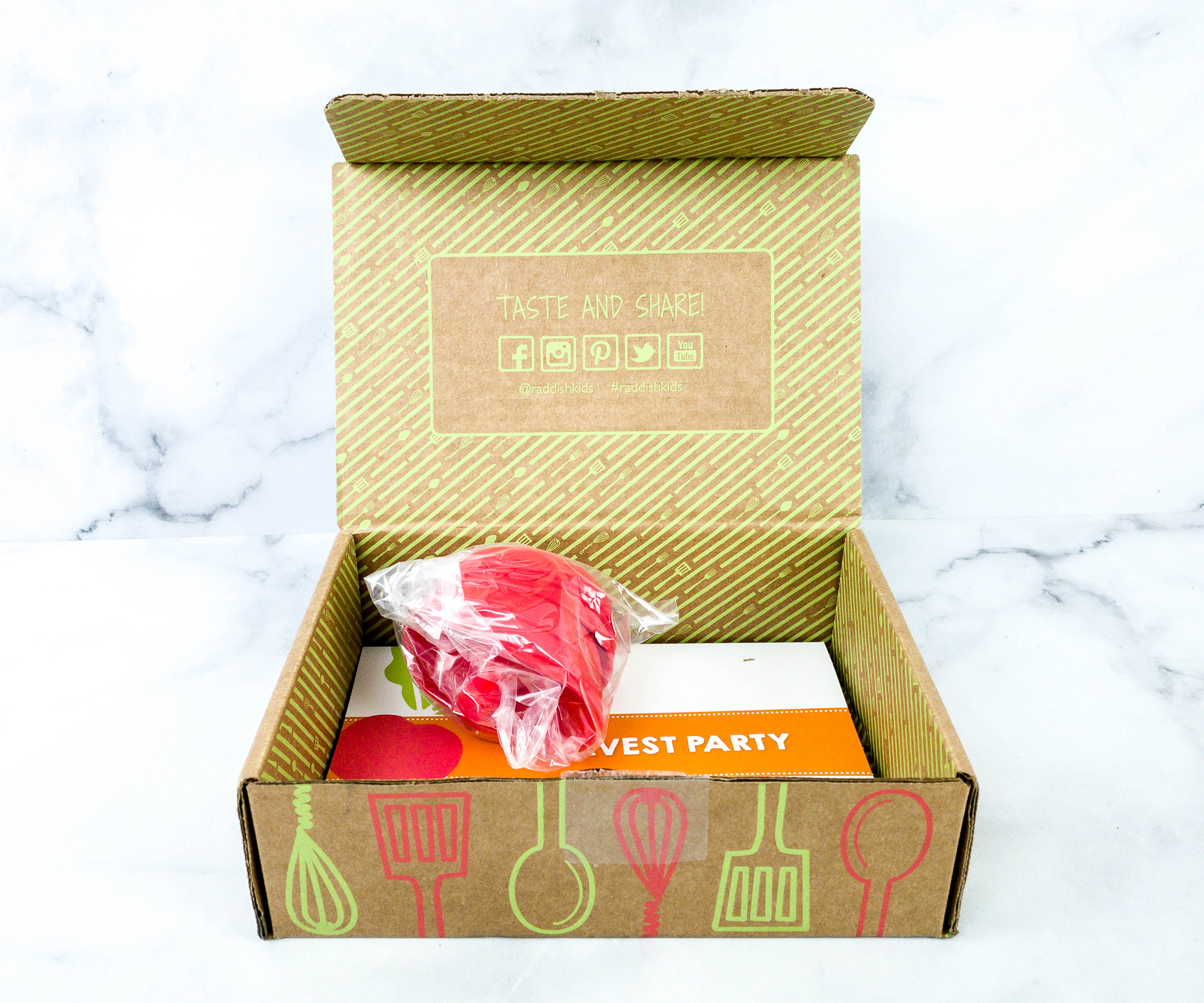 Featured on the inner part of the box's flap are Raddish Kids' social media handles where you can share your cooking experience.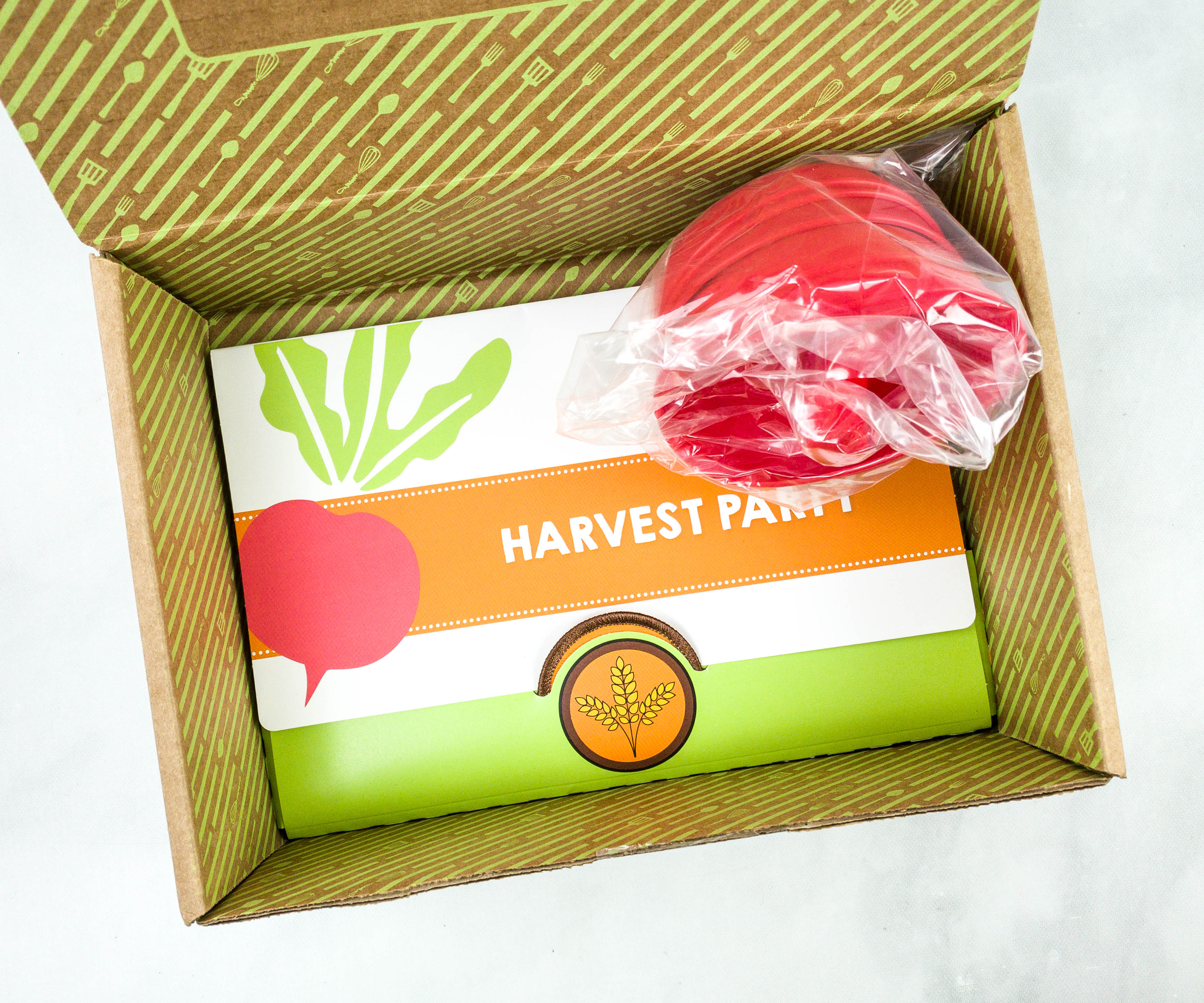 All the items were neatly packed inside the box.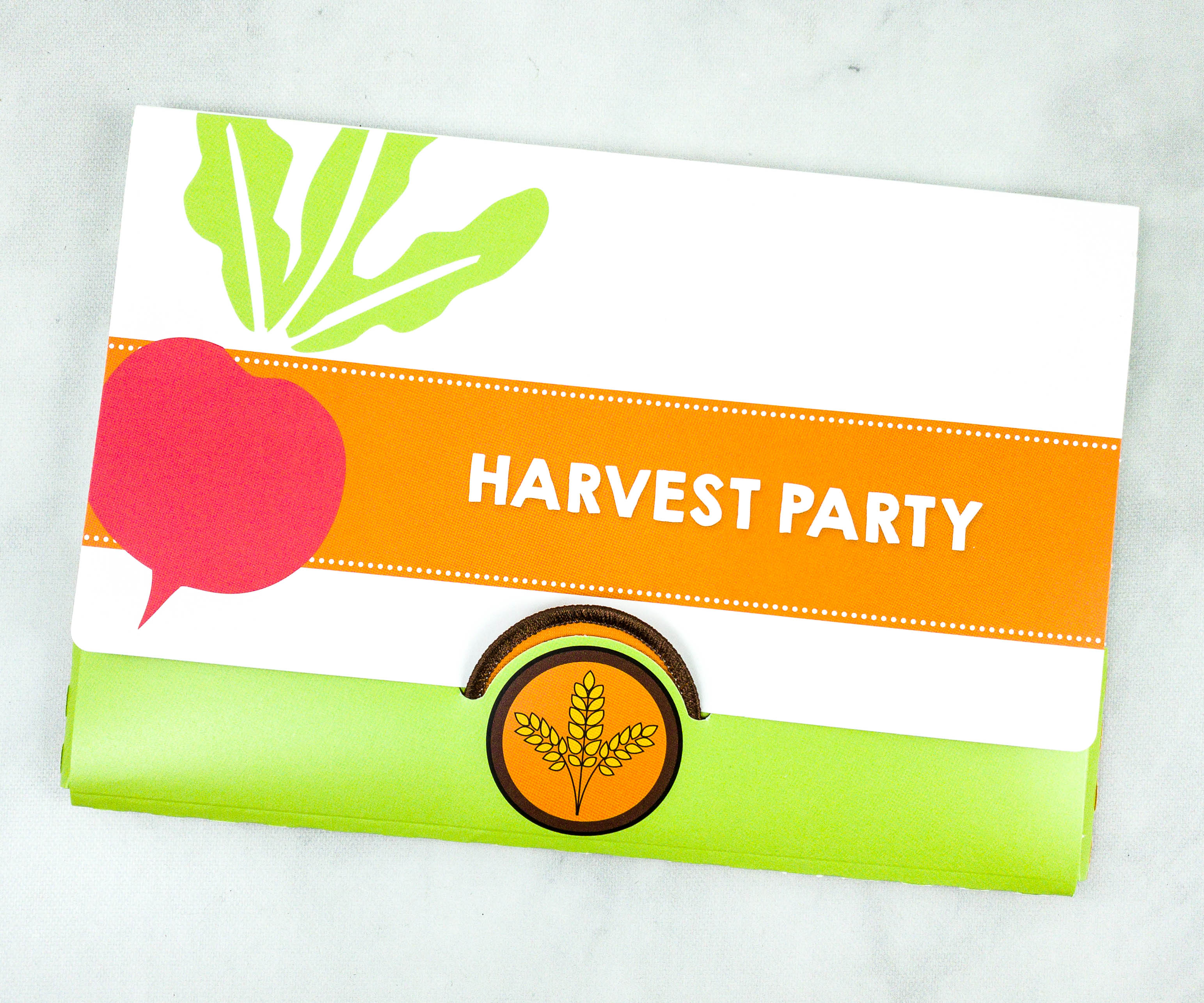 This month's theme is Harvest Party! Inside the envelope are small cards containing some culinary skill lessons, guides with fun and exciting activities!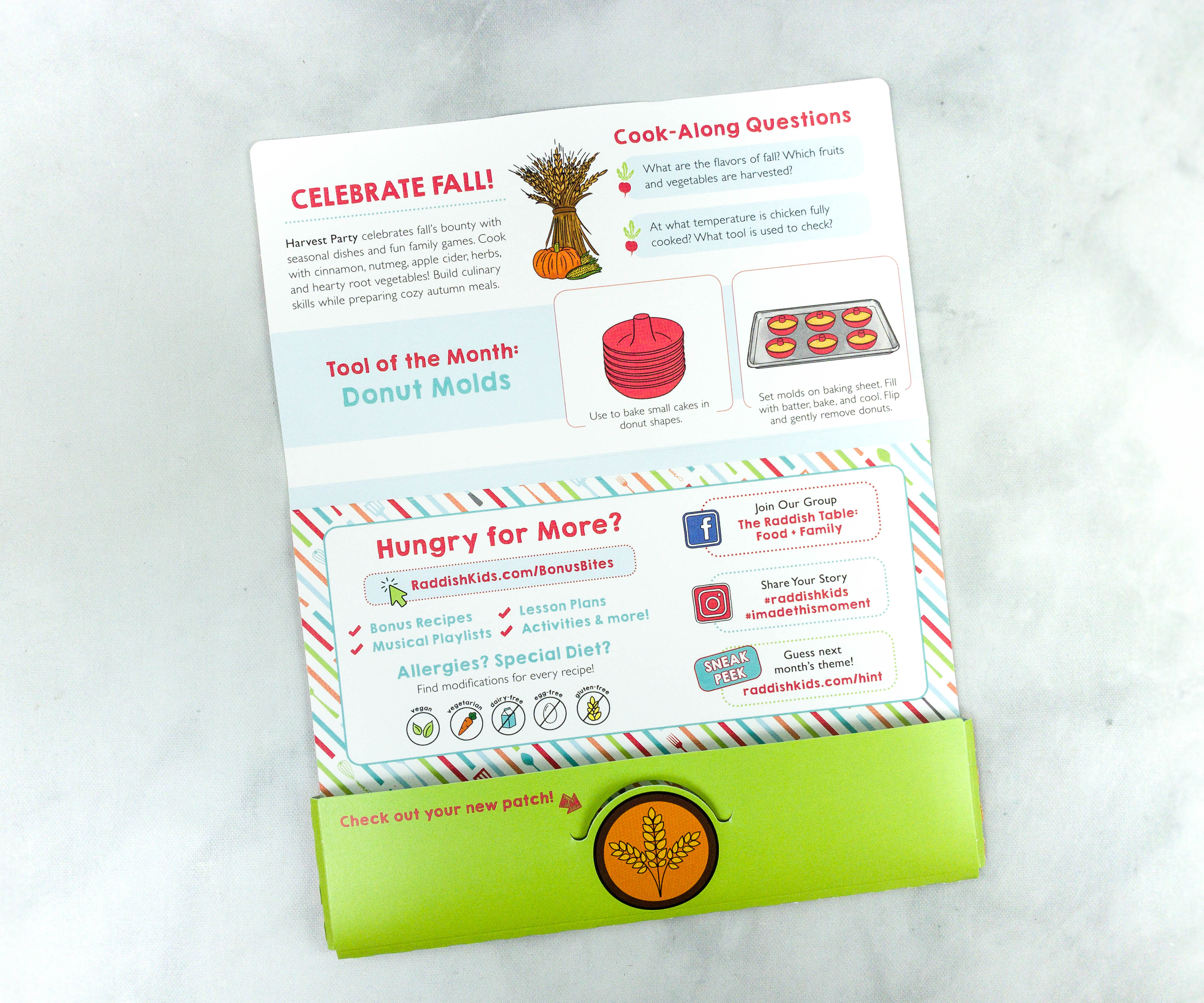 The envelope also lists ways on how you can connect with Raddish Kids on social media, as well as a sneak peek for next month's theme.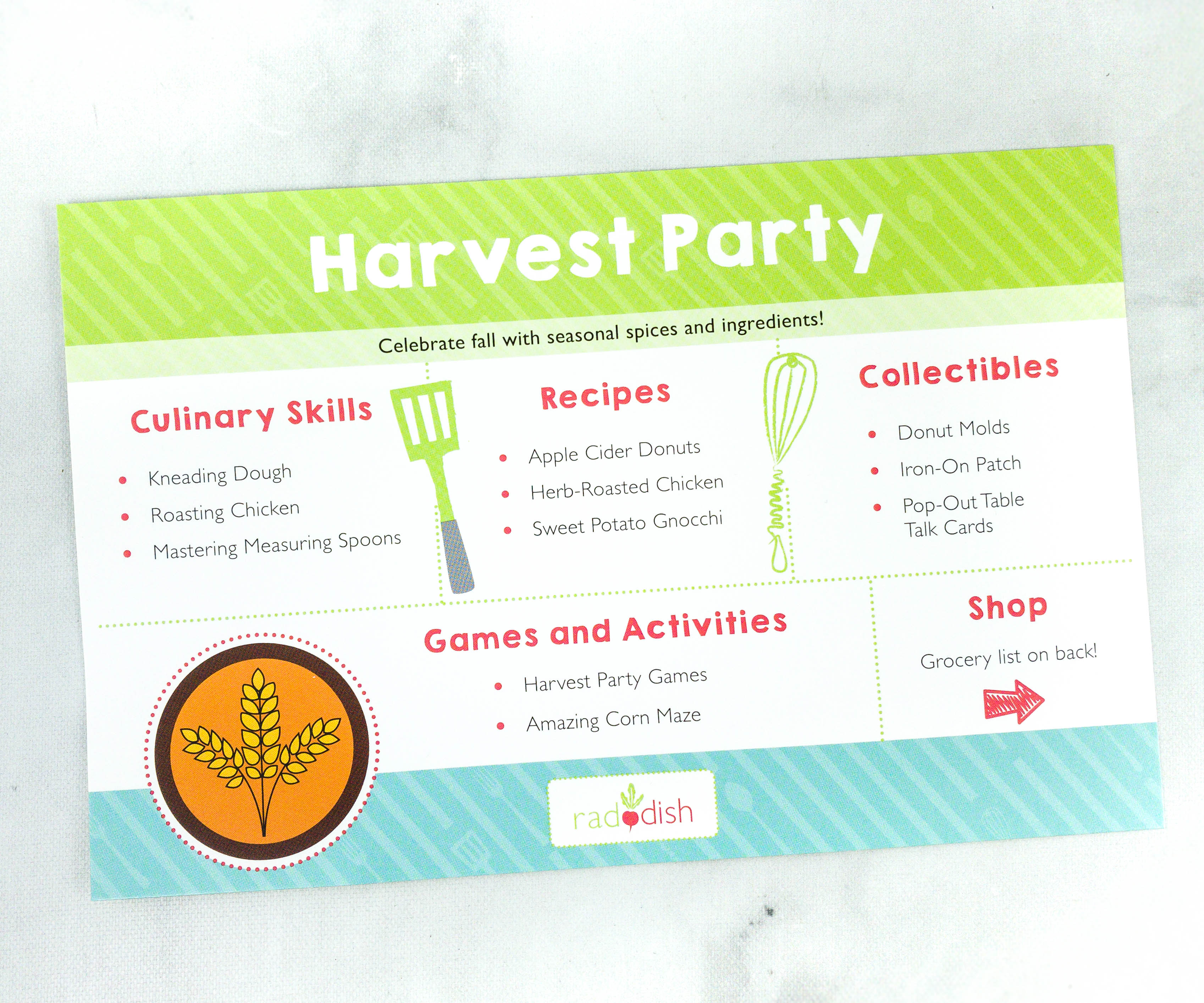 This card contains all the information you need to know about this month's box. It lists all the culinary skills your kids will be acquiring, the recipe names, collectibles, and other games and activities.
The back of the card provides a complete grocery list for all the featured recipes this month. The recipes are Apple Cider Donuts, Herb-Roasted, Chicken, and Sweet Potato Gnocchi!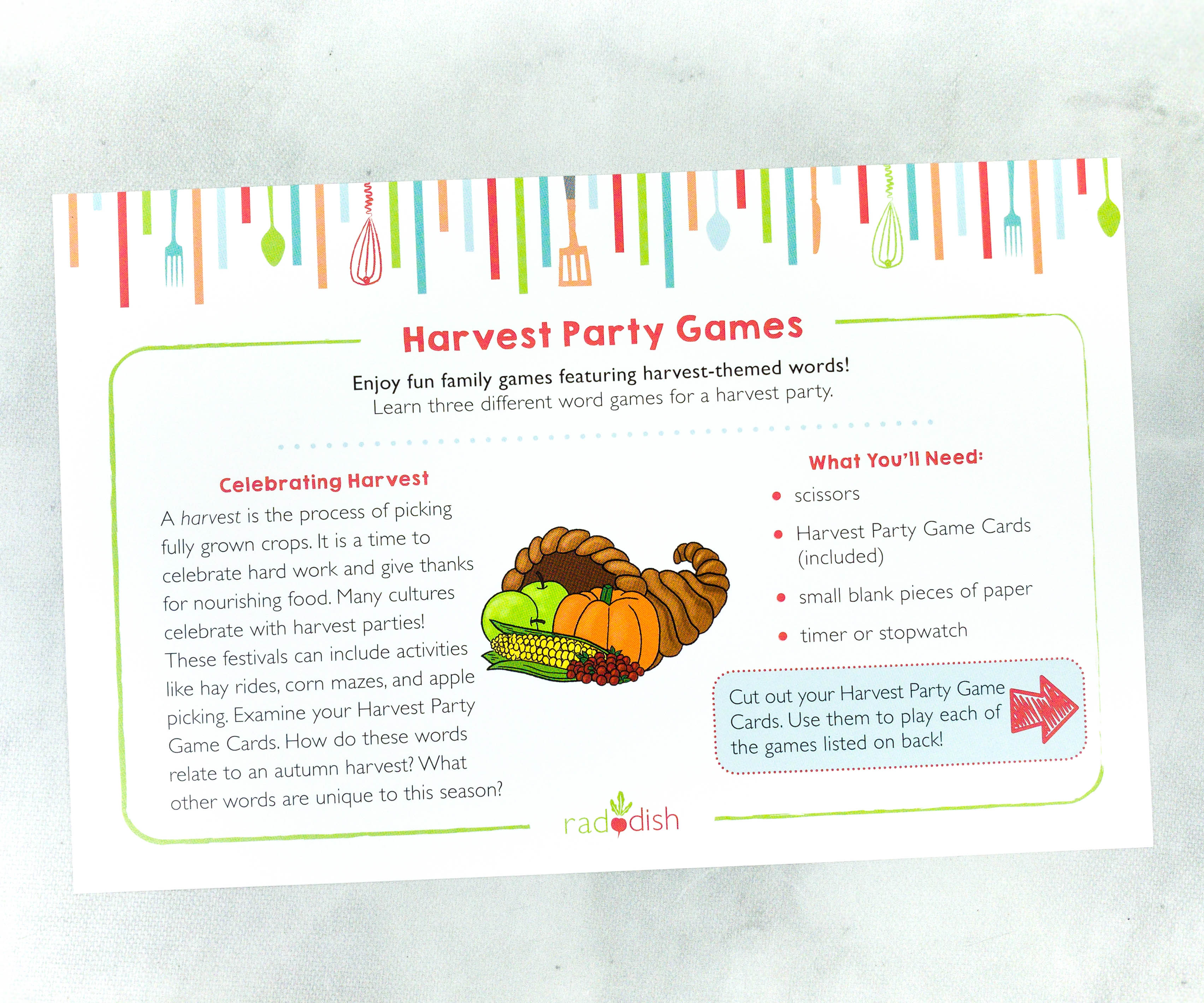 This month's box also includes Harvest Party Games!
At the back, there are instructions on how to set up each game and how to play! The games are Autumn Doodles, Farmer's Telephone, and Fall Danger!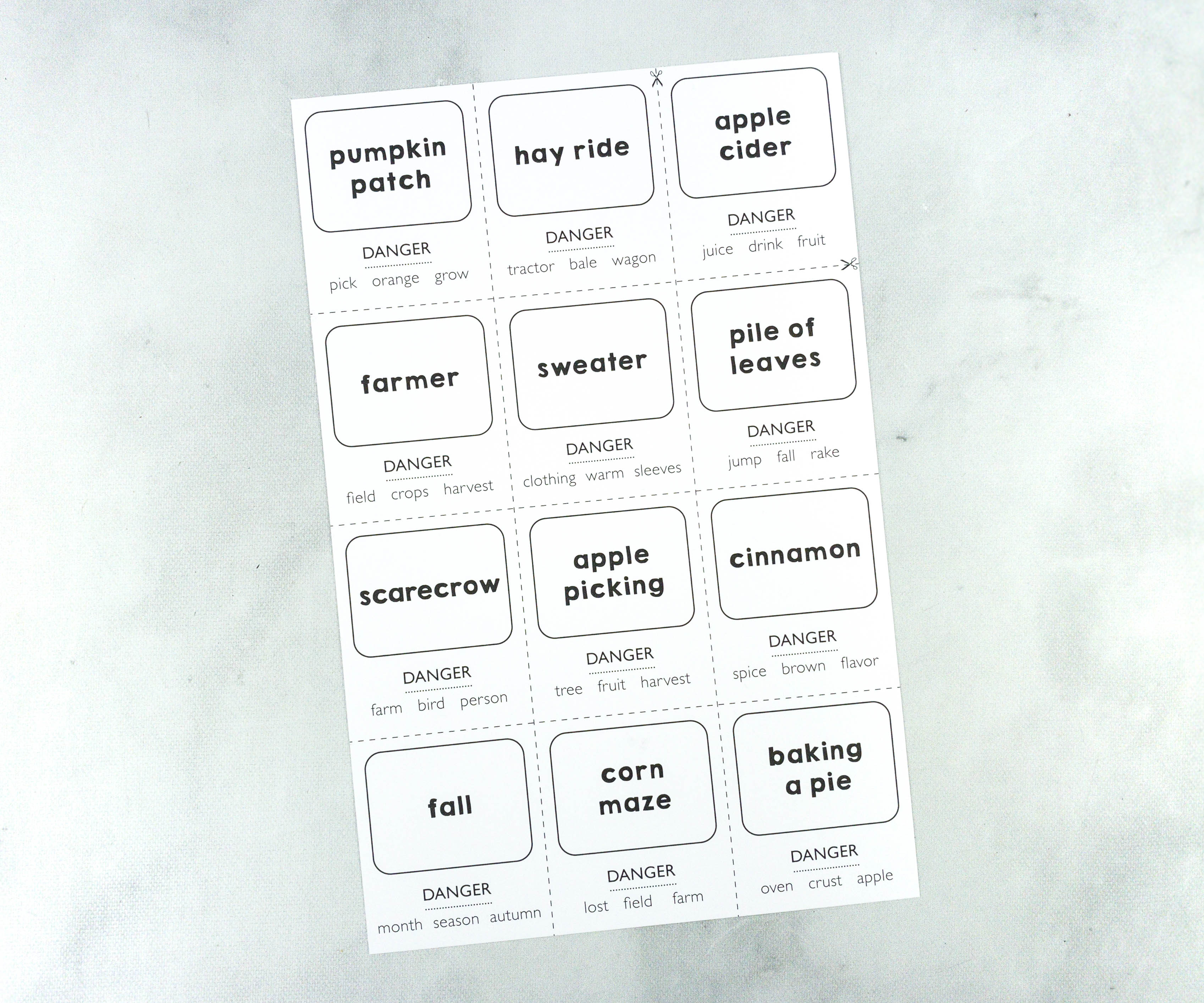 They provided extra cards with words on them for the games.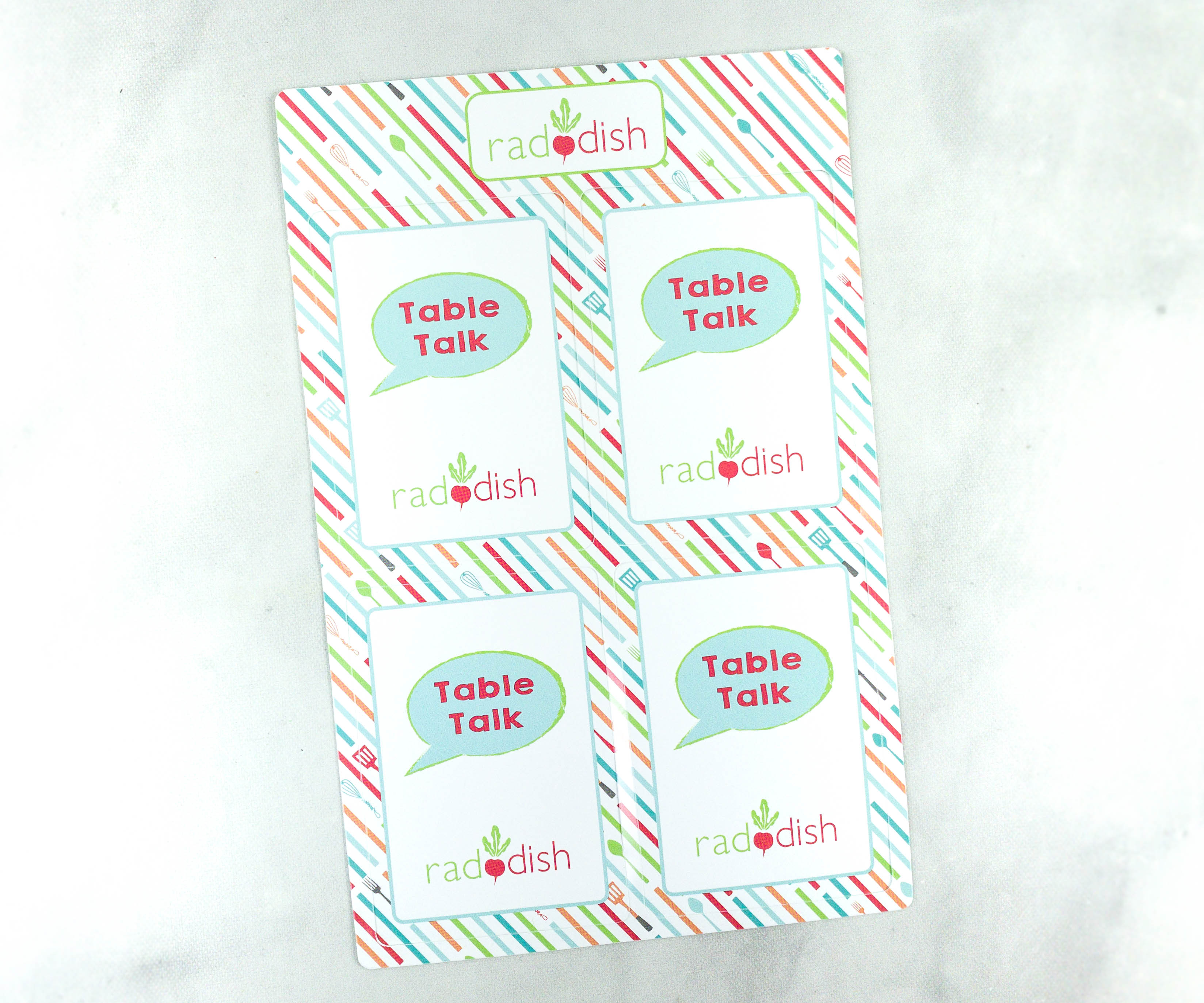 We also received an exclusive Table Talk conversation starter cards.
Each card contains some questions for a great table talk conversation. They come in a sheet and you can easily tear them down.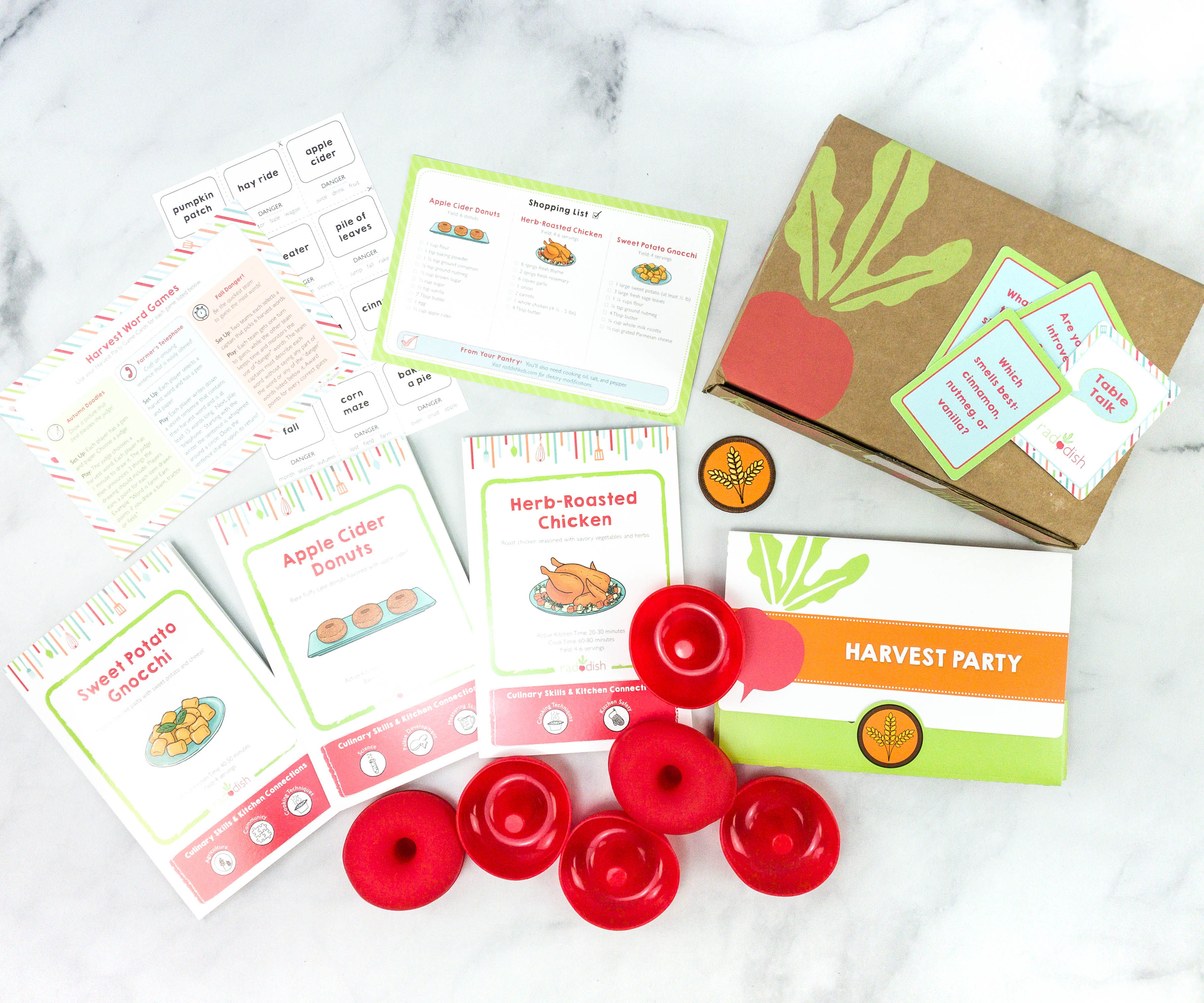 Everything in my September 2020 box! If you subscribe for a year, the apron is automatically included!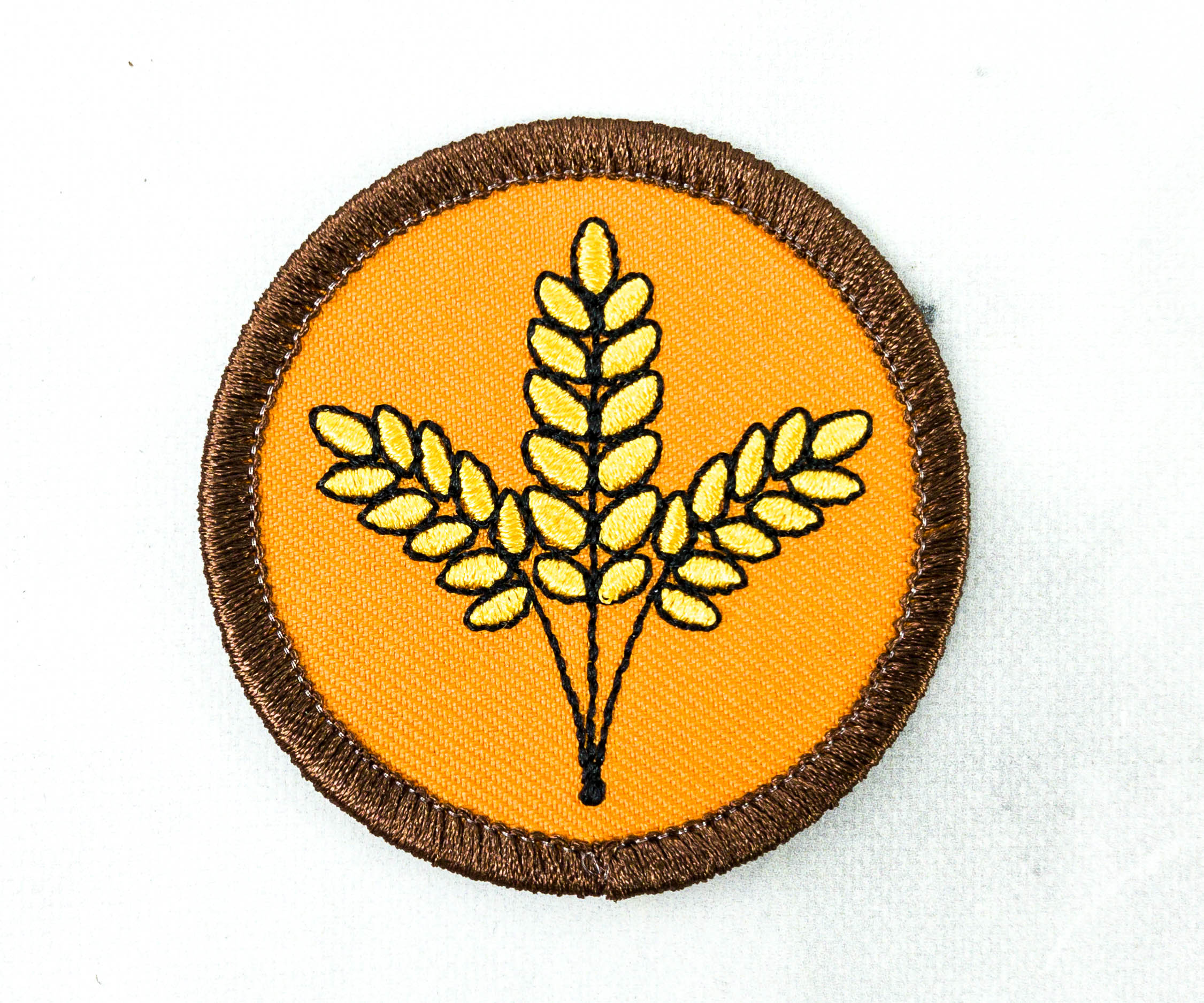 Another bonus item is a patch and it represents this month's Harvest theme.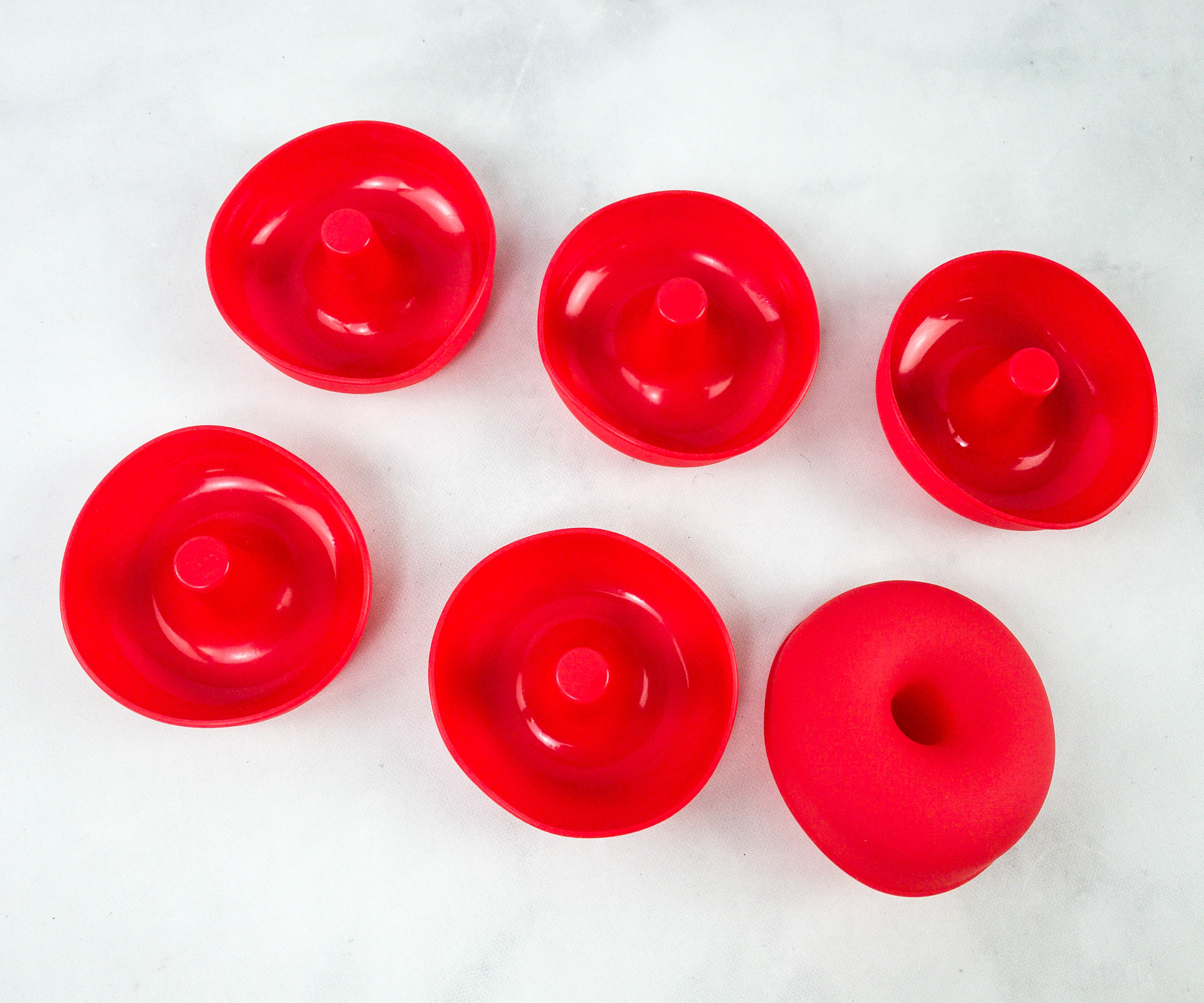 Every box comes with a featured tool. This month, we received donut molds!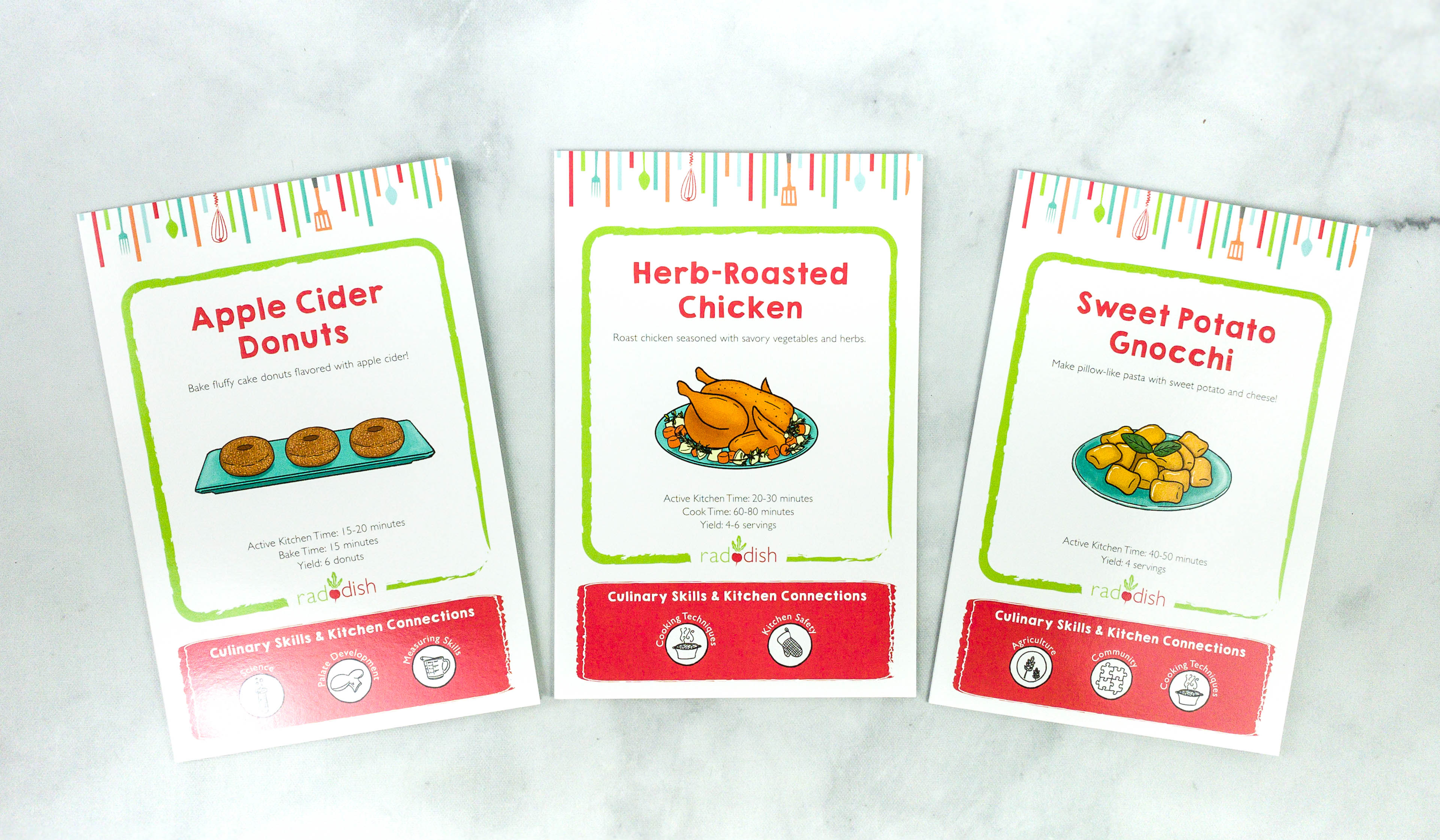 Here are this month's recipe guides!
The first recipe is Apple Cider Donuts! These are classic, cake-like donuts that are usually flavored with cinnamon and nutmeg. Of course, it also contains apple cider where the yummy fall snack got its name.
Active Kitchen Time: 15-20 minutes

Bake Time: 15 minutes

Yield: 6 donuts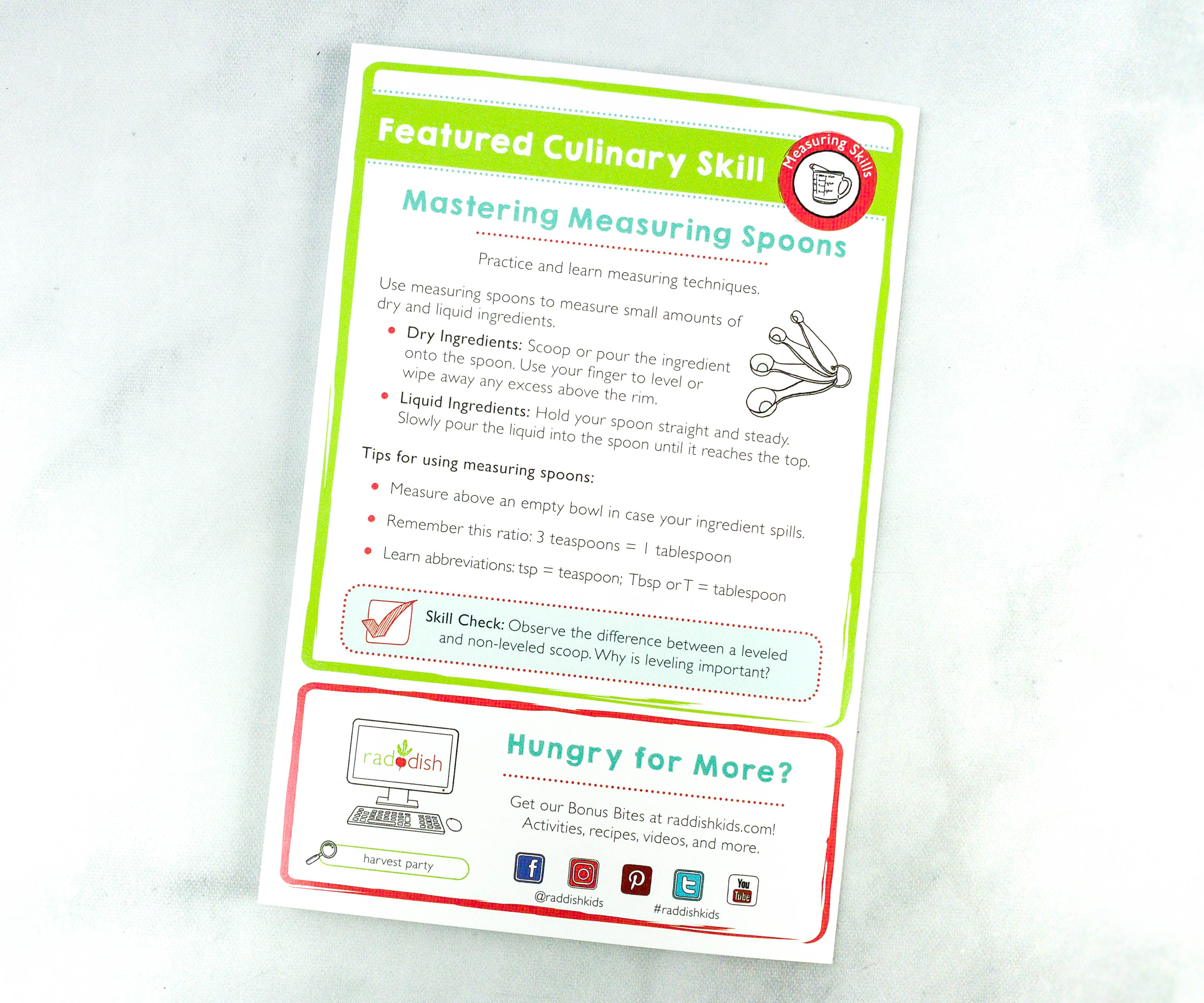 The back of the recipe guide contains the featured culinary skill. For this recipe, it's about mastering measuring spoons.
Inside the booklet are the recipe's ingredients and the needed tools. Ingredients for Apple Cider Donuts are flour, baking powder, kosher salt, ground nutmeg, ground cinnamon, butter, egg, brown sugar, apple cider, vanilla, and sugar.
There's also a portion where kids can learn about Newton's Apple, as well as a Fall Spice Guide for palate development.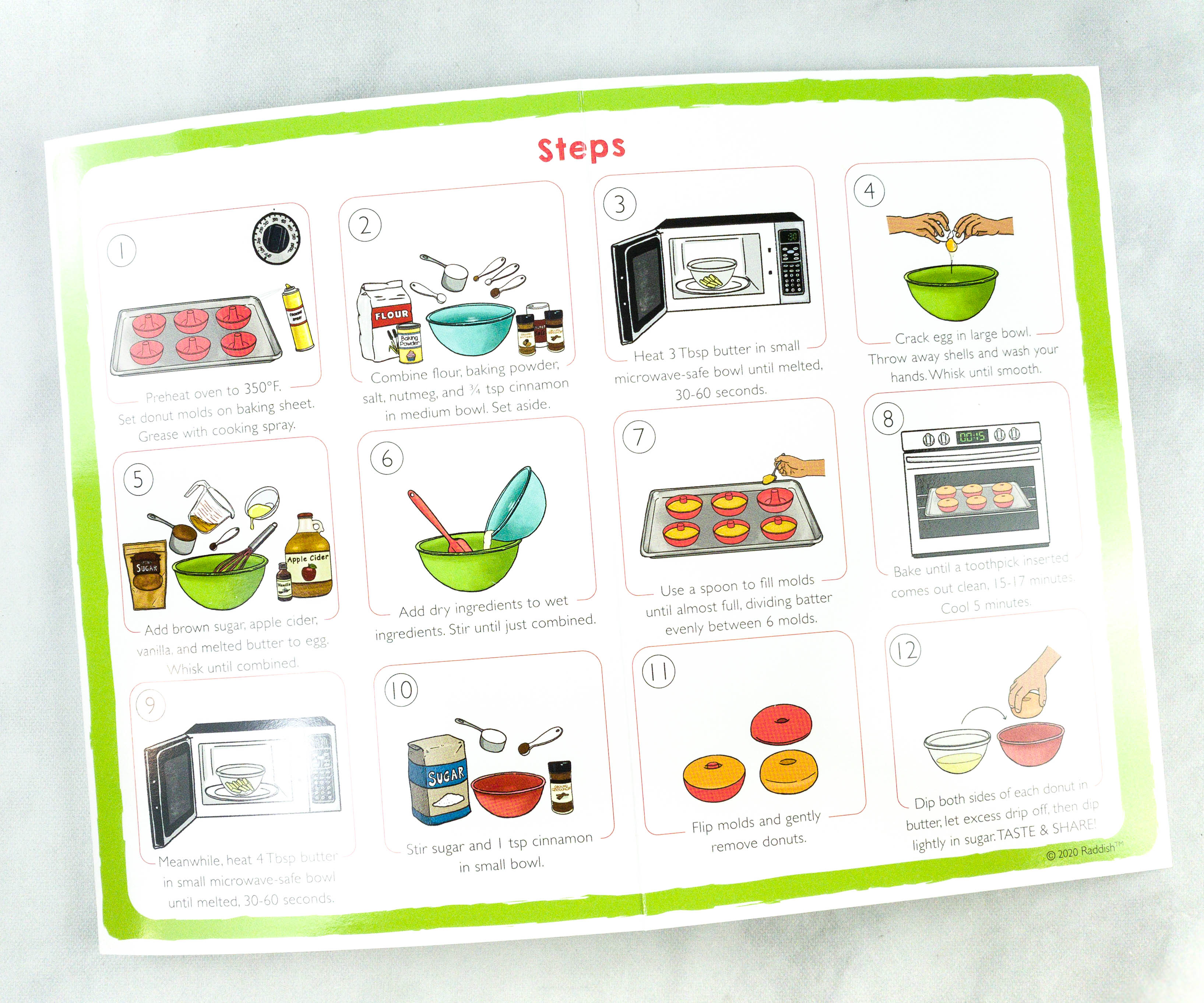 This recipe guide features detailed instructions accompanied by illustrations, making it easy to understand even for kids.
My son combined the dry ingredients in one bowl and the wet ingredients on another bowl before mixing everything together.
Once the batter was done, he transferred them on the donut molds (greased with cooking spray) using a spoon. We have 6 molds and my son filled them up with ease!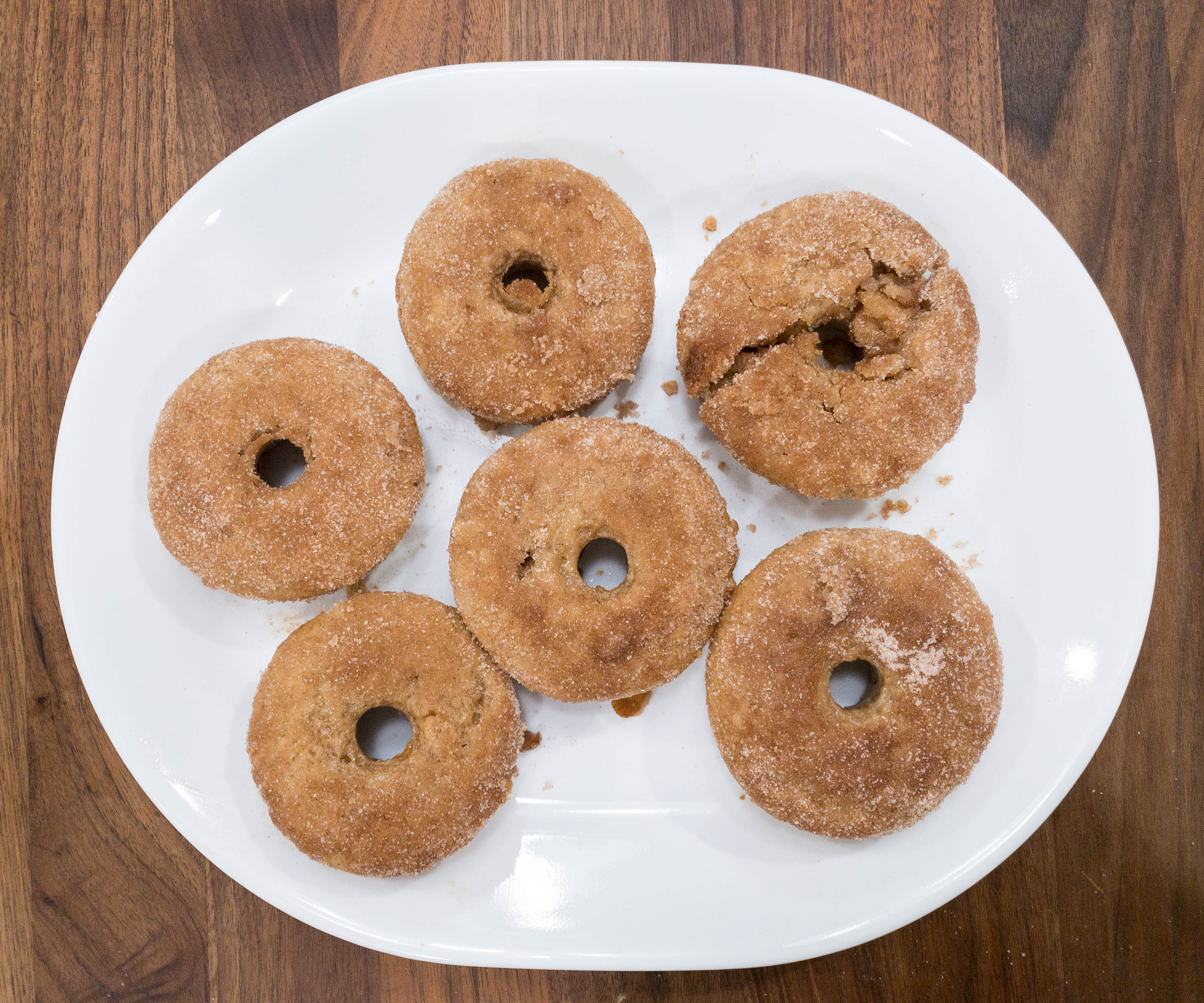 We baked the donuts for 15 minutes! After they have cooled off, we dipped them in sugar and cinnamon. Yum!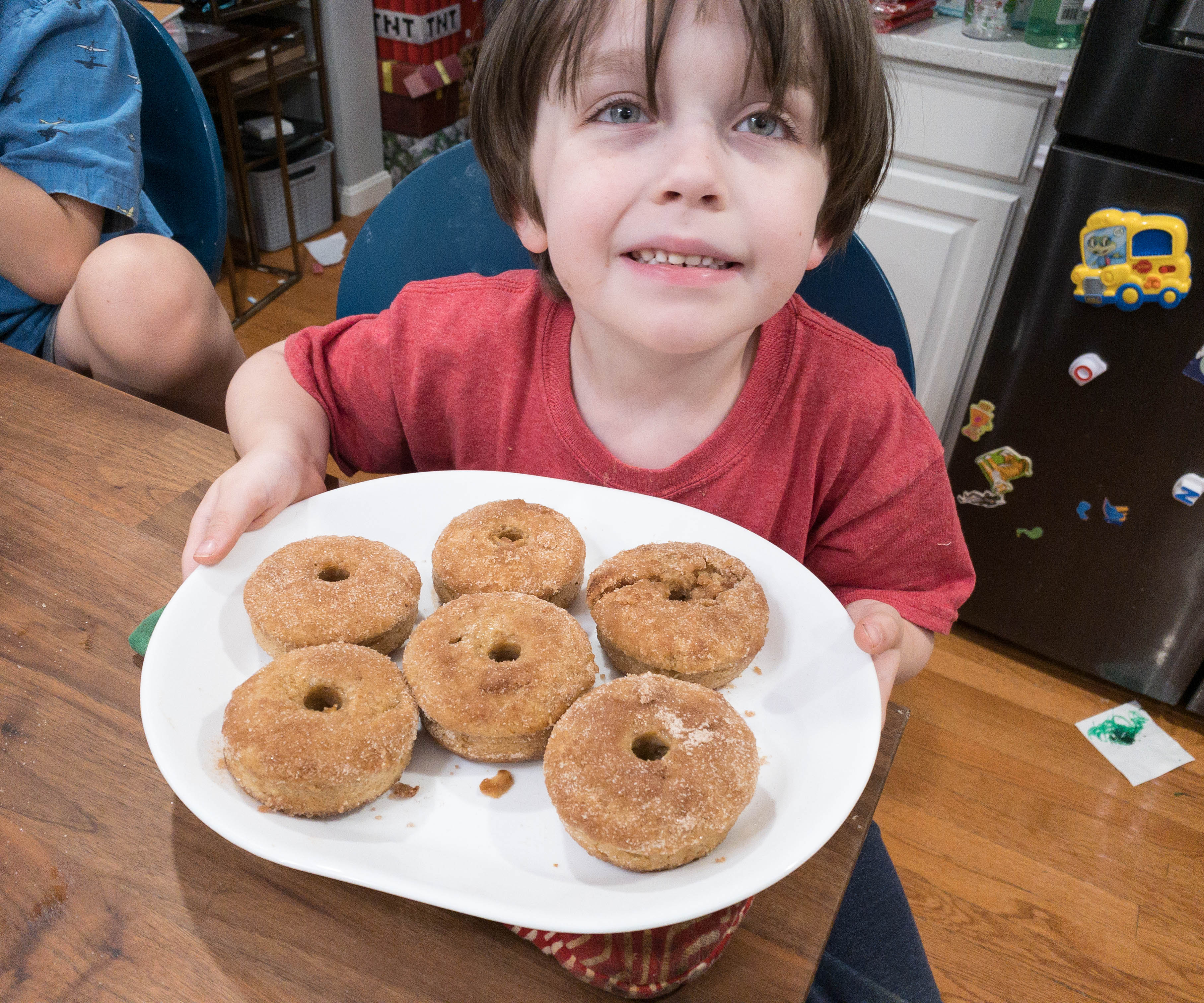 My younger son is happy about how our donuts turned out!
Here's my older son who loves donuts as well!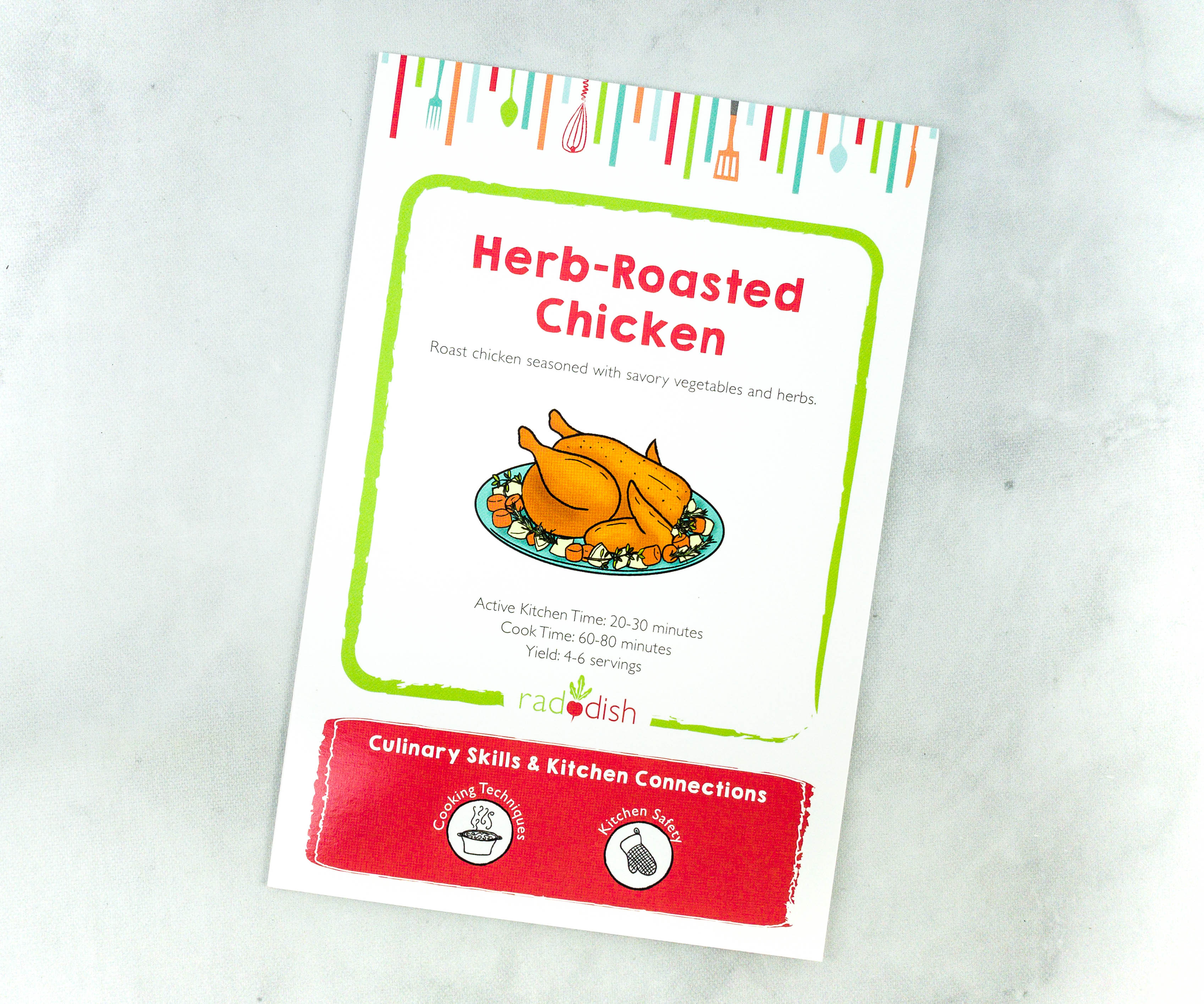 The second recipe is Herb-Roasted Chicken. It's a roasted whole chicken, made flavorful by herbs and served with savory vegetables on the side.
Active Kitchen Time: 20-30 minutes

Cook Time: 60-80 minutes

Yield: 4-6 servings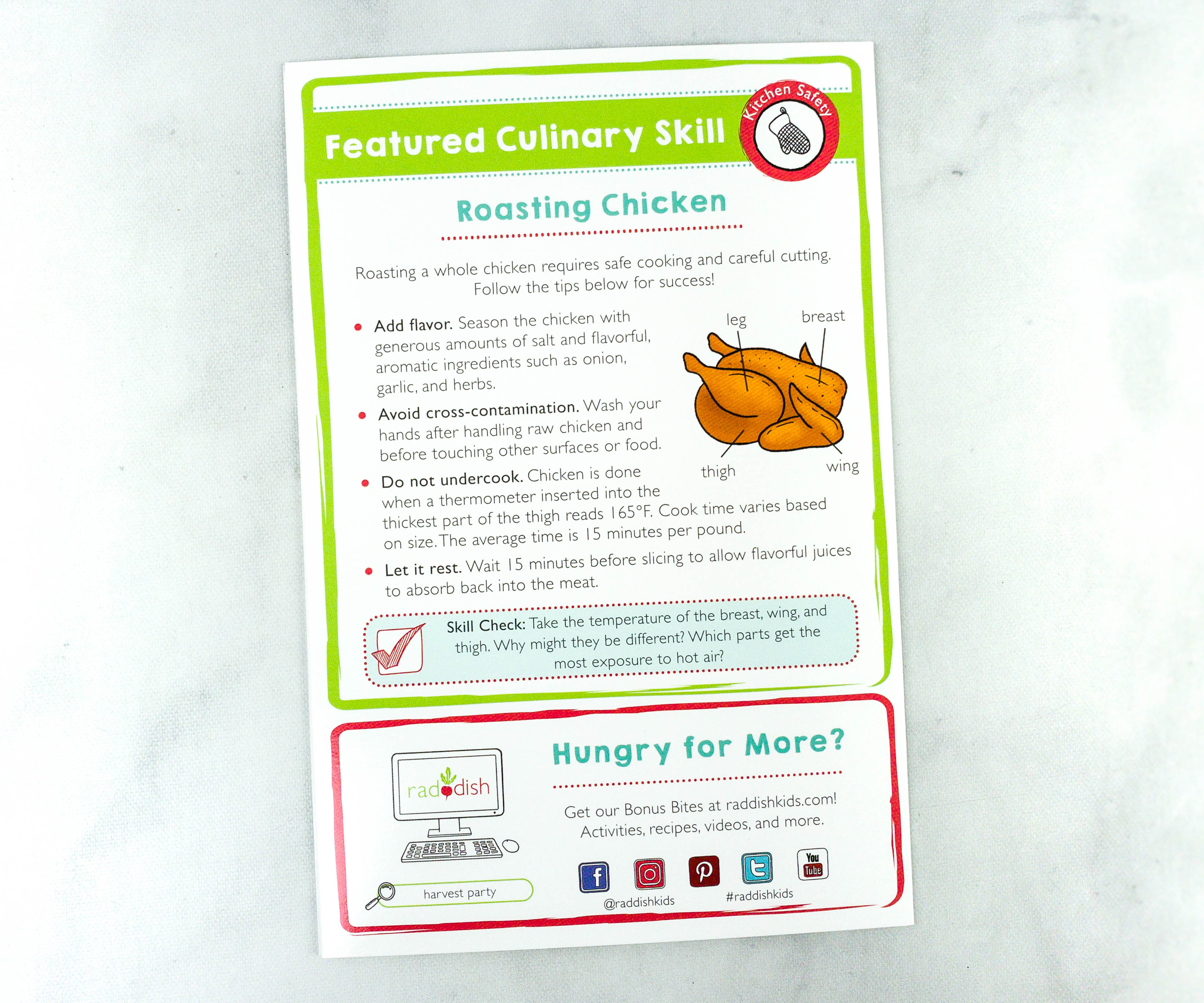 The featured culinary skill for this recipe is roasting chicken. The booklet lists useful tips for cooking and preparing the chicken, such as adding flavor, avoiding cross-contamination, and more!
As usual, we have a list of ingredients and kitchen tools. On the other page are instructions on how to make broth, a savory liquid made from simmered meat, bones, or vegetables.
Here are all the ingredients for the Herb-Roasted Chicken: kosher salt, black pepper, whole chicken, clove garlic, fresh thyme, fresh rosemary, onion, carrots, and butter.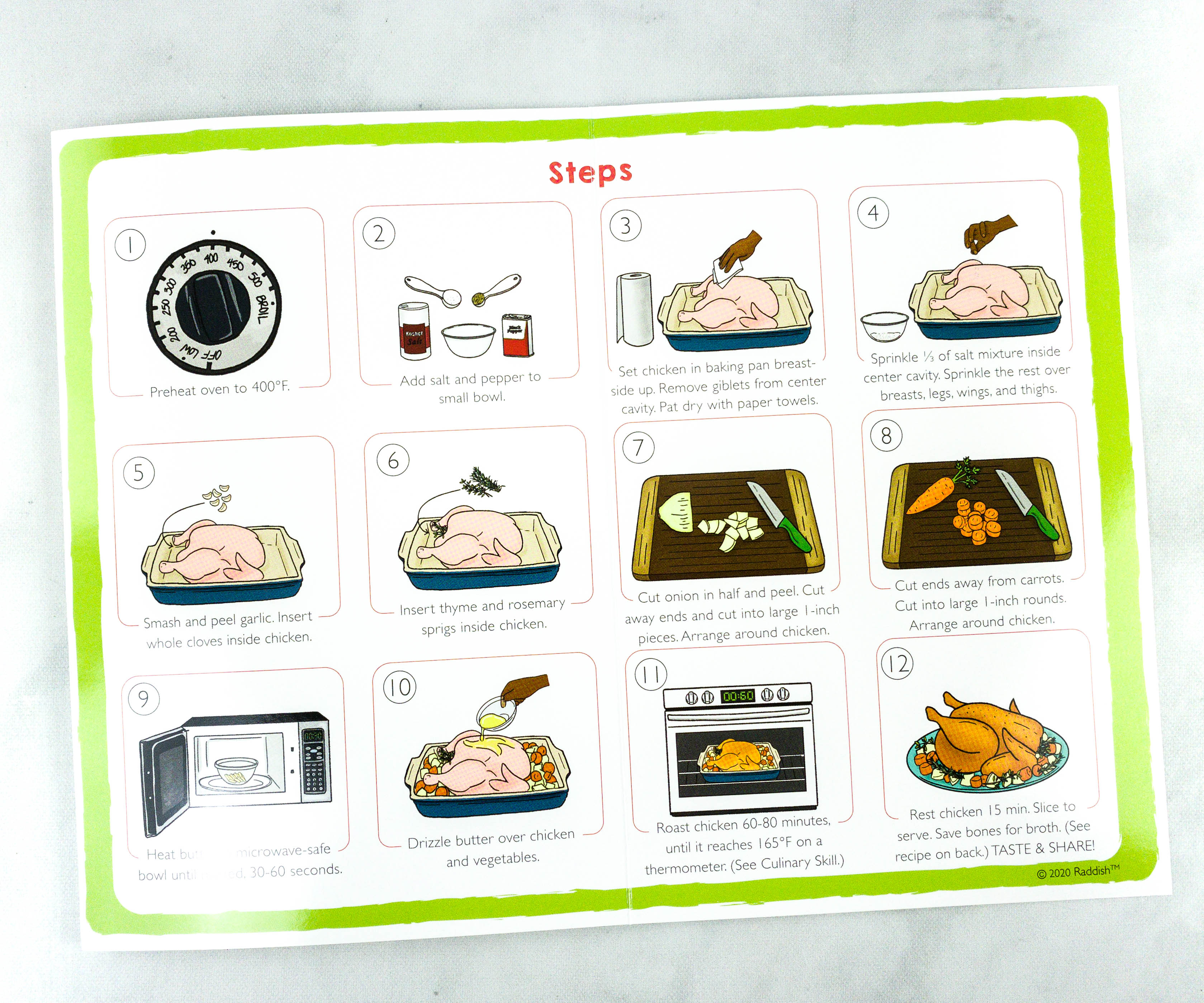 This guide is really helpful. The illustrations help us check if we're on the right track!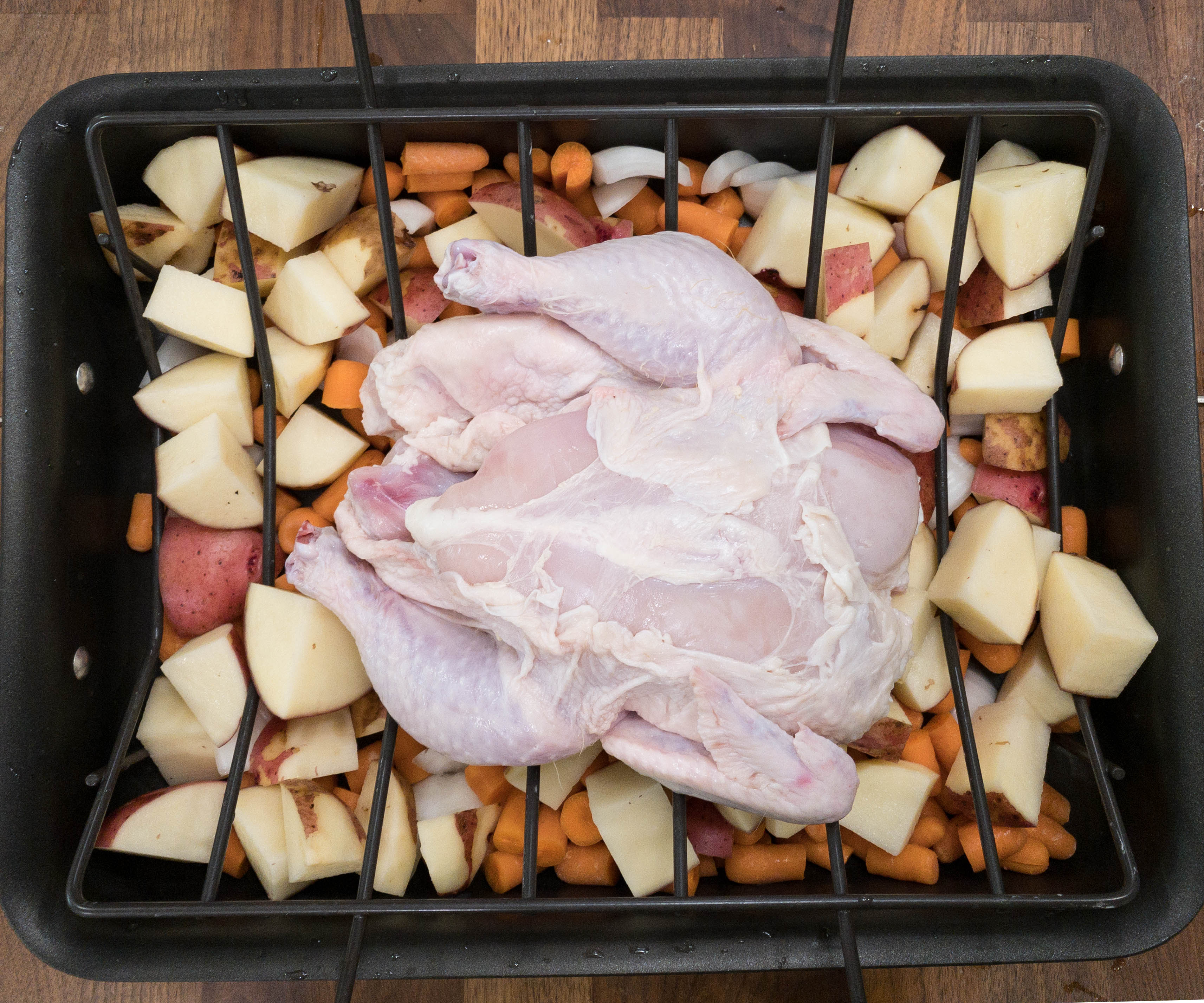 My kids helped in seasoning the chicken and adding garlic, thyme, and rosemary inside it! Then, we cut up the onions, potatoes, and carrots, and arranged them below the chicken. The last step before roasting is to drizzle the chicken with butter.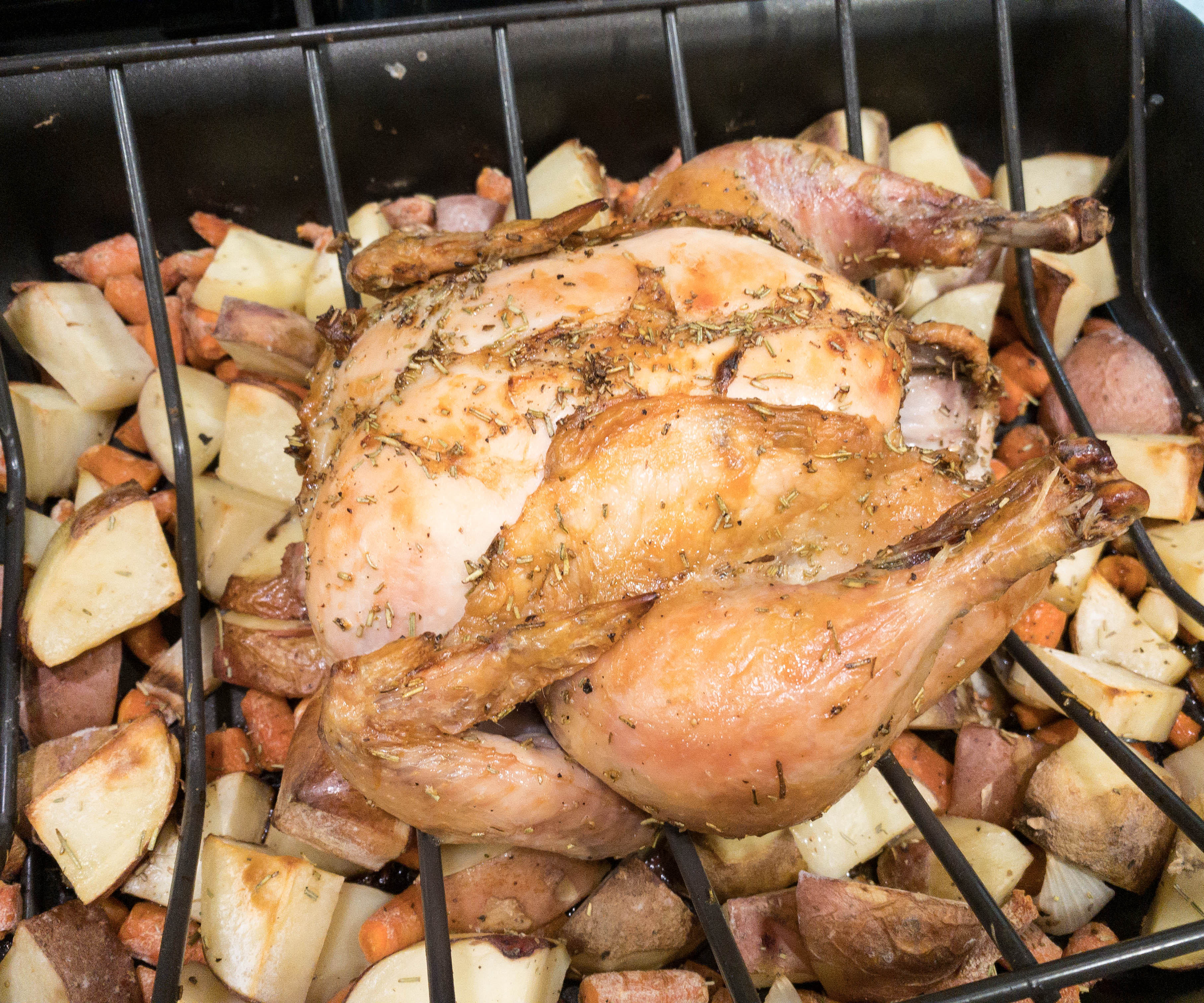 We roasted the chicken for more than 60 minutes until it was golden brown in color!
This roasted chicken is perfect for a cozy fall dinner. My kids enjoyed eating it as much as they had fun learning how to cook it. Also, the chicken meat turned out moist and tender. The vegetables on the side were also yummy!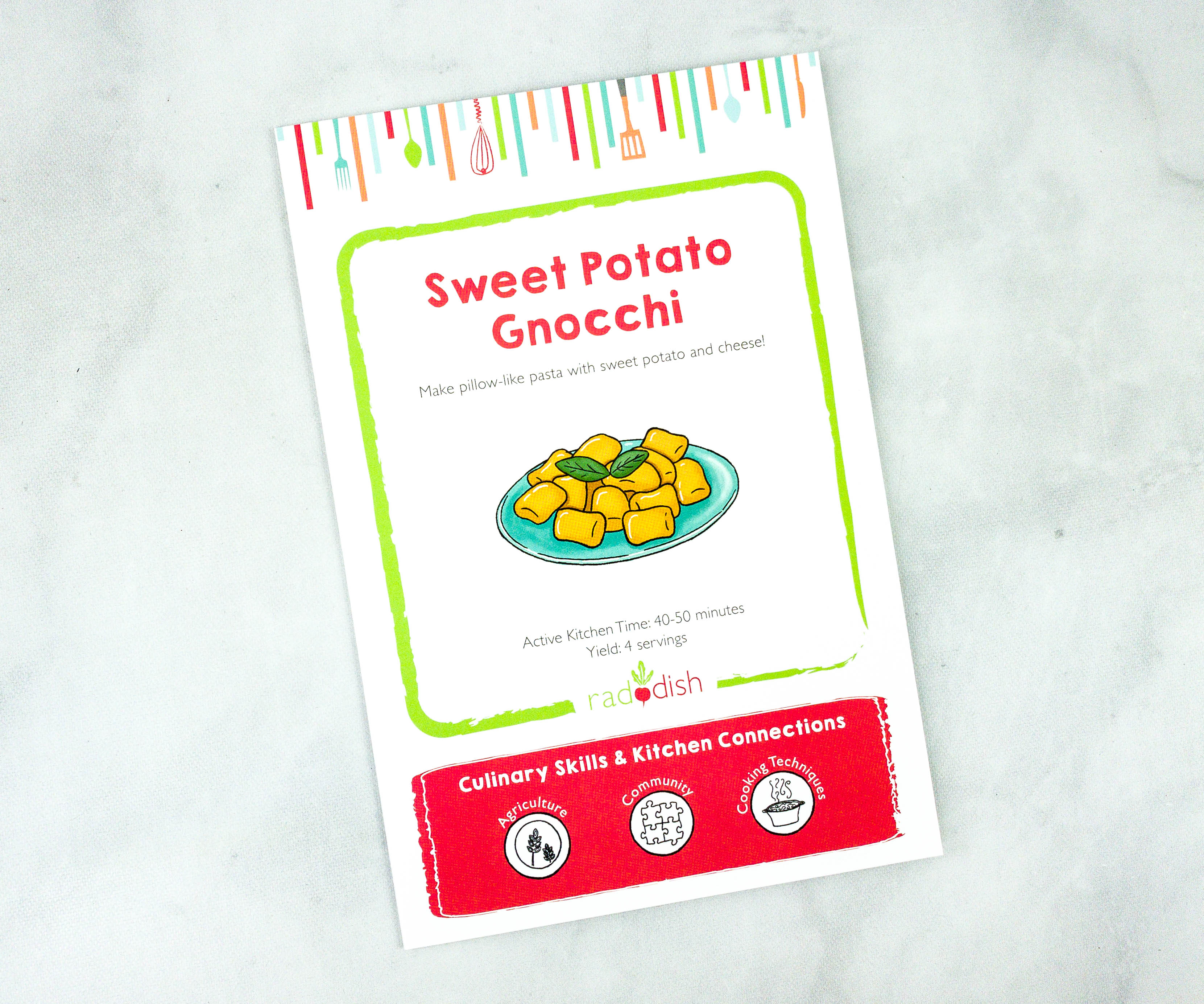 Lastly, we have the Sweet Potato Gnocchi! Gnocchi is a pillow-like pasta with sweet potato and cheese.
Active Kitchen Time: 40-50 minutes

Yield: 4 servings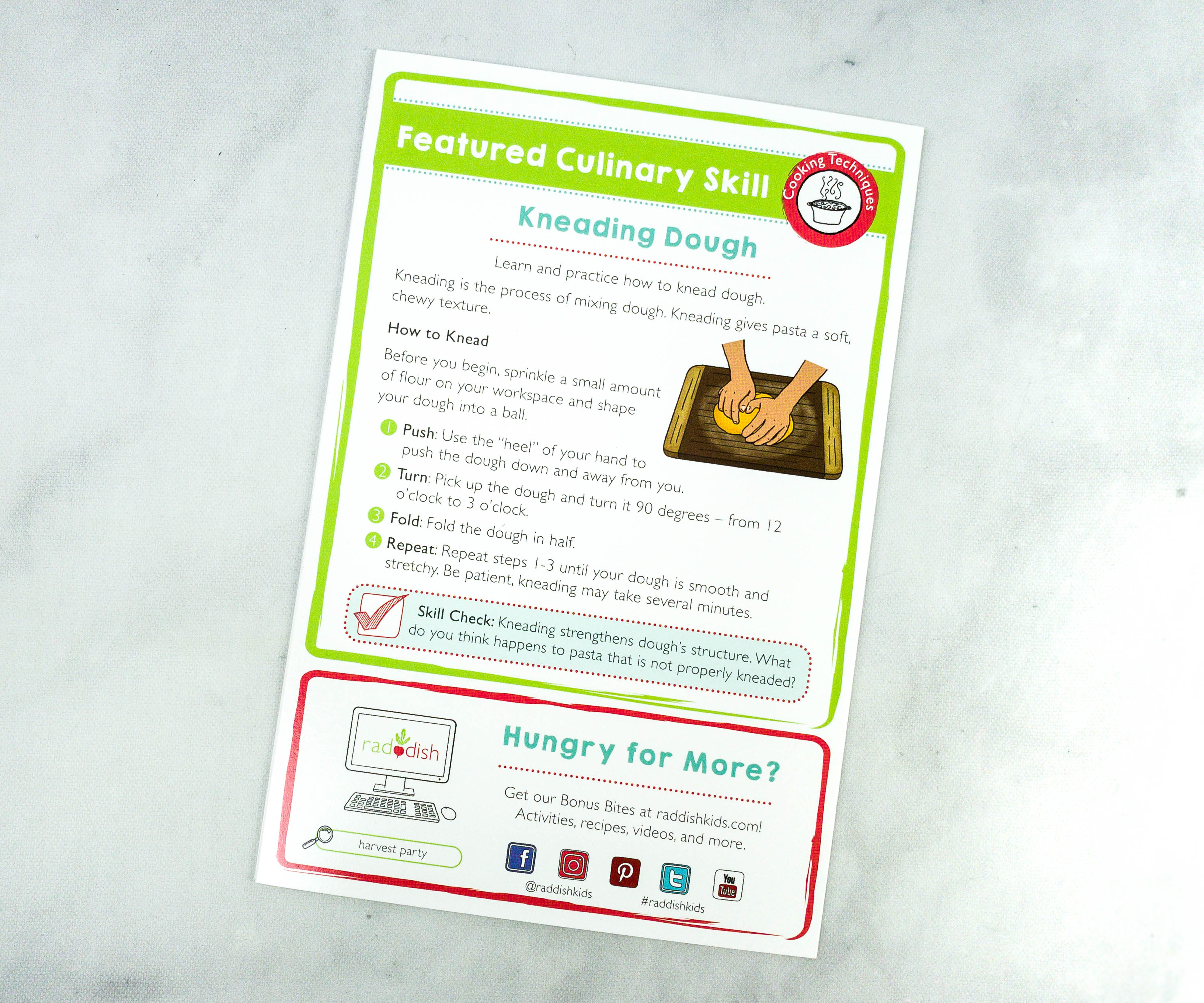 The culinary skill kids can learn from this is Kneading Dough! It's the process of mixing dough. Proper kneading ensures that the pasta is soft and chewy.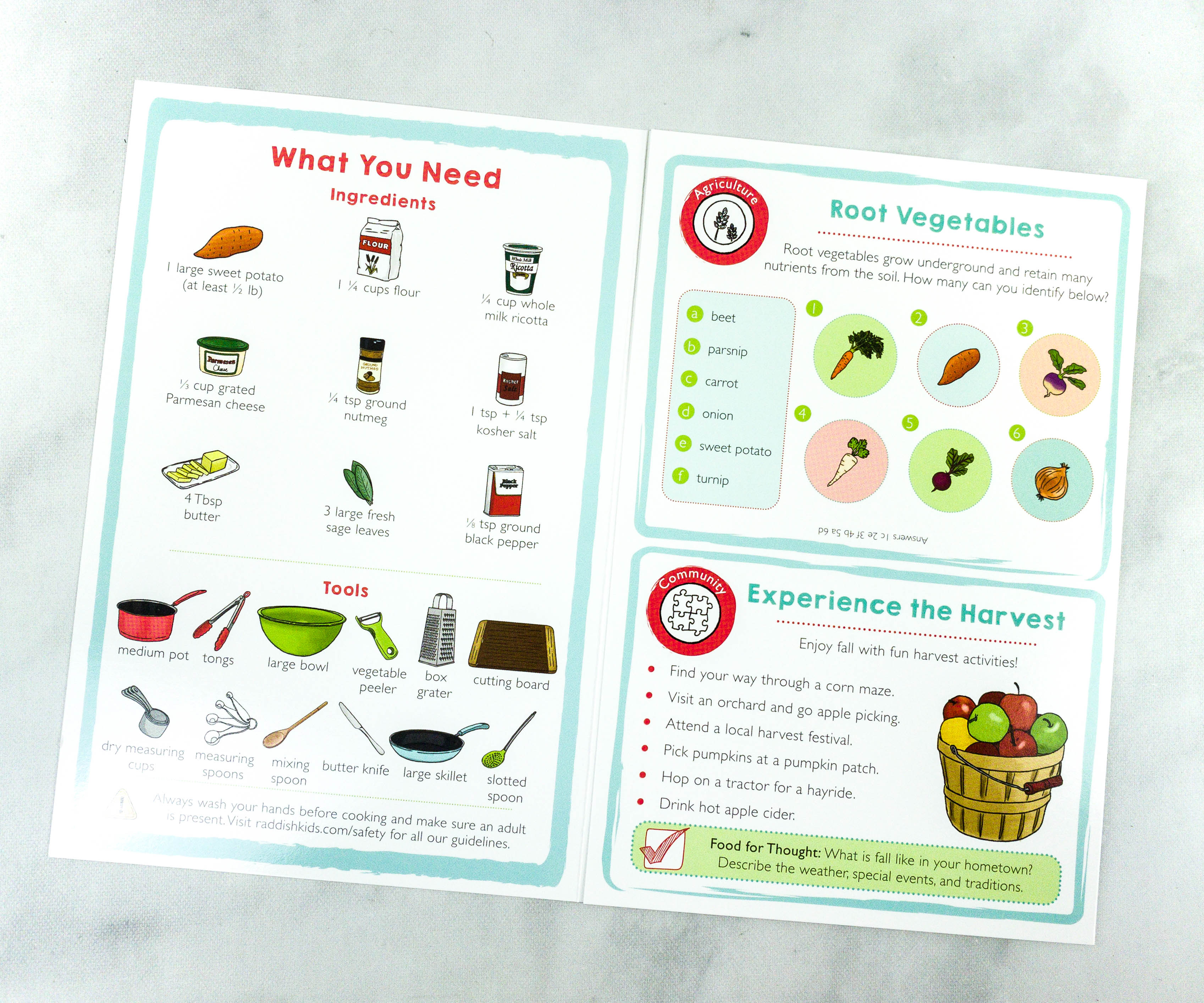 A part of the booklet has a list of root vegetables, plus different harvest activities.
The ingredients for the Sweet Potato Gnocchi are sweet potato, flour, whole milk ricotta, Parmesan cheese, ground nutmeg, kosher salt, butter, sage leaves, and ground black pepper.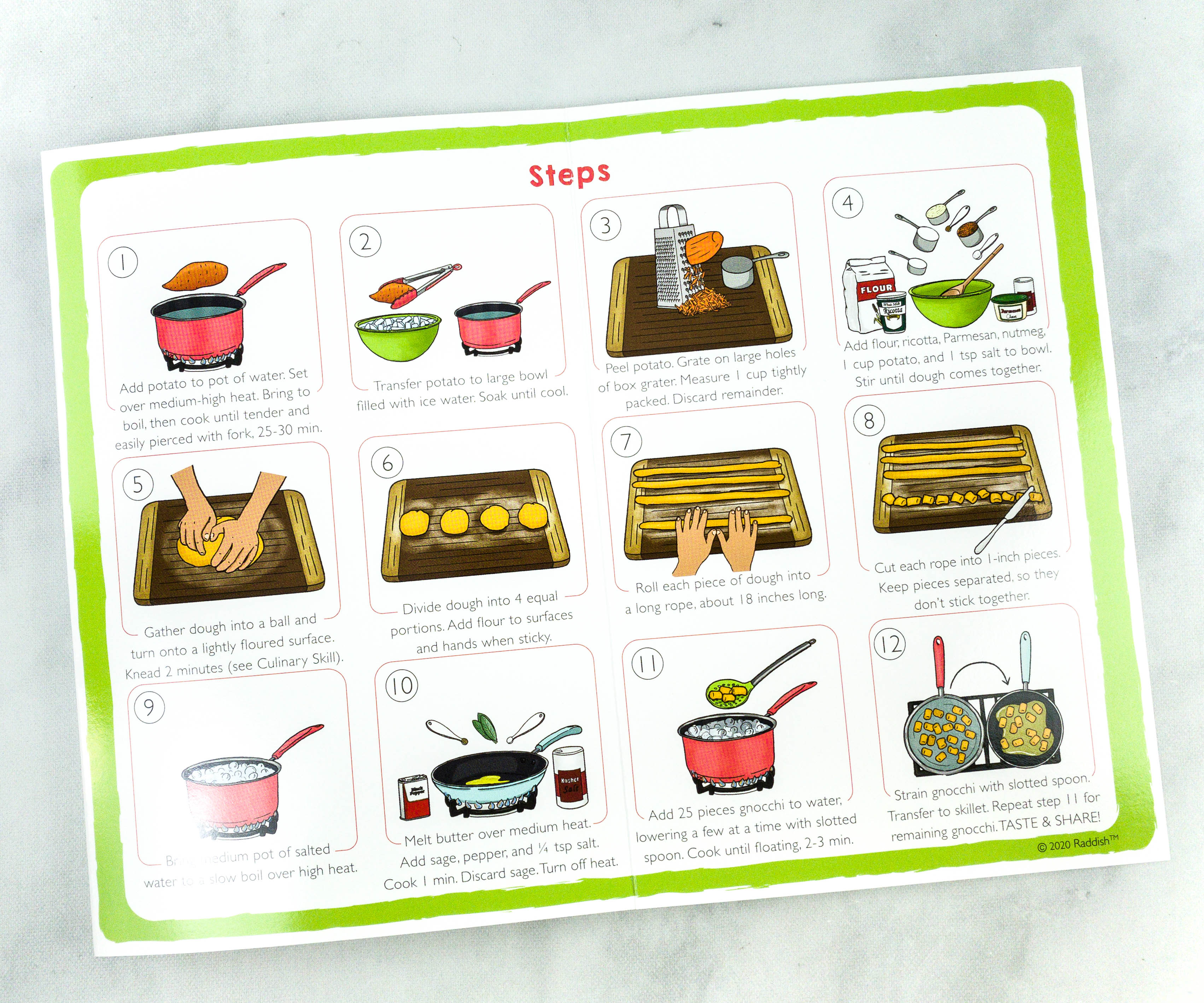 This recipe has the longest active kitchen time among all the recipes in this month's box.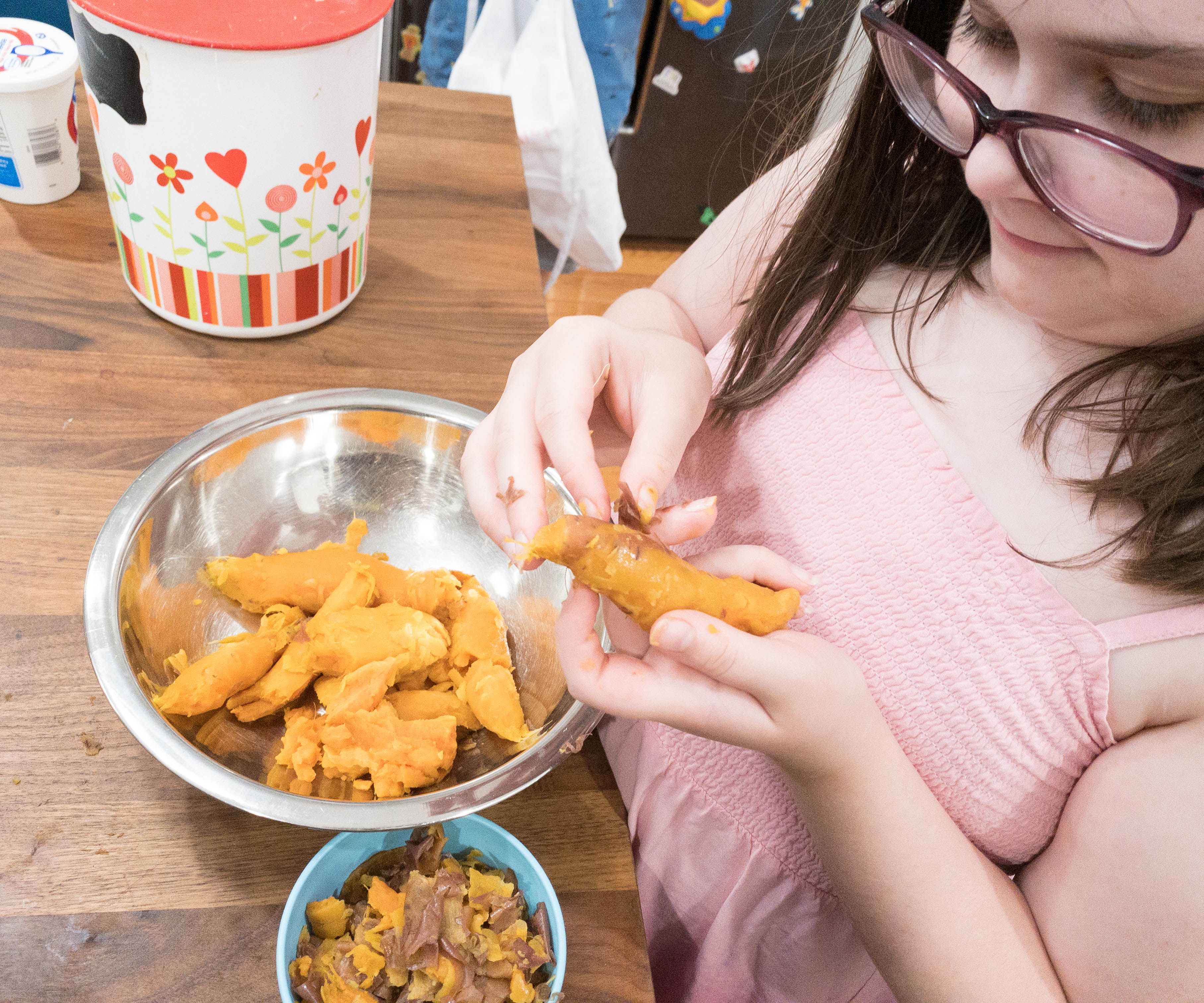 My daughter peeled the boiled potatoes and grated them.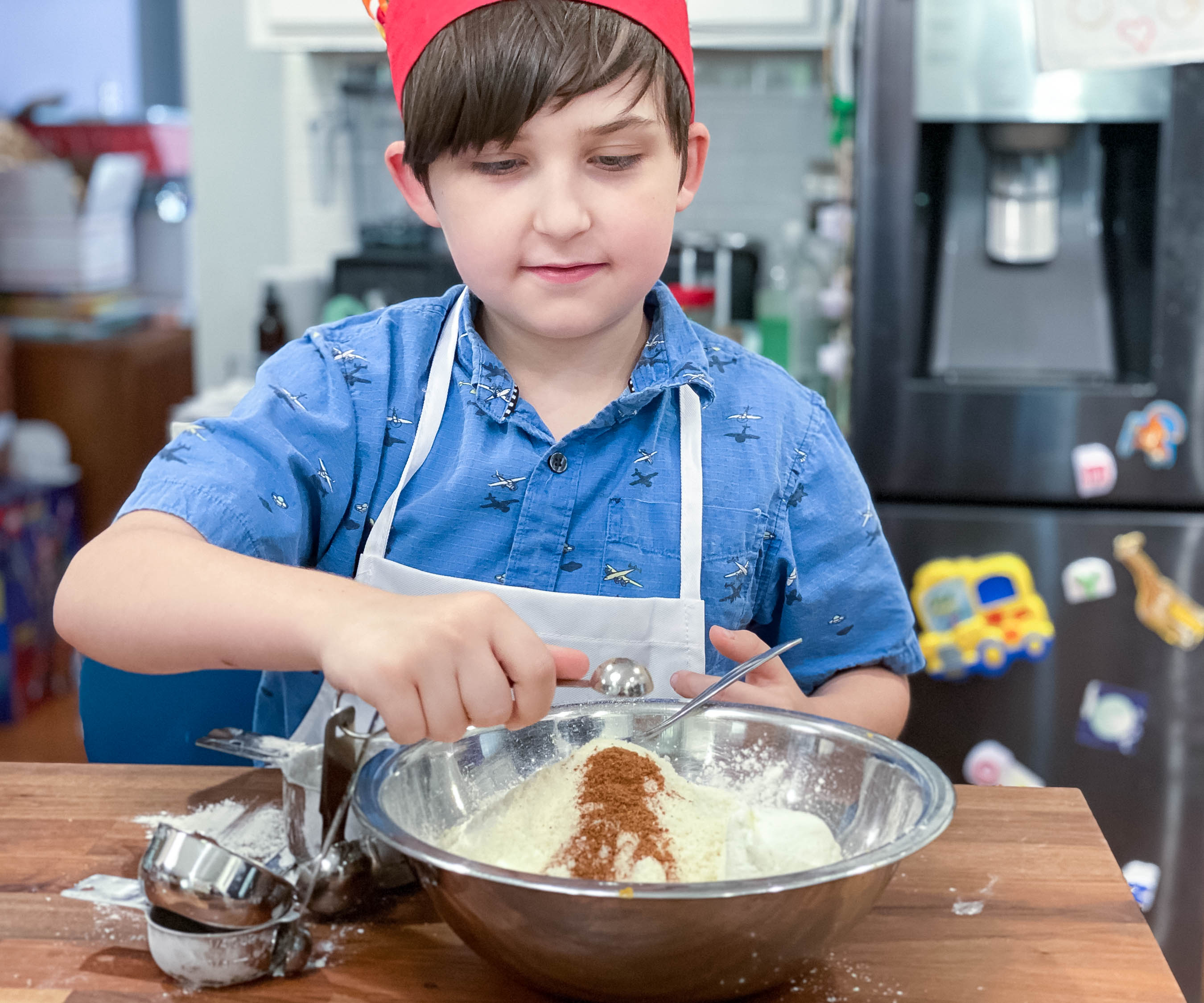 Meanwhile, my son mixed the flour, ricotta, Parmesan, nutmeg, potato, and salt in a bowl.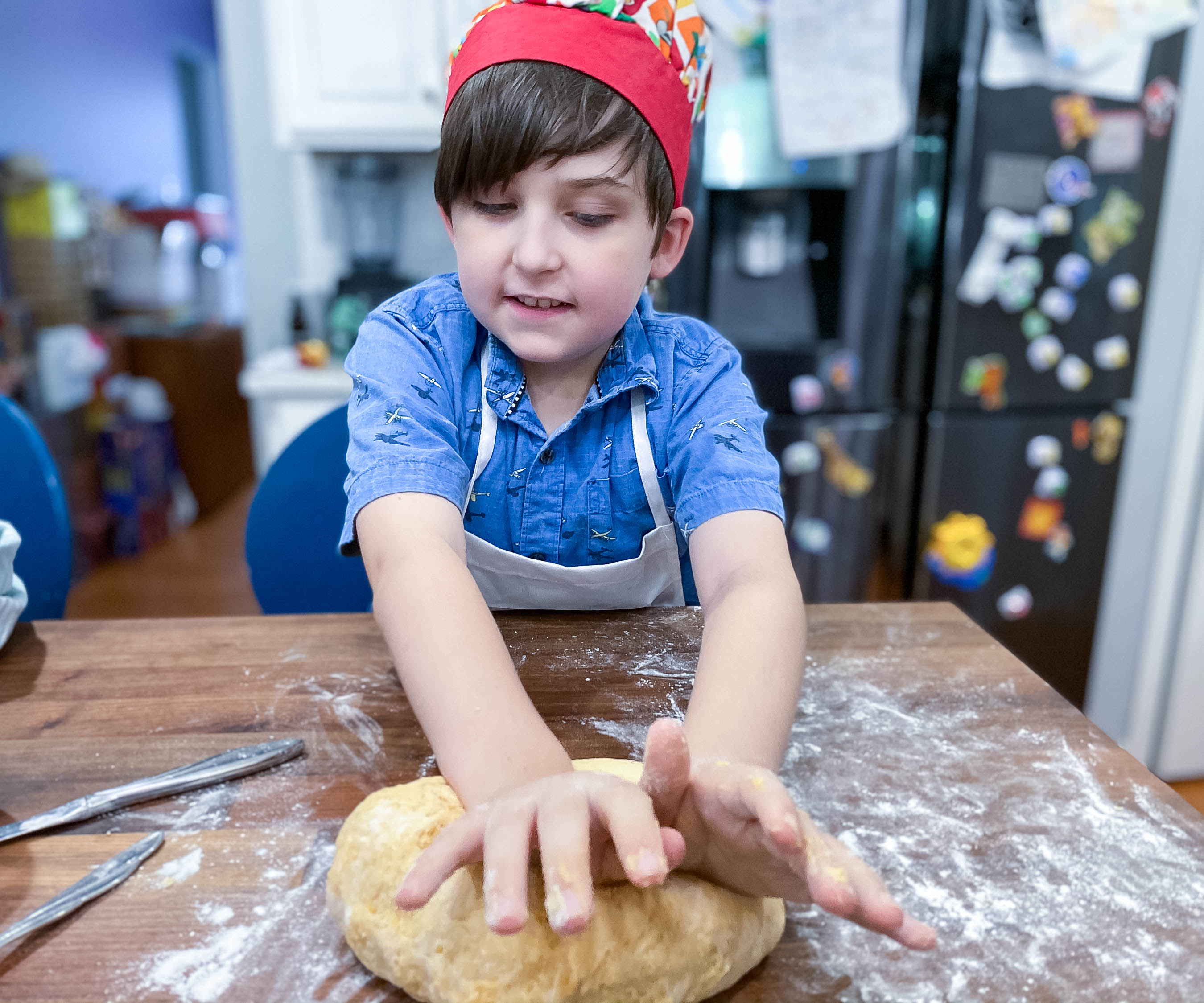 After mixing the ingredients, he gathered the dough into a ball and kneaded it for 2 minutes on a lightly floured surface.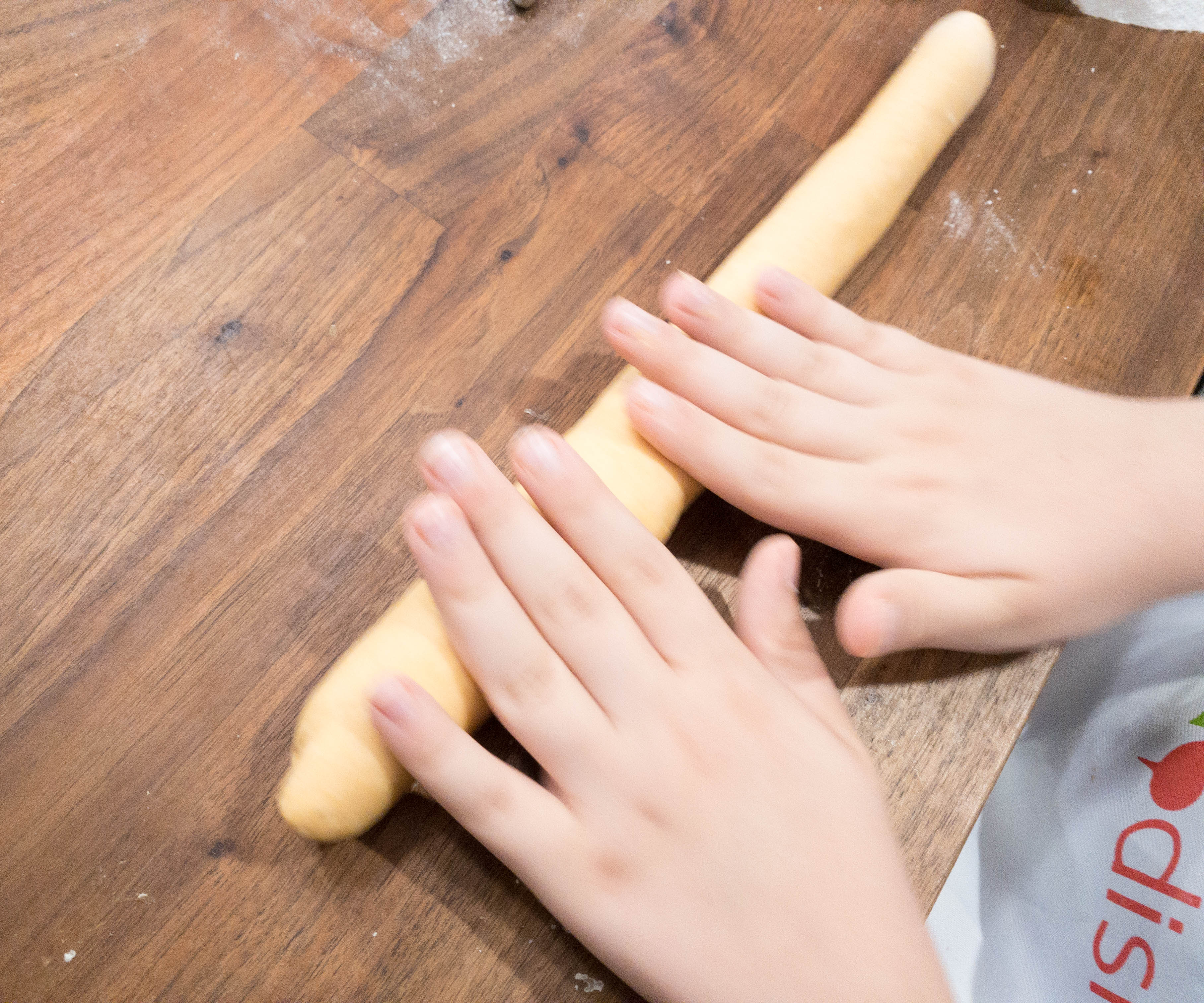 The next step is to divide the dough into 4 equal portions and roll each of them into long ropes.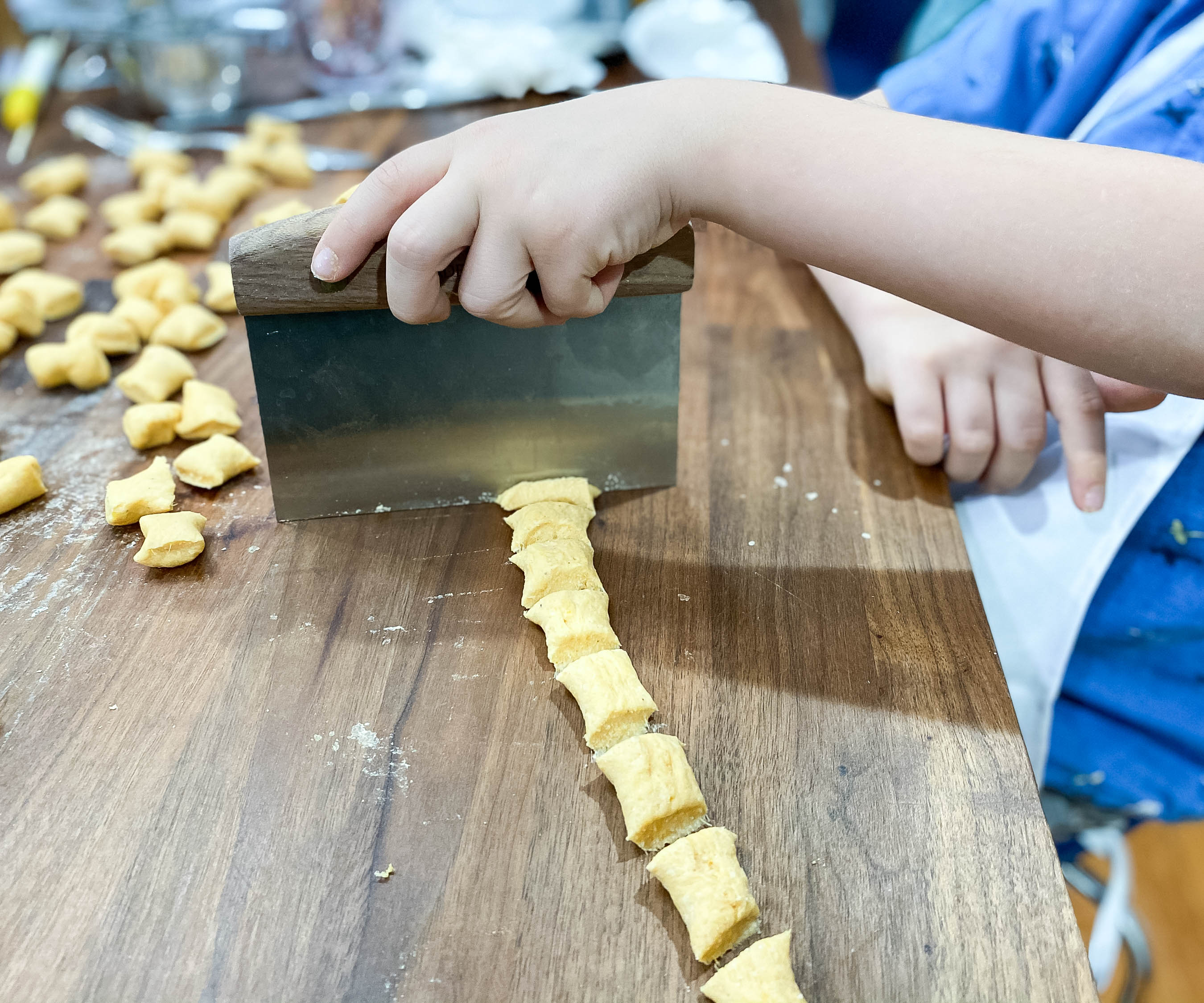 Then, we cut each rope into 1-inch pieces.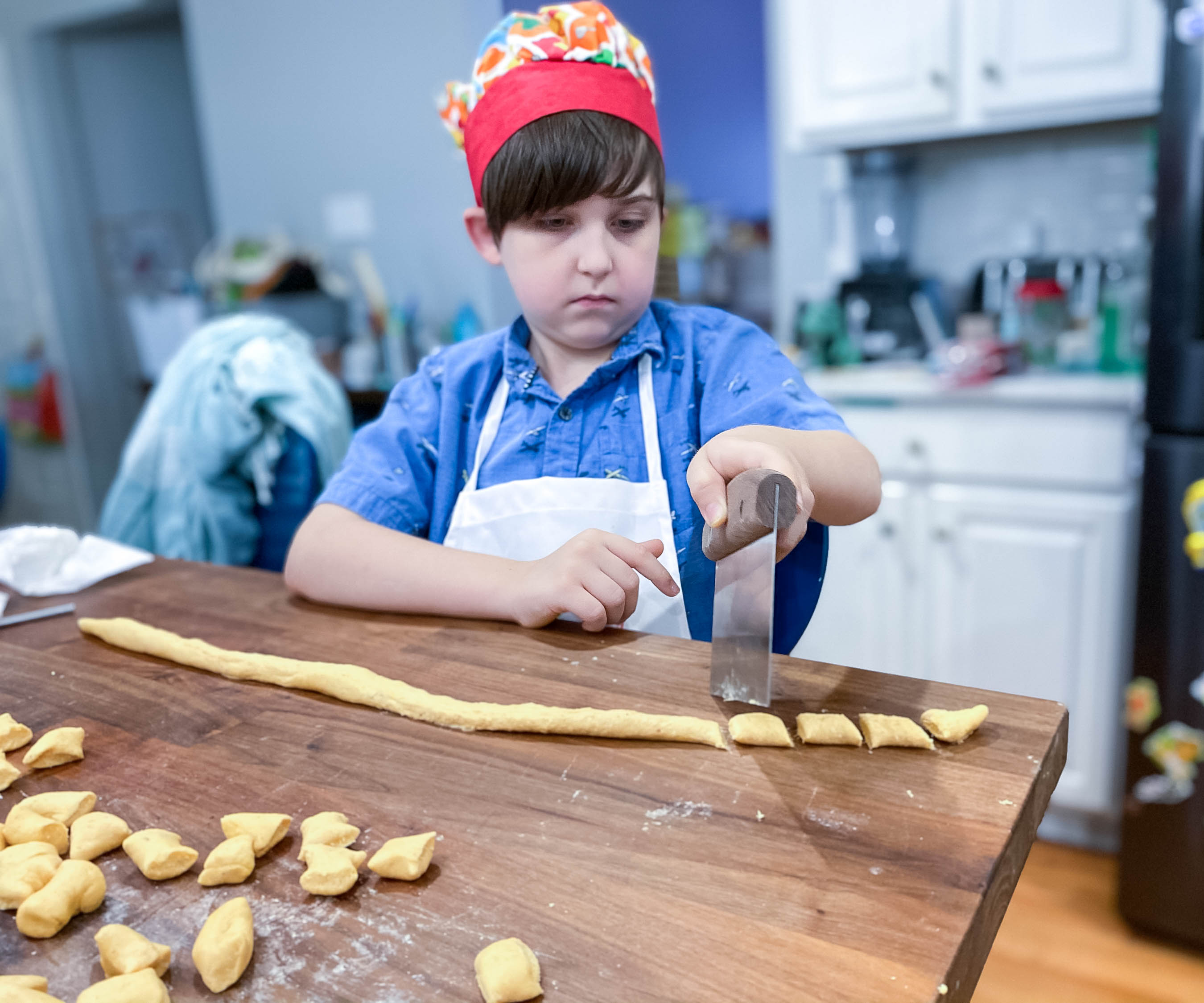 My son made sure the pieces are separated, so they won't stick together.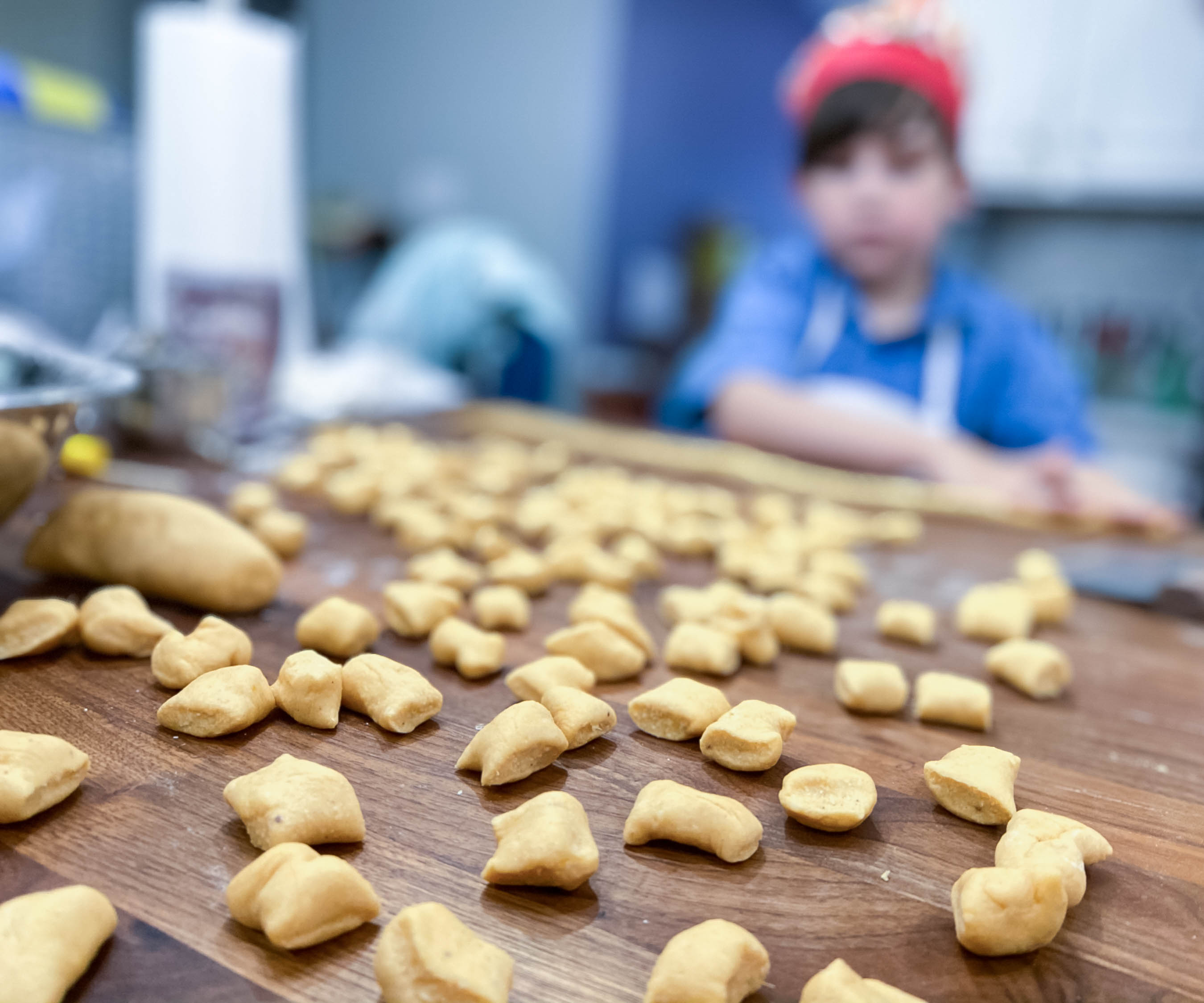 When the gnocchi was done, we boiled a pot of salted water while making the butter sauce in another pan. Then, we finally added the gnocchi to the water and cooked them until they were floating. Lastly, we strained the cooked gnocchi and added them into the pan with the butter sauce.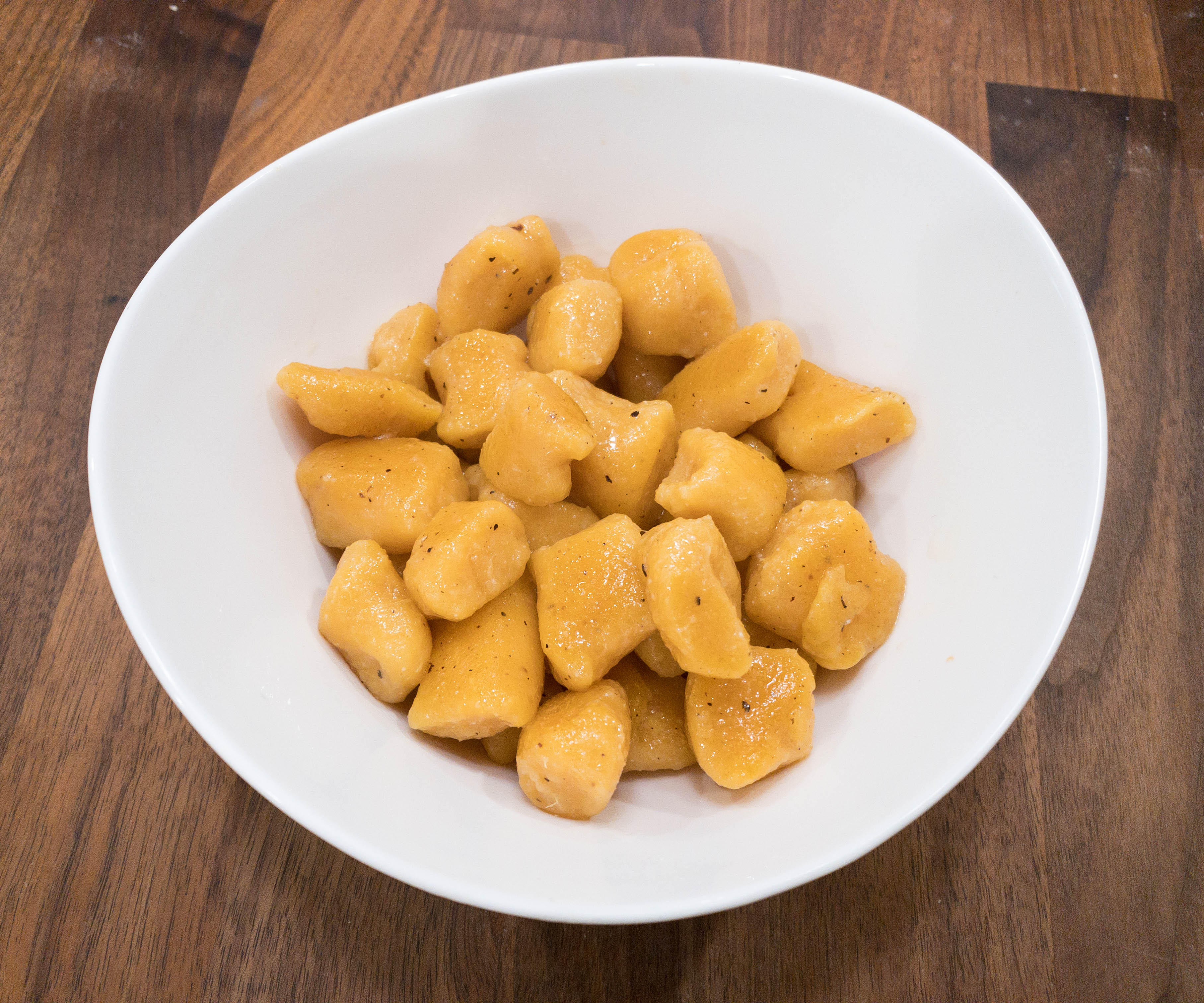 Here's how our Sweet Potato Gnocchi looked like once done!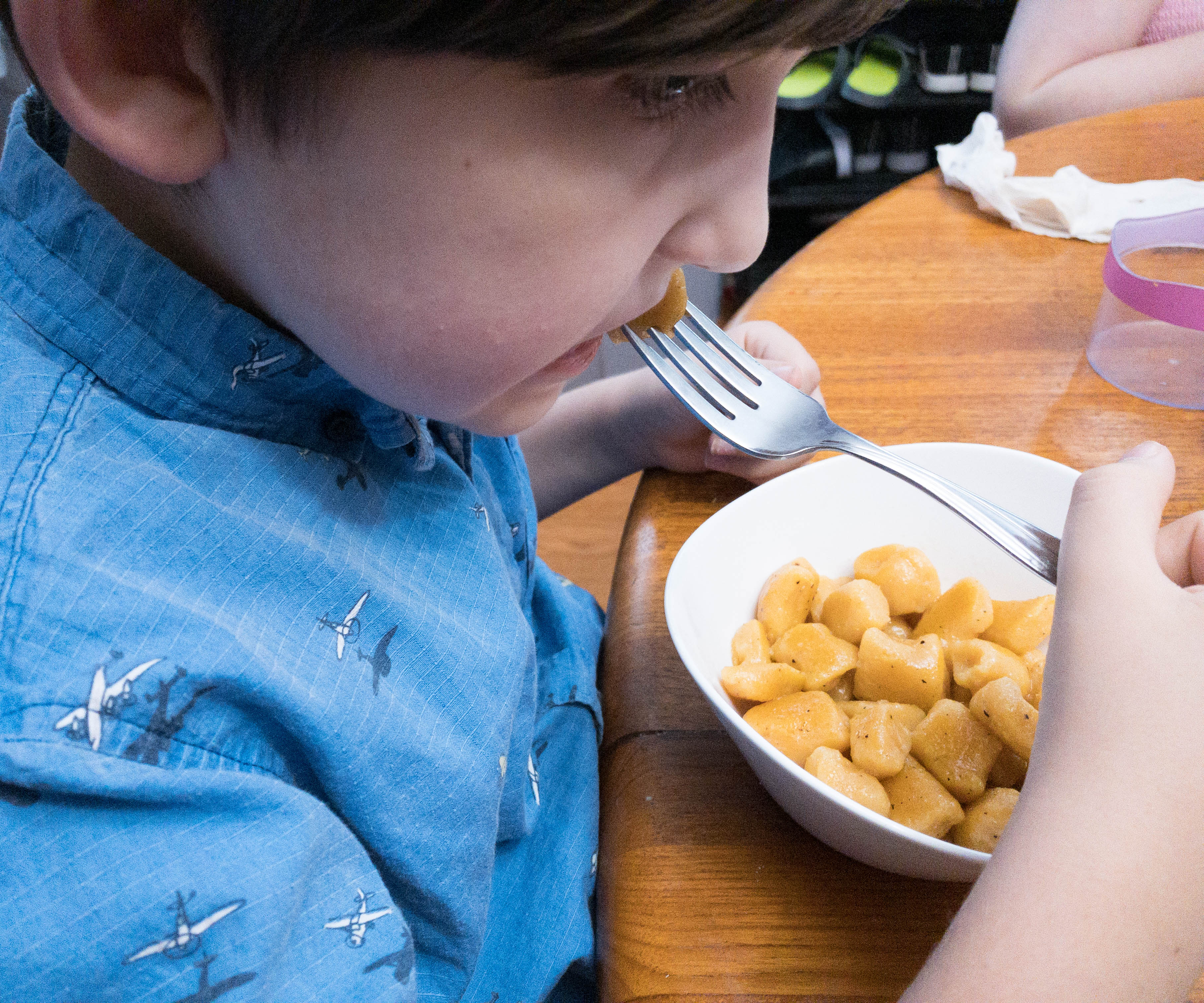 My son tried it and said it was good!
The gnocchi turned out soft and chewy, which means my son did a great job of kneading the dough!
My kids are thrilled to learn new recipes and to acquire new culinary skills through this subscription! This month's theme is Harvest Party, which means it's all about fall recipes. Shopping for the ingredients is easy because they provide a shopping list. The instructions are also well-detailed and accompanied by illustrations, so my kids never had a hard time following them. Our favorite recipe in this box is the Apple Cider Donut! Since we received donut molds, it means we can easily recreate it over and over again. The roasted chicken also turned out great, as well as the gnocchi. We really enjoyed the fall-themed recipes! This is a great subscription for kids who want to learn culinary skills and also for families who love to bond over food!
What do you think of this month's box?