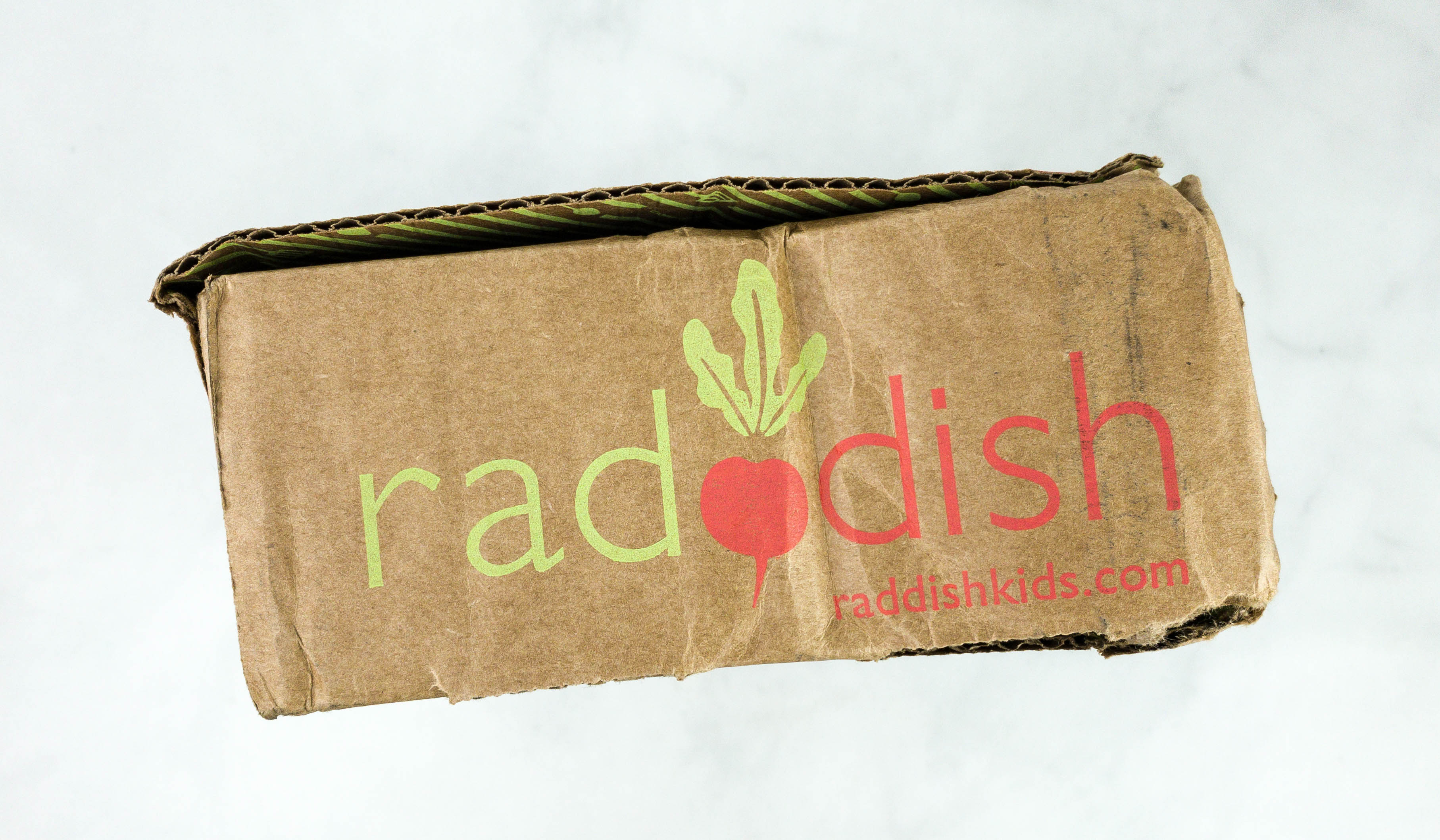 Raddish is a monthly kids' activity box centering around food and cooking! Designed for kids 4 to 14+, each themed box will include 3 illustrated recipe guides, 3 culinary skill cards, a creative kitchen project, kid-friendly tools and collectibles such as Table Talk cards, a culinary tool, and an iron-on Raddish patch. Themes range from Seasonal Spotlights to Global Cuisine and Creative Cookery to Holiday Celebrations. Although the ingredients are not included, they email you a shopping list for each month's recipes before your kit is shipped.
DEALS:
Get $15 off when you sign up for a 6 month subscription! Just use this link and use the coupon code ATHOME at checkout.
Get $20 off when you sign up for a 12 month subscription! Just use this link and use the coupon code CHEF20 at checkout.
PLUS Get a FREE apron with your first box when you sign up for a 6+ month subscription!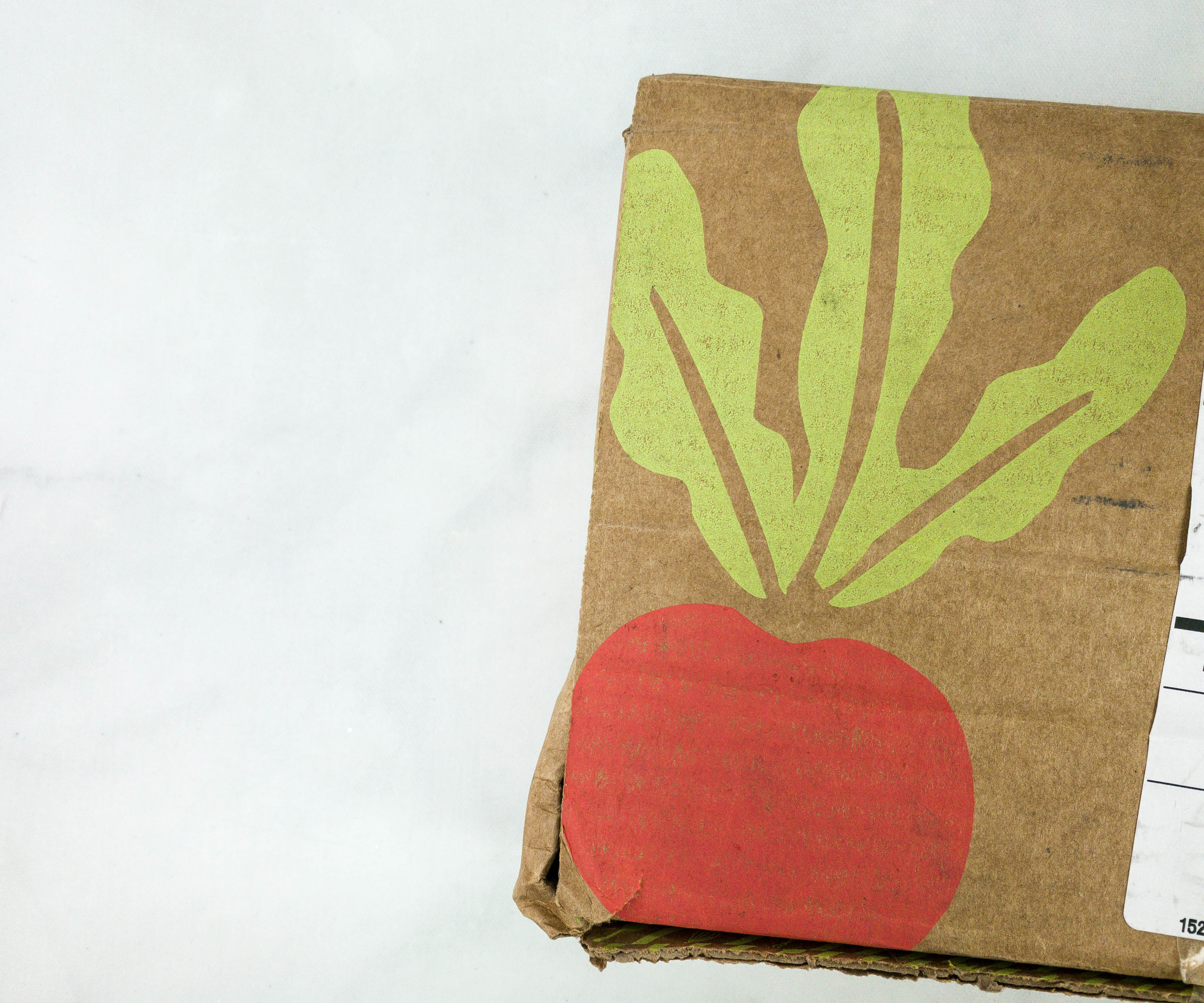 They offer a monthly membership for $24/month, a 6-month membership for an upfront payment of $132 ($22/month), and a 12-month membership for an upfront payment of $240 ($20/month). For those who are getting the 6 and 12-month memberships, expect a free apron in your box.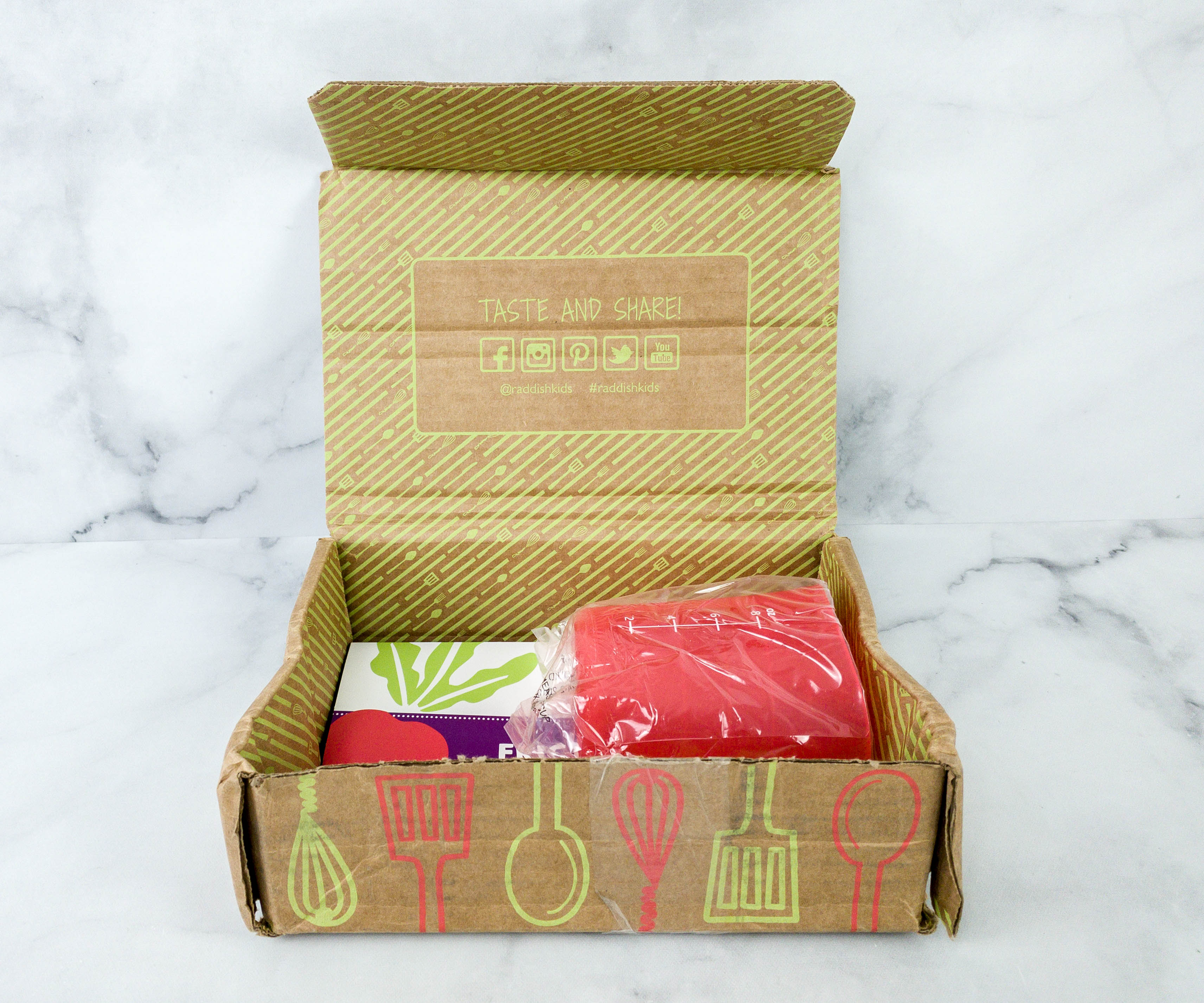 Featured on the inner part of the box's flap are Raddish Kids' social media handles where you can share your cooking experience.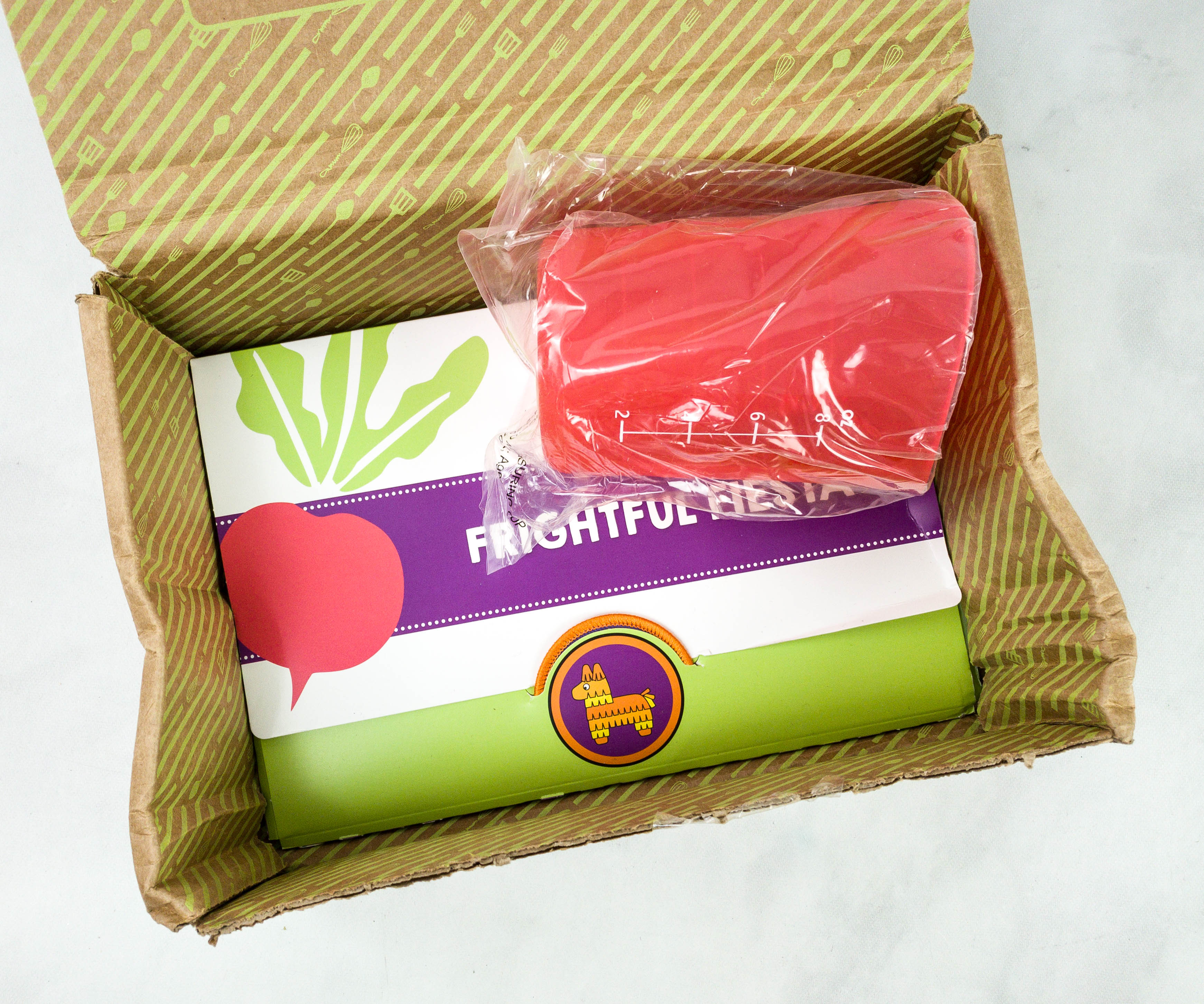 All the items were neatly packed inside the box.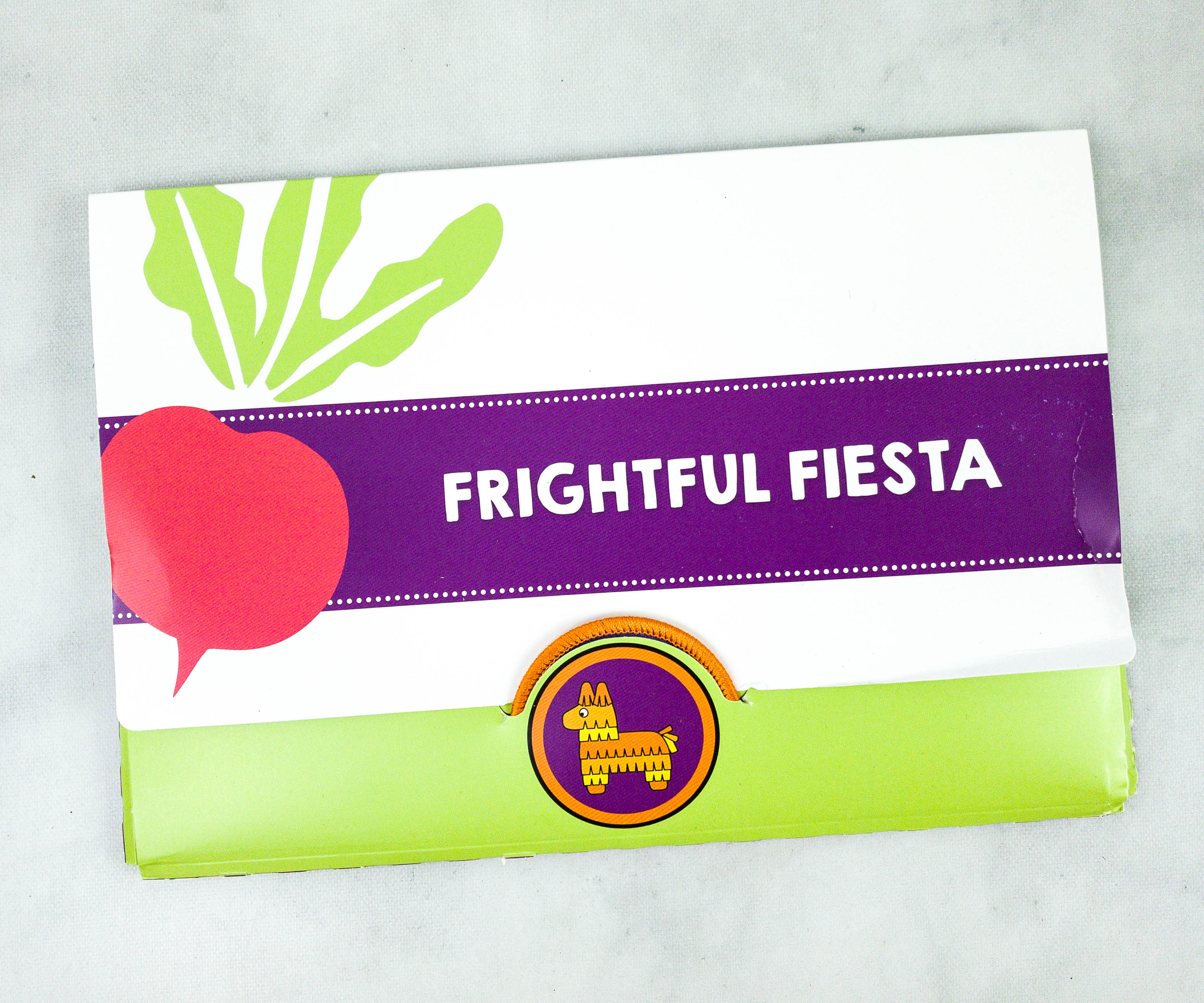 This month's theme is Frightful Fiesta! Inside the envelope are small cards containing some culinary skill lessons, guides with fun and exciting activities.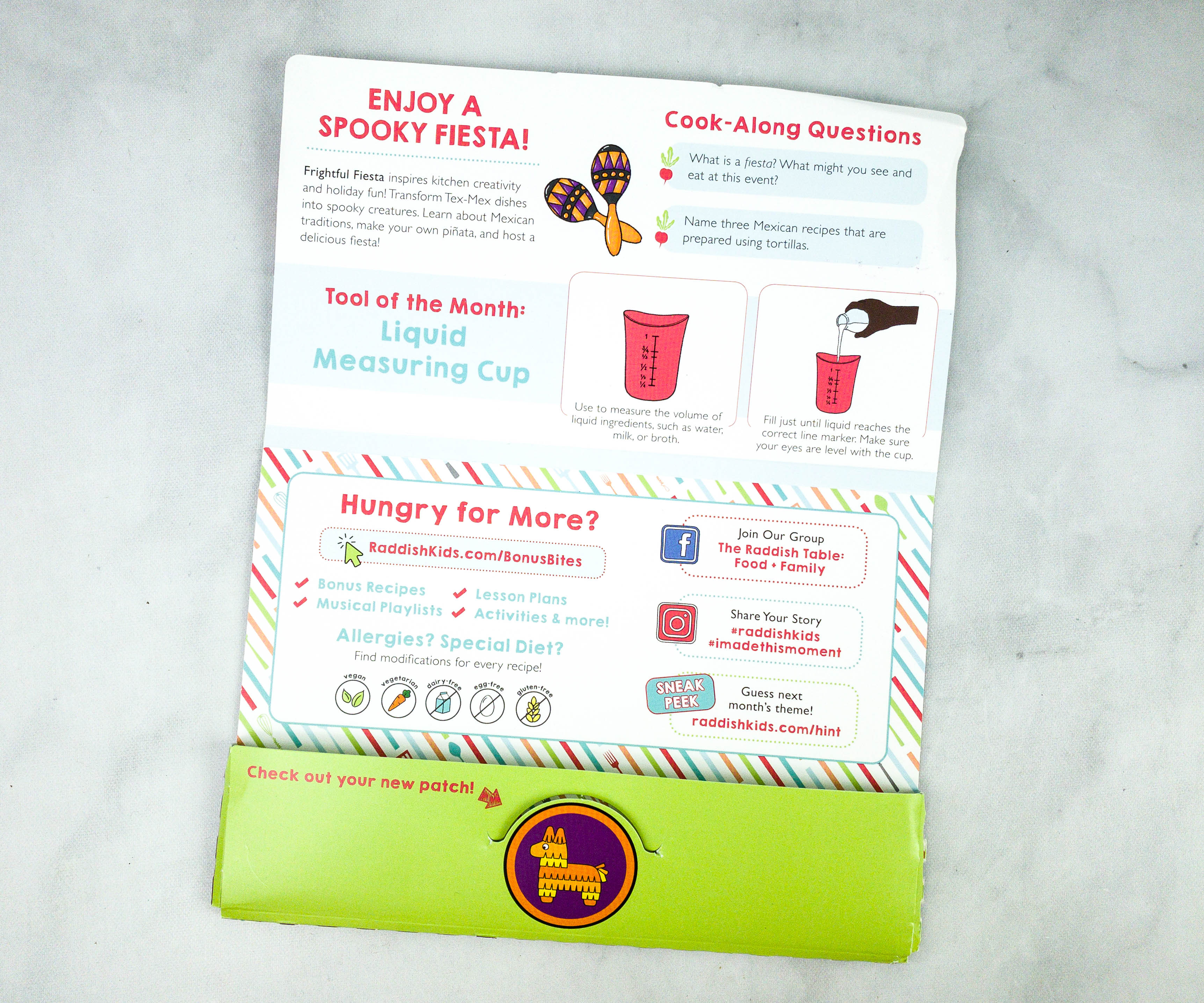 The envelope also lists ways on how you can connect with Raddish Kids on social media, as well as a sneak peek for next month's theme.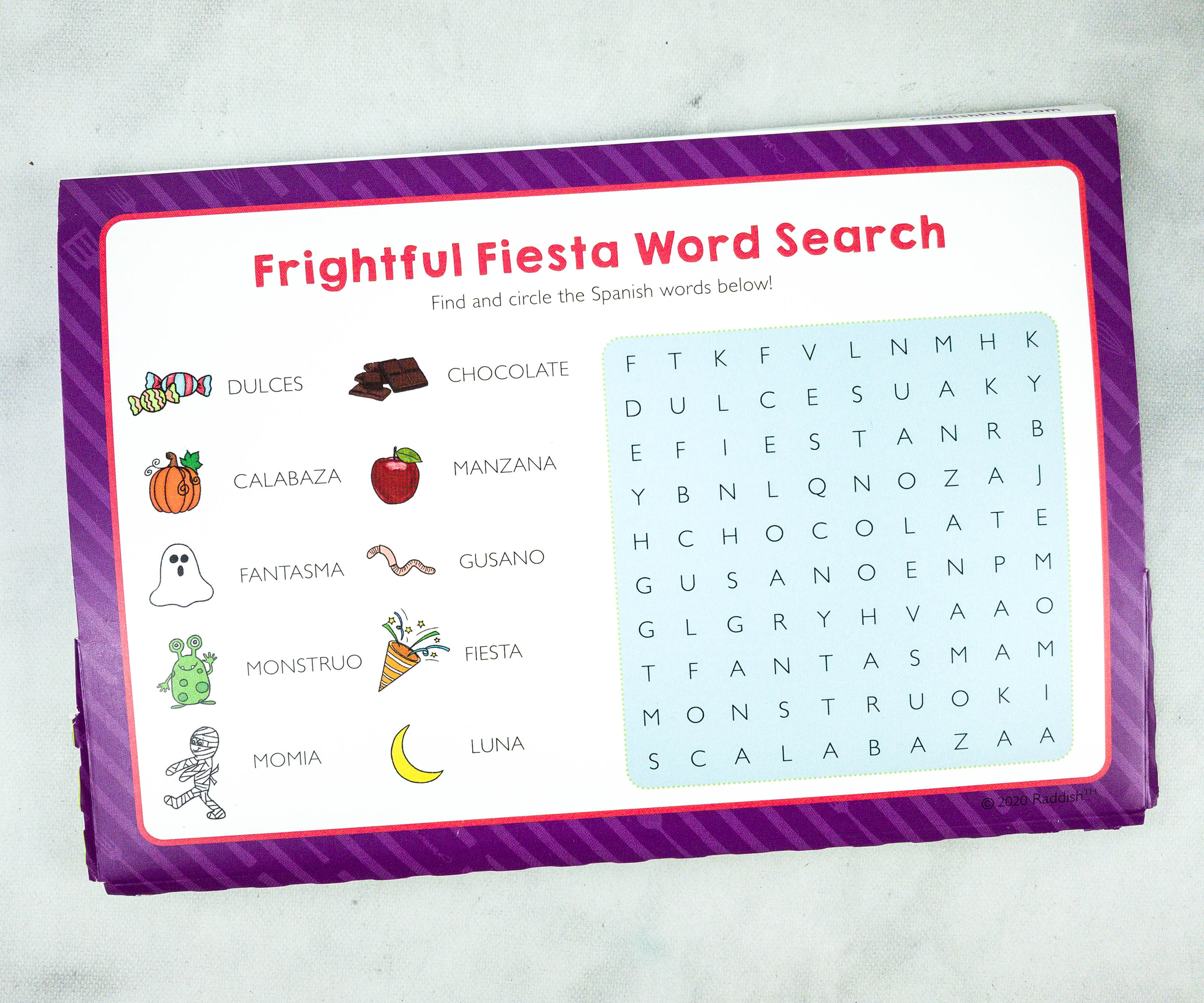 The back also includes a fun word search game!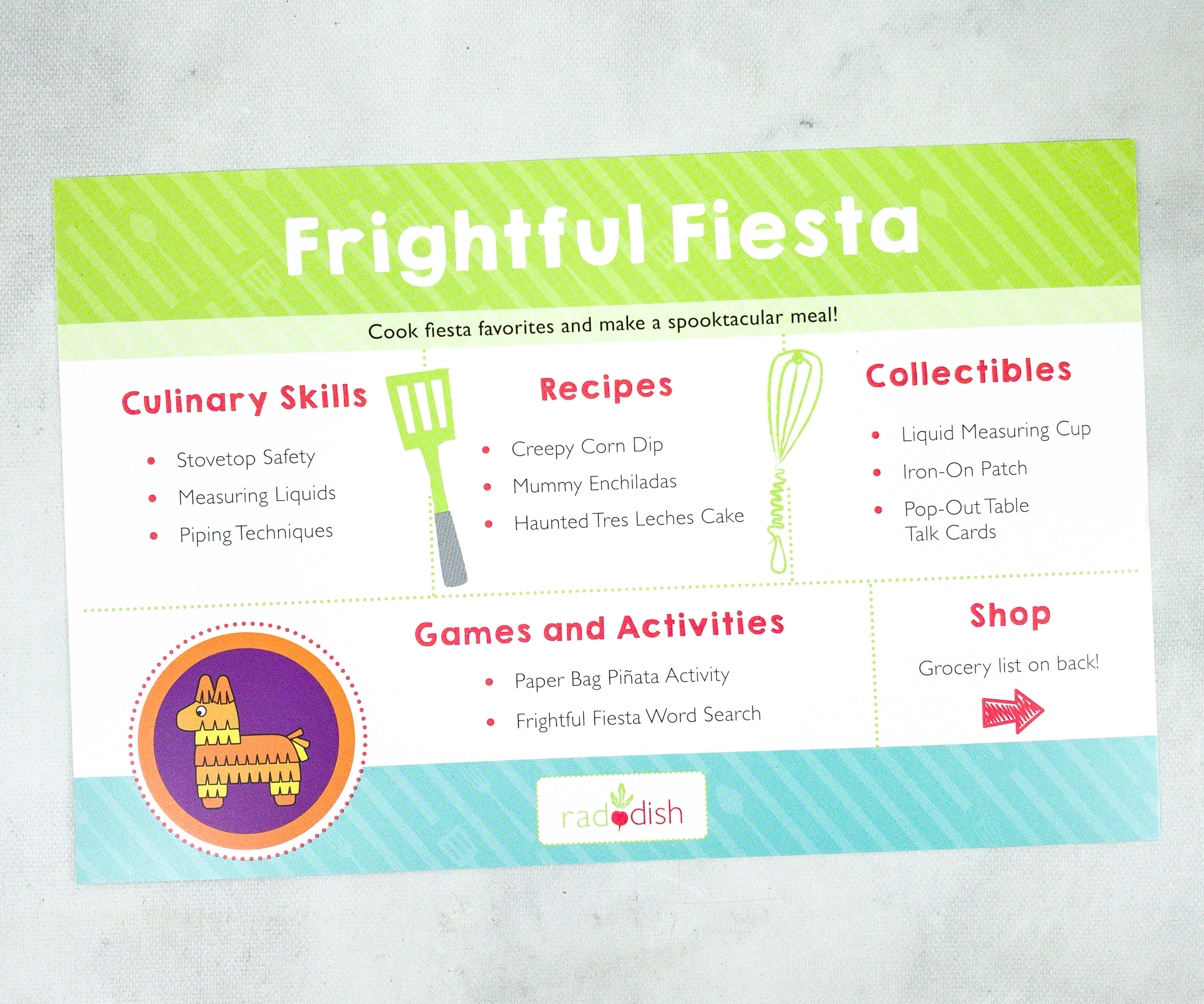 This card contains all the information you need to know about this month's box. It lists all the culinary skills your kids will be acquiring, the recipe names, collectibles, and other games and activities.
The back of the card provides a complete grocery list for all the featured recipes this month. The recipes are Creepy Corn Dip, Mummy Enchiladas, and Haunted Tres Leches Cake.
We also received exclusive Table Talk conversation starter cards.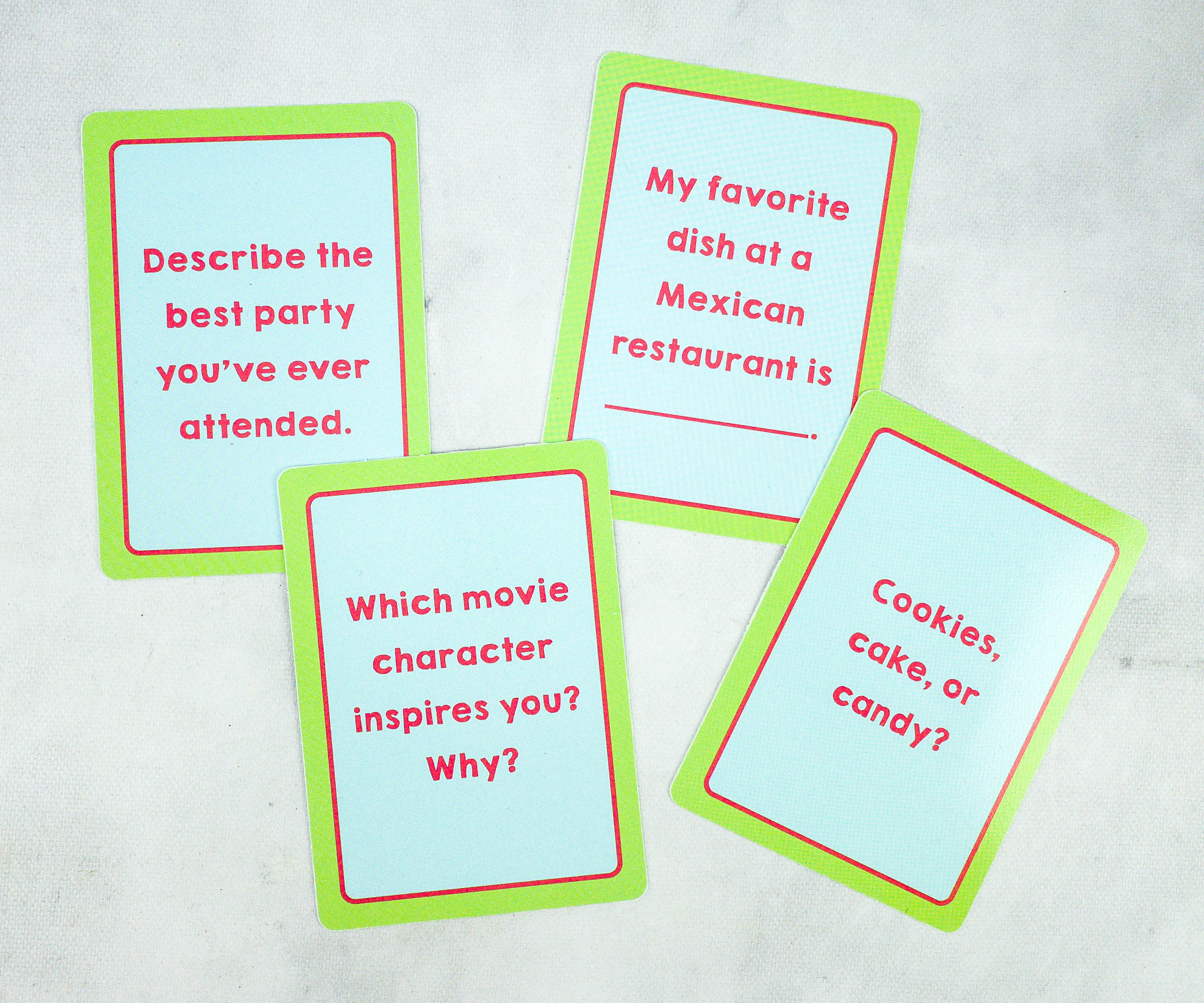 Each card contains some questions for a great table talk conversation. They come in a sheet and you can easily tear them down.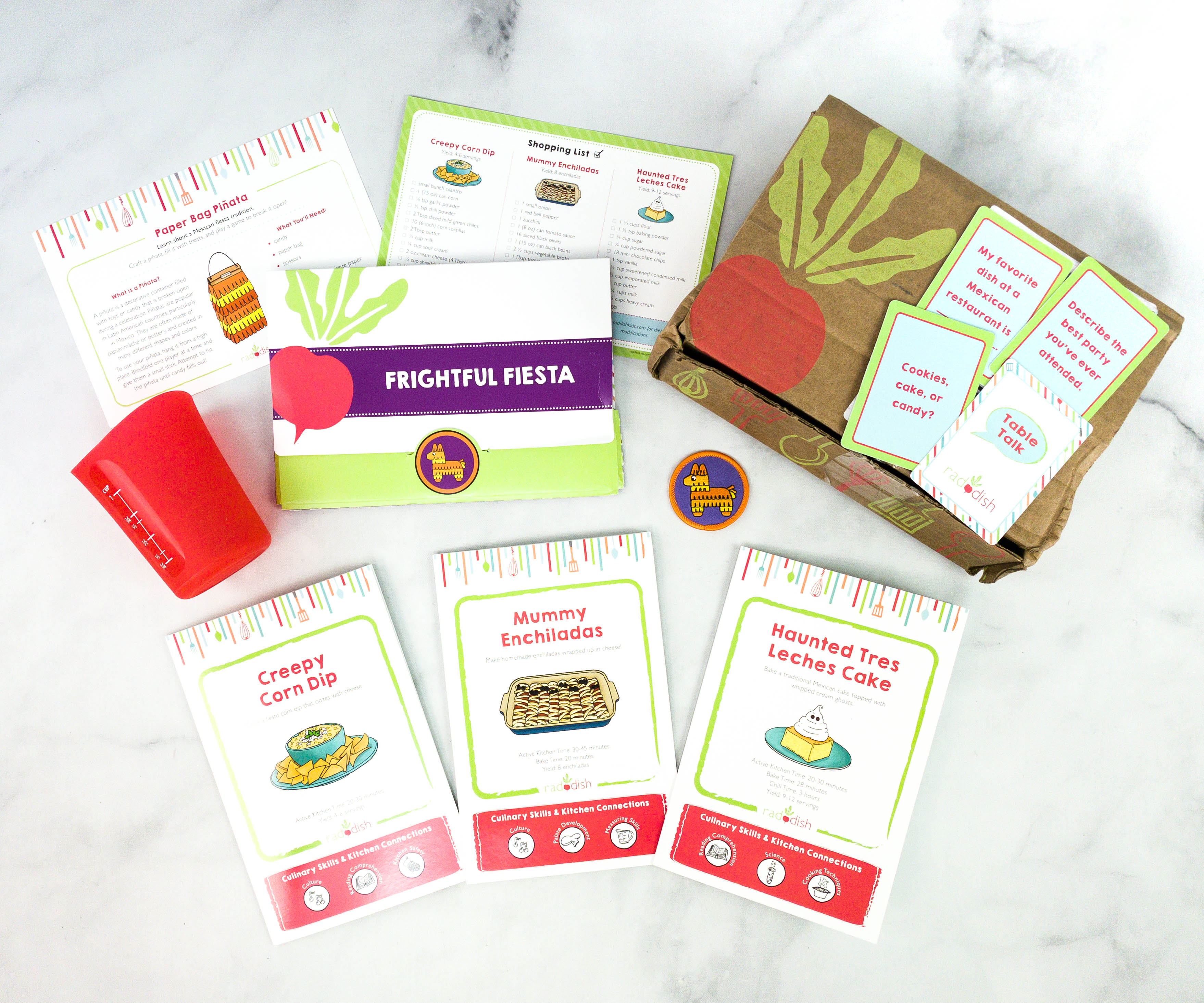 Everything in my October 2020 box! If you subscribe for a year, the apron is automatically included!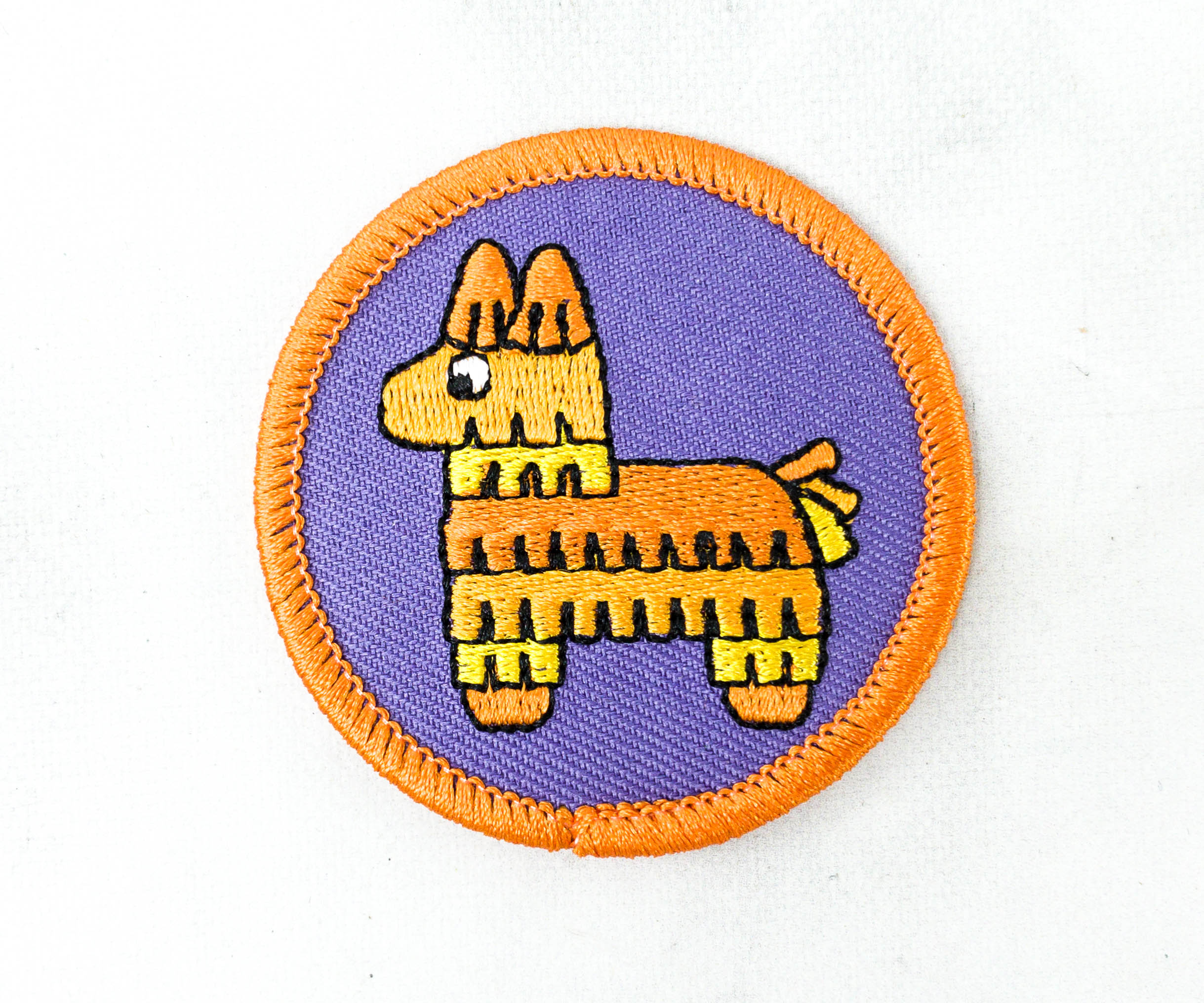 Another bonus item is a patch and it represents this month's theme.
Before we get to cooking, we tried this piñata making activity first!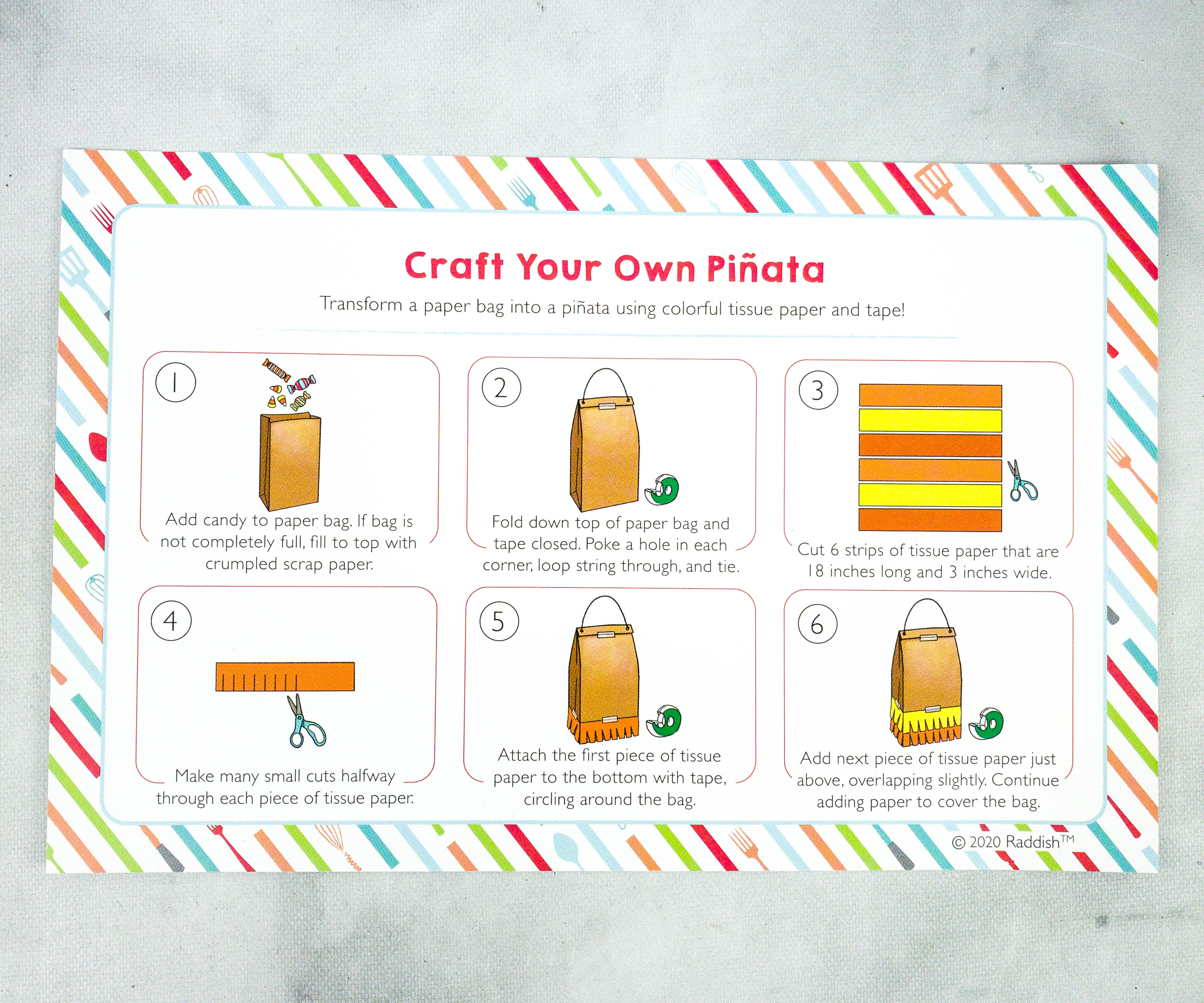 The instructions were simple and pretty easy to follow. They also included an illustration for each step.
My kids made their own version based on what we currently have on hand!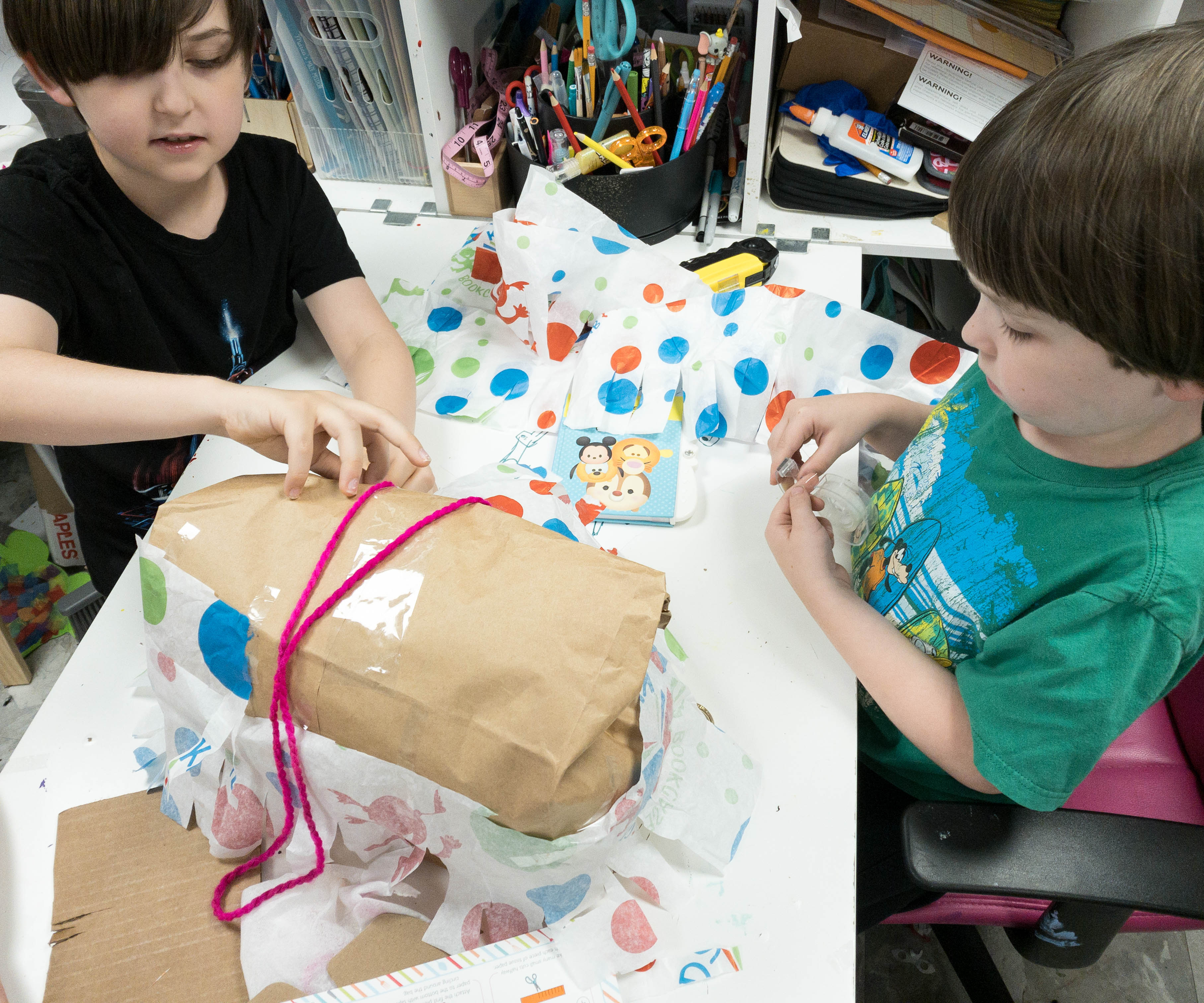 This is a nice bonding activity as they were able to work together in building the piñata!
You can see here that they're making sure everything is set nicely! The finished product is actually cute!
Now, it's time to break it! They each had their turn to hit on the pinata. The goal is to break it so we can get to the goodies inside!
They did their best to smash the piñata and here you can see that they're putting in some team effort!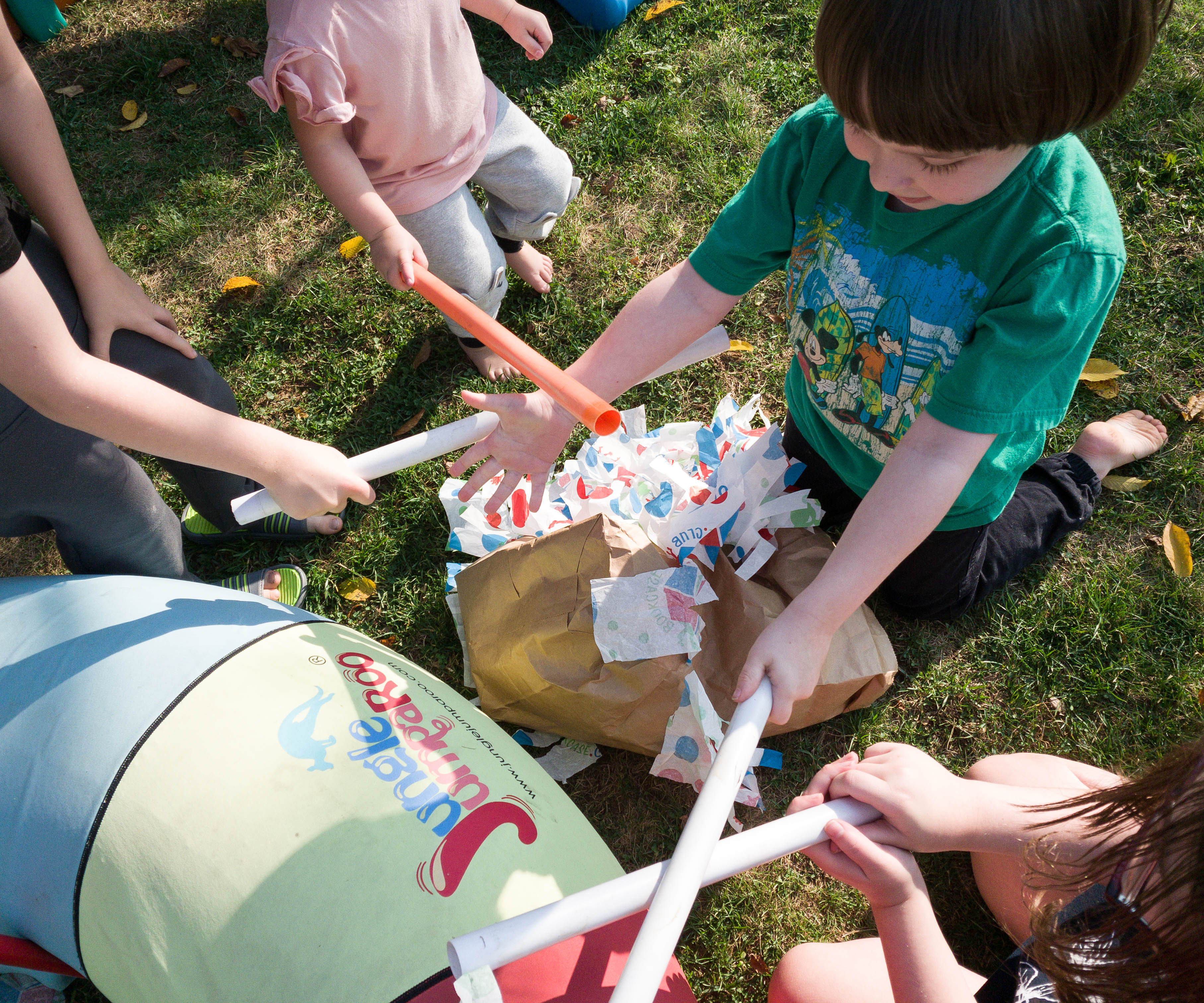 It was such a fun activity and my kids really had a great time. The treats inside the piñata are well deserved!
Every box comes with a featured tool. This month, we received a red measuring cup.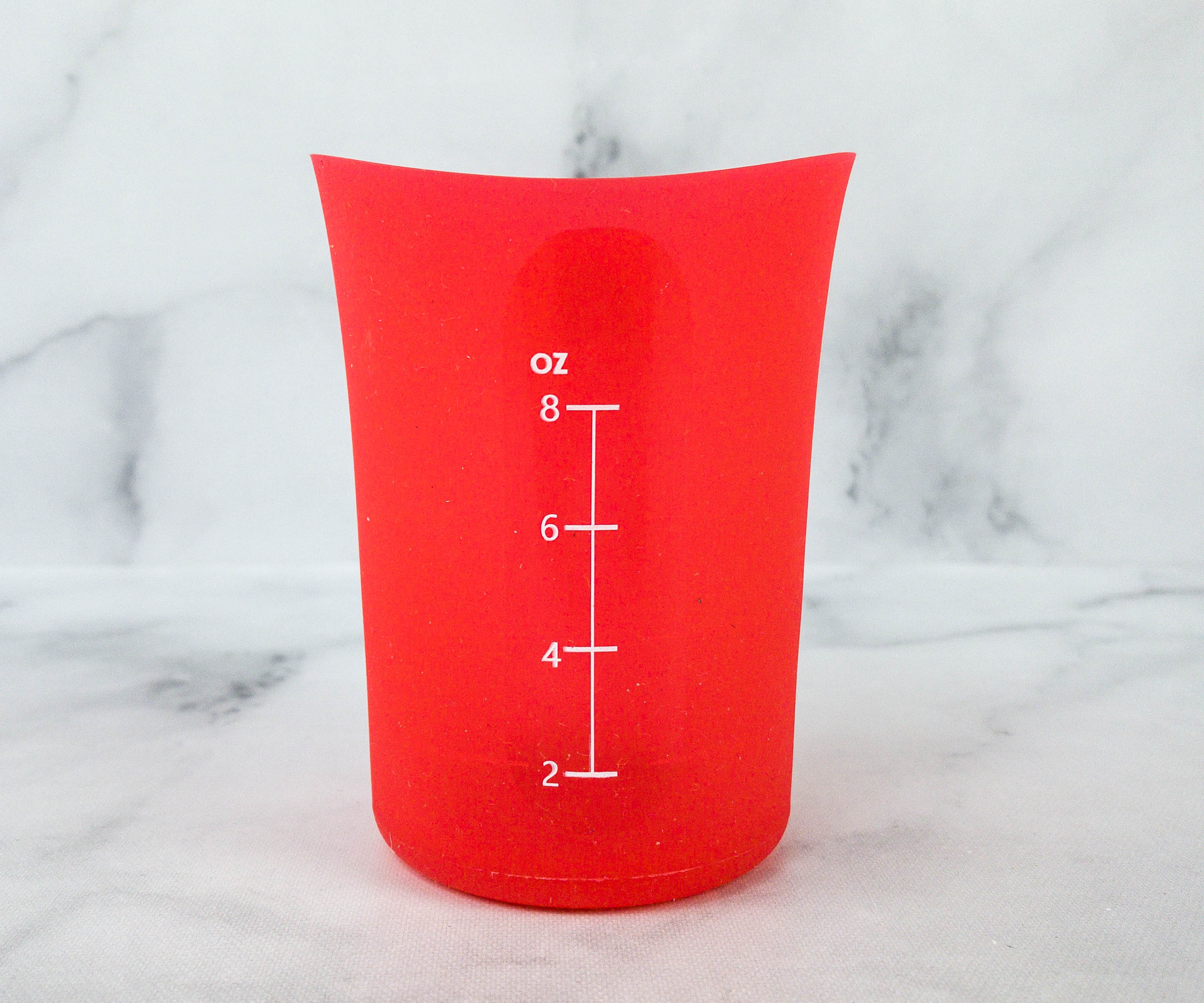 You can see the ounces on one side…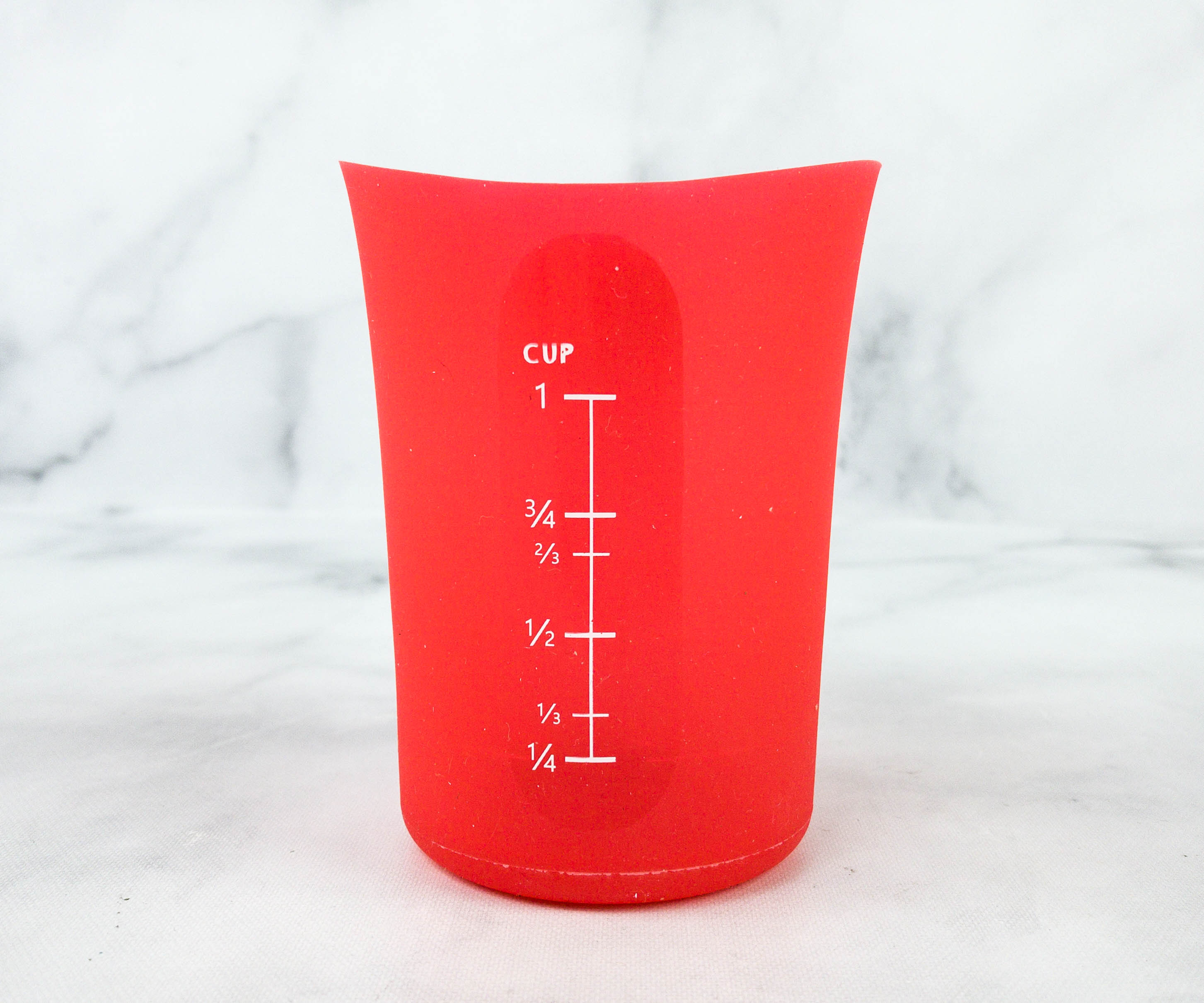 …and the other side indicates the cup measure. This will be very useful for cooking!
Here are this month's recipe guides!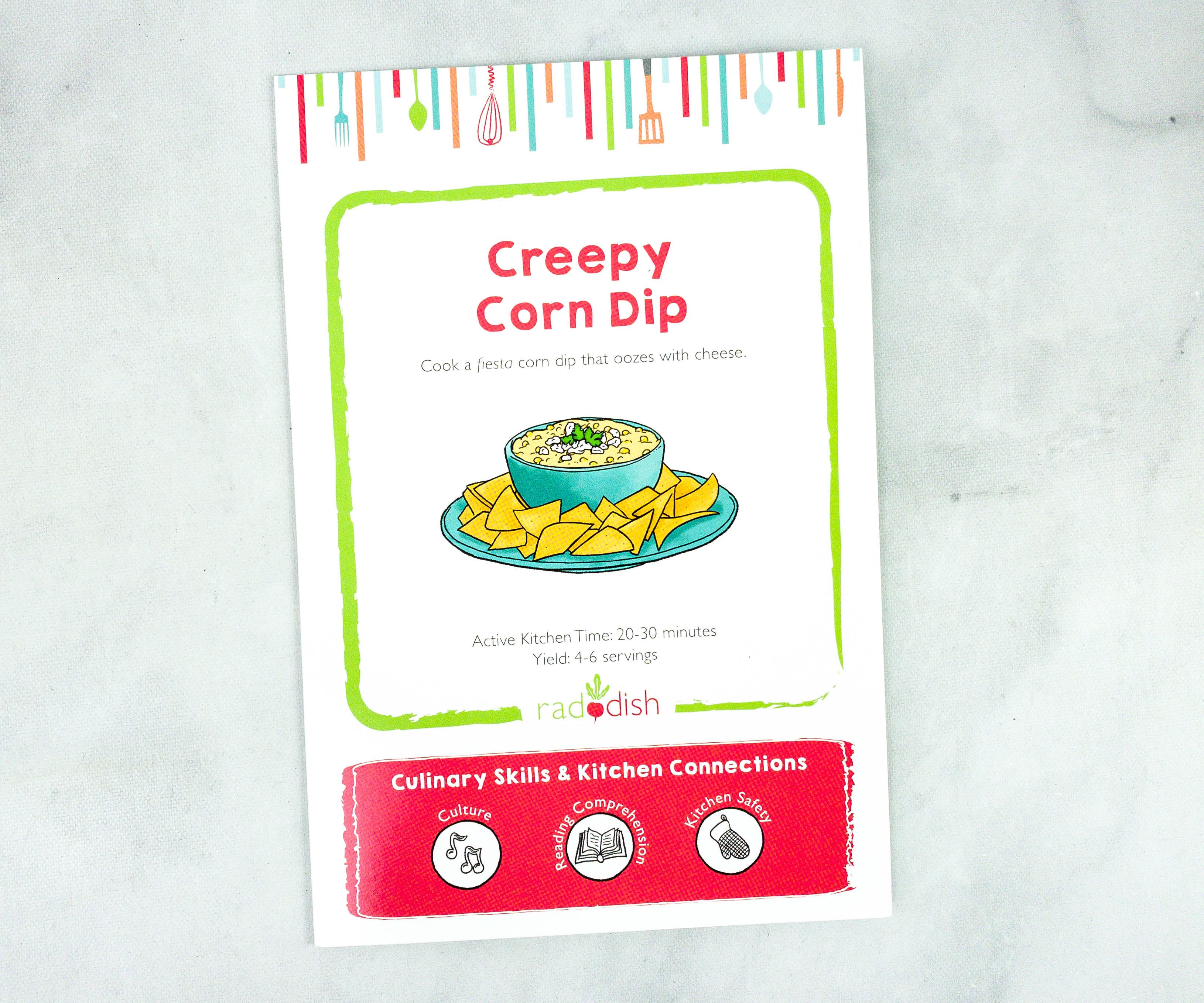 The first recipe is Creepy Corn Dip!
Active Kitchen Time: 20-30 minutes

Yield: 4-6 servings
For this activity, the kids learn about stovetop safety. It's important to be alert and cautious when cooking with the stove. Also, we have to avoid leaning on it specially just after cooking as it's very hot!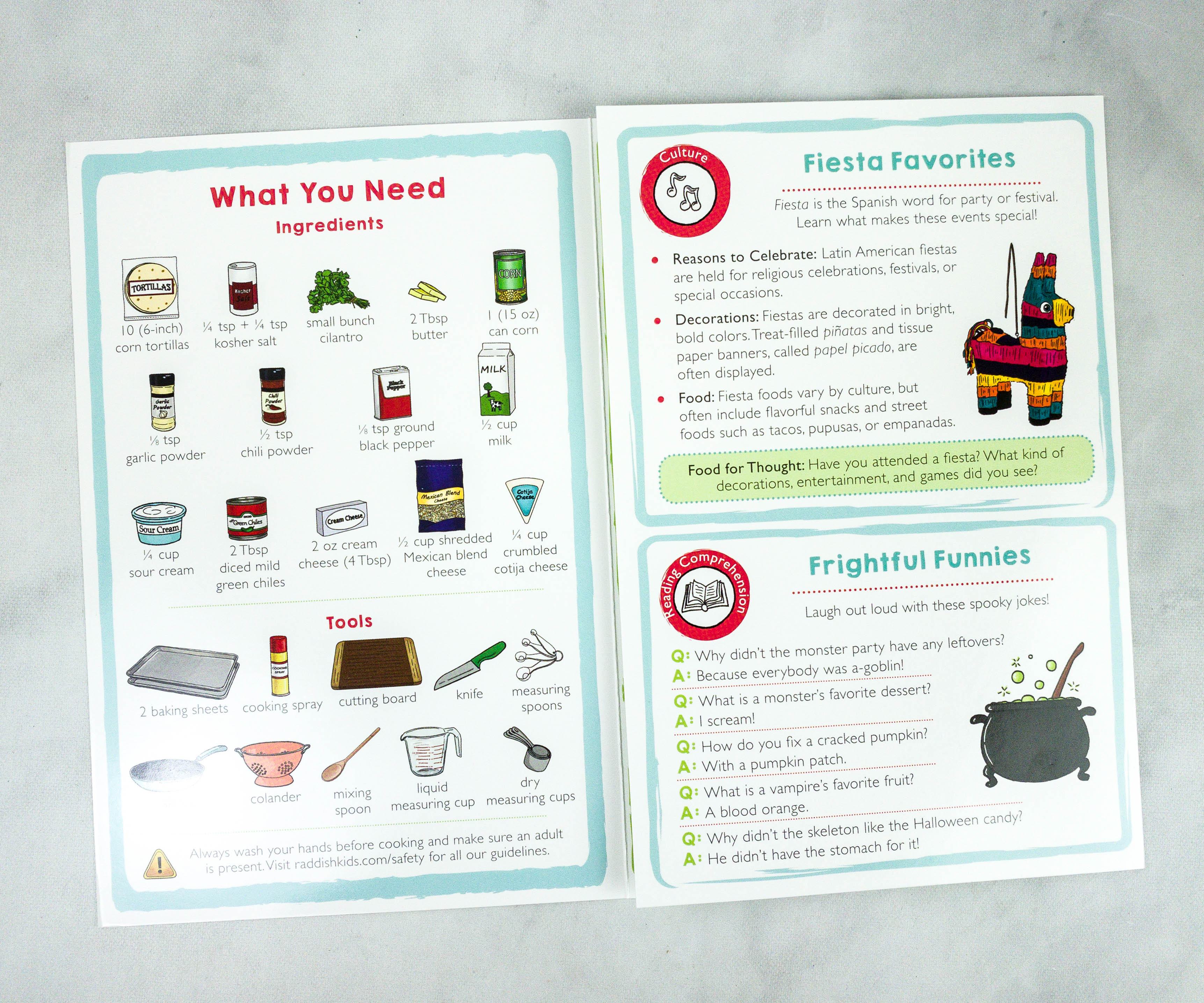 Inside the booklet are the recipe's ingredients and the needed tools. Ingredients for Creepy Corn Dip are corn tortillas, kosher salt, cilantro, butter, can corn, garlic powder, chili powder, ground black pepper, milk, sour cream, diced mild green chilies, cream cheese, shredded Mexican blend cheese, and crumbled cotija cheese.
There's also a portion where kids can learn all about fiestas! Fiesta means a party or festival in Spanish. Just below it is a feature is all about spooky jokes.
Here's a step-by-step procedure accompanied by illustrations, making it easy to understand even for kids.
With my supervision, my kids started to melt some butter in a skillet over medium heat. Once the butter is nice and bubbly, they carefully put in the corn and some seasoning!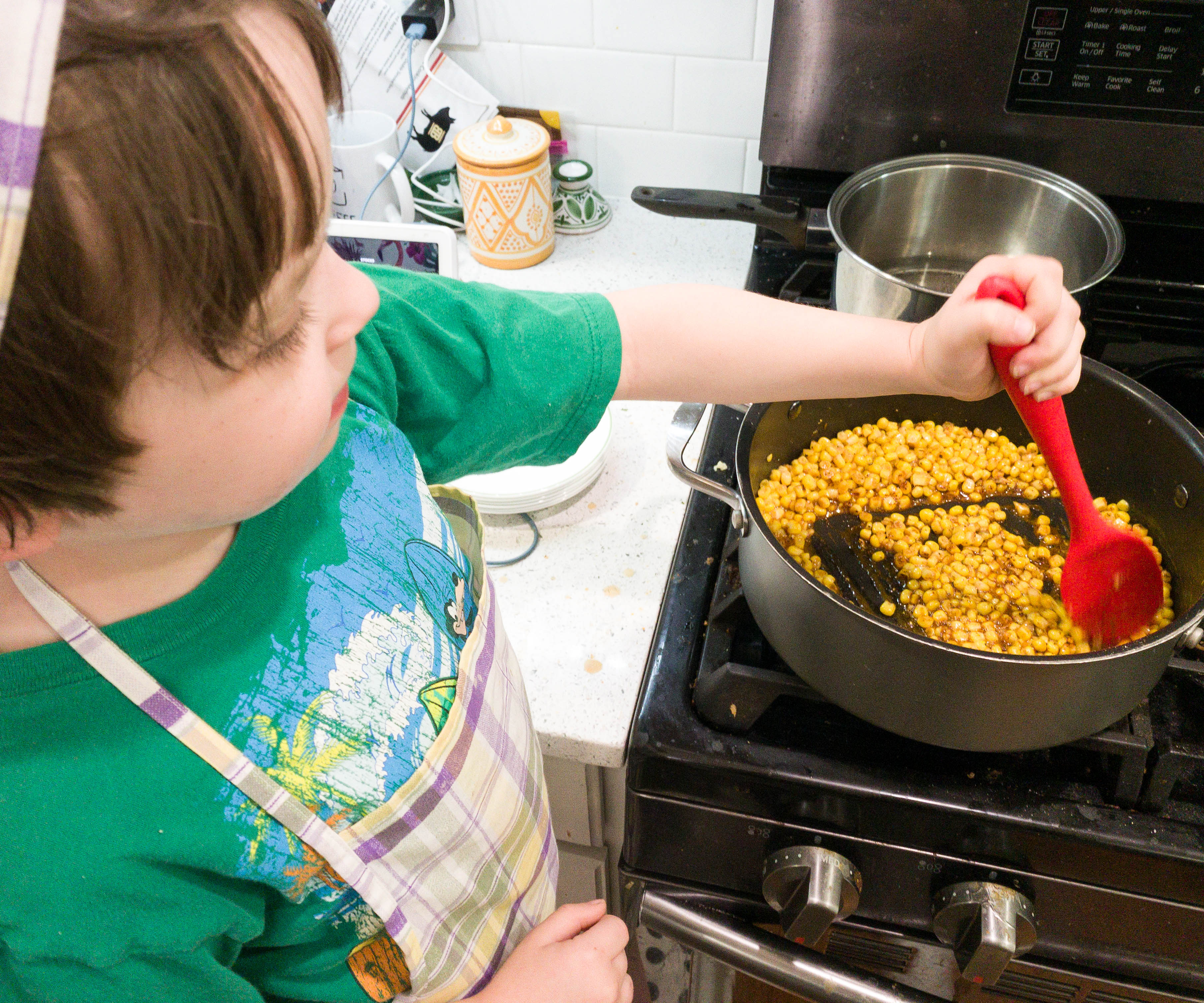 My younger son stirred the corn to make sure each piece is evenly coated with the yummy seasoning! After this step, they added the rest of the ingredients like milk, cream cheese, etc. We just let that go into a slow boil while continuing to stir!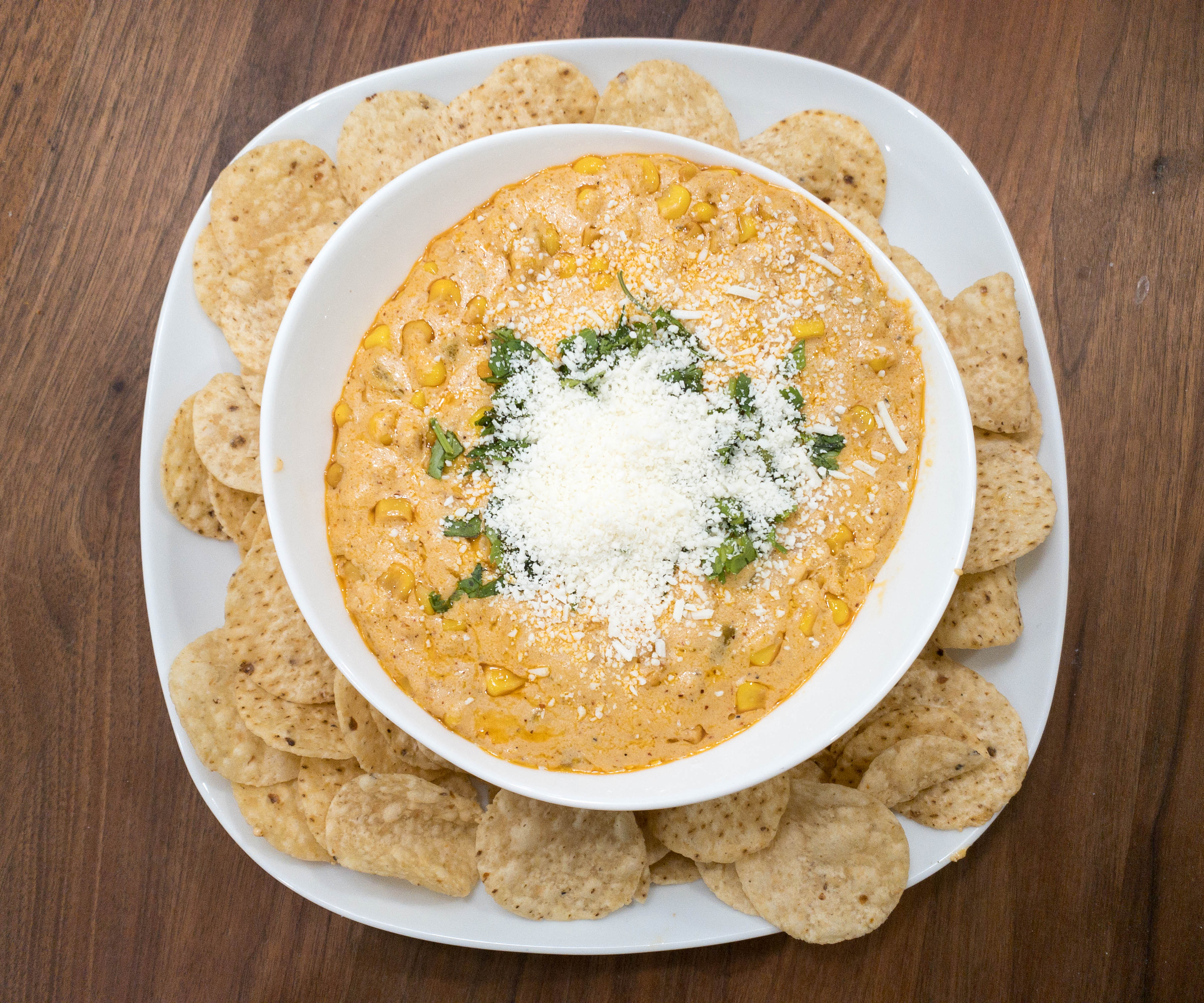 Once that is done, we transferred the mixture into a container and put some garnish like parmesan!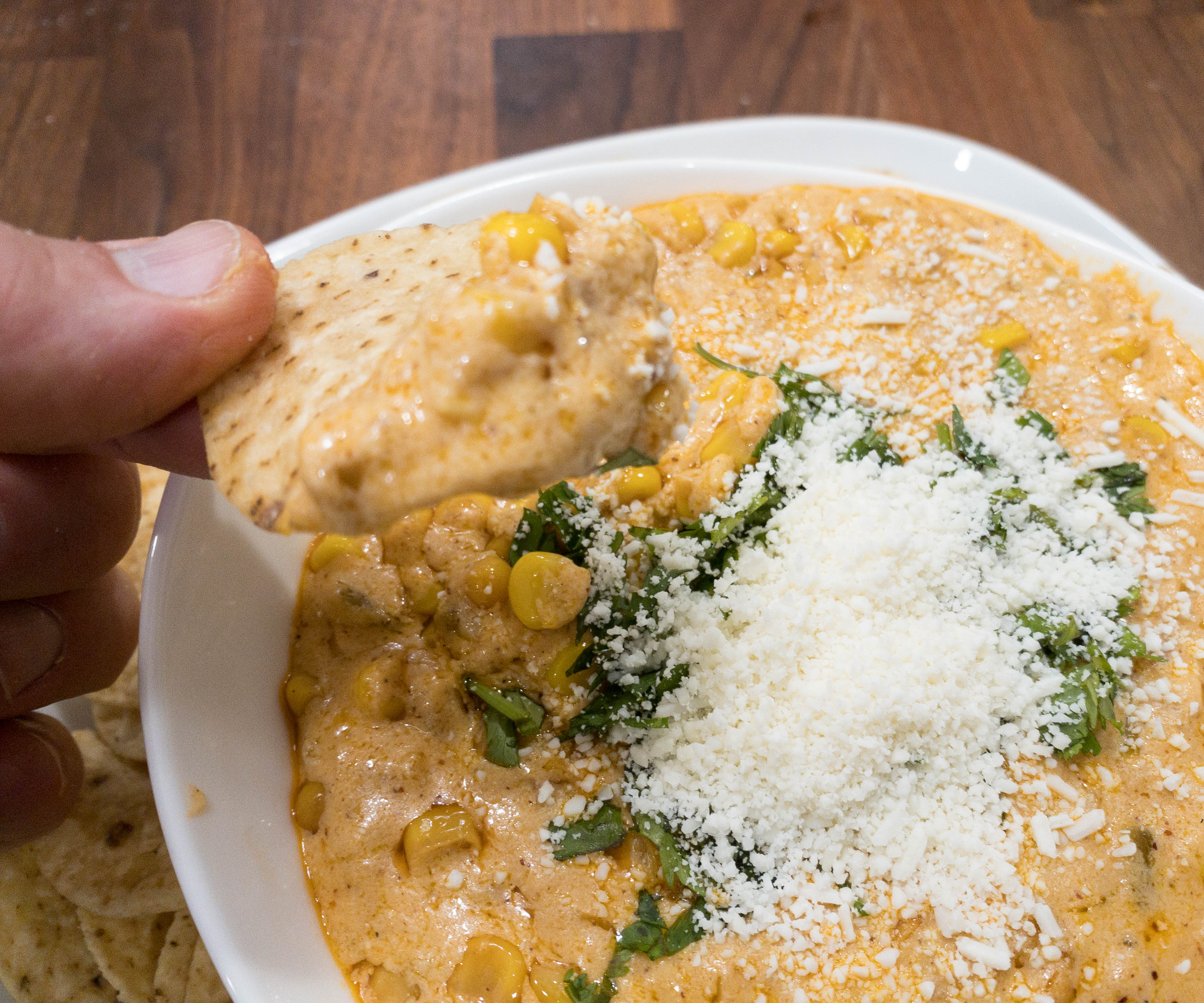 We served it with some sliced tortilla chips!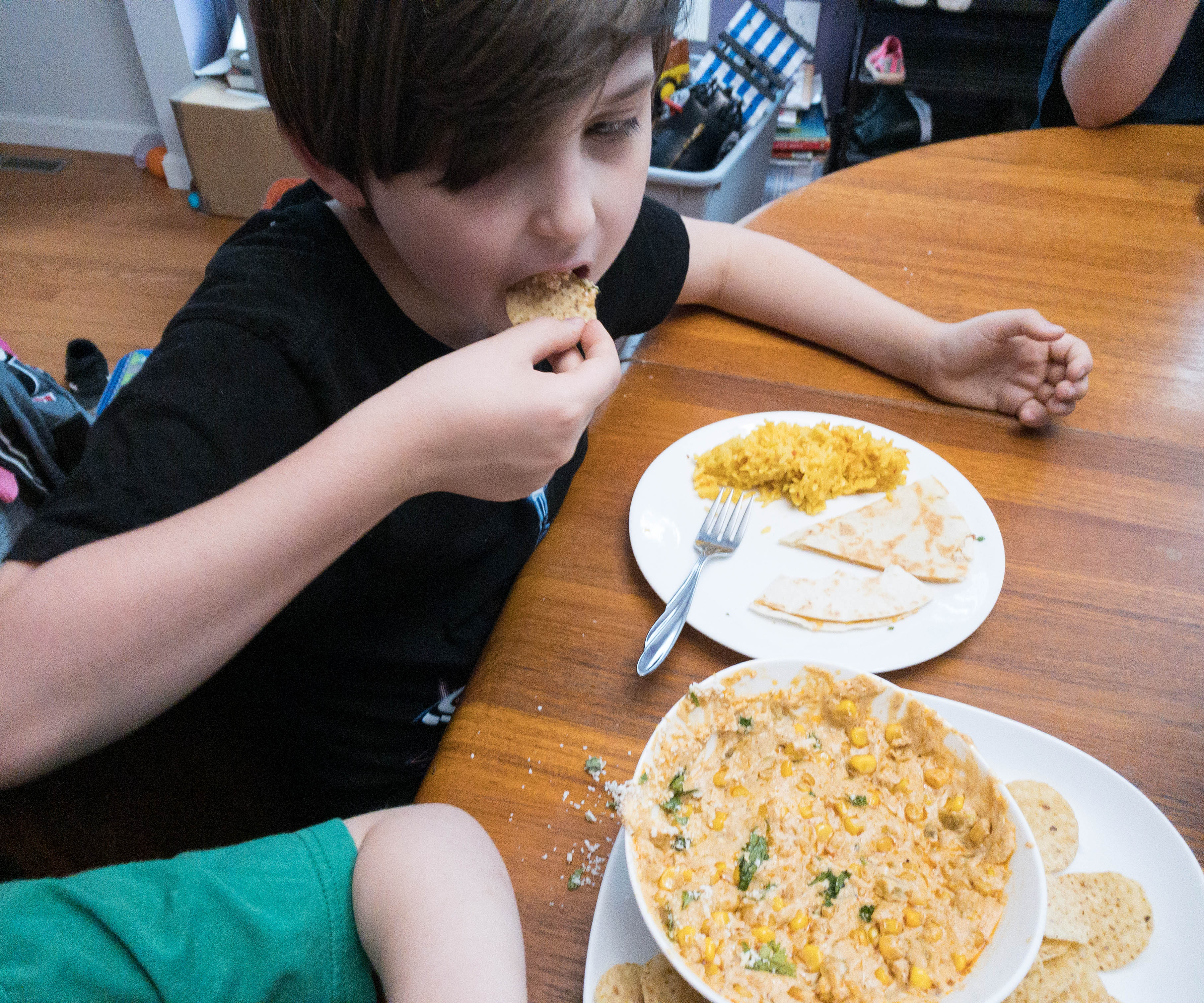 It's so delicious and the added texture and sweetness of the corn are just wonderful.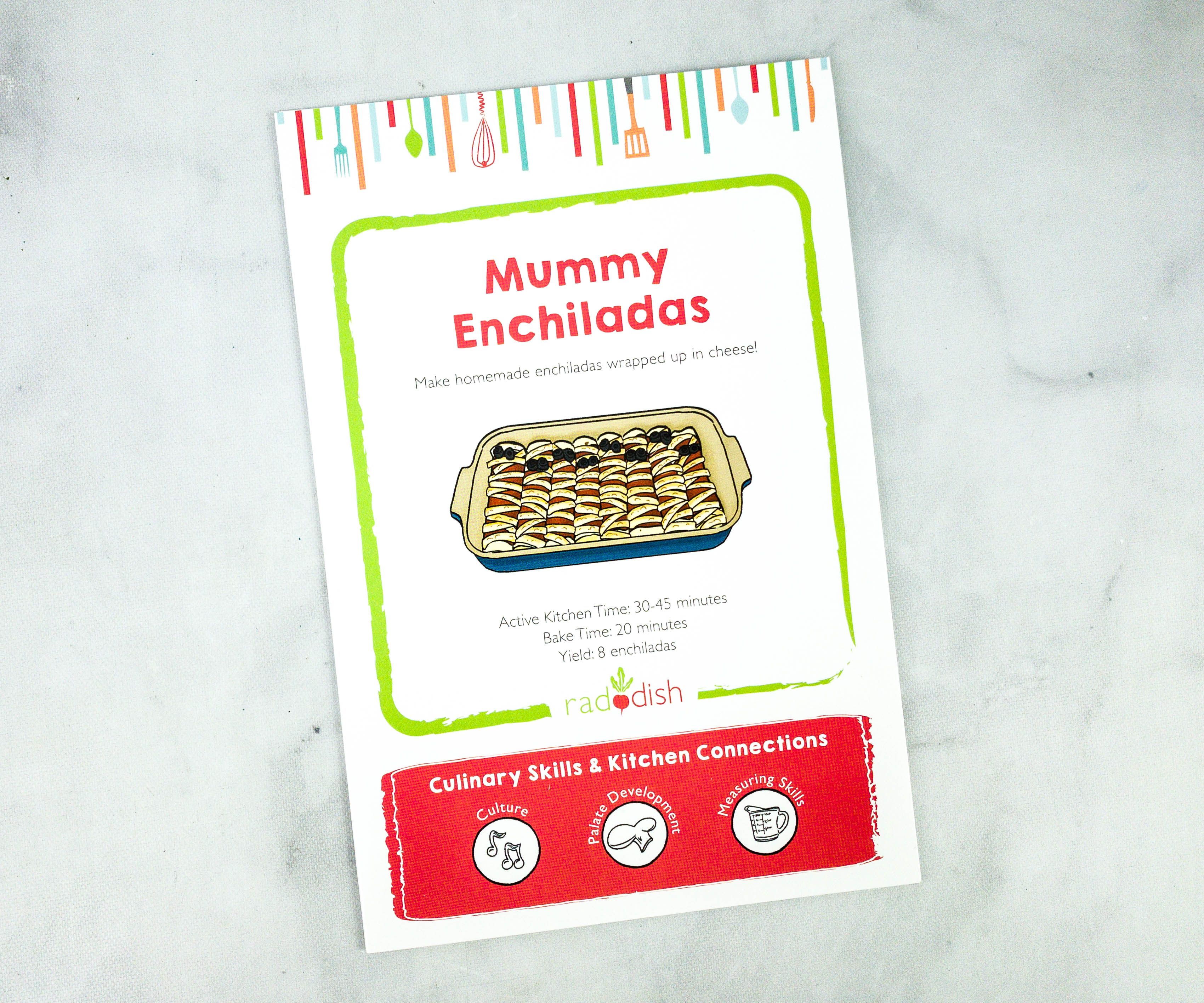 The second recipe is Mummy Enchiladas!
Active Kitchen Time: 30-45 minutes

Bake Time: 20 minutes

Yield: 8 enchiladas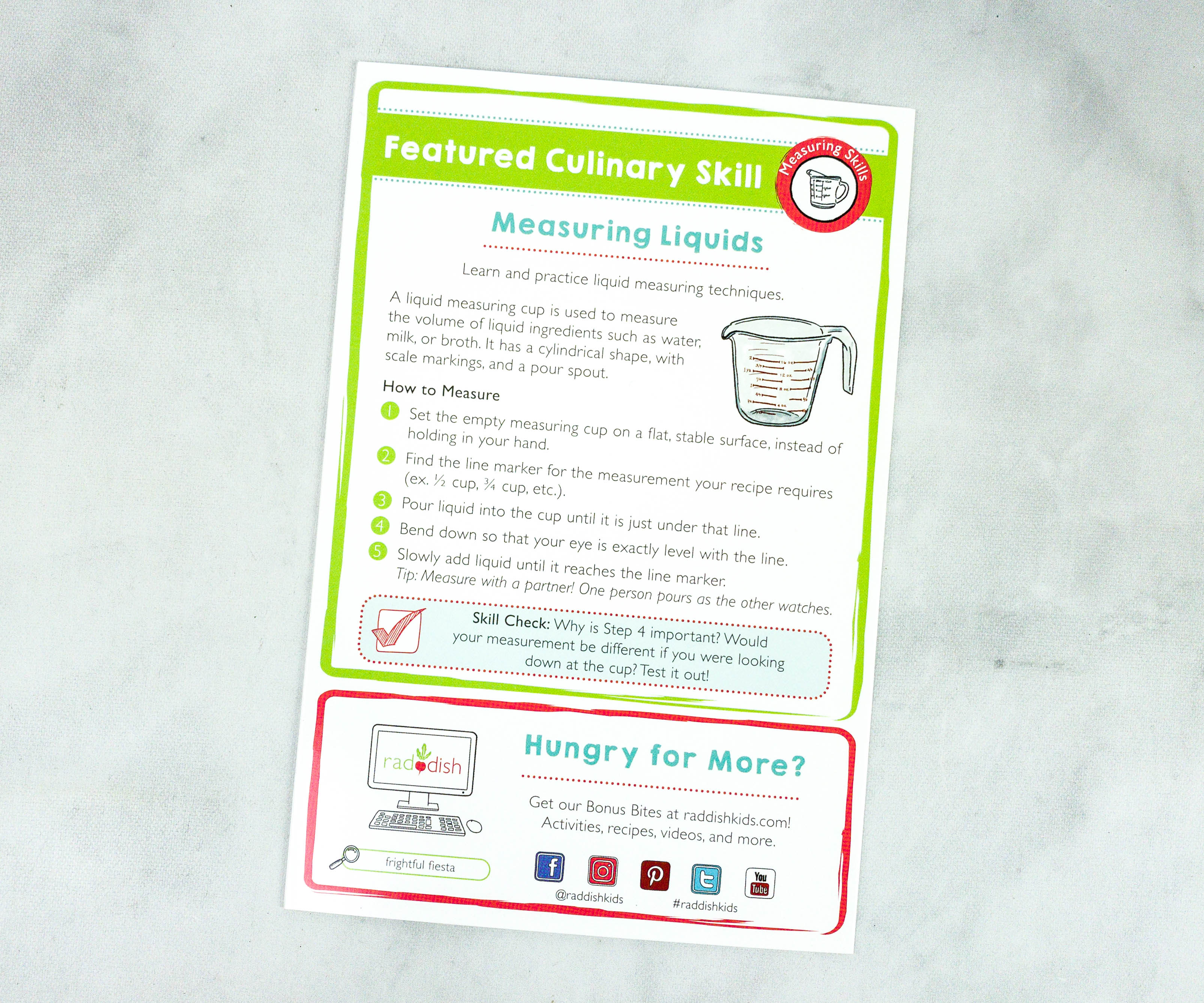 This time, kids can learn the proper way of measuring liquids! This is where the included measuring cup in our box will come in handy.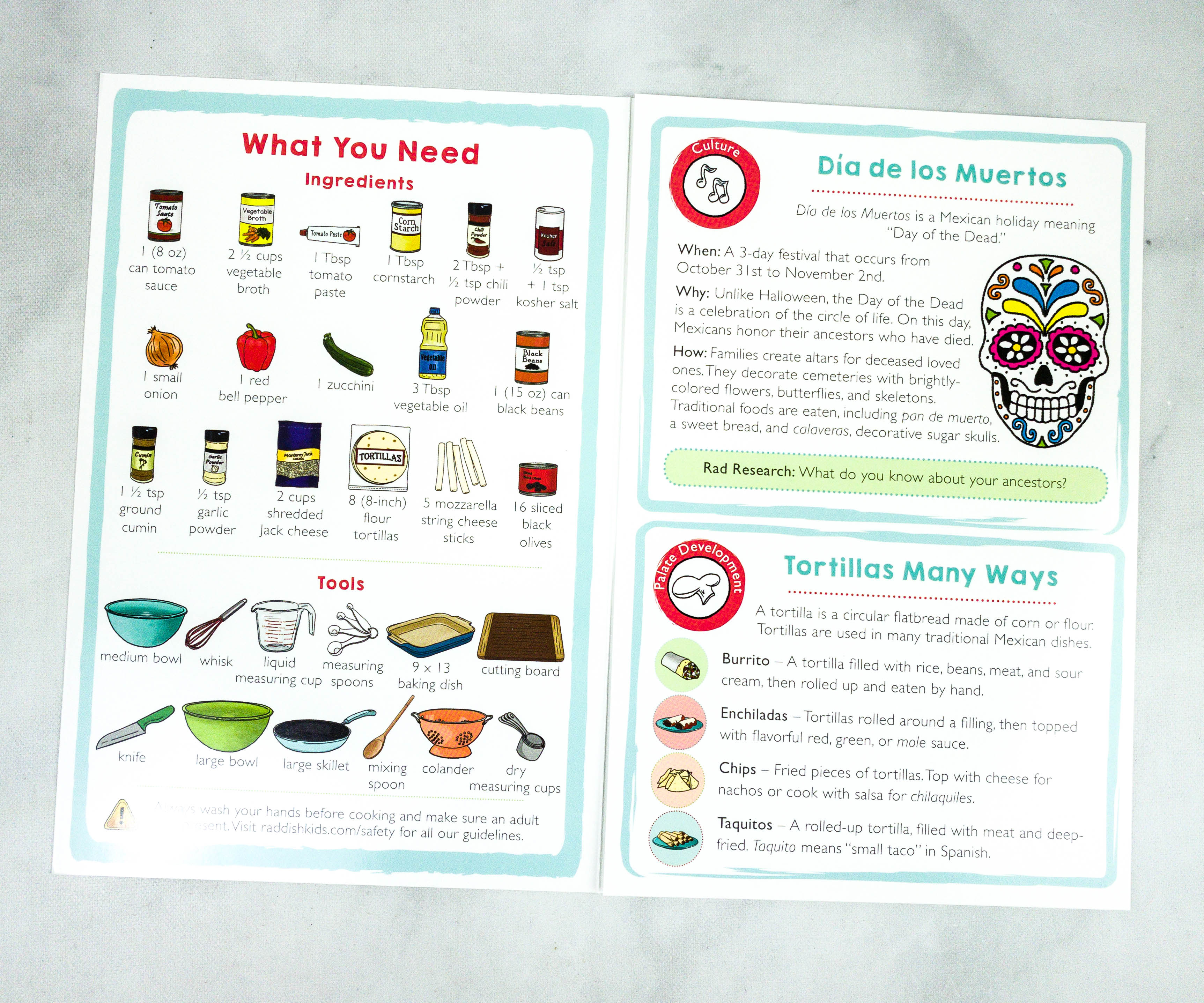 Here are all the ingredients for the Mummy Enchiladas: tomato sauce, vegetable broth, tomato paste, cornstarch, chili powder, kosher salt, onion, bell pepper, zucchini, vegetable oil, black beans, ground cumin, garlic powder, shredded jack cheese, flour tortillas, mozzarella string cheese sticks, and black olives.
Aside from the ingredient and tools list, the booklet also features a bit of information about Dia de los Muertos and the different ways tortillas are used in Mexican cuisine.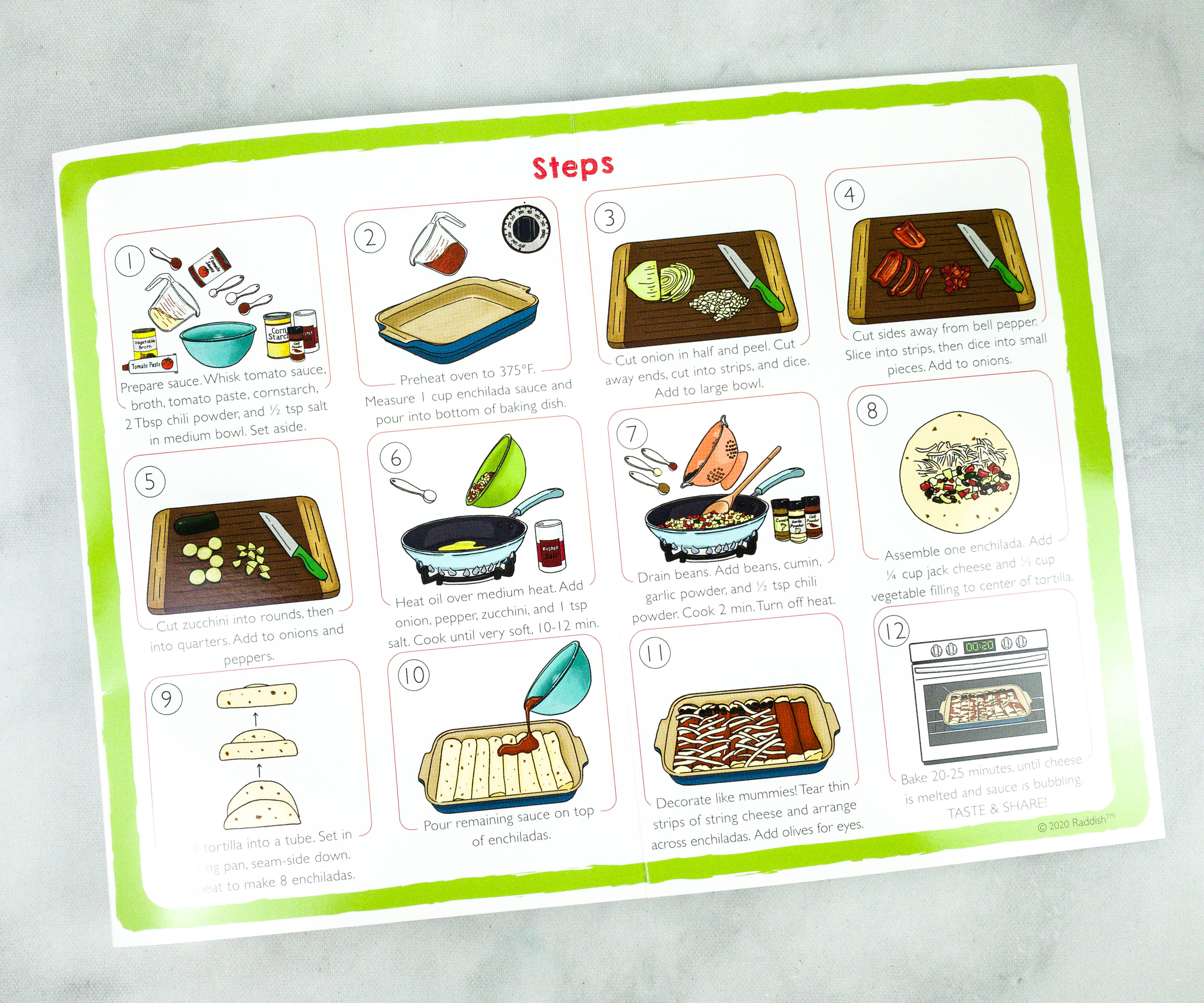 This recipe is indeed perfect for Halloween. As always, the guide is helpful, as each step is accompanied by an illustration!
We started this recipe by creating the sauce. My son combined the tomato sauce, tomato paste, broth, cornstarch, chili powder, and salt!
Then, he whisked the sauce mixture!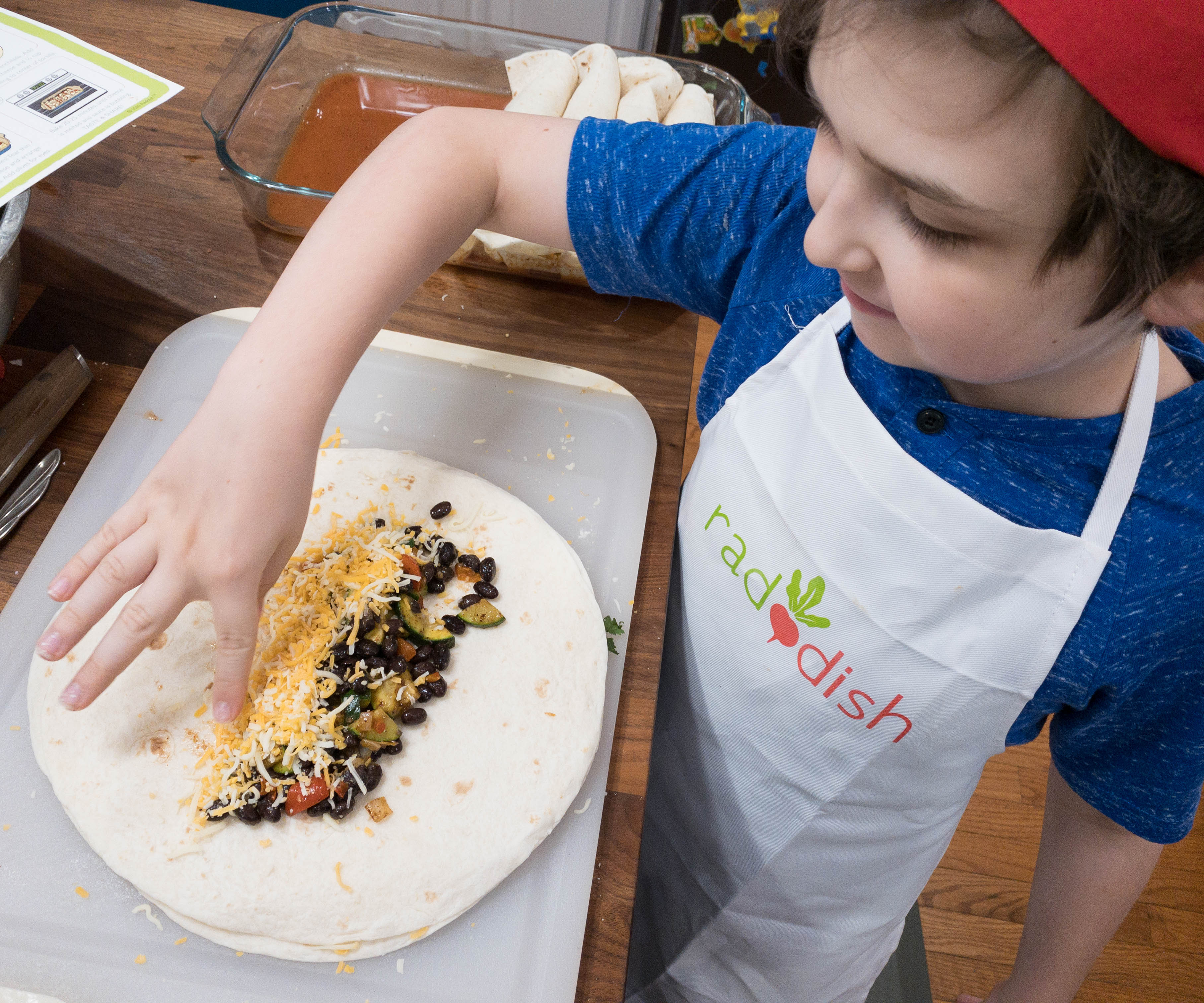 Now, it's time to proceed with making the enchiladas! Just put some vegetable filling and cheese in the middle of a tortilla and wrap it up.
Put a thin layer of the sauce on a baking dish and spread it evenly before you place the enchiladas side by side then you pour in the rest of the sauce, making sure everything is evenly covered.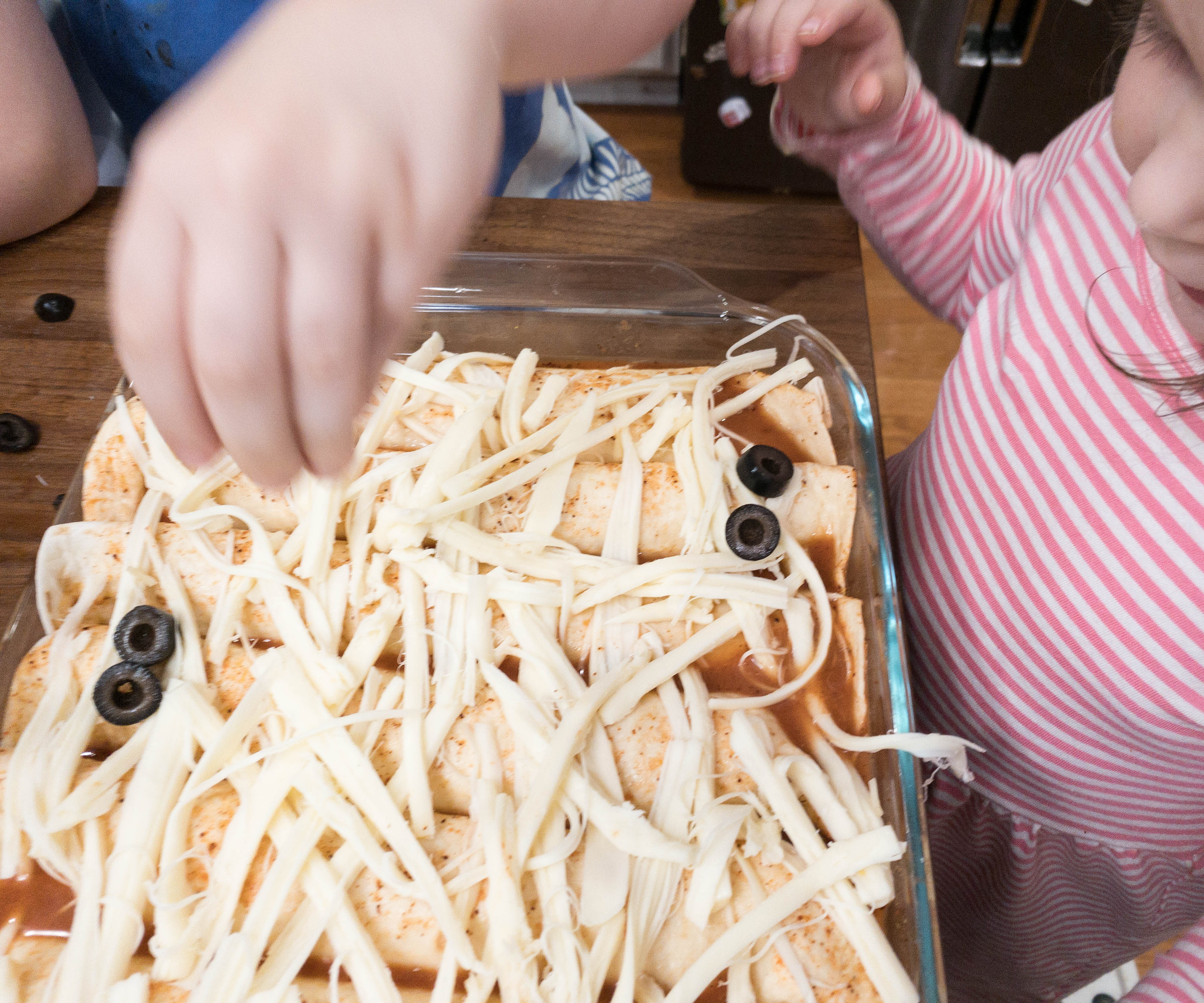 We put lots of cheese! The mozzarella string cheese makes it look like the enchiladas are covered with the mummy cloth while the olives are their eyes.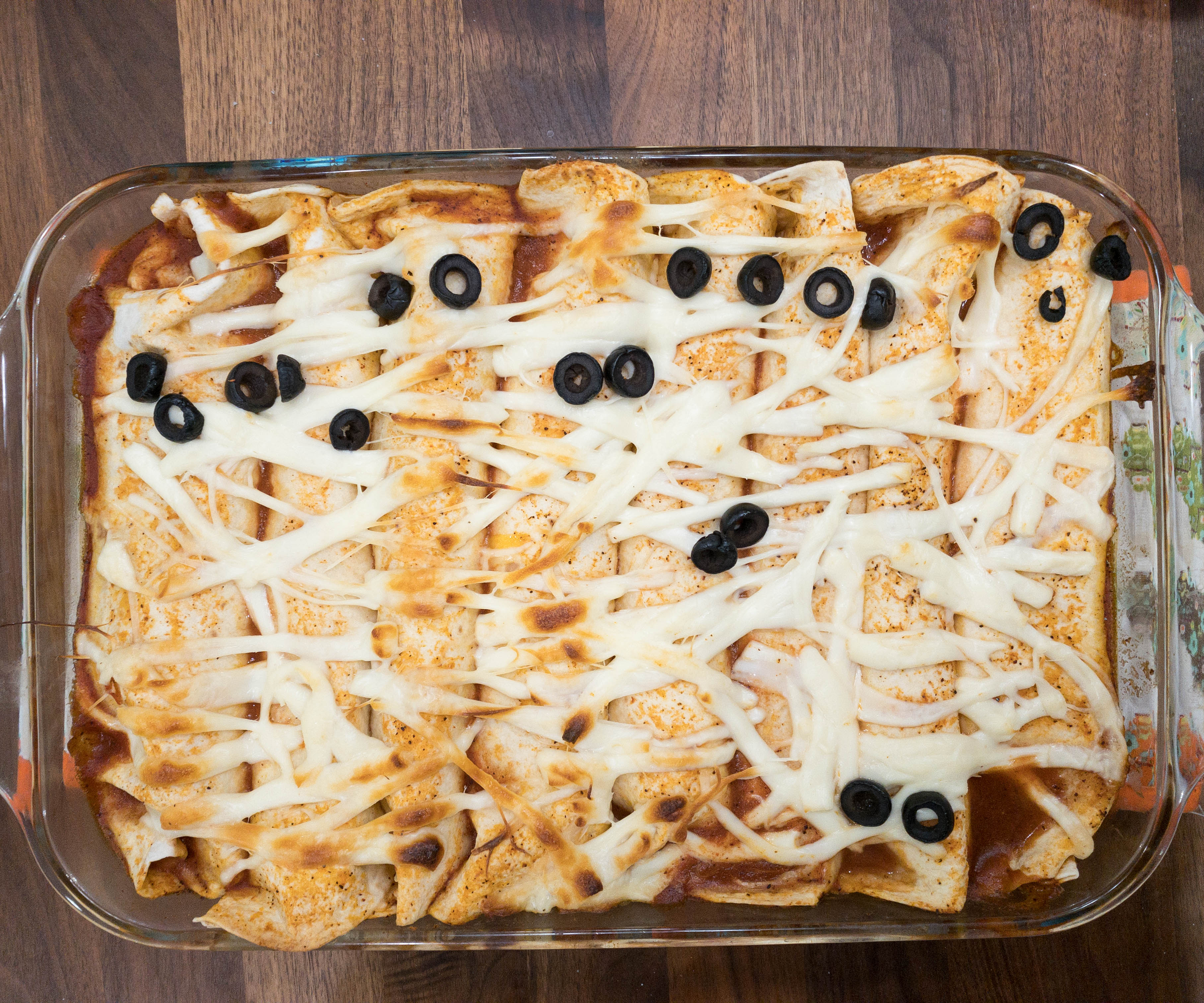 This dish is absolutely delicious! It's hearty and filling, surely a great Halloween dinner menu item!
Of course, we have a recipe for dessert as well, and it's Haunted Tres Leches Cake!
Active Kitchen Time: 20-30 minutes

Bake Time: 28 minutes

Chill Time: 3 hours

Yield: 9-12 servings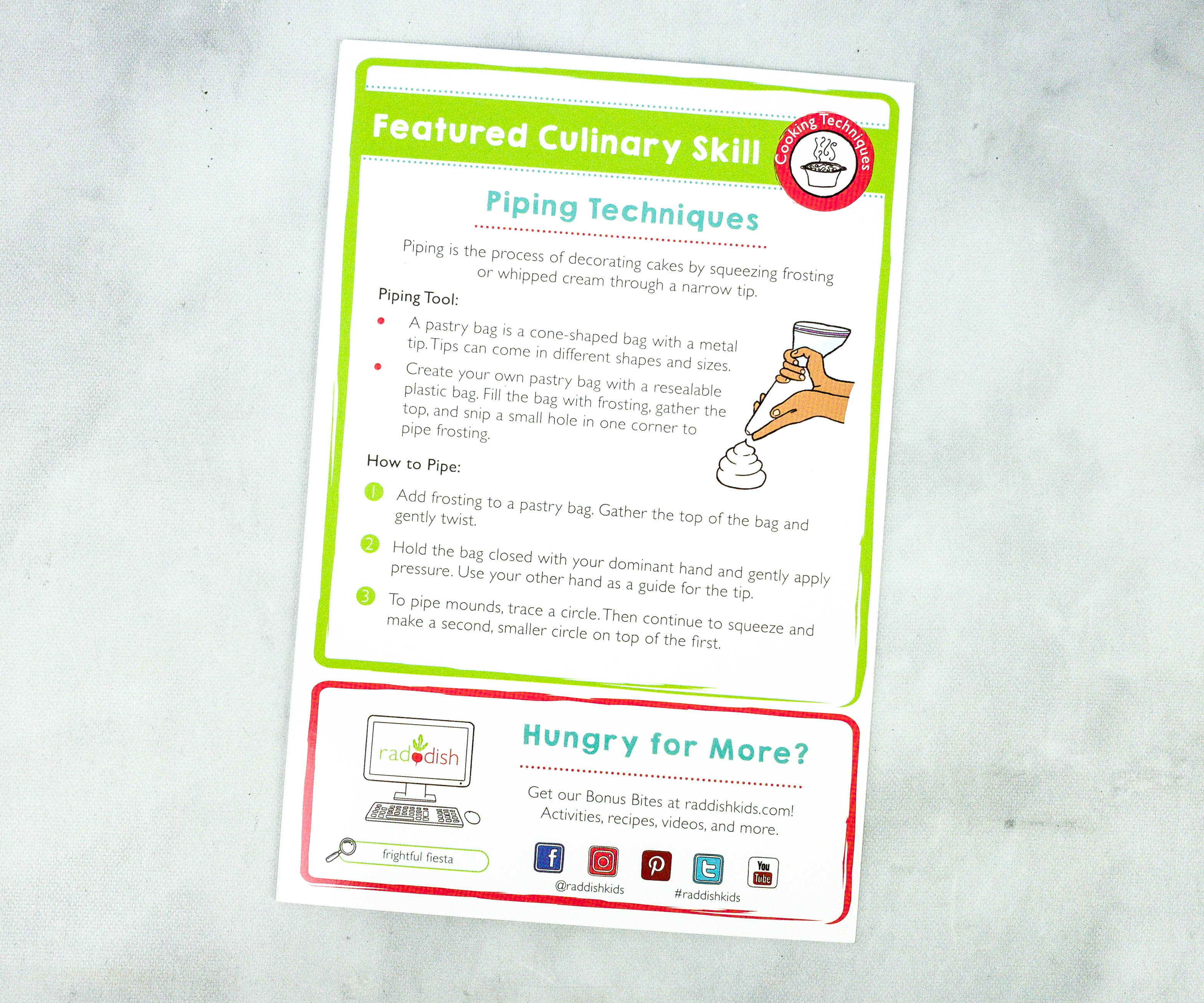 The kids get to be masters of the kitchen as they learn some piping techniques while making this dessert!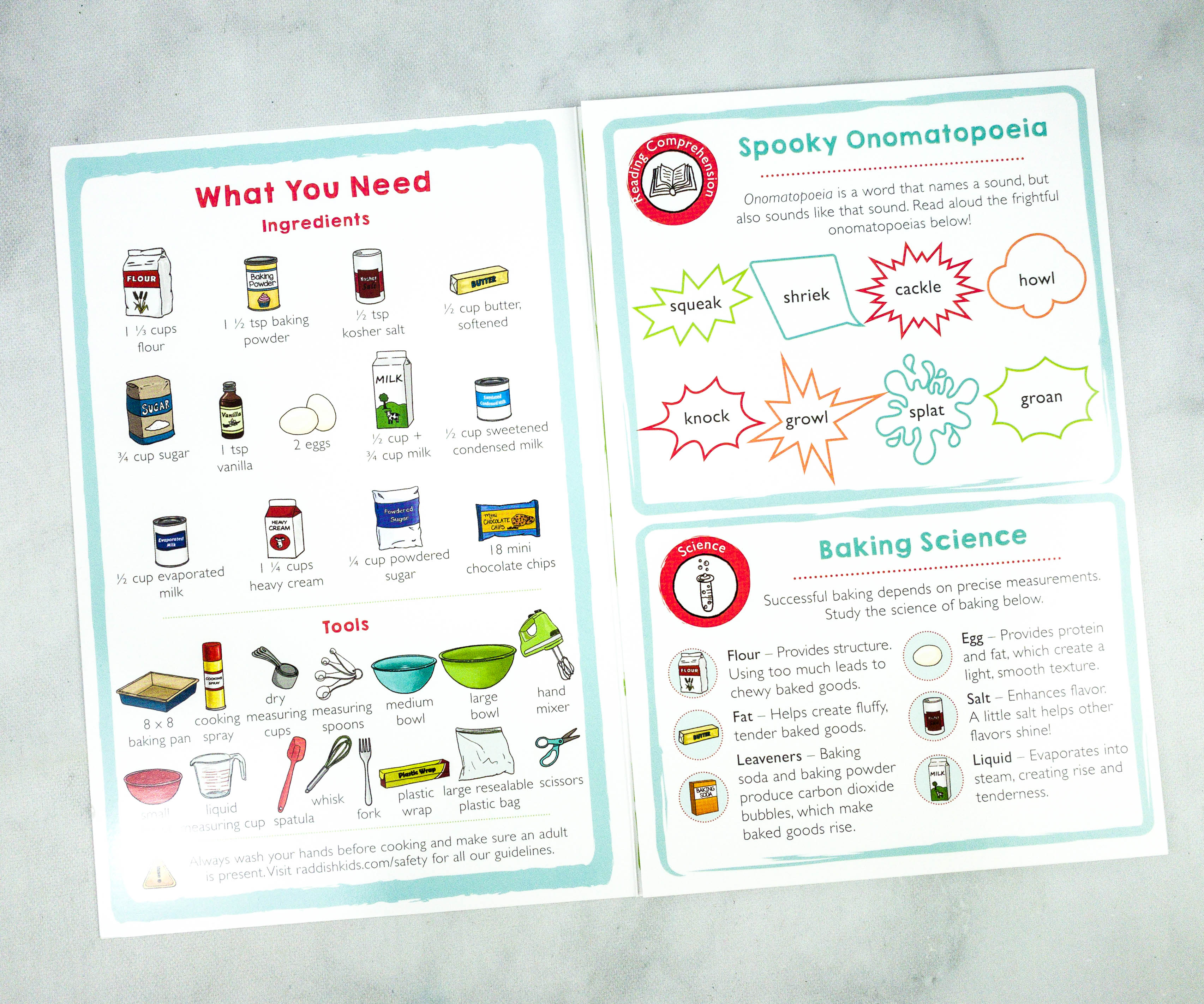 The ingredients for Haunted Tres Leches Cake are flour, baking powder, kosher salt, softened butter, sugar, vanilla, eggs, milk, condensed milk, evaporated milk, heavy cream, powdered sugar, and chocolate chips.
On the other page, they featured Halloween themed onomatopoeia and facts about the science behind baking.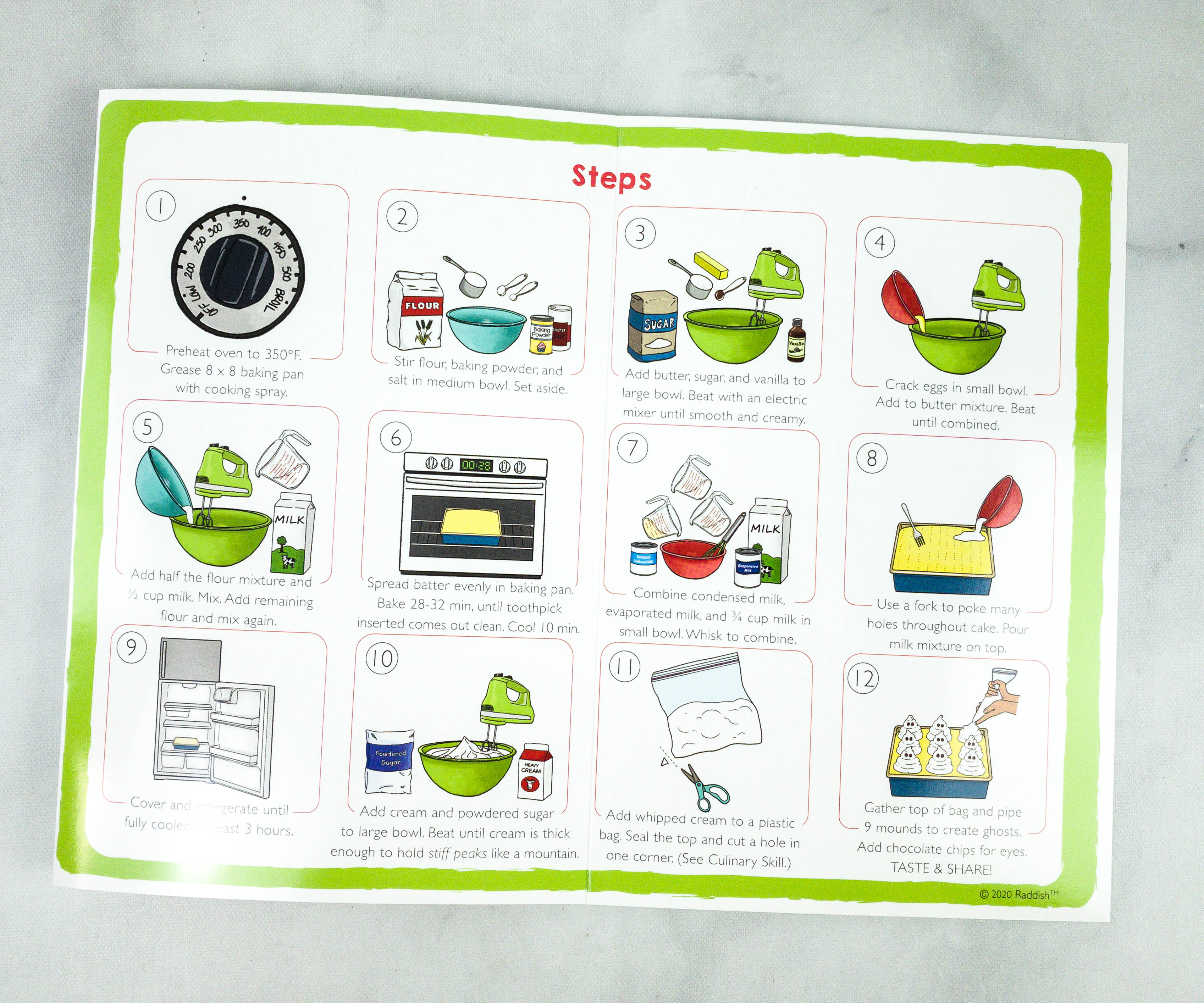 Since we are baking, let's make sure we pre-heat the oven!
My kids made the batter first.
They were concentrating to make sure that everything is incorporated before spreading the batter evenly on a greased baking pan. Then, we have to bake for 28-30 mins!
Once we're done, we let it cool off for a few minutes before we started poking some holes! On a separate bowl, we mixed in our condensed milk, evaporated milk, and regular fresh milk then poured it on top of our cake to make it nice and moist. We set that aside as we combined cream and powdered sugar, whisking it together until it forms stiff peaks.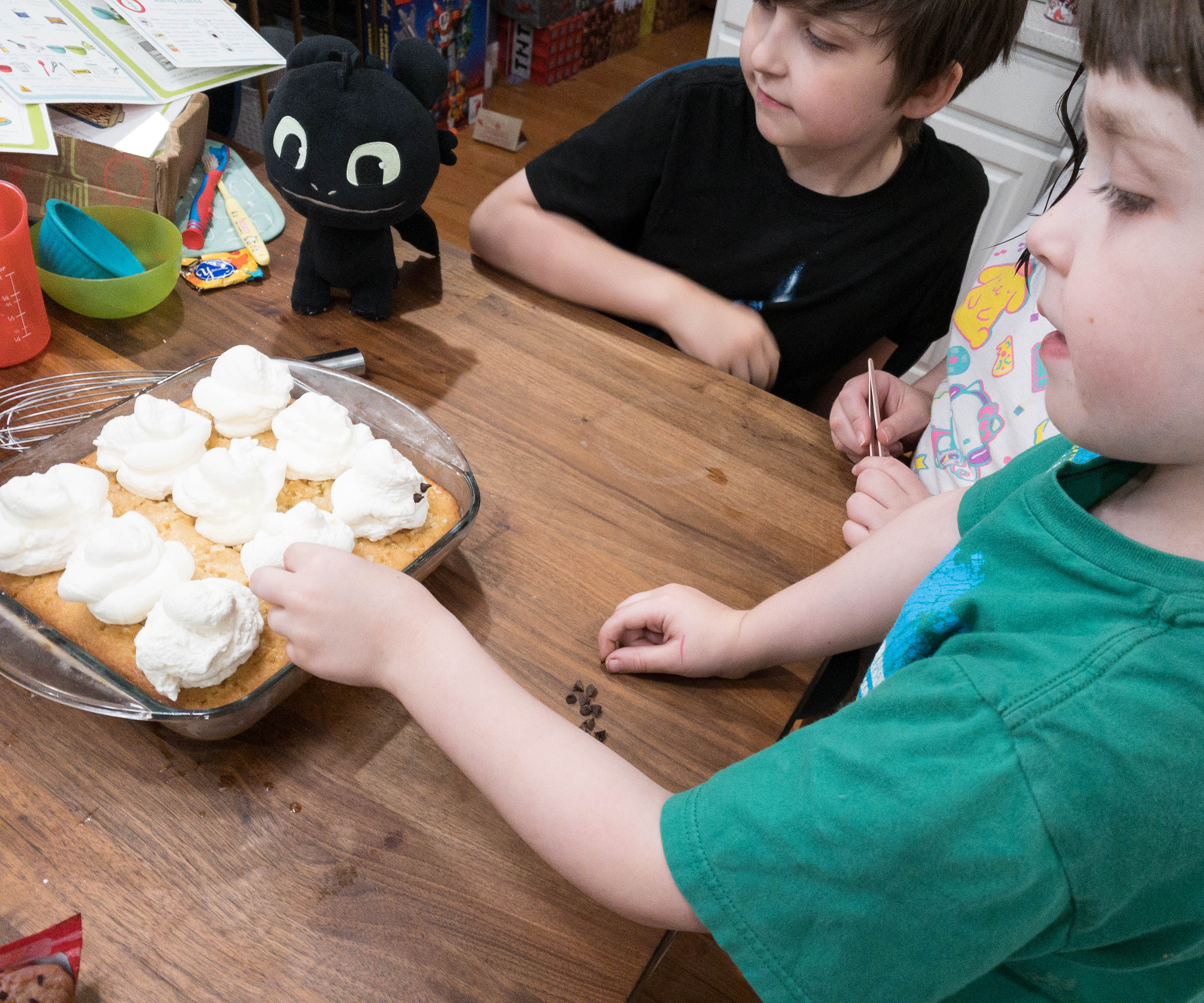 Using a piping bag, the kids put some ghoul shaped dollops on top of the cake!
We added chocolate chips for their eyes and it looks super adorable!
This dish will surely haunt your tastebuds while you crave for more!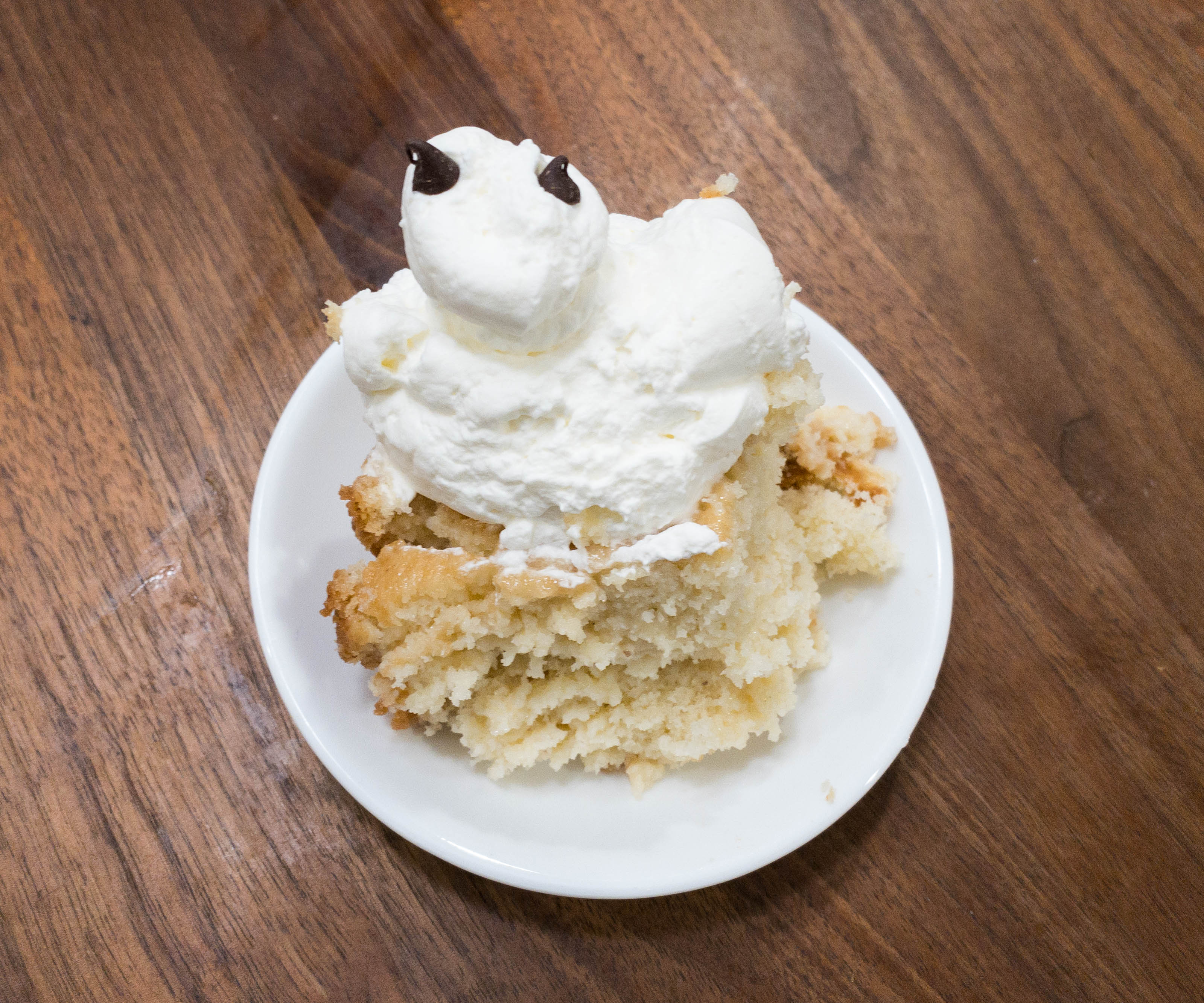 Our cake turned out moist! The sweet, milky goodness is so satisfying, plus that ghost frosting is just adorable.
My kids had such a great time cooking all the Halloween-themed recipes from this month's Raddish Kids box! They learned new kitchen skills such as measuring liquids and using the stove properly, as well as Halloween and food-related trivia from the booklet. Of course, they also enjoyed eating the food after! For this month, our whole family agreed that our favorite was the Haunted Tres Leches Cake! It's a nice way to end a full meal as it's not overly sweet but still satisfying. This subscription is a great way to introduce kids to what goes on in the kitchen, and the skills they learn from it are going to be useful for a long time!
What do you think of this month's box?