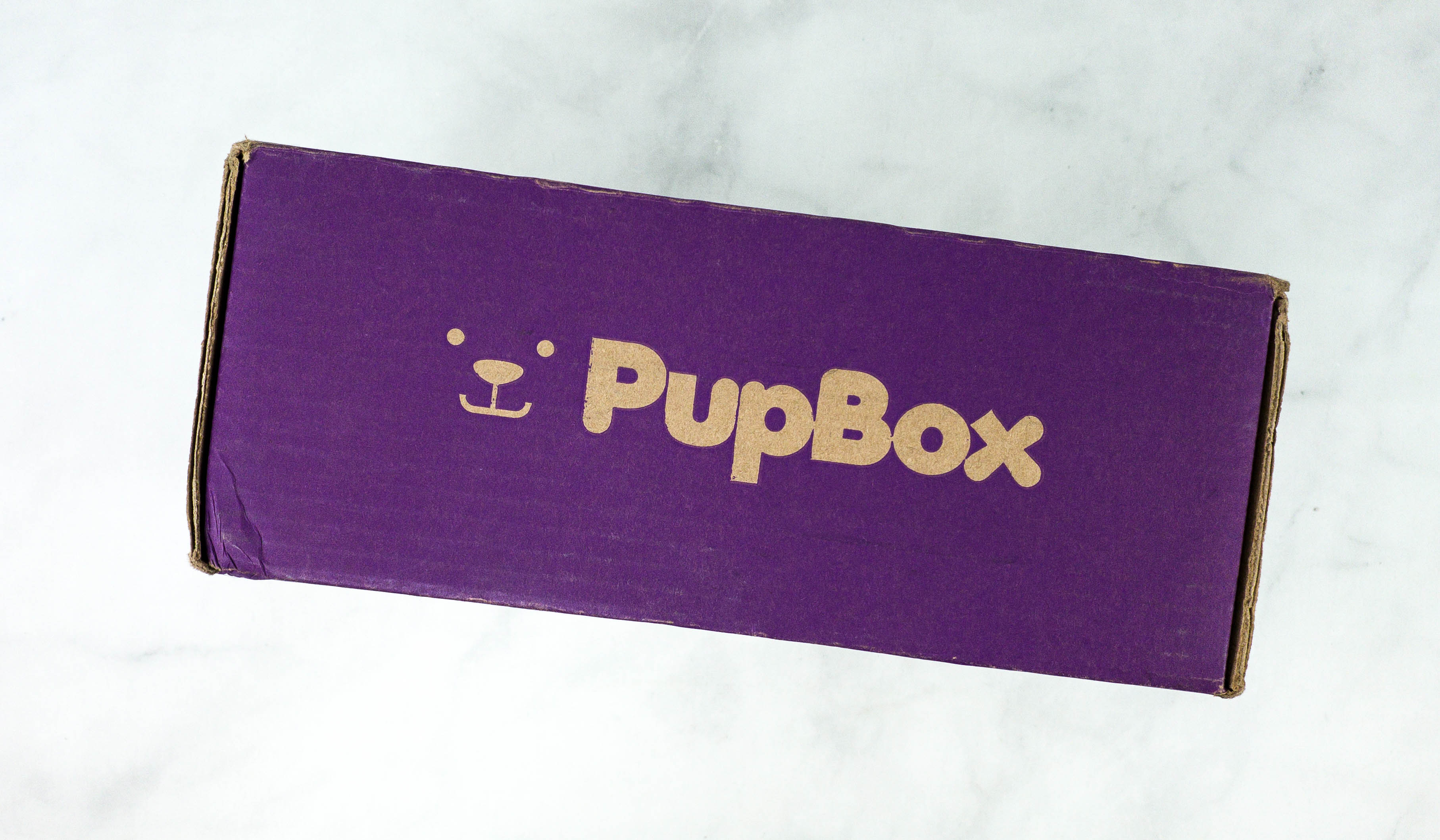 PupBox is a monthly subscription box for new puppy owners! Every PupBox comes personalized for your dog's characteristics and age. Each box comes with an assortment of treats, toys, bones, and accessories all of which are puppy tested and puppy approved, plus training info! For $39 a month, it will include 1 bag of training treats and 4-6 additional products that are selected based on the age and physical characteristics of your puppy. You can also get discounts with longer subscription plans. A 3-month plan is $34/box, a 6-month plan is $32/box, and a 12-month plan is $29/box. Shipping is free in the US and $5 to Canada. If you have an adult dog, you will get a non-age specific box plus an advanced trick of the month!
DEAL: Get 10% off your first box! Use coupon code HS10. OR Get 60% off your first box with coupon code HS60. Valid on any 3+ month subscriptions.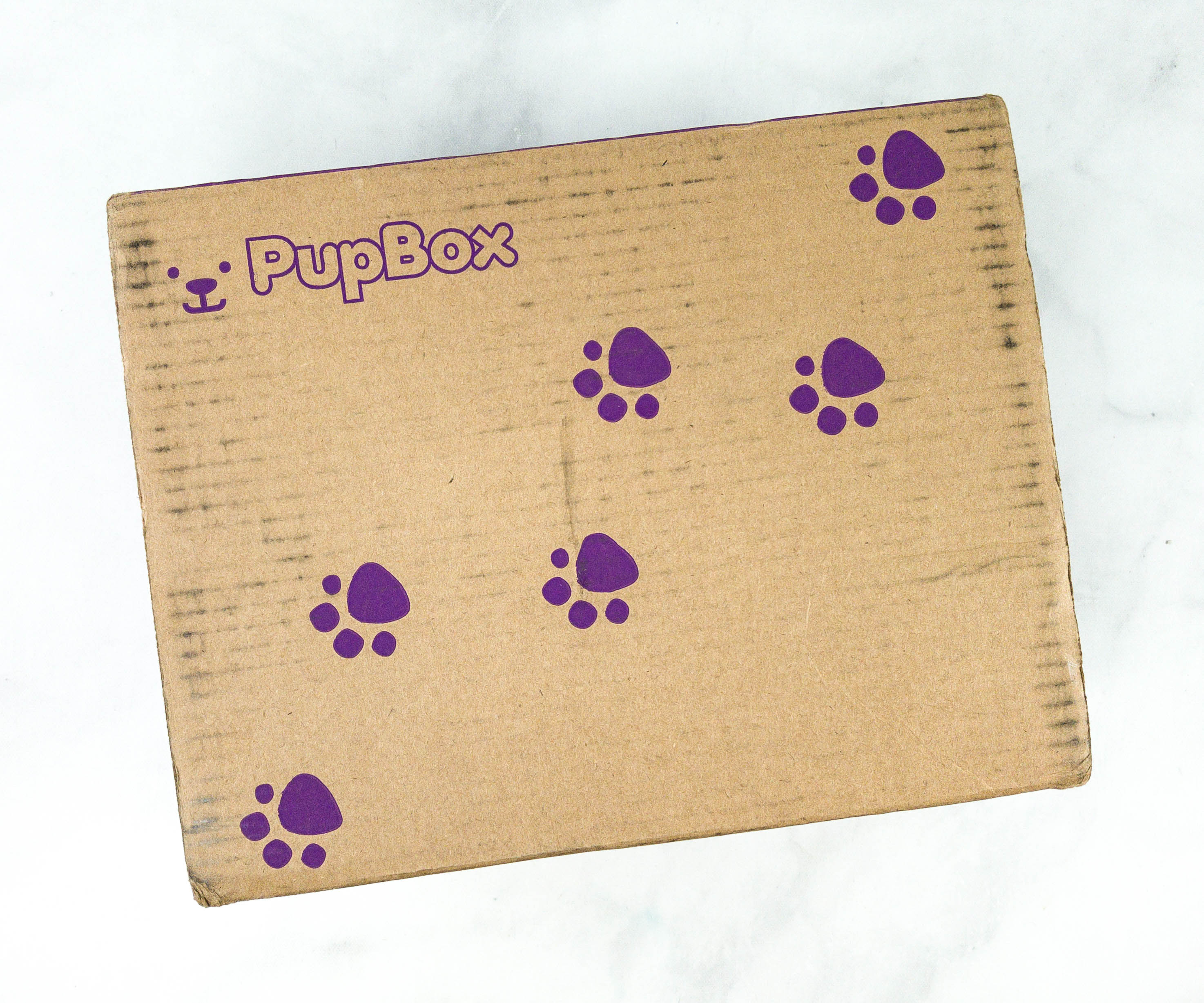 Featured on this part of the box are cute purple-colored paw prints!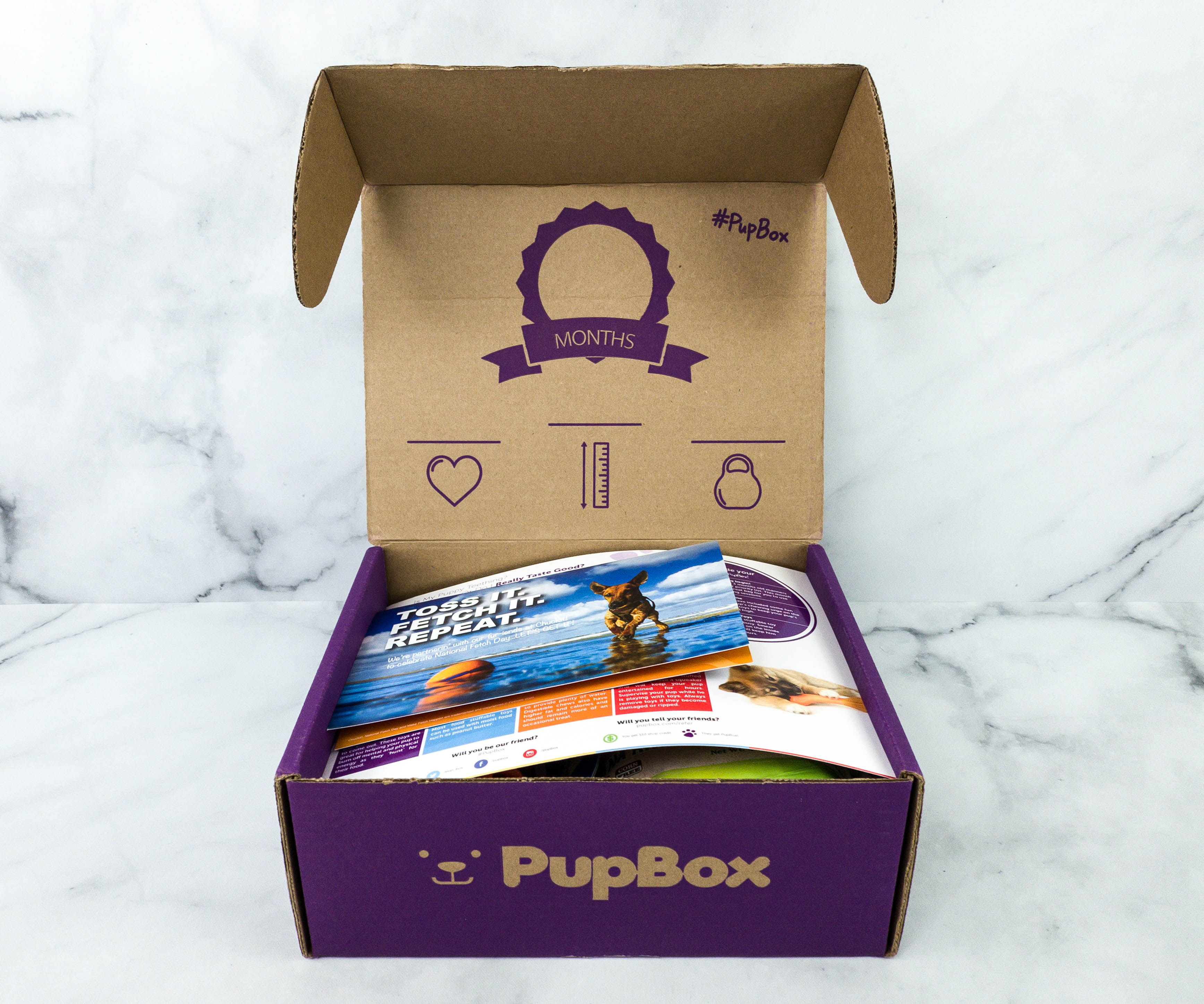 All the items are neatly packed inside the box!
There are no fillers but all the items arrived in great condition.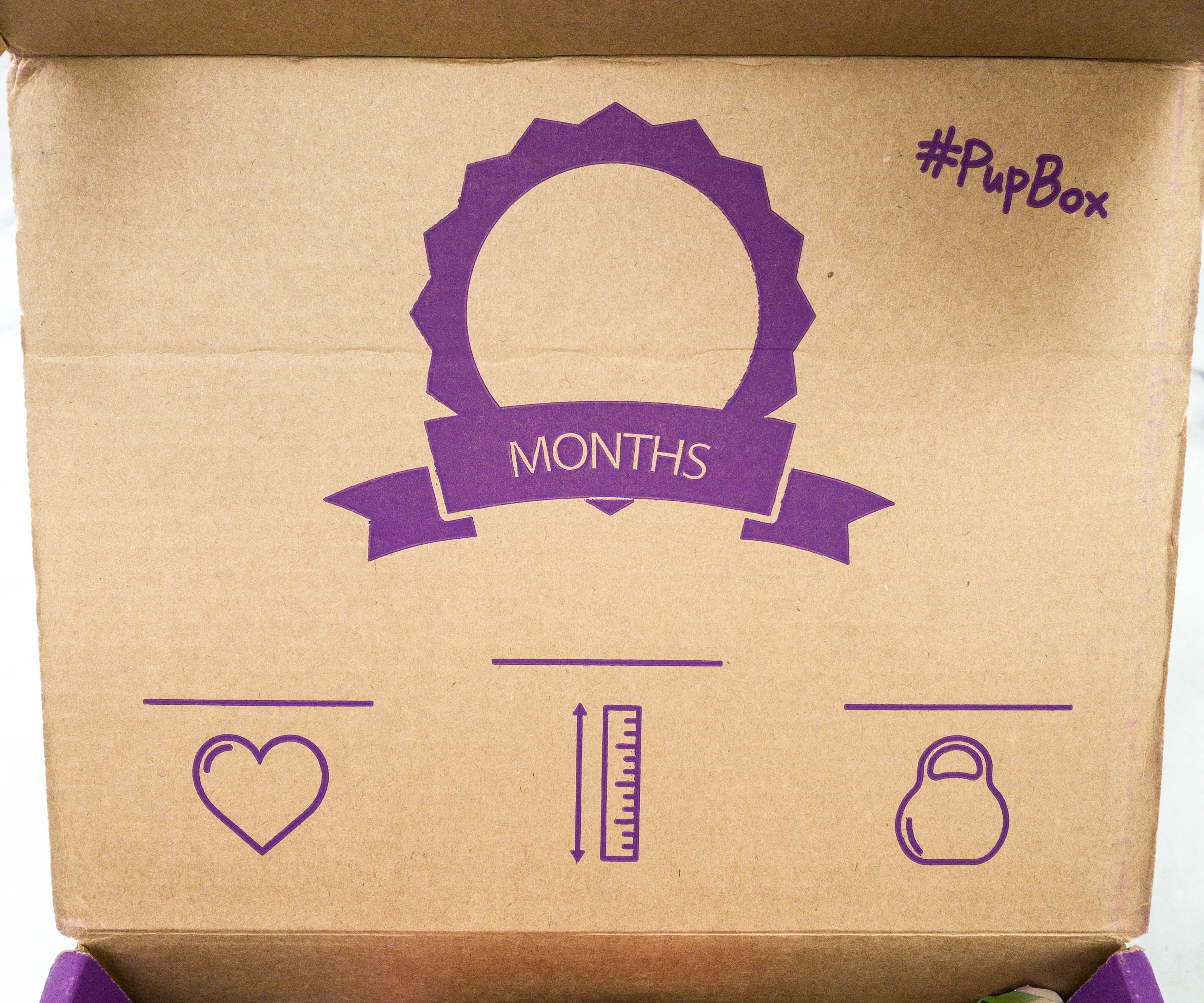 You can record your pup's heartbeat, height, and weight on this portion of the box.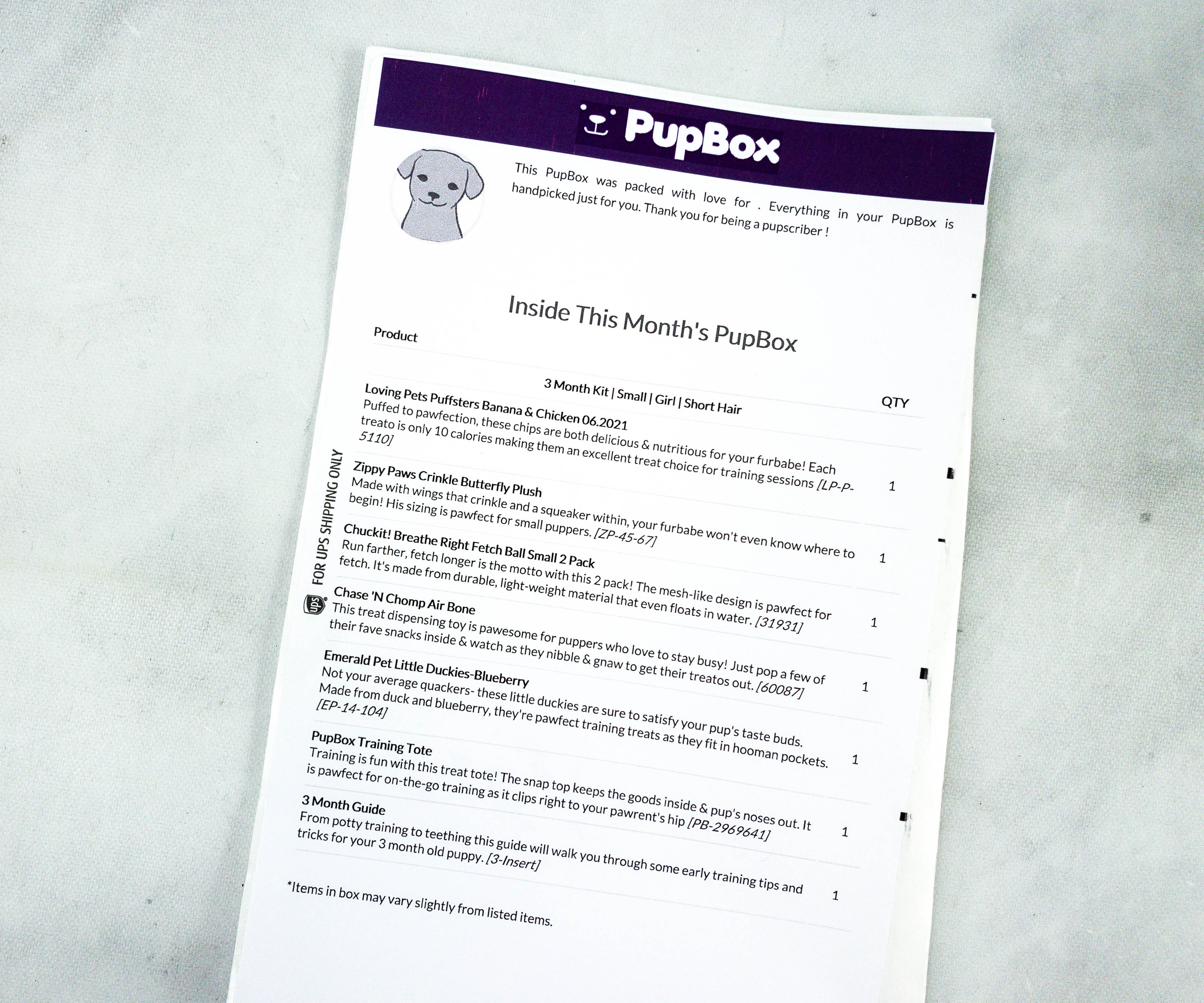 Inside the box is an information card that provides all the details you need to know about all the items.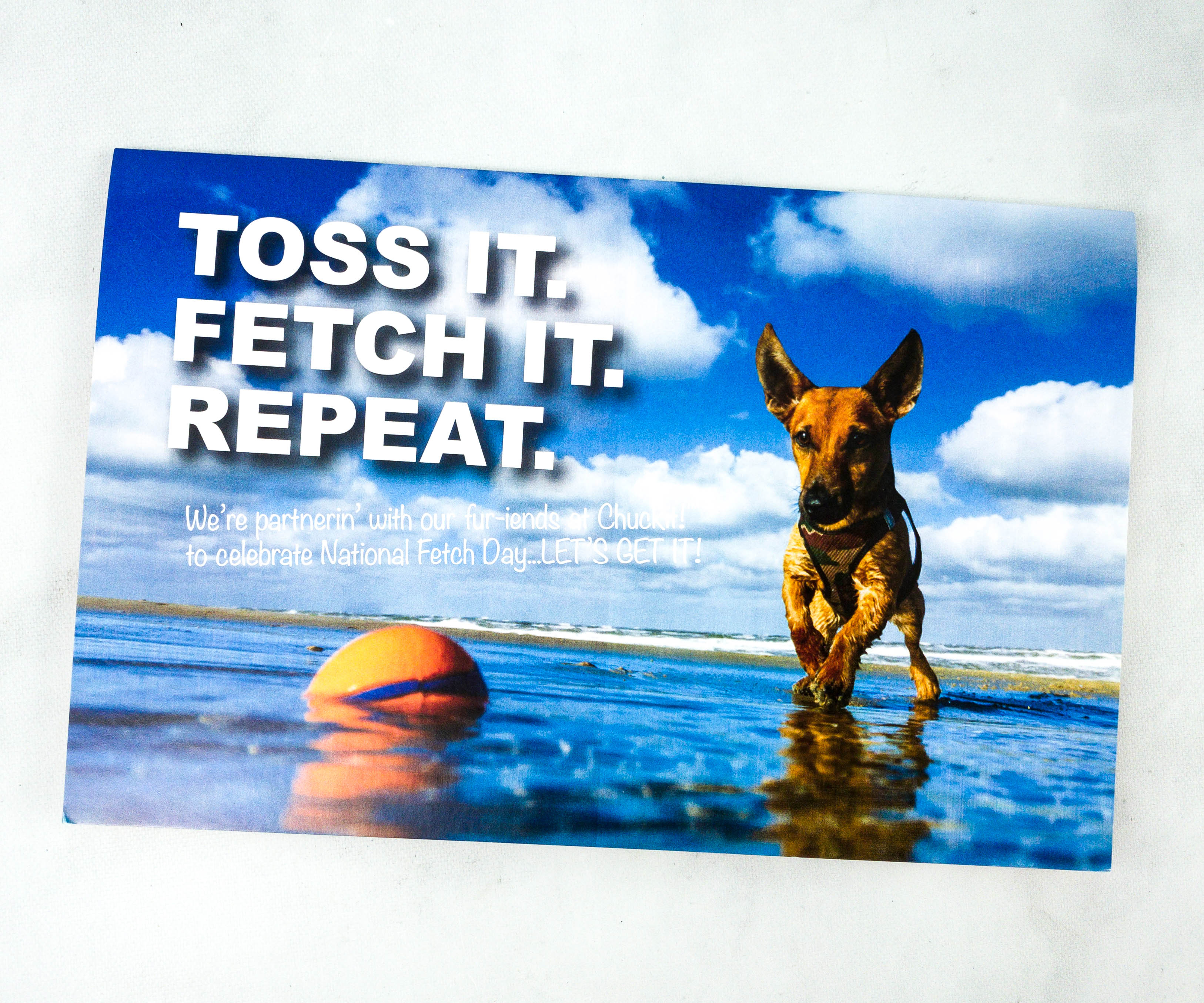 This month's theme is TOSS IT. FETCH IT. REPEAT.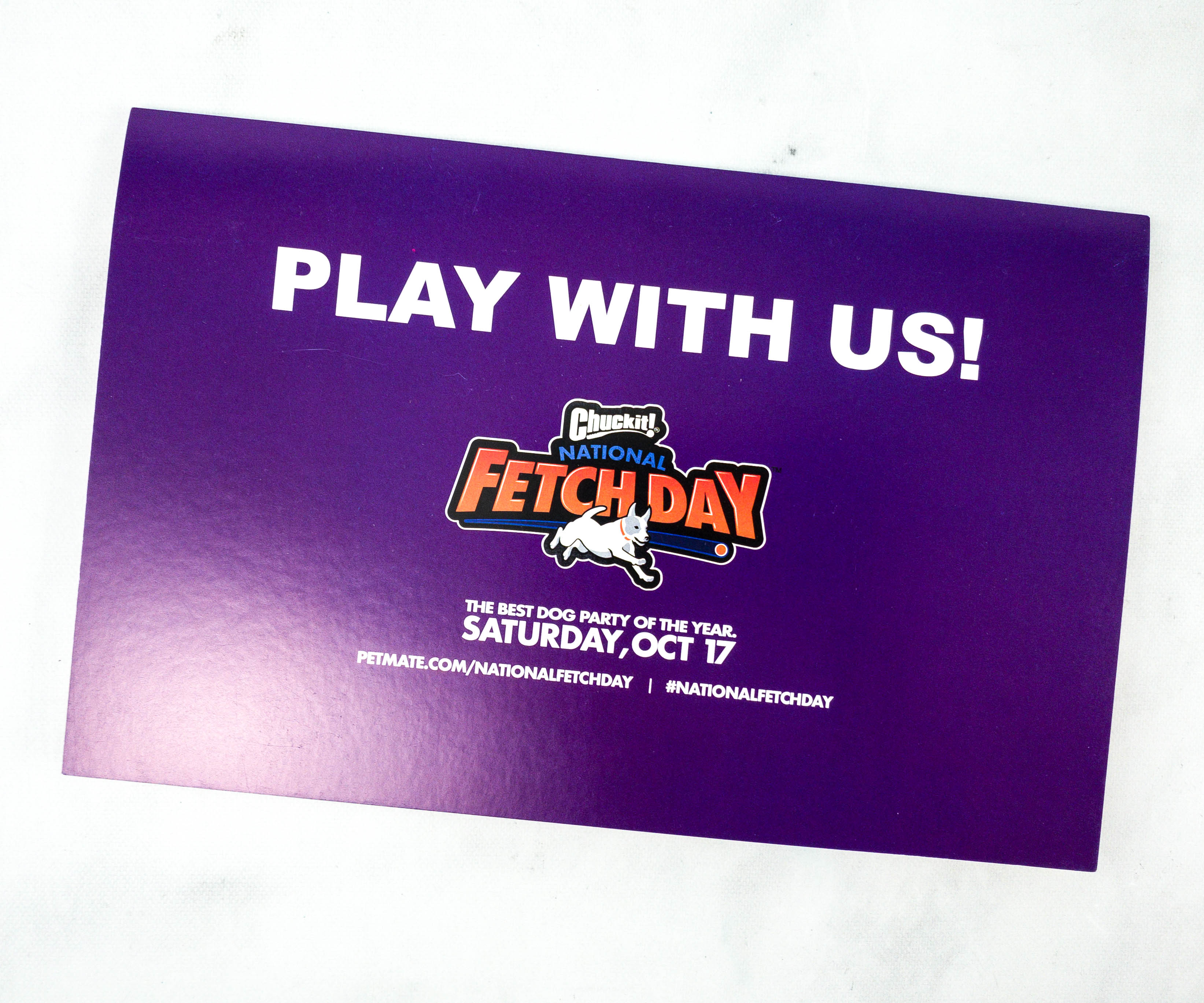 This card introduces us to the best dog party of the year, the Chuck it! National Fetch Day!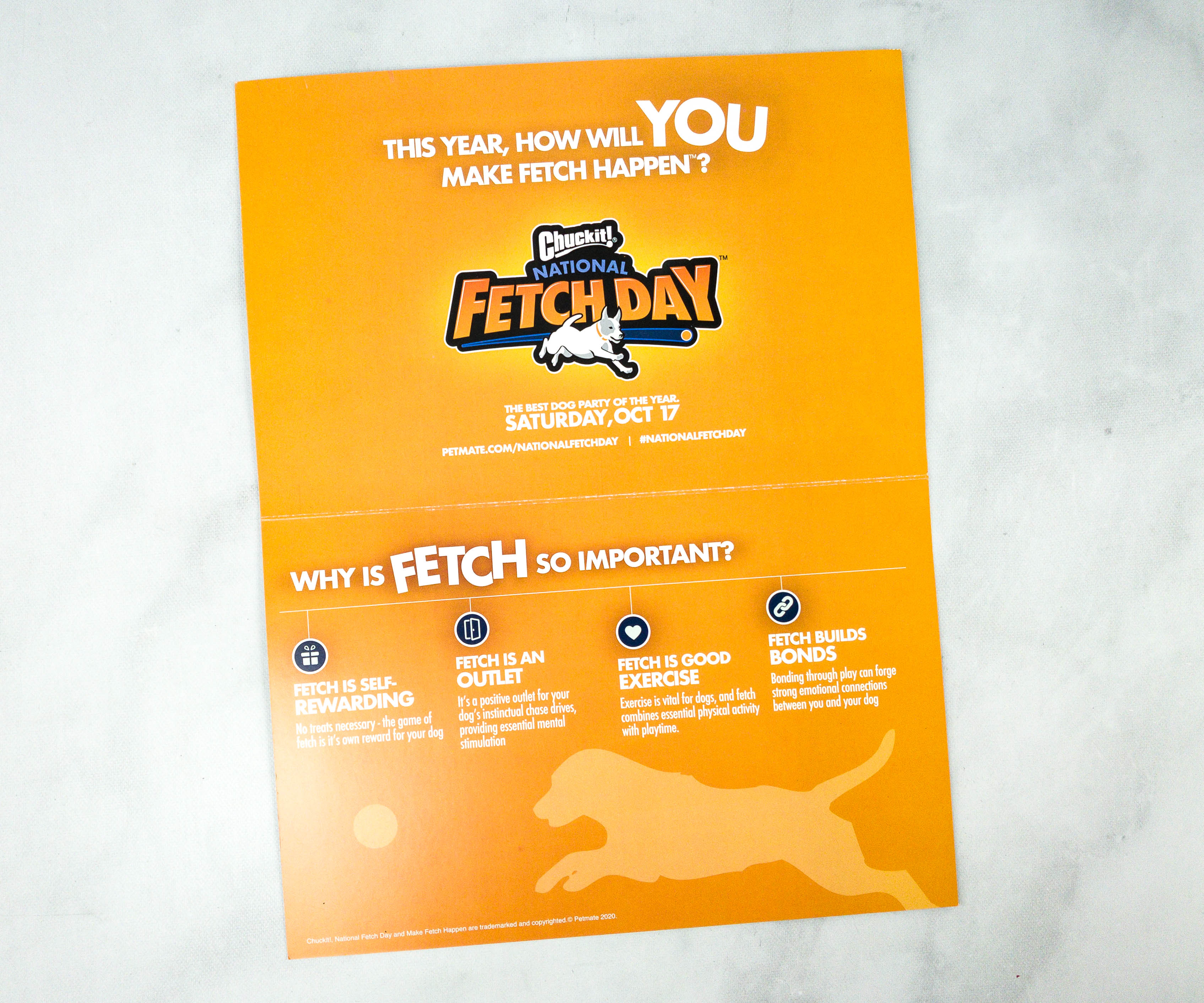 According to the card, fetch is self-rewarding, a great outlet, good exercise, and builds bonds.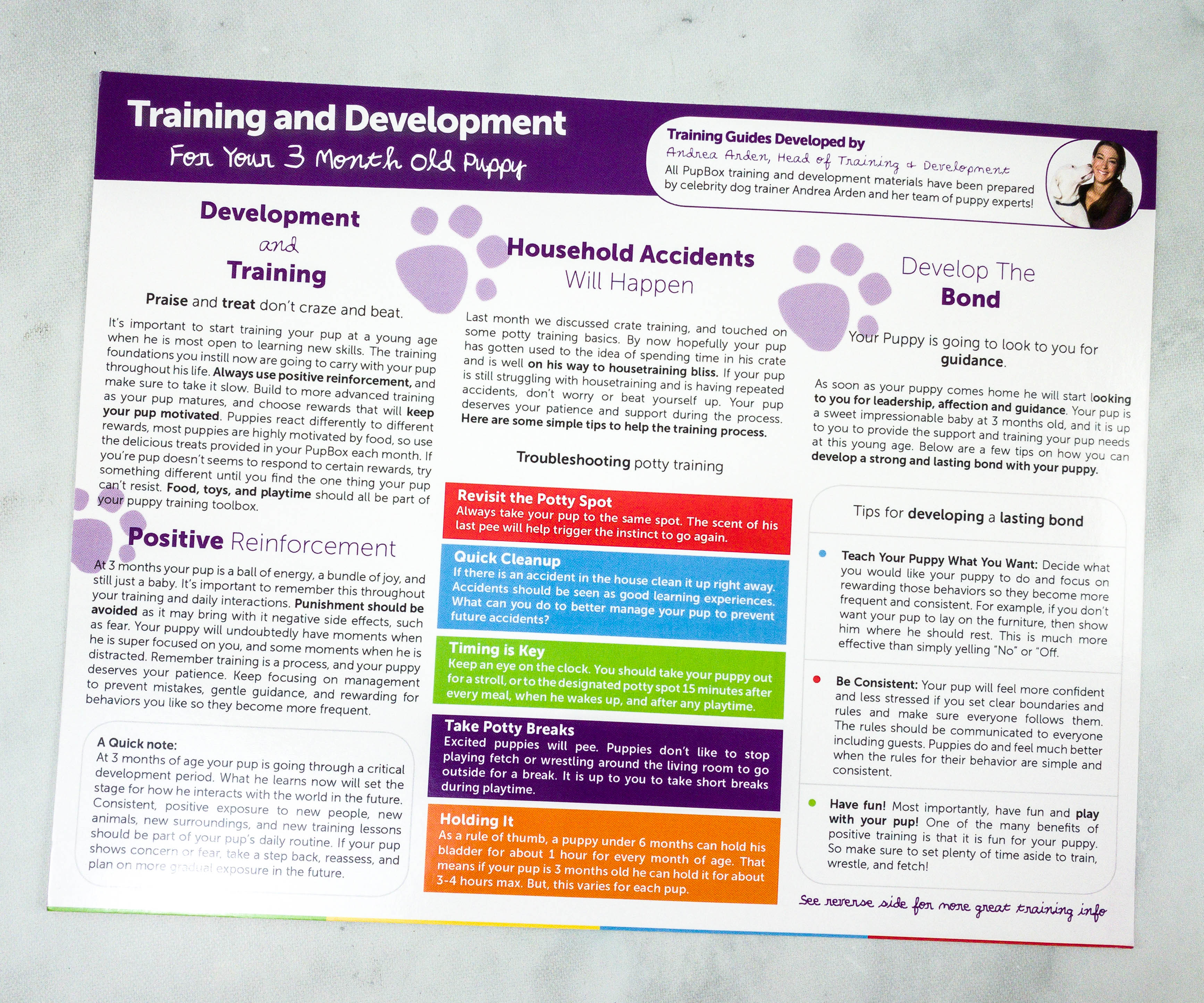 They even sent guidelines on how to train and develop a 3-month-old puppy!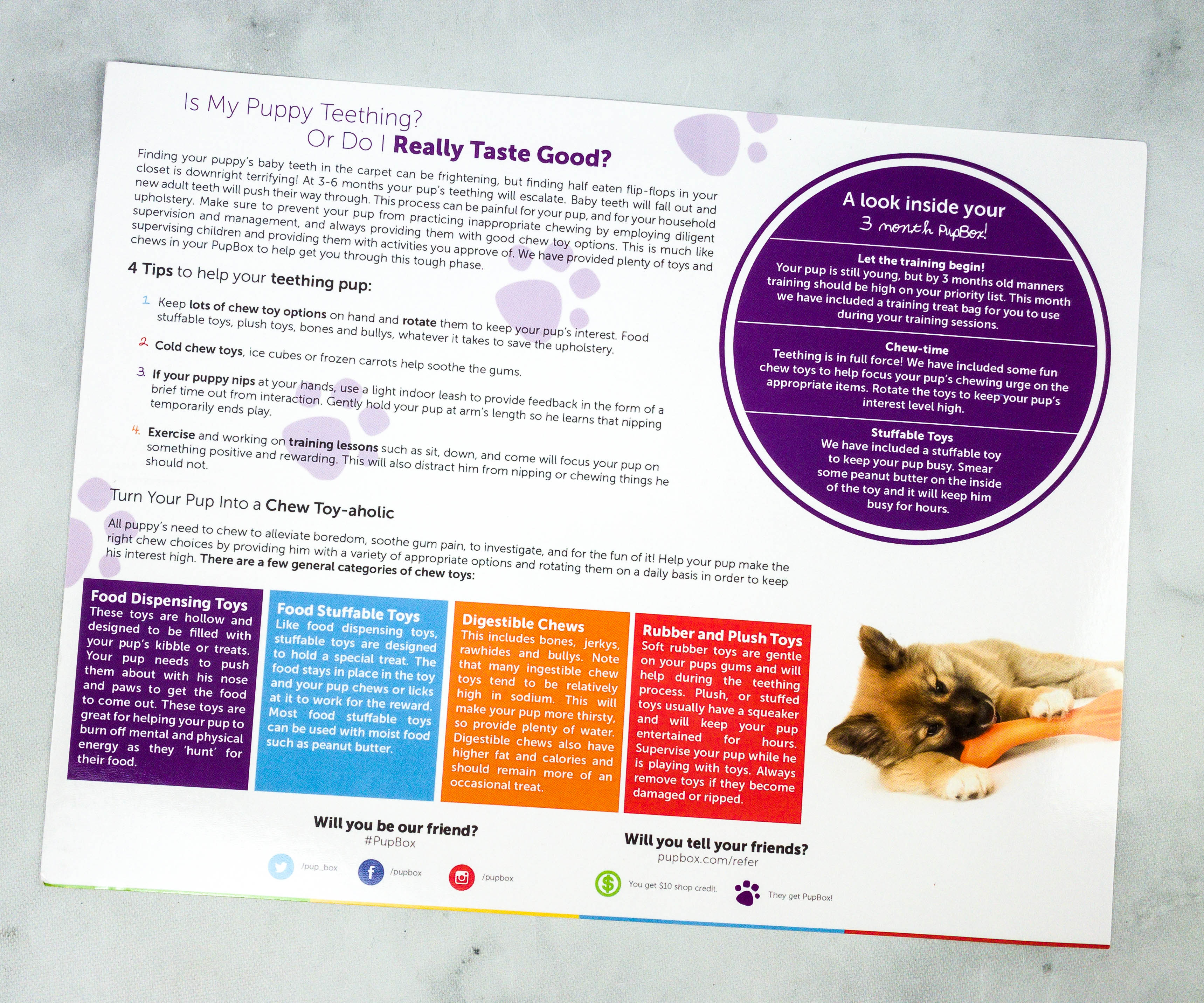 The back of the sheet features some tips to help your teething pup. Also featured in this part are more tips to turn your pups into a Chew Toy-aholic!
Everything in my box!
Pupbox Training Tote. It's a handy, on-the-go tote bag for the paw parent! It comes with side pockets where you can stash small toys, accessories, and treats for your pups.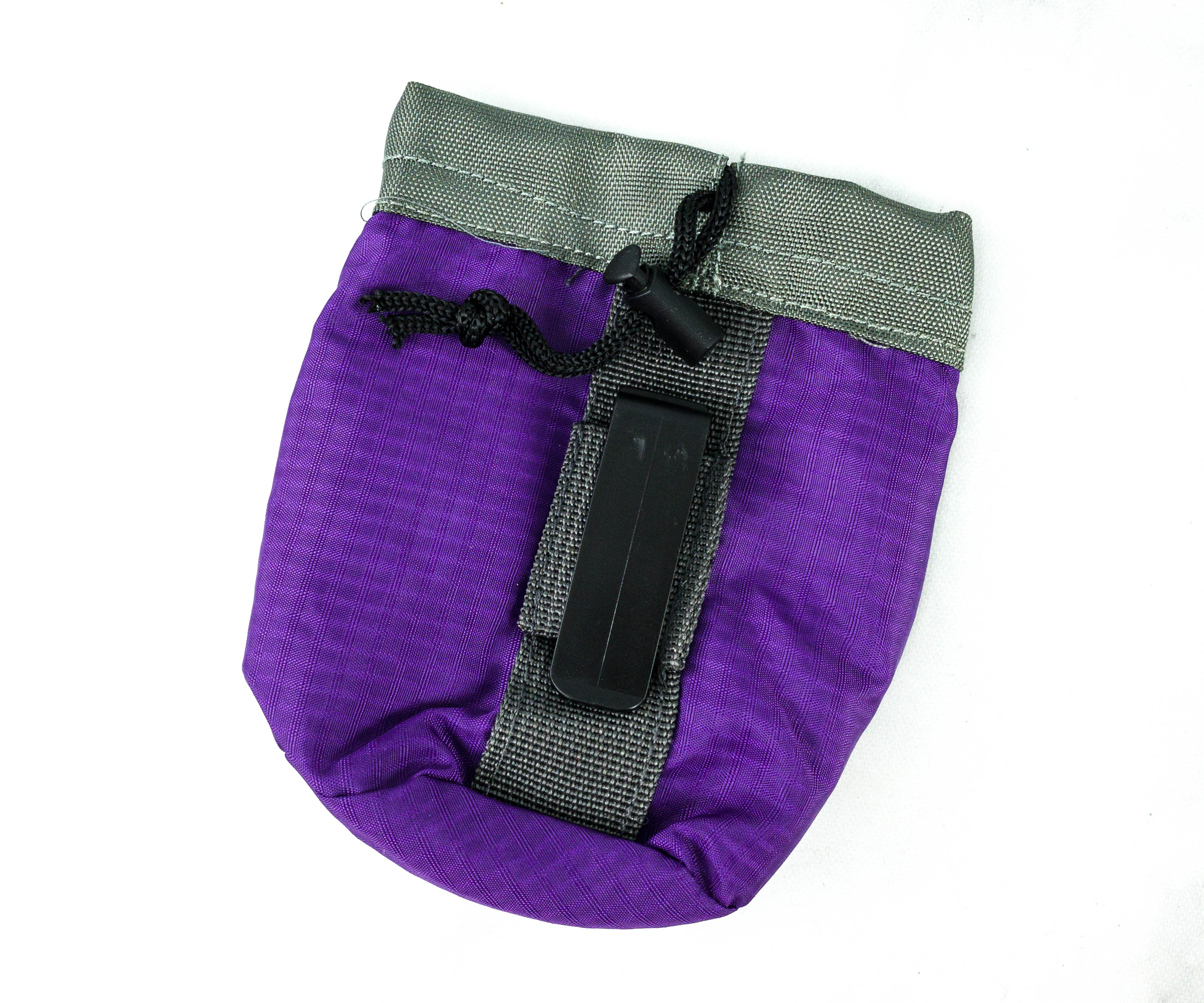 The bag has a snap top closure and an adjustable handle with a clip that you can attach to your bag's pocket or even on your waist.
Aside from toys and treats, you can also place your car key or wallet on the netted pocket for easier access.
It's super easy to have training time with your puppy hands-free with this pouch!
Zippy Paws Crinkle Butterfly Plush ($5.49) The first puppy toy in the box is a butterfly plushie. The soft, furry fabric exterior makes it really cuddly!
The butterfly looks great and its parts are also well-stitched. It even has a crinkle and loud squeaker stuffing.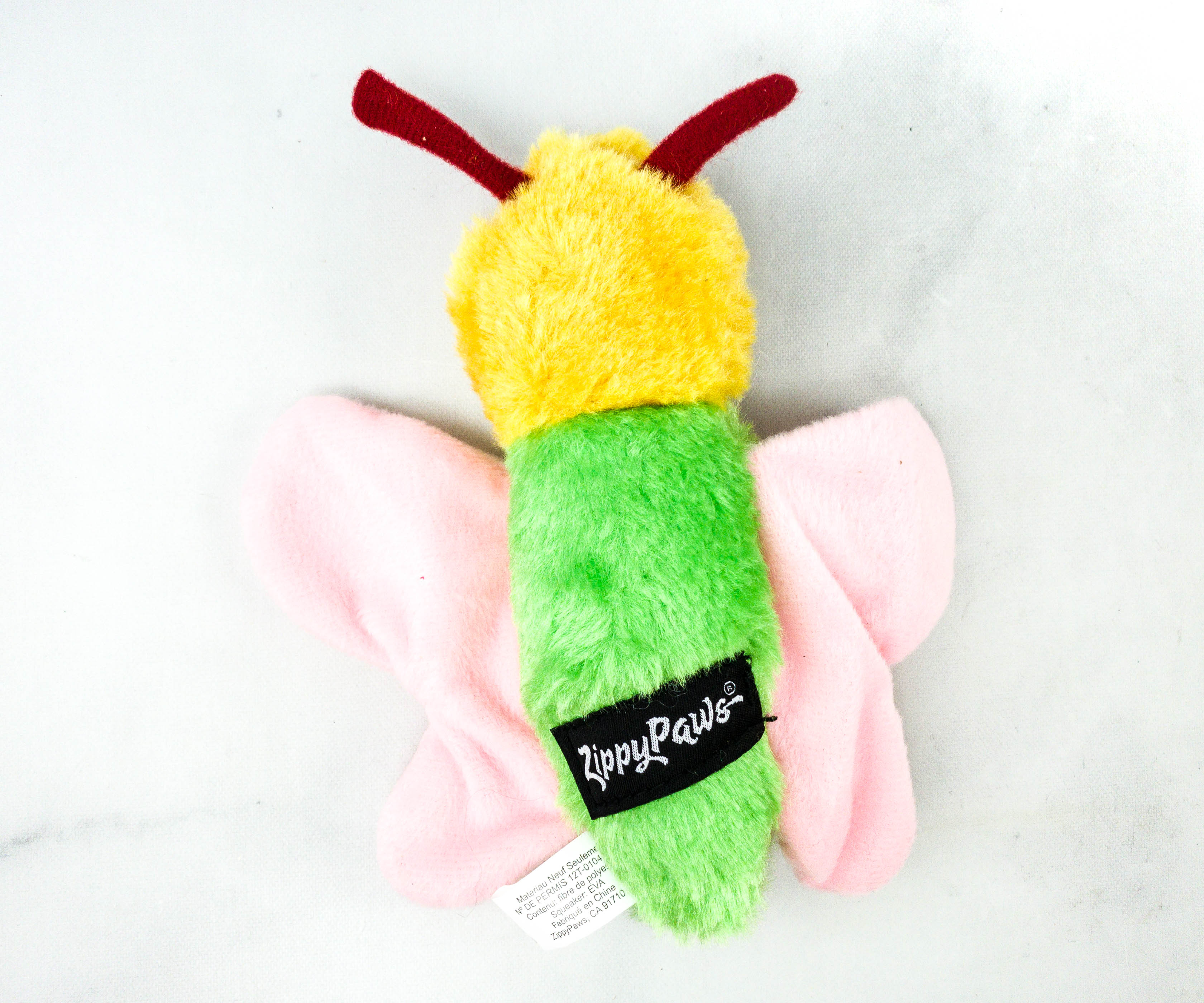 Embroidered on the bottom part of the butterfly is Zippy Paw's logo.
Chase 'N Chomp Air Bone. This is a toy and a treat dispenser in one! It's made from BPA-free rubber.
It's shaped like a bone with a huge hole in the middle and flower-shaped holes on four sides where you can put bite-sized treats.
It's chewy and durable, making it an ideal toy for gnawing!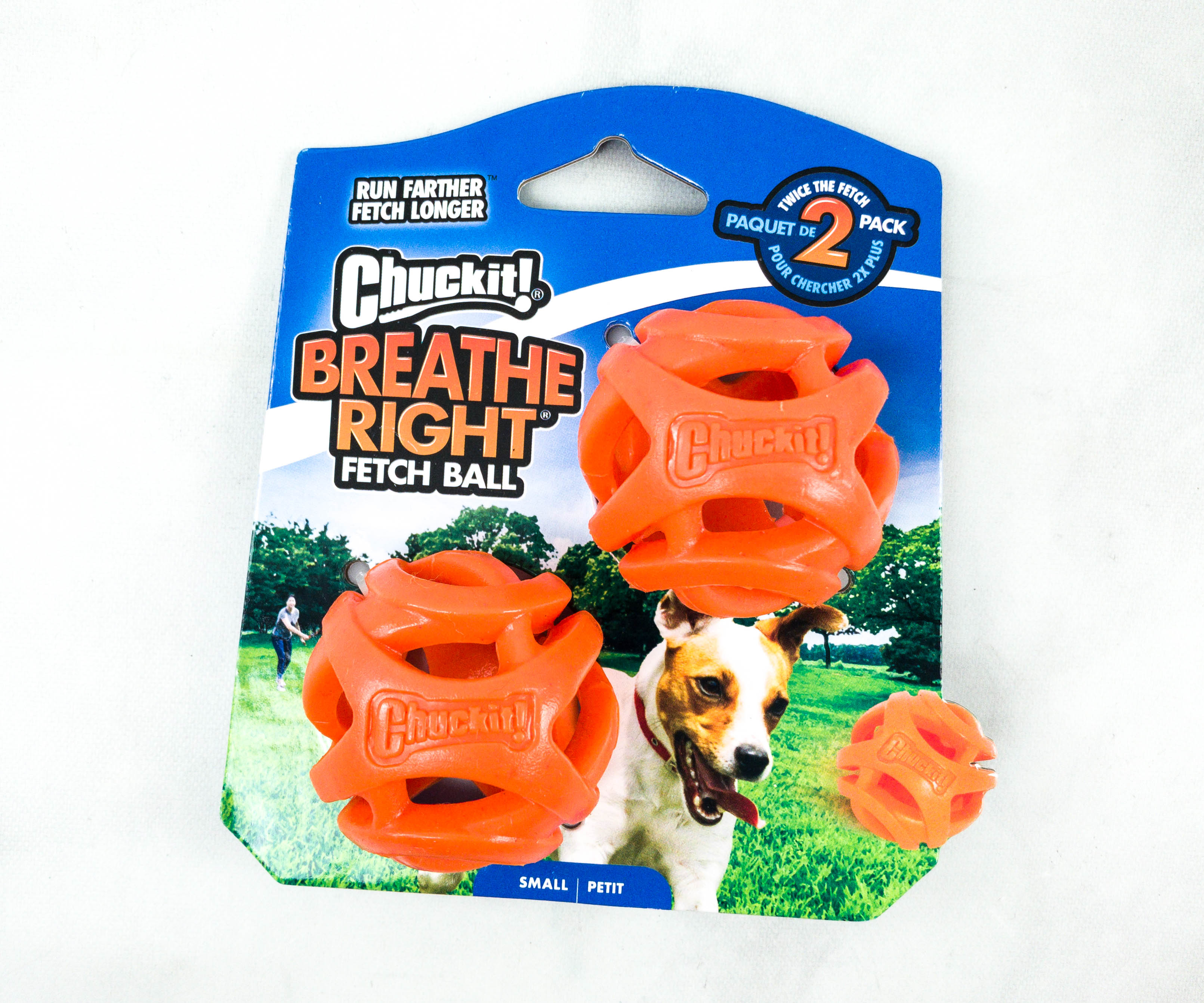 Chuckit! Breathe Right Fetch Ball Small 2 Pack ($7.79) We have a toy for playing fetch! It's a high-quality fetch ball featuring a mesh-like design that improves breathing and airflow into your pup's lungs while fetching the ball.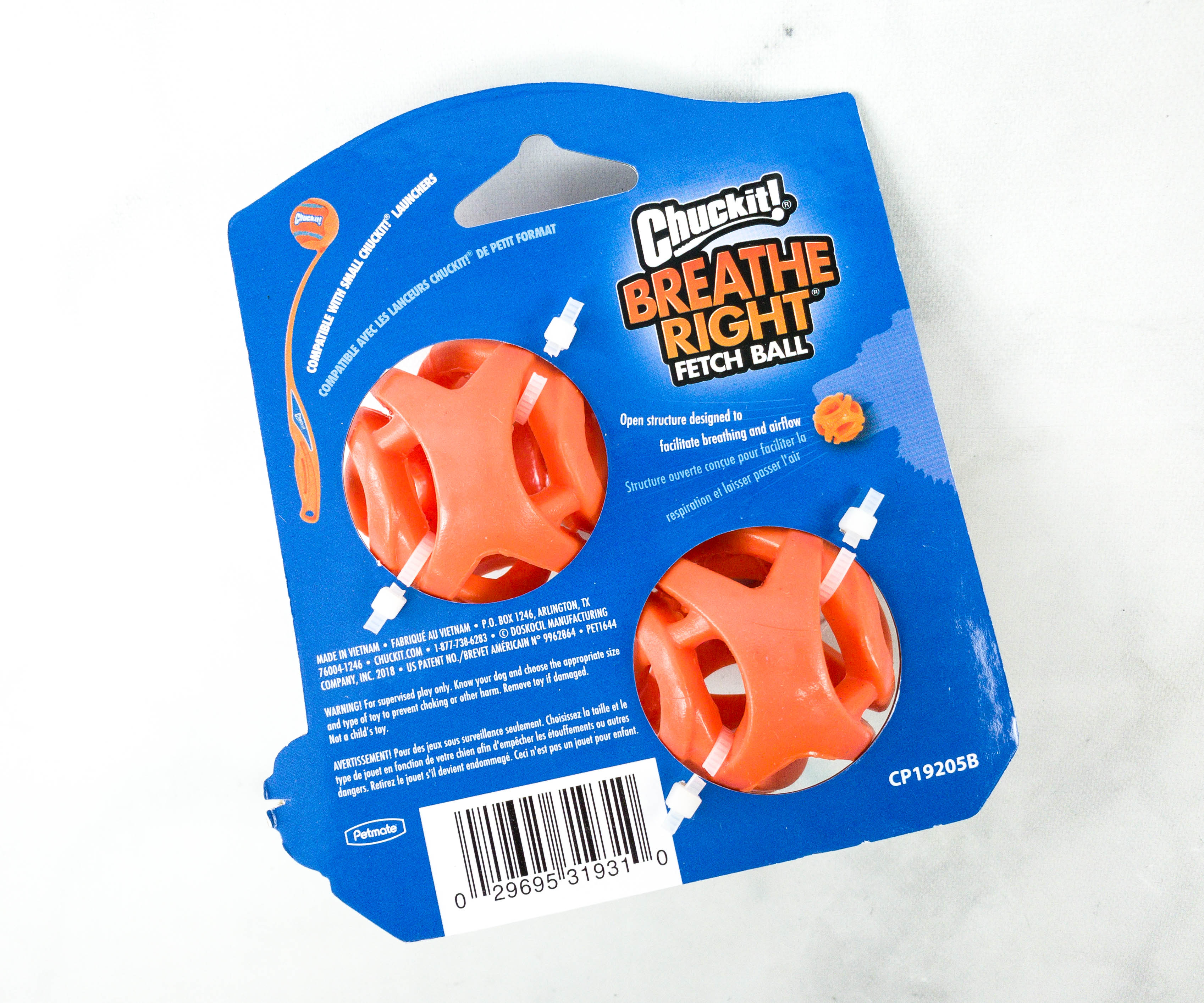 It also works with the small Chuck It Launcher.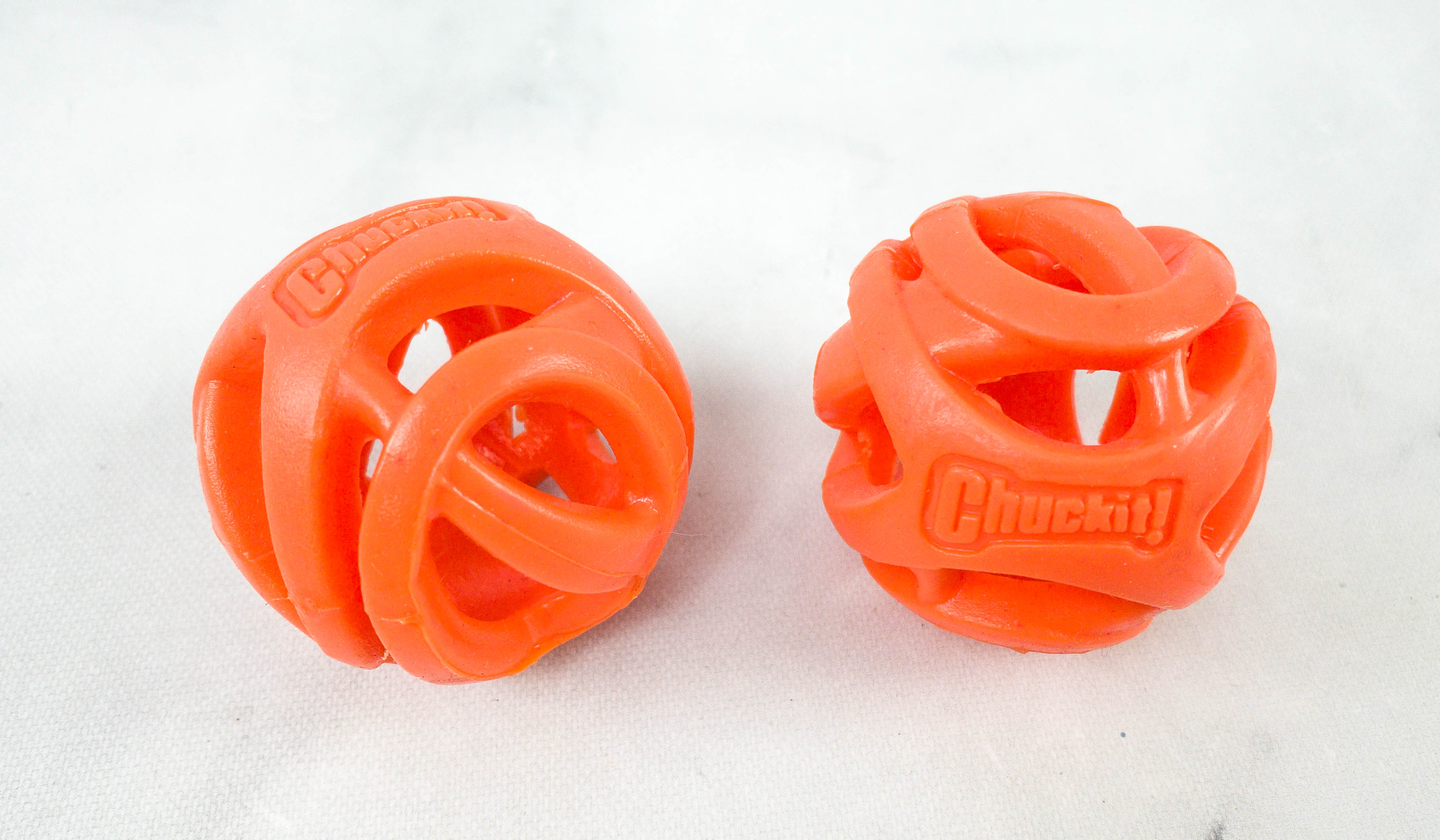 It also floats on water, making it possible to play even on the poolside.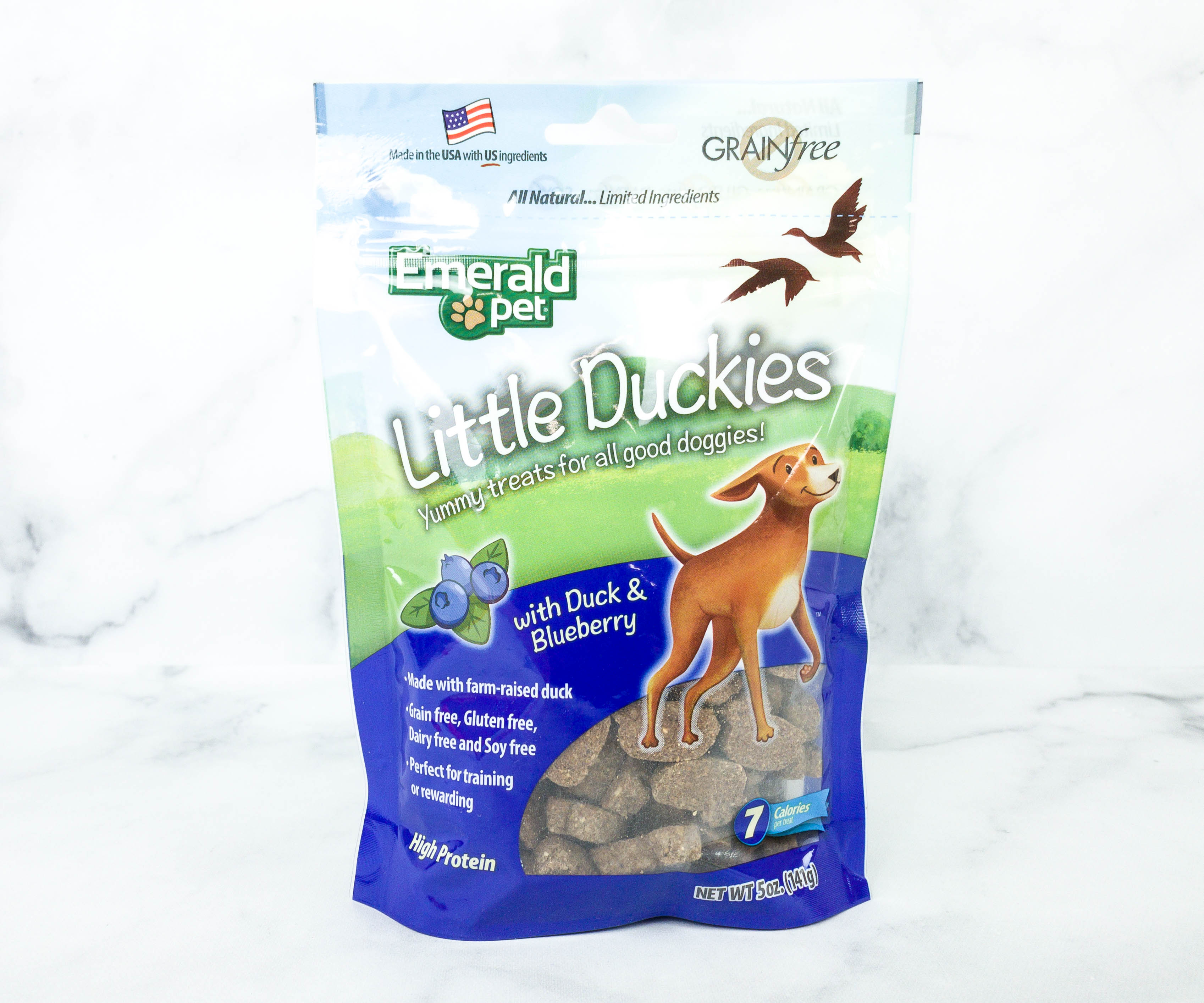 Emerald Pet Little Duckies-Blueberry ($7.99) Farm-raised duck and blueberry are blended in these chewy treats for dogs! Each piece is packed with peas, potato, and apple.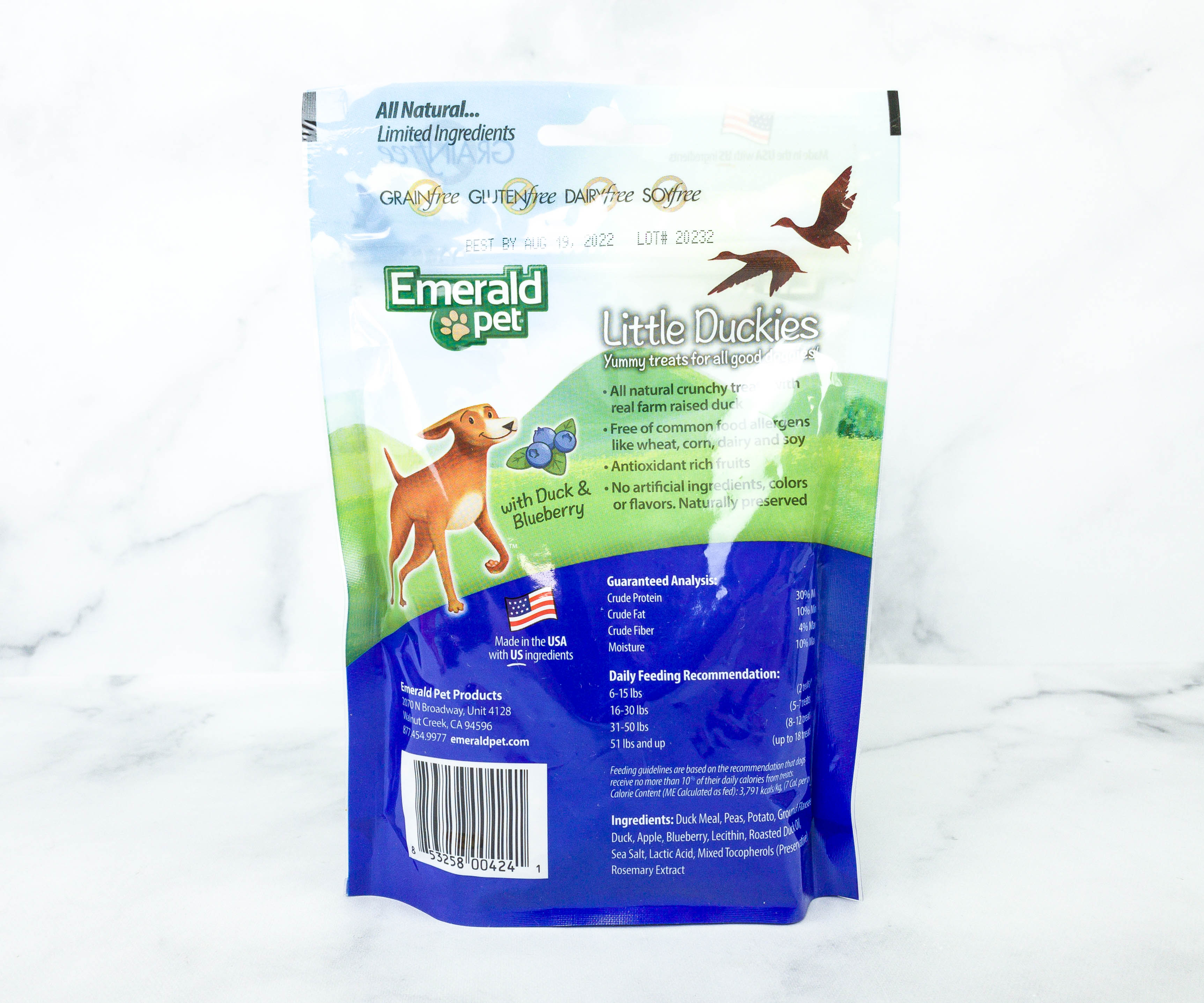 These snacks are grain-free, gluten-free, dairy-free, and soy-free!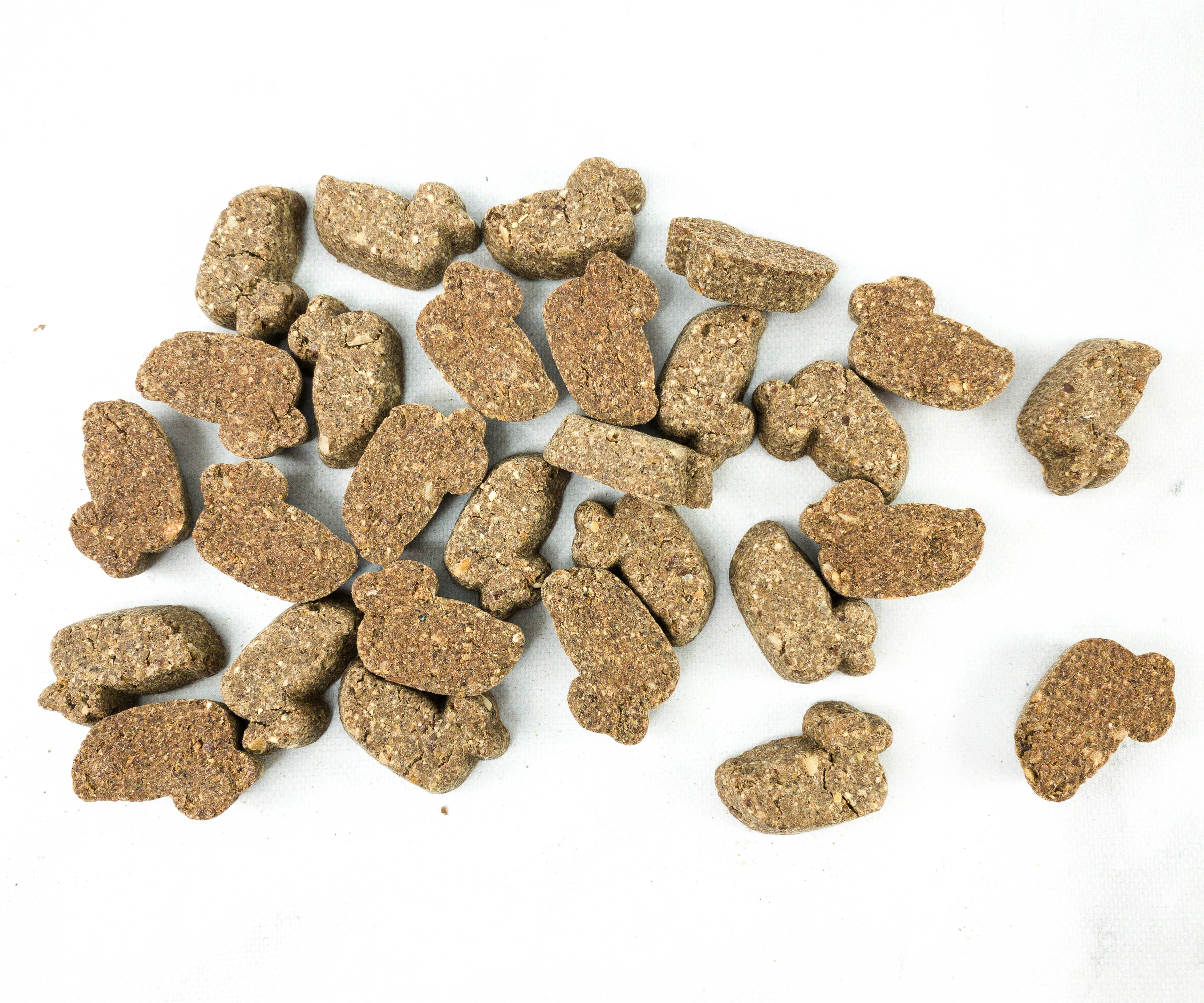 The treats are duck-shaped and bite-sized. They are ideal as a training snack or reward. Since they contain blueberries, they are also rich and antioxidants and fiber!
Loving Pets Puffsters Banana & Chicken ($4.99) Here's another bag of treats for pups and this time they are air-puffed chips made with a delicious and nutritious combination of banana and chicken.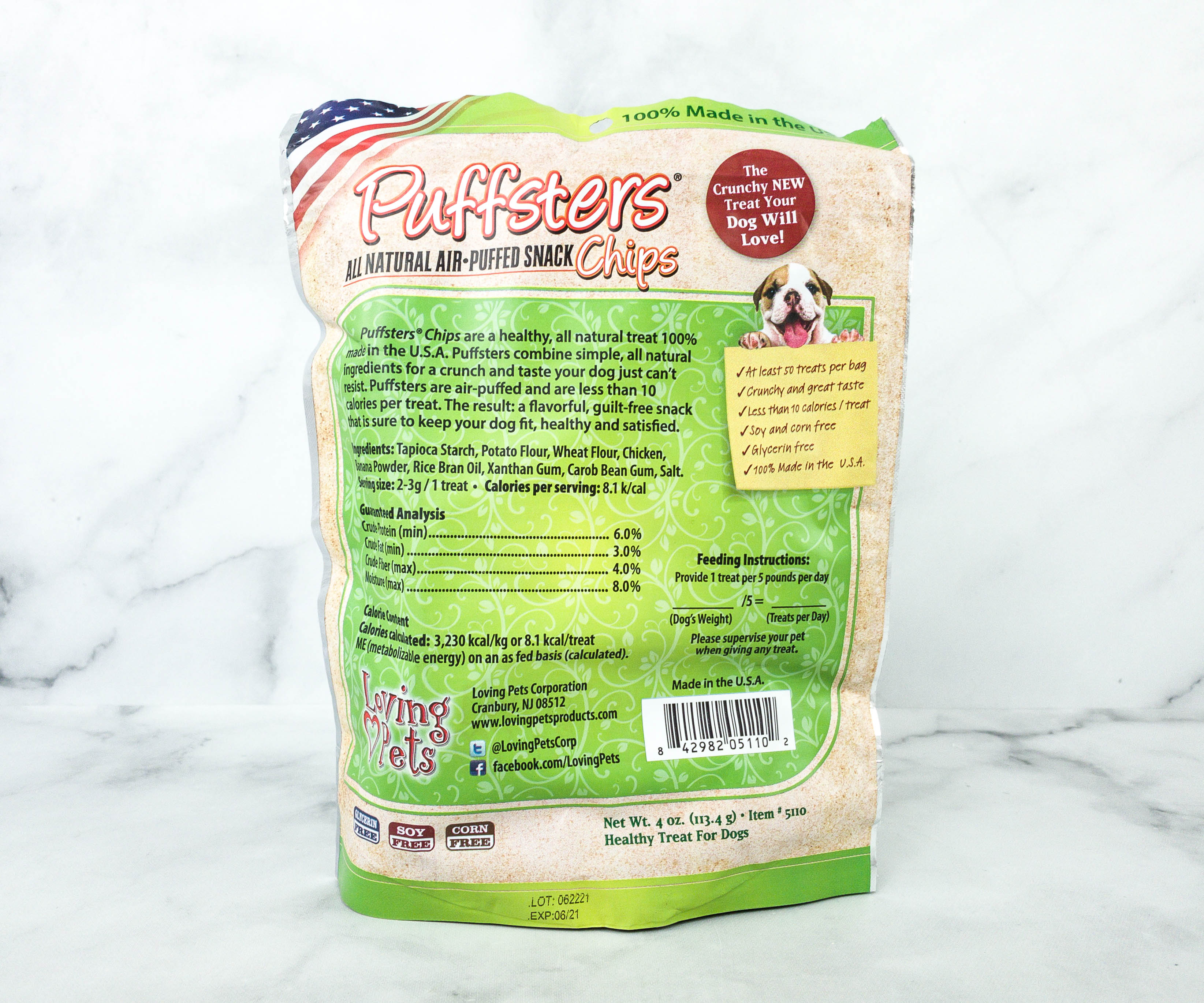 It's a low-calorie, highly nutritious snack filled with protein and fiber. It's also soy-free, corn-free, and glycerin-free!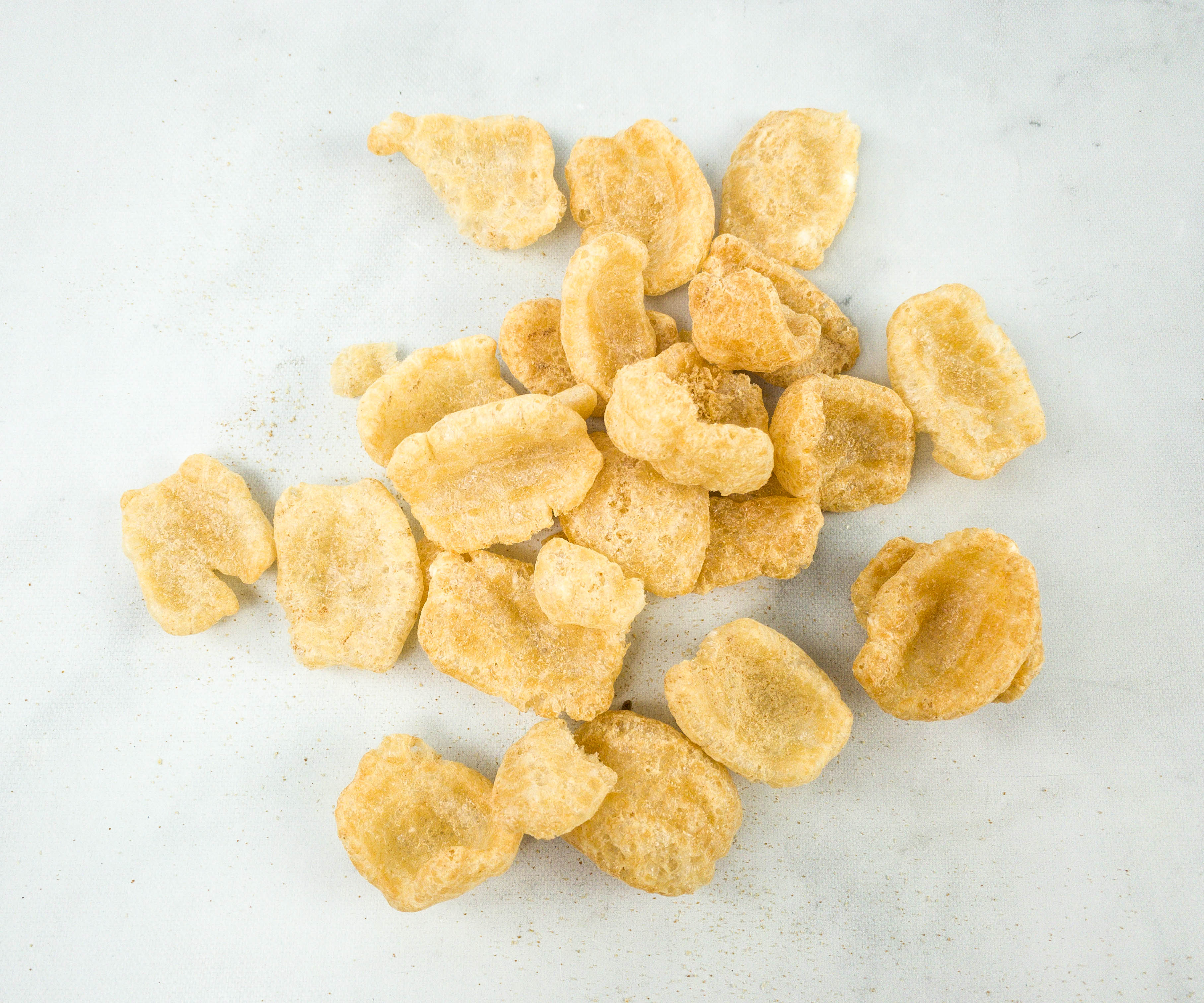 These puffy snacks are so lightweight and very crunchy as well.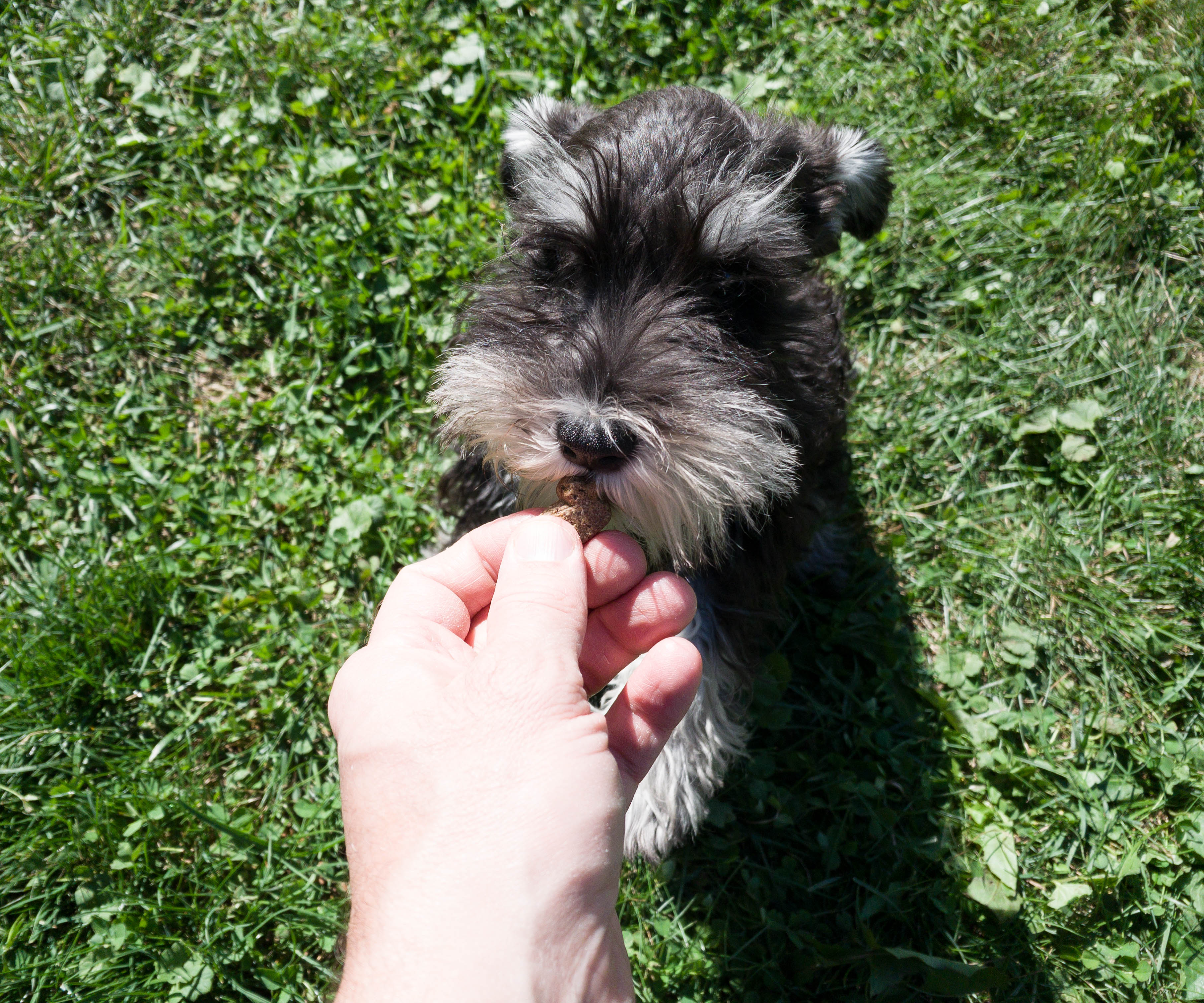 Buffy, our cute little pup, loves the treats so much!
Pupbox is a subscription specially made for puppies, and it's a great companion especially for new pet parents! They include puppy-friendly treats and toys to keep our little furry pals happy and healthy as they grow. This month's treats were a hit with Buffy, especially the ones made with banana and chicken. We also had fun playing fetch using the fetch ball! The box even included an accessory for humans, a bag which we can use when we travel or when we go on walks with our pup. It's been a while since our last PupBox and we're glad to know that they still provide high-quality items for pups and pet parents!
What do you think of this month's box?