Pearlesque Box is was a subscription box that delivered full-sized and travel-sized beauty products from around the world to your home each month so that you can accurately judge how each product affects your skin. Each month features a different organic, non-toxic, natural skin care line. This box is $39.95 a month (or a bit lower for longer sub terms) and promises a value of $90 – and it is often well above that!
NOTE: Pearlesque has now closed and this is their final box. Read all about it here.
I received a card with background info on the featured brand for September, AYR Skin Care:
At Ayr Skin Care, we believe you shouldn't have to choose between luxury skin care and your health.

We're a passionate brand focused on healthy, vegan, and effective skin care formulations for mature, aging, and sensitive skin. The Ayr Skin Care Collection employs cutting edge, patent-pending technology that replaces potentially harmful skin care fillers, like silicone and petrochemicals, with natural alternative ingredients.

We have designed our plant-based skin care products to cleanse, moisturize, and replenish your skin and enhance your outer glow. Shop our premium creams, bars, oils, and serums to discover the Ayr Skin Care difference.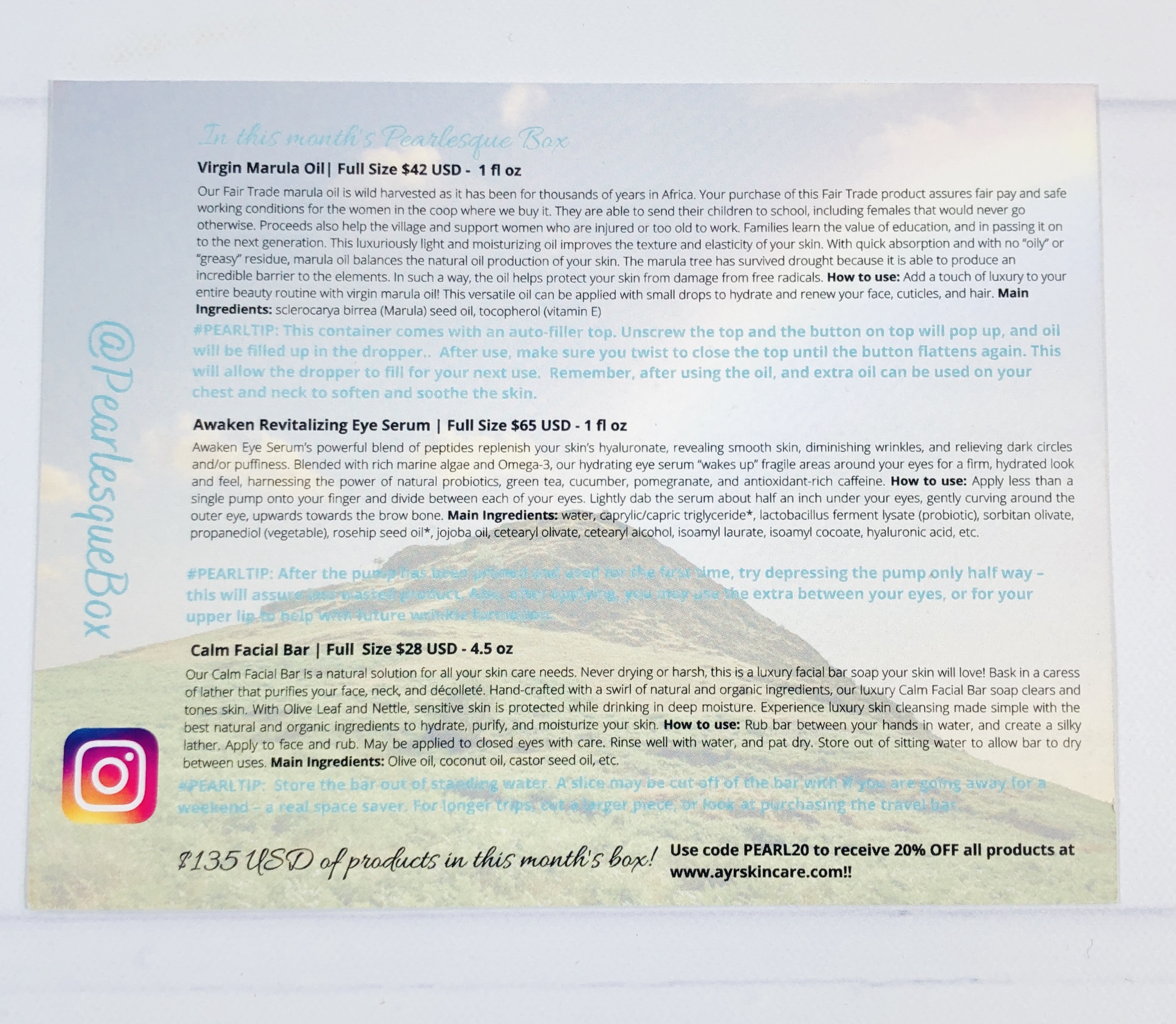 The back of the card listed each product, its retail value, and how to use each item. Check out the #pearltip for additional info.
The presentation is simple and the items were snuggled in wadded up paper. The items came in their original boxes.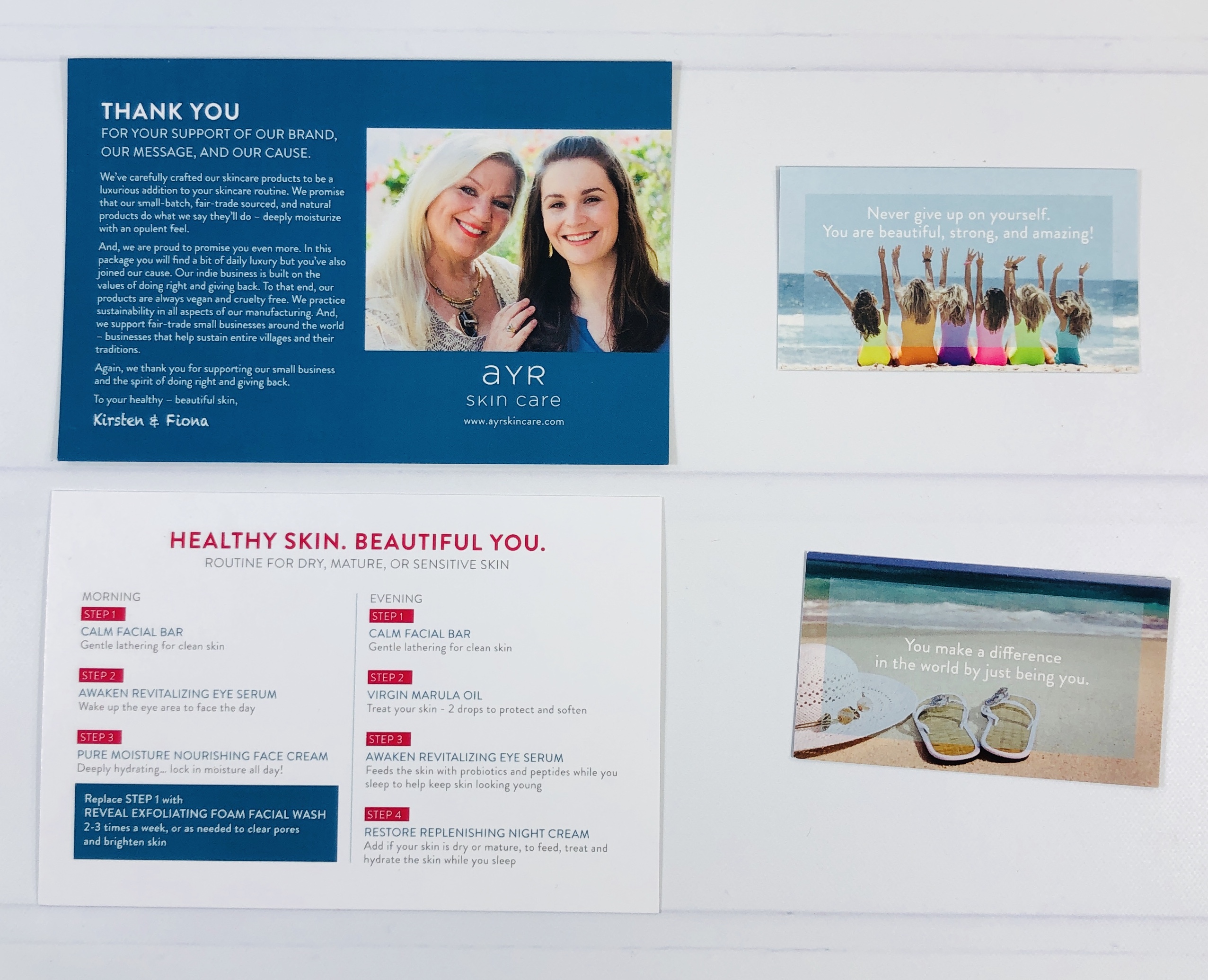 There were several handouts. One was about the brand, one was a skincare routine, and two were affirmations.  Here's the front of each one…
…and here's the back! I especially loved the definition of the spirit and lifestyle of the Ayr Skin Care Woman. I spent the first 18 years of my life in Southern California and think the definition fits me to a T, even way out here in Texas.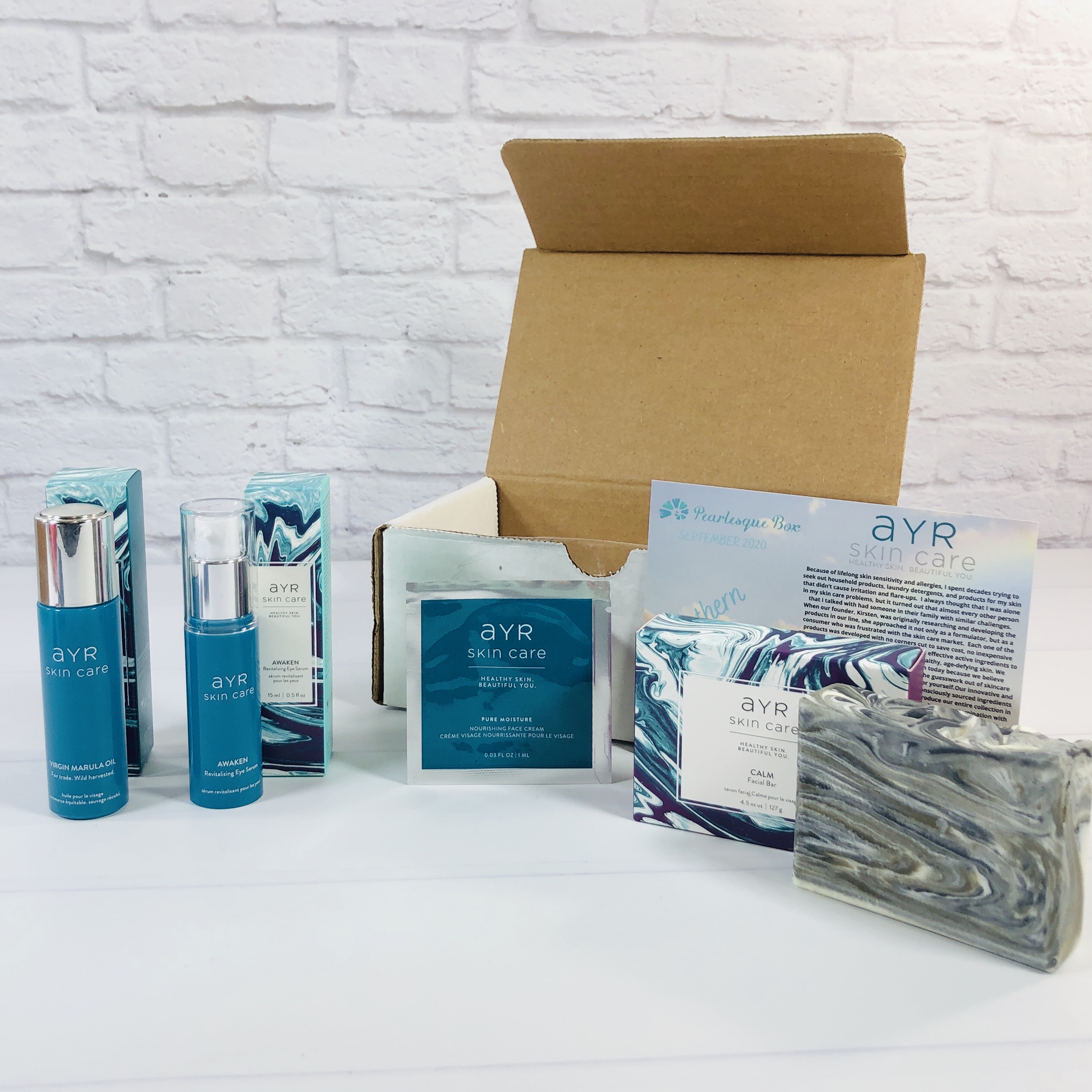 Everything in my September 2020 Pearlesque Box! We received 3 full sized items and a foil sample from this brand! The brand is meant especially for mature, aging, and sensitive skin, and I am all of the above!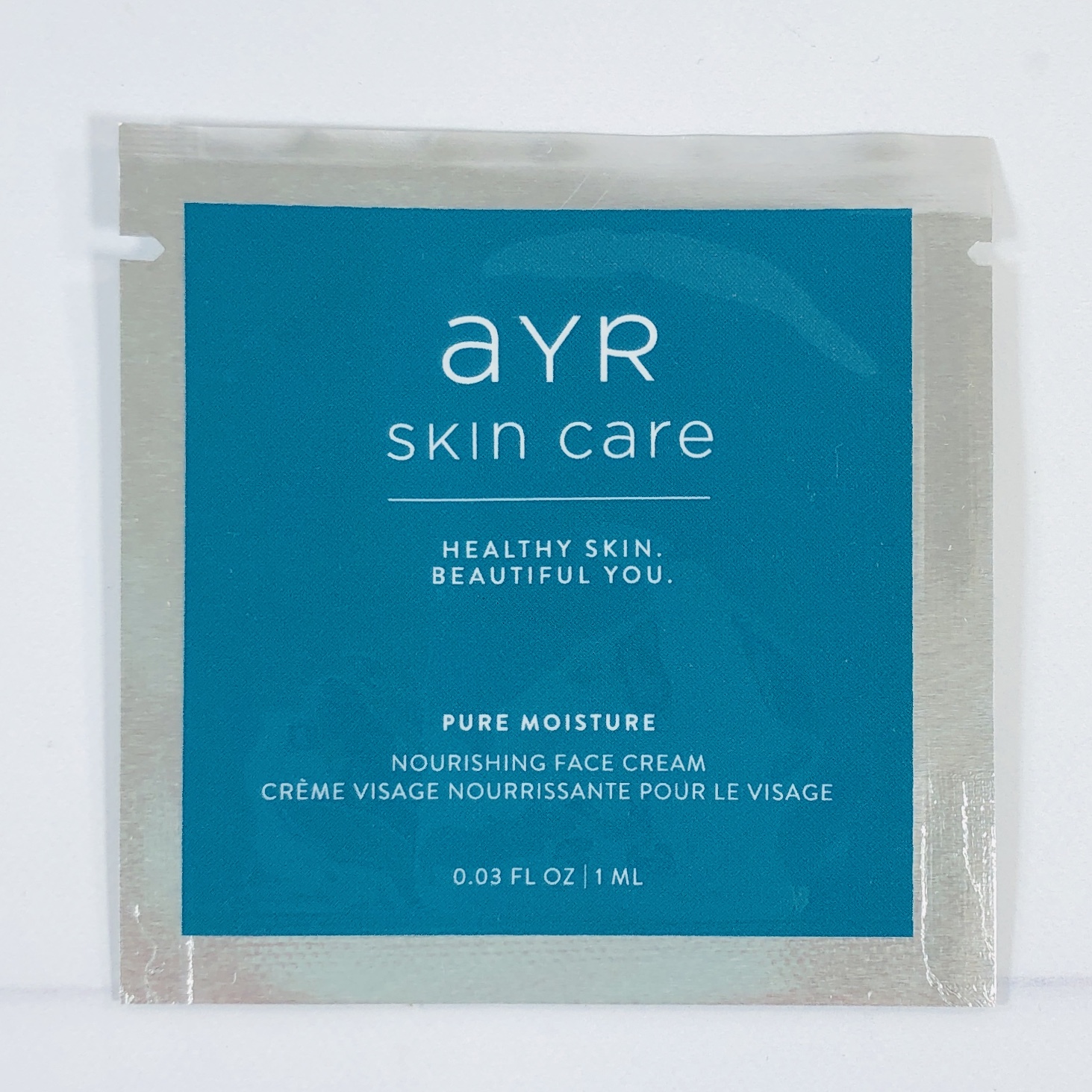 AYR Skin Care Pure Moisture Nourishing Face Cream ($2.06) was truly a one-time use sample, and wasn't listed on the card.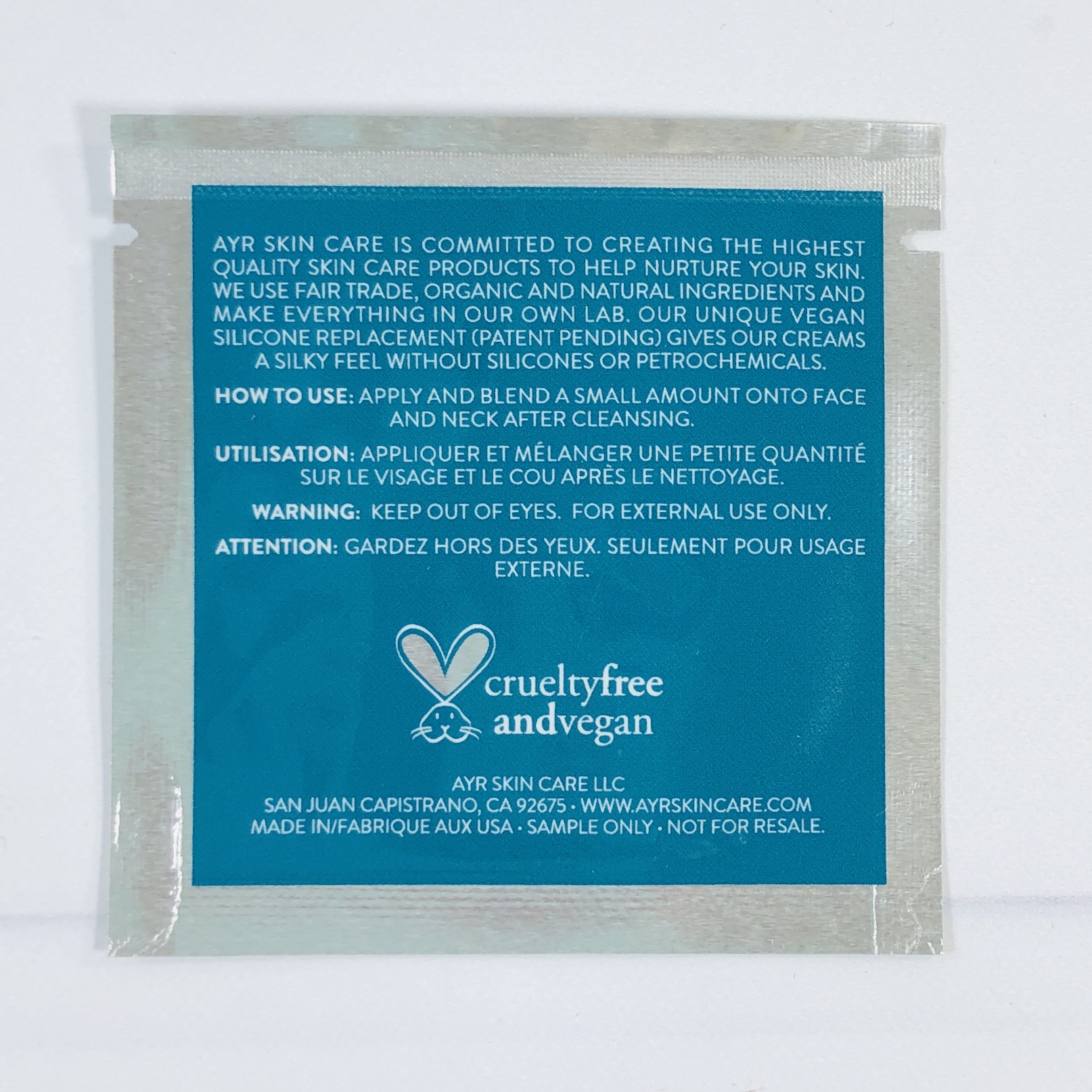 It felt silky but not greasy as it went on and smelled lightly of citrus. Jojoba oil and shea butter are at the top of the ingredients list and there are probiotics to "feed the skin". My skin was slightly irritated at first, probably because it has lemon and tangerine, but it went away quickly.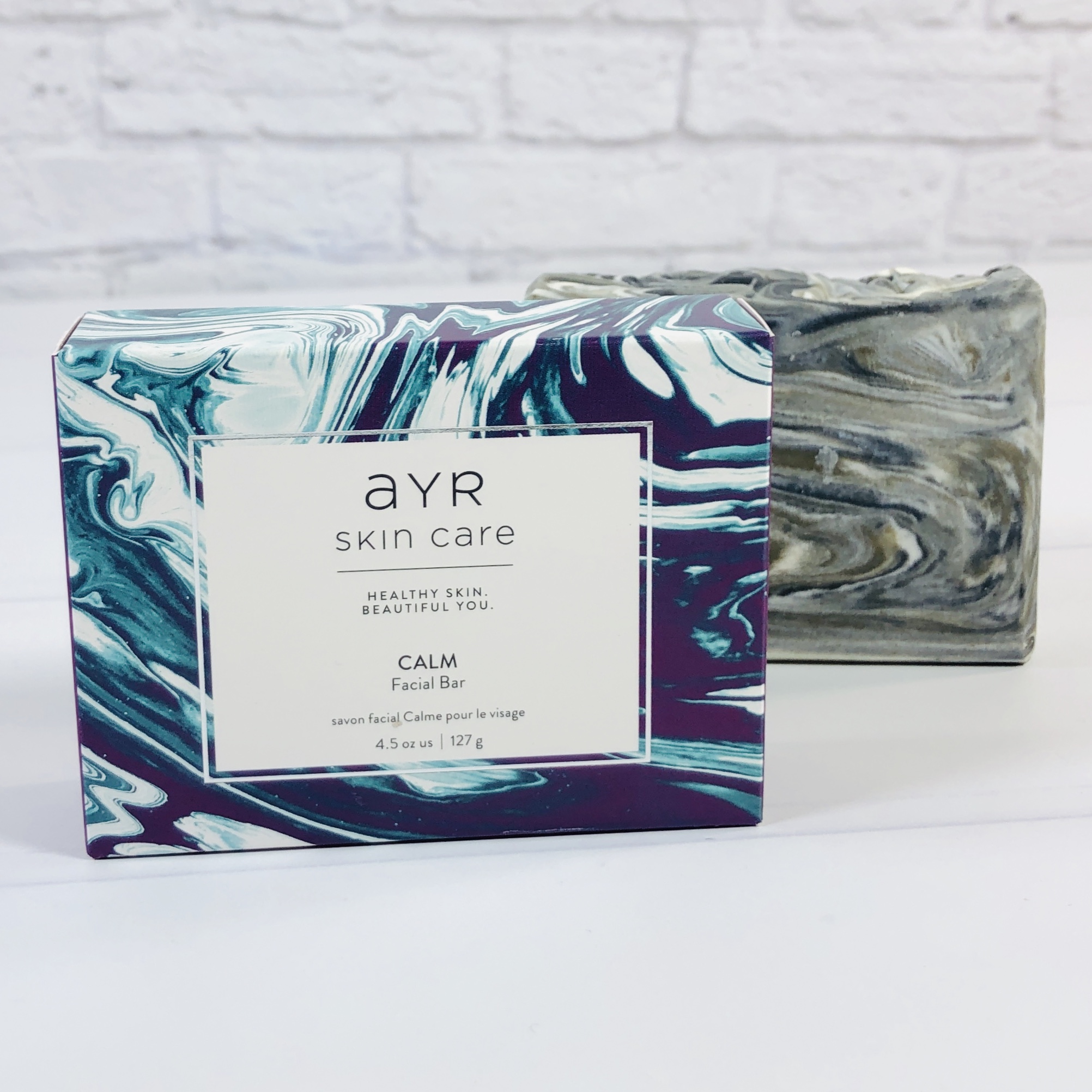 AYR Skin Care Calm Facial Bar ($28) is a bar soap for mature and sensitive skin.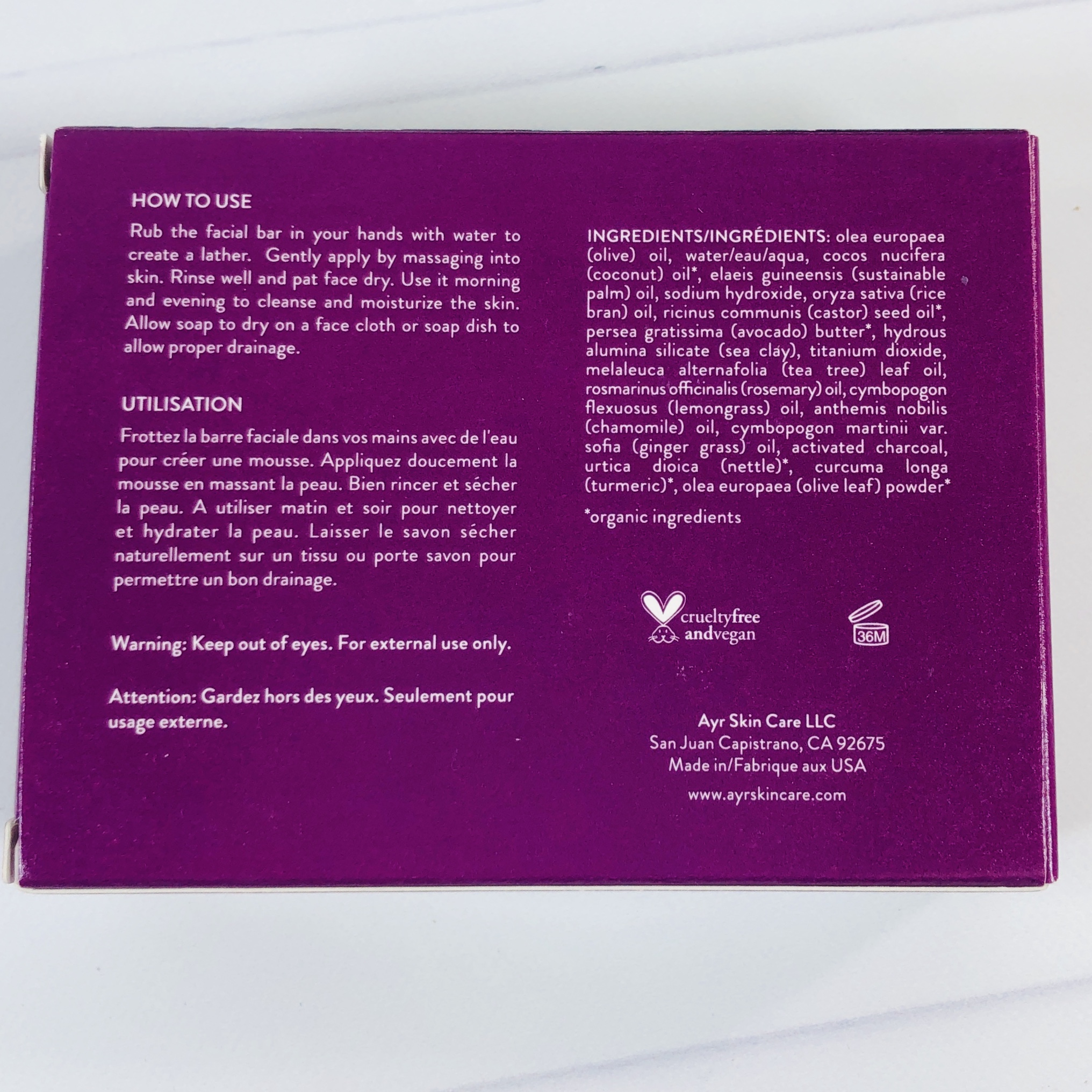 It has olive oil, coconut oil, and sustainable palm oil, and lots of plant oils and extracts.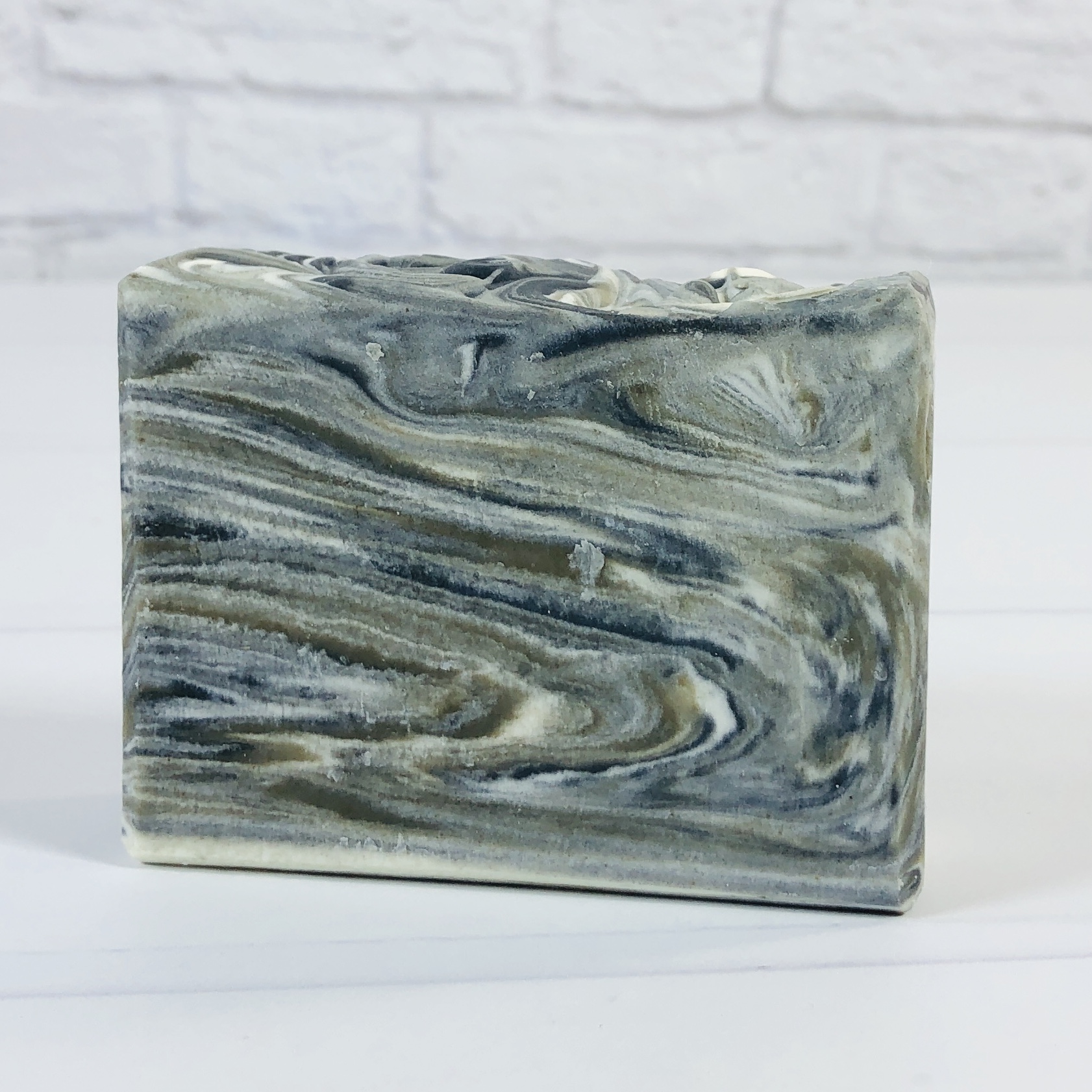 Isn't it pretty? Each bar is unique thanks to hand-crafting. Lather and use on the face, neck, and chest and avoid the eyes. I am sure it would work well as a body bar too.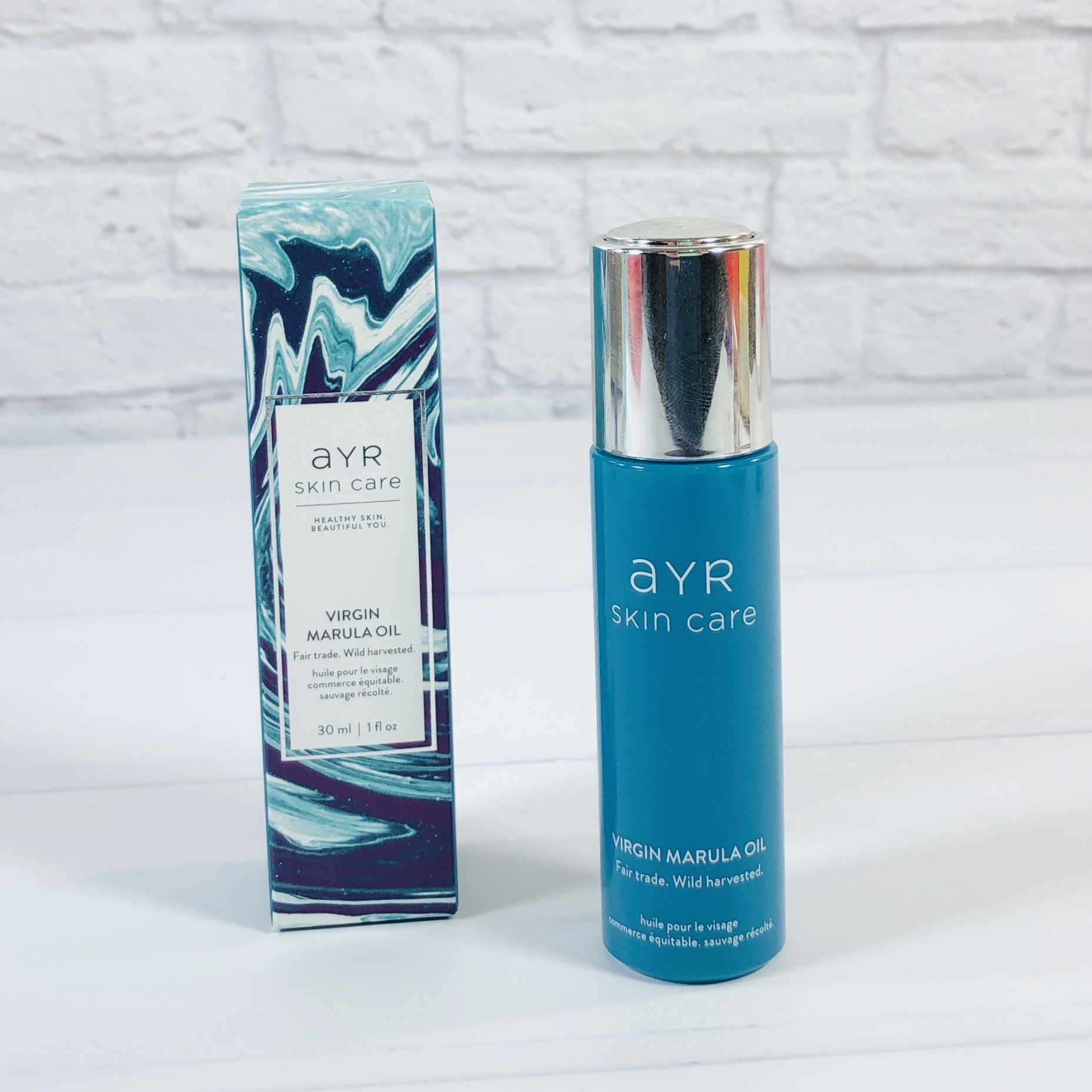 AYR Skin Care Virgin Marula Oil ($42) I have only encountered marula oil in a few products, but it has lots going for it, like omega 6 and 9 fatty acids, antioxidants, and amino acids. Drunk Elephant sells a similar product but this one is a fraction of the price – $42 vs DE's $72 for the same size.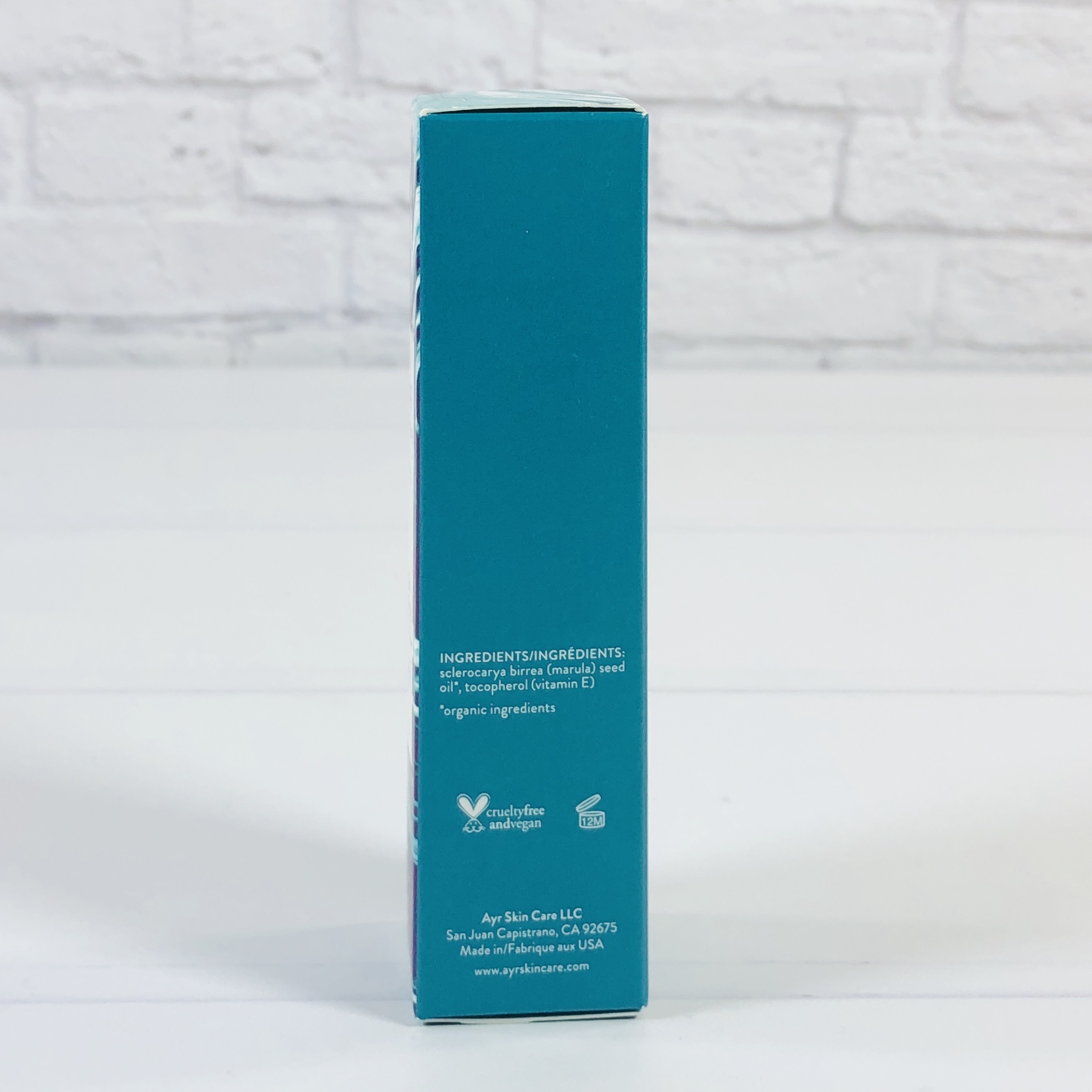 According to Ayr they source "wild-harvested, pure, and fair-trade marula oil from small businesses that provide financial security for entire villages in Africa". The only other ingredient is vitamin E, which works to prolong shelf-life.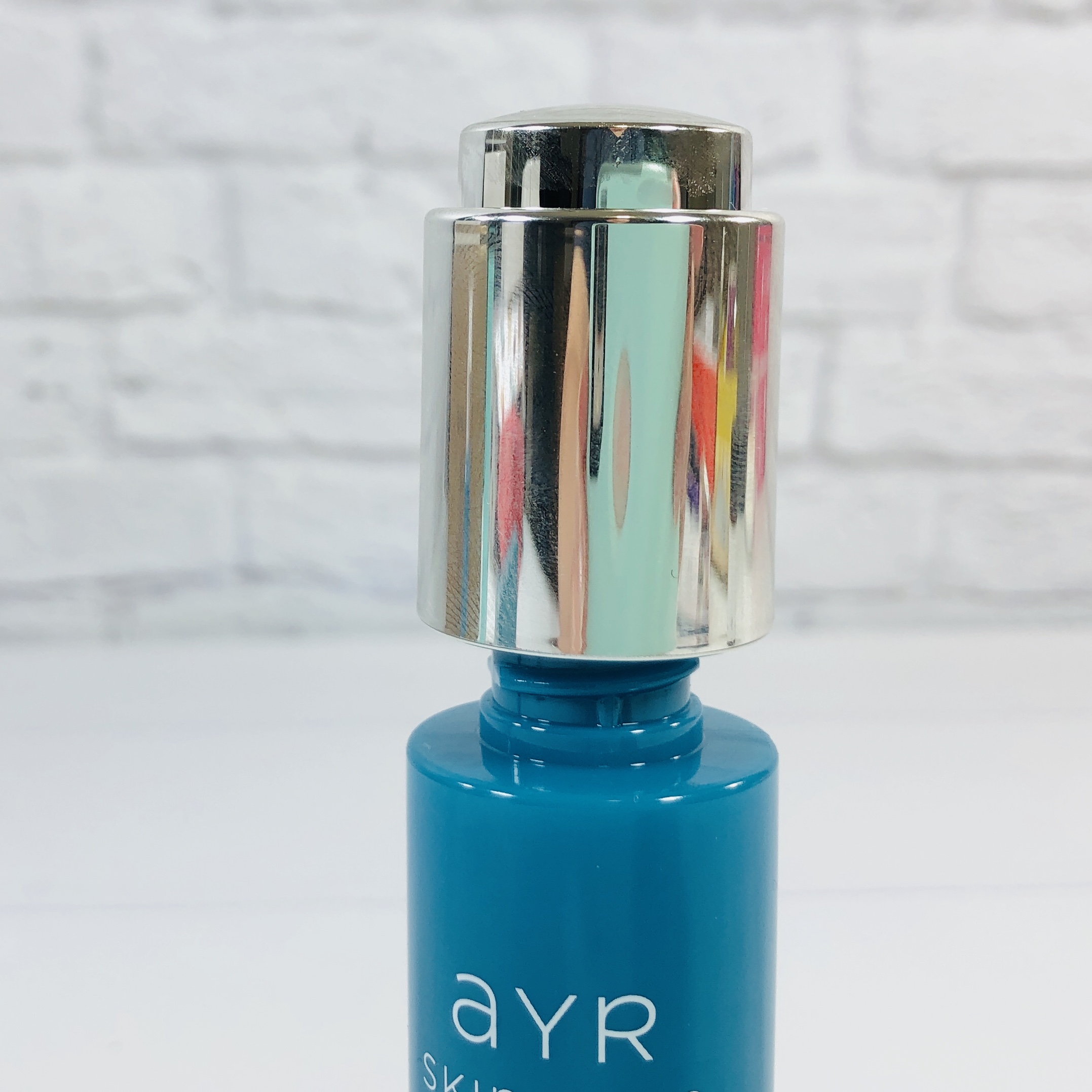 When you unscrew the top a button will pop out of the lid. You pump that button to draw the oil into the dropper. The button will lie flat when you screw the lid back into place.
The oil is very light in color and felt nice on my skin. I usually apply to damp skin but my face was already dried and it still went on like a dream. There wasn't any discernable scent and it can also be applied to hair, nails, and other dry spots on the body.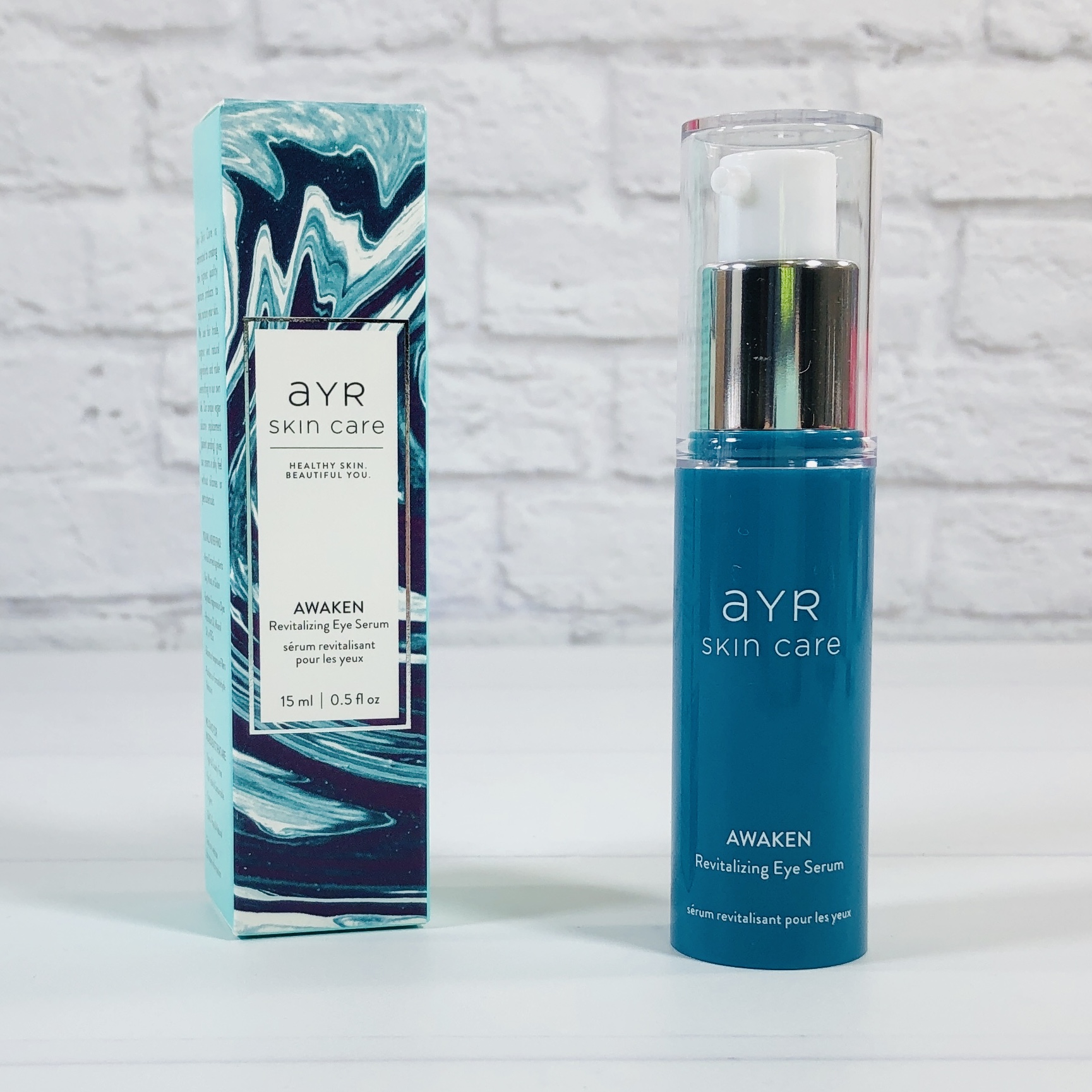 AYR Skincare Awaken Revitalizing Eye Serum ($65) Oh, what a luxurious eye cream! I can use tons of help in this area, and although I don't believe there is much to be done about the usual signs of aging (without surgery that is) I do like to keep the area moist to reduce crepey skin.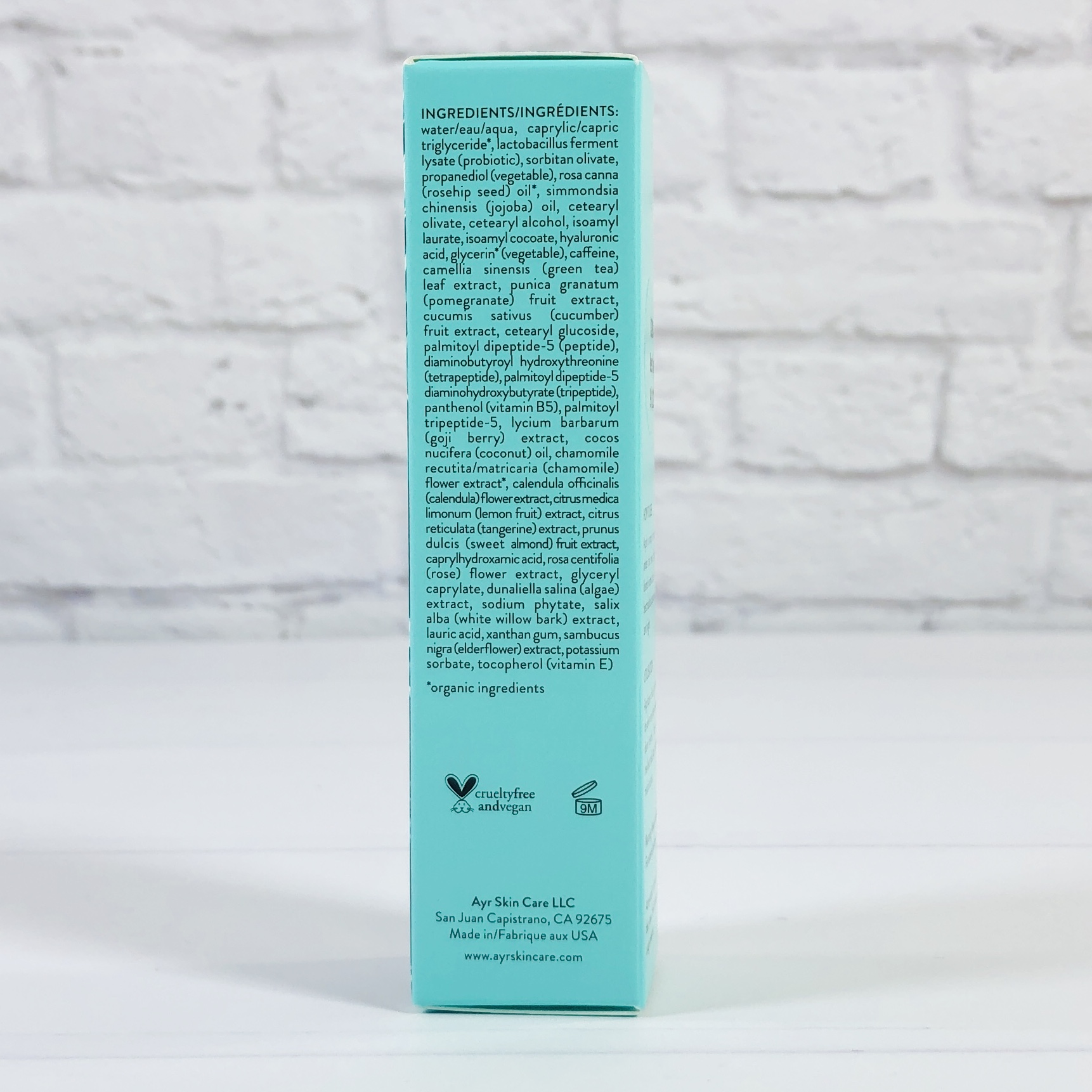 Ingredients include jojoba oil, probiotics, rosehip oil, caffeine, and green tea extract. Hyaluronic acid is in here and that is supposed to draw water to the area, helping it stay hydrated.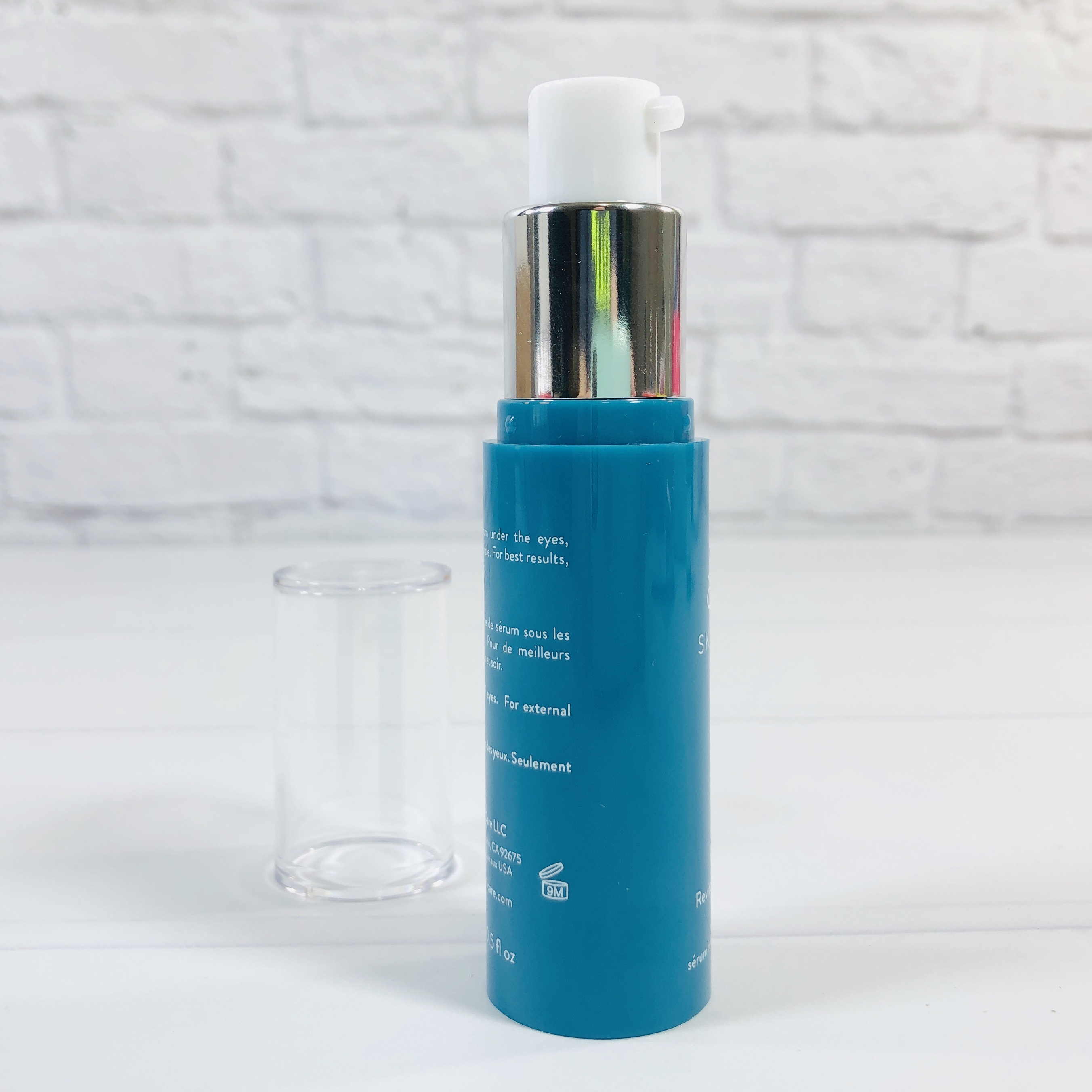 The product is creamy and a little goes a long way. A full pump is too much, try using half a pump and distribute between both eyes. It spread easily and left the area feeling very soft and moisturized.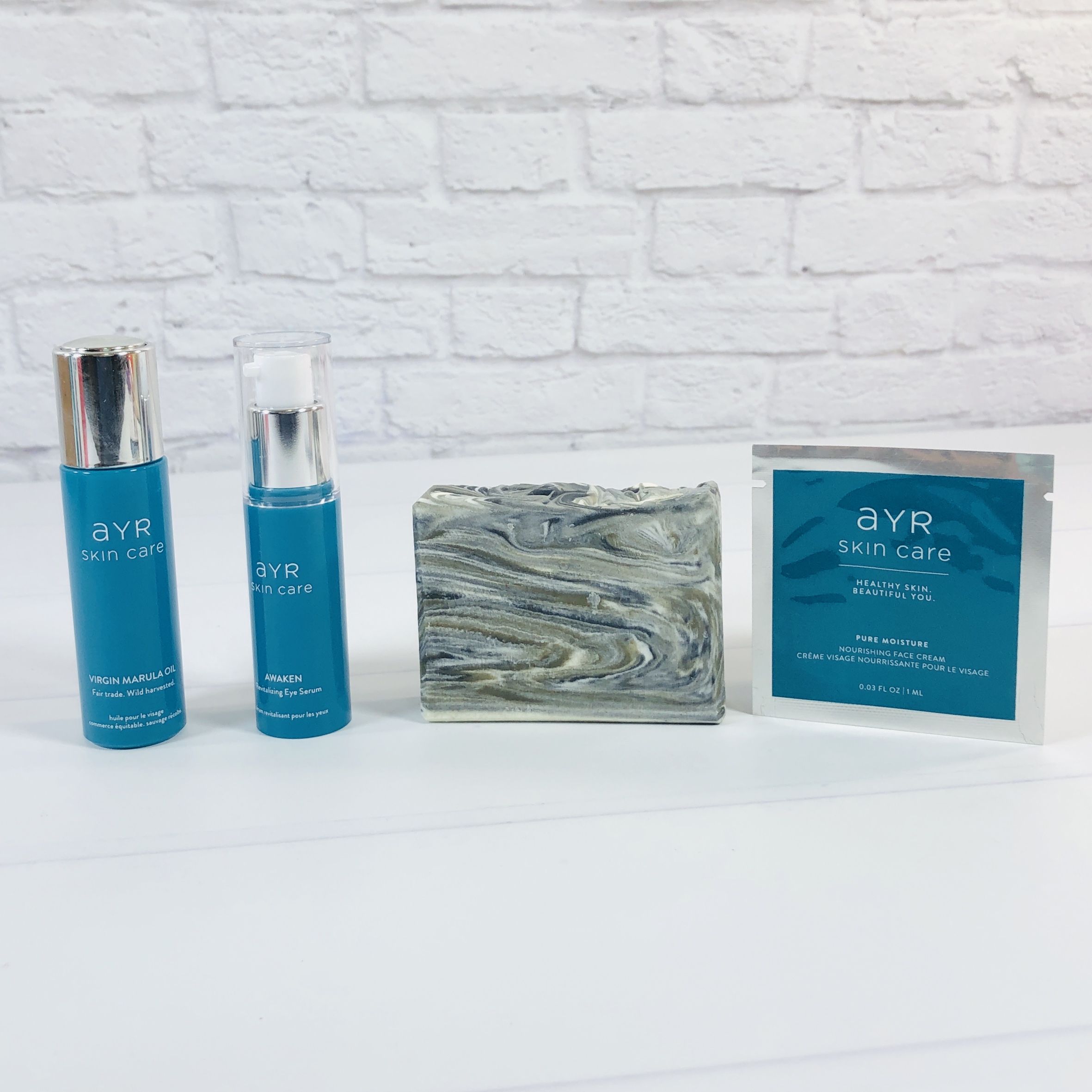 I was pretty pleased with the September Pearlesque Box, and am really sad that this is their final box. I enjoyed using the products from Ayr Skin Care and have learned about so many cool beauty brands over the years thanks to Pearlesque. The eye cream was perfect for my needs, and was very creamy and spread easily in that delicate area. The marula oil was silky and left my skin soft without feeling greasy and I appreciate that it can be used elsewhere on the body. The soap was so beautiful and I liked trying the cream sample too. The value for my final Pearlesque Box was around $137.06!
Do you subscribe to Pearlesque Box? What did you think of this month's box? I would love to hear your thoughts in the comments!