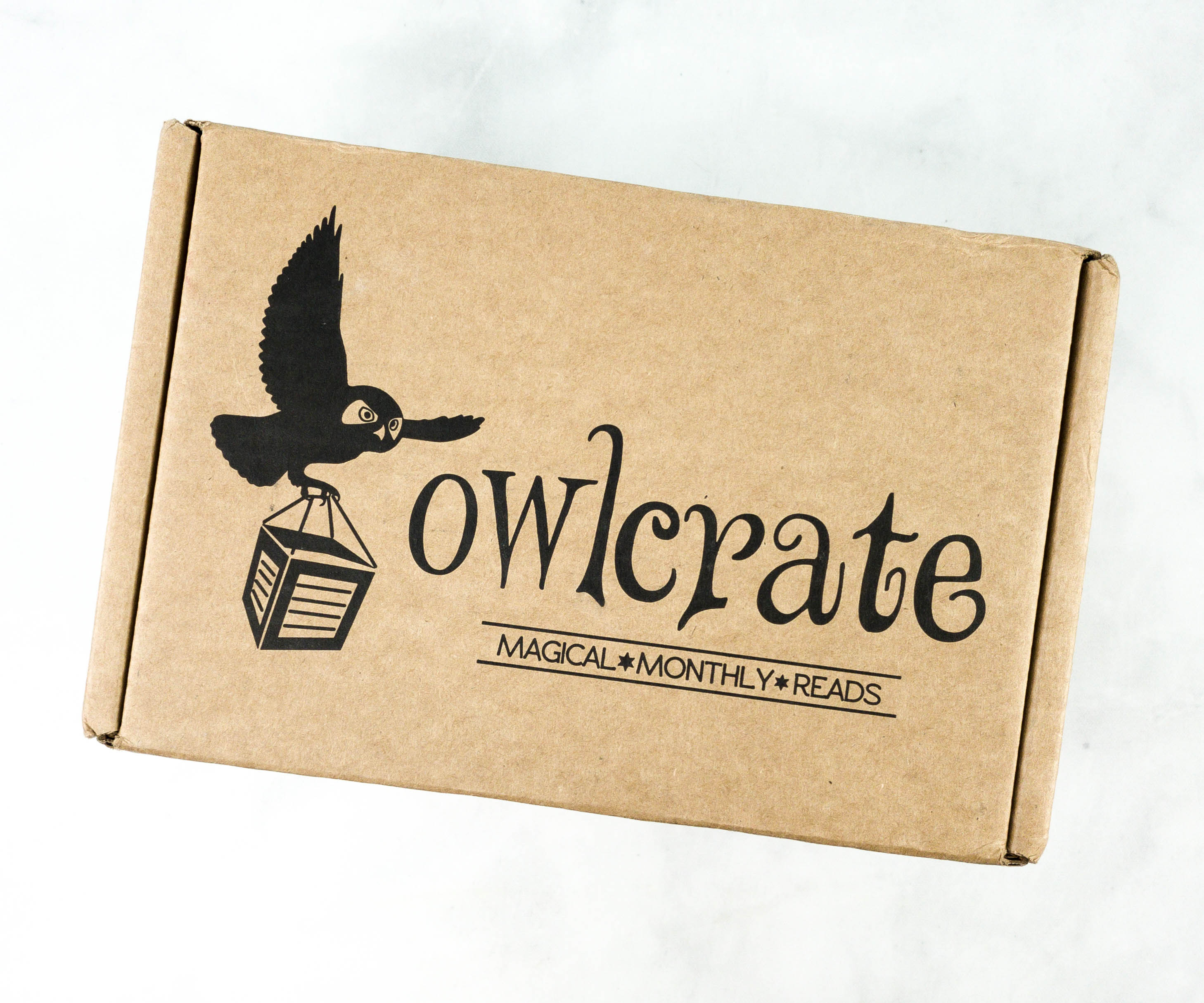 Owl Crate is a monthly subscription of books and bookish items. Each OwlCrate contains one new Young Adult novel, as well as 3-5 other bookish items all matched to the monthly theme. OwlCrate always sends the best items to go along with their theme with the hottest new books out there.
DEAL: Use coupon code HELLO15 to save 15% on your first subscription!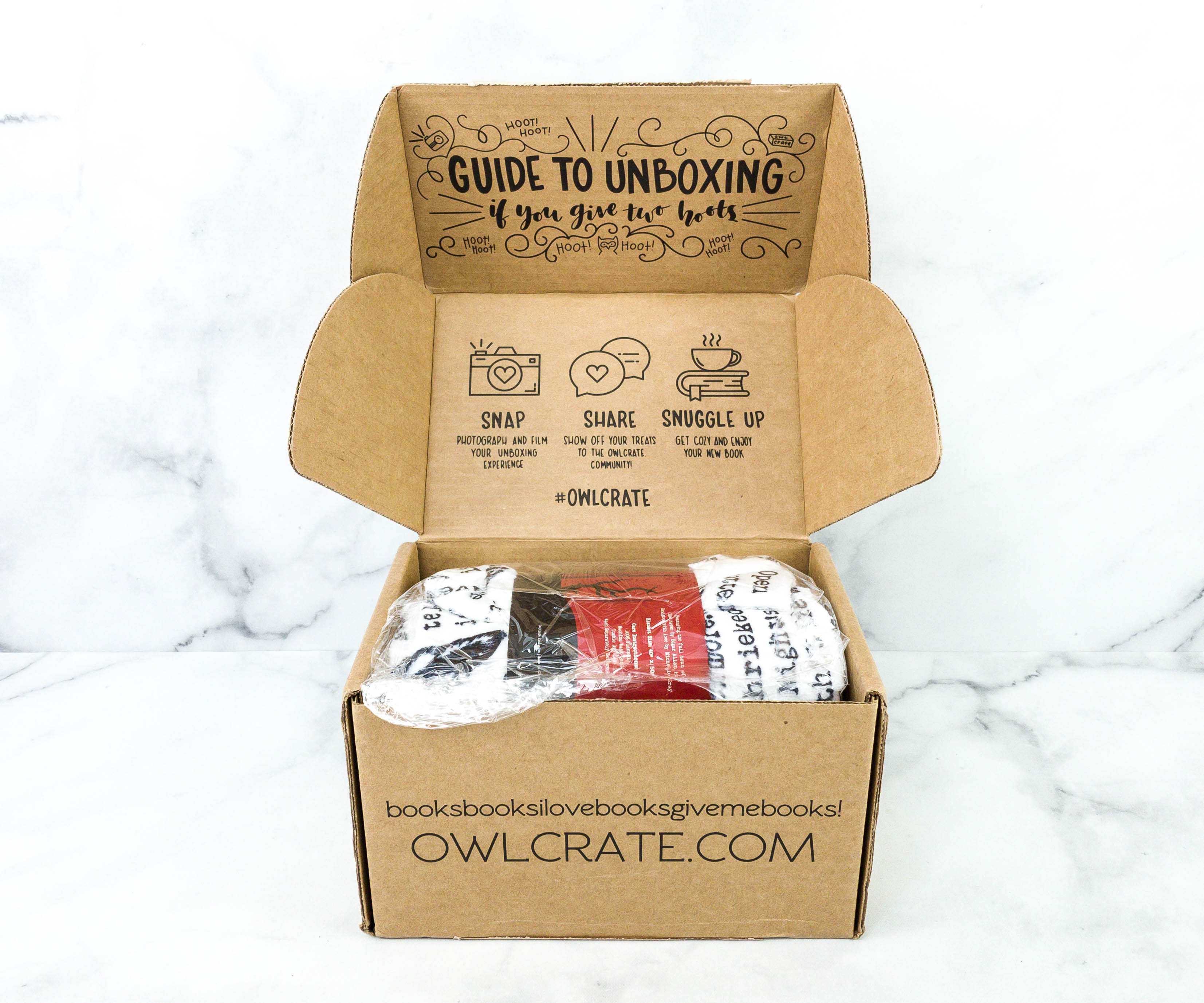 September's theme is A GLORIOUS HAUNTING!
Some of the items were wrapped in plastic.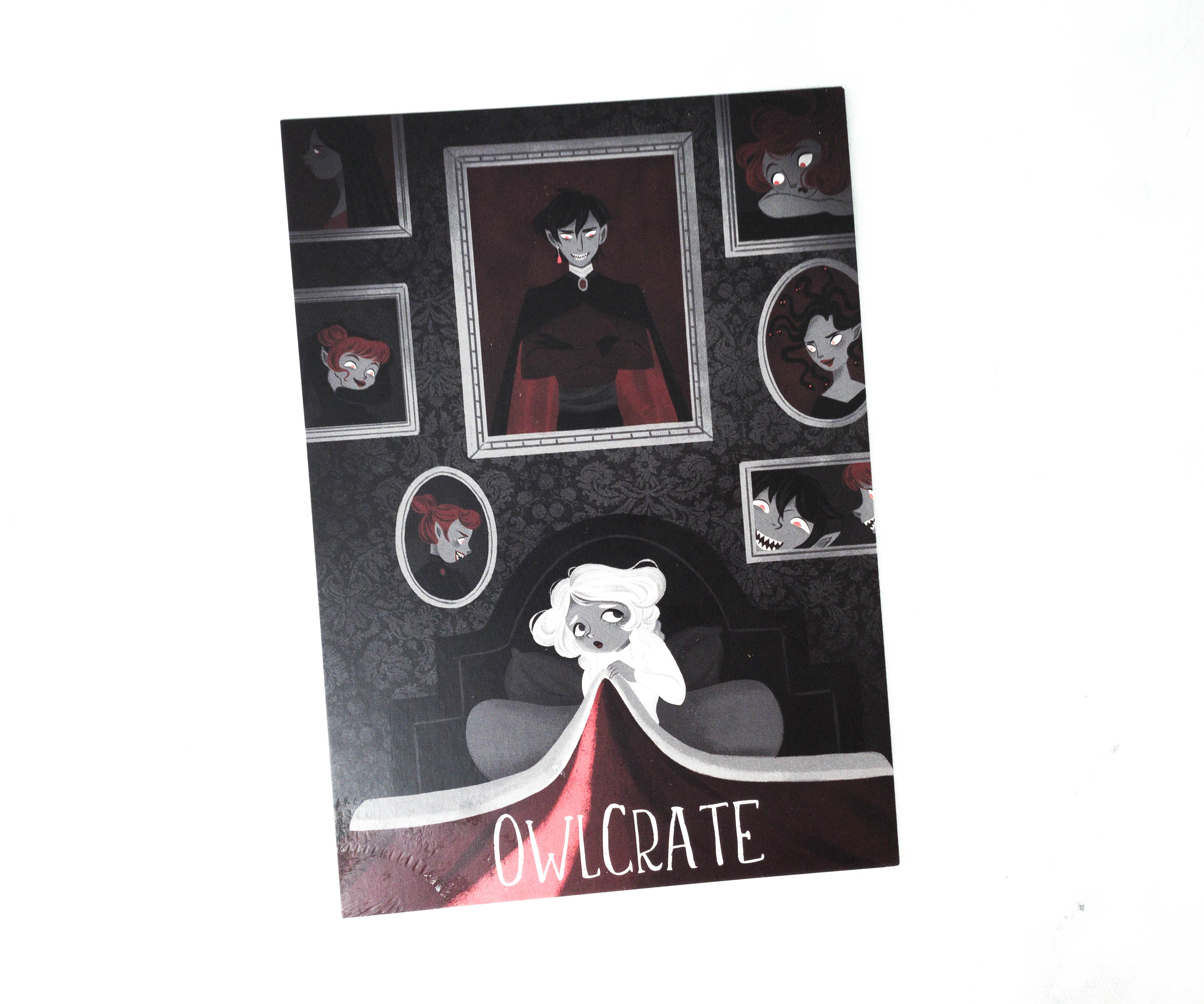 OwlCrate always has the best info card prints!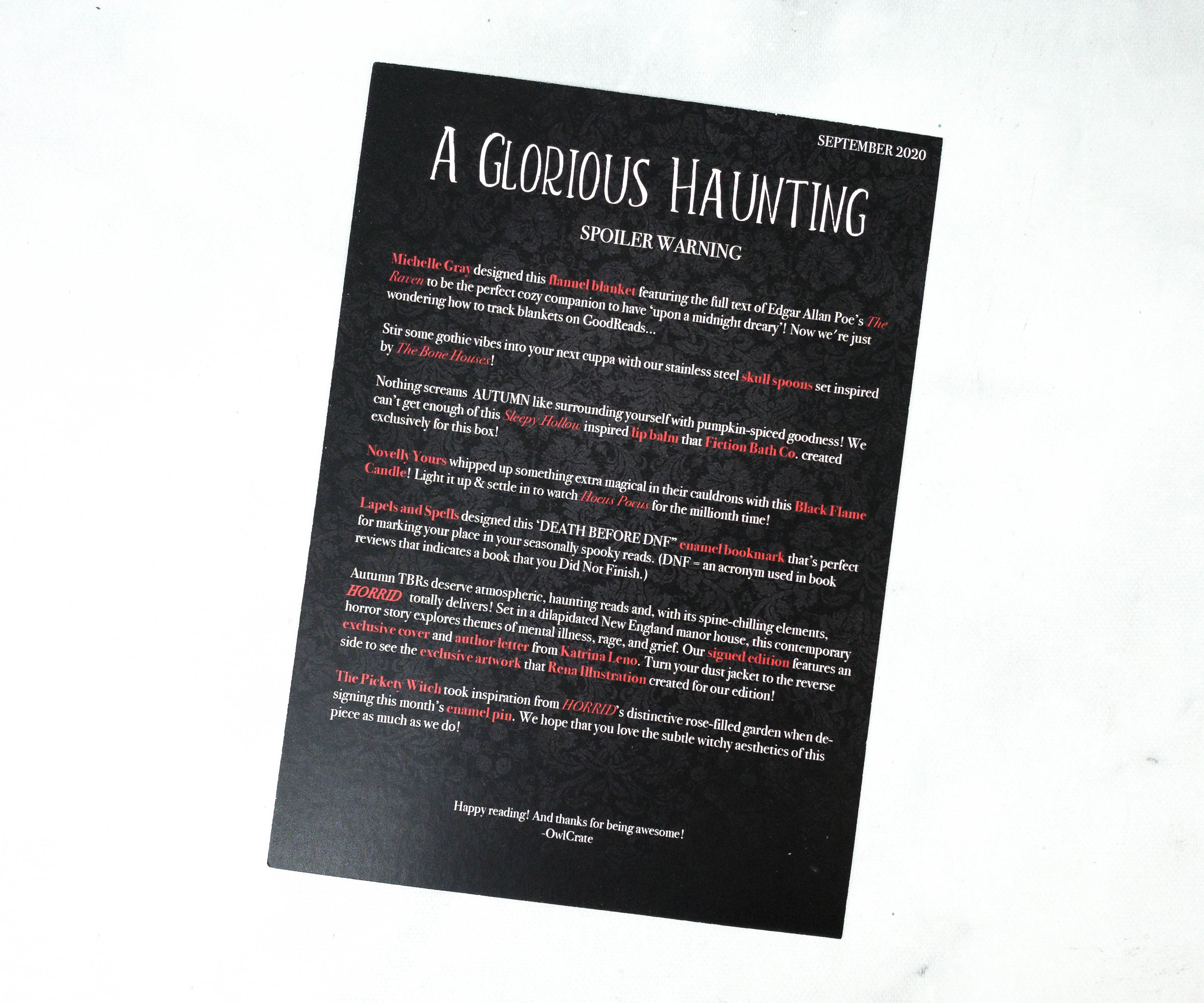 The flip side lists all the items inside the box.
They also included an adorable mini-magazine!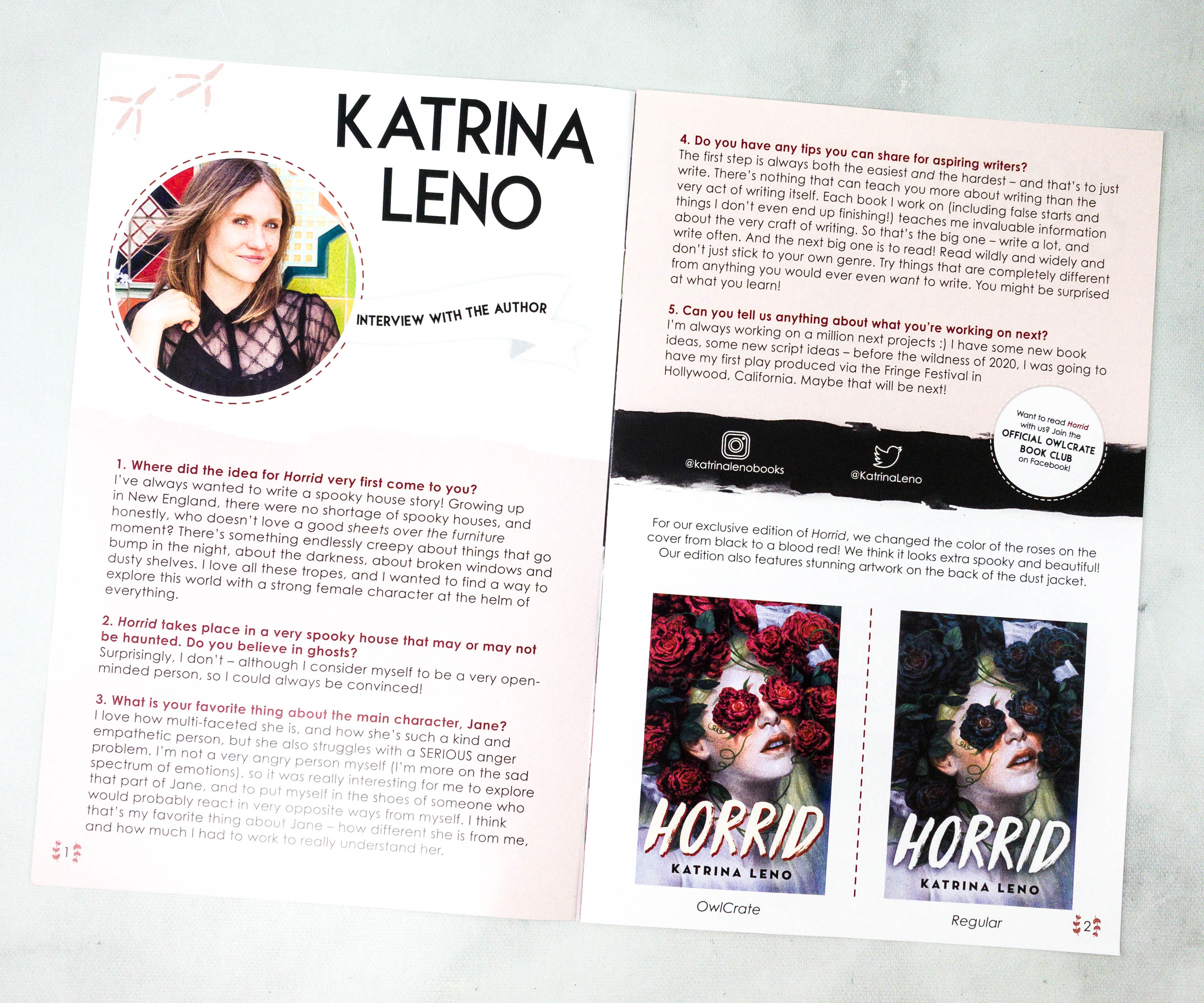 The mini-magazine includes an author interview. This month's featured author is Katrina Leno. Knowing what inspired the author to pen a story can help children understand the book better.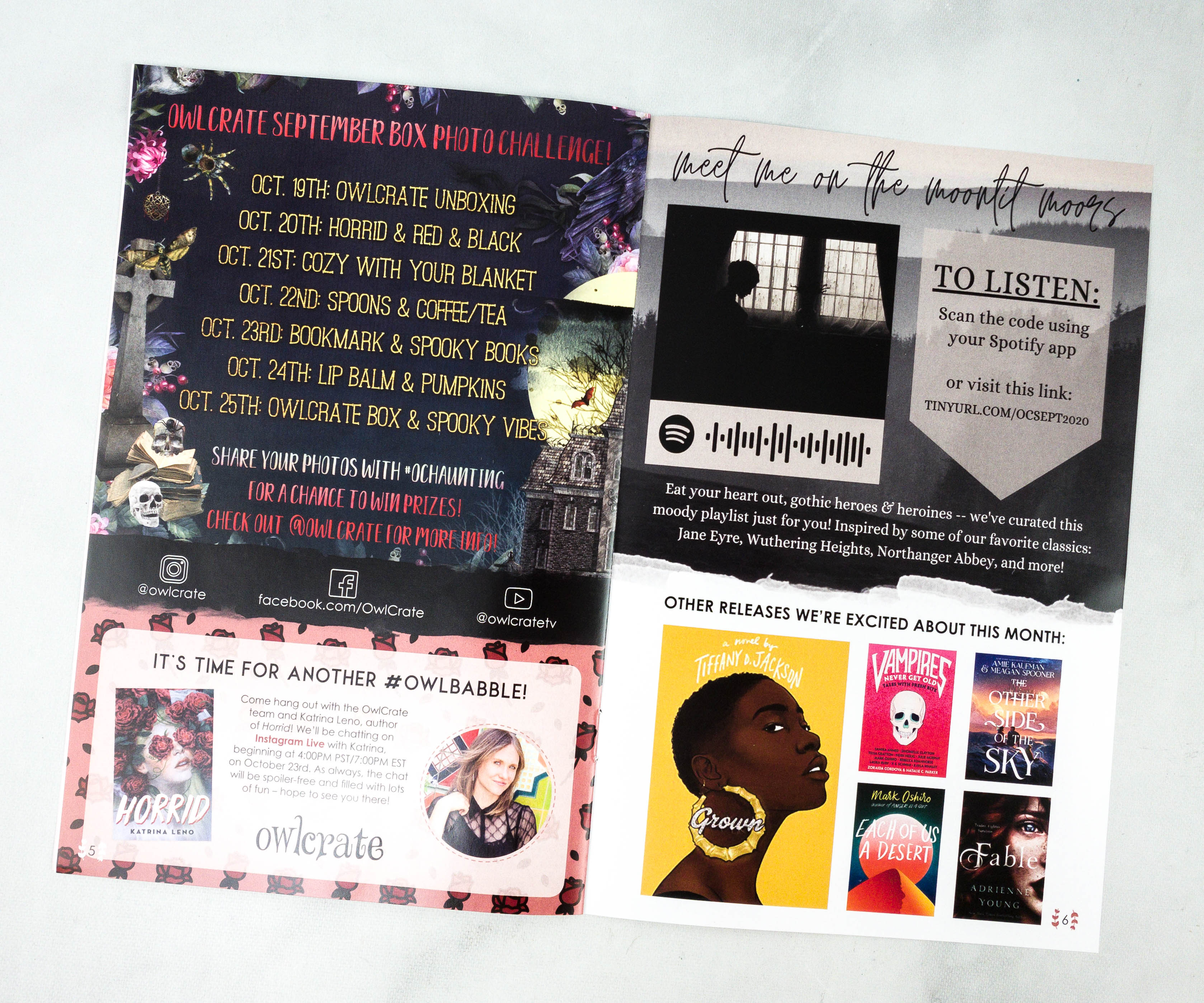 There's also a box photo challenge that you can join.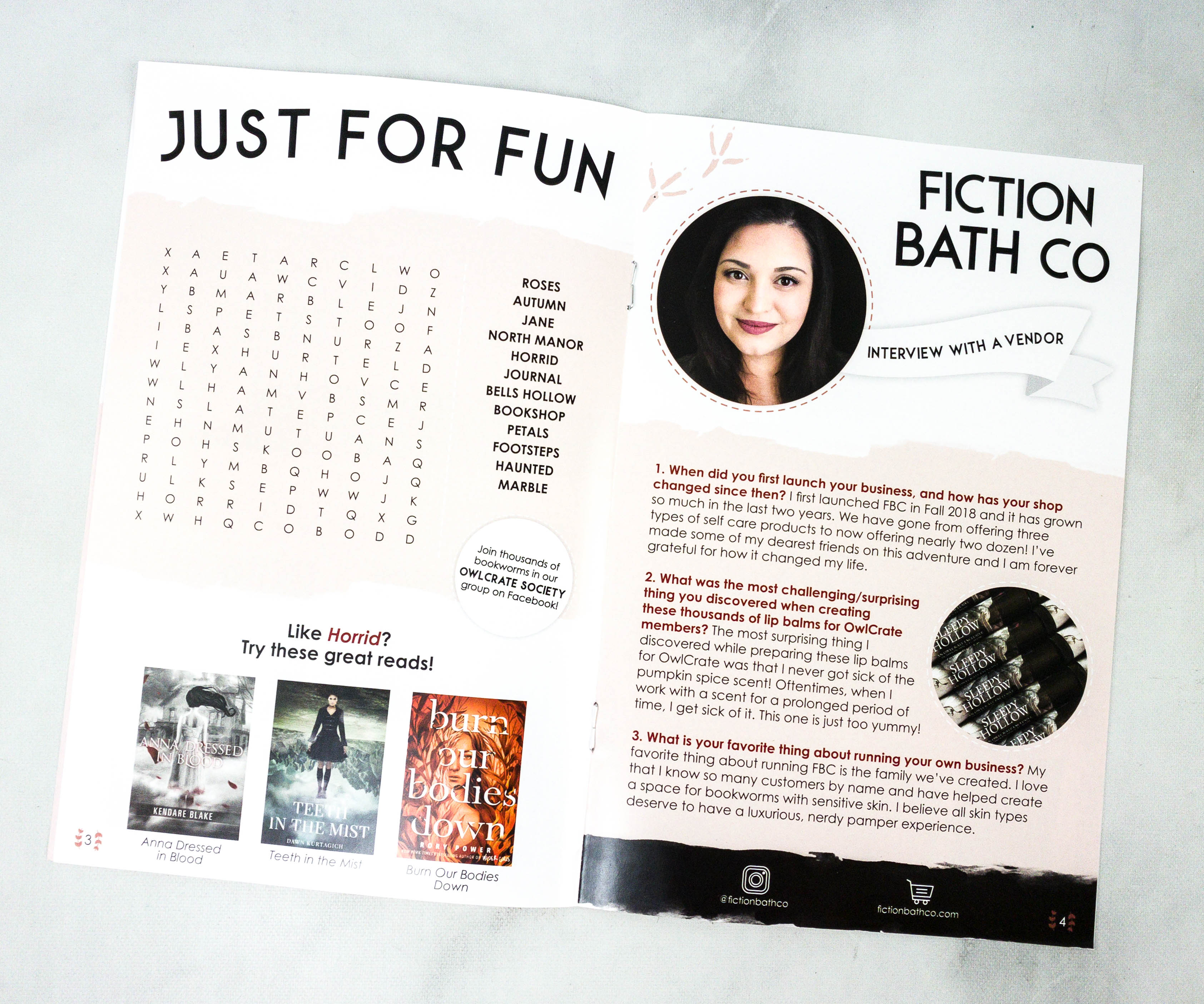 The mini-magazine also included some fun activities, while the other page is another interview with a vendor, Fiction Bath Co!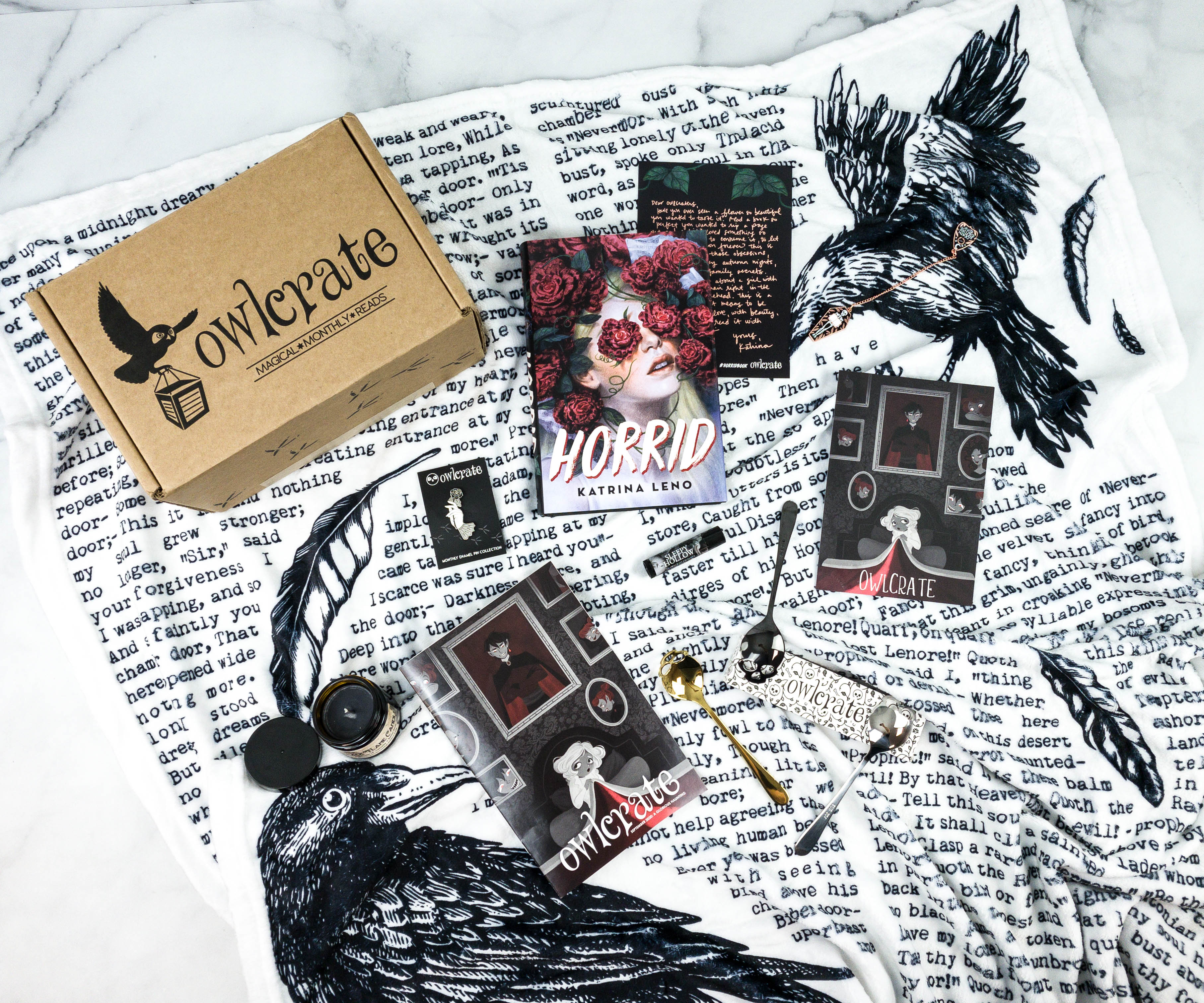 Everything in our September 2020 OwlCrate!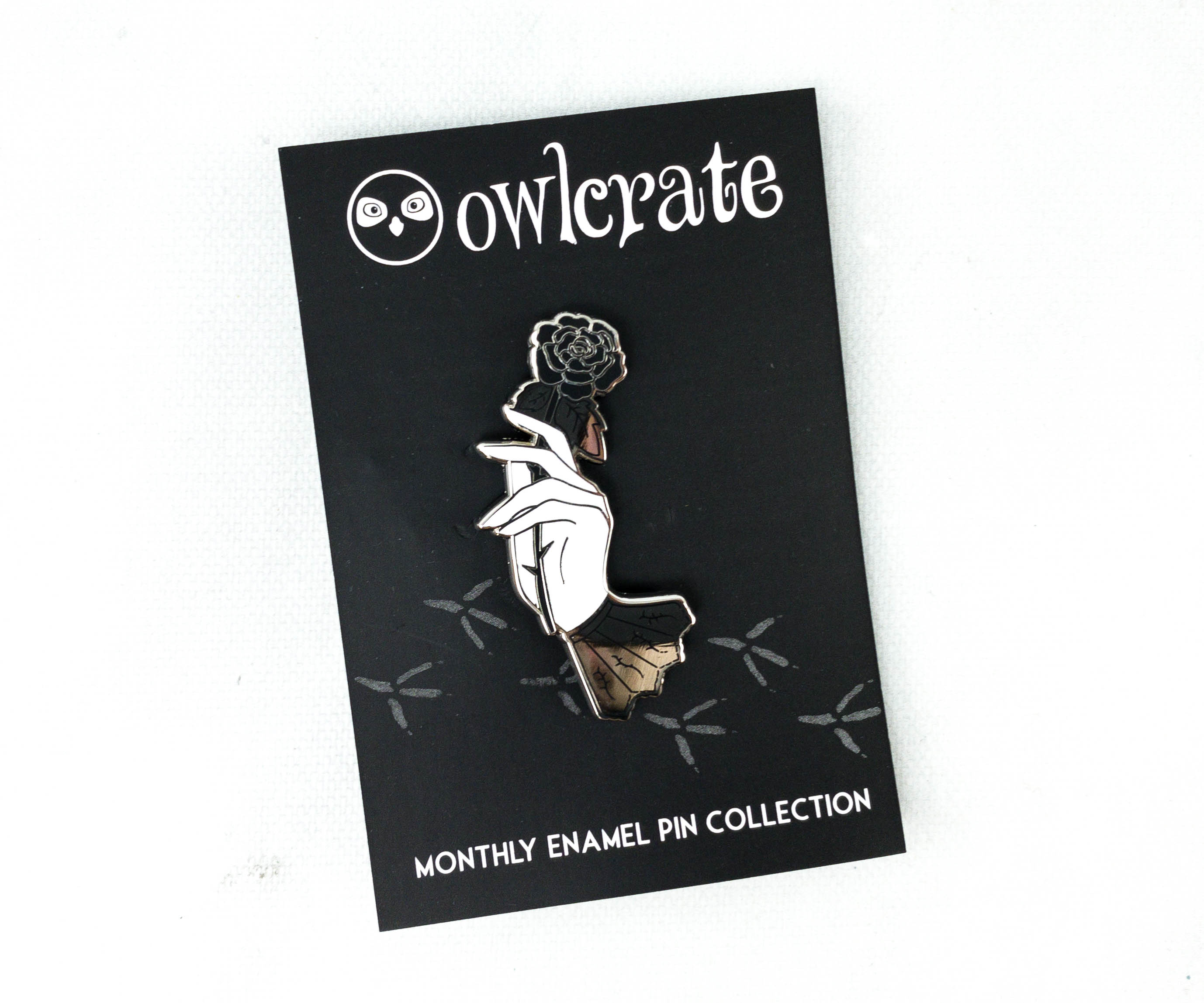 Enamel Pin. Here's a new addition to my enamel pin collection!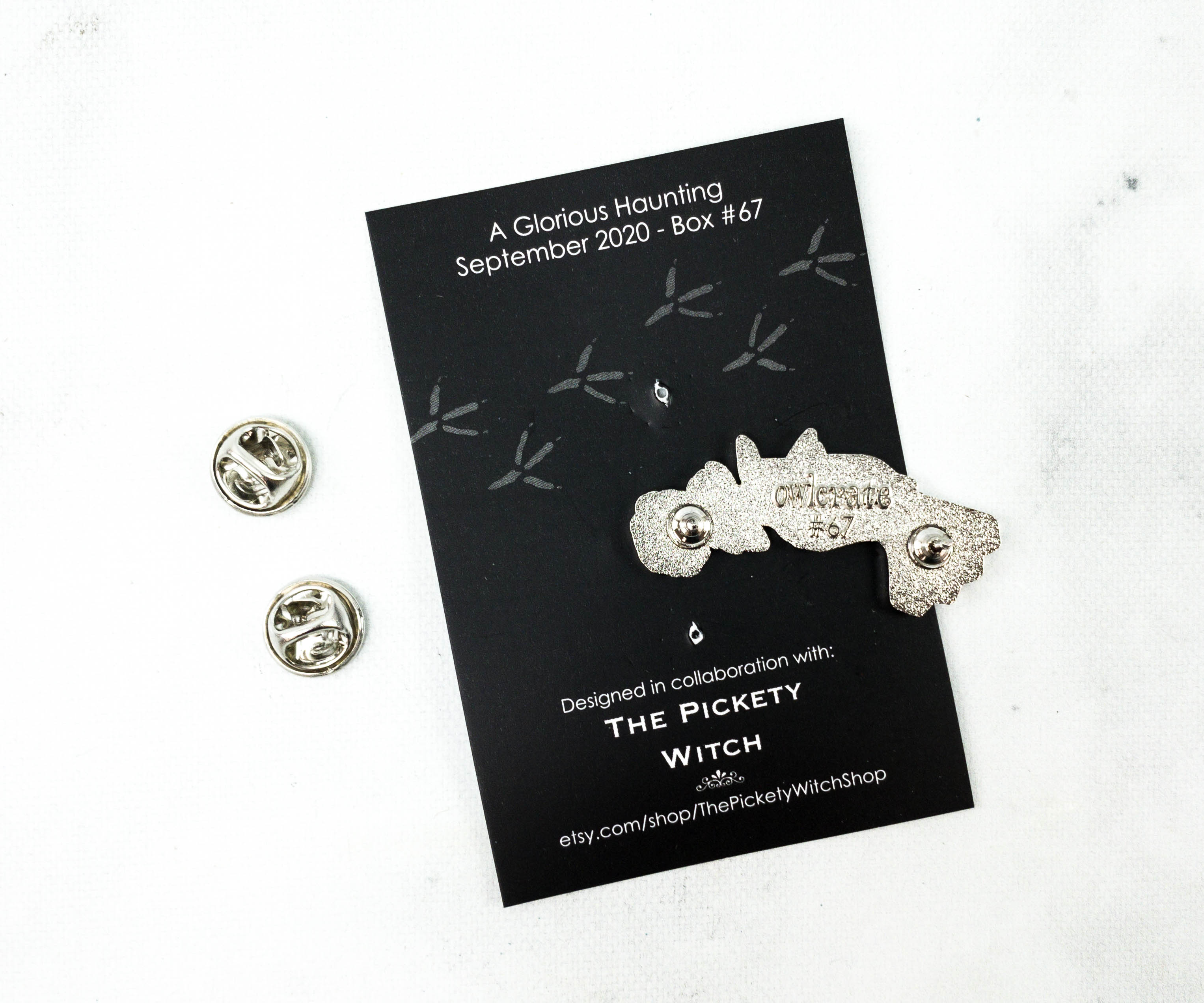 This pin is designed in collaboration with The Pickety Witch! At the back is the embossed subscription name and the number of this month's box.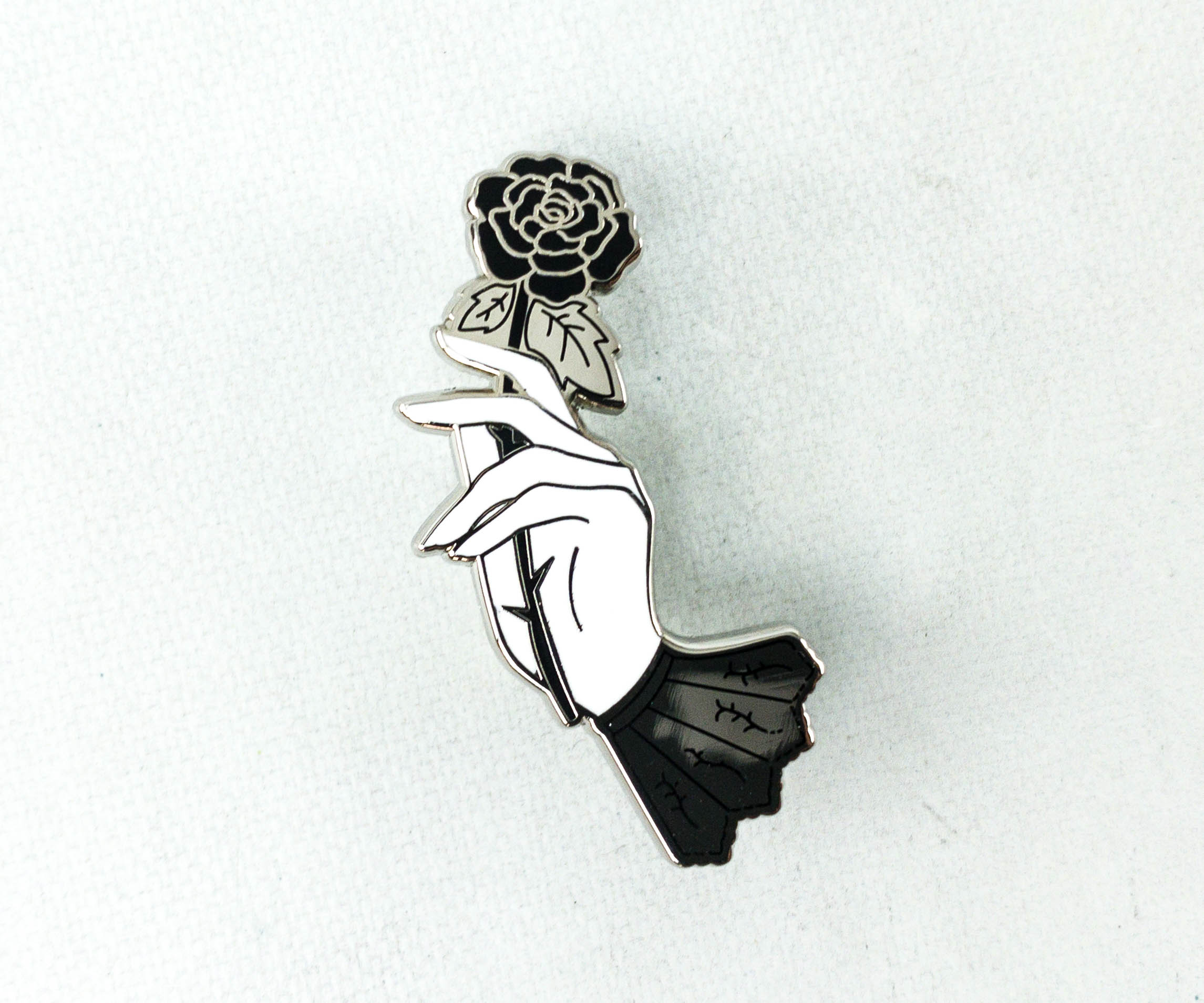 It's a lovely black and white pin which features a hand holding a black rose! It looks mysterious and romantic at the same time.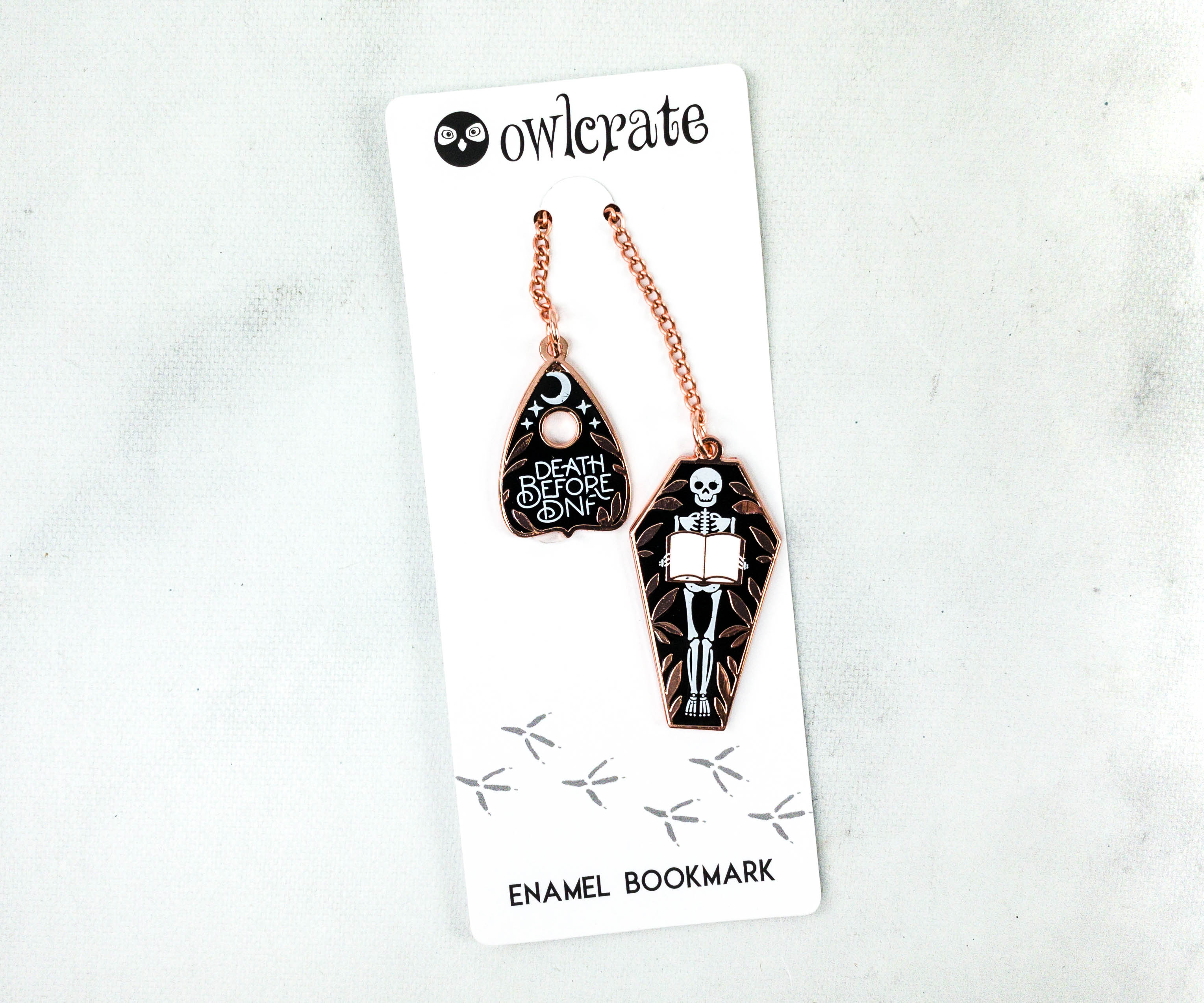 Enamel Bookmark. This unique bookmark came in a cardstock packaging to make sure it stays in place and doesn't get tangled during shipment.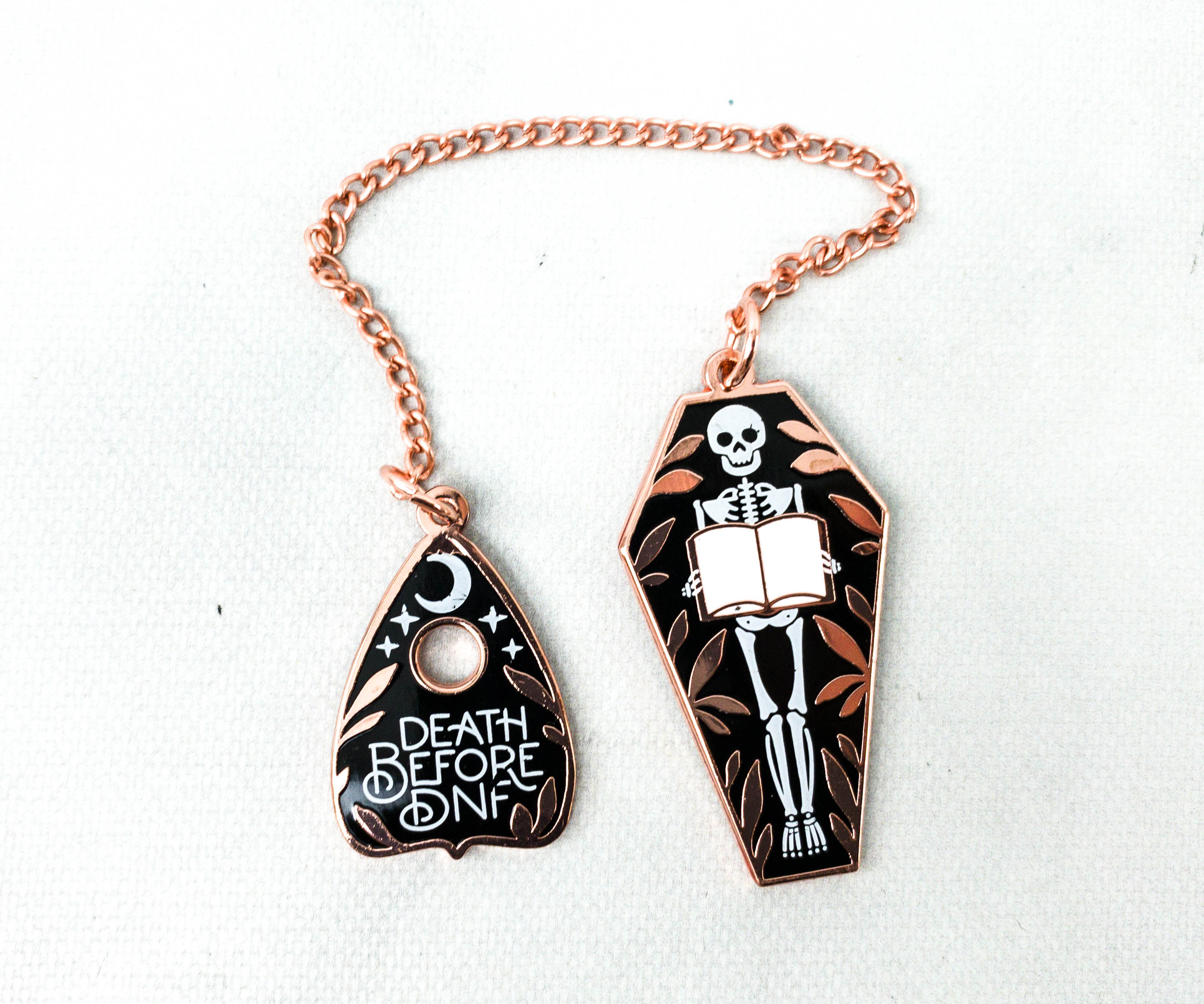 The ends are made with enamel. One is shaped like a piece from the ouija board with the text "Death before DNF" and the other is shaped like a casket with the skull and bones holding a blank book.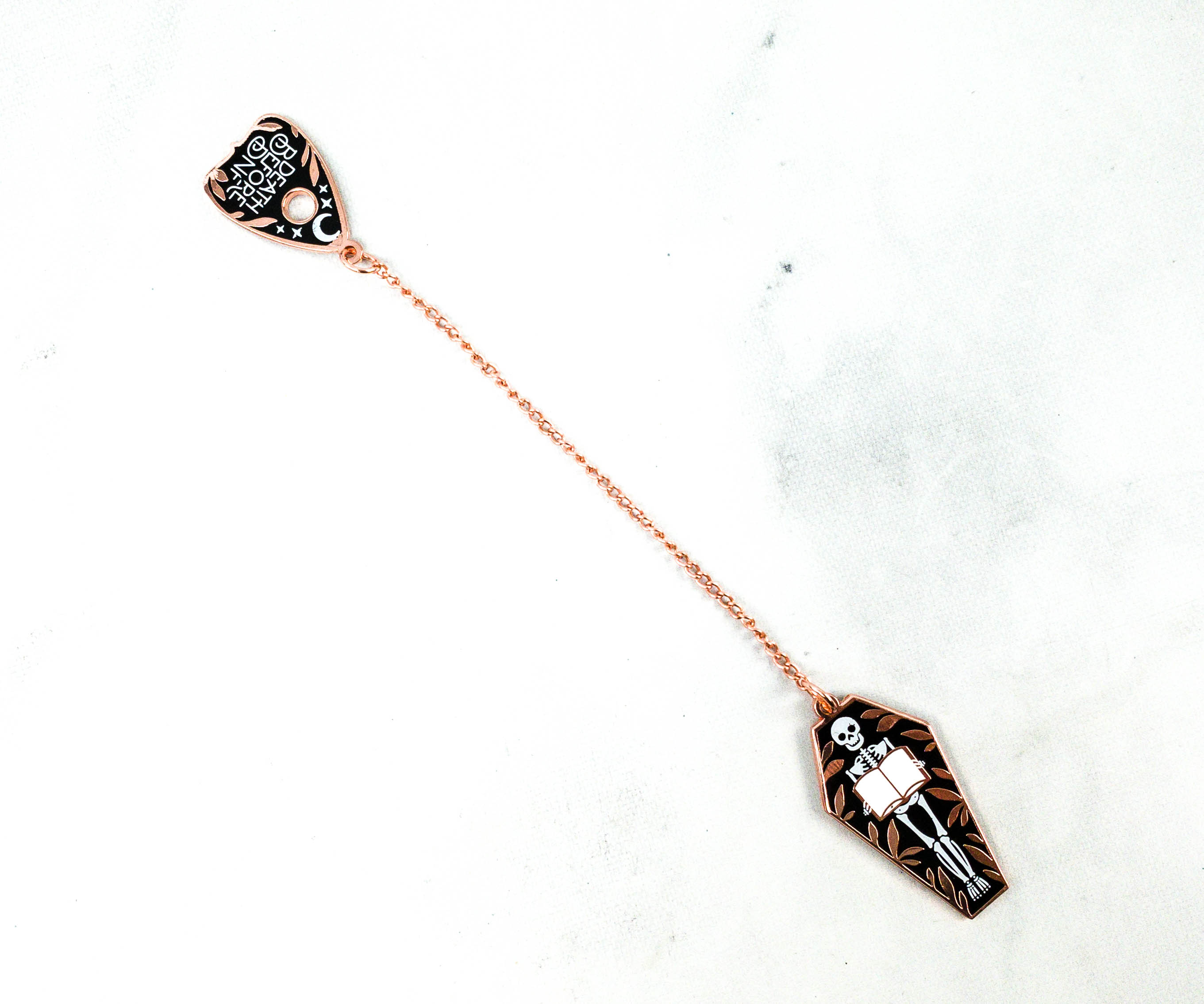 It is held together by a long rose gold-colored chain that you can insert between the book pages to keep track of where you've stopped in the book.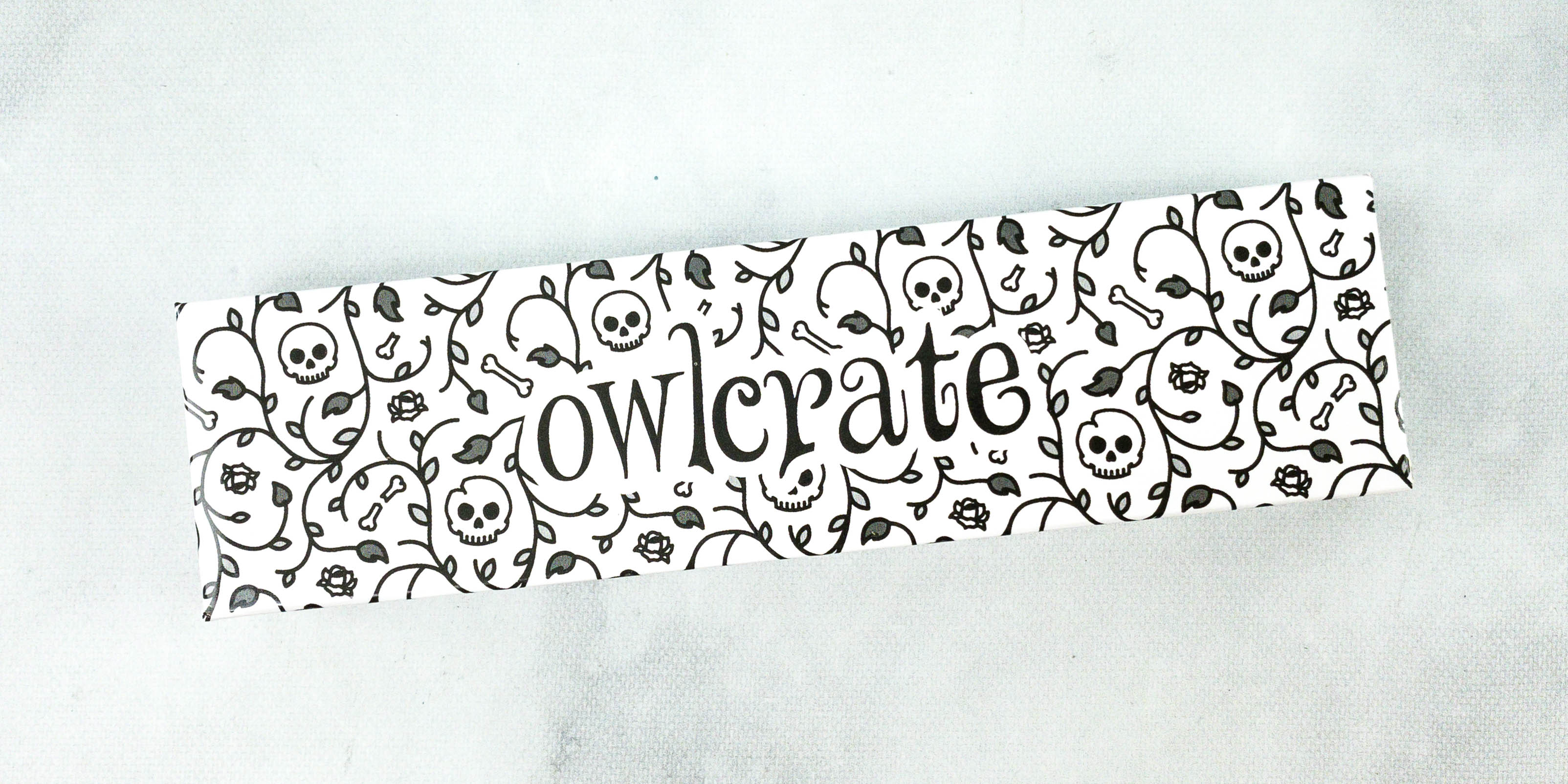 3-Piece Coffee Spoons. The spoons came in a spooky yet cute box packaging with the Owl Crate branding.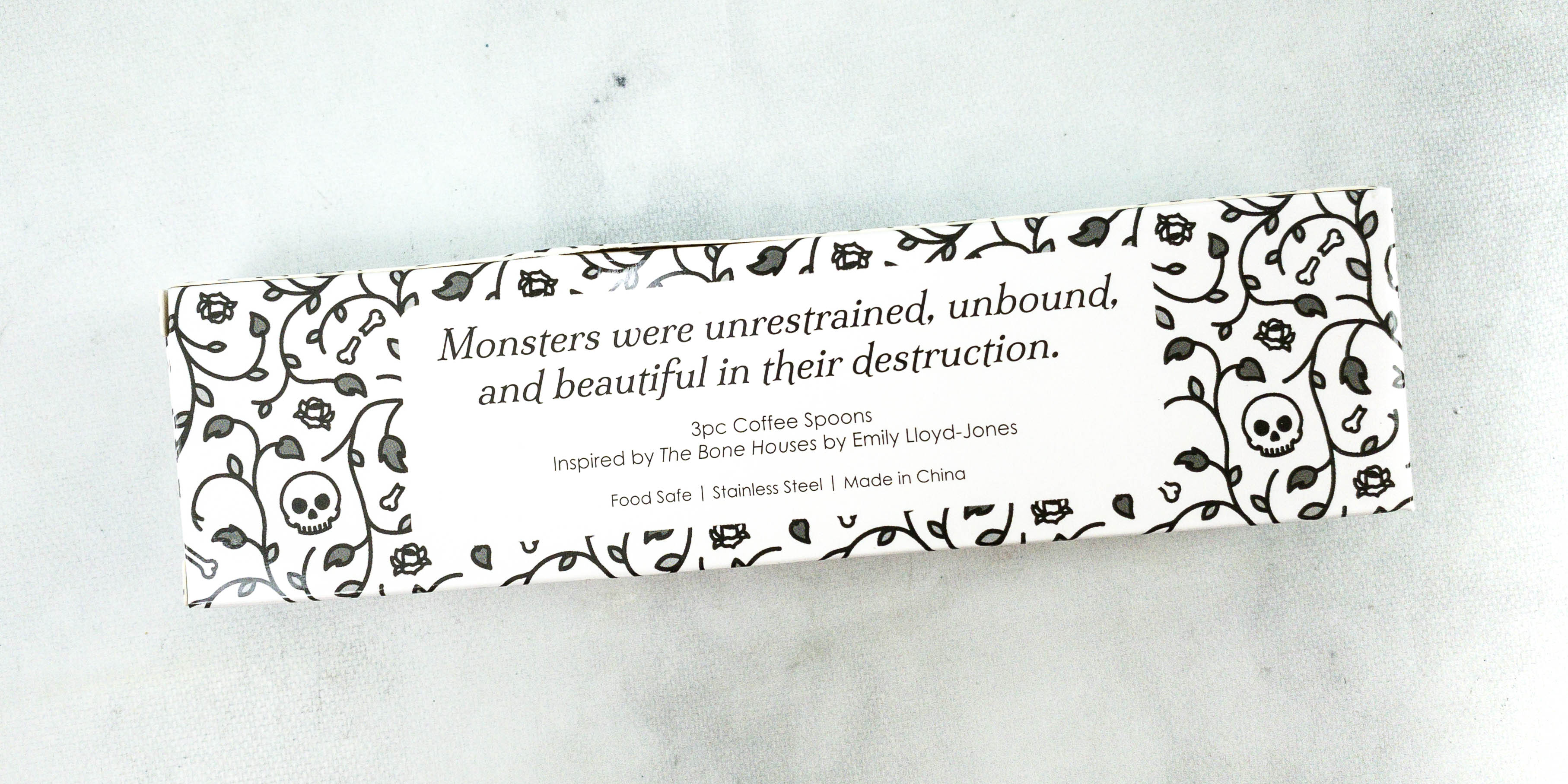 This set was inspired by The Bone Houses!
Monsters were unrestrained, unbound, and beautiful in their destruction.
We have three spoons in three different colors: black, gold and silver. The design is quite unique as each one has three holes by the tip.
At first glance, I didn't really notice what the design was but upon turning them over and looking at it from a different angle, they look like skulls! That's so cool! What's great is that these spoons are actually safe to use as they're made out of food-grade stainless steel materials.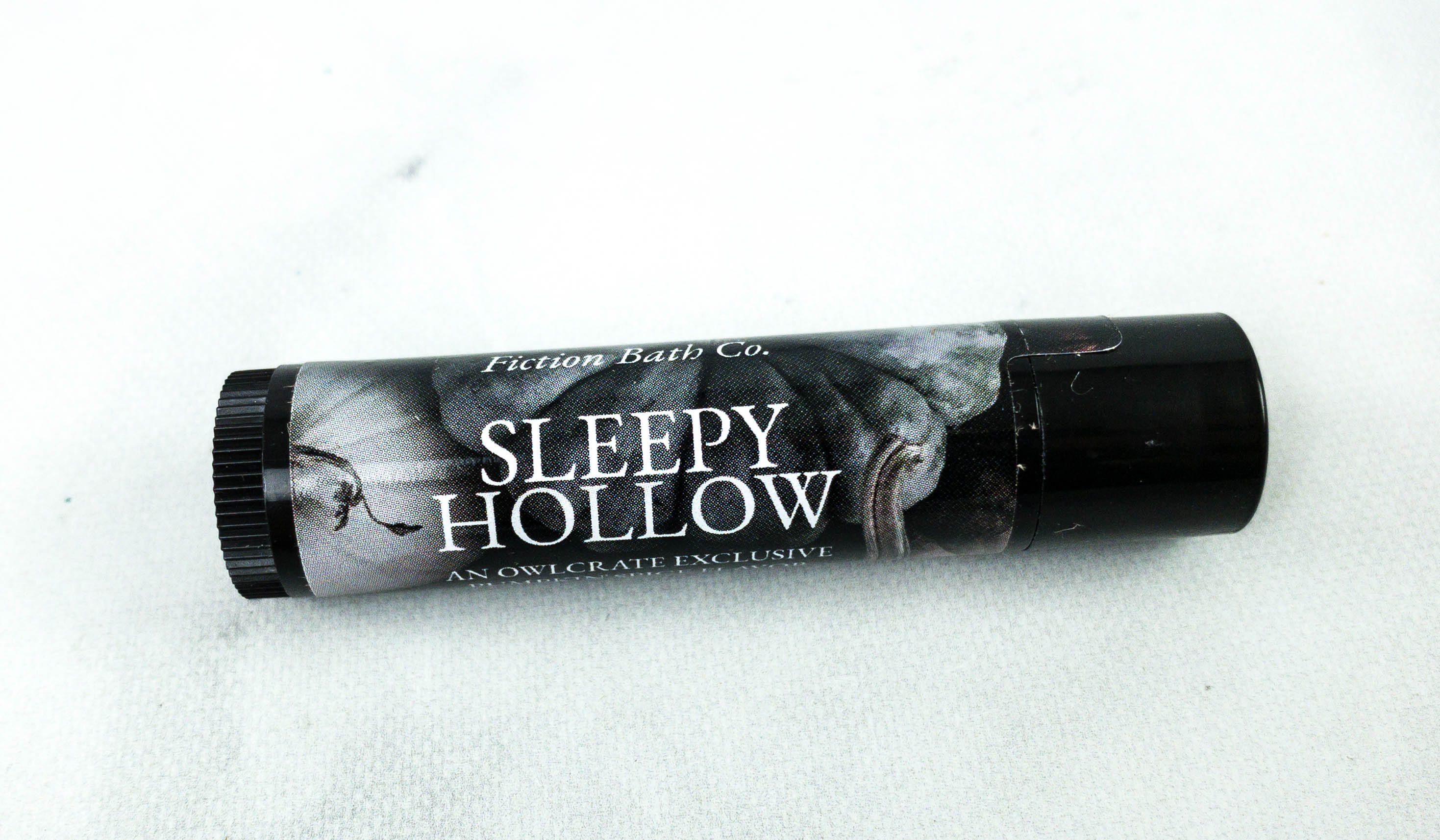 Lip Balm. This lip balm is an Owl Crate exclusive item and it's made in collaboration with Fiction Bath Co.!
The formula contains shea butter and jojoba seed oil that works to soften and moisturize the lips!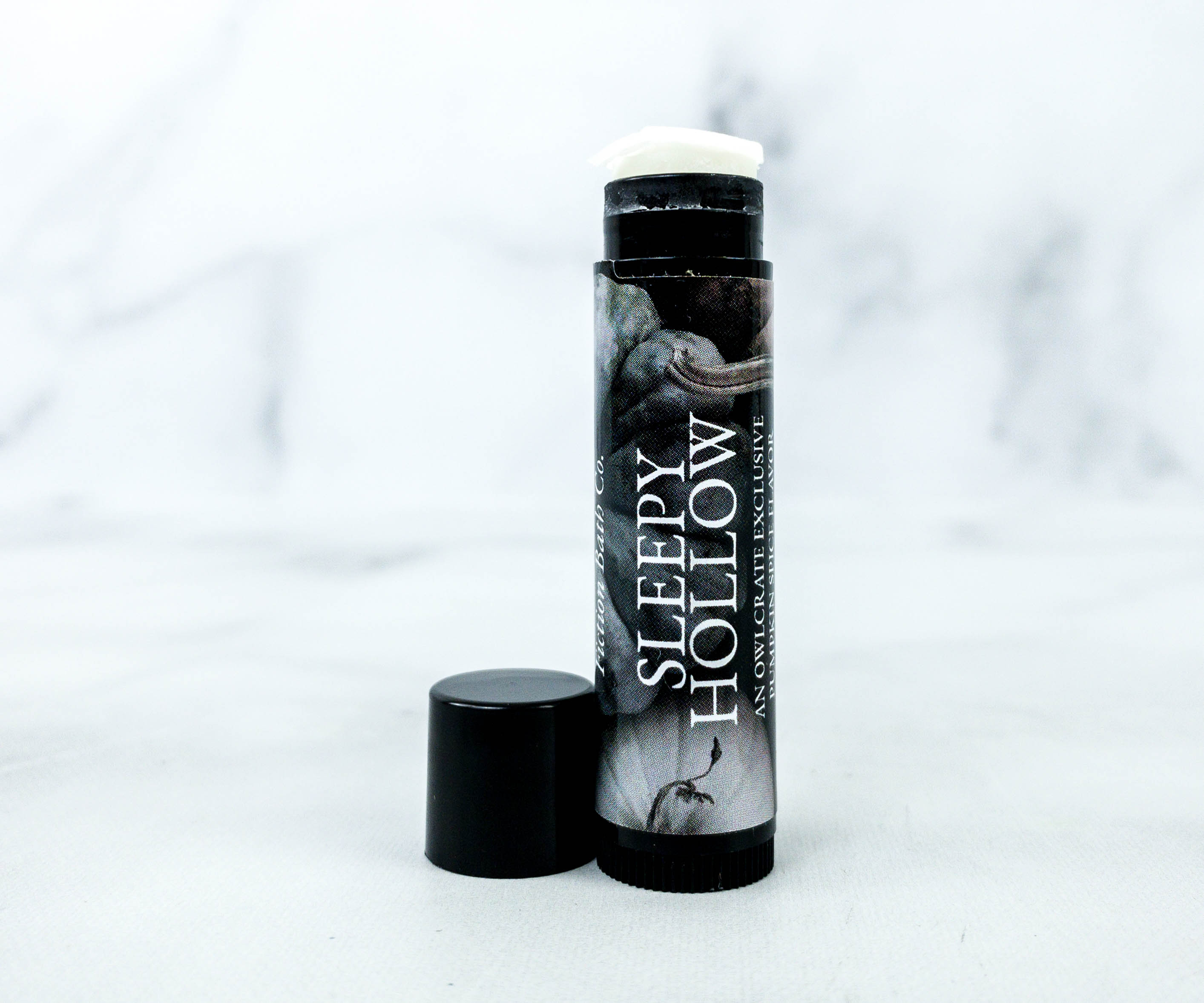 The formula isn't tacky and I love that it keeps my lips feeling really smooth and hydrated. Plus, the packaging is in line with the theme!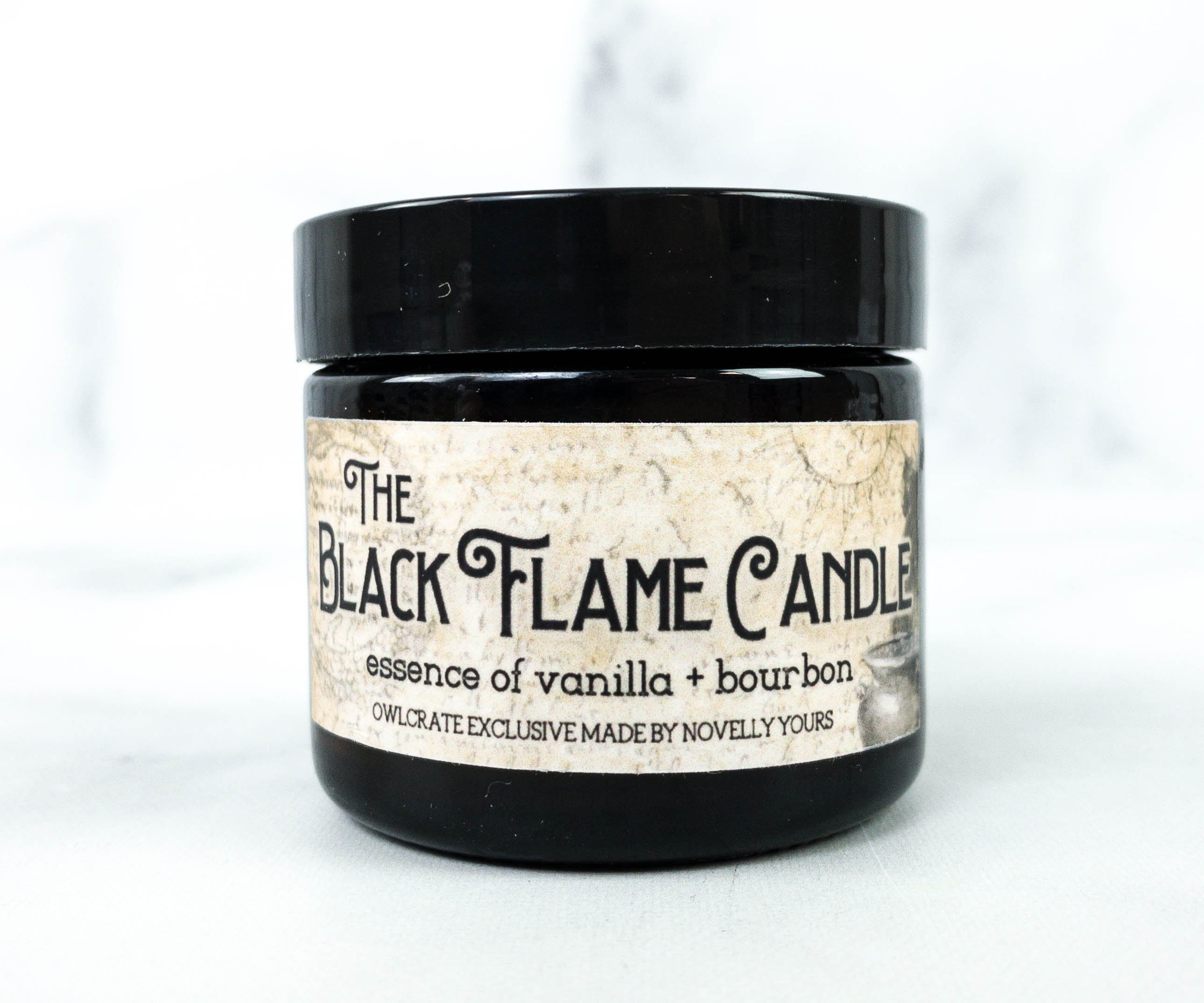 The Black Flame Candle. They also included a scented candle in this month's box. It is said that a Black Flame Candle is a dark magical candle composed of not just fire but darkness. According to stories, if this was lit by a virgin on Halloween, it would raise the dead for the whole duration that the candle is burning, which is the whole night of Halloween!
Although this one doesn't have that kind of magic, it does have an amazing vanilla bourbon scent. It's calming and I love that the scent lingers in the room even long after I have put the flame off.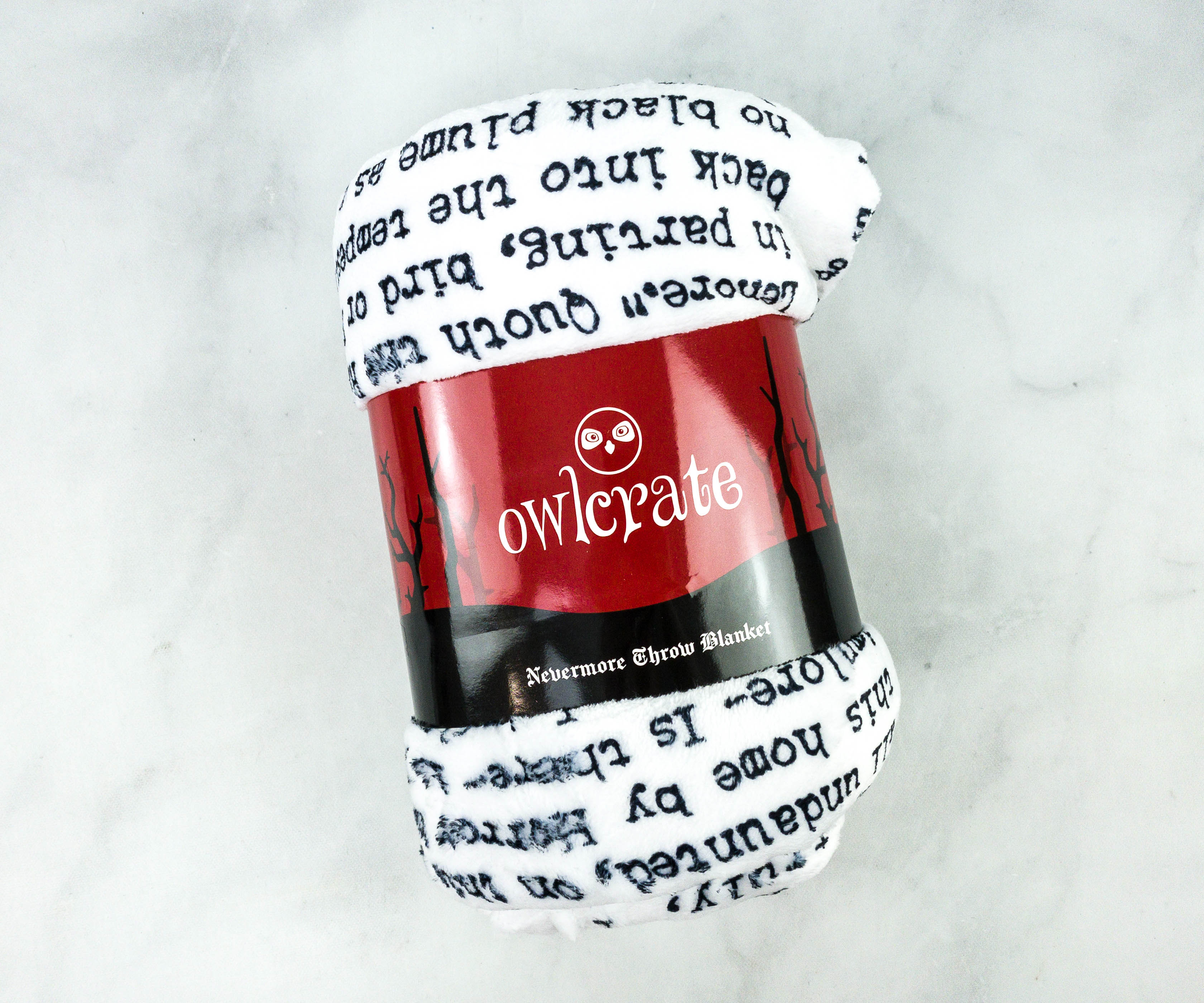 Nevermore Throw Blanket. Perfect for cold days, this throw blanket is a must-have when snuggling on your couch while reading a book or watching spooky movies!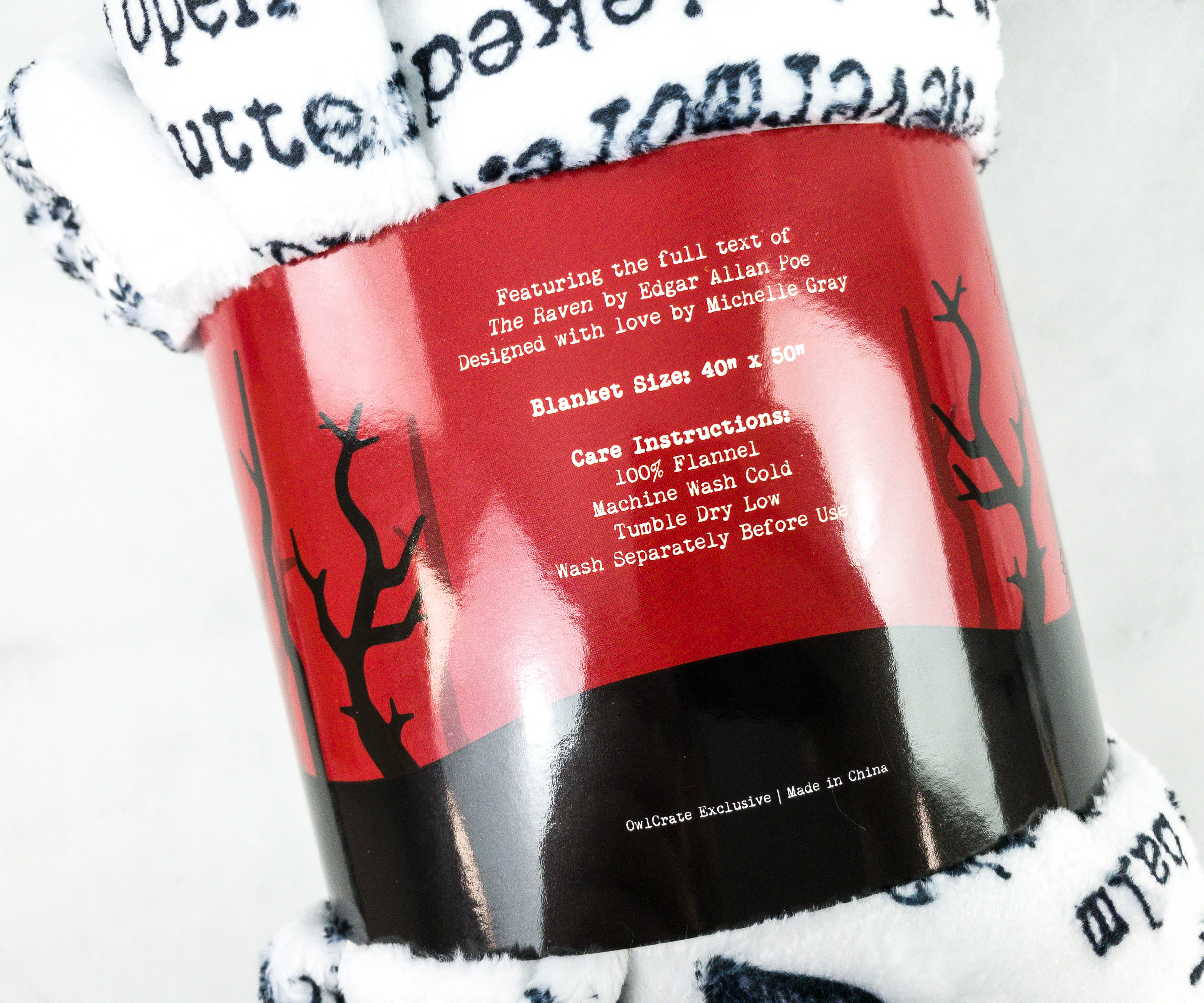 It's made of 100% flannel material so it's really cozy. The cardstock packaging has information on care and washing instructions as well.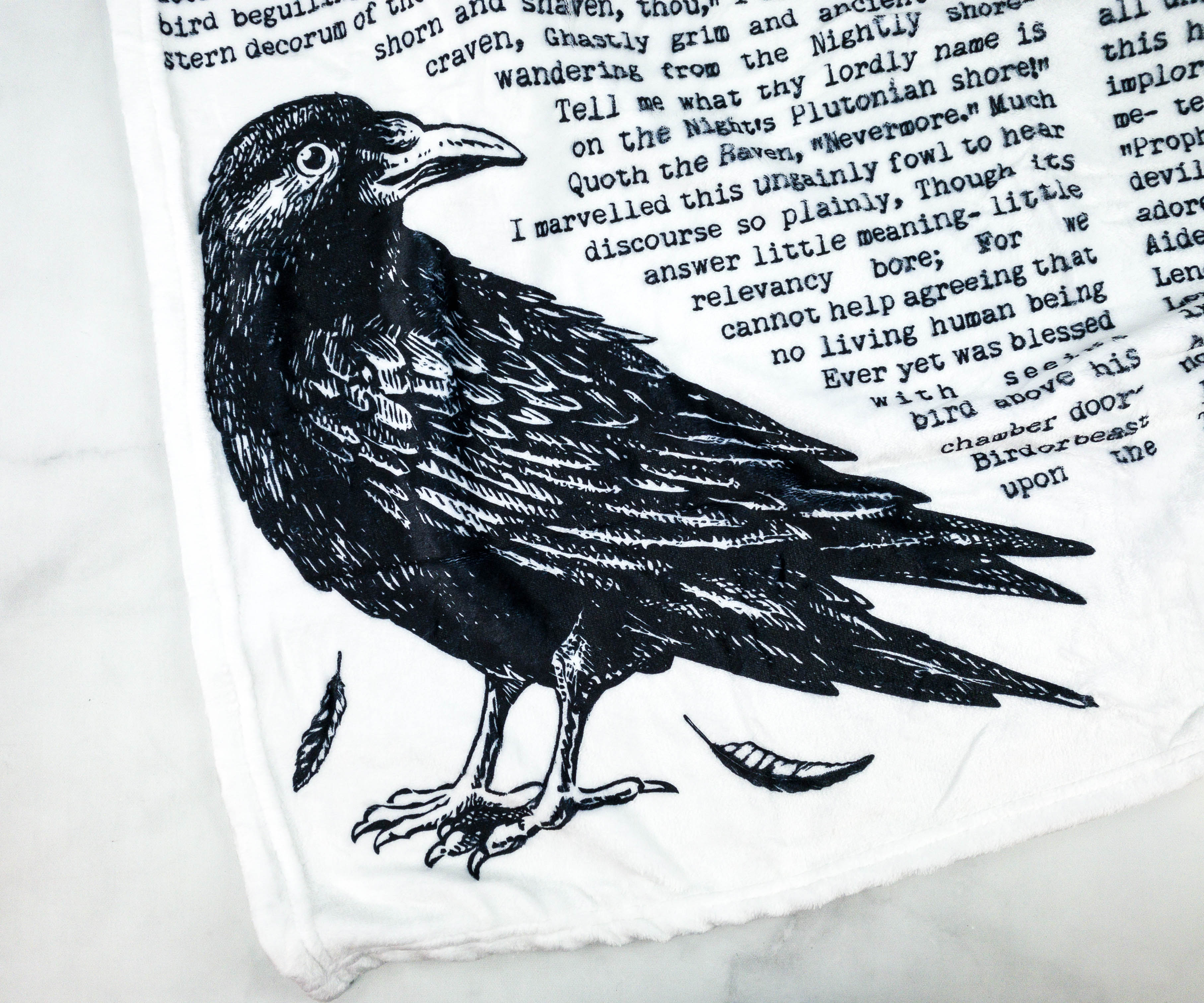 This blanket features the full text of Edgar Allan Poe's The Raven, and there are also illustrations all over!
I like that this is decorative and stylish yet it still provides warmth and comfort when needed.
With a 40″ x 50″ size, it is quite big so it's really great for those cold nights where you want to bundle up and feel warm and cozy.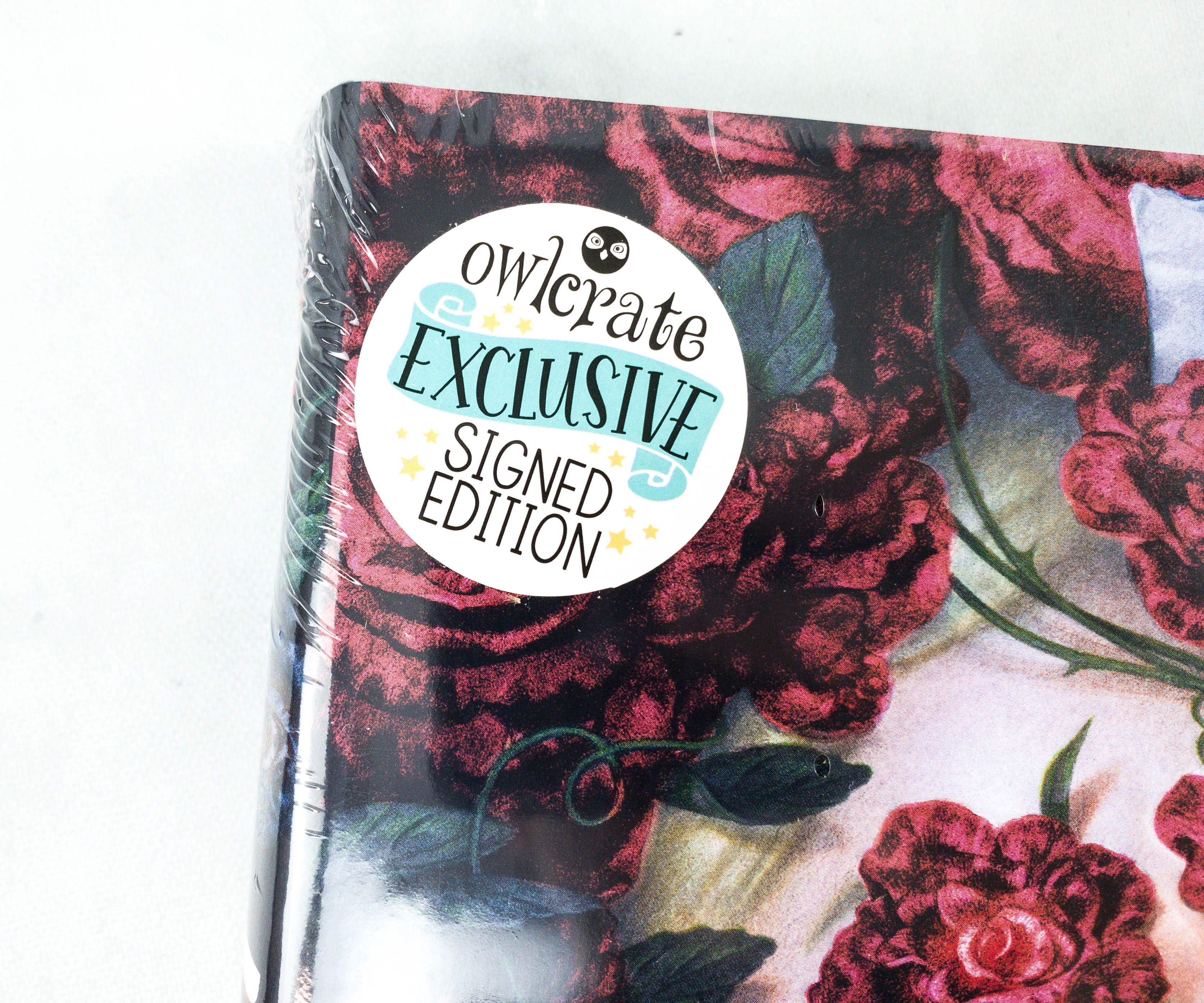 The next item is what I'm looking forward to the most! It's a signed book copy!
We have a card with a nursery rhyme adapted from the poem There Was A Little Girl by Henry Wadsworth Longfellow.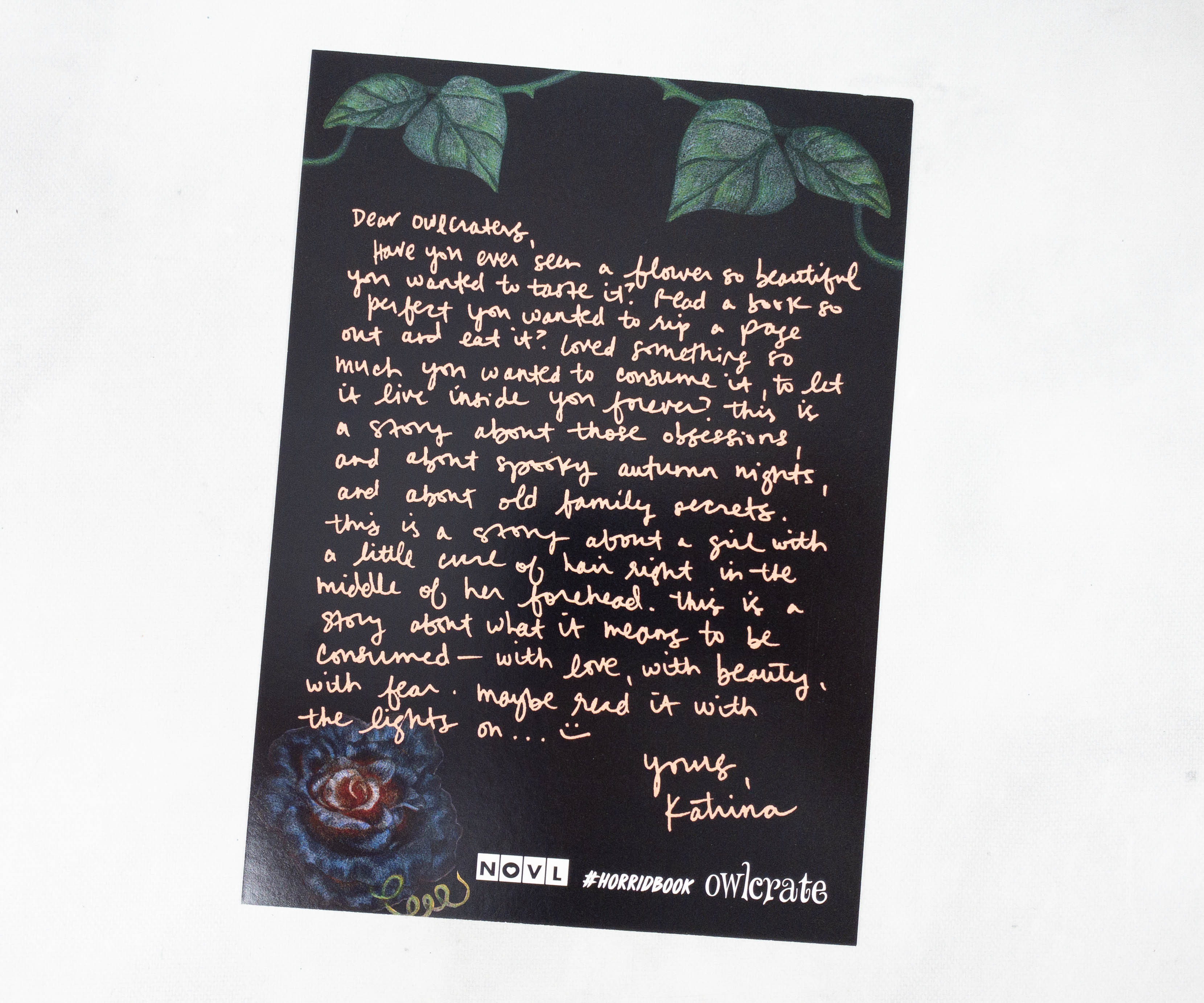 At the back is a message from the author herself, Katrina Leno!
Horrid by Katrina Leno ($16.19)
From the author of You Must Not Miss comes a haunting contemporary horror novel that explores themes of mental illness, rage, and grief, twisted with spine-chilling elements of Stephen King and Agatha Christie.

 

Following her father's death, Jane North-Robinson and her mom move from sunny California to the dreary, dilapidated old house in Maine where her mother grew up. All they want is a fresh start, but behind North Manor's doors lurks a history that leaves them feeling more alone…and more tormented.

As the cold New England autumn arrives, and Jane settles in to her new home, she finds solace in old books and memories of her dad. She steadily begins making new friends, but also faces bullying from the resident "bad seed," struggling to tamp down her own worst nature in response. Jane's mom also seems to be spiraling with the return of her childhood home, but she won't reveal why. Then Jane discovers that the "storage room" her mom has kept locked isn't for storage at all–it's a little girl's bedroom, left untouched for years and not quite as empty of inhabitants as it appears….

Is it grief? Mental illness? Or something more…horrid?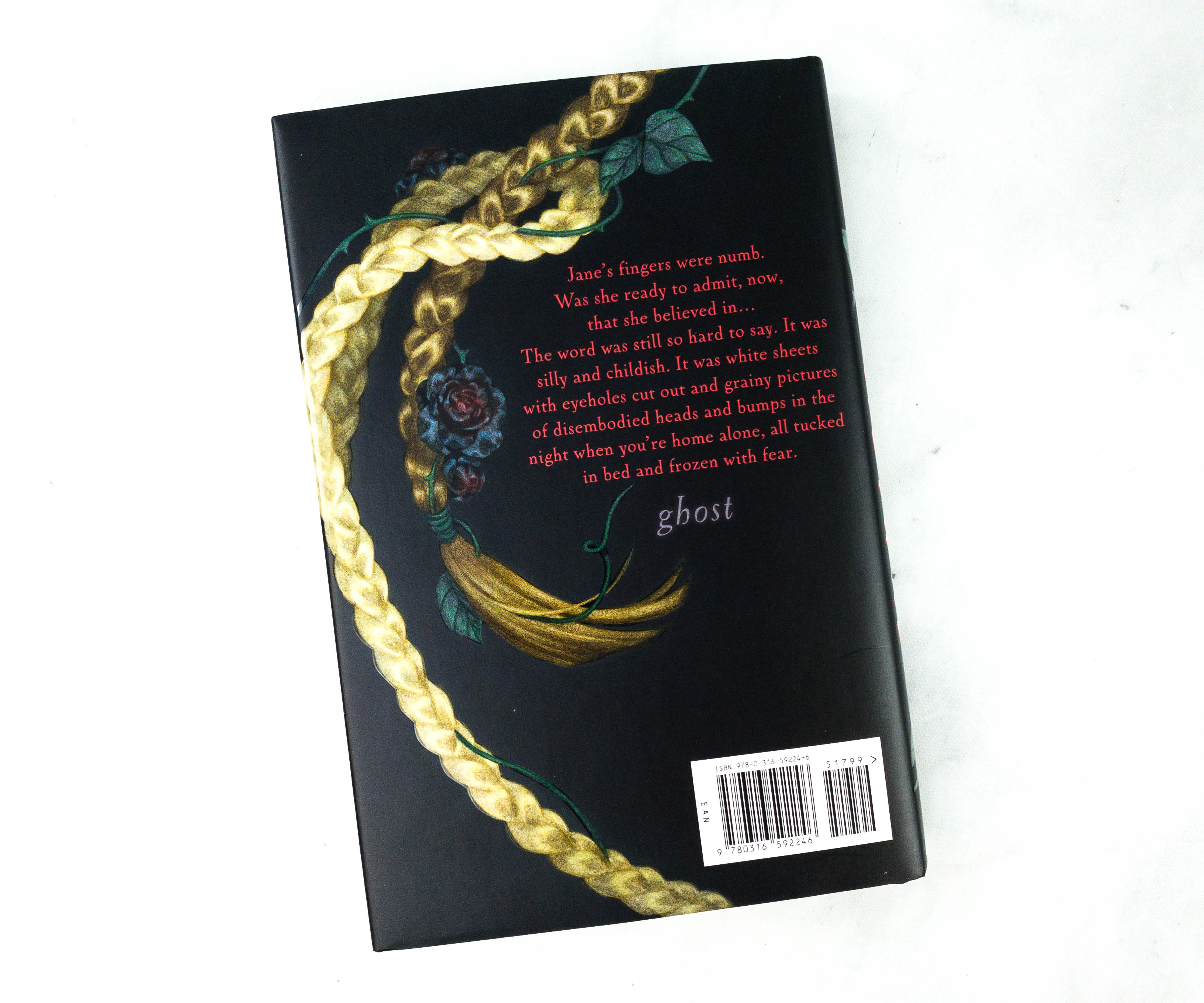 The book cover is haunting yet beautiful! I love the overall feel of this book cover, from front to back. It gives an air of mystery that makes me want to just pick up the book and get to reading!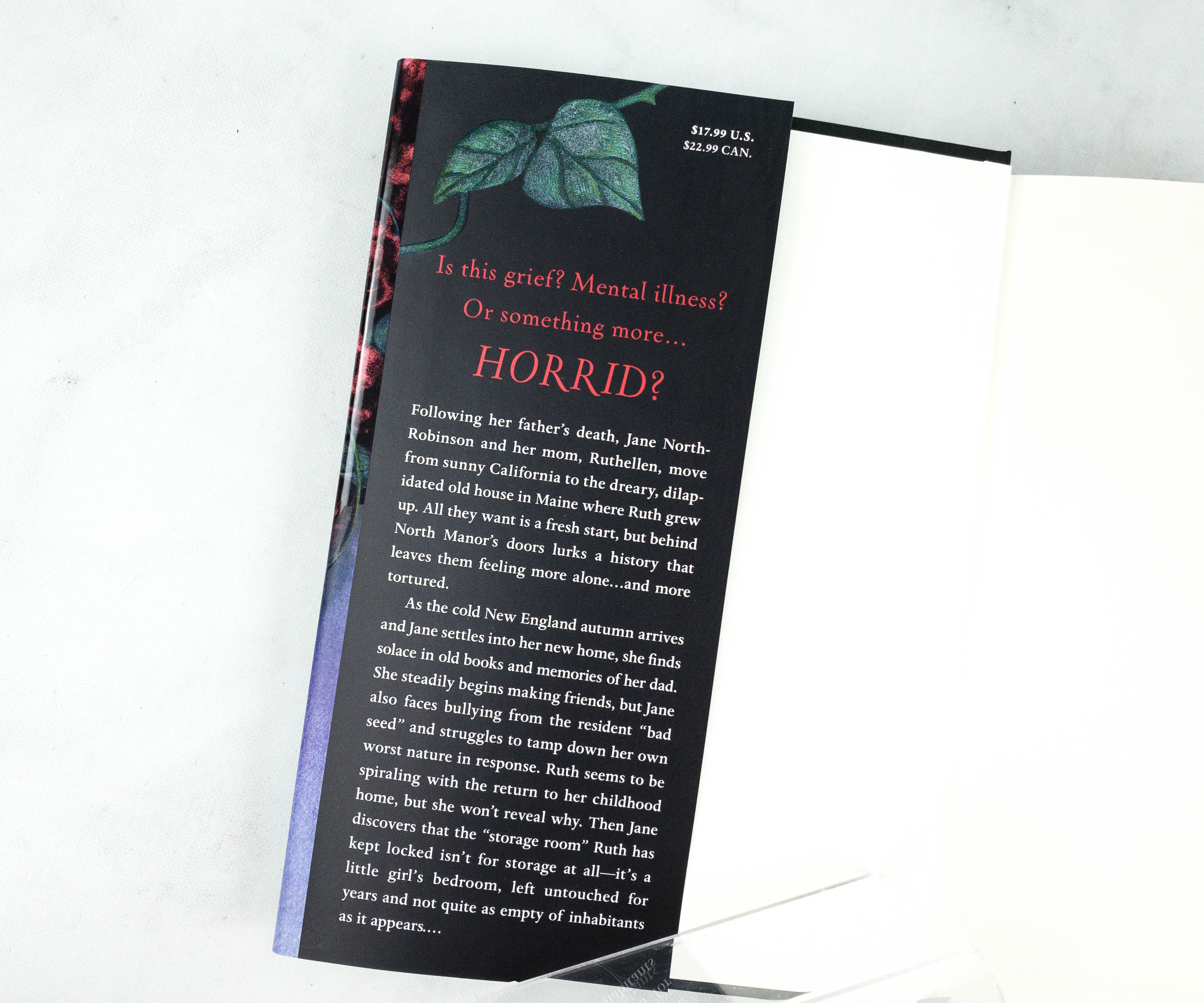 The front flap contains a short summary of the book.
There's the author's sign! At the bottom, there's also a note that says this edition was printed exclusively for Owl Crate.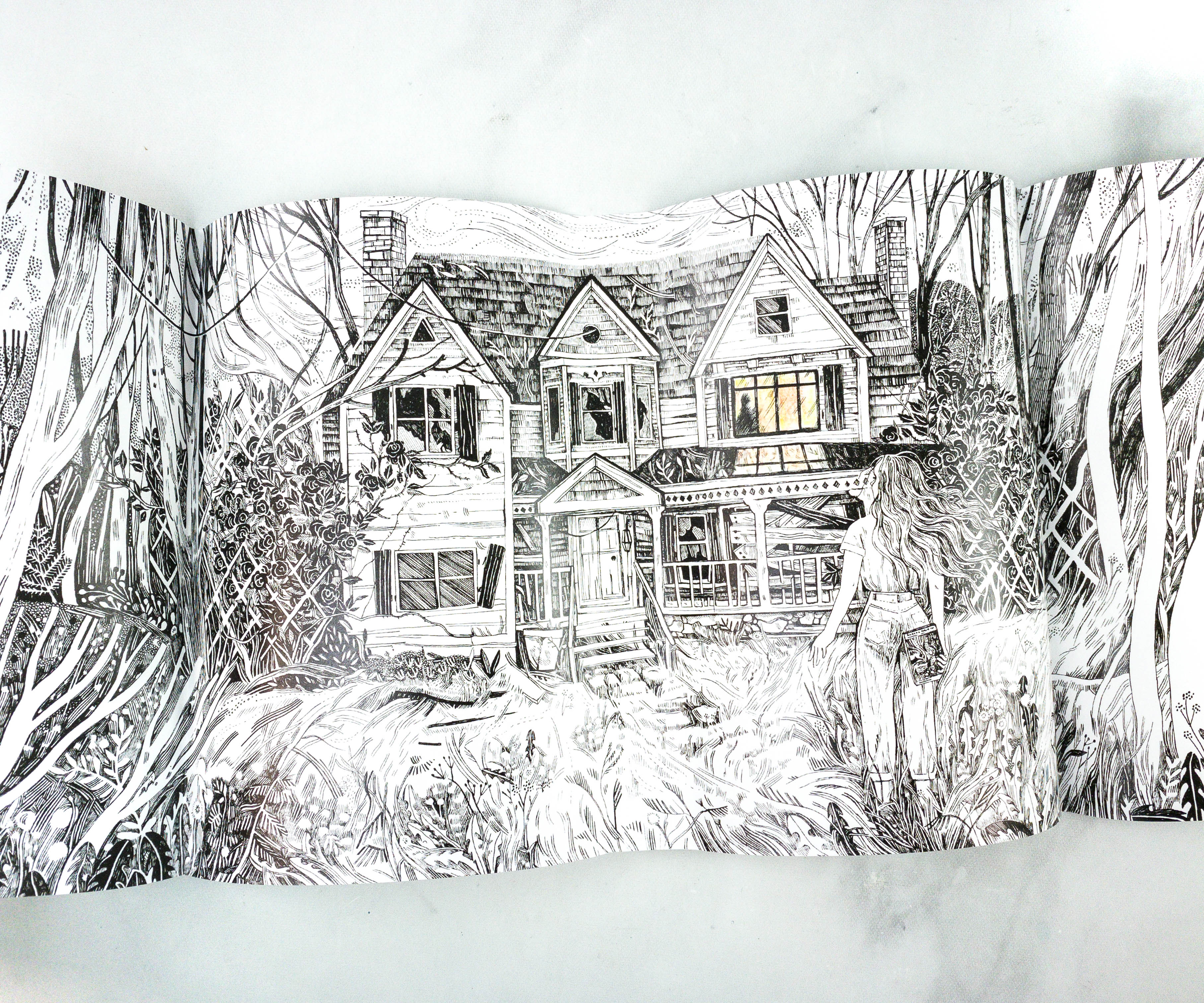 The inside of the book jacket includes an illustration to give us a better grasp of the setting that the book depicts.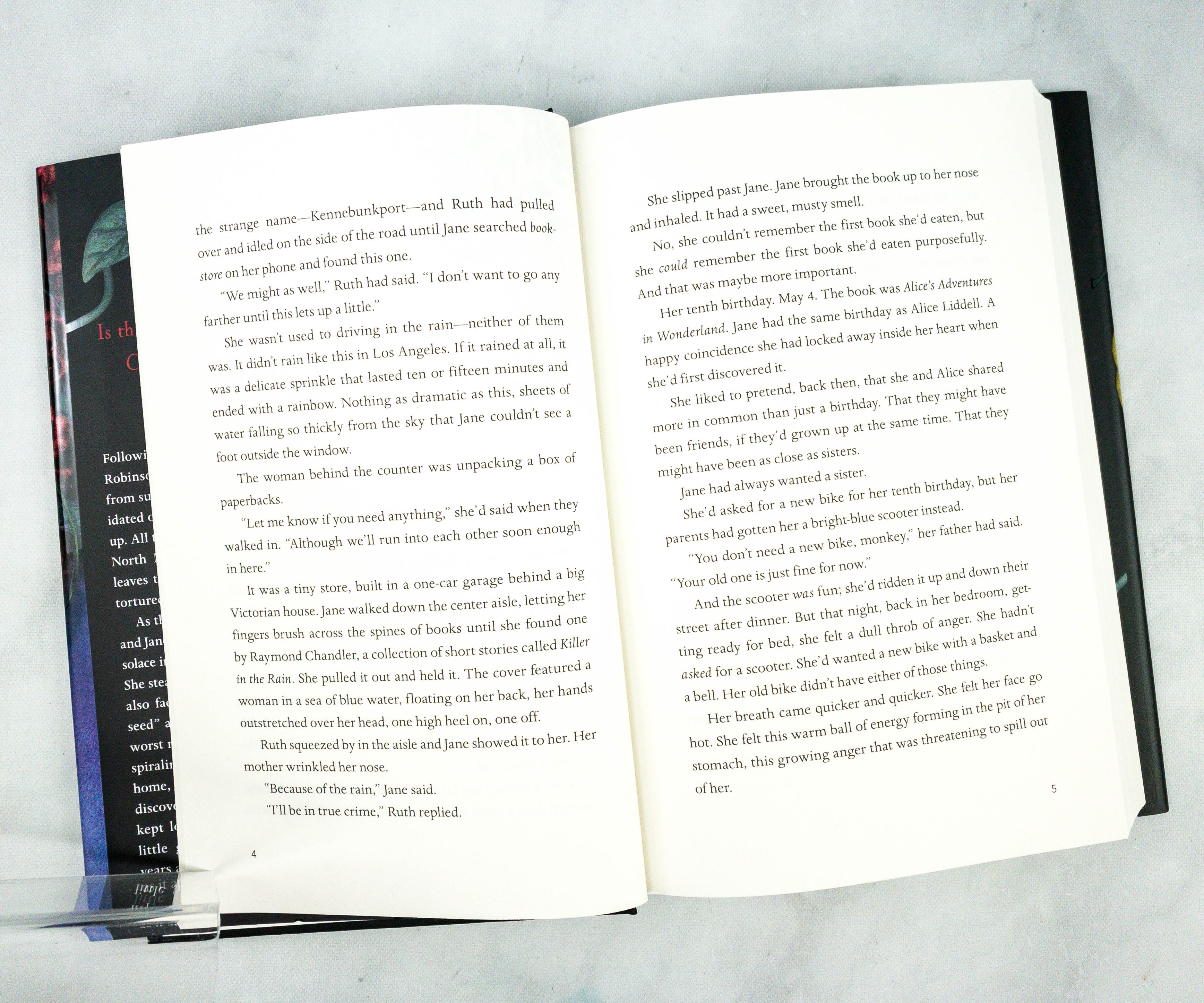 It's a compelling story. I promised myself to pause after one chapter but I always continue to the next without hesitation. This book also has a focus on grief, mental health, and trauma along with some paranormal activity so it's really engaging.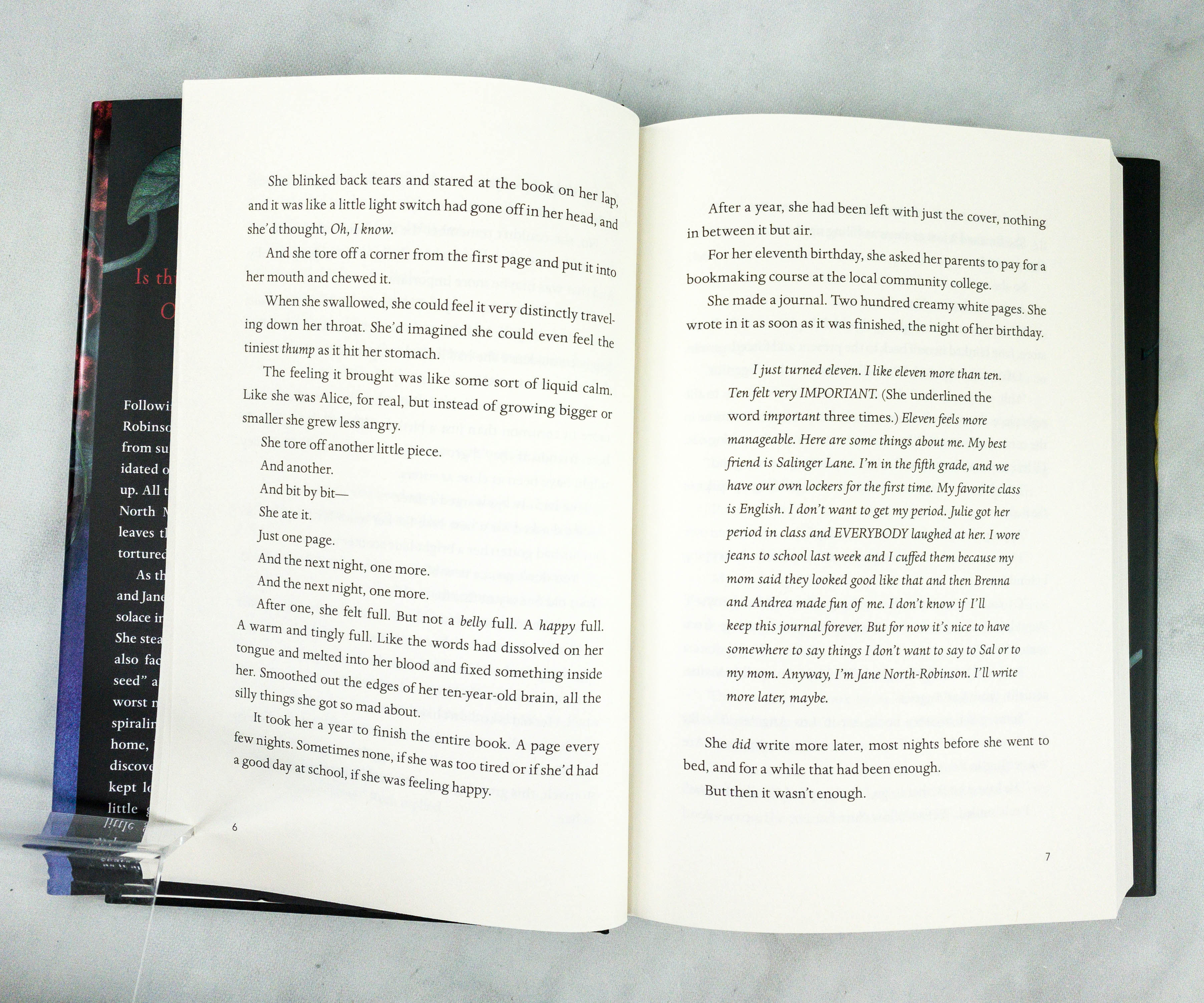 This story is well thought out because each element had a purpose. I love the fluidity of the writing because it makes the story more captivating. It's not hardcore horror, but still enough to keep me at the edge of my seat!
We also received this card with a hint about the next box theme.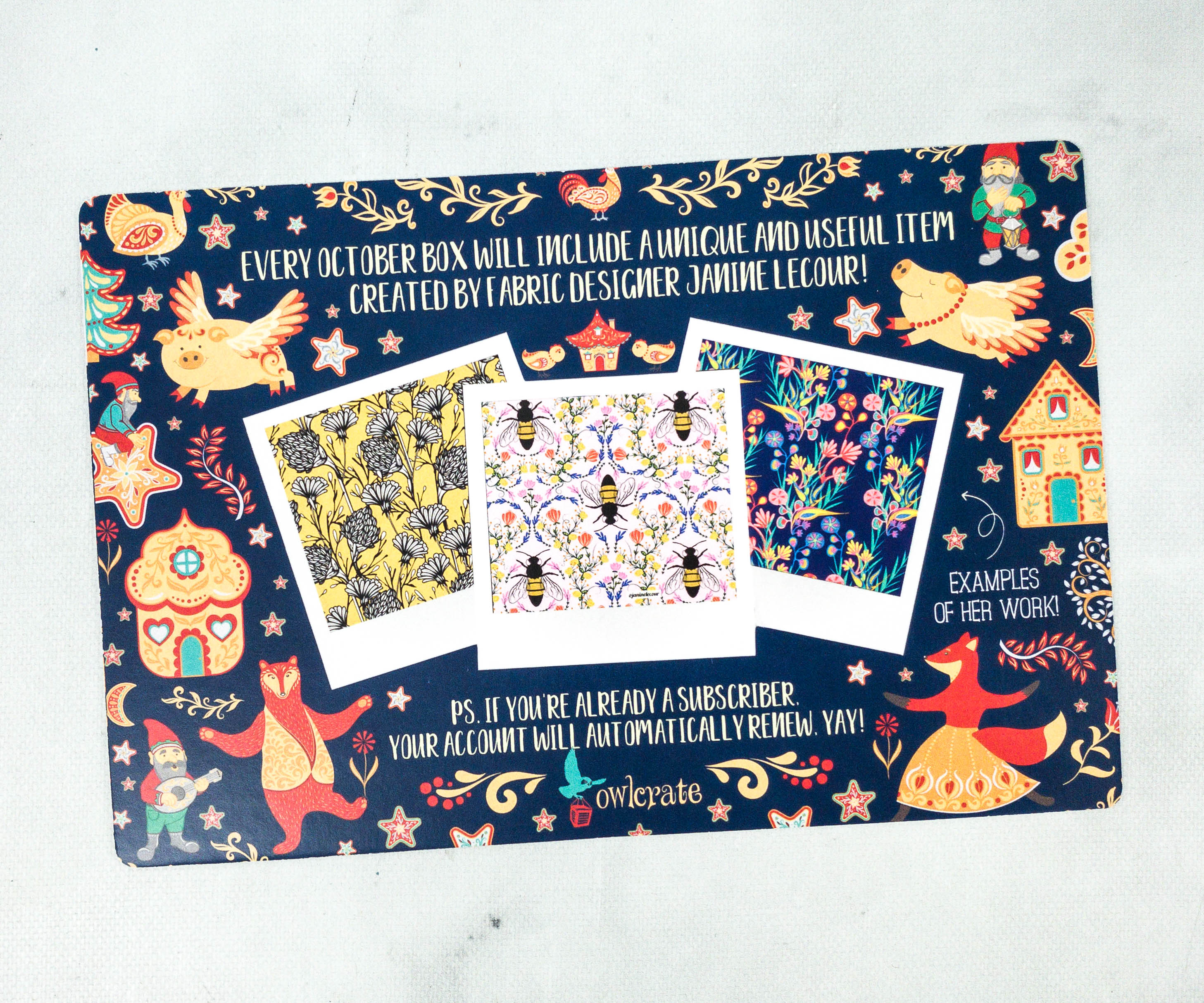 At the back, it says we will get a unique and useful item for our October box!
I love the spooky vibe of this month's OwlCrate! I really enjoyed the book, it wasn't a genre I would usually gravitate to but I'm glad they sent it because it was a really good book. My favorite bookish item from the box is the flannel blanket. It's super comfortable and I think it will look great to style my couch with for our Halloween dinner at home! Overall, I am happy with everything I received and since we got that little teaser card for the next box, I'm definitely looking forward to it!
What did you think of this month's Owl Crate theme? Are you excited for next month's theme?