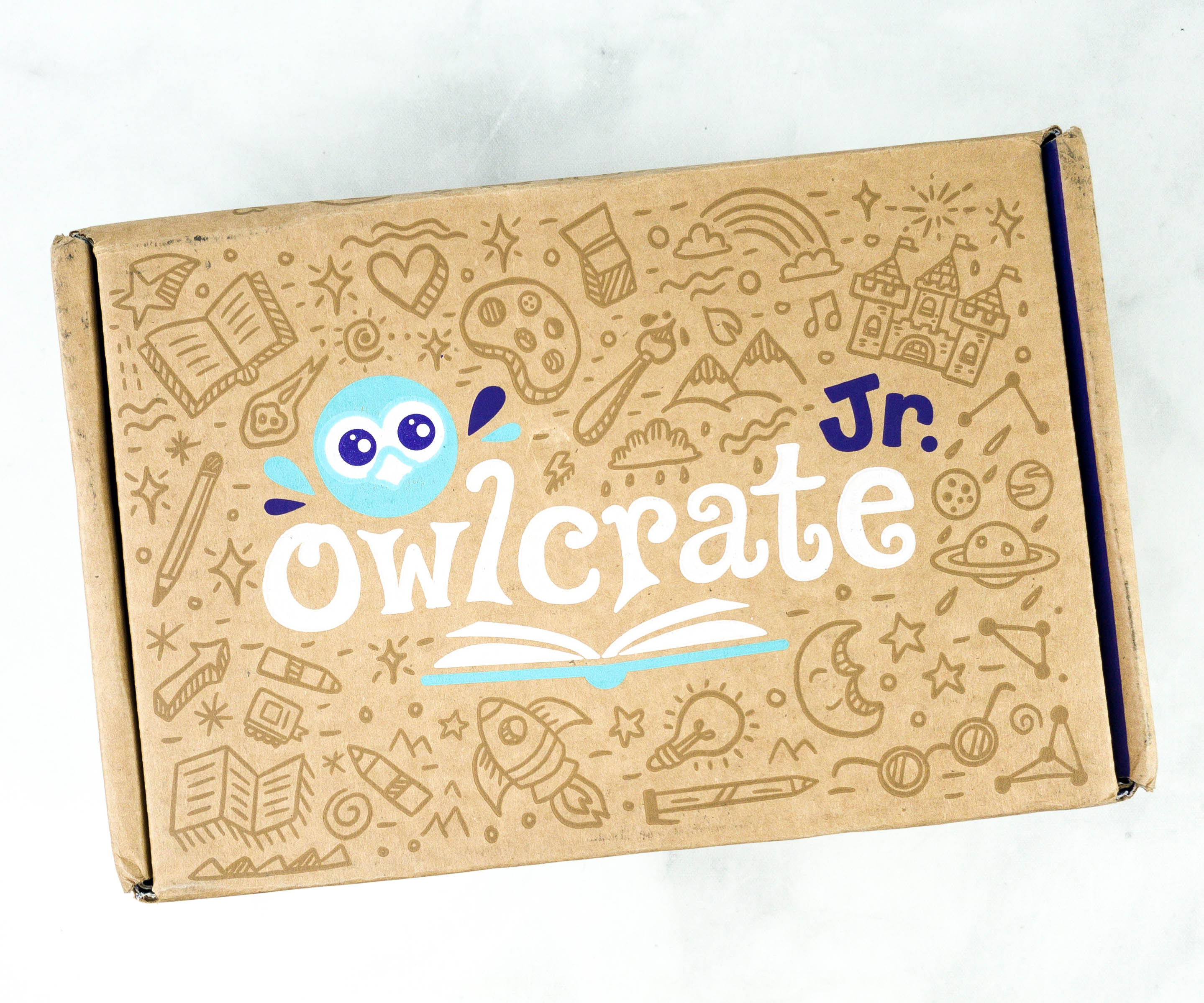 OwlCrate Jr. is a monthly book subscription box for young readers ages 8-12 with a middle-grade book plus fun gender neutral bookish items designed to enhance your little reader's experience. It's from OwlCrate, a super popular YA (young adult) fiction subscription.
DEAL: Save 15% on your first 1, 3 or 6-month subscription or gift with the promo code HELLO15 at checkout.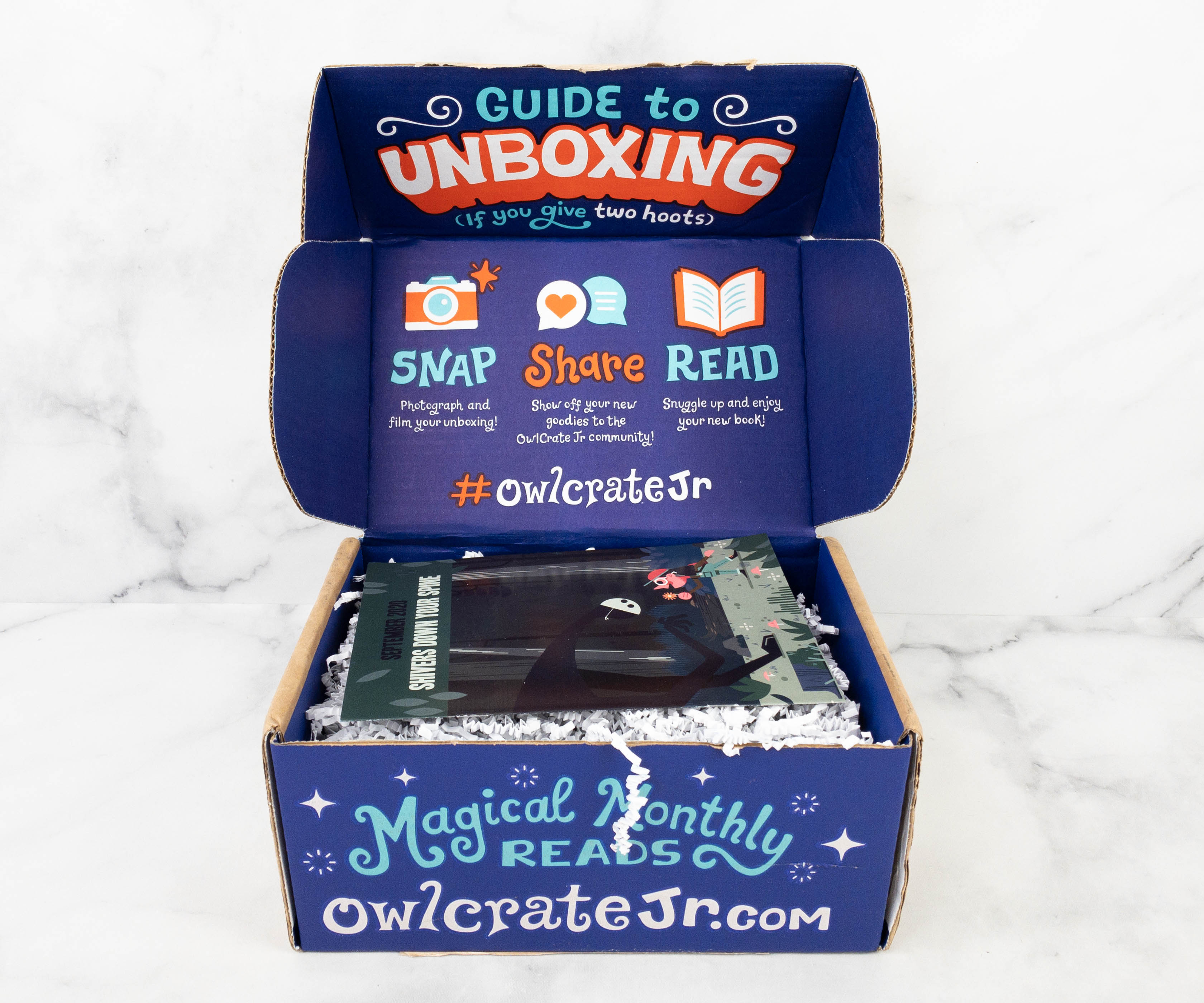 The inner flap has a guide to unboxing your crate!
The items were packed with white squiggles.
The theme for the September 2020 OwlCrate Jr. box is SHIVERS DOWN YOUR SPINE! The mini magazine's cover is really nice!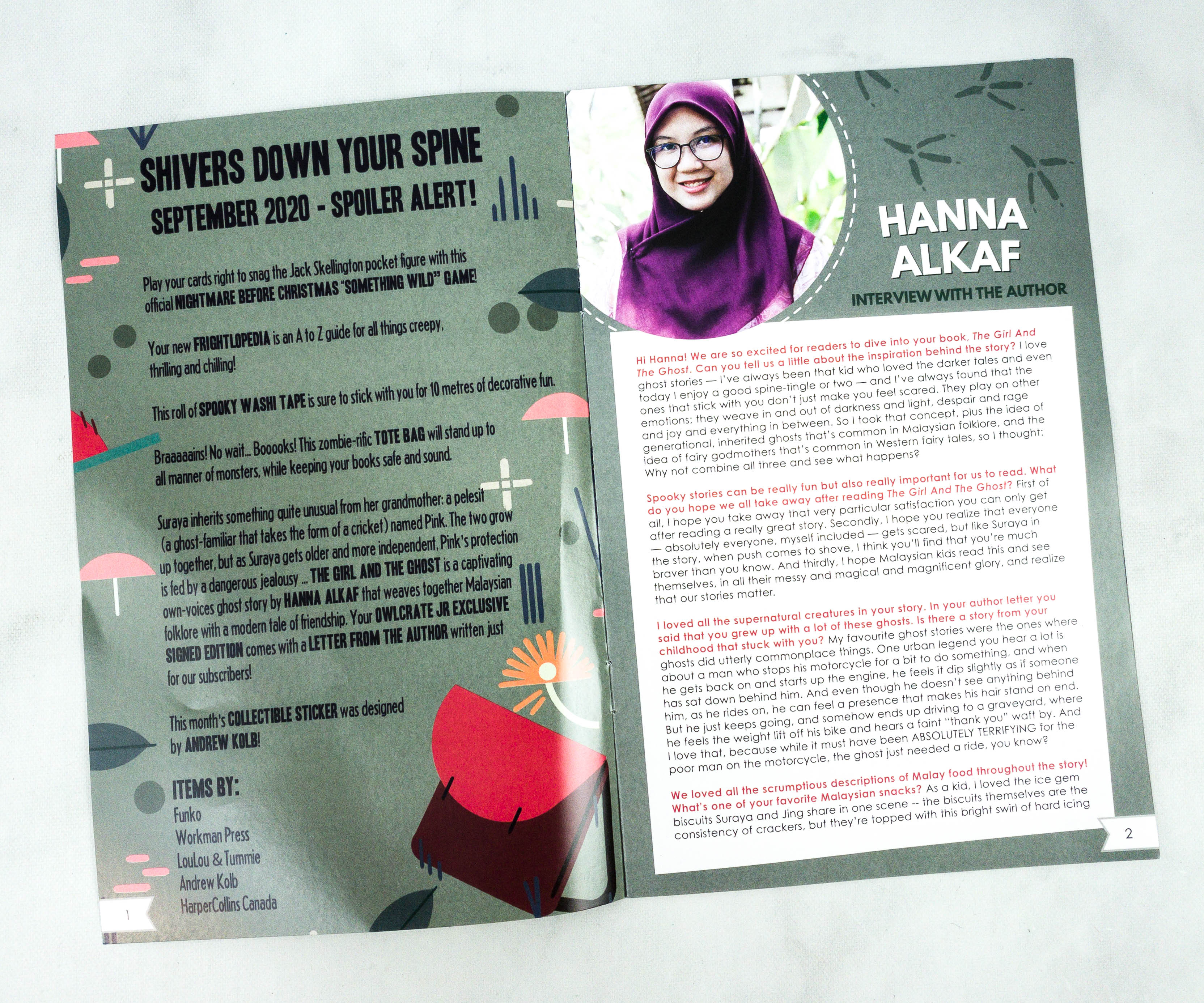 Inside, there's a list of all the items in the box, as well as an interview with this month's featured author Hanna Alkaf.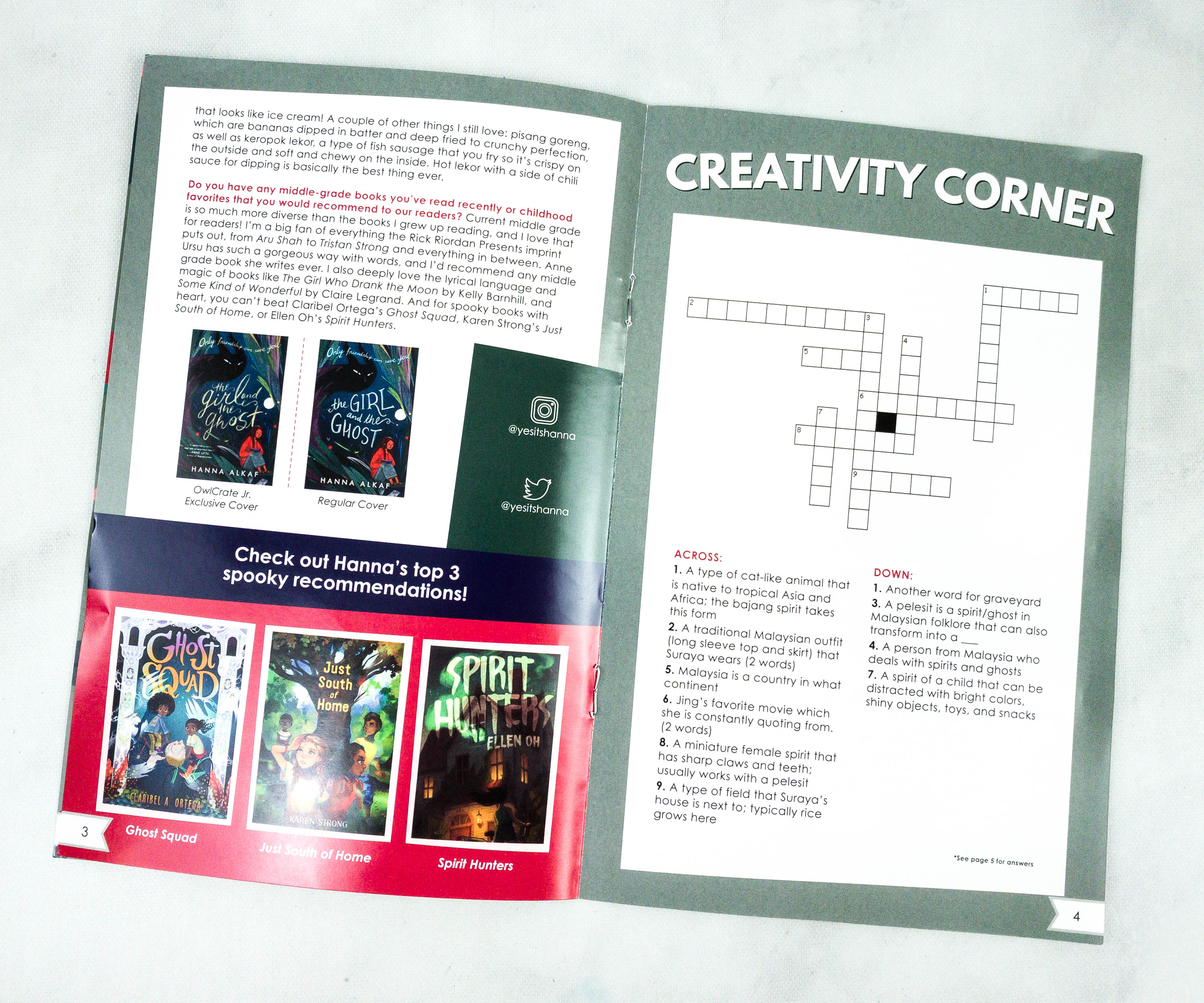 Knowing what inspired the author to pen a story can help children understand the book better.
They also suggested some titles for further reading, especially if you love this month's book: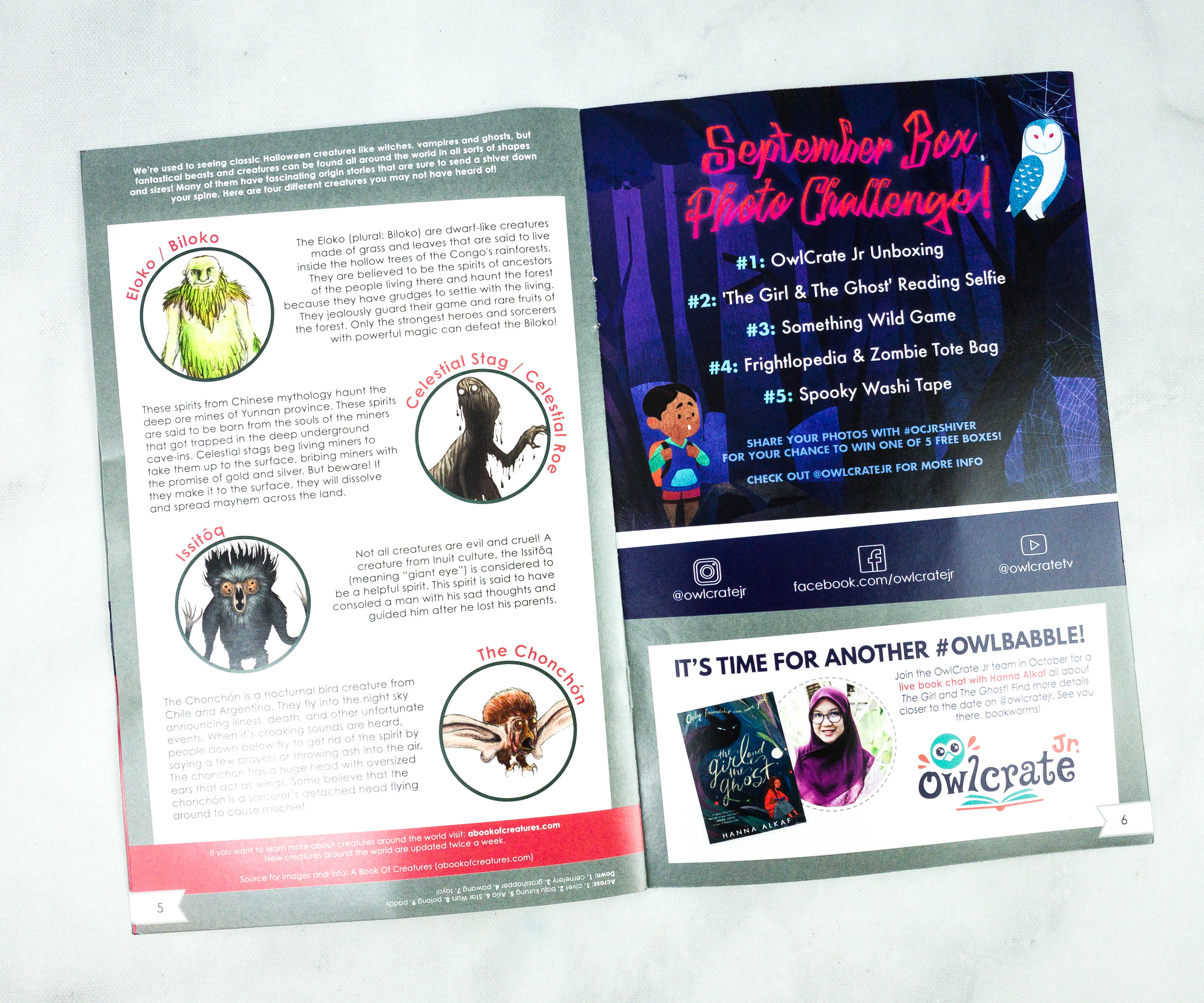 They also gave us info for the September Box Photo Challenge!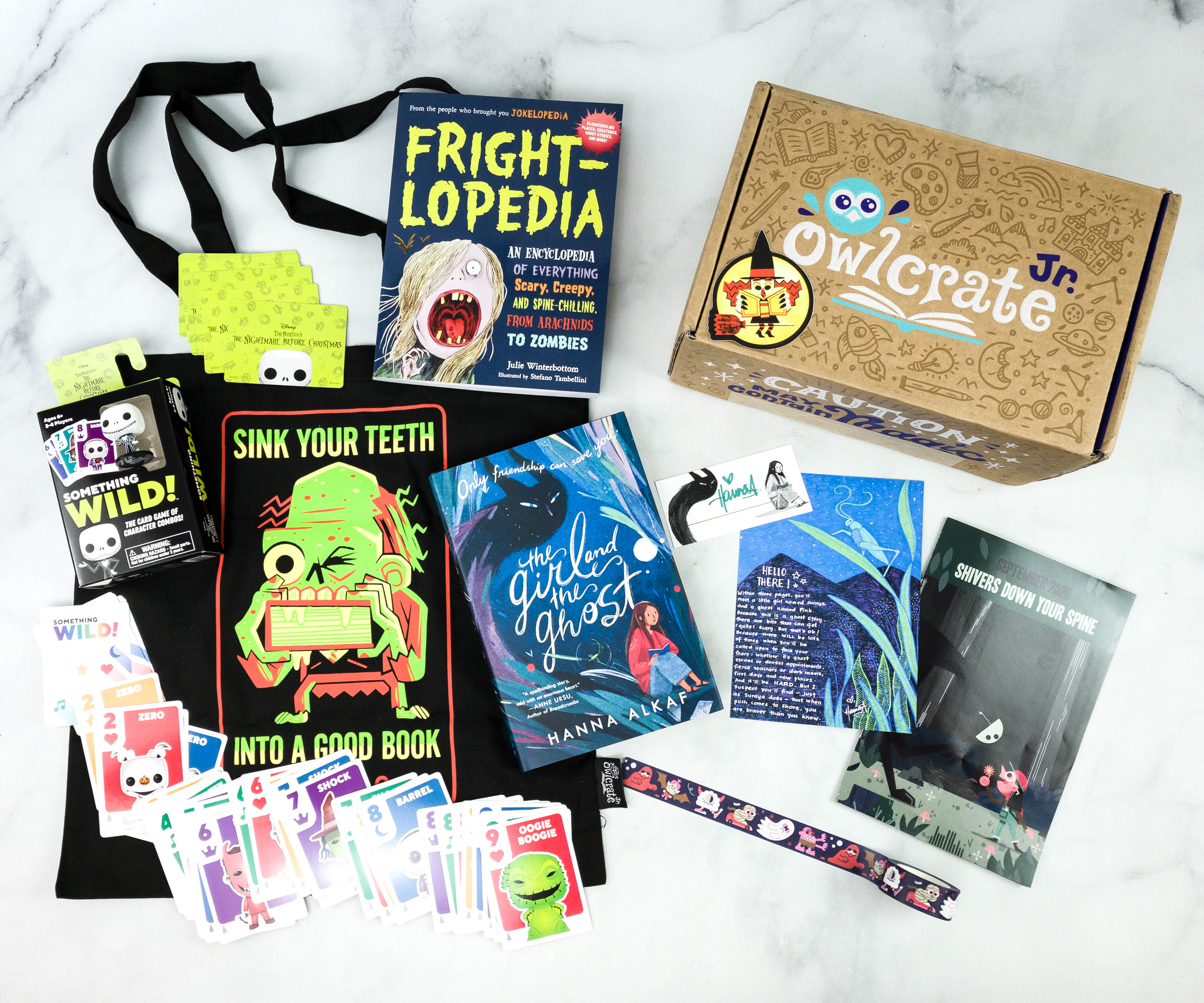 Everything in the September 2020 OwlCrate Jr. box! 
Tote Bag. It's a black tote bag designed to match the theme! This is perfect for carrying books and other bookish stuff wherever you go.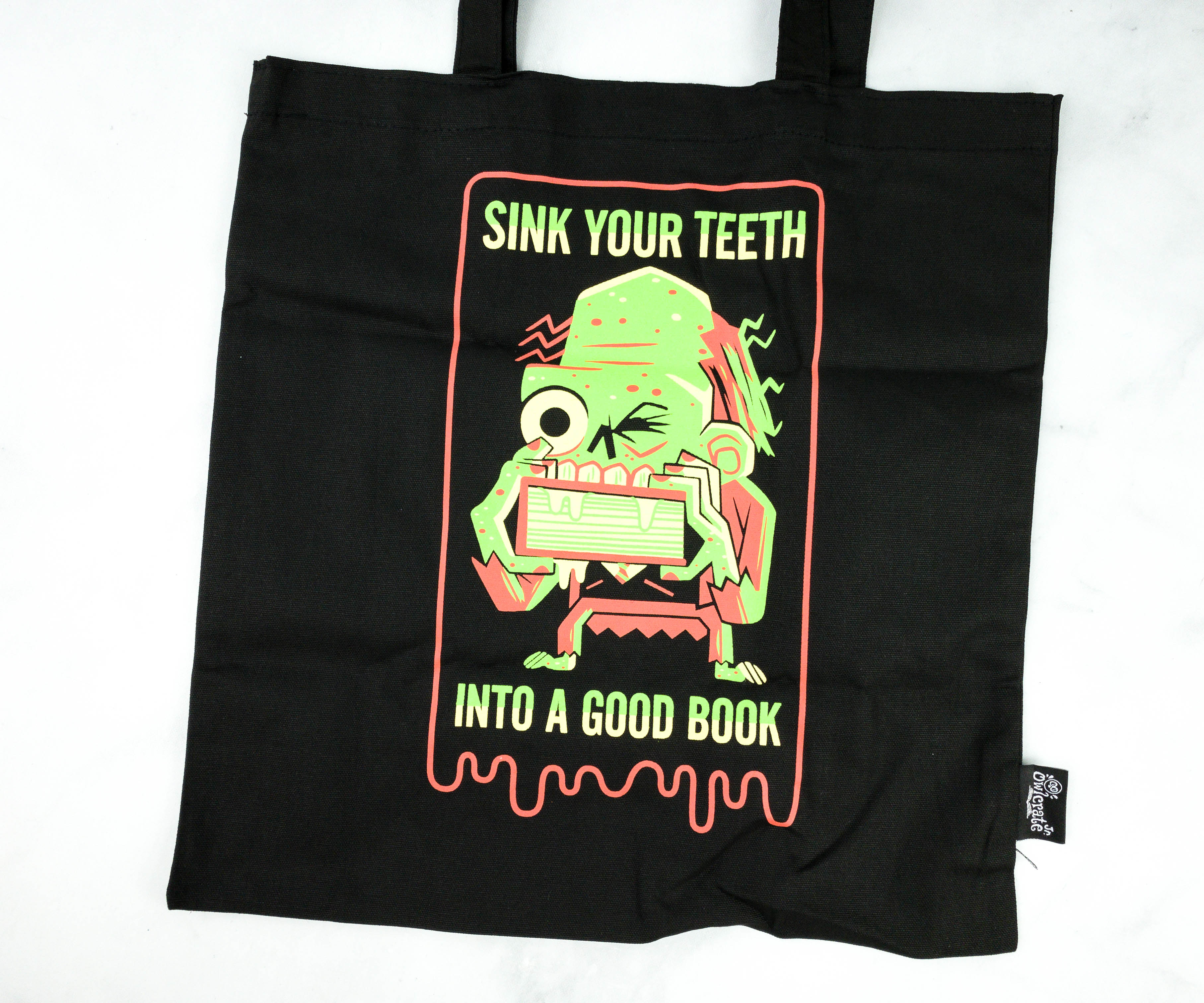 The print features a scary zombie biting on a book! There's also an OwlCrate Jr. tag at the side.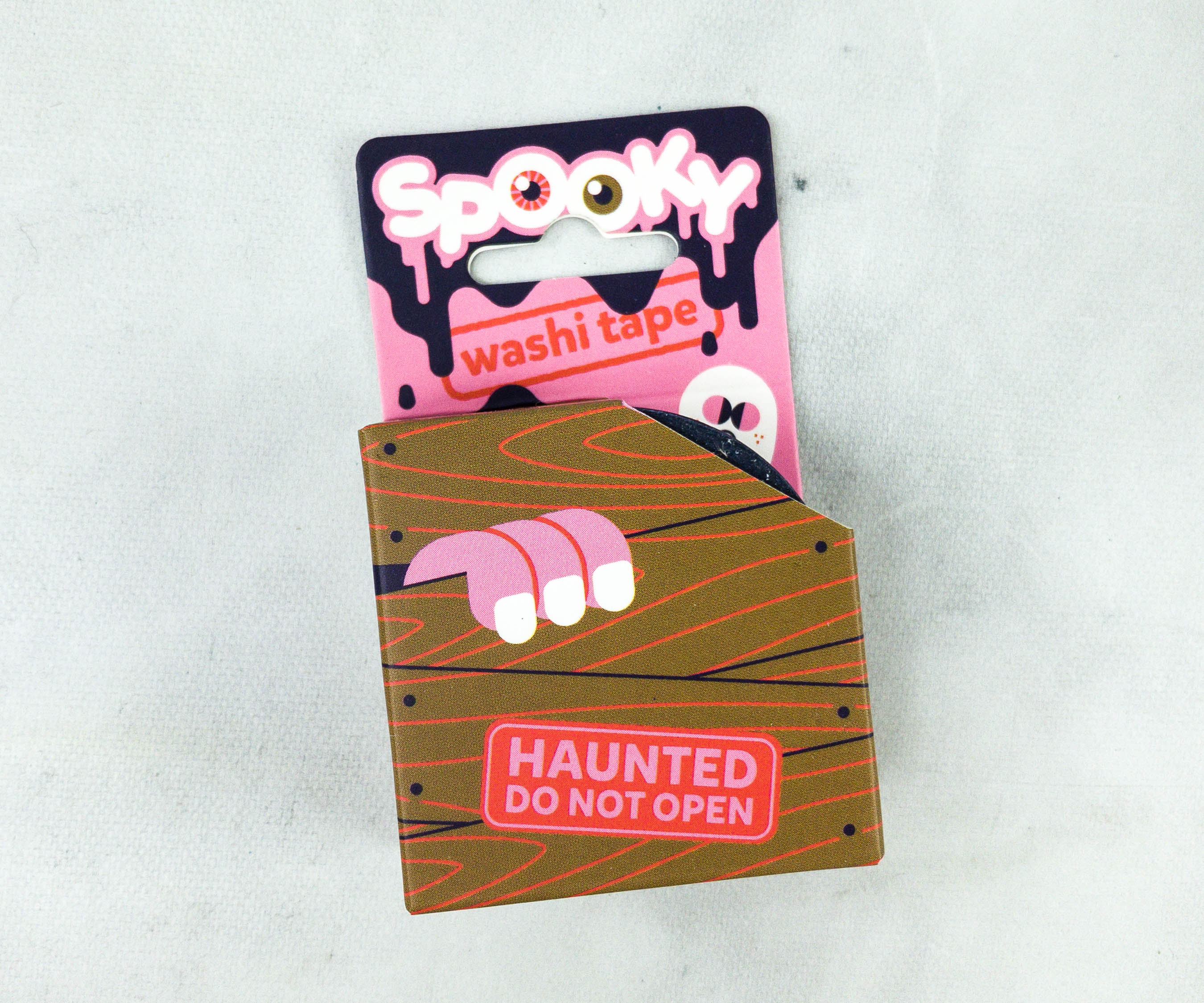 Spooky Washi Tape. There's a warning on the packaging and it says: "HAUNTED DO NOT OPEN"!
The back says it's an OwlCrate Jr. exclusive and it shows the size of the tape. It is designed by Loulou & Tummie.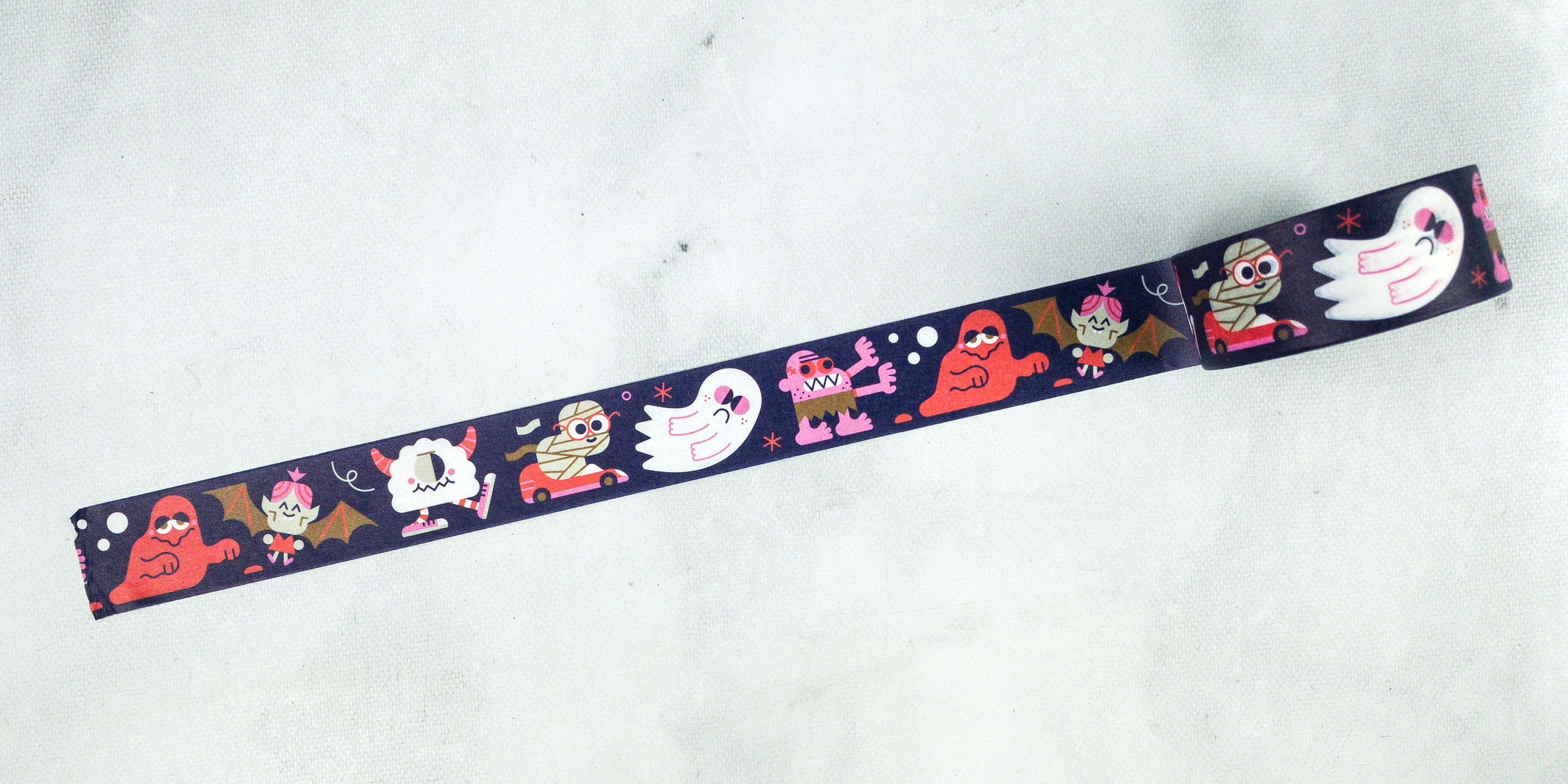 The washi tape features cute and spooky creatures! This can be used in designing journal pages or even for packing Halloween treats.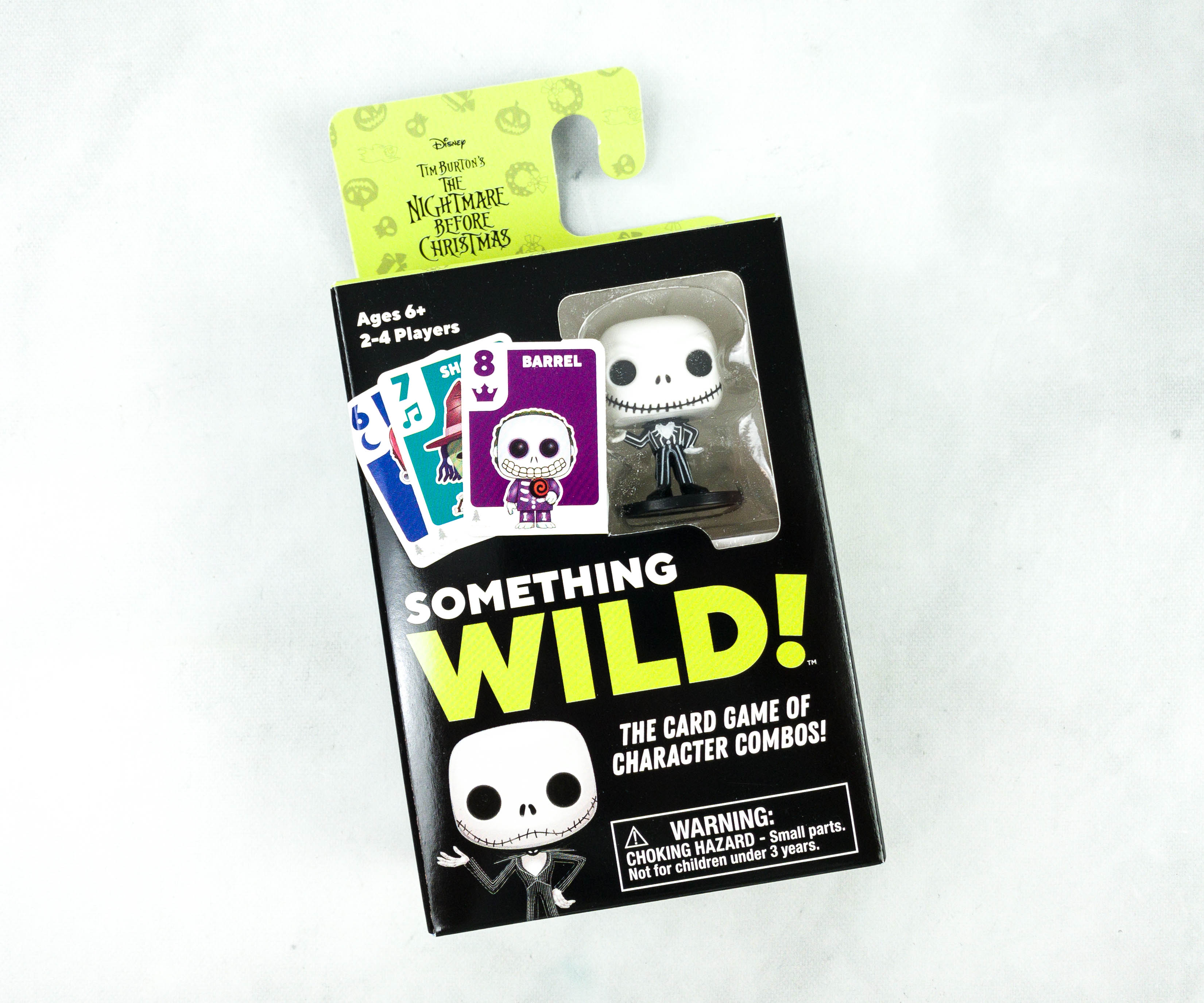 Nightmare Before Christmas "Something Wild" Game. Here's a set of playing cards that we can play on Halloween!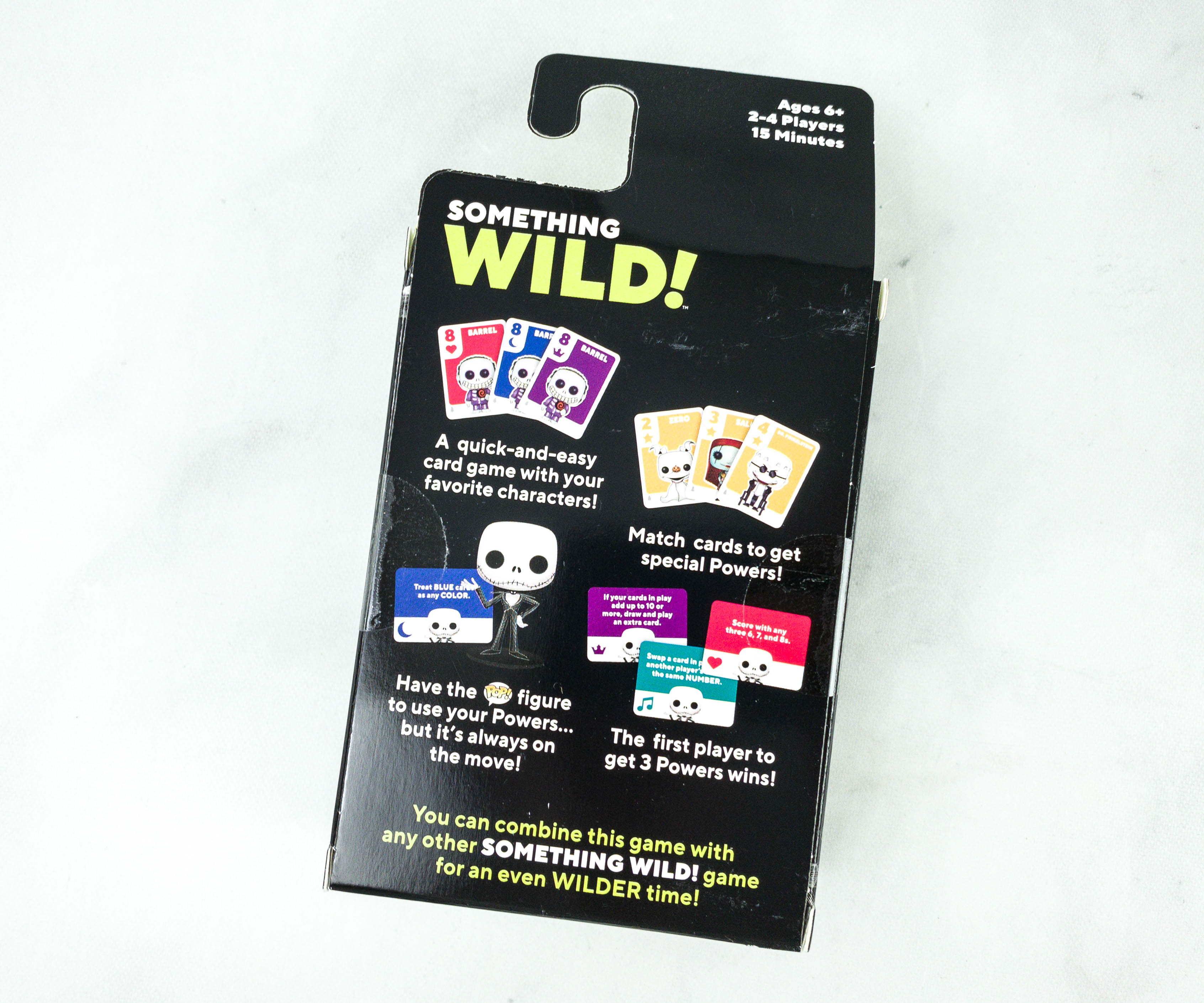 Instructions on how to play the game are printed on the back packaging.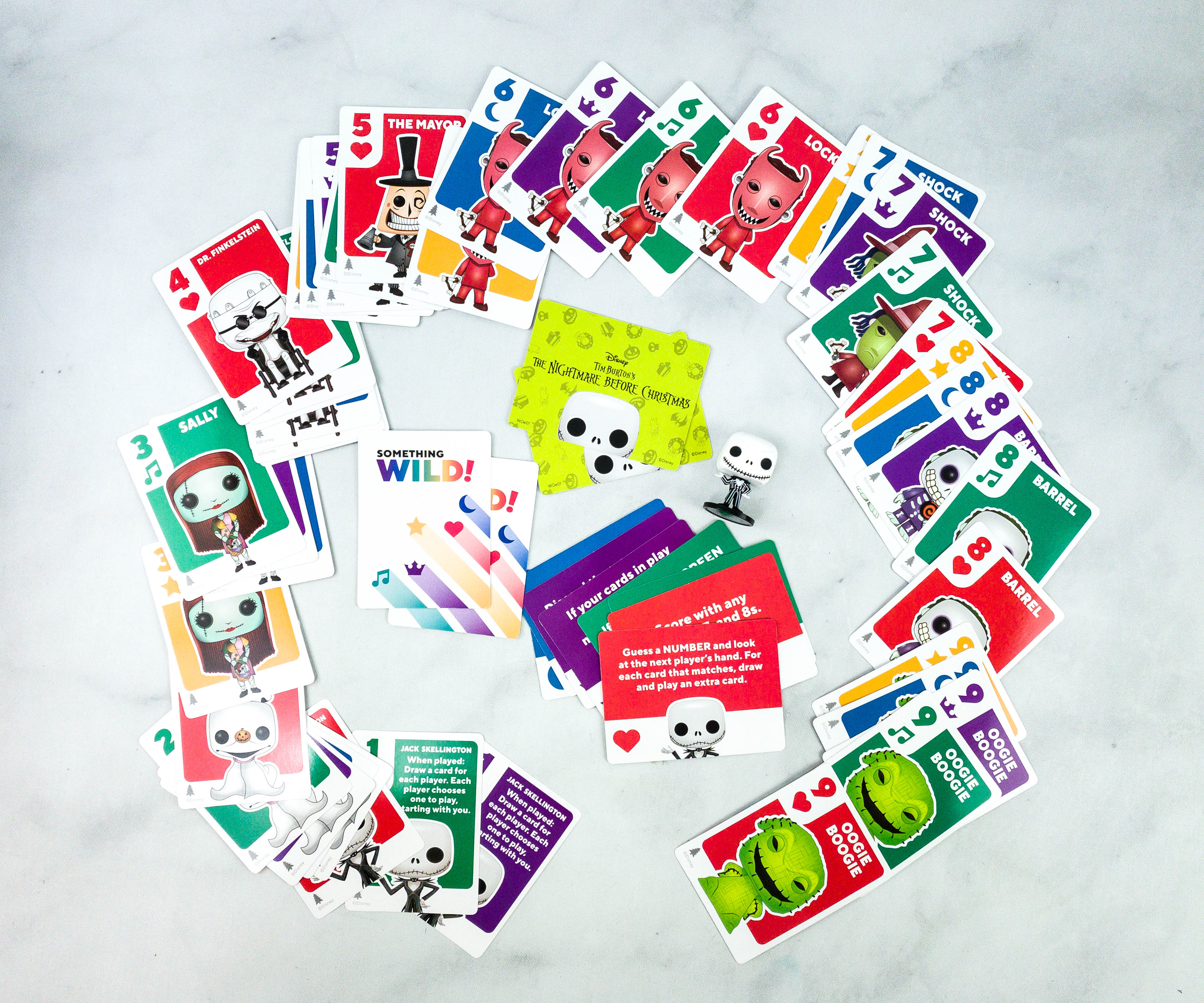 Each card flashes different colors, numbers, and characters from The Nightmare Before Christmas. It features Sally, Oogie Boogie, Dr. Finkelstein, and others.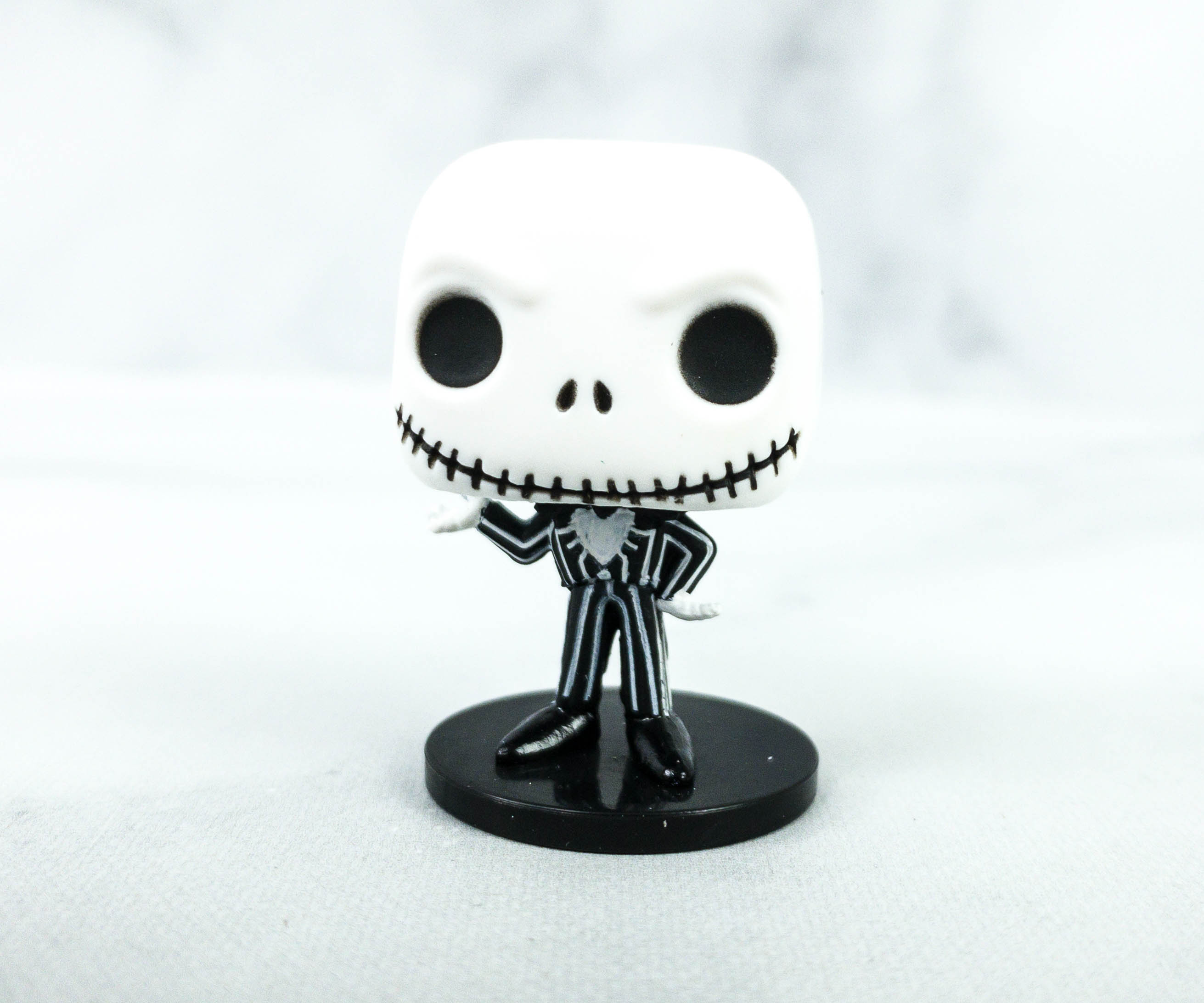 The cards also come with a mini-figure of Jack Skellington. It's cute and we love it!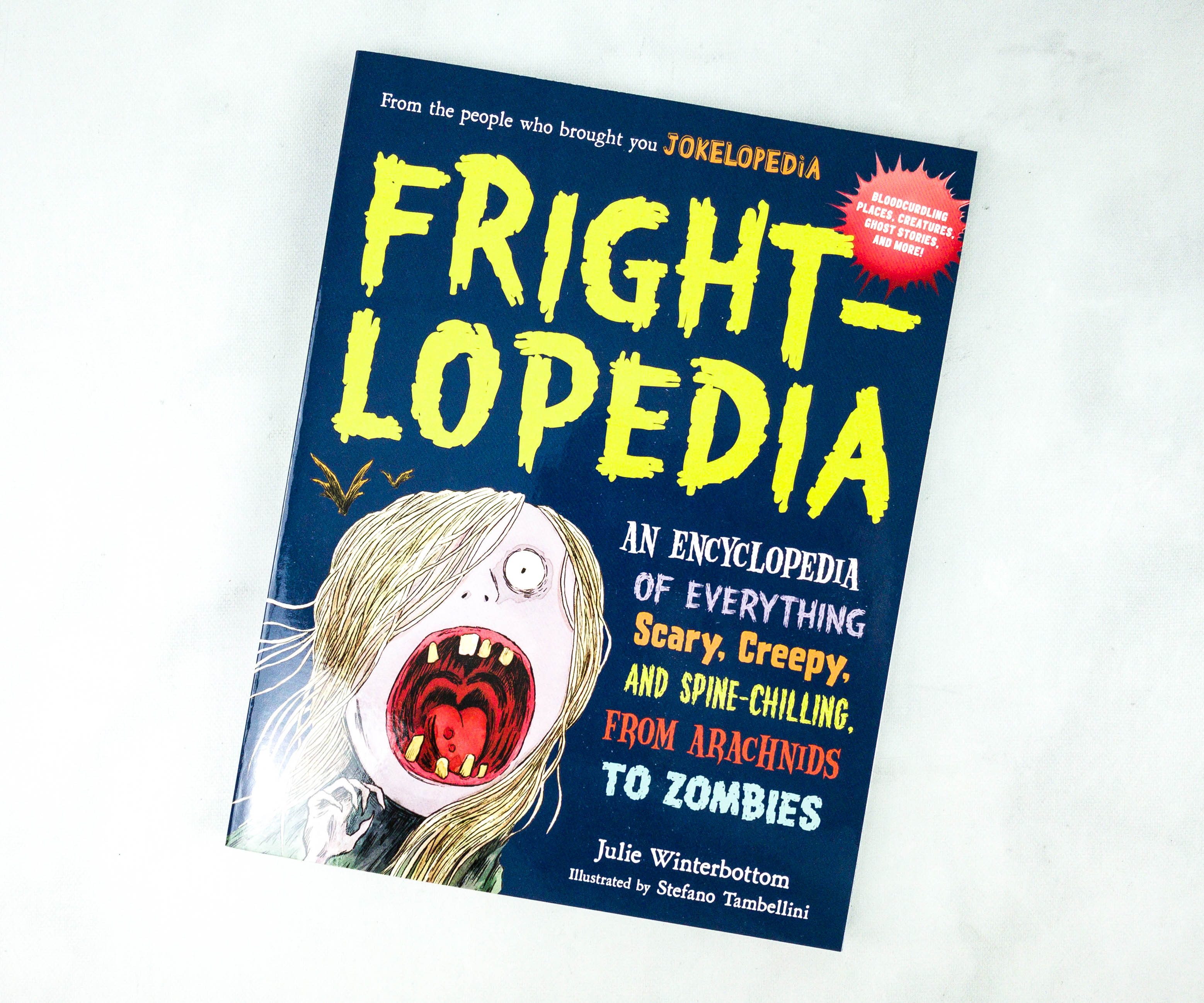 Fright-Lopedia by Julie Winterbottom ($5.79)
A deliciously creepy book for kids who love ghost stories, monsters, spiders, and more!

Combining fact, fiction, and hands-on activities, Frightlopedia is an illustrated A-Z collection of some of the world's most frightening places, scariest stories, and gruesomest creatures, both real and imagined. Discover Borneo's Gomantong Cave, where literally millions of bats, cockroaches, spiders, and rats coexist—in pitch darkness. Learn about mythical creatures like the Mongolian Death Worm—and scarily real ones like killer bees, which were accidentally created by scientists in the 1950s. Visit New Orleans's Beauregard-Keyes house, where Civil War soldiers are said to still clash in the front hall. Plus ghost stories from around the world, a cross-cultural study of vampires, and how to transform into a zombie with makeup. Each entry includes a "Fright Meter" measurement from 1 to 3, because while being scared is fun, everyone has their limit.

A 2017 YALSA Quick Pick for Reluctant Readers.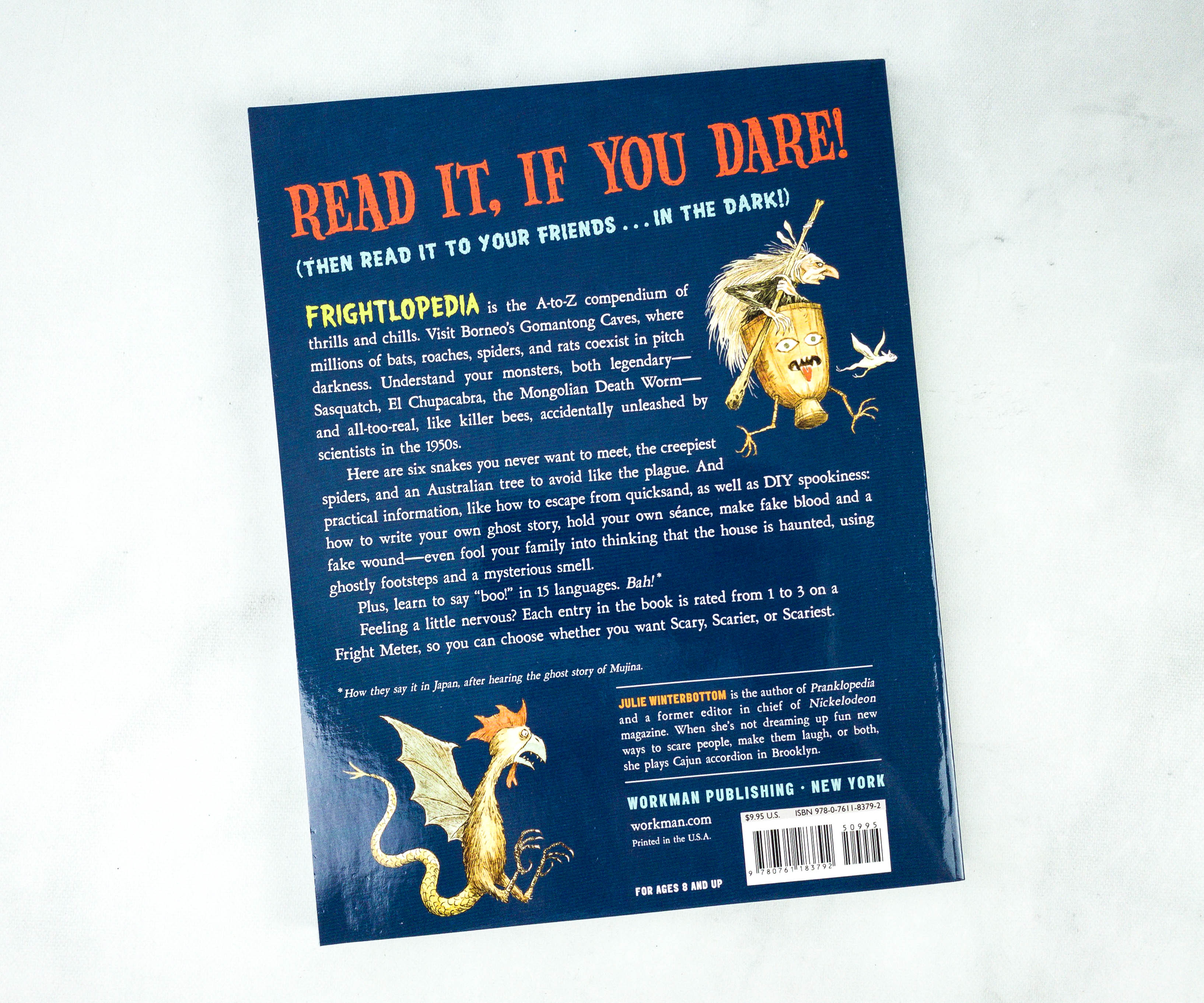 The back cover is trying to warn us. Seems pretty scary, huh?
The book is full of ghostly encounters, scary places, and horrifying creatures from A to Z! Some parts may be too scary for kids, though.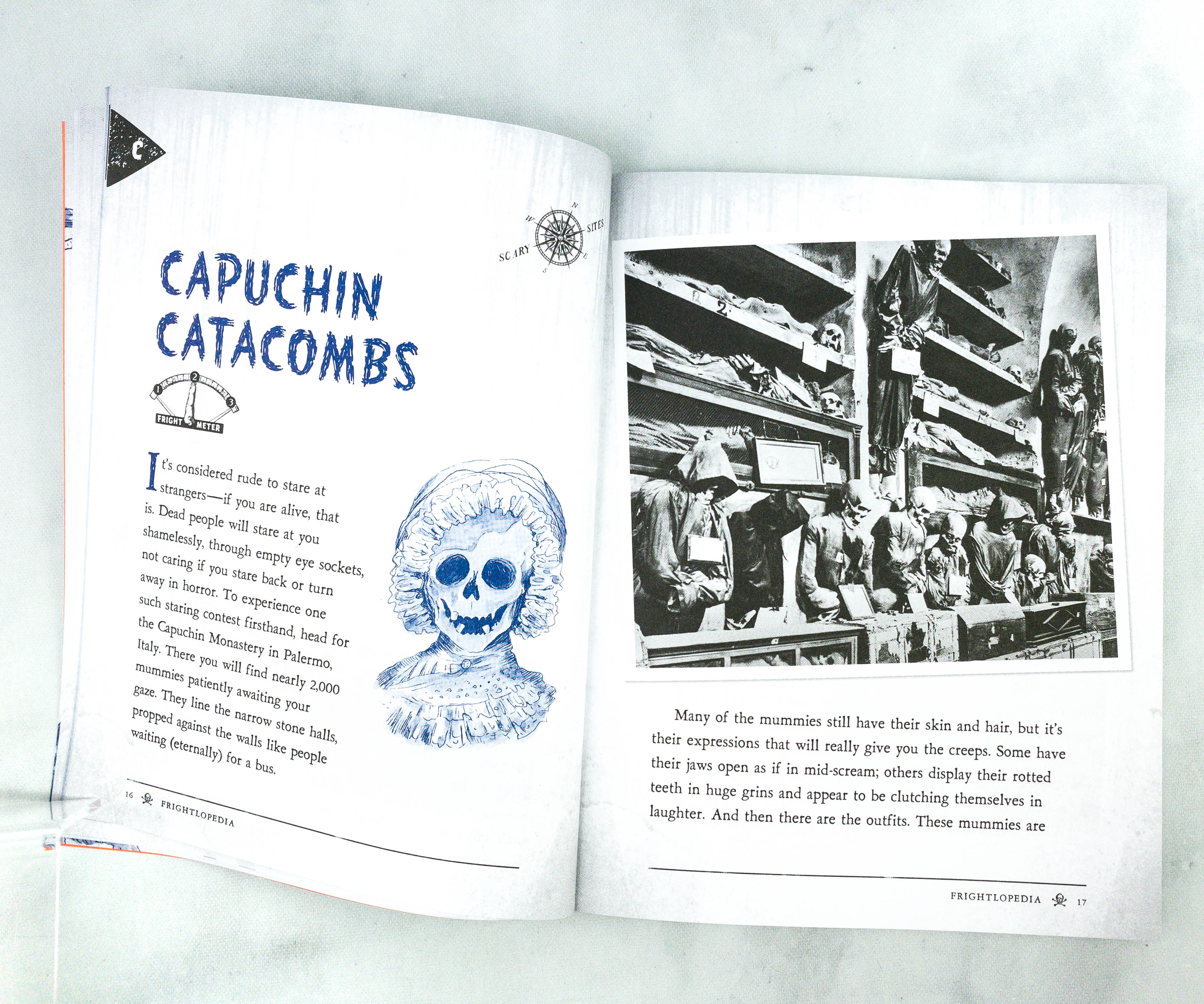 One of the scary places featured in the book is the Capuchin Catacombs located in Southern Italy. These catacombs somehow serve as a tourist attraction nowadays.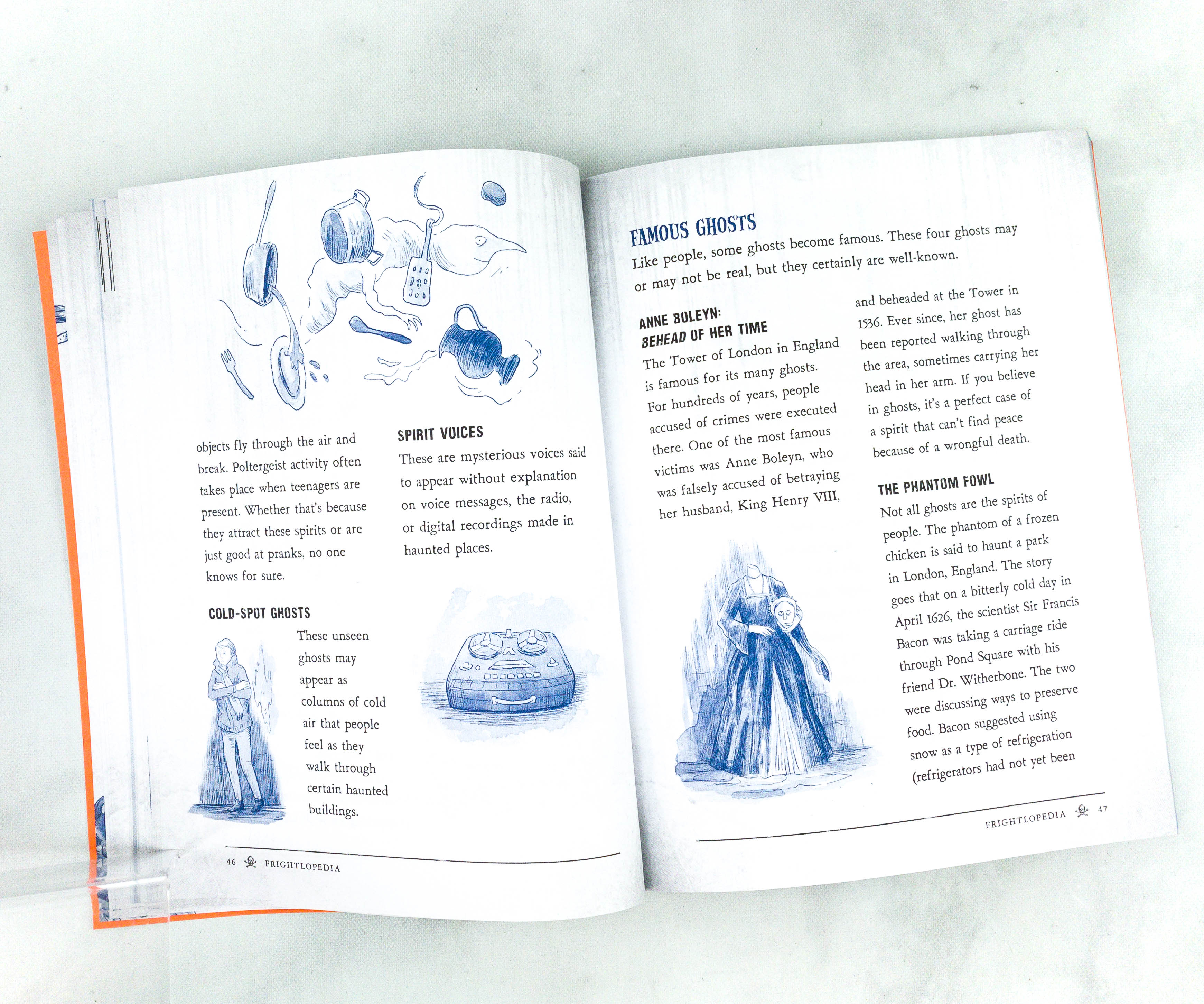 Here's another spine-chilling page which shows famous ghosts!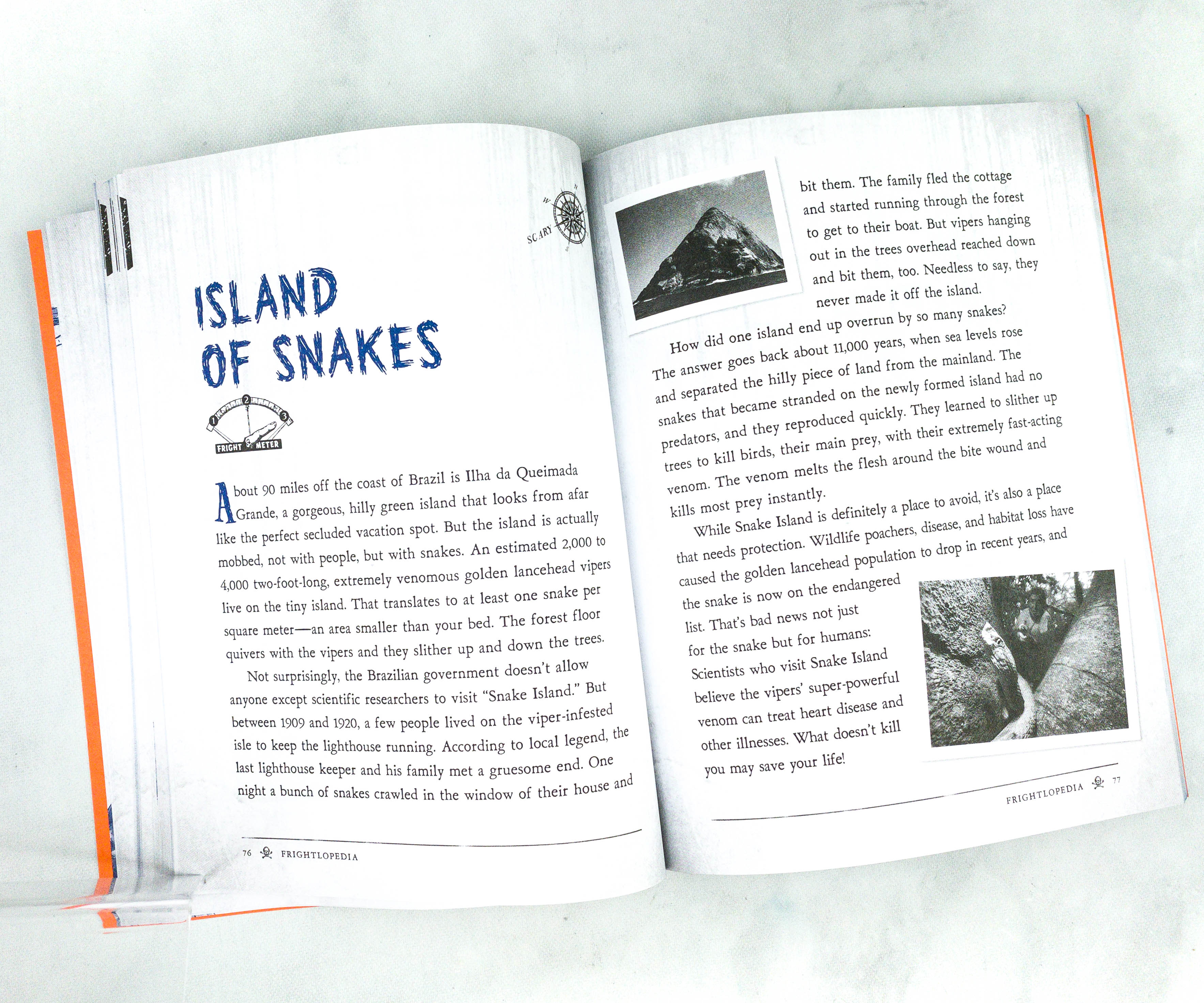 If you have a brave heart or you're simply curious, you will like this book!
The Girl and the Ghost by Hanna Alkaf ($10.23)
* Chosen as a 2020 Kirkus Prize Finalist for Young Readers' Literature! *

A Malaysian folk tale comes to life in this emotionally layered, chilling middle grade debut, perfect for fans of The Book of Boy and The Jumbies.

I am a dark spirit, the ghost announced grandly. I am your inheritance, your grandmother's legacy. I am yours to command.

Suraya is delighted when her witch grandmother gifts her a pelesit. She names her ghostly companion Pink, and the two quickly become inseparable.

But Suraya doesn't know that pelesits have a dark side—and when Pink's shadows threaten to consume them both, they must find enough light to survive . . . before they are both lost to the darkness.

Fans of Holly Black's Doll Bones and Tahereh Mafi's Furthermore series will love this ghostly middle grade debut that explores jealousy, love, and the extraordinary power of friendship.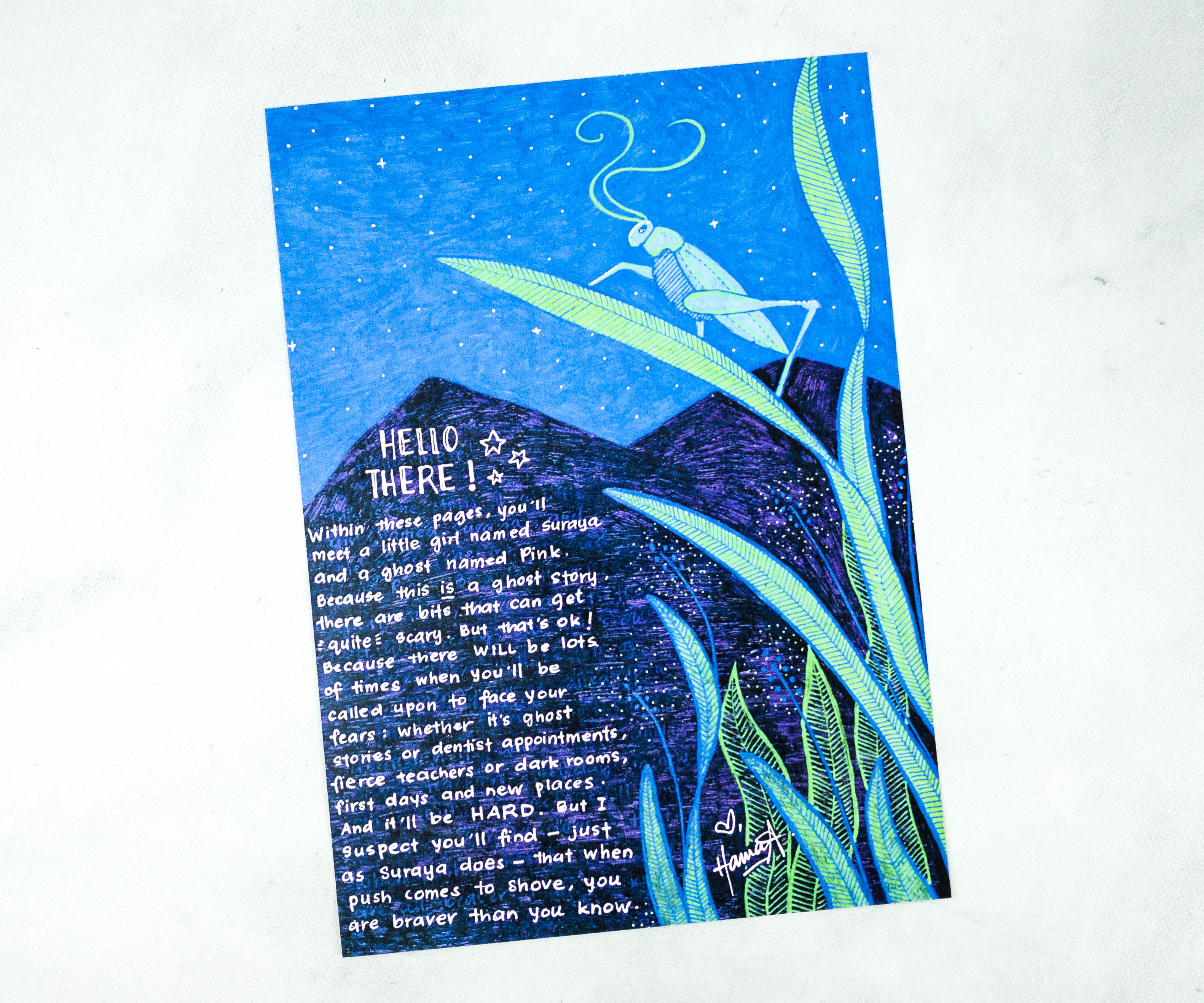 We received a letter from the author, Hanna Alkaf.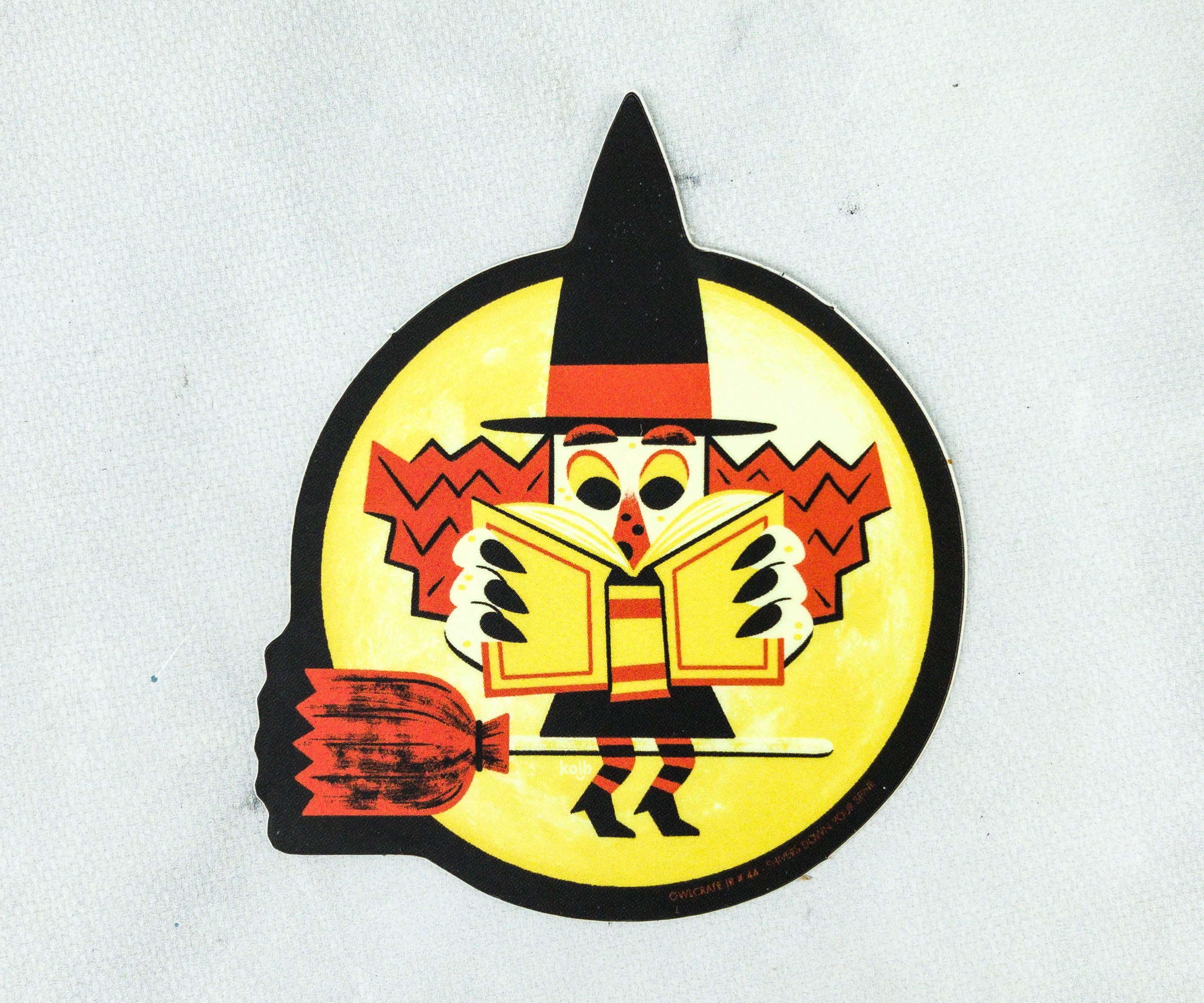 There's also a collectible sticker inside the box. It features a witch in her magic broom while reading a book designed by Andrew Kolb.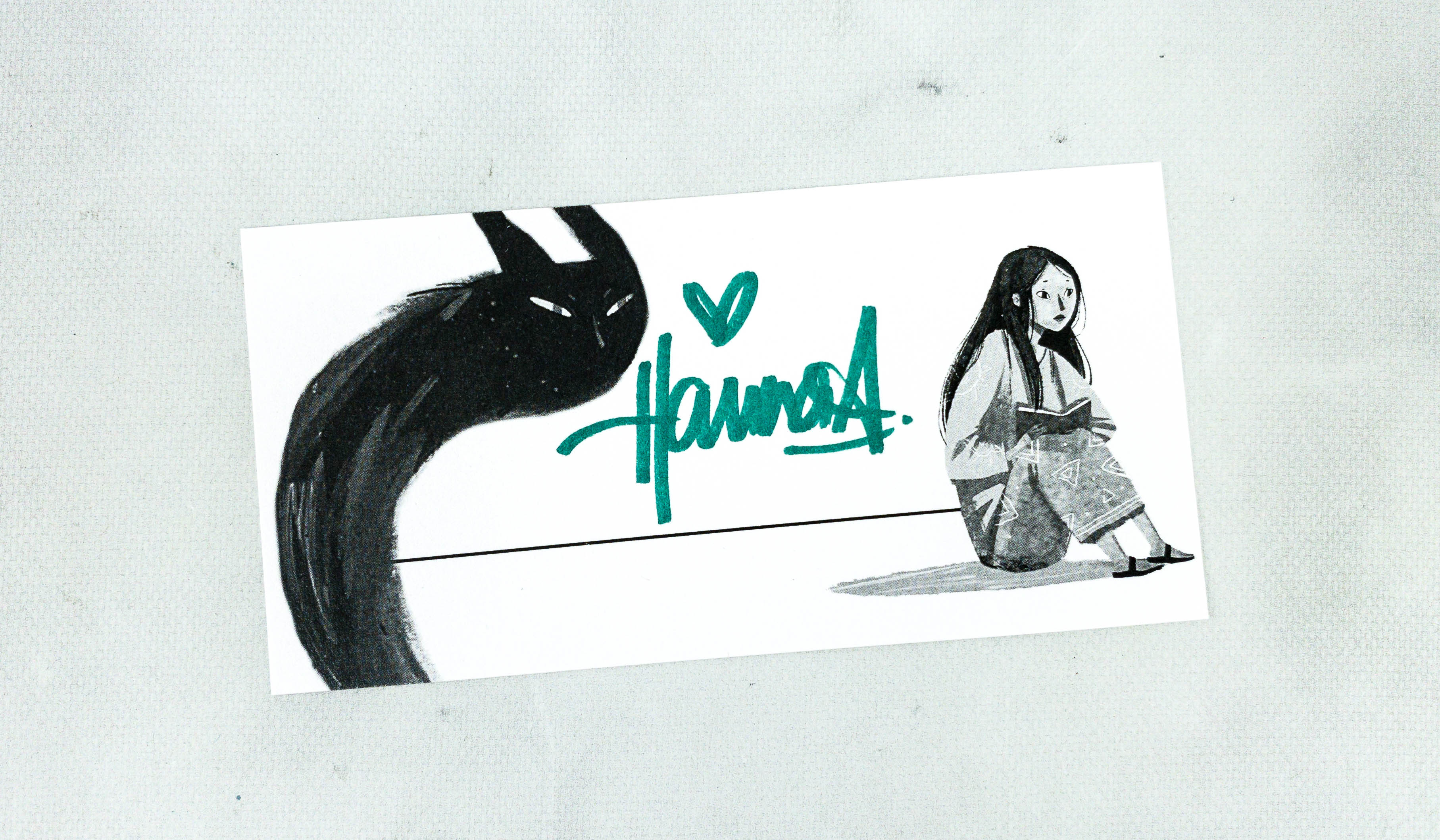 It comes with a bookplate, signed by the author.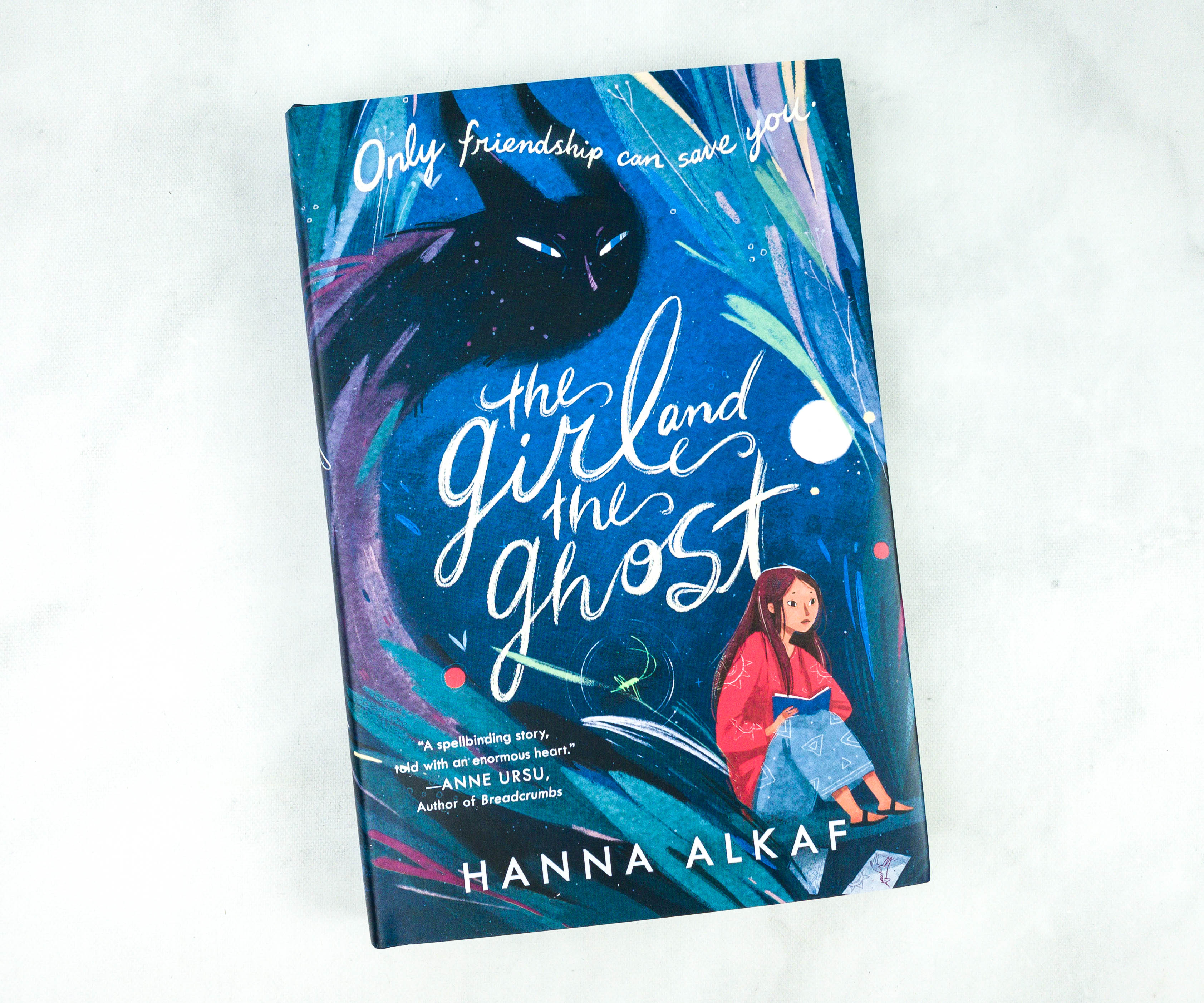 The illustration on the book cover shows the girl and the ghost behind her. It looks enchanting than scary!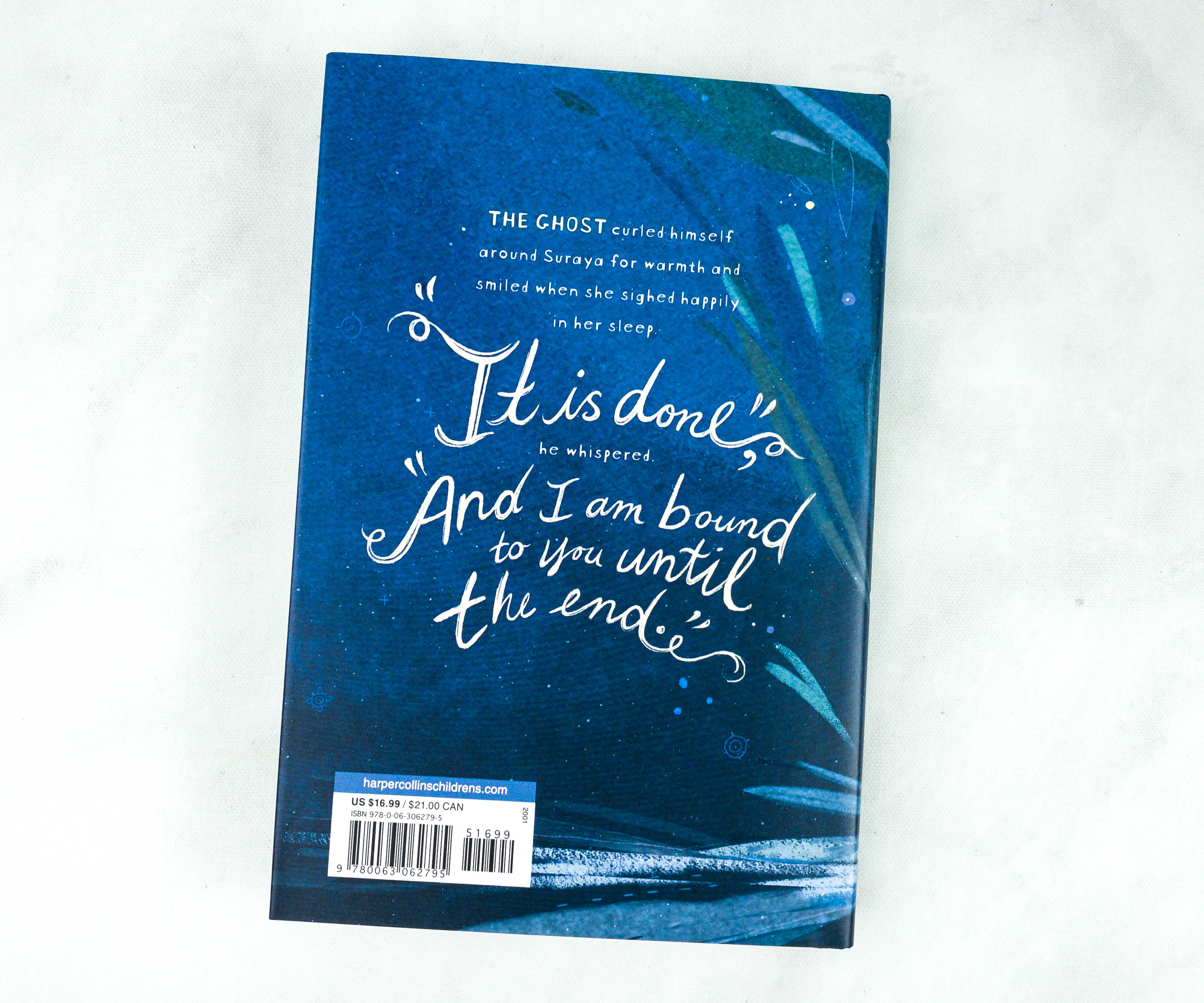 The back cover shows a snippet.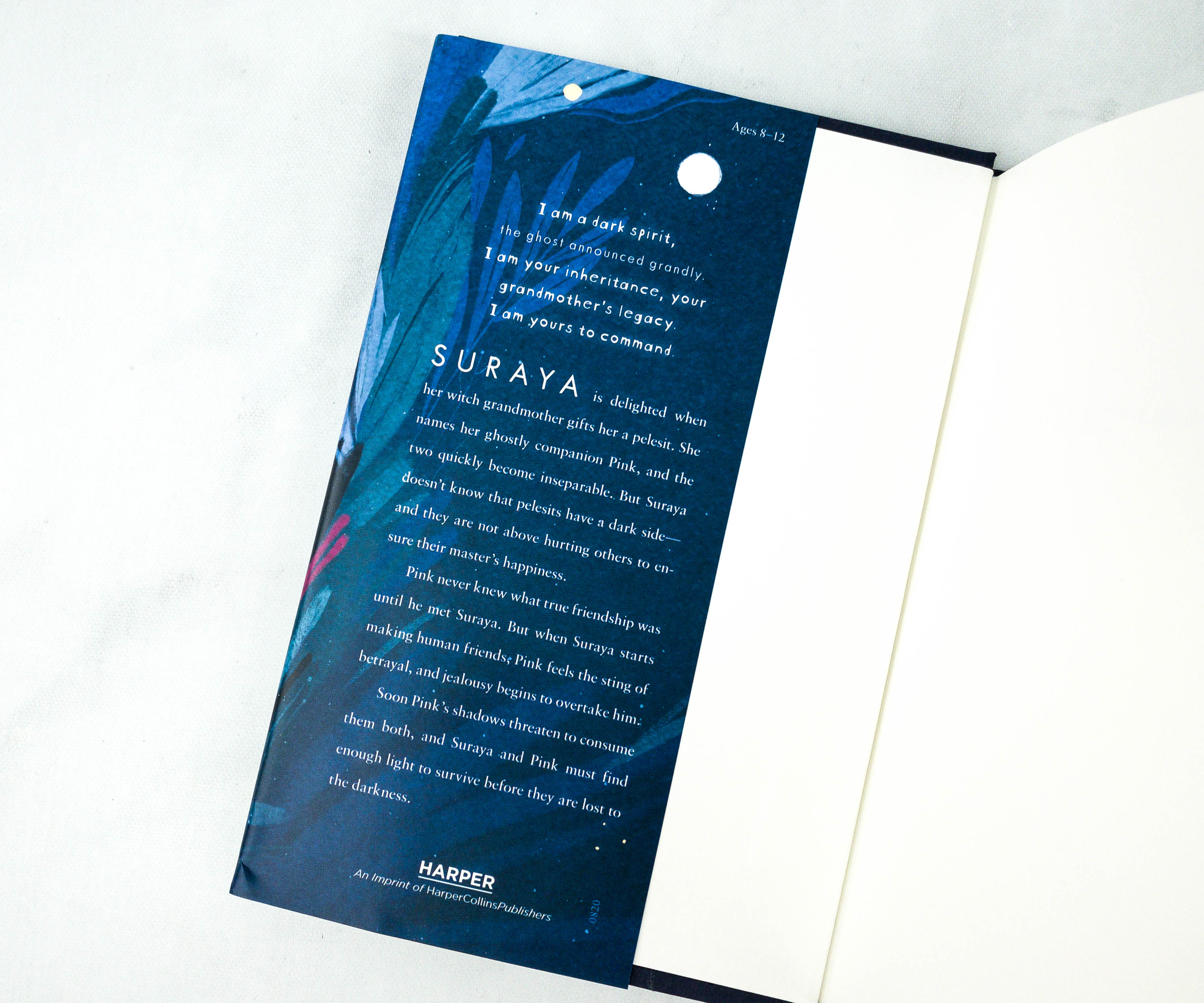 There's also a story synopsis on the book's dust jacket.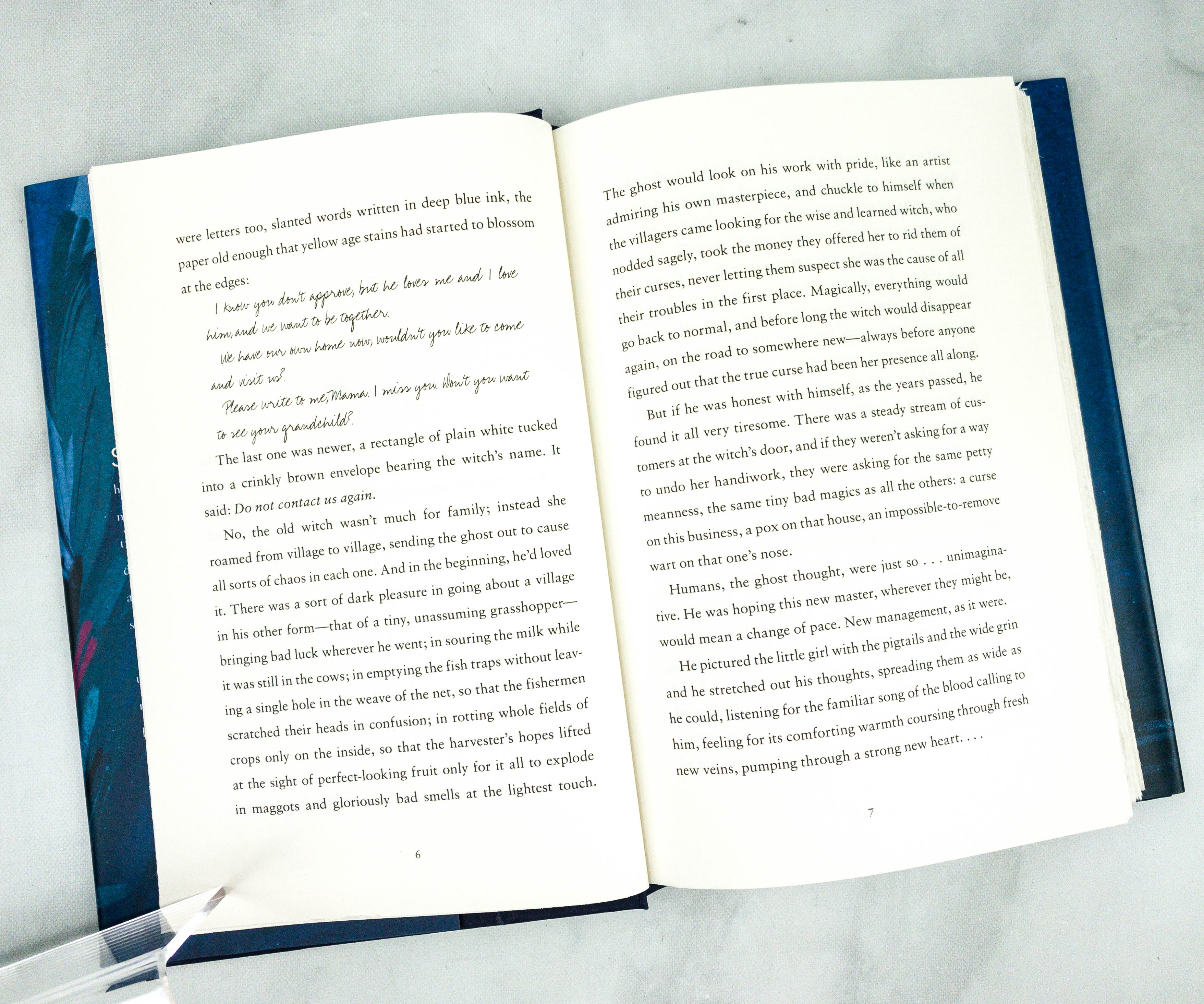 This story is about Suraya, the girl, and the ghost, whom she named Pink. They have become friends but when a new girl arrives, Pink got jealous and later caused mischief to others.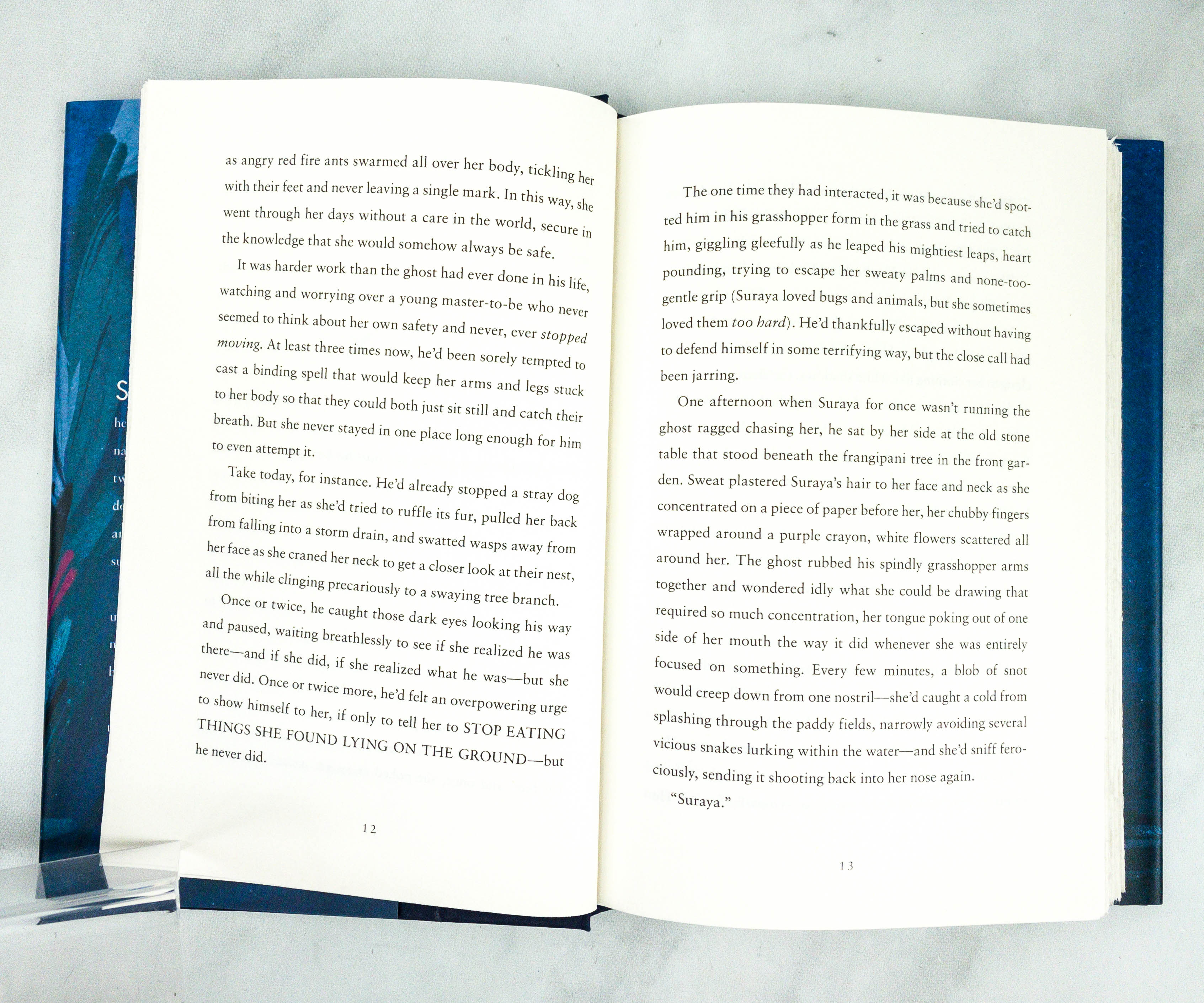 This book shows a good story of friendship and family. At times, there's a little scare as well, but it's not too offputting.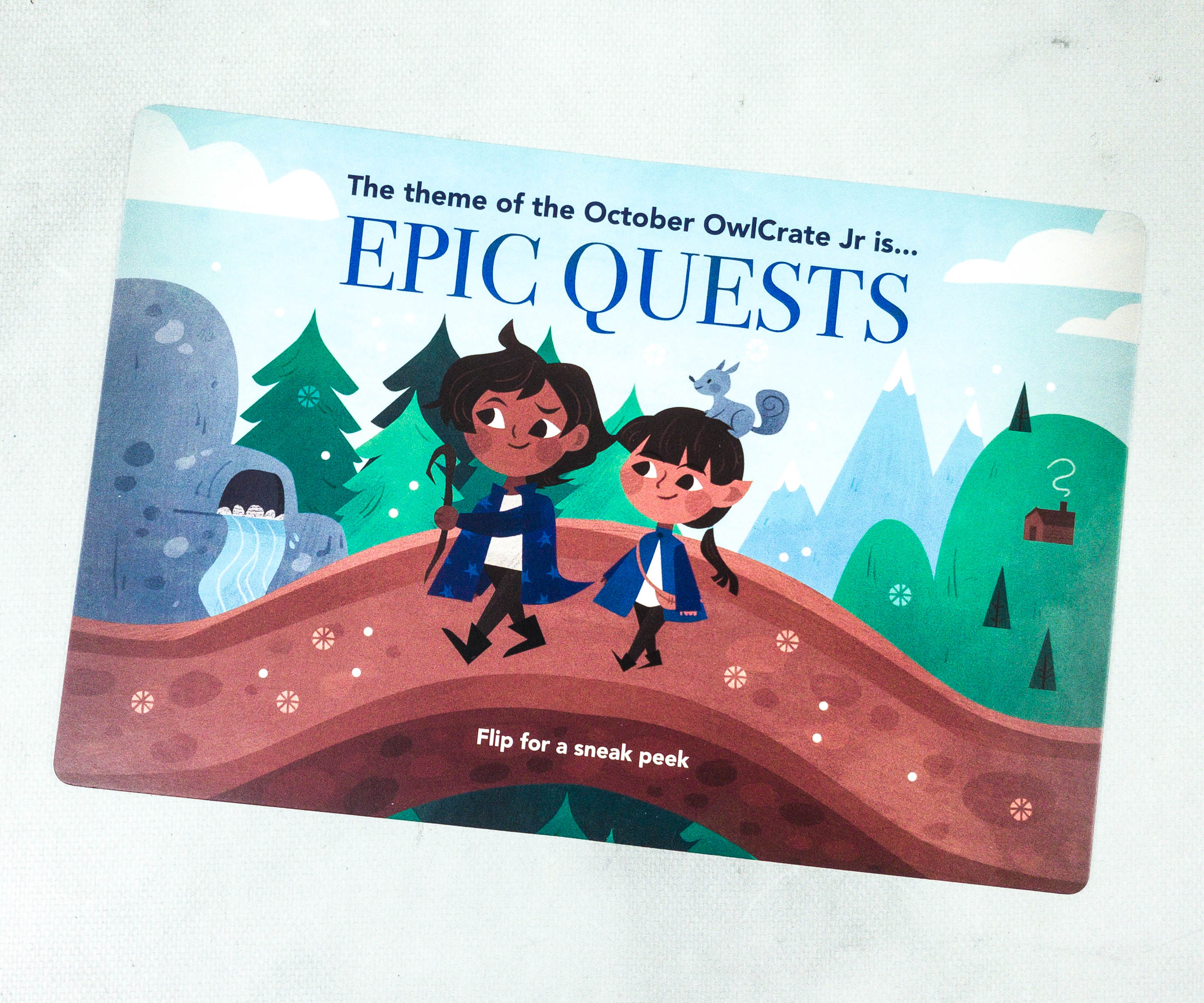 They also included a card that shows a sneak peek for next month. The theme is "EPIC QUESTS".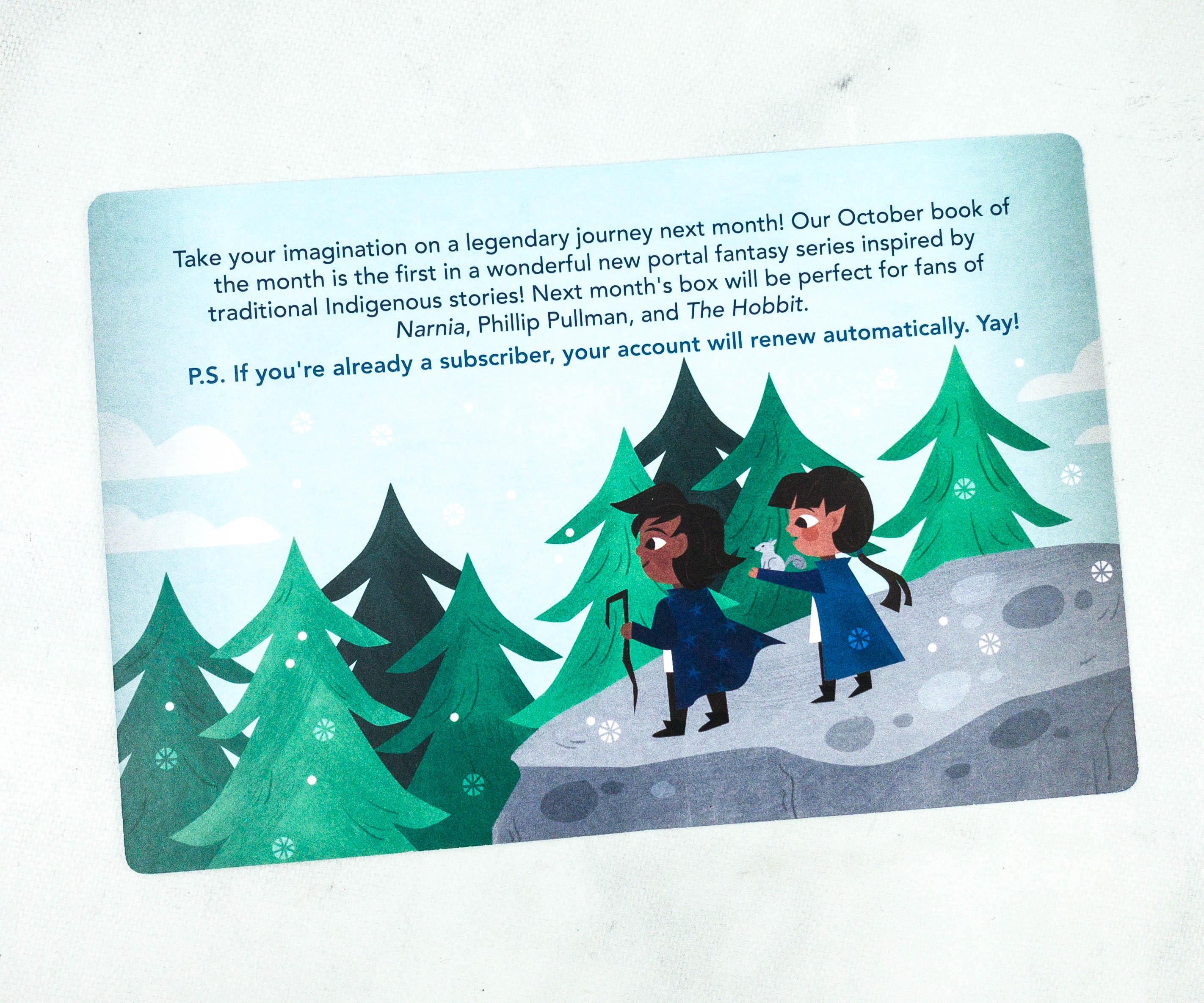 As we flipped the card, it shows a spoiler for next month! We're already excited!
This month's box contains the chills and screams, but there's also cuteness in it, take the washi tape as an example! We love The Nightmare Before Christmas, so the card set with a figure of Jack is truly a gift. The books are both good and a little different from each other. The Fright-lopedia contains really scary stuff while The Girl and the Ghost gave us a lesson about friendship with a little thrill and a sneak peek of Malaysian culture. We enjoyed the box and we are ready to take on next month's adventure!
What did you think of the OwlCrate Jr. box this month?