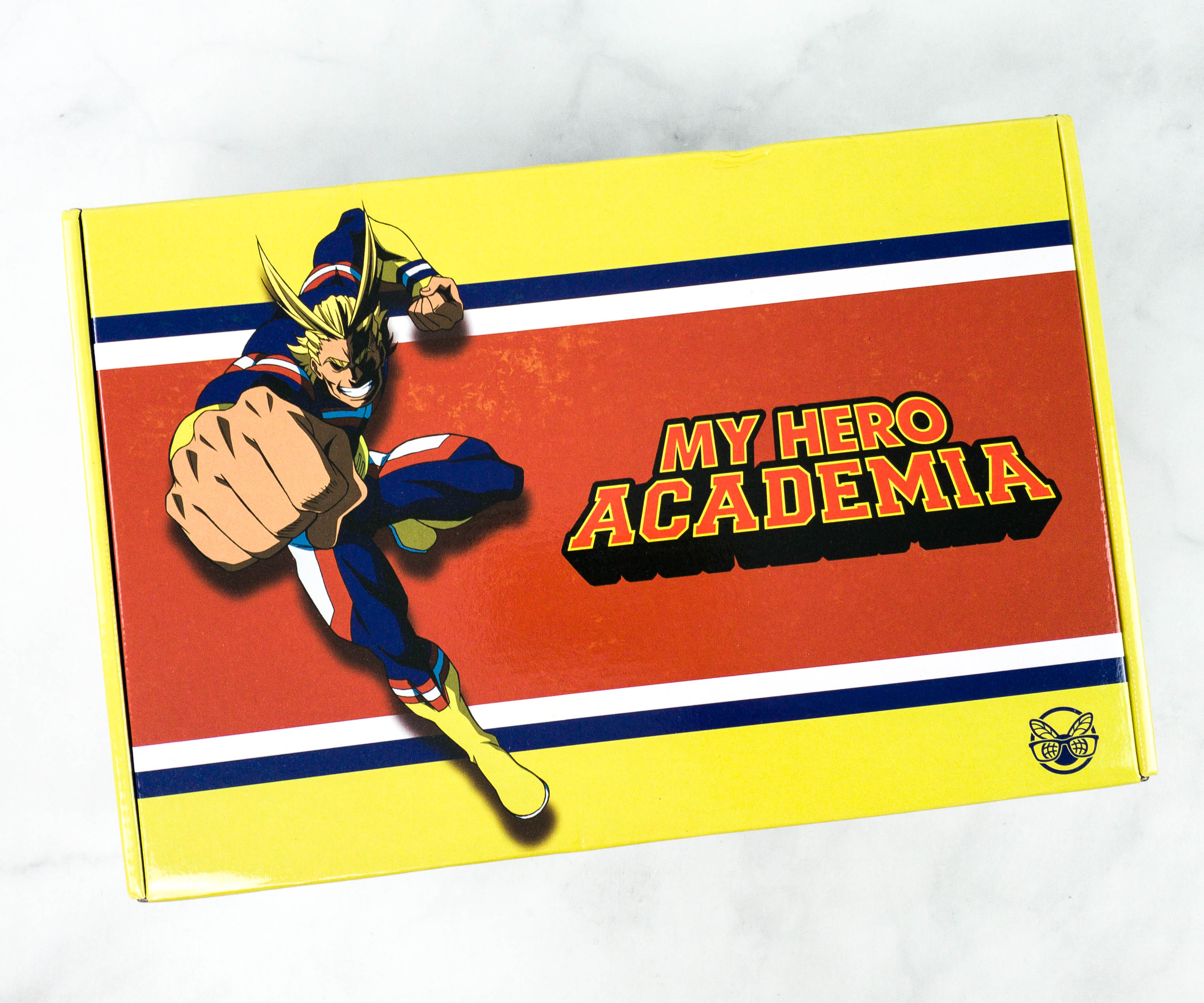 My Hero Academia box is a quarterly subscription that delivers exclusive My Hero Academia merchandise. Each box costs $39.99, or $35.99 a quarter when an annual subscription is purchased in advance. The box contains 7 to 10 limited edition products such as apparel, accessories, collectibles, stationery, homeware, decors, and more! This box is produced by Culturefly and contains items licensed and produced exclusively for this box – you can check out all of Culturefly's other fandom boxes here!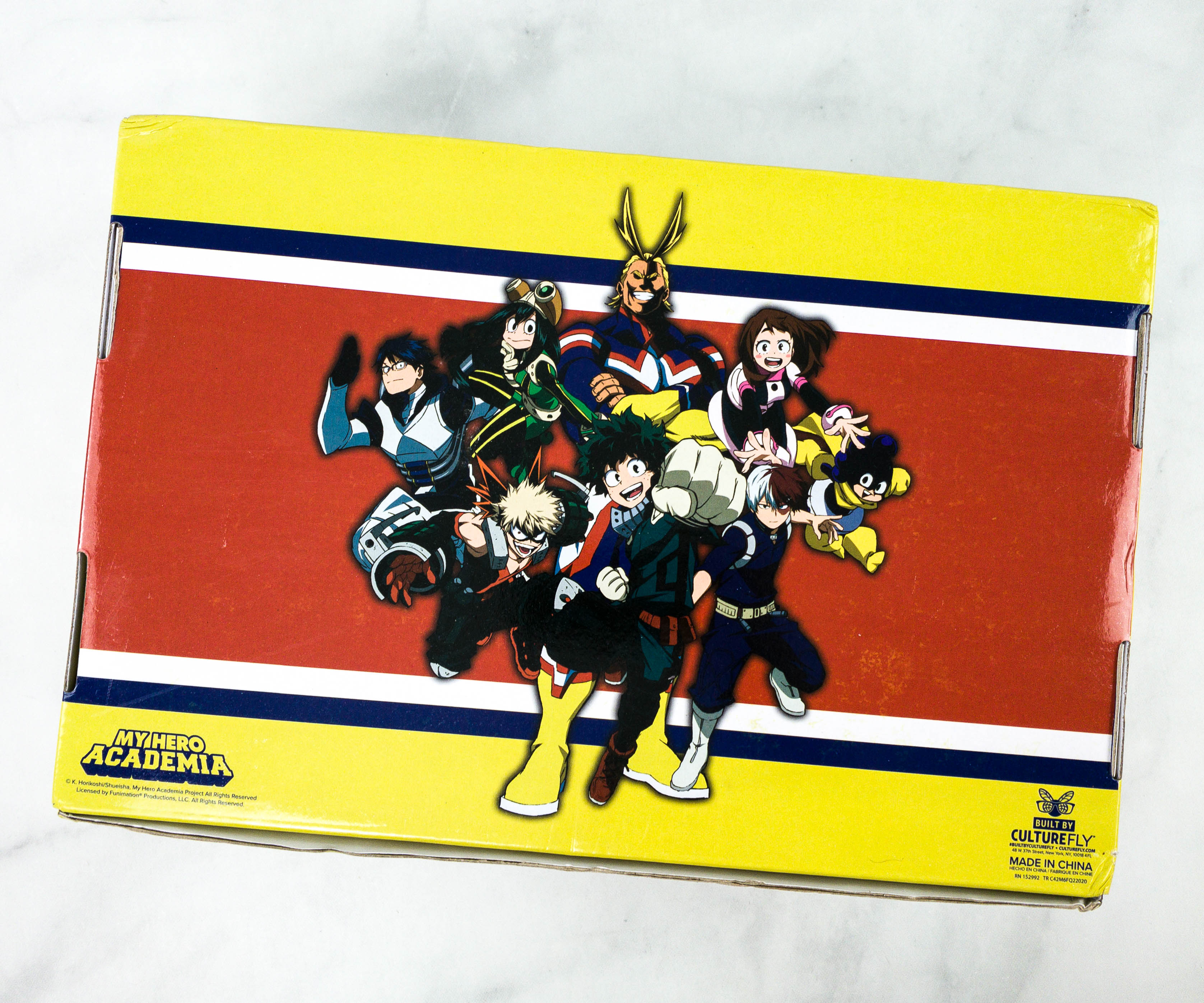 The box shows the major cast in the series!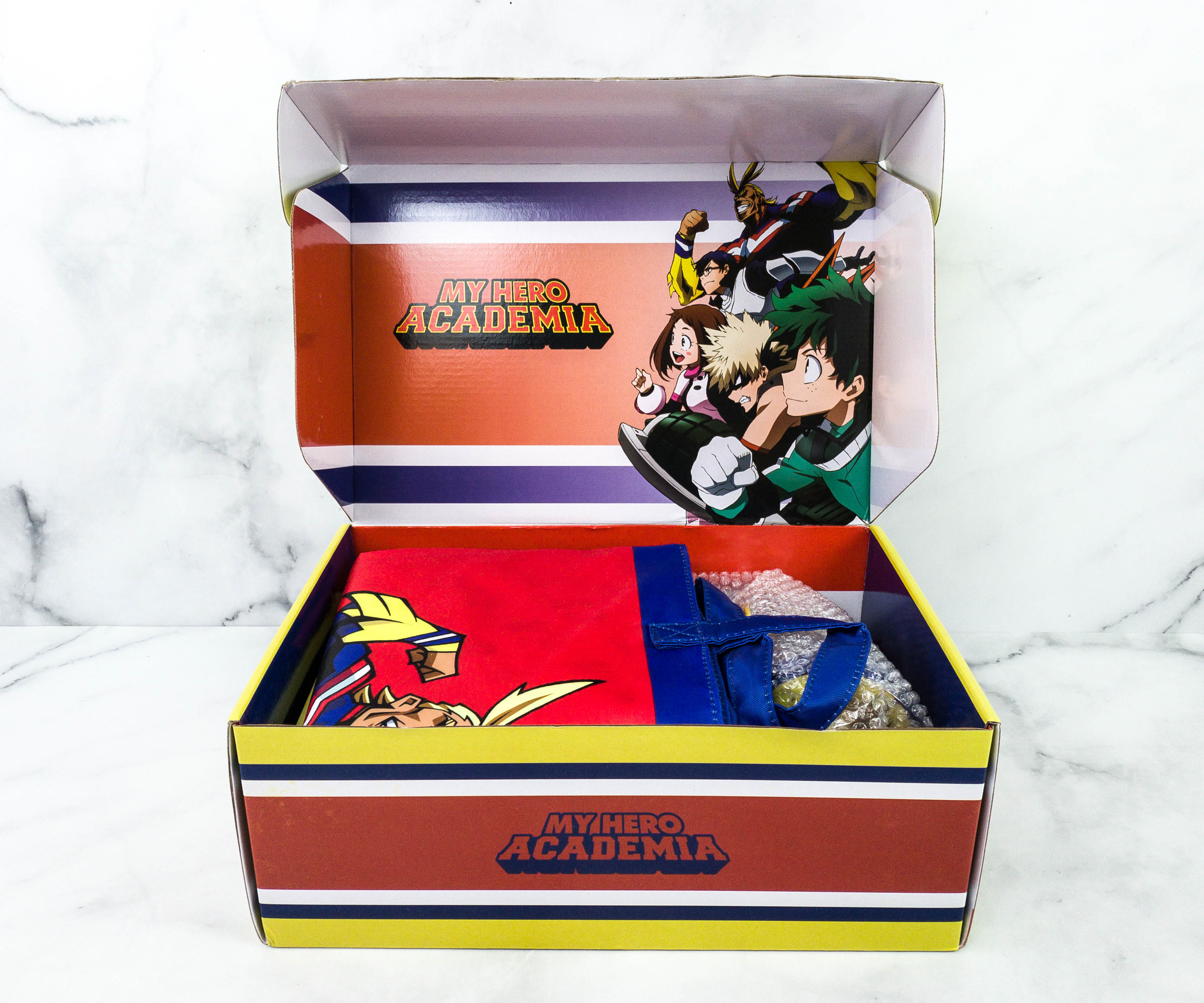 Even the interior of the box features illustrations!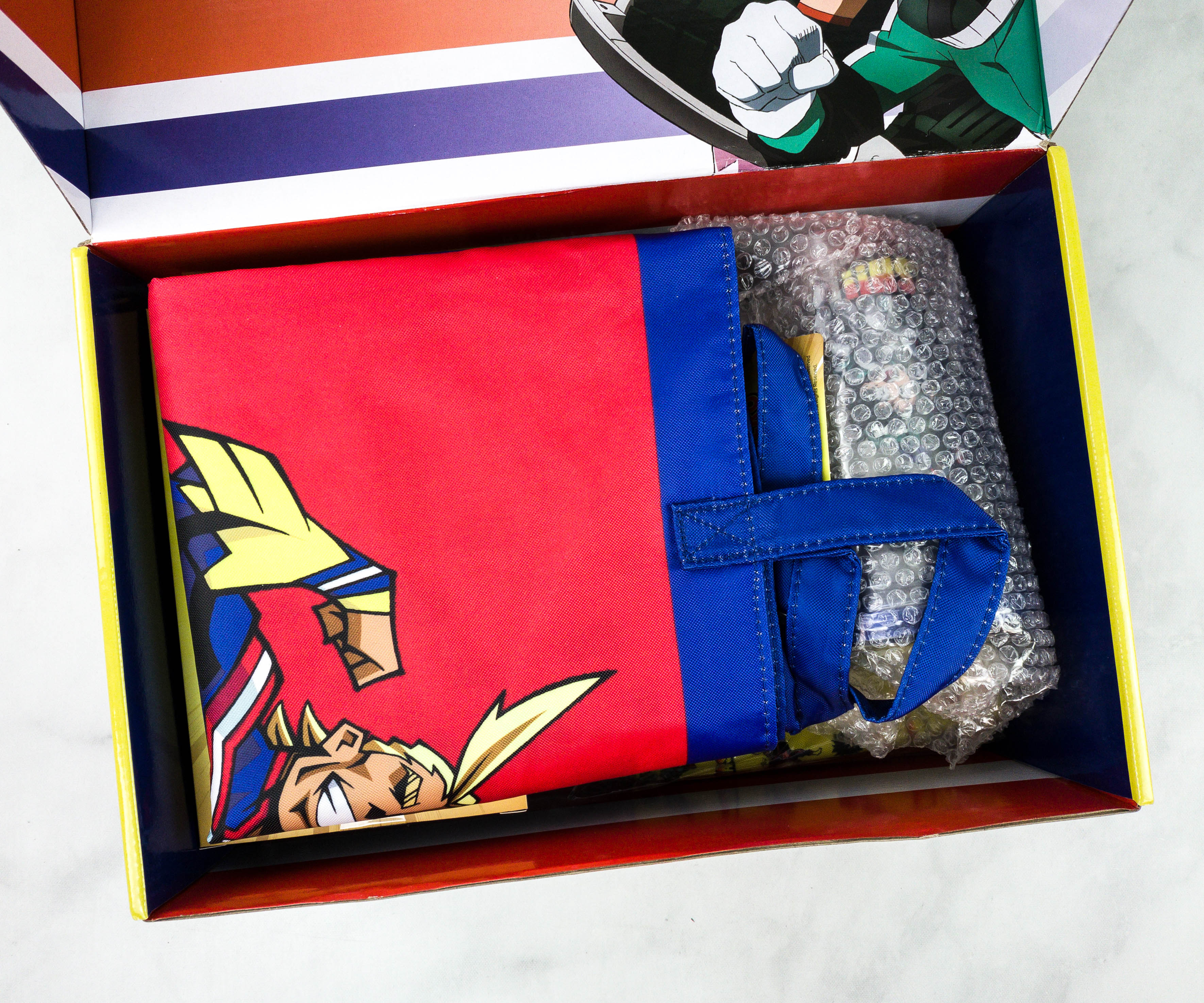 Some of the items come in their original packaging. Others are even protected with bubble wrap.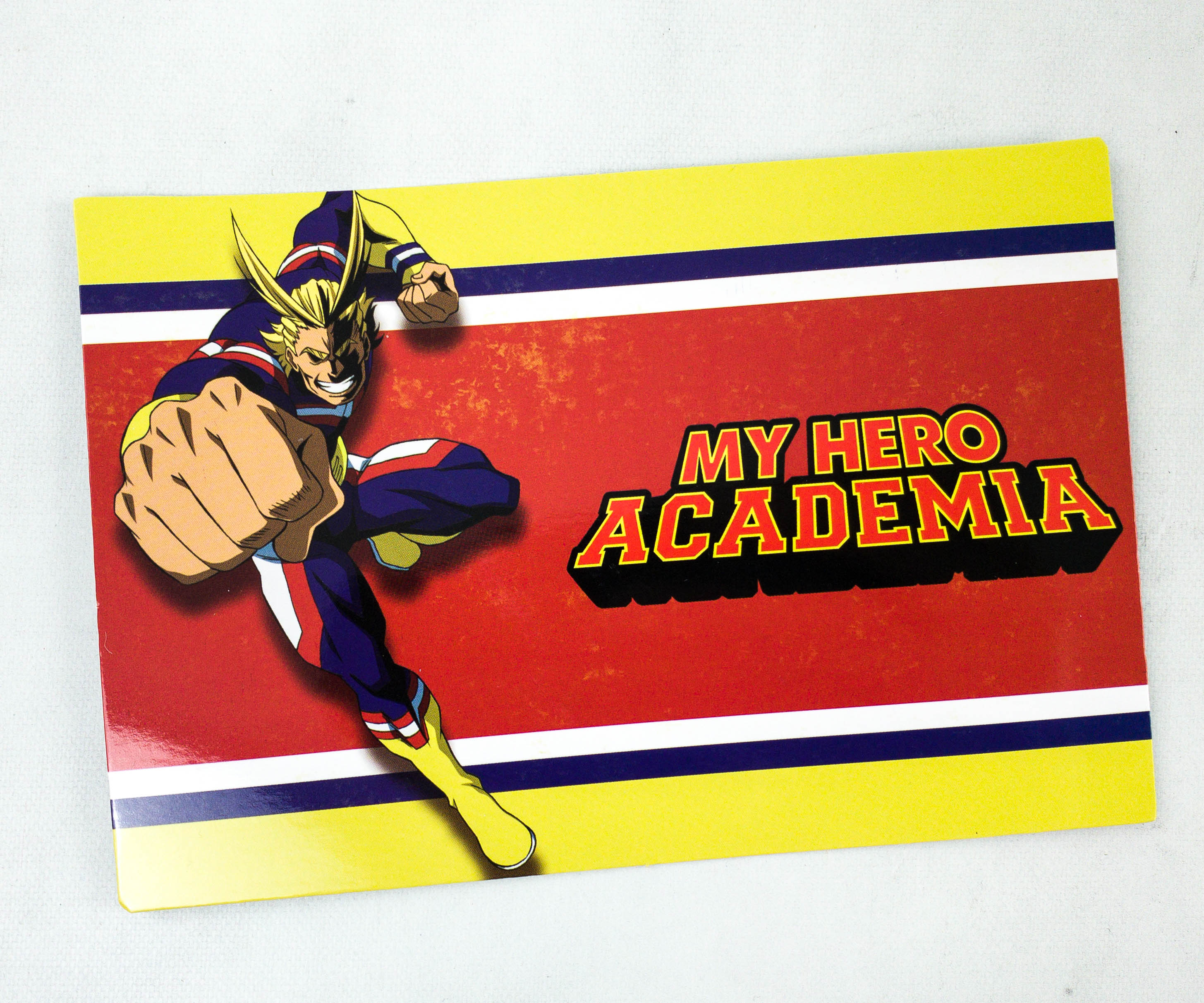 The box also includes an info card. This quarter's theme is ONE FOR ALL!
The flip side of the card lists all the items this quarter, plus individual photos.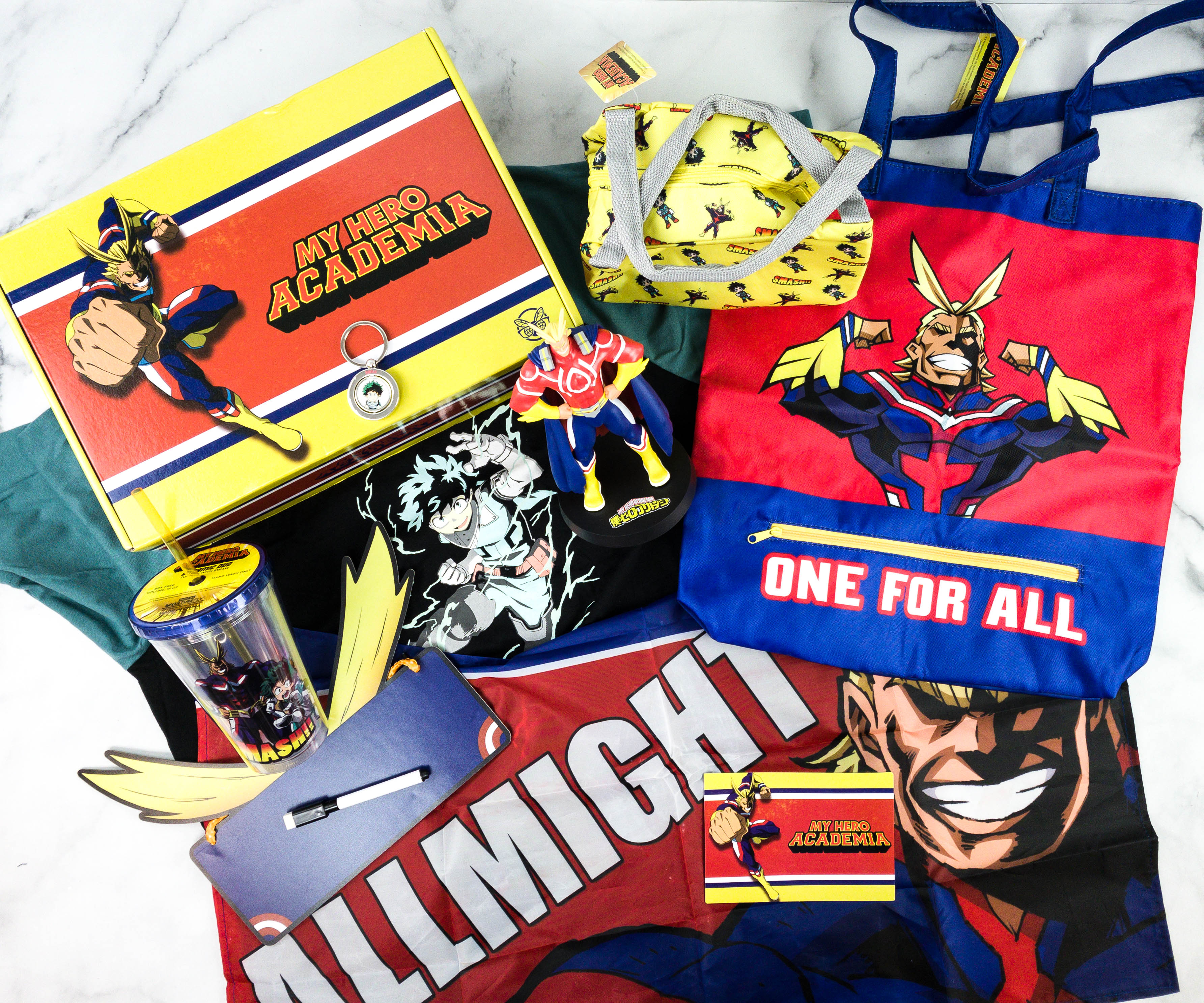 Everything in my box!
All Might Door Sign & Marker. I remember using door markers when I was a kid, but not as cool as this! This one already comes with a string, so it's ready to hang on your door or even on your wall.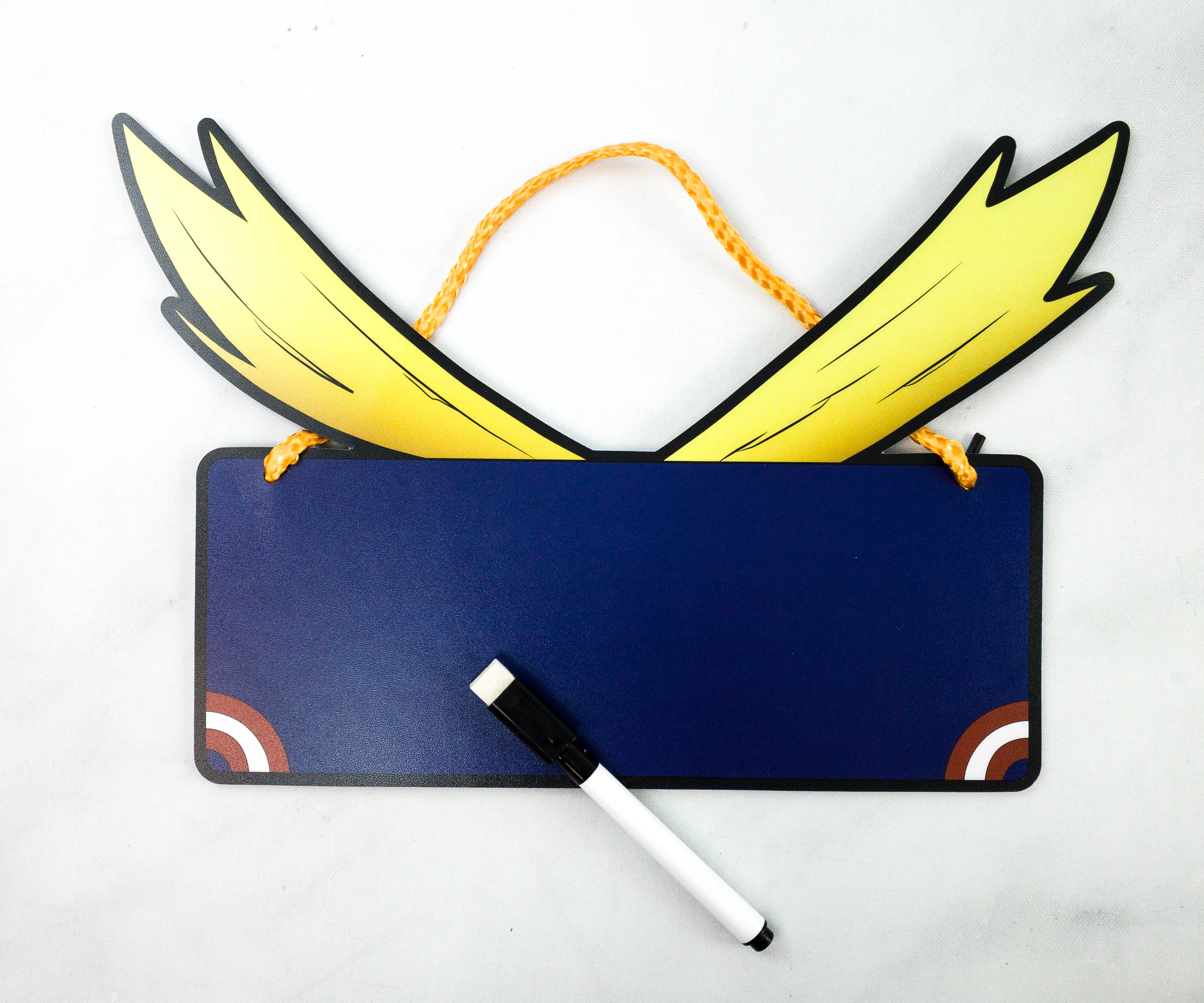 I love the design and color. It even has a distinct part of All Might's hair that sticks up. The door sign can be used with the included marker or a dry-erase/chalk marker. To clean, just wipe it clean with a soft cloth.
Dynamic Duo Spinning Keychain. My Hero Academia has two main characters, Deku and All Might, and they are both featured on this incredible spinning keychain. They are the perfect characters for this item because they share the same power!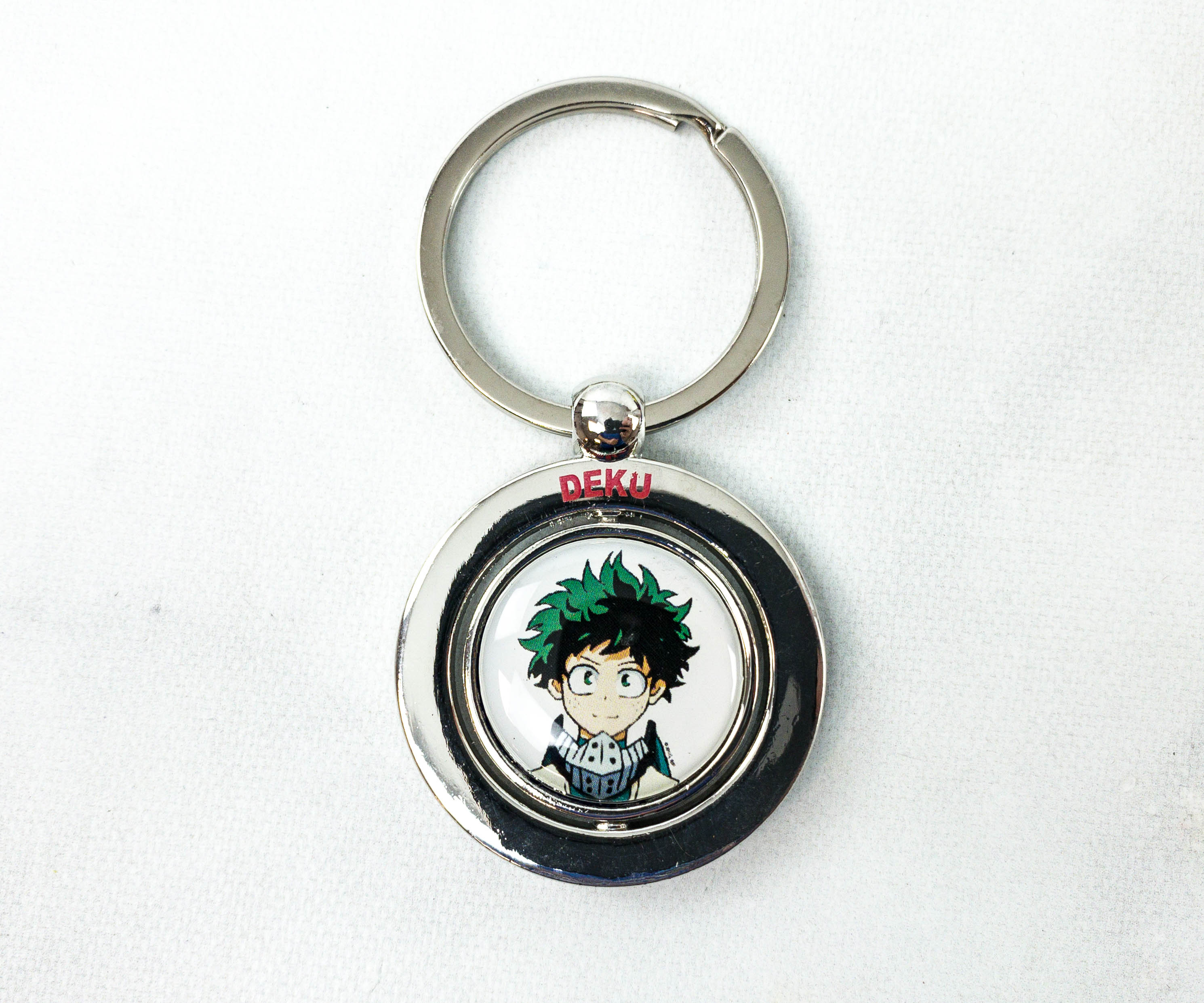 Deku, the student and protégé, is shown on this side of the keychain! He is known for his strong determination despite being born without powers.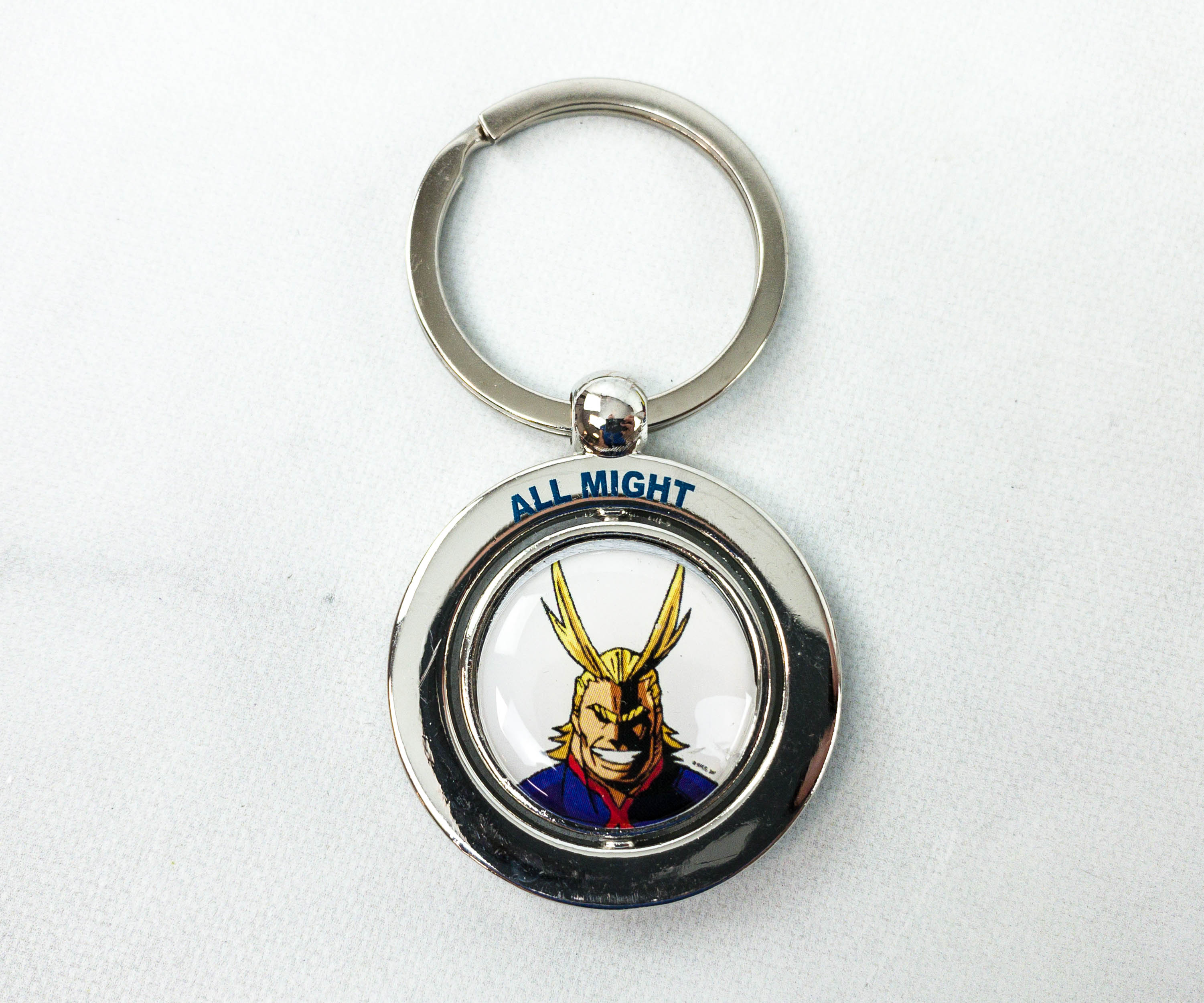 Here we have All Might, the most powerful hero in the series!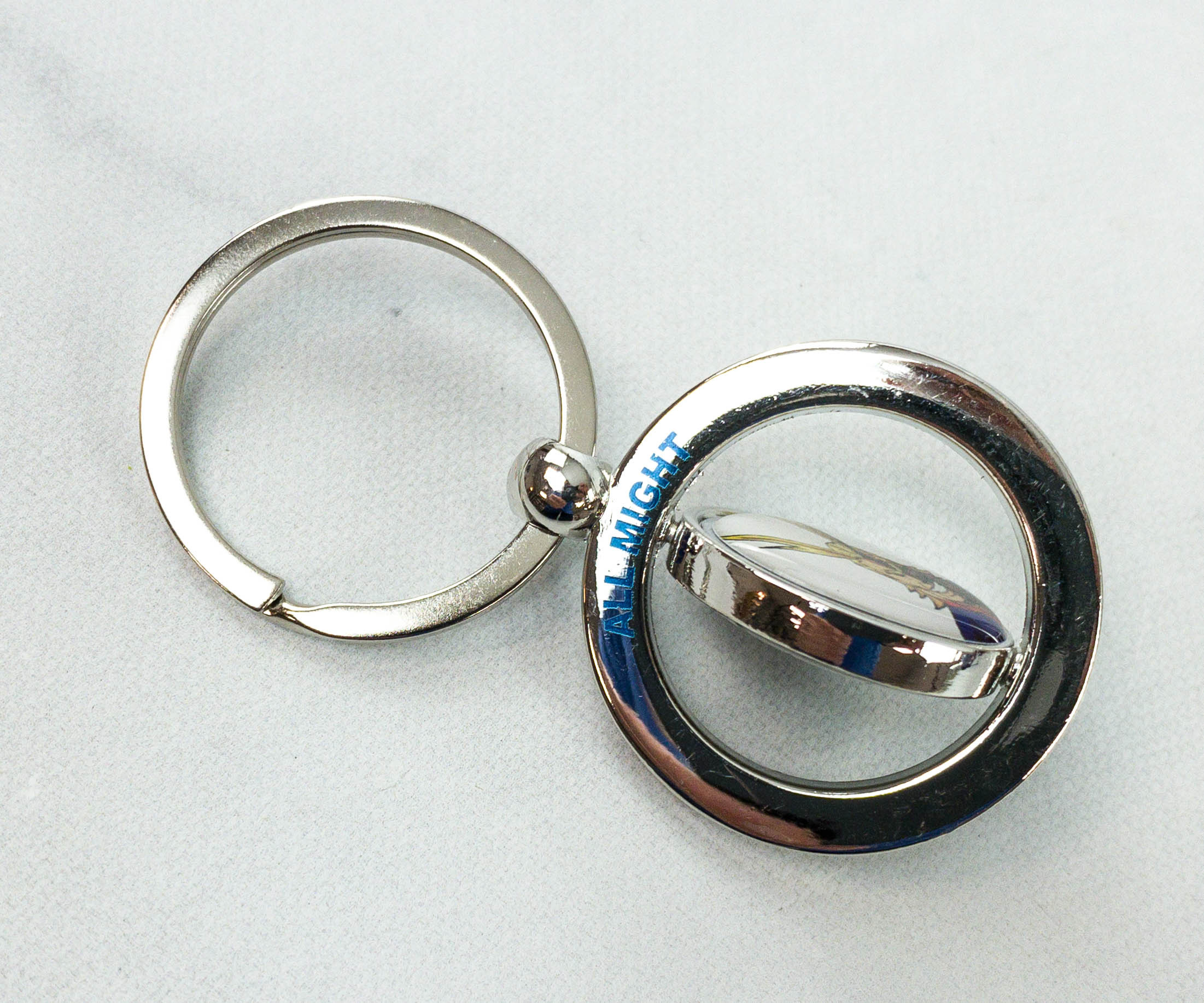 This is the perfect item and concept for characters who share the same power and characteristics! No matter how many times I spin, I love the character that shows!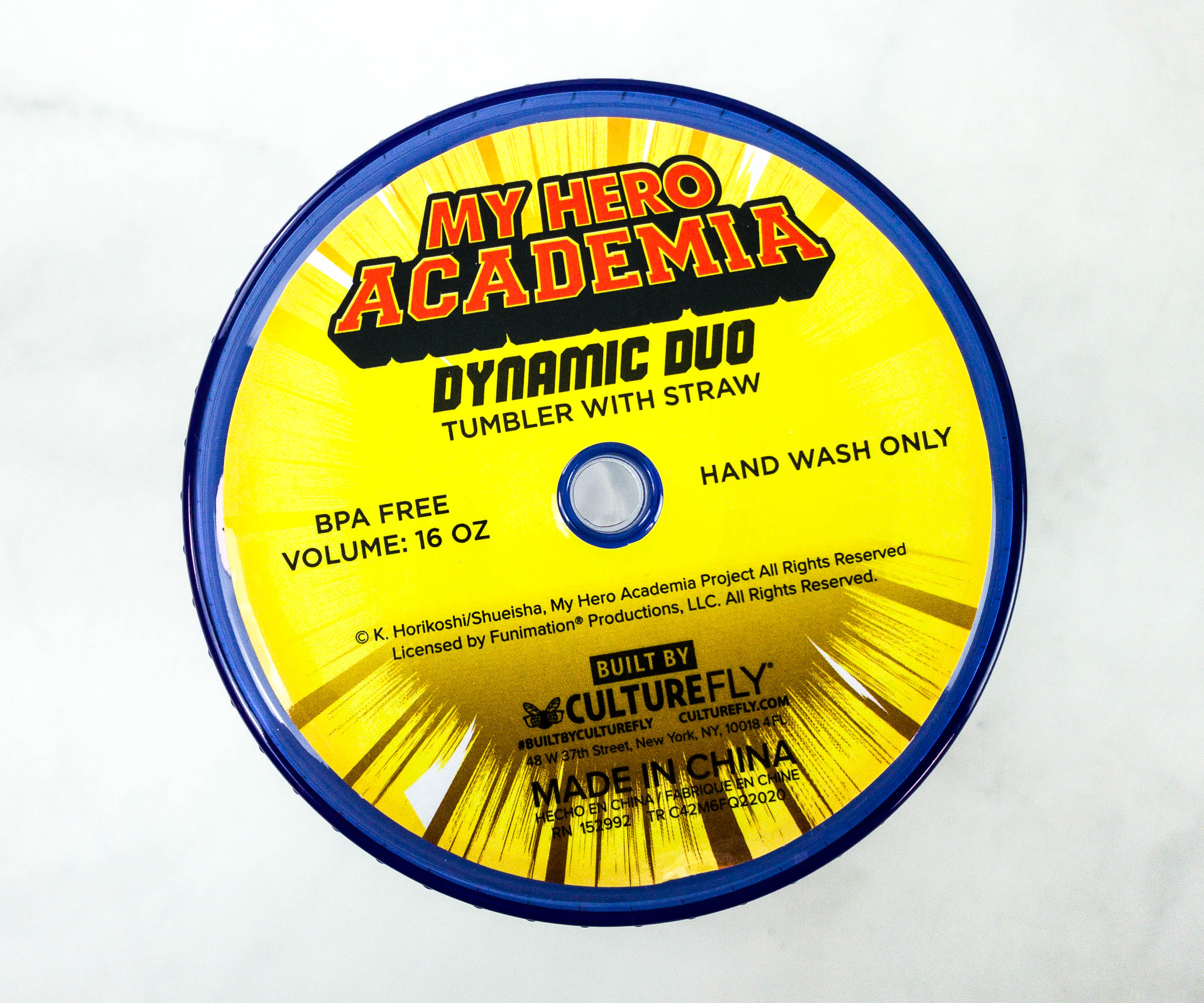 Acrylic Tumbler. I have lots of tumblers but this My Hero Academia themed tumbler is pretty special. I'm excited to use this with my refreshing drinks and show to my friends who are also fans of the series!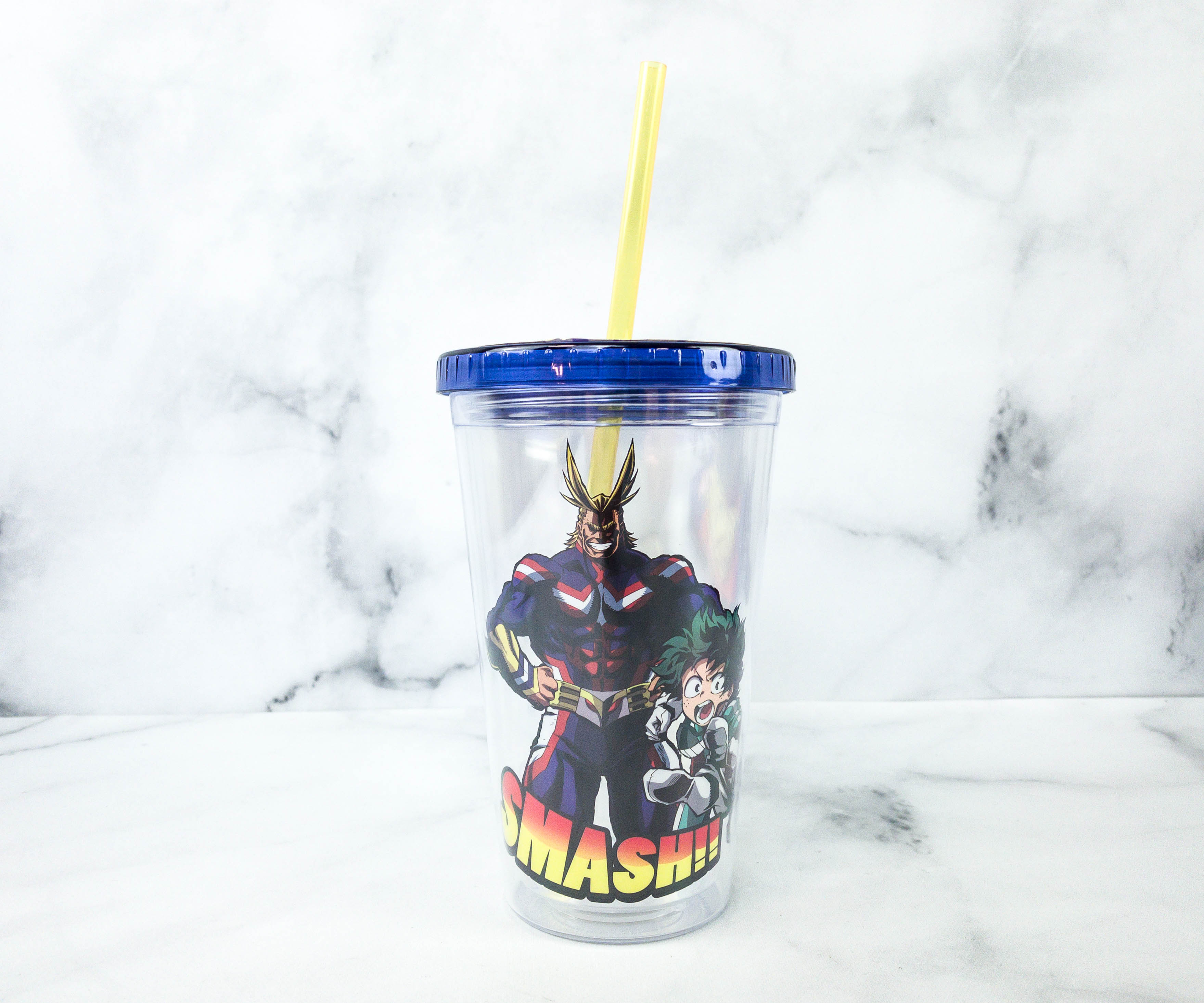 All Might has always been Deku's favorite hero! I love the dynamic duo's illustration on this tumbler with the word SMASH which is what they call their attack!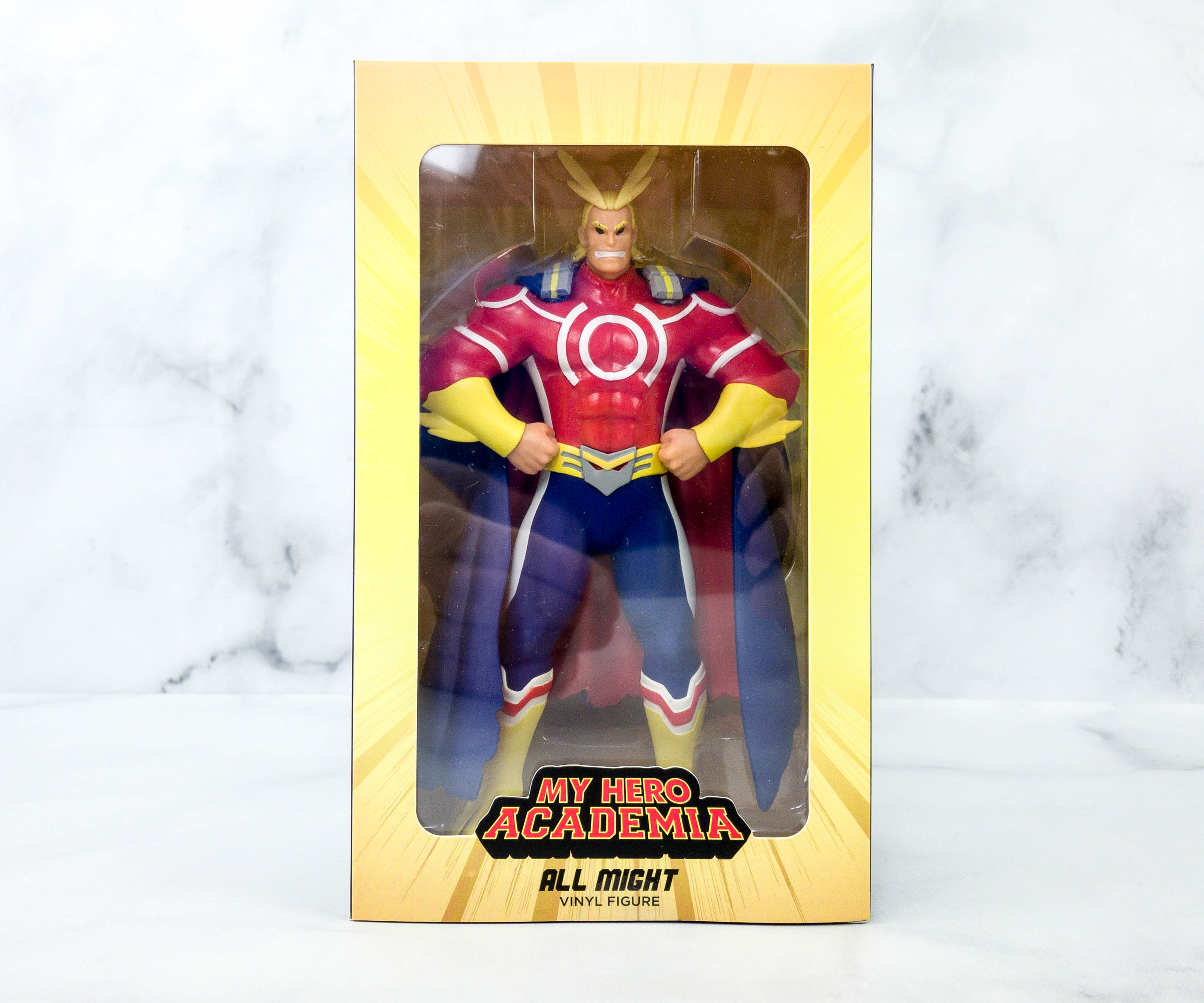 All Might Vinyl Figure. The vinyl figure came in its own window box, where we can clearly see the character inside! It's All Might, who indeed looks mighty.
The back and the sides of the box also features an image of All Might!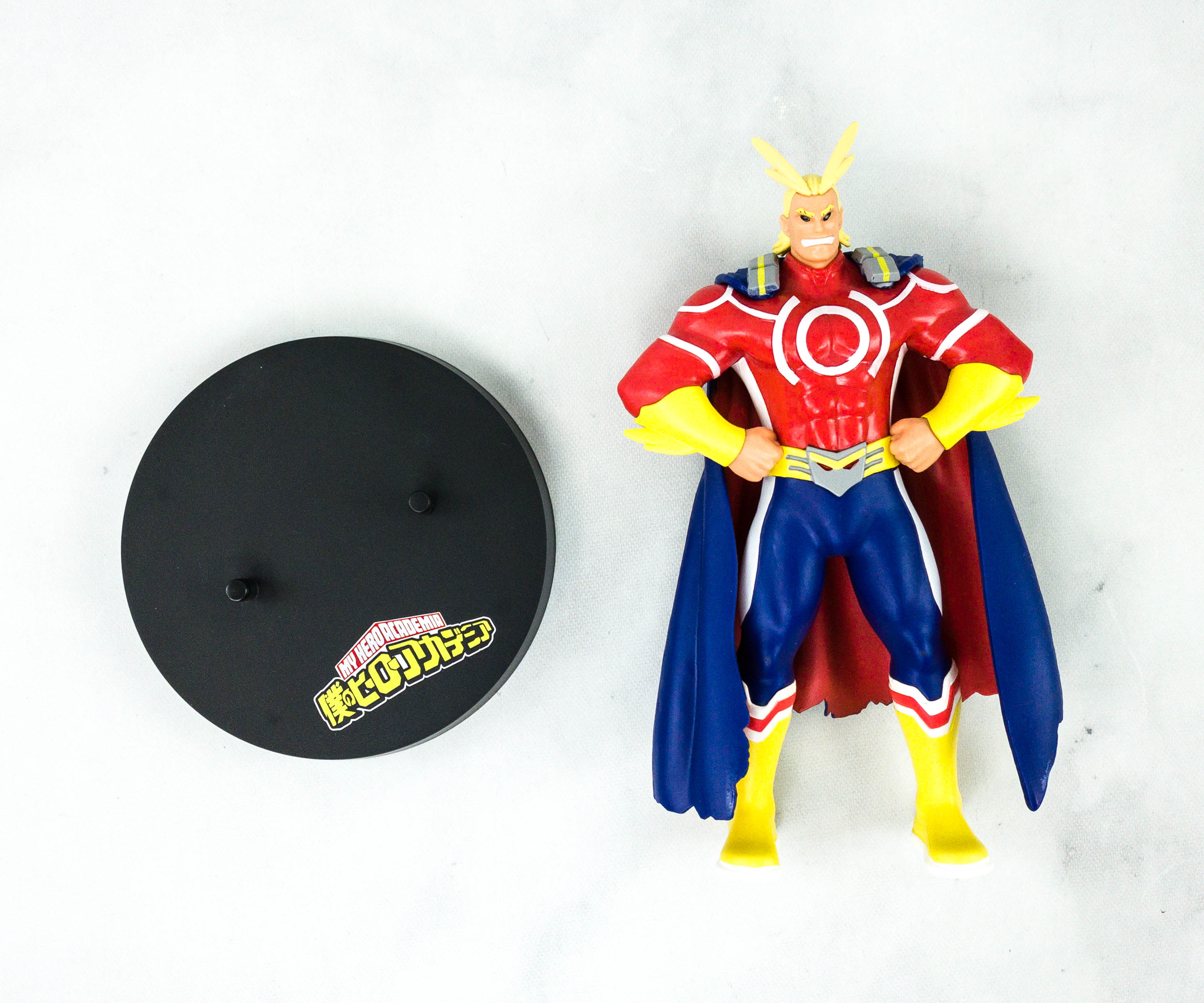 The figure came with a circular base.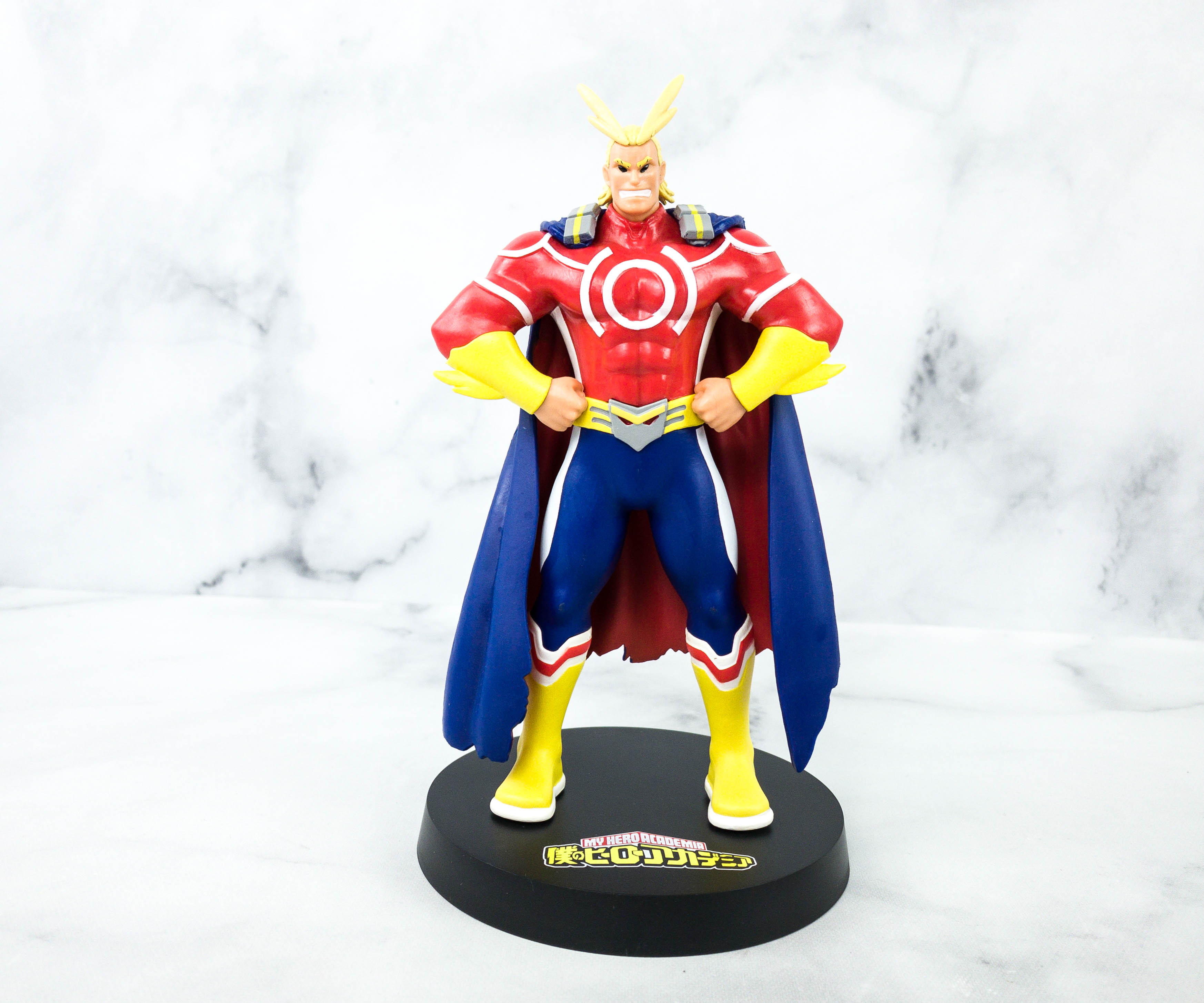 If I were to choose from All Might's iconic poses, this is my favorite!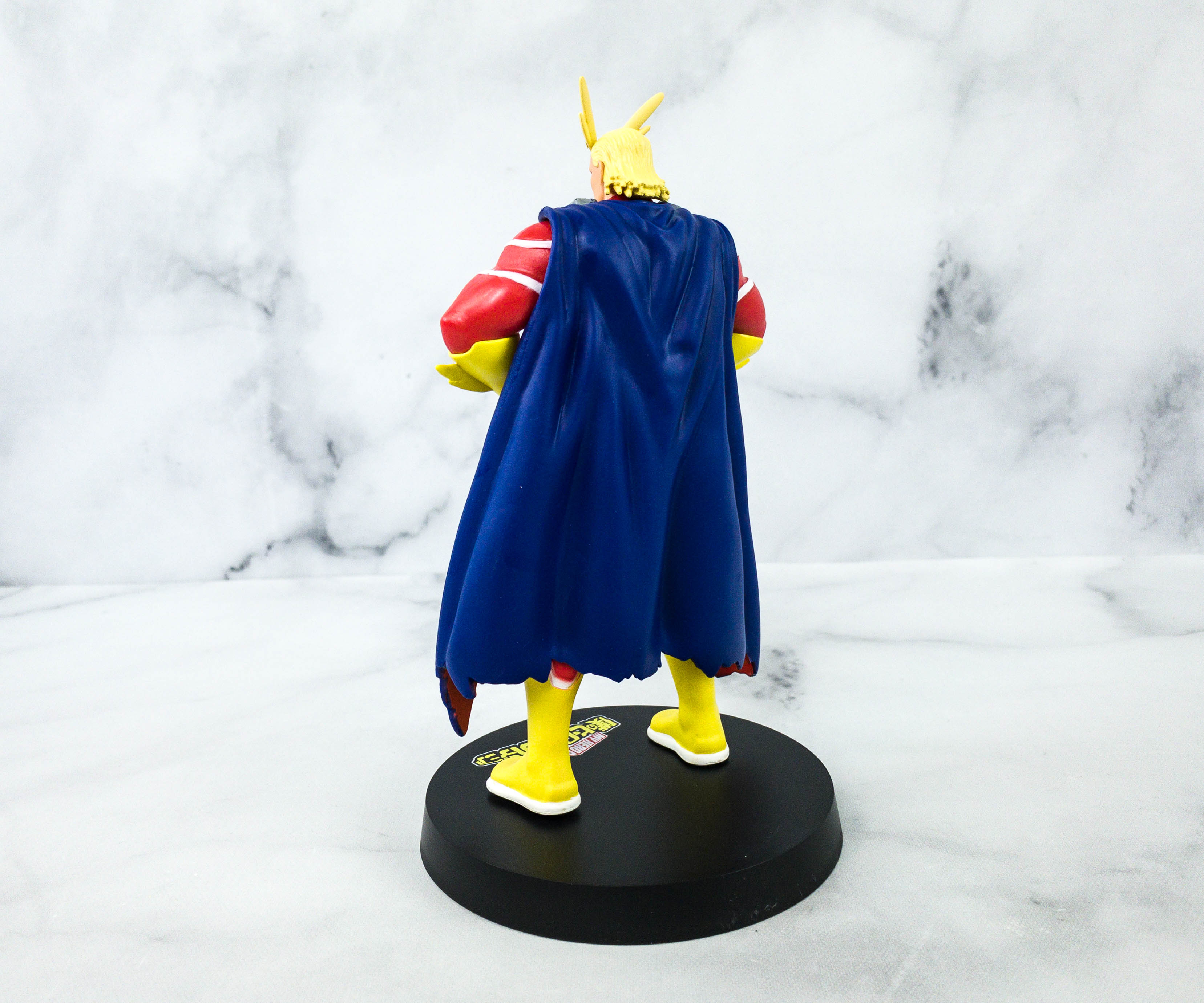 I was really in awe with the fine and accurate details on this figure. All Might's cape even shows the damaged edges and the curves make it look like its really being blown by the wind.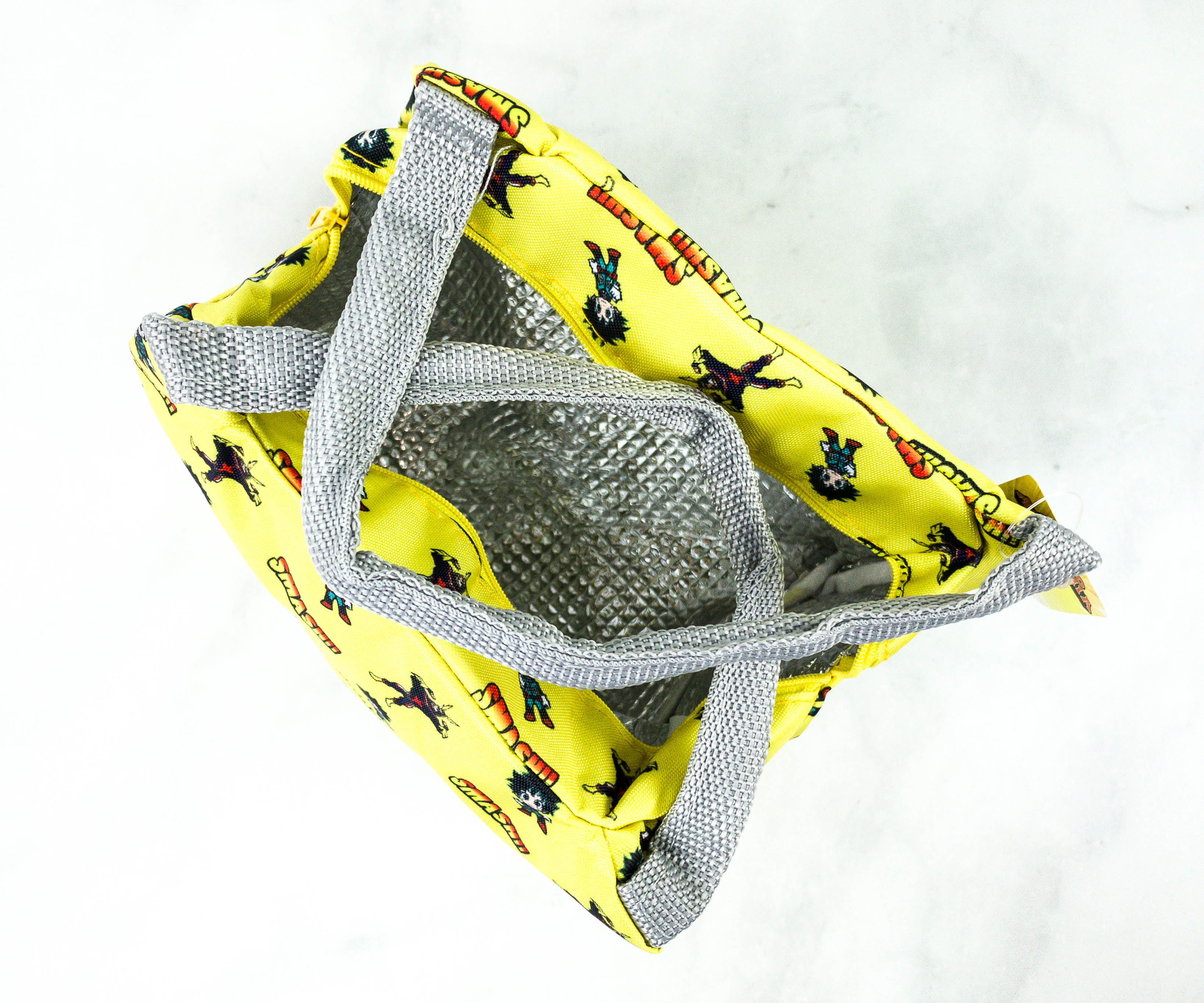 Cooler Lunch Tote. This cooler is perfect to bring on picnics or when traveling. It can store quite a number of refreshers!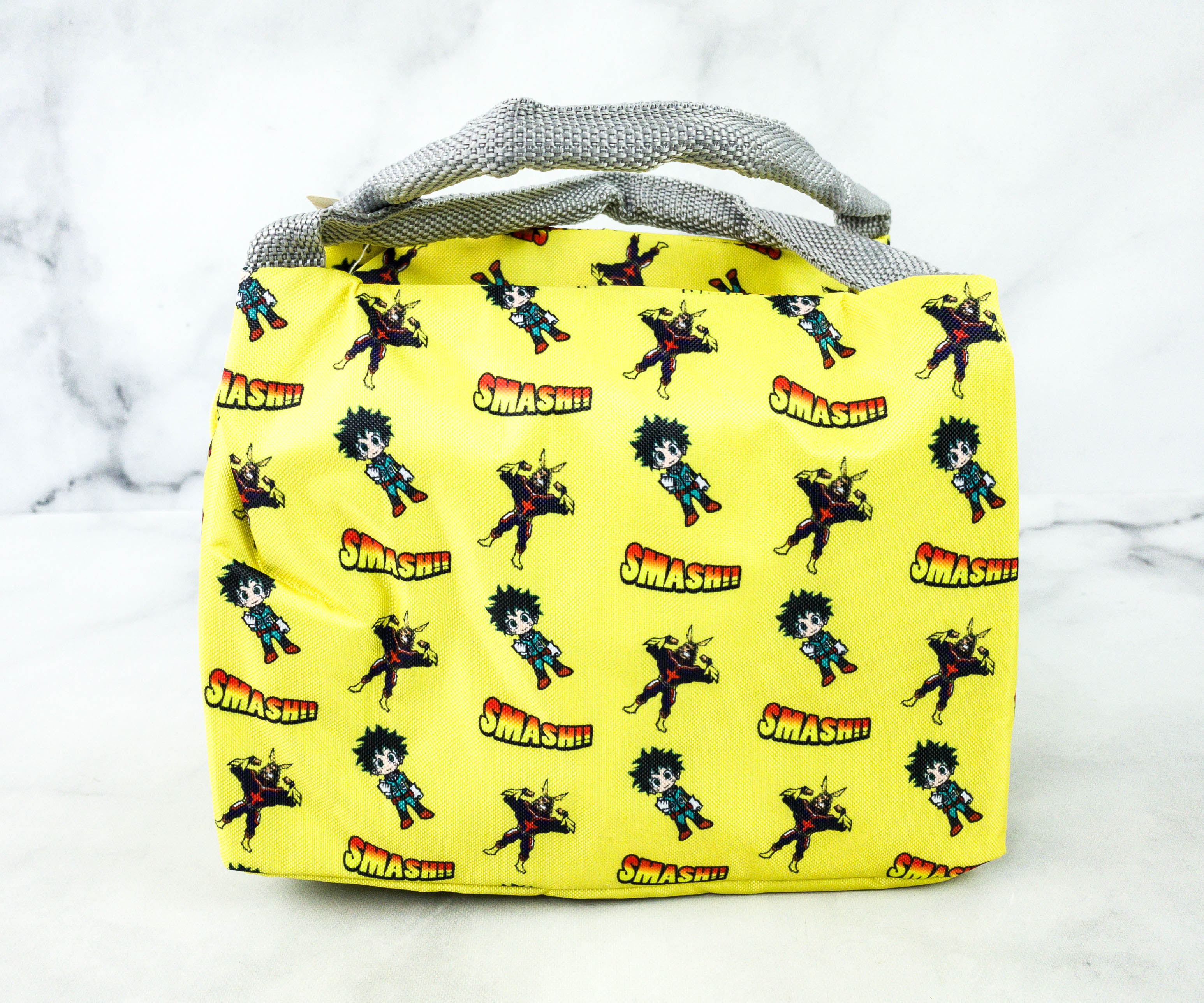 This bag's bright color and cute design is eye catching. There's Deku and All Might, as well as the word SMASH! The strap is in gray and it's also sturdy.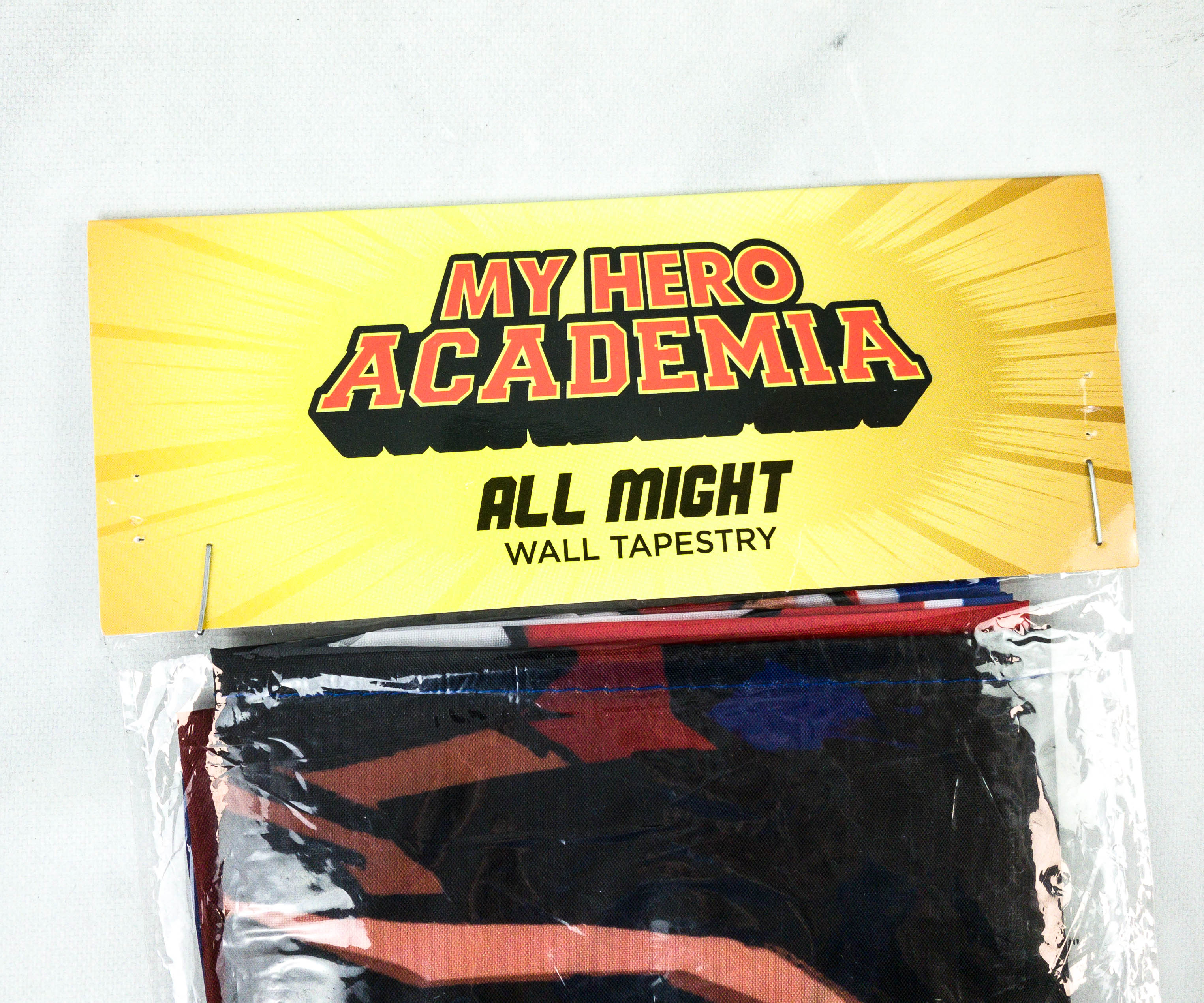 All Might Tapestry. Here's a fantastic All Might themed home decor, a wall tapestry!
It comes with two holes where you can tie a string so you can easily hang this tapestry. The fabric used is high-quality and even the colors are vibrant. A smiling All Might will always be a sight to see!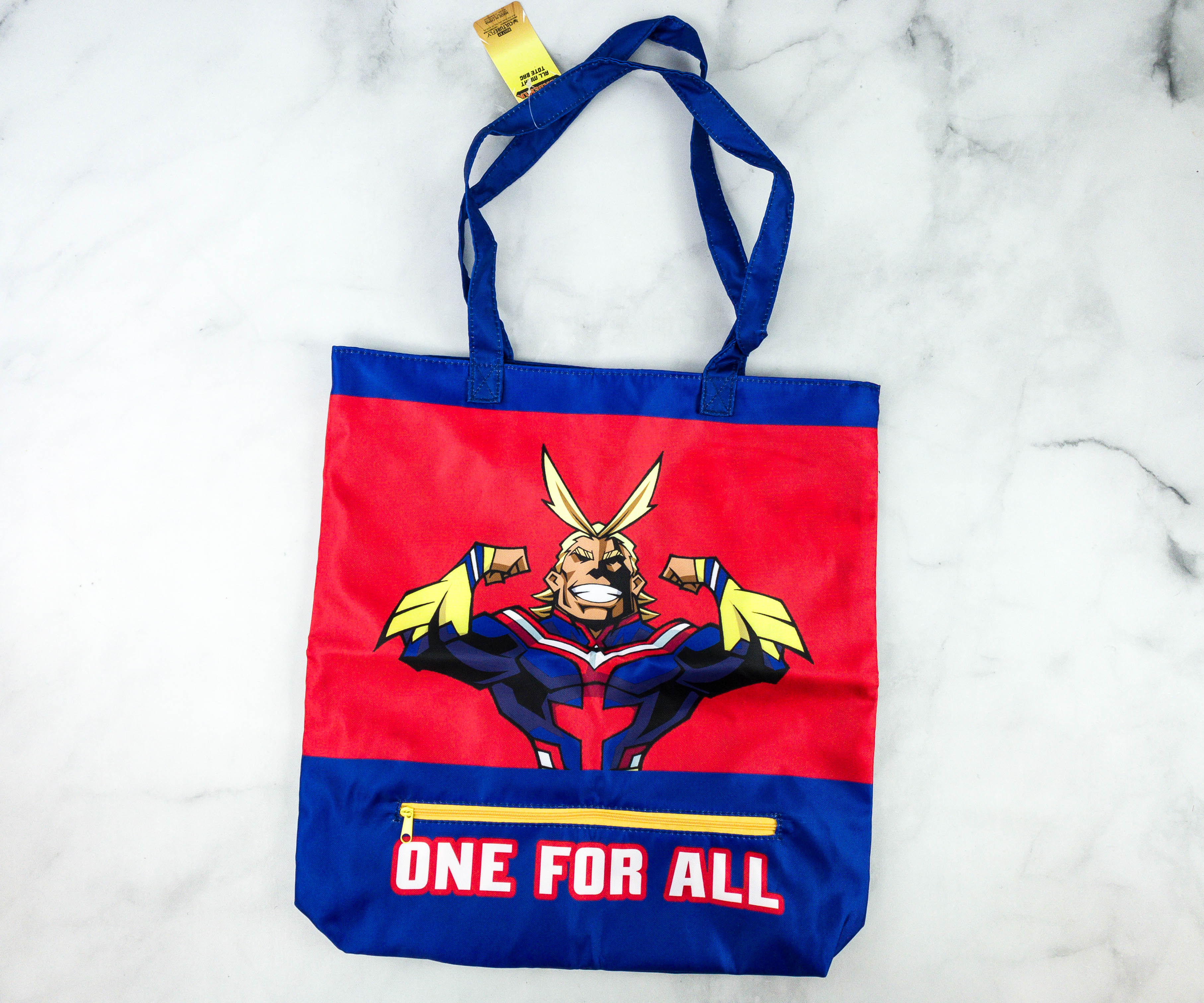 All Might Vinyl Tote Bag. This cute tote bag is another way to show off my love for My Hero Academia! It's made with vinyl so it's pretty sturdy. Using this instead of single-use plastics also makes us a "hero" in our own way!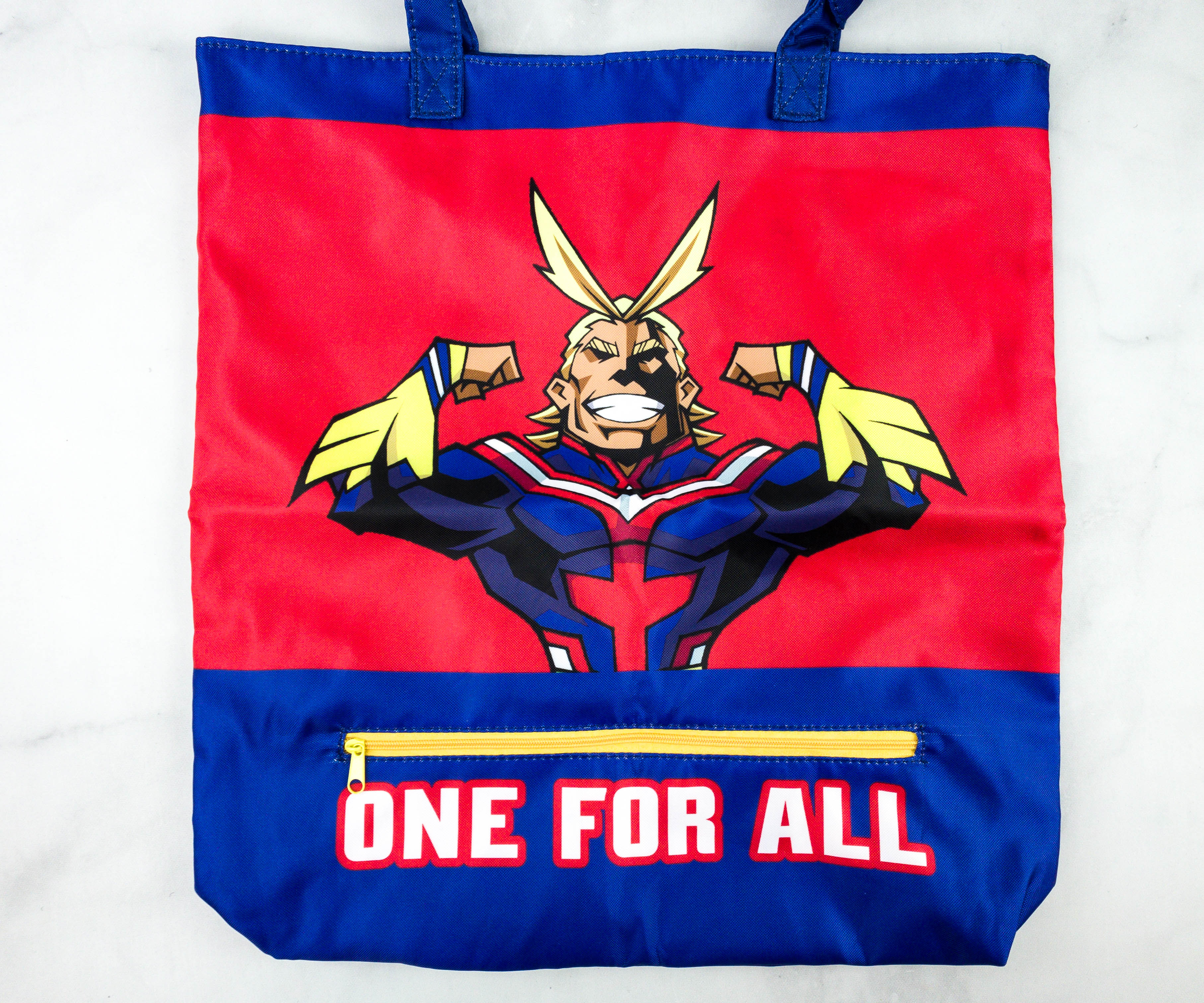 The print features All Might flexing his smile and muscles!
There is also a small compartment at the bottom of the bag for small items!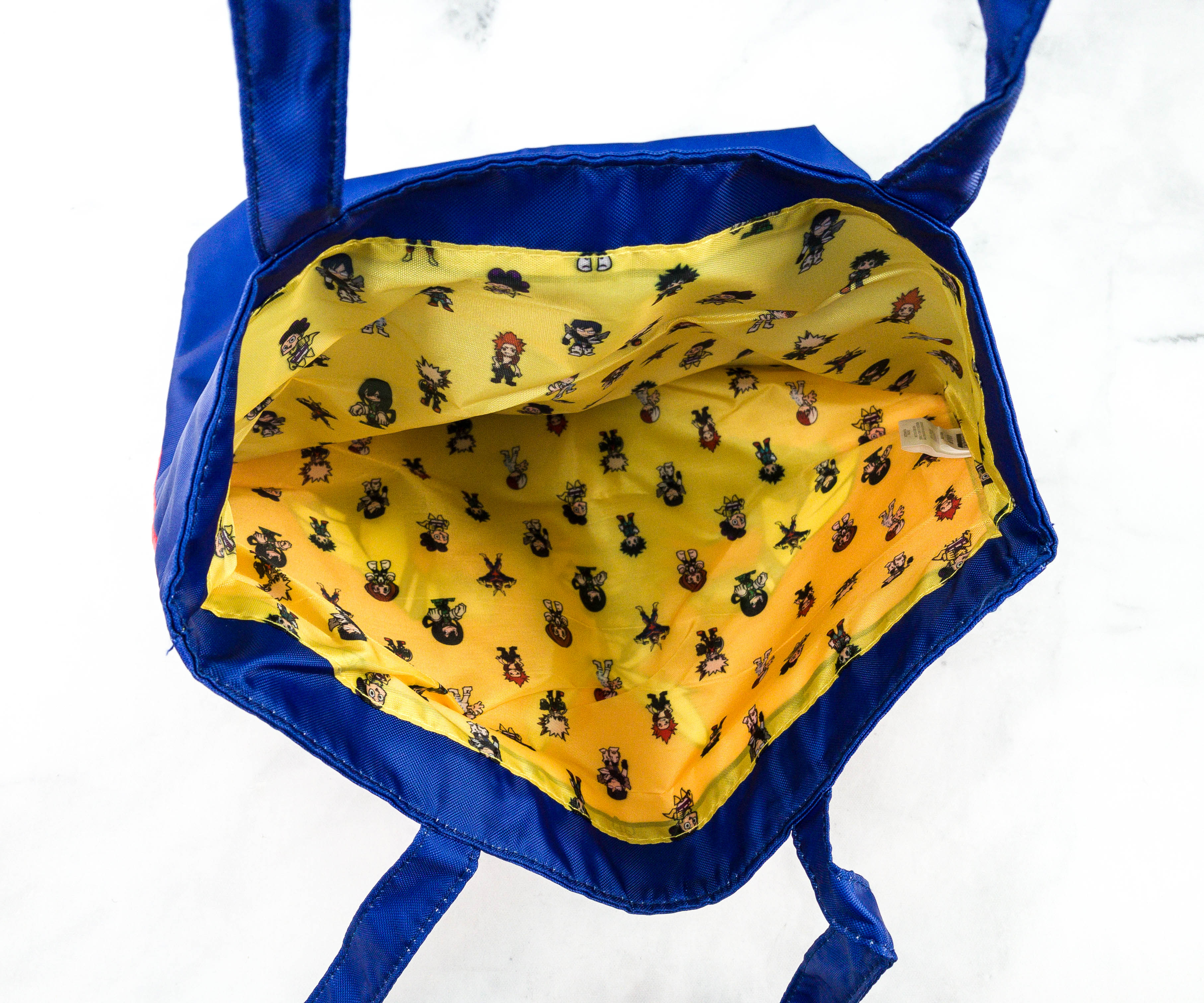 The bag's interior is lined with a yellow fabric featuring characters from the series! It's so cute!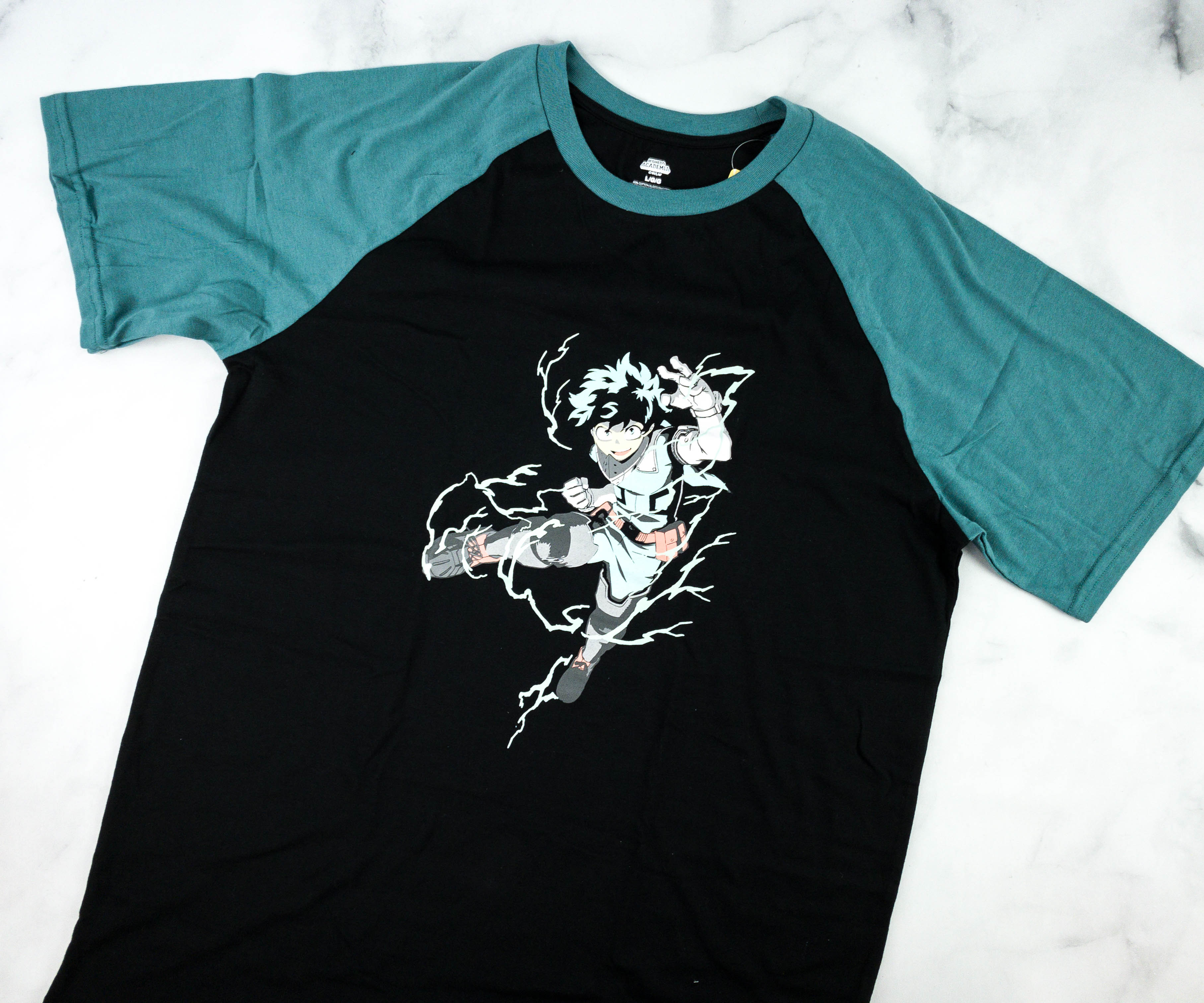 Glow-In-The-Dark Raglan T-Shirt. Glow-in-the-dark shirts are always fun to wear! This one is amazing and is the perfect design for me, as it features Deku. I also love how comfortable and breathable the fabric is!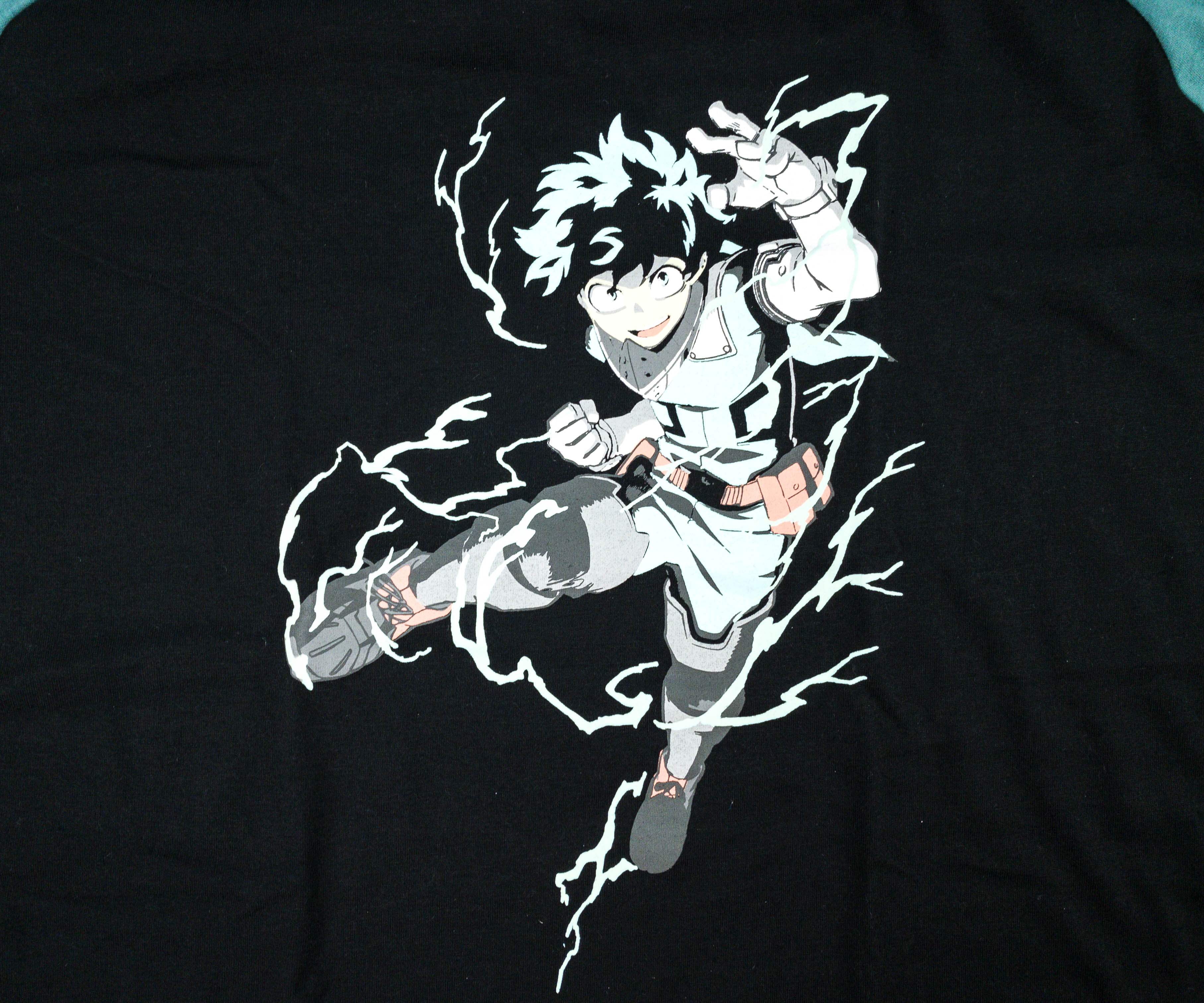 The print shows an attack stance of Deku with his costume on. With electricity all over his body, this will definitely be a major attack!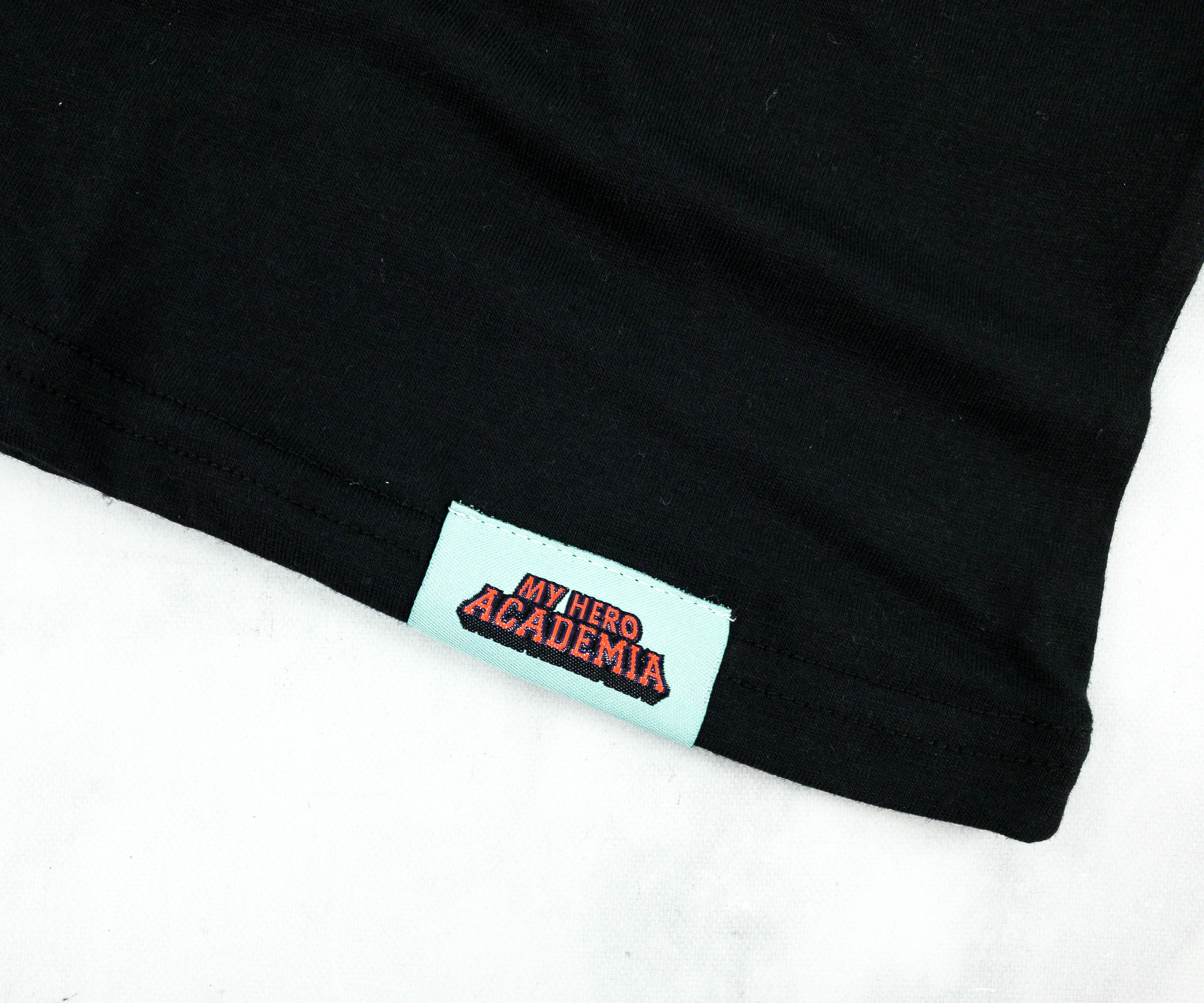 At the bottom part of the shirt is My Hero Academia tag.
I had so much fun with this box and this is the feeling I was expecting while waiting for it to arrive! I loved all the My Hero Academia items but if I have to pick a favorite, it would be the All Might figure. It's excellently made, from the details to the craftsmanship itself. Other items are also pretty useful like the cooler and tote bag. Of course, let's not forget the glow in the dark shirt because it's one of the coolest anime shirts I've received recently! I'm really impressed with My Hero Academia box and I'm happy with the exclusive items that are truly worth adding to any anime collection!
FYI, because this box shipped out late, the next box in the subscription will be the Winter box!
What do you think of this month's box?
Visit My Hero Academia Subscription Box to subscribe or find out more!