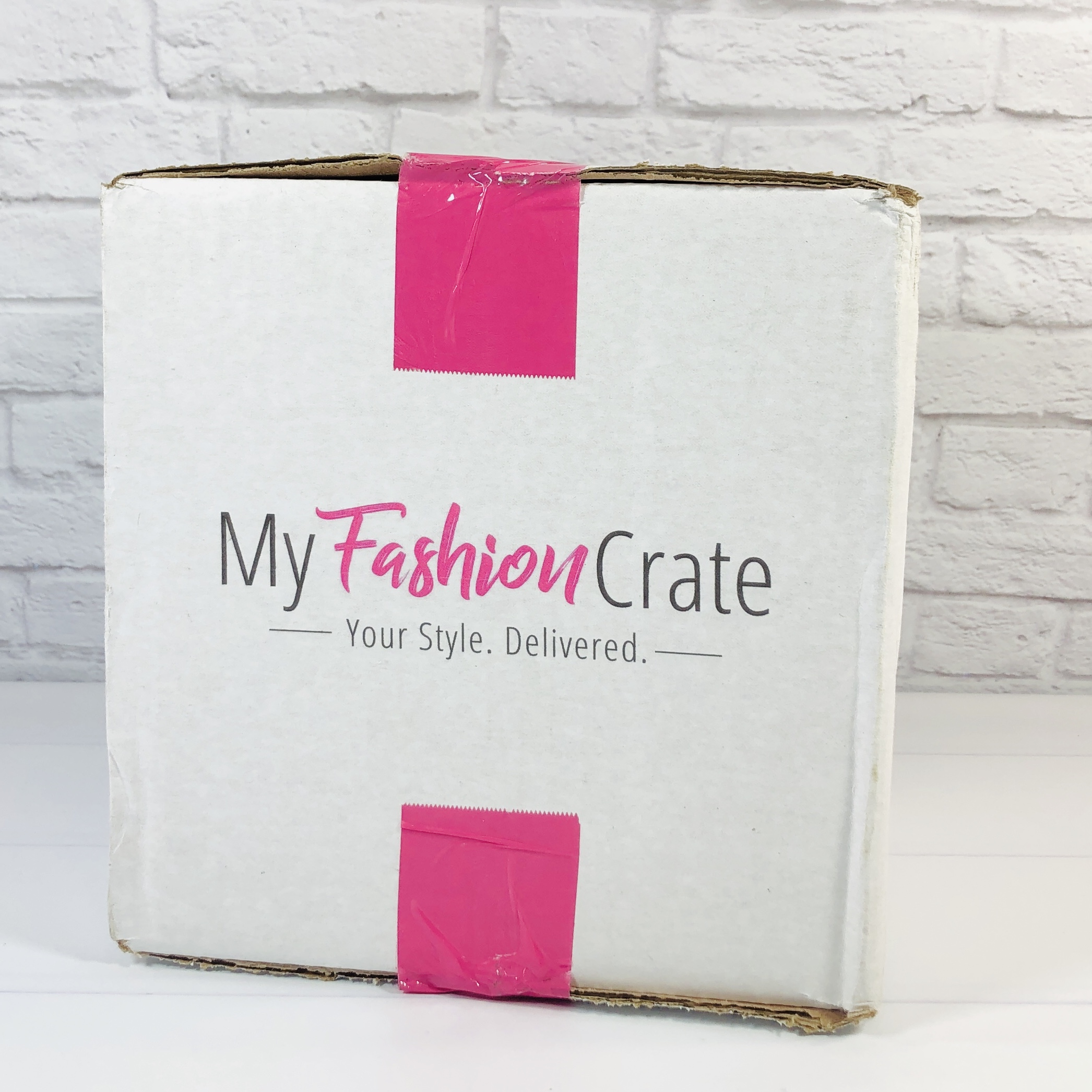 My Fashion Crate is a quarterly subscription box that sends a curated package of stylish clothing, accessories, beauty items, & gift cards every season! When you sign up you can choose your size, which ranges from XS (0-2) and up to XXL (20-22). They send items for the "conscious fashionista – we source our looks from emerging designers with a socially conscious mission". The Style Box is $85 while the Accessories Box is $55. What can you expect to find in here?
The Style Box is packed with 3-5 items including tops, dresses, separates, shoes, jewelry, accessories or gift cards (Value up to $300). The Accessories Box is packed with 2-4 items including jewelry, accessories or gift cards. Clothing is not included. (Value up to $150).

Every season is a surprise!
NOTE: My Fashion Crate was a monthly box but as of Summer 2020 it is quarterly.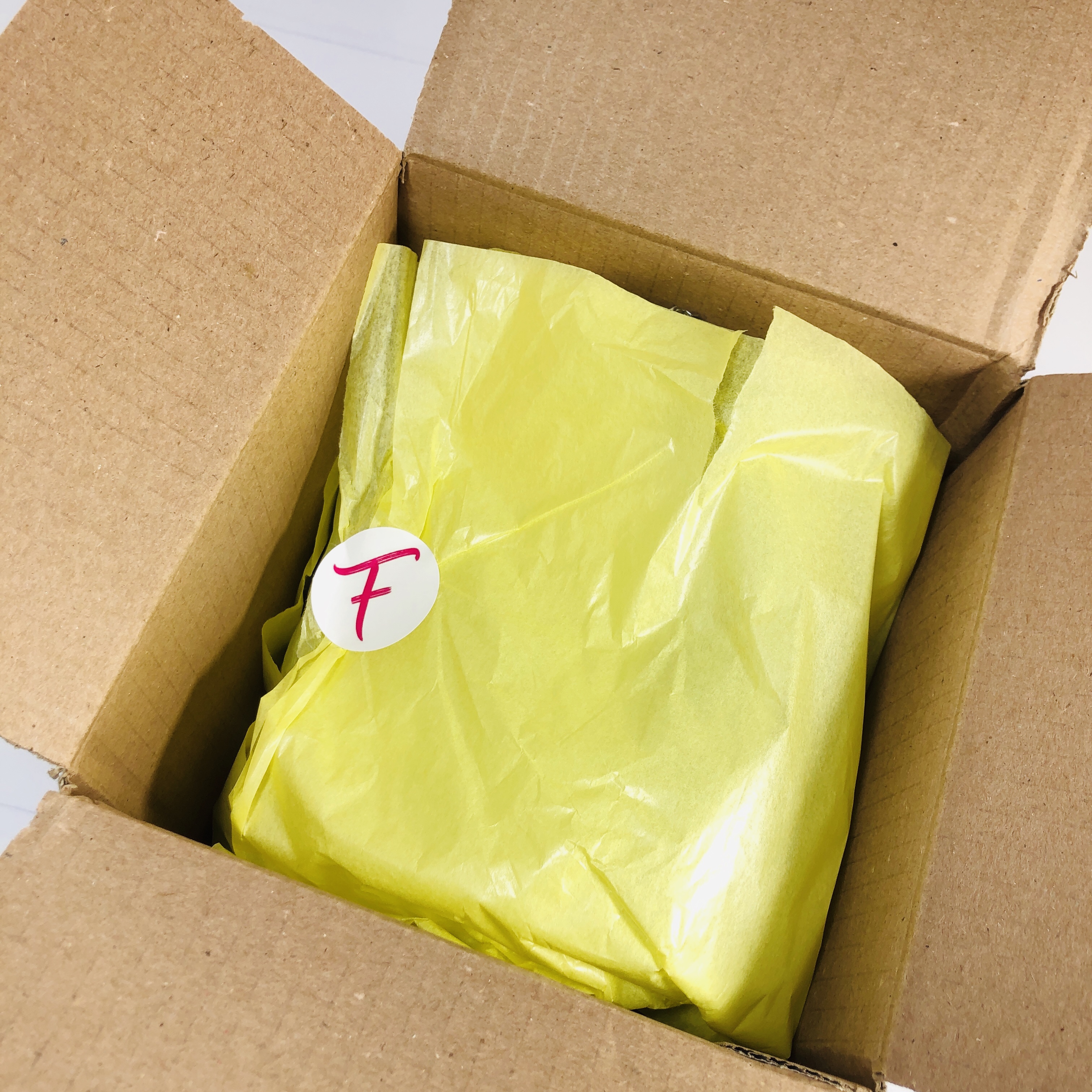 My Fashion Crate ships to the U.S for $7.95, and costs $25 (plus duties and taxes) to ship to United Kingdom, Australia, and Canada.
My items were placed in a box that was lined with yellow tissue paper. It was sealed with a sticker.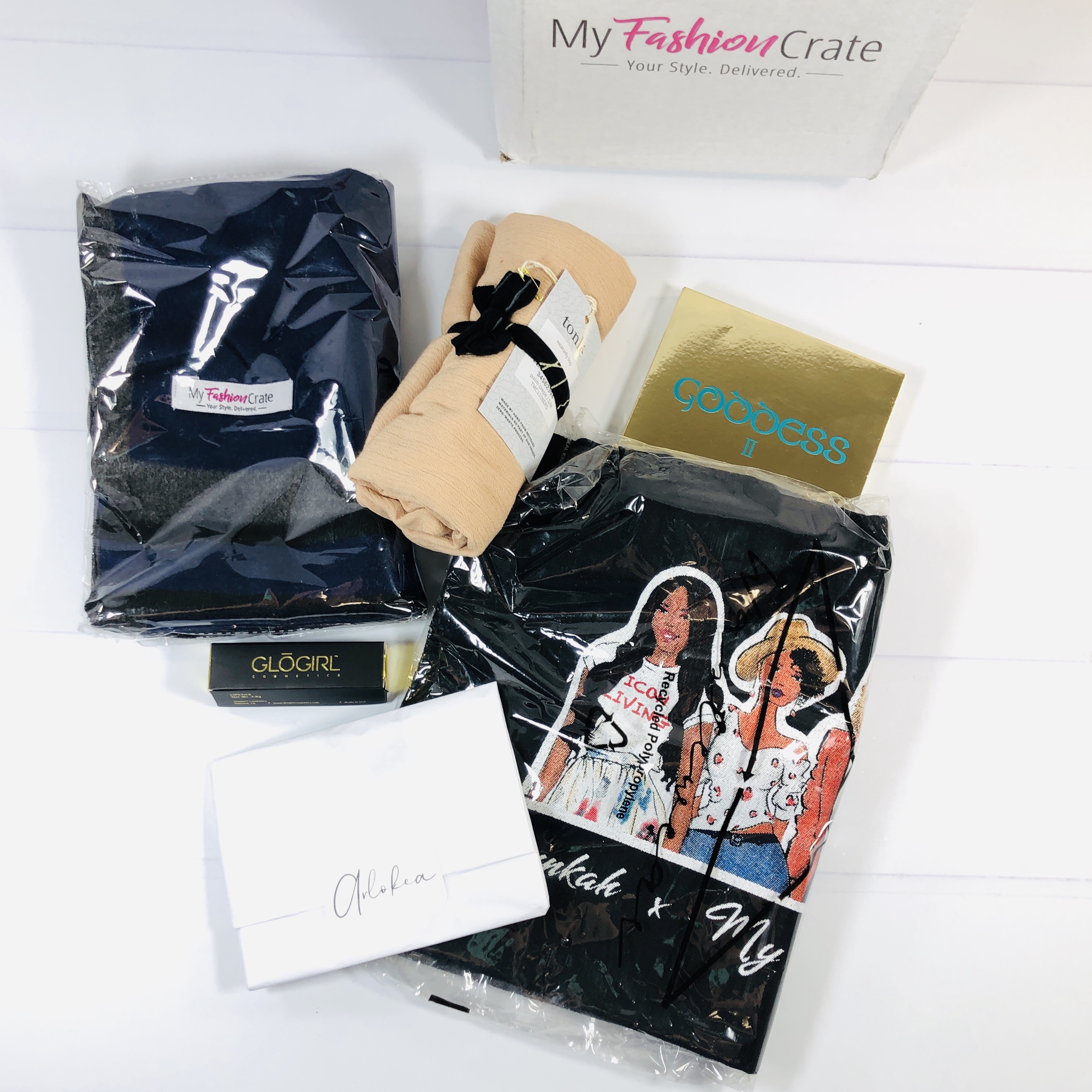 Some of the items were wrapped in plastic or came in their original boxes.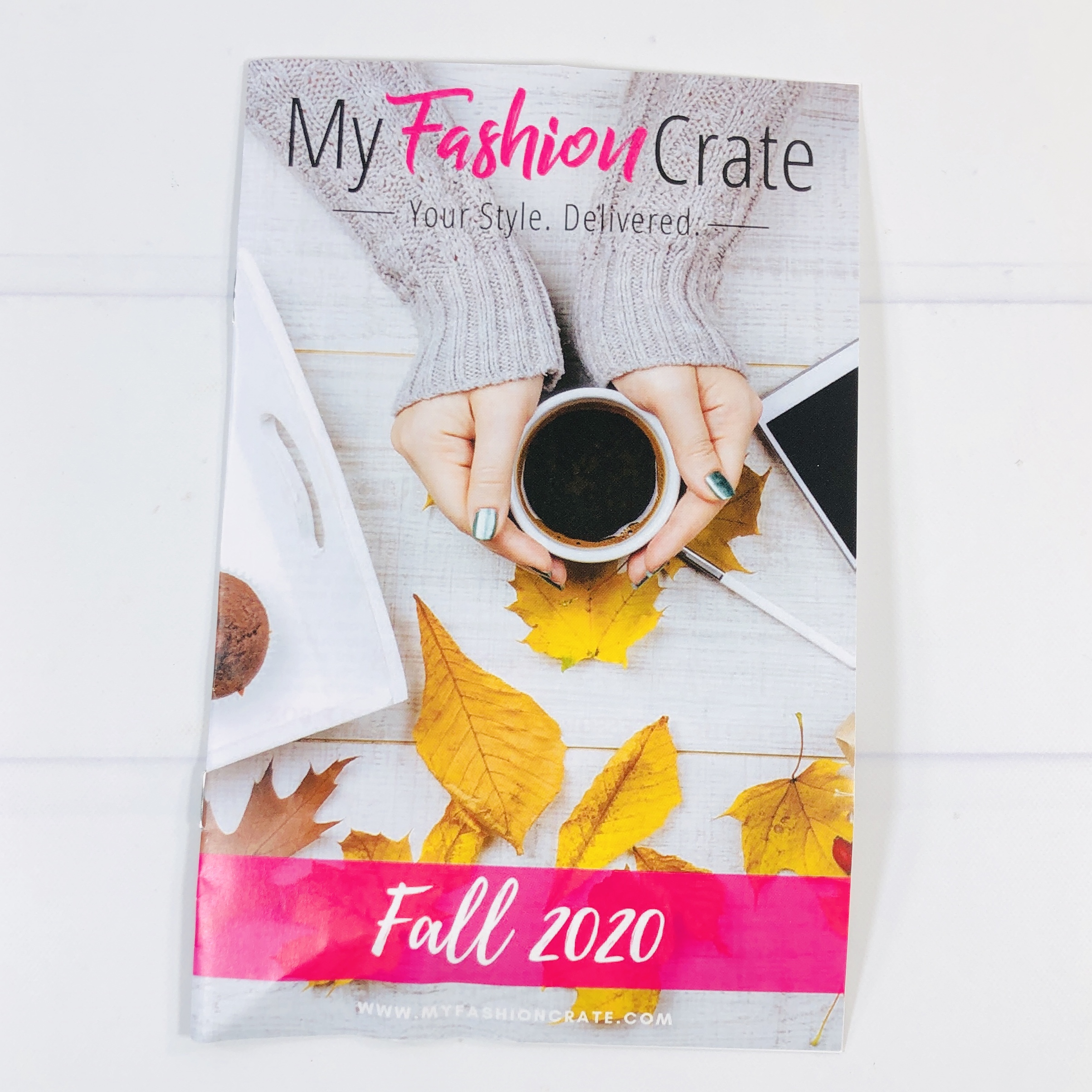 I found a mini catalog of the items in the box.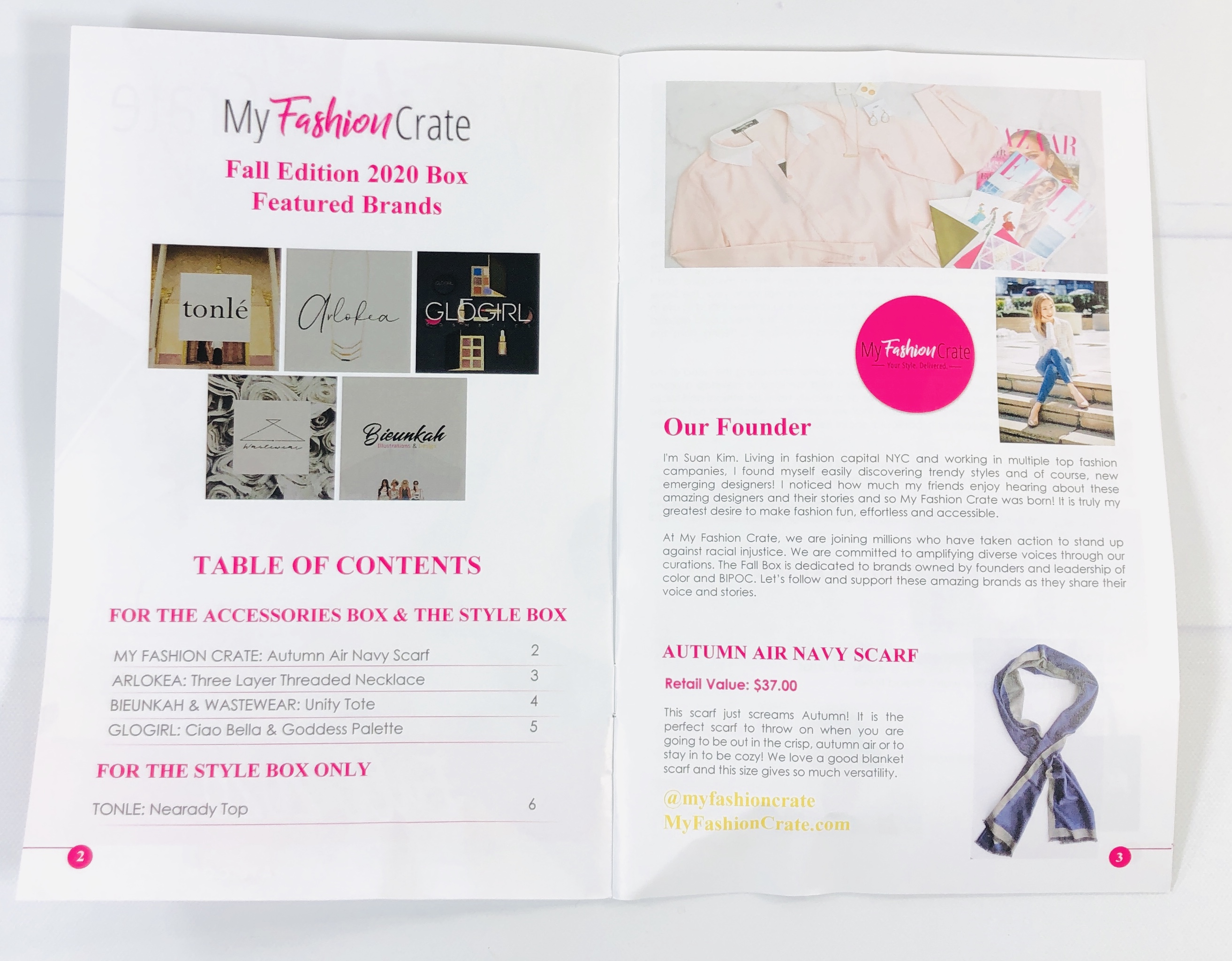 Each page described the items, retail value, a brief description, and website to stock up or learn more about the brands.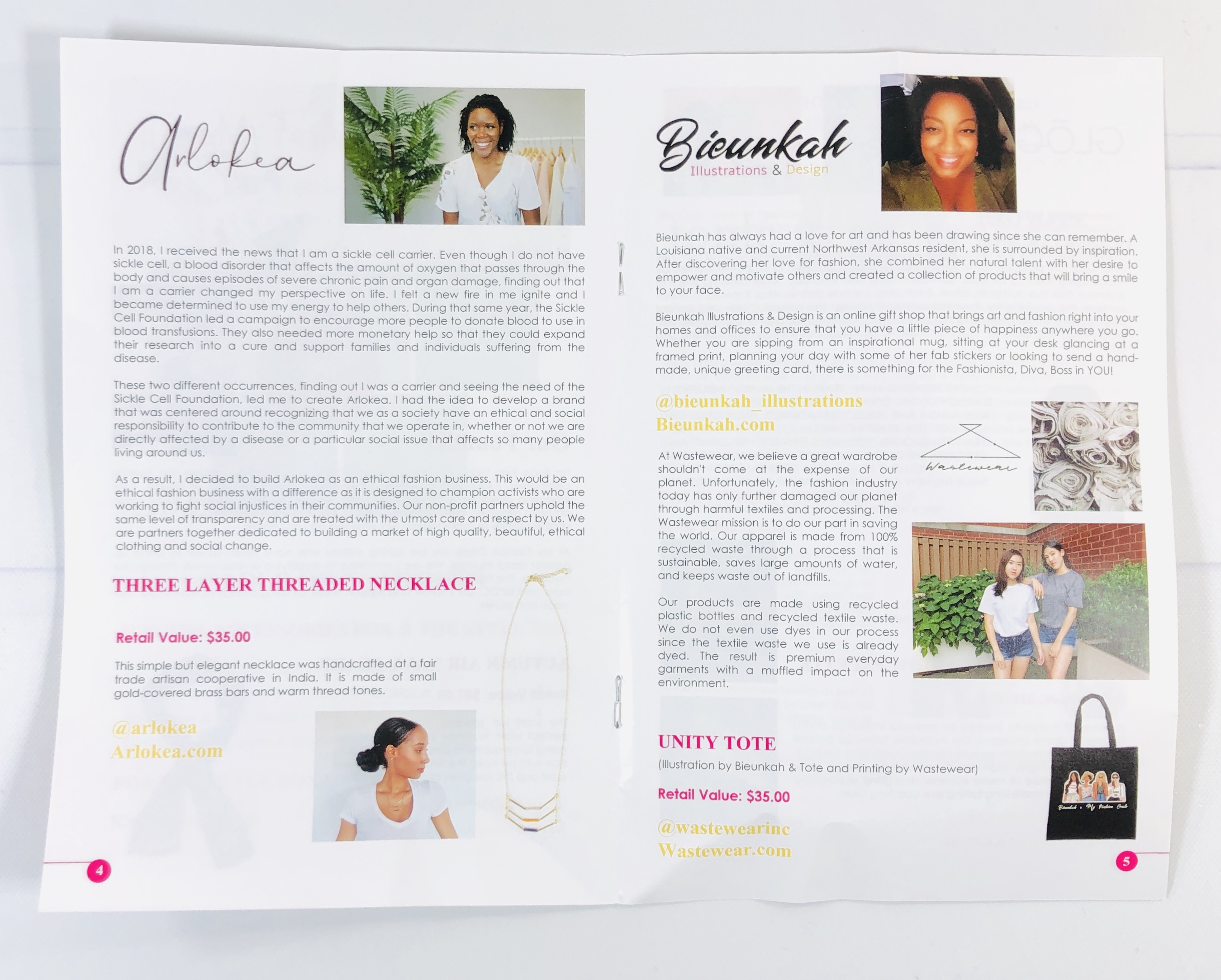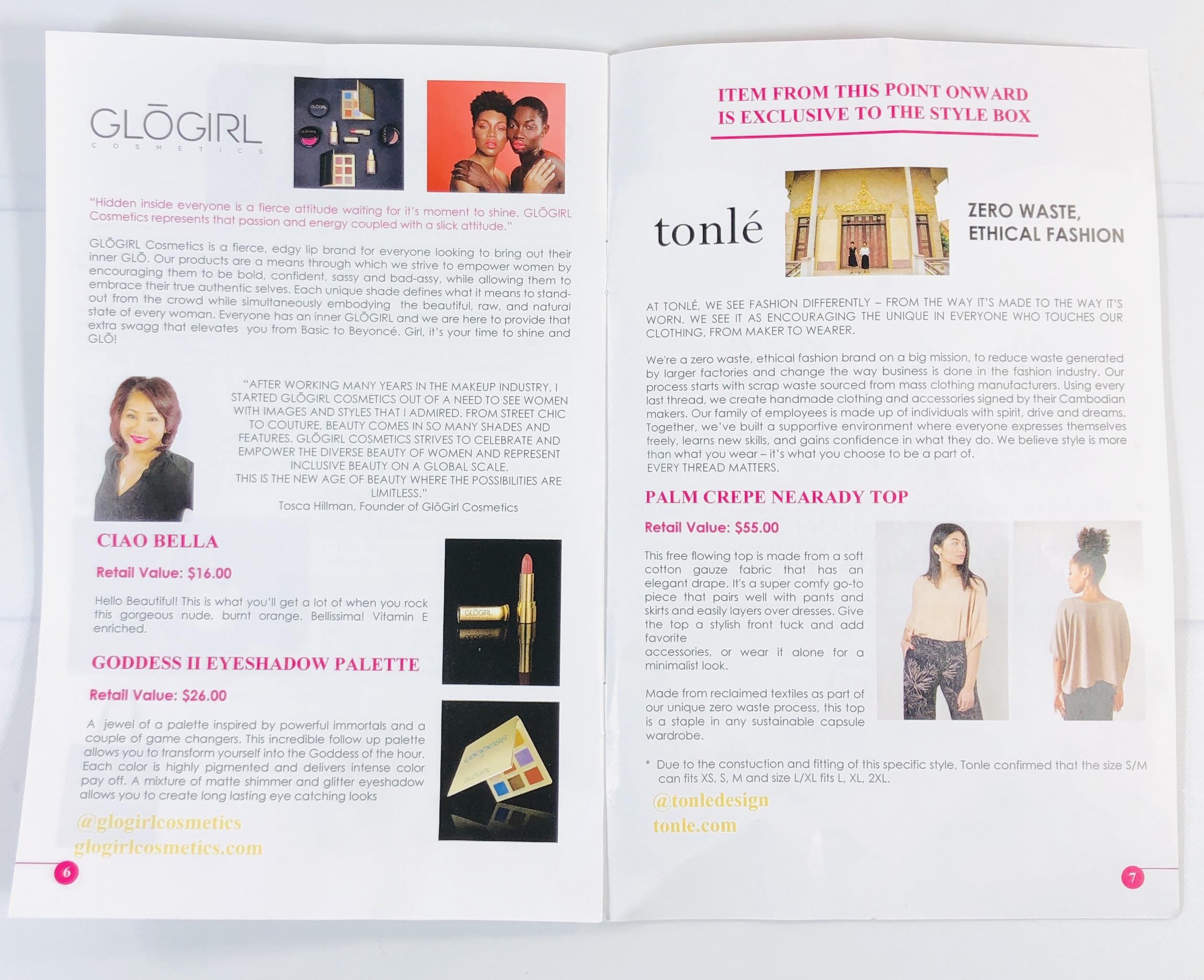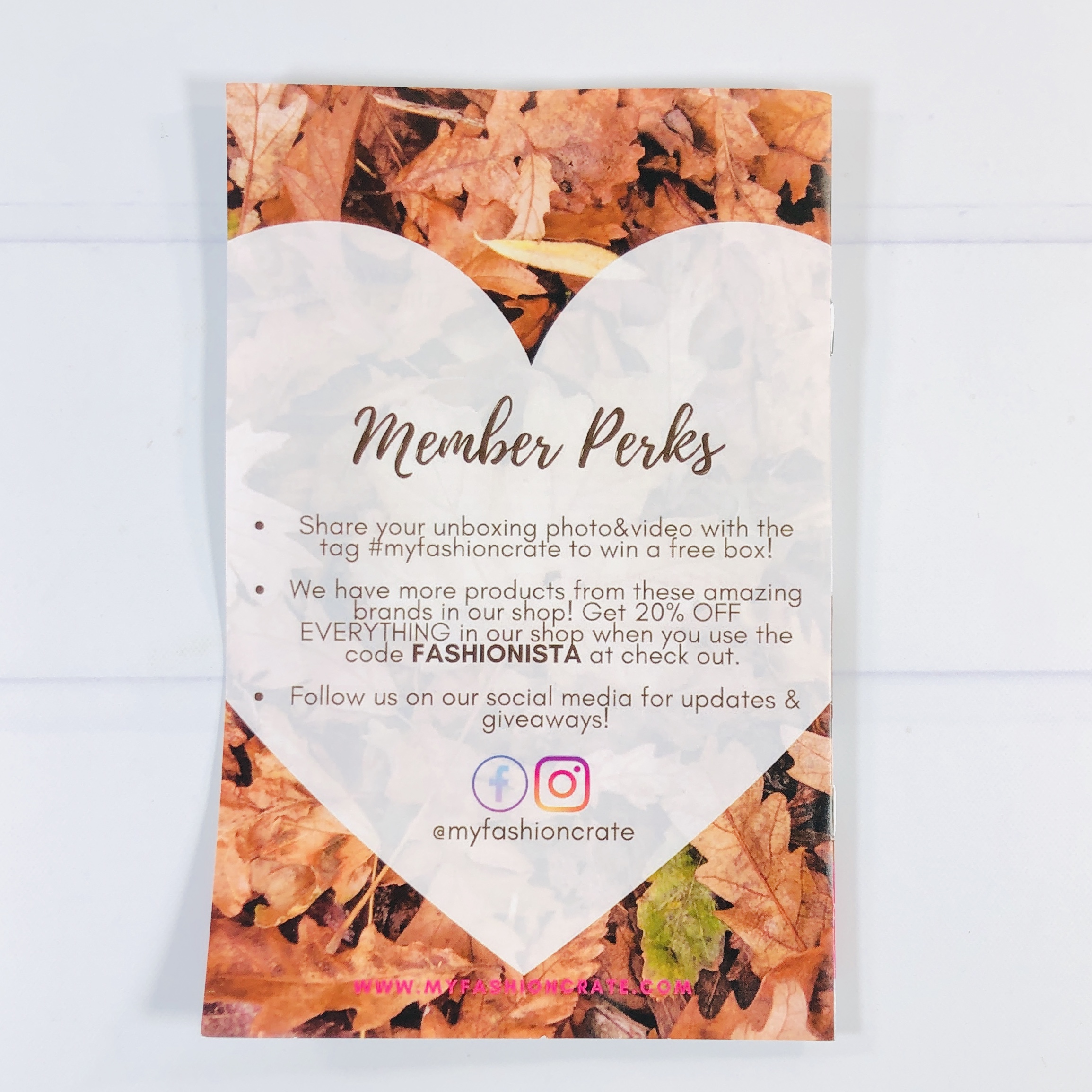 Social media websites were on the back. Post those photos, I'm sure others would love to see how you style your finds!
Everything in my box! My daughters are 22 and 17 and they always enjoy this box, I see them wearing clothing items that they've received from My Fashion Crate all the time.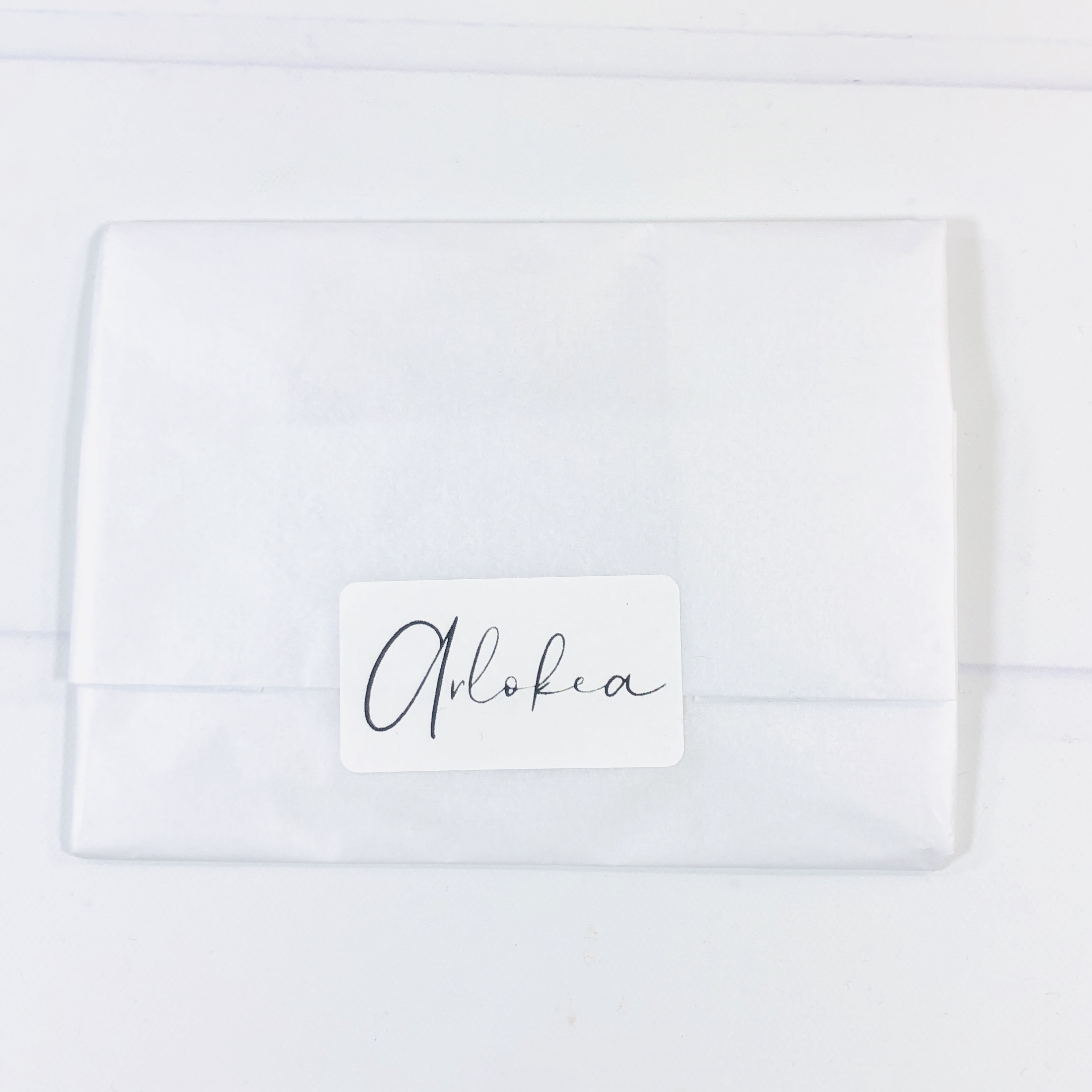 The first item was wrapped in tissue paper and sealed with a sticker.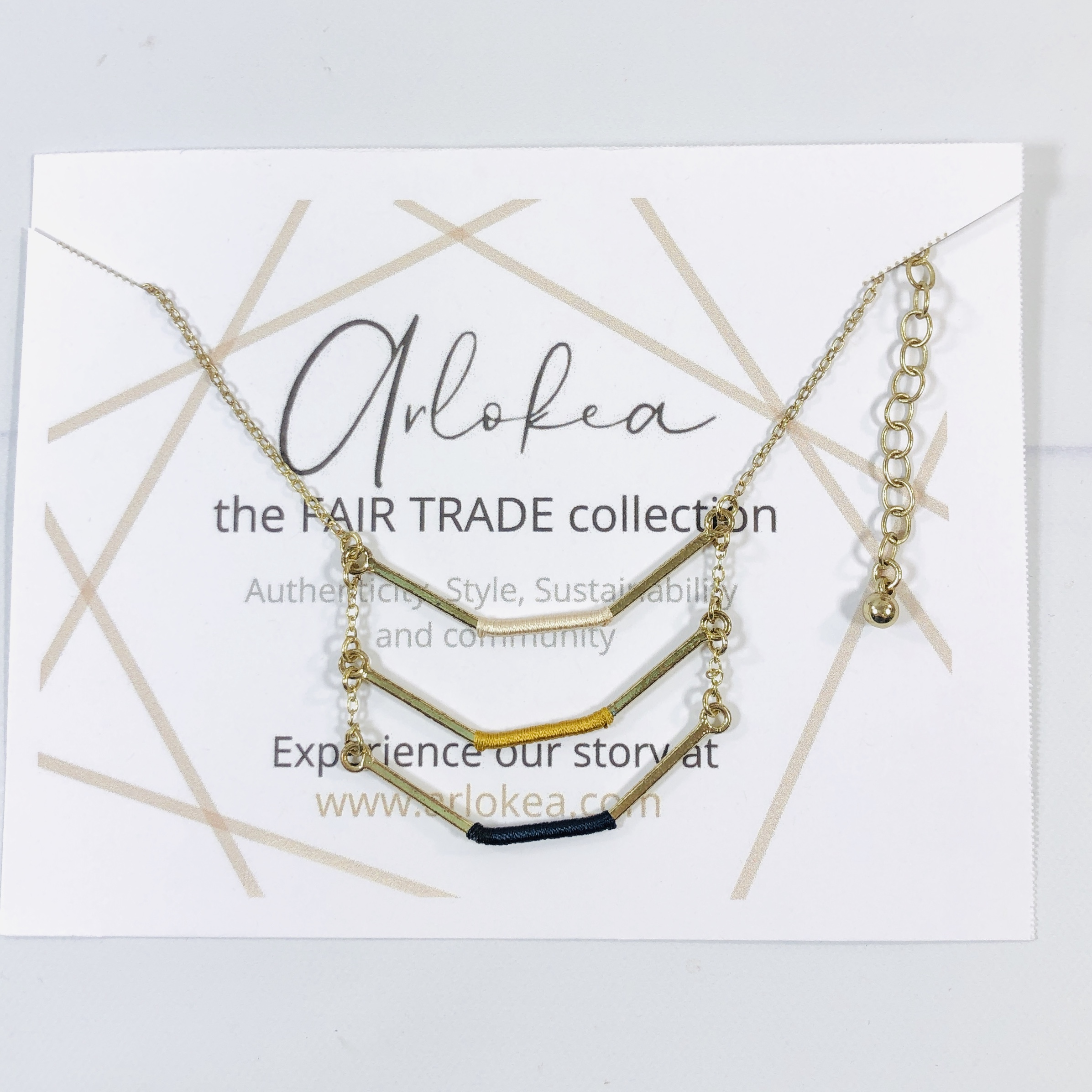 Arlokea Three Layer Threaded Necklace ($35 listed value) Arlokea offers ethically sourced fashion items that helps support the artisans who make their products.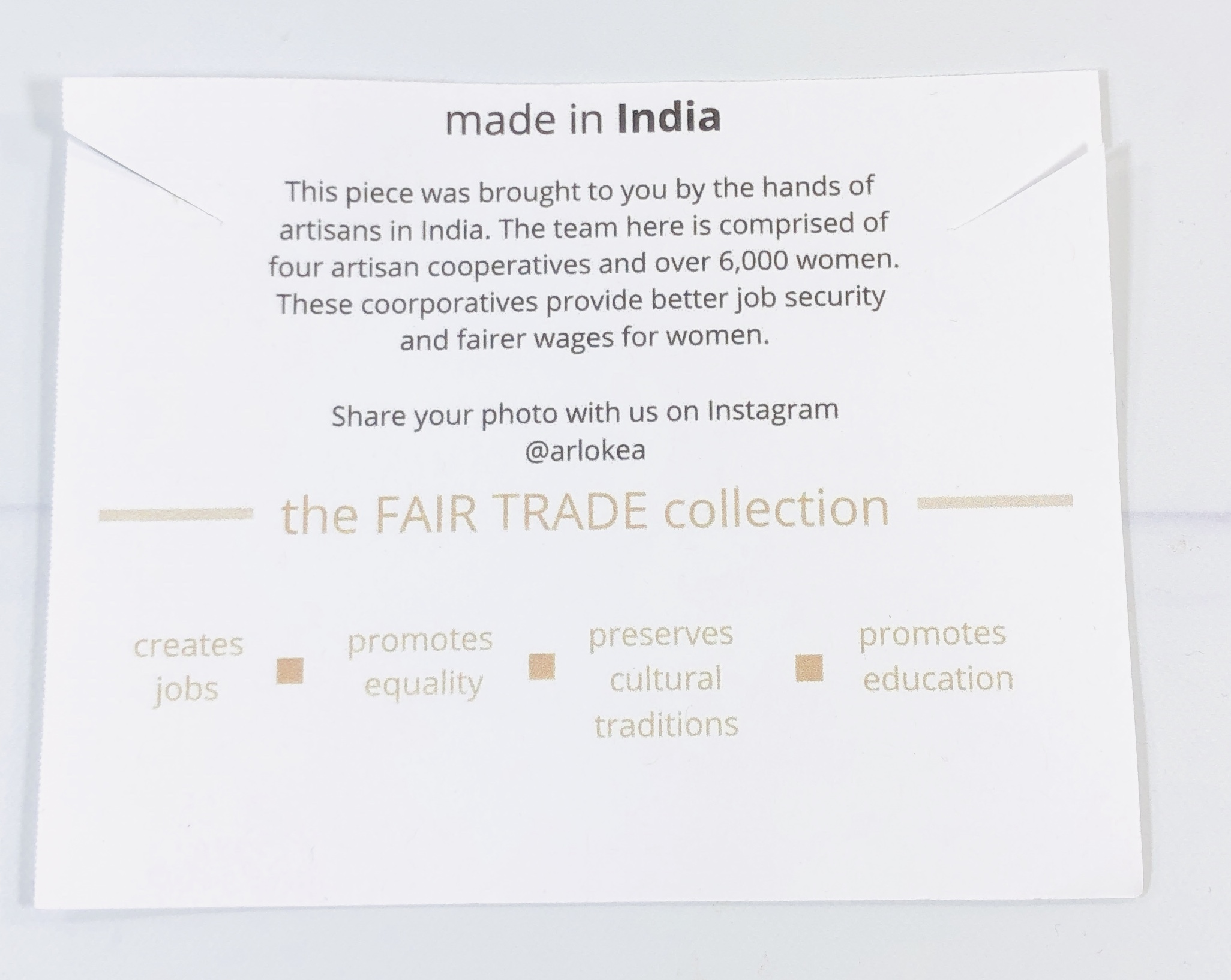 The piece we received was made in India and some of the company's goals are shown here.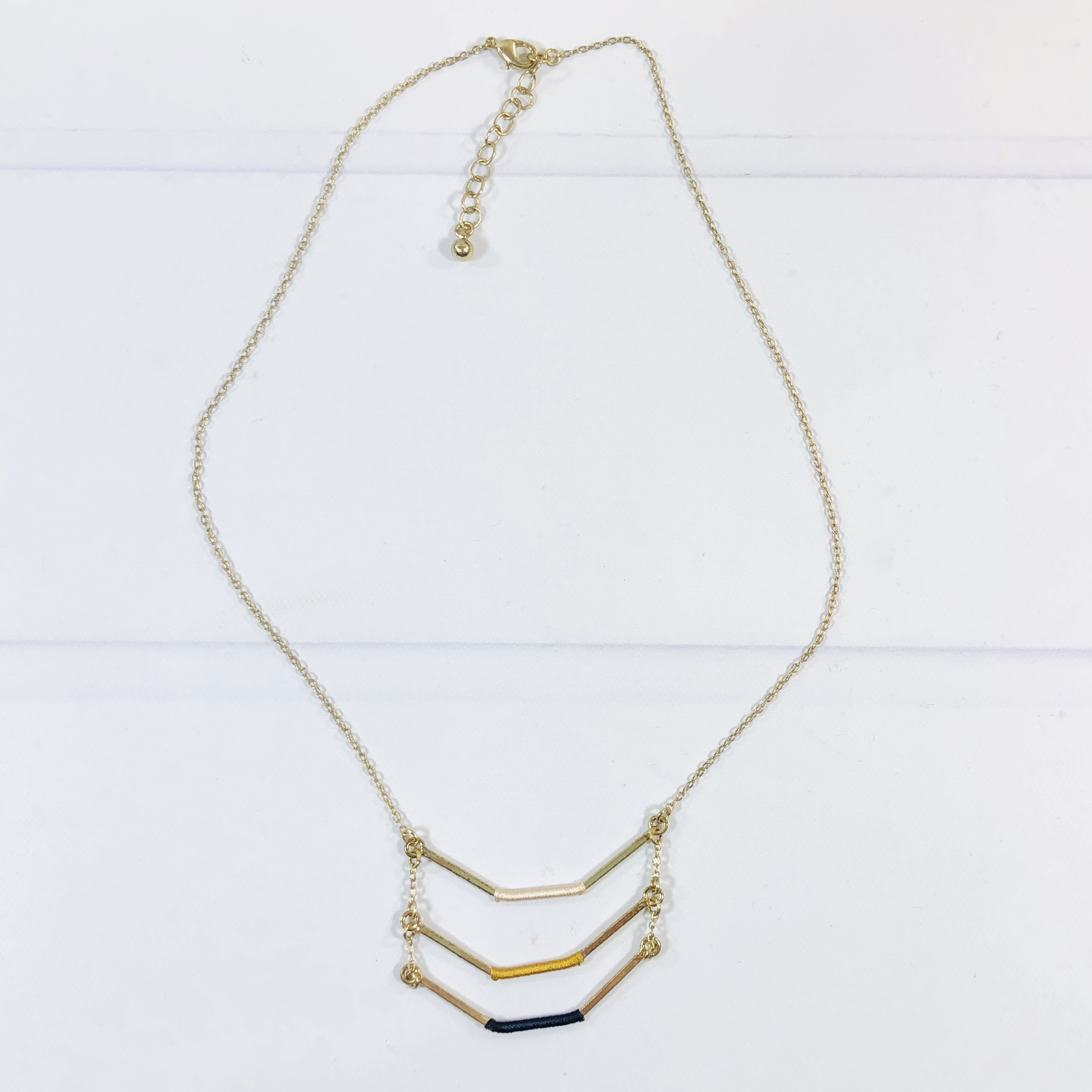 I couldn't find this for sale and so the only info is what is in the catalog. It is made of gold-covered brass bars and threads that fall on the warm color spectrum.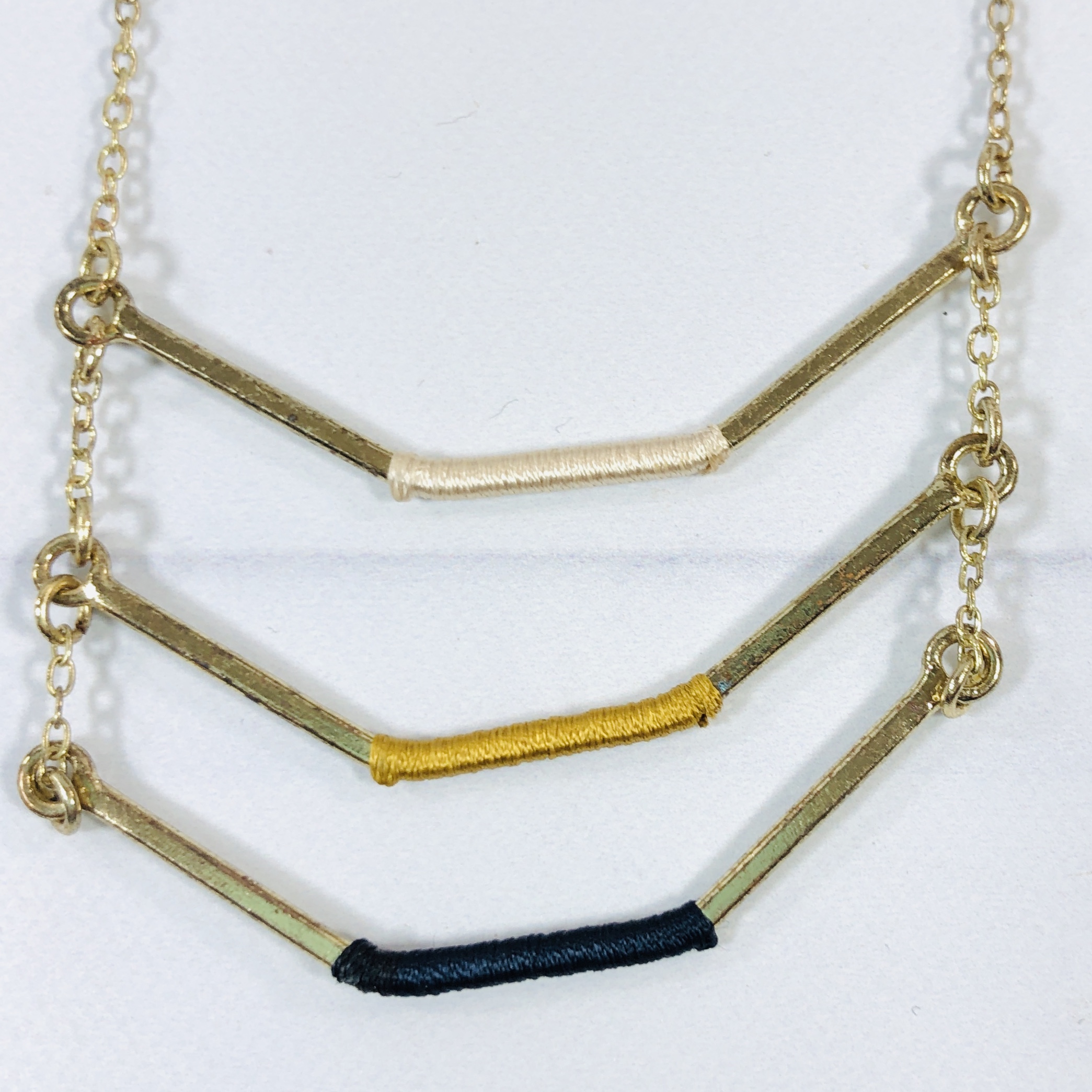 It's very pretty and perfect for fall.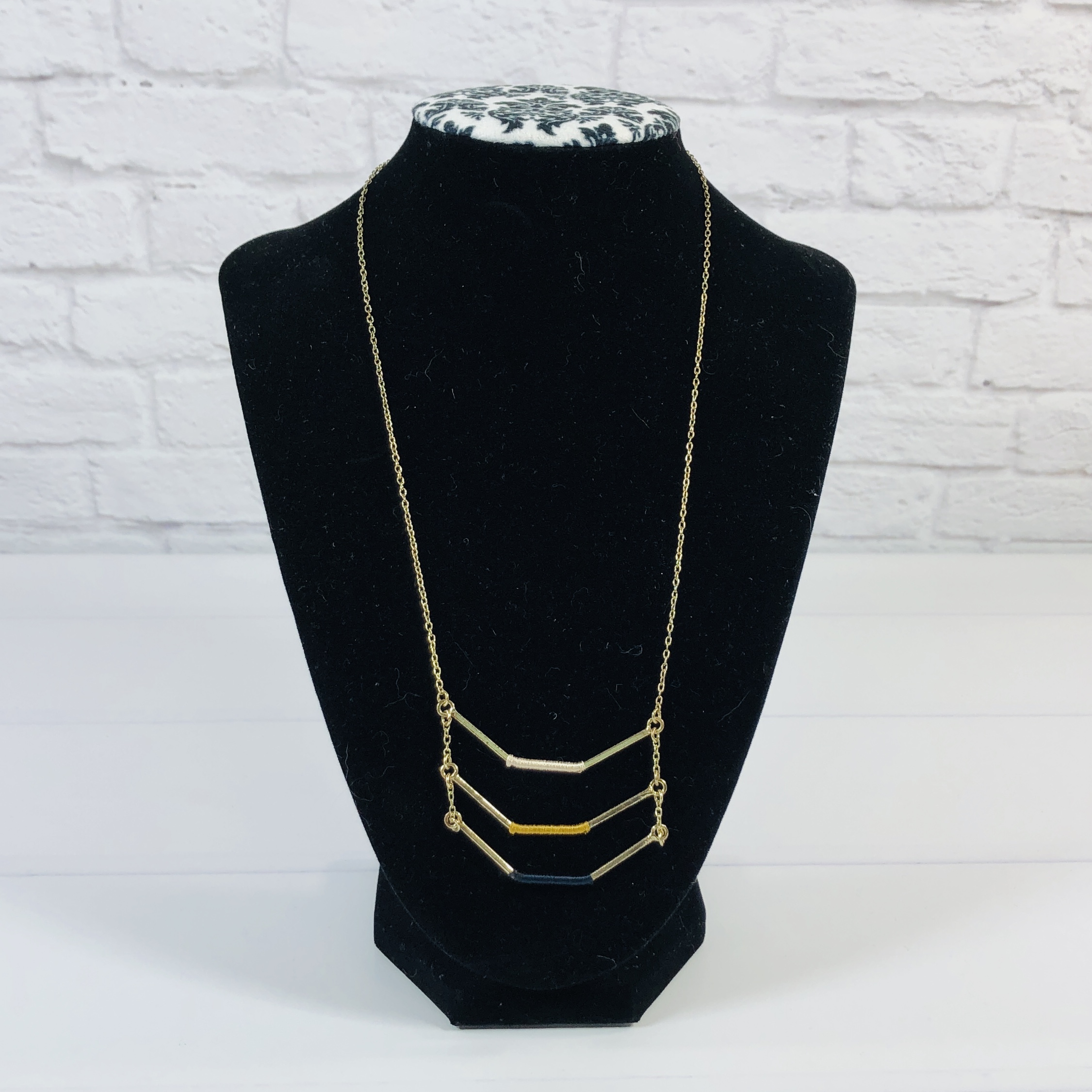 The chain is 19″ long and there is an additional 2″ long extender.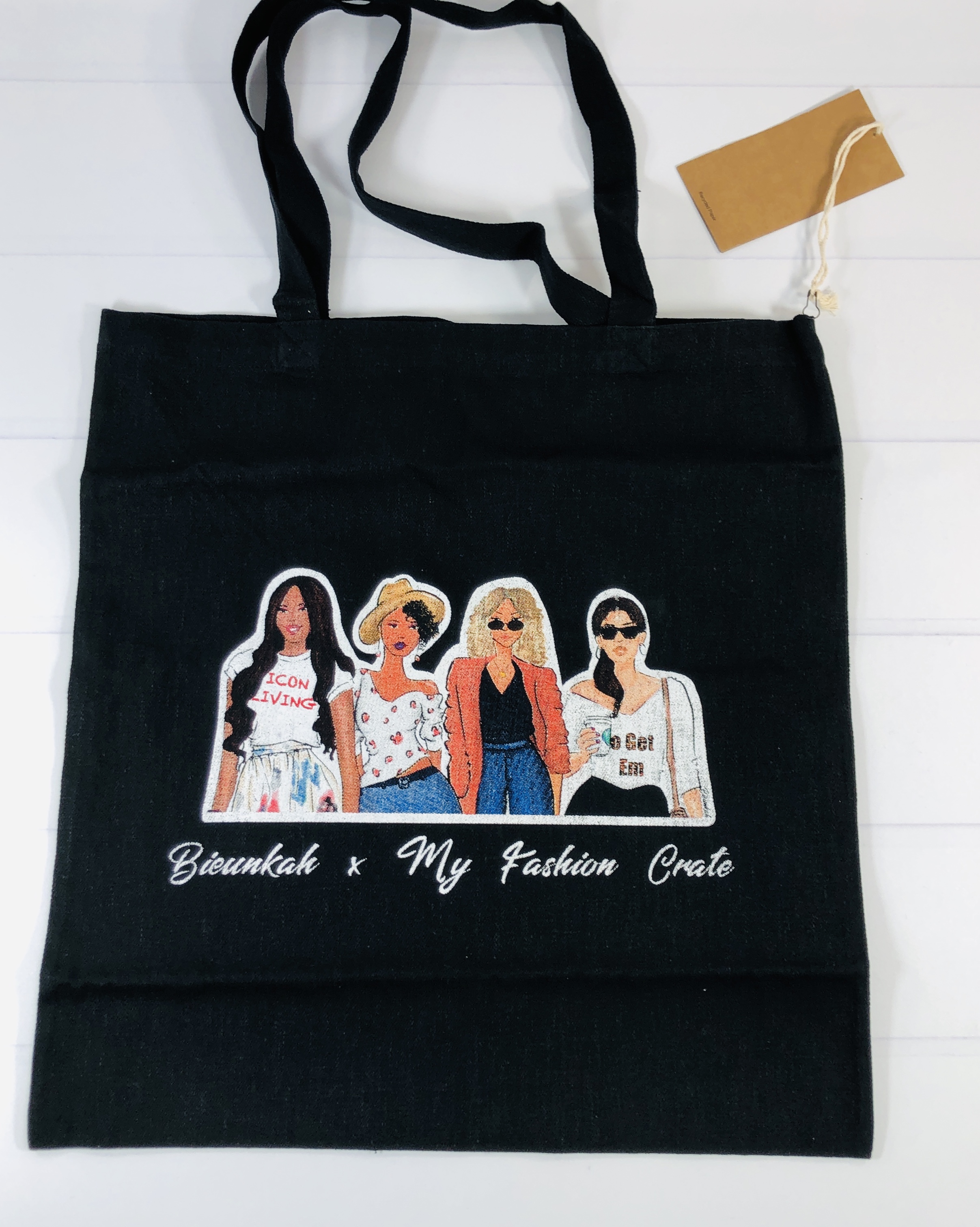 Wastewear x Bieunkah Collaboration Unity Tote ($35 list price, find similar item here for $15) This tote is a collaboration between an artist and an upcycle clothing brand.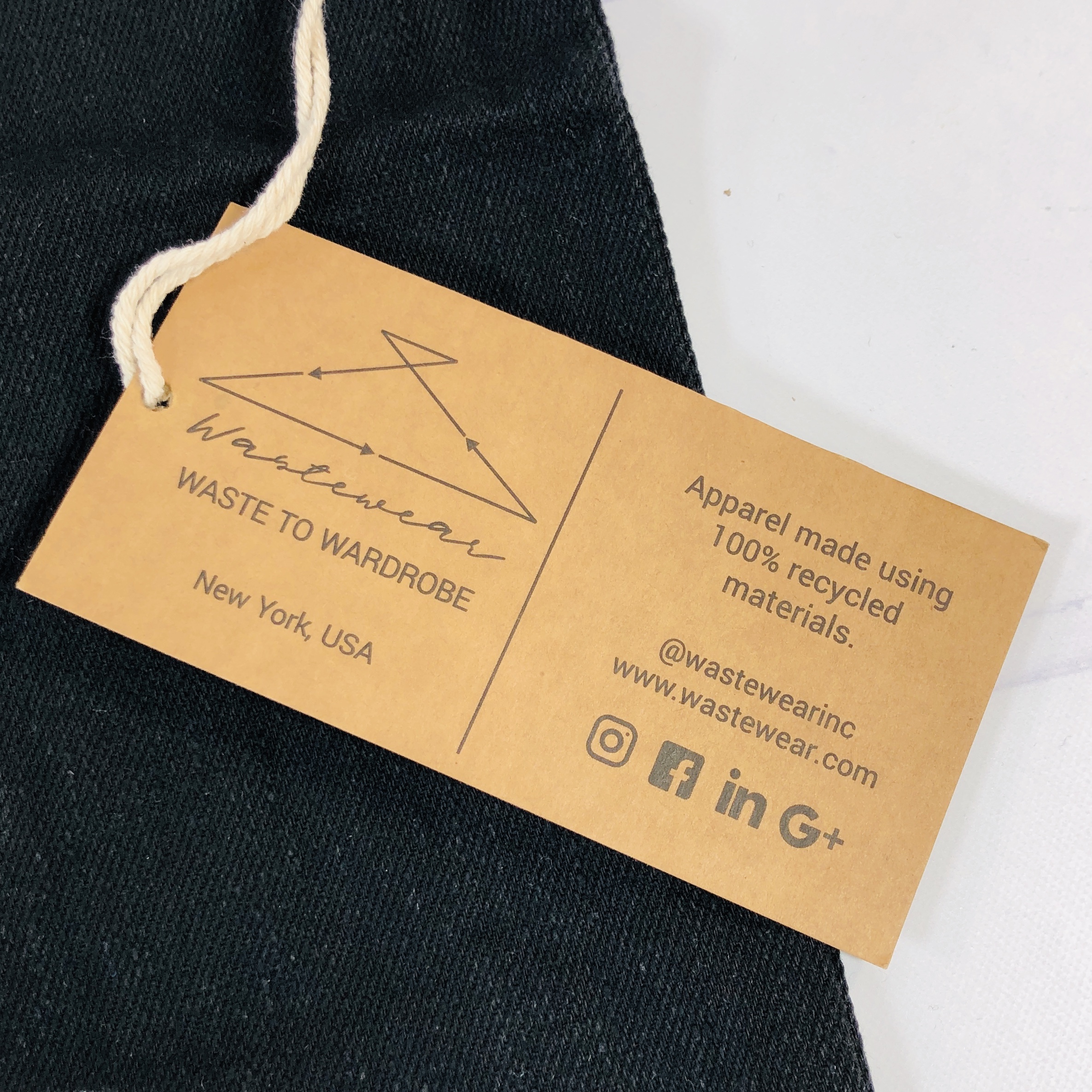 The tote is made of recycled plastic bottles and textile waste. It is 80% cotton and 20% polyester and made in India.
Here's an up close view of the illustration.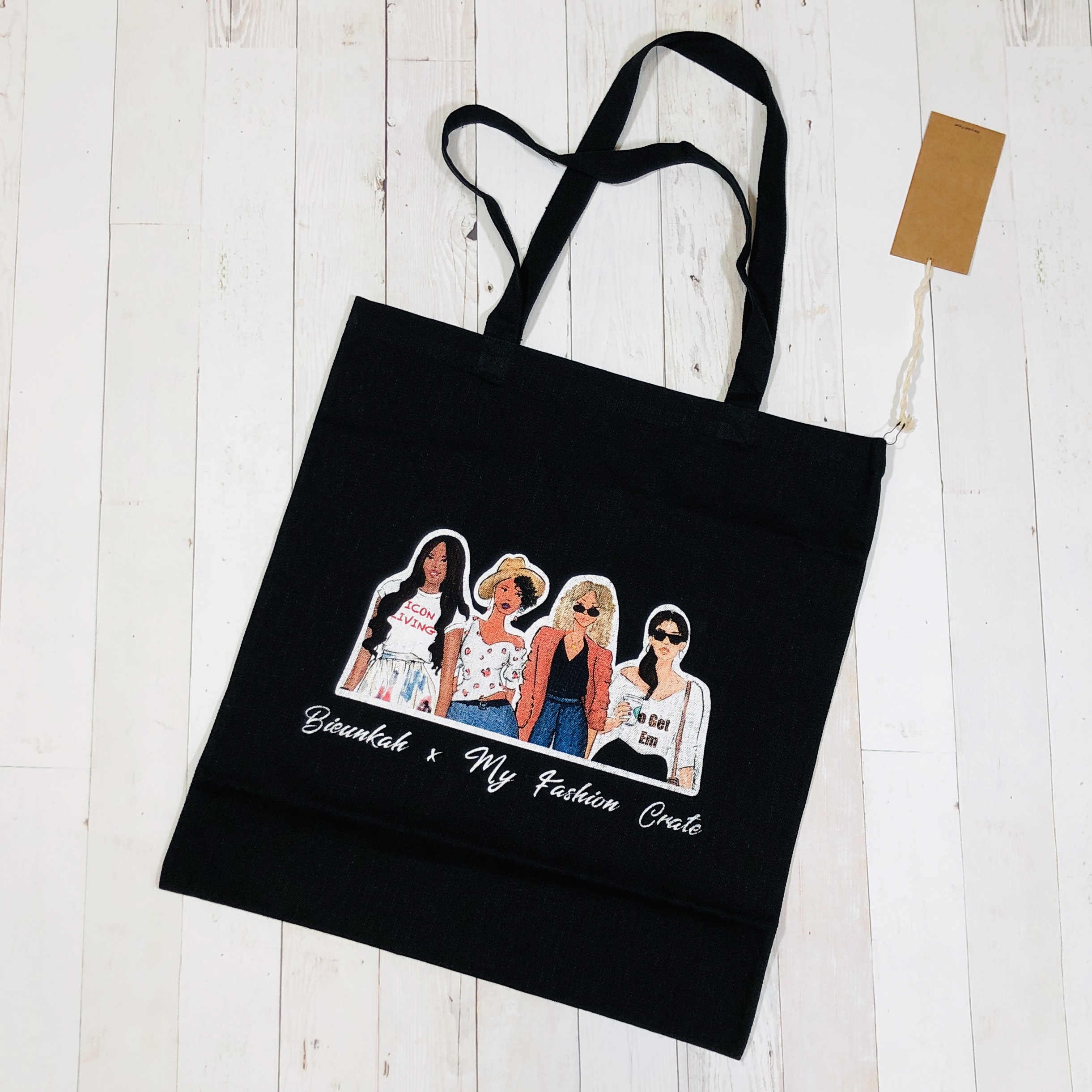 The tote measures 16″ x 17.5″.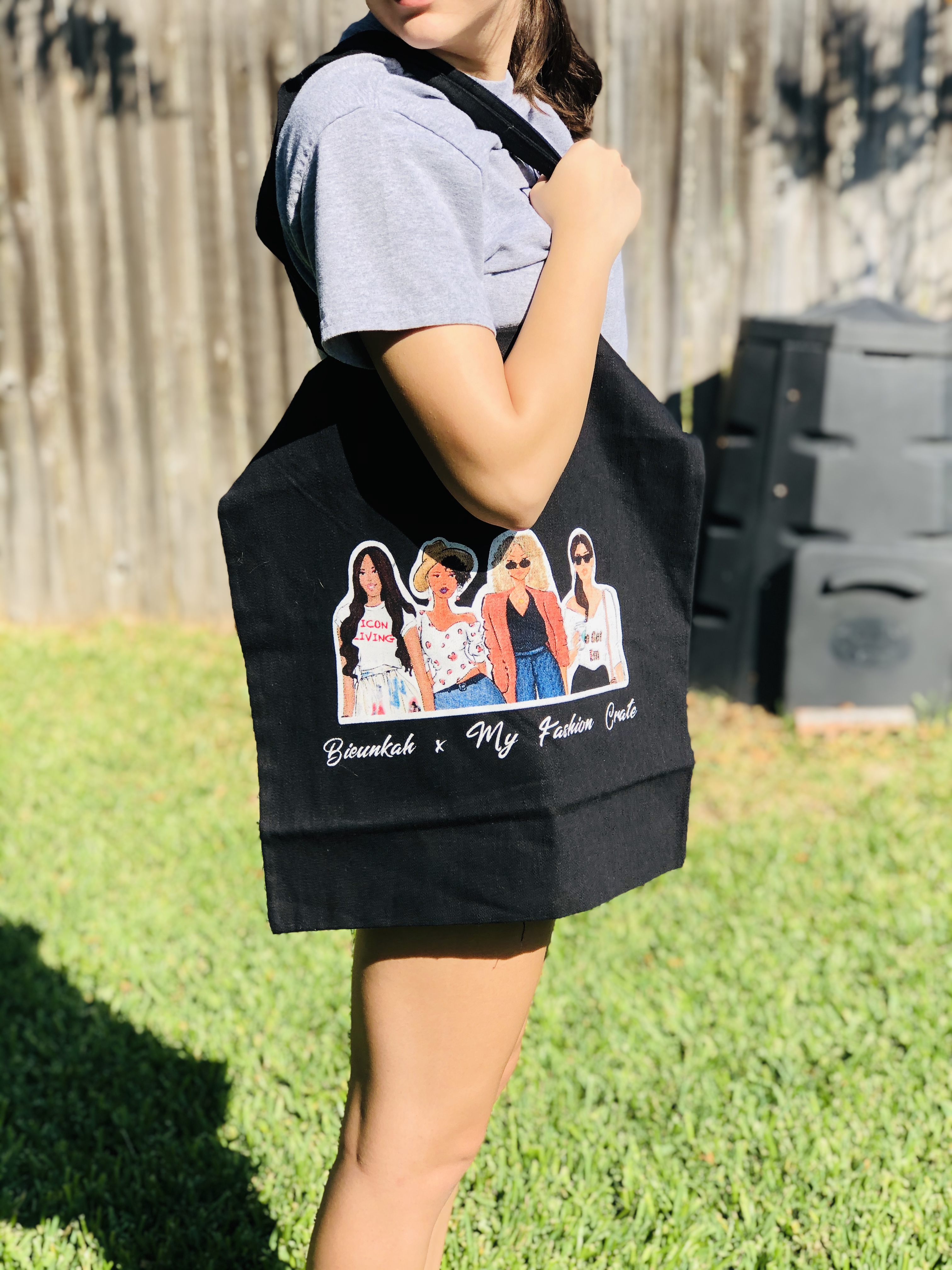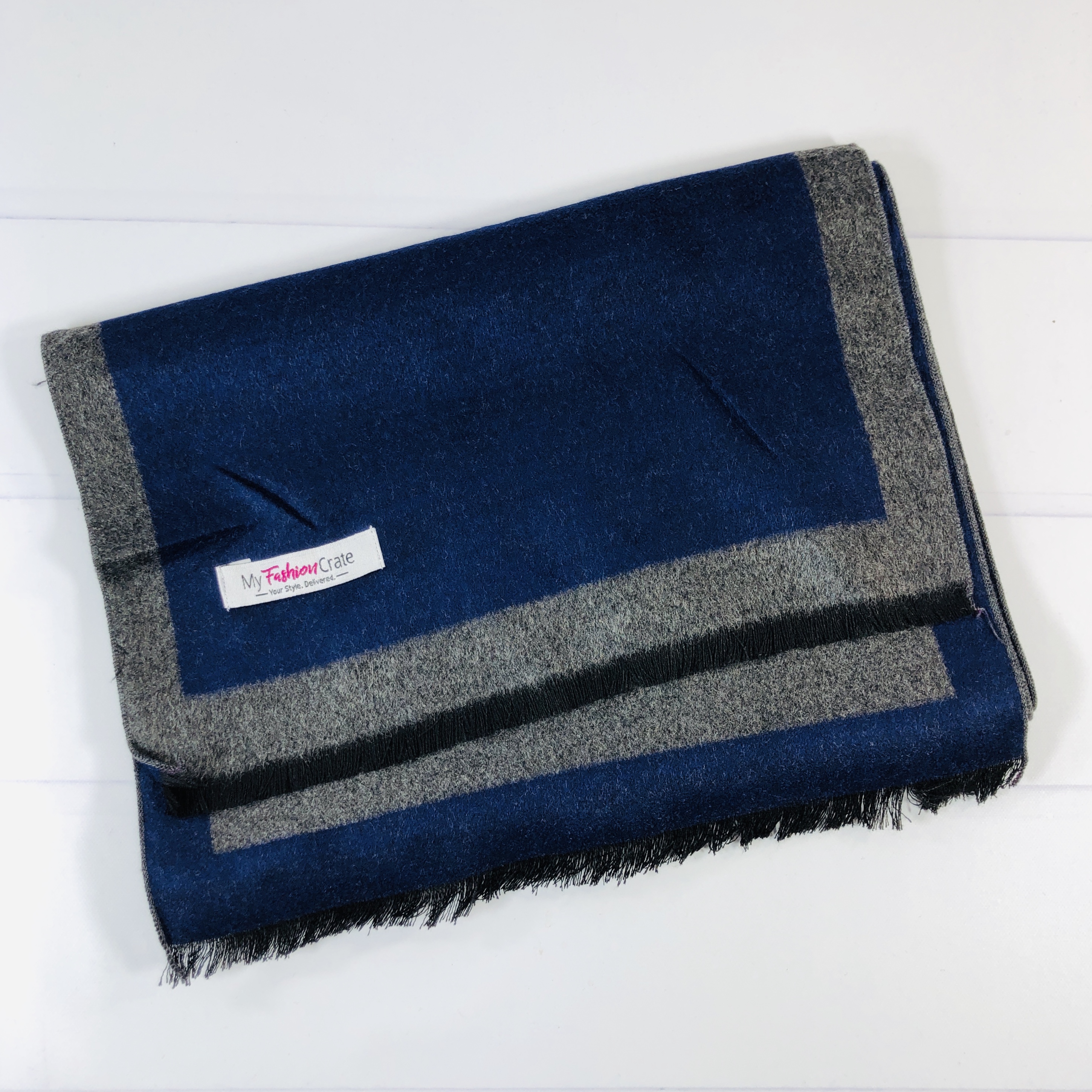 Autumn Air Navy Scarf ($37 listed value) A scarf is a quick way to add flair to a fall outfit, just wrap and go. This one is super soft.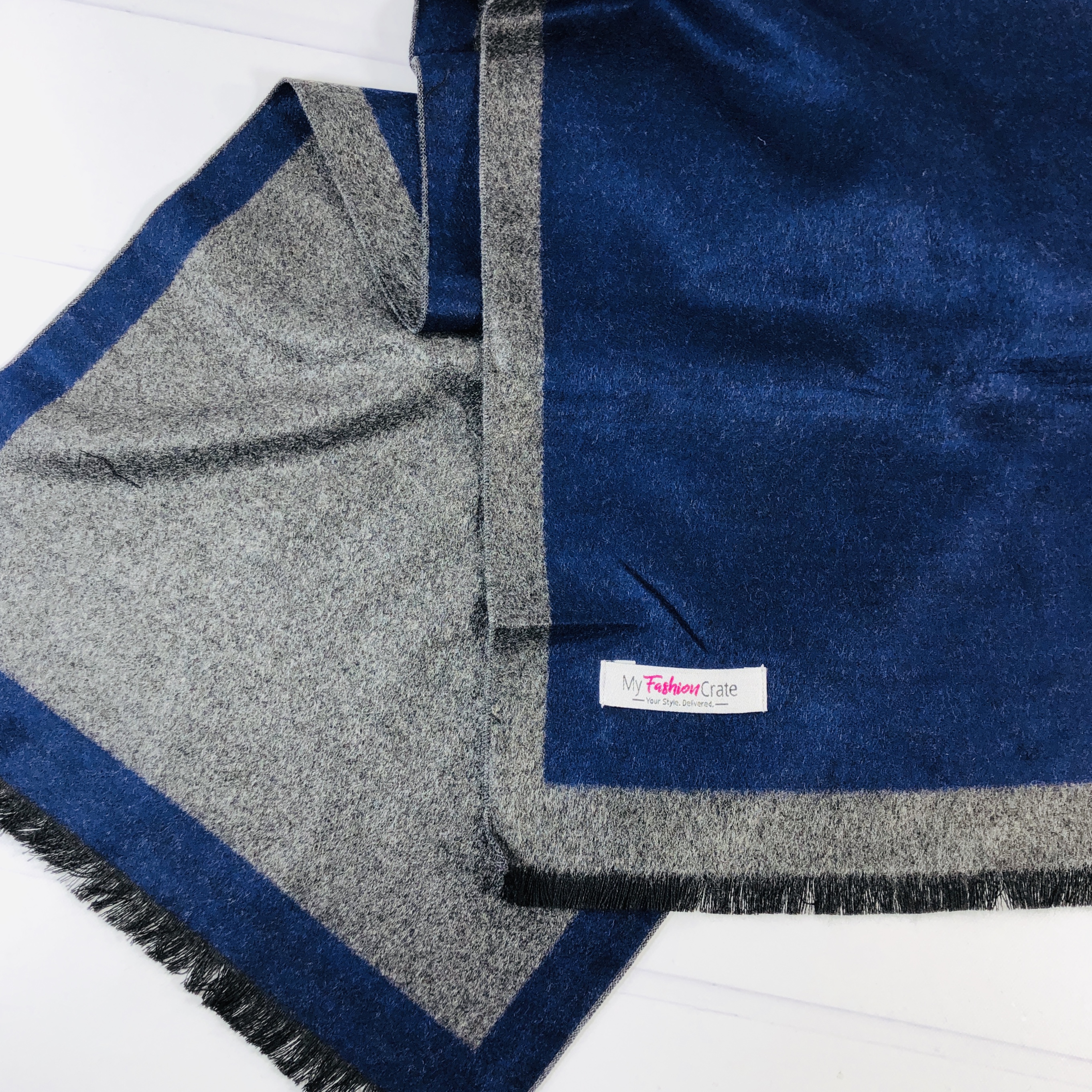 It is unbranded but there is a My Fashion Crate label sewn on, which kind of clashes with the subdued colors of the scarf. One side is grey with navy edge, and the other side is the opposite and there is a small fringe on the ends. It's about 70″ x 12.5″ and there is a label that says it is made of 100% something, but it is in Chinese so I'm going to go with "polyester".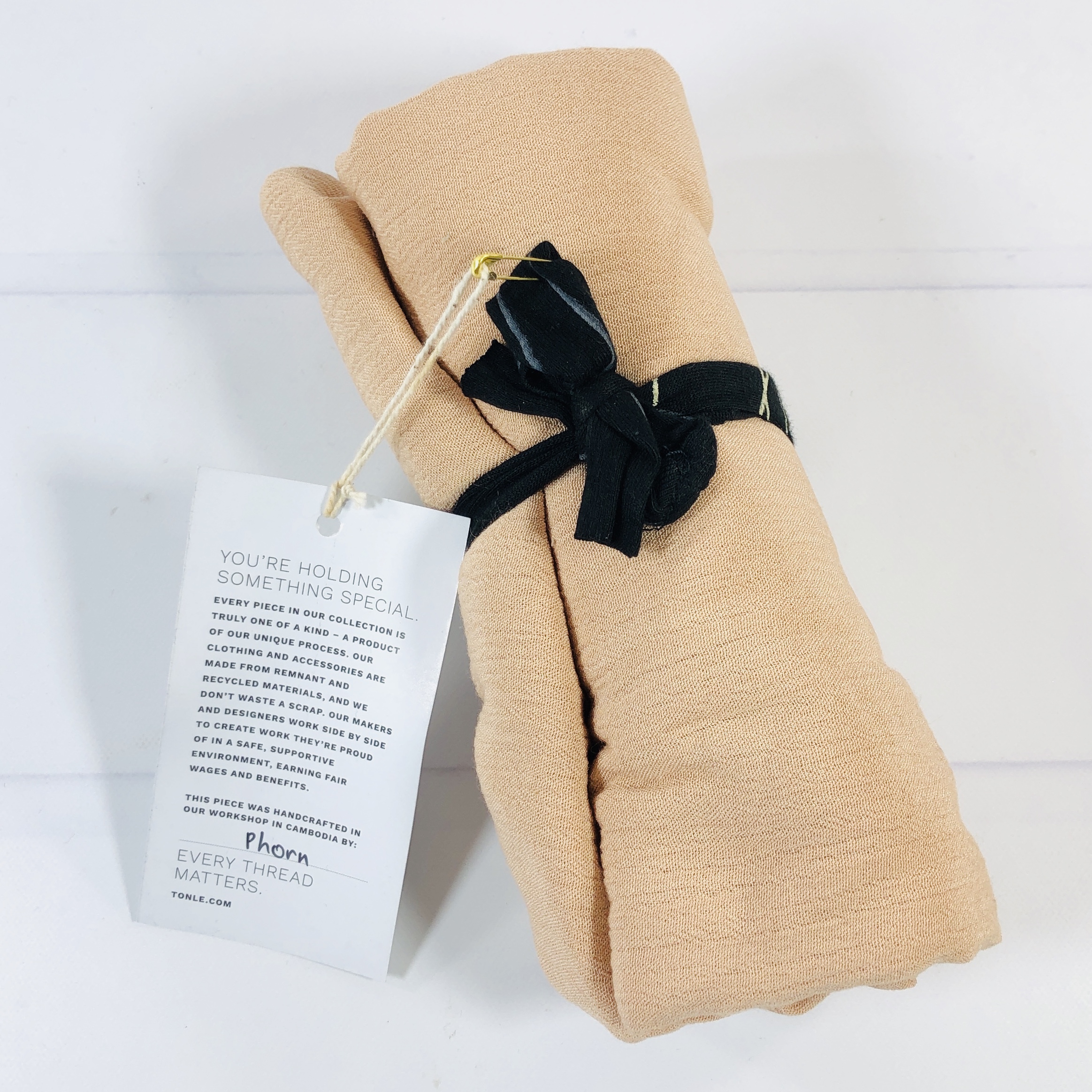 Tonle Nearady Top in Palm Crepe Size S/M ($55) The next item was hand made from recycled materials. It even has the name of the person who made it listed on the tag. Thank you Phorn in Cambodia!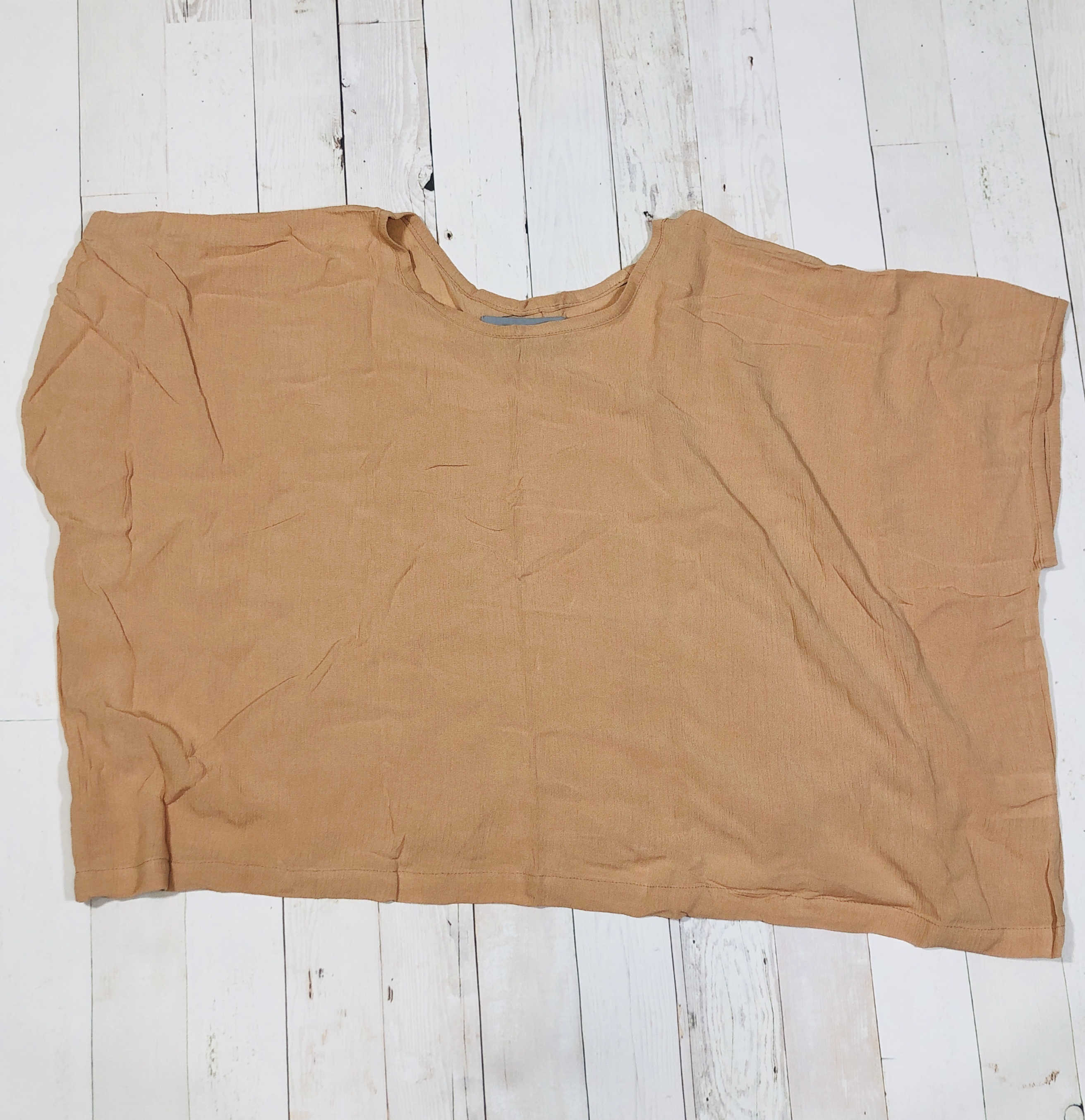 The design is supposed to be free-flowing and it is a gauze type of fabric, lots of crinkly lines. The tag doesn't list the material but the website says it is a mix of cotton and rayon, and at least 90% plant based.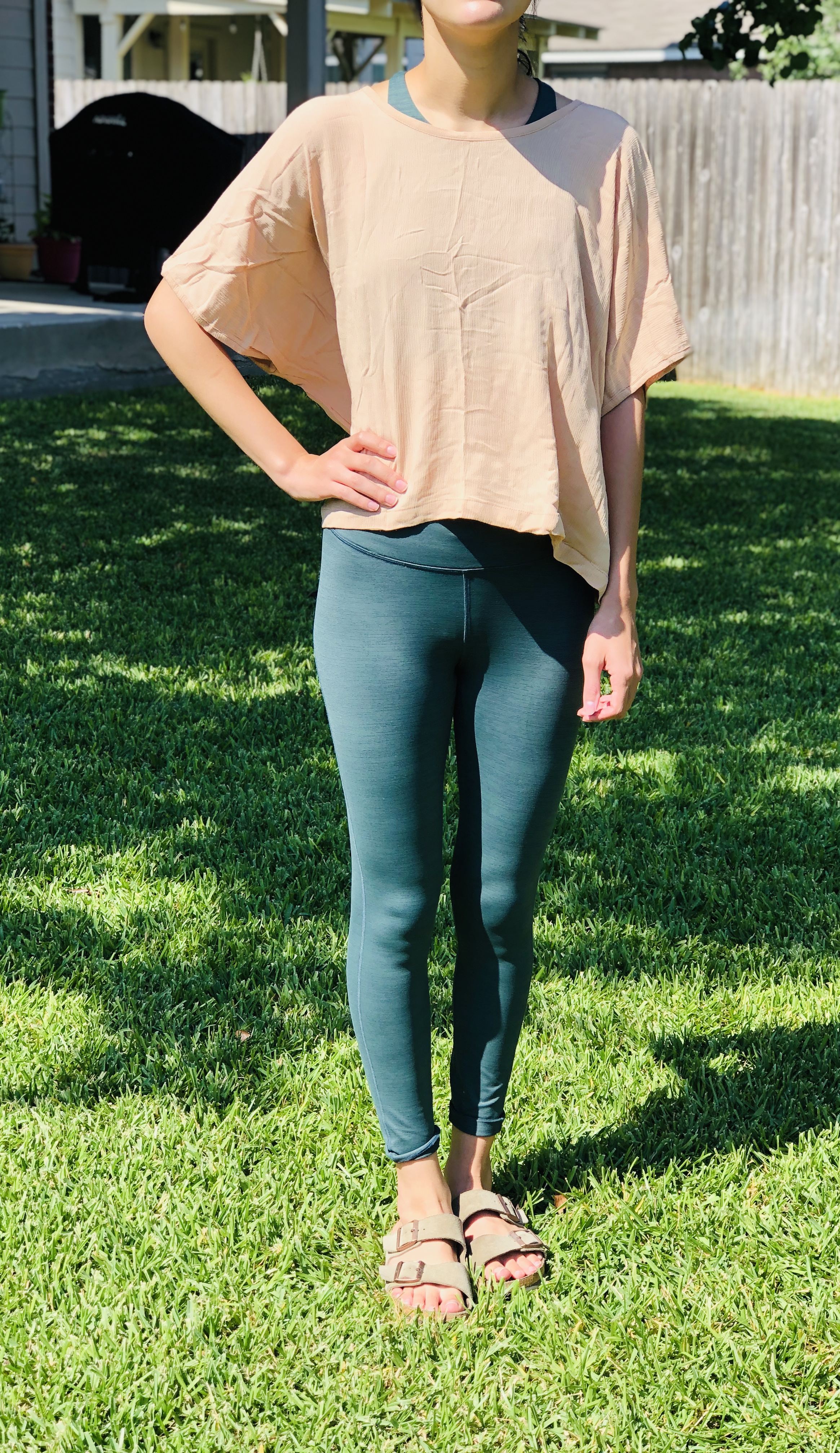 Here my daughter threw it on over her yoga outfit. She is 5'7″ so it may look more cropped than it would on someone shorter.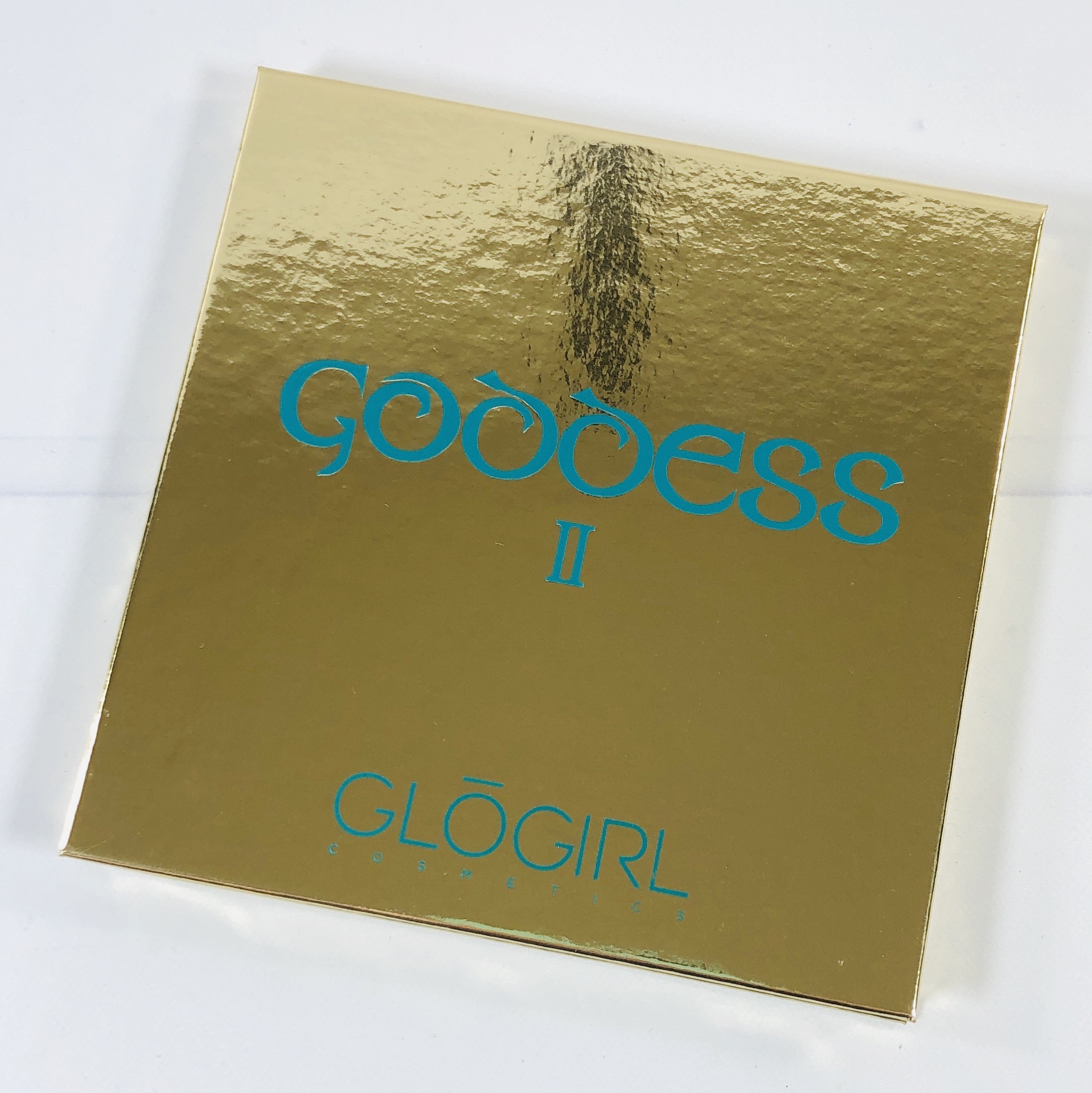 GLŌGIRL Goddess II Palette ($26) The palette sent is not for chill looks, it is fierce!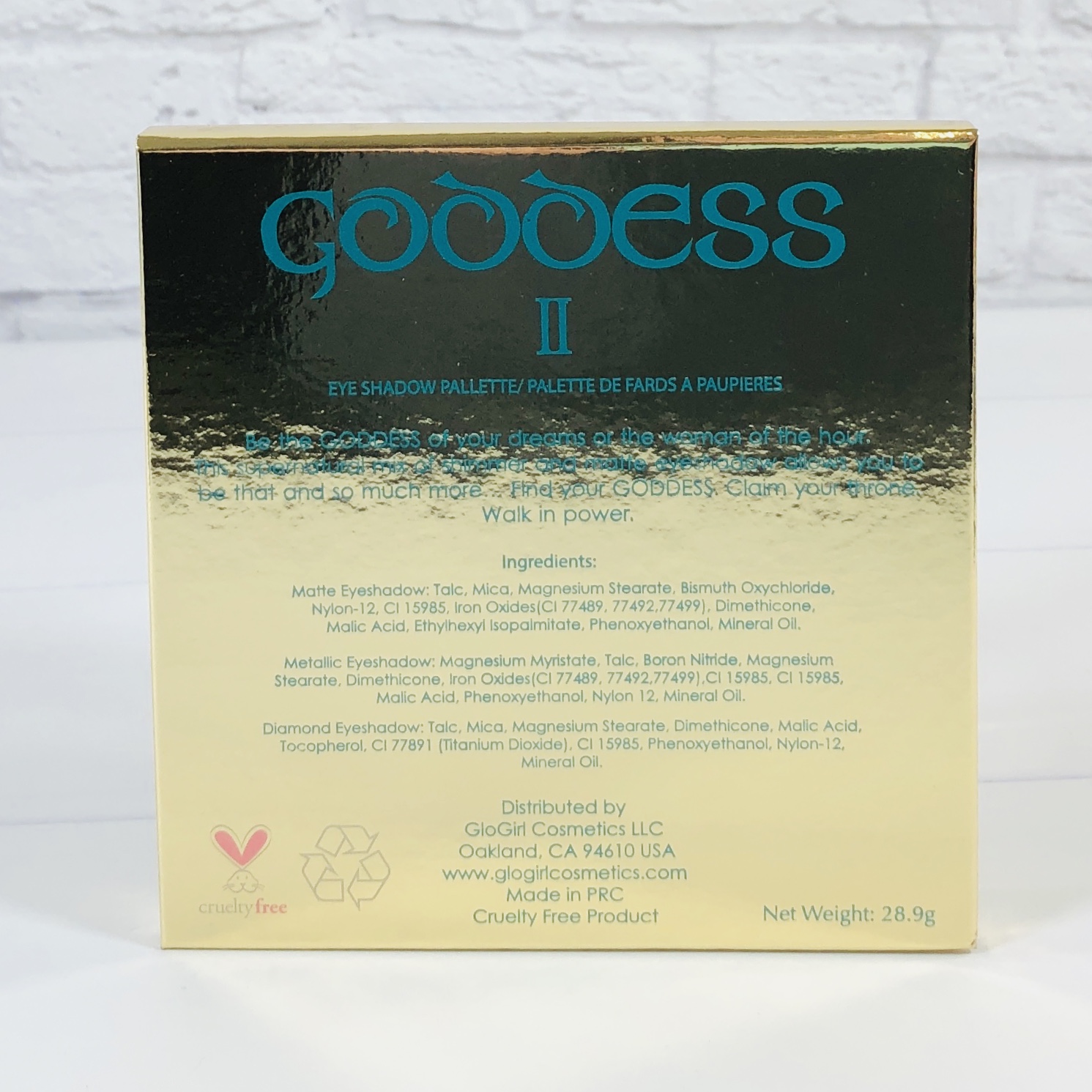 Ingredients were listed on the back of the box and palette.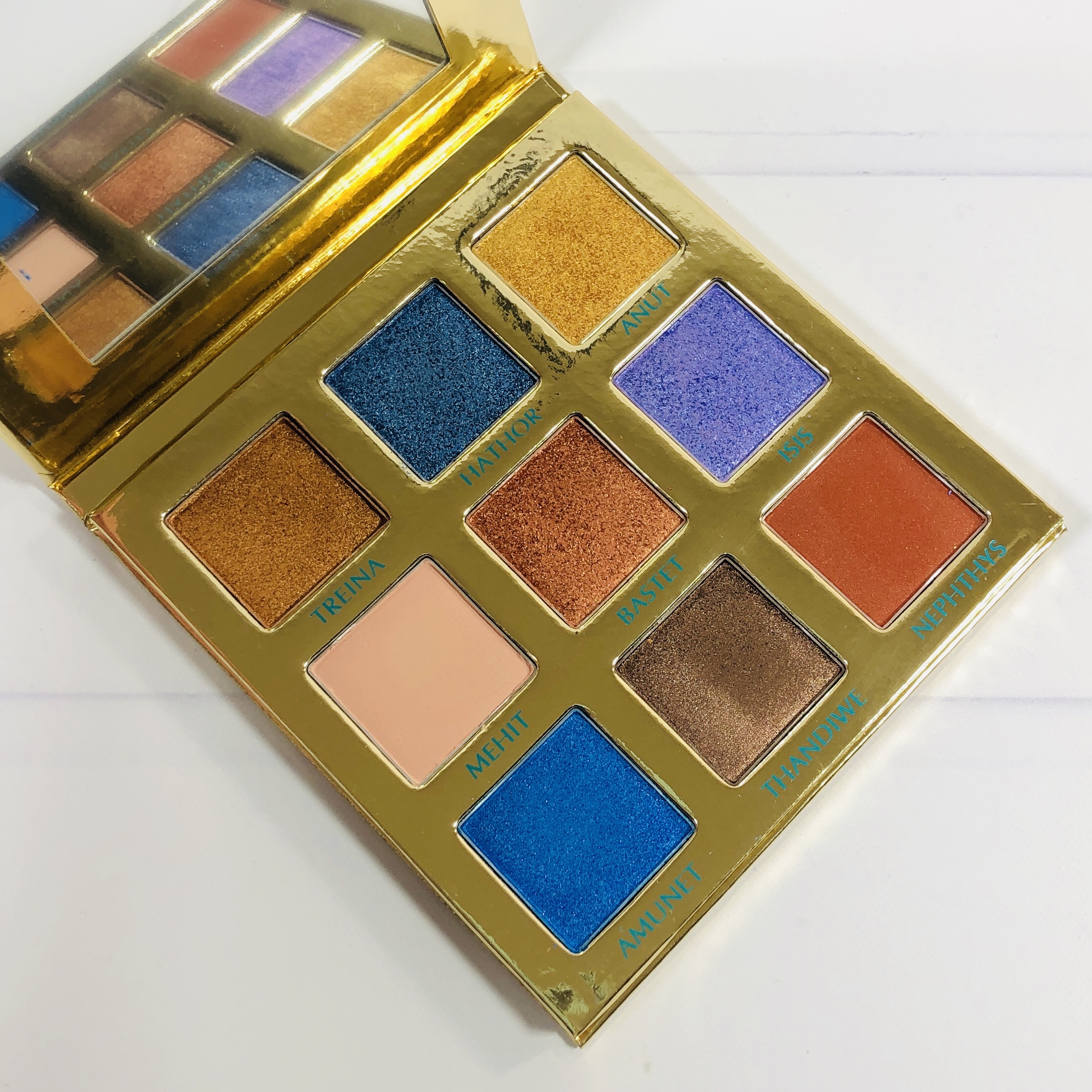 Almost all of the shades are shimmery.
The shades are named after Egyptian goddesses.
GLŌGIRL Lipstick in Ciao Bella ($16) This brand was new to me and they specialize in bold, bright colors, although this shade (and its name) is pretty tame compared to others on the brand's website.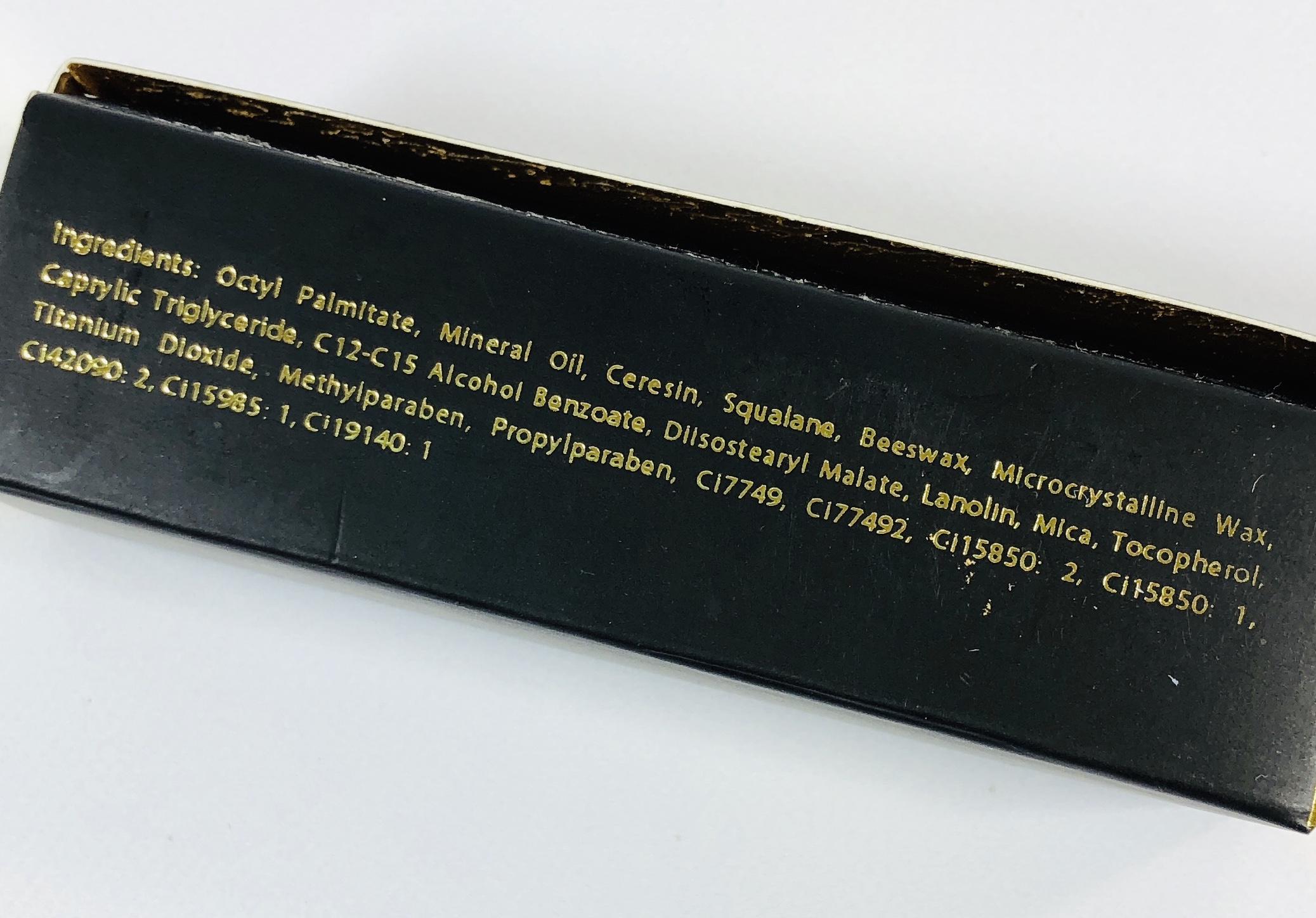 Ingredients were listed on the back of the box.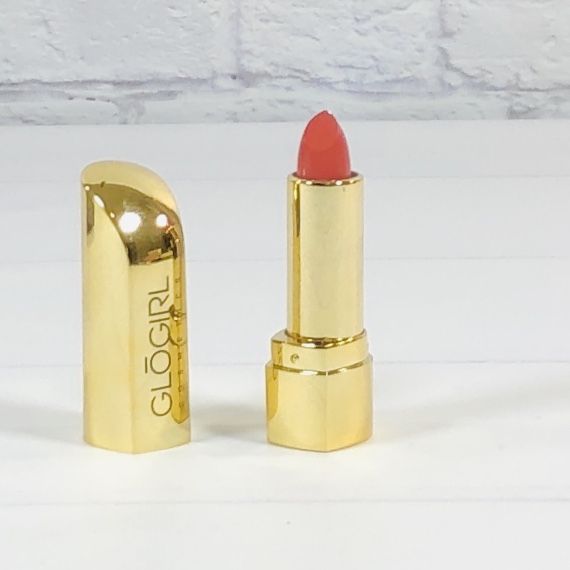 The color is described as burnt orange and it has a matte finish. On my lips it is an opaque nude peach shade that feels pretty smooth but provides a patchy finish.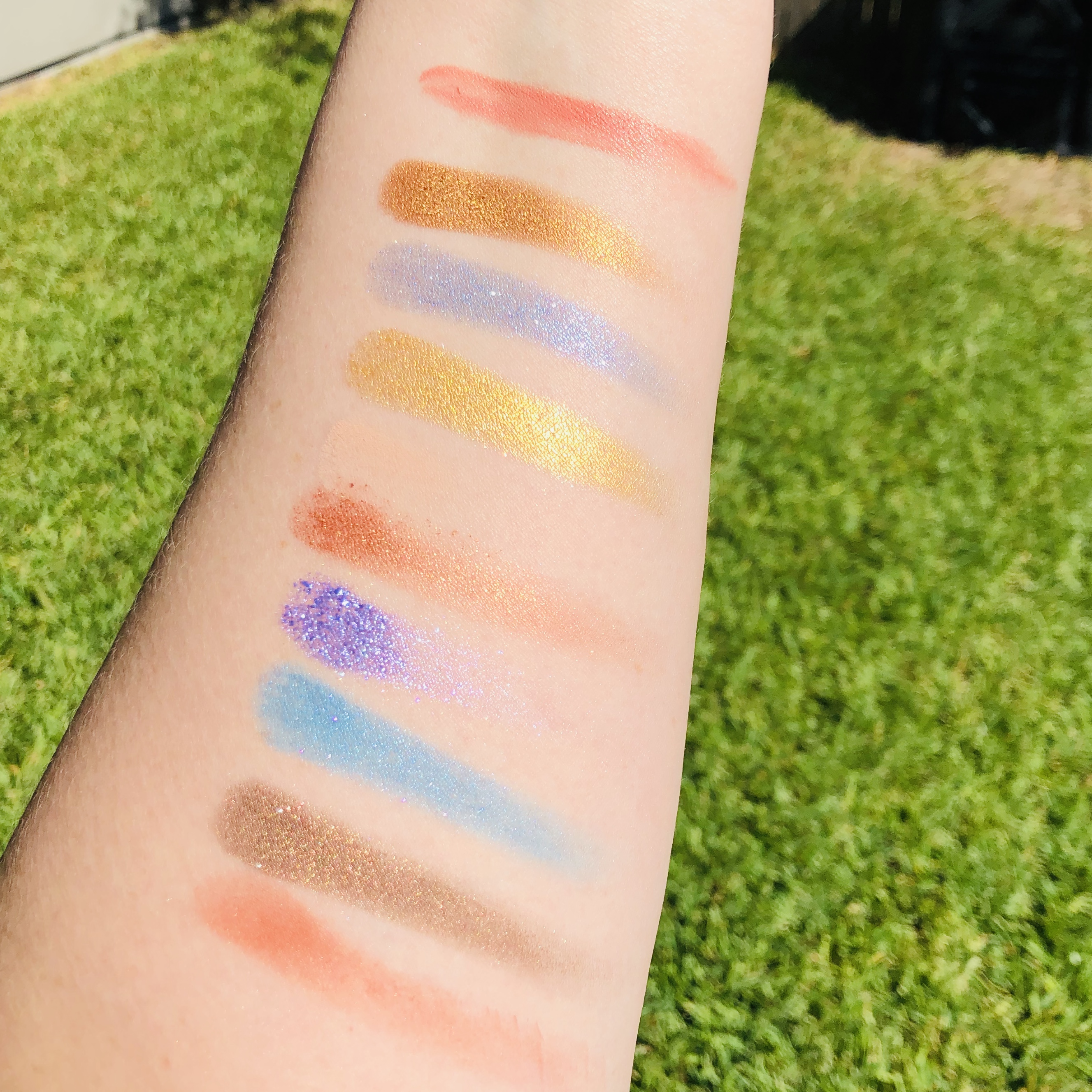 The lipstick is swatched on top followed by the shadow. I started at the top left, went across, then went to the next line.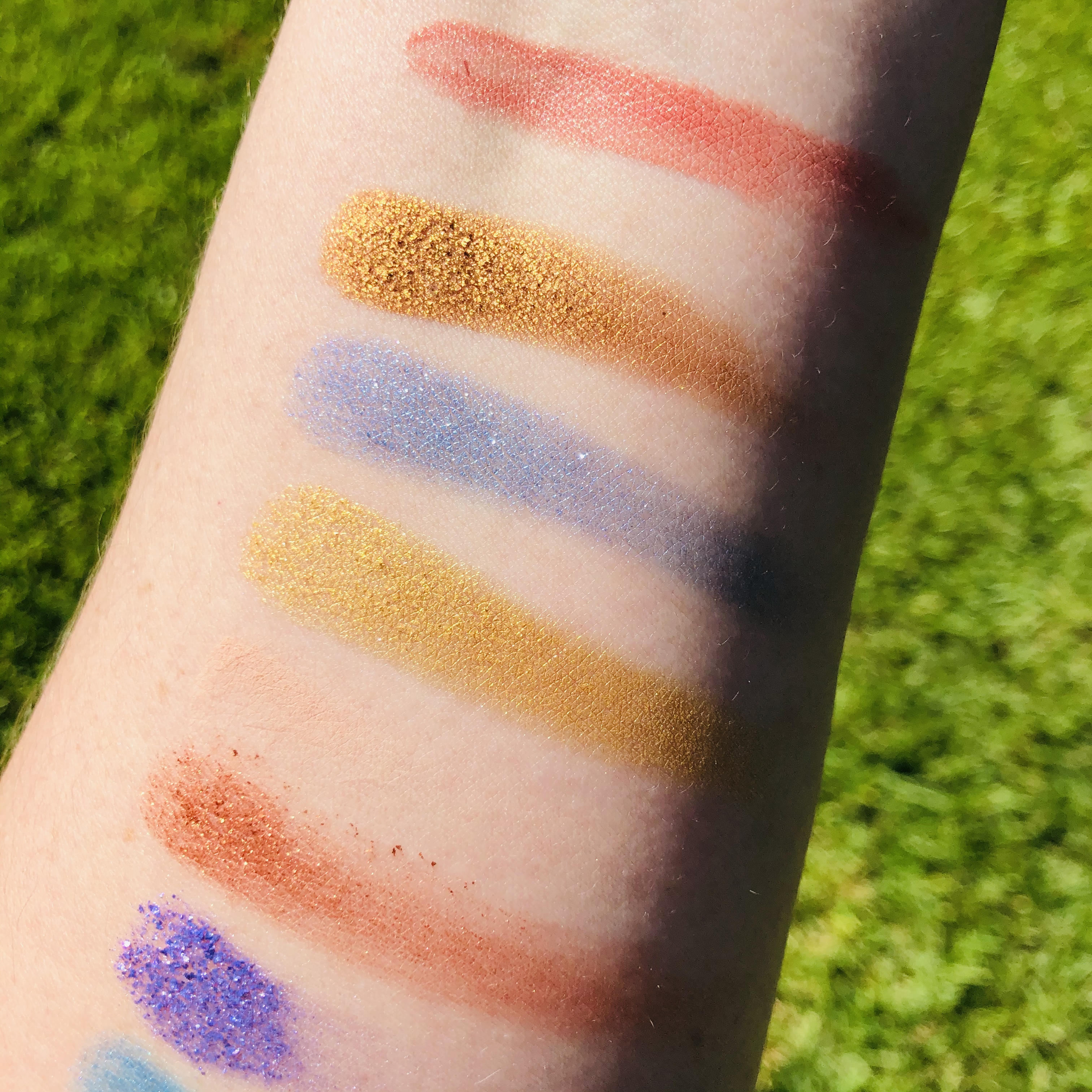 Here's a close up of some of those shadows. I am actually afraid to use some of those chunkier glitters, they can cause irritation. The shades, however, are stunning. I washed this swatch off afterwards and still had glitter on my arm.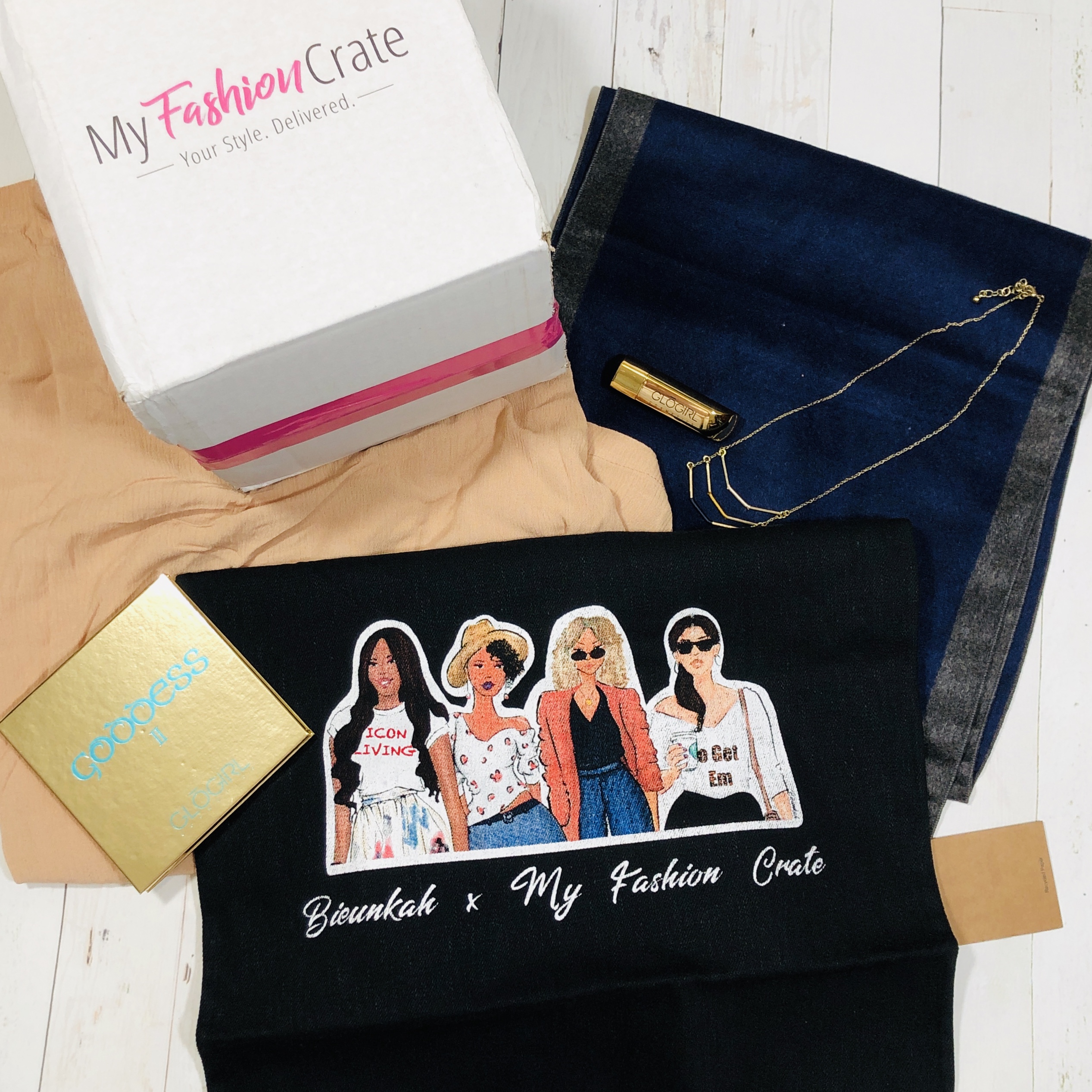 My Fashion Crate sent some amazing looking products that seem perfect for fall. The shade and drape of the shirt should work well for layering when the weather turns colder, and the shadow palette and lipstick will work well with clothing that is either neutral or jewel toned. The necklace is so pretty and I like that it helps employ women. The scarf and bag should also work well this season. The listed value for this box was around $204, although I was only able to confirm values for 3 out of 6 items in this box.
What do you think of My Fashion Crate? I would love to hear your thoughts!