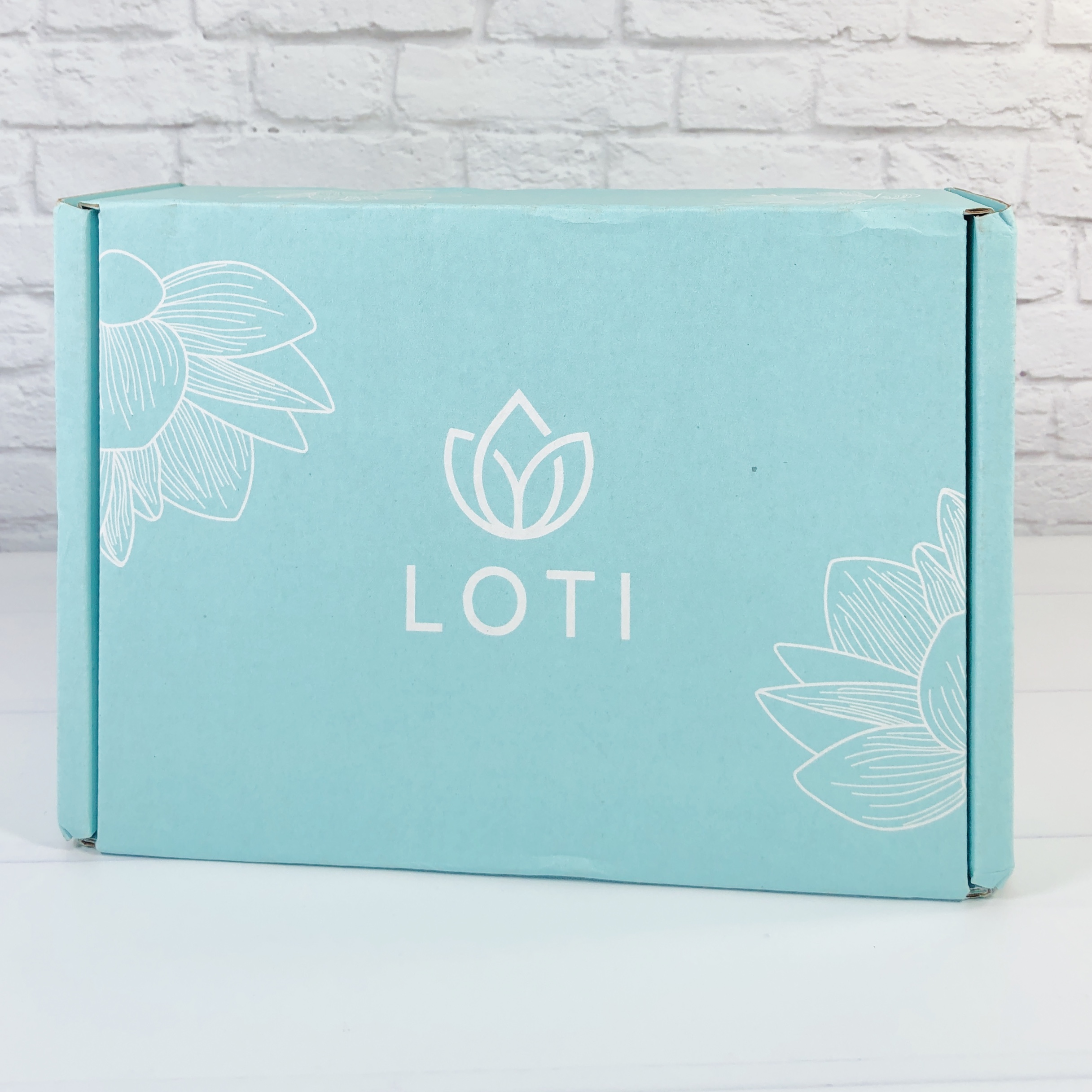 Loti Wellness is a subscription box with a focus on self-care. The box has a monthly theme curated by therapists to focus on items and rituals to promote positivity and improving one's self. Loti Wellness works with local brands and small businesses whenever they can, and choose cruelty-free and natural products. The box will have 5-8 products for self-care and wellness. The box is $49.95 CAD with lower prices on annual subscriptions – about $35 USD. Shipping is $5.99 CAD to Canada and $7.99 CAD to the US (about $6 USD). A portion of proceeds go to CanadaHelps COVID-19 Fund.
A lotus is a flower that blooms from the mud. It symbolizes overcoming adversity and achieving your greatest potential. The Loti Wellness Box offers practical skills and products to reduce stress and anxiety, and improve your overall wellbeing.

Each Loti Wellness Box delivers the tools and strategies you need to cope with life's challenges, using research based in psychology and psychotherapy. The monthly themes focus on topics like reducing anxiety, setting goals, and even boosting positive mindsets to help you discover self-care and self-love.
DEAL: Save 10% on your first box! Just use this link and coupon code SUBSCRIBE10.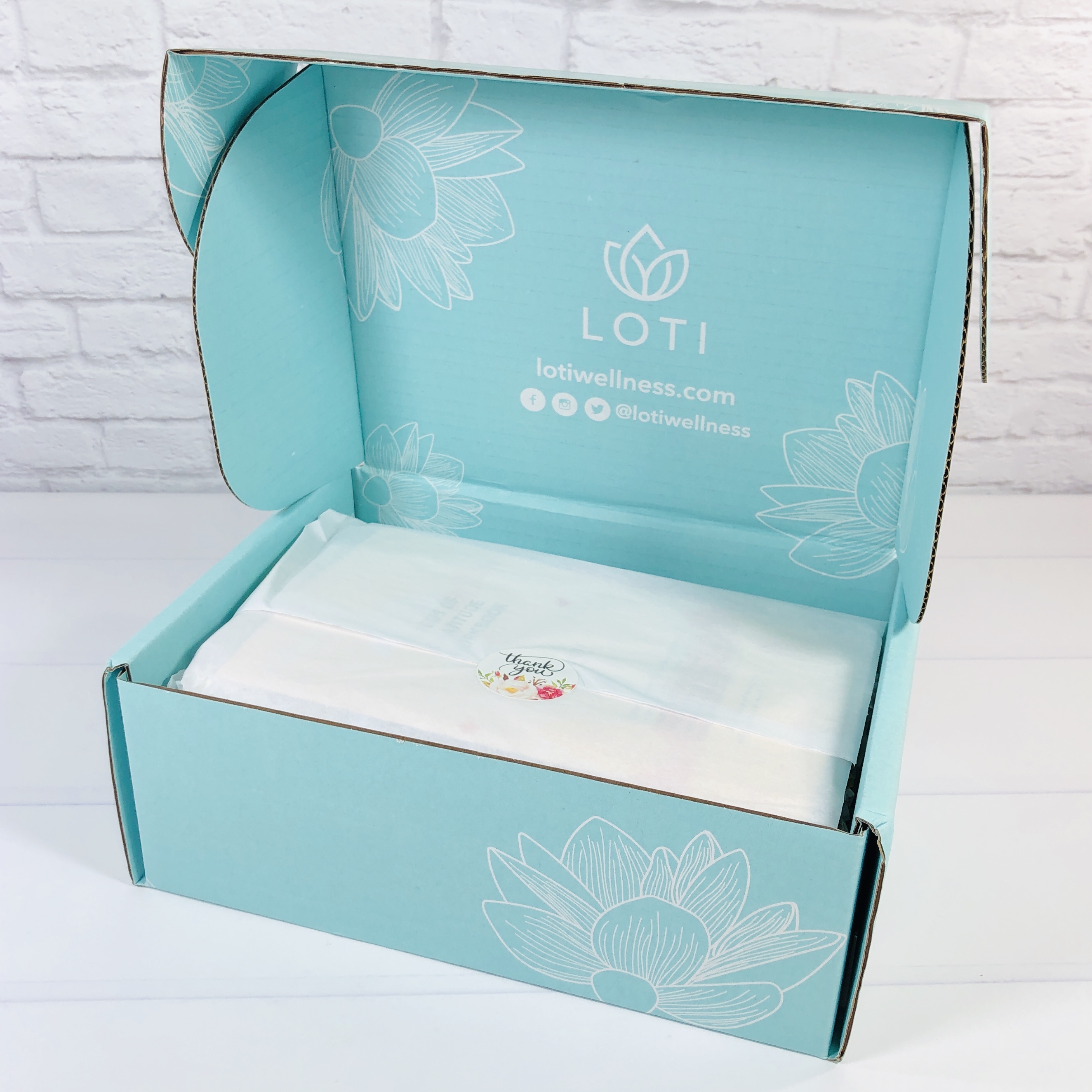 My items arrived in a lovely blue box and were wrapped in white tissue paper that was sealed with a sticker.
The items were snuggled into white paper squiggles.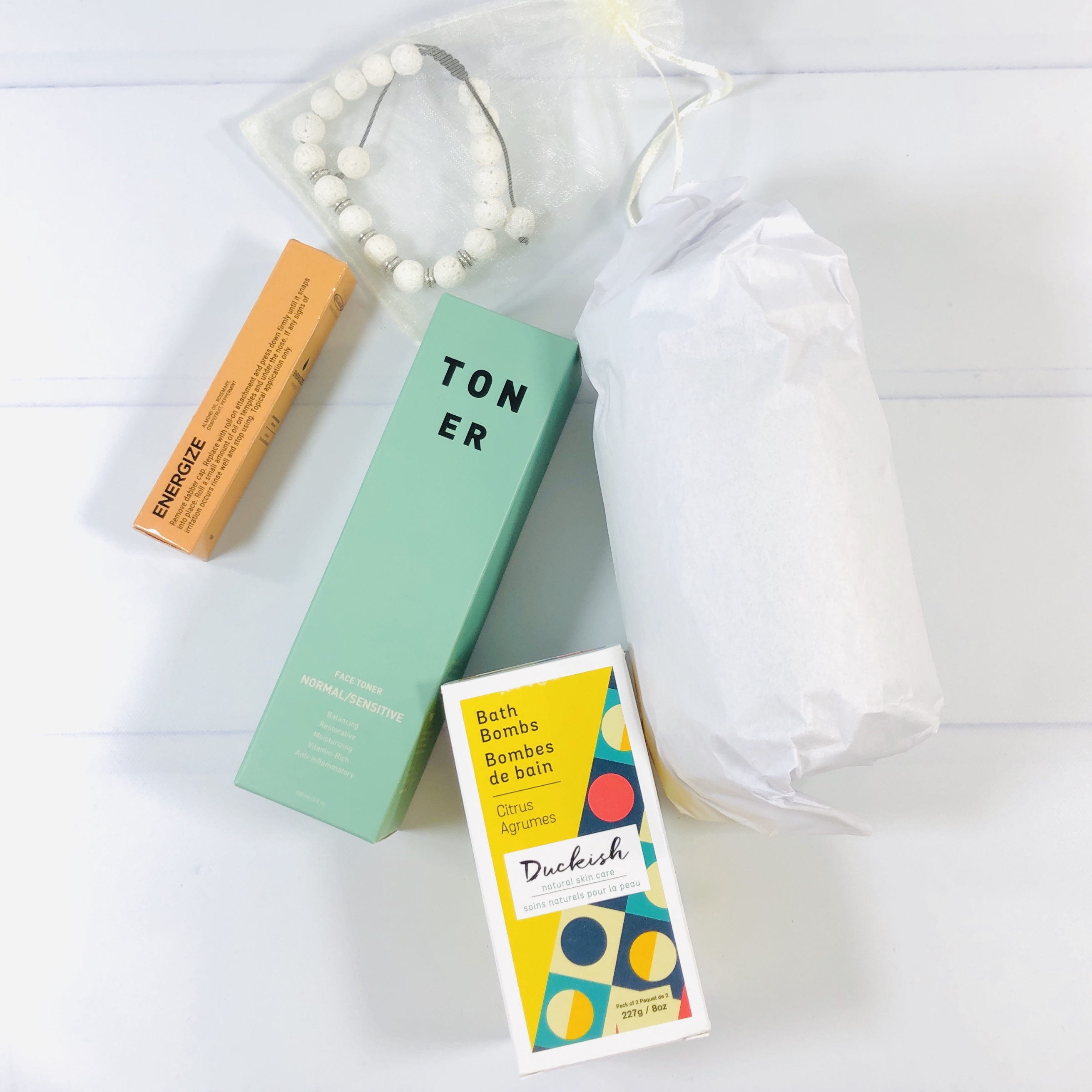 A breakable item was wrapped in tissue paper to keep it safe. Some products came in their original boxes.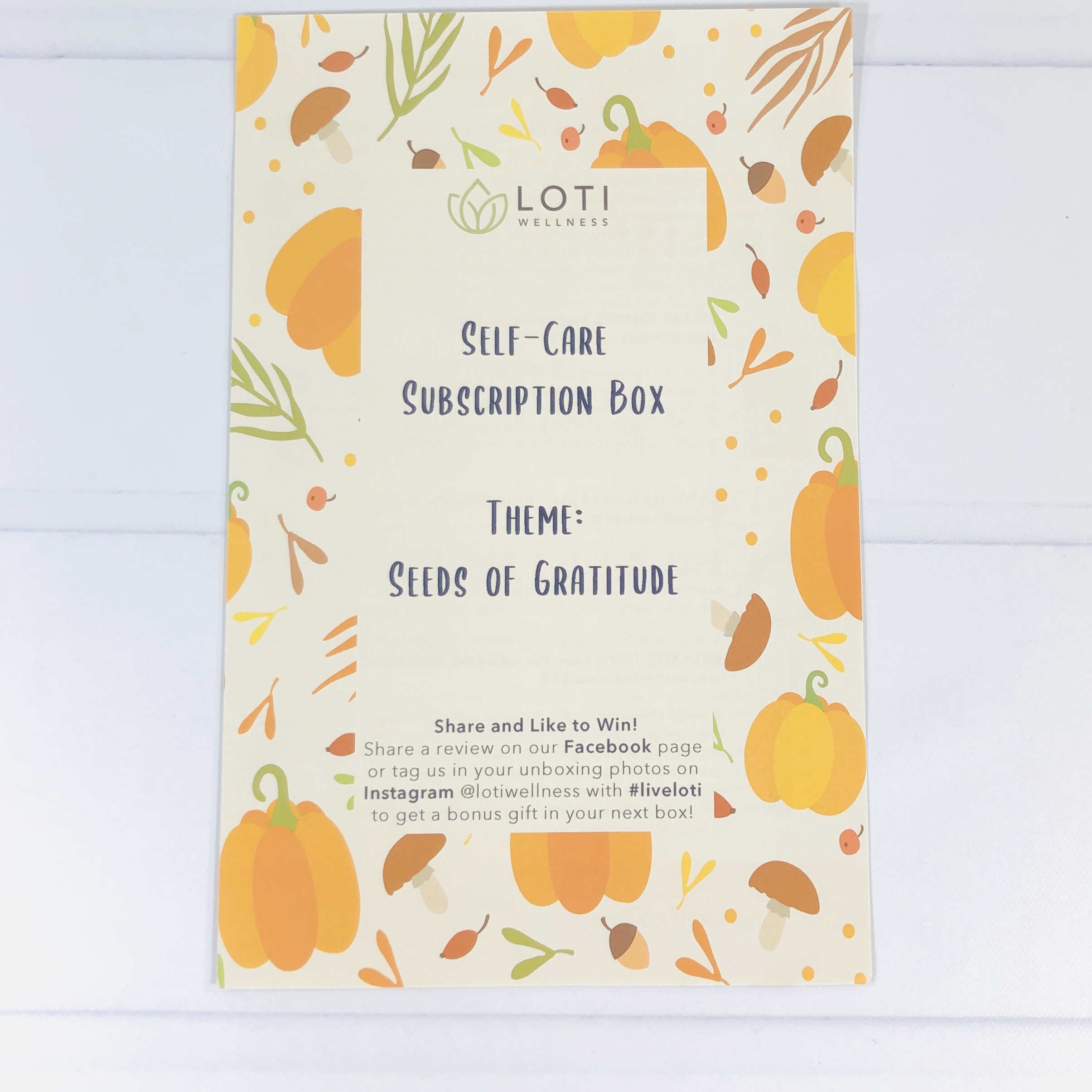 I received a brochure with the theme for October: Seeds of Gratitude!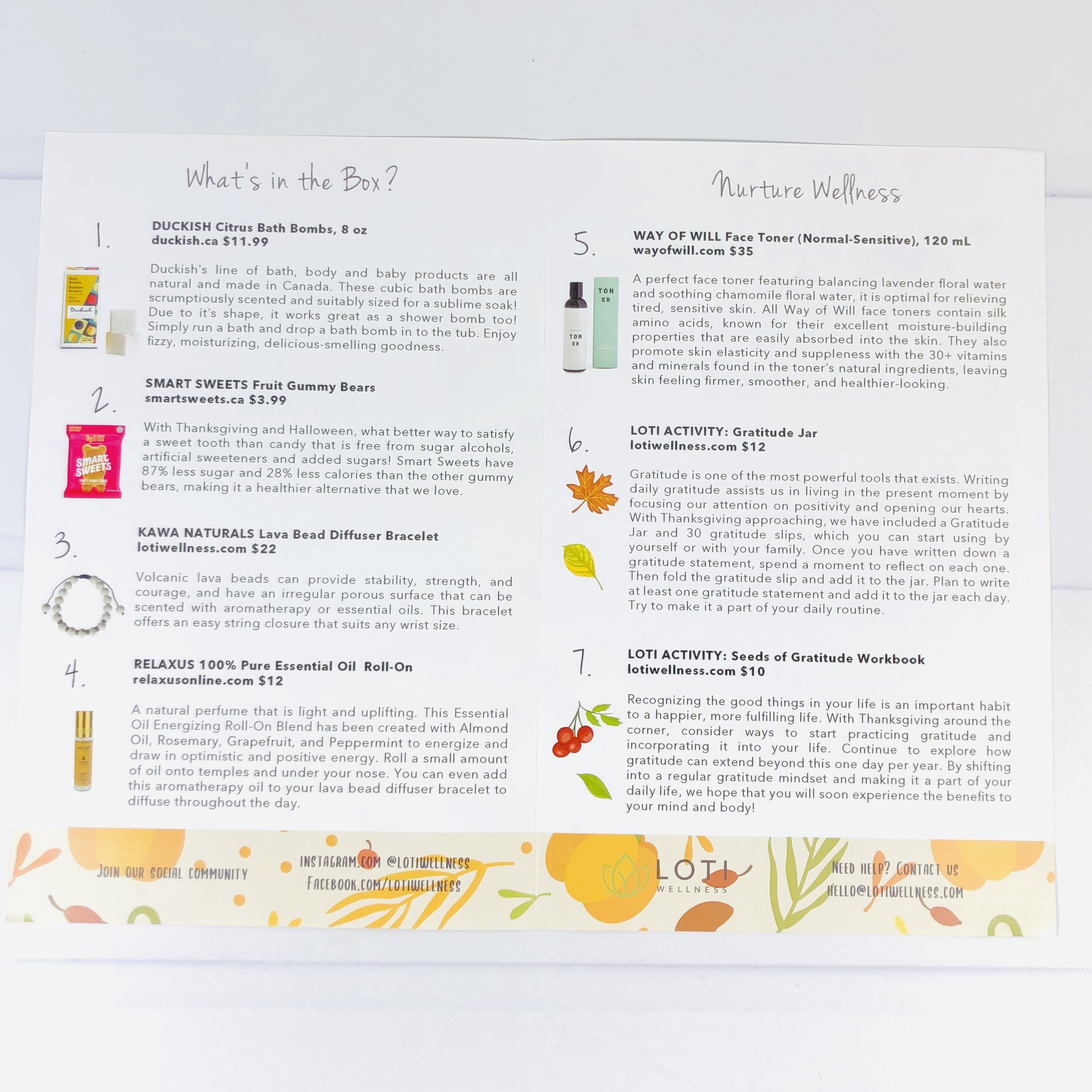 The inside of the brochure listed each item, MSRP, and website so you can stock up on more wonderful items from these brands.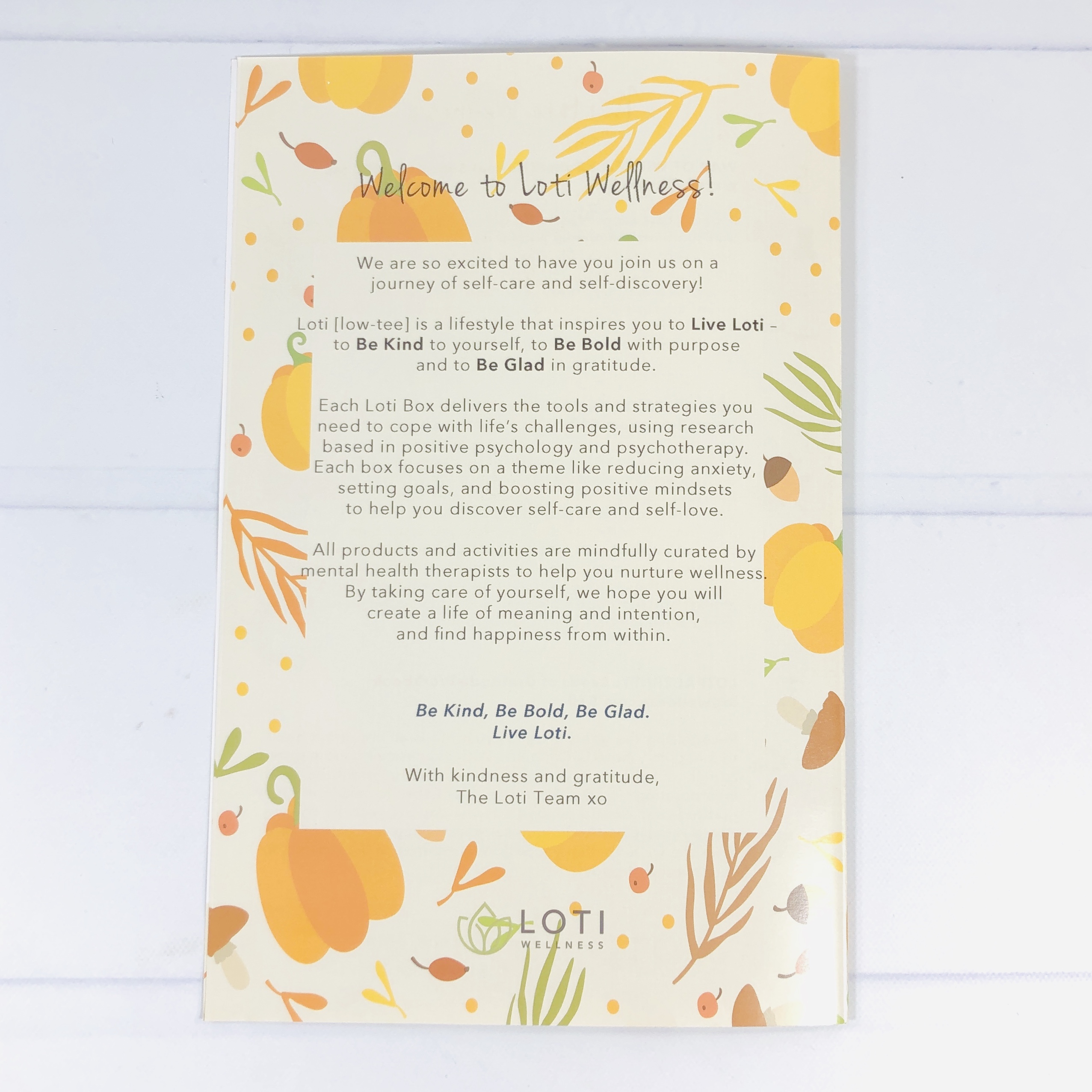 The back of the brochure discussed some of the intentions of Loti.
Next up was a workbook.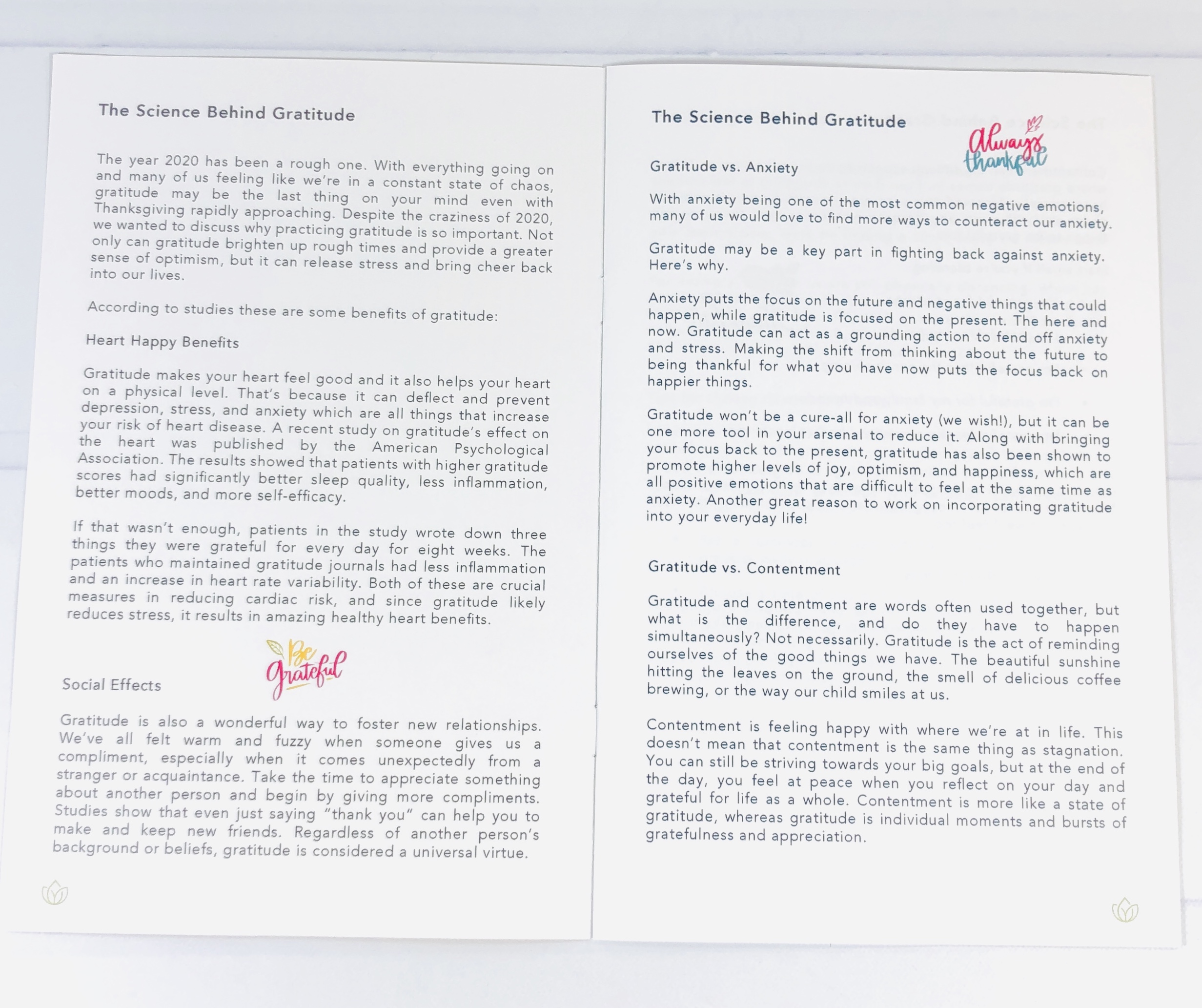 It talked about gratitude. The box is based out of Canada and their Thanksgiving Day is celebrated in October, with the U.S. celebrating it in the following month. Gratitude is a great theme for this time of year!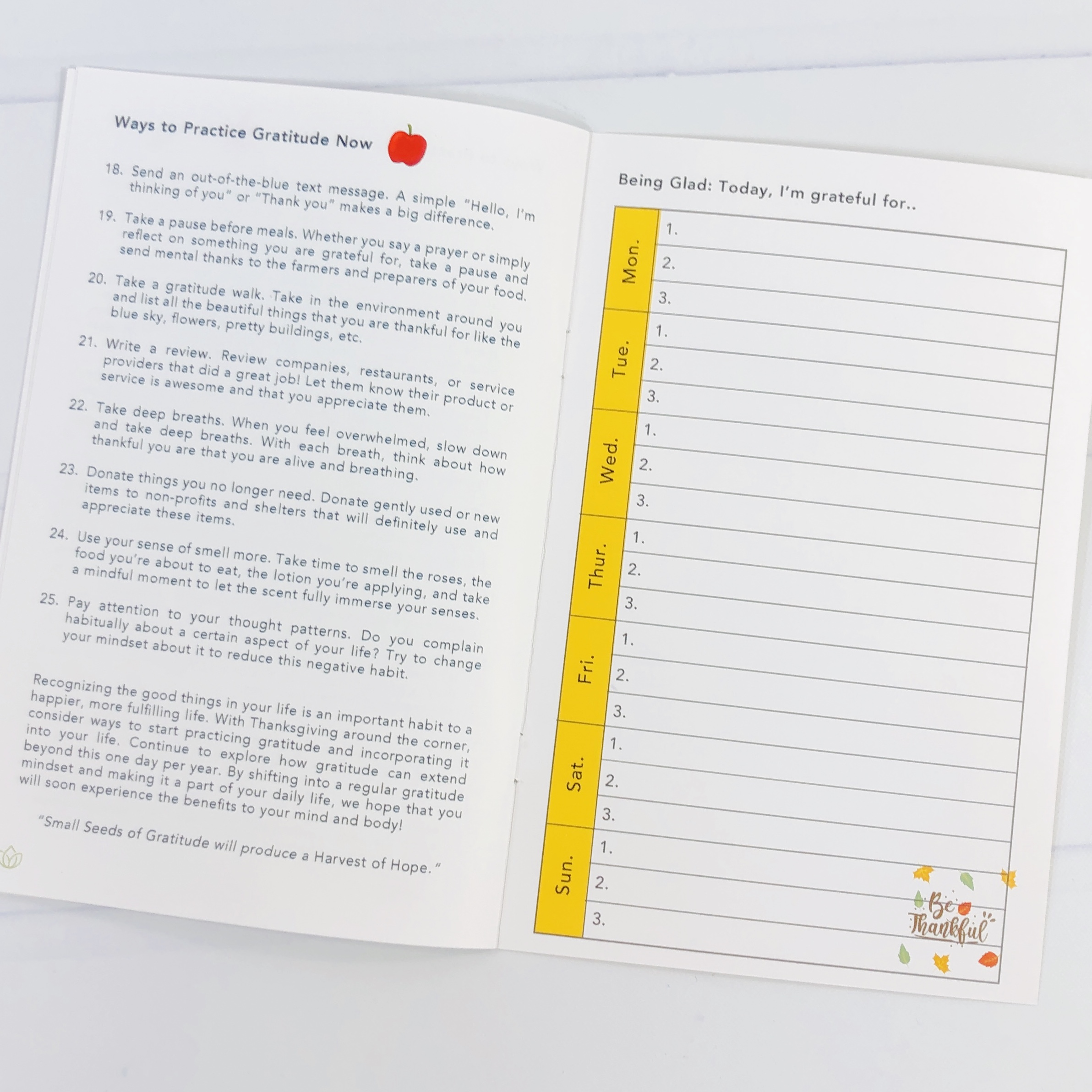 The booklet was full of ideas on how to practice gratitude, practices for both individuals and families, and the science behind gratitude. The back of the booklet had a chart for writing down what I am grateful for.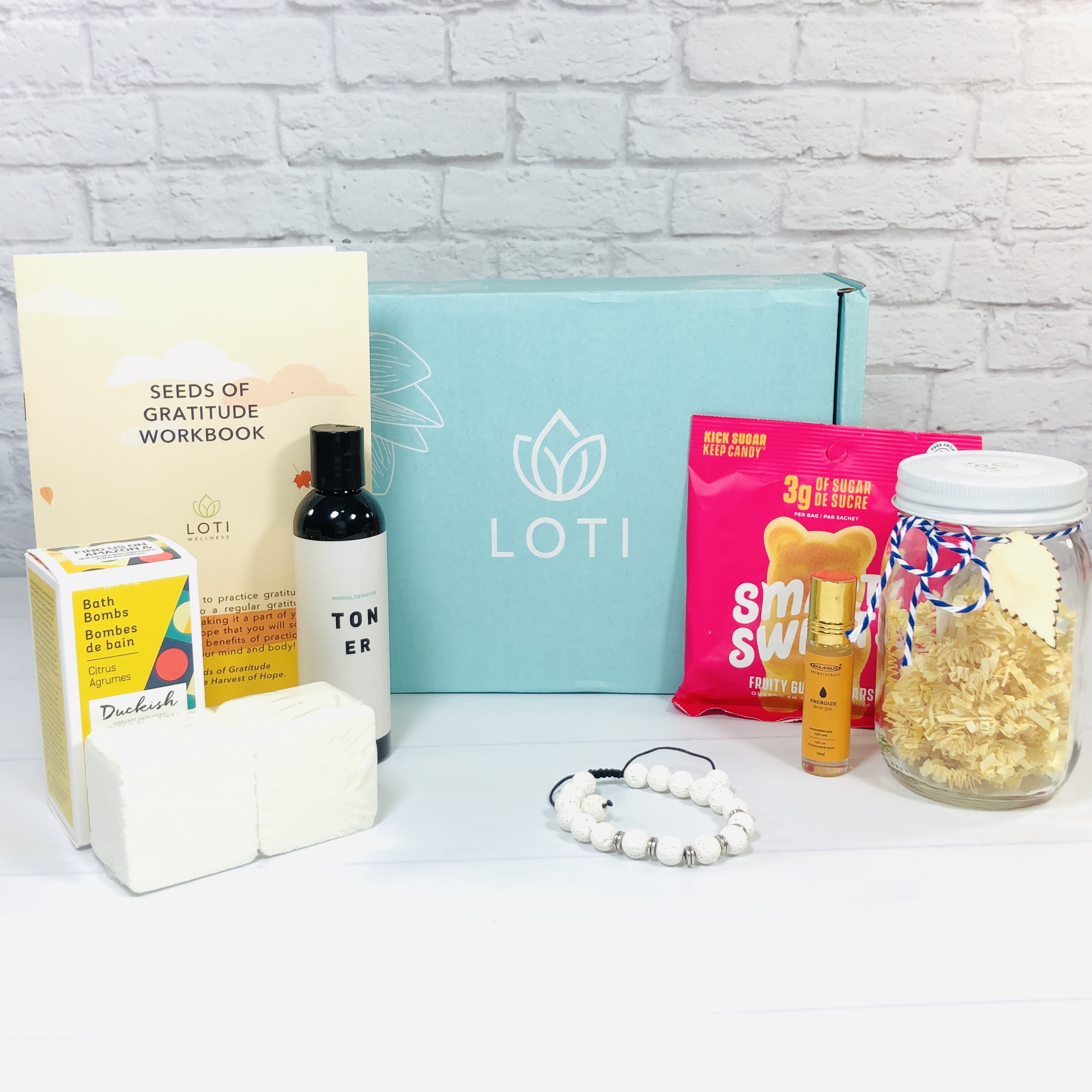 Everything in my box!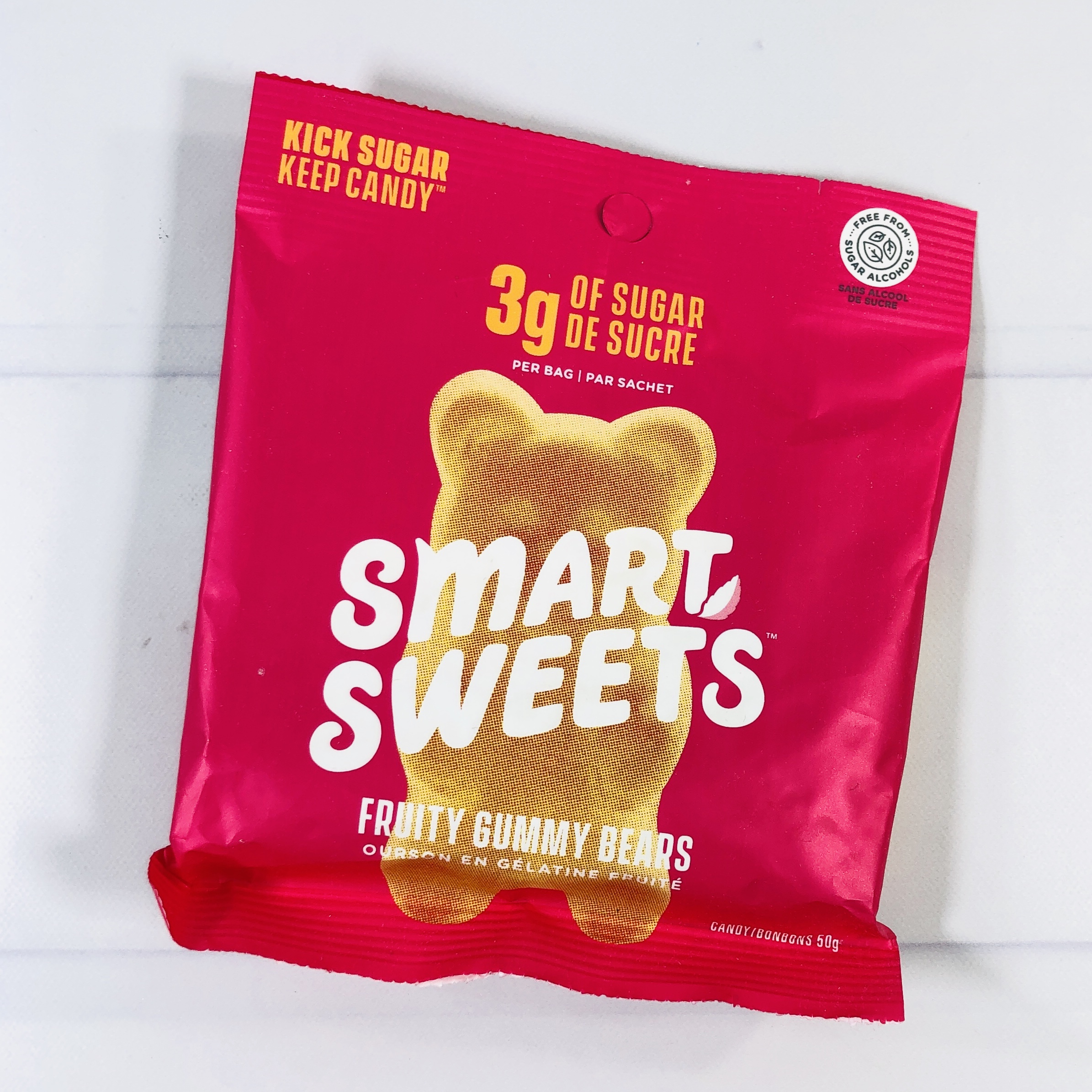 Smart Sweets Fruity Gummy Bears ($3.99) My weakness is chocolate but my daughter loves gummies so I am so happy to share this with her!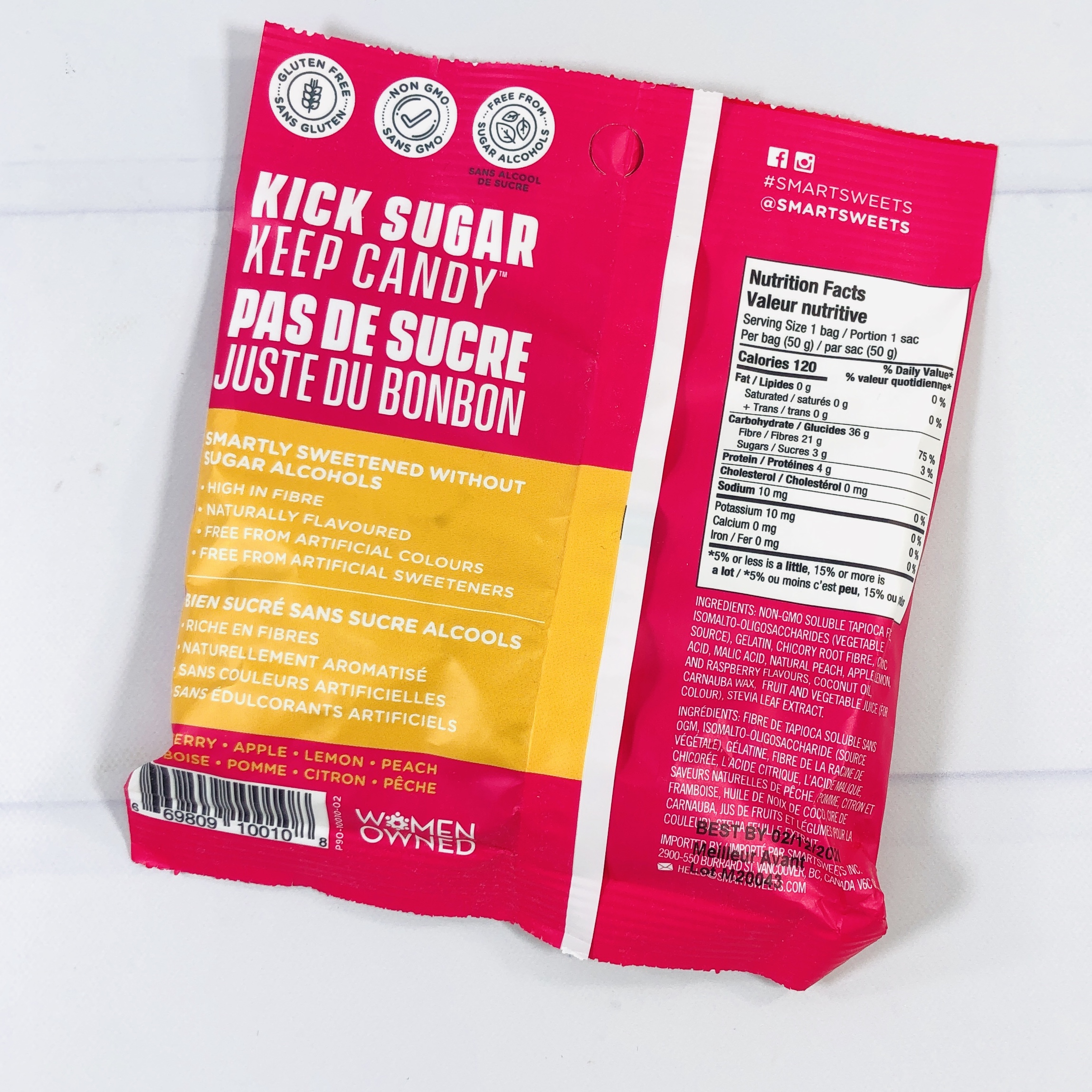 This whole bag (which is considered 1 serving) has 21 grams of fiber, almost a day's worth, but I think it is mostly the soluble type and I wouldn't want to eat that much at once anyways, would you? It has natural flavors and is sweetened with stevia. Please note that this product has gelatin so it's not for our vegan friends.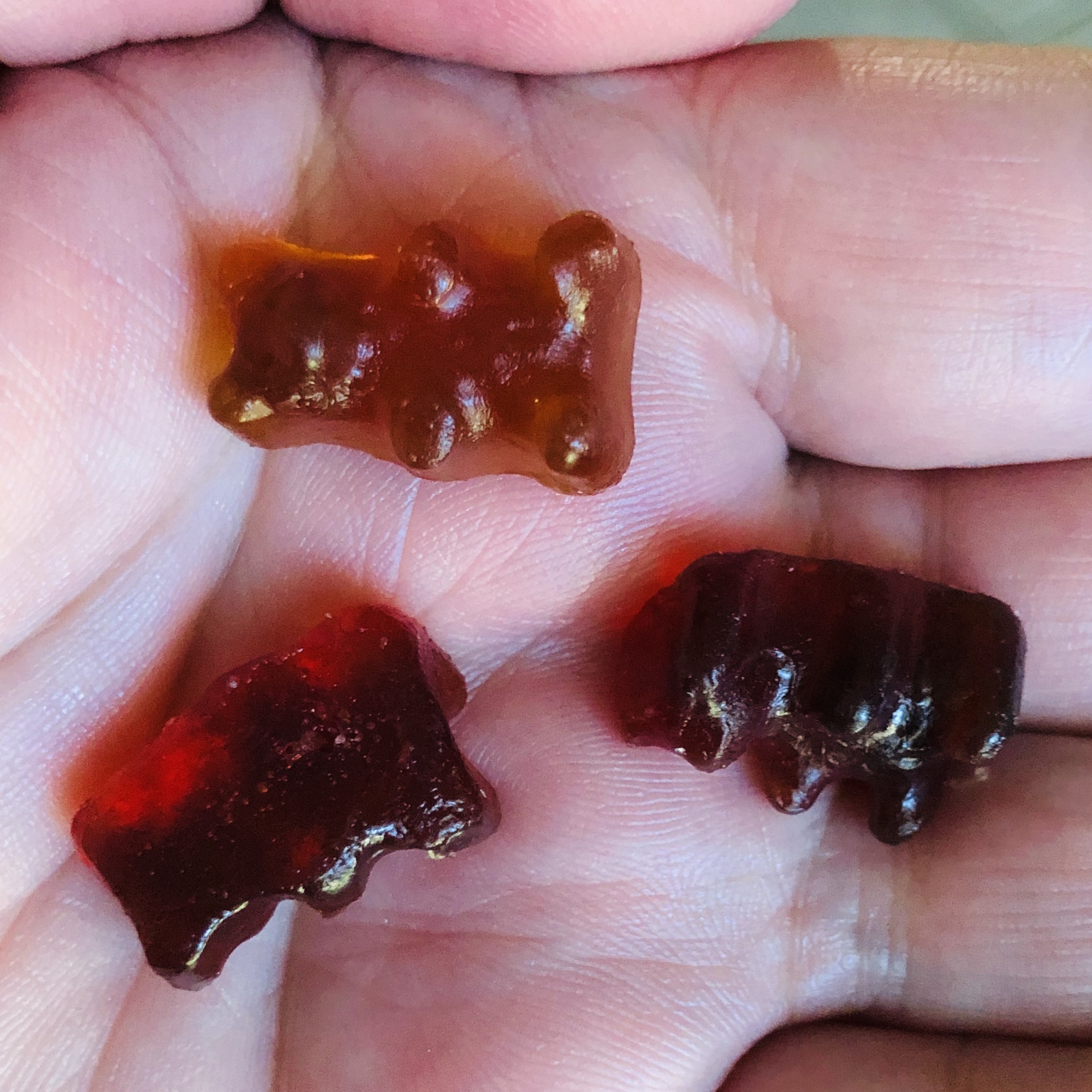 They look like traditional gummy bears, are fruit flavored, and are less sweet than the usual kind, and have a hint of sour like they should. My daughter liked them and I thought they were good too, the stevia wasn't super strong or bitter here.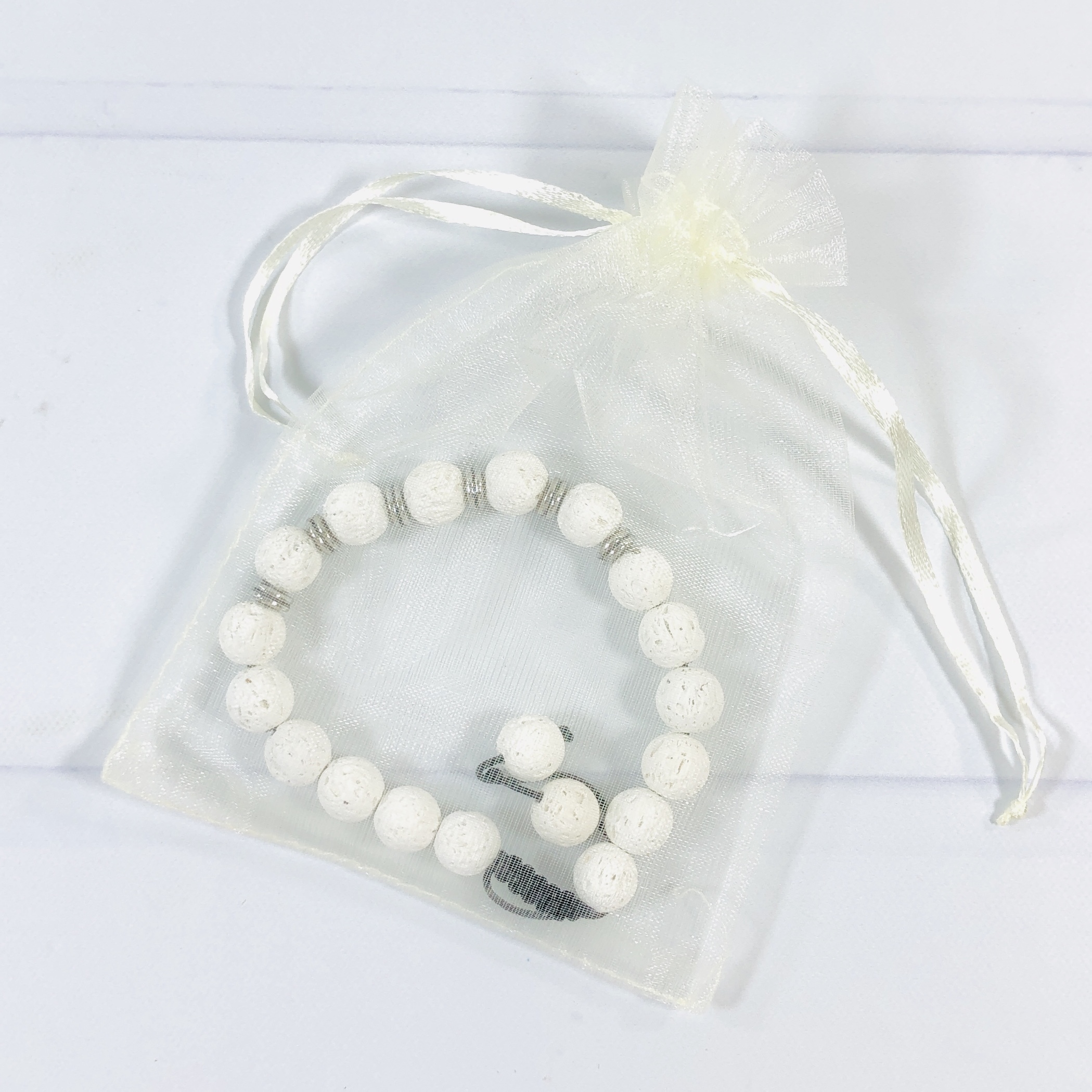 Kawa Naturals Lava Bead Diffuser Bracelet ($22 CAD) I couldn't find a website for this brand, just a Facebook page started in May that states this product is available at Loti.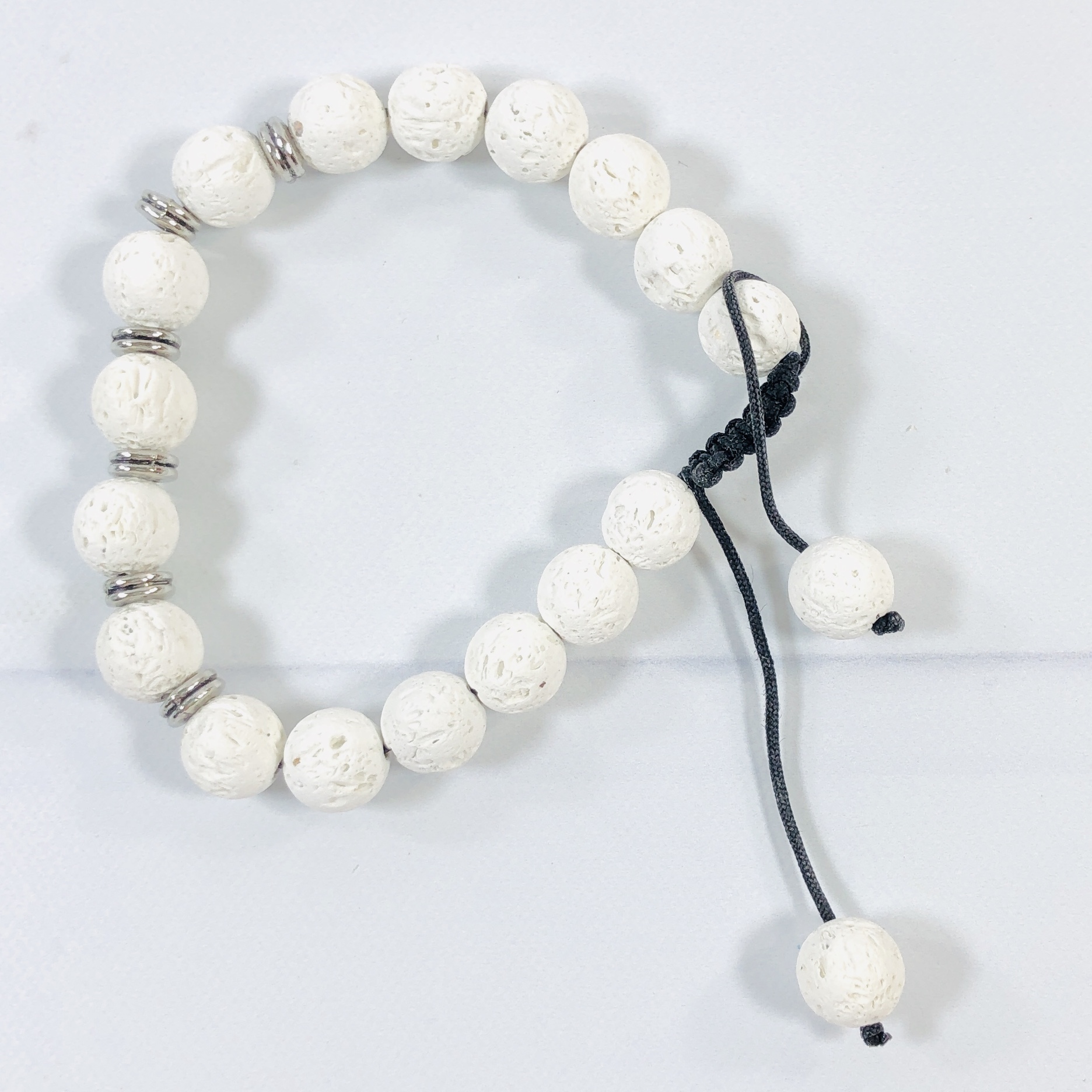 It's an adjustable bracelet consisting of porous lava rocks on a black cord with silver-toned beads in between. You place a drop or two of essential oil on a bead and then the scent gently wafts up to your nose throughout the day, or until the scent fades. It's like all-natural perfume and you can combine scents, so maybe a drop of orange on one rock and a drop of cinnamon on another and you will smell like autumn. You can come up with any combo you like, and I think I might try patchouli and vetiver with a hint of lavender.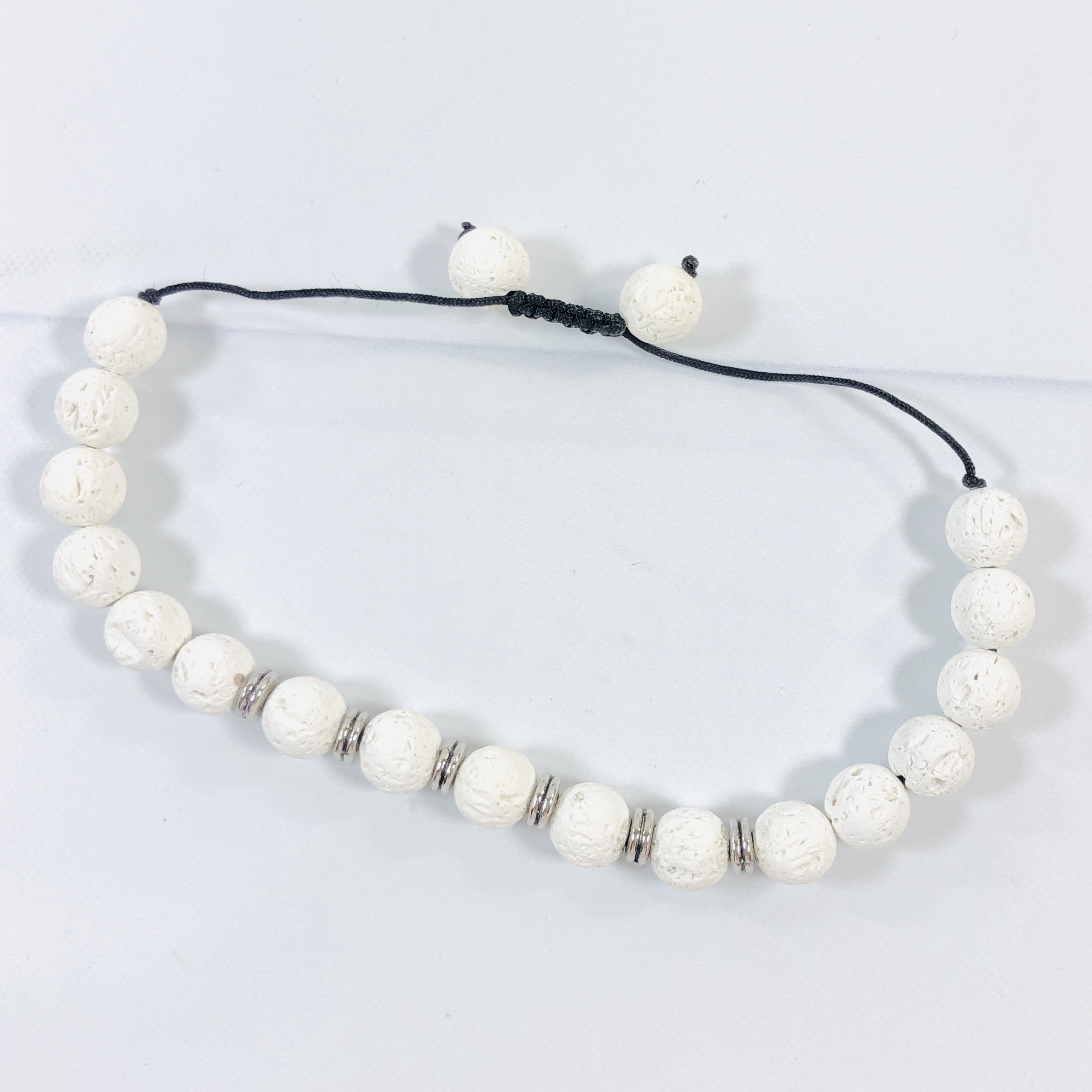 The bracelet is adjustable: just pull it apart near the braided part, place on wrist, and then pull the ends until it is as tight as you like.
I have rather large wrists and had no problem putting this on with room to spare.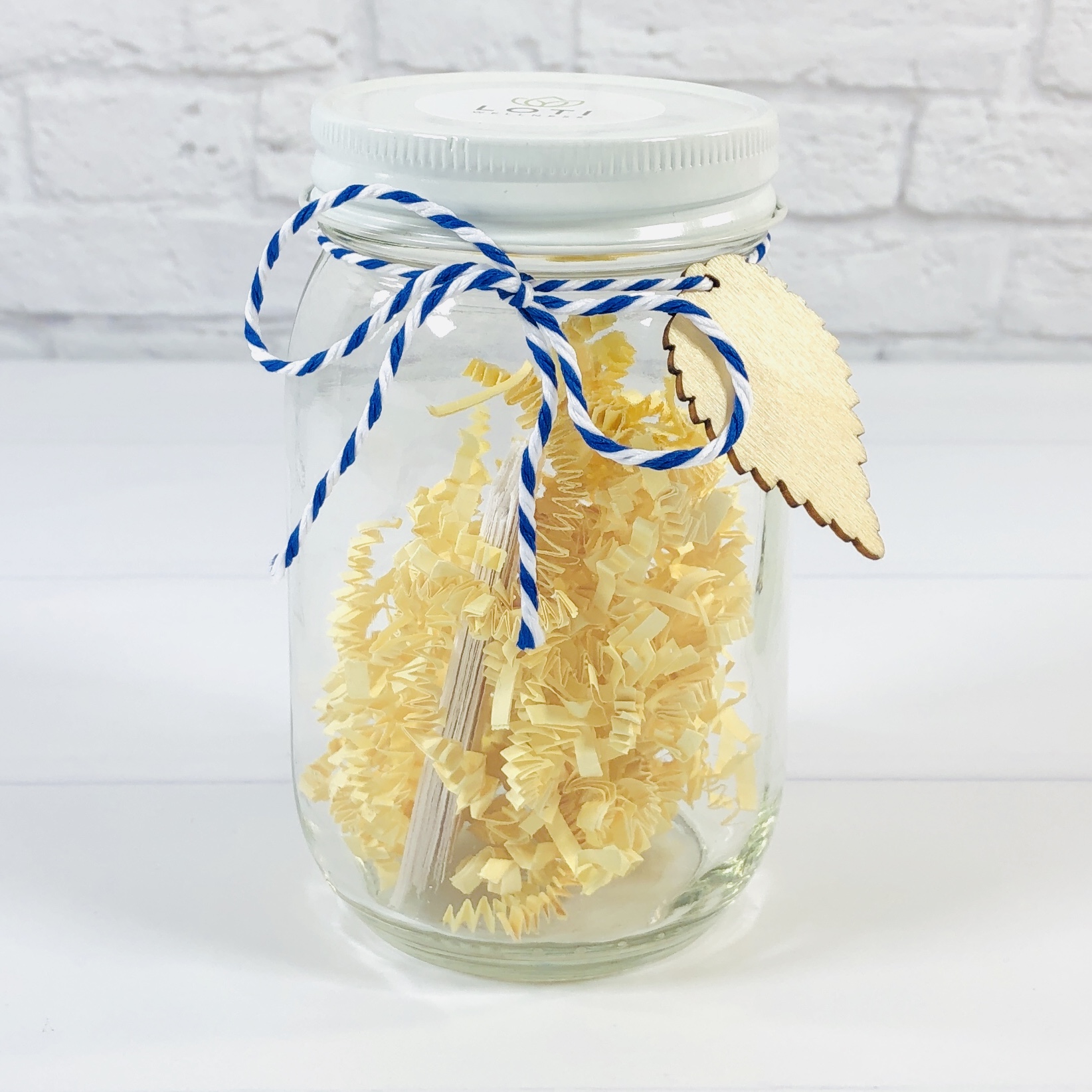 Gratitude Jar ($12 listed value) I've heard of counting your blessings but this jar actually helps you do just that!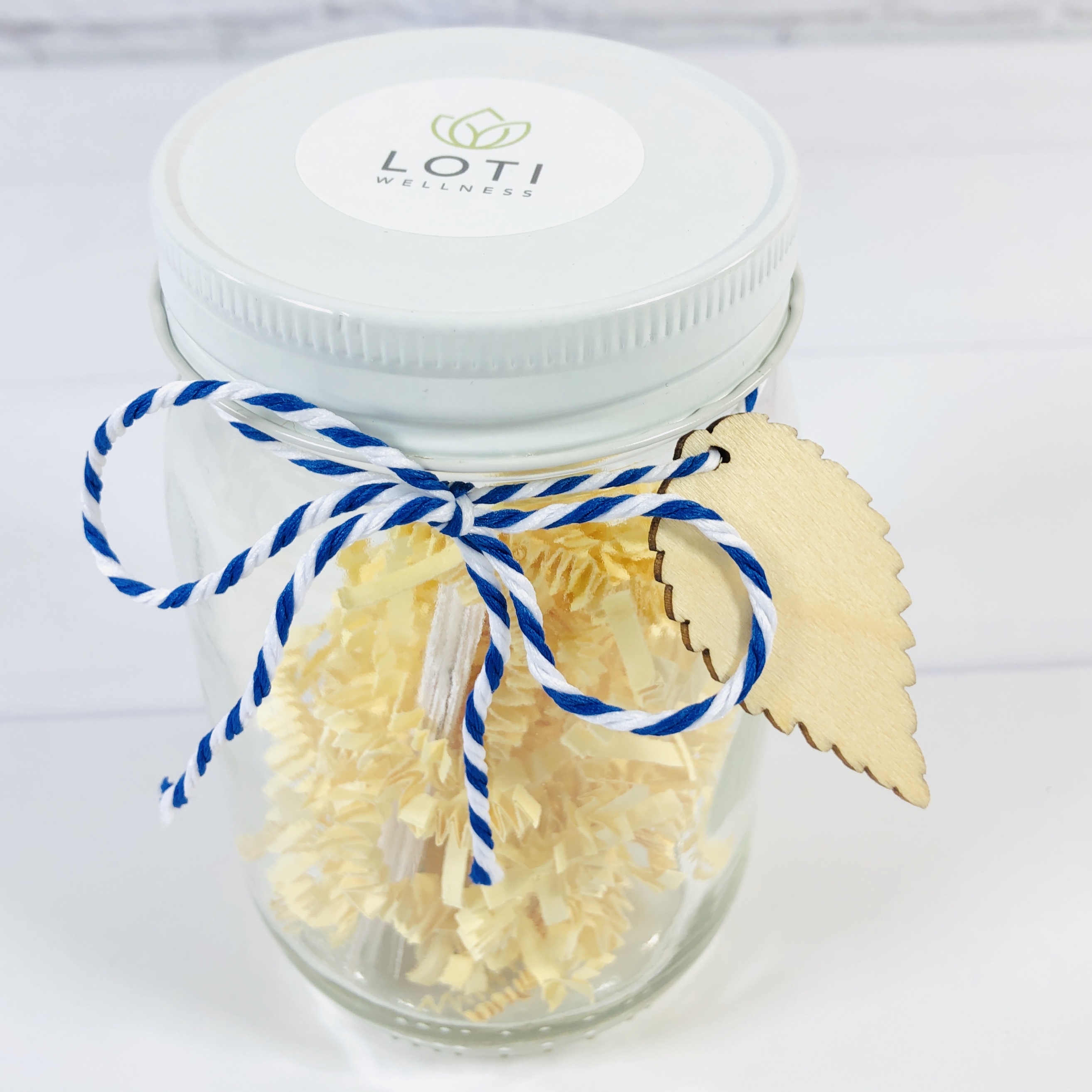 It's a glass Mason jar with a one-piece lid and there is a wood leaf attached with a cord.
The inside has 30 slips of paper snuggled in a bed of paper squiggles. You are supposed to take a moment and think about something you are grateful for and write it down, then place in the jar. At the end of the month it would be cool to read over the slips from the past month and remember all the things we are thankful for. I've heard of something similar, with family members writing on the slips and then reading them out loud on Thanksgiving.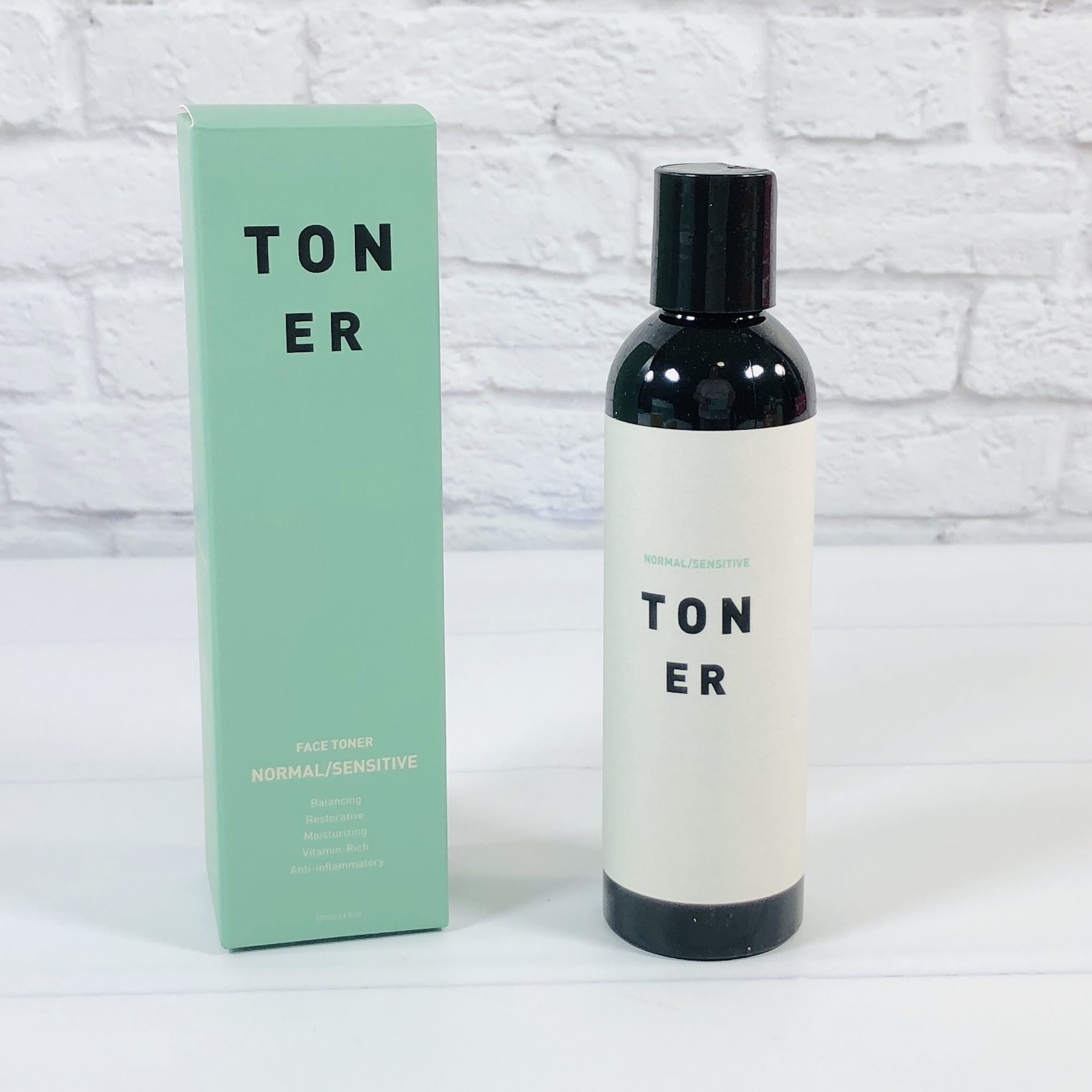 Way Of Will Face Toner for Normal/Sensitive Skin ($35 USD) A toner is good for clearing away any leftover debris after washing the face and preps skin for moisturizers and treatments to follow.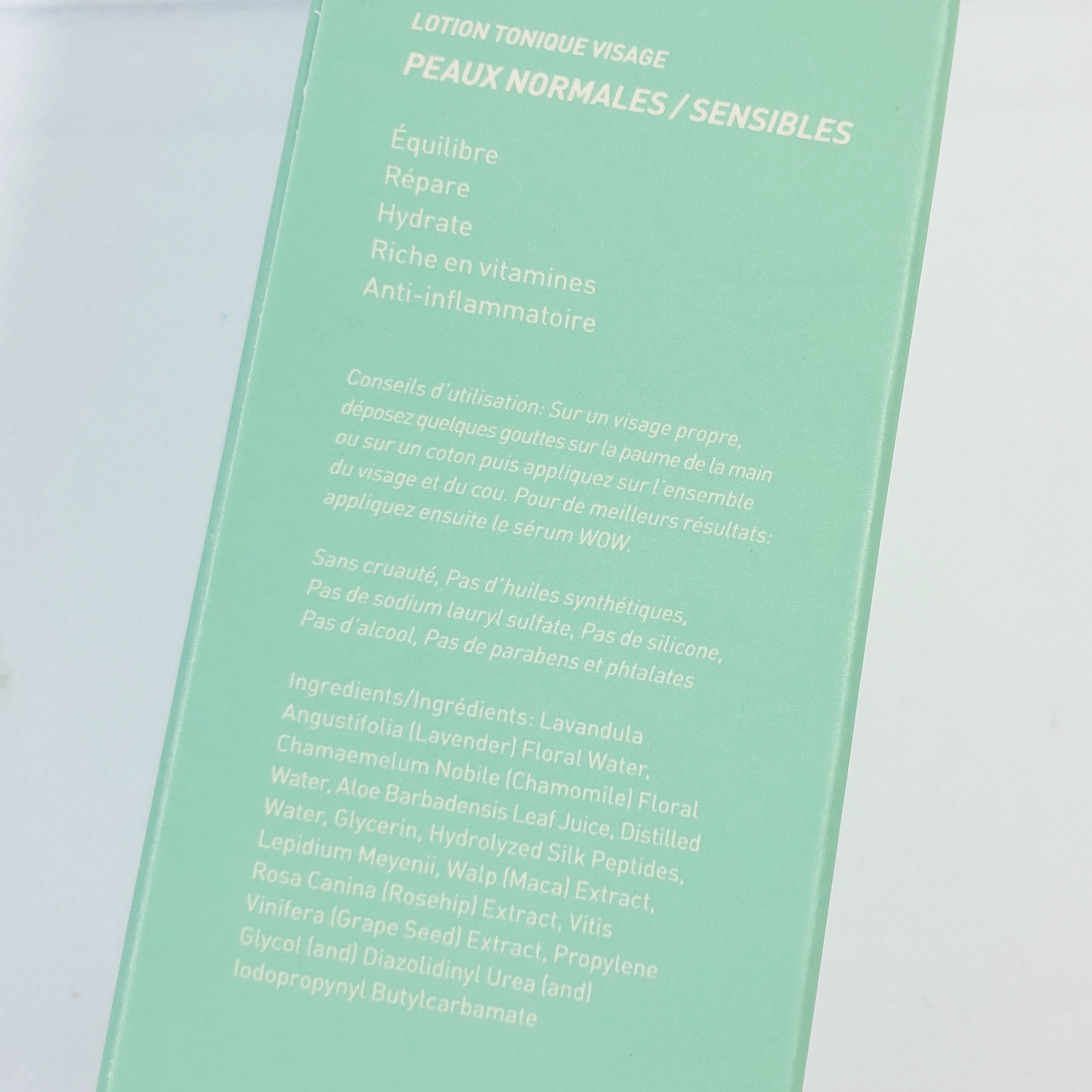 Ingredients include lavender and chamomile floral waters, aloe juice, and glycerin. I want to point out that it also lists hydrolyzed silk proteins, which are derived from silk worm cocoons, so it's not vegan (the brand's website says it is).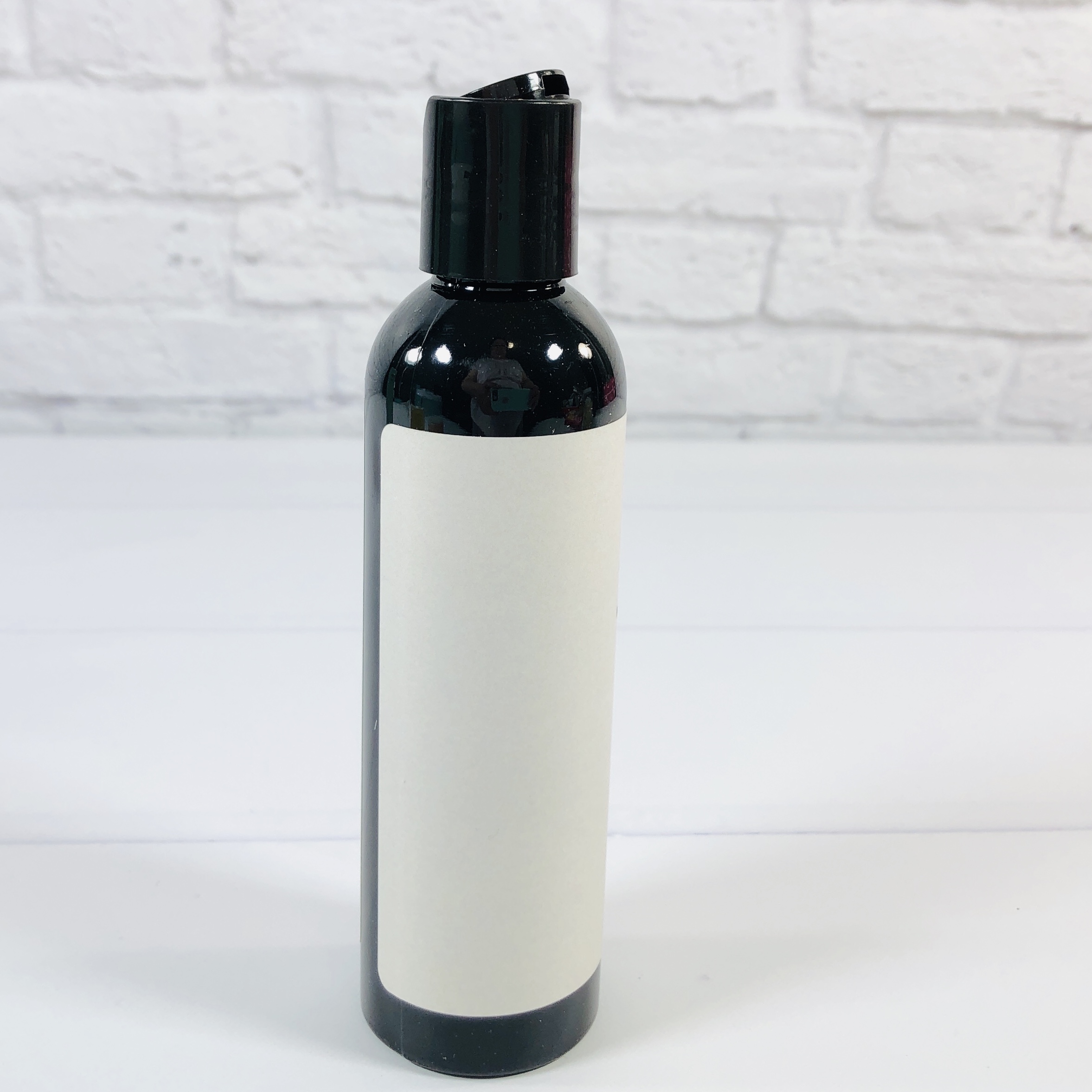 The bottle has a press top cap and you just pour your required amount on a cotton pad and wipe over a clean face. There was a seal that came off and was stuck inside the lid so check there first if it doesn't seem like any product is coming out of the top. I liked the earthy, herbal scent and it didn't leave my skin tight or dry.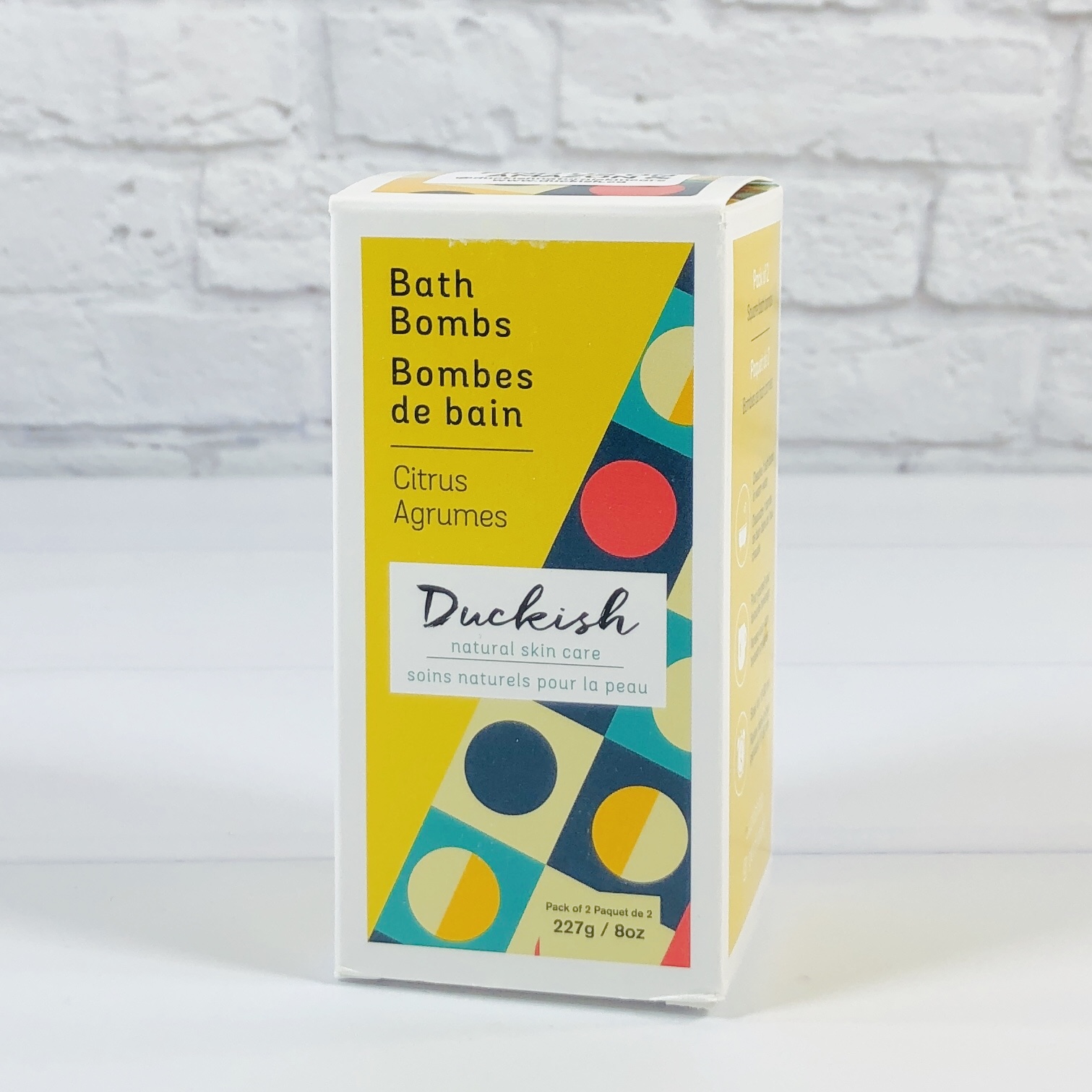 Duckish Citrus Bath Bombs ($11.99 CAD) I laughed while reading the description of these bath bombs on the brand's website. They mentioned how they are free of glitter, dye, and "chakra crystals" because who wants to spend time cleaning up that mess after emerging from the tub.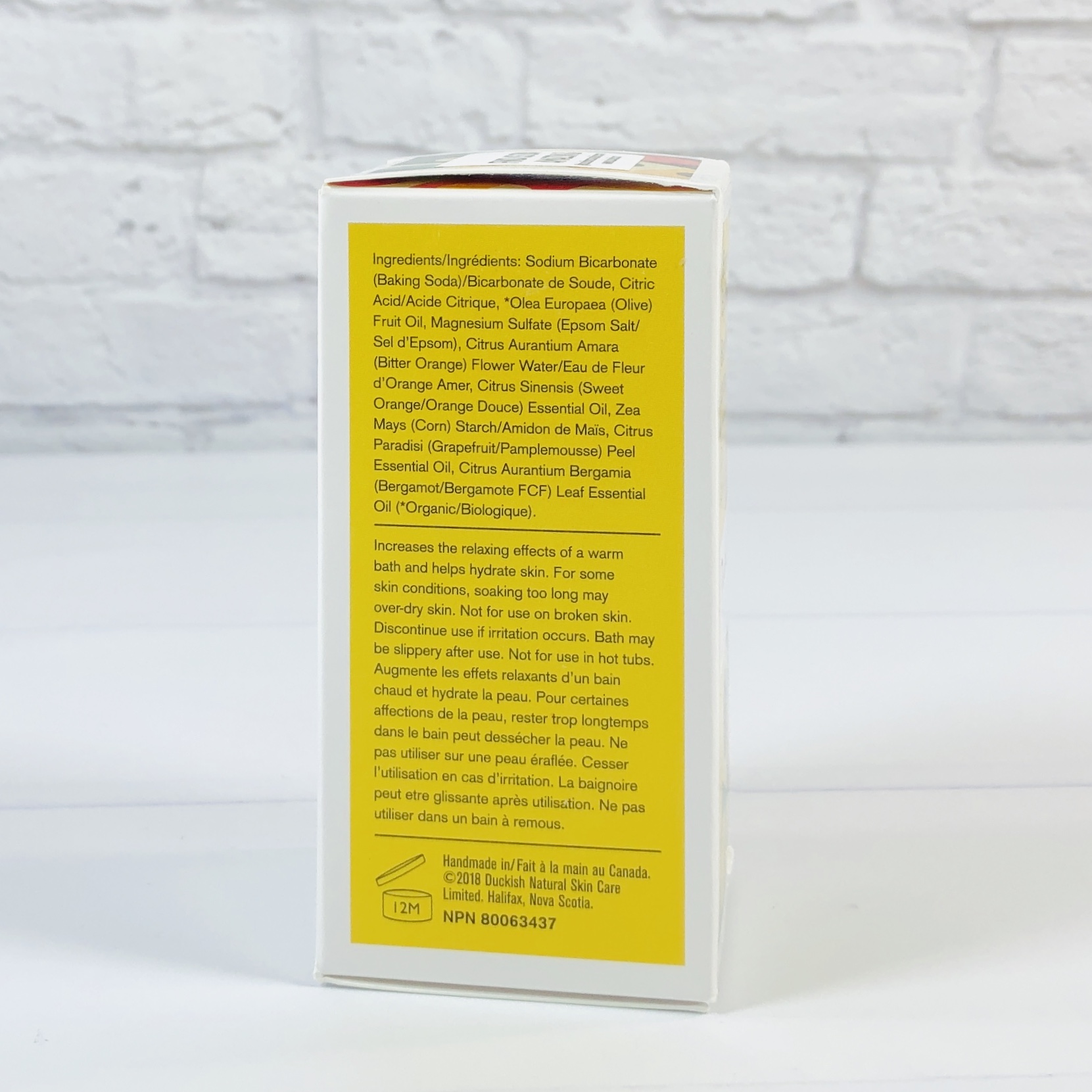 These are all-natural and have that classic citric acid and baking soda combo for fizzing action, essential oils for scent, plus olive oil and Epsom salts.
There were two cubes in the box and you just plop one into the tub before soaking. You could also place in a shower for a shower steamer. They smell wonderful, like freshly peeled oranges!
Relaxus 100% Pure Essential Oil Roll-On ($12 CAD, about $9.15 USD) As soon as I opened this box I discovered a rollerball that would need to replace the cap that was on the bottle during shipping.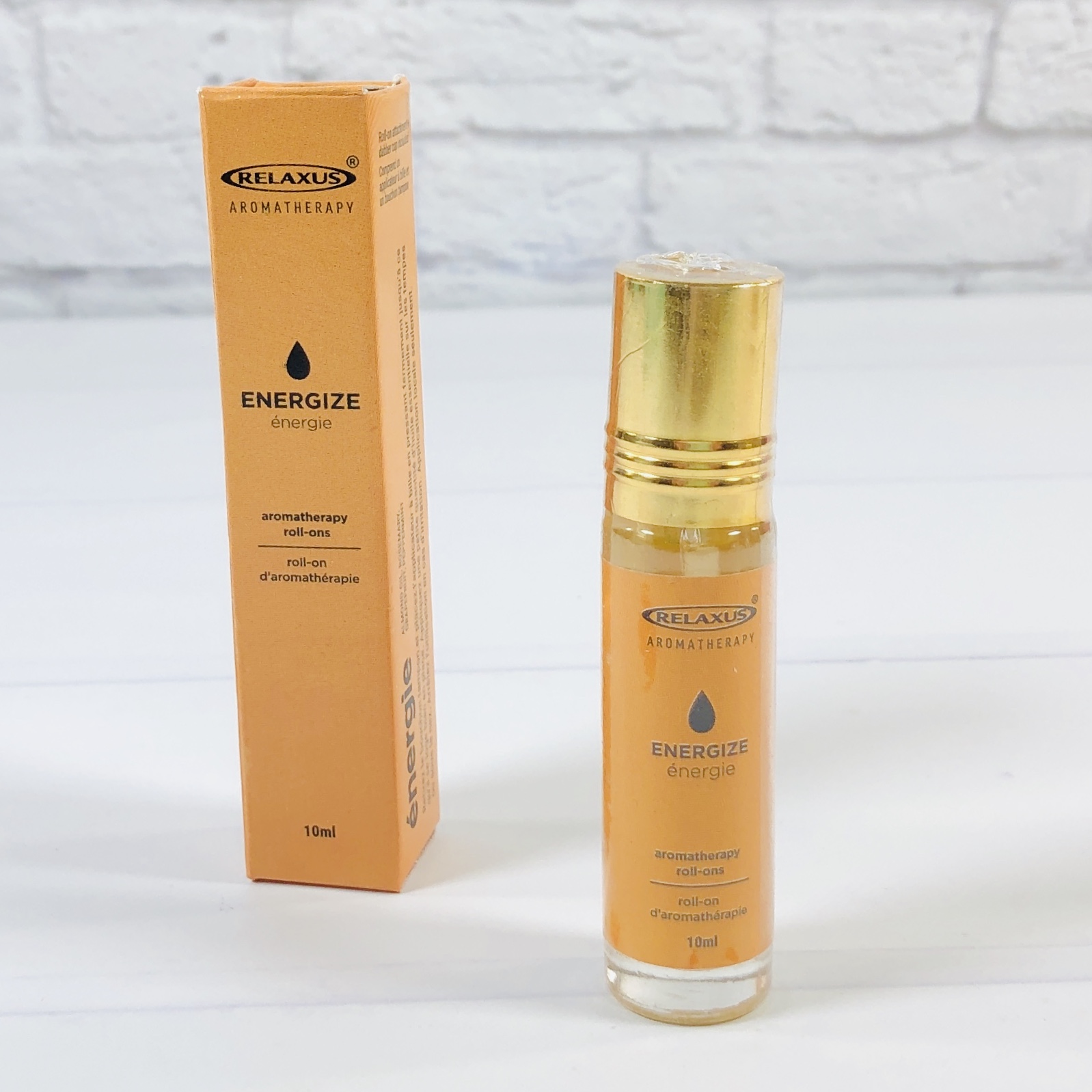 There are several scent varieties available on the brand's website but we received Energize, which is a blend of rosemary, grapefruit, and peppermint essential oils in a base of almond oil.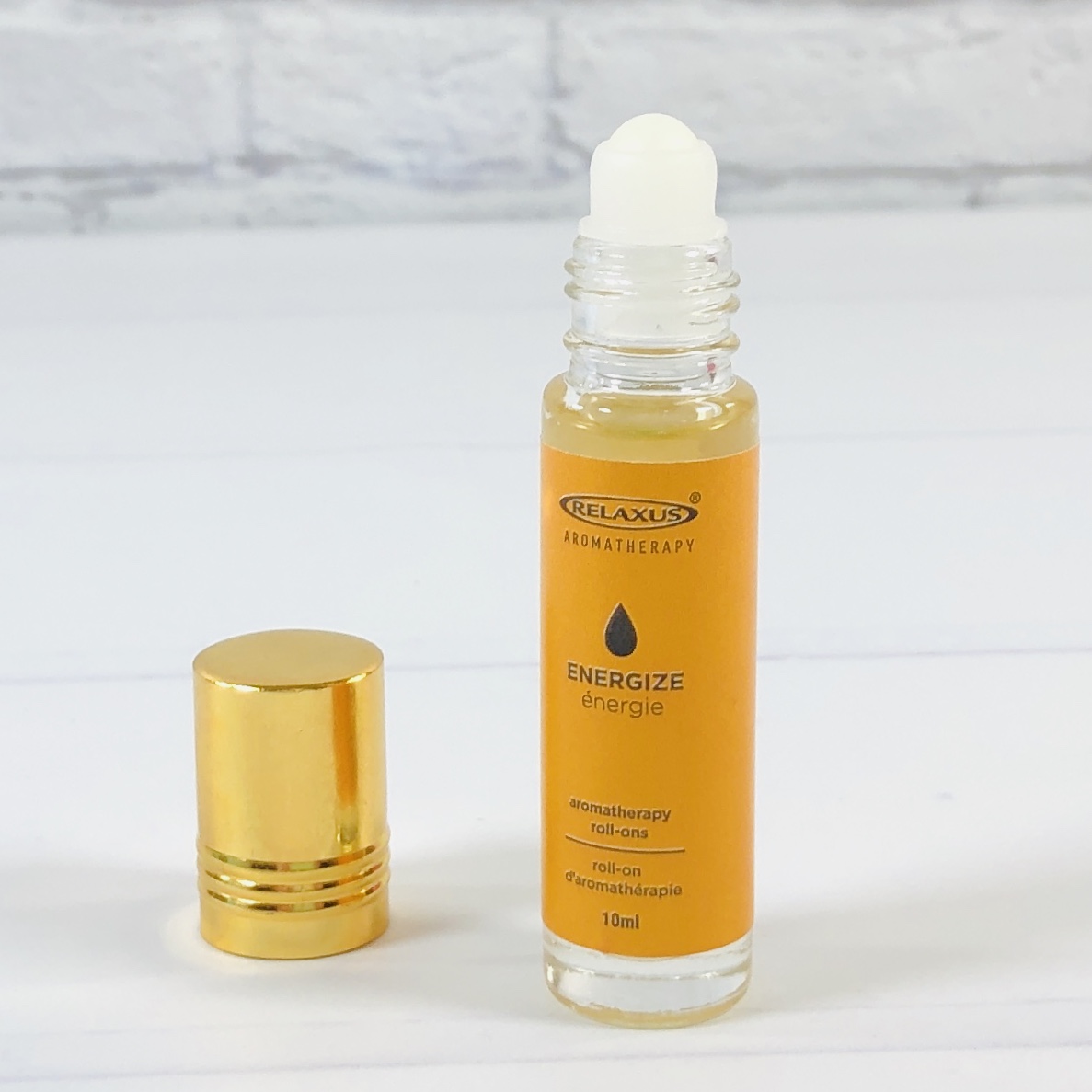 You can roll the blend along pulse points, over the temples, or under the nose. It is a light fragrance and smells mostly of citrus. It fades quickly but it is easy to carry around for frequent touch ups.
The October Loti Wellness Box reminded me to take the time to stop and be thankful for all that I have, even amidst a pandemic that seems to have taken so much. The jar and workbook gave me ideas for being actively thankful, while the products help me stop and remember that I need to take time out for self care to stay healthy for the winter to come.
What do you think of this self-care subscription?