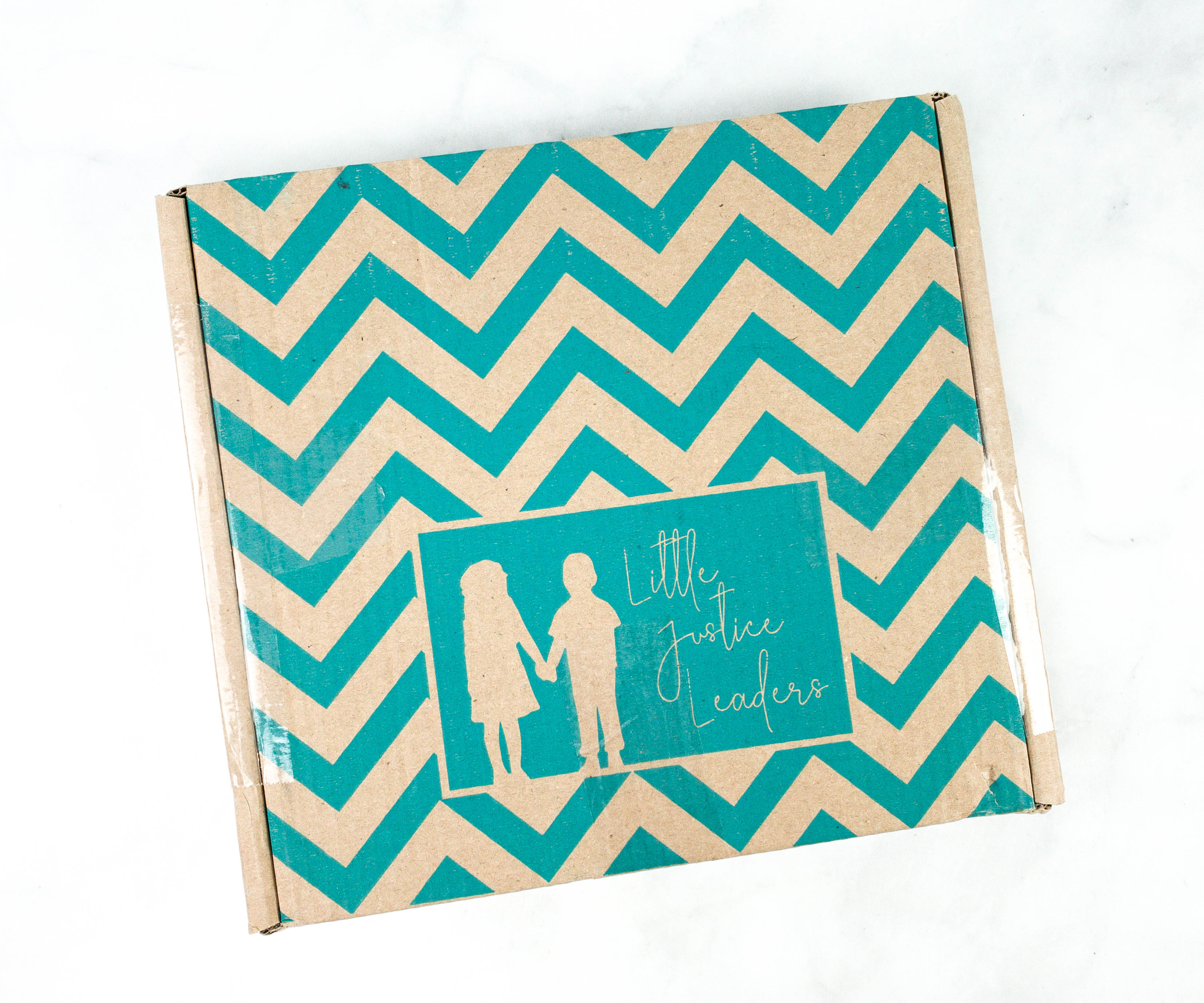 Little Justice Leaders is a monthly subscription box for parents who want their kids to learn more about social justice on a regular basis. The subscription cost starts at $44.99 each box, and you can choose A Teacher Monthly Box or a Family Monthly Box. You can also get a Sibling pack for $49.99, or go for their Digital Family Subscription for $14.99. Each month, you will receive a box filled with carefully selected resources to he;p the kids or students learn and talk about social justice issues. There will be arts, crafts, books, and other activities that will help them understand complex issues. The box is made specifically for kids in grades K to 5, so expect the contents to be not jus educational and age-appropriate, but enjoyable as well. Also, a donation is made to an organization working on the featured social justice issue for each box sold.
DEAL: Get 25% off your first box! Use coupon code HELLO25.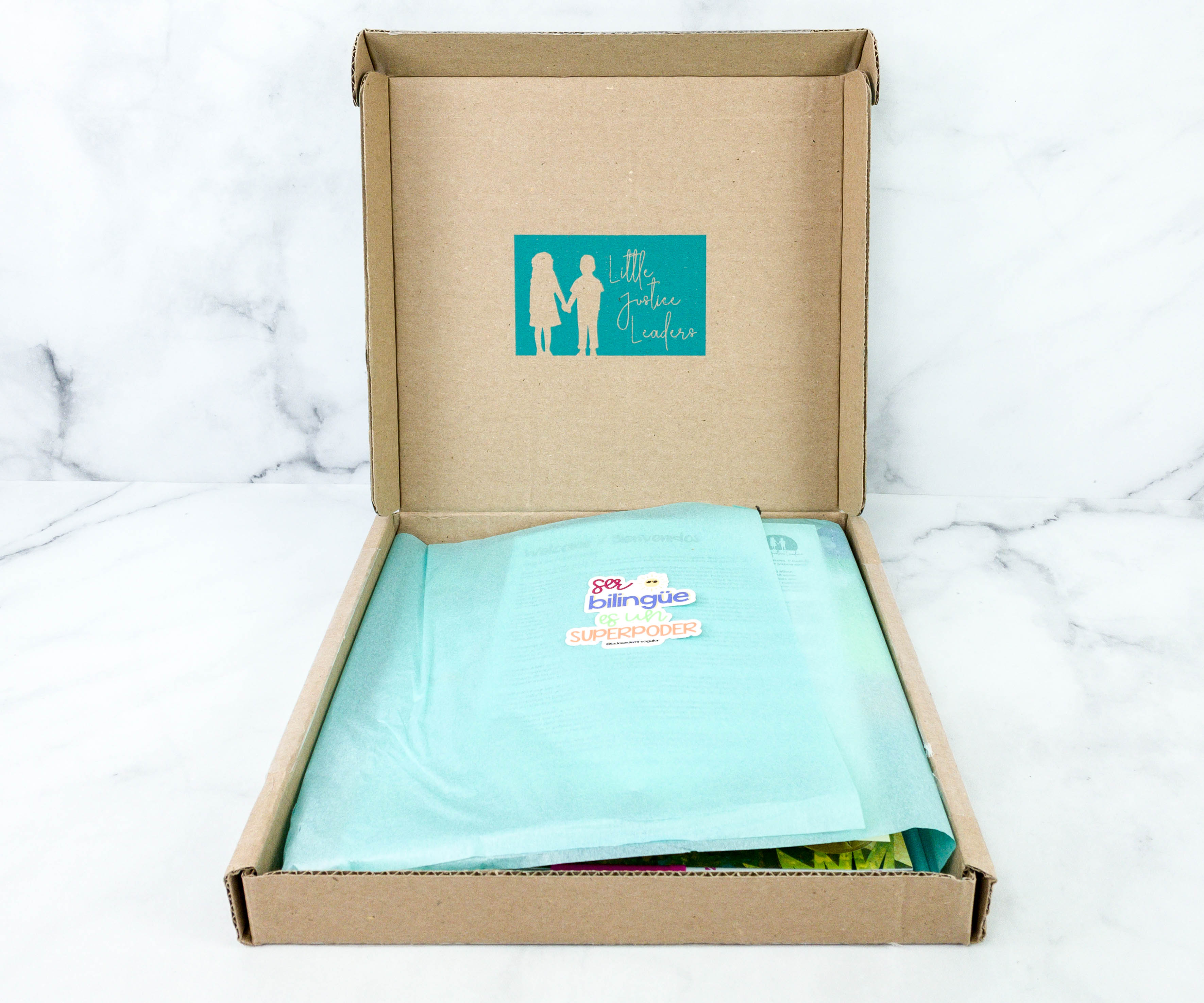 The contents of the box were wrapped with a tissue paper.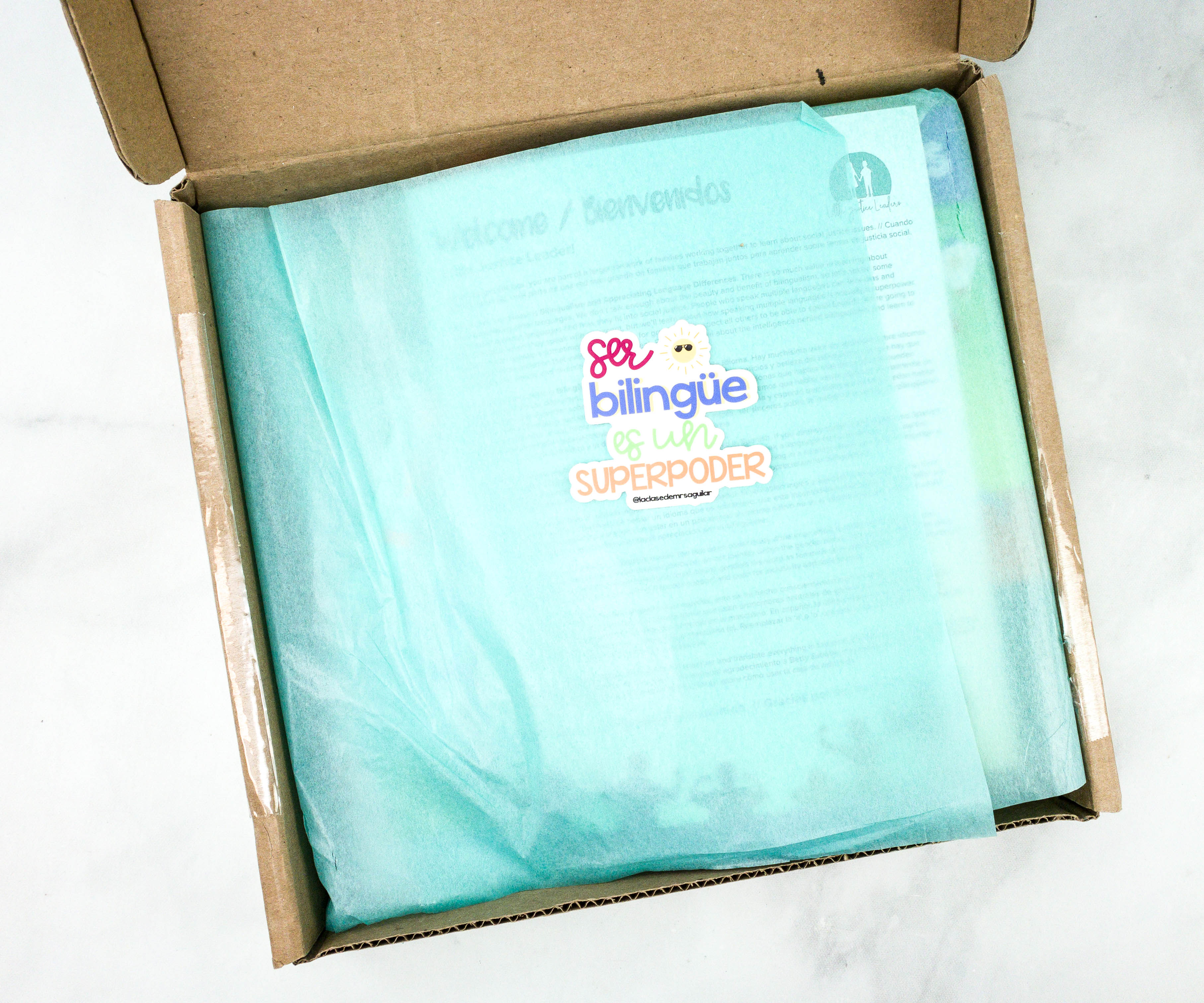 A sticker sits on top of everything in the box!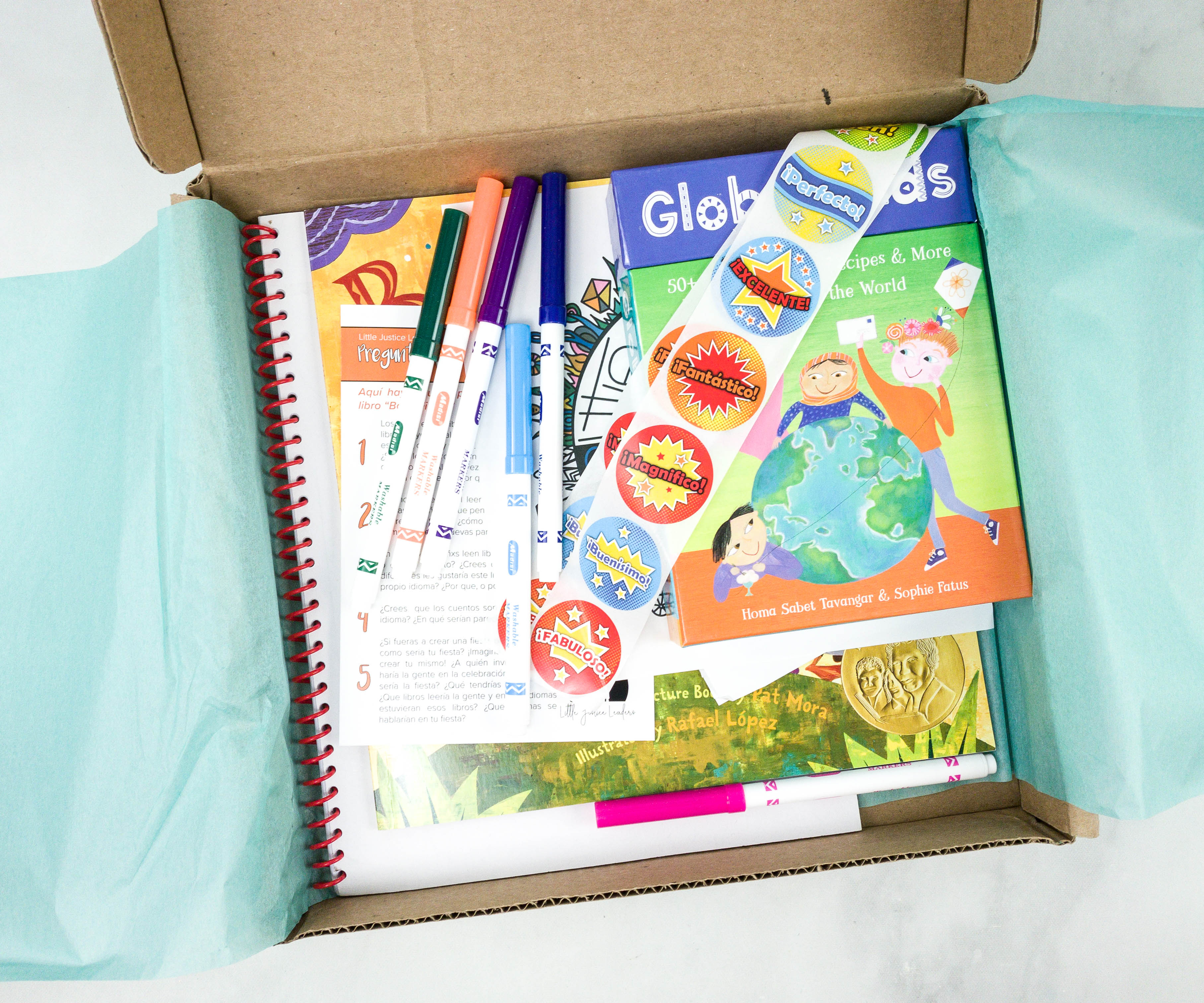 Here's a peek at the box contents!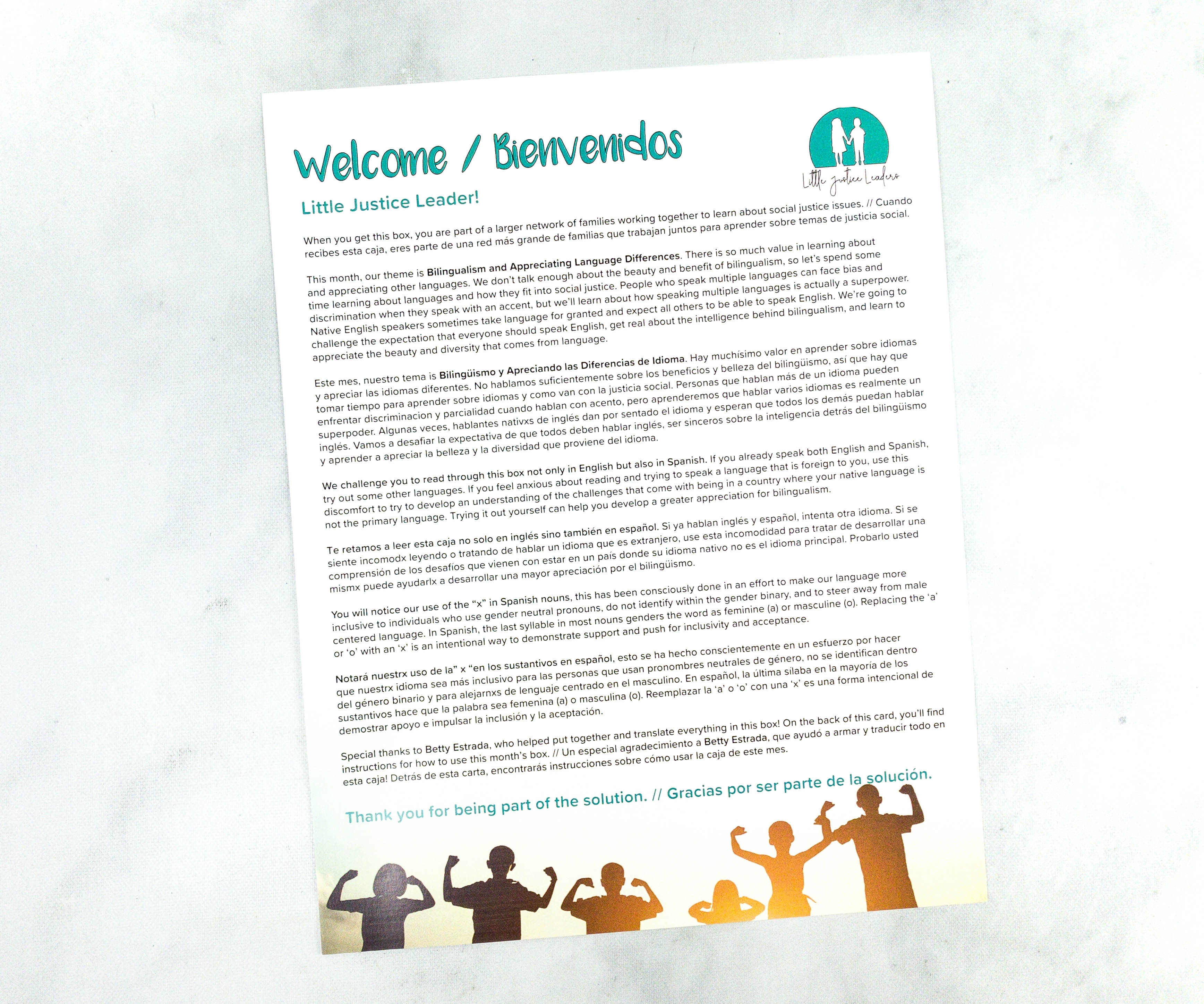 There's also a note that comes with all the items. It welcomes us to the subscription. This month's theme is BILINGUALISM AND APPRECIATING LANGUAGE DIFFERENCES!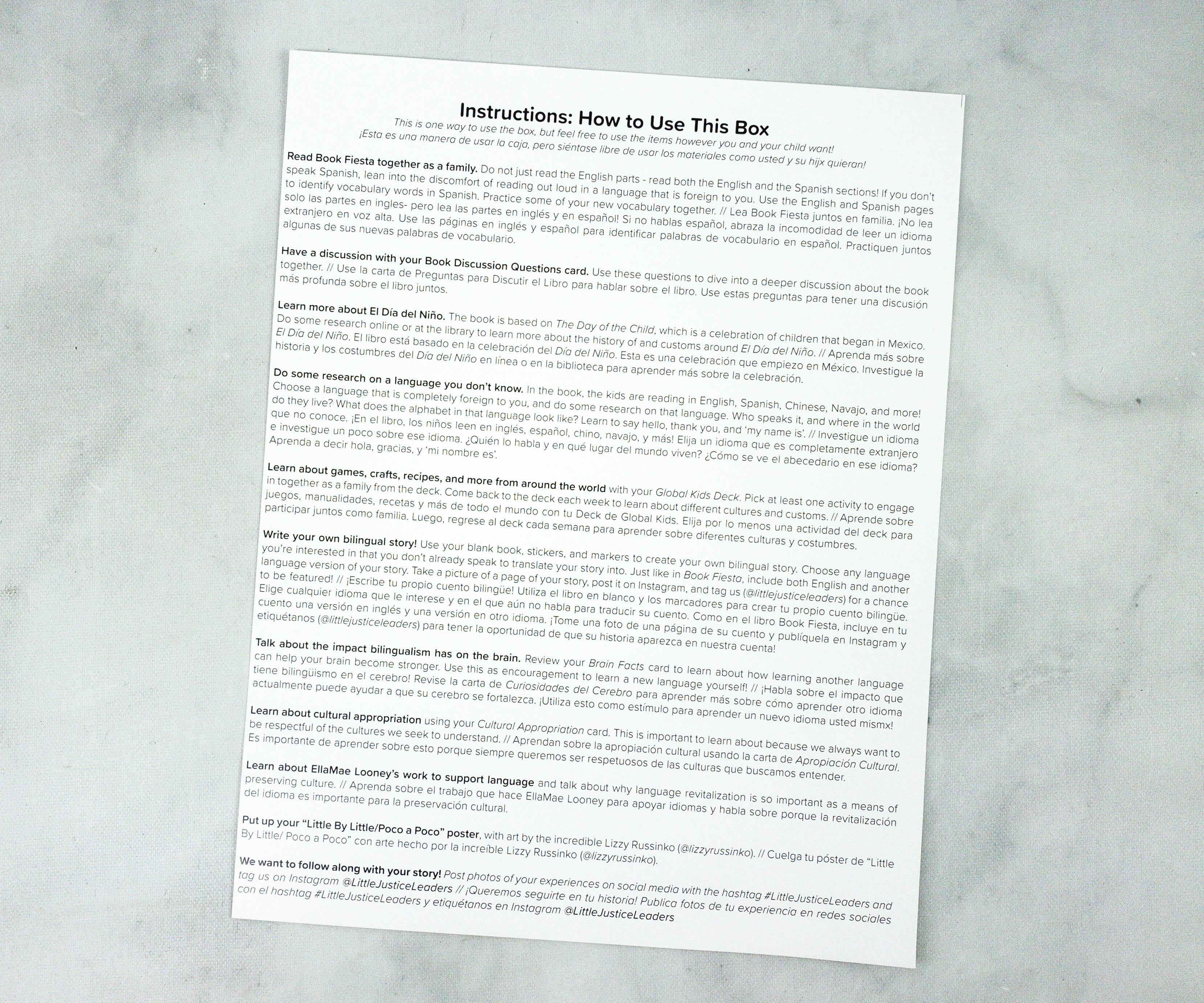 The flip side includes the instructions on how to use the box.
Everything in my box!
Sticker. To remind kids about the beauty of bilingualism, you can display this sticker created by @laclasedemrsaguilar.
To be bilingual is a superpower!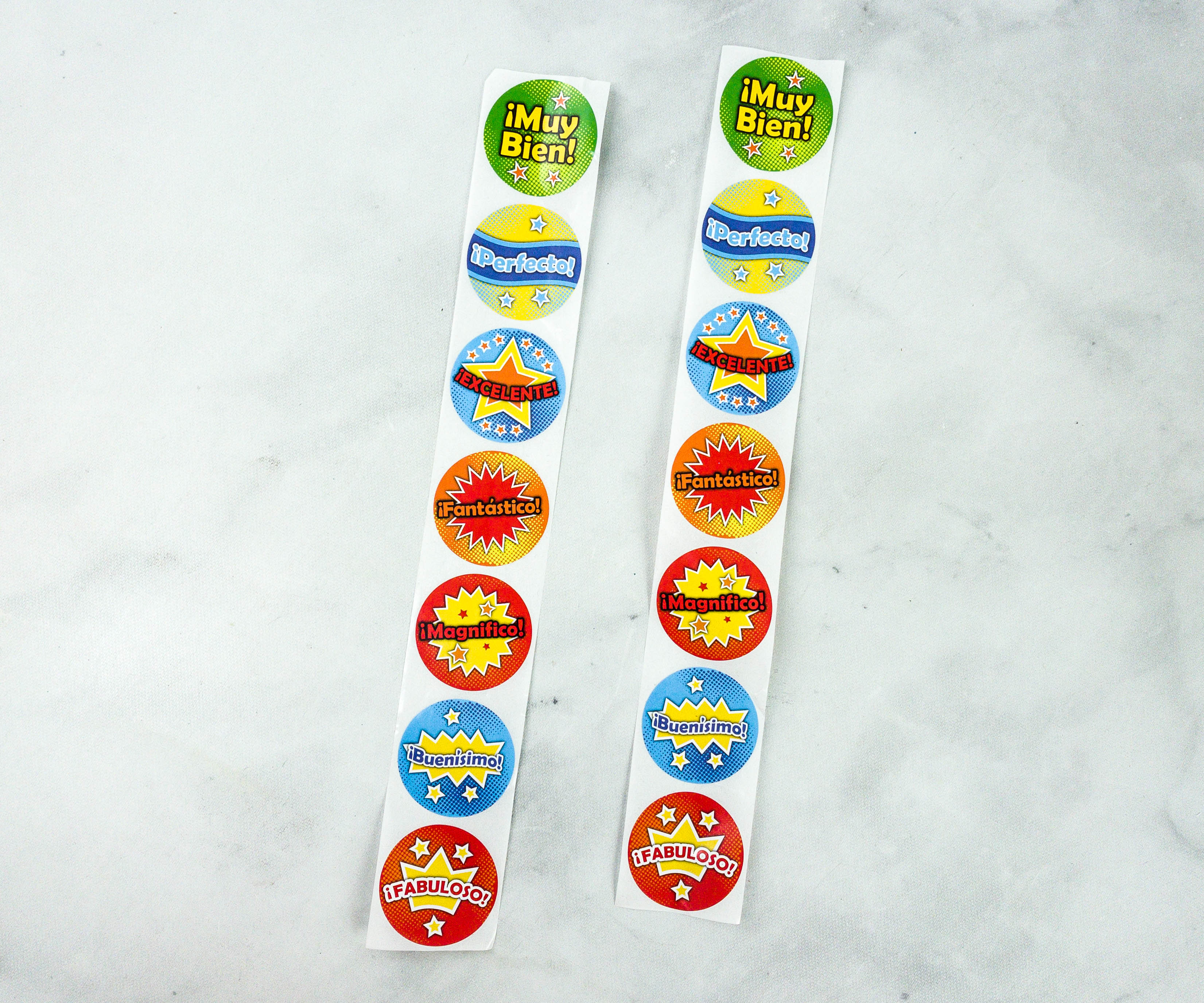 Spanish word stickers. Here are more stickers, and this time, we have 2 sticker sheets filled with positive words in Spanish!
Washable markers. It's a set of washable markers in different colors: orange, pink, purple, dark blue, sky blue, and dark green.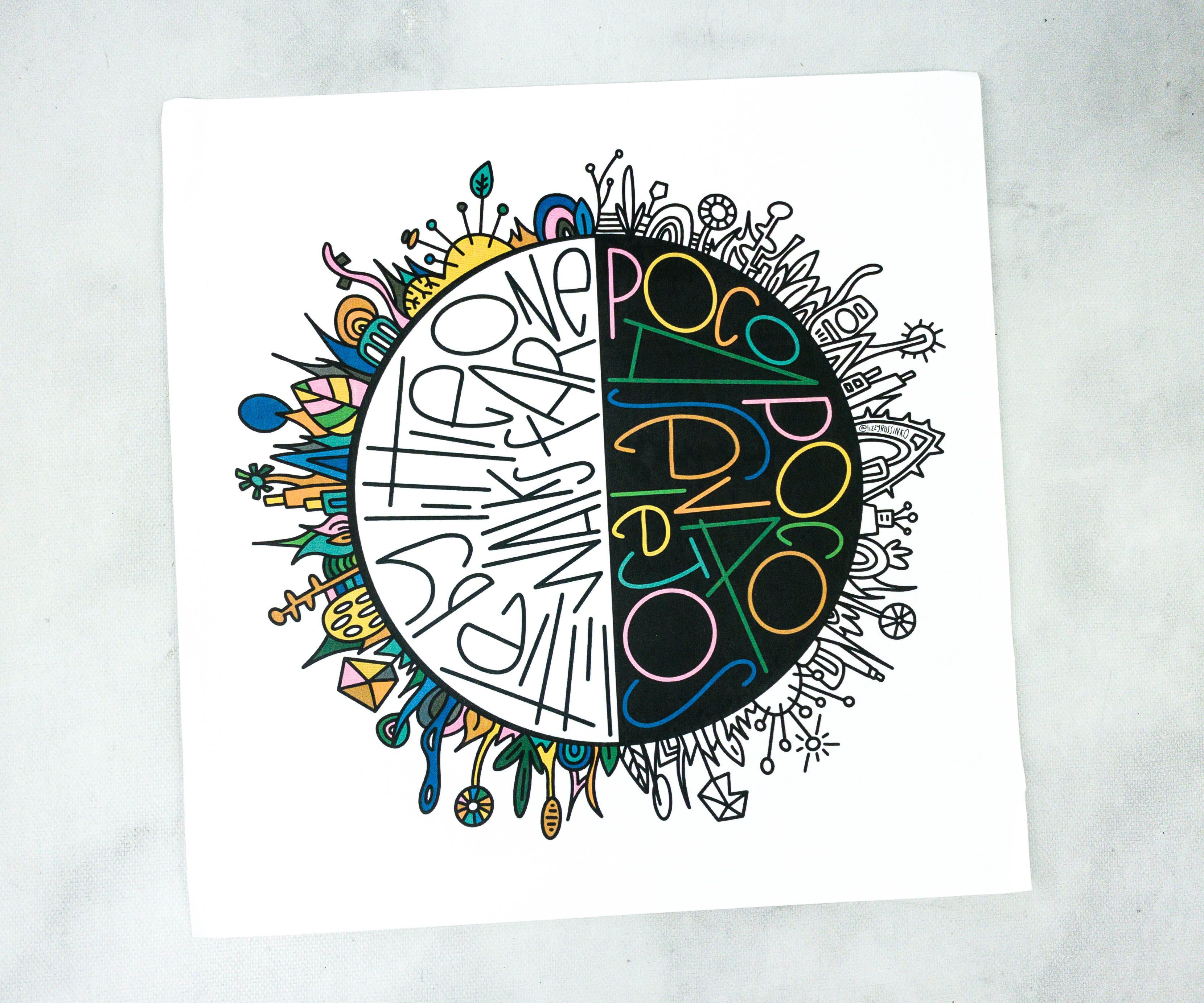 Coloring sheet. With the markers, the kids can finish coloring this design! The mixed words on both sides are translated as "little by little one walks far".
"Young Activist Spotlight" card. This month's featured young activist is EllaMae Looney. She advocates for language revitalization among Native youth in Oregon. She is also on a quest to learn all three of the native languages spoken in her tribal community: Walla Walla, Nez Perce, and Umatilla.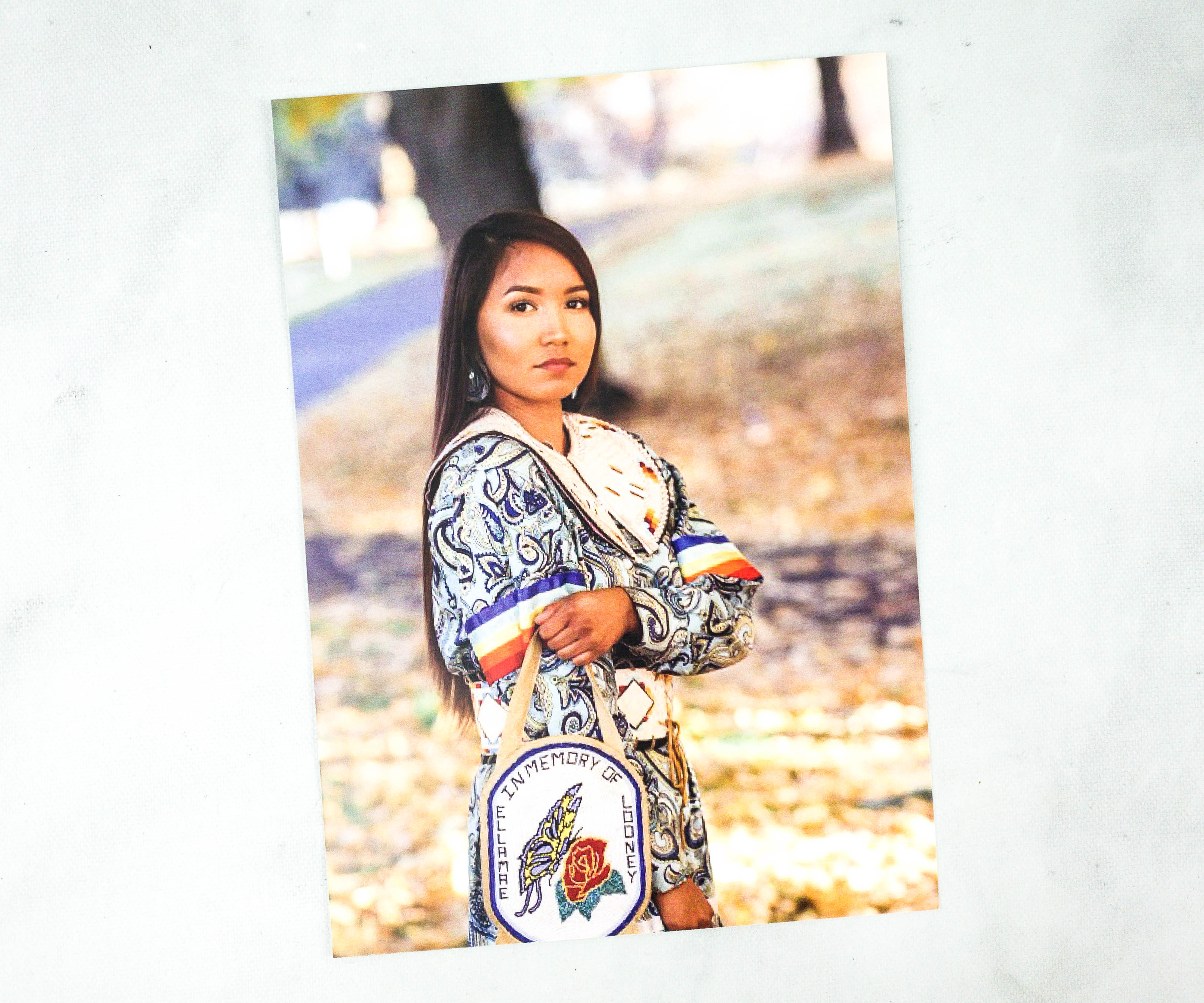 EllaMae Looney's photo is also featured at the back of the card.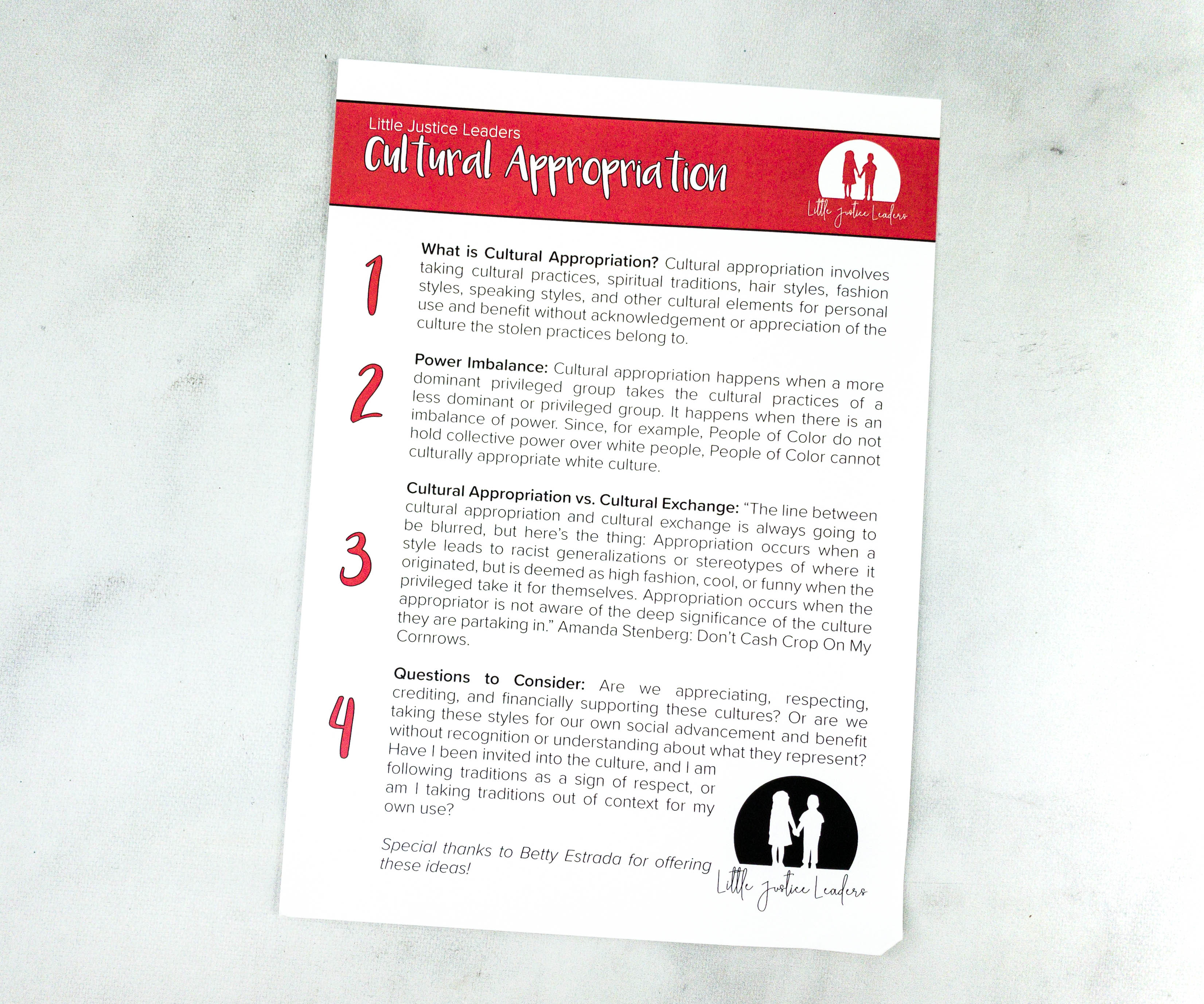 "Cultural Appropriation" card. One of the information cards focuses on cultural appropriation. It explains how it is connected to power imbalance and what's the difference between cultural appropriation and cultural exchange.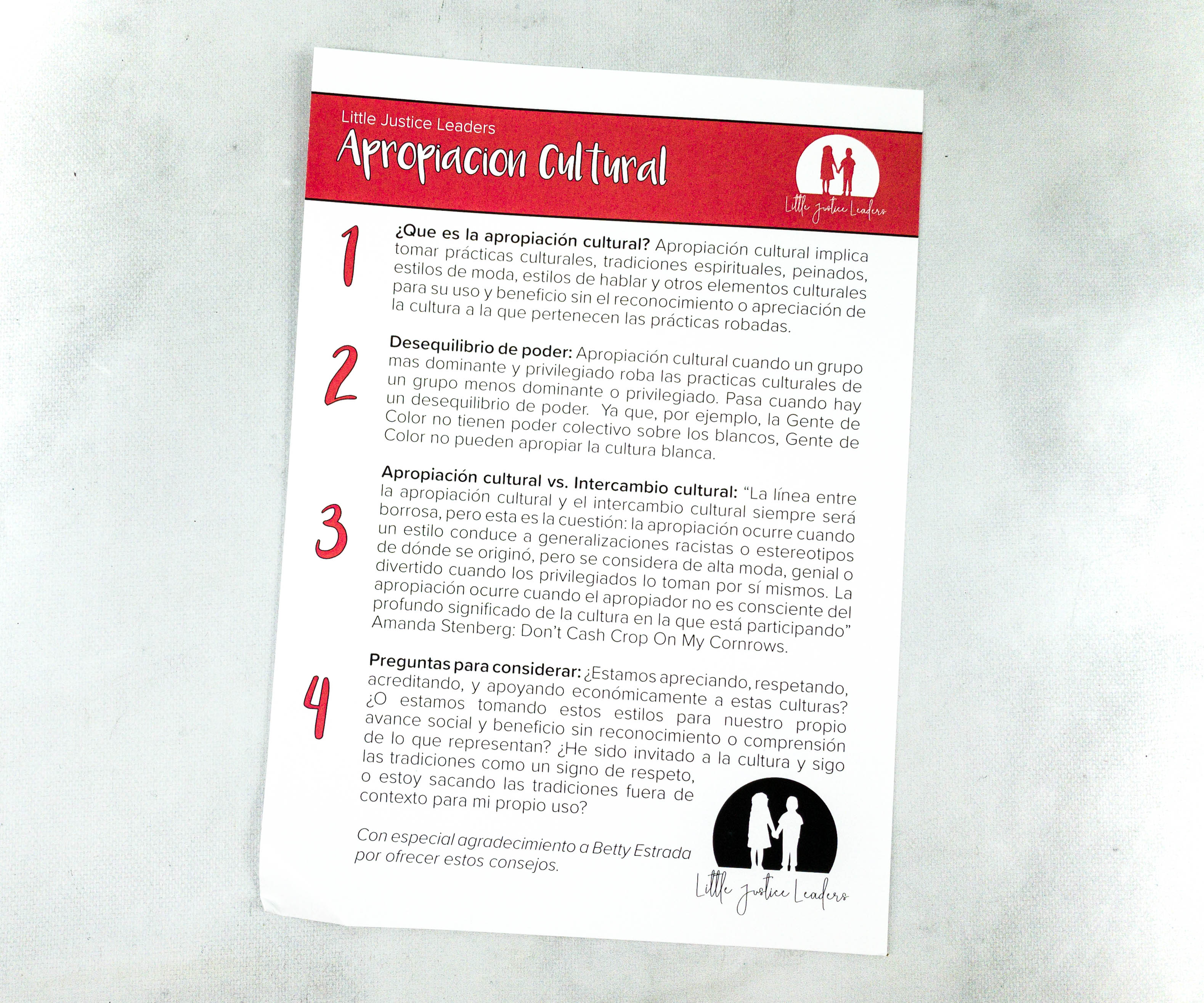 A Spanish translation is available at the back.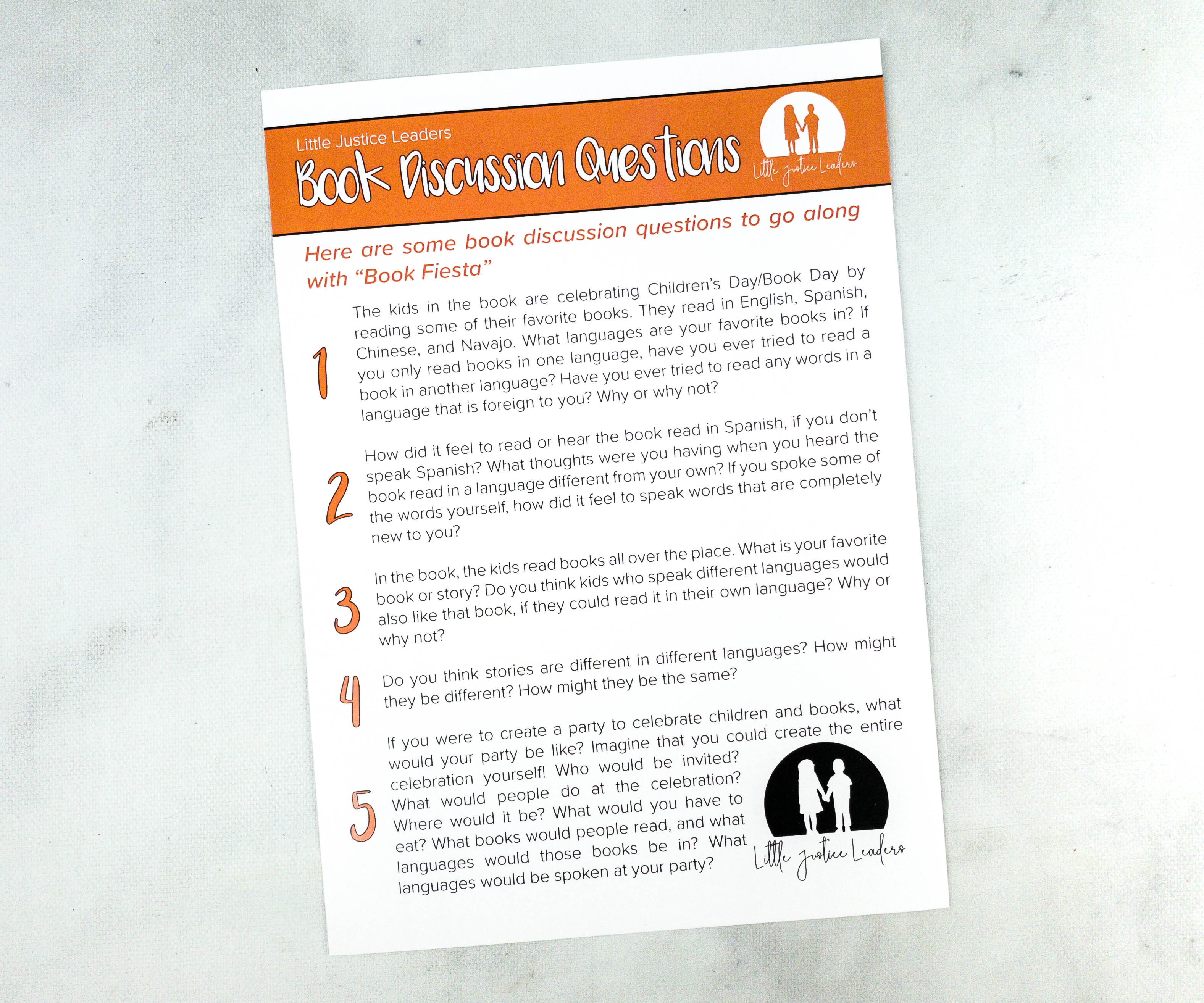 "Book Discussion Questions" card. This card has some book discussion questions to go along with the book we received in this box.
The questions are translated in Spanish on the flipside.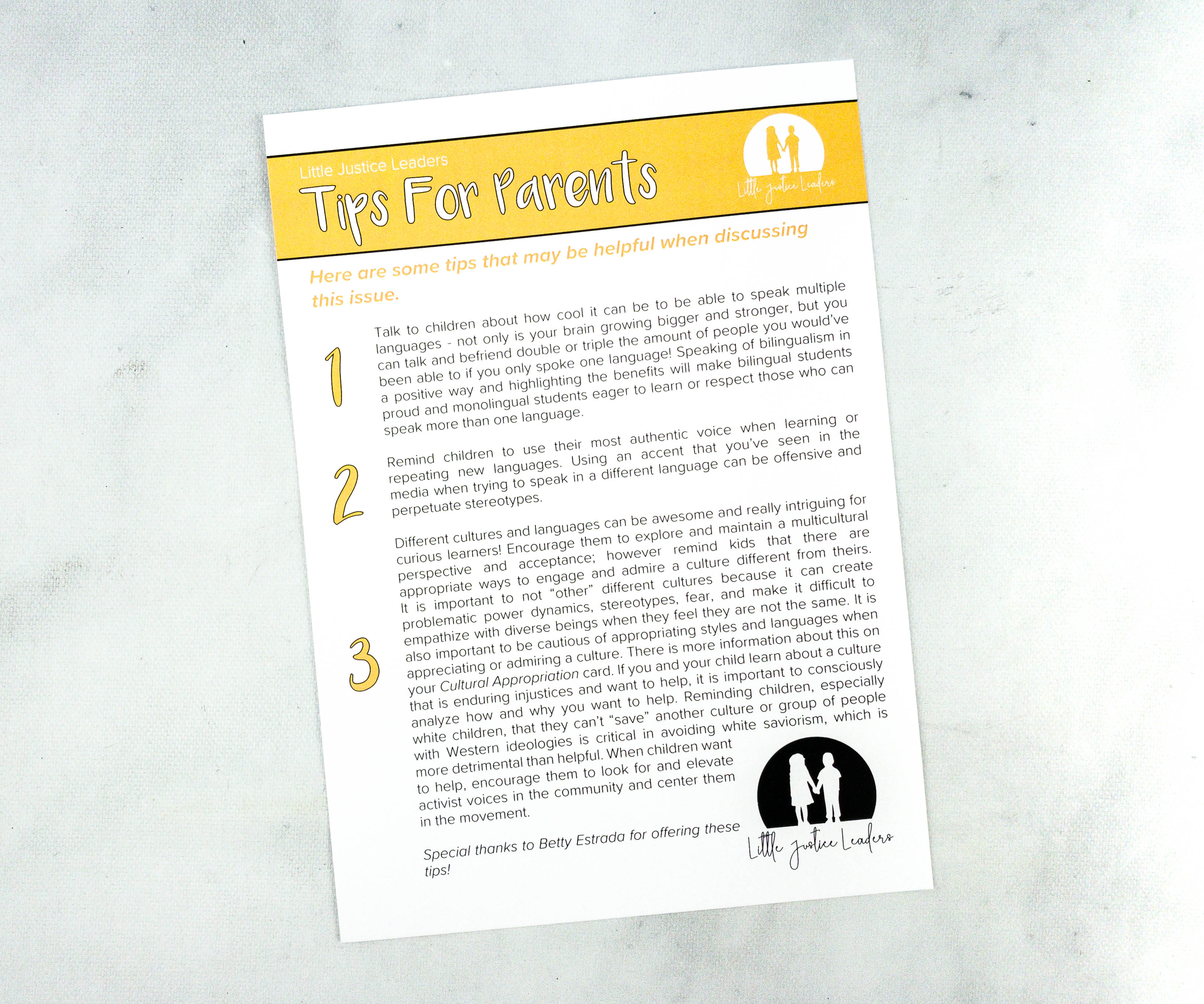 "Tips For Parents" card. There are also tips for parents when discussing the topic with kids!
A Spanish translation for the tips can be found at the back.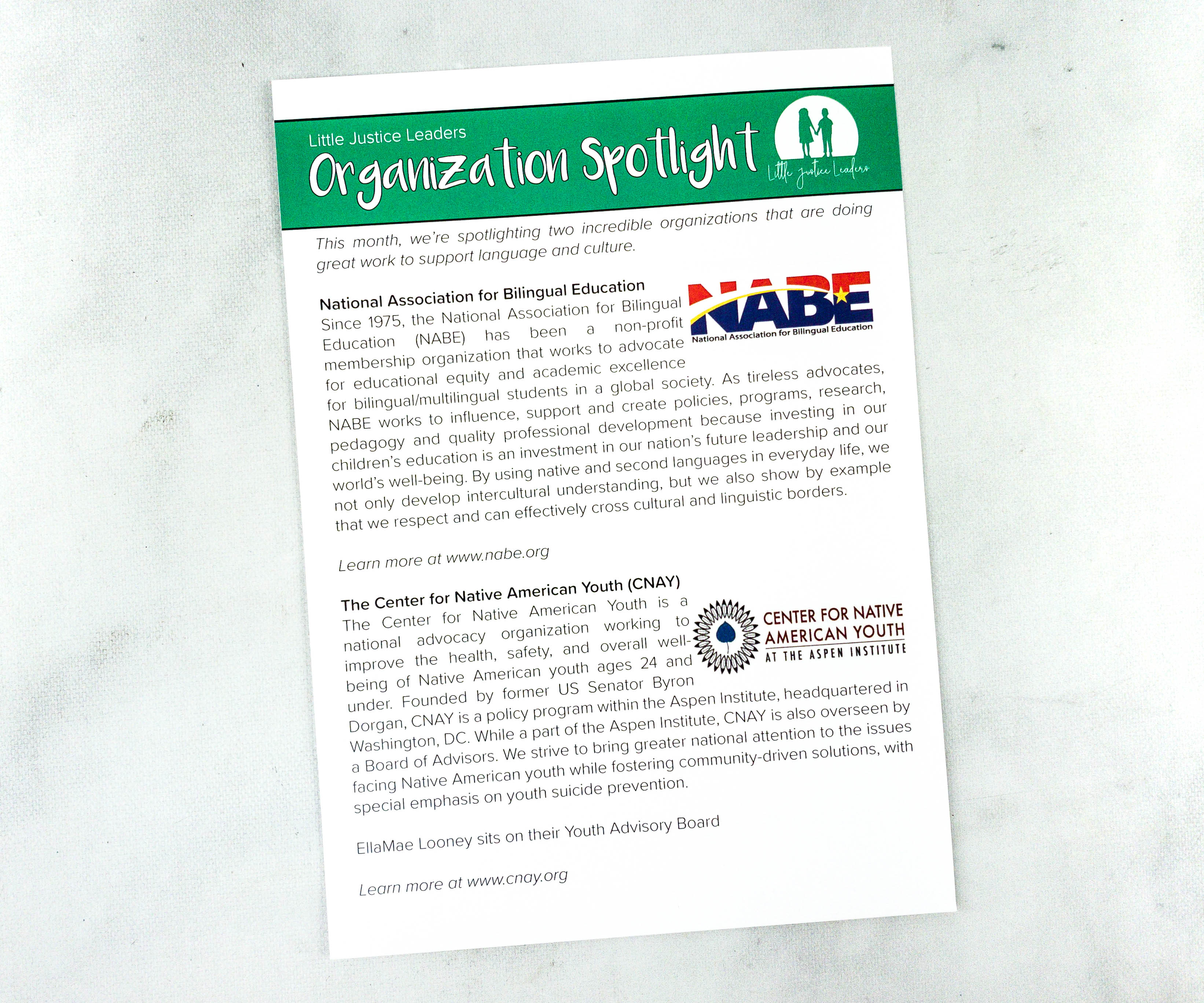 "Organization Spotlight" card. This card features two incredible organizations that are doing great work to support language and culture: National Association for Bilingual Education and The Center for Native American Youth.
It's translated to Spanish at the back as well.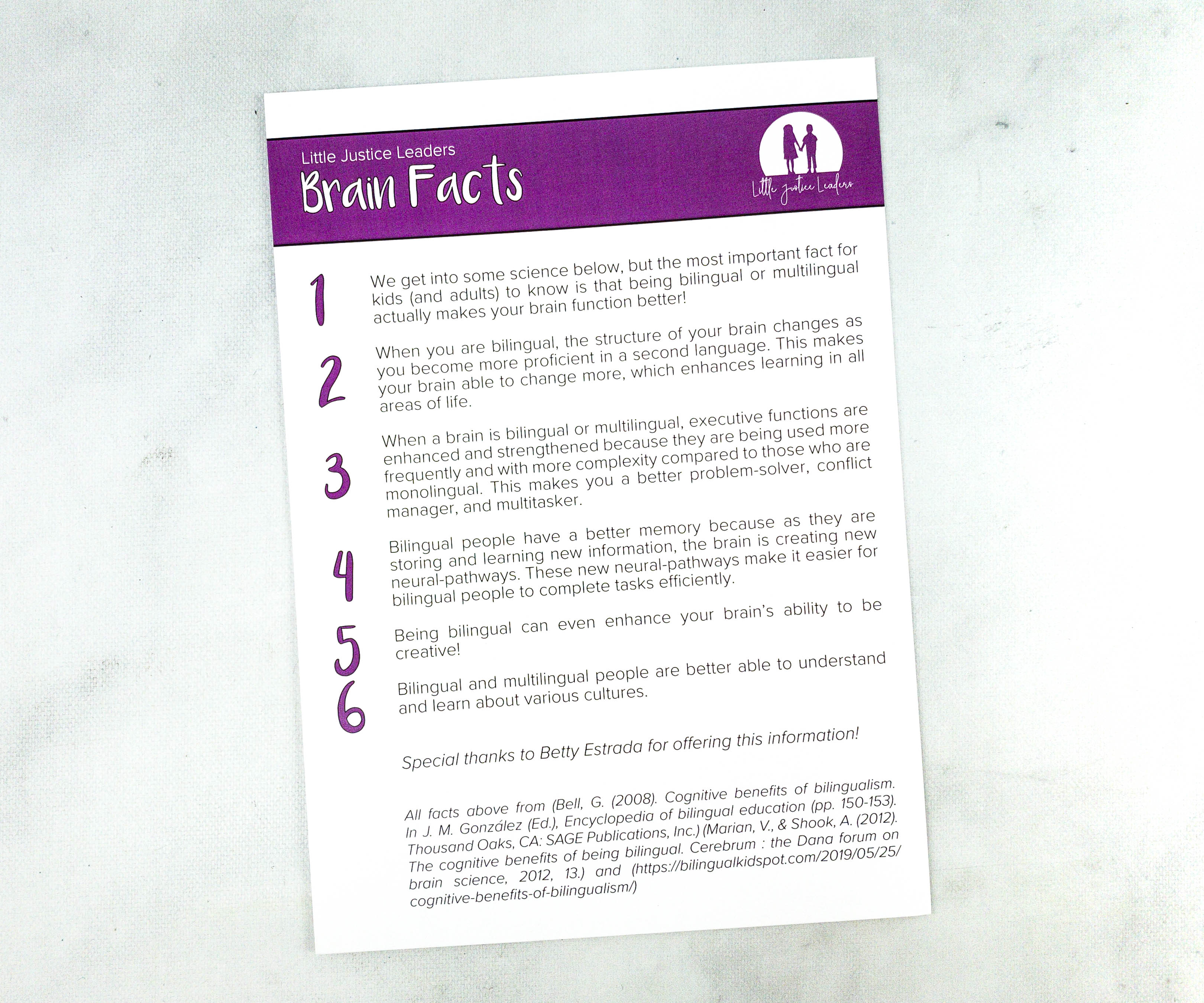 "Brain Facts" card. A lot of things happen to our brain when we are bilingual. This card lists some of them!
Just like the other cards, the brain facts also has a Spanish translation at the back.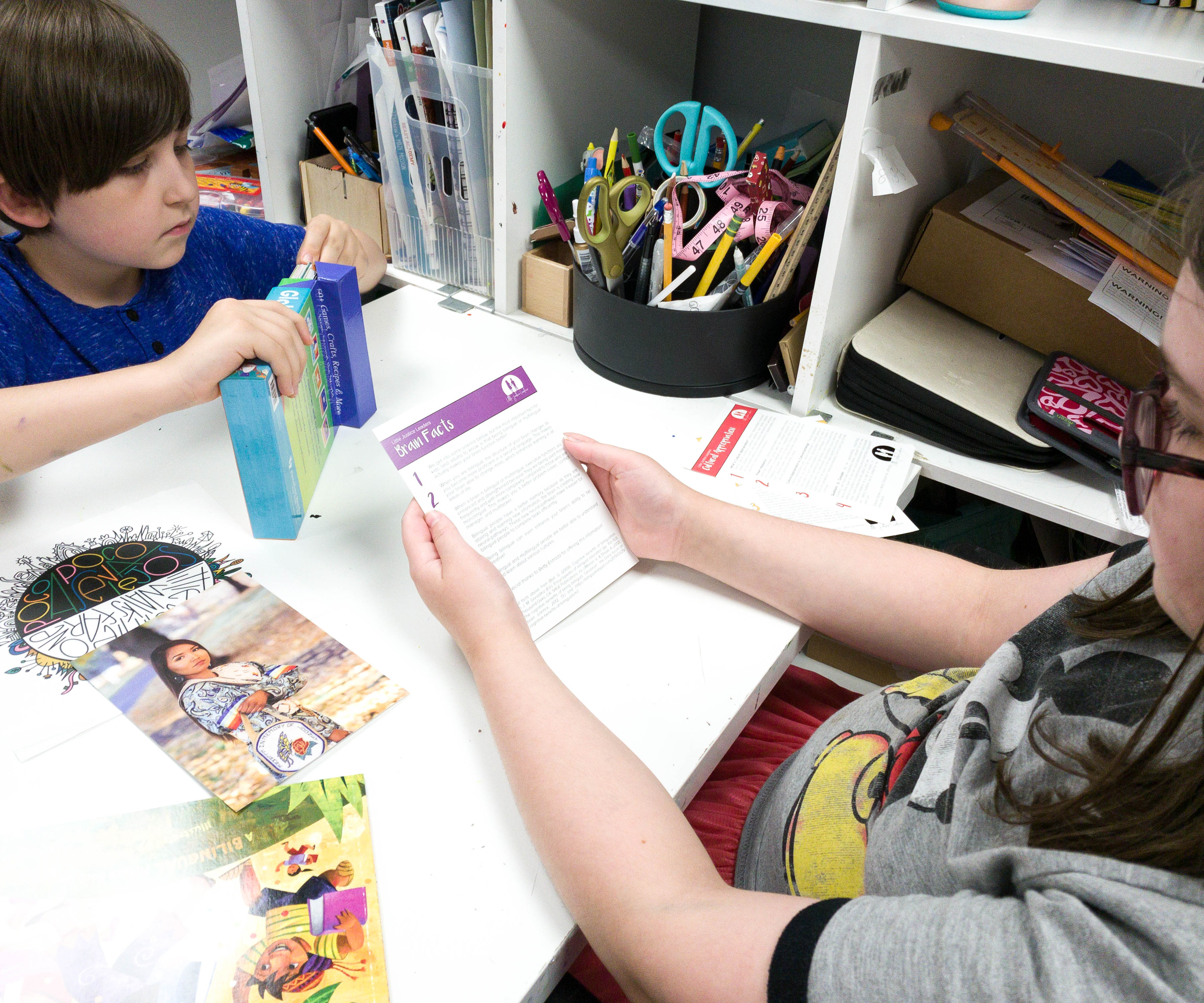 My kids went through the cards and started learning about bilingualism and appreciating language differences!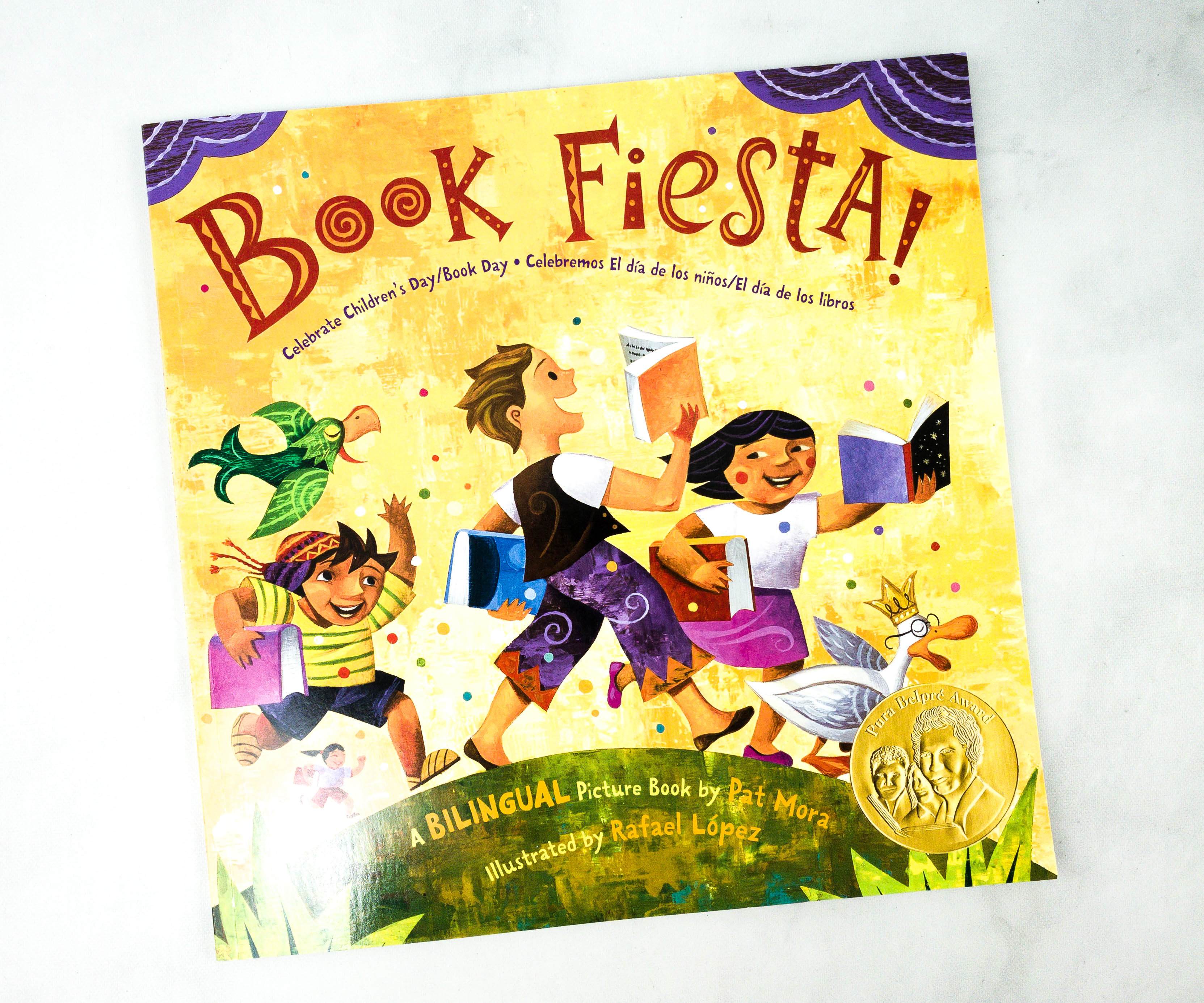 Book Fiesta! Celebrate Children's Day/Book Day by Pat Mora ($6.61)
This Pura Belpré Award–winning picture book is a bilingual ride through the joyous history of Children's Day/El día de los niños.

Children's Day/Book Day; El día de los niños/El día de los libros has been observed on April 30th for over twelve years. Founder Pat Mora's jubilant celebration of this day features imaginative text and lively illustrations by award-winning illustrator Rafael López that will turn this bilingual fiesta into a hit for story time! Toon! Toon!

The book includes a letter from the author and suggestions for celebrating Children's Day /El día de los niños.
According to the back of the book, the author will donate a part of the earnings for this book to literacy initiatives related to Children's Day/ Book Day.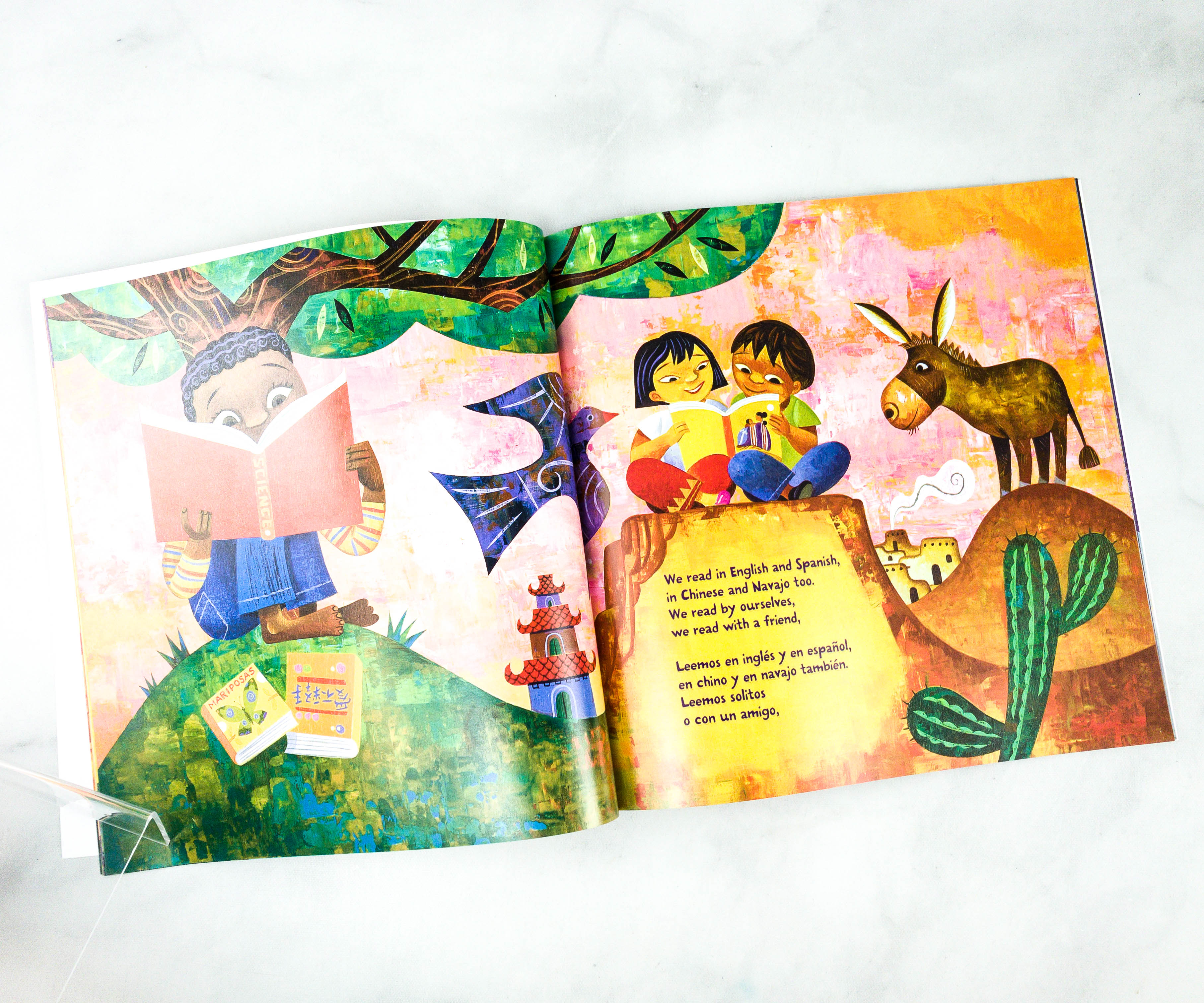 I like that they kept the words to a minimum on each page. It makes it easier for children to focus.
My kids also love the artwork in this book! It has colorful illustrations to go along with the context.
My kids really love the artwork in this book!
Notebook. We also received a plain spiral notebook in the box. It's really simple except for its red spring binder!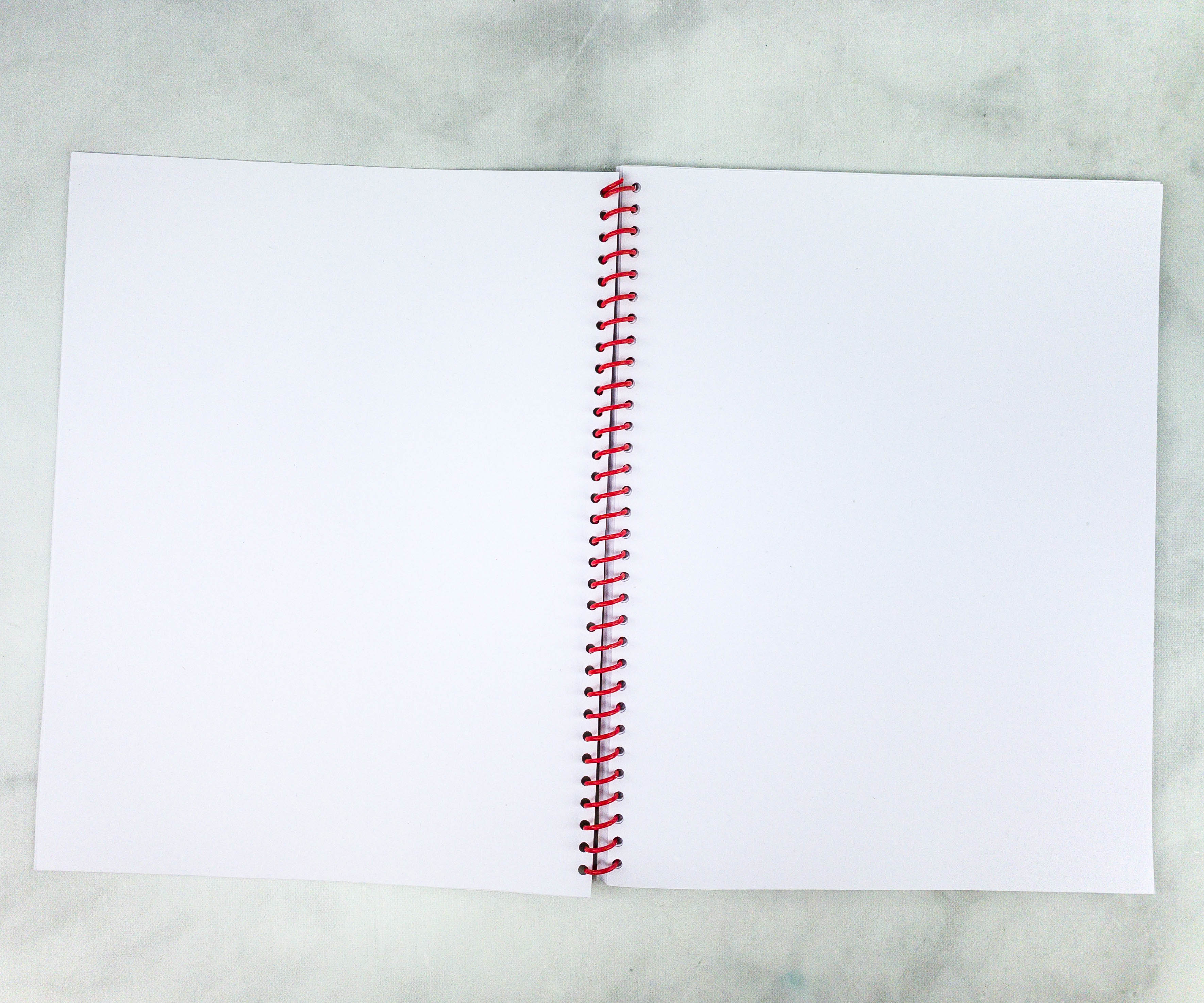 The kids can use this spiral notebook to express their feelings about this month's topic!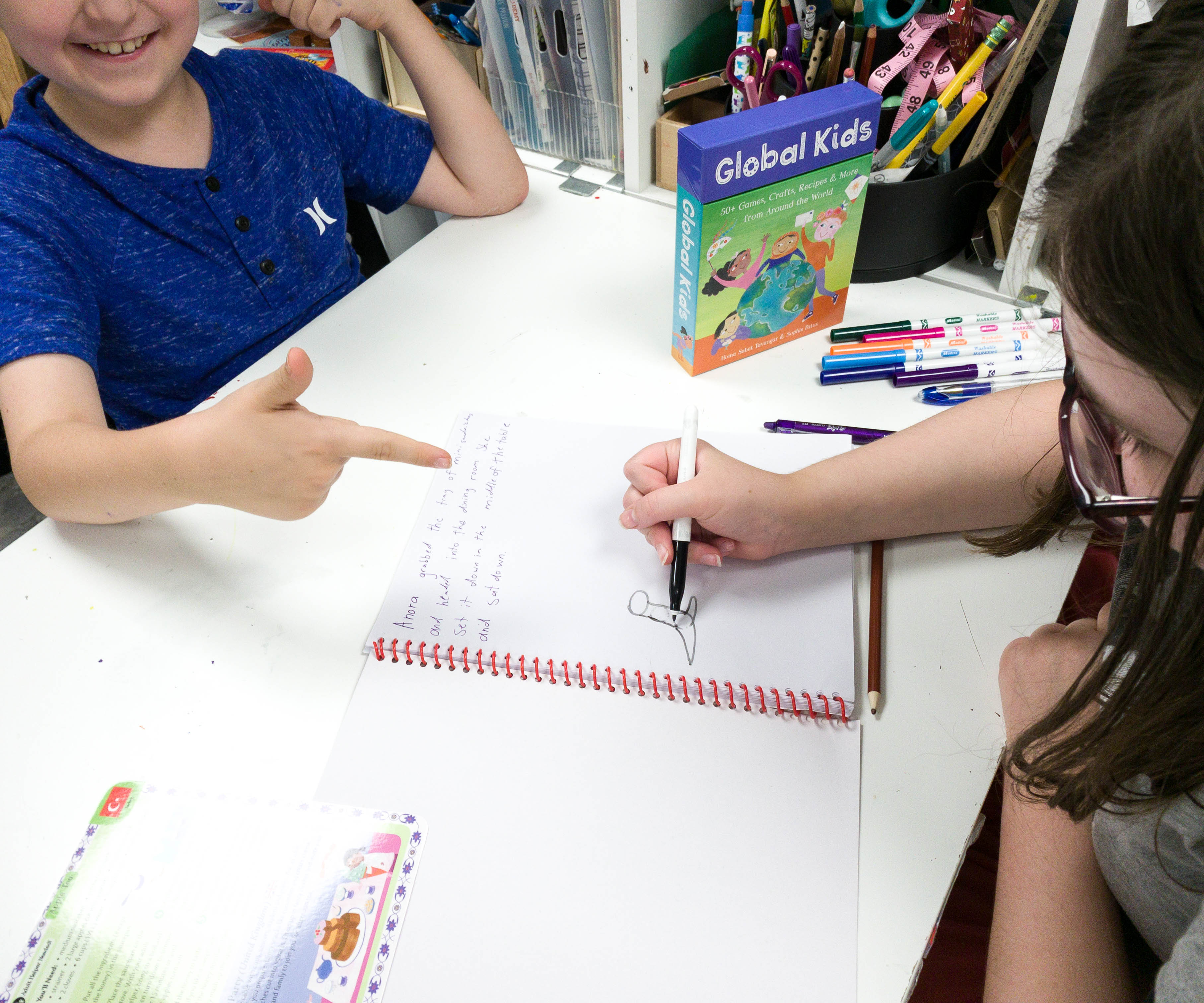 My kids have a lot of ideas about what to put in this notebook! My daughter started by writing a few sentences and then drawing using markers!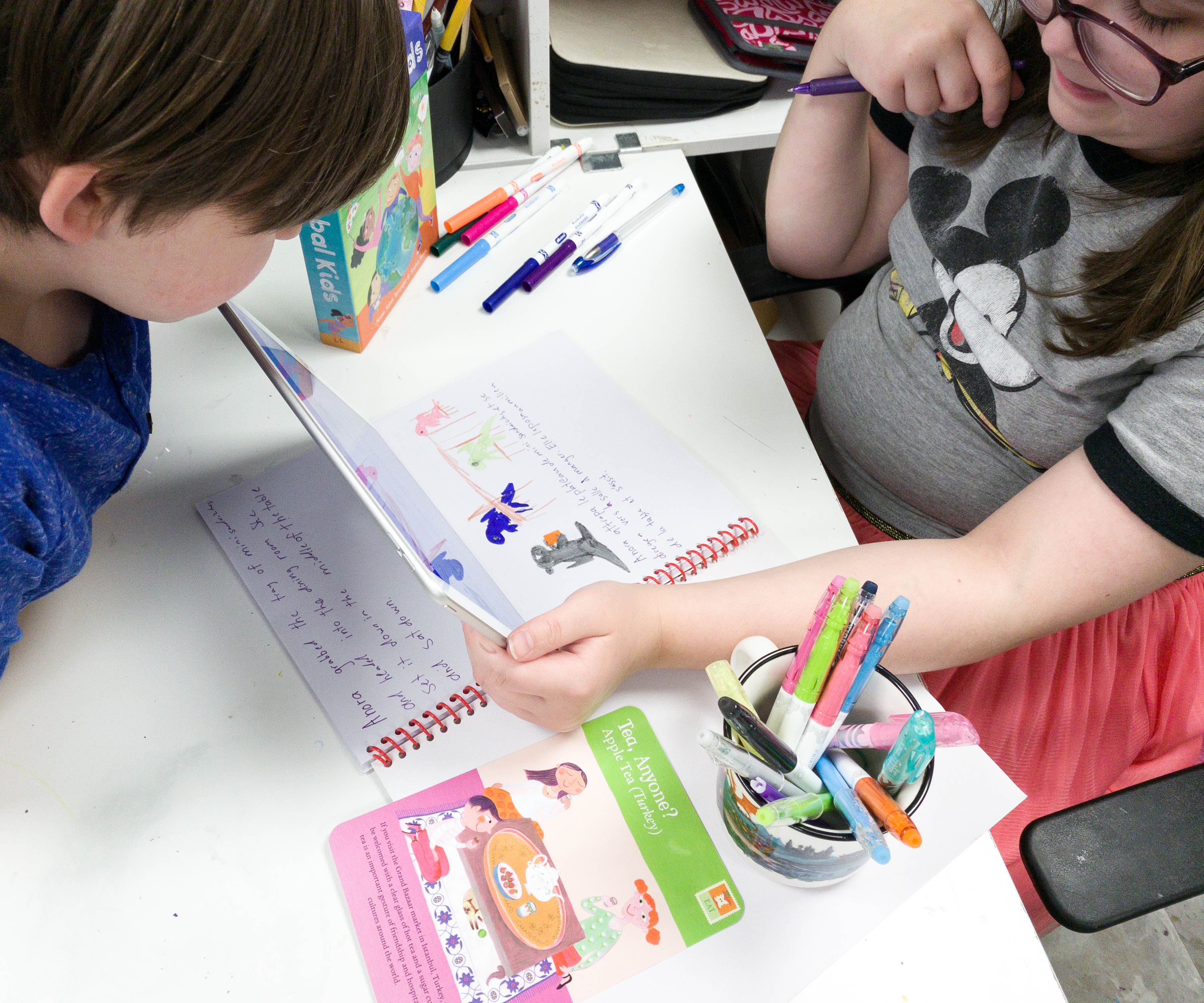 My daughter also translated her writing in French!
Global Kids: 50+ Games, Crafts, Recipes & More from Around the World (Multilingual Edition) by Homa Sabet ($13.15)
Joining bestselling Mindful Kids and Yoga Pretzels, Global Kids expands the scope of Barefoots innovative activity card decks by inviting children to participate in 50+ crafts, food, games, festivals and community service activities from around the world.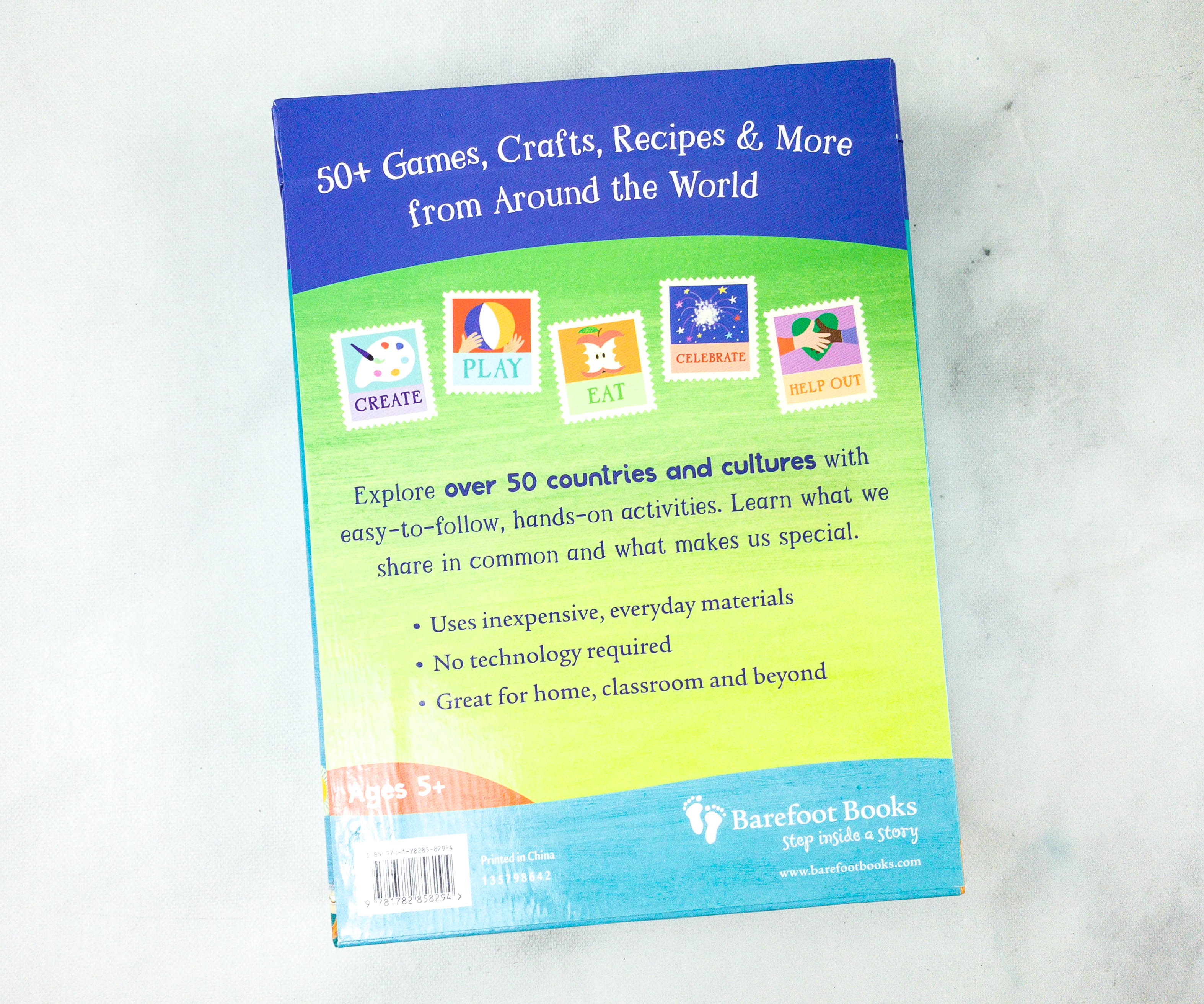 In line with this month's theme, this kit introduces kids to over 50 countries and cultures through fun activities. It's ideal home and classroom use!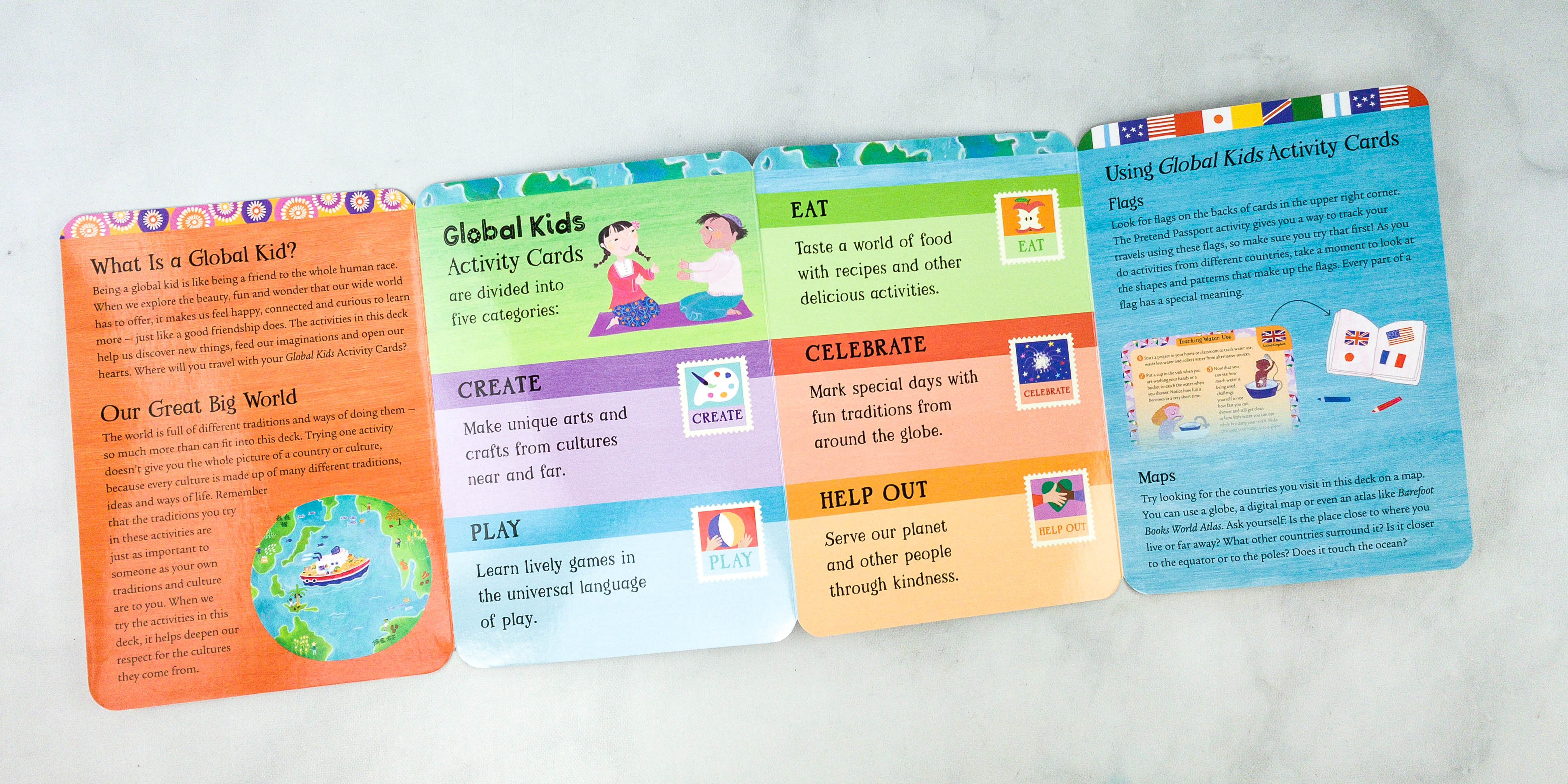 There's a pamphlet that explains what being a Global Kid is all about, and how to use the materials in this kit.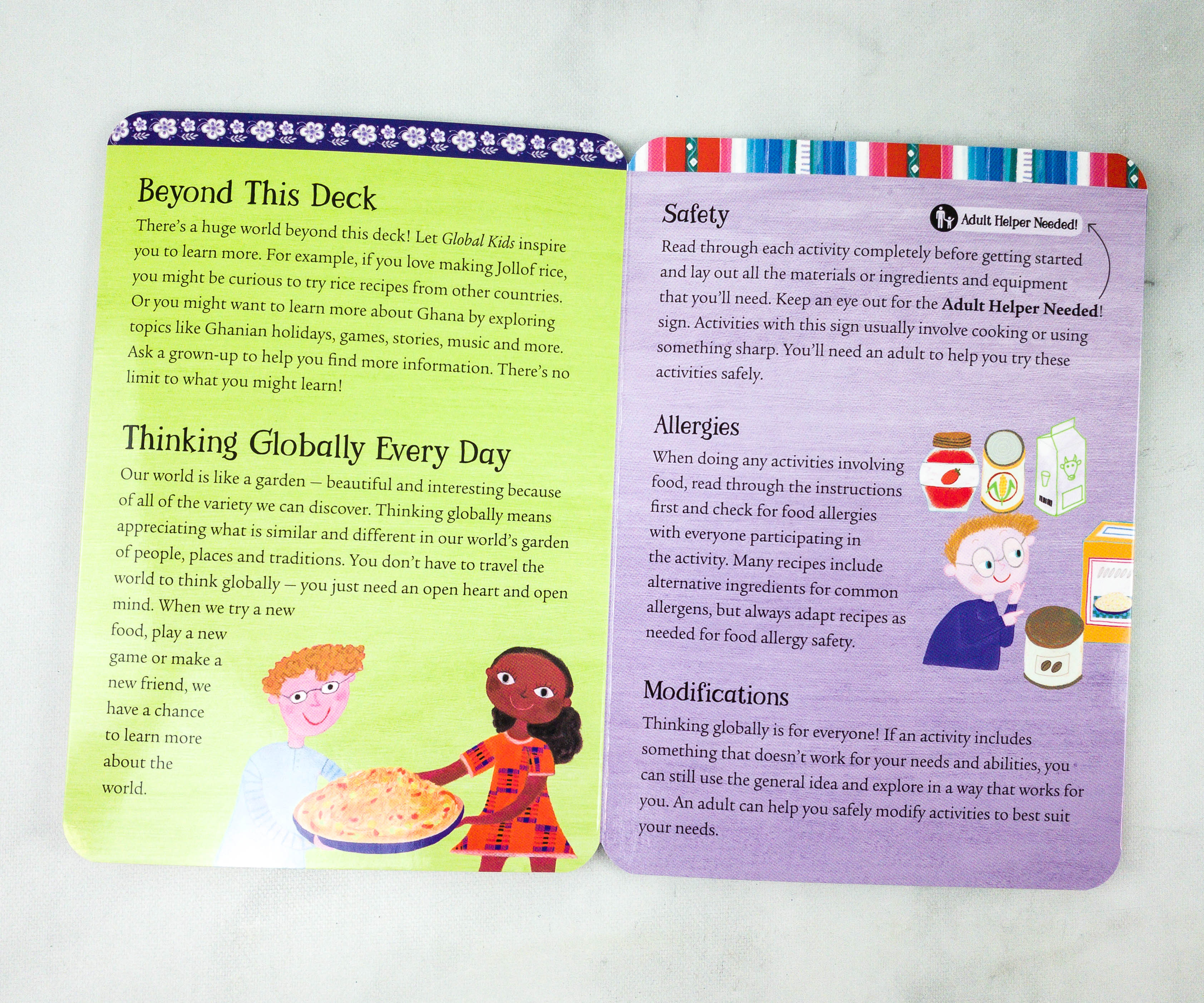 At the back, there's more information about the kit and how kids can learn beyond what's on the cards!
The first category of cards is all about making unique arts and crafts from other cultures!
Instructions are available at the back of the cards. The flags located at the top right tell us what country the activity is from!
The second set of activity cards involves games from all over the world!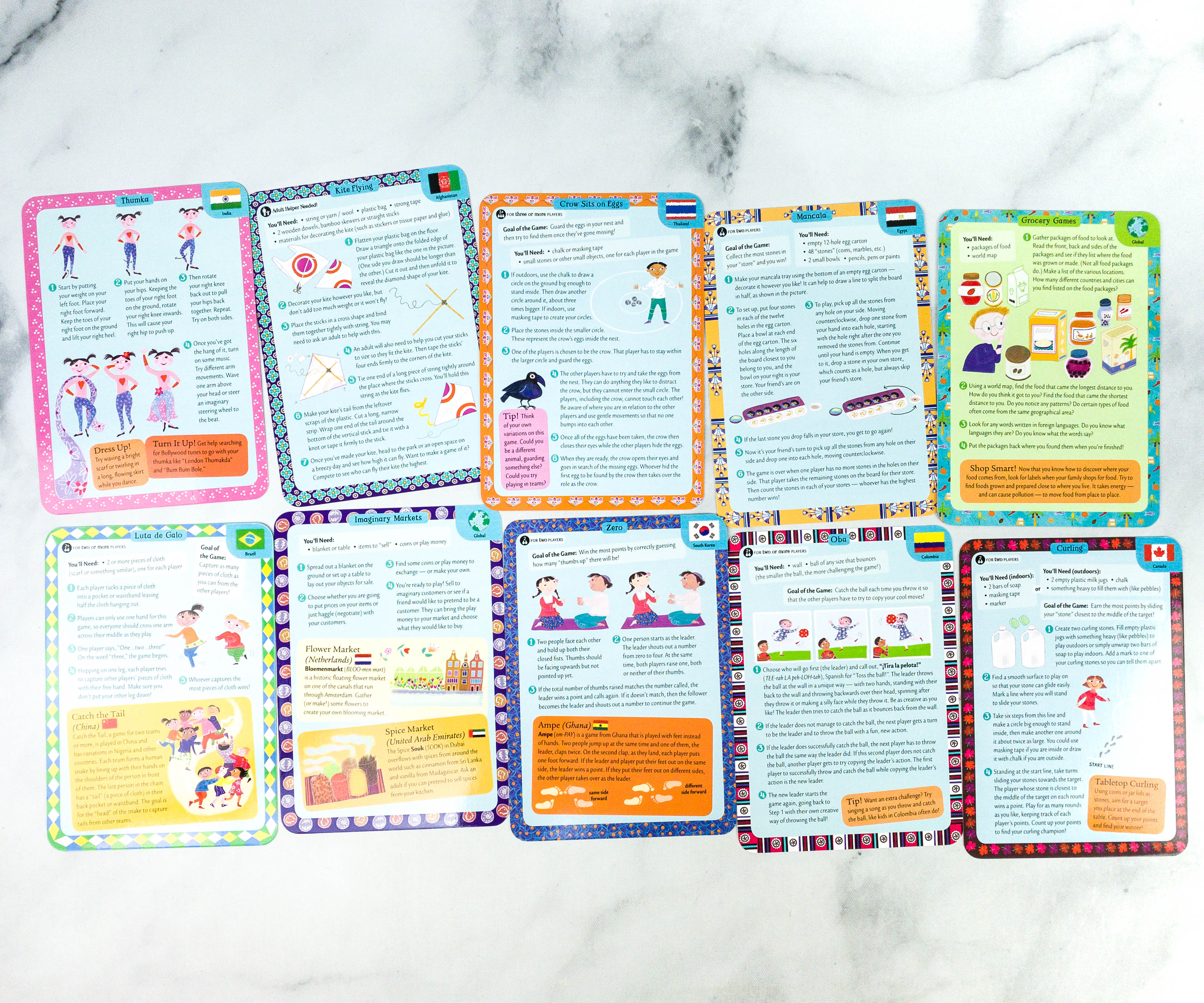 The instructions and rules for each game are provided, as well as a list of the materials needed.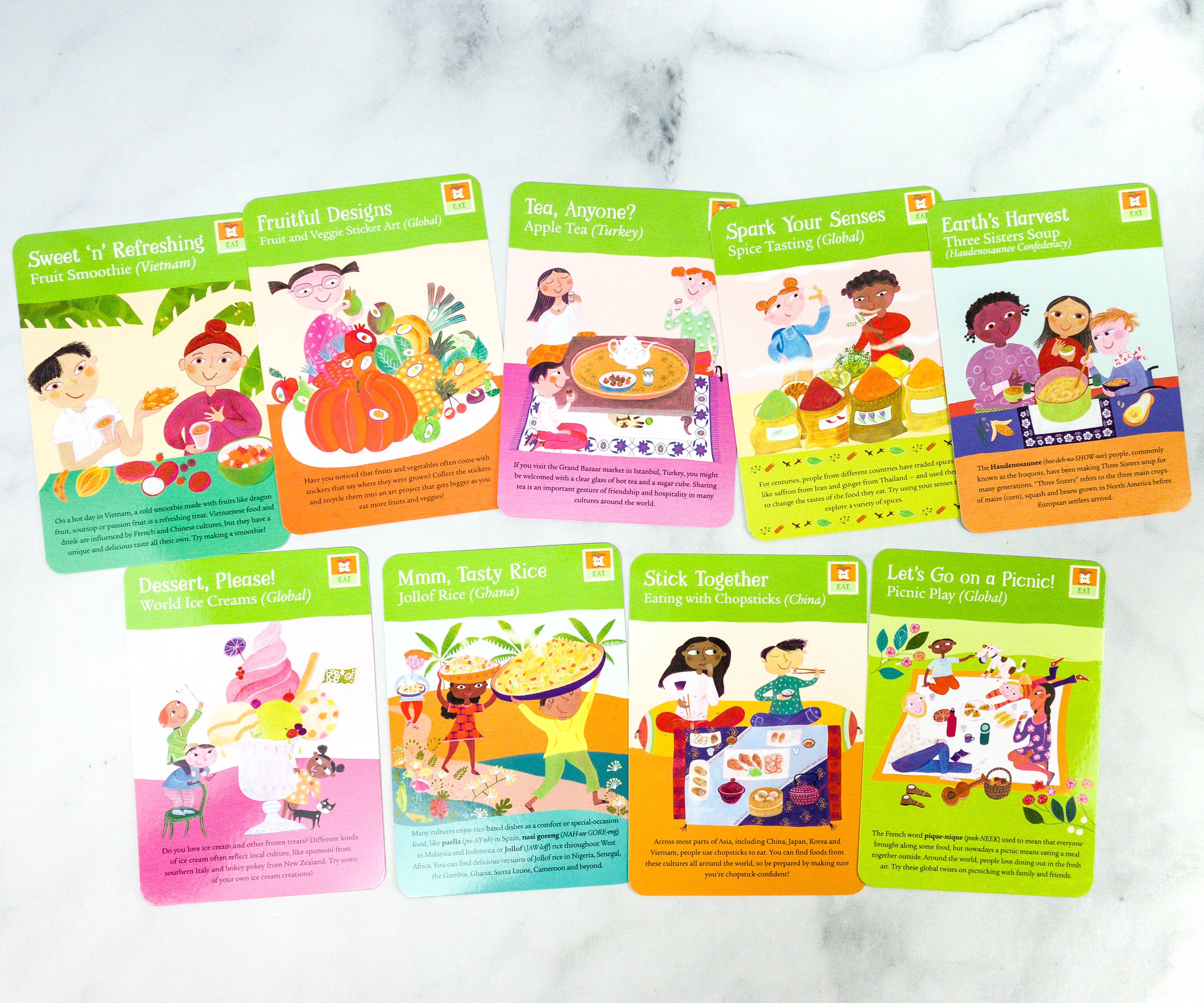 We go on a tasty adventure with different recipes from our third set of cards!
At the back of each card, you will find an ingredient list and easy to follow instructions. There are also other food-related activities such as table setting and making fruit and veggie sticker art.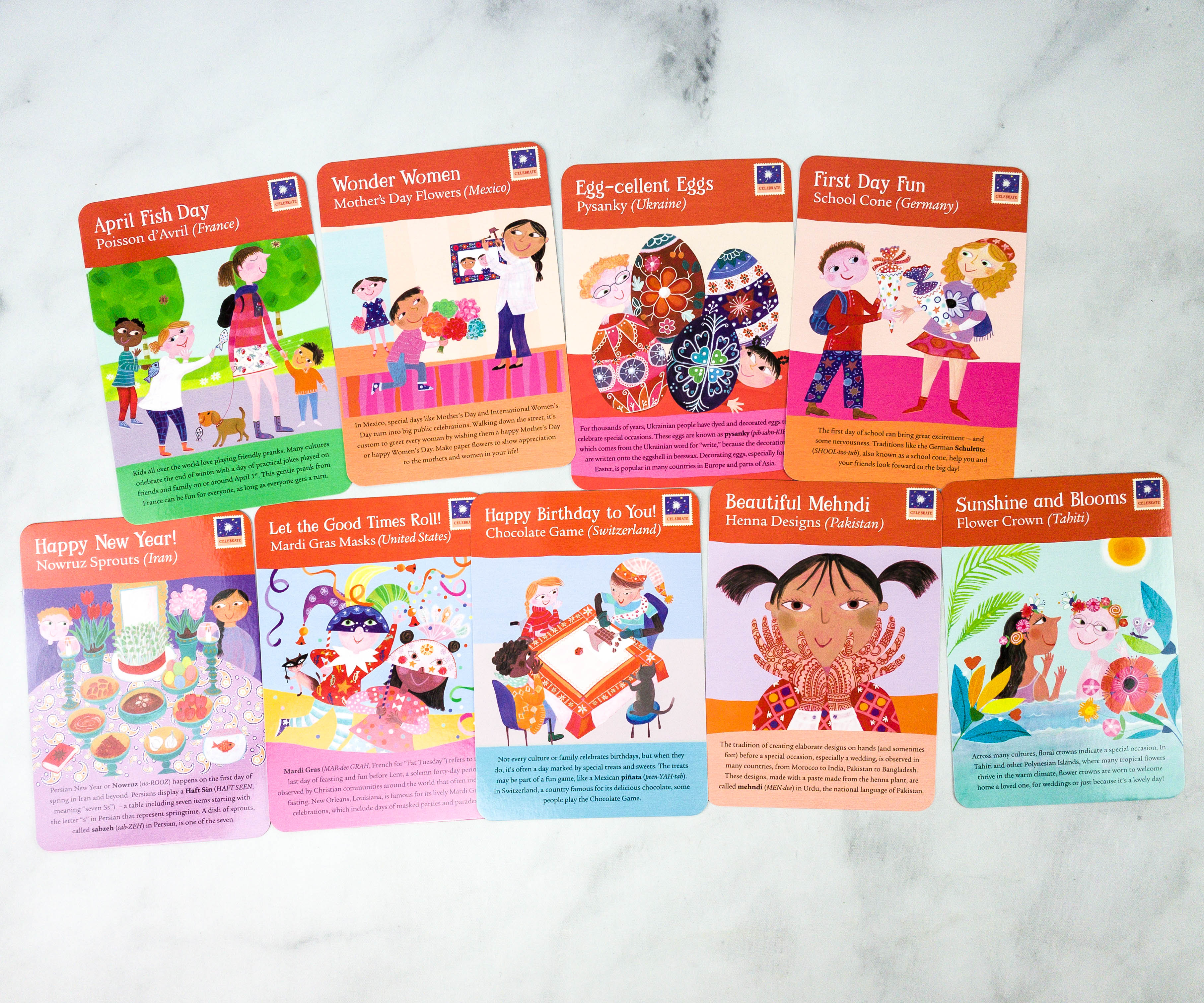 The next set of cards is about celebrations and traditions in different countries!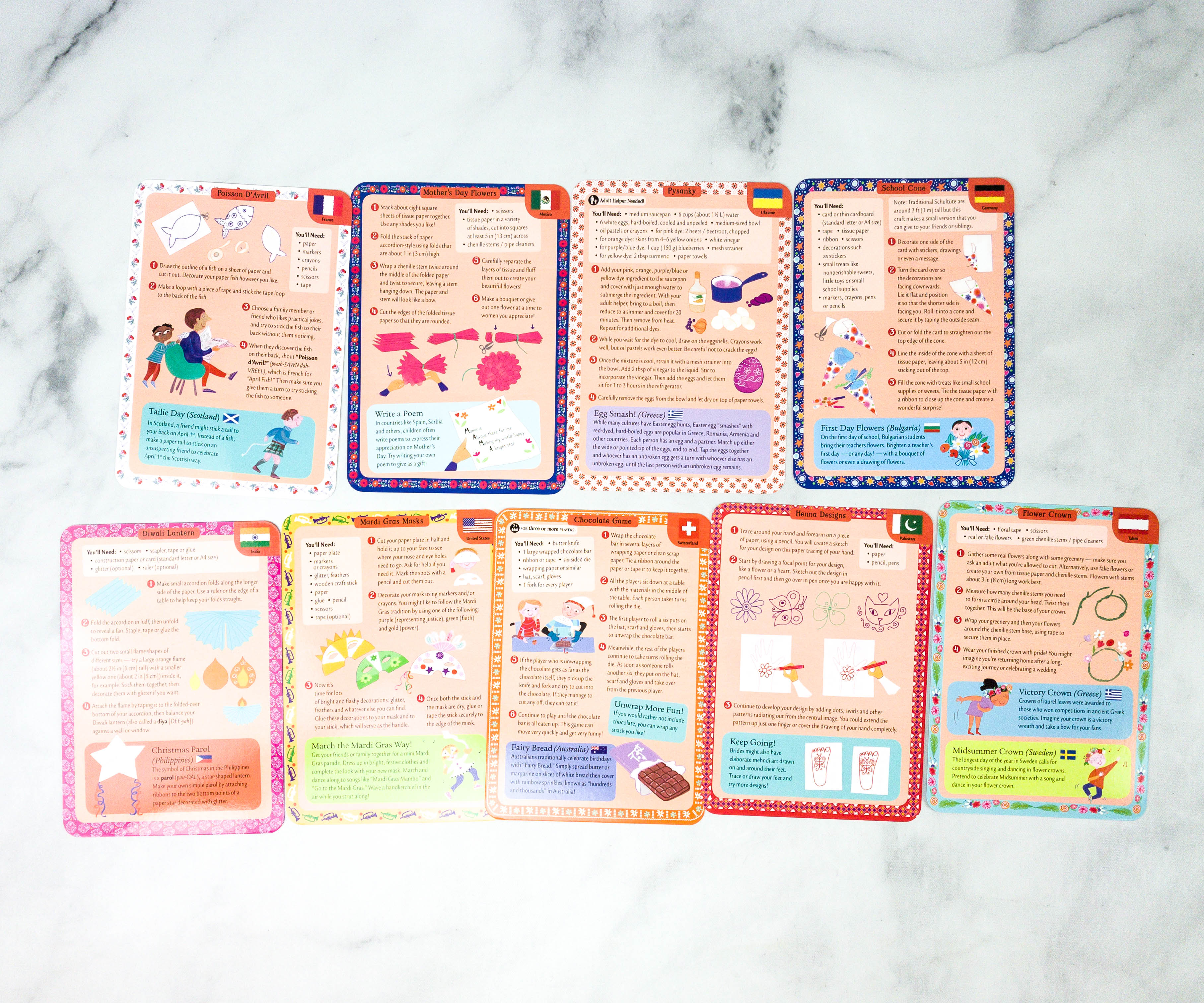 With simple materials and help from parents, kids can easily re-enact a part of every celebration!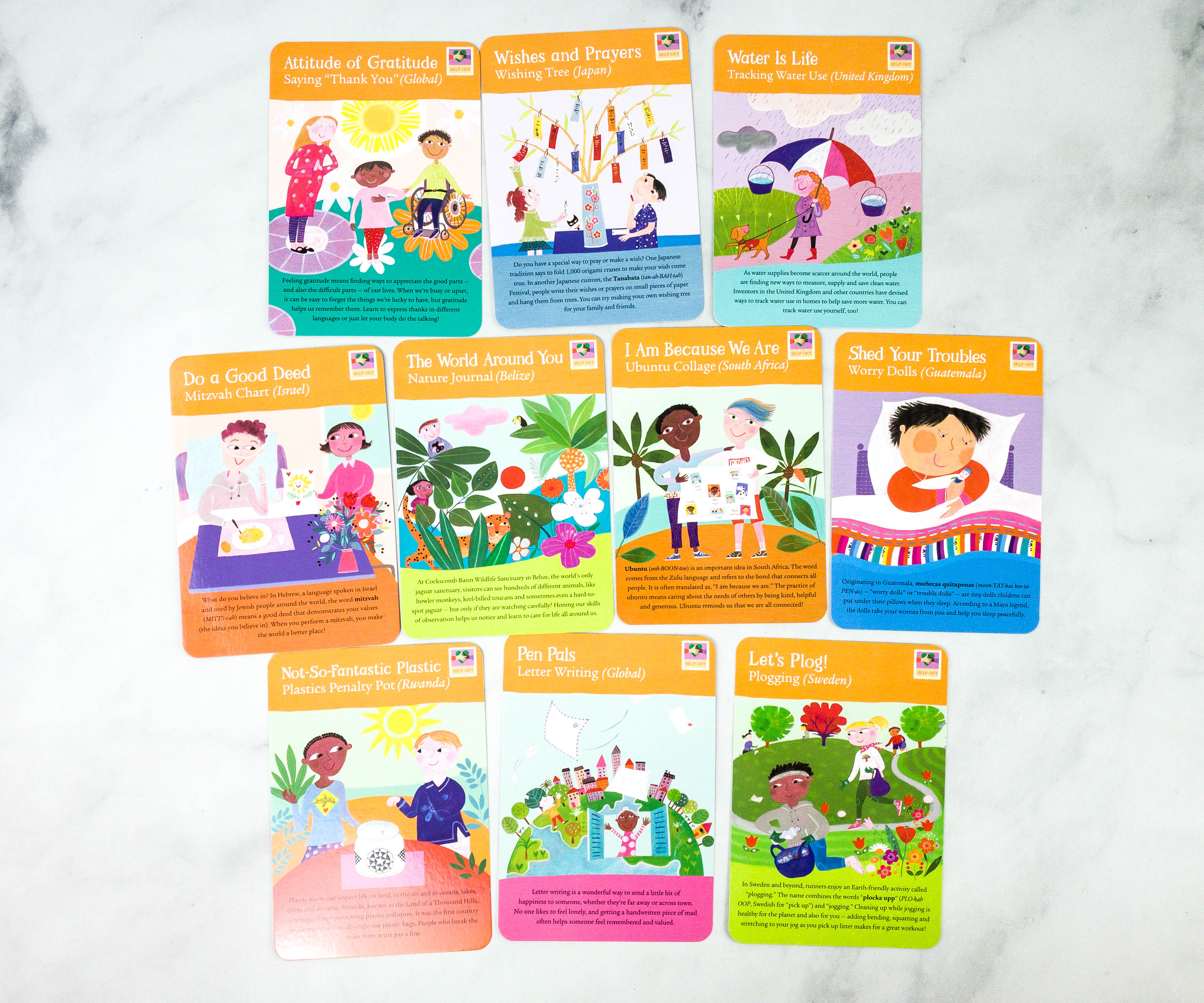 The last set of cards teaches kids about ways on how to serve our planet and other people through kindness!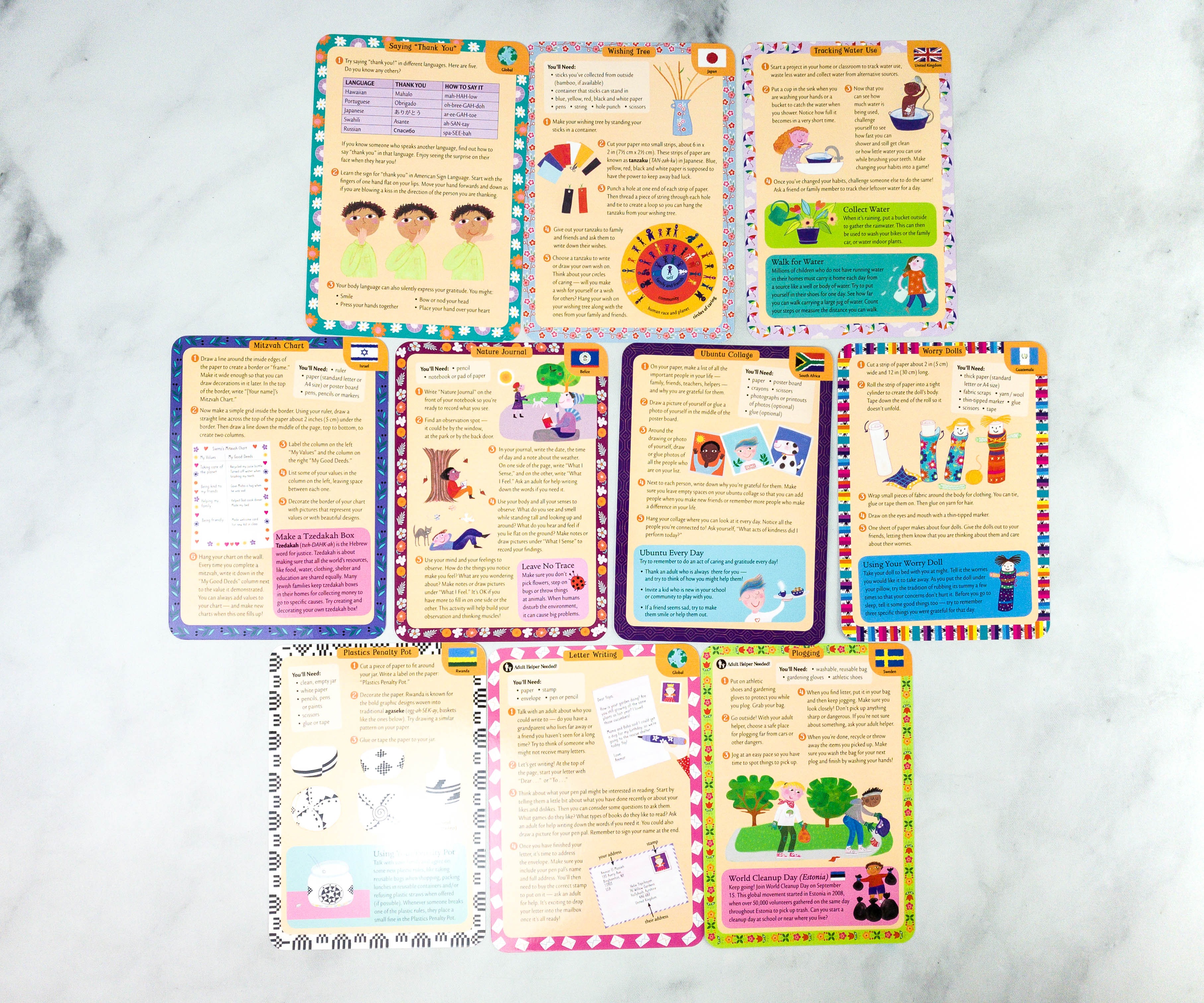 Every simple task on each card is like a step that aims to help build a better world!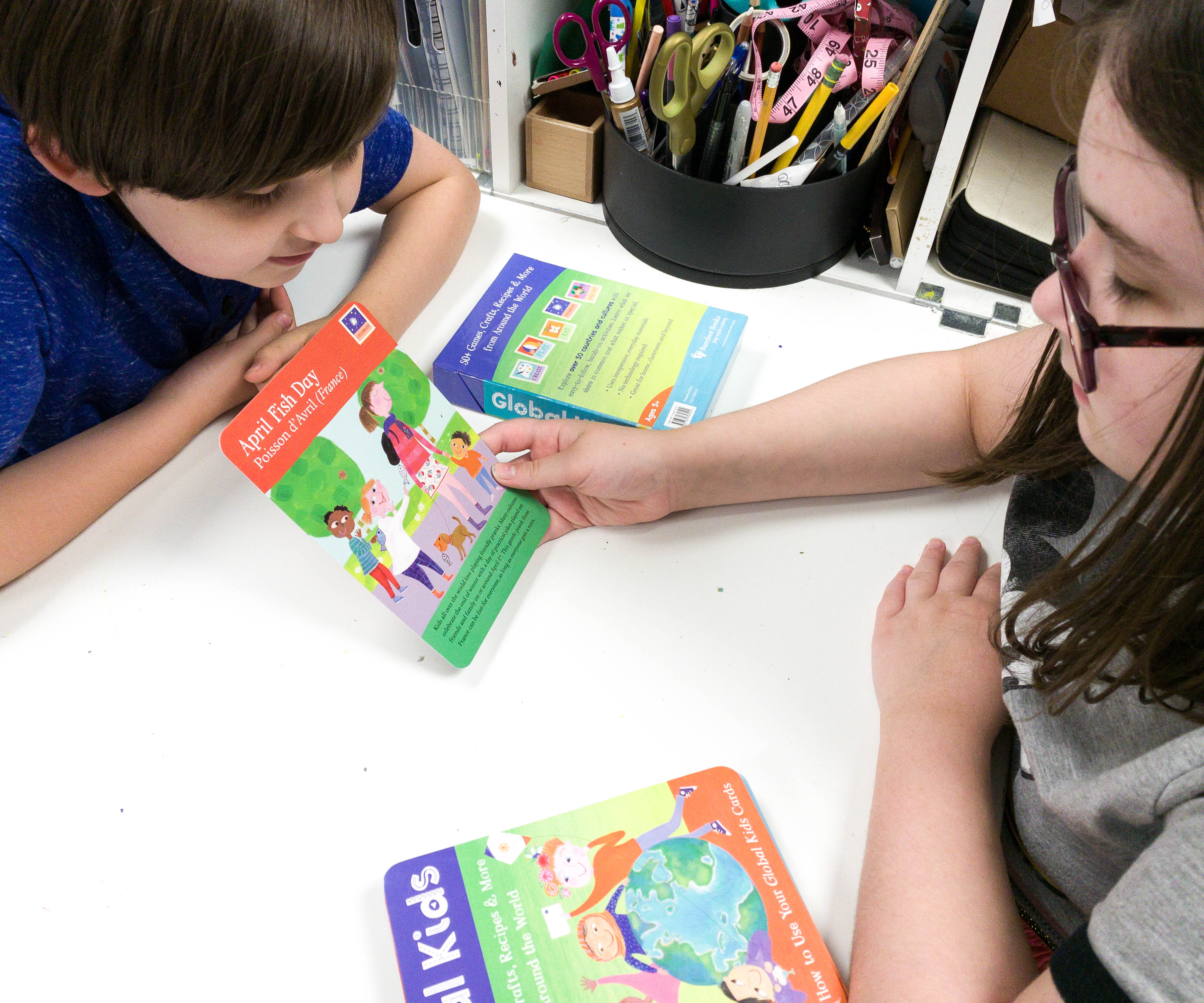 They discussed the cards and they were so happy to learn new things about different cultures! We have these at our dinner table now for quick discussions and family time crafts!
Little Justice Leaders is a great activity subscription for kids, especially when they're starting to be aware of the world around them. This box provides kid-friendly explanations of various issues, which are always coupled with fun activities that make learning so much fun. This month, there are activity cards, a book, and even coloring materials, and my kids enjoyed all of them. They learned that being bilingual is a great thing and how respecting each other's cultural differences makes the world a better place. The values that they learn from this box is truly priceless! We highly recommend this subscription for kids who are learning from home and for parents who want to teach their kids about social justice!
What do you think of this month's box?