Israel Pack is a monthly subscription box with unique products from Israel handmade by local farmers and artisans. Each month you will receive 6-8 full-sized products such as tea, honey, olives, soap, home decor, or snacks. The subscription box is family-friendly and aims to promote a learning of the culture and history of Israel while giving back to the local farmers and artisans who make the products included in the box. Israel Pack is $99 a month and includes free worldwide shipping!
Learn about Israel's history & culture and acquaint your children with the Holy Land
We believe that engaging with the world of Jewish arts, crafts and cuisine is the best way to learn about the Holy Land and to pass on the traditions to future generations.
DEAL: Get 35% off of your first box! Use coupon code GET35.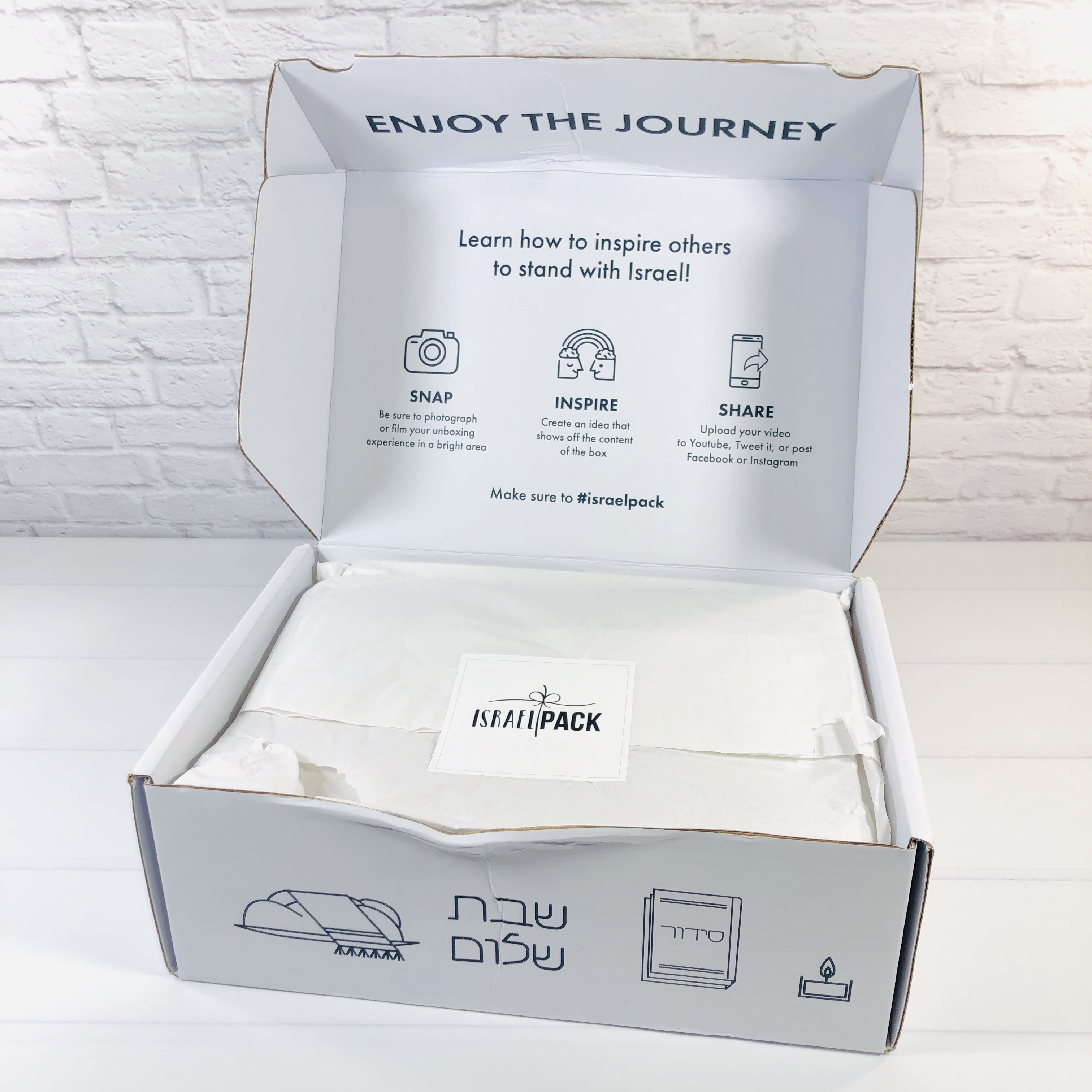 My box shipped direct from Tel Aviv!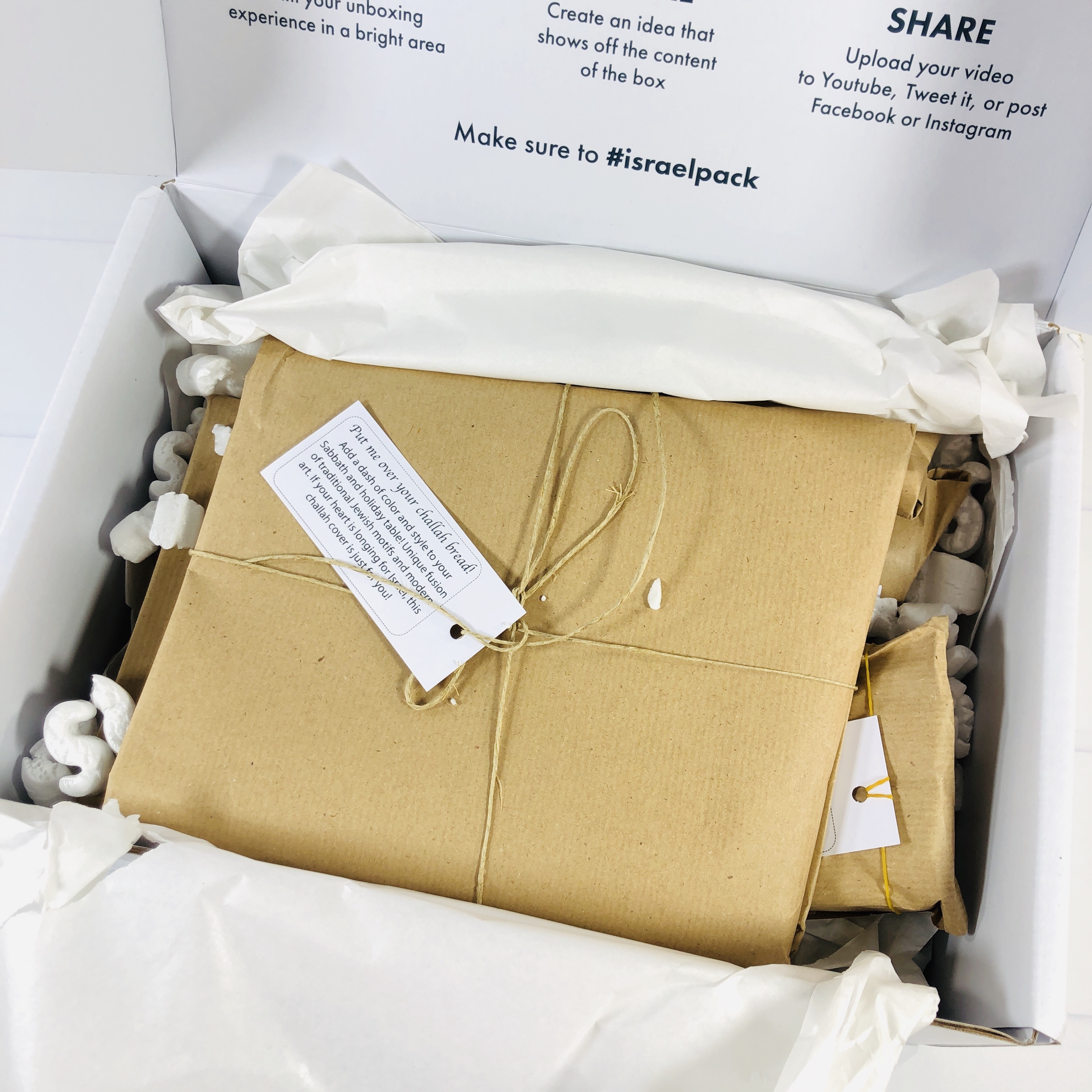 My items were wrapped in tissue paper and sealed with a sticker. The items were cushioned with styrofoam packing peanuts.
Everything's wrapped individually so it's like opening a box of presents!
The theme this month is Israeli Hospitality!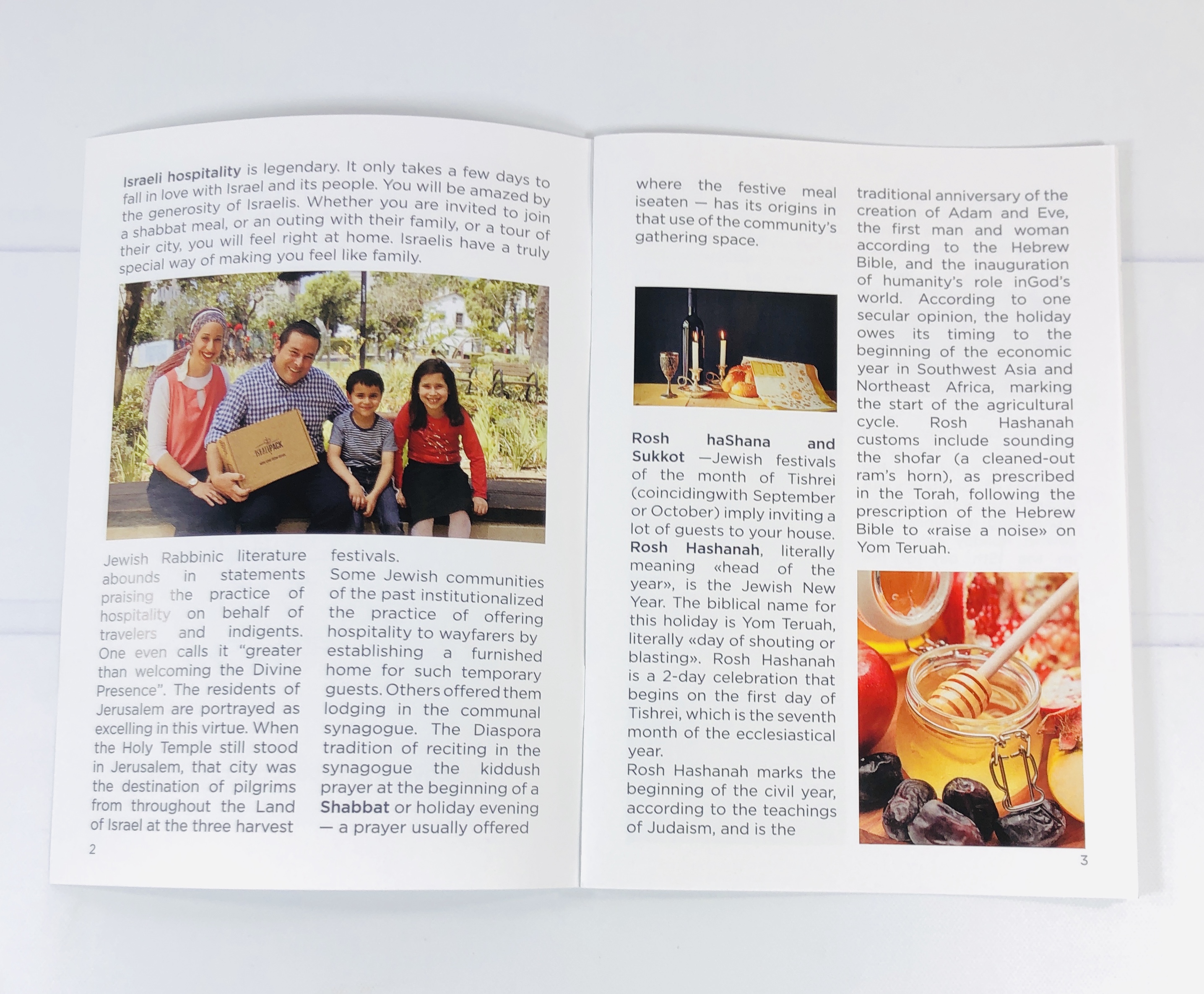 The catalog discussed the items and makers featured in this box. I would encourage you to read their stories here, and I will describe my experience with their products below.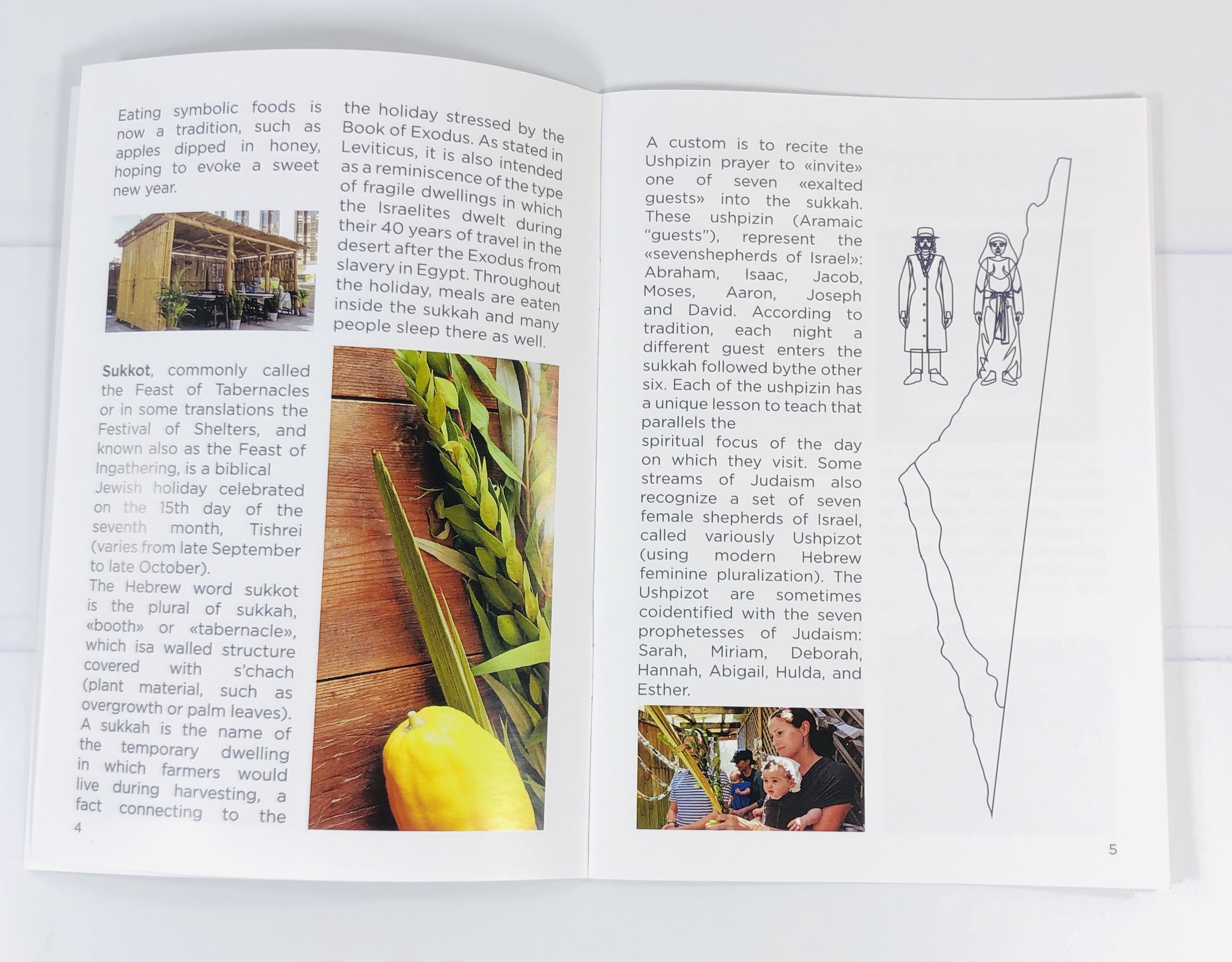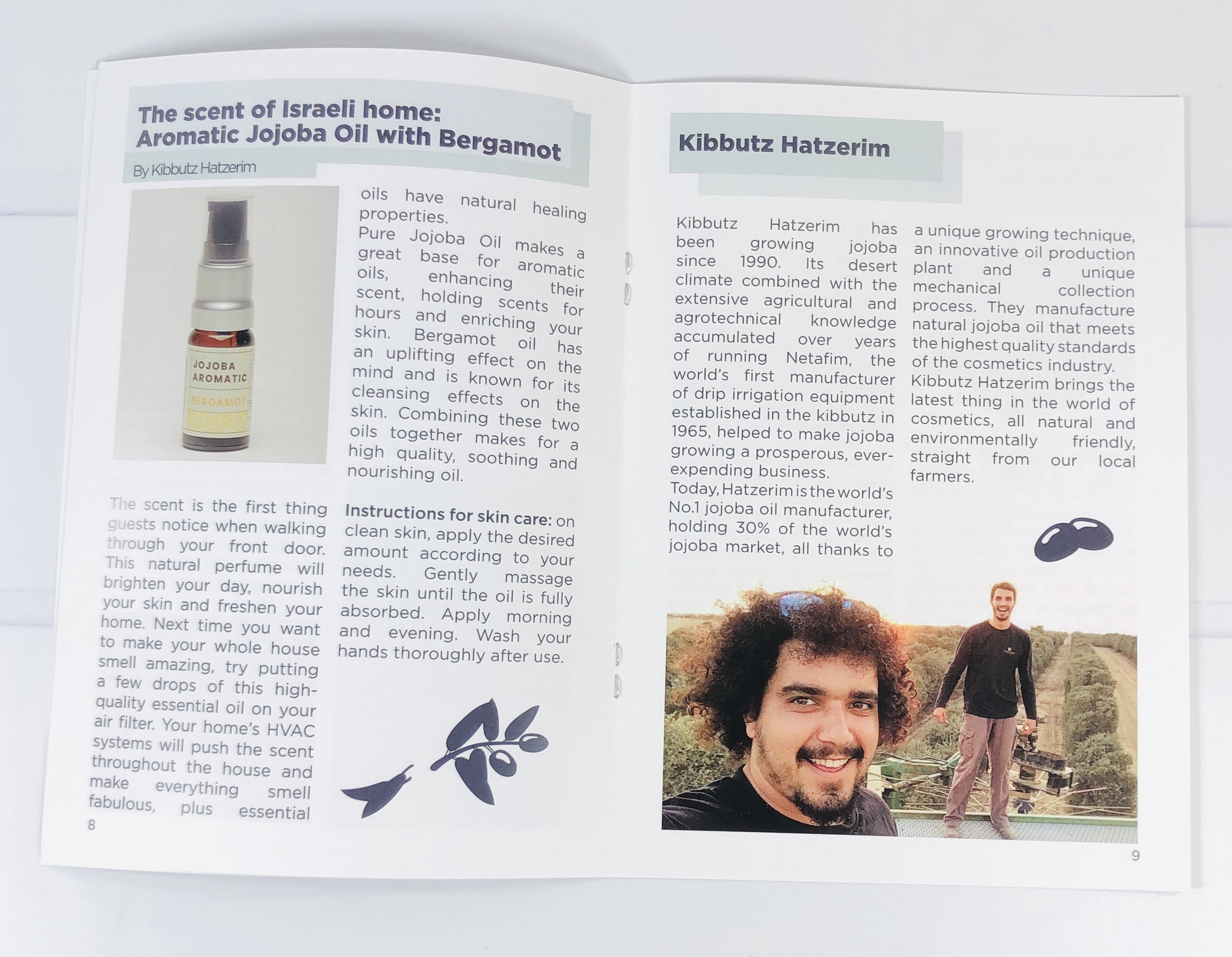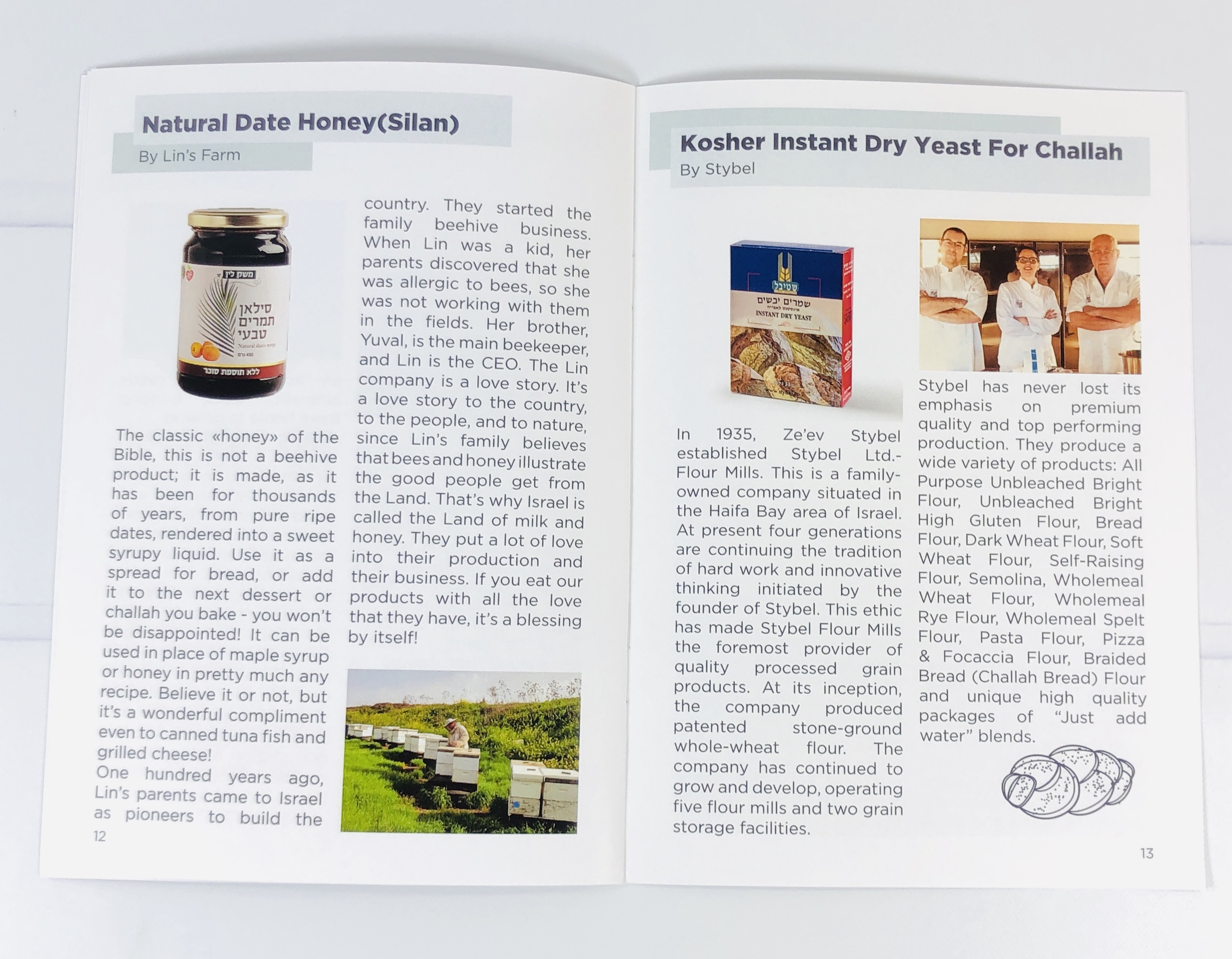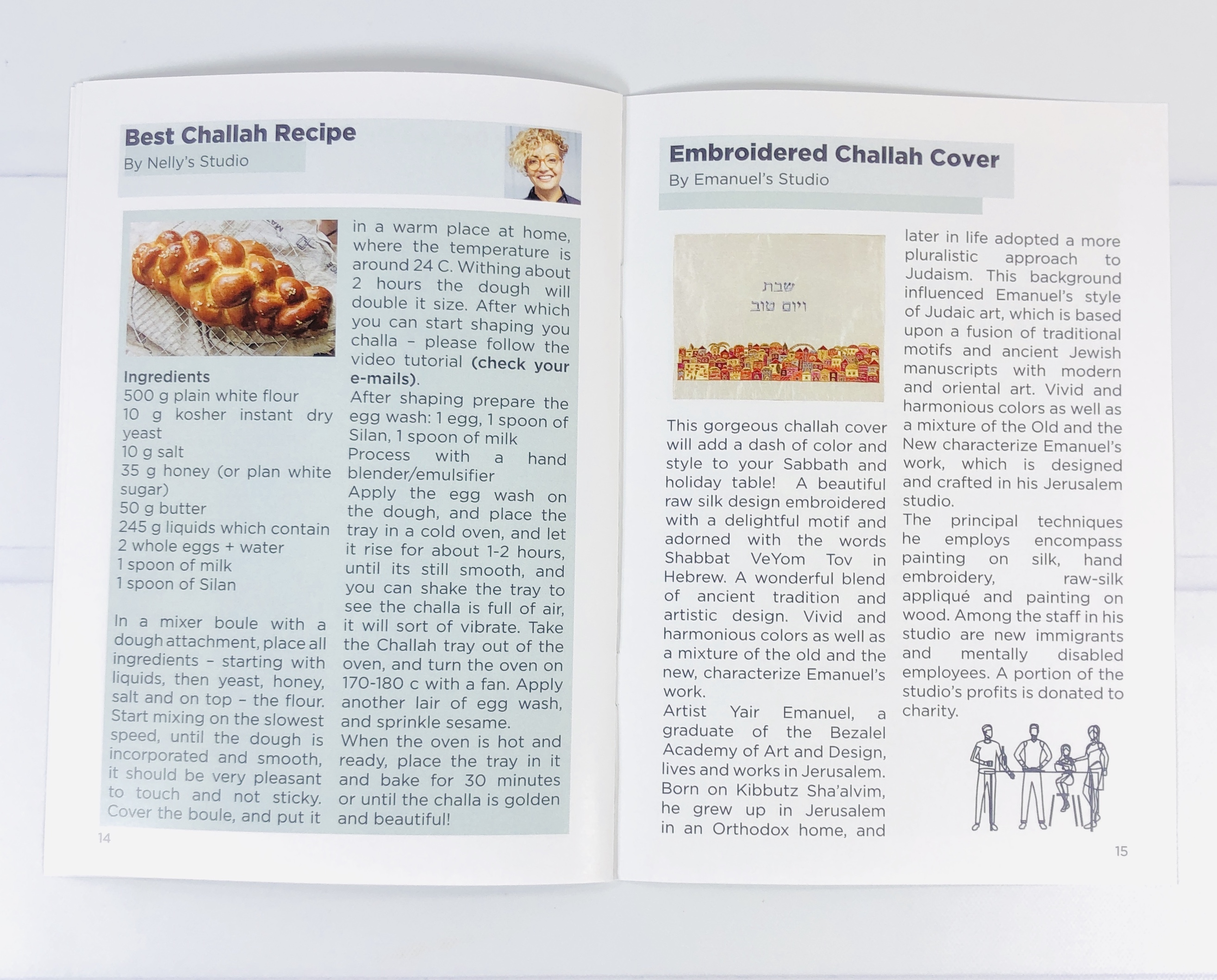 The back of the catalog had contact info and social media accounts listed.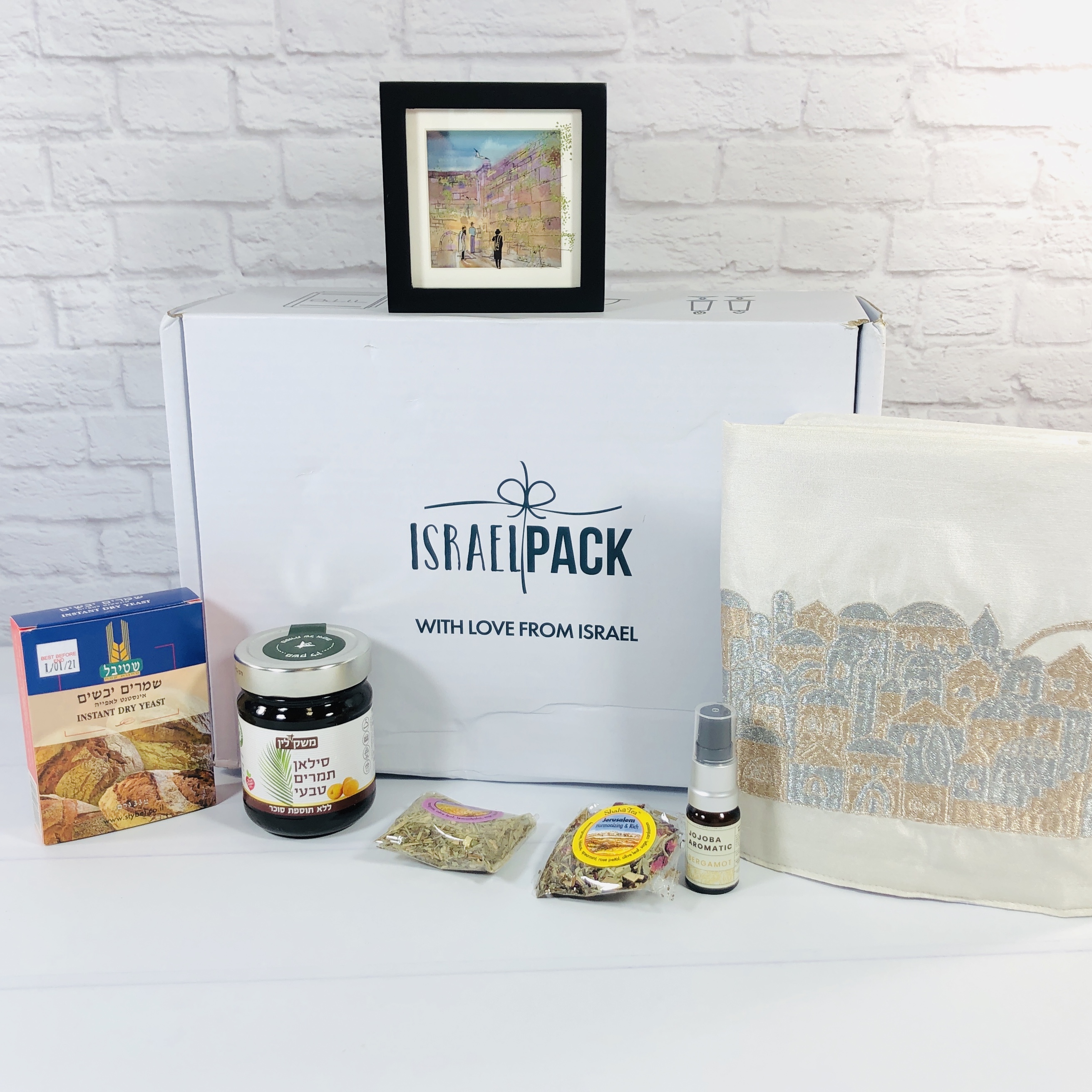 Everything in my box!
Please note: These items shipped direct from Israel and the writing on some of the containers is in Hebrew, which I cannot read. I linked to websites where available, but you may need Google to translate the linked pages.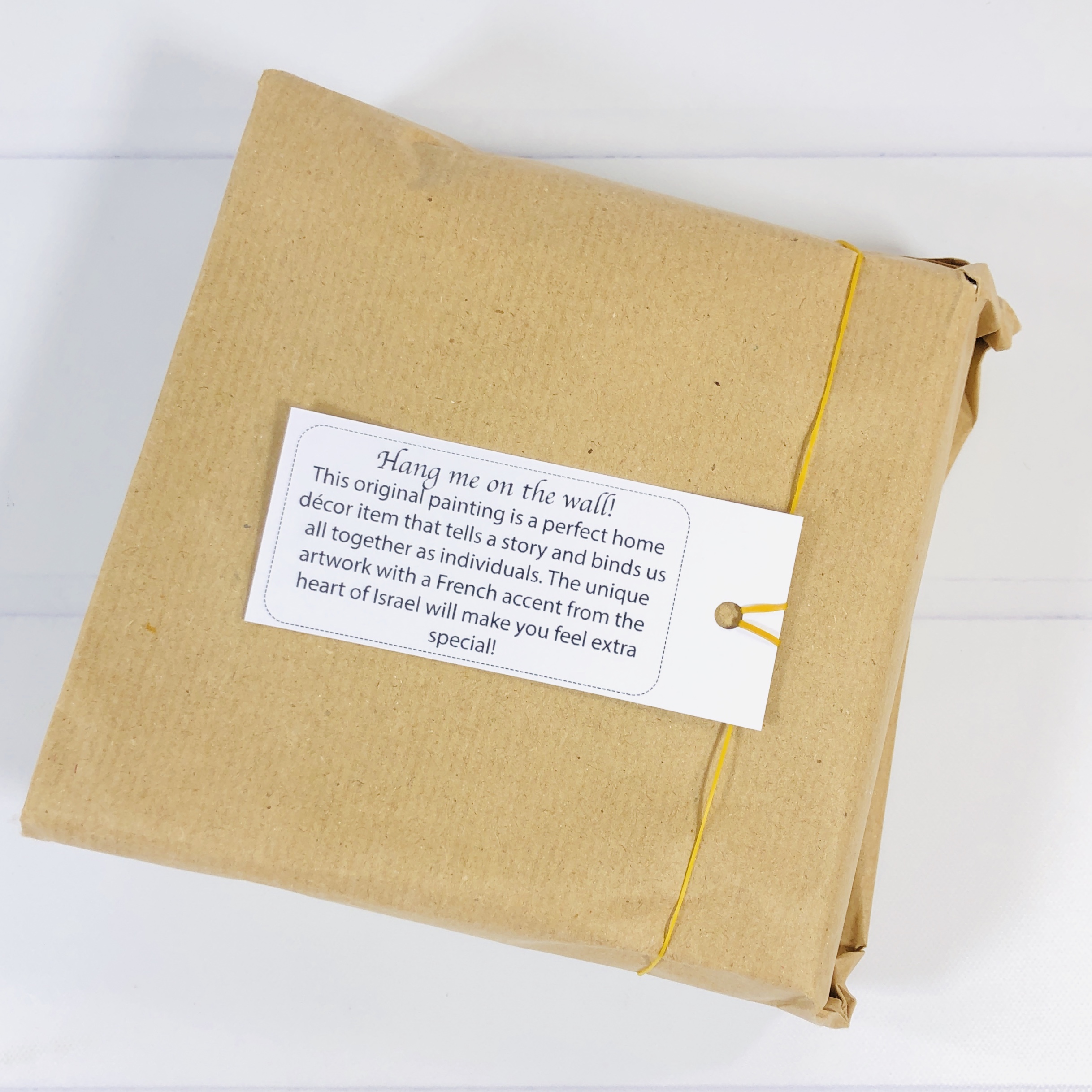 A piece of artwork is appreciated, I need more art in my home.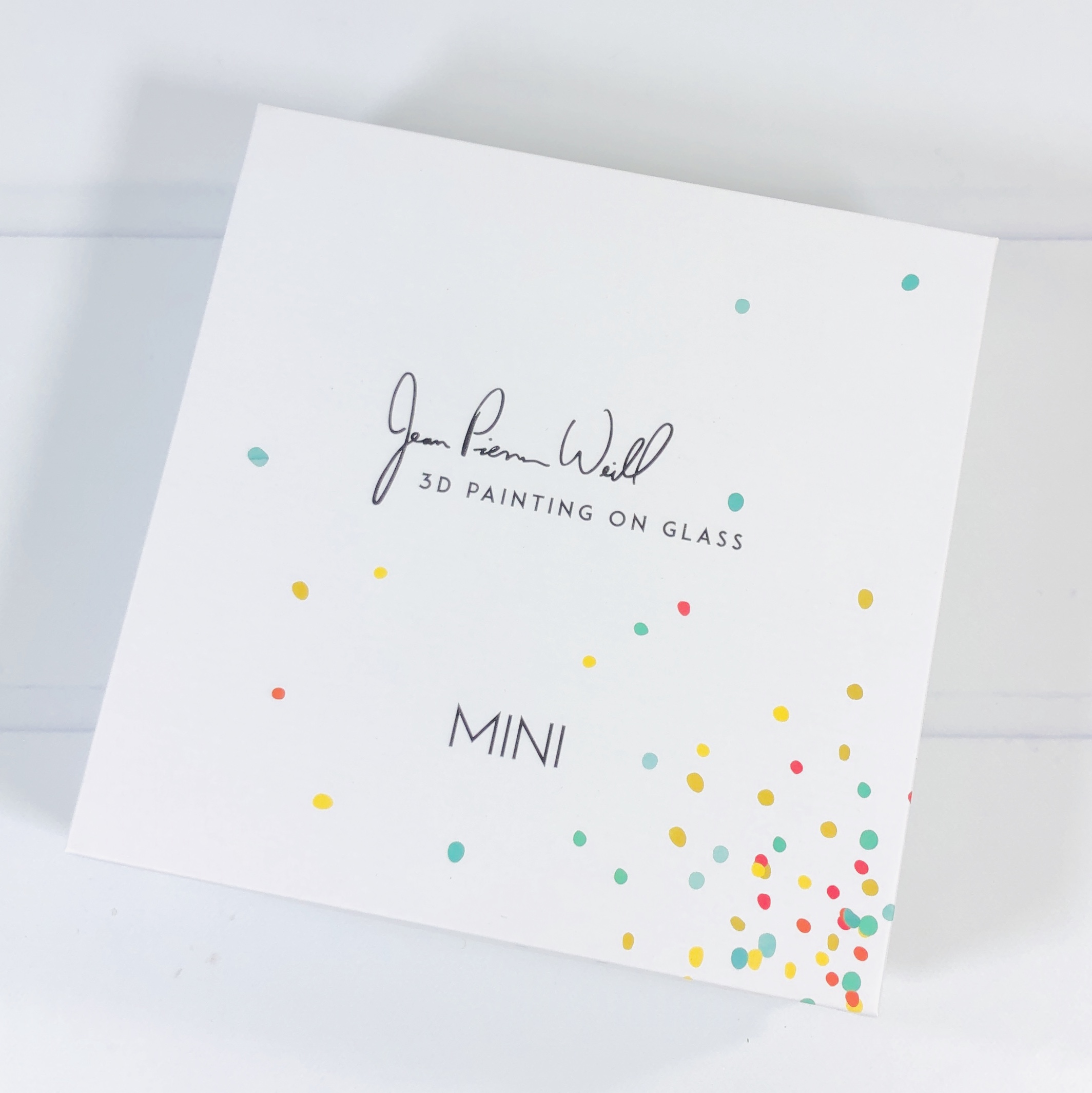 Jean-Pierre Weill Studios Mini 3D Painting on Glass Artwork in Kotel ($49) The piece came in a lovely gift box.
A brief description of The Kotel was noted.
The piece was well protected for shipping.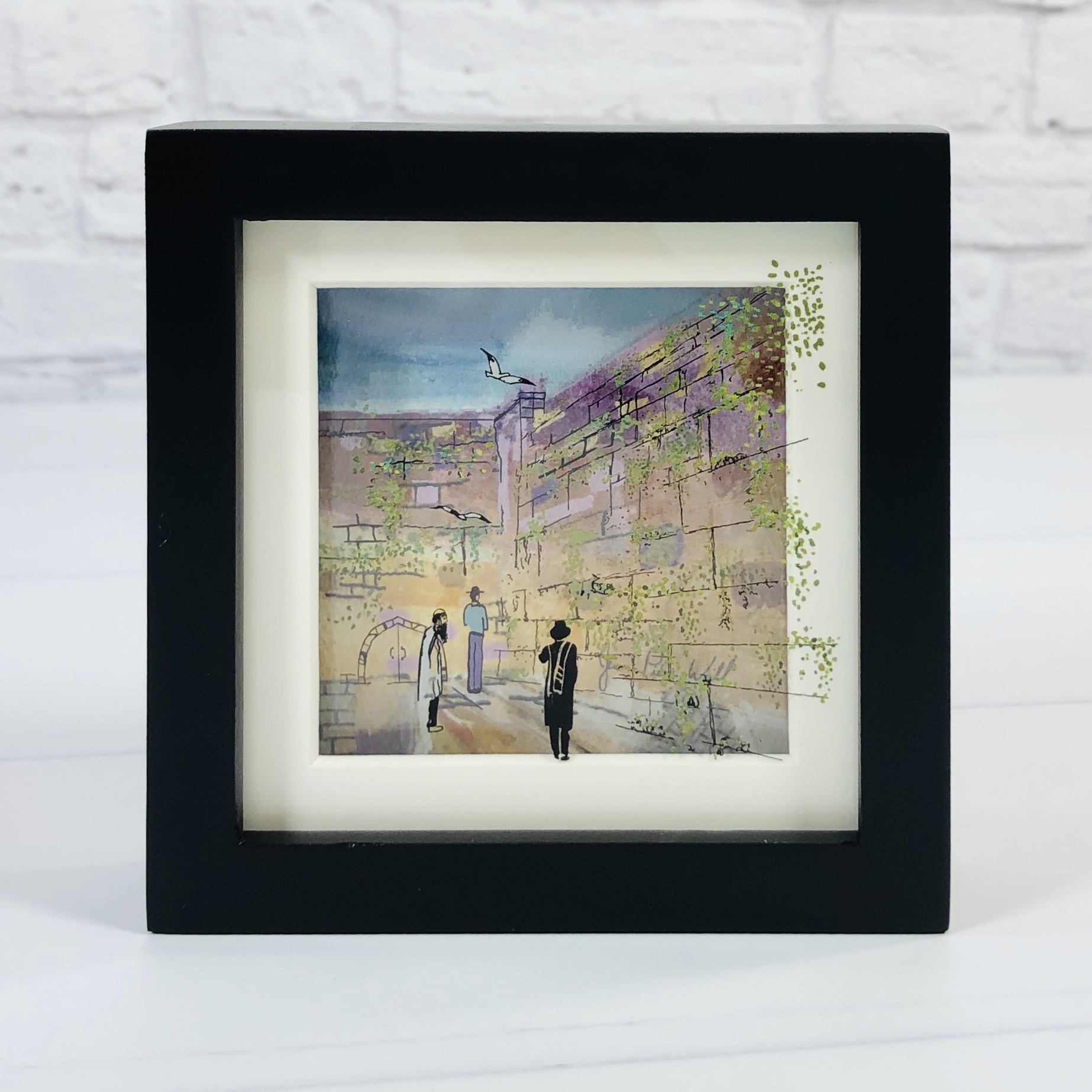 My frame is black but they also have a white or wood option. The piece is about 4.25″ square and there is a hook on the back if you would like to hang it on the wall, but it also sits nicely all on its own.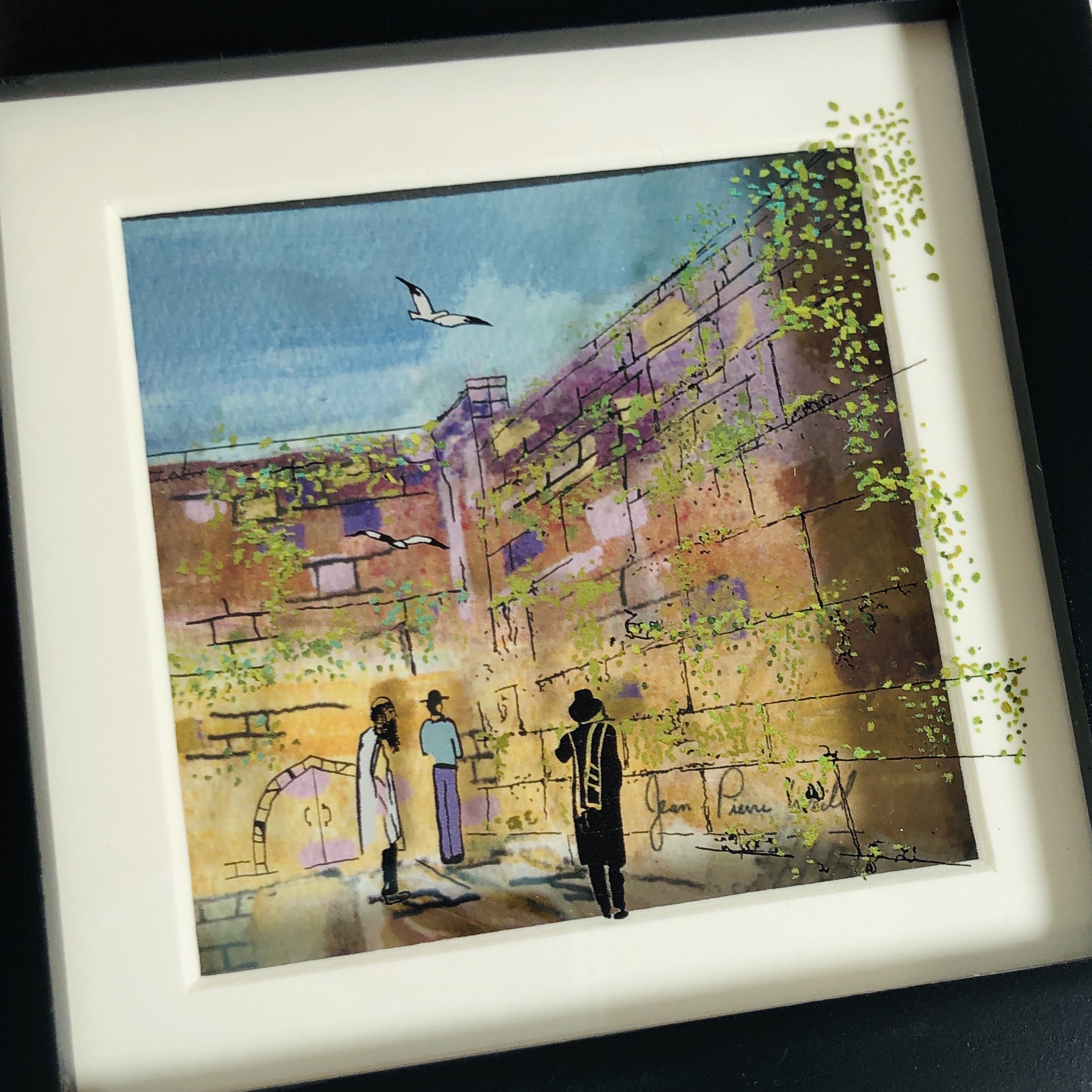 The glass is painted in layers so it looks like a 3-D picture! It's pretty neat, a unique piece for sure. The Kotel is also called The Western Wall or The Wailing Wall.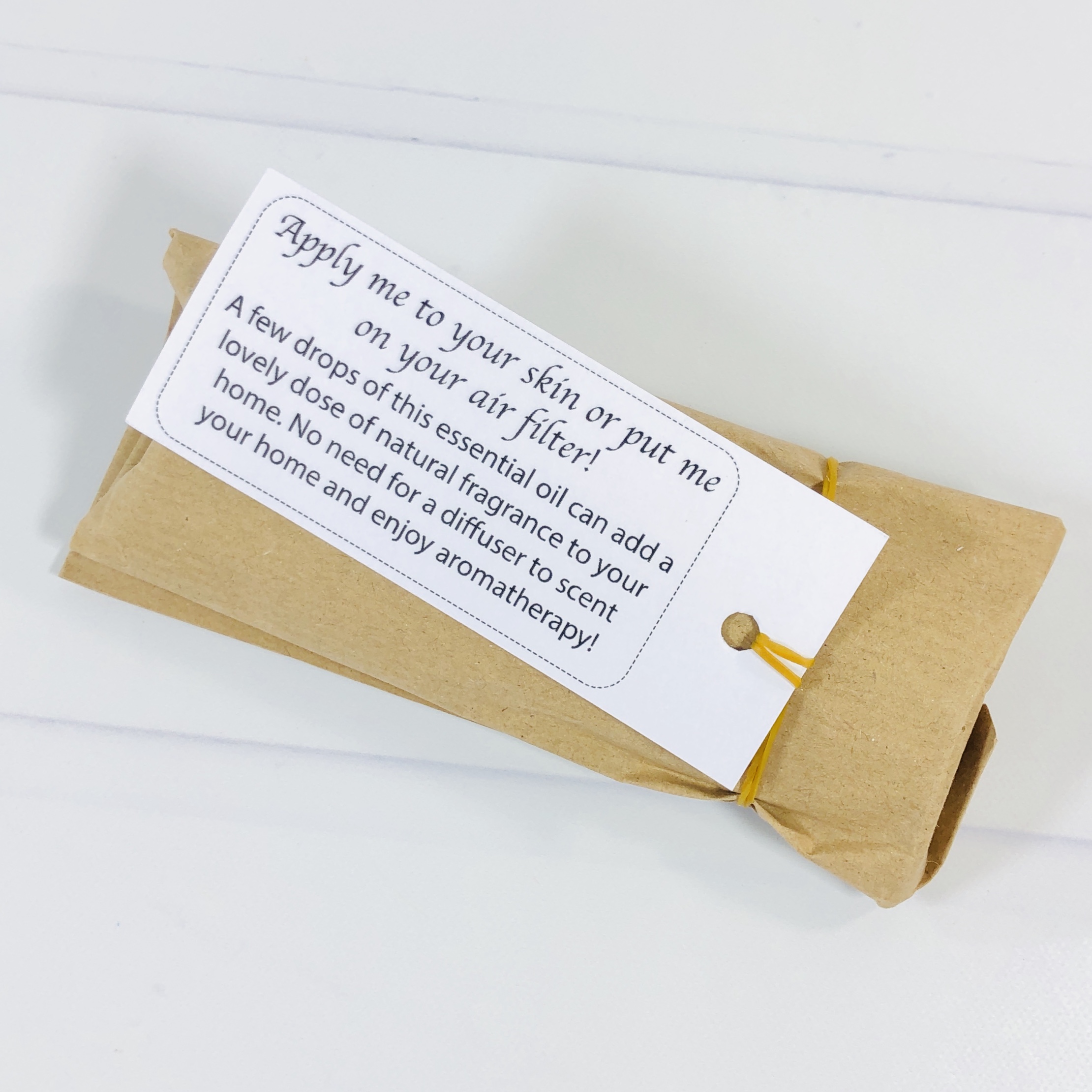 I think this next item will smell good!
Hatzerim Jojoba Aromatic Oil With Bergamot (On sale for $9) Kibutz Hatzerim is the world's #1 jojoba oil producer! I have been using jojoba since the 1970's, thanks to my mom's job at a health food store and access to what was at that time little used in the US. Now I find it in so many beauty products and the oil isn't supposed to clog the pores (unlike coconut oil, which is also in a lot of beauty products).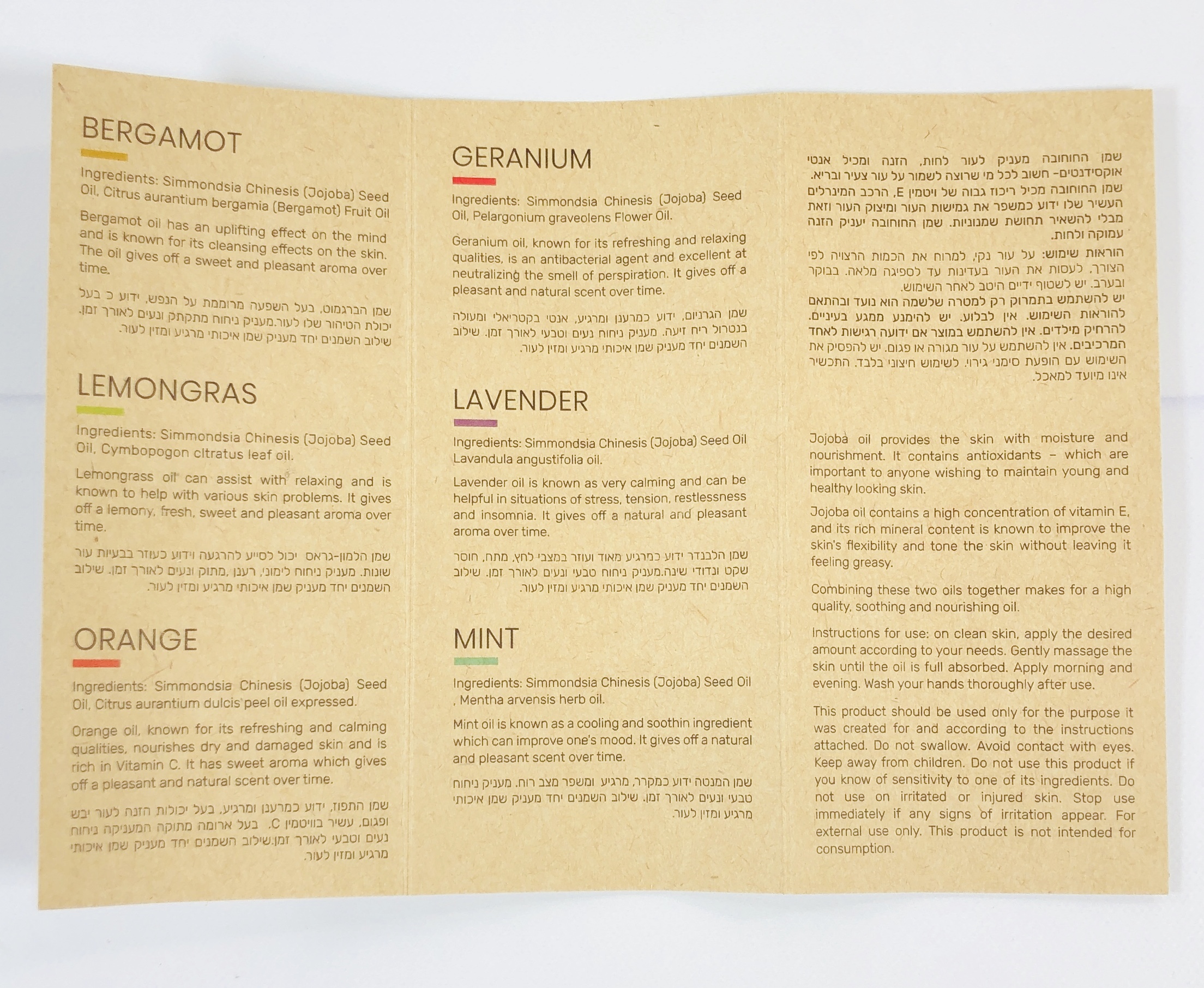 There are six different combos available, all comprised of only jojoba oil and an essential oil. We received the Bergamot version.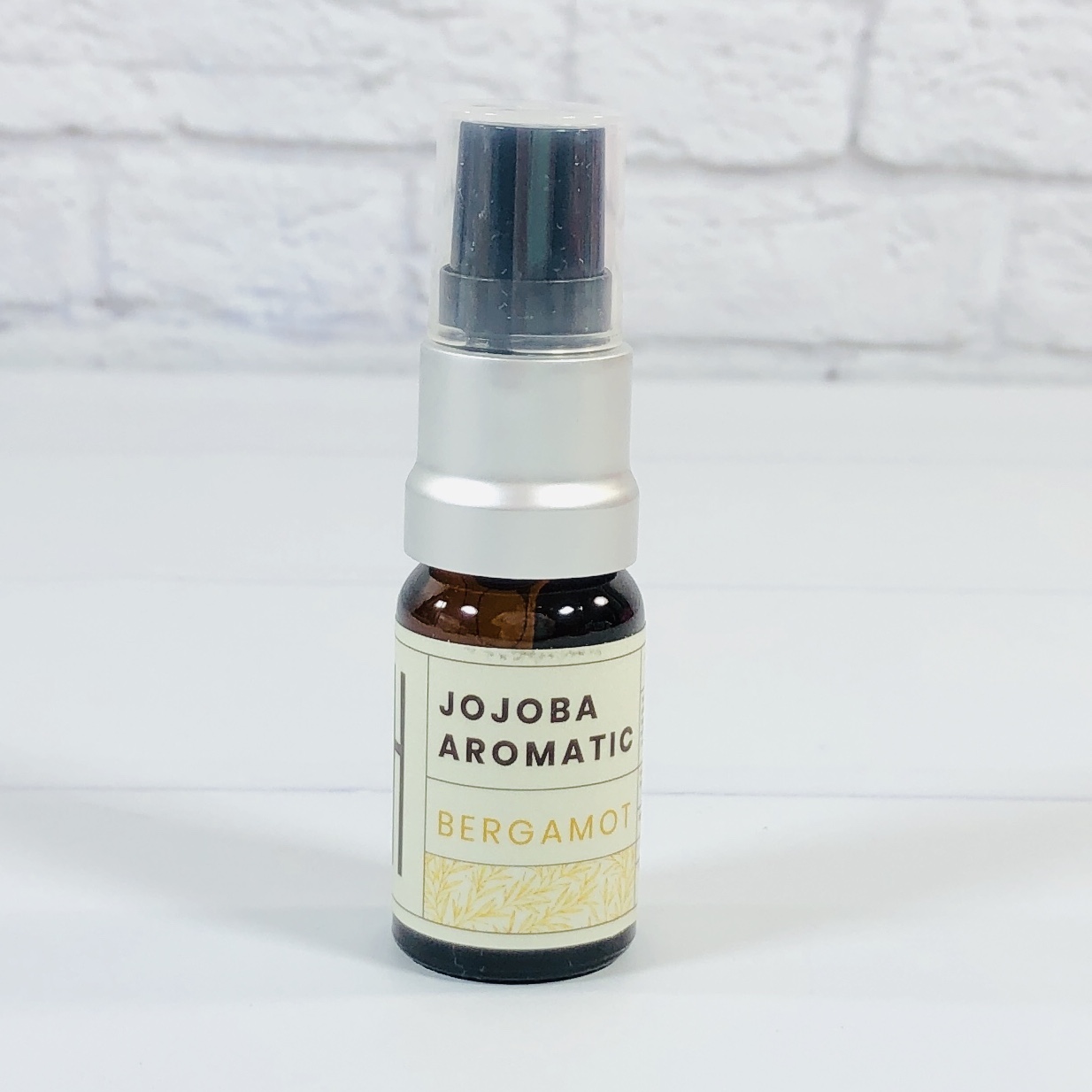 Bergamot is a citrus fruit that is not really edible, due to being very bitter, but the oil of the rind is used in all kinds of products, and gives Earl Grey tea its flavor!
Apply to the skin or hair and gently rub in. The scent is very light but be careful, bergamot may make the skin burn more easily when exposed to the sun. This isn't too oily as long as you apply sparingly, or use a whole squirt and rub over arms and legs.
The next item is something new to me, as I am not Jewish, so I had to read on to learn more about this type of item.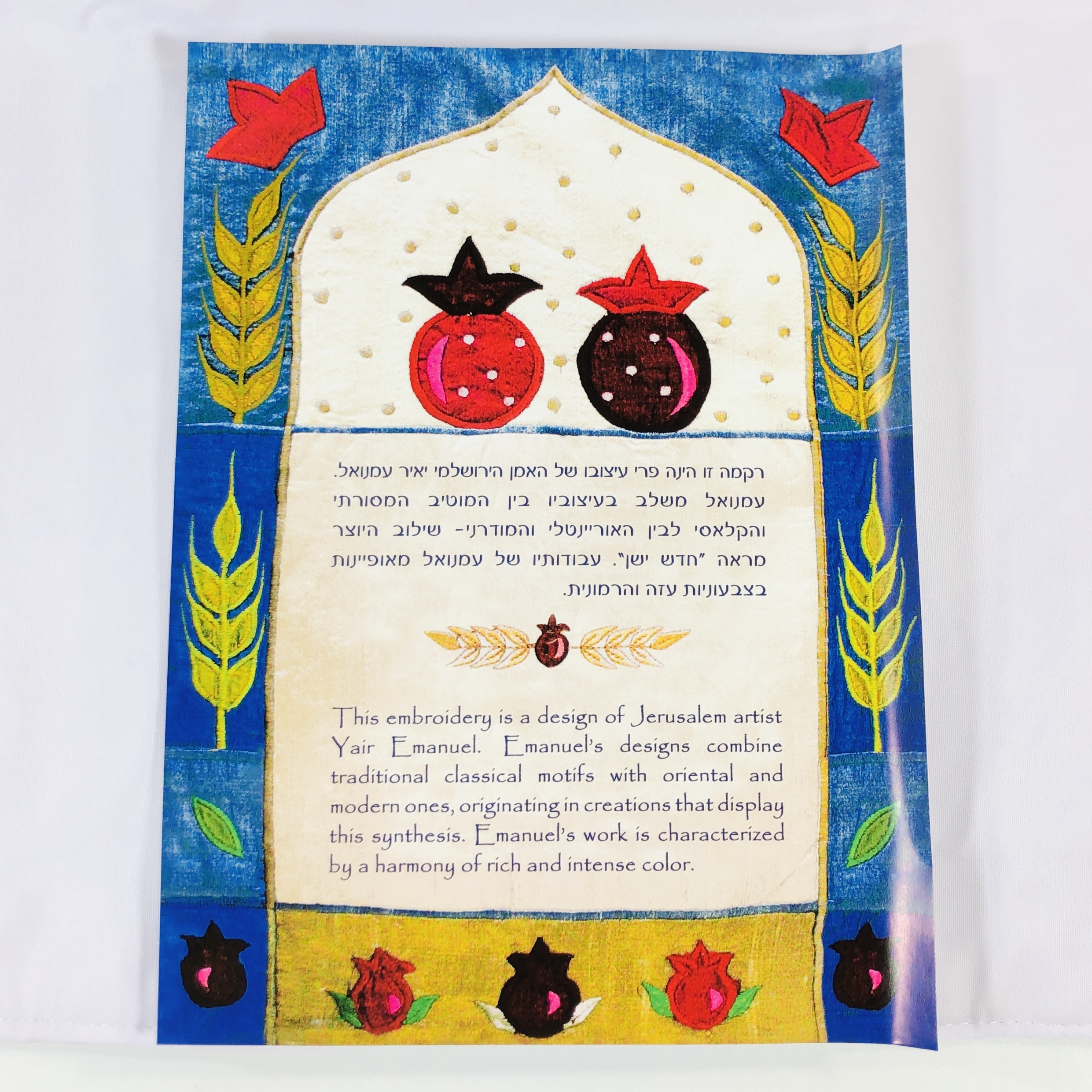 A note about the artist was included.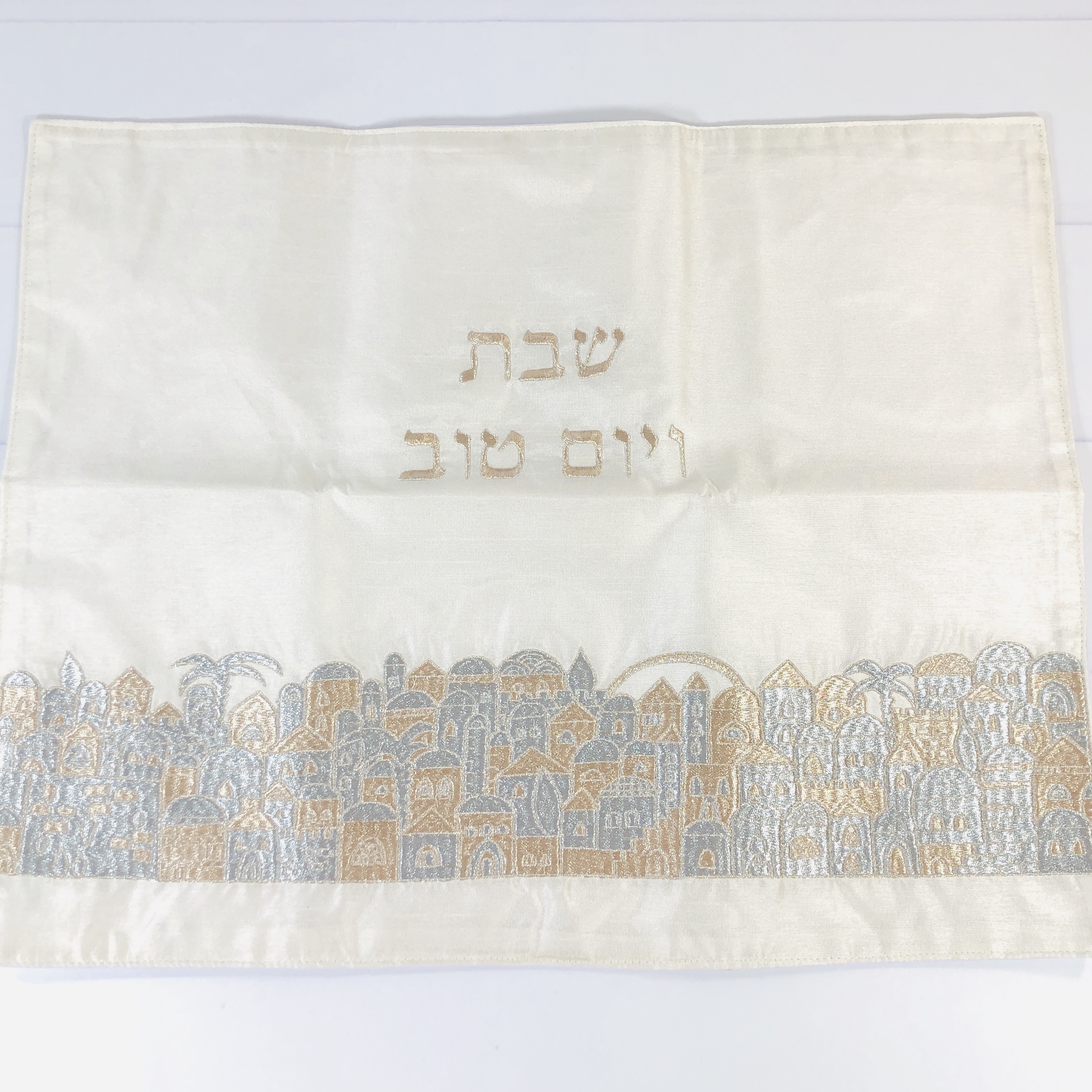 Emanuel's Studio Embroidered Challah Cover ($16.81) A challah cover is used to cover two loaves of challah (a kosher braided bread) before a Shabbat meal. The two loaves symbolize the double portion of manna that fell on the day before the Jewish sabbath.
The challah cover must be large enough to cover two braided loaves without allowing the bread to be seen through the sides, and opaque enough so that the loaves cannot be seen through the fabric.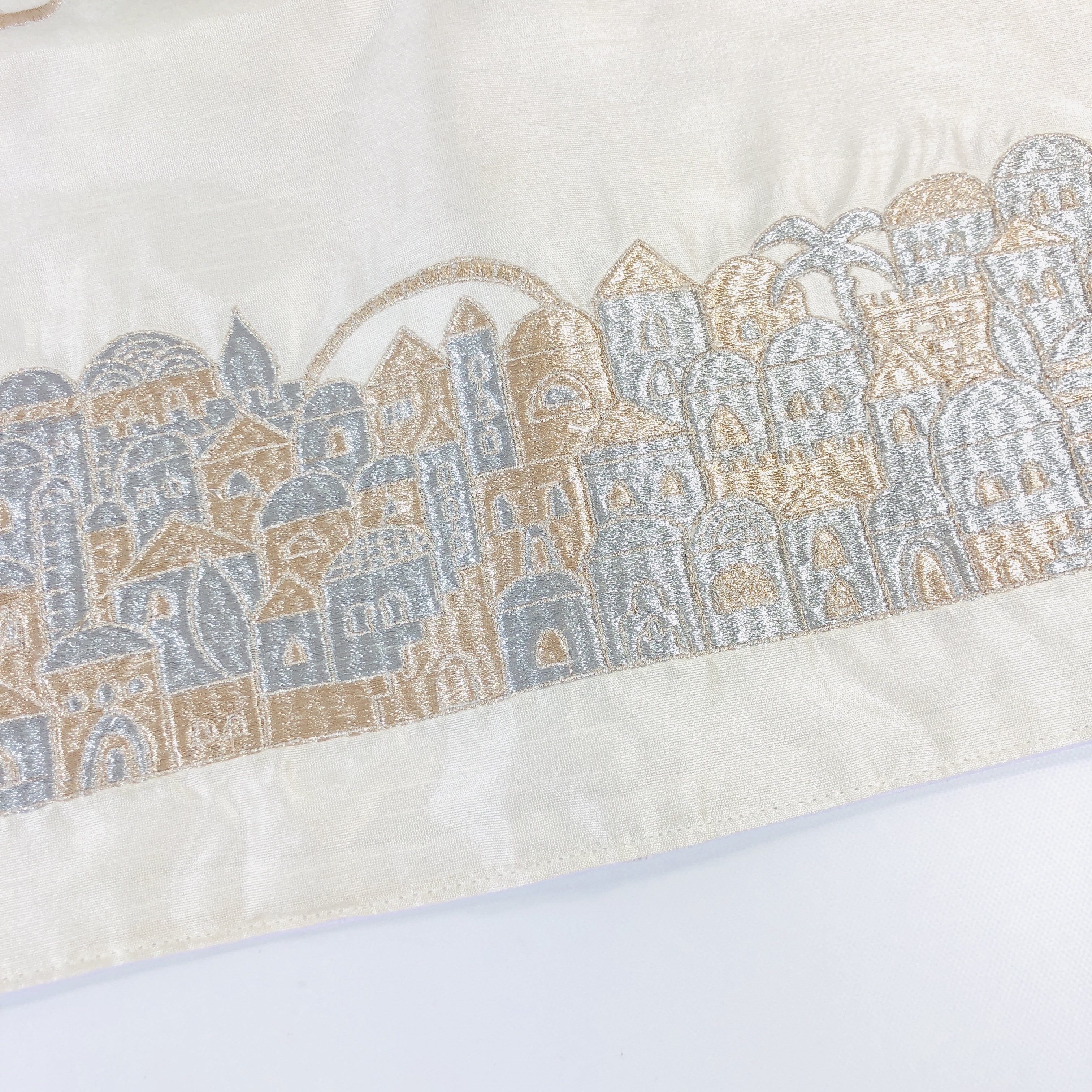 The cover is about 19.75″ x 15.75″ and is on raw silk with silver and gold embroidery and is a picture of Jerusalem. I think it is beautiful but it is a religious item used in a weekly ceremony so I will gift it to a friend.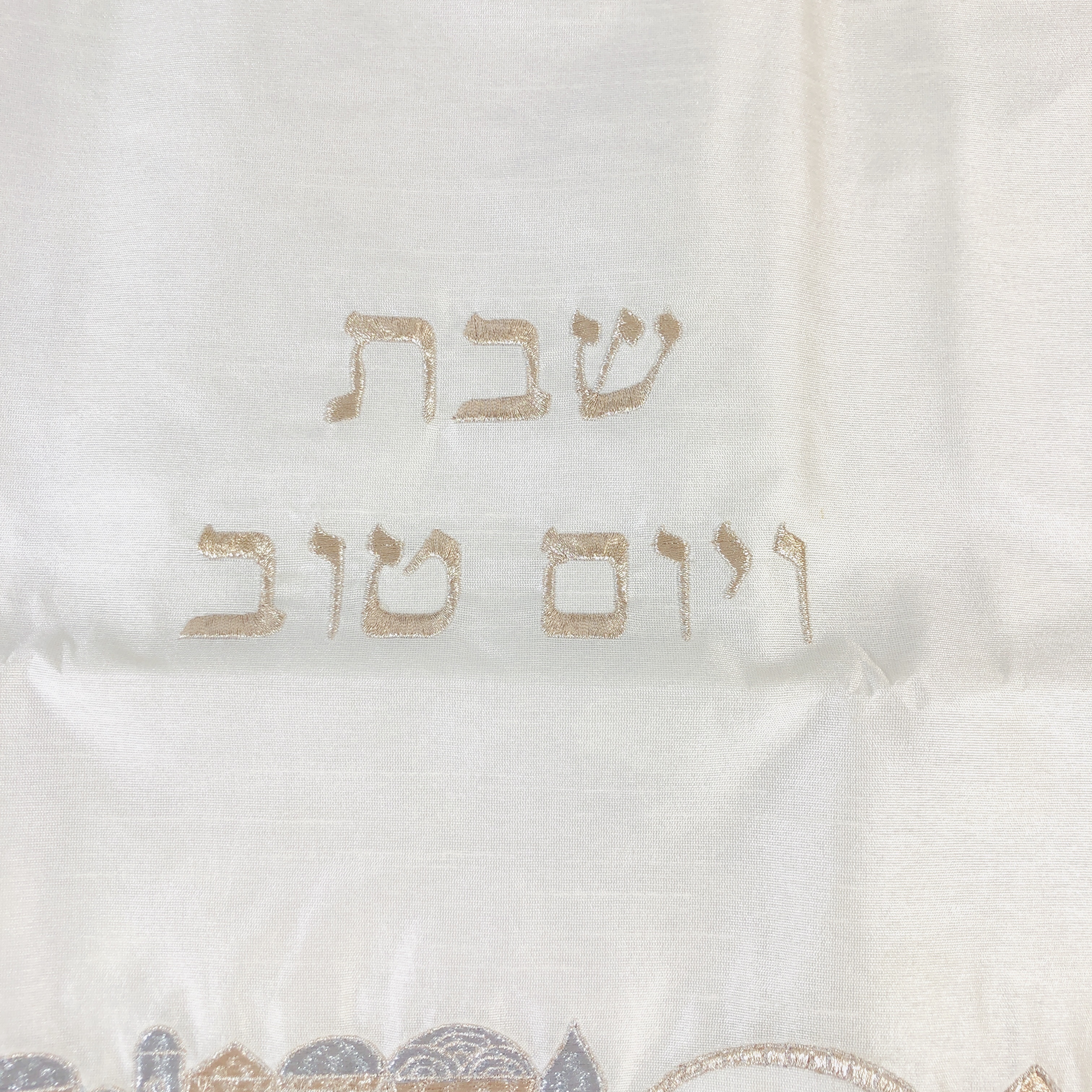 Here is a close up of the words. I don't know Hebrew but the words say "Shabbat VeYom Tov", or "In honor of Shabbat and holiday".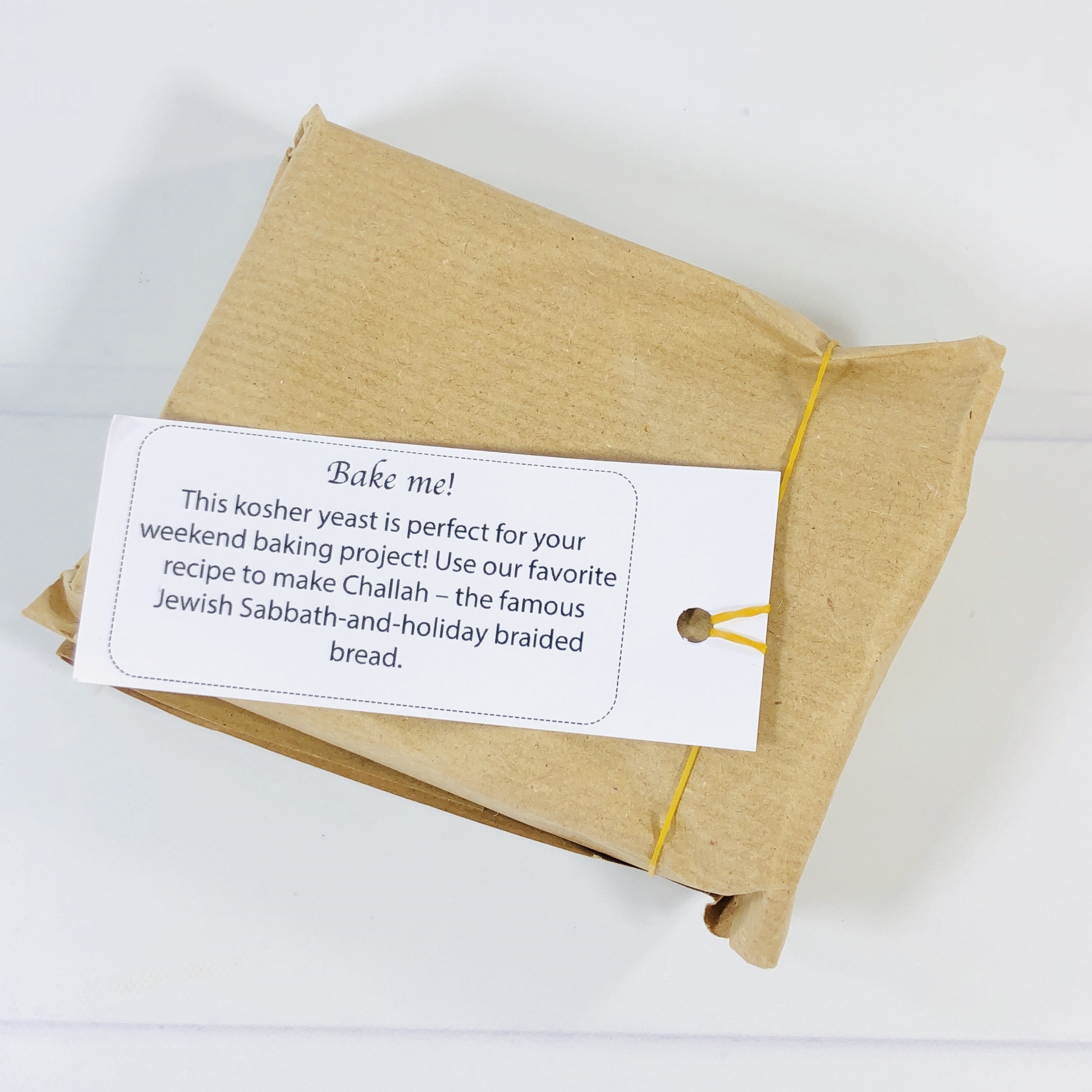 Oh, here's something to use for baking!
Kosher Instant Dry Yeast ($2.99) Wow, back when the pandemic started it was impossible to find yeast in my local stores. Here's a whole pack!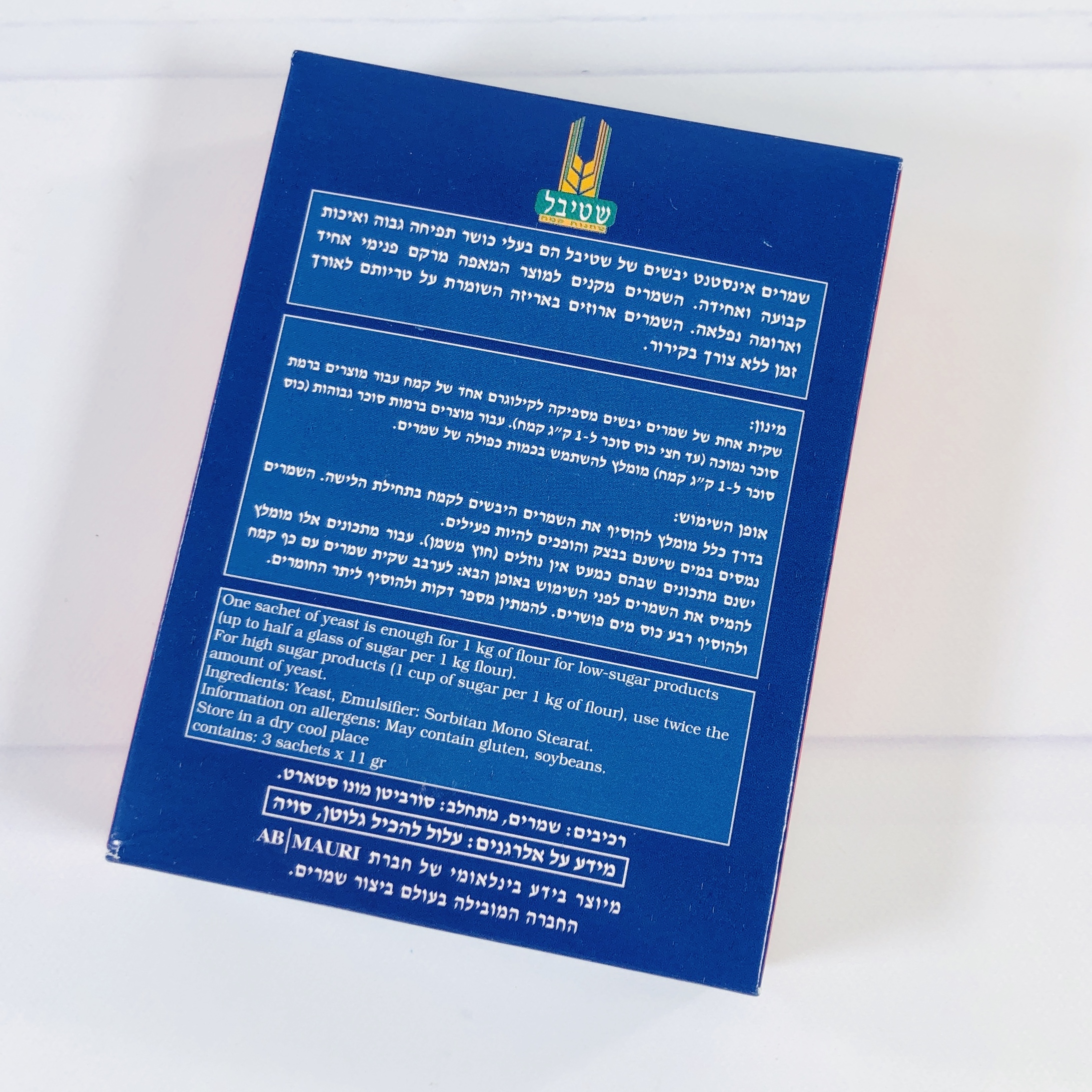 This particular brand is kosher.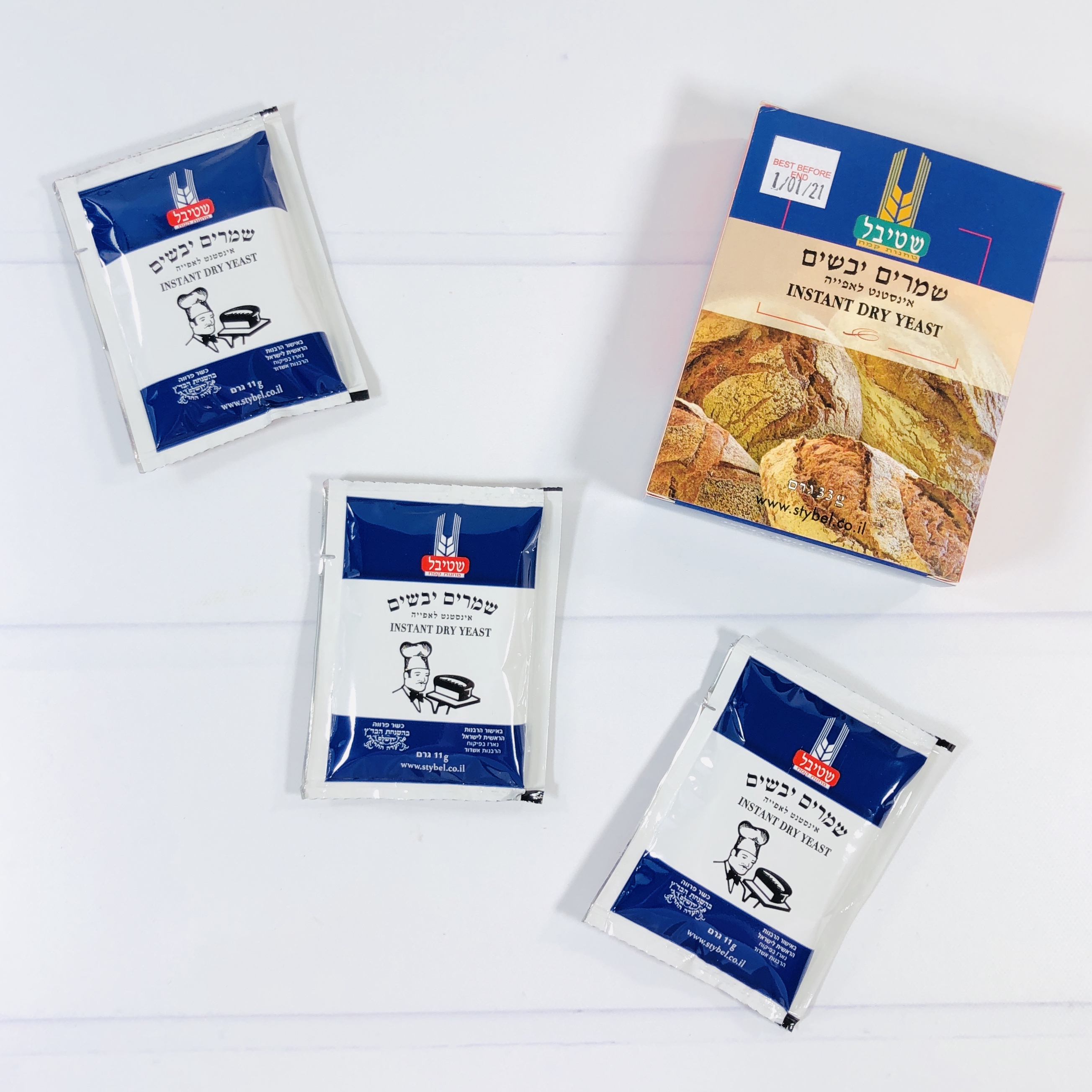 There are three packs in the box, and it can be used to make challah (a recipe was printed in the pamphlet shown earlier in the review). My mom is a wonderful bread maker, she bakes it all from scratch, but I have raw flour sensory issues and rubbing my hands in raw flour gives me the same feeling as running nails down a chalkboard. Until I get a KitchenAid mixer I won't be making bread, but I will get my daughters to make something with this, like pizza dough. We do eat challah, I make french toast with it, but we buy it from the store!
Oohh, another edible!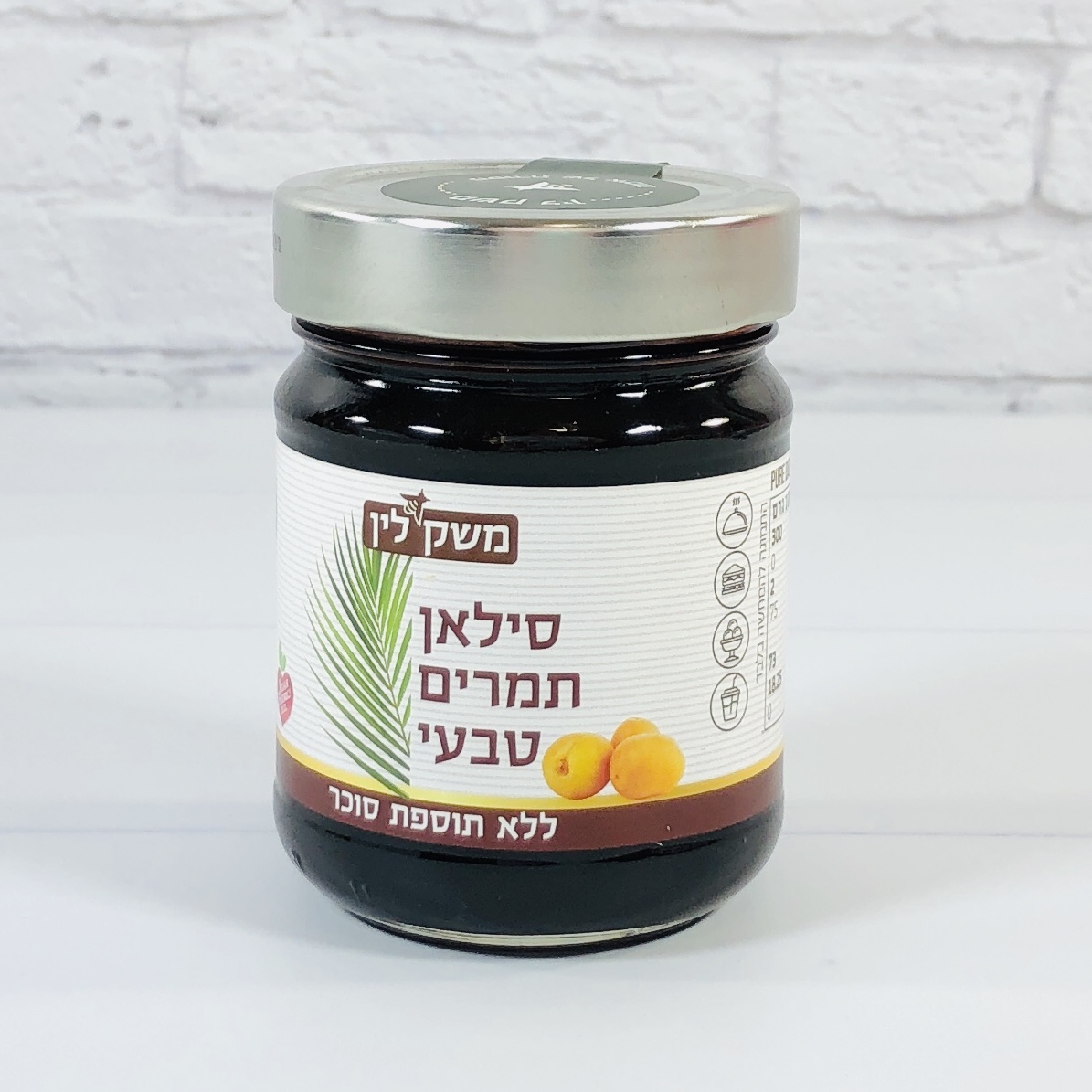 Lin's Farm Natural Date Honey ($9.99 for a 12.35oz bottle) Does honey come from dates? Not exactly, it comes from bees, but silan comes from dates, and it has the same consistency as honey!
It can be used as a sweetener in baked goods or added to foods or tea. It tastes similar to molasses but is thinner. It has antioxidants and potassium. I think it would be a good sweetener in my smoothies!
Finally, we have a couple of loose leaf teas.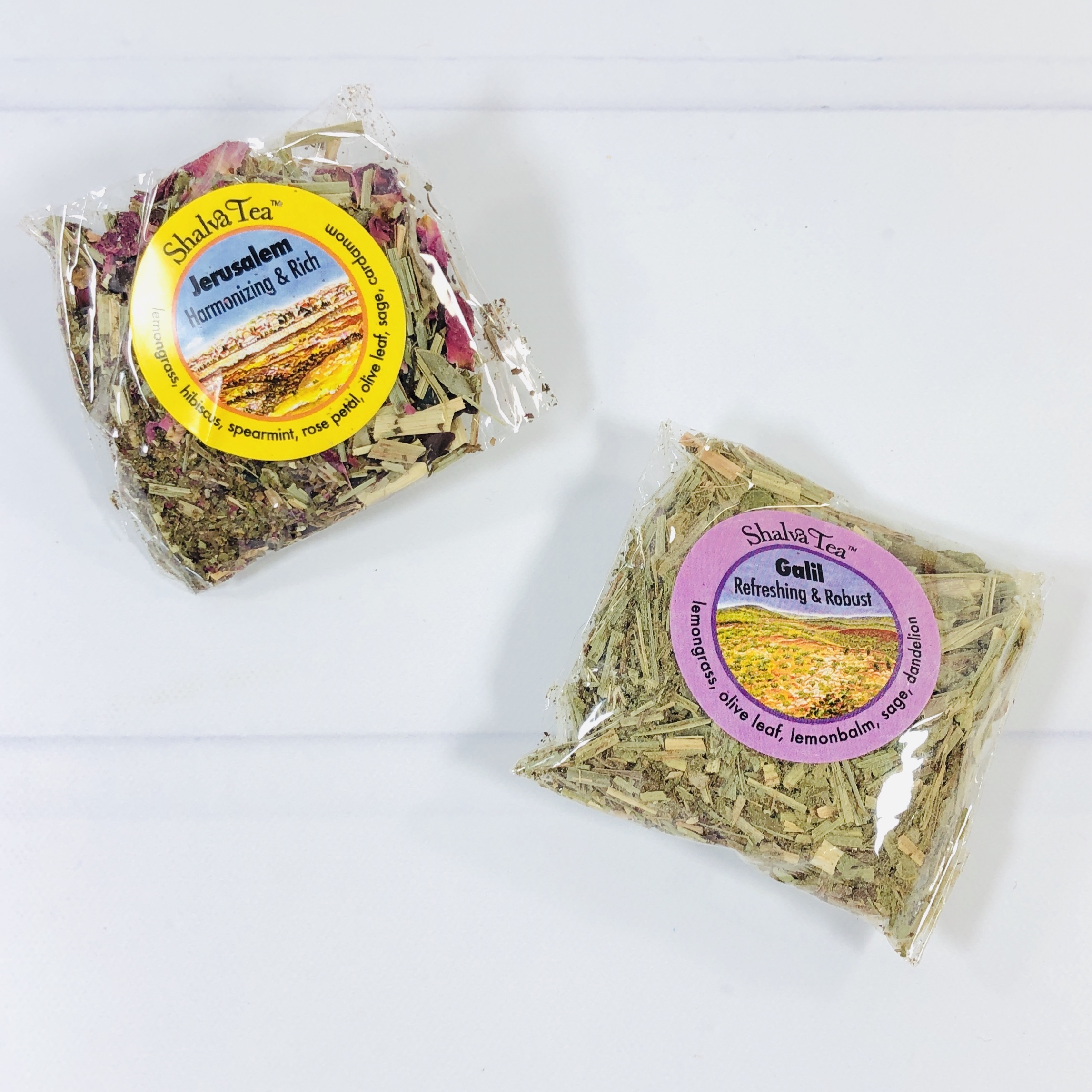 ShalvaTea in Jerusalem and Galil I love to drink tea, and an herbal is just the thing I want to sip in the evening, so that I can still fall asleep without the jolt from caffeine. We received two samples and each one has enough tea for a few cups each. Jerusalem has lemongrass, hibiscus, and spearmint in the mix while Galil has lemon balm, dandelion, and sage and both blends have olive leaf. Pour boiling water over the tea (I would suggest using about 1.5 teaspoon of tea) and steep for 5 minutes. Sweeten with silan if desired. Shalva means "peace" in Hebrew.
Israel Pack sends thoughtfully selected items from Israel, some of which I have never heard of before. For instance, I never knew you could steep olive leaves! The challah cover was beautiful, although it isn't something that I can use myself so it will go to another home where its beauty and usefulness can be appreciated. I am going to try my hand at making something with the yeast, like pizza dough, and the date honey is very tasty. The bergamot oil feels and smells good and the Wailing Wall picture is unique and will find a place on my bookshelf. I enjoy learning about the history and people of Israel from the booklet, every month I learn something new from this subscription!
What do you think of the Israel Pack review? Let us know your thoughts!