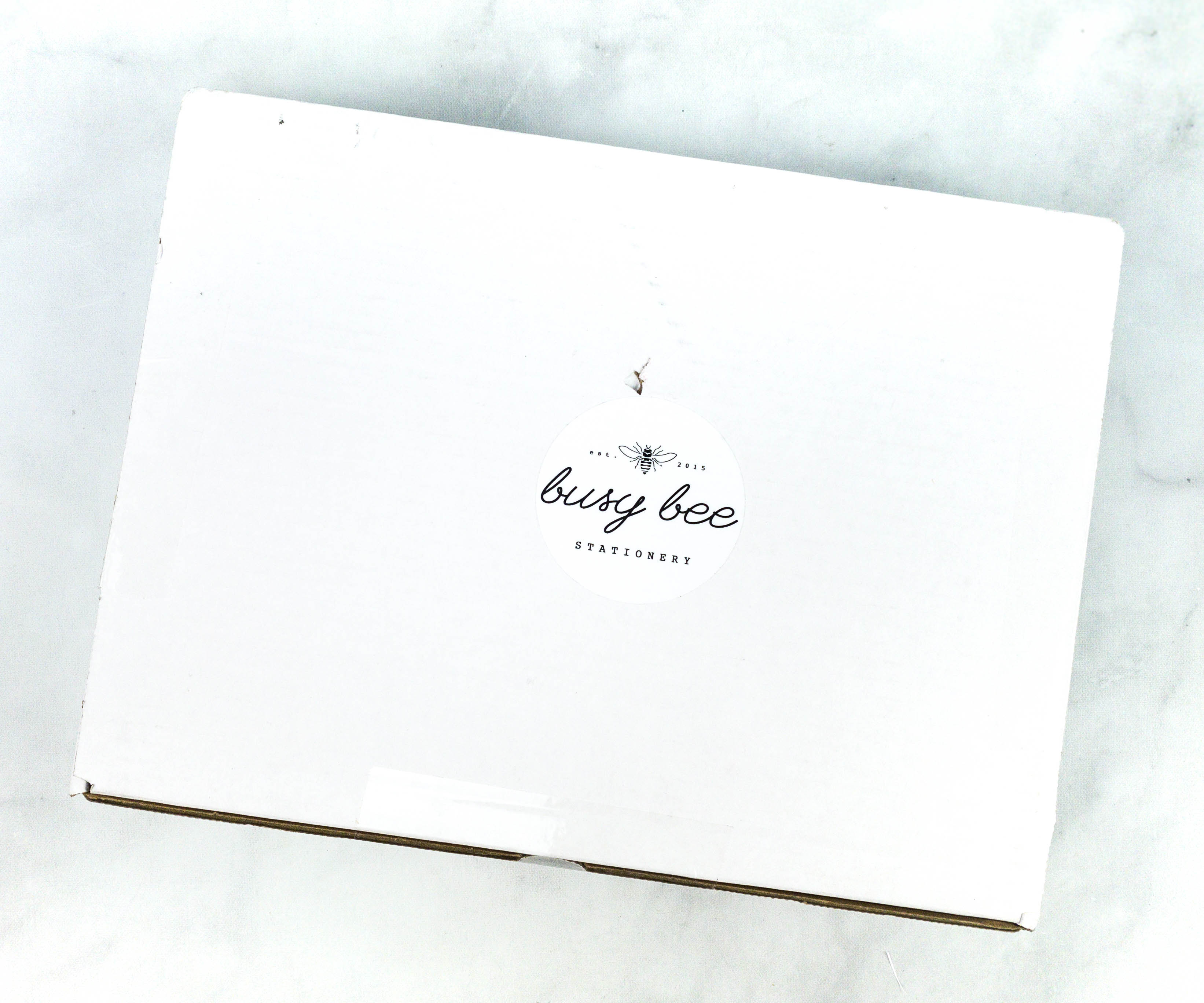 Busy Bee Stationery is a monthly stationery subscription that will bring you items that inspire creativity and help you with everyday note-taking, planning, journaling, and letter writing. For $39.90 per month, you will receive 5 to 10 items built around a theme, season, or a specific project. Items can be things like pens, stickers, a notebook, washi tape, stamps, and more!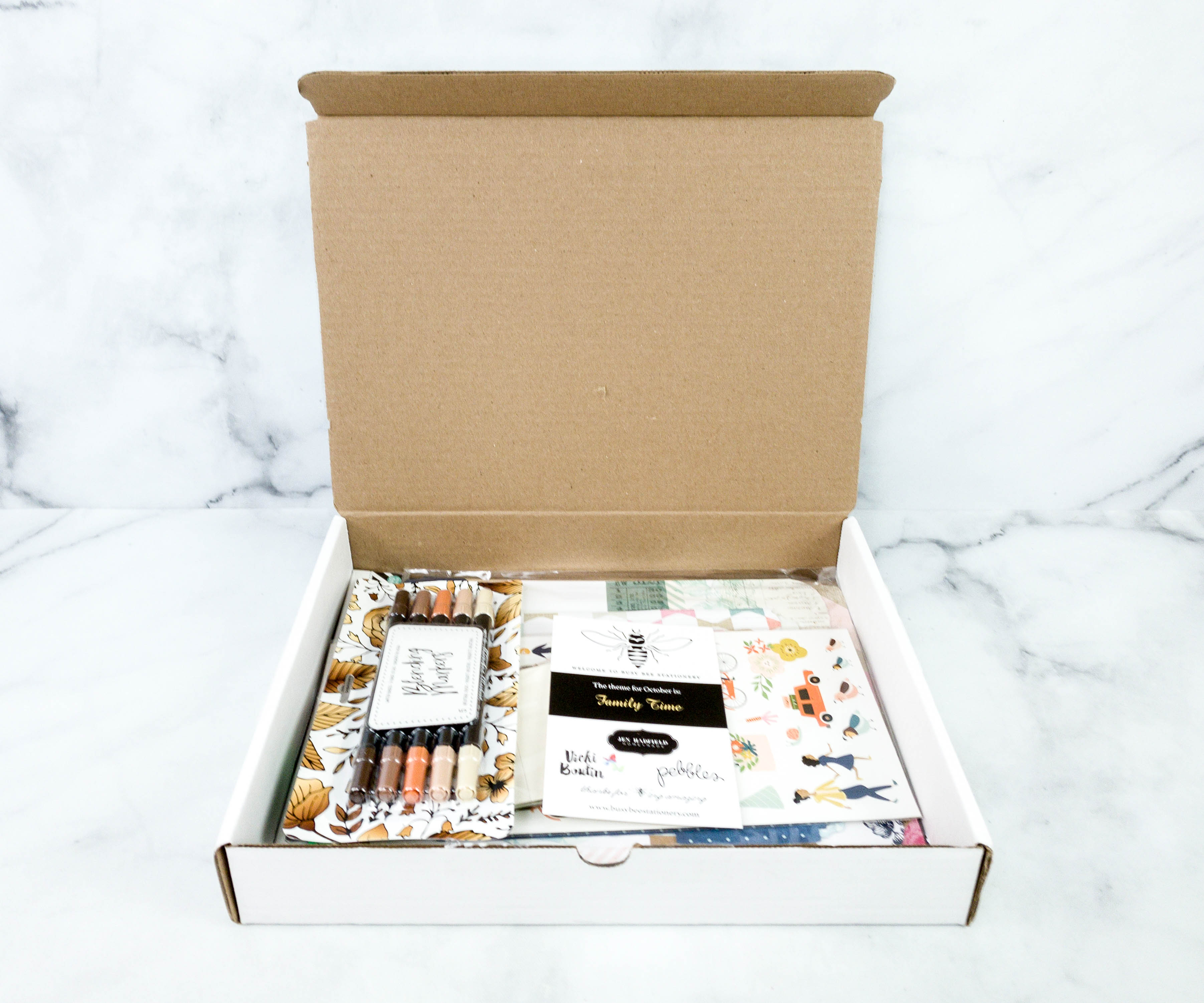 There's an info card on top of the items! Everything came in retail plastic bags but we remove them for photography purposes.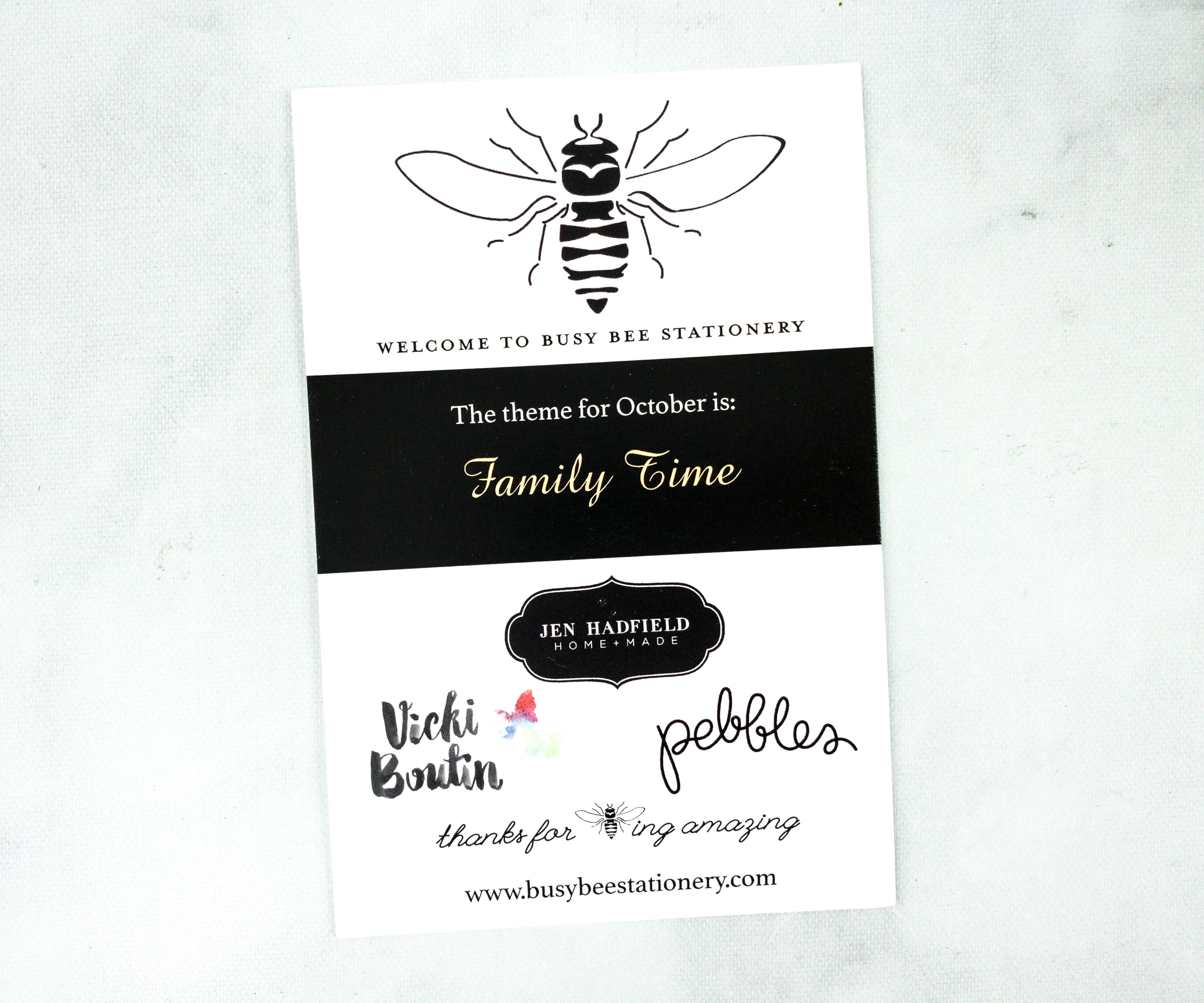 The October 2020 theme is Family Time!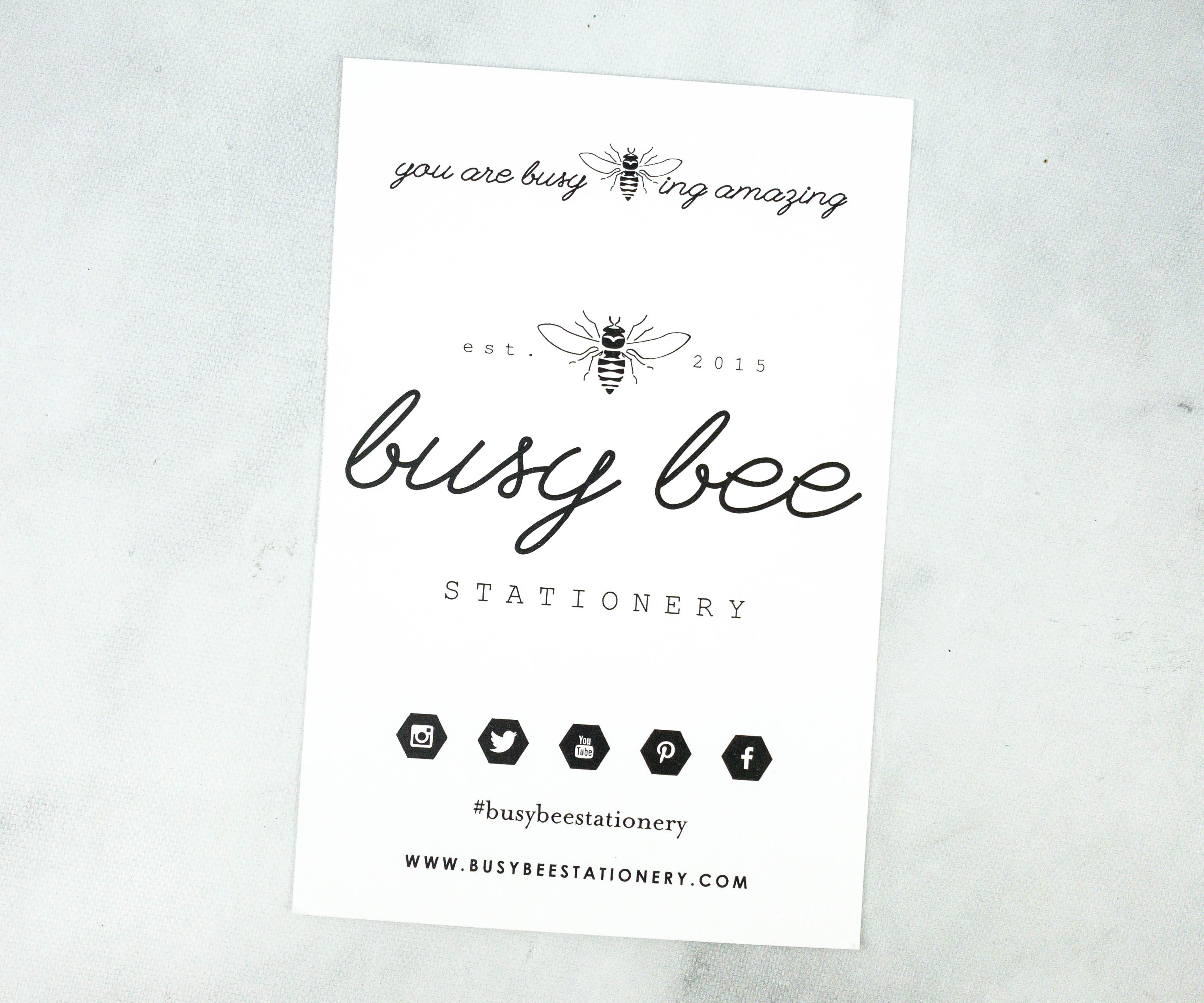 You are busy -ing amazing.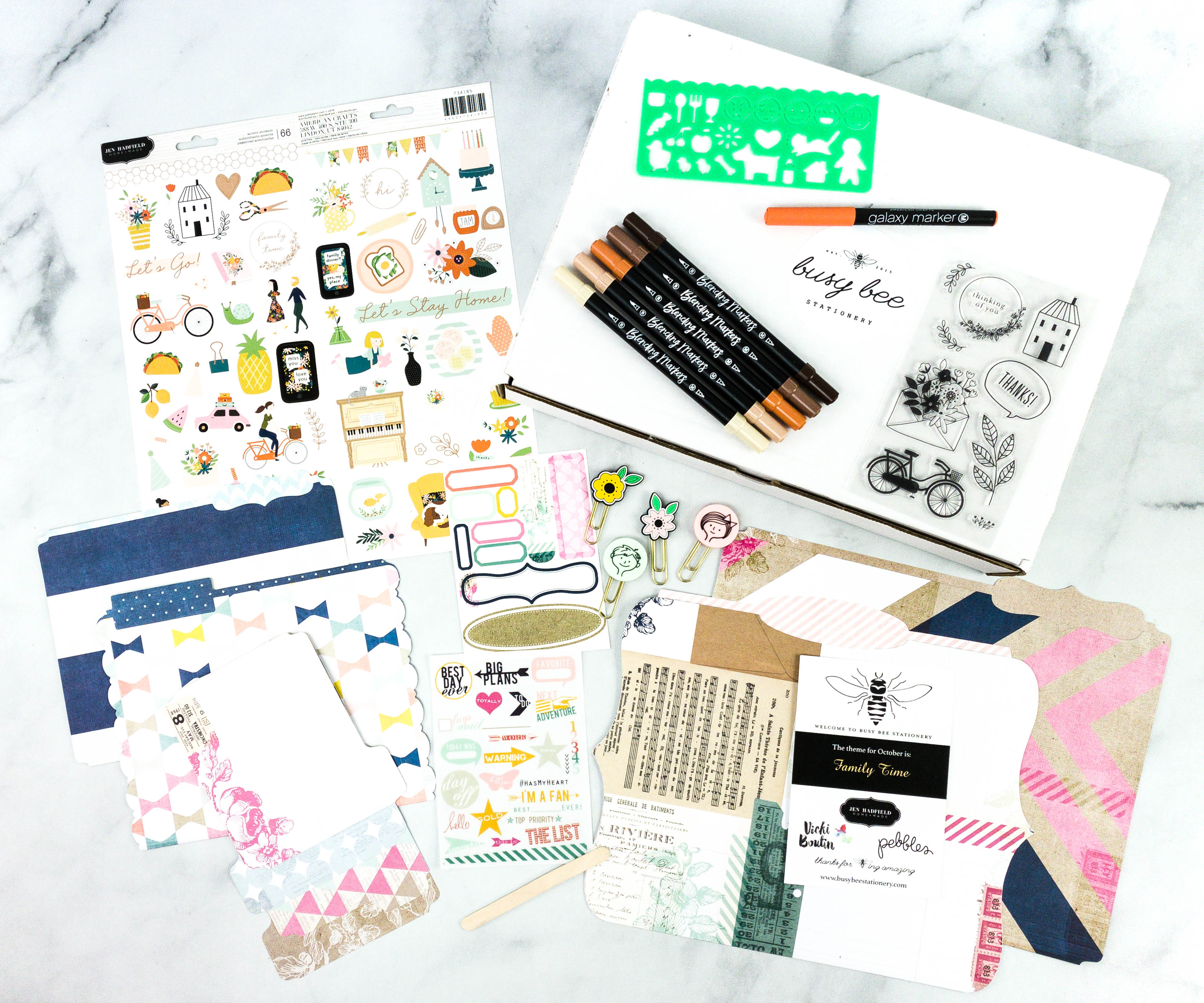 Everything in my October 2020 box!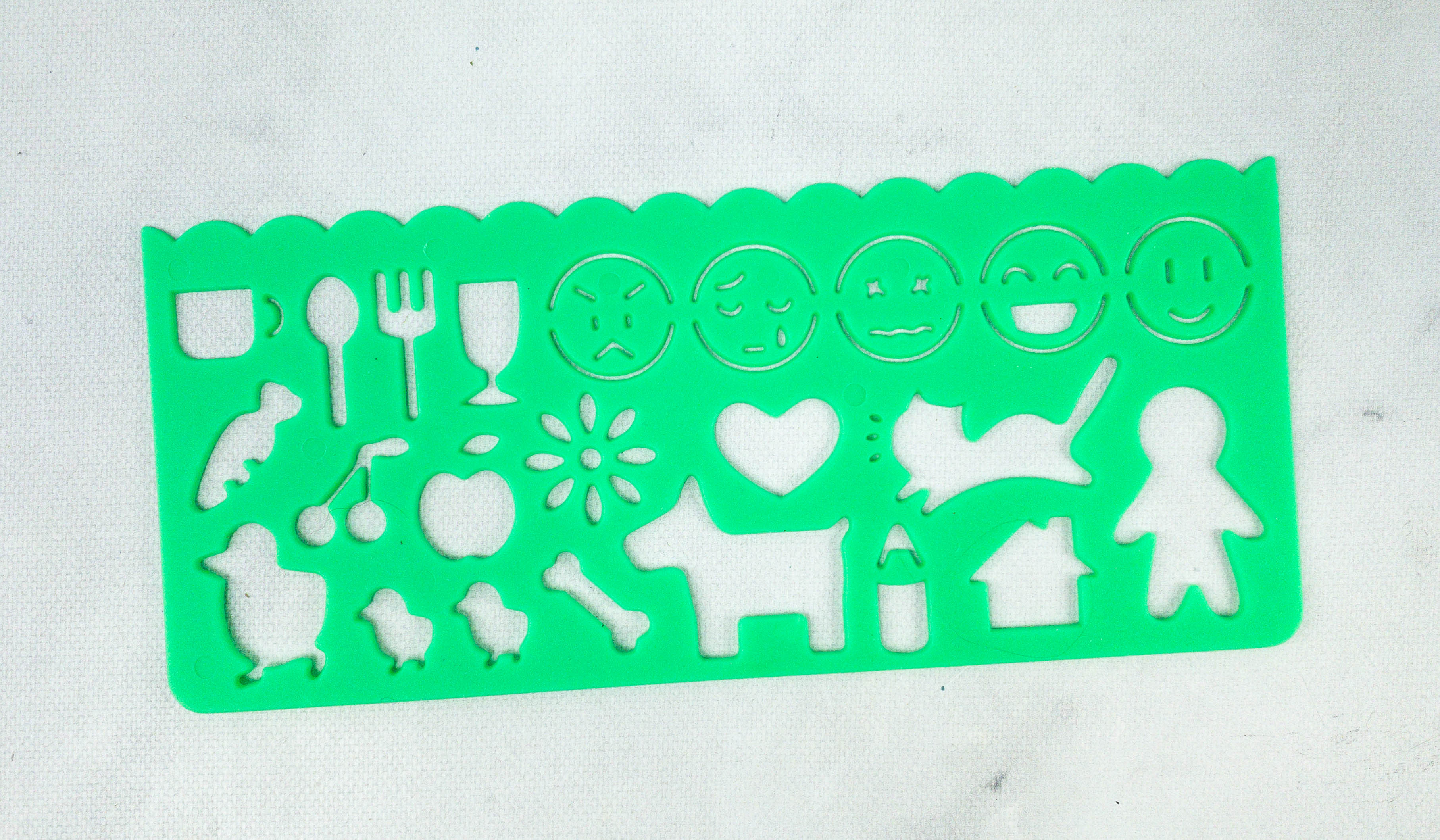 Stencil. This stencil contains different patterns like emojis, animals, and other items you can see at home. You can also use the edges to draw lines and make borders!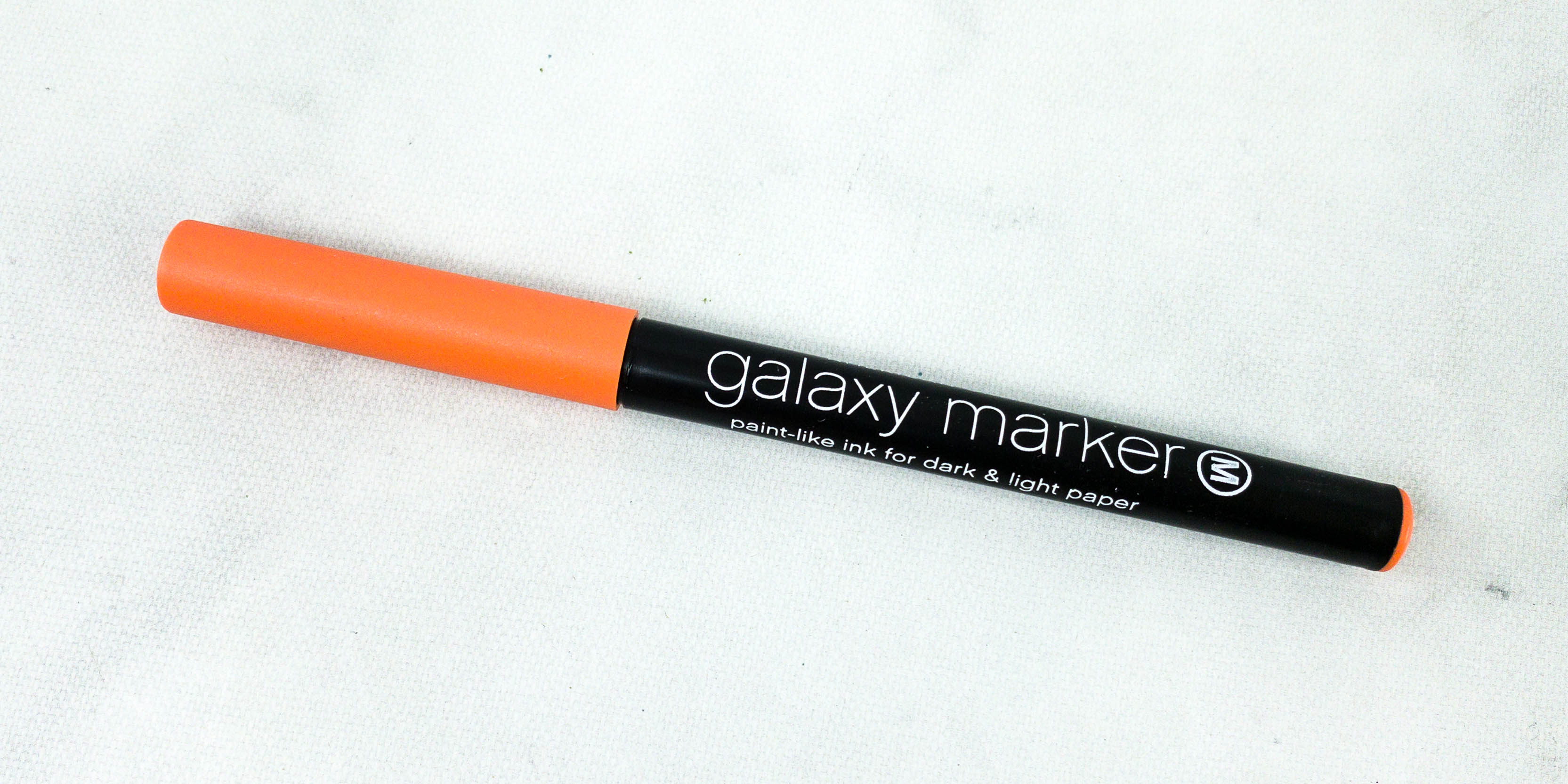 American Crafts Galaxy Marker Medium Point – SIMILAR ($1.45) This box wouldn't be complete without a marker! This month, they included an orange color marker with a medium tip.
The tip seems a little elevated from the pen. I don't know if it's supposed to be that way, but based on previous galaxy markers we've received, it shouldn't look like that. Still, the pen is well pigmented!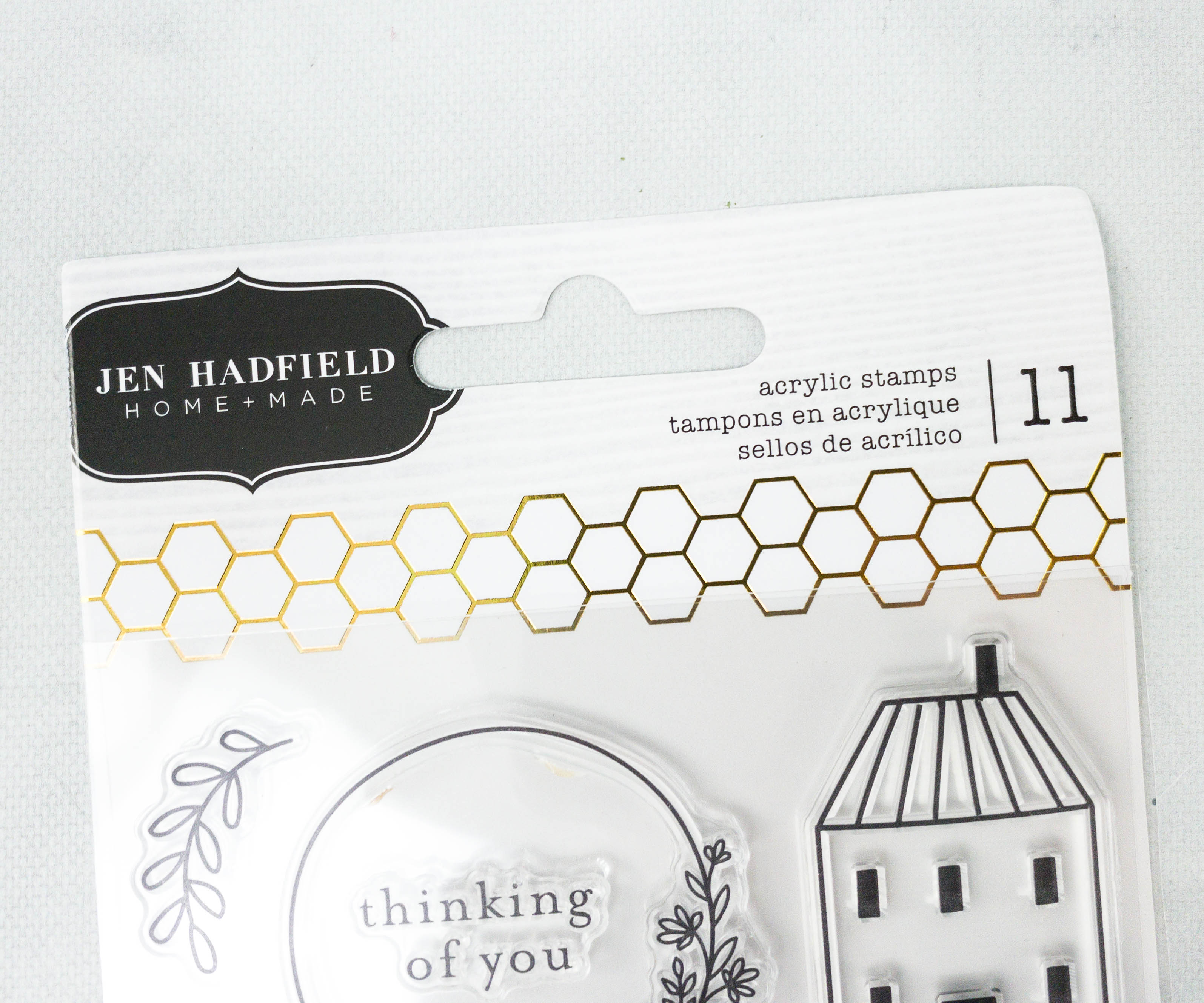 Jen Hadfield Home+Made Acrylic Stamps ($5.21) This set of clear acrylic stamps definitely gave lovely accents to my journal and scrapbook!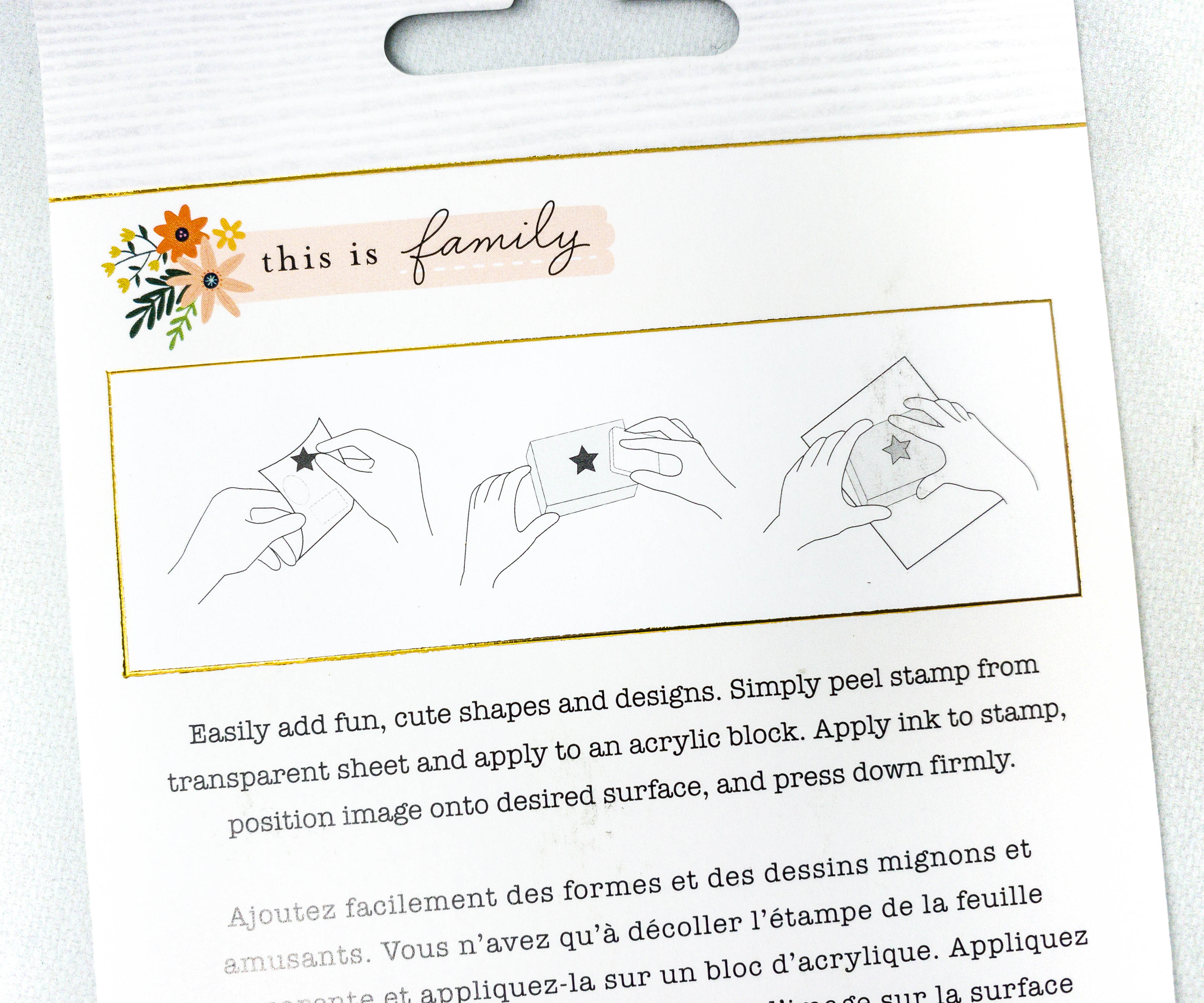 The back of the packaging shows the instruction with illustrations on how to use these acrylic stamps. You just need your own acrylic block and stamp pad.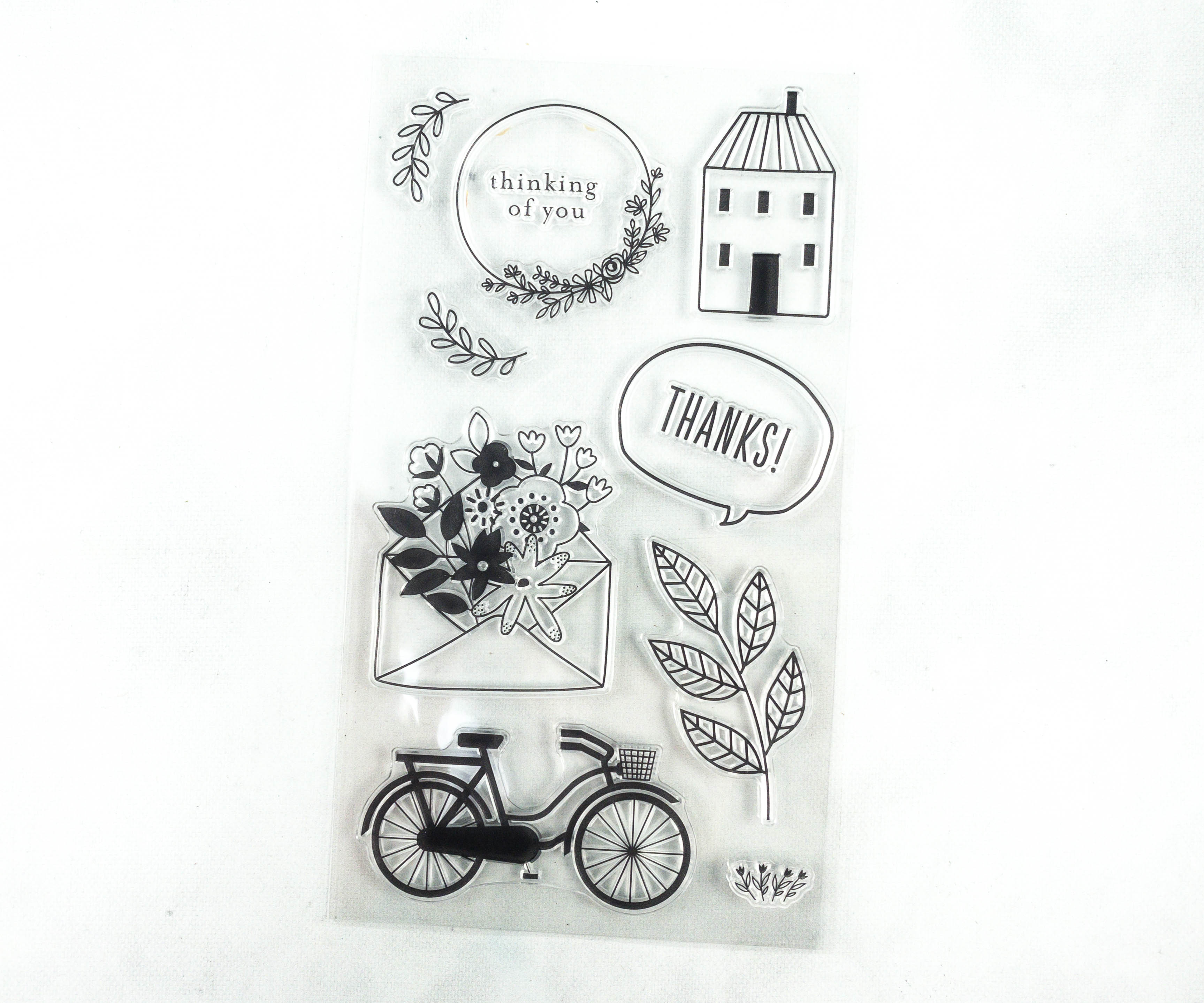 The designs are lovely! I like the "thinking of you" stamp. The one with leaves is also great for corners or titles.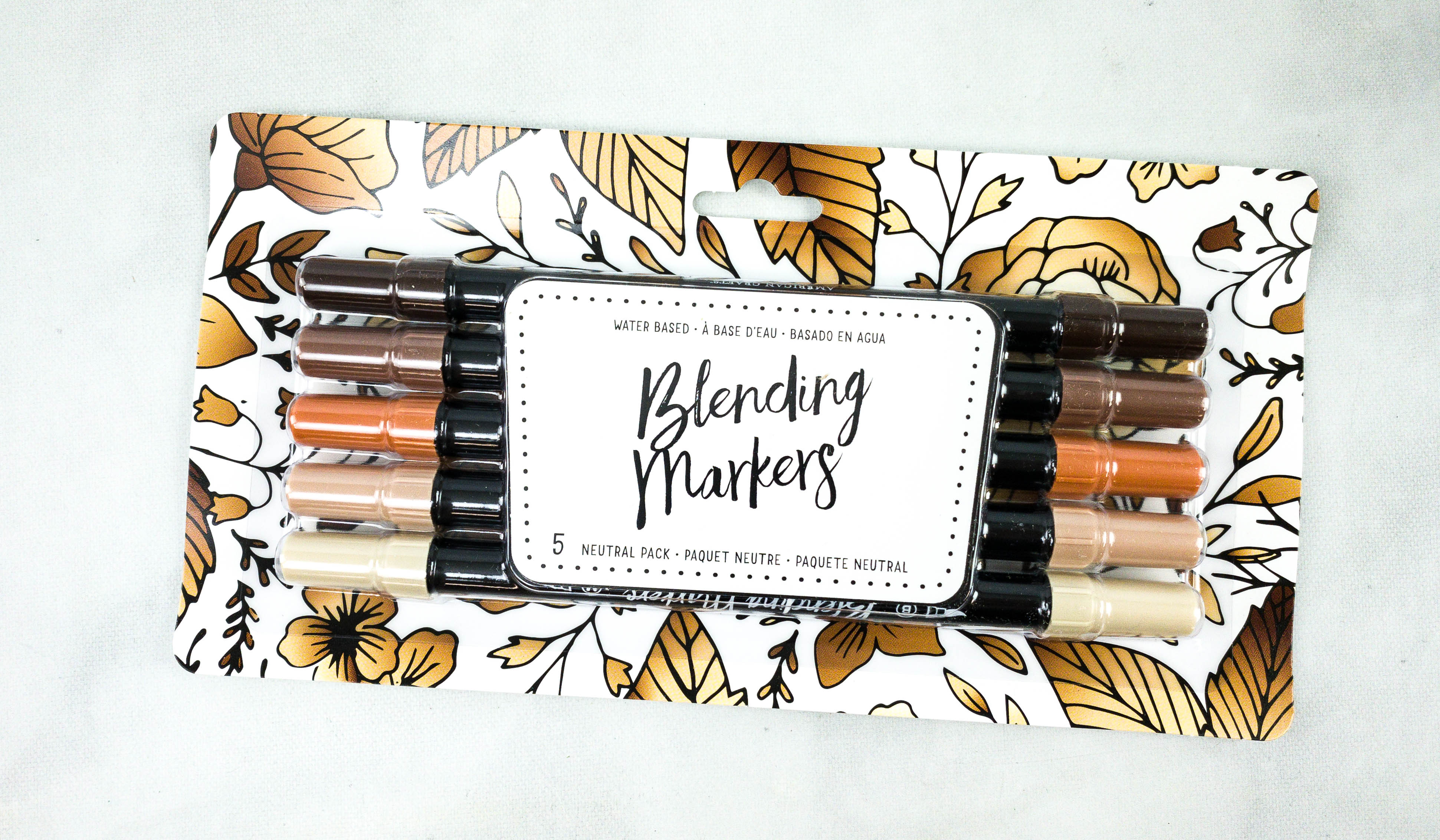 American Crafts Water-Based Neutral Pack Blending Markers ($15.17) We have more markers! These are water-based blending markers for adding dimension to letterings and other shading needs.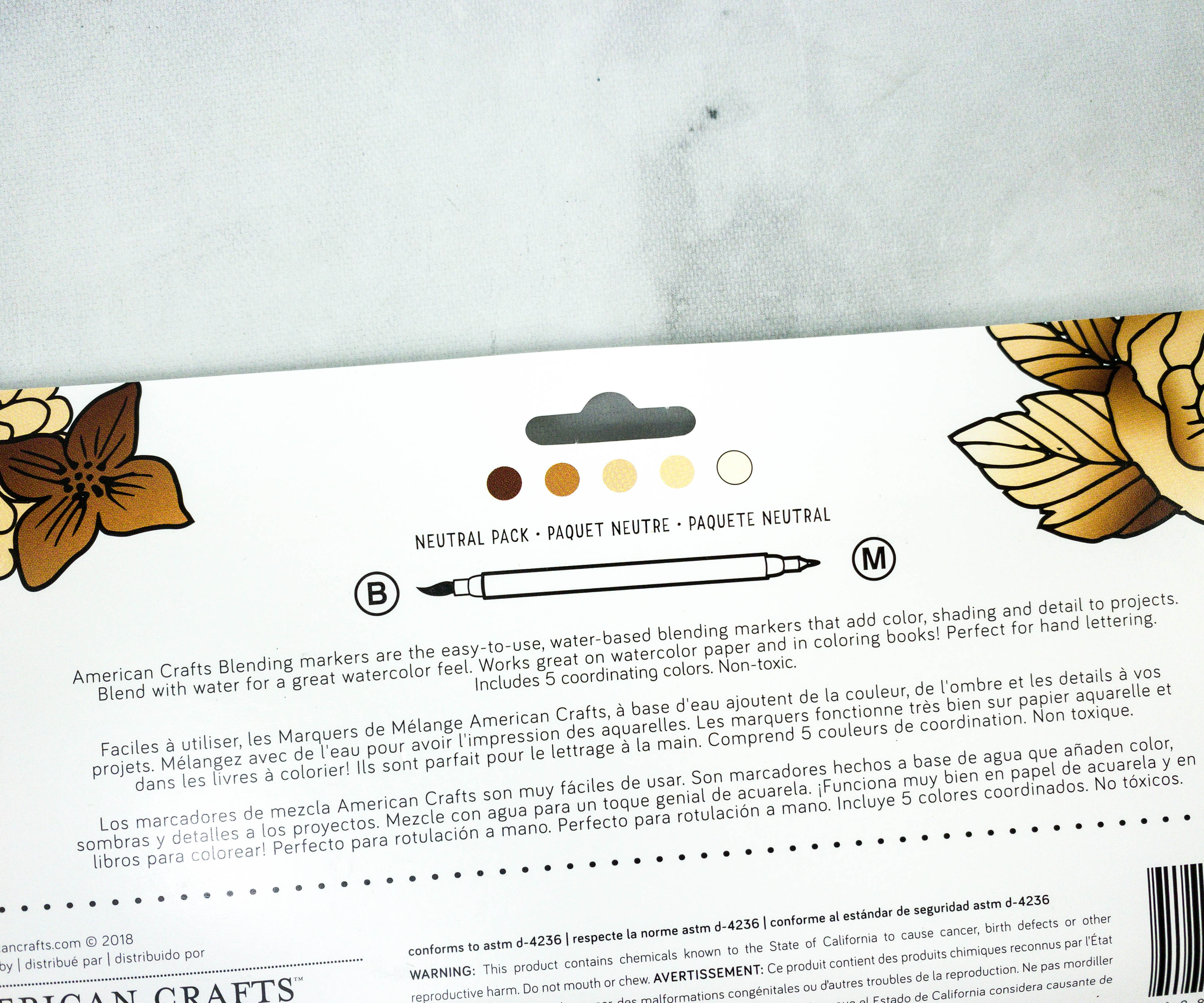 The back packaging briefly describes what these markers are in English, French, and Spanish.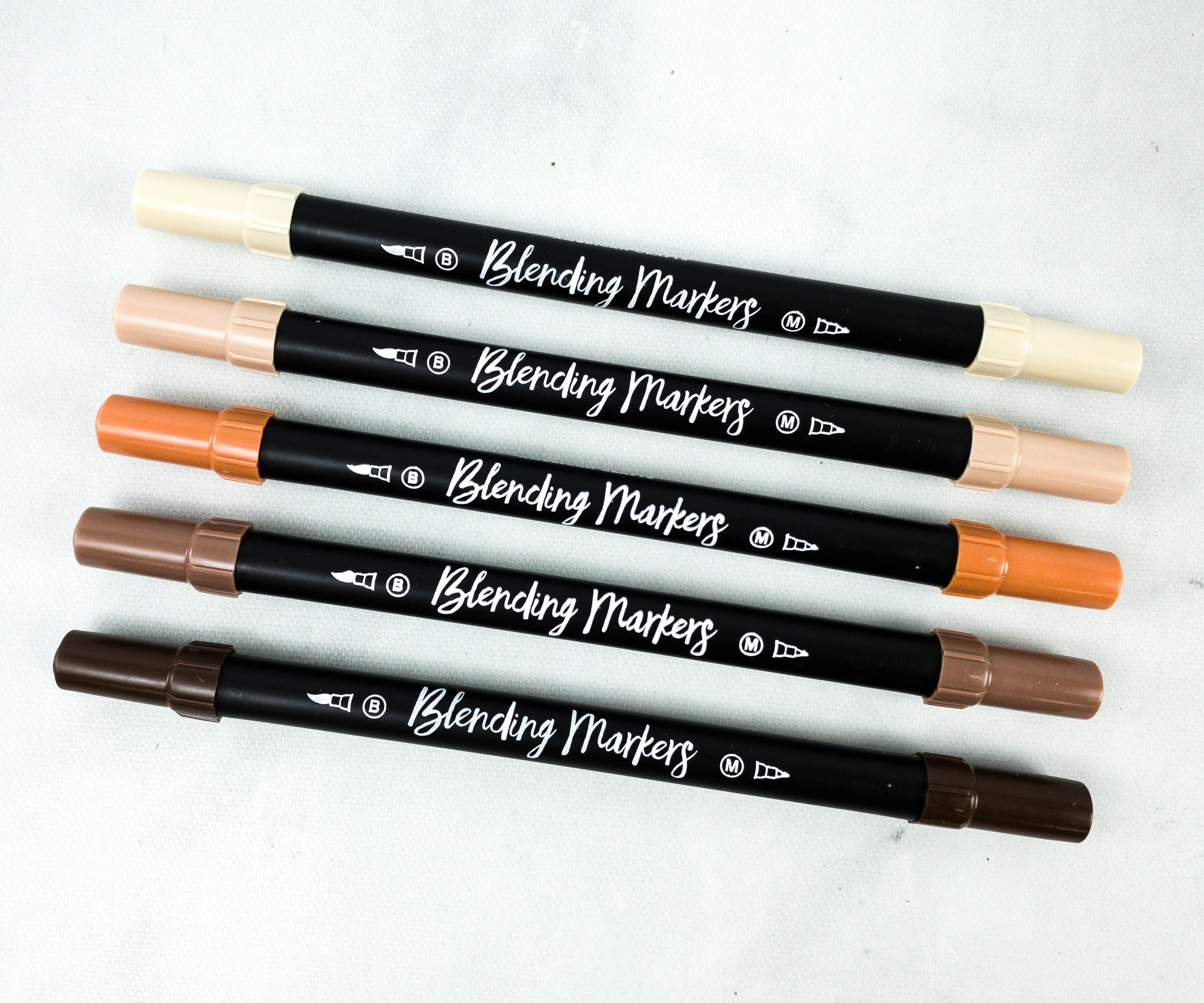 These blending markers come in 5 coordinating shades of tan and brown. They are also double-sided, with brush and medium tips.
The brush tip is great for coloring and for practicing calligraphy. You get the feel of using a paintbrush with every stroke.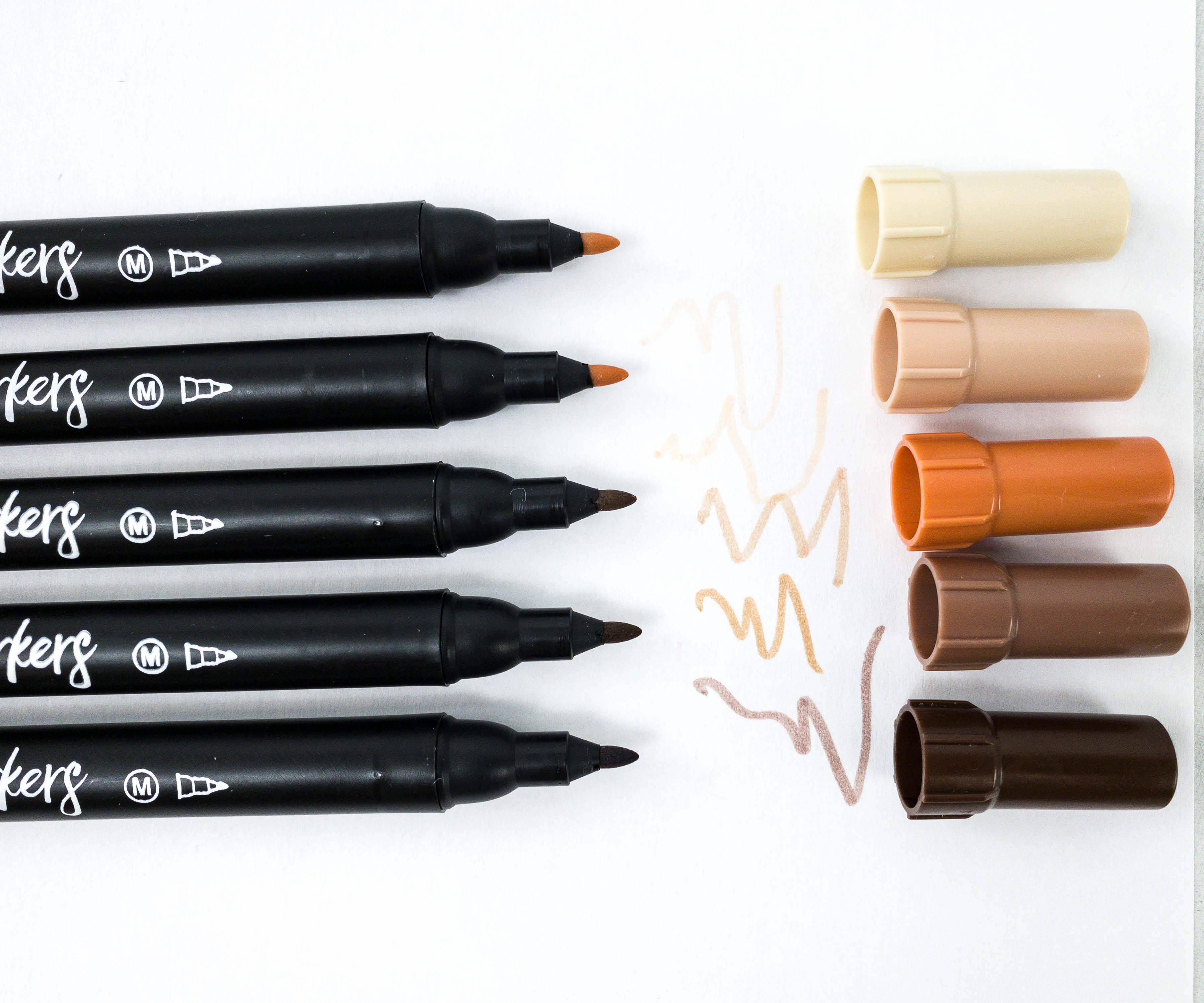 The medium tips can be also be used for coloring and lettering. Just look at the earthy tones, they are all lovely!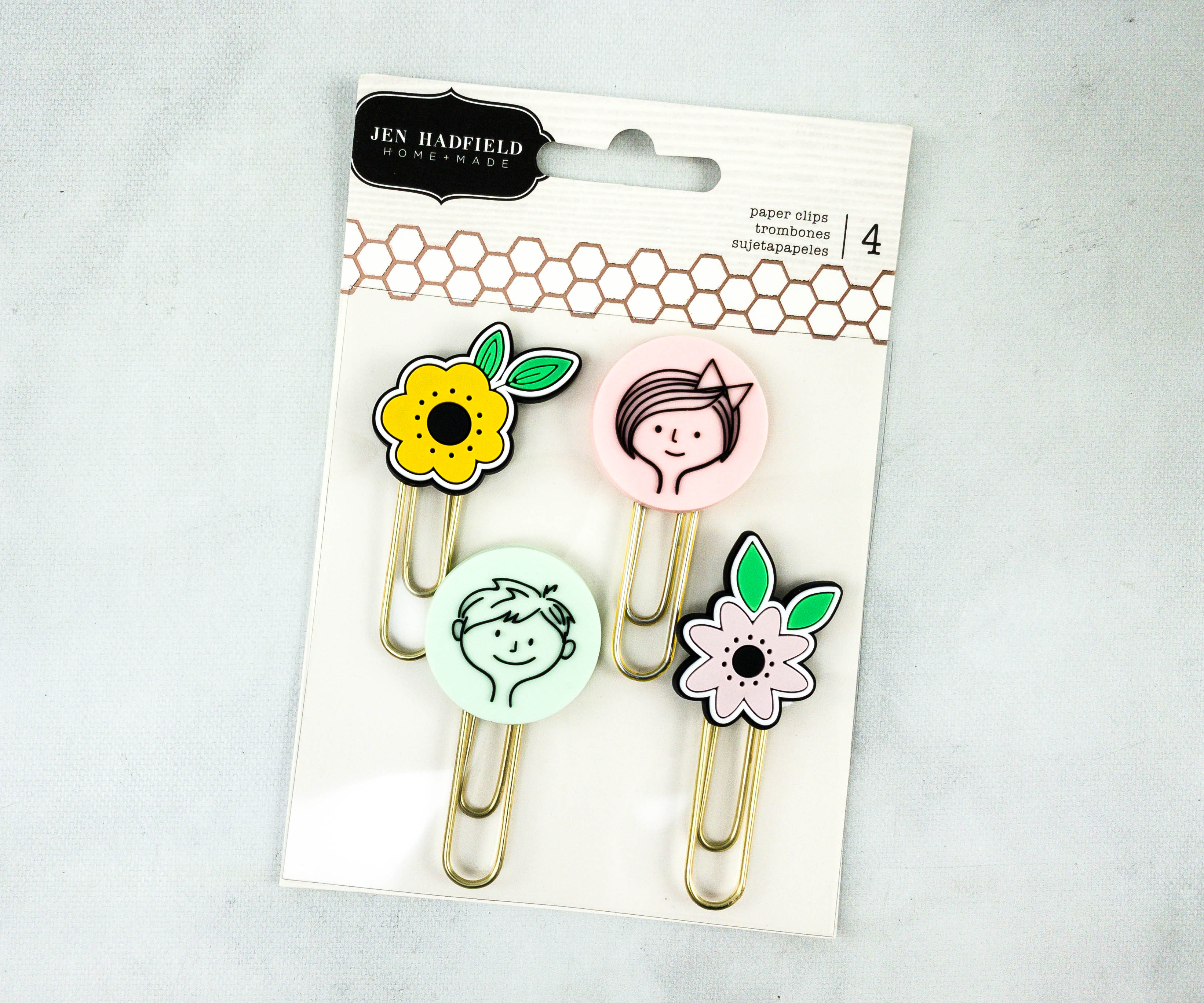 Jen Hadfield Home+Made Paper Clips ($4.99) It's a set of cute paper clips, ideal for keeping important papers or notes together or even as bookmarks!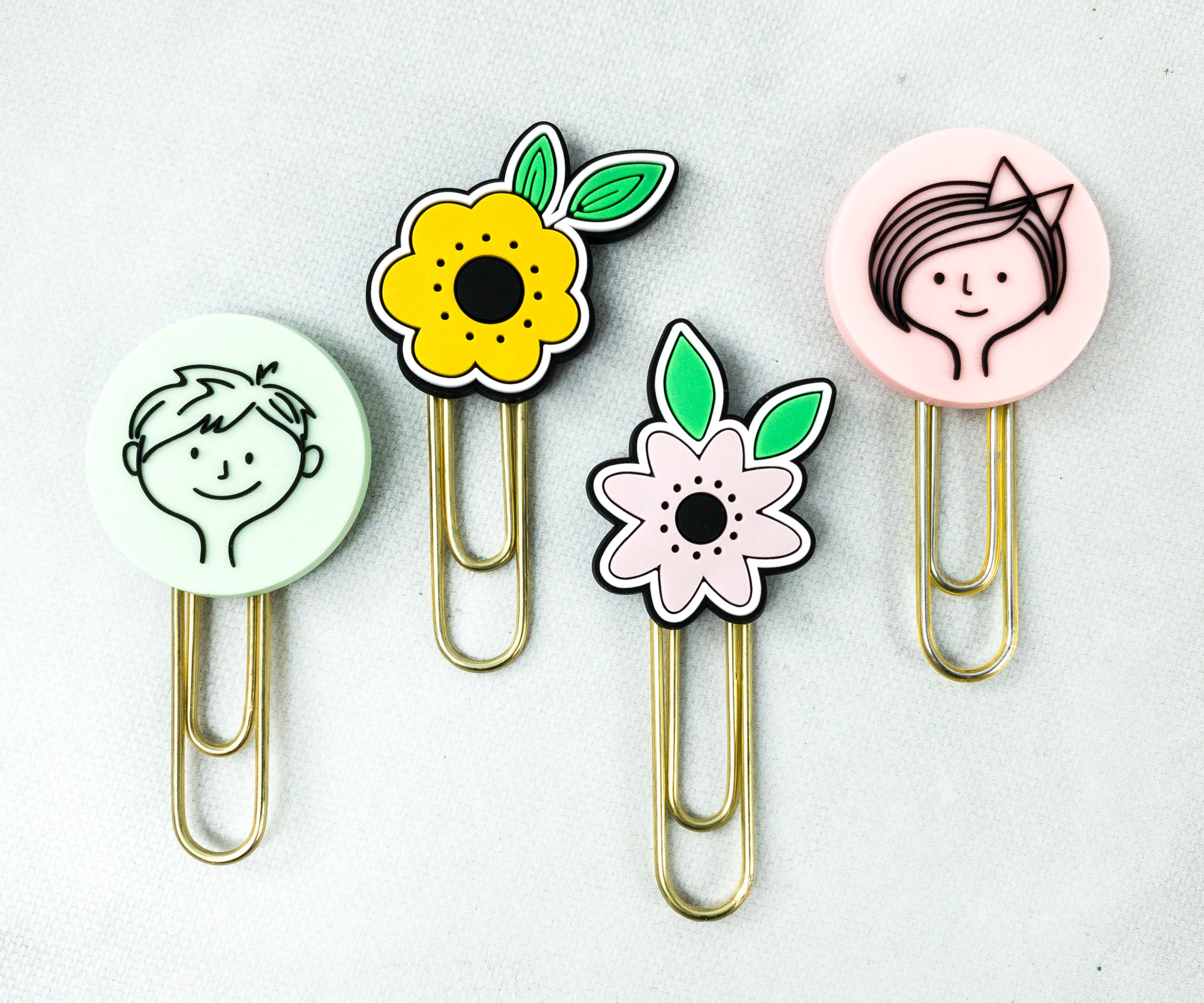 Each pack has 4 gold metal paper clips with beautiful toppers. The two toppers are flowers while the other two are a girl and a boy.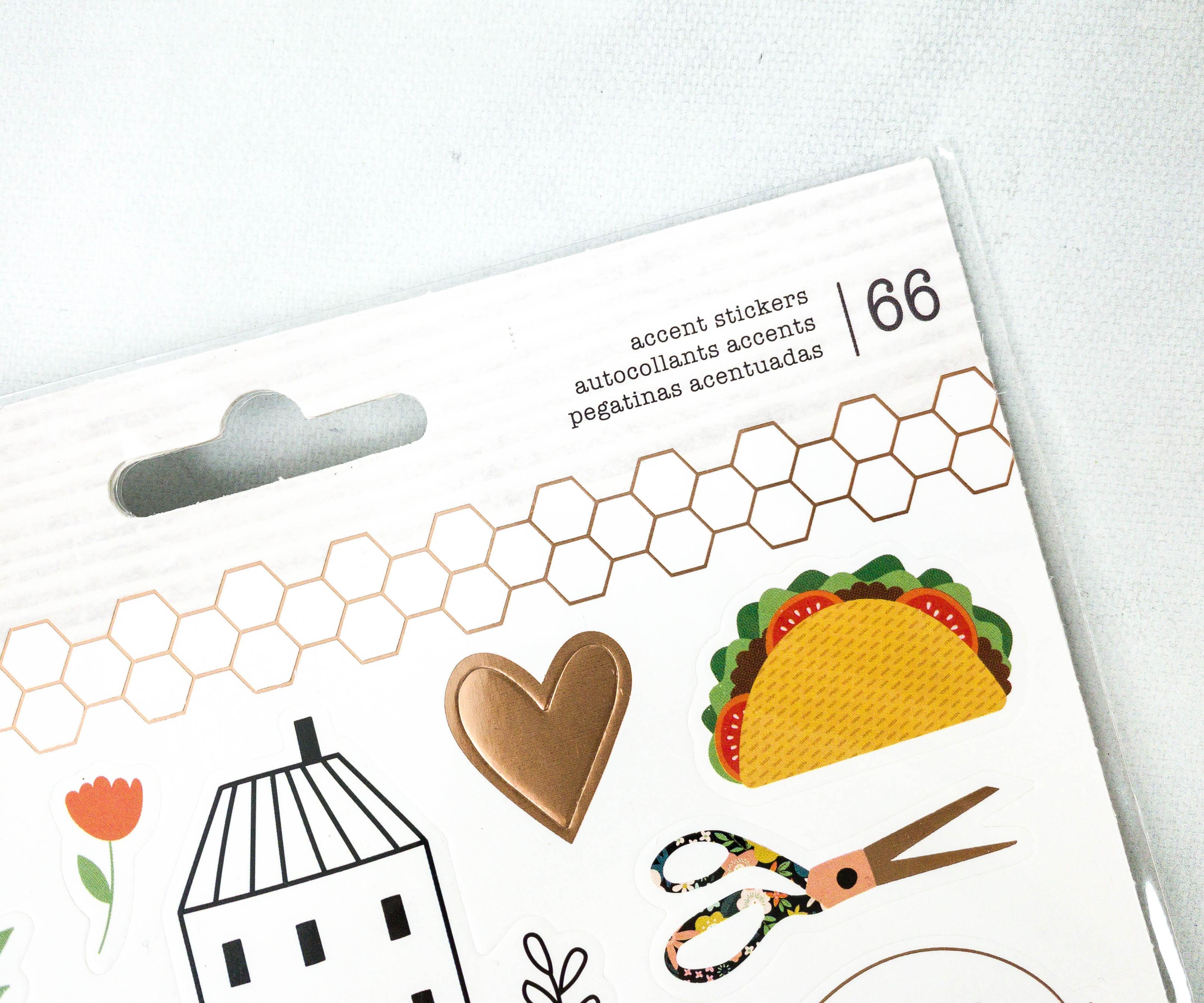 Jen Hadfield Home+Made Accent Stickers ($3.79) This set of stickers definitely made my scrapbook more attractive. This is from their "This Is Family" collection, just like the acrylic stamps!
It has a total of 66 cardstock stickers!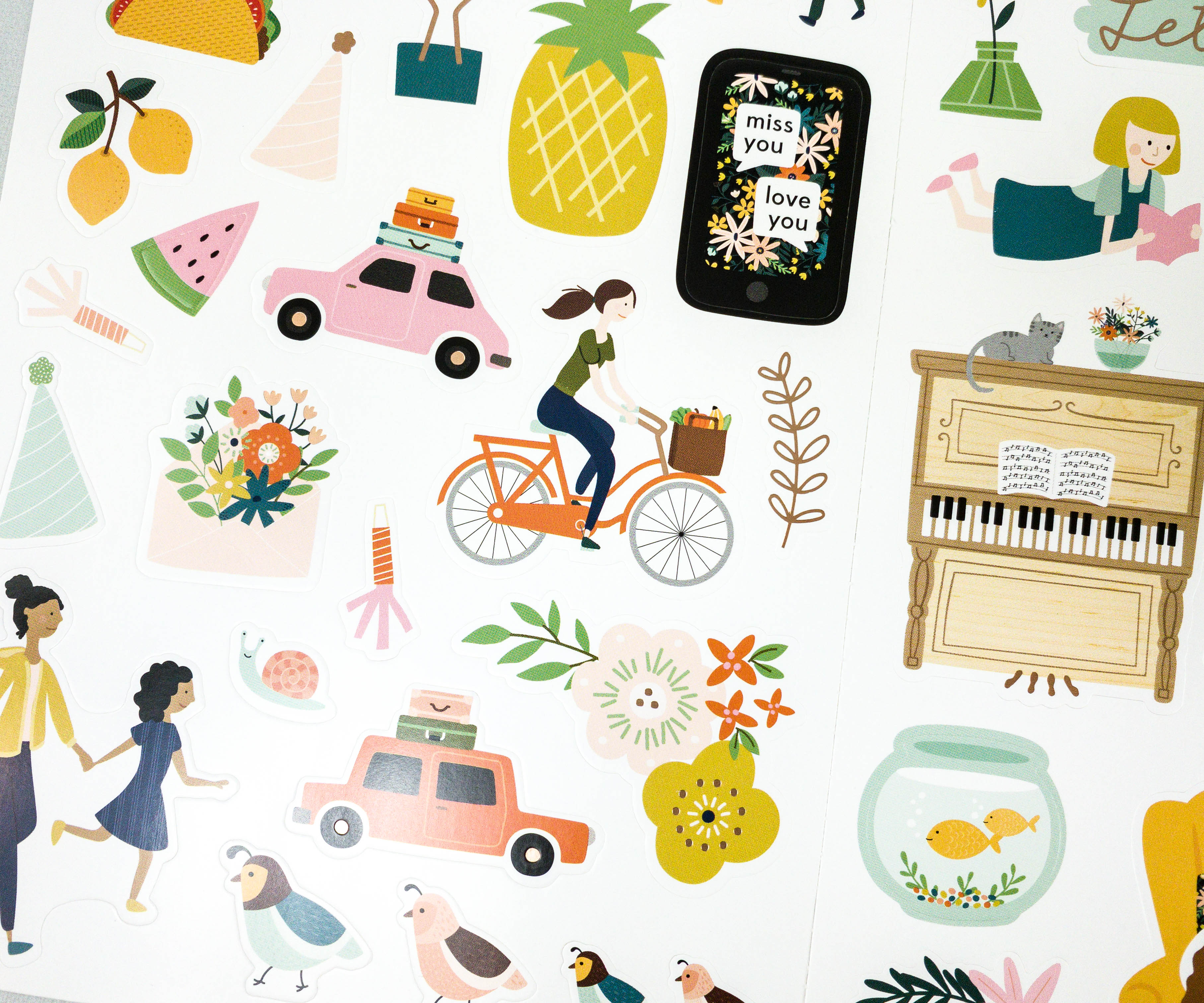 There are flowers, a mother and her daughter, cars, pineapple, lemon, and a lot more!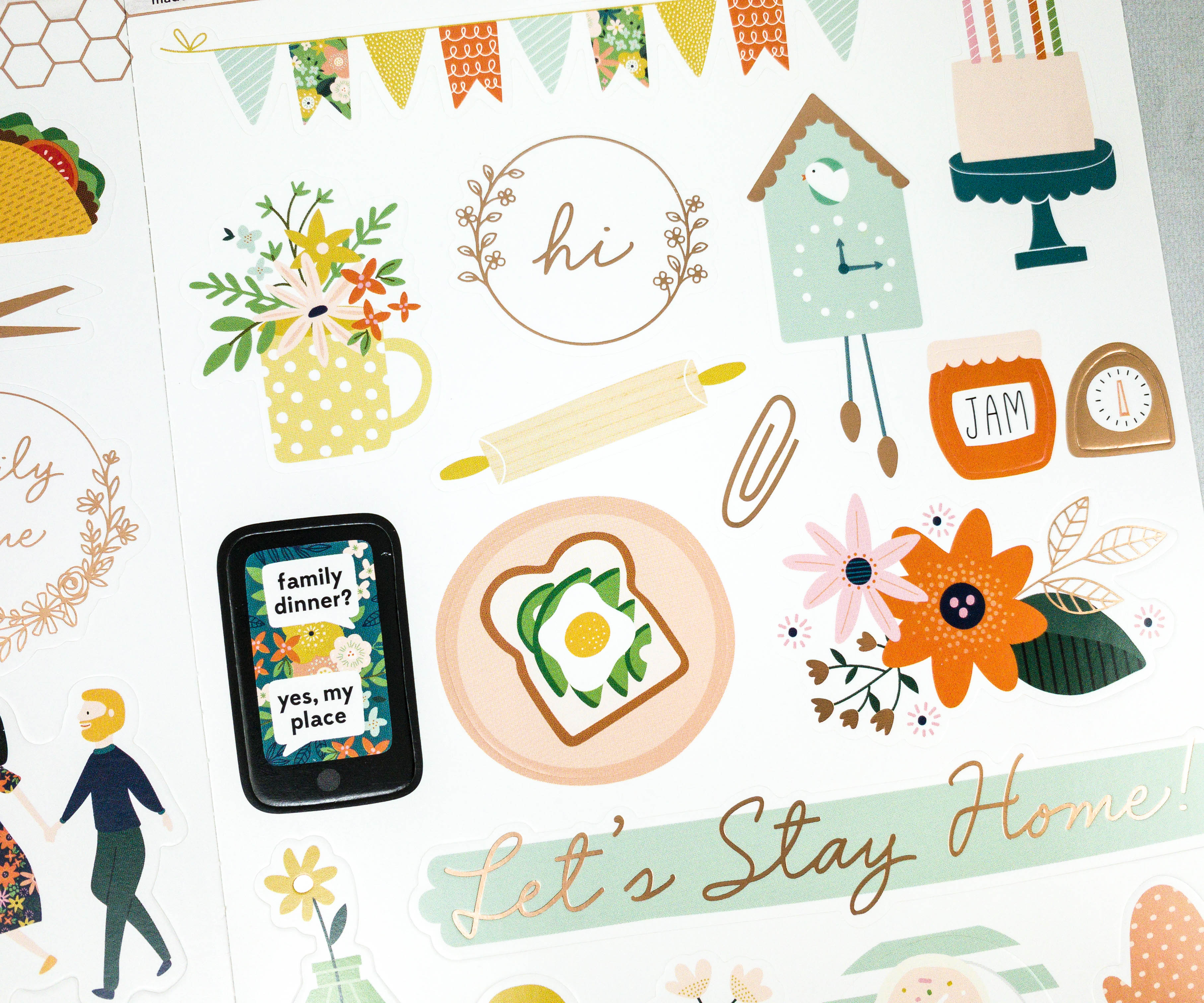 Also included in the sheets are tacos, avocado toast, a colorful bunting, and a phrase saying "Let's Stay Home!" with foil accents.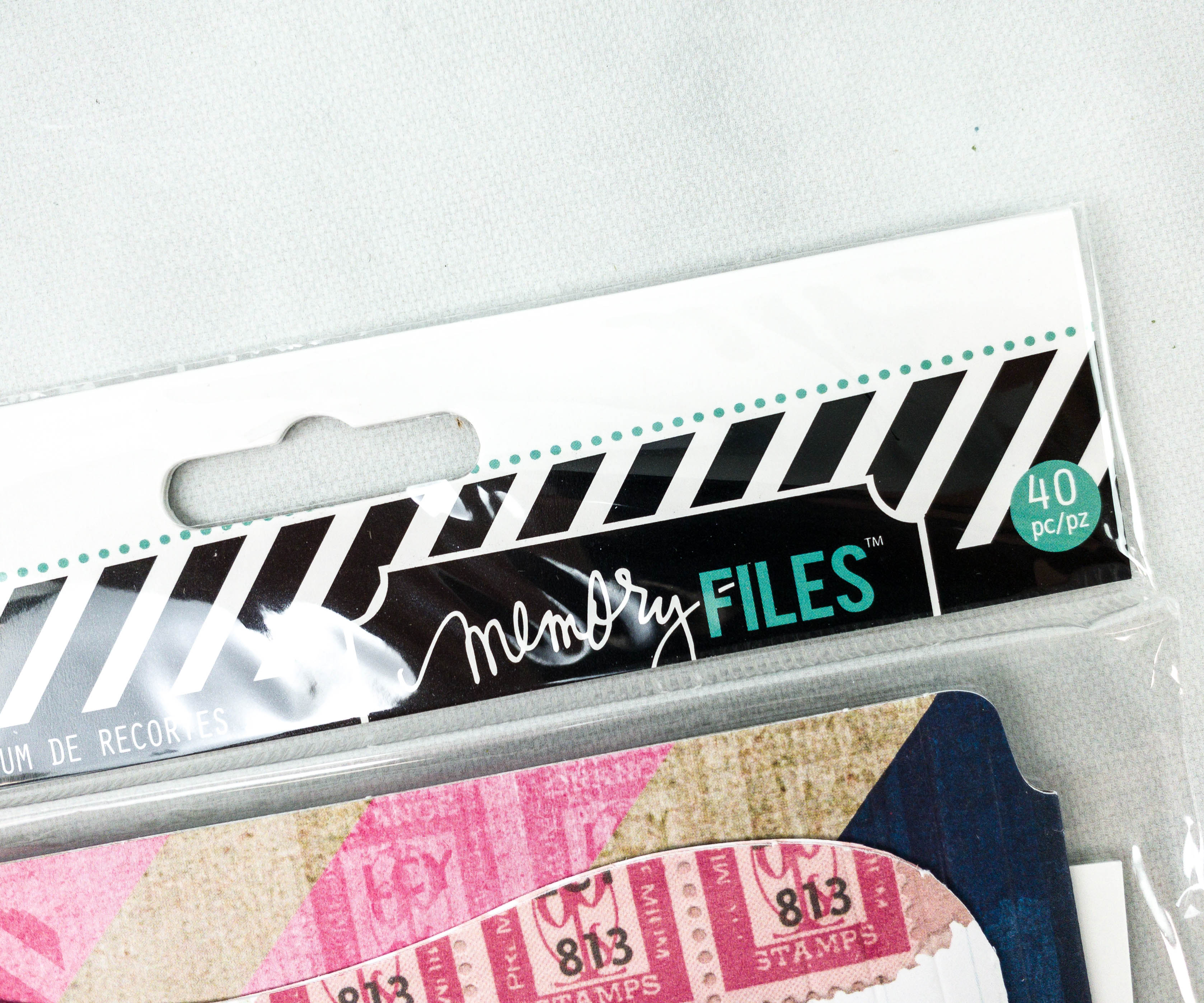 Heidi Swapp Memory Files Kits ($10.53) Here's a pack of paper goodies from Heidi Swapp and it includes 40 pieces!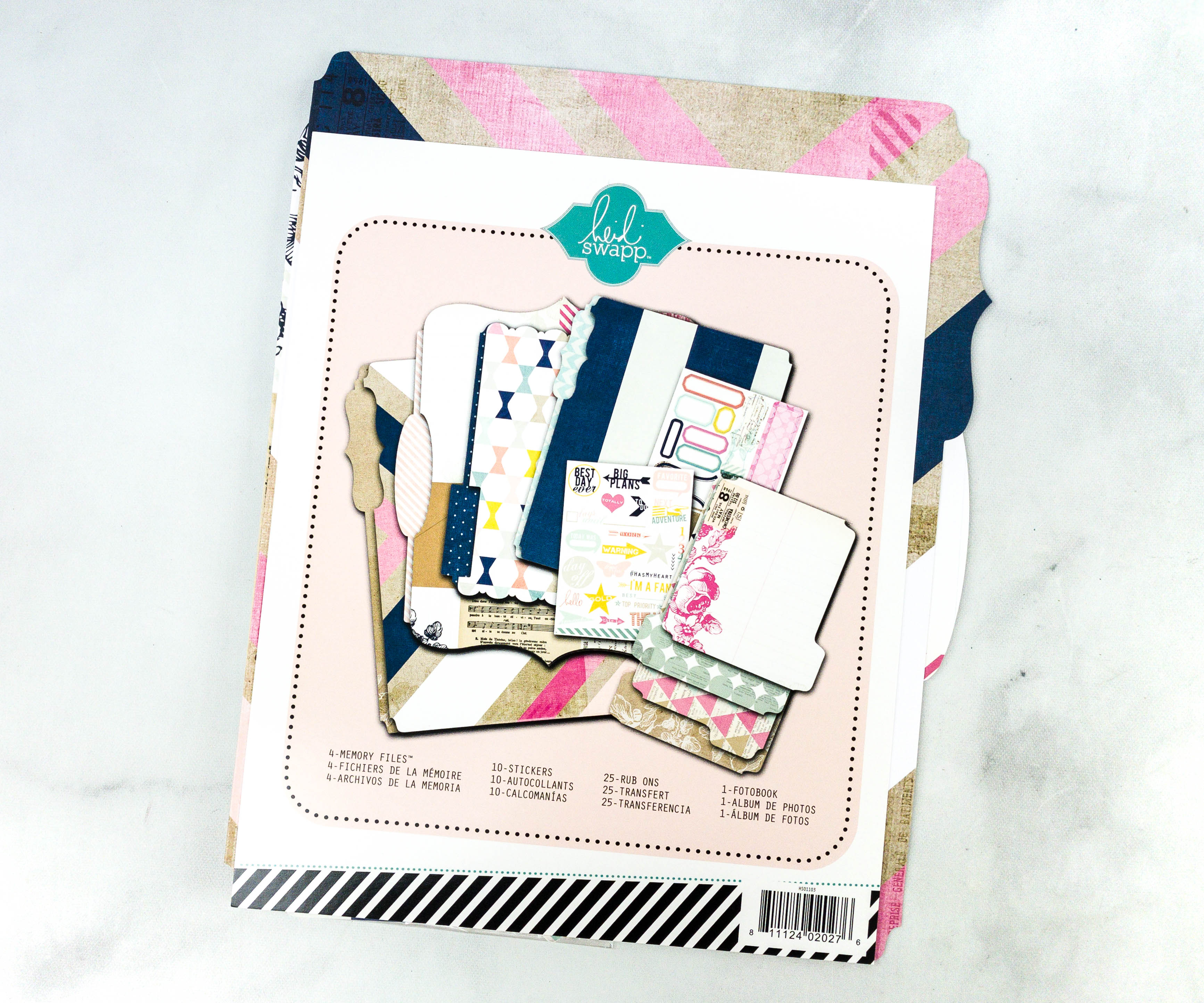 The back has a list of all the items inside this pack with a group photo.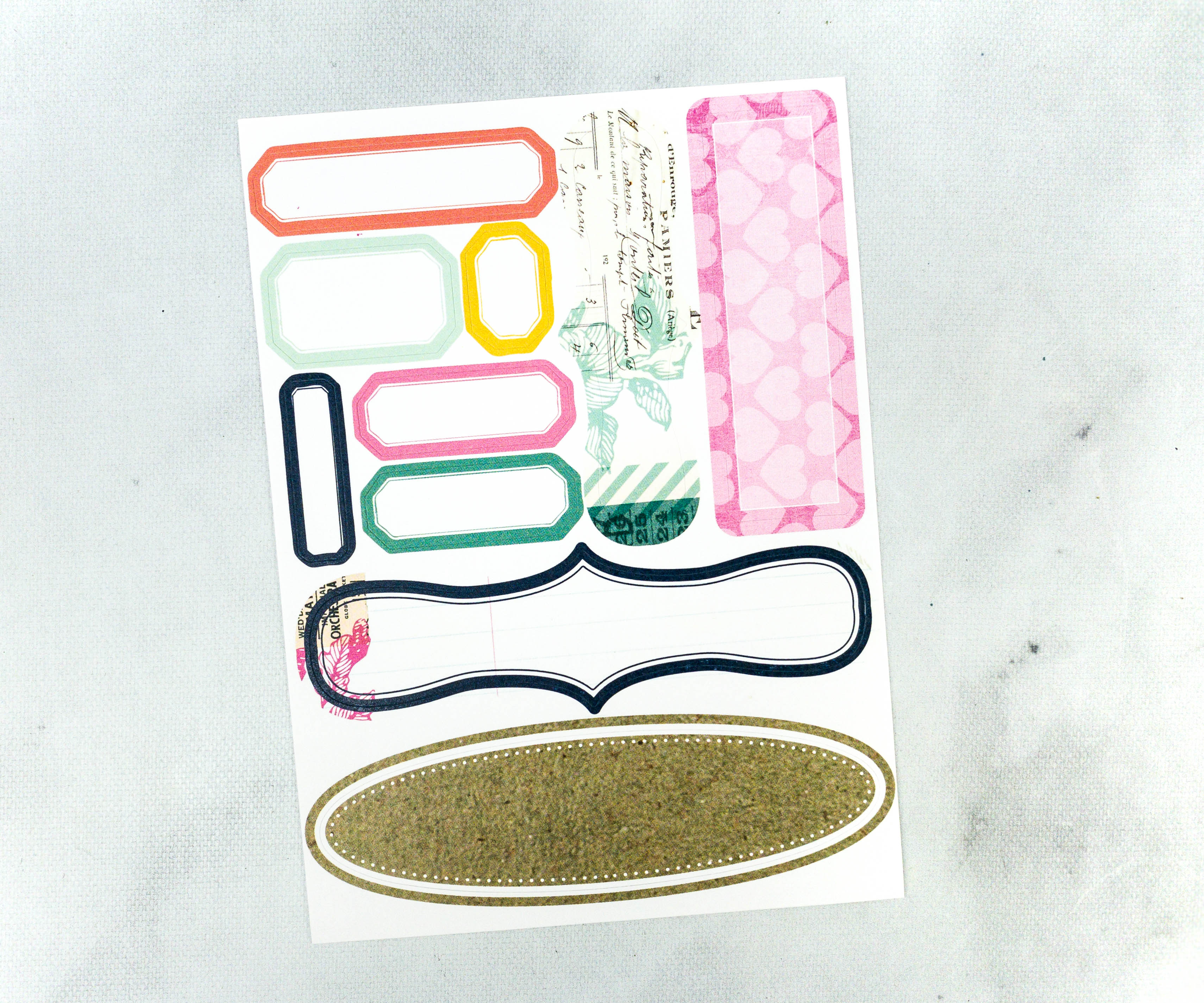 This sheet has stickers for labels or titles.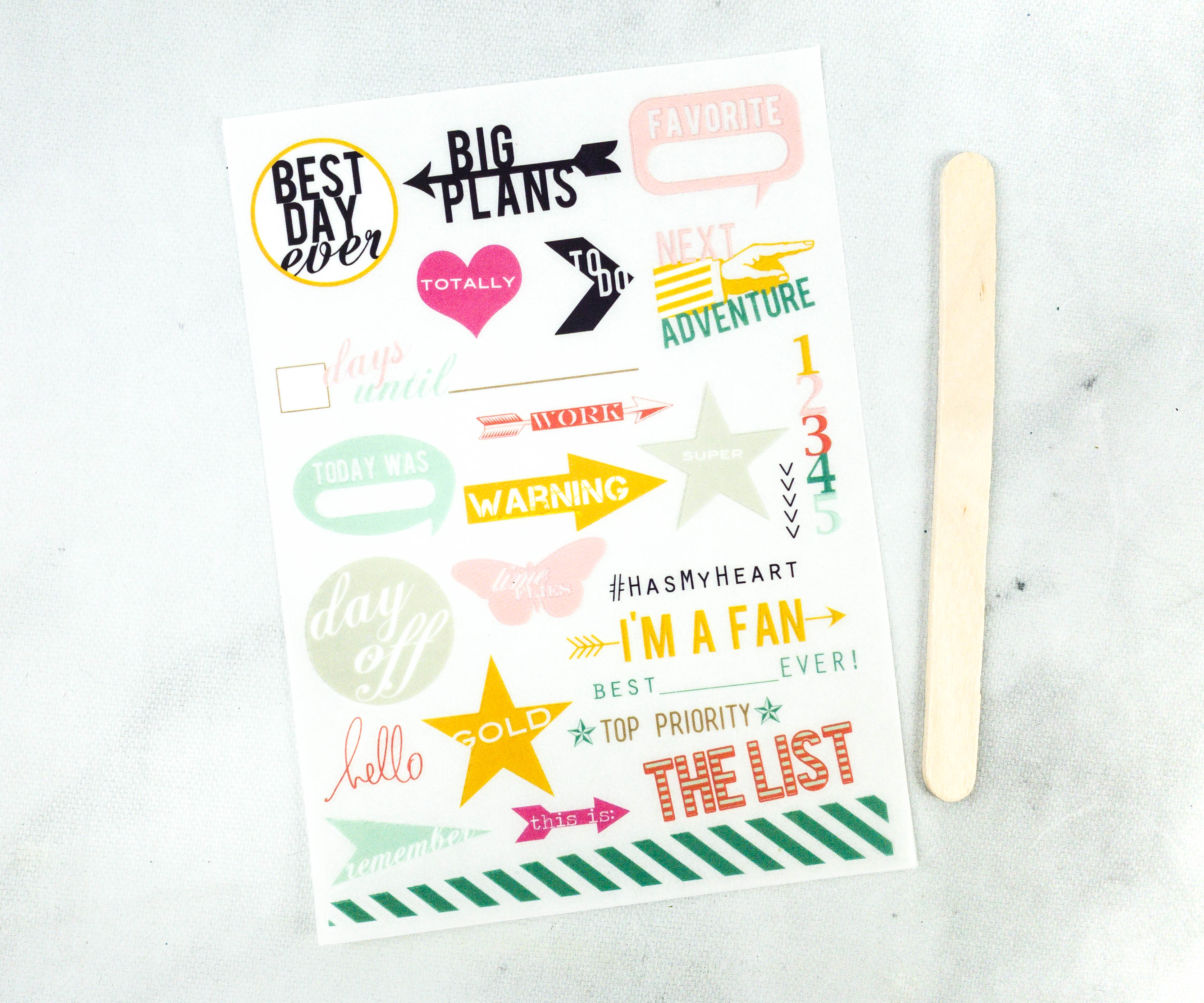 Another sheet has rub-on stickers. It comes with a popsicle stick so you can easily transfer it to your scrapbook or to any flat surface.
It also comes with 1 "fotobook", which makes a fun way to showcase photos on your scrapbook or project!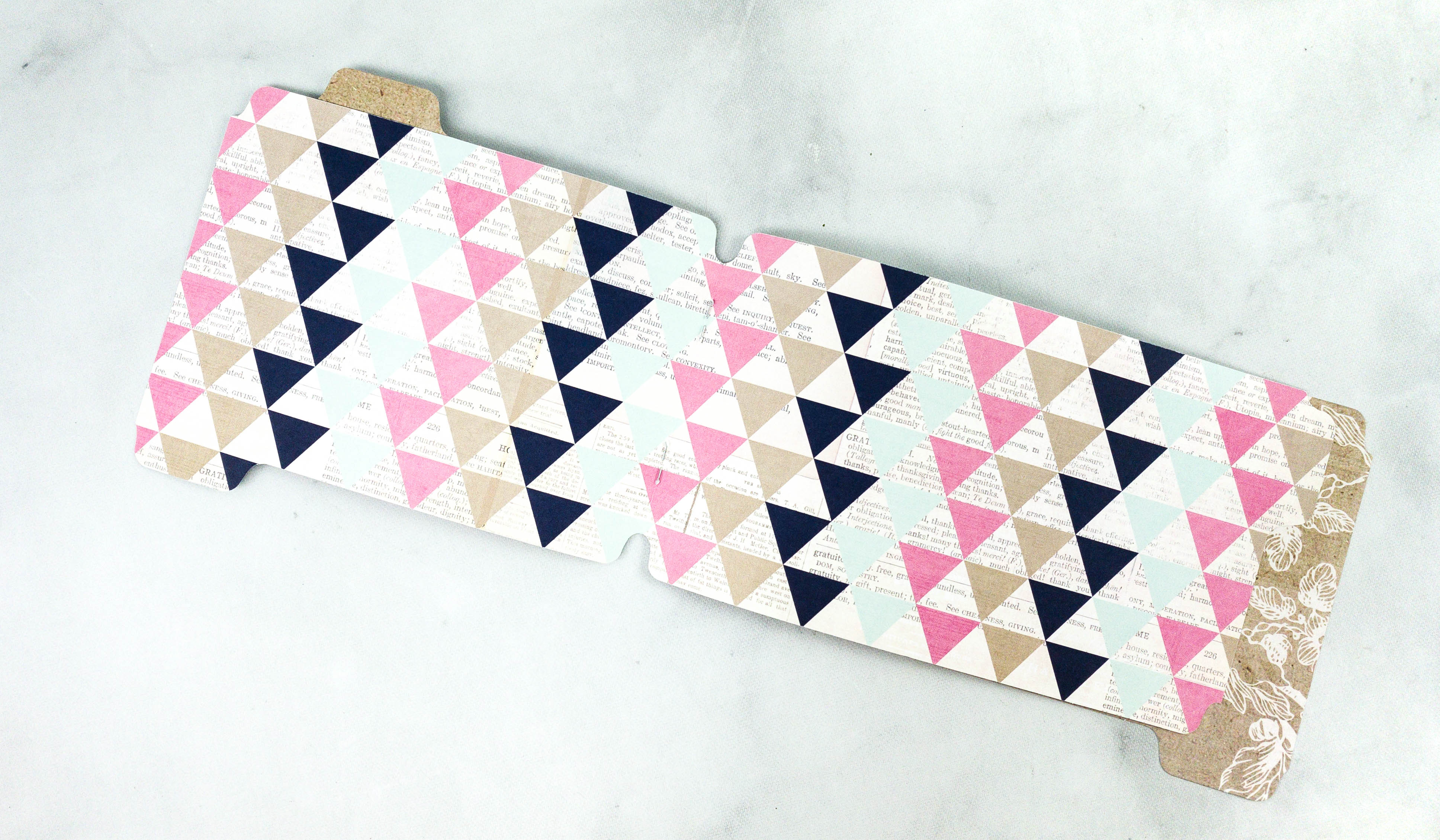 This has a geometric pattern in pink, brown, angel blue, and deep midnight blue with a leaf accent on the side.
The memory file at the back has a simple design, while the one on top has ribbons and polka dots.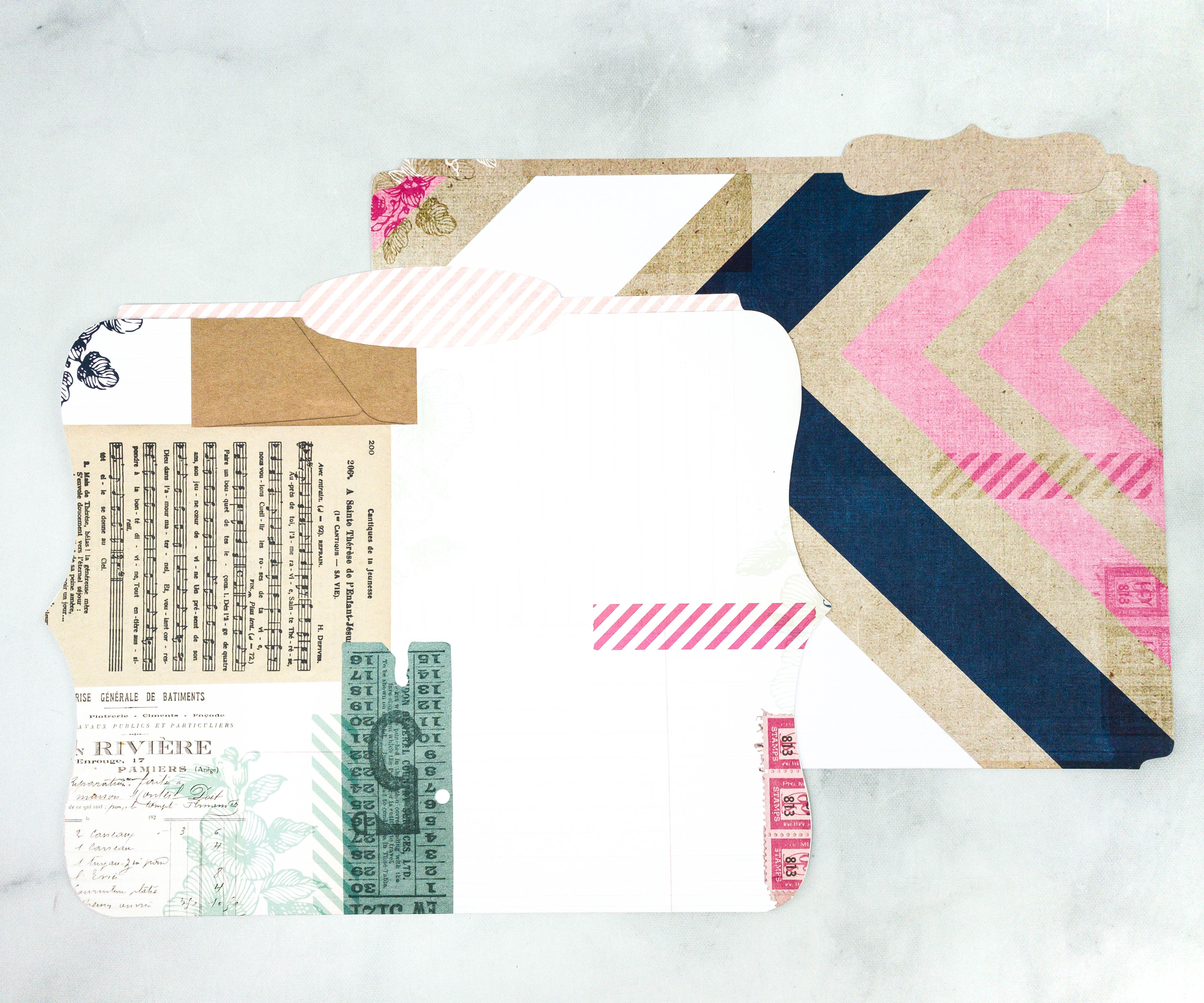 These patterned folders are also cute and they add a vintage touch to any project.
This month's Busy Bee Stationery box is filled with cute stationery goodies perfect for the theme Family Time. My favorite is the paper decors in the Memory Files Kit, as they are perfect for compiling photos from special family occasions or other important family memorabilia. I also like the sticker set and the set of double-sided markers. This subscription helps bring out my crafty side and I like it! I'm so excited to see what the next theme is!
Have you tried Busy Bee Stationery? What did you think of this month's box?