BookCase.Club is a monthly book subscription box offering different genres: Children's, Young Adult, Mystery/Thriller, Sci-Fi/Fantasy, Romance, and Historical/New Age/Contemporary Fiction. Each box contains 2 hand-picked books, except for the Children's box which includes 3 books. It costs $9.99 per month, making it one of the most inexpensive book subscriptions out there.
This is the review of Surprise-Me Fiction, a new offering that includes two engaging debuts and stand-alone fiction titles which may include historical, family saga, new age, literary, and contemporary.
DEAL: Save 50% on your first month! Use coupon code HELLOSUB501M. OR Get 10% off your entire order! Use coupon code HELLOSUB10.
When you sign up, you'll pick the genre.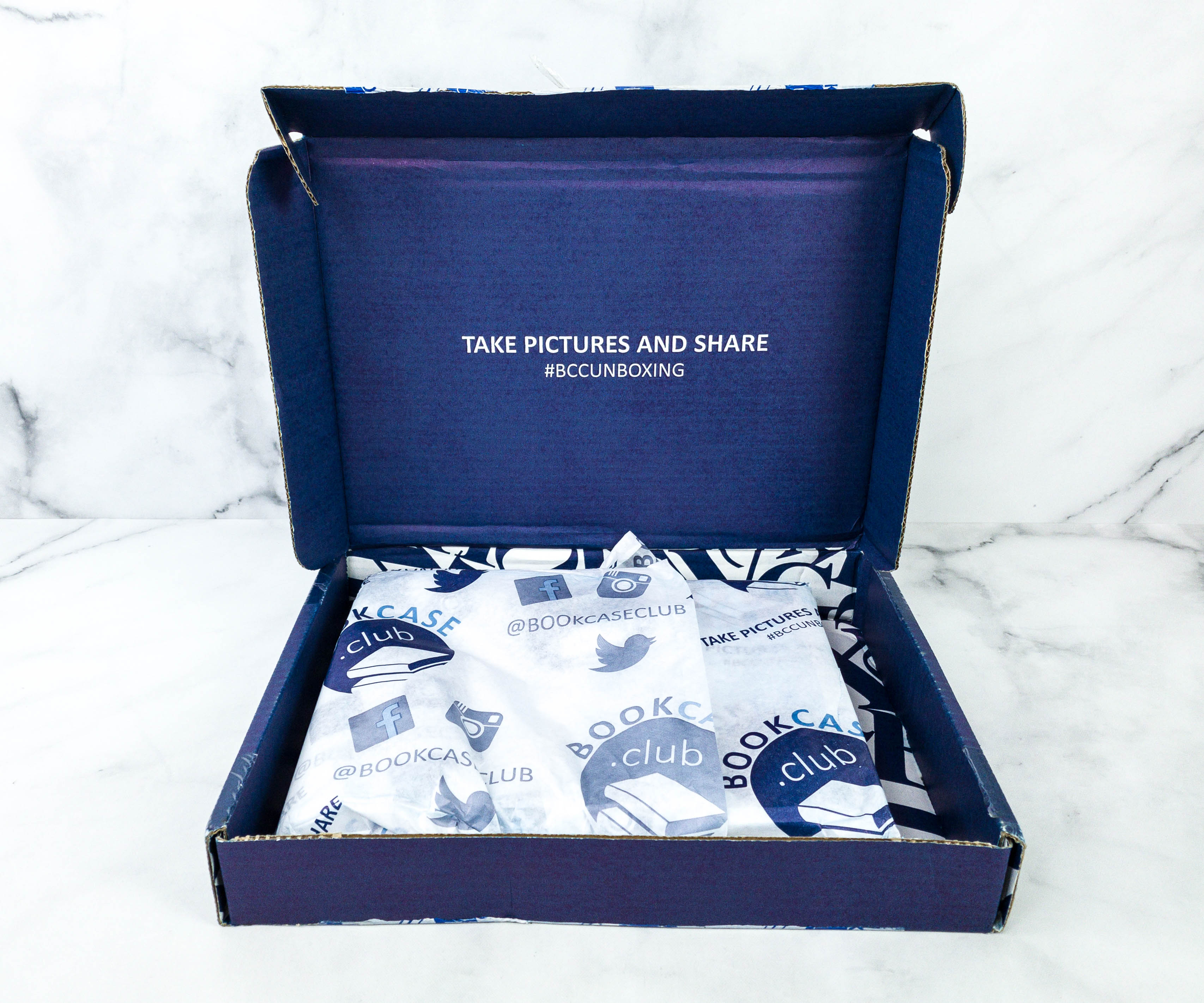 They encourage subscribers to take a photo of the box and share them online using #BCCUNBOXING.
The books were wrapped with Bookcase.club-printed tissue paper. This month's Surprise-Me Fiction book picks are The Secret of Clouds by Alyson Richman and Good Luck with That by Kristan Higgins.
Everything in my box!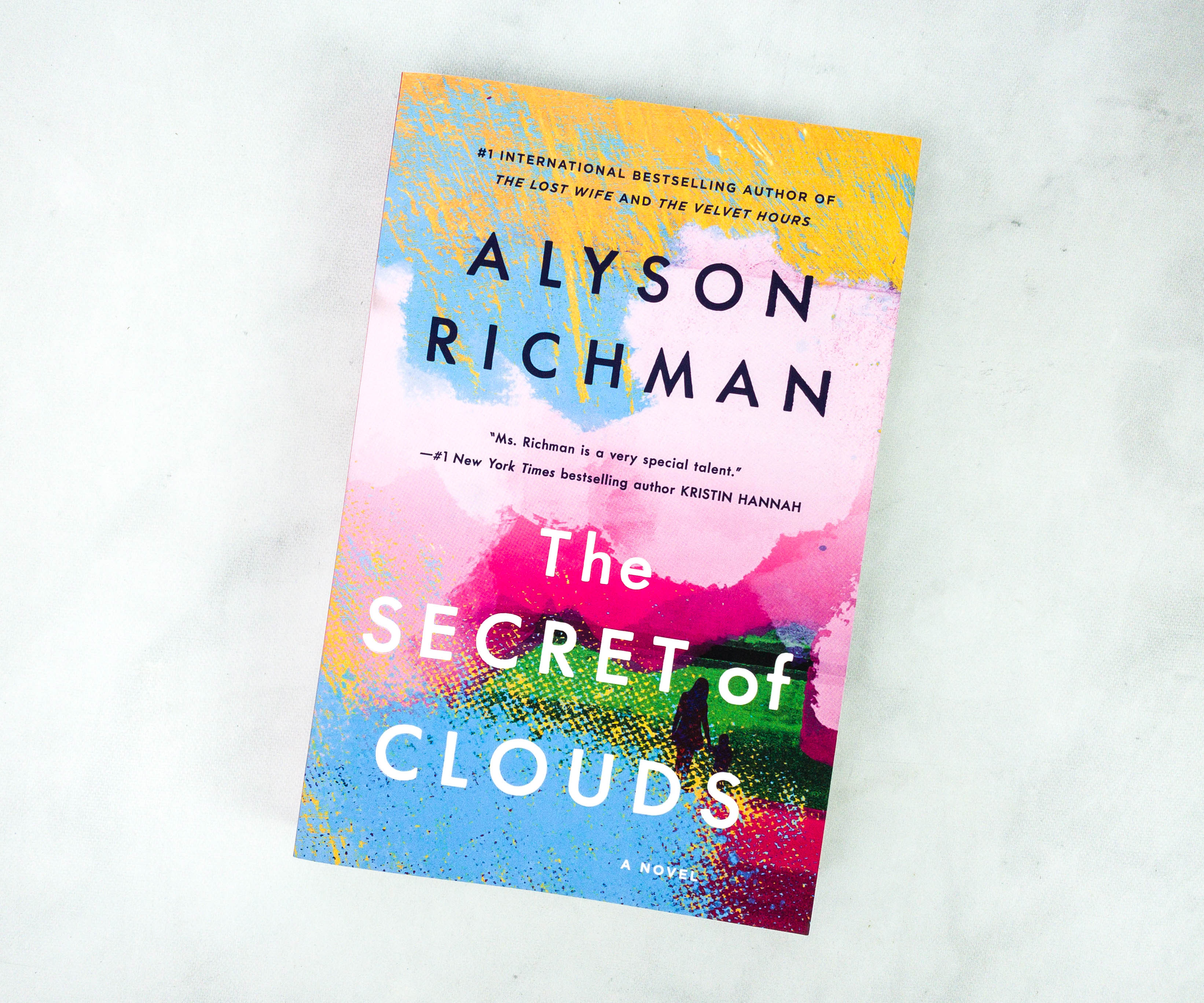 The Secret of Clouds by Alyson Richman ($13.21)
Named One of the Best 2019 Winter Books by PopSugar and Chosen as One of 9 Books to Read (or Gift!) This February by Instyle!

From the #1 international bestselling author of The Lost Wife and The Velvet Hours comes an emotionally charged story about a mother's love, a teacher's promise, and a child's heart….

Katya, a rising ballerina, and Sasha, a graduate student, are young and in love when an unexpected tragedy befalls their native Kiev. Years later, after the couple has safely emigrated to America the consequences of this incident cause their son, Yuri, to be born with a rare health condition that isolates him from other children. Maggie, a passionate and dedicated teacher agrees to tutor Yuri at his home, even though she is haunted by her own painful childhood memories. As the two forge a deep and soulful connection, Yuri's boundless curiosity and unique wisdom inspires Maggie to make difficult changes in her own life. And she'll never realize just how strong Yuri has made her—until she needs that strength the most….

A novel that will make readers examine what it means to live life with a full heart.
This story is about a passionate teacher and a child born with a birth defect that isolates him from the rest of the world.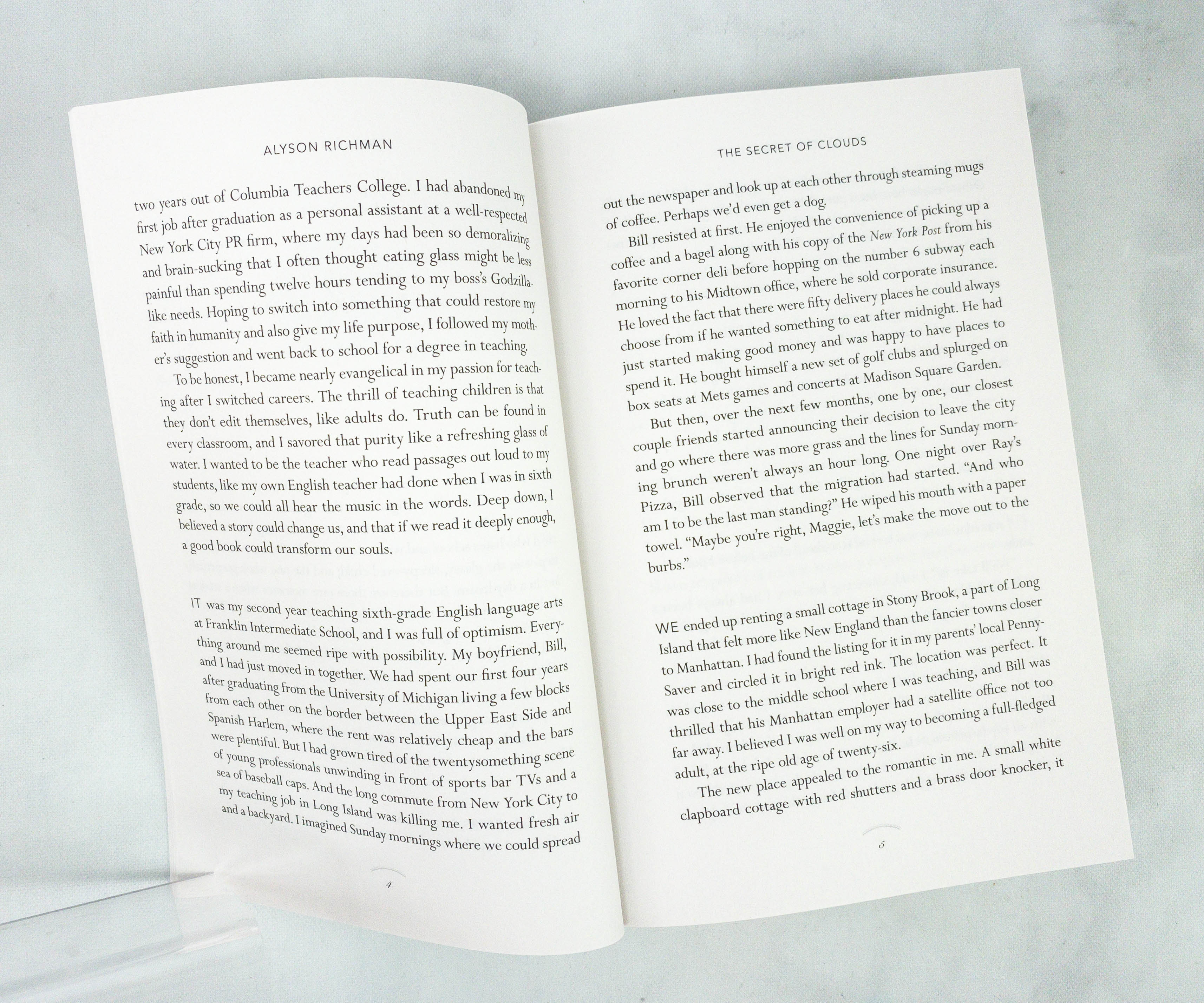 The author takes the readers to a pool of emotions. Maggie, the teacher was asked to tutor Yuri, the kid with a heart problem. She was reluctant at first as memories from her childhood flood her mind. After accepting the task given to her, their relationship depends as they've shared the same interest.
Though the story should have been more focused on Yuri's family than Maggie's life, this story still touches the heart. It's a story of love, family, passion, life, and inspiration. It also shows how one person can make an impact on someone else's life.
There are scrape marks on my second book cover.
Good Luck with That by Kristan Higgins ($9)
New York Times best-selling author Kristan Higgins is beloved for her heartfelt novels filled with humor and wisdom. Now, in her newest novel, Good Luck with That, she tackles an issue every woman deals with: body image and self-acceptance. 

Emerson, Georgia, and Marley have been best friends ever since they met at a weight-loss camp as teens. When Emerson tragically passes away, she leaves one final wish for her best friends: to conquer the fears they still carry as adults.

For each of them, that means something different. For Marley, it's coming to terms with the survivor's guilt she's carried around since her twin sister's death, which has left her blind to the real chance for romance in her life. For Georgia, it's about learning to stop trying to live up to her mother's and brother's ridiculous standards, and learning to accept the love her ex-husband has tried to give her.

But as Marley and Georgia grow stronger, the real meaning of Emerson's dying wish becomes truly clear: more than anything, she wanted her friends to love themselves.

A novel of compassion and insight, Good Luck with That tells the story of two women who learn to embrace themselves just the way they are.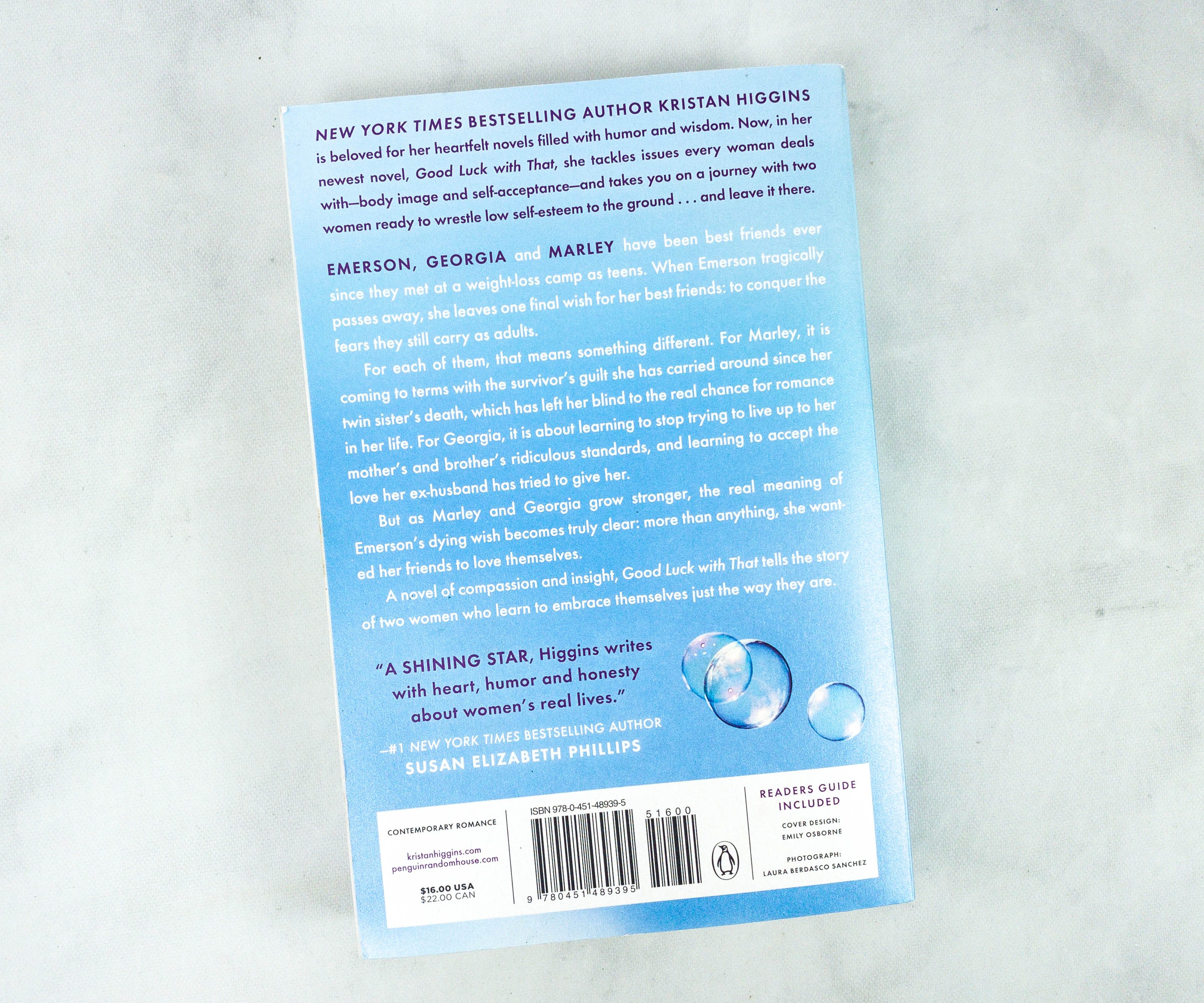 This is another heartwarming story that takes readers to a roller coaster of emotions.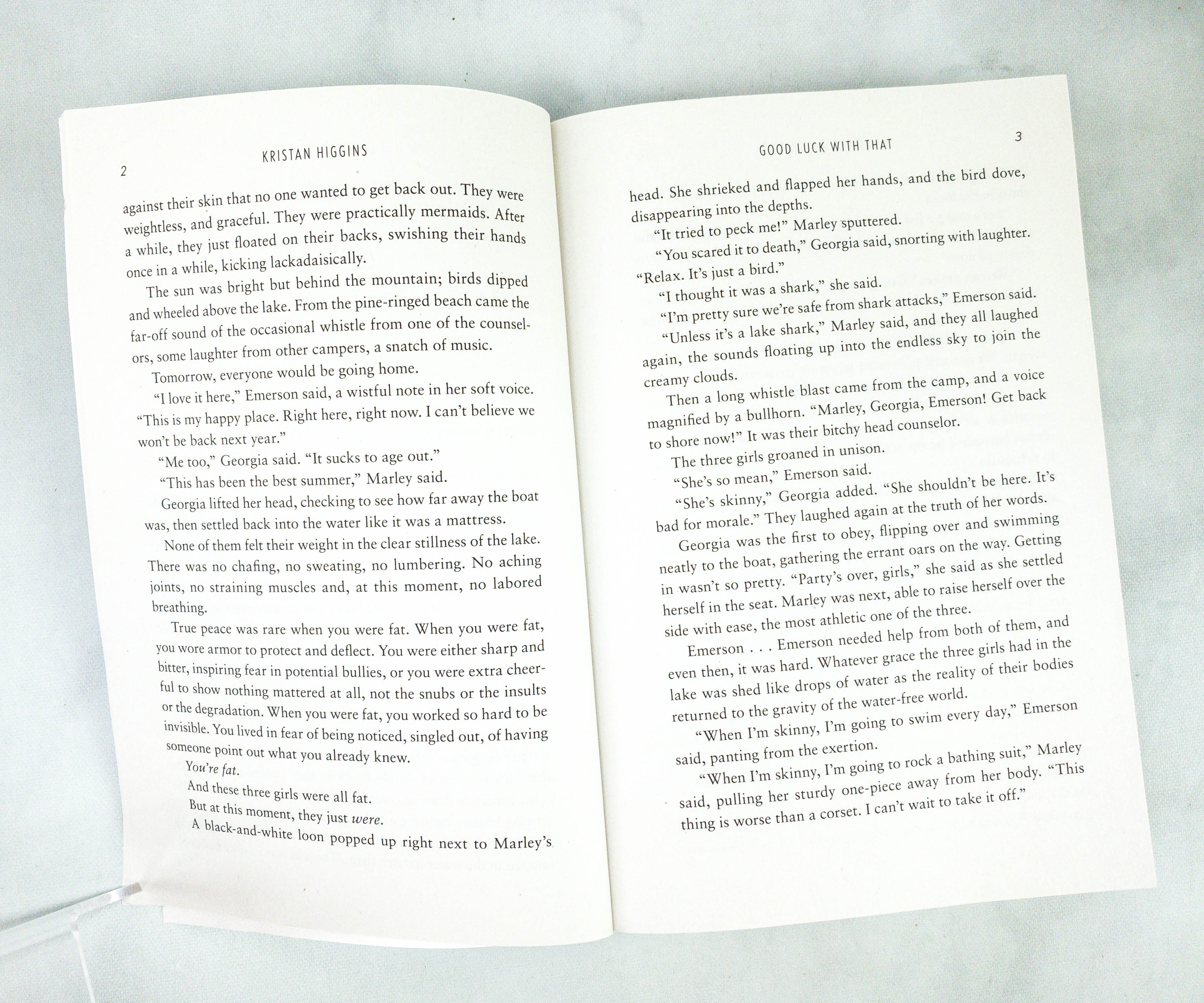 It's about Emerson, Georgia, and Marley who have issues about themselves, specifically with their bodies. They've become the best of friends as they've taken on the journey of losing weight.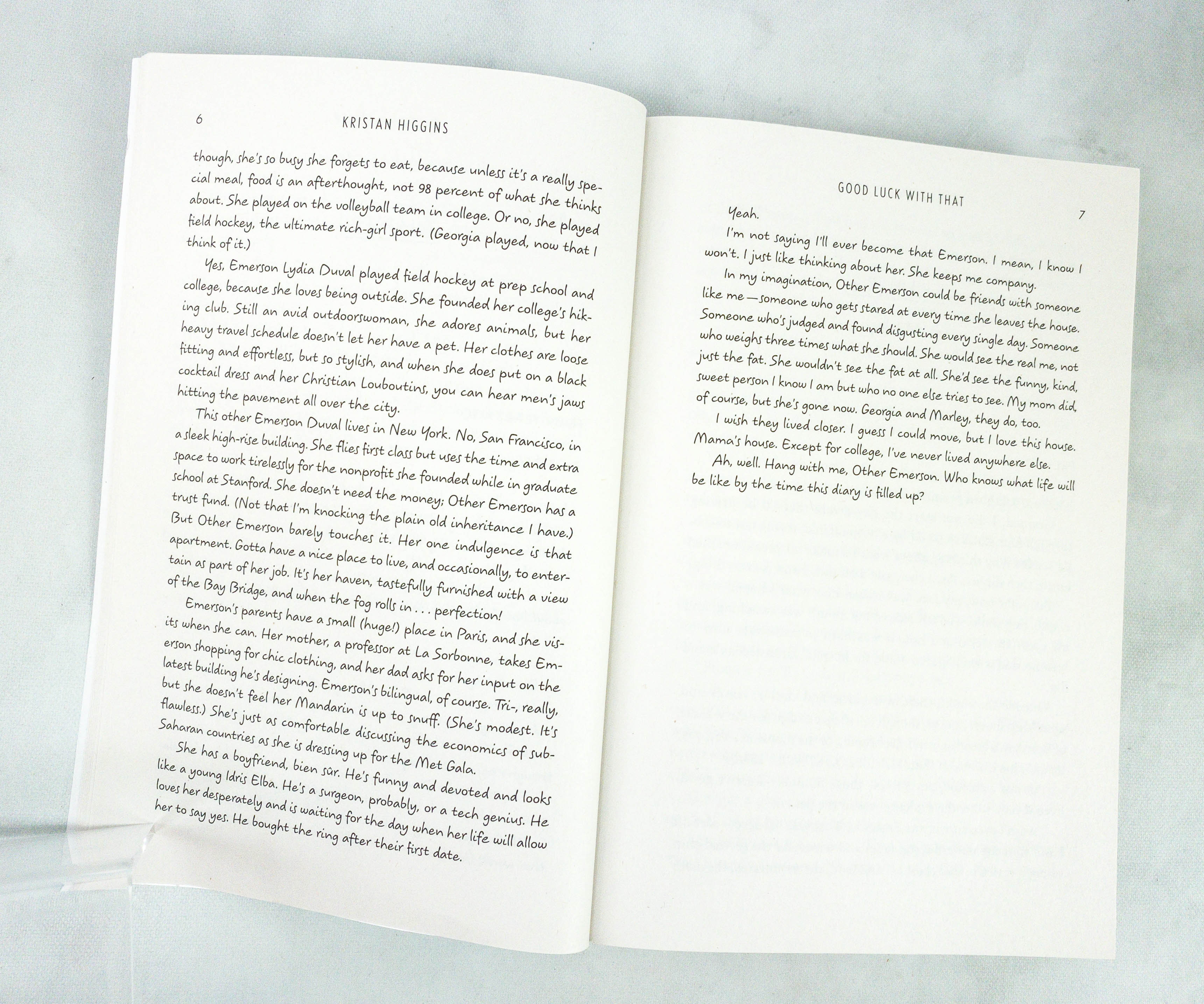 The author never failed to make me laugh and cry with the dialogues. The story is also filled with a lot of relatable things women encounter about themselves.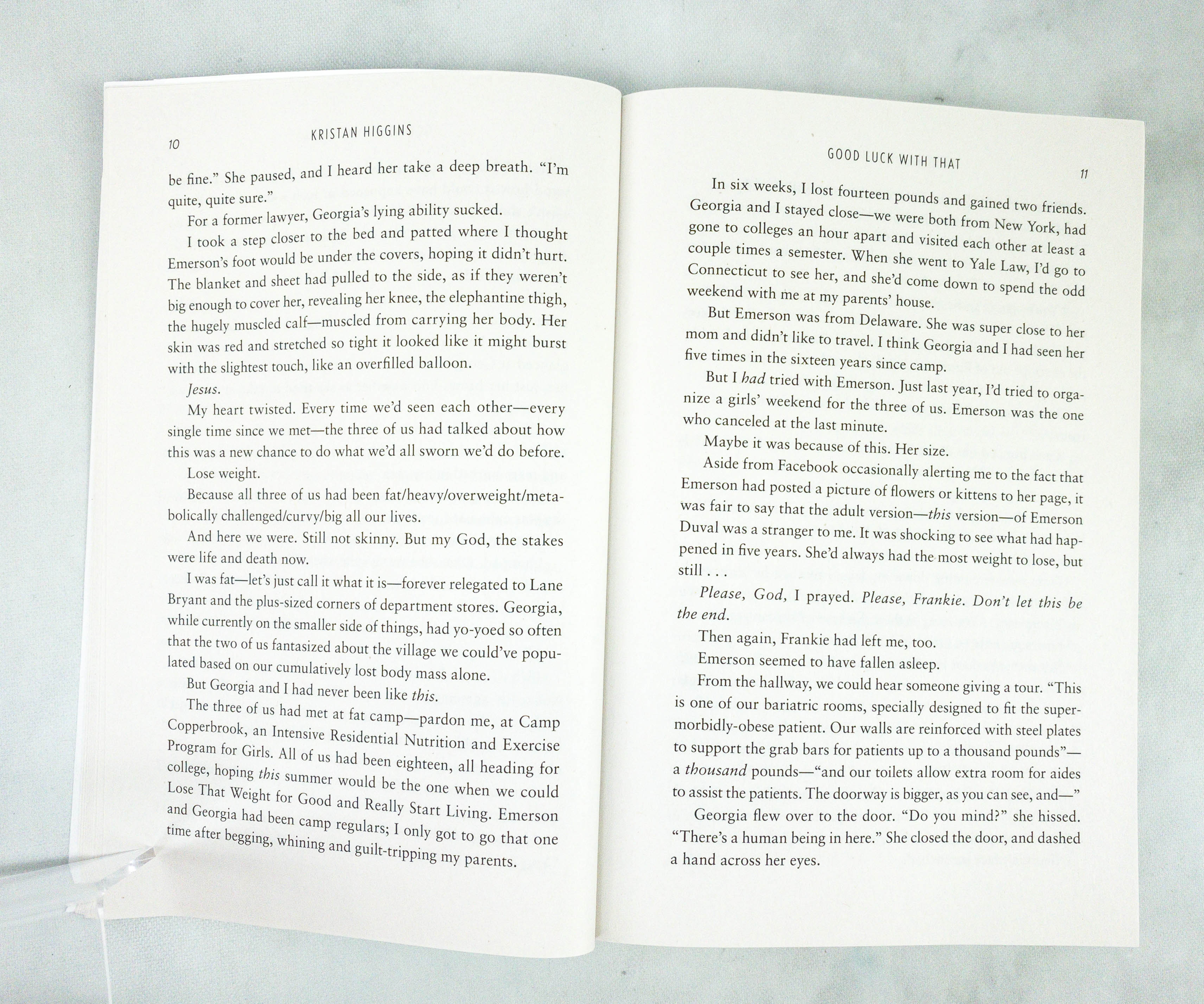 This book had me reading until the last page as it gives lessons on how to accept your flaws, how to love yourself more, and how to discover one's self-worth. It's a story of compassion, friendship, and acceptance.
BookCase.Club Surprise-Me Fiction sent another set of great books this month! Both books carried heartwarming stories that were really worth my time. The first book teaches us how one can bring so much impact to another person's life, and the second is all about loving yourself more. If you're a bookworm who is always on the lookout for new reads, this subscription is for you. It's also a great way of discovering talented authors!
Have you tried BookCase.Club? What are you currently reading?