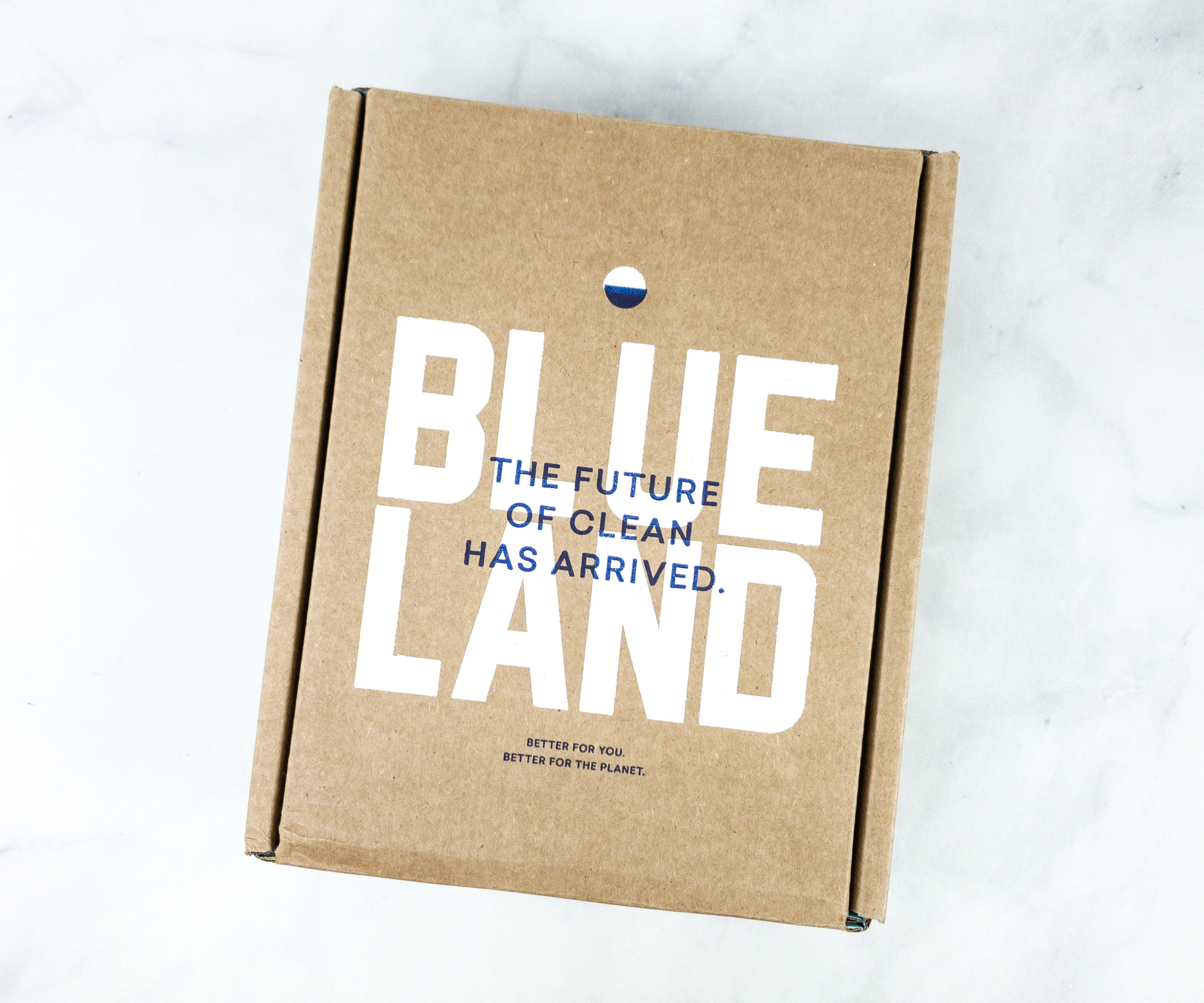 Blueland is an eco-friendly brand that offers cleaning products without single-use plastic packaging. Their non-toxic products are formulated without water, and they make it a point to minimize the carbon footprint generated when shipping these products from their warehouse to your home. Every first kit will include reusable bottles, so you will only have to buy the bottle once and never have to throw them away! Individual cleaning sets start at $12, while refills start at $2 per piece.
This is the review of Blueland Dish Duo. It's $32 for a monthly (or set your own frequency) subscription, and will include one 16 oz pouch of powder dish soap and 40 dishwasher tablets. Your first kit will include 1 reusable silicone shaker and 16 oz powder dish soap and 1 reusable steel tin and 40 dishwasher tablets. Also available is The Blueland Everyday Clean Kit ($69) and The Blueland Clean Essentials Kit ($39).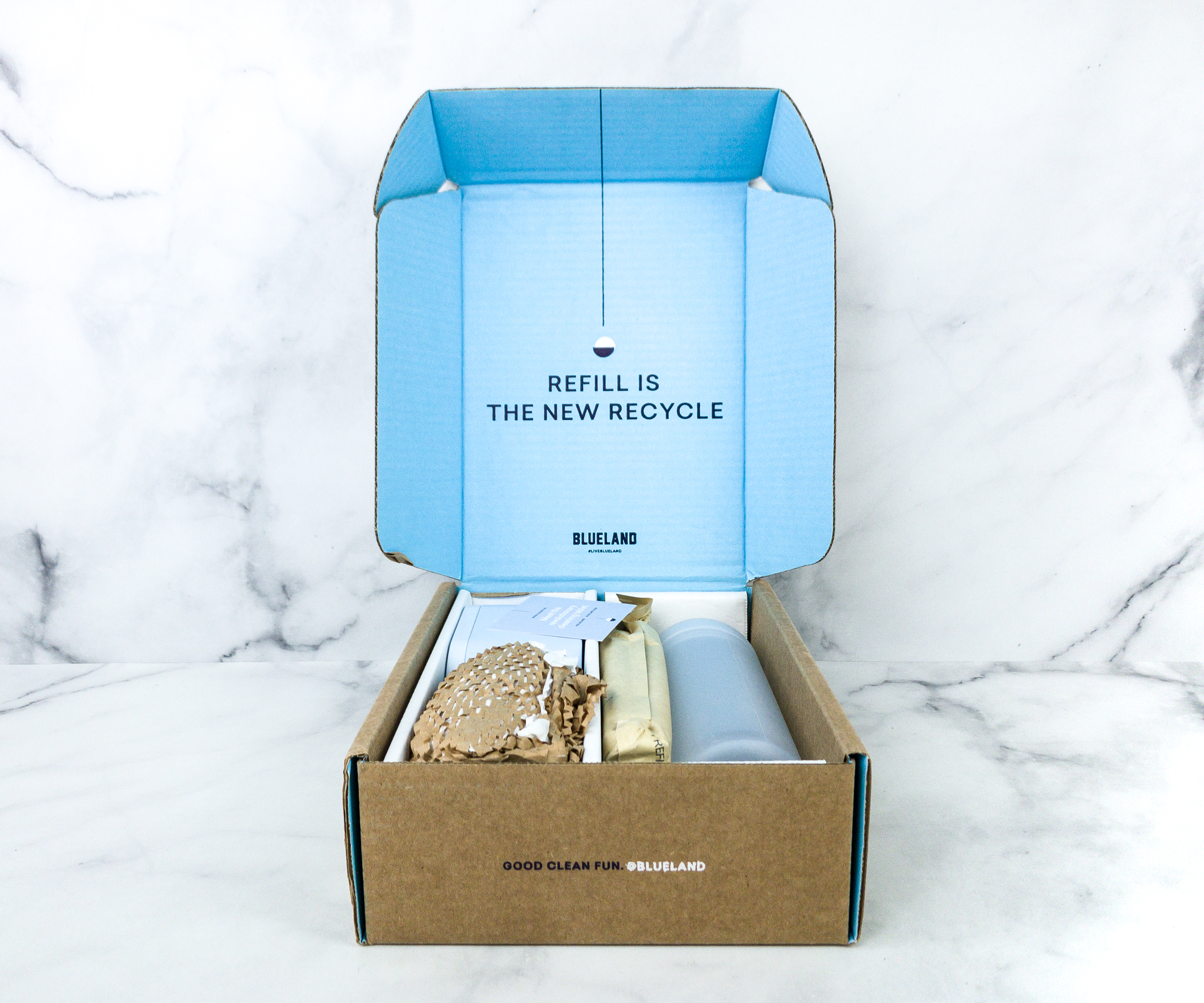 In line with their efforts to reduce waste, they use only recyclable packaging, including the box and other shipping materials, plus the wrappers!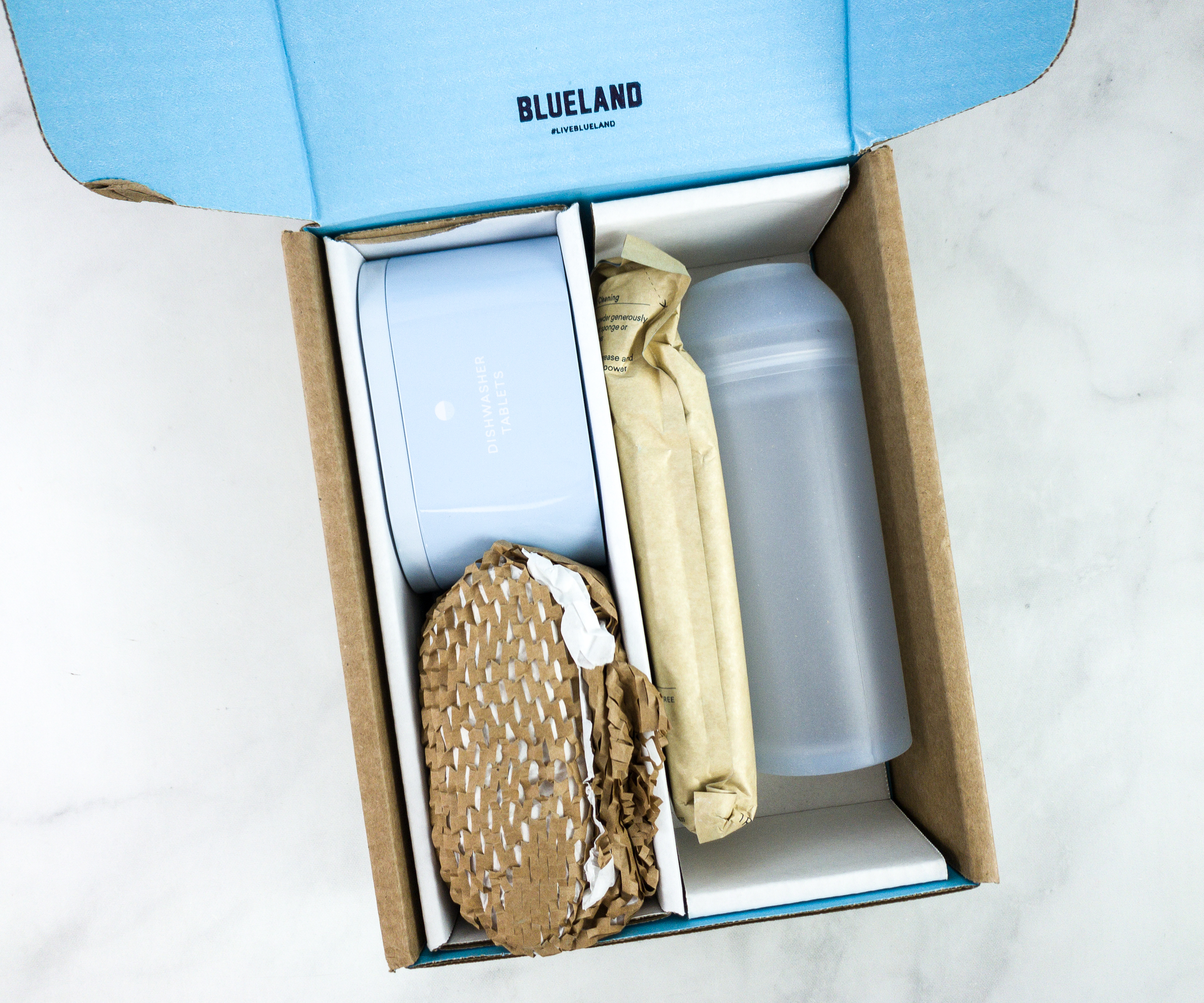 All the items came nestled in a cardboard case, to make sure that they don't move around during transit.
Blueland ensures that its products are safe by using only non-toxic ingredients. Their products have also received Platinum certification from Cradle to Cradle and they also avoid any ingredients on the Environmental Working Group restricted list. They only use ingredients on EPA's Safer Chemical Ingredients List.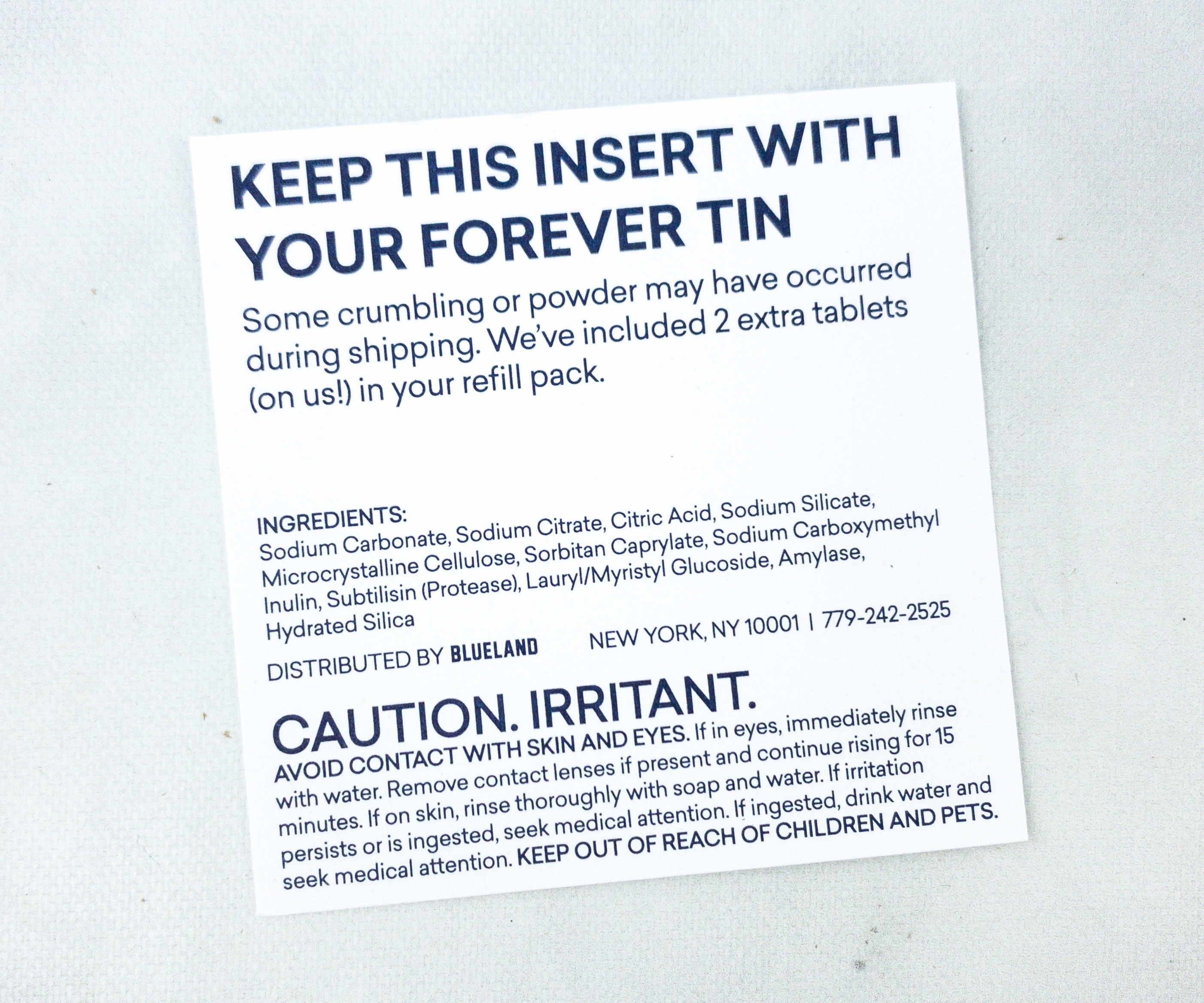 The box includes a card from Blueland. It instructs us to keep the insert with our forever tin and it also informs us that they included 2 extra tables for free in the refill pack!
Another card introduces us to Blueland's cleaning tablet!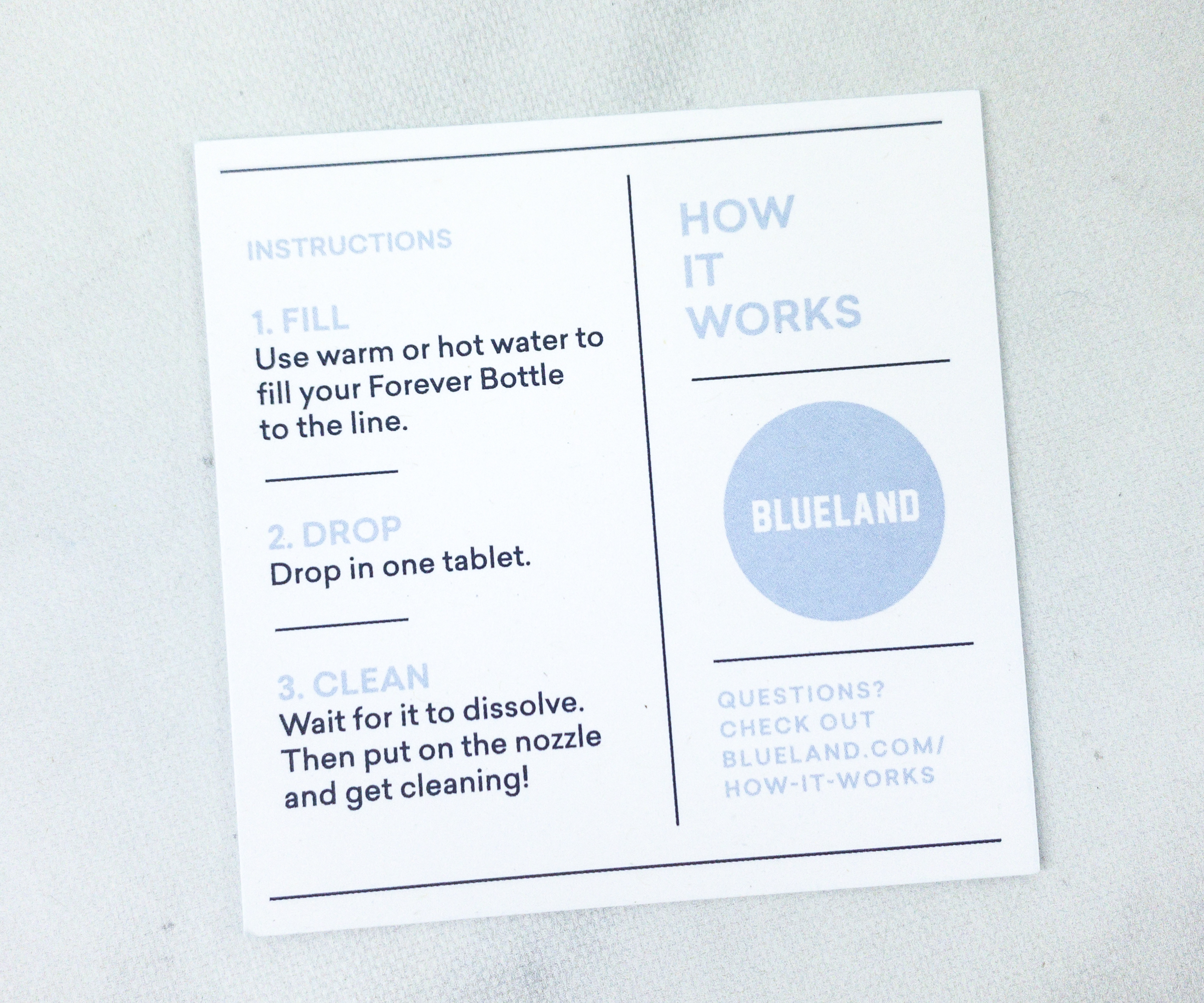 At the back, there are simple instructions on how to use the cleaning tablet. First, you just have to use warm or hot water to fill your Forever Bottle to the line, then drop in one tablet and wait for it to dissolve. Then, put on nozzle and get cleaning!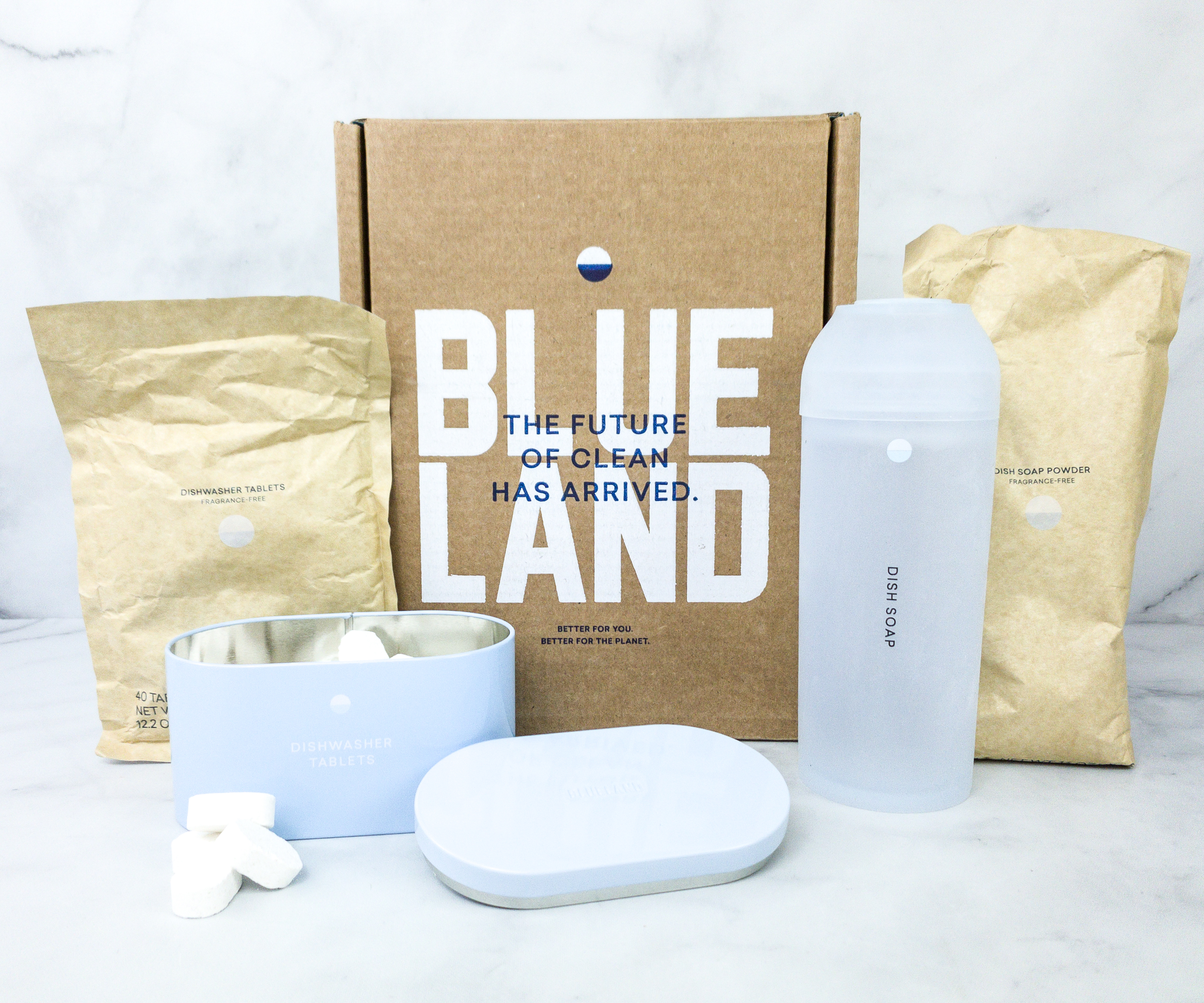 Everything in my box!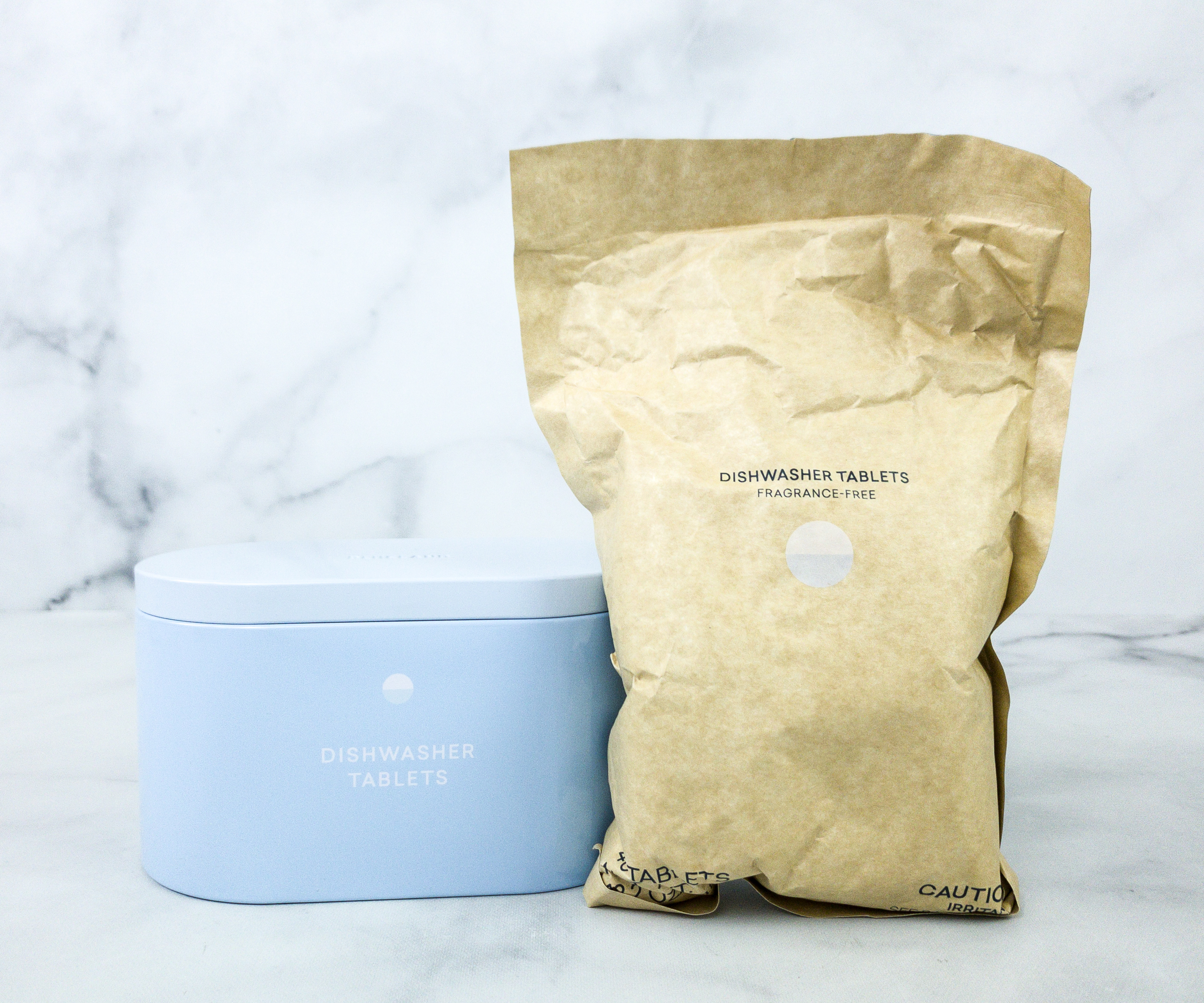 Reusable Steel Tin + 40 Tablets. Blueland's dishwasher tablets doesn't just get rid of grease and grime, they also help lessen plastic waste as they don't contain the PVA/PVOH film used by traditional pacs! These tablets are even certified USDA BioPreferred and Leaping Bunny (cruelty-free) certified.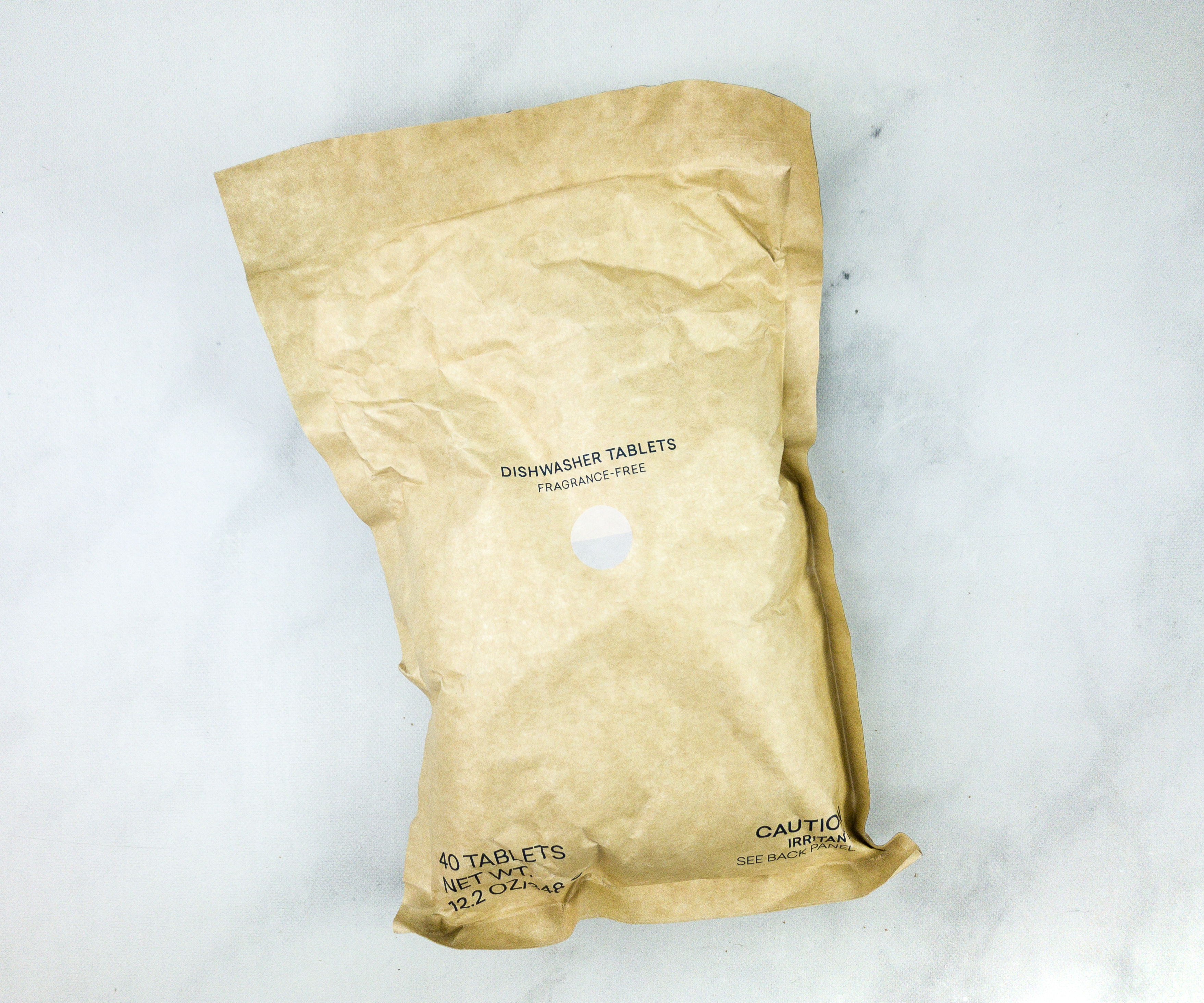 The brown paper pouch contains 40 tablets. It's also compostable!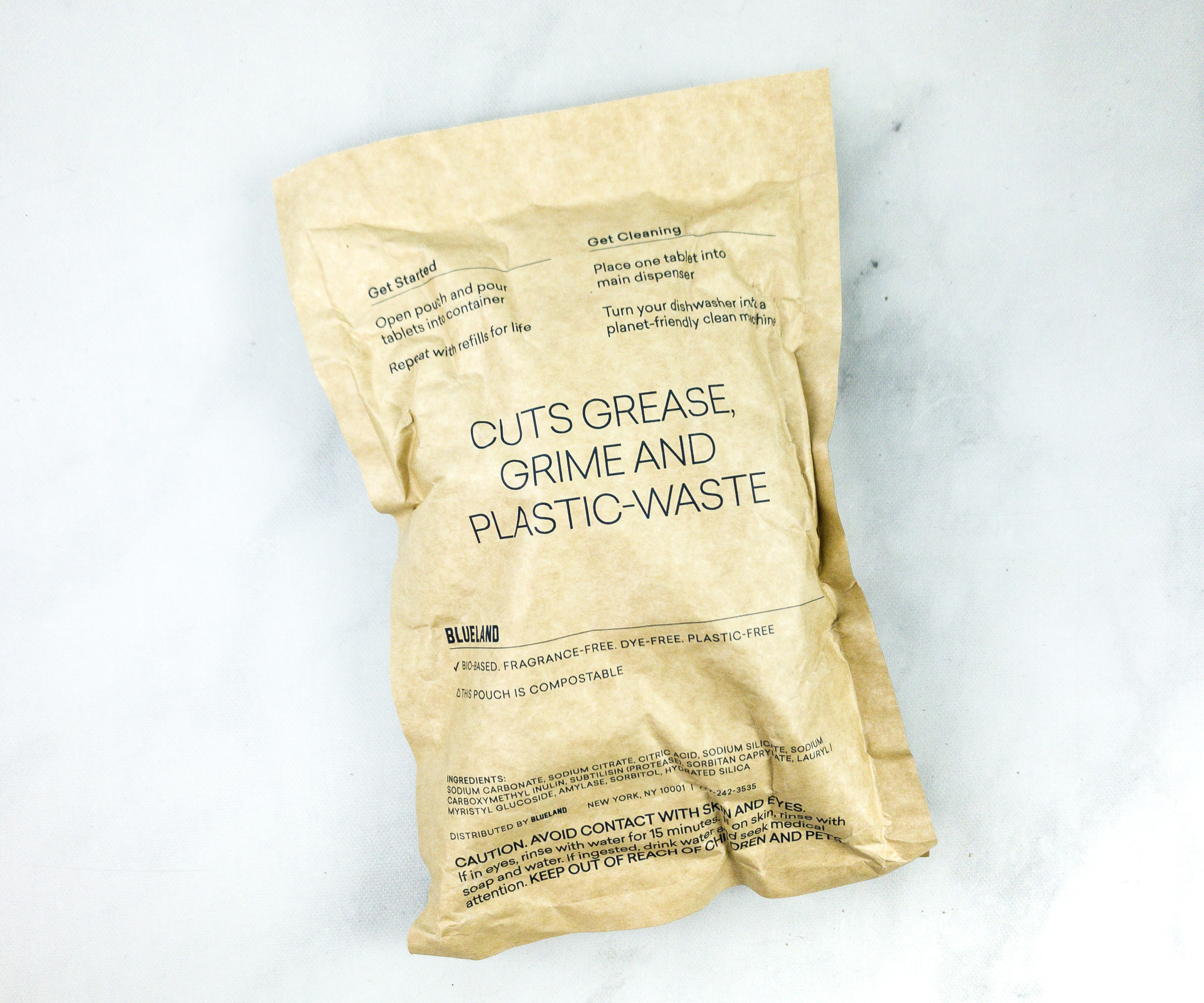 The tablets contain Sorbitan Caprylate which breaks down stains and grime, plus Sodium Carbonate which is a mineral-based cleaner.
Other ingredients for the dishwashing tablets are: Sodium Citrate, Citric Acid, Sodium Silicate, Microcrystalline Cellulose, Sodium Carboxymethyl Inulin, Subtilisin, Lauryl / Myristyl Glucoside, Amylase, Hydrated Silica.
Another thing to love about these eco-friendly dishwasher tablets is that they're free from parabens, phthalates, VOCs, triclosan, artificial dyes, and artificial fragrances.
Here's the refillable container! It's a tub that you can easily open and close, making it convenient for use even when you're in a hurry. Great for people that have trouble using their hands or hard-to-open containers. I love this tin!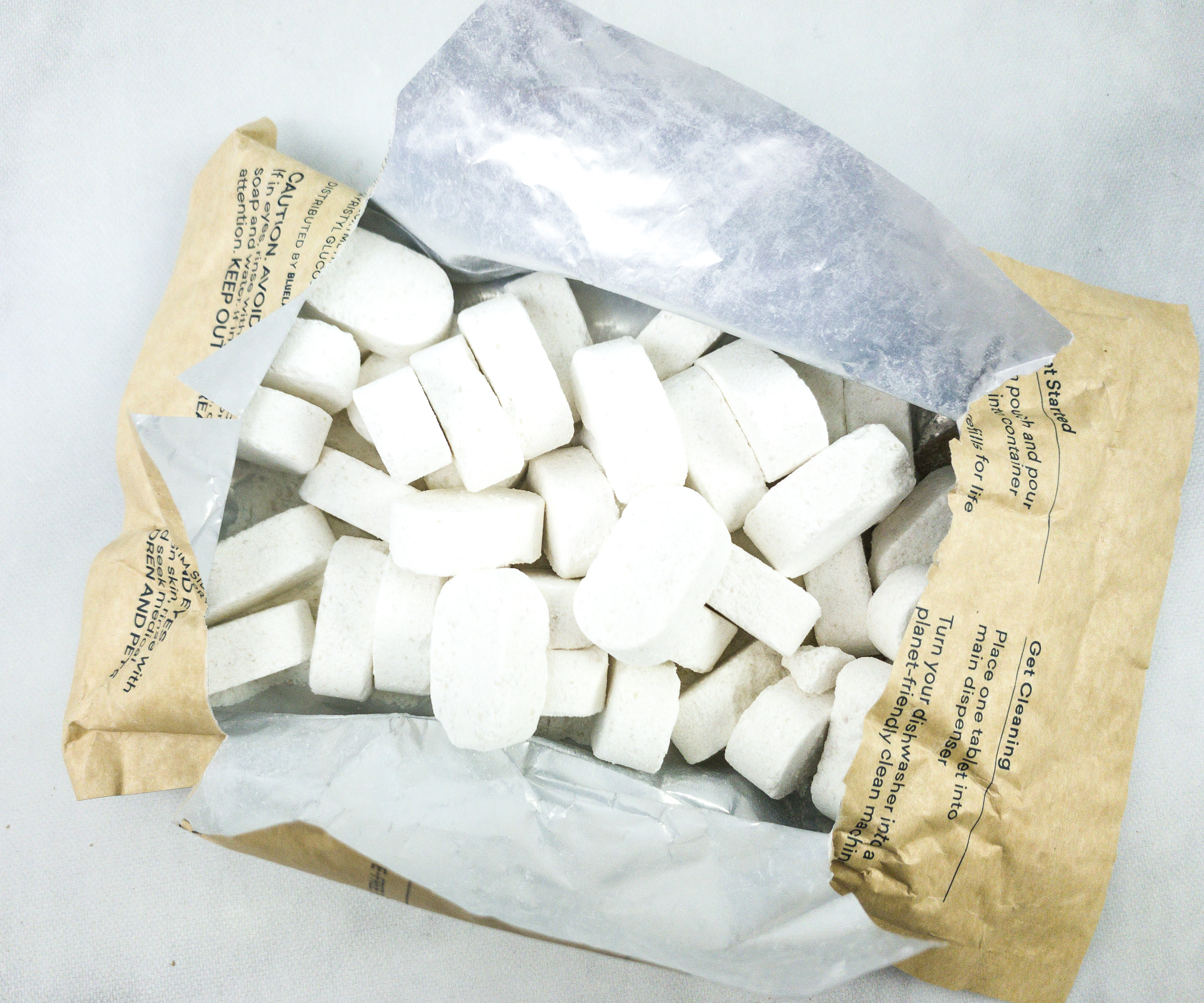 Here's how the tablets look like upon opening the pouch! Again, no plastic here! To use, just place one dishwasher tablet into the dish soap compartment once your dishwasher is loaded. Then, close the compartment and the dishwasher door, and select your preferred wash cycle!
The tablets are small and they have no scent, but they're good at cleaning the dishes. They remove grease and grime without problems. I love how they leave my dishes sparkly clean and that they are so easy to use!
Just transfer the tablets in this tin and refill when your next package arrives! The tin itself looks nice, it's aesthetically pleasing and it fits my shelf!
Reusable Silicone Shaker + 16 oz Powder Dish Soap. Here's another Blueland product to ensure our dishes are spotless while still protecting the environment! The powder dish soap comes with a silicone container, which is really useful when handwashing.
Just like the tin container, this reusable shaker is also aesthetically pleasing. It's such an eco-friendly alternative to regular liquid dish soaps in single-use bottles!
The lid pops off so you can put the product in easily!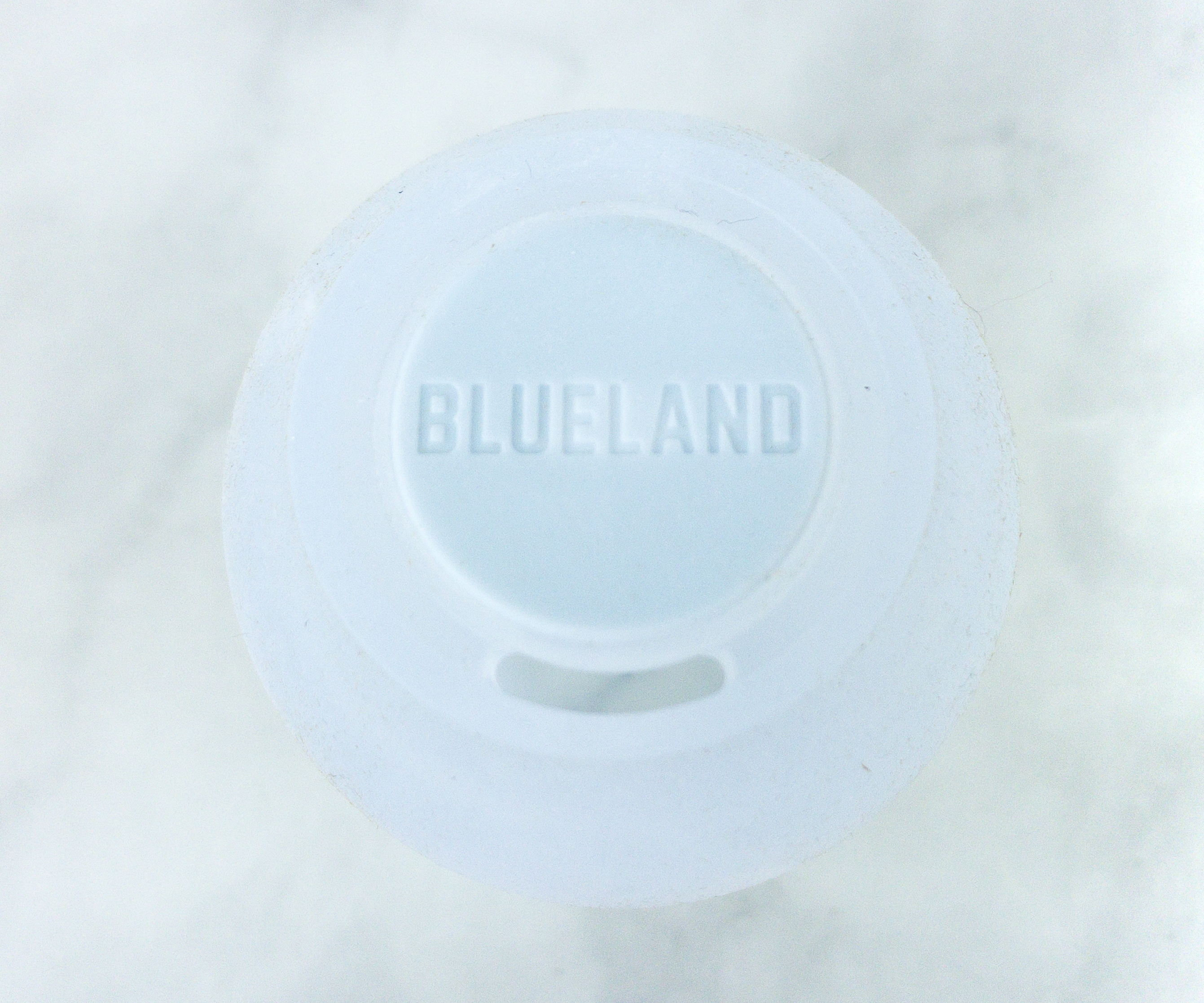 There is a Blueland branding at the top of the lid, just beside the spout where you can dispense the product from. Just sort of give it a squeeze and it puffs out!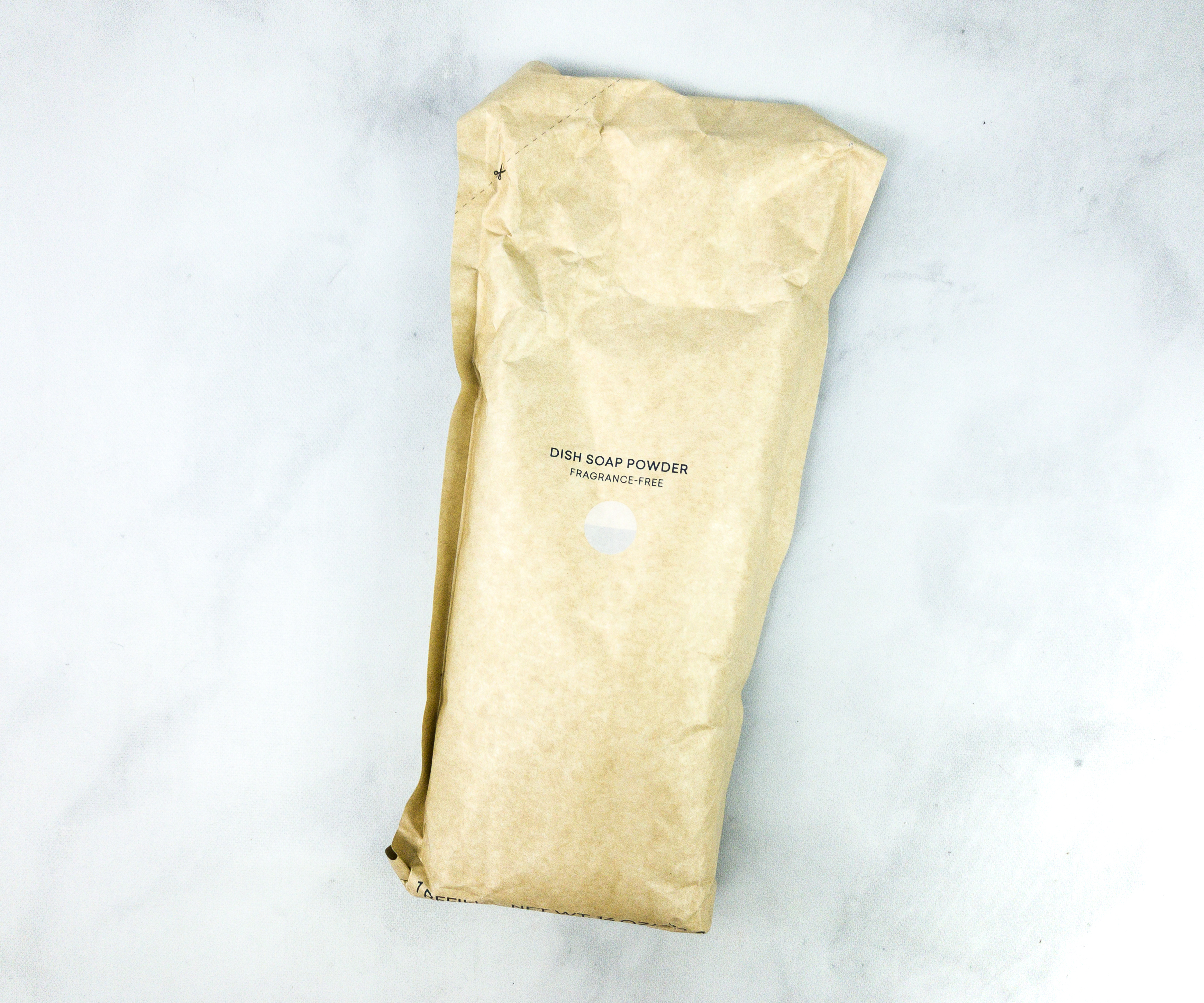 Since the powder contains Sodium Lauryl Sulfate, it can removes grime without lots of foam. Caprylyl Glucoside and Lauryl Glucoside also help breakdown stains and grime!
Other ingredients for the dish powder are Sodium Bicarbonate, Sodium Citrate, Sodium Methyl Oleyl Taurate, and Hydrated Silica.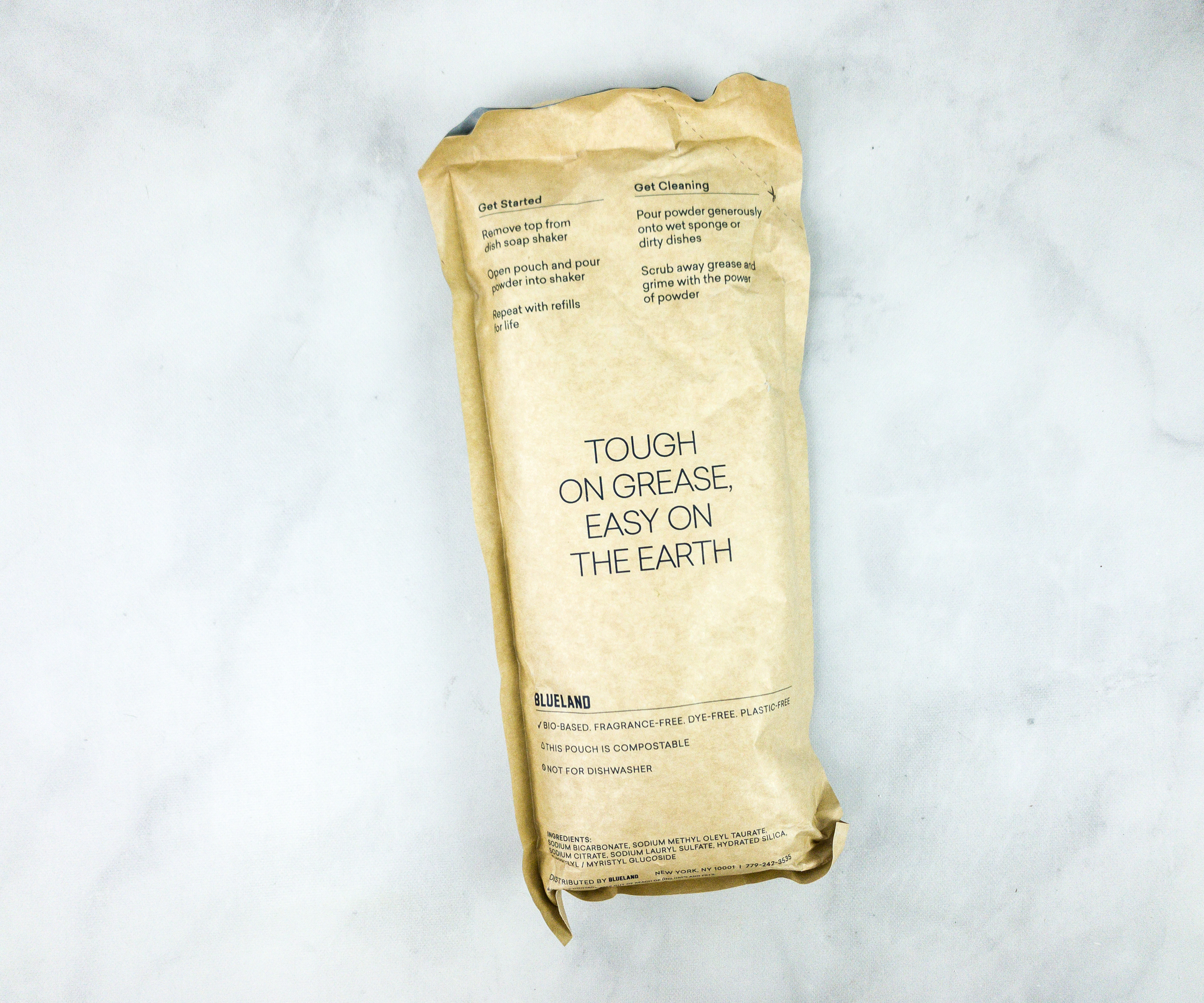 The dishwashing powder was packed in a compostable brown paper pouch packaging.
The powder itself is made without triclosan, parabens, phosphates, ammonia, VOCs, petroleum, phthalates, artificial dyes, or fragrances. It's also Certified USDA BioPreferred and Leaping Bunny certified.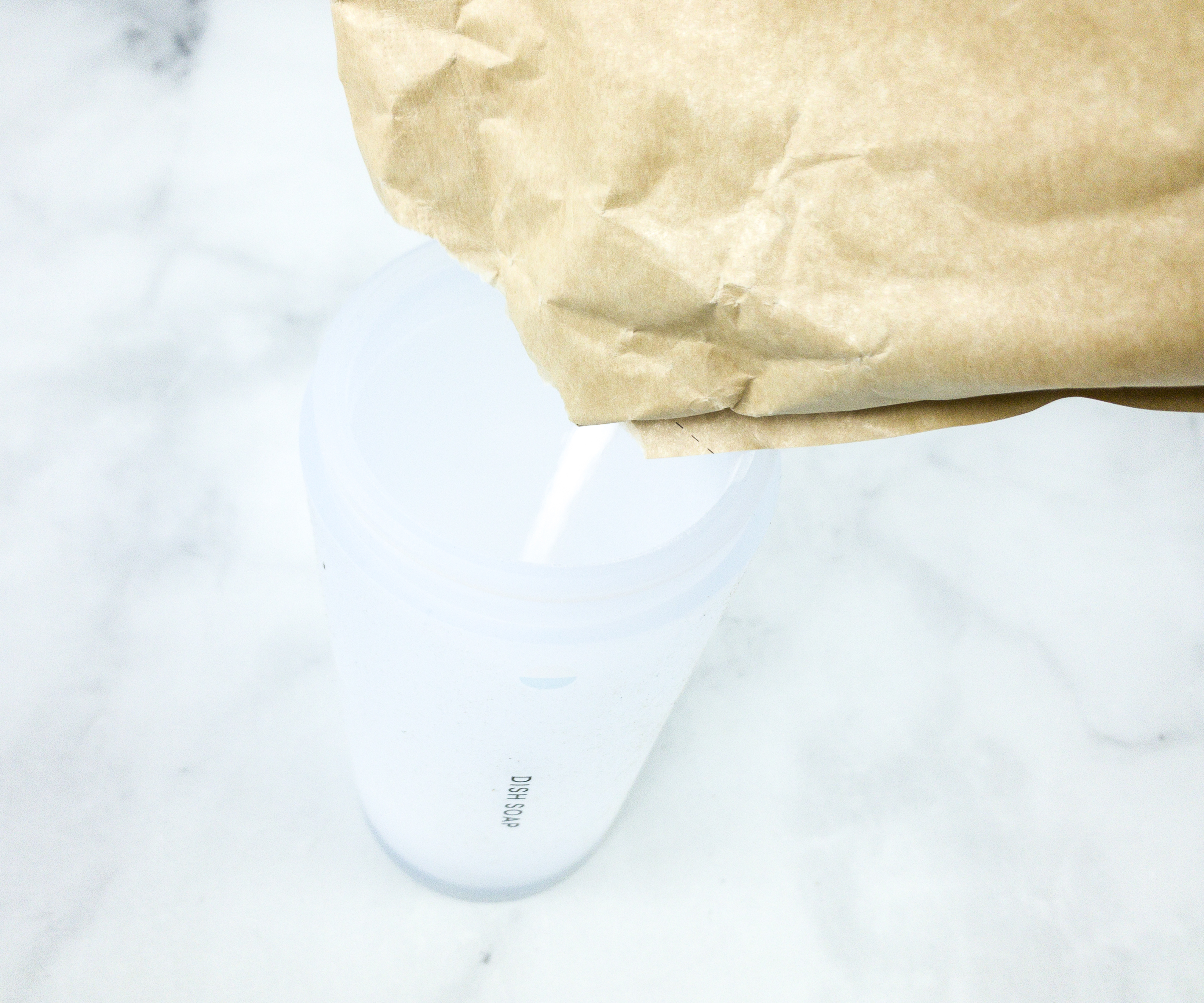 Transferring the powder to the shaker is a breeze. Just cut the pouch on the designated line and then pour it in!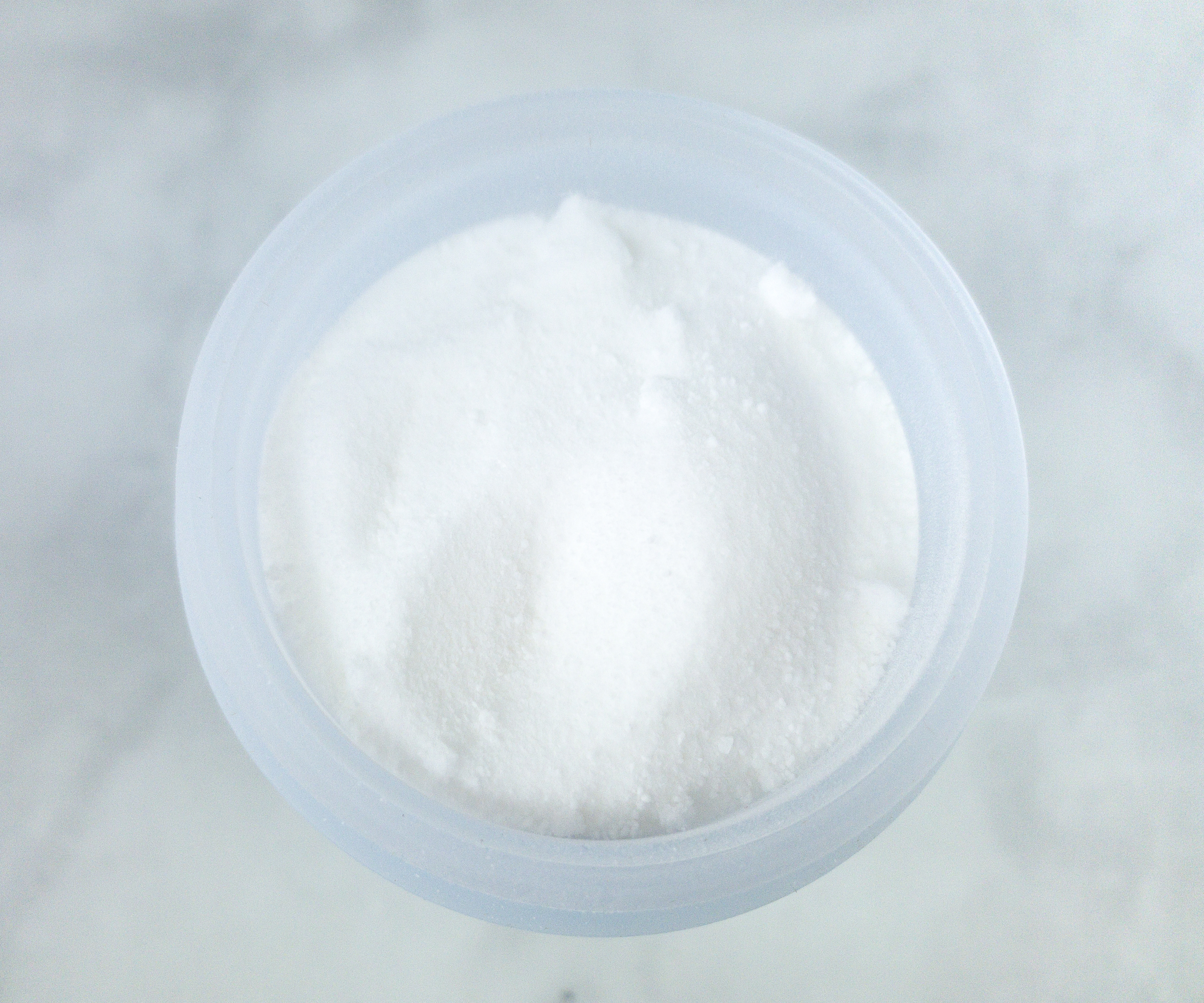 Each pouch contains just the right amount of powder to fill the whole container so you don't have to worry about having excess and having to keep the pouch!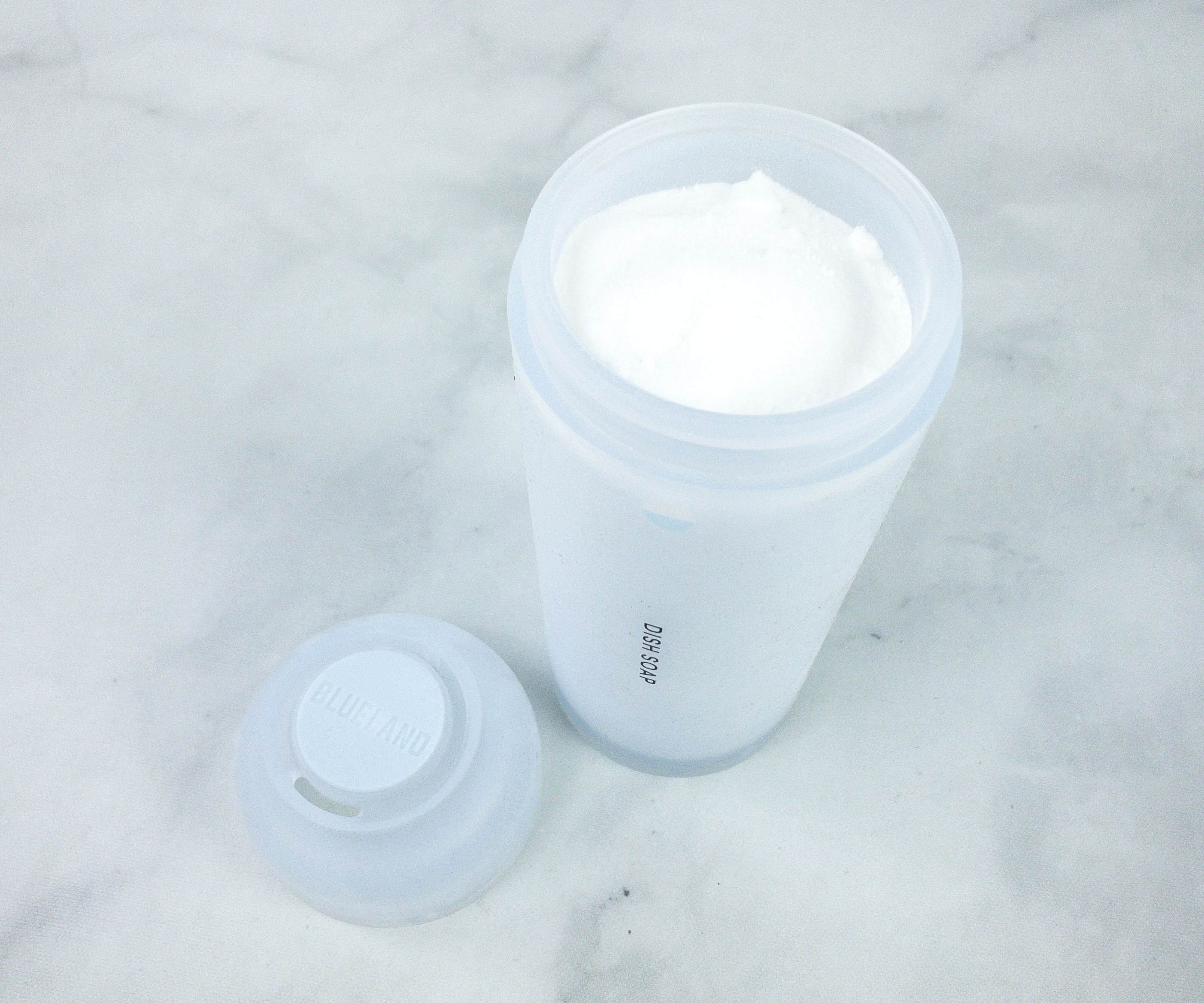 Now, we just need to screw the cap back on and we're ready to use it!
I tried putting some powder on my hands and they're actually quite gentle. The powder is fine so it dissolves easily with water and I find that it's really good with dishes because it really cuts through grease! It's also doesn't have any scent.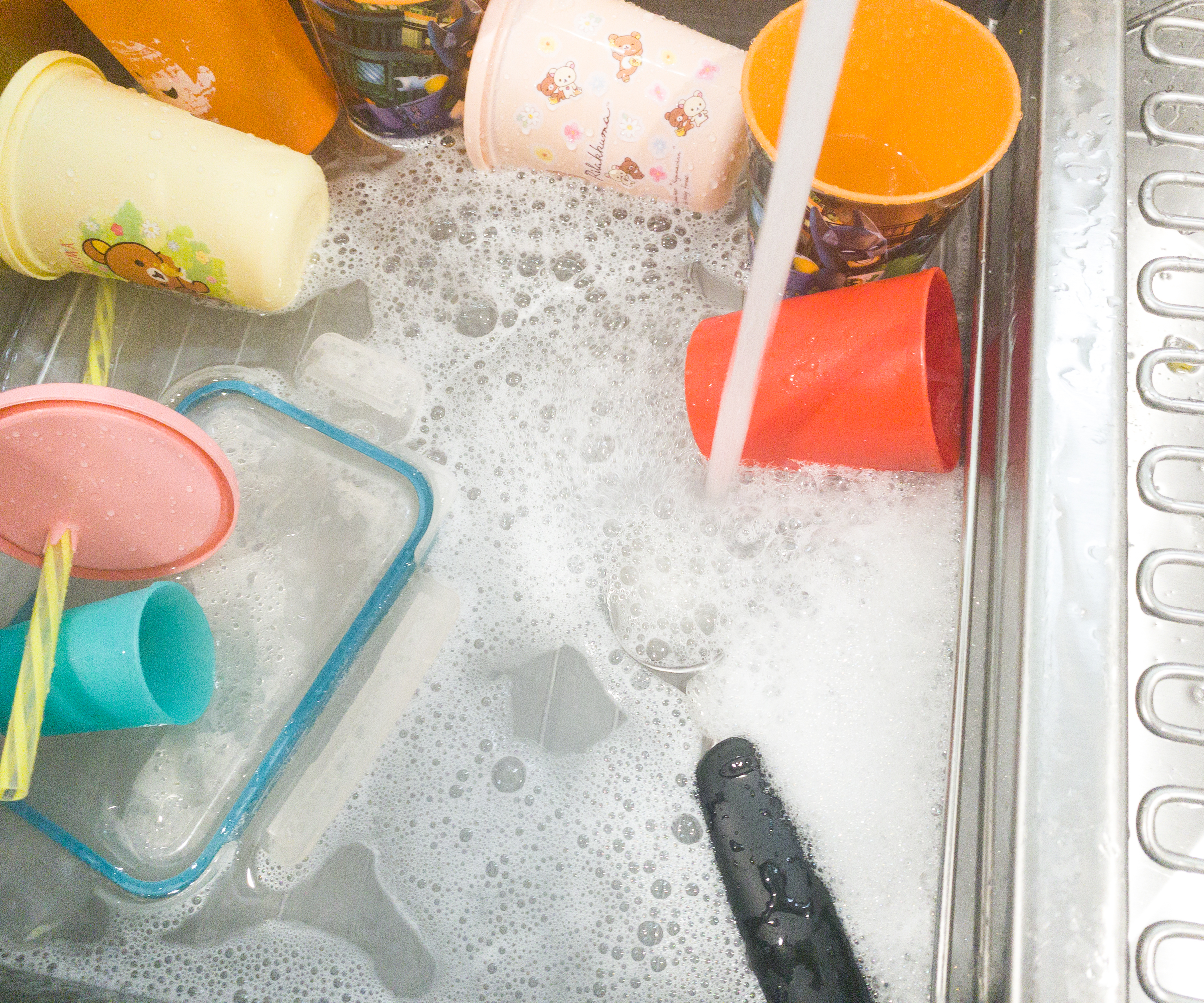 The powder works on glassware or cookware including glass, porcelain/ceramic, plastic, or steel! It bubbles up nicely but the bubbles do dissipate.
The Blueland Dish Duo helped me a lot with my dishwashing woes and I love them! Both the powder and the tablet are easy to use. The powder works for dishes and other kitchen items that need hand washing, while the tablet just needs to be loaded on the dishwasher and it's all good. Also, they clean well without leaving behind any grease or sticky film! I really appreciate that they included reusable containers in our first box. All we have to do is purchase refills when we run out and then store them again in our "forever" containers. The price of the refill for the powder in on the higher side but it works, so I'm not complaining – plus we're not shipping water. For ingredient-conscious people like me, it's also good to know that these products don't contain anything that may harm the environment. They don't use plastic packaging either! If you're planning to switch from your regular dishwashing products to a more eco-friendly alternative, this would be a great way to start.
Are you getting Blueland?