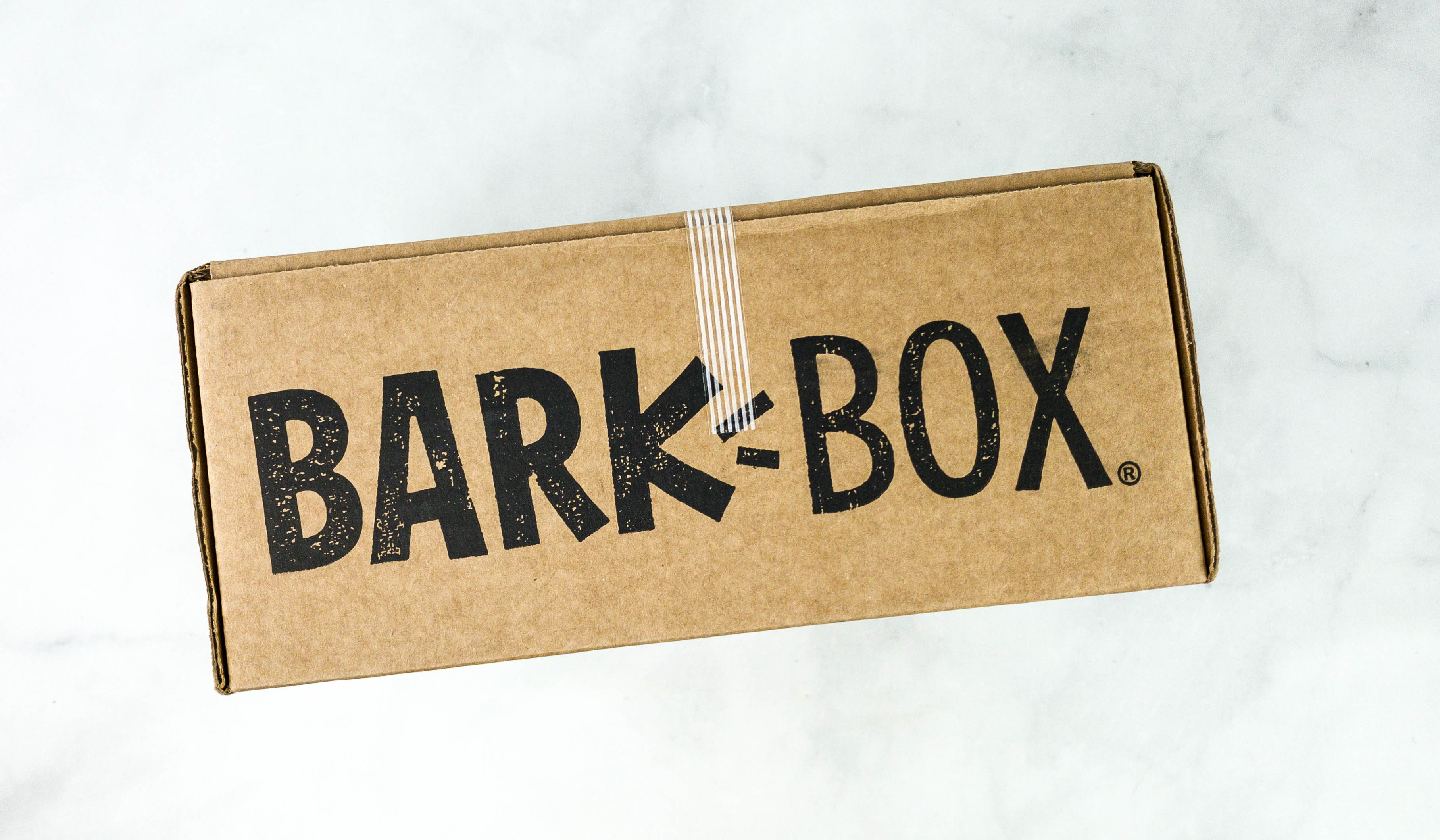 Barkbox is a monthly subscription box created just for dogs! Each box is themed, and includes toys, treats and photo-worthy props. The classic assortment is composed of 2 toys, 2 treats, and 1 chew, but you can also customize a box to fit your dog's needs. A monthly plan costs $29 and there are discounts if you get a longer plan. The best deal is the 12-month plan, which reduces the monthly cost of the box to $22. Shipping is free in the contiguous United States.
DEAL: Get a FREE month on a 6 or 12-month subscription when you sign up for BarkBox with this link!
LIMITED TIME: Get a FREE Pumpkin Pail Toy in your first BarkBox ($60 Value) of a 6+month subscription. No coupon needed, just use this link to sign up. Ends 10/25!
This Barkbox is for small dogs like our miniature schnauzers, Lindy and Dean, but you can get them for medium and large dogs too. Check out our Barkbox reviews for a peek at the big dog boxes! Plus, they now offer Barkbox SUPER CHEWER – the heavy chewer box!
This month's theme is LICK OR TREAT!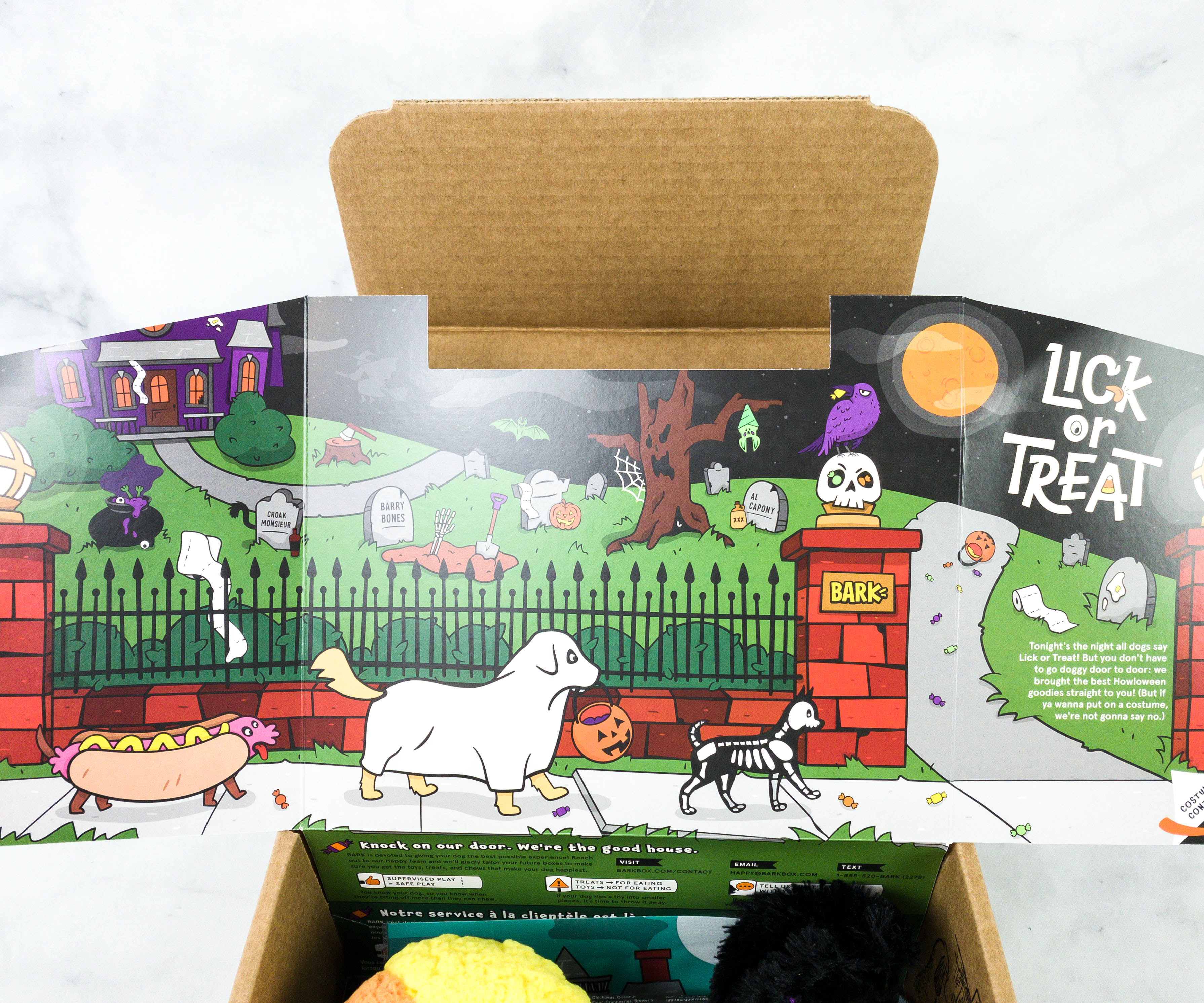 The box this month doesn't contain any custom-made wrapping paper. Instead, they used this month's theme to design the carton and to cover all the items inside the box.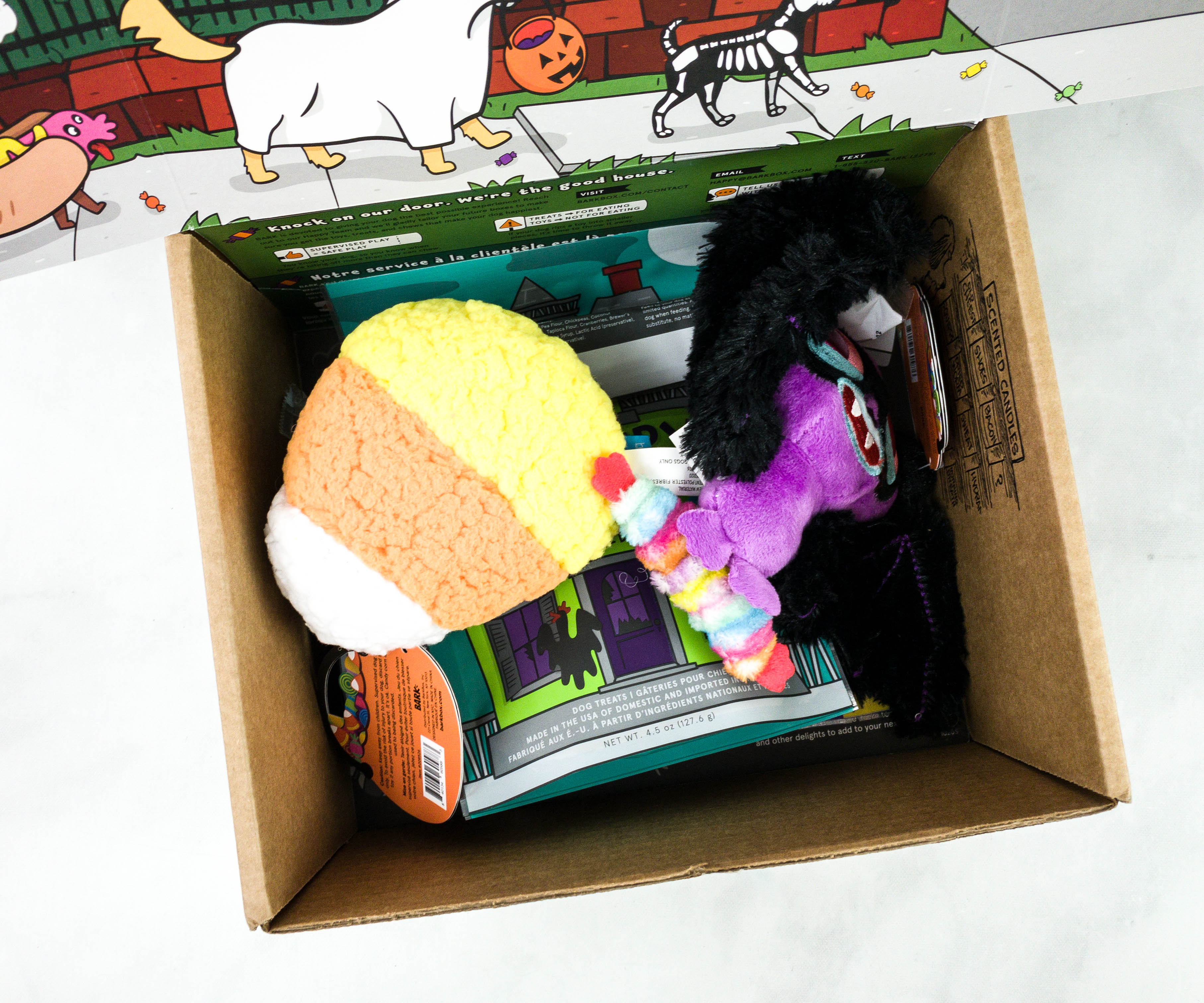 As usual, there were no fillers or squiggles, just treats and toys for your pups to enjoy!
This part of the carton features a photos of the toys that you might get in this month's collection.
Everything in my October 2020 box!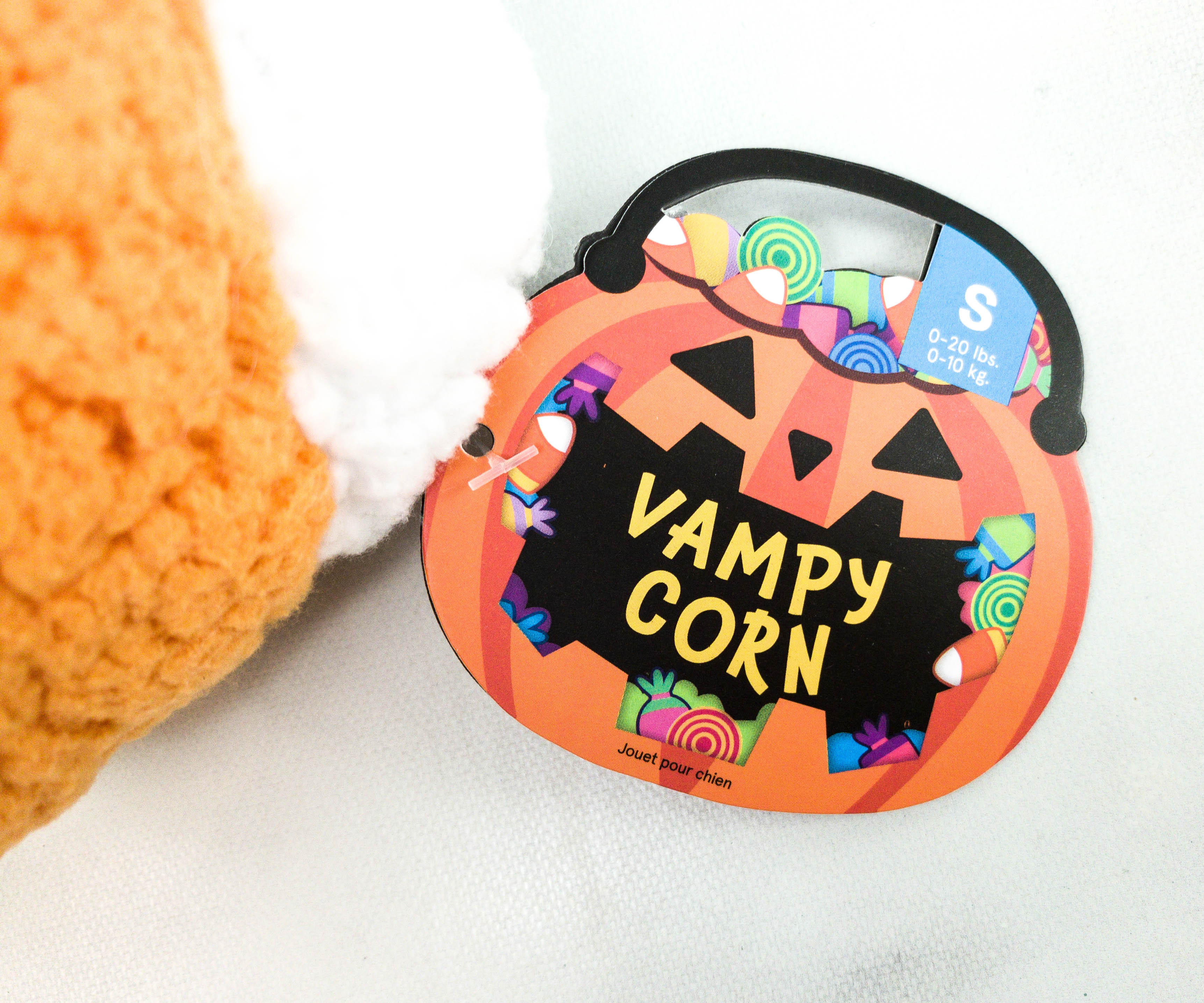 Vampy Corn Dog Toy ($10) Here's a Halloween-themed plushy, designed for small-sized pups that weigh between 0-20 lbs.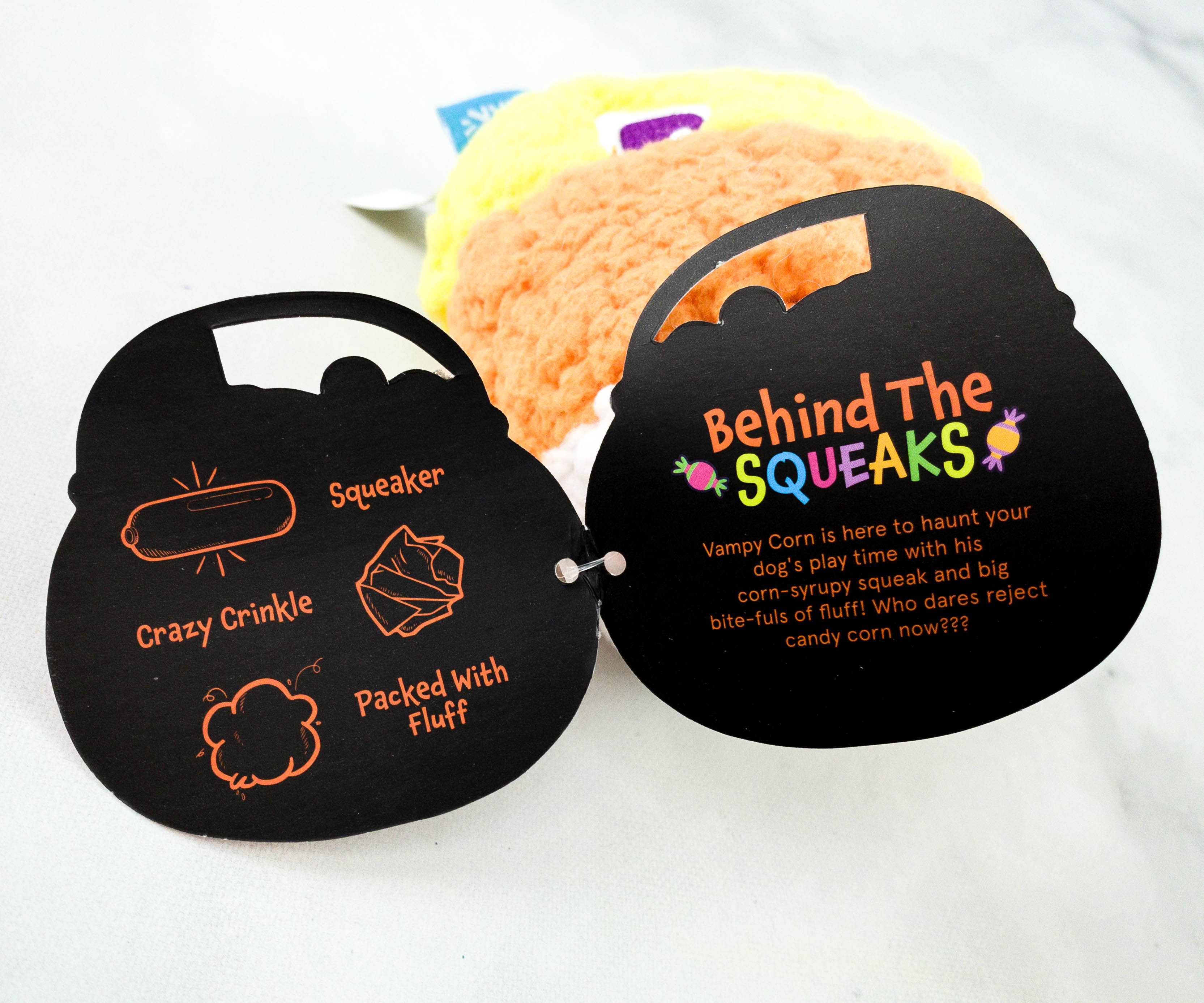 According to the label, this toy contains a squeaker, crazy crinkle, and fluff stuffing!
It's a cute vampire corn dog plushie! This one is really soft and fluffy, and it even produces a loud sound whenever bitten by our pups. Don't worry about the toy's sharp fangs because they won't bite back. The fangs are embroidered, just like the toy's big eyes.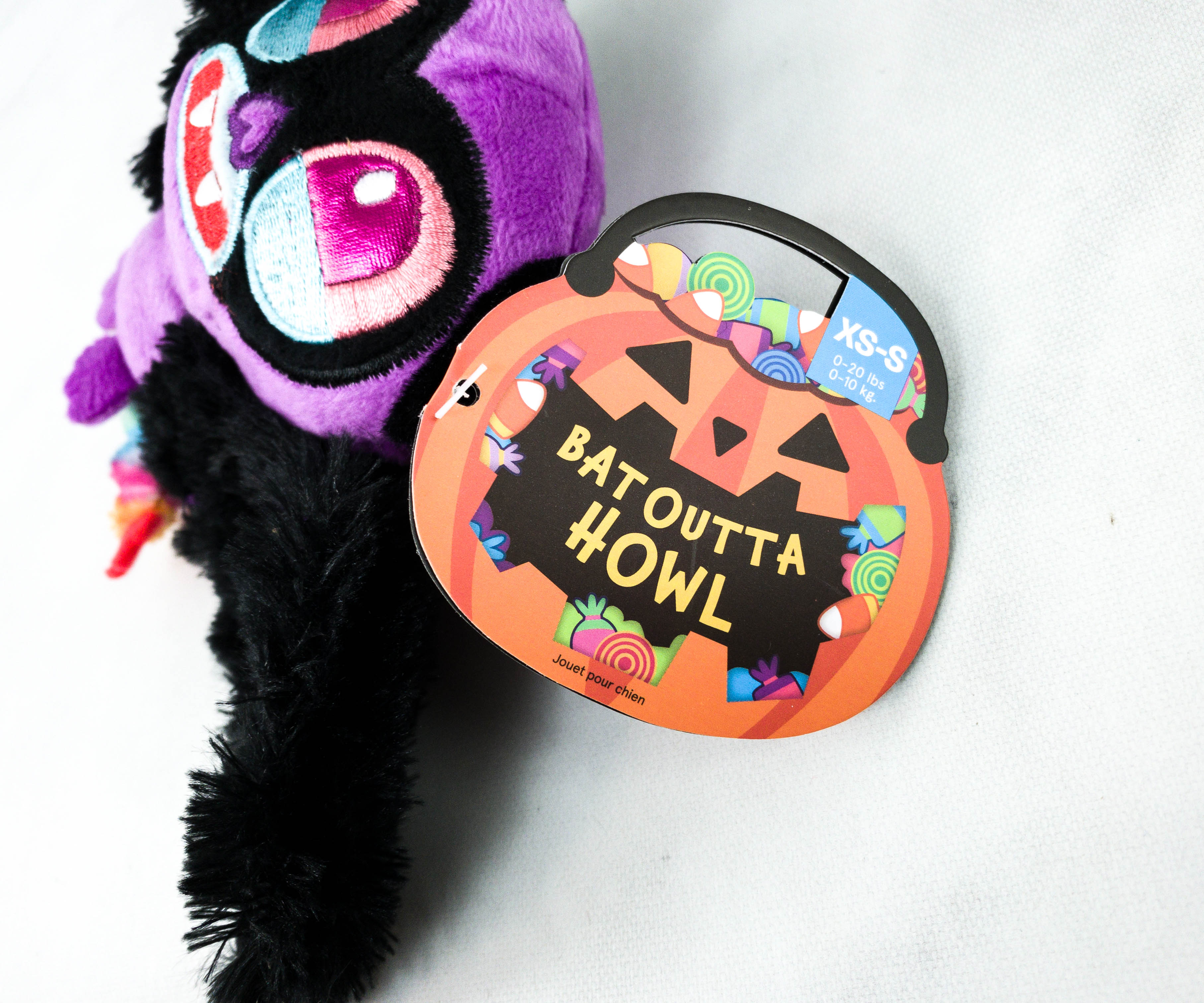 Bat Outta Howl Dog Toy ($10) Here's another Halloween-themed toy for dogs, a black, hairy bat designed for extra small to small-sized pups!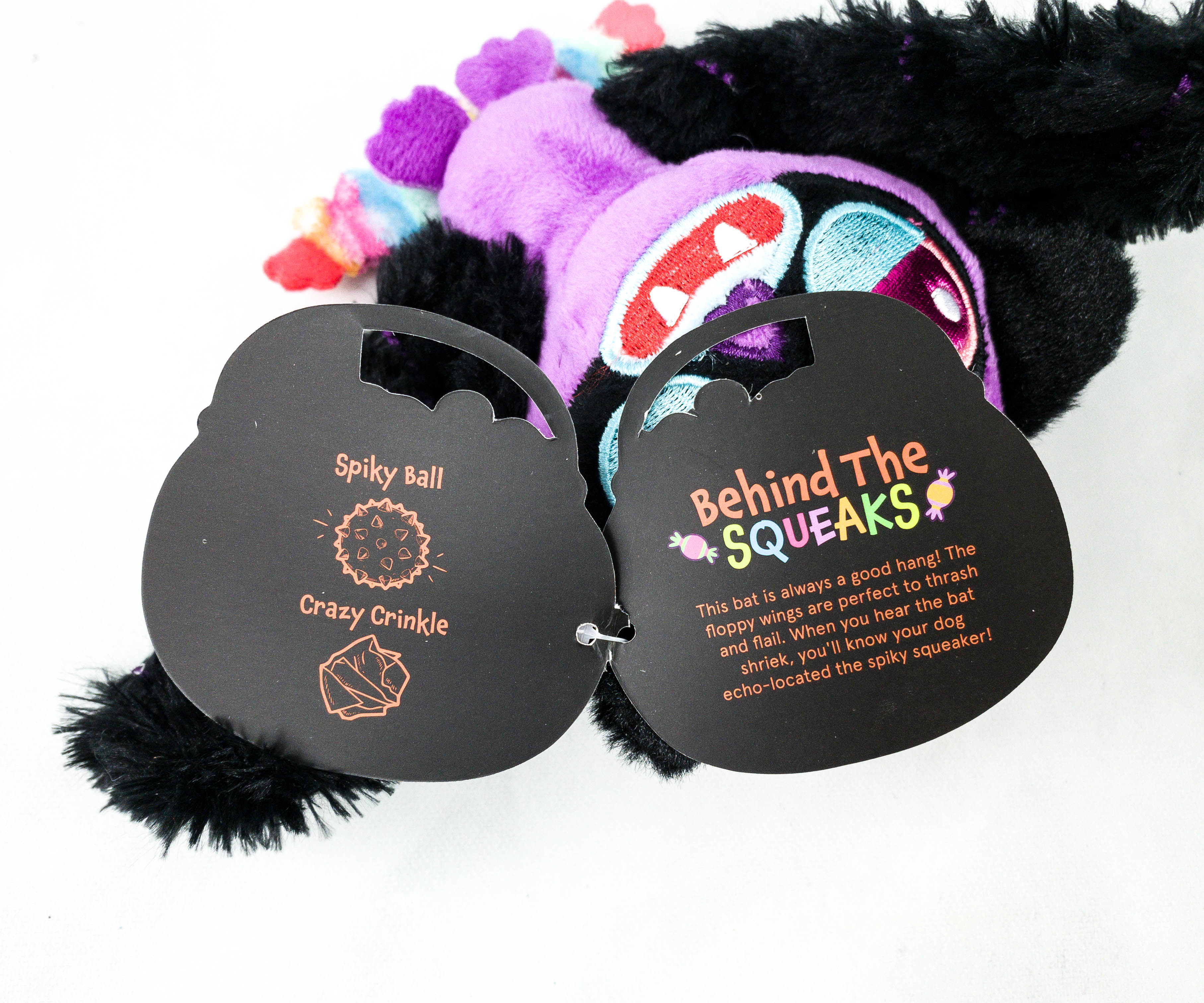 This bat plush toy is made with a bouncy spiky ball and crazy crinkle inside.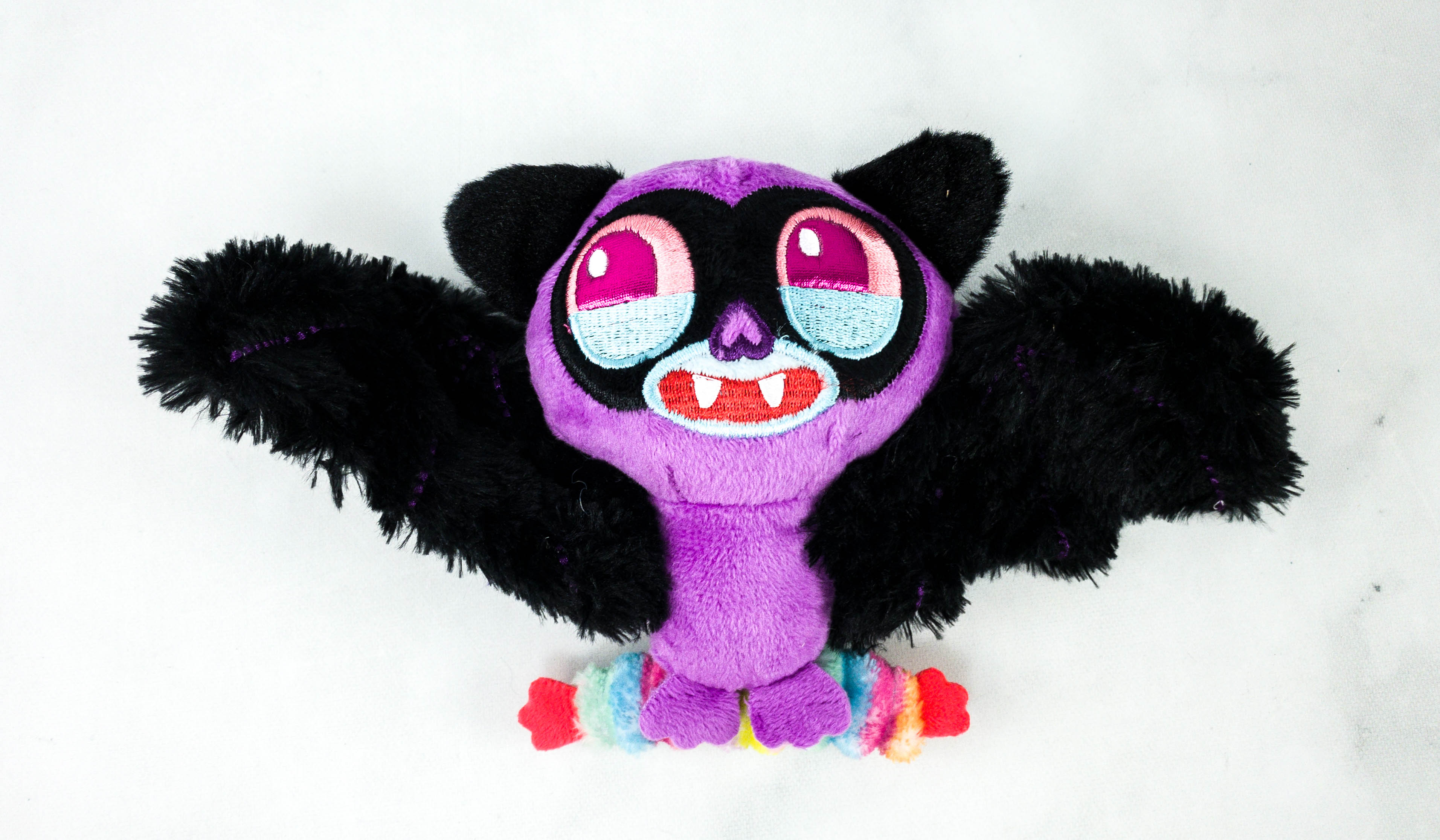 It features a soft and squishy body and a hairy pair of wings! It also has large eyes and embroidered fangs.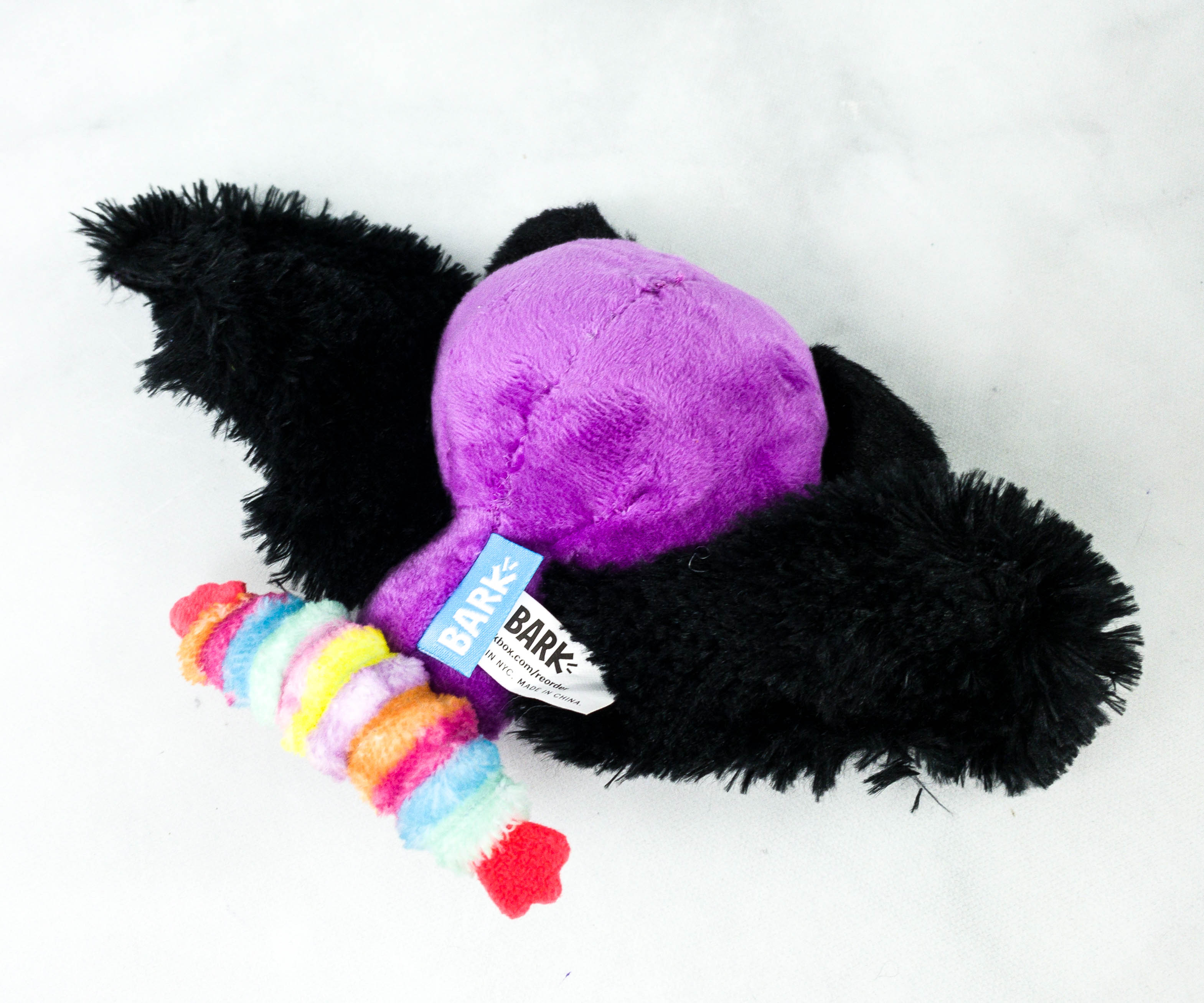 Stitched at the back of the bat is a label that features Barkbox branding. It looks like this bat just attended a Halloween party, as it has a colorful candy attached to his feet.
Hard & Chewy Turkey Stick. It's a hard and chewy dog stick made with clean and healthy ingredients, including turkey and cranberries.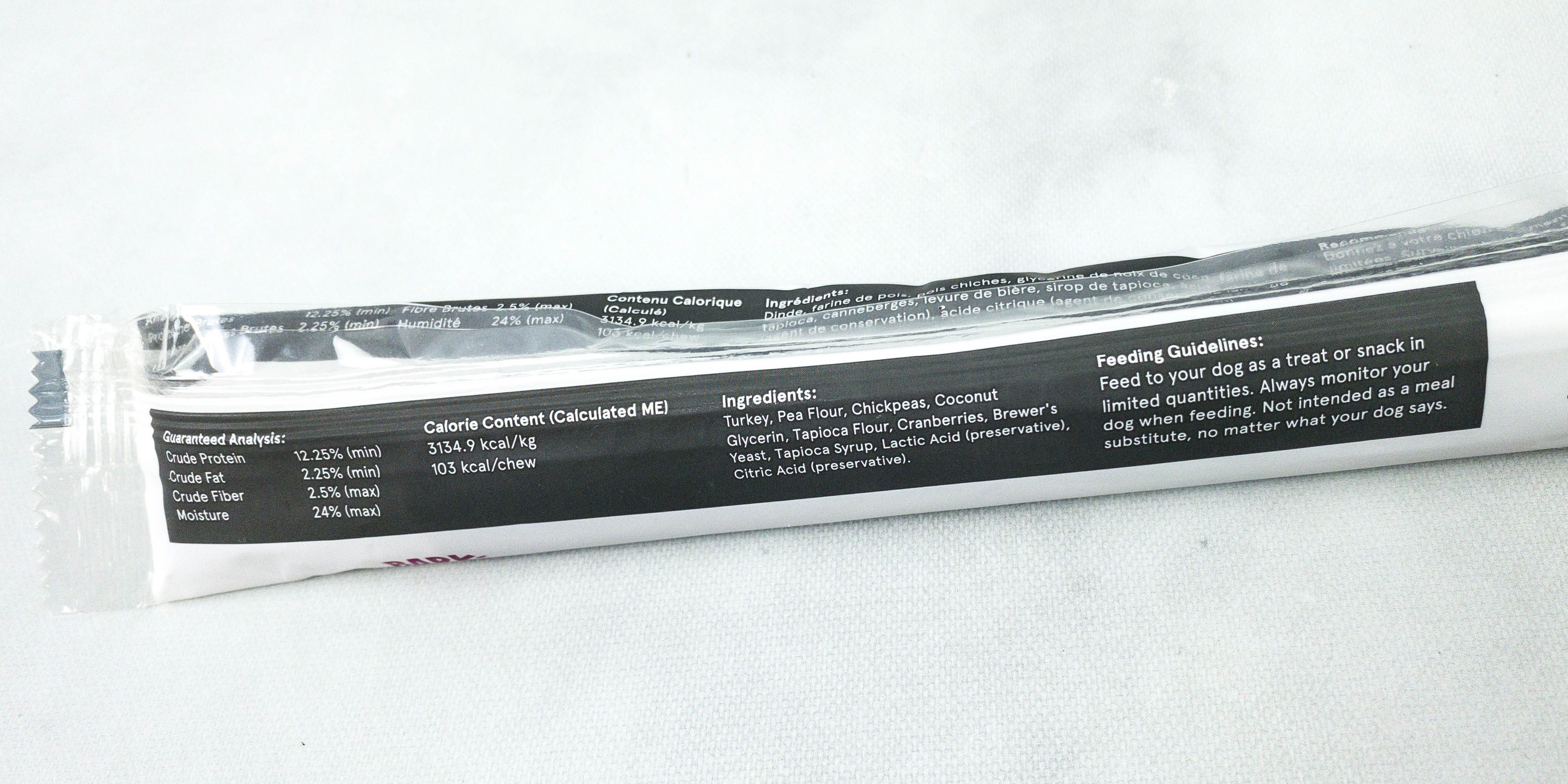 Turkey is great for dogs because they are rich in protein and amino acids that dogs need for growth and development. Meanwhile, cranberries are rich in vitamin C and fiber.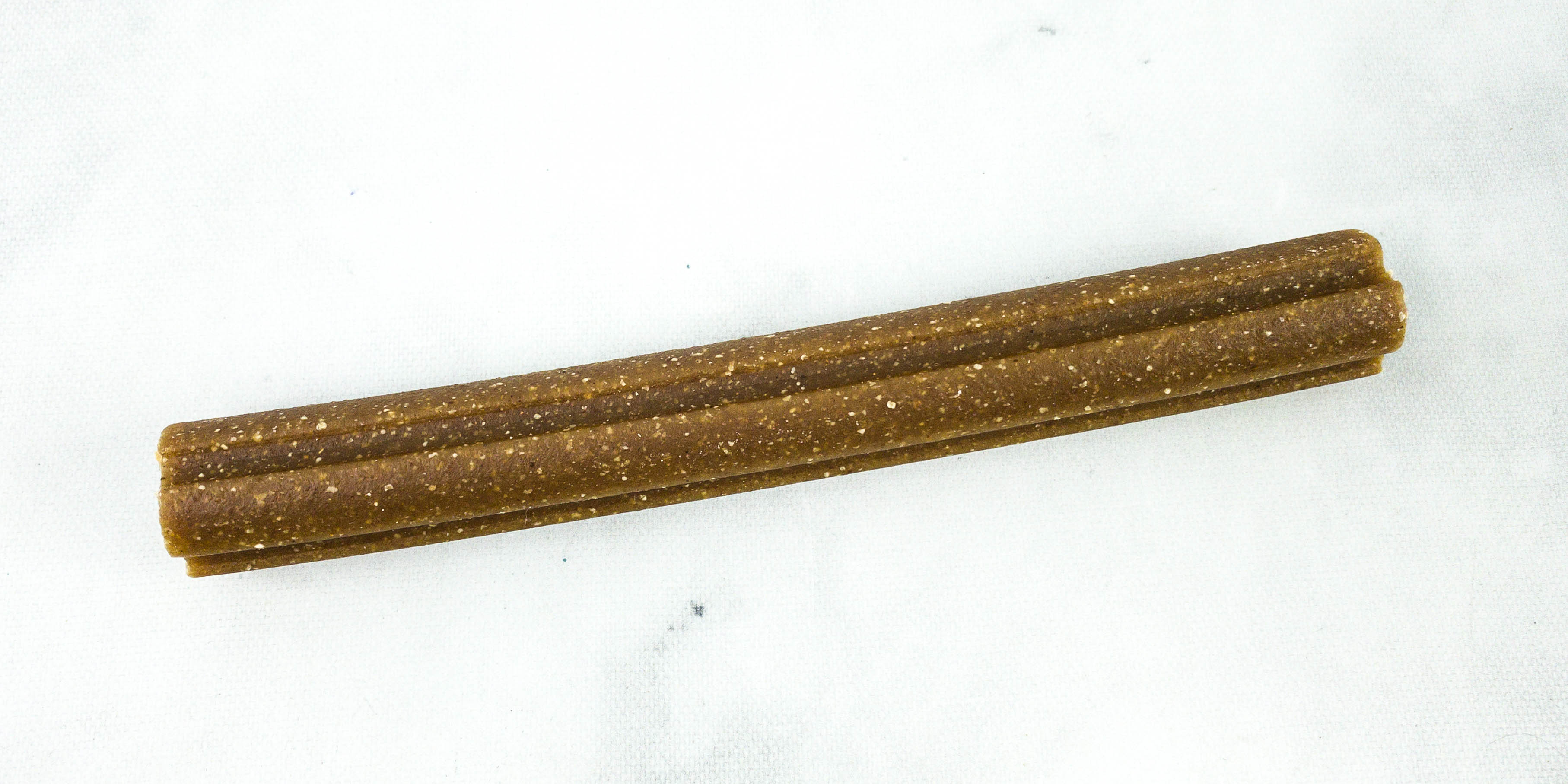 You can serve this stick as is or break it into smaller pieces for smaller dogs!
Poultry Geist Chicken Recipe Dog Treats ($5) Lick or treat! The first bag of treats we received this month is made with chicken, chickpea and potato flour, flaxseed, molasses, and tomato.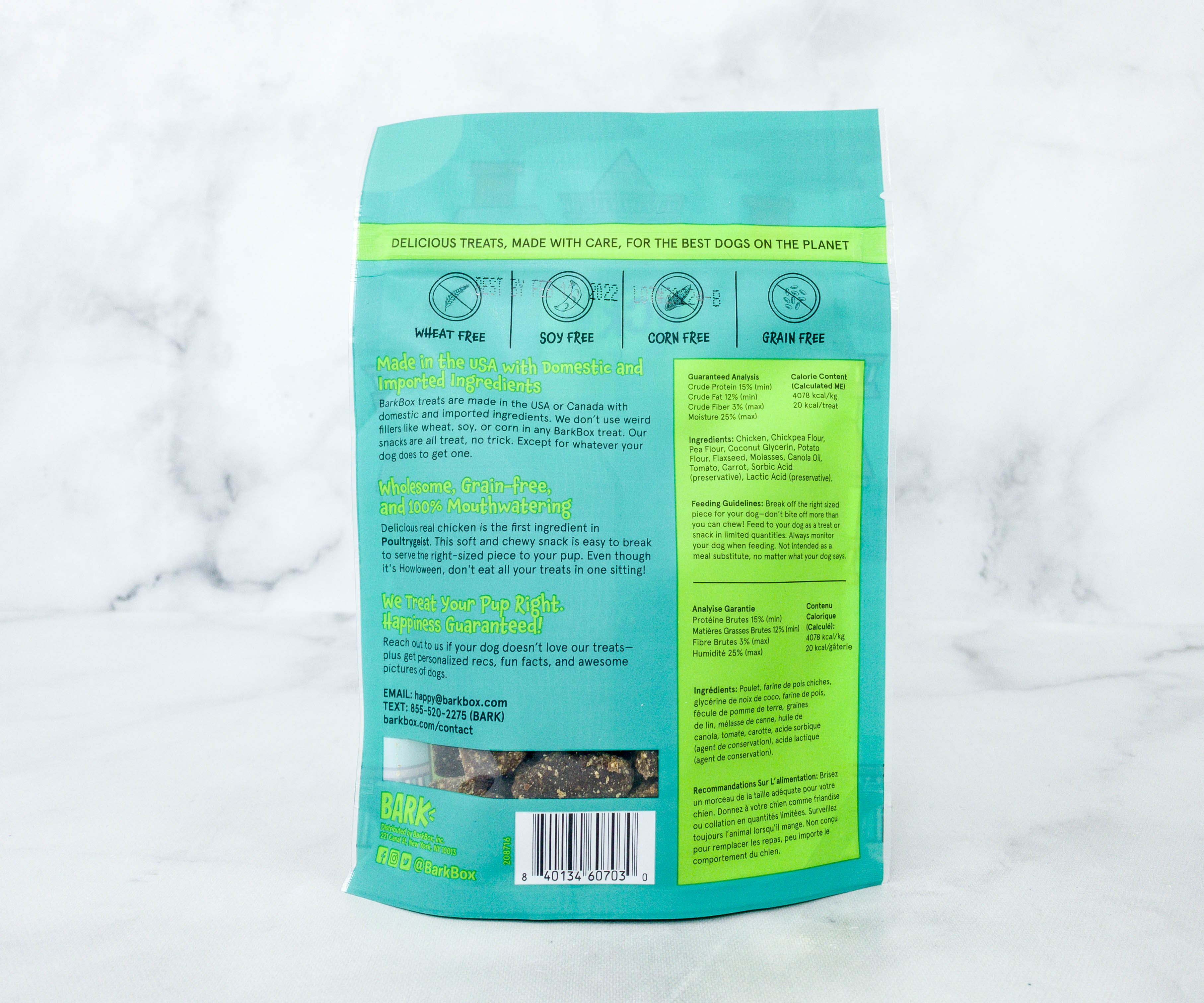 These treats are free from nasty fillers, as well as wheat, soy, corn, and grains.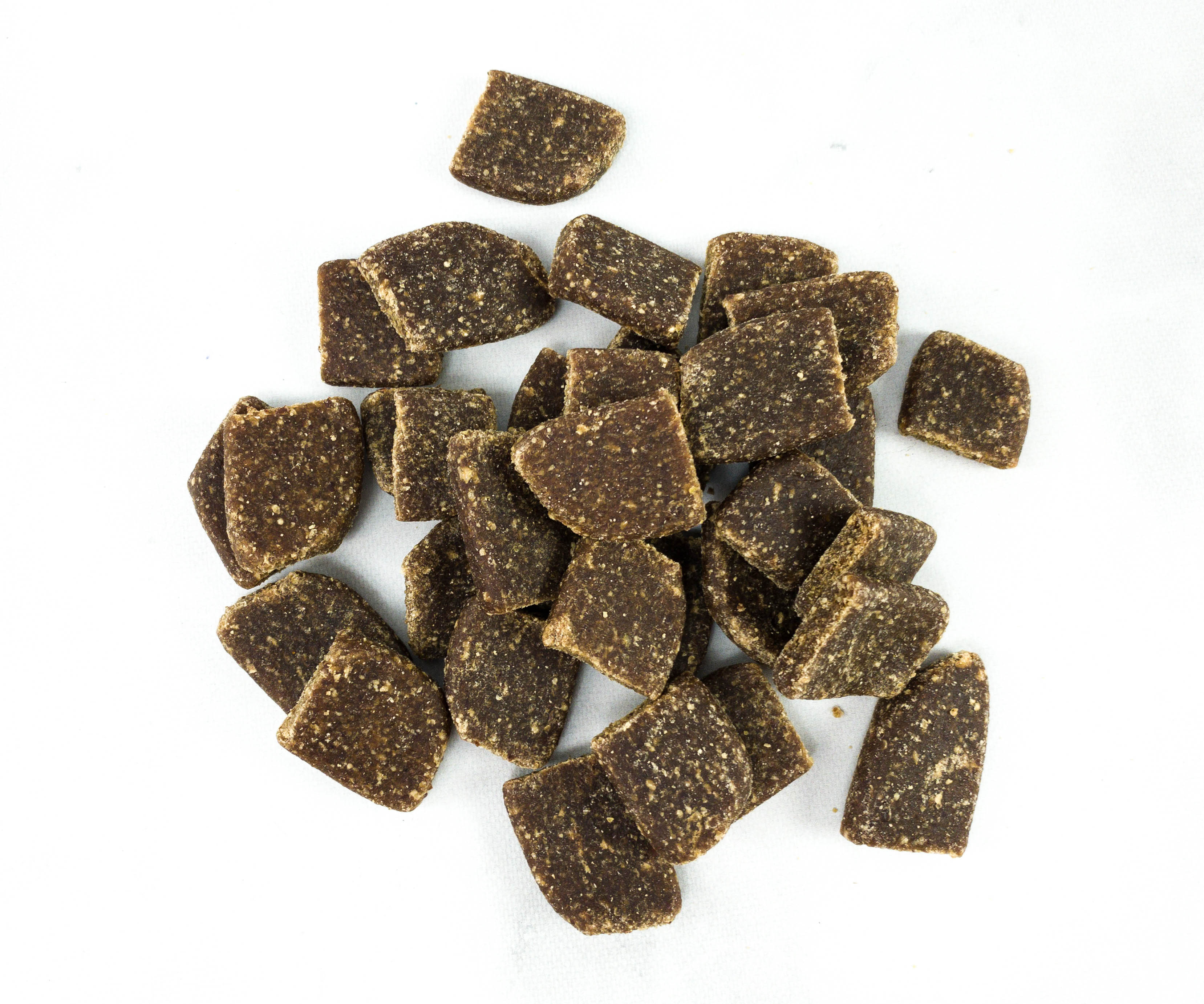 These bite-sized treats are ideal whether as a snack or as a training reward. They are also pretty crunchy!
Count Quackula Duck Recipe Dog Treats ($5) Here's another bag of delicious treats for dogs! It's made with a   healthy combination of duck, honey, apple, and cranberries.
Just like the first bag, these treats are also free from wheat, soy, corn, and grains!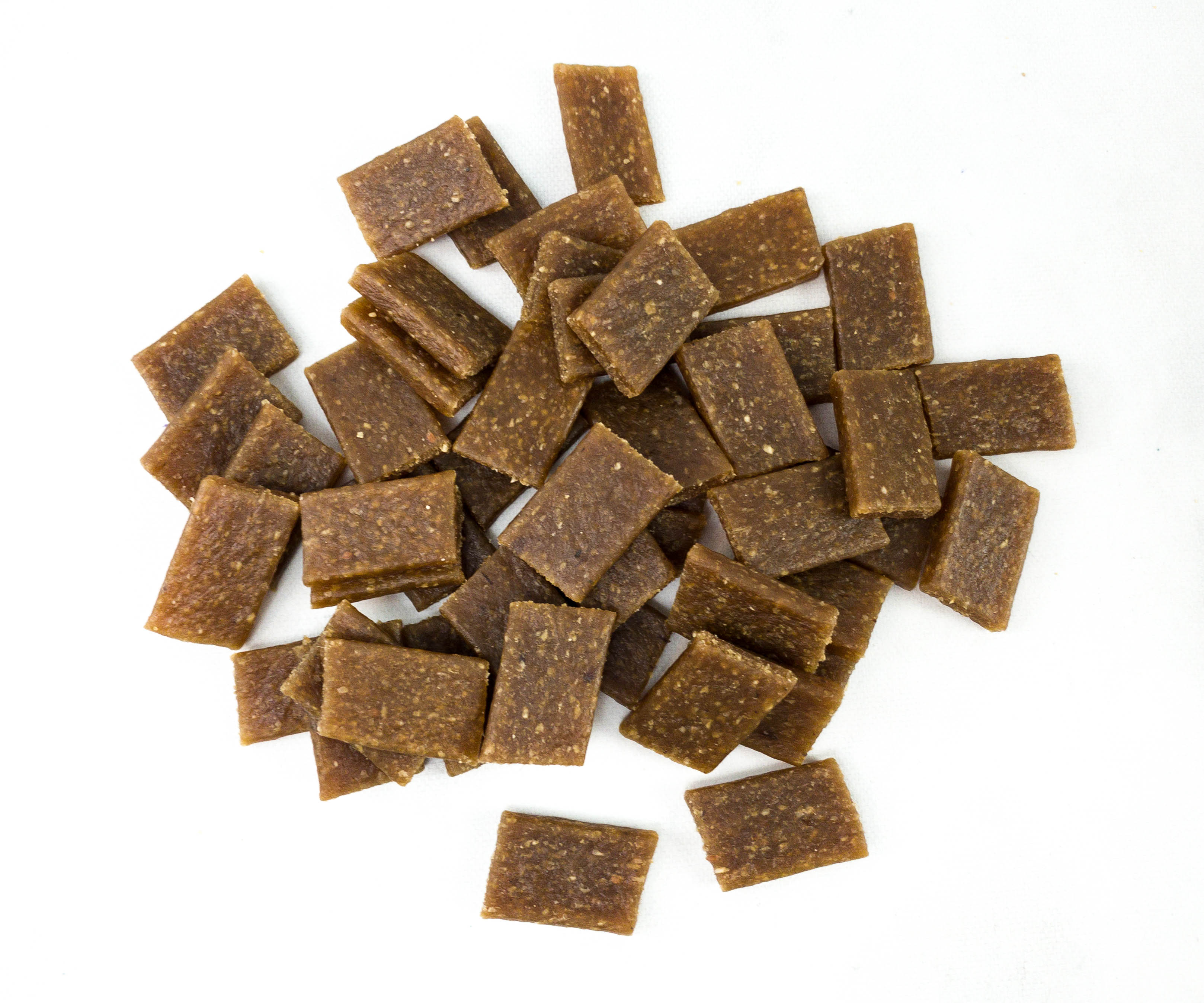 These are also bite-sized, but more on the chewy side. Nevertheless, our pups love them!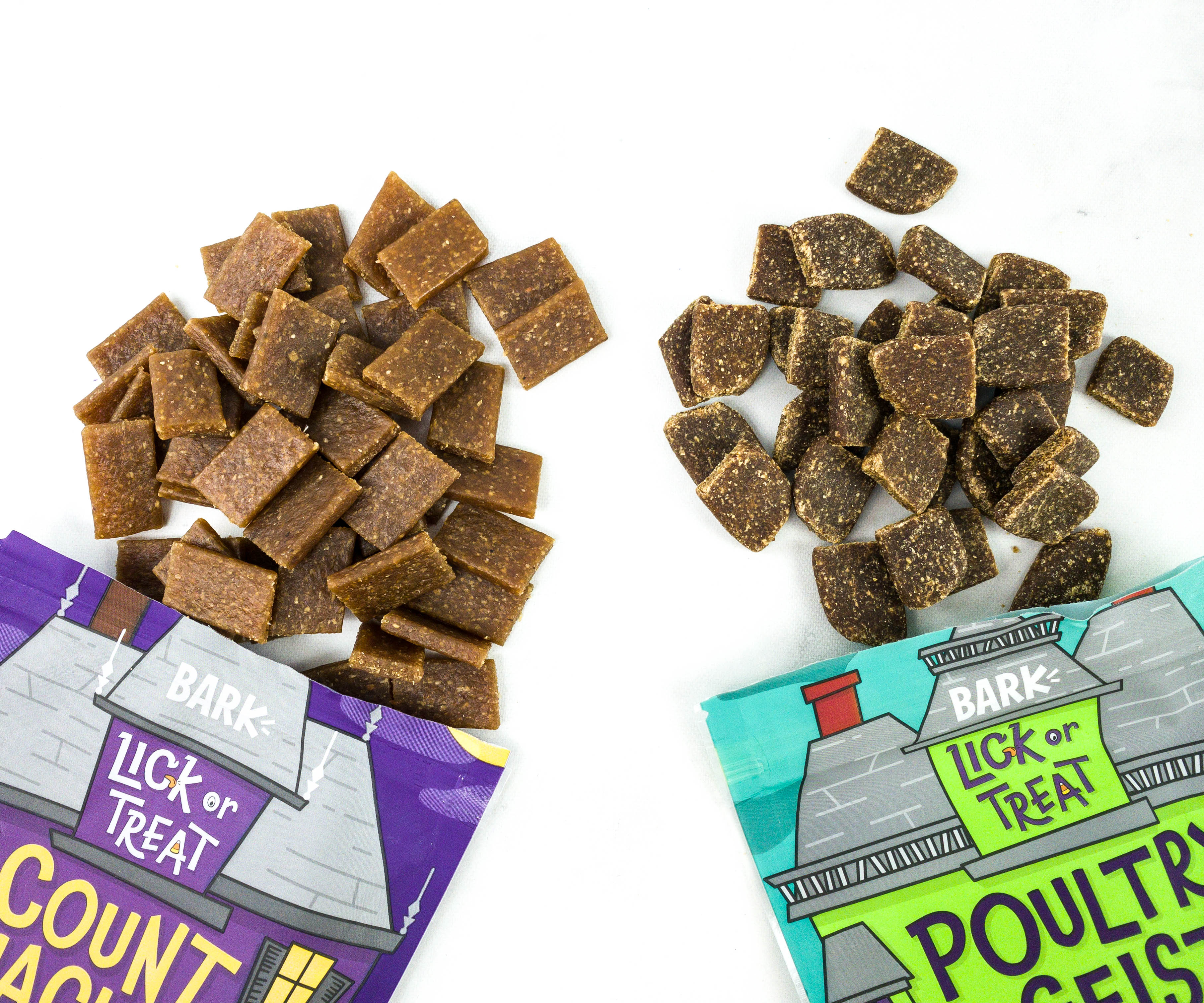 These treats are different in color and texture but both are a hit with our pups!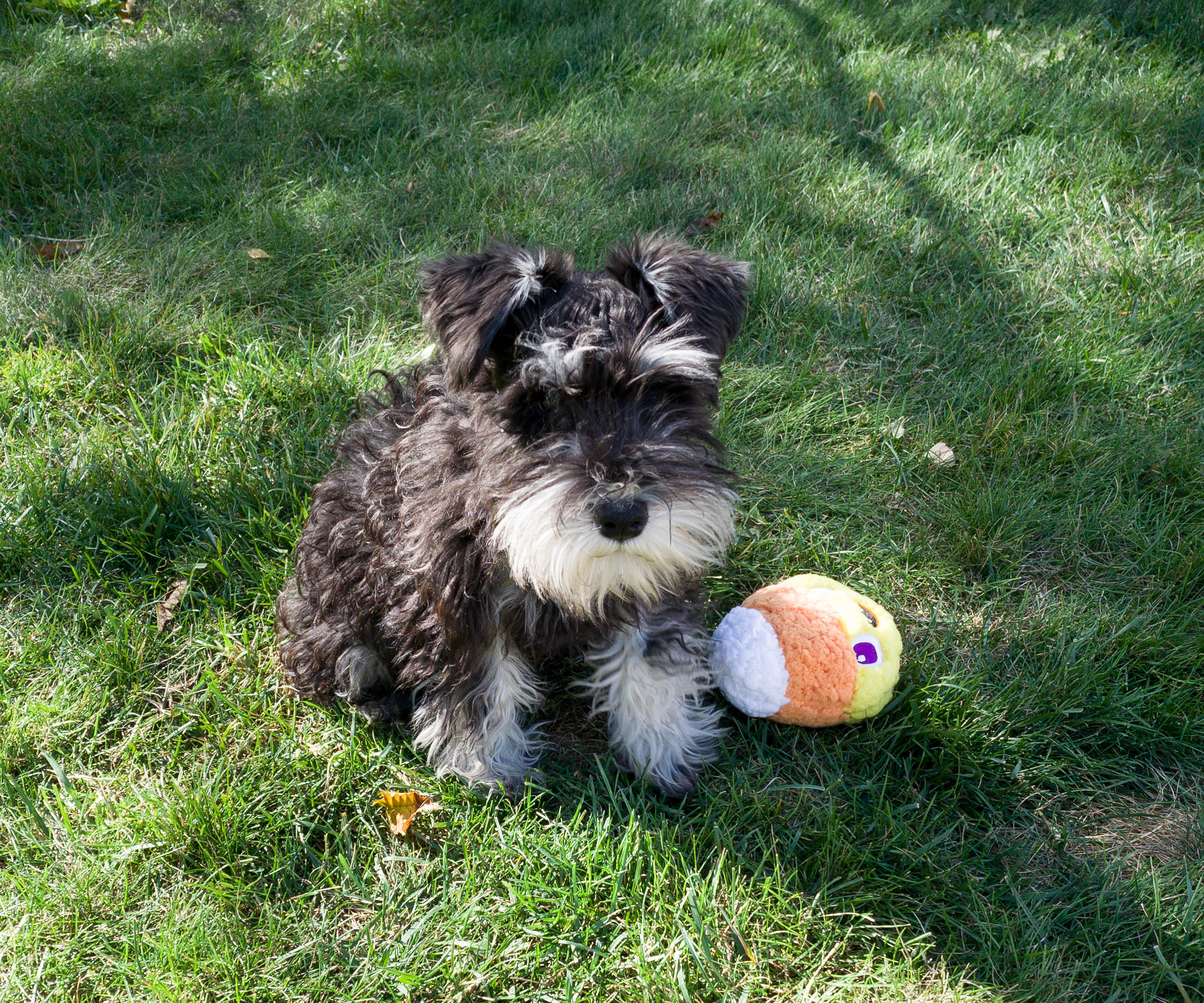 Here's Buffy, who immediately went for the corn dog plushy!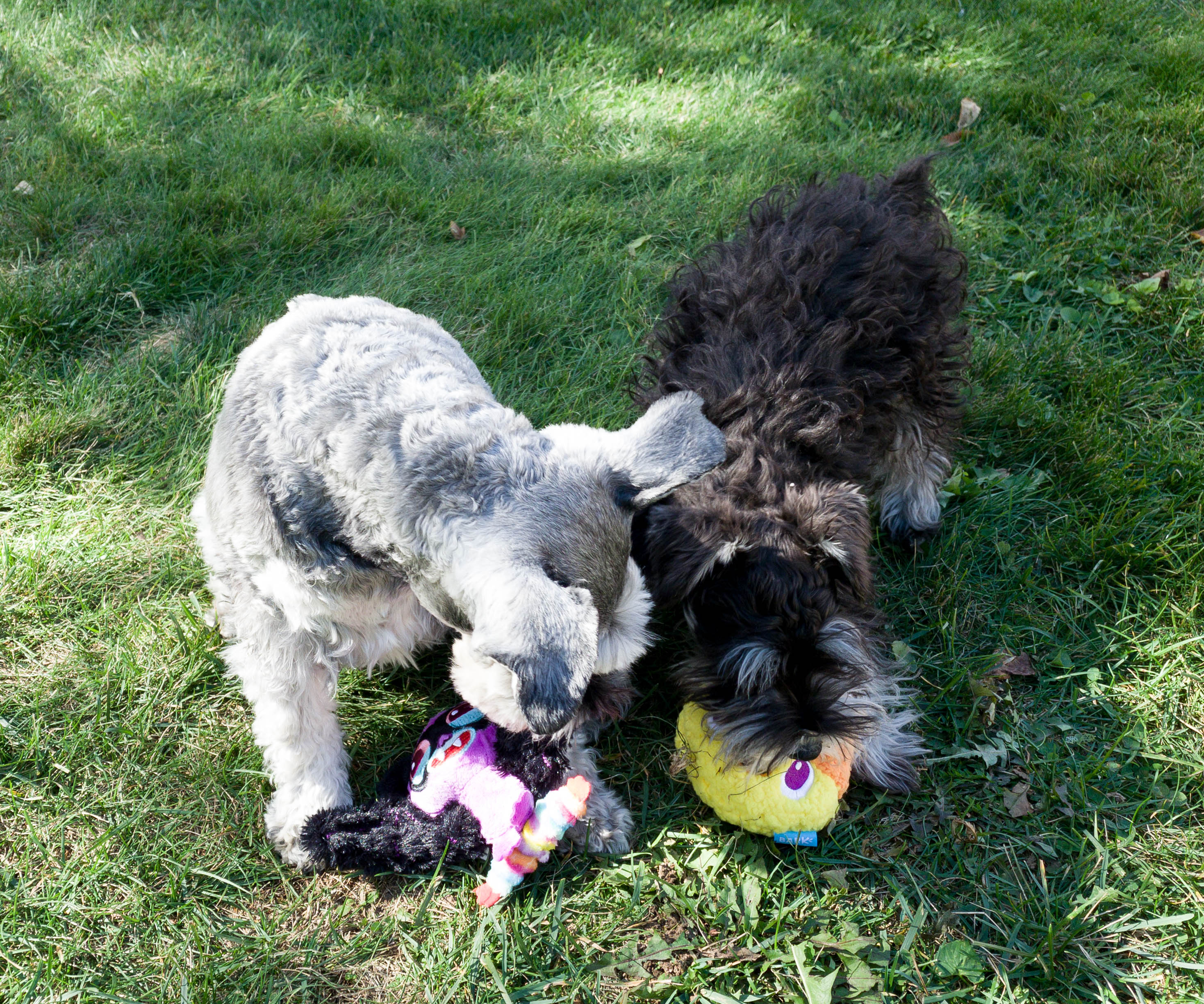 That's how Dean ended up with the bat toy!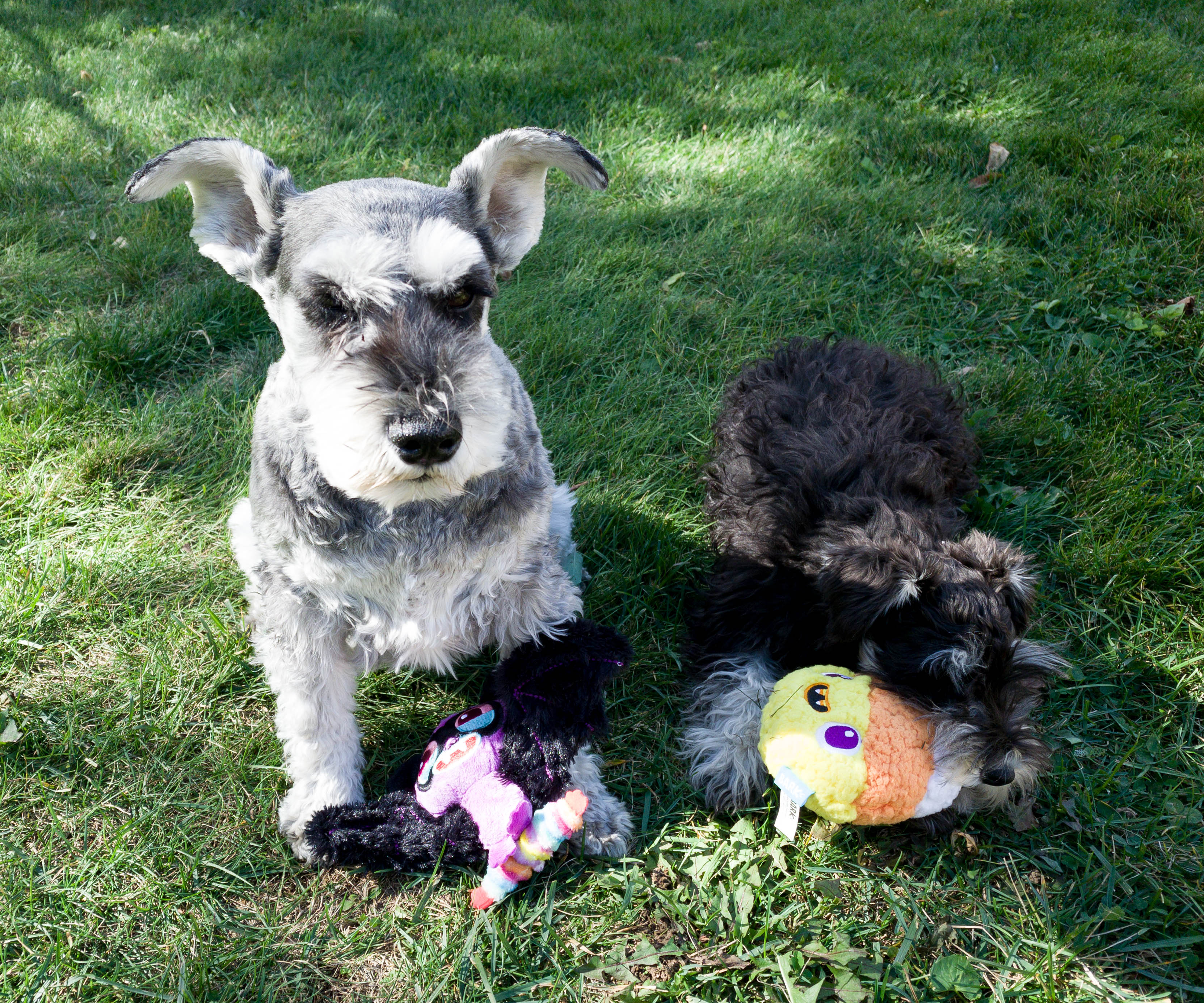 Buffy and Dean loved playing with their new toys from Barkbox!
Halloween is near and our pups get to celebrate it too with this month's Barkbox! The Halloween-themed toys were a hit with both Buffy and Dean. They have played around with the bat plushie and the corn dog plushie a lot and so far the toys are still in good condition. Of course, there are also dog treats in the box and they are all made with healthy ingredients. This subscription is a great way to spoil our pups every month. The themes are always fun and the inclusions are always high-quality. Overall, it provides good value for money!
What do you think of Barkbox? If your dog is a serious chewer, check out Barkbox Super Chewer!