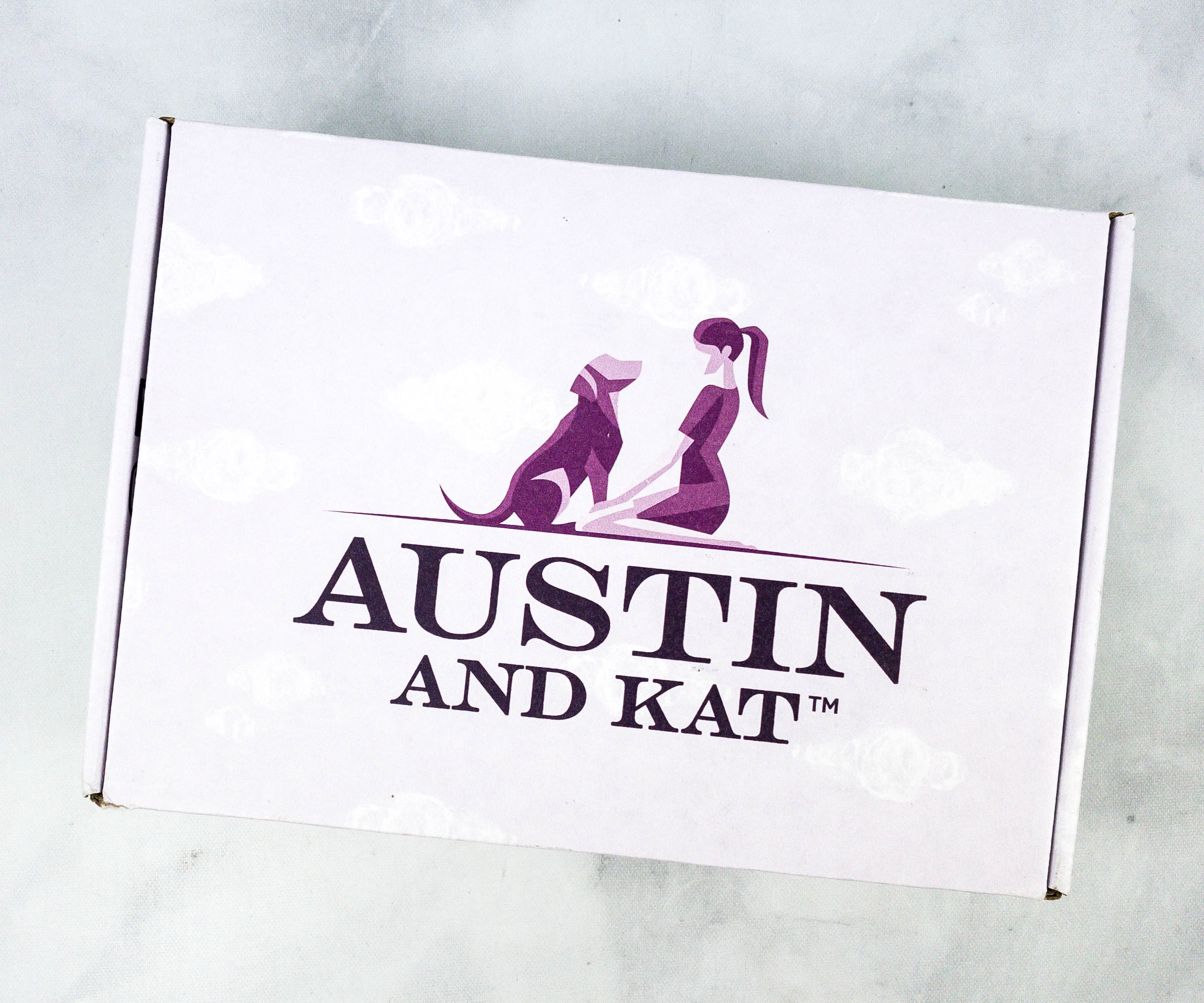 Austin and Kat is a monthly subscription service that provides CBD treats and oils for dogs and cats. They only use fresh local ingredients, and an independent, 3rd-party lab test every batch of their products. Standard shipping is $7 for orders below $50 (FREE for $50+ orders!). Also, they offer one-time purchases but you can get the goodies for 15% off if you get them on a subscription.
The Infused Bites subscriptions are $42.46 per month (with 10 mg of CBD per bite), except for the Original Recipe which is offered in different doses: $21.21 for 2 mg,  $29.71 for 5 mg, $38.21 for 10 mg.
Kat's Original Recipe (Classic Hemp Bites)
Austin's Active Recovery (Fresh & Fit)
Bailey's No More Wiggles (Calm & Quiet)
Bakko's Hip And Joint (Hips & Joints)
Brady's Senior Blend (Happy Healthspan)
As for the Functional Oils subscriptions, each of them is $55.21 per month (450 mg of CBD per bottle).
Bailey's No More Wiggles (Calm & Quiet)
Brady's Senior Formula (Happy Healthspan)
Bakko's Hip And Joint (Hips & Joints)
Austin's Active Recovery (Fresh & Fit)
They also offer oils with higher doses of CBD: CBD Oils for Dogs ($21.21 for 100 mg, $38.21 for 300 mg) and High Potency Hemp Extracts ($59.46 for 600 mg, $84.96 for 1200 mg).
DEAL: Get 15% off on one-time shop purchase! Use the coupon code WalkWithAustinAndKat at checkout!
This side of the box features a beautiful nature-inspired artwork.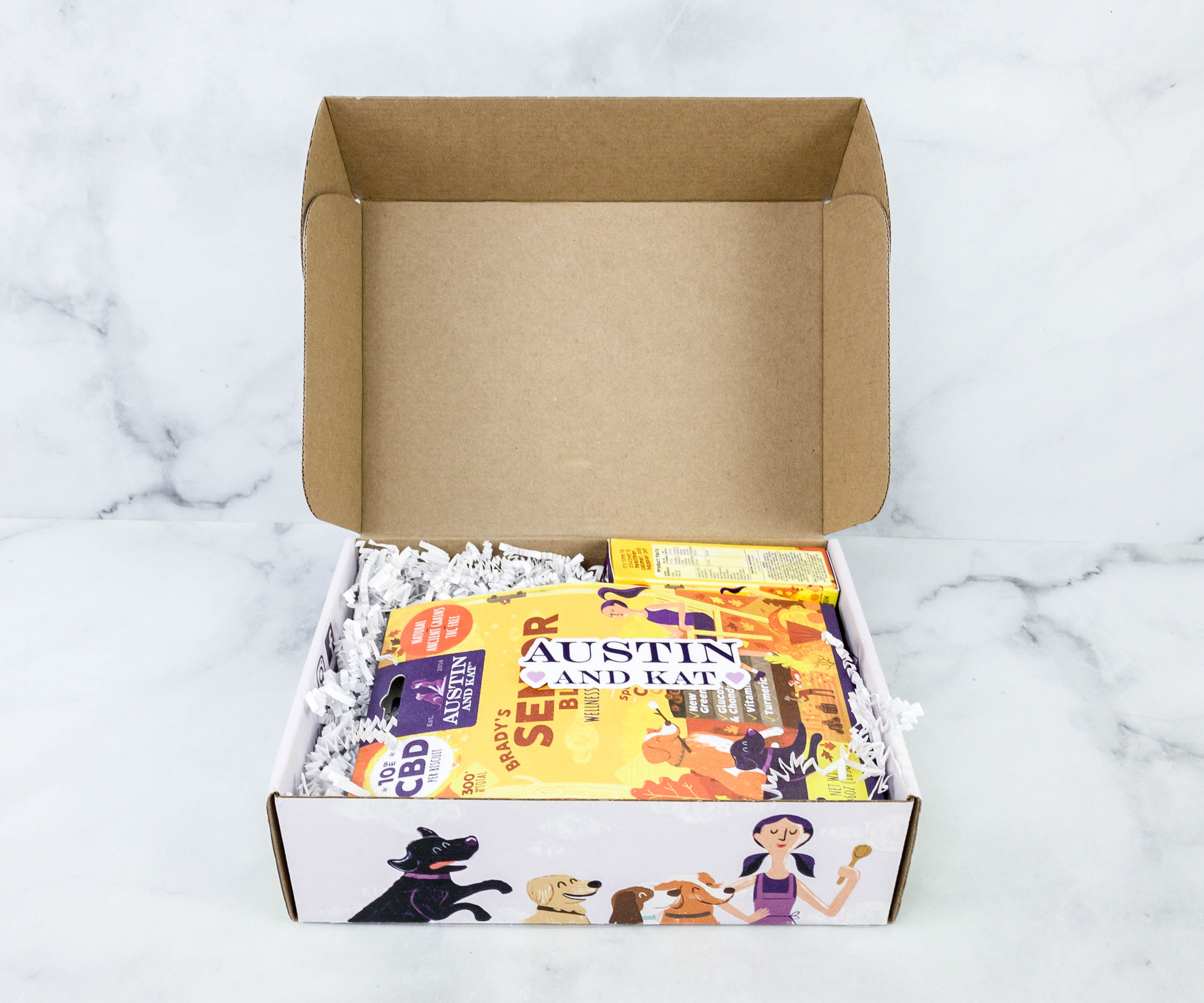 The box is full!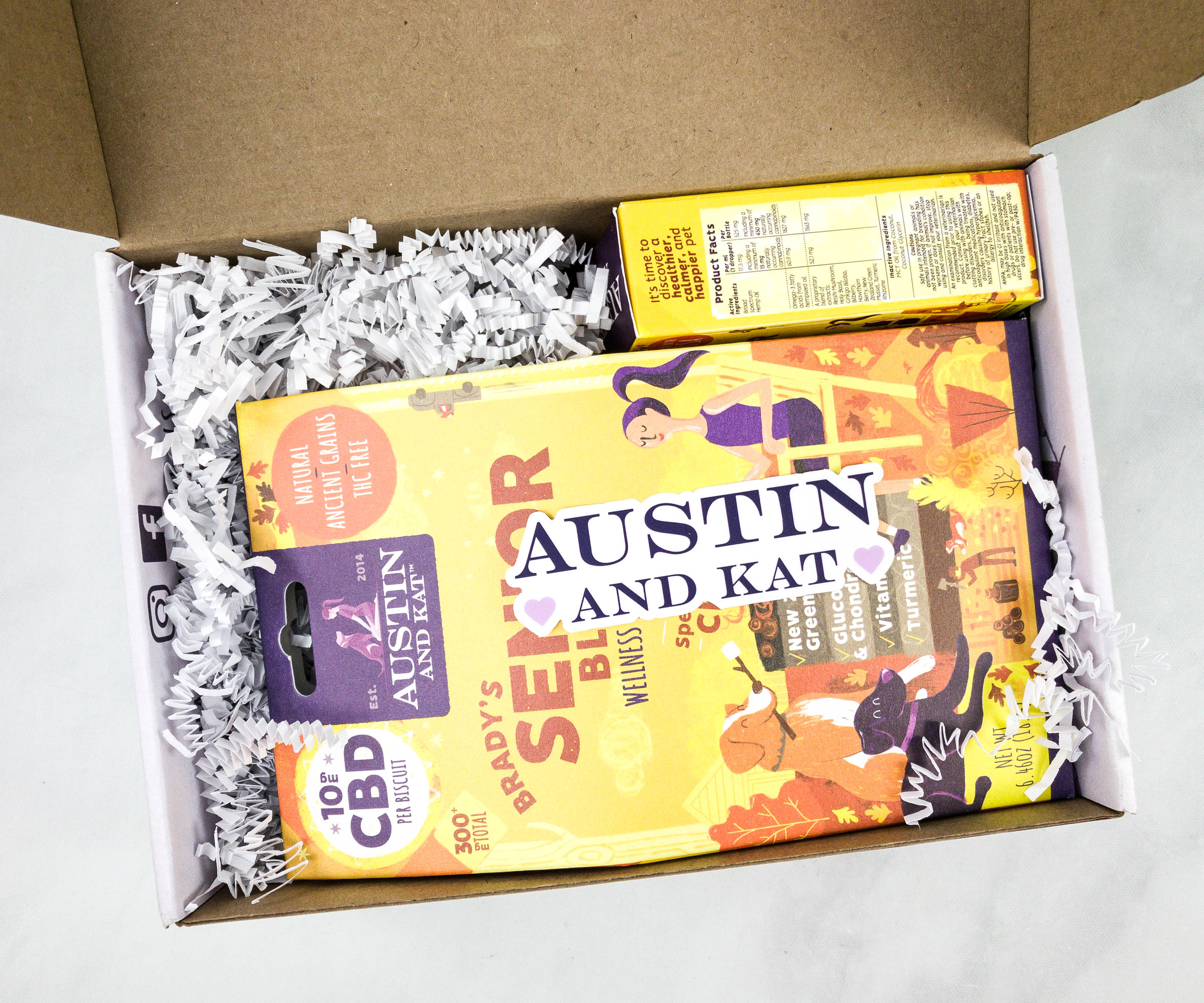 It is also filled with white squiggles that cushion the items inside.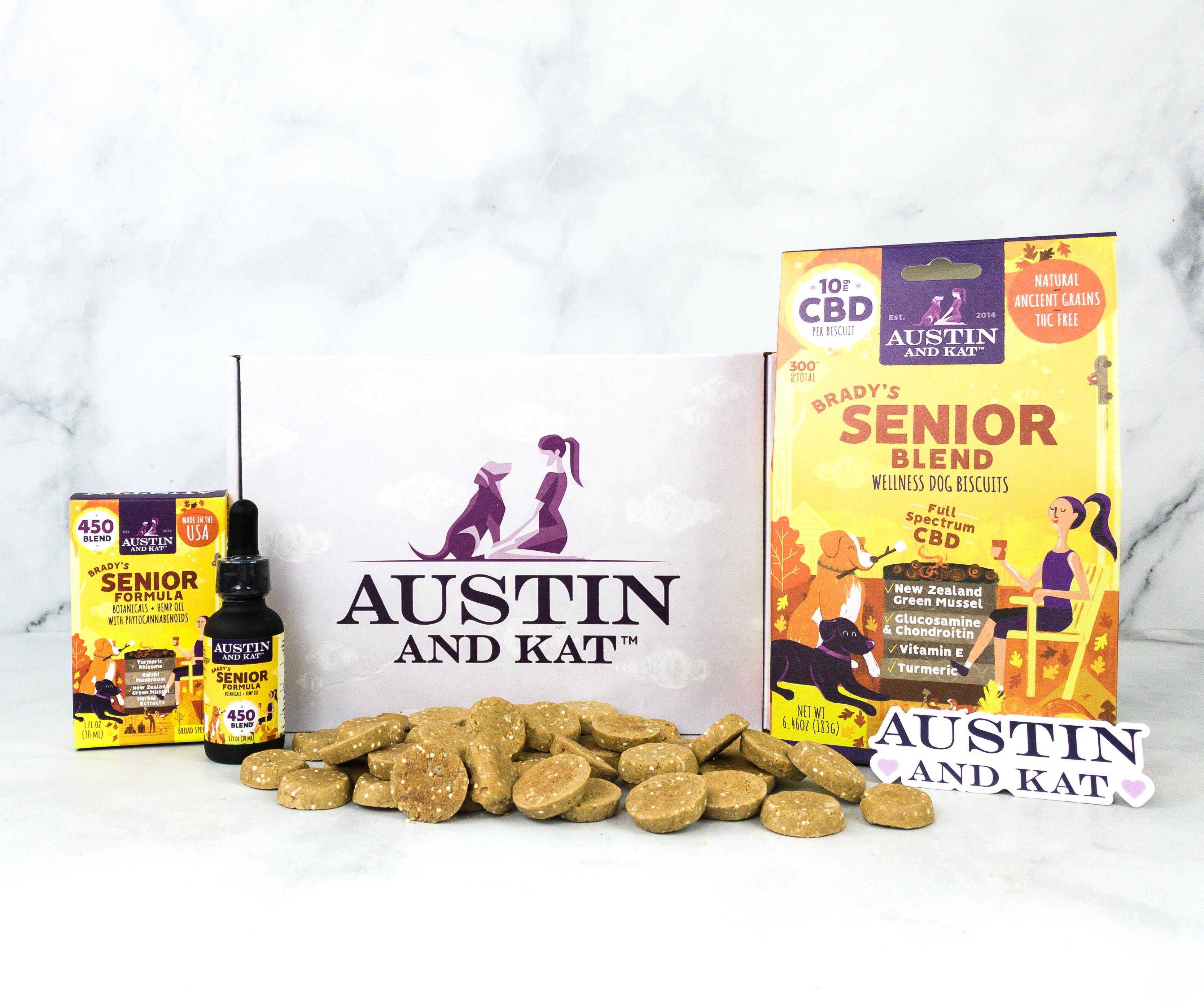 Everything in my box!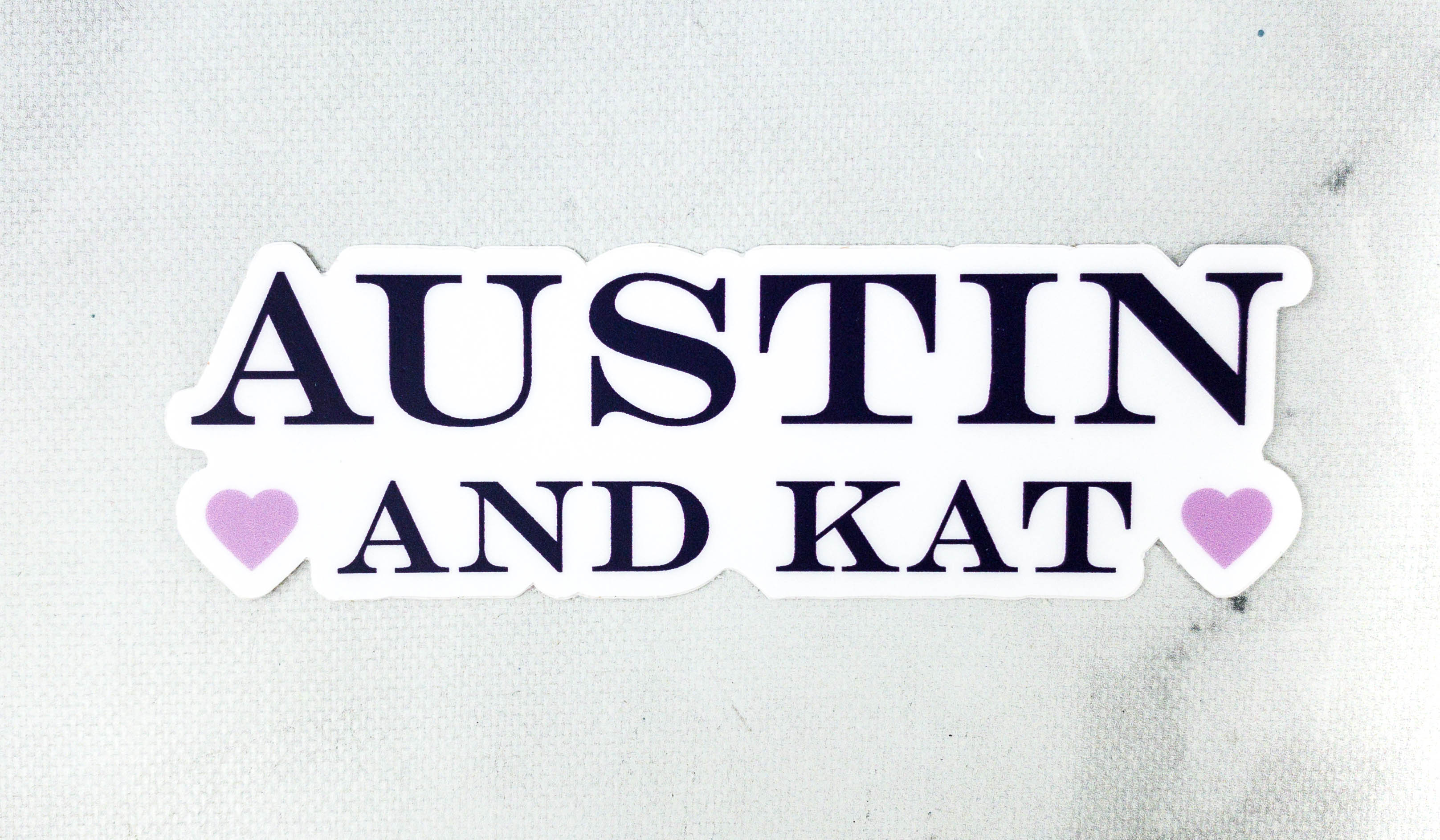 This month's box includes an exclusive sticker from Austin and Kat!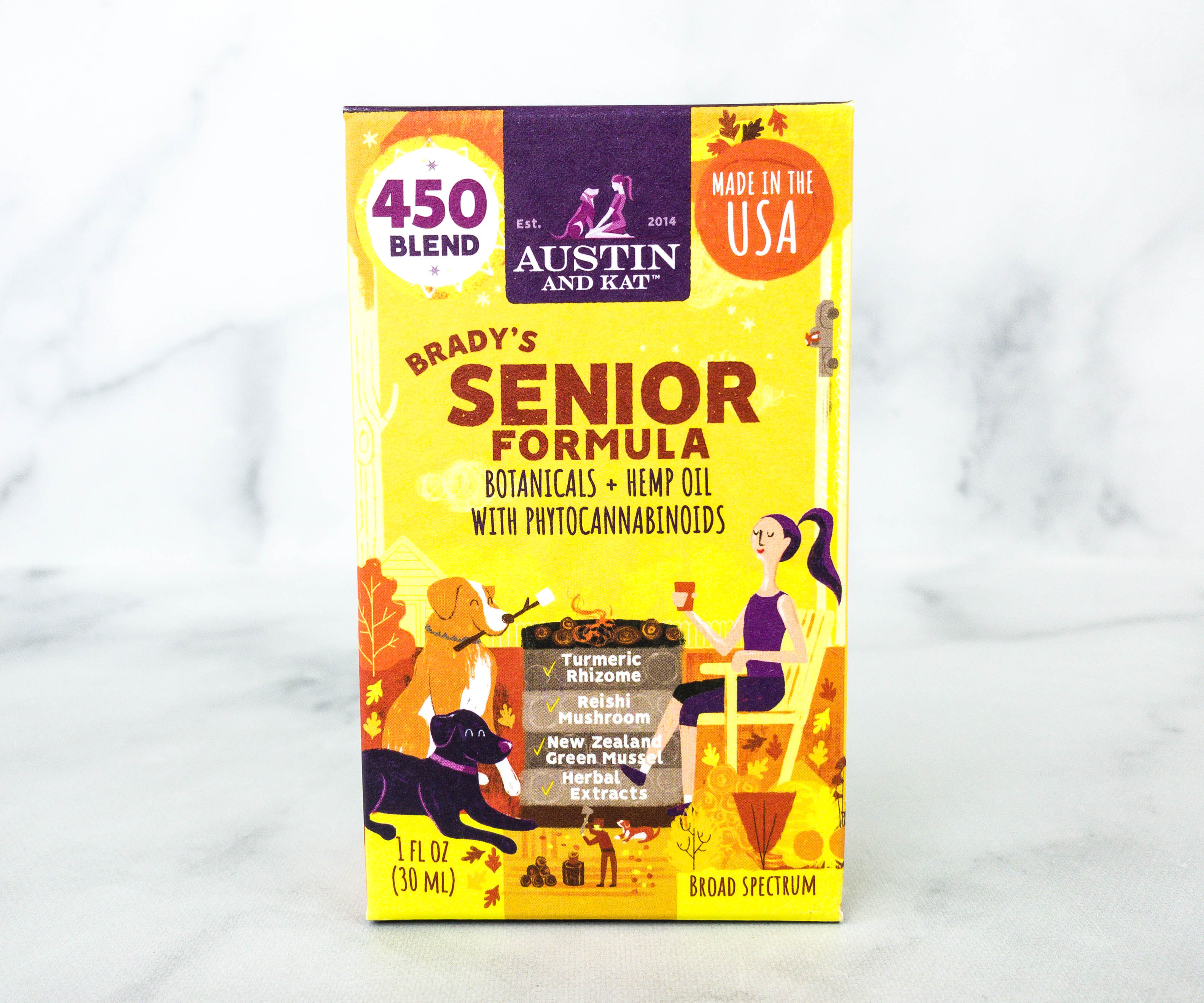 Brady's Senior Formula Botanicals + Hemp Oil ($64.95/one-time purchase, $55.21/monthly subscription) This CBD oil for pets come with a balanced blend of CBD-rich hemp extract with cold-pressed hemp seed, reishi mushroom, green-lipped mussel oils, and turmeric. It's specially formulated for senior dogs or those dogs that are 7 years and up!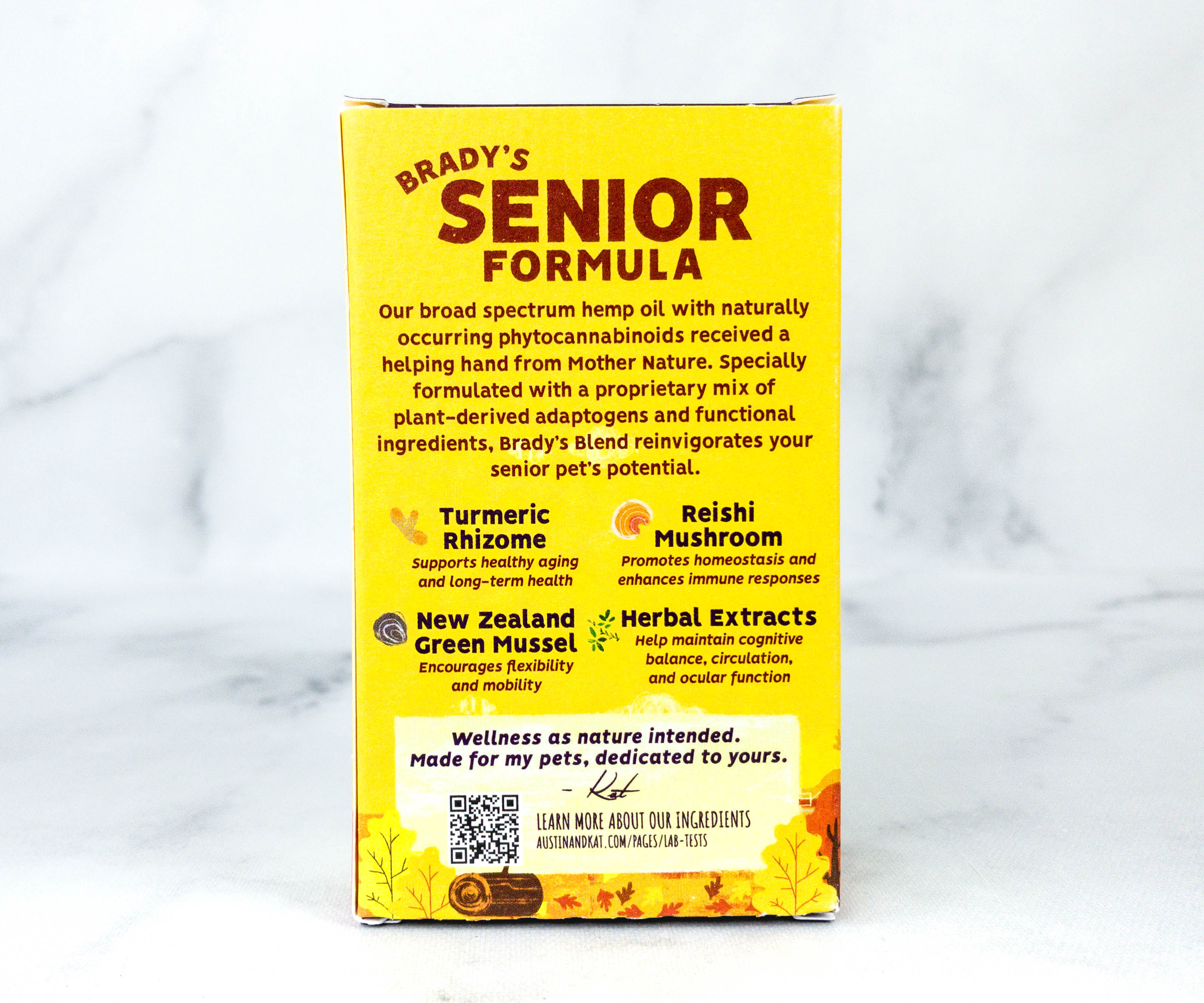 The turmeric is for long-term health support while the reishi mushroom is for enhanced immune response. It also includes herbal extracts, which support cognitive balance, circulation, and ocular function.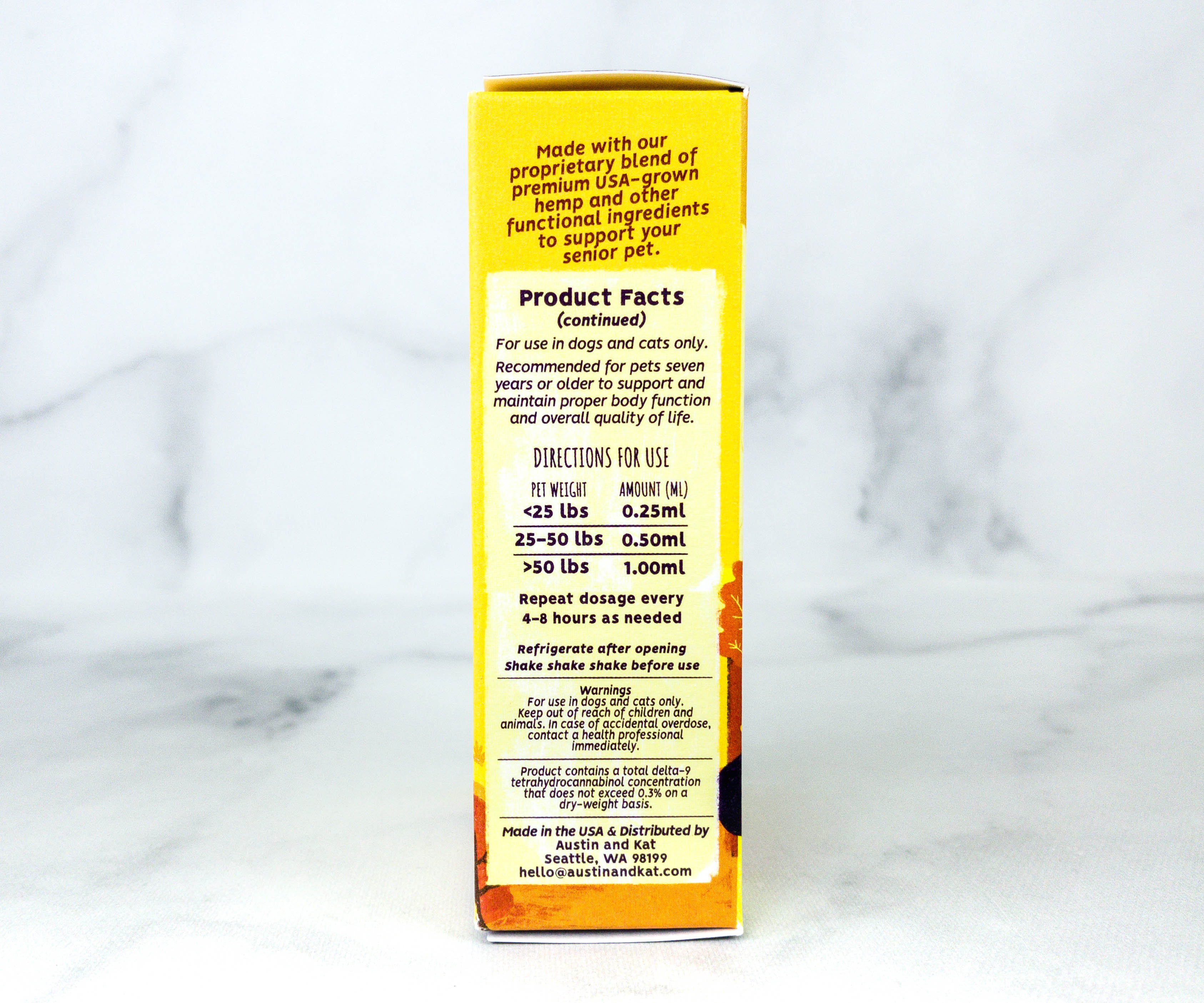 The label indicates the proper dosage for pets. Dogs less than 25 lbs only need 0.25 ml, while dogs that weigh 25-50 lbs need 0.50 ml. Meanwhile, large dogs that weigh more than 50 lbs need 1 ml. You can also repeat the dosage every 4-8 hours as needed.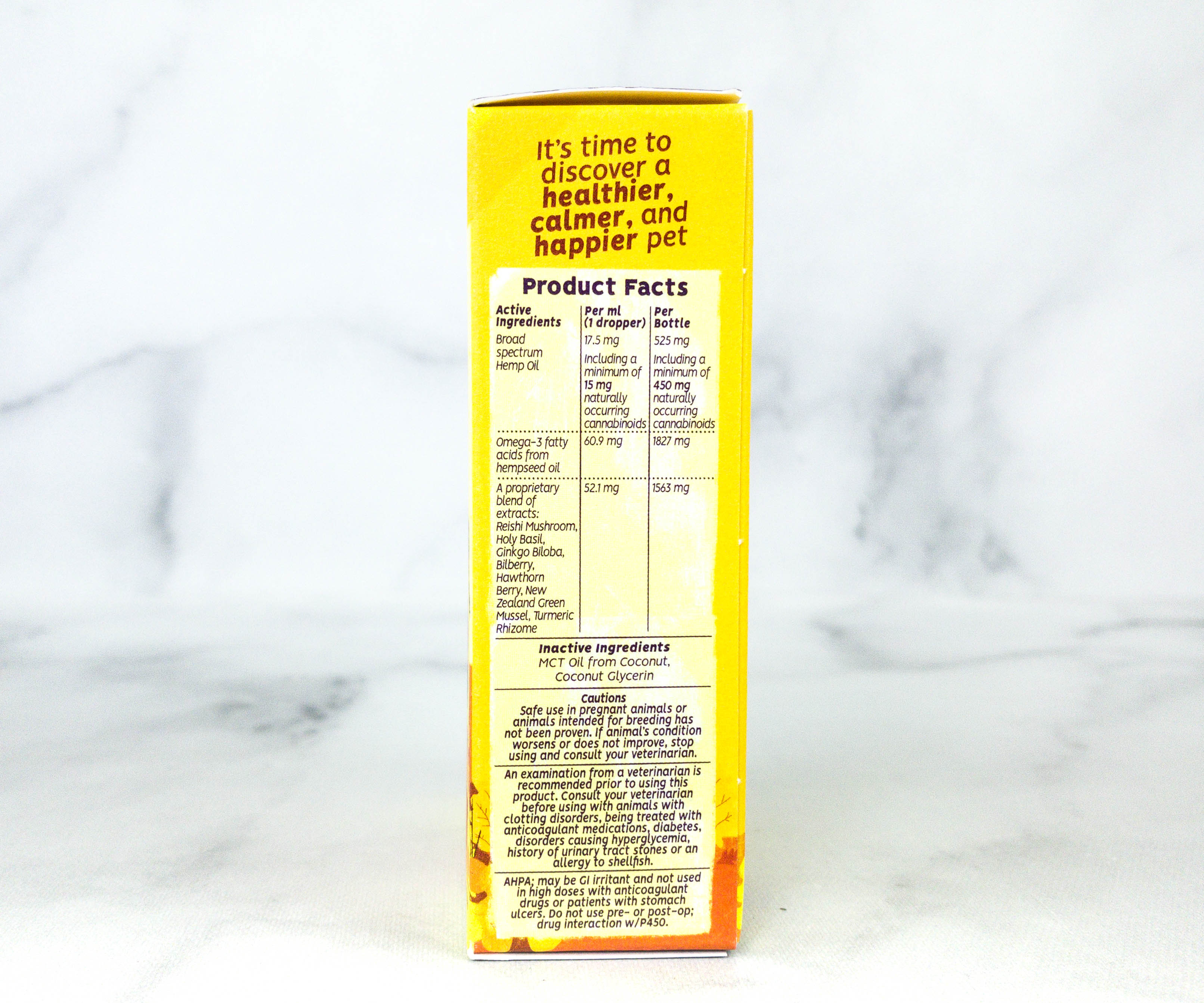 As for the inactive ingredients, it has MCT oil from coconut and coconut glycerin.
Inside the box is a 30 ml bottle with a dropper-type top. It's not an ordinary dropper, but a medical-grade calibrated dropper which helps in precise measurement of the oil.
They recommend incorporating hemp into your pet's daily regimen slowly. Also, they don't recommend putting the dropper directly on your pet's mouth. It's better if you put it into a small bowl or mix with food!
Brady's Senior Blend Wellness Dog Biscuits ($49.95/one-time purchase, $42.46/monthly subscription) Now, we're onto the CBD infused biscuits! This one is also formulated for senior dogs. It includes salmon oil and New Zealand green mussel which are both rich in omega 3, turmeric with anti-inflammatory properties, and Glucosamine and Chondroitin for joint health.
We have the 10 mg variant. This means that each biscuit contains 10 mg of CBD and is recommended for dogs weighing 50 pounds and above.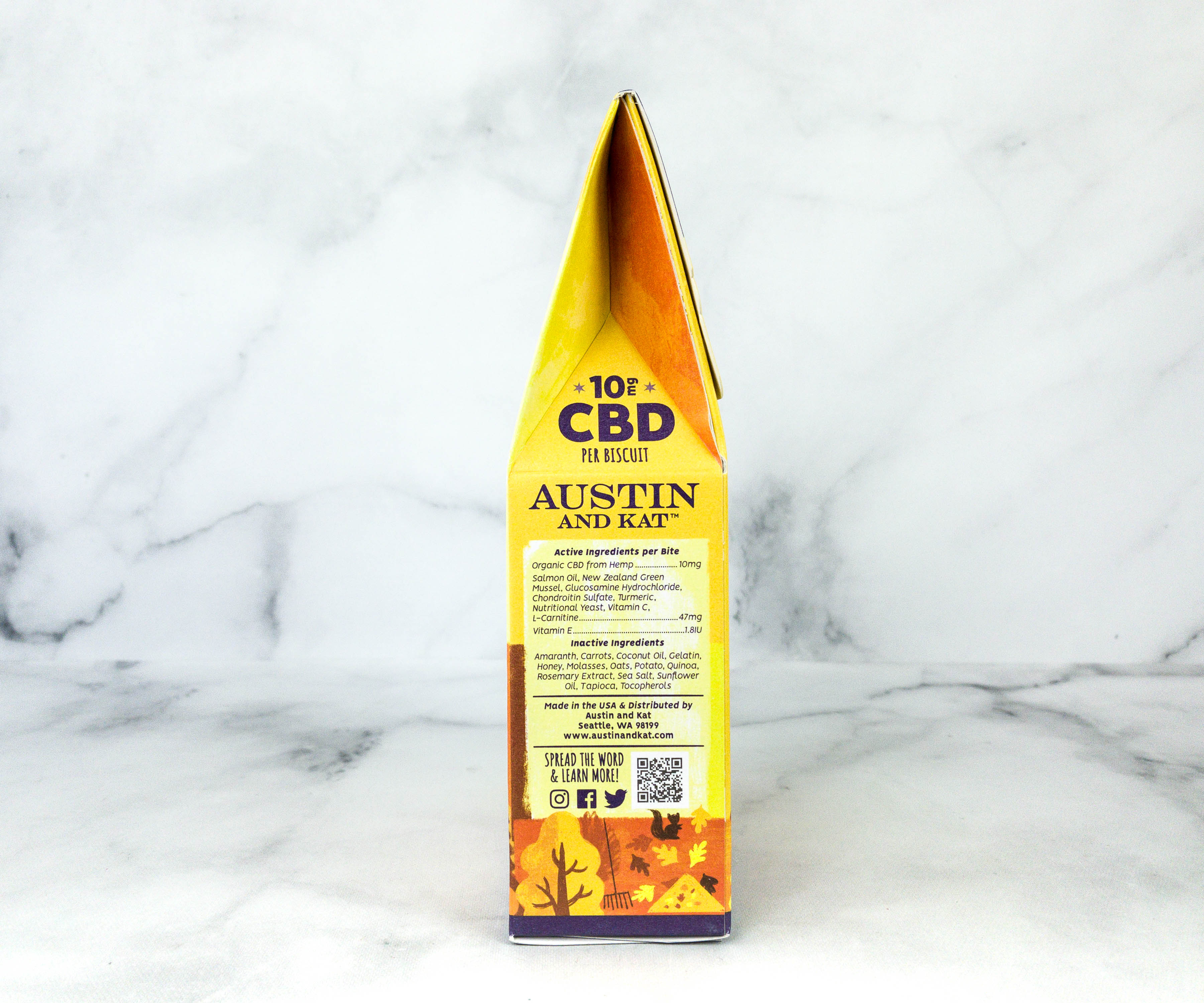 These biscuits also contain inactive ingredients such as amaranth, carrots, coconut oil, gelatin, honey, molasses, oats, potato, quinoa, rosemary extract, sea salt, sunflower oil, tapioca, and tocopherols.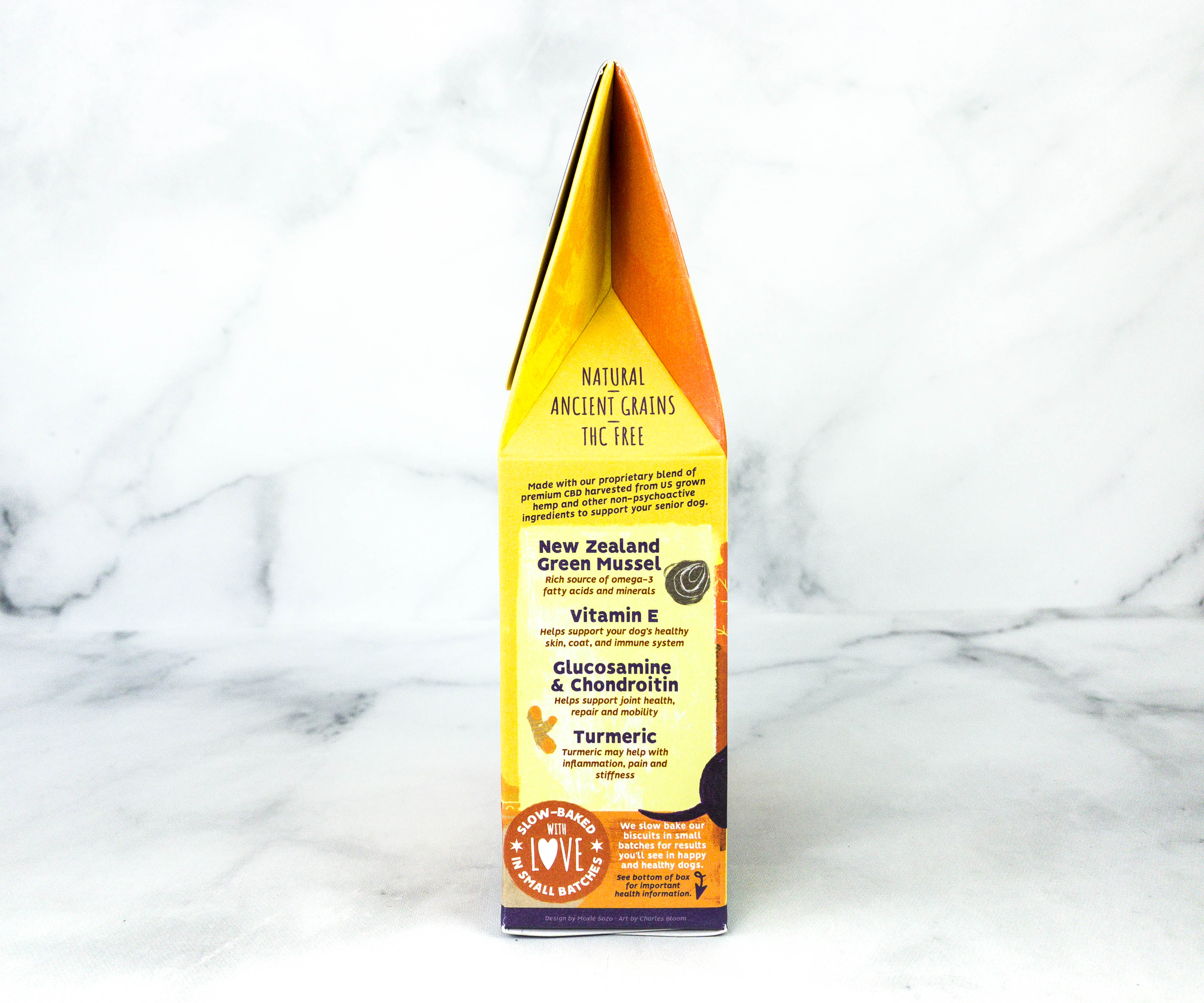 According to the label, these treats are natural and THC-free, which means that they are non-psychoactive.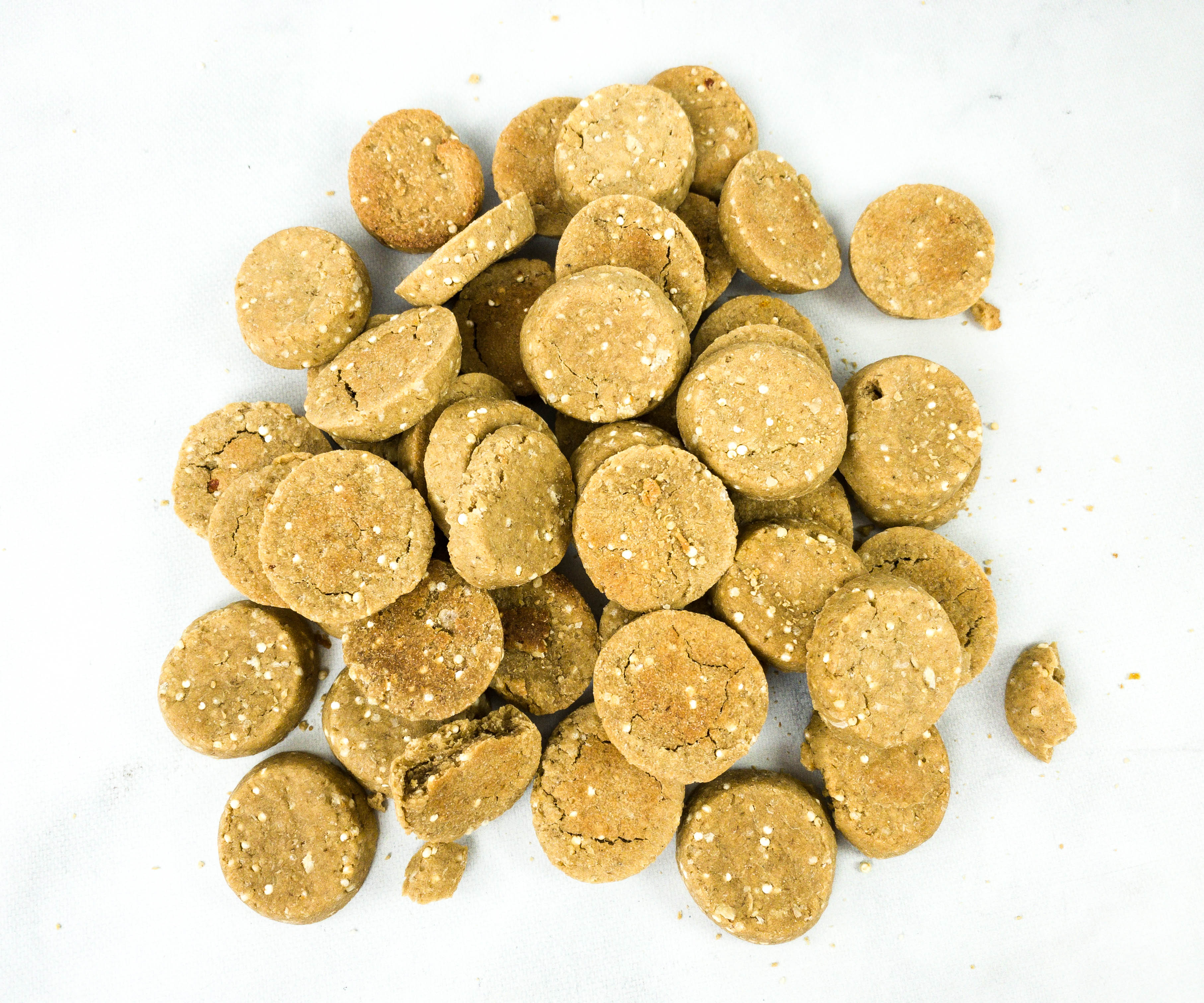 Inside the box are approximately 30 pieces of chewy, button-shaped treats! It can be given to pets as is, or mixed with a small amount of food. They're slightly crumbly, but still a hit with our senior dog Lindy overall.
Austin and Kat offers a good variety of CBD treats and oils for the different needs of pets. In this box, we have the biscuits and oil formulated for senior dogs, supporting their immune system and overall health while also keeping them calm and happy. Aside from full-spectrum CBD, these goodies also contain other clean and all-natural ingredients that are packed with vitamins and nutrients that every senior dog needs. These are also easy to incorporate into a dog's daily diet and so far, Lindy has not encountered any problems with them. She even loves munching on the biscuits. If you're looking for CBD supplements for your pets, this is a good subscription box to start!
What do you think of the Austin and Kat box?