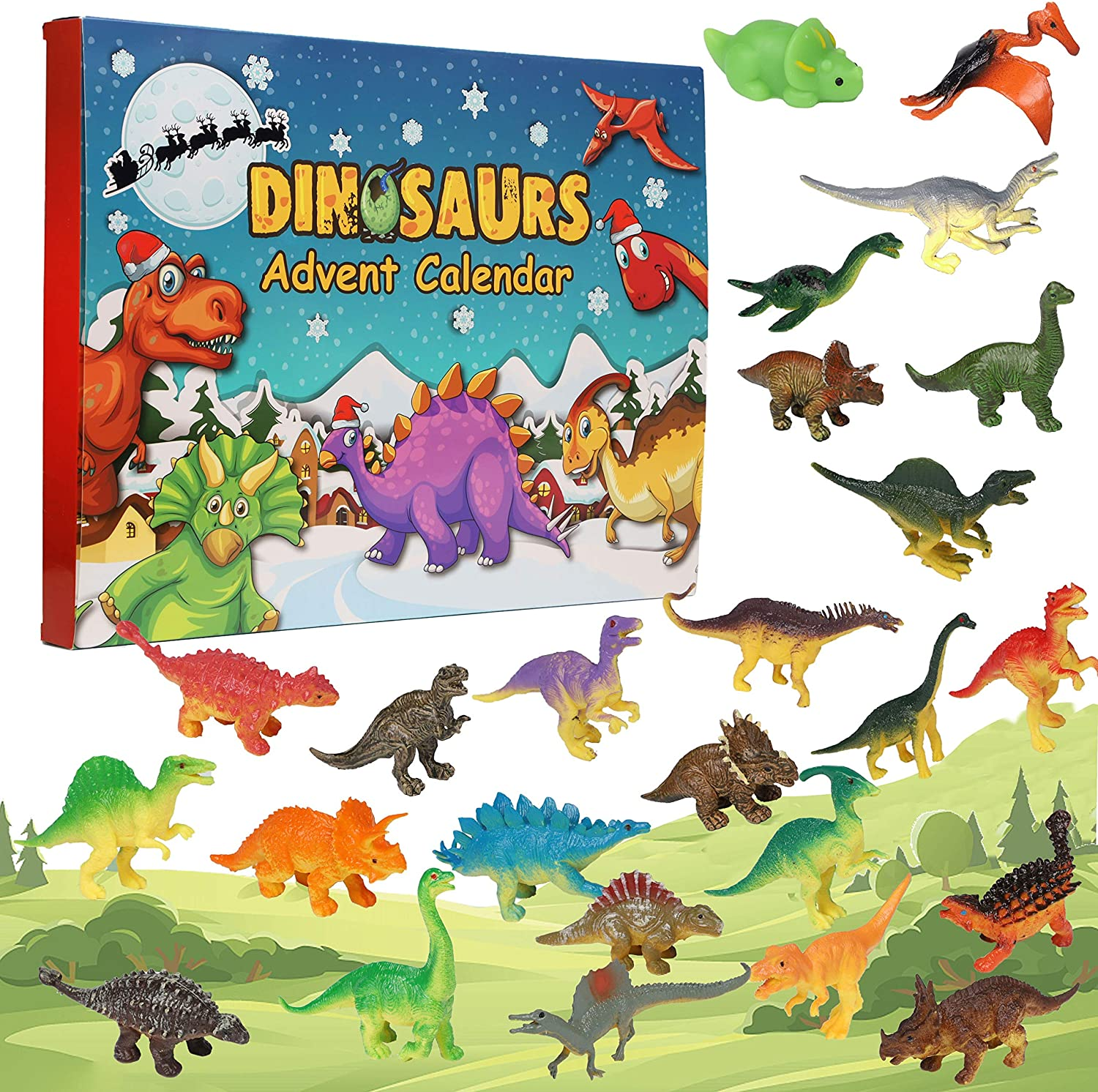 The 2020 ATDAWN Dinosaurs Advent Calendar is available now!
ATDAWN Dinosaurs Advent Calendar ($17.99)
ATDAWN Christmas Advent Calendar with 24 Dinosaurs

Making the countdown to Christmas days more fun than ever!

The countdown to Christmas is an exciting time for children, this adorable advent calendars for kids designed with 24 numbered doors behind which small surprises can be hidden for each day. Open a new door each day and find what's waiting behind it, building the excitement to the big day!

This kids advent calendar is also a great way to teach children numbers, the concept of time and the art of patience! Set a time every day to check the squishy toys door, help your child have fun while contributing to the excitement of the approaching holidays, it will be a gift that you'll be so proud to give!
Safe Premium Material: These dinosaurs toys are made of nontoxic plastic, 100% non-toxic and BPA FREE, durable, resistant to breaking, colored in nontoxic paint, safe for kids and adults alike.

Christmas Countdown Advent: The Countdown to Christmas is an exciting time for children. And one way to heighten the holiday anticipation is with an toy advent calendar! This Animals Christmas advent calendar for kids have fun surprises hidden behind 24 doors, children can take out a small gift from the drawer corresponding to the date in the box every day. This is the perfect holiday gift for Kids!

24 Dinosaurs Toys: Our dinosaurs Advent calendar includes 24 pcs different dinosaurs and one extra mochi squishy dinosaur, is a fun way to get ready for the holidays!

2020 Gift Idea: Each dinosaur features coloring based on reality, let children explore, discover, and learn a great deal about dinosaur, a good christmas and new year gift choice for educational purposes. Ideal christmas gift for kids toddler boy girl, ages 3 year and up.

Notice: Please do NOT put into your mouth. NOT suitable for children under 3 years old. The advent calendar comes in a protective sleeve with all doors intact, simply remove it before first opening!
Are you getting the 2020 ATDAWN Dinosaurs Advent Calendar?
Looking for even more advent calendars? Check out all our posts on Advent Calendars or find more on Amazon, or see the list of Advent Calendars in the directory!