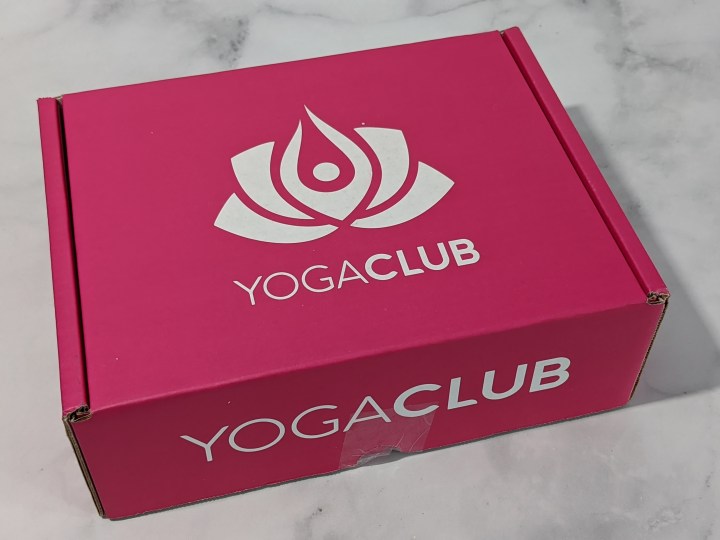 YogaClub is a monthly yoga clothing and apparel subscription box curated based on your preferences. They send brand name clothes, but at a fraction of the retail prices! Upon sign up, there's a fun style quiz that subscribers can use to tell them about your style preferences. The quiz has been updated in the last couple of weeks to better fit you. You can now add you height and specify your body shape. You can subscribe to the Guru Monthly for $79. Shipping is $6.95 to USA and $9.95 to Canada, Alaska & Hawaii. They are also shipping to the UK.
DEAL: Use the coupon code HELLO to get your YogaClub Guru Box subscription for just $59 for life! That's $20 savings per month.
Yoga Club now has services to make exchanges on your items, and there's even a community for Canadian subscribers!
Everything was nicely wrapped in the box. This month, I've received some nice purple, blue and white.
Niyama Sol Shagreen High Waisted leffings in Midnight.  Made with recycled plastic water bottle, they have a buttery soft feel and they stay in place throughout a workout. They are some of the most comfortable leggings that I've received through Yoga Club.
They have a lovely "scale" pattern that goes from a light purple to deep blue.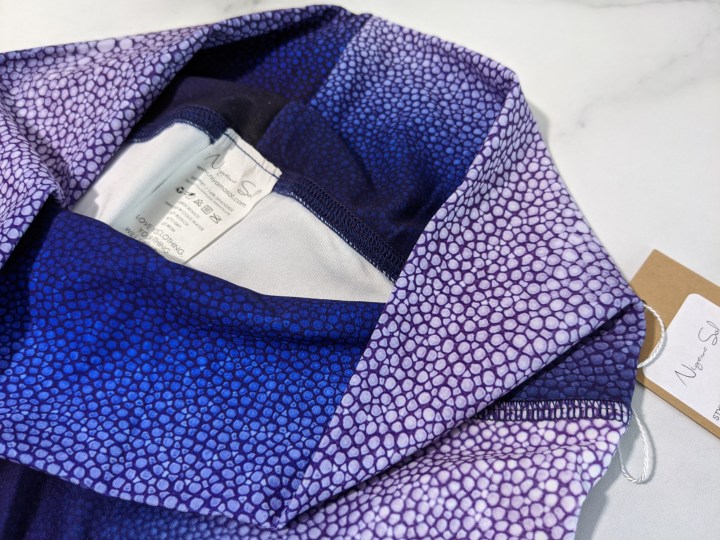 They feature a wide waistband that goes from the belly button to a bit under the hip bone. It can be folded over for a low wiast look.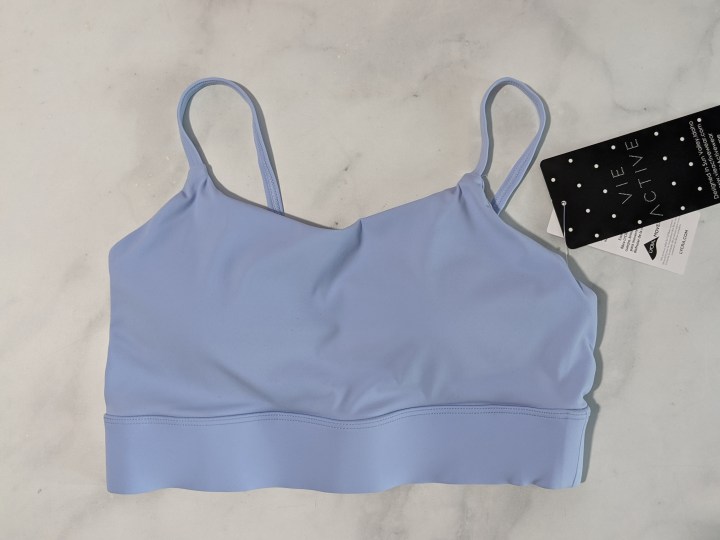 Vie Active Kimberly Periwinkle Sports Bra. Based on the Vie Active Website, this sports bra is more of a longlined bralette, but it felt like a normal sports bra to me. The fabric is so soft and comfortable.
It features a strappy back in a "U" shape, so the upper back and neck are free.
It also has removable cups.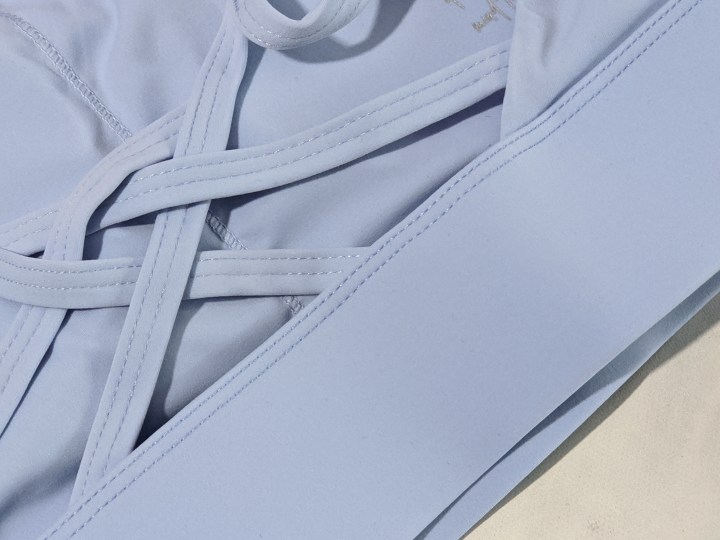 The elastic band is wide and keeps everything tight without digging in the ribs.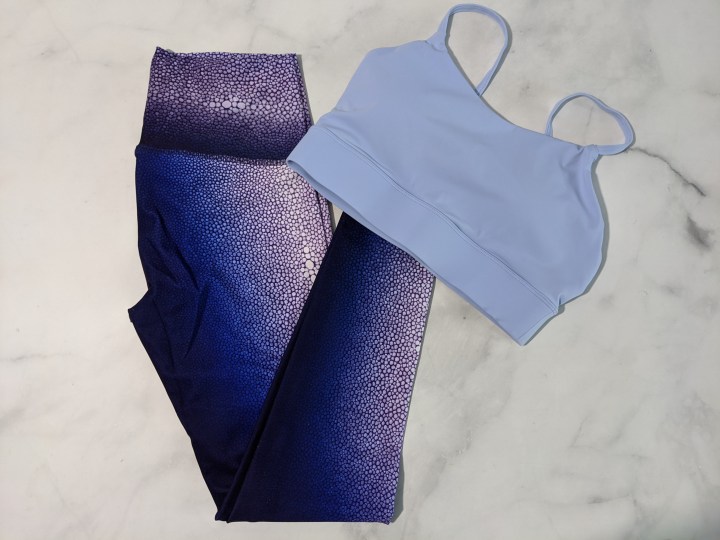 Althout the colors don't exactly match, they complement each other quite nicely.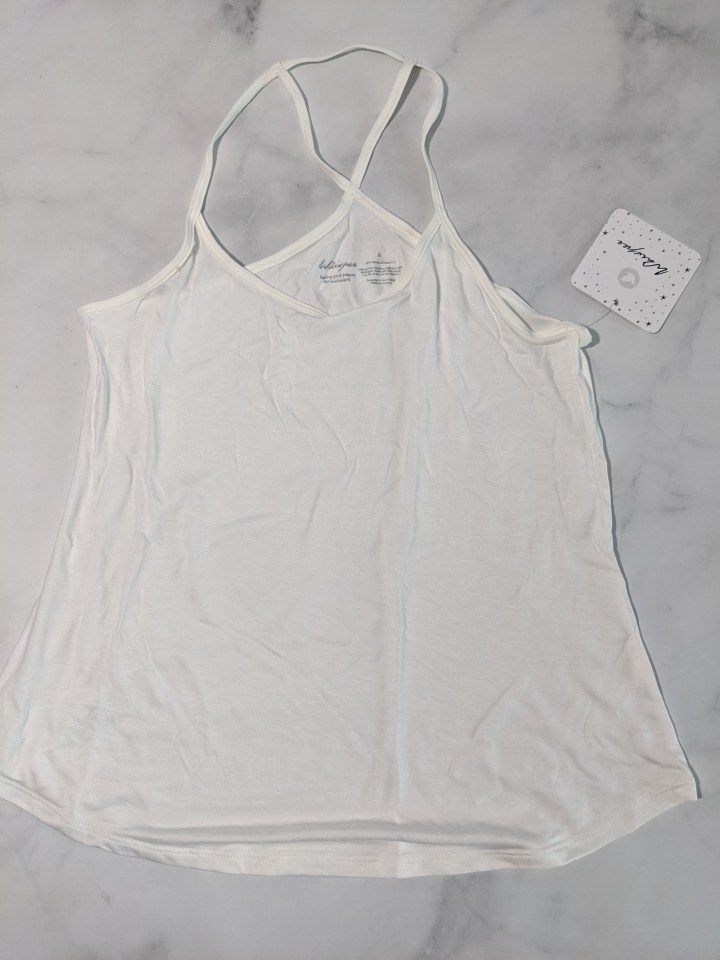 Whisper Carolina Tank in Ivory. The fabric is very soft and lightweight, and sweat dries out really quickly.
The fabric has a little bit of shine, and the straps do not dig into the shoulders even when moving a lot.
This month's outfit was a very cute one and I love the color of both the leggings and the bra, but not so much the top. I feel like YogaClub has been sending me a lot of white or off-white tops in the last couple of boxes, even though I've filled out my feedback after each boxes and mentioned I really don't like whites.
This was a lovely summer outfit with light but also bright colors. The leggins are so comfortable I wore them to chill out and the bra is sooooo soft! I just wish that there would be a place in the survey where you can mention if you don't want a specific color.
I love that Yoga Club sends you pieces that you can wear in a yoga class, at the gym, or out for brunch! Don't be shy to update your styling profile as much as you want. If you don't want a specific item, like a sports bra, you can "unlike" that option in your profile and re "like" it once you want it back. I really like that we can change our mind as much as we want, so our outfits can follow our lifestyle.
If you know of a brand that doesn't fit you or that you don't want, a style that you prefer, or any other thing you want to let them know, you can send them an email and they will make a note to your account. And if you want to change your subscription or the schedule (instead of monthly, you want the box quarterly), you just need to send them a message through your account and they will make the arrangements as soon as possible.
Have you tried YogaClub? What do you think of this month's personalized selection?