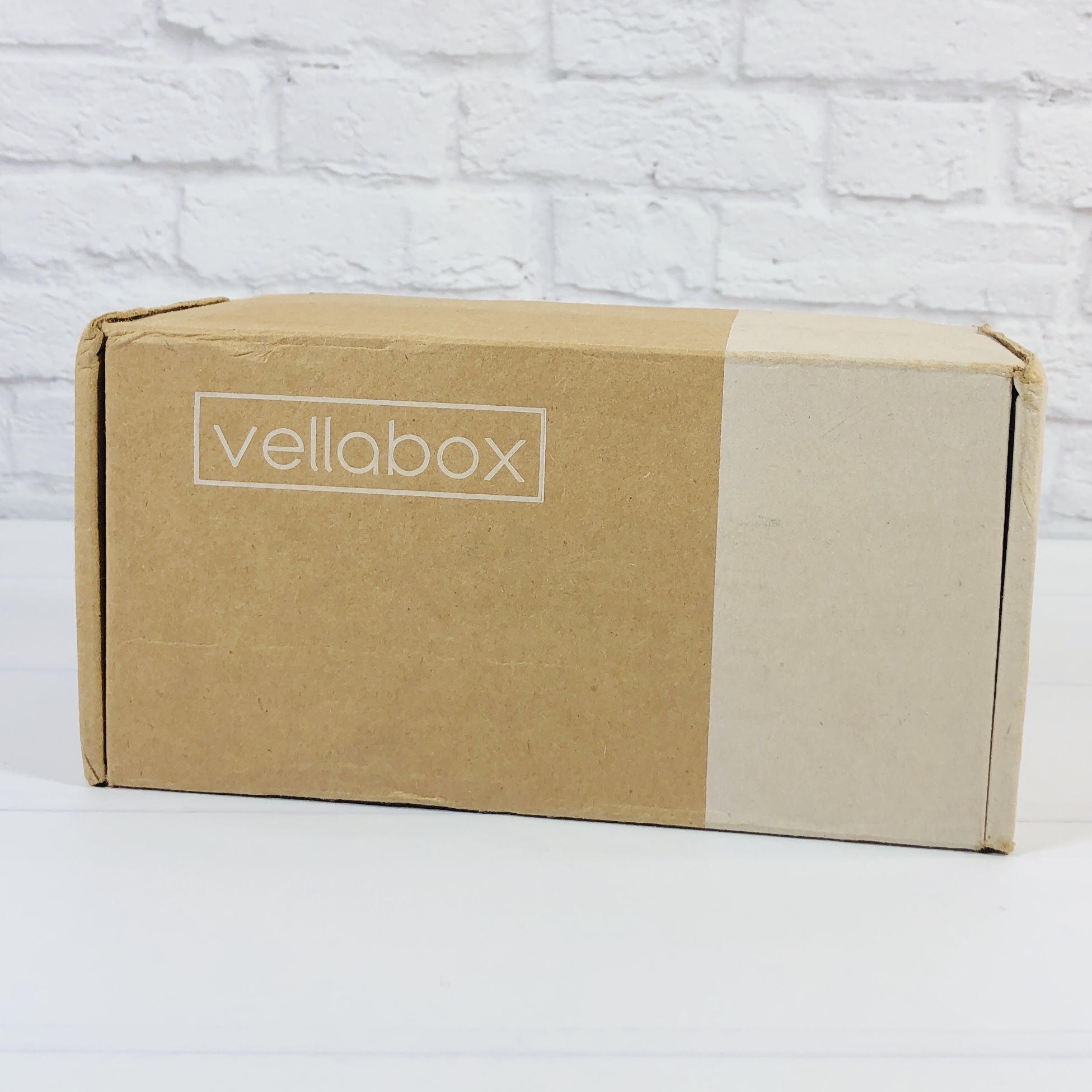 Vellabox is a monthly candle subscription! The candles are always in seasonally inspired scents and are created by the finest American artisans. Each box features a different candle brand. The candles are from small businesses and are made of all-natural wax, cotton braided wicks, and premium fragrance oils. Vellabox also includes a surprise lifestyle gift in every box!
Our Vellabox Candle Curator handpicks the candles and guarantees that they are always all-natural, seasonally relevant and bound to bring warmth and joy to any space. The surprise gift in your box each month is chosen carefully to align with our team's health-centric values.
DEAL: Save 50% on your first box! Use coupon code HELLOSUB50.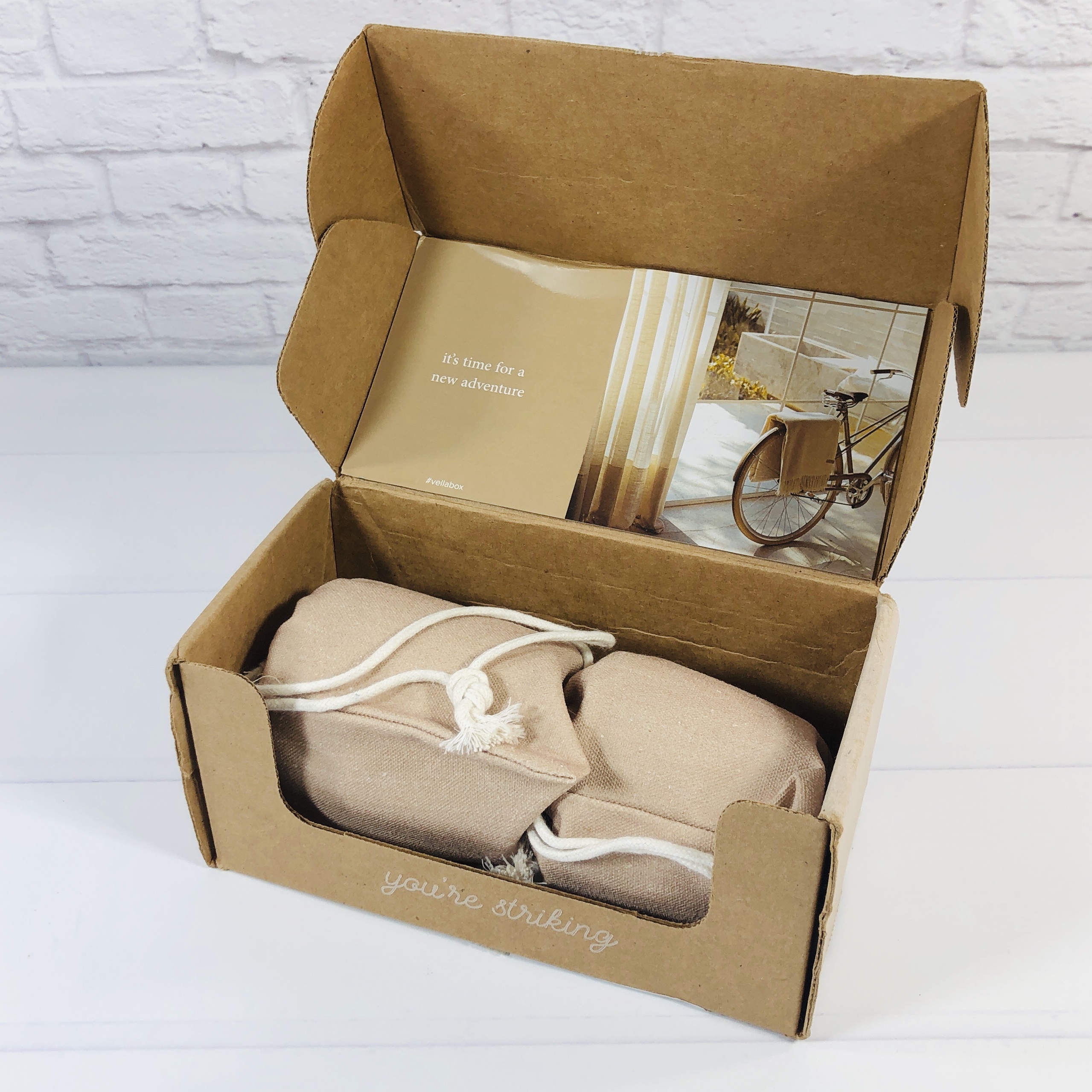 The first thing you need to do is decide which level you prefer. You can choose from The Lucerna Box ($10) which includes a 4 oz candle monthly, The Ignis Box ($20) with an 8 oz candle monthly, and The Vivere Box ($30) with an 8oz + a 4 oz candle monthly. Each level receives the bonus lifestyle gift, and the biggest box includes free shipping.
I am reviewing The Vivere Box.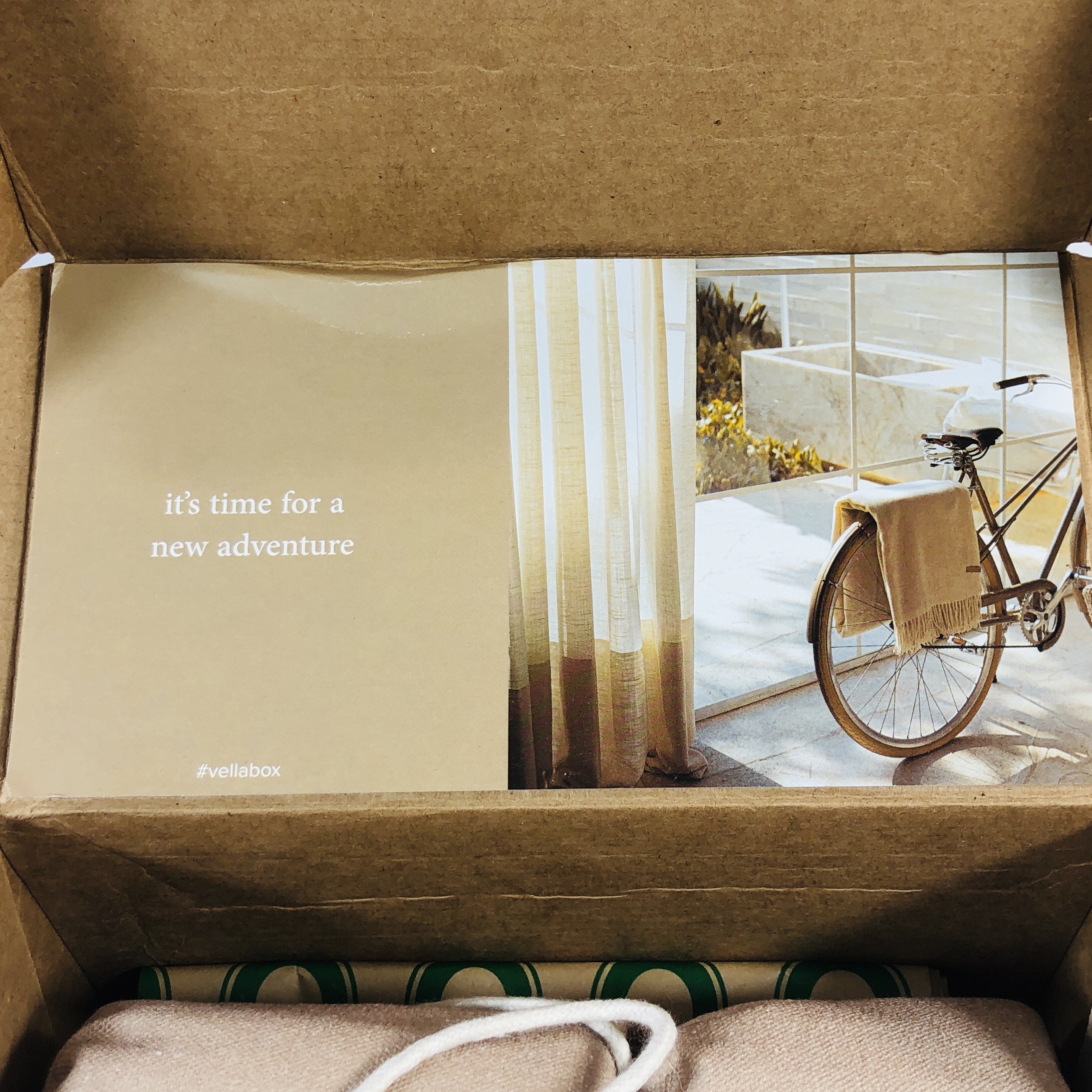 The inside of the box had a pretty card, it would make for nice desk art.
The candles were in reusable latte-colored drawstring canvas bags. The bags can hold items like jewelry while traveling or in a drawer.
There was a card with info on the brand, Treehouse & Co., as well as a description of each candle's scent. There was even a coupon code for future purchases!
Take home the essence of outside with our special collection of natural hand-poured soy candles, inspired by the fresh fragrances of life on the islands.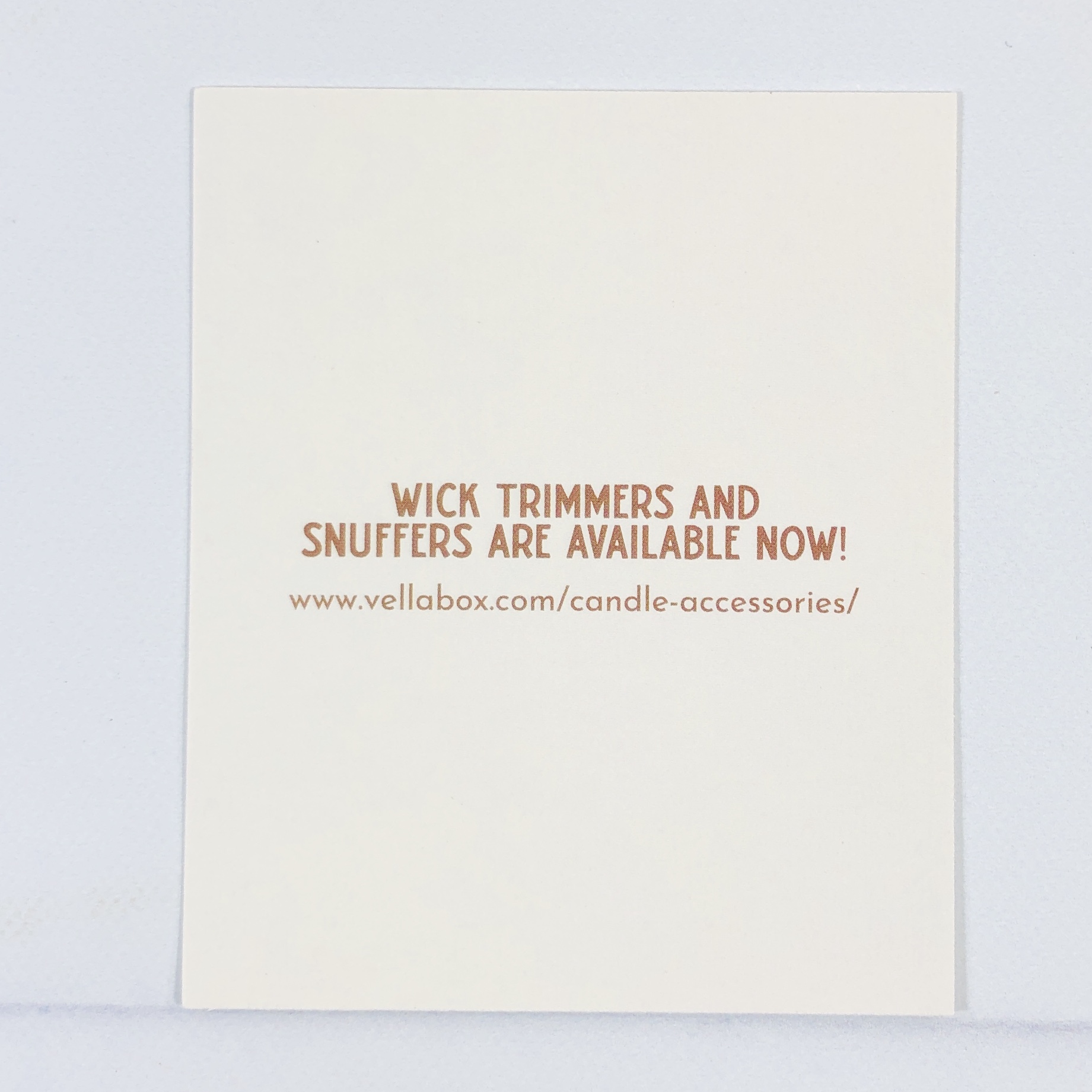 A second card tells me wick trimmers and snuffers are now available for purchase in the online shop.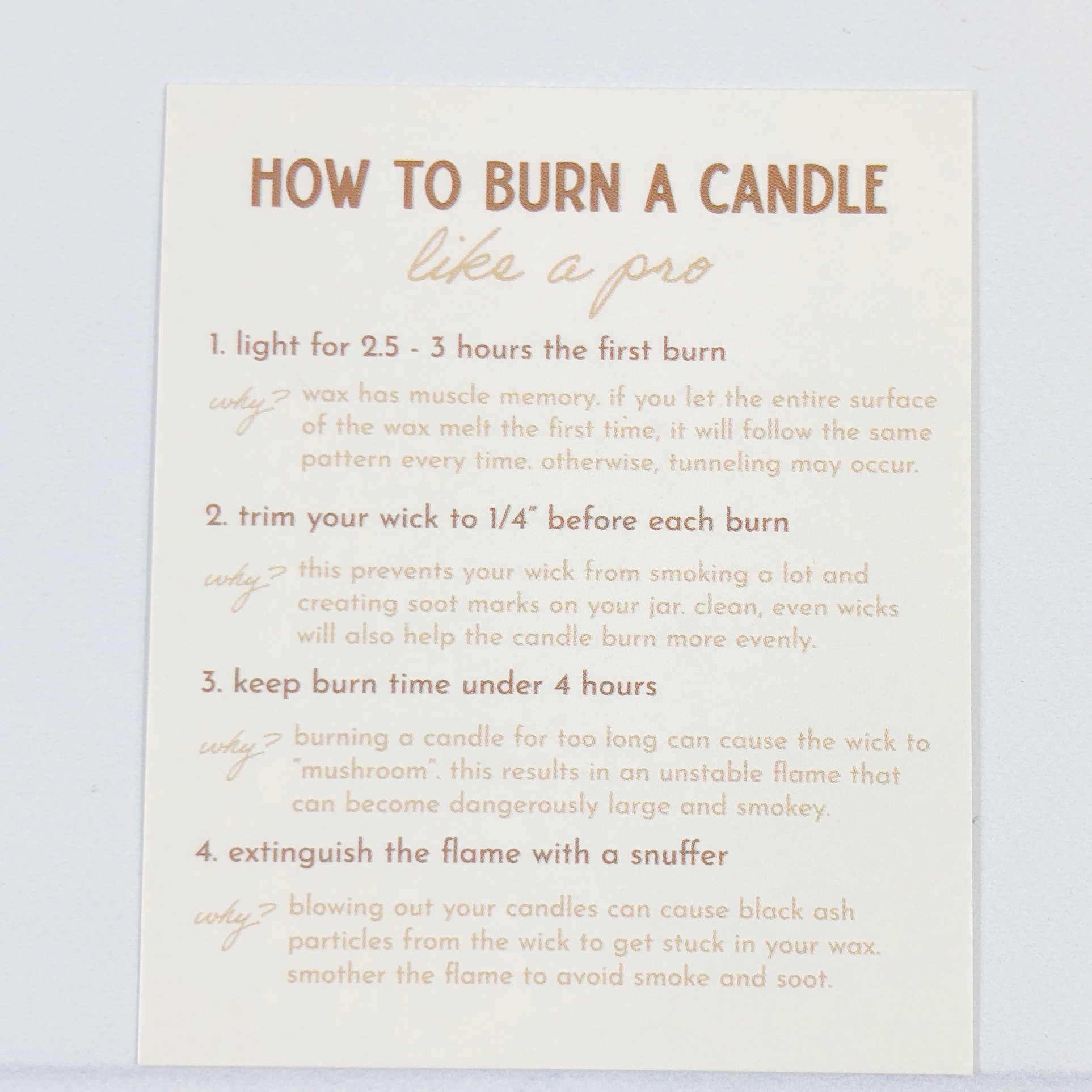 Burning instructions that help you get the most out of your candle were shown on the back.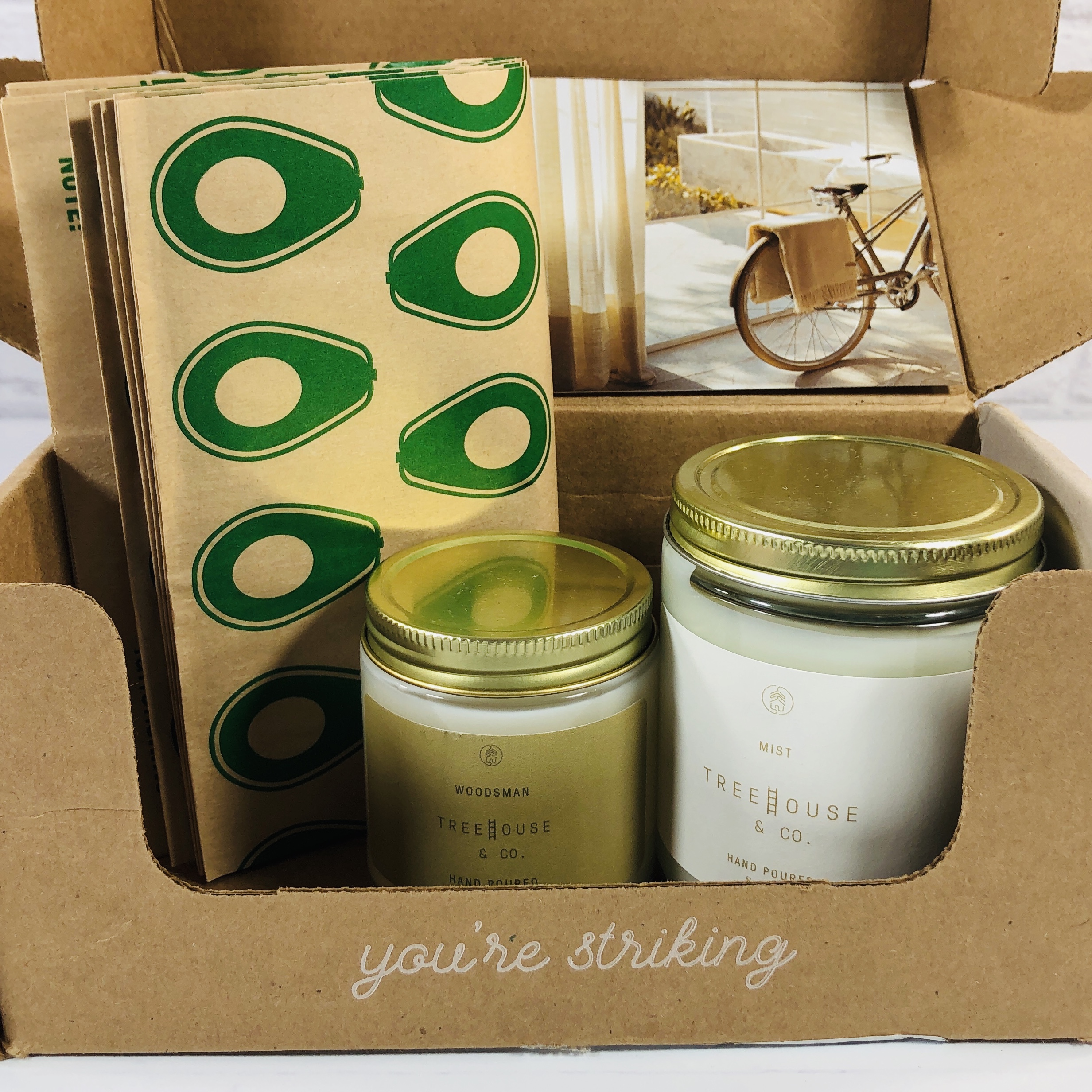 Here's everything in the box!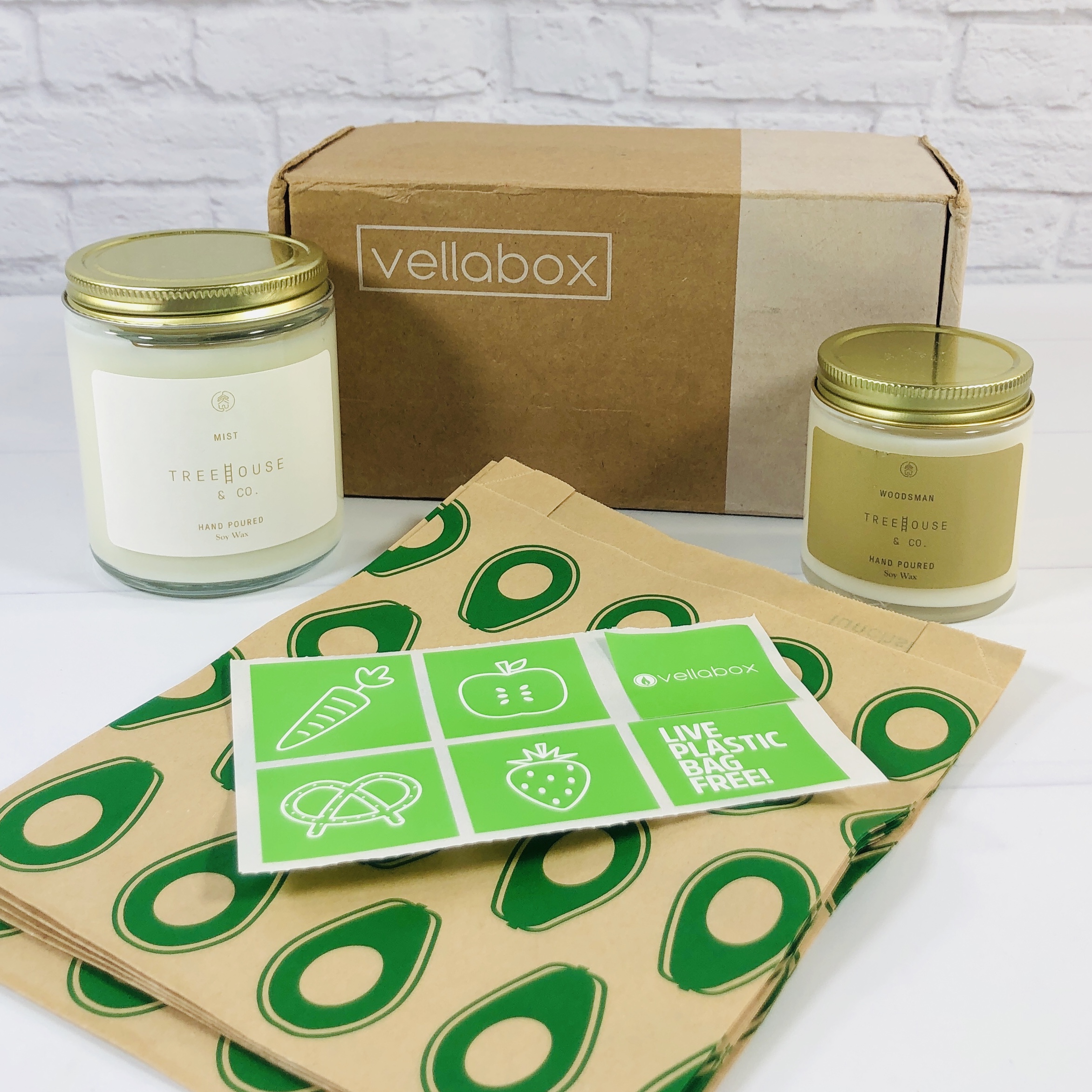 Here's everything out of the box! I'm reviewing The Vivere Box and it includes one 8 oz candle (the same size from The Ignis Box) and one 4 oz candle (the same size from The Lucerna Box), plus a bonus item.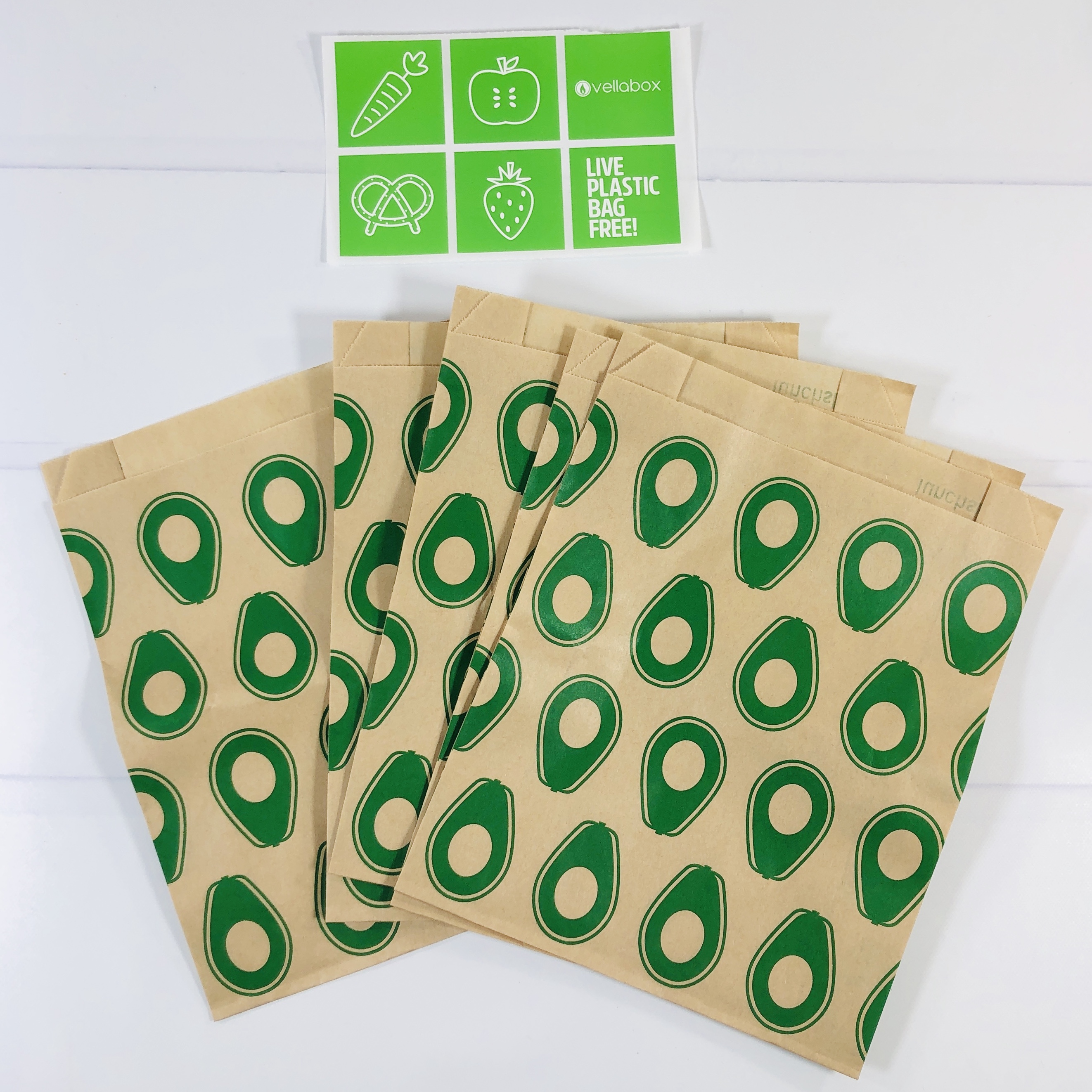 Lunchskins Paper Sandwich Bags ($4.99 for 50) Lunchskins are an alternative to plastic sandwich bags and I had never heard of a product like this until it came in this box! They are made of plastic-free paper and there isn't a coating on it at all.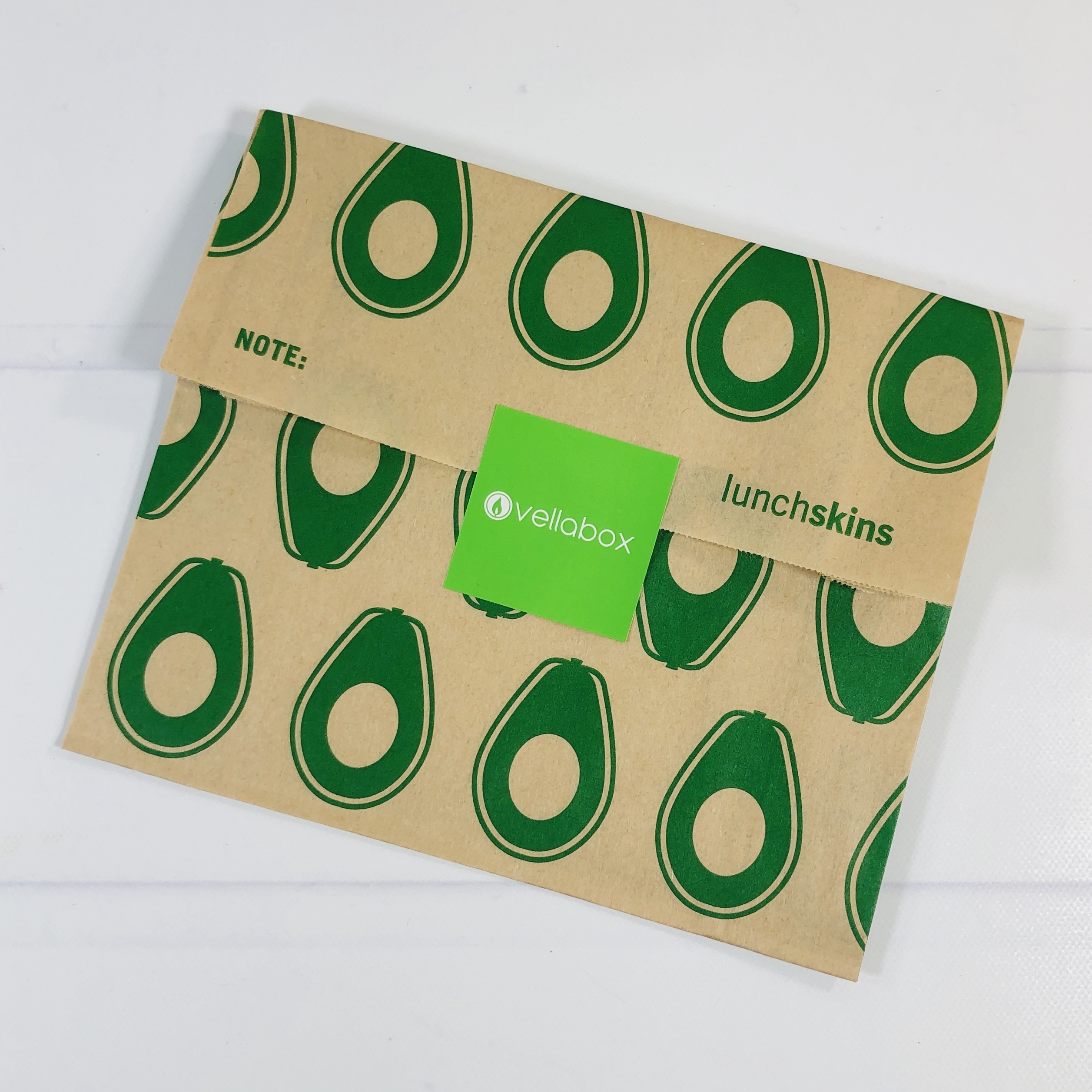 There is room to write a note on the top, perhaps to tell a spouse or child to have a great day xoxo etc. Place the sandwich or other food inside and then fold over the top. There were some stickers to keep it closed, and I thought the Vellabox branding was spot on!
The candles this month come from Treehouse & Co., who have actual treehouses for people to stay in on vacation. I know where I want to go on my next vacation now!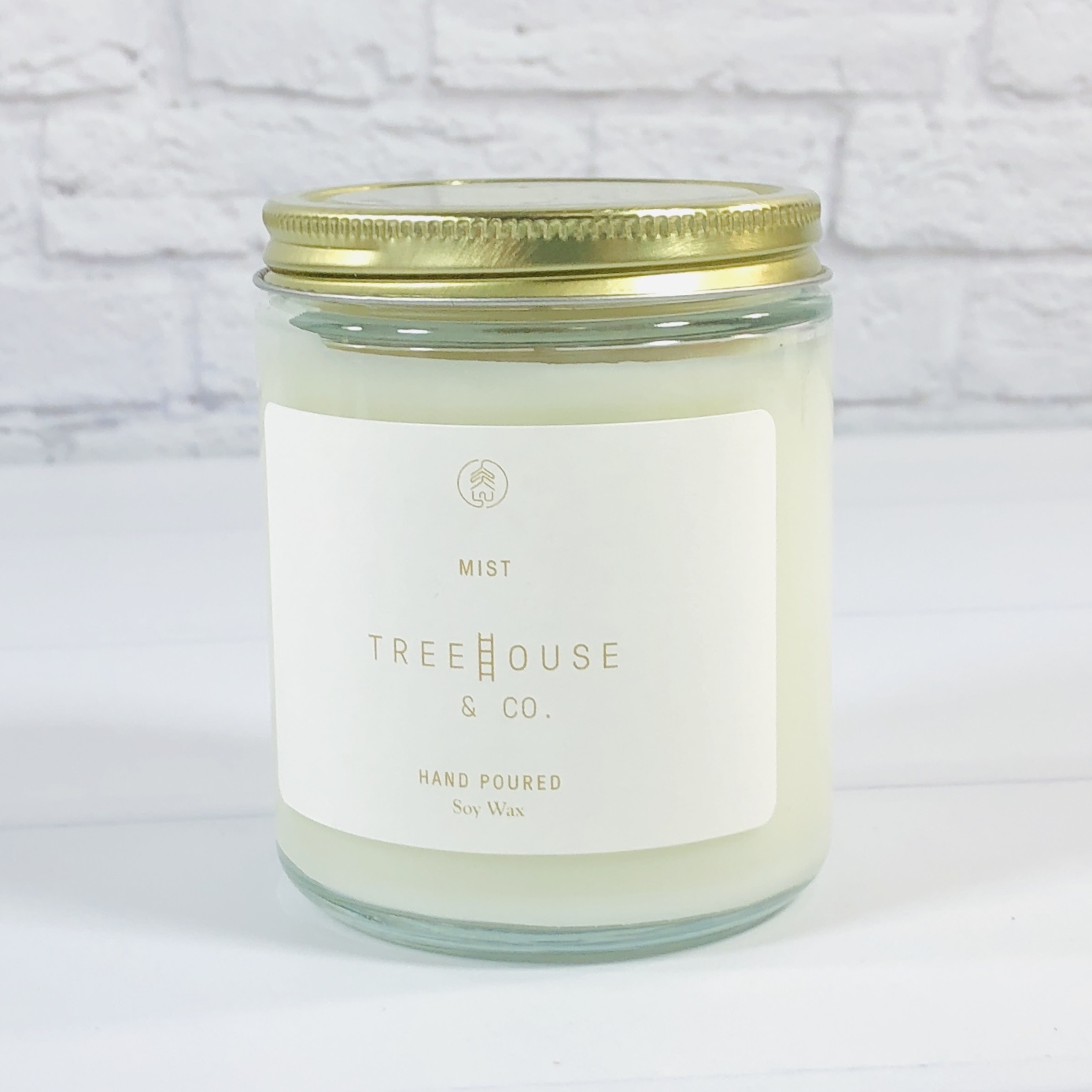 Treehouse & Co. Hand Poured Candle in Mist ($20 for a 6 ounce candle) The larger candle in this box has a 40 hour burn time. It is in a clear glass jar with gold lid and is made of 100% soy wax.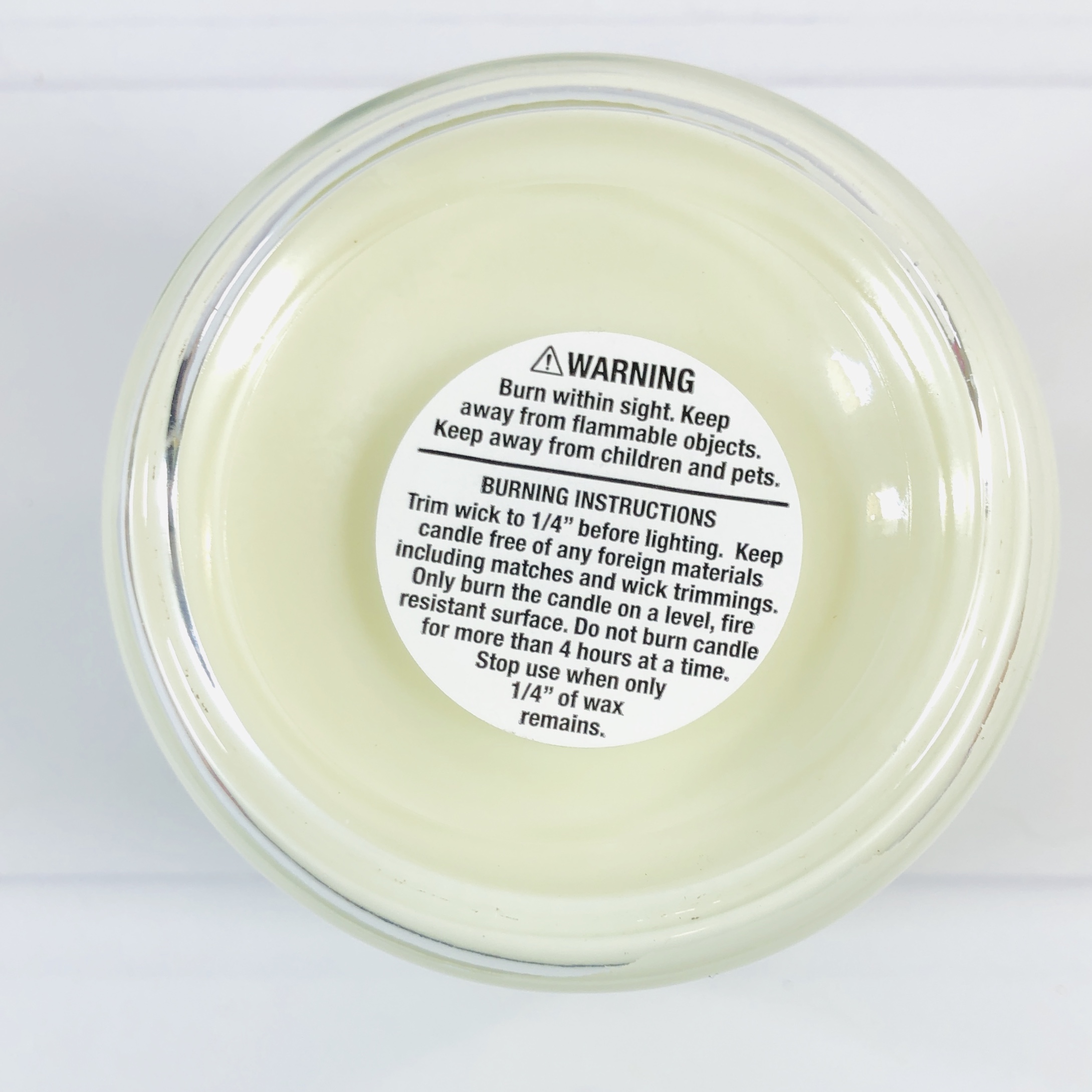 The bottom of the candles have a warning to not leave burning candles unattended.
Scent notes include watery pear, vanilla, and rain. The Treehouse & Co. website describes it as "soft, refreshing floral notes mix with the subtle hint of vanilla and amber after rain." I picked up a hint of something sweet and fruity, a touch of the vanilla, and something warm and green underneath it all.
Treehouse & Co. Hand Poured Soy Wax in Woodsman ($20 for a 6 ounce candle) I only found 6 ounce candles on this brand's website so I believe this size is custom made.
Scent notes include woods, bergamot, and lily of the valley. Treehouse & Co. describe it as "smelling of earthy freshness, this organic, after-shower clean is rooted in the simple scent of just-ripe bergamot fruit." It also smells green and warm, in a kind of Irish Springs way. Maybe that is why I think it smells clean!
I think Vellabox did a superb job of finding candles that work well for this transitional time of year. Treehouse & Co. has candles that are supposed to remind one of being outdoors and the scents sent this month certainly bring that experience to mind. I would love to try their Campfire scent sometime! I thought these candles were on the polite side, I didn't get much of a throw out of them while they were burning but I think that suits the natural feeling that is intended with this brand. If I were burning a candle in a treehouse I would do so more for ambience and wouldn't want a robust scent; these would work well for the small space.
What do you think of this box?