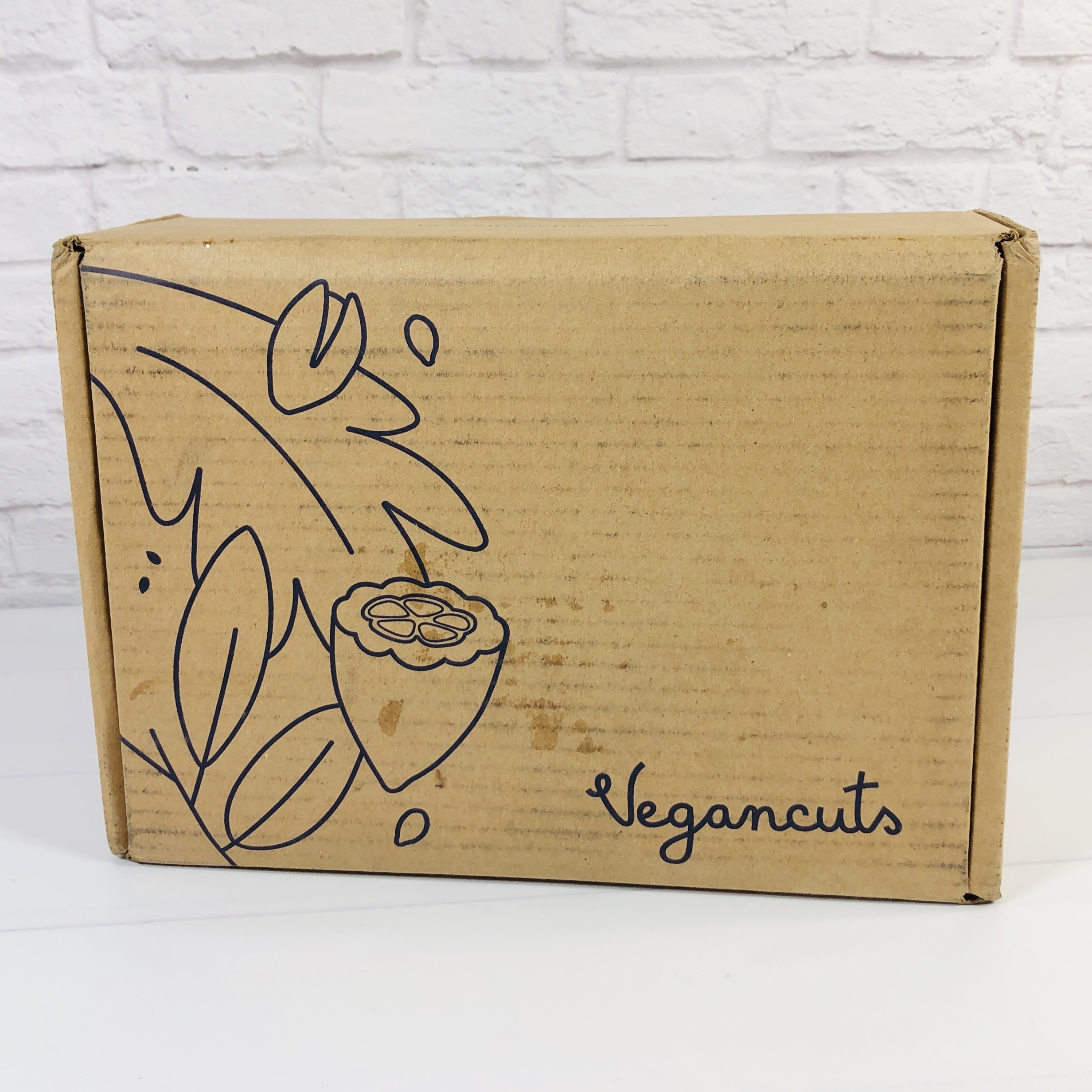 Vegancuts Beauty Box is a monthly beauty subscription service that sends 4 or more items ranging from unique cosmetics to luxurious skincare. Best of all, they are 100% cruelty-free and vegan, plus most items are natural and non-toxic! Monthly recurring shipments are $24.95 with free shipping in the USA (there is an additional charge for other countries). This sub is also available in 6 or 12-month terms that do not renew but that do earn you a discount.
Each month you'll receive a delivery of 4 or more new deluxe or full-size products, from unique cosmetics to luxurious skin care, that treat your outside as good as you treat your inside.
There was a card that says we are supporting WildCat Ridge Sanctuary!
The back of the card lists the items and retail value. The theme is Unwind & Soak!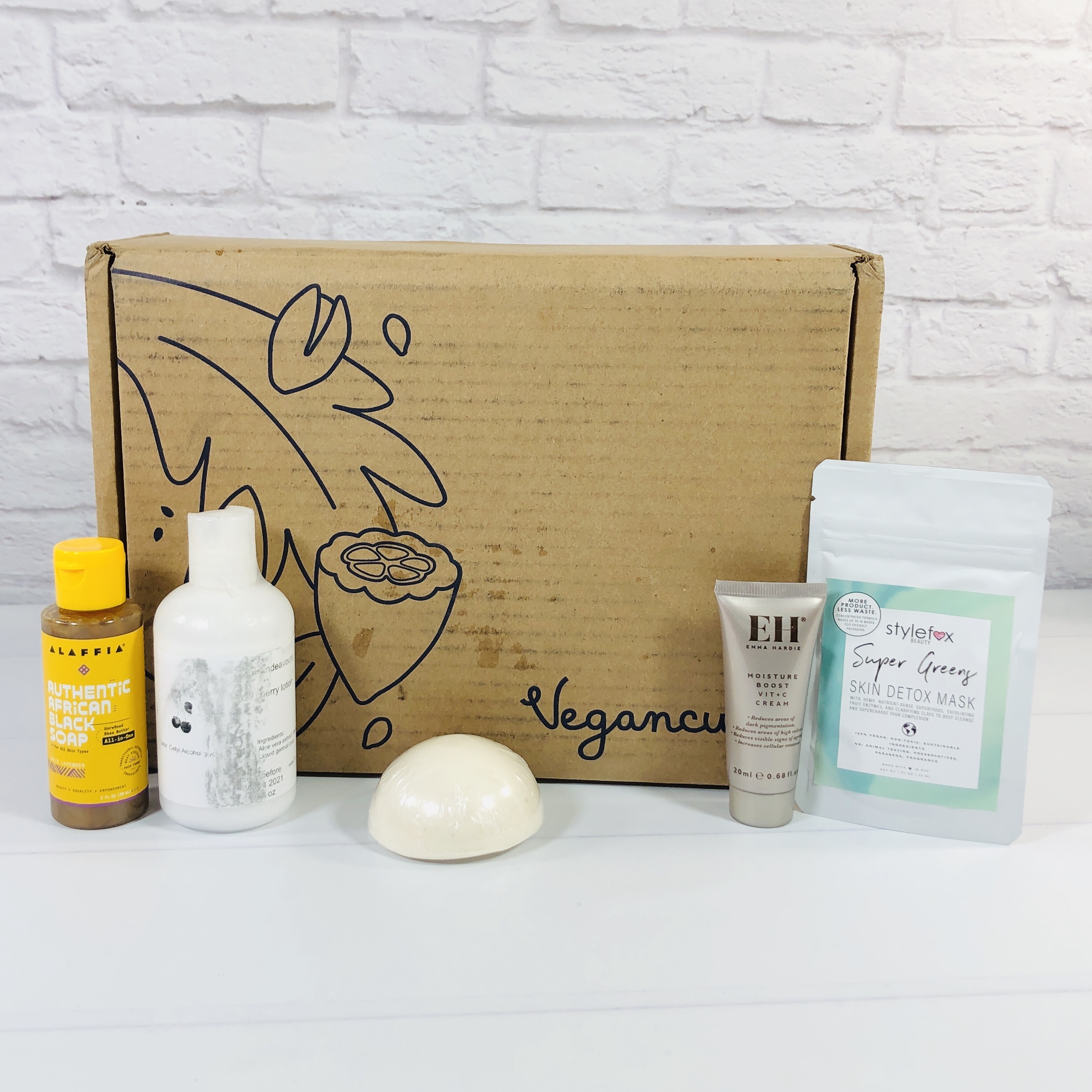 Everything in my box!
William Roam Sense Exfoliating Soap ($6 listed value, 75¢ based on bulk purchase) William Roam makes soaps for hotels, so if you decide you want more of this soap, you will need to purchase a case of 100!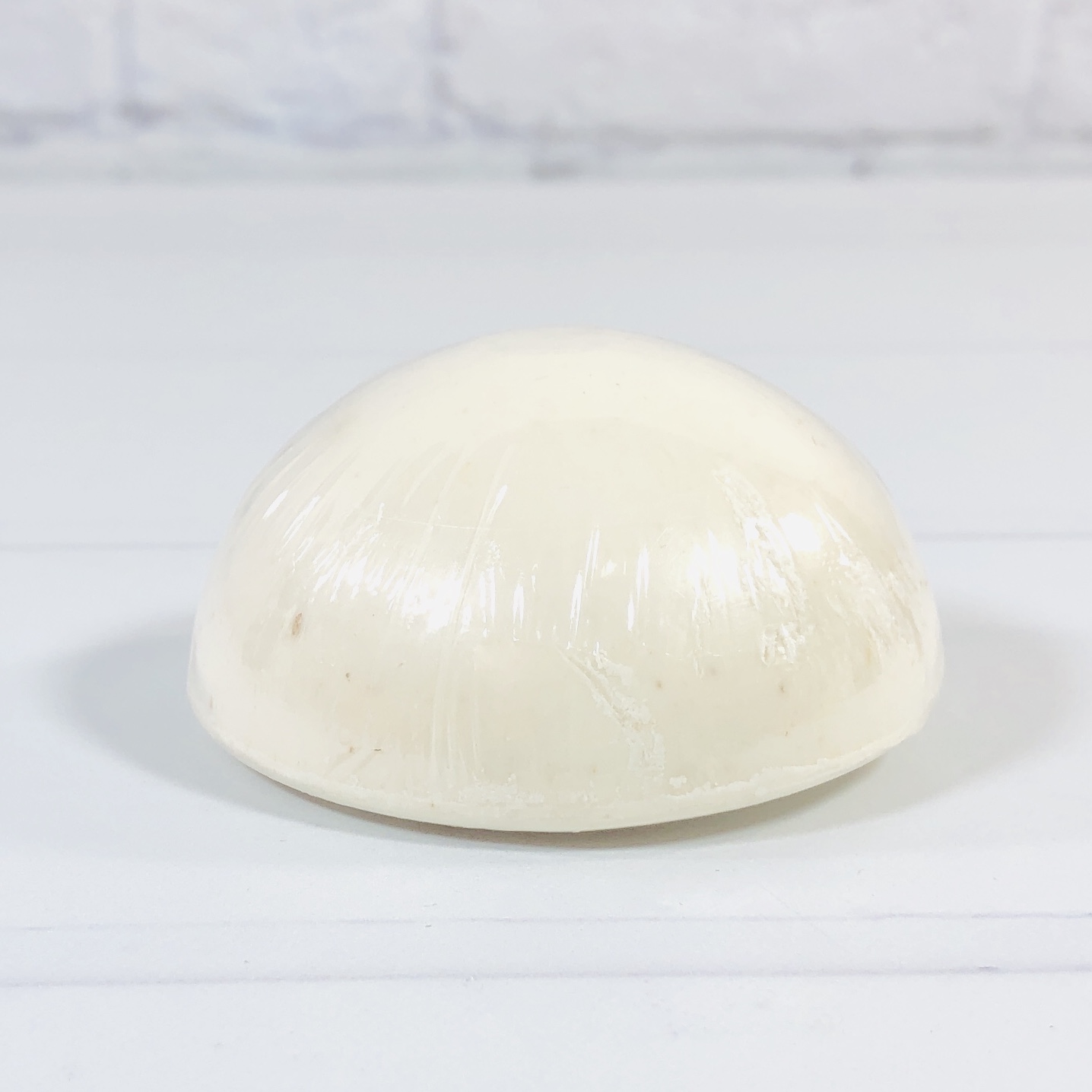 The soap is bigger than what I usually find at a hotel, but smaller than my usual bar soap. It is rounded and there is something in it that is supposed to exfoliate the skin as you rub it over arms and legs. No ingredients were listed on the product or website. It smells like soap, not too strong, and worked fine for my sensitive skin. It was sudsy enough for what I prefer.
Alaffia Black Soap in Wild Lavender ($4.99) I prefer a liquid soap in the shower and always pour it onto a shower pouf to get some suds going.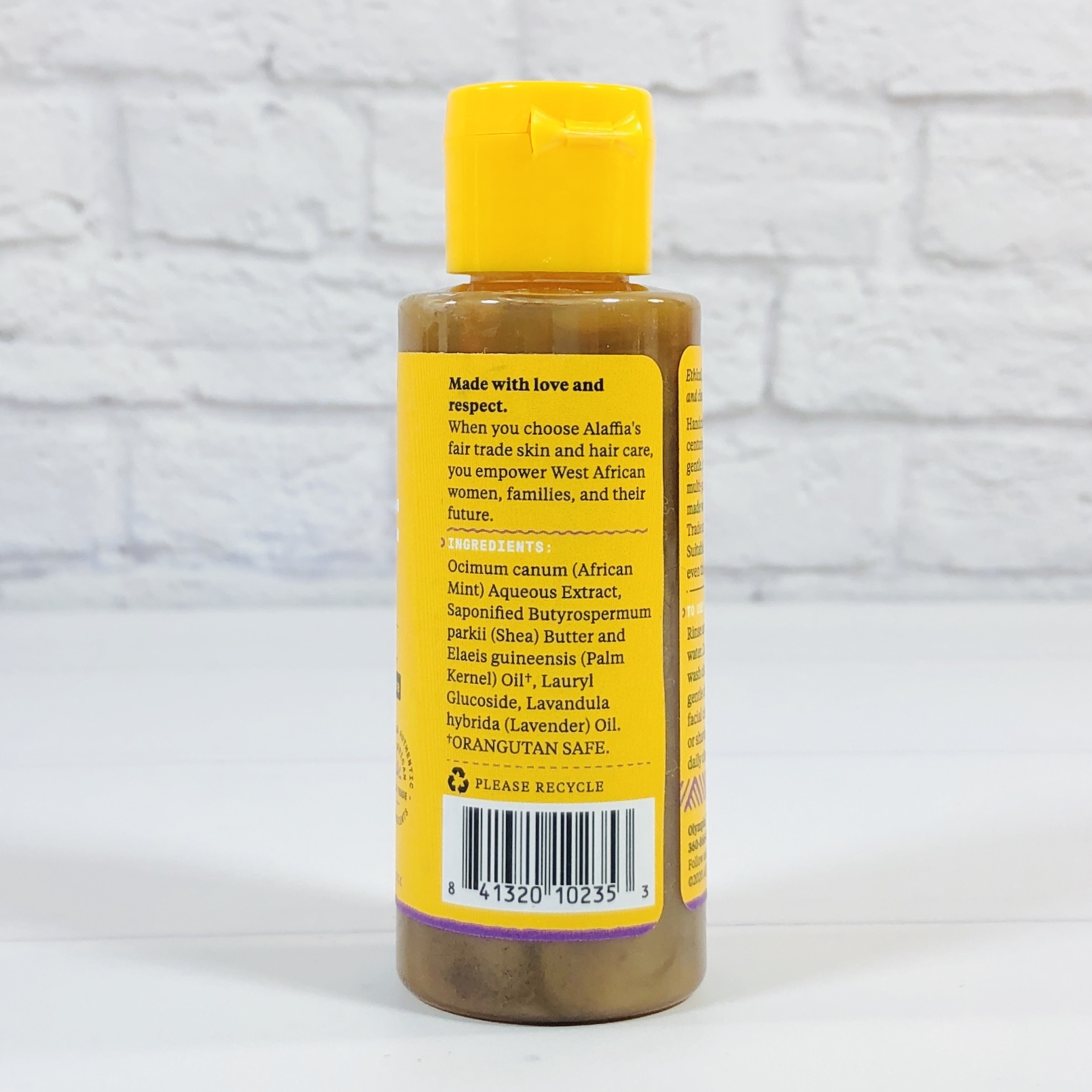 The ingredients here are few, and the palm oil is orangutan safe, although they also mention that orangutans do not exist in the part of Africa where they harvest the oil (they live in Asia). I poured this on my pouf and it didn't get soapy at all, but that isn't unusual for a super natural product like this. When I used it to wash my hands I had no problem getting it to foam and it has a strong lavender scent, perhaps with a hint of mint.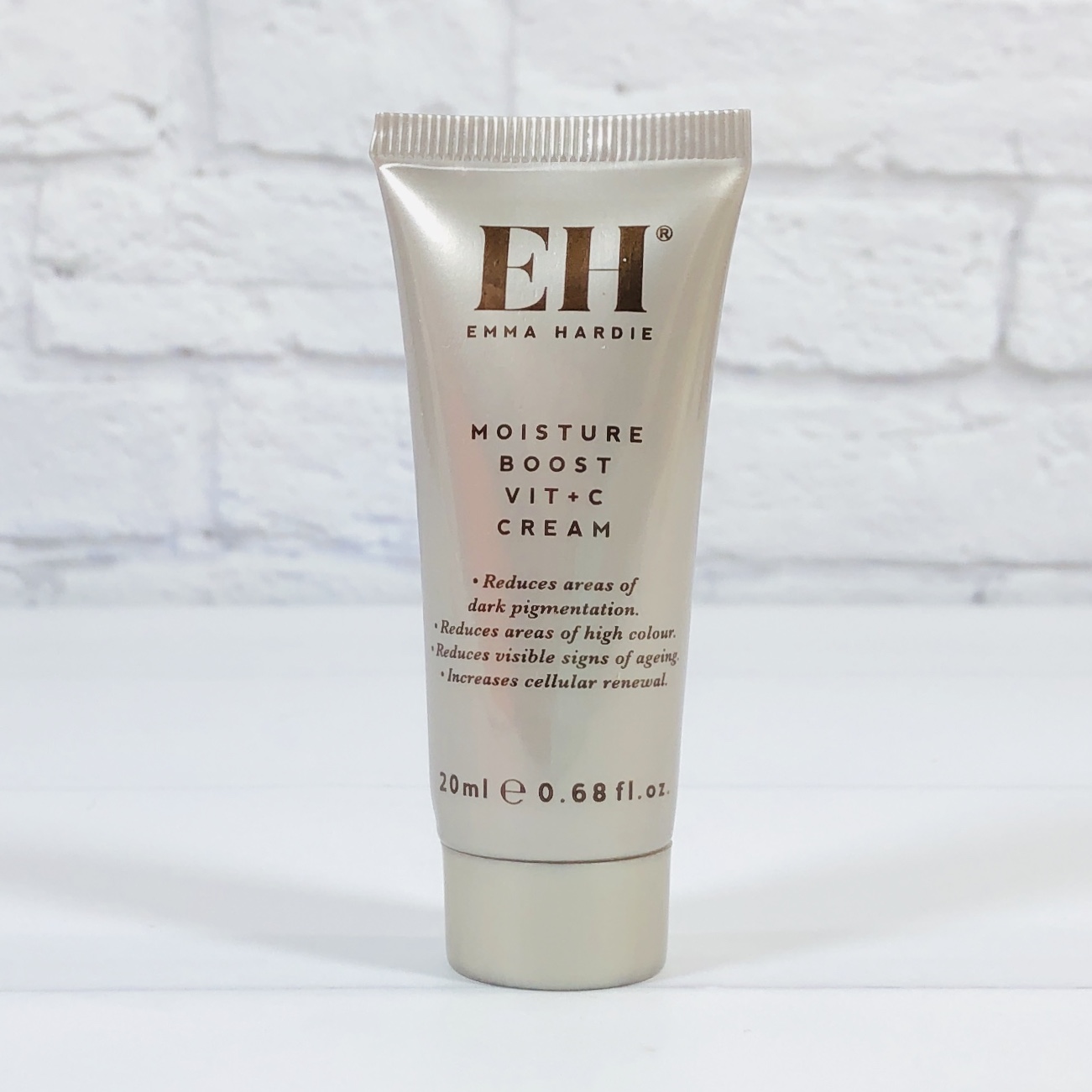 Emma Hardie Moisture Boost Vitamin C Cream ($26) is a moisturizer that claims to reduce dark areas and "high color" that is caused by sun damage. It also has pumpkin enzymes to dissolve dead skin cells.
Shea butter, niacinamide, and grape seed oil are some of the softening and repairing ingredients listed, and I want to mention that this list is different from the one on the brand's website. My skin absorbed the cream quickly and it didn't leave my skin feeling greasy afterwards. It has an enjoyable scent that smells like citrus. Make sure to wear sunscreen with this product, as always.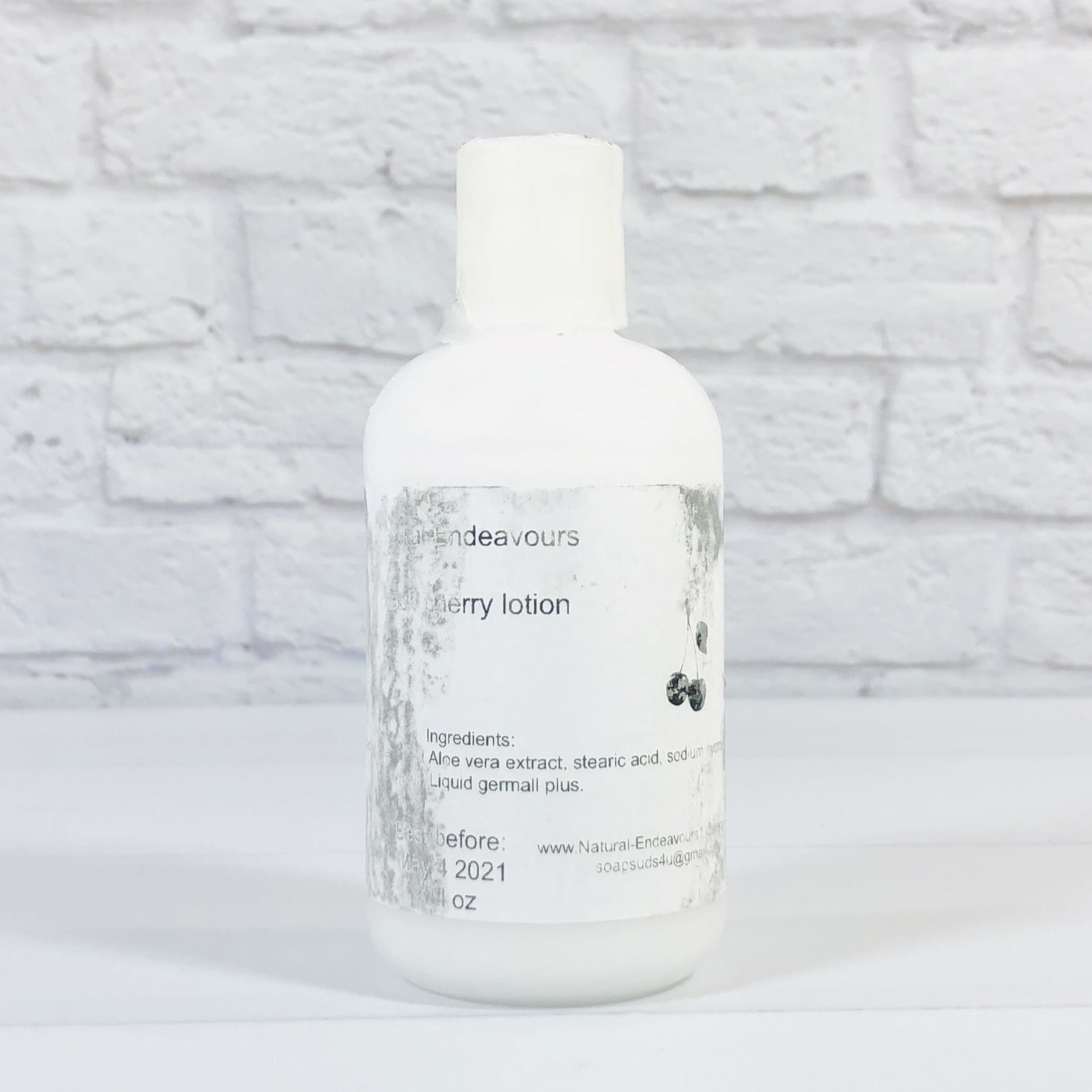 Natural Endeavors Black Cherry Lotion ($10) Aww, my lotion leaked all over the container and I couldn't see much info here, but it is a body lotion in a fruity scent. I found that it was very watery and when I rubbed it on my arms it was almost soapy, but then it disappeared. It left behind a sweet, fruity black cherry scent that faded after a while. This is a good weight for the summer, but not emollient enough for colder weather, depending on where you live.
Style Fox Super Greens Mask ($12.50) is a clay mask powder that you can mix up in your bathroom just before using. It says to add water but if you have dry skin you can try plain yogurt, or mix it with some rose water or honey, it's up to you!
The ingredients are all natural, no weird unpronounceable stuff here. Two types of clay, hemp powder, green superfoods such as wheatgrass, and aloe are a few of the things listed and the mask can be used by all except those with dry skin. Does anyone else find it easier to rinse masks off in the shower? I just stick my head under the water and it is quick and less messy then trying to splash it off at the sink.
If you are ready for some self care, then September's Vegancuts Beauty Box has the stuff for you to unwind and soak! Draw a bath, put the mask on before getting in to soak, and then use one of the soaps to lather up. After drying off use the moisturizer on your face, and the body lotion everywhere else! I especially liked the liquid bath soap this month, and the lotion smells good. It was so cool to get a face cream from England! My daughters will get more use out of the mask since they have oily skin, and the bar soap is in my shower, I've been using it regularly. The value for the September box was around $54.24!
What do you think of this month's Vegancuts Beauty Box? Let me know which product you're loving in the comments!