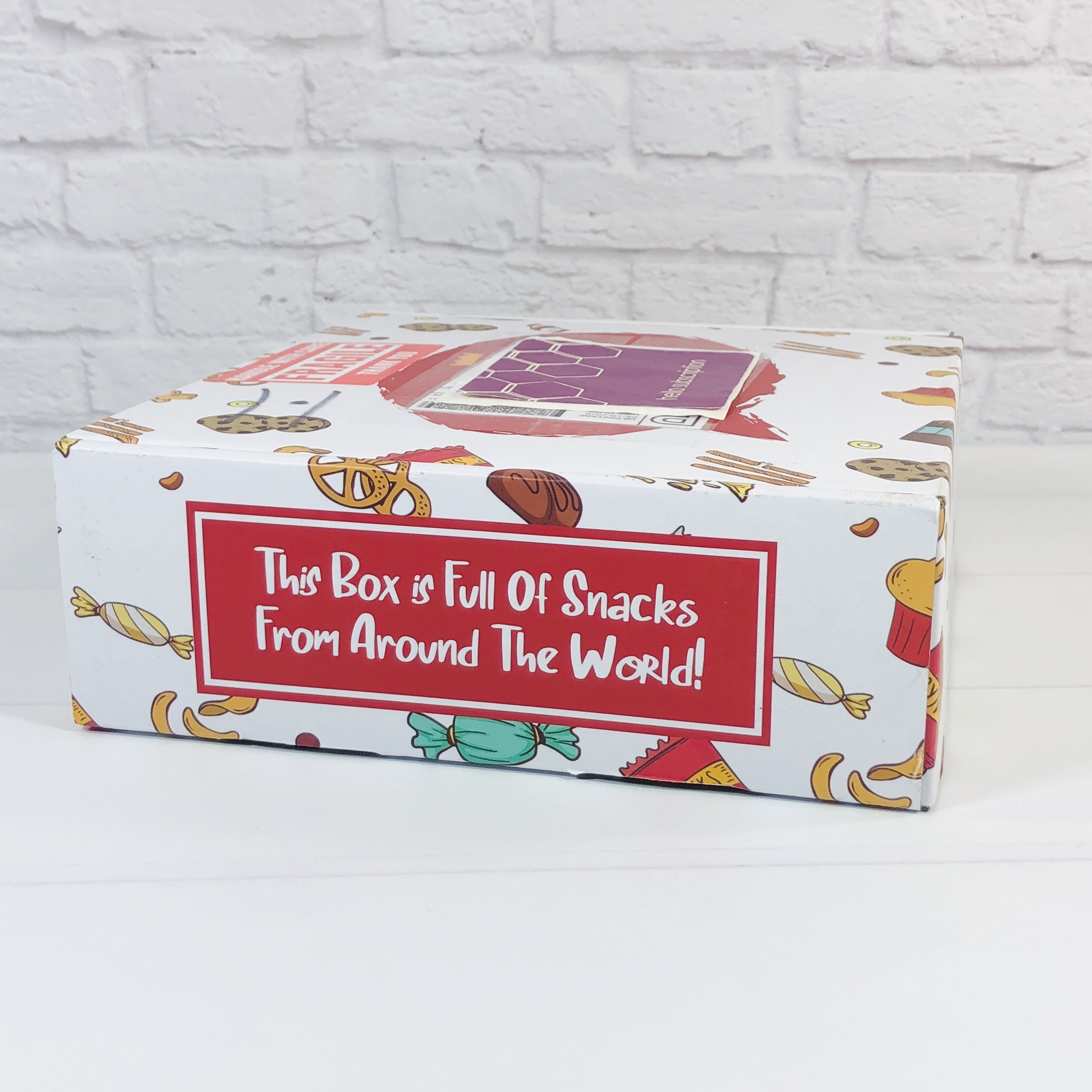 Try My Snacks is a unique subscription box that delivers snacks from a different country every month. Each box contains anywhere from 5 – 20+ snacks per box (depending on the plan), a 12+ Page booklet that includes fun facts about the country, snack information, puzzles, and more. They also include a coin/bill from the country in every box & offer FREE shipping to the USA. A portion of every order is donated to the ASPCA to help end animal abuse.
Tailored Just For You

Each box is tailored to your palettes needs. You tell us what you like and don't like and we'll take care of the rest. Besides, what's the point of trying something new if in the end it'll just go in the trash? Our interactive & fun quiz will make sure that doesn't happen.
Start by choosing which subscription level fits your needs. Then answer a few questions like whether or not you like coconut and if you want a drink ($4.95 upcharge). There are additional charges in the questionnaire, like if you want rush delivery ($5) or a chilled ice pack so your chocolate doesn't melt ($4.95). You can also tell them if you are allergic to peanuts and there is a place to write in other allergies.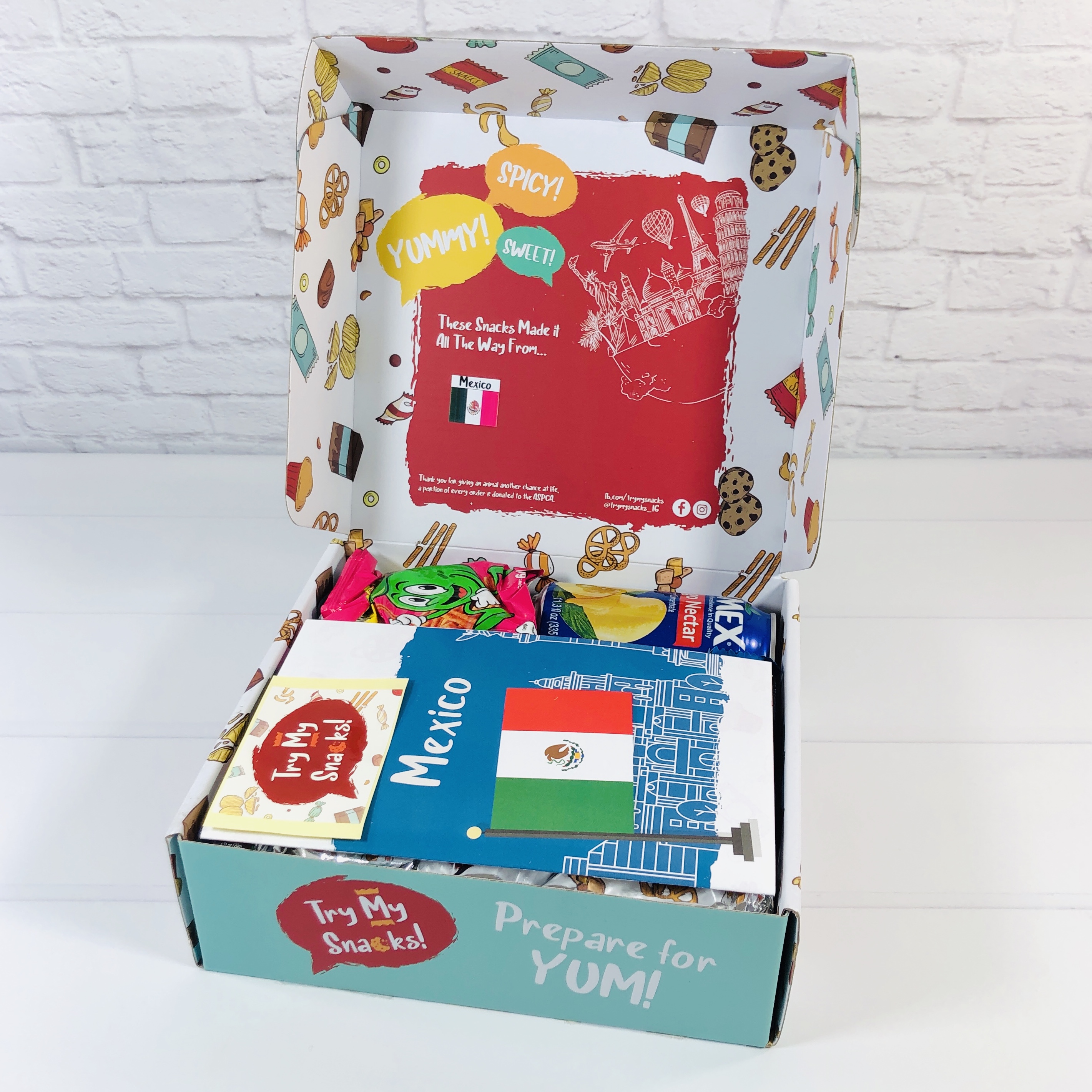 This box was completely packed to the top!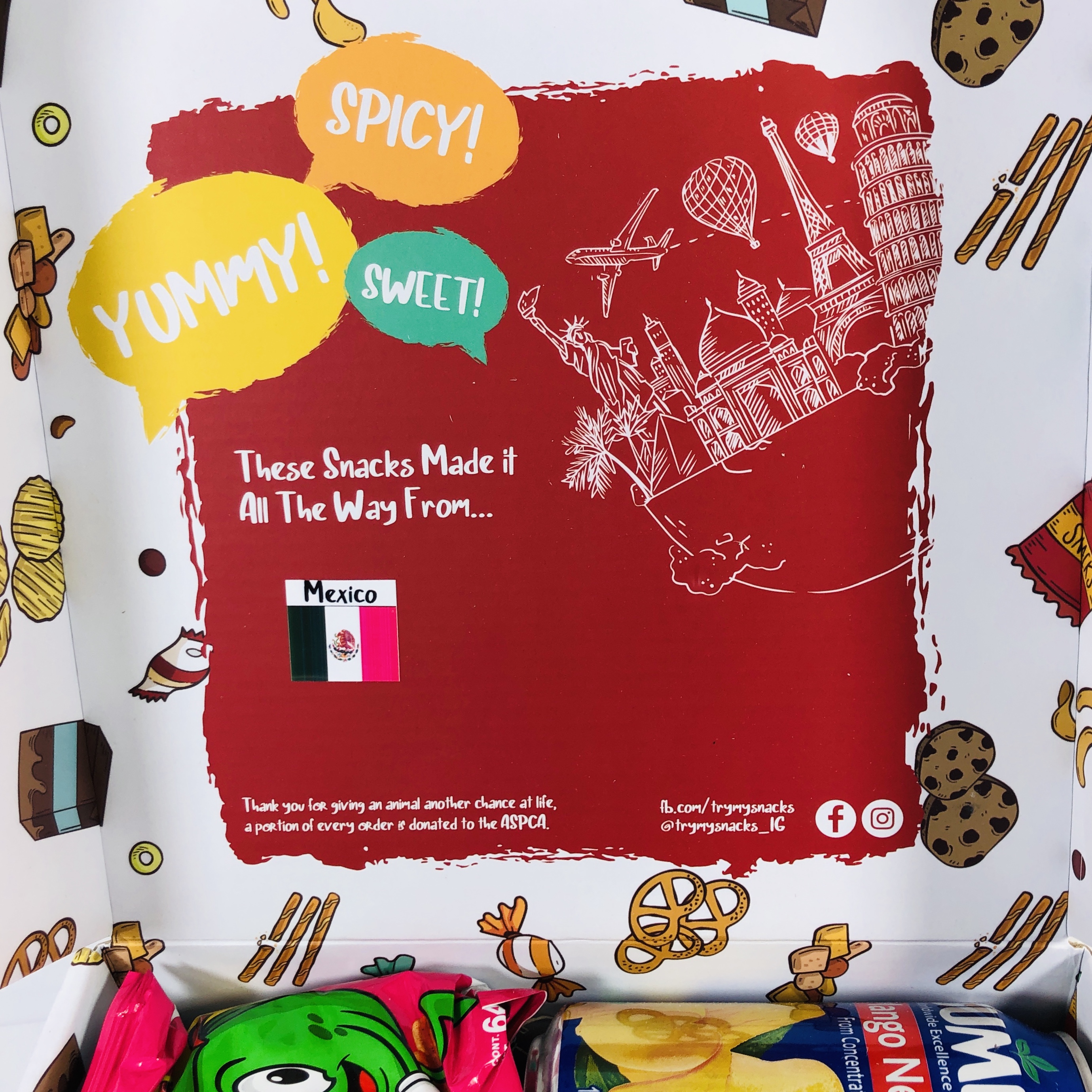 Guess where these snacks are from? Mexico!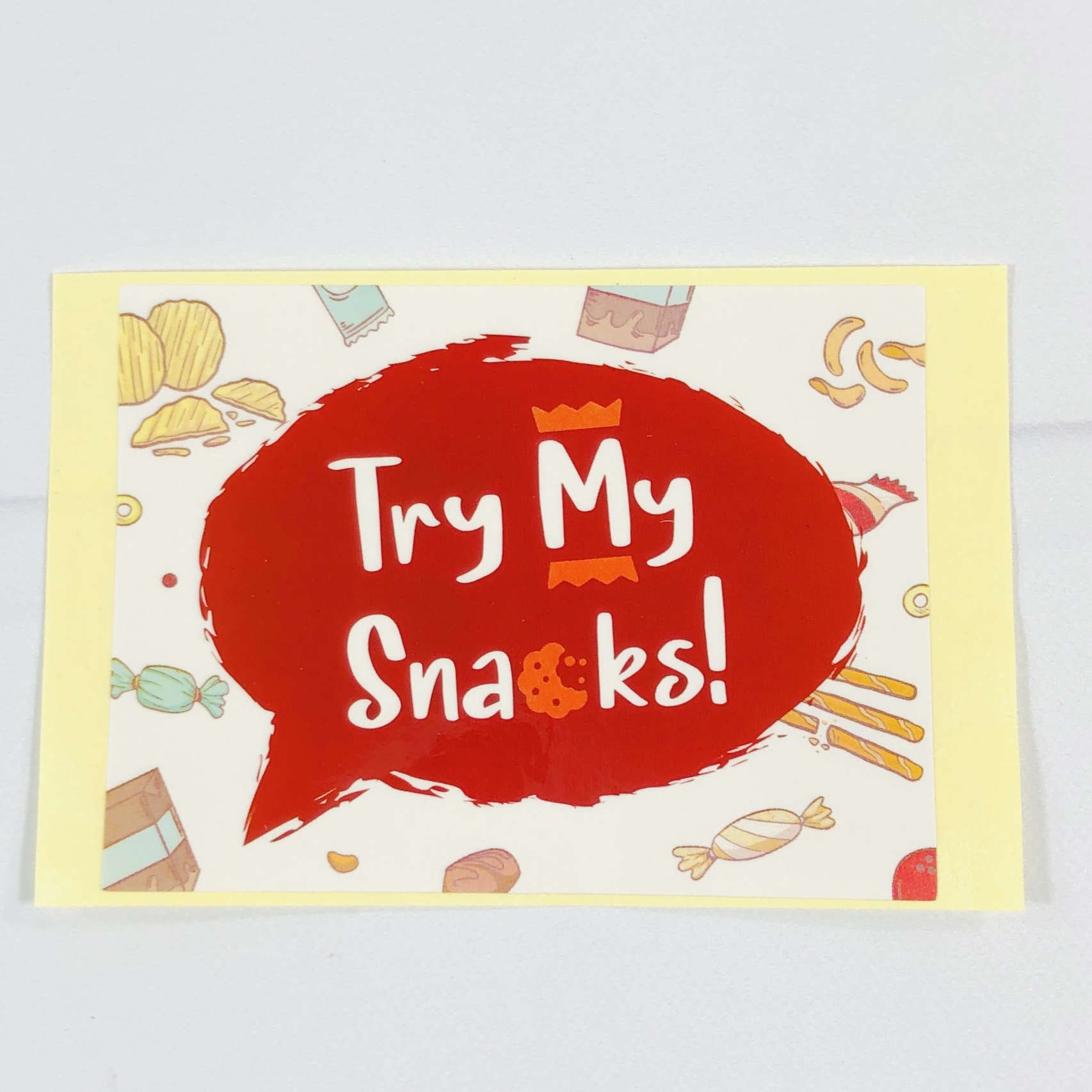 I found a vinyl sticker in the box.
There was a good assortment of sweet and salty snacks!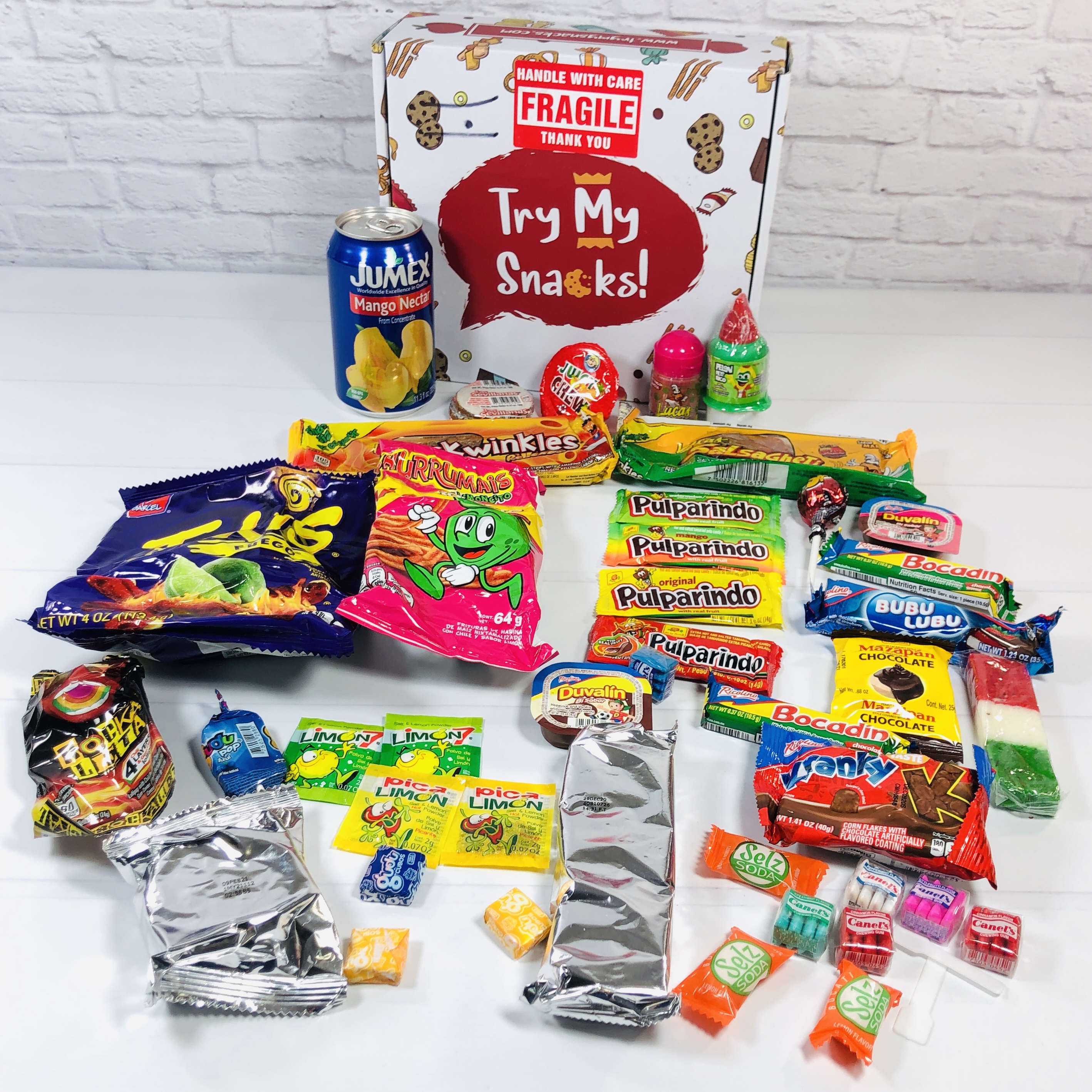 Everything in my box! It's going to take my family of 4 a while to try all of these but we are up to the challenge!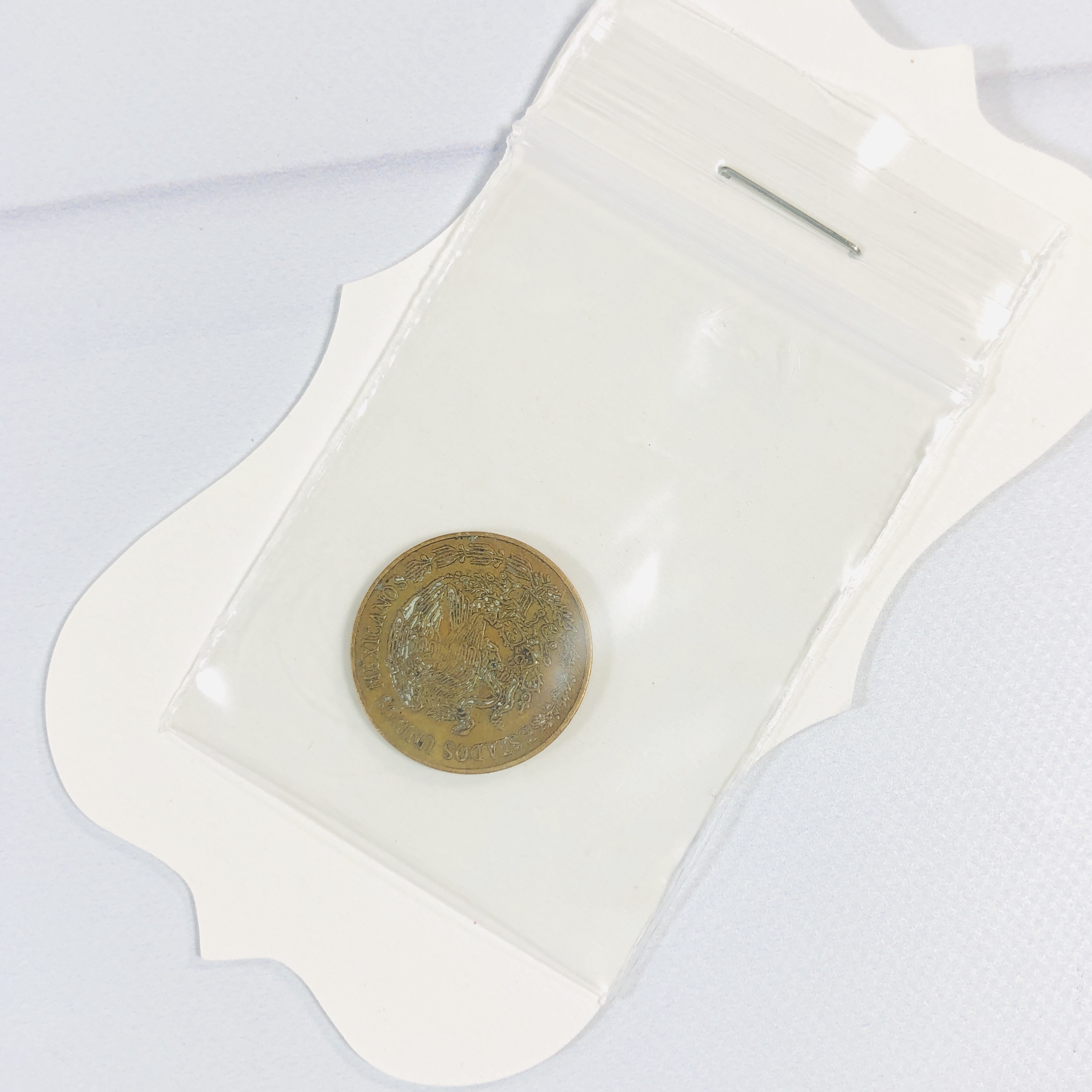 Try My Snacks sends a coin from the featured country.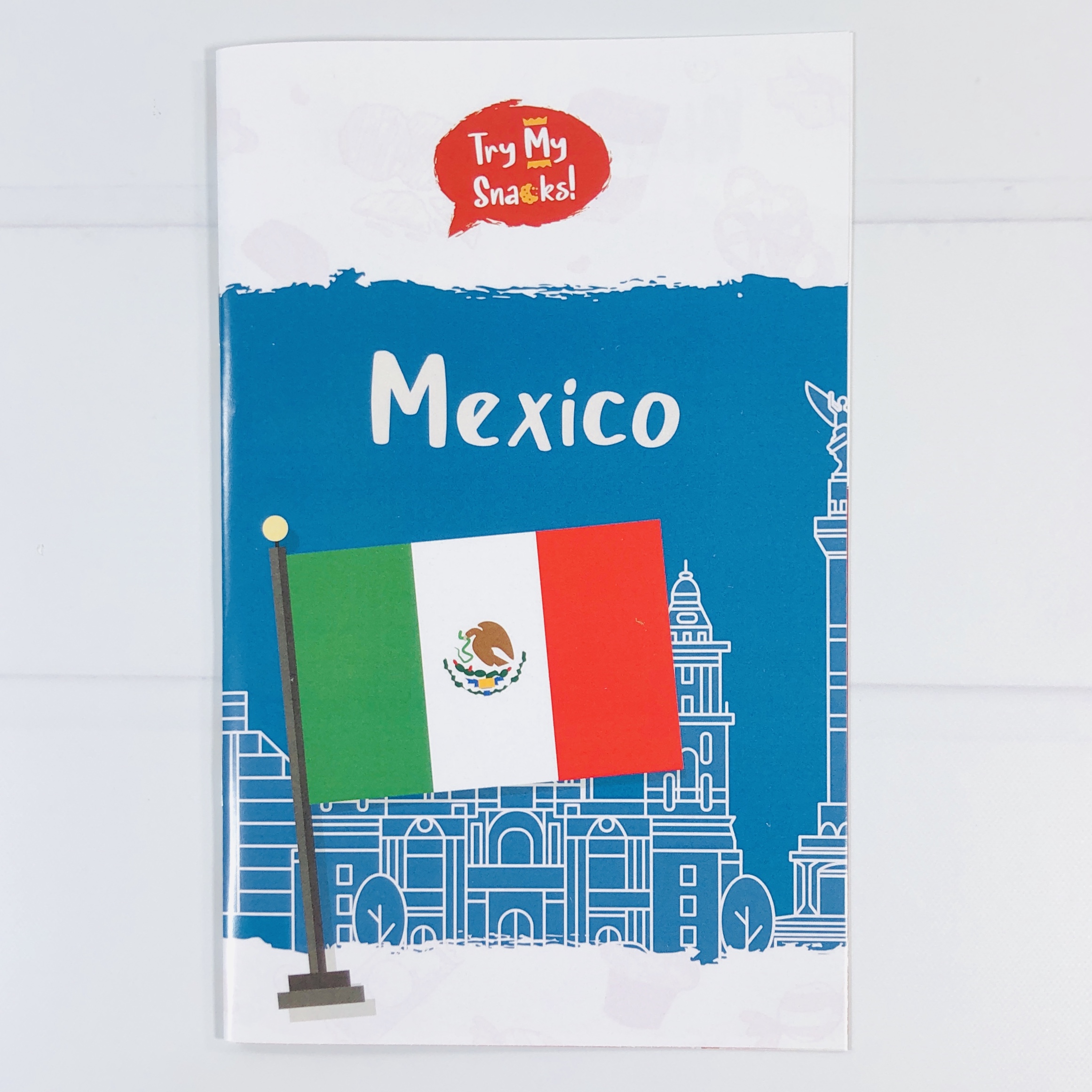 I received a glossy booklet.
The inside mentioned some facts about Mexico and discussed the currency I received.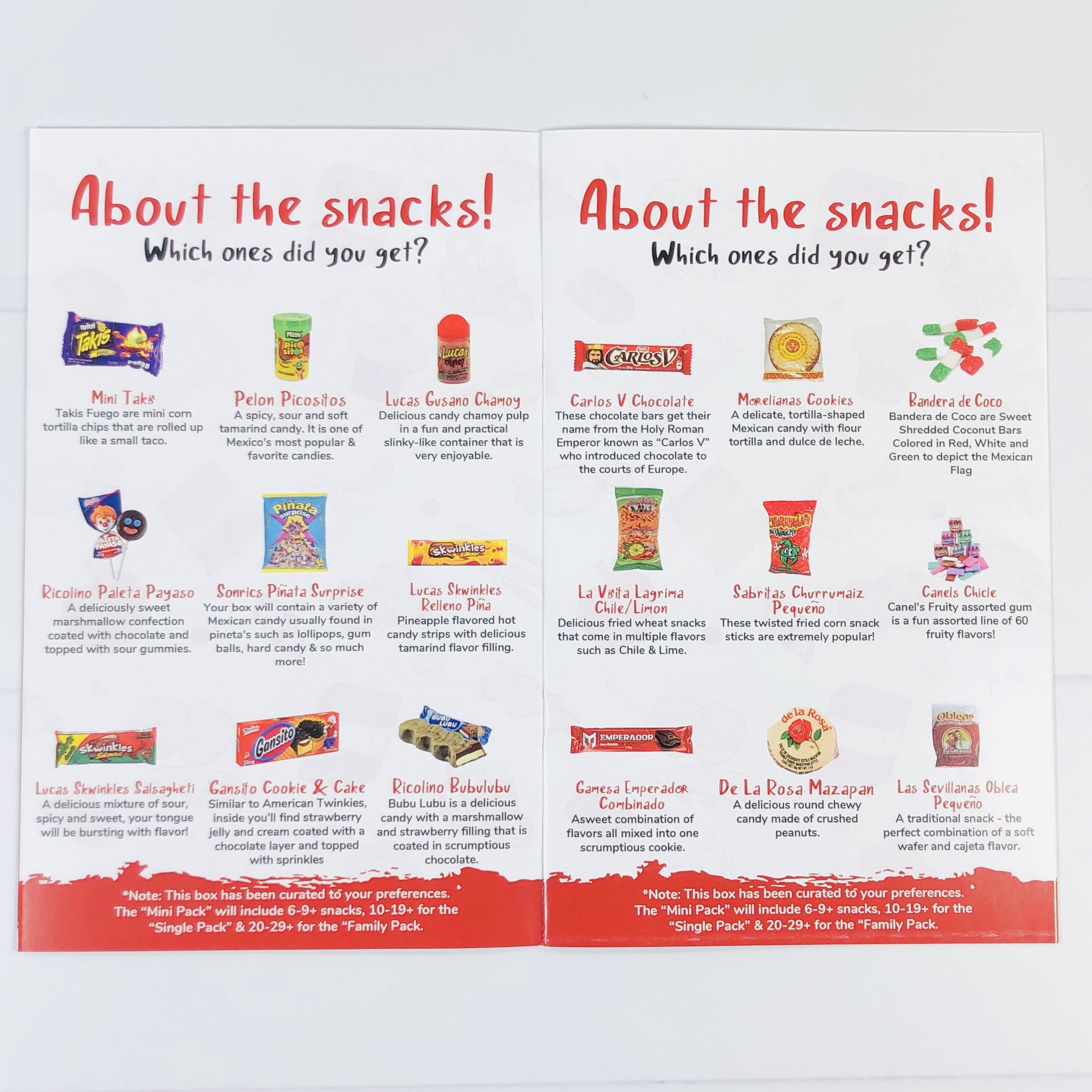 The next two pages (plus the next one shown below) discussed the snacks. Subscribers will receive snacks based on their box level and the answers given on the quiz filled out on sign up.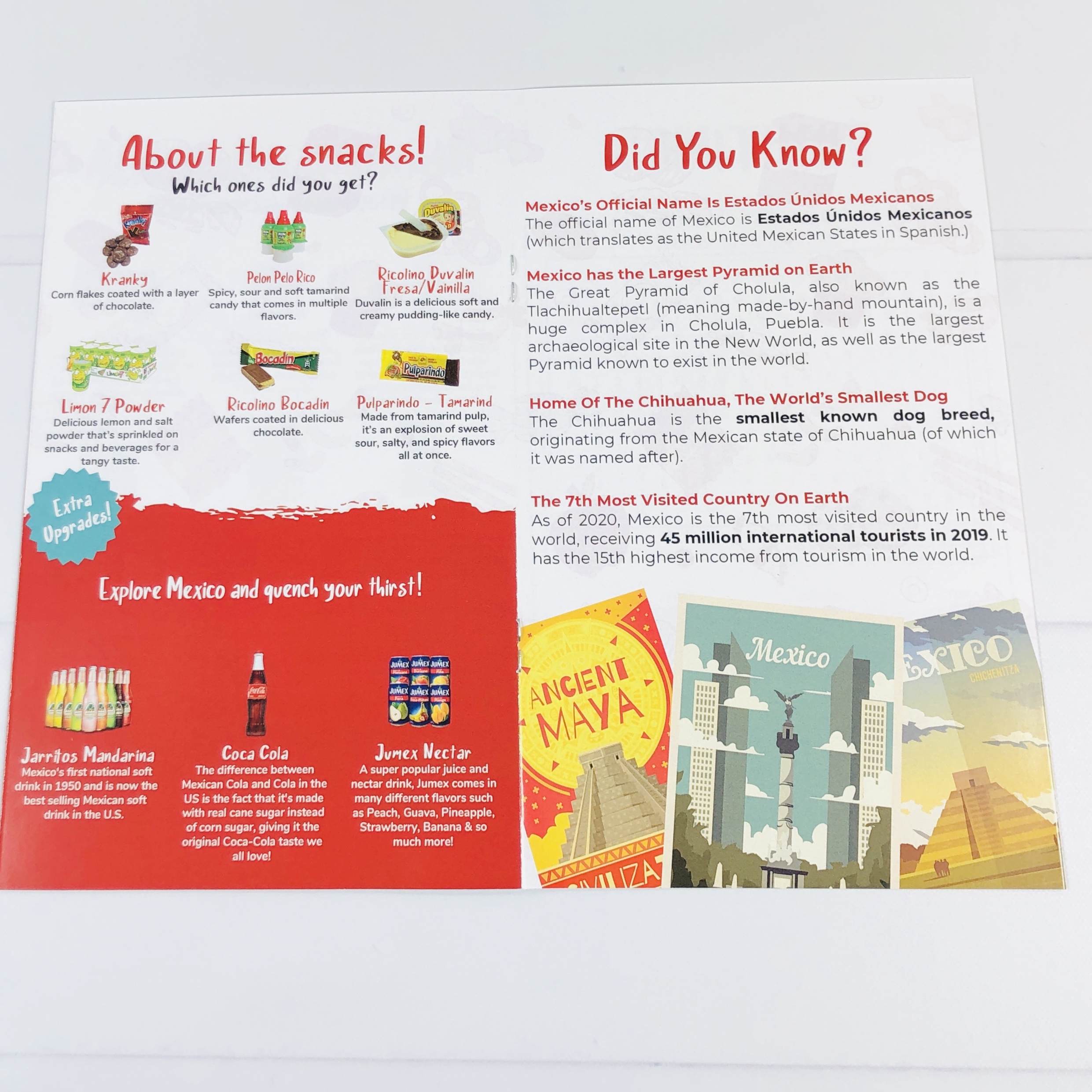 The next page listed more snacks and fun facts about Mexico.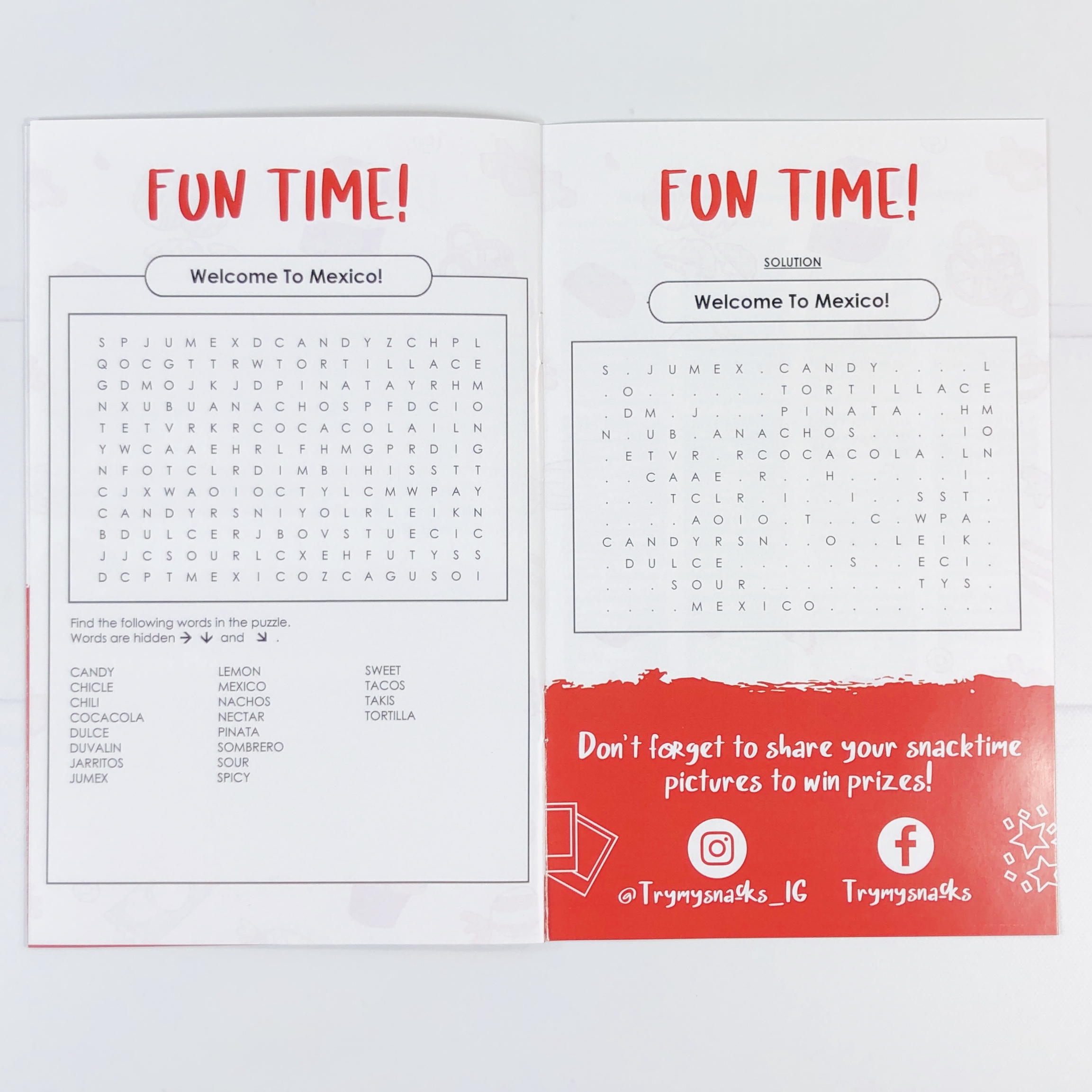 Next we have a puzzle, with the solution conveniently placed next to to it.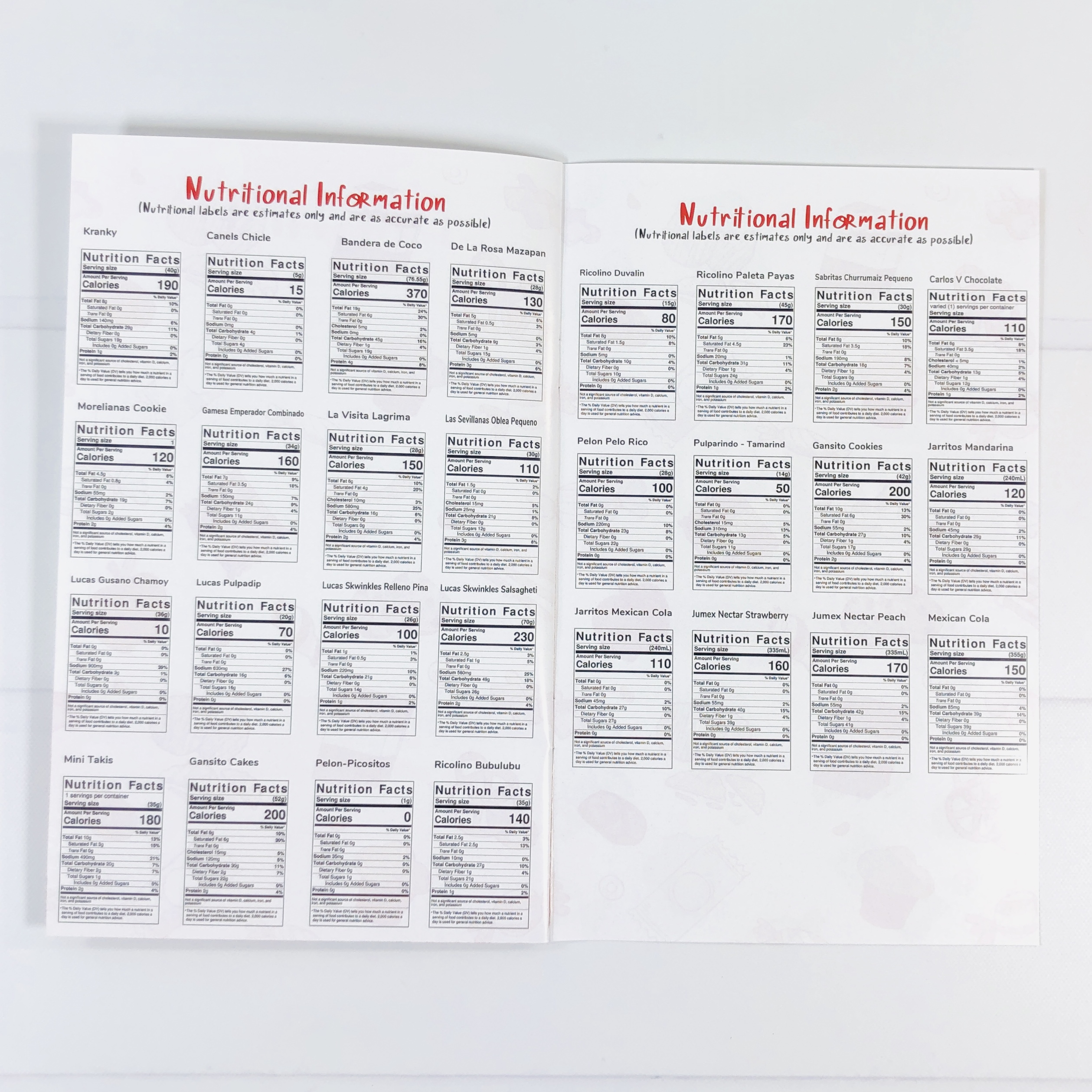 Finally we have some nutrition facts.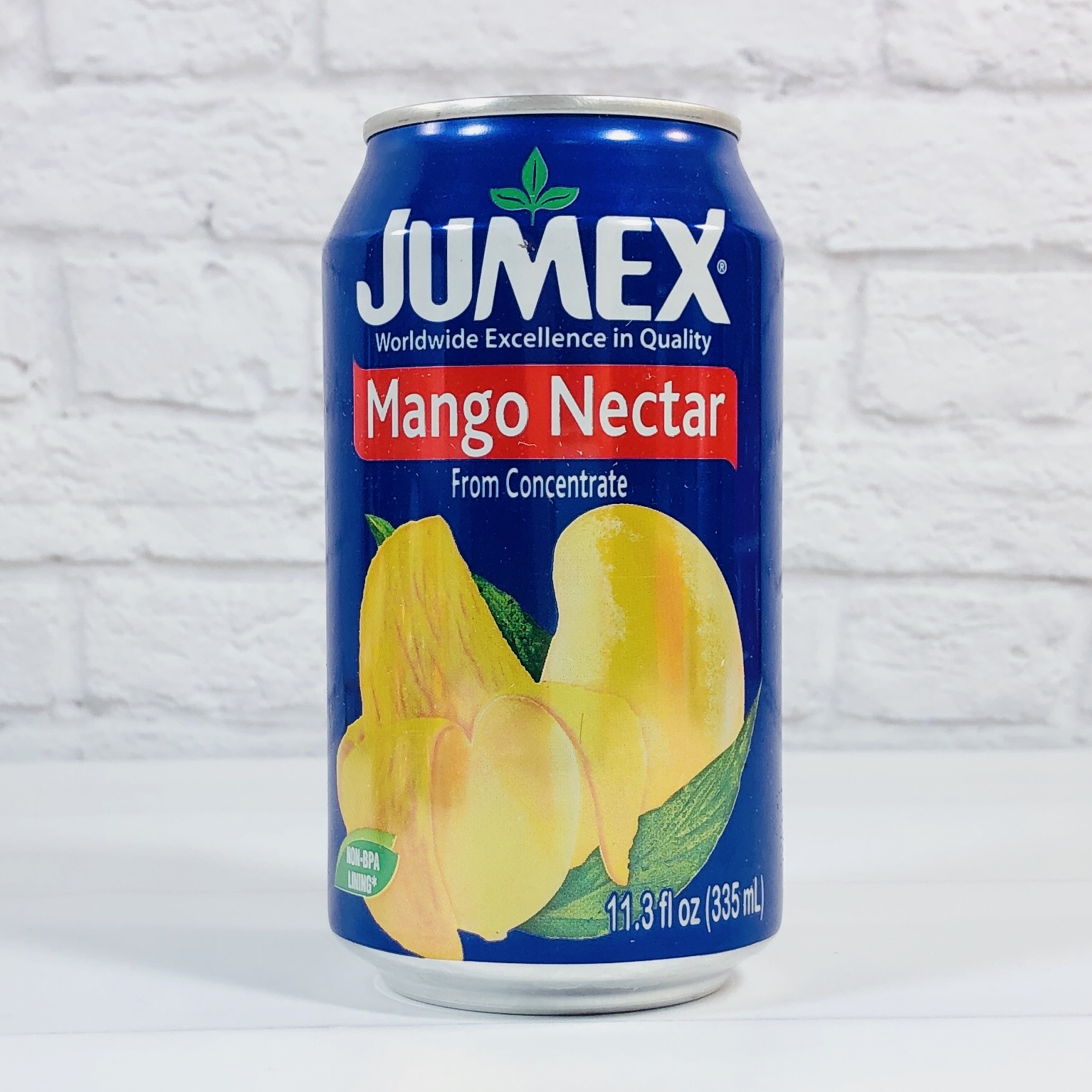 Jumex Mango Nectar I get the drinkable extra and was really happy to get a Jumex mango nectar! I once found a recipe in an old cookbook that called for mixing apricot nectar and ginger ale and I still make that drink for my family. This time around I mixed it with this mango nectar instead of apricot and it was delicious!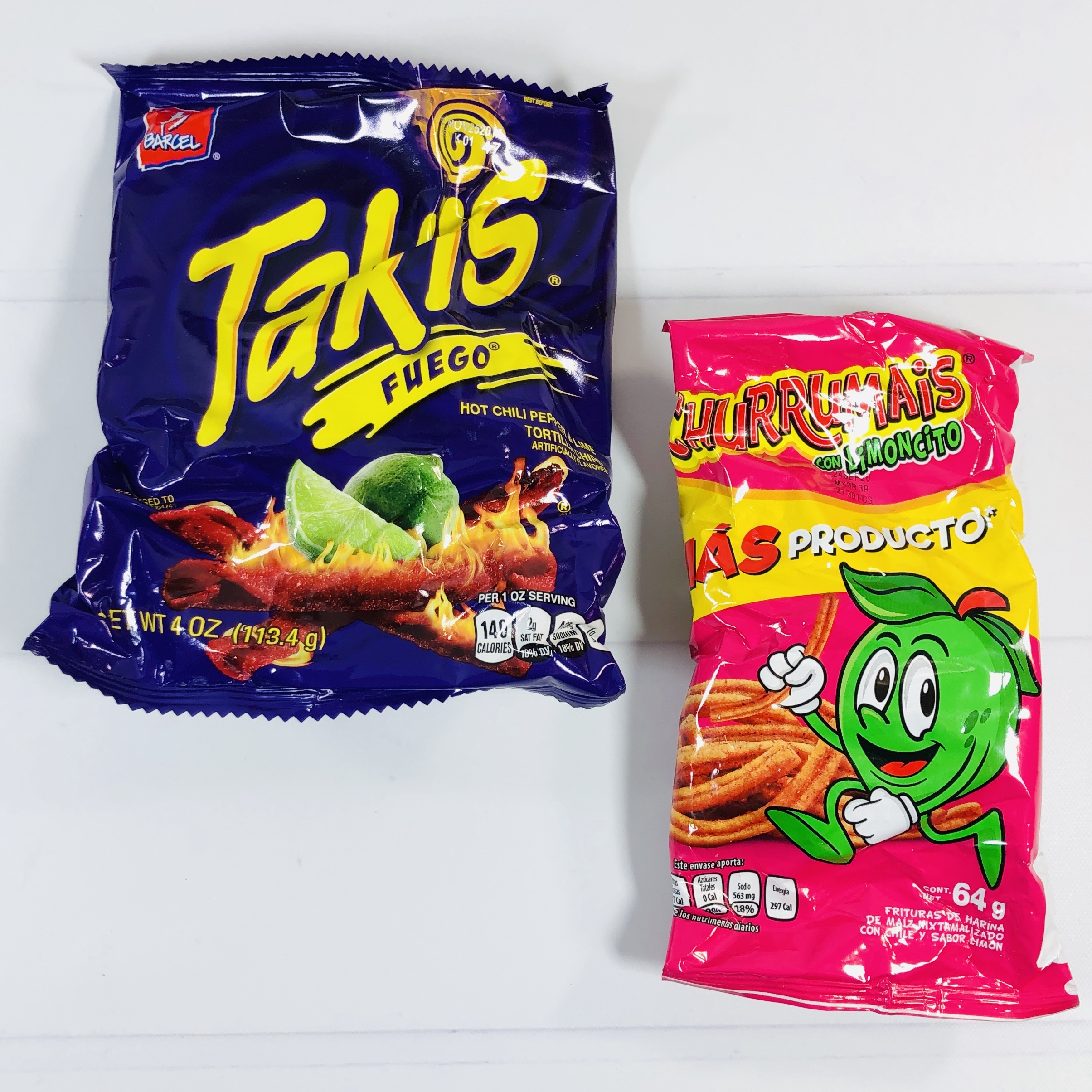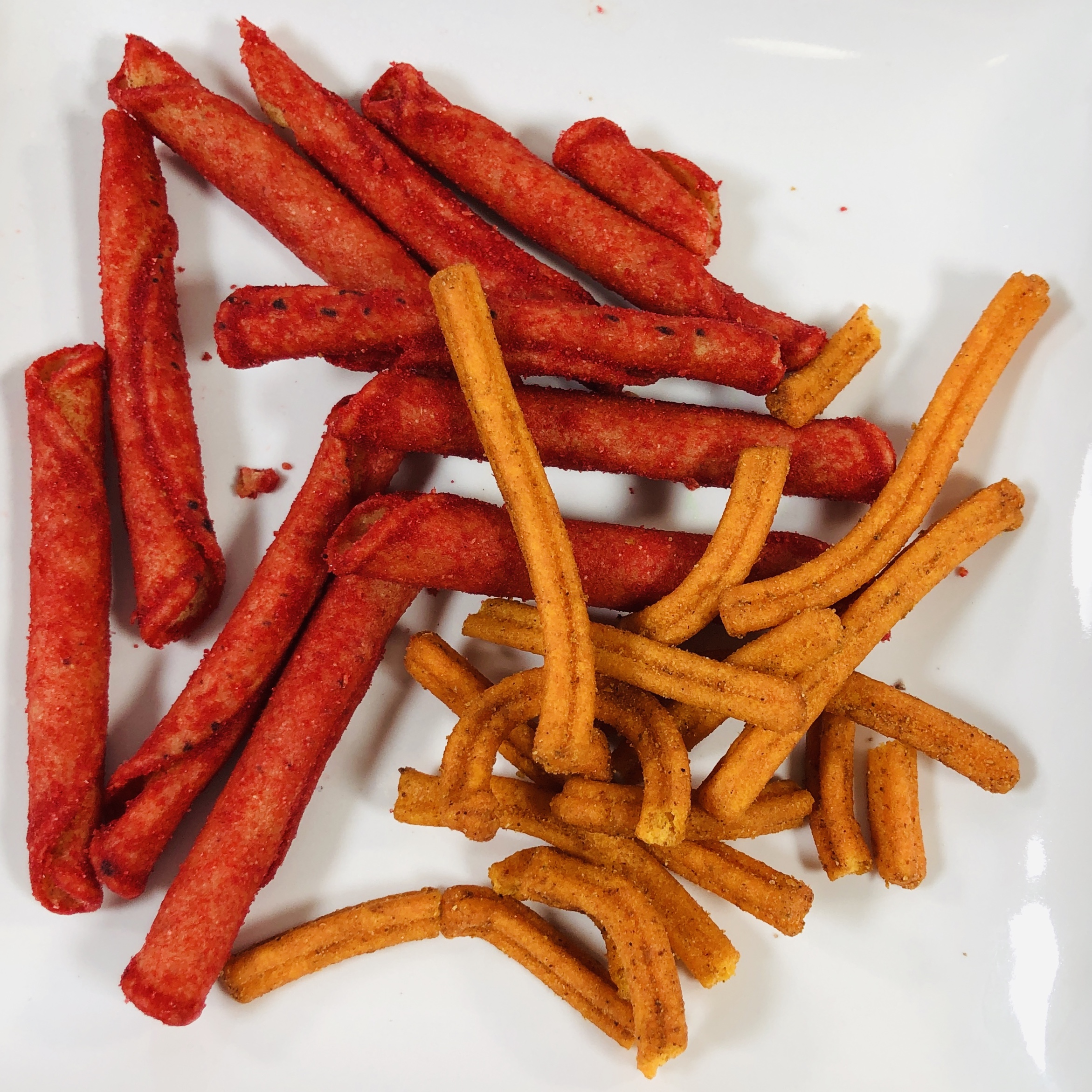 Takis Fuego Can you believe I've never tried a Taki? They sell them at my store and my kids eat them. They are crispy rolled corn tortillas chips with a spicy chili/lime/salt coating.
Sabritas Churrumaiz Pequeño are corn snacks with a spicy chili/lemon/salt coating but they are much less spicy than the Takis.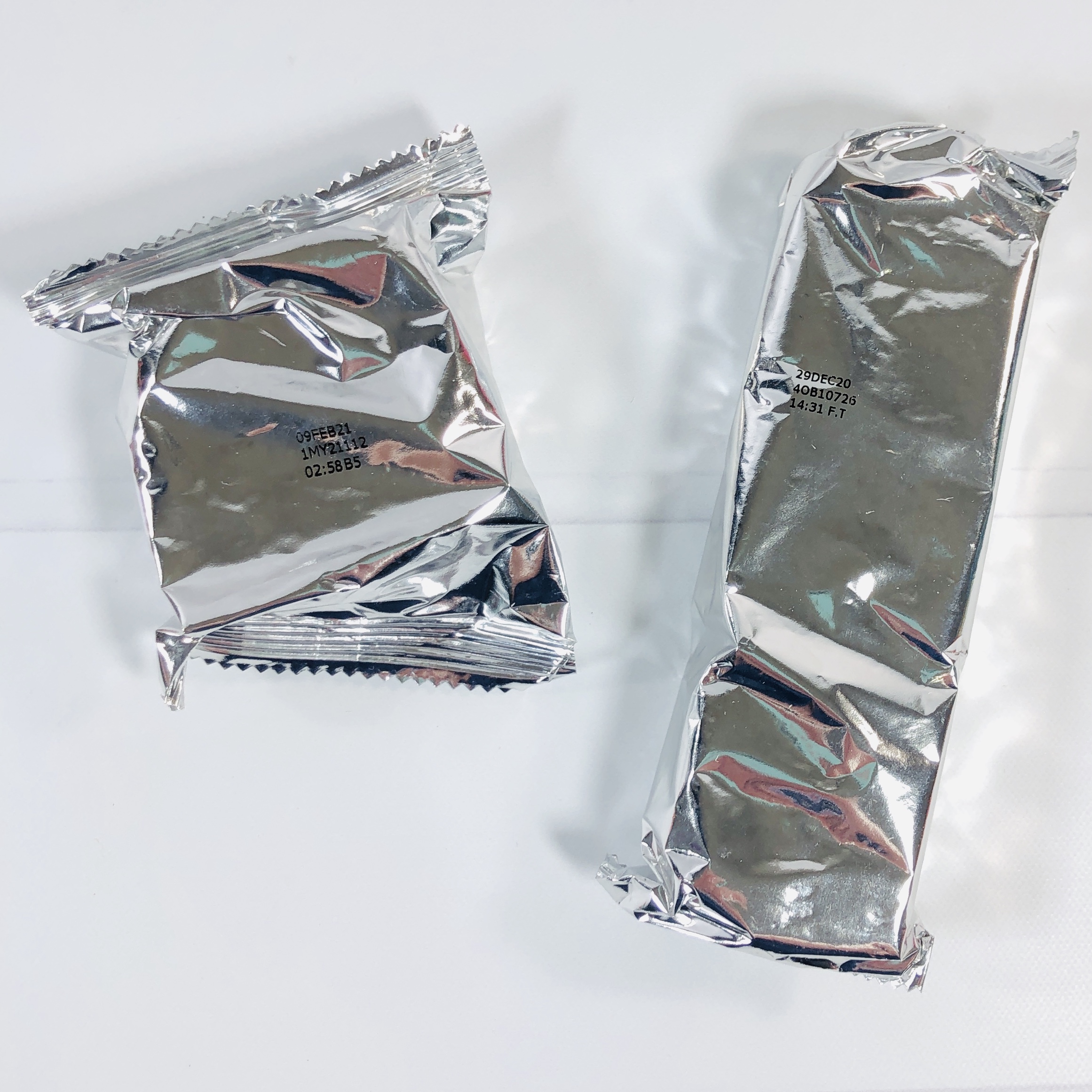 Gamesa Mamut is possibly similar to a Moon Pie but I don't actually eat Moon Pies. It has two cookies with marshmallow in the middle and is covered with chocolate.
Gamesa Emperador is a sandwich cookie with vanilla on one side, chocolate on the other.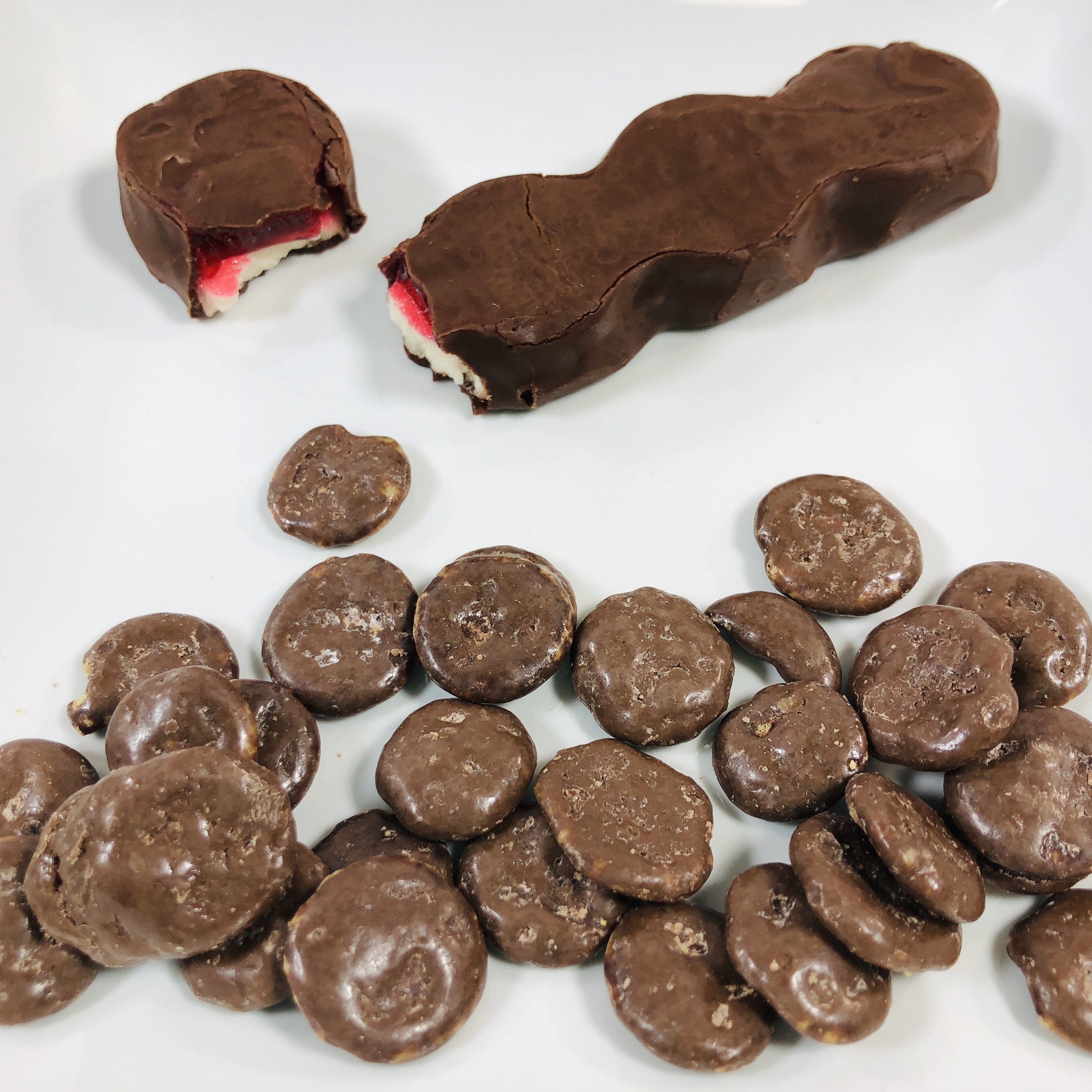 Bubu Lubu is a marshmallow topped with strawberry flavored jelly and then coated with chocolate. I don't normally like marshmallow but this was yummy.
Kranky are chocolate covered slightly salted corn flakes. Simple yet tasty.
Lucas Salsagheti & Skwinkles My mouth is watering just remembering how tasty these were. If you've ever tried a fruit cup sprinkled with lime juice and Tajin, then this is the candy version. It's tamarind pulp "fruit leather" with lime/chile/pineapple or mango flavor on top.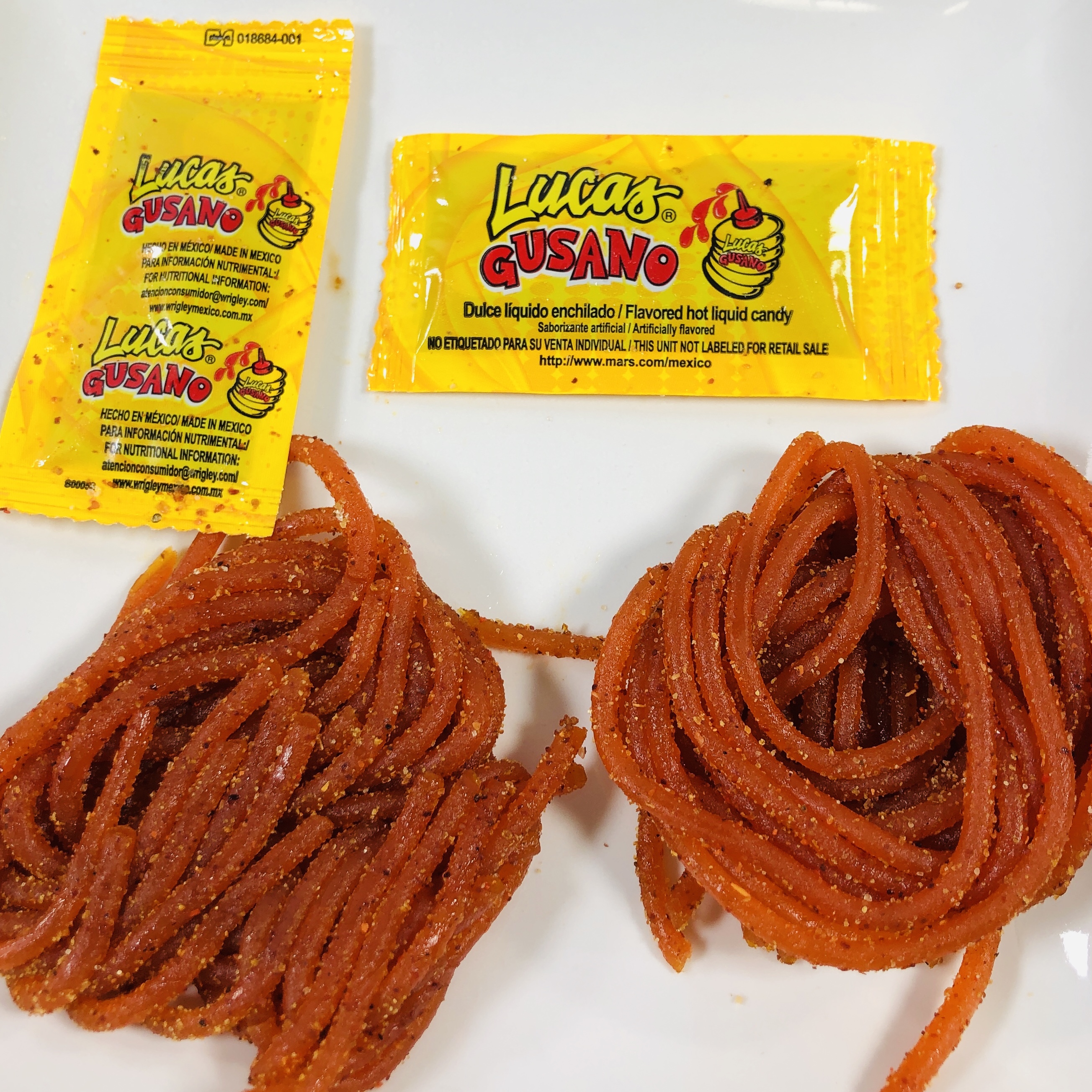 The Salsagheti also came with little packets of sauce, which tasted like lime hot sauce. You are supposed to pour the liquid in a dish and dip the Salsagheti in the sauce or something like that. I preferred the Skwinkles myself as the Salsagheti reminded me of red Twizzlers, which I'm not a fan of.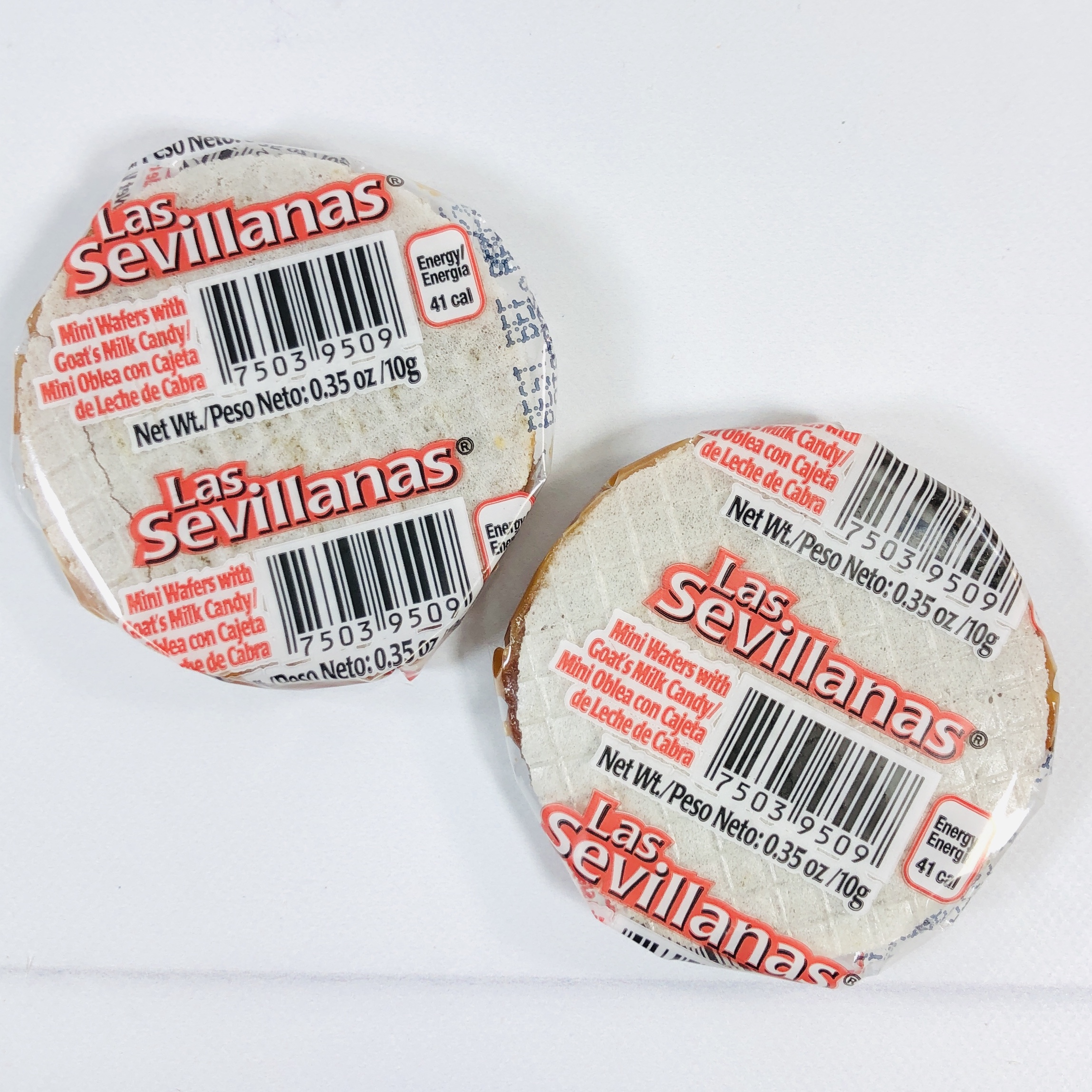 Las Sevillanas Mini Obleas are paper thin wafer cookies filled with cajeta, or goat's milk caramel. It is delicious!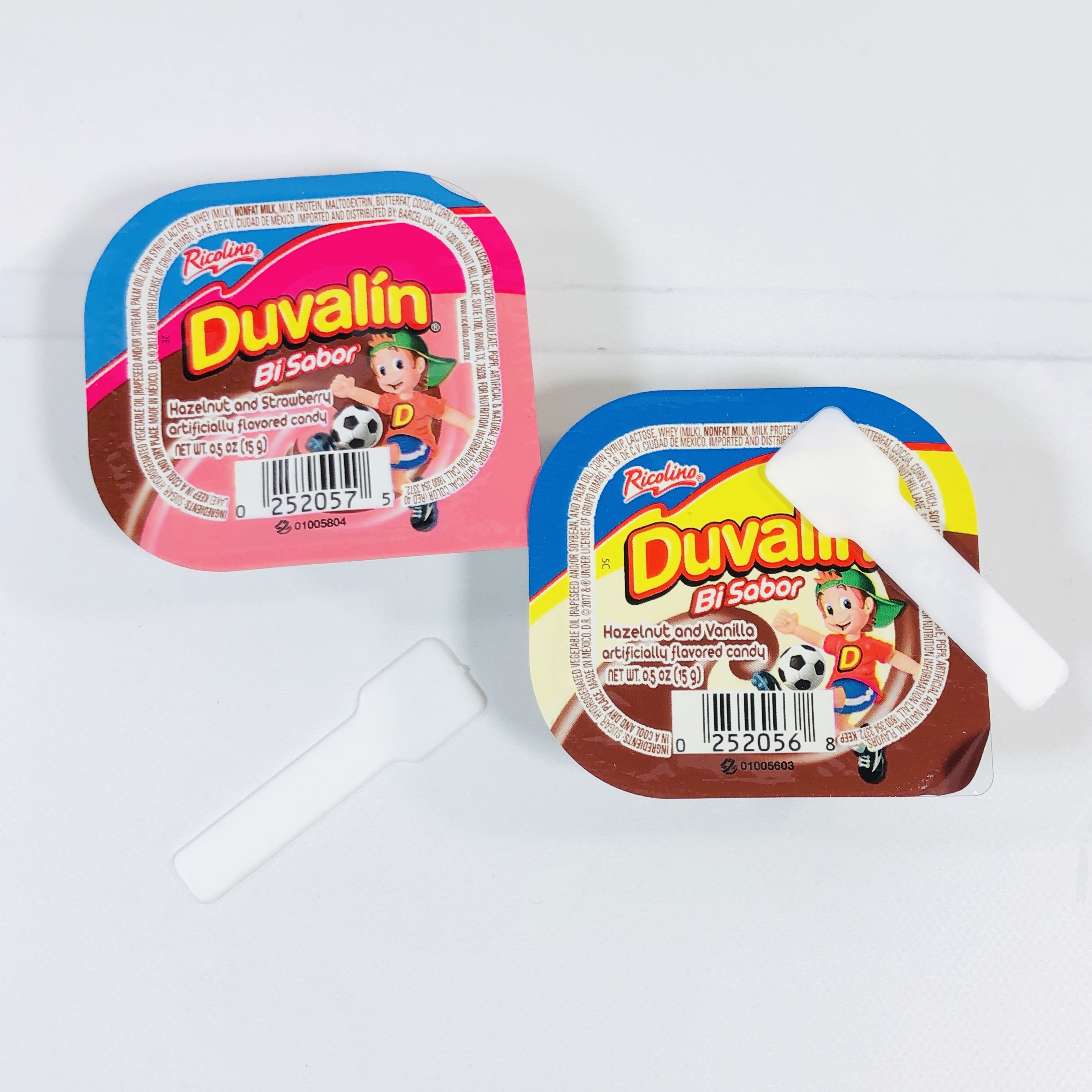 Ricolino Duvalin came in two different flavors – Hazelnut & Vanilla or Strawberry & Hazelnut. It is basically frosting, or possible Nutella-like, very rich and I can see why they are in such small containers! Comes with a mini spatula.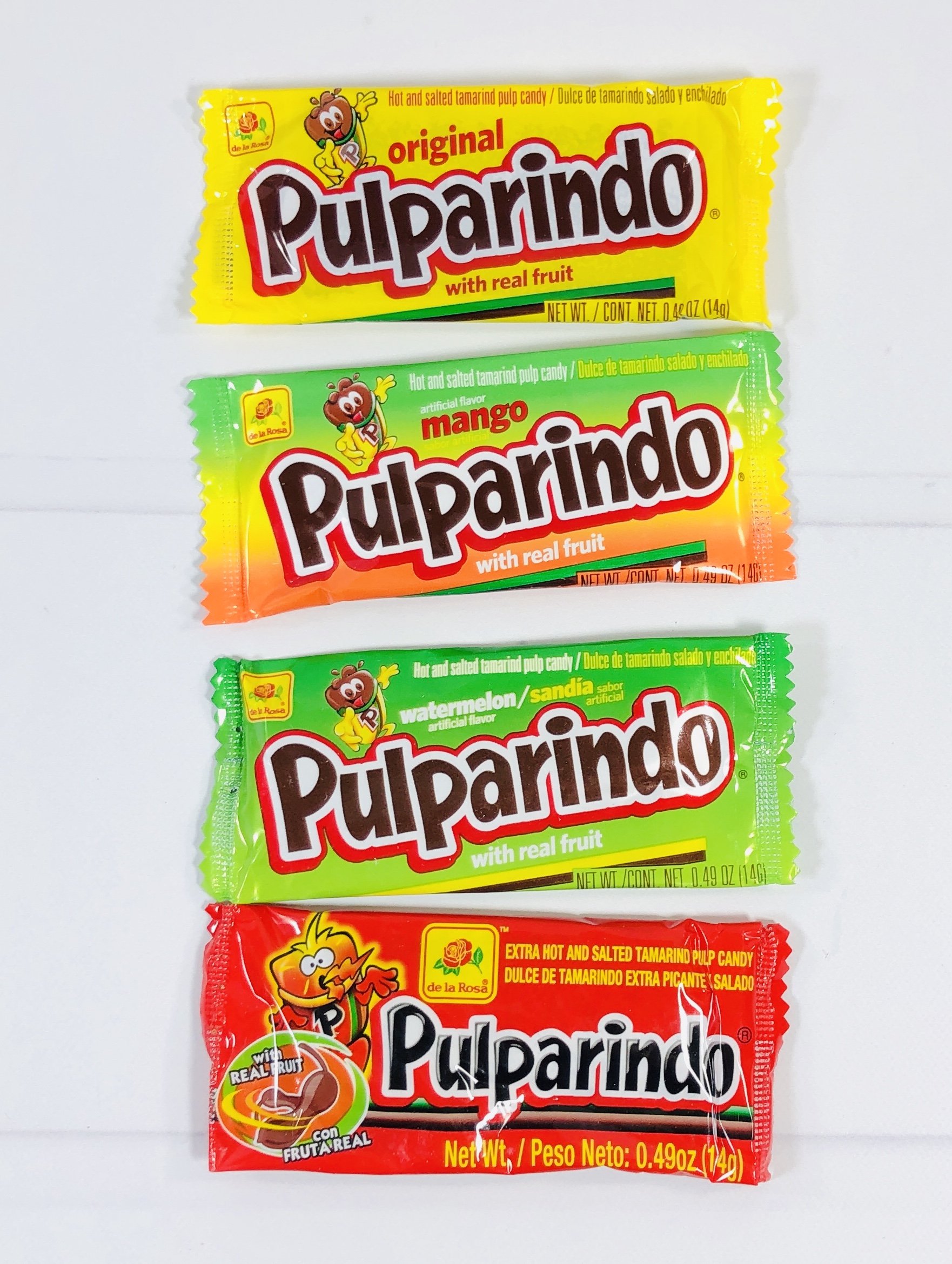 De La Rosa Pulparindo We received 4 different flavors of Pulparindo, which is tamarind pulp candy flavored with with salt and chili powder. It is sweet, salty, tangy, and spicy all at once.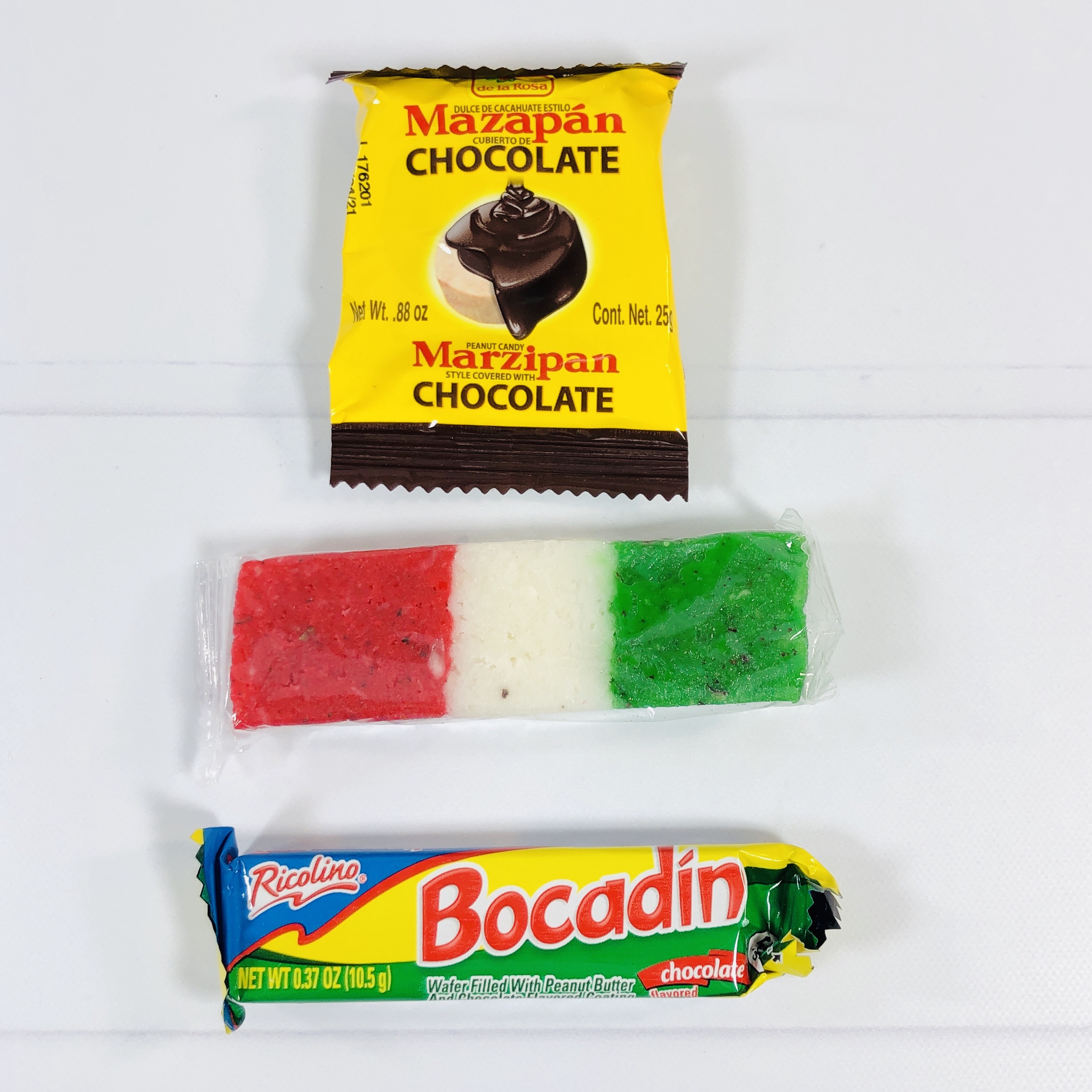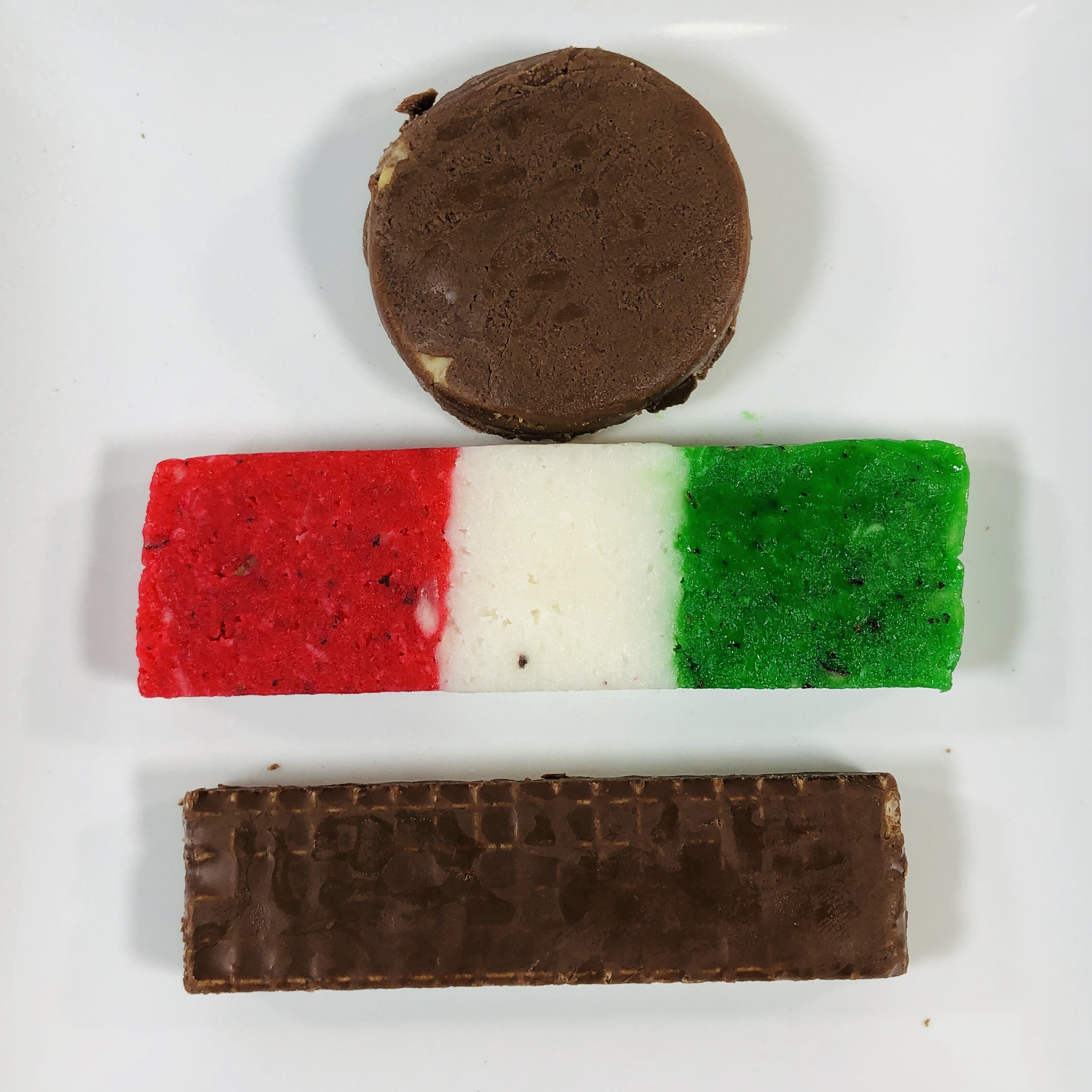 Mazapan Chocolate is a sweet peanut paste, similar to a peanut butter cup filling, covered in chocolate.
Bandera De Coco has the colors of the Mexican flag and is coconut candy, like the inside of an Almond Joy without chocolate or nuts.
Ricolino Bocadin is simply wafers covered in a not too chocolaty covering, like a dipped ice cream cone without the ice cream.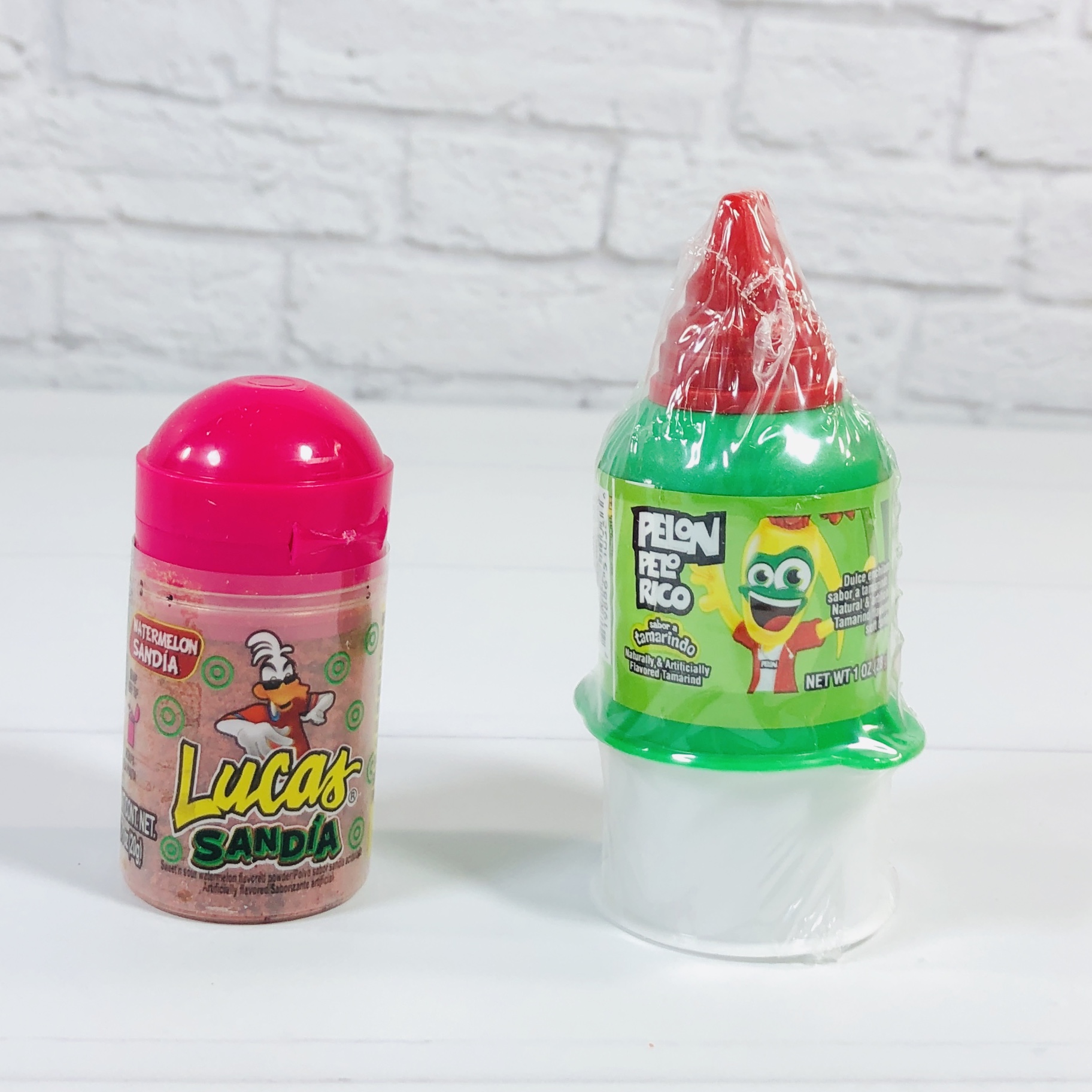 Lucas Sandia Sandia is watermelon and this is a powder that is watermelon flavored but it also has citric acid, chili powder, and salt. I think it's supposed to mimic the flavor of a Mexican fruit cup, where you sprinkle watermelon with lime juice and then Tajin.
Pelon Pelo Rico is kind of like a push pop, you push it up and a tamarind flavored candy comes out the top. The candy is sweet and spicy and kind of hard to push out. It is also gritty with sugar.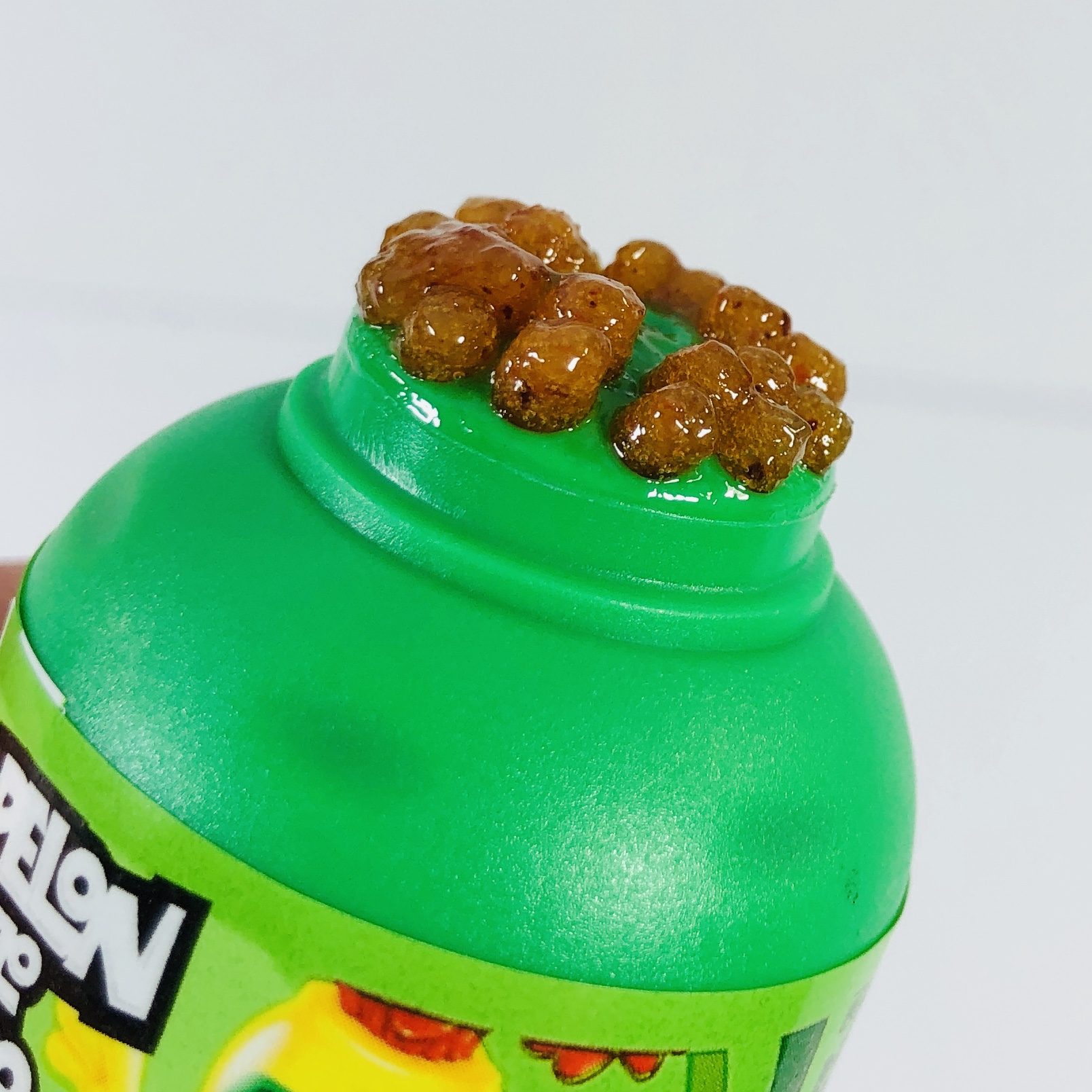 Here's the Pelon.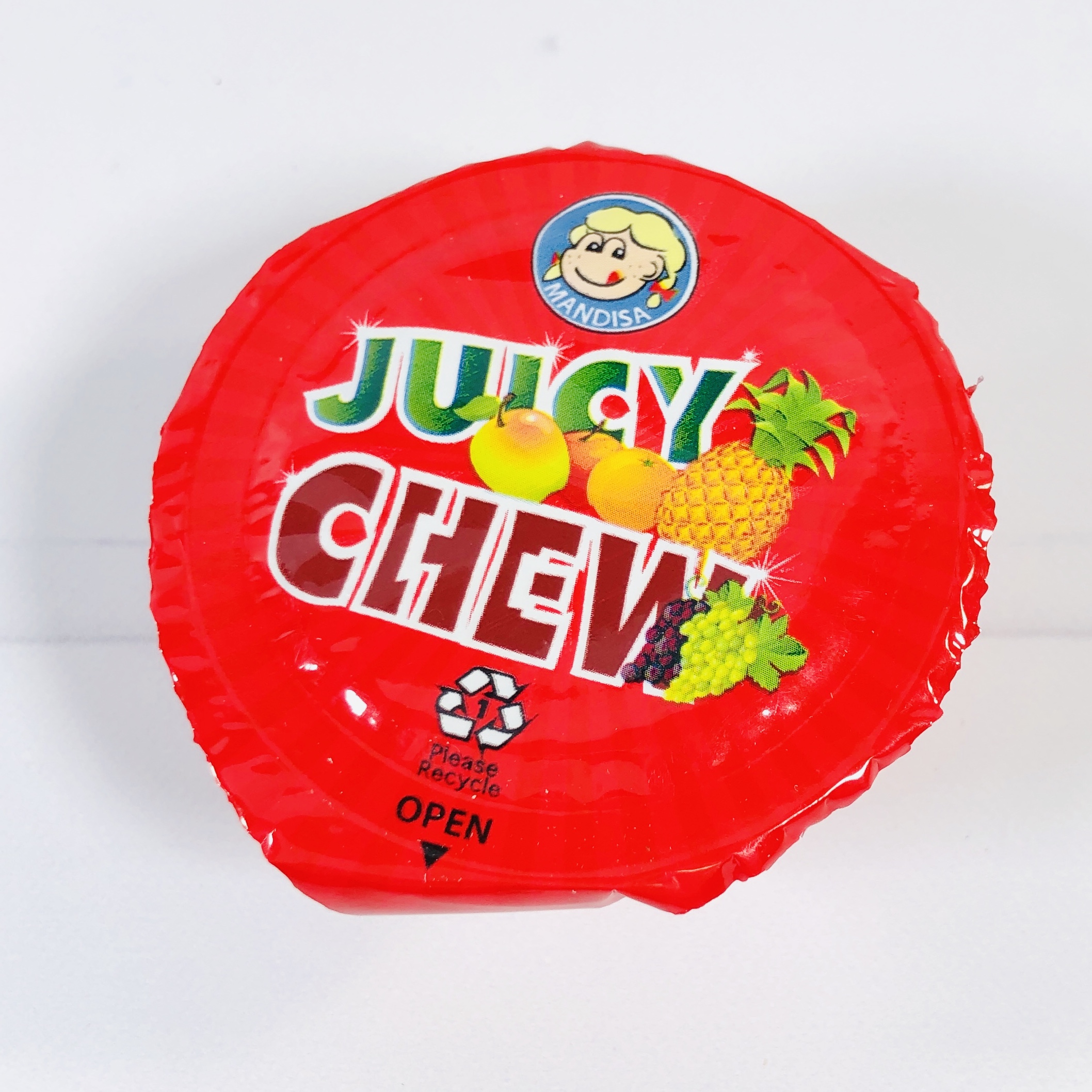 Mandisa Juicy Chew My daughter liked this and said it tasted like a Halloween candy she used to eat. I tried it and wasn't a fan, and there are chewy pieces in the gelatin. I would say the flavor is fruity.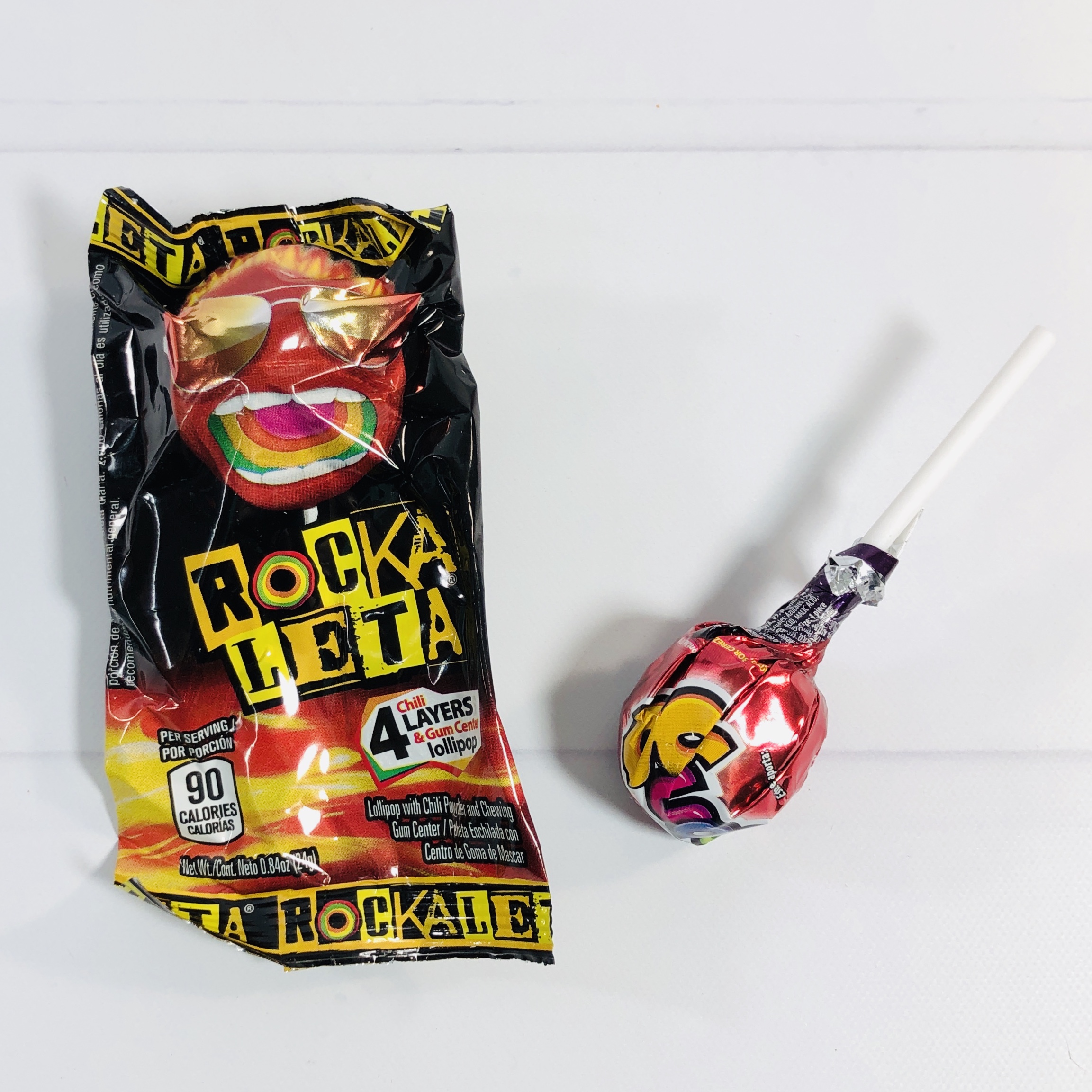 Rockaleta is a lollipop with gum in the middle.
Gudu Leta is another lollipop. I pass all lollipops to my daughter.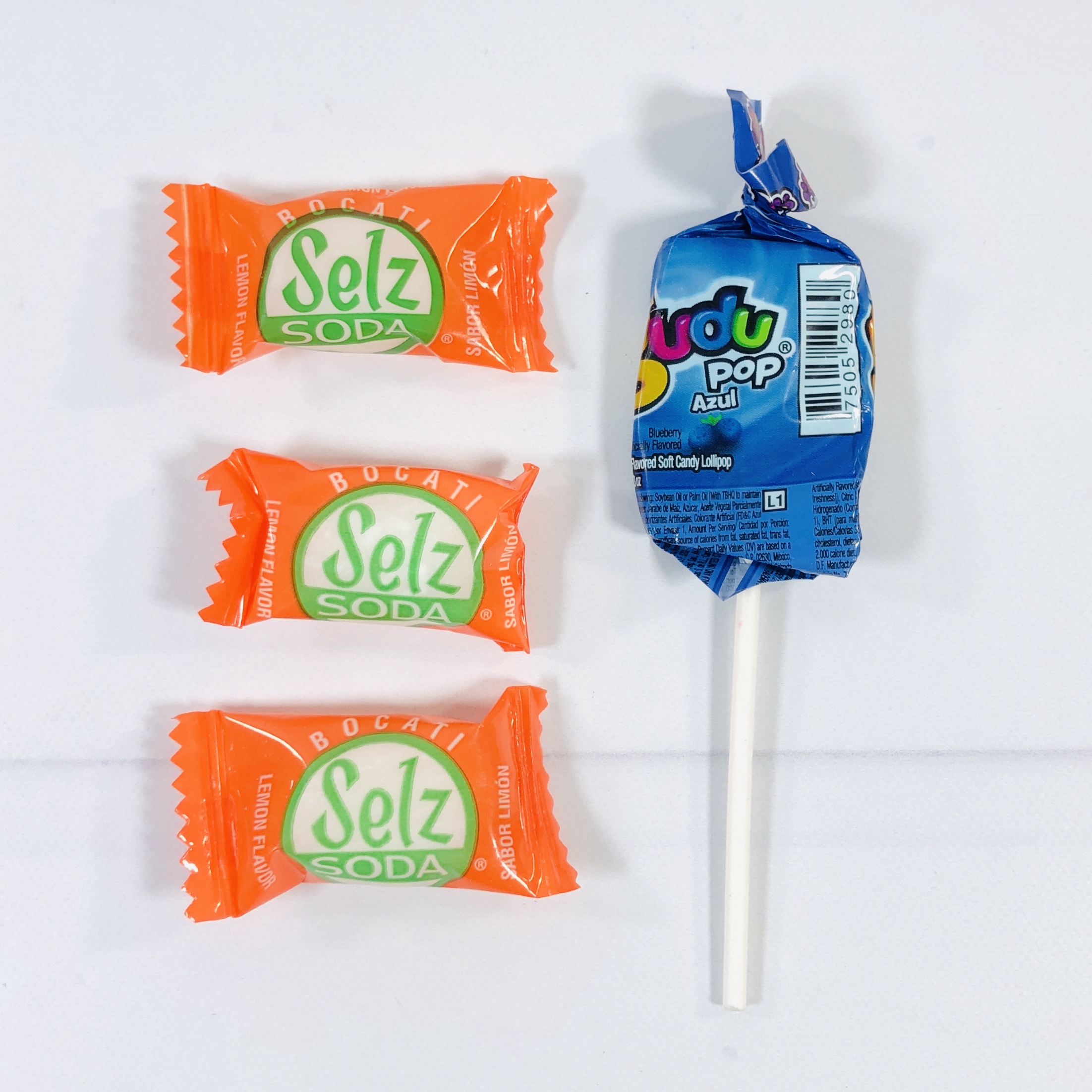 Selz Soda are lemon flavored hard candies with a sour fizzy filling so that the effect is like having a mouth full of soda.
Gudu Pop is a lollipop.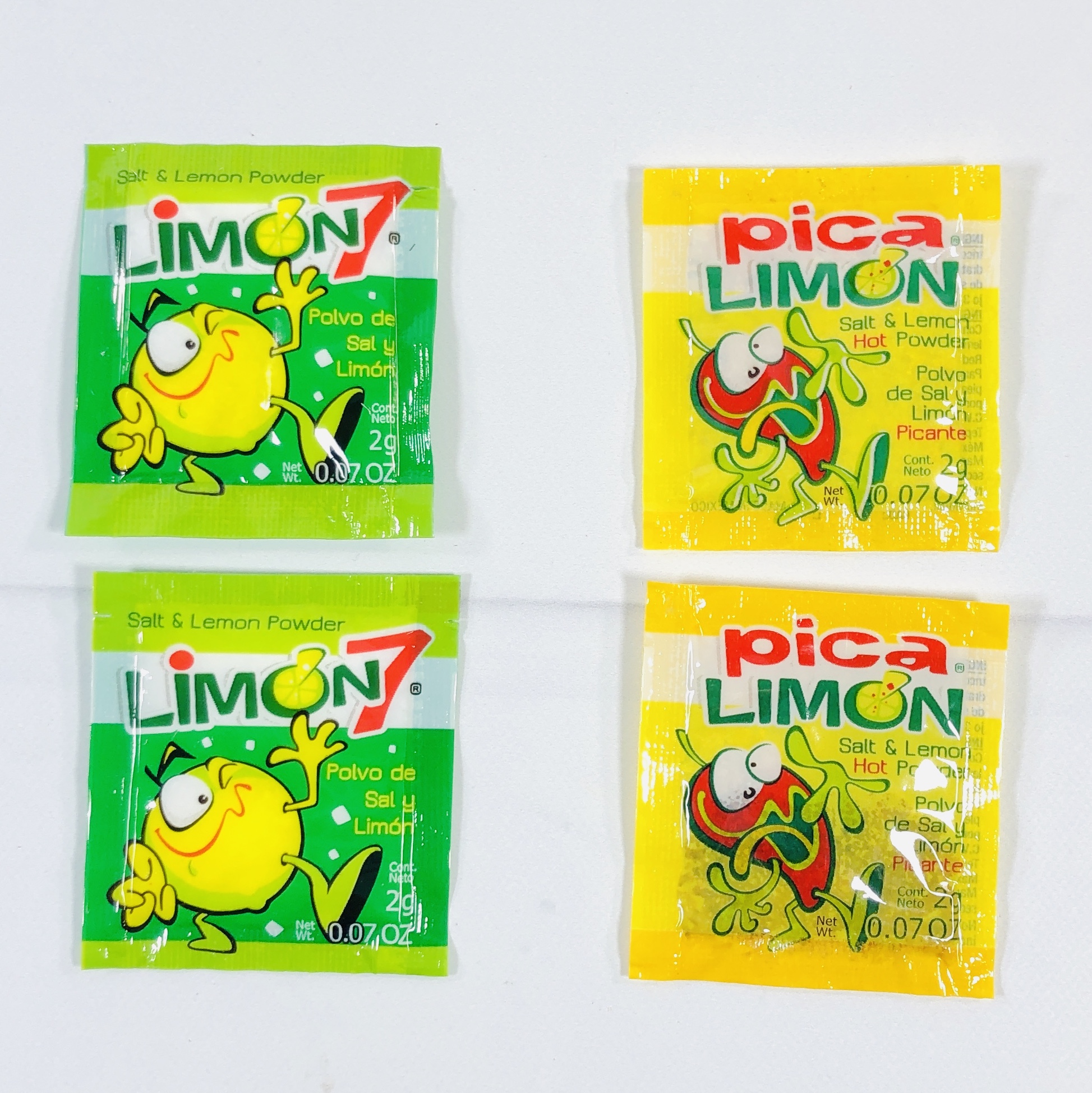 Pica Limon is quite literally citric acid and salt, and the Pica version also has chili powder. I think it is supposed to be sprinkled on things like fruit cups.
Gudu Cubos look like Starbursts so my daughter will get them, she likes chewy candies.
Canel's Chewing Gum came in several different flavor choices.
The Mexico box from Try My Snacks was so much fun to try, and my family was really excited about this box! It has some snacks that we were familiar with, and others that were very different from anything we have ever tried before. I especially liked the Pulparindo, Takis, and Obleas. The Jumex was tasty too, a nice twist on a similar drink that I make often. There were so many snacks and it takes us a good month to go through the box, but then we like to savor the snacks. I bet we could finish it much sooner but where's the fun in that?
Any thoughts about this box?