Tea Runners is a monthly loose leaf tea club. Every month members receive a curated collection of four of the world's best loose leaf teas, along with tasting notes and brewing instructions. Many of the teas are international award winners. They offer 4 different plans so you can get more of the types of tea you love every month. You can also customize your box, with about 15 different choices every month!
4 boxes to choose from: All Black Tea Box, Herbal Tea Box, Pure Tea Box, and our Original Box (a combo of all kinds of teas.)
3 subscription delivery options: Monthly, Bi-Monthly, and Tri-Monthly
Each box contains enough tea for 30 to 50 cups
Comes with tasting and brewing instructions
Free shipping to USA and Canada
DEAL: Get 50% off your first box! Use coupon code HELLO50.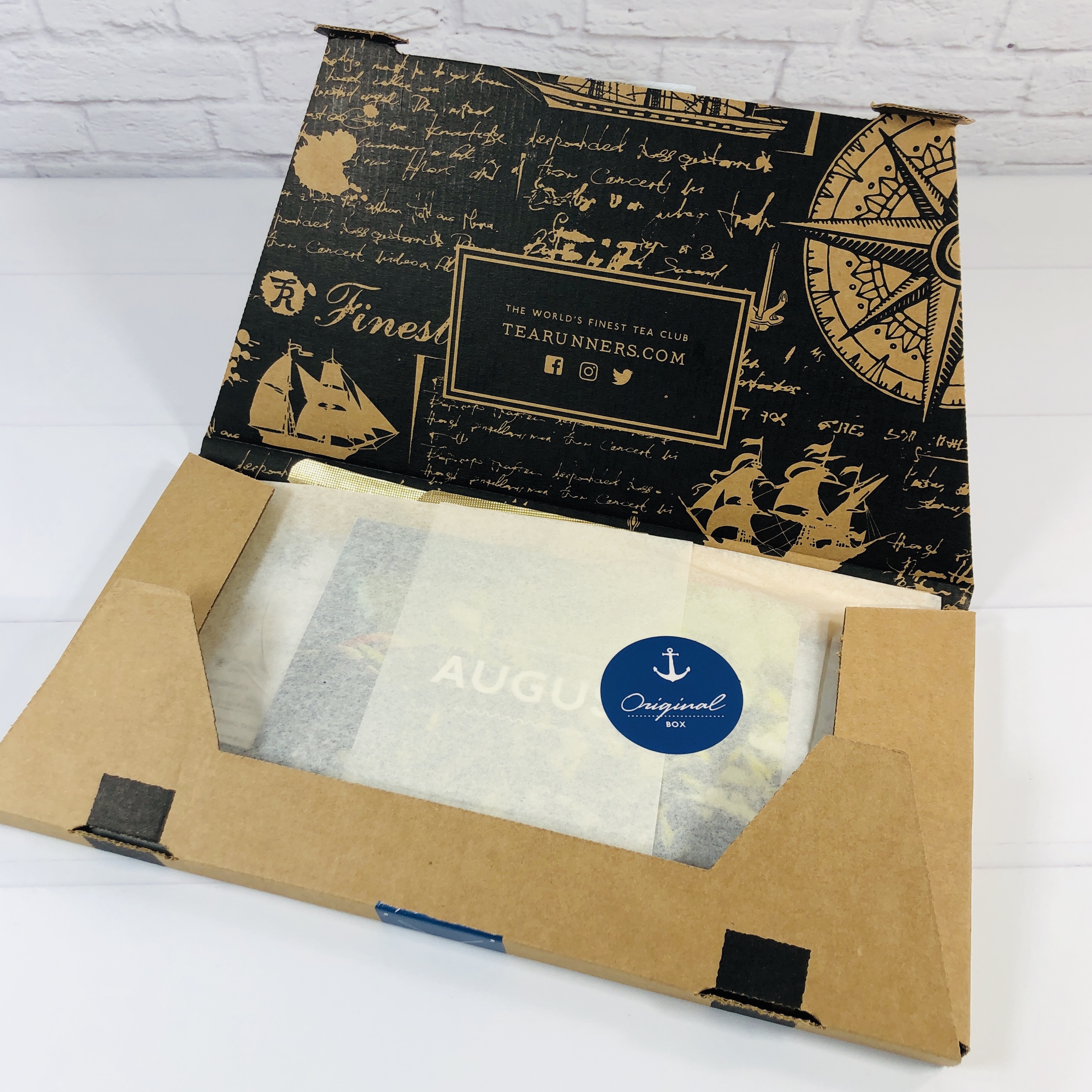 The box was absolutely adorable and I was excited to discover what was inside!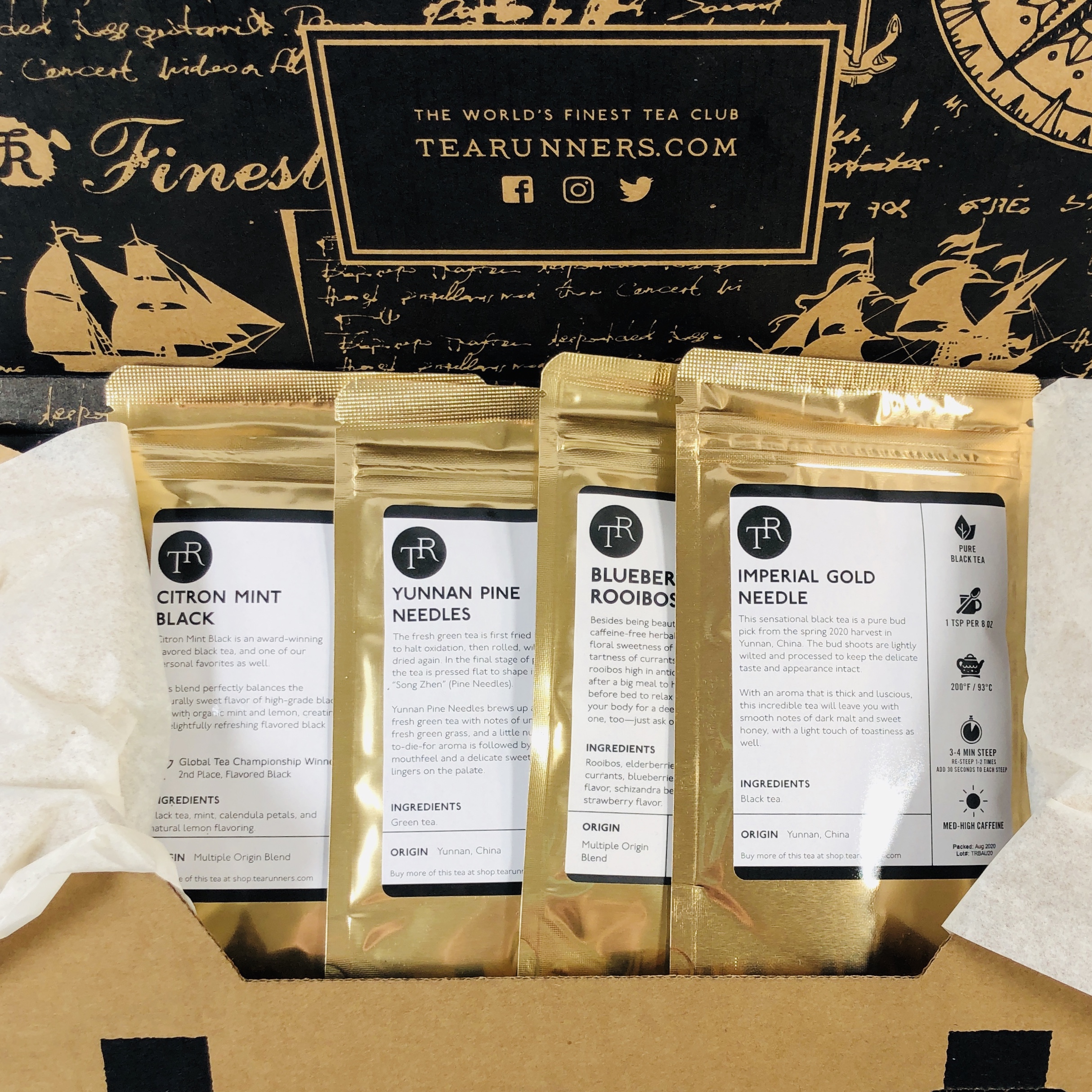 I am reviewing the Original Box, which includes pure teas, blended teas, flavored teas, and herbal teas. Teas won't be repeated for at least 12 months.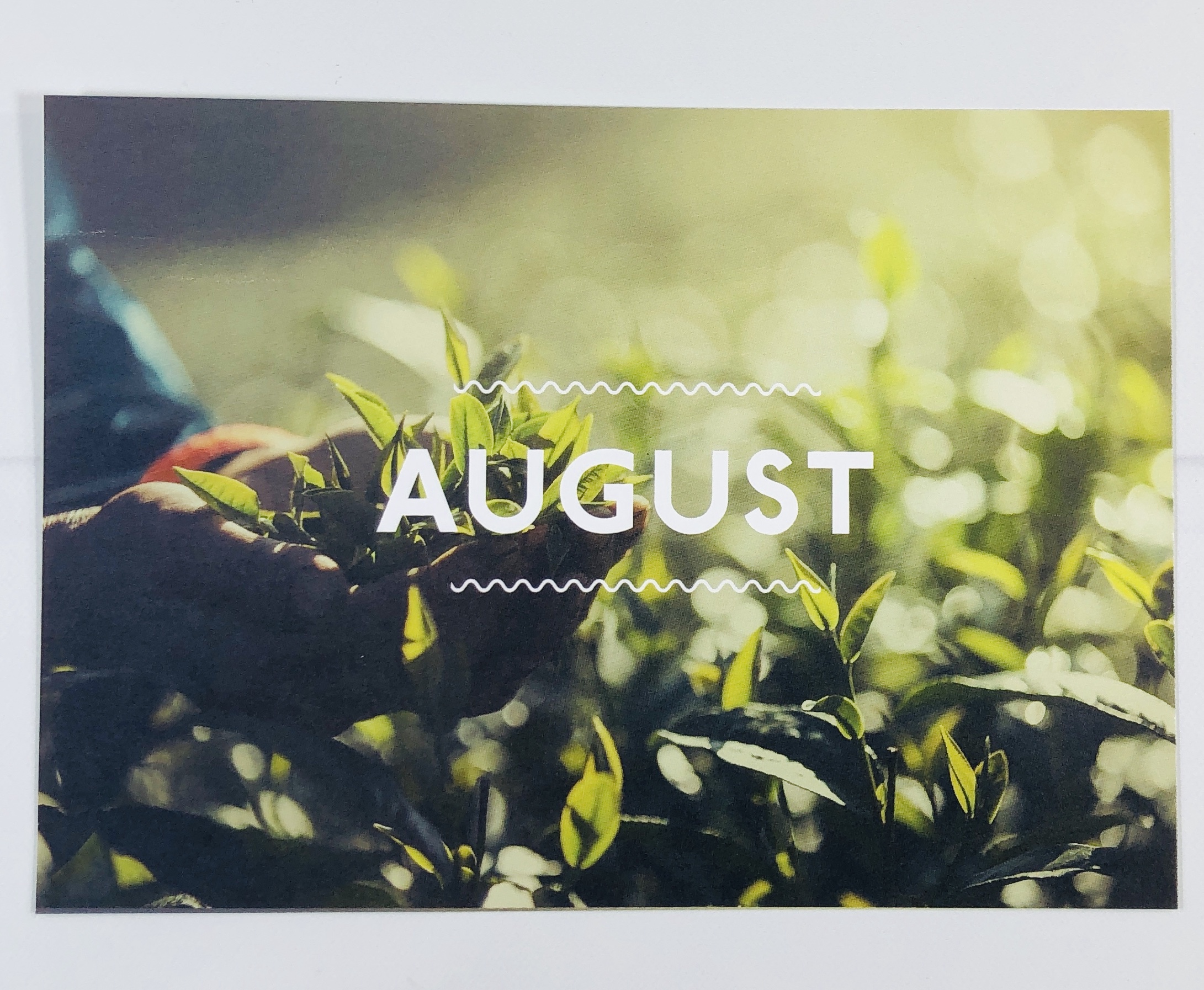 I received a card.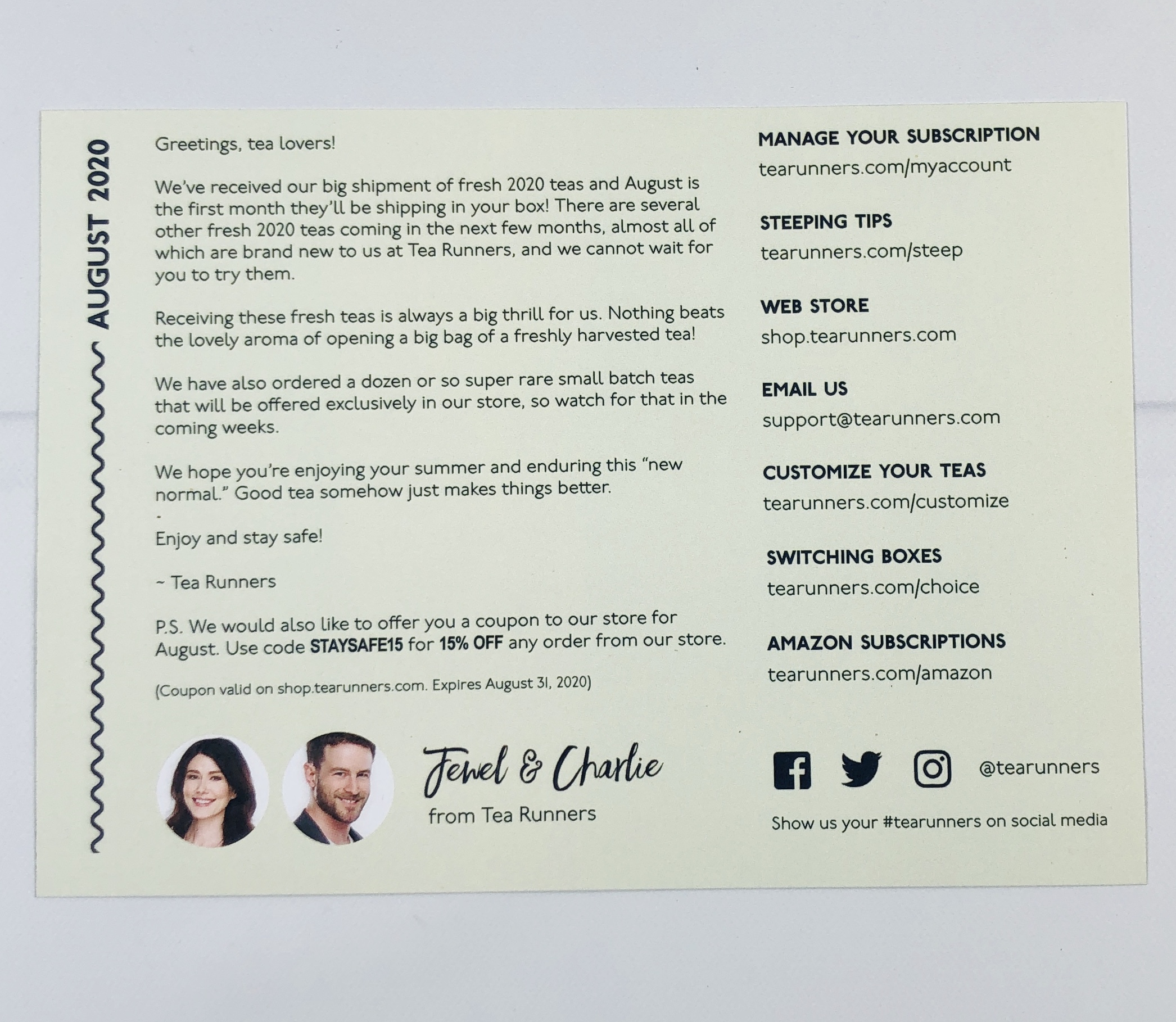 The back of the card had some exciting news about rare teas coming to the online shop soon. It also gave info on where to go to customize your box, or even to switch box types!
I'm so excited to try these delicious-sounding flavors, some of which are new-to-me!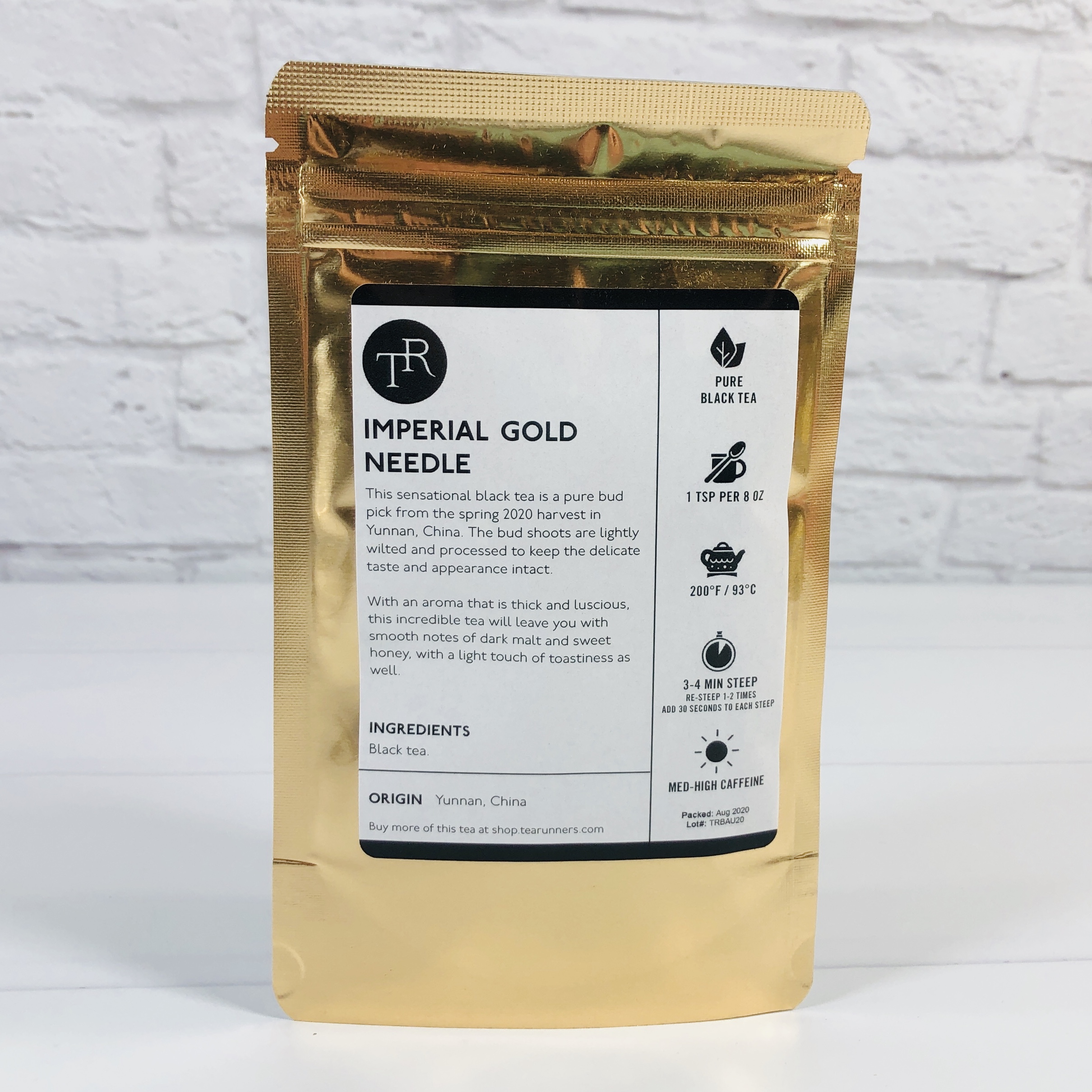 Imperial Gold Needle I have never tried a tea like this before so I was intrigued. The tea is fresh, as this type was harvested in March of this year!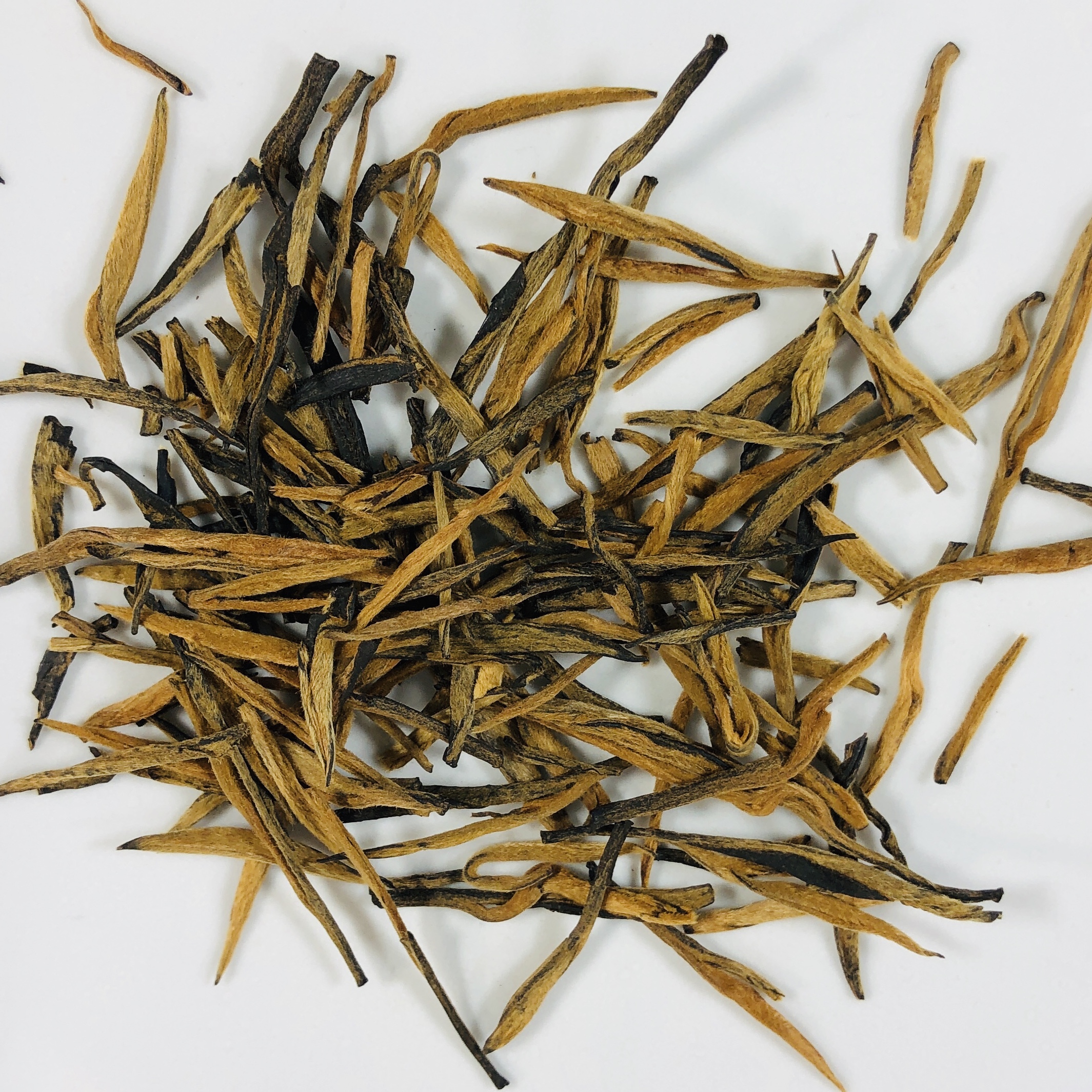 It was lightly processed so that it kept its shape, which looks like old pine needles. I wouldn't have guessed this was black tea judging by the color. I also would have thought I needed a tablespoon of it since it's so loose but I used closer to 1.5 teaspoons. The flavor was unique, and it took a bit for me to put my finger on what it reminded me of – freshly steamed artichokes! There was no bitterness and I probably didn't need any sugar but I added it anyway and the flavor was closer to molasses. This tea can be resteeped if you like.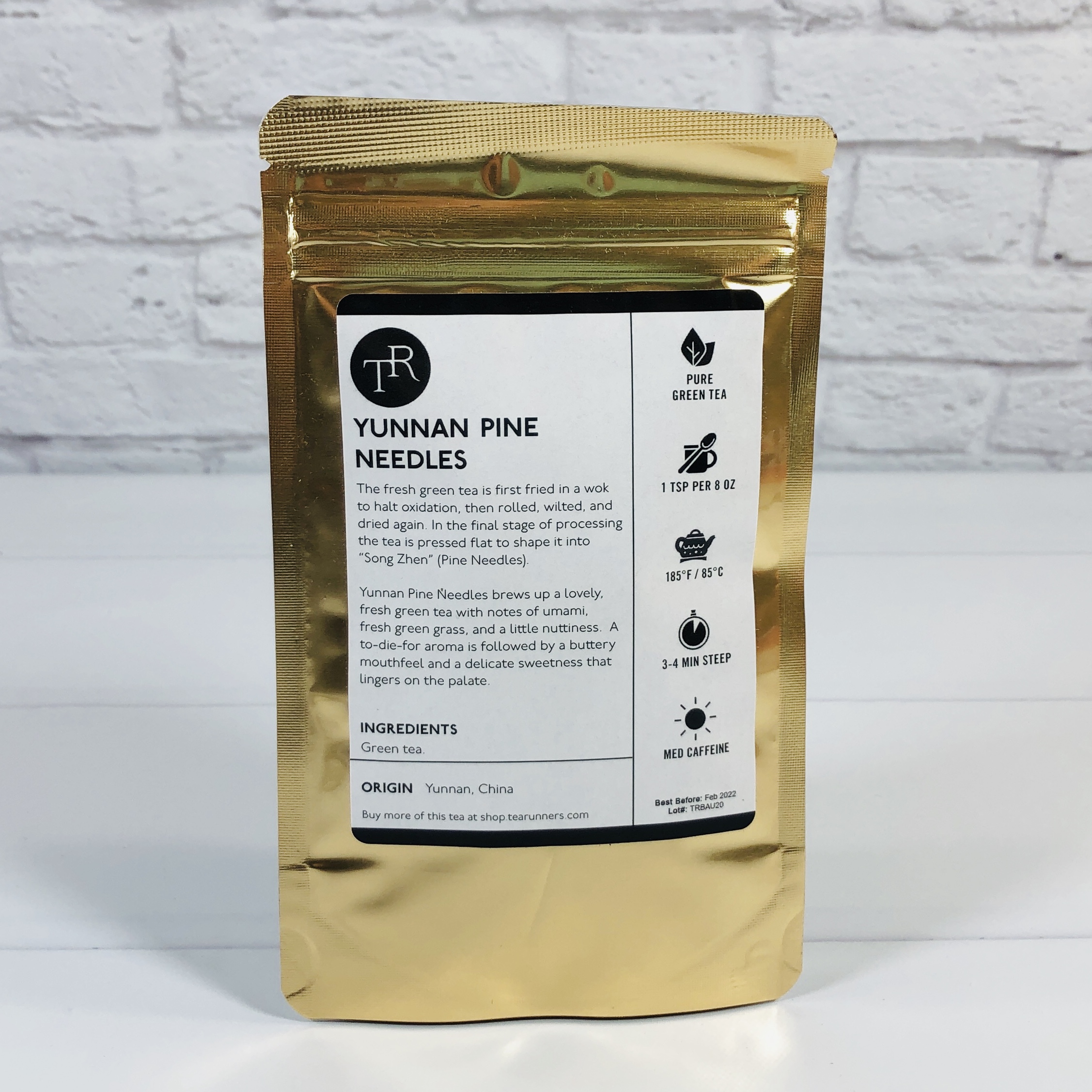 Yunnan Pine Needles is another "fresh" tea, picked in March 2020! The process it underwent entailed being "fried in a wok to halt oxidation, then rolled, wilted, and dried again".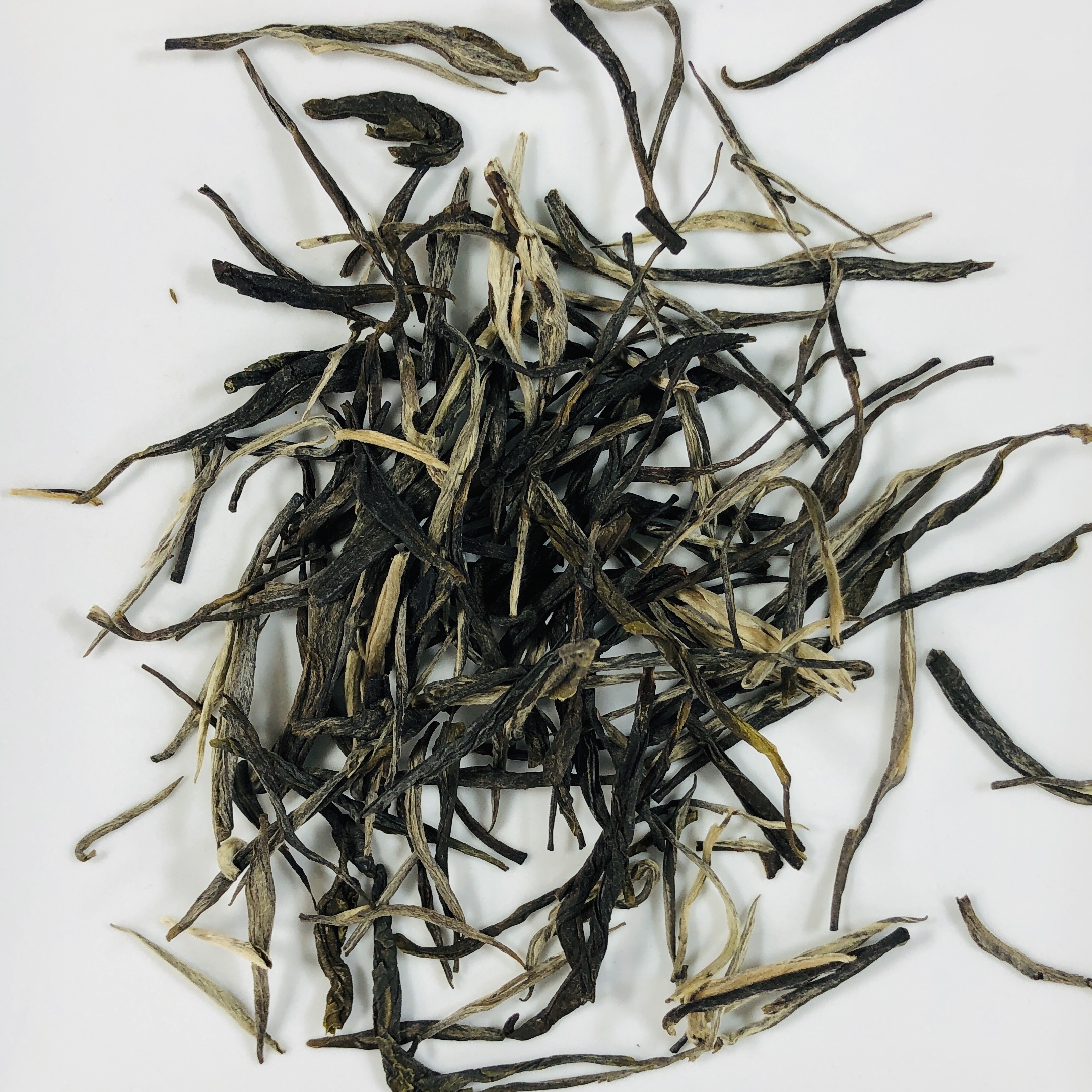 Again, it is hard to measure 1 teaspoon of this wiry tea, it ends up being closer to 1 tablespoon. I made sure to keep my water below boiling so the tea wouldn't turn out bitter. It was light in flavor, with a hint of vegetal notes (like a whiff of spinach or grass) mingled with the barest bit of pineapple. Very interesting, perfect for those who prefer their tea with more of an umami taste.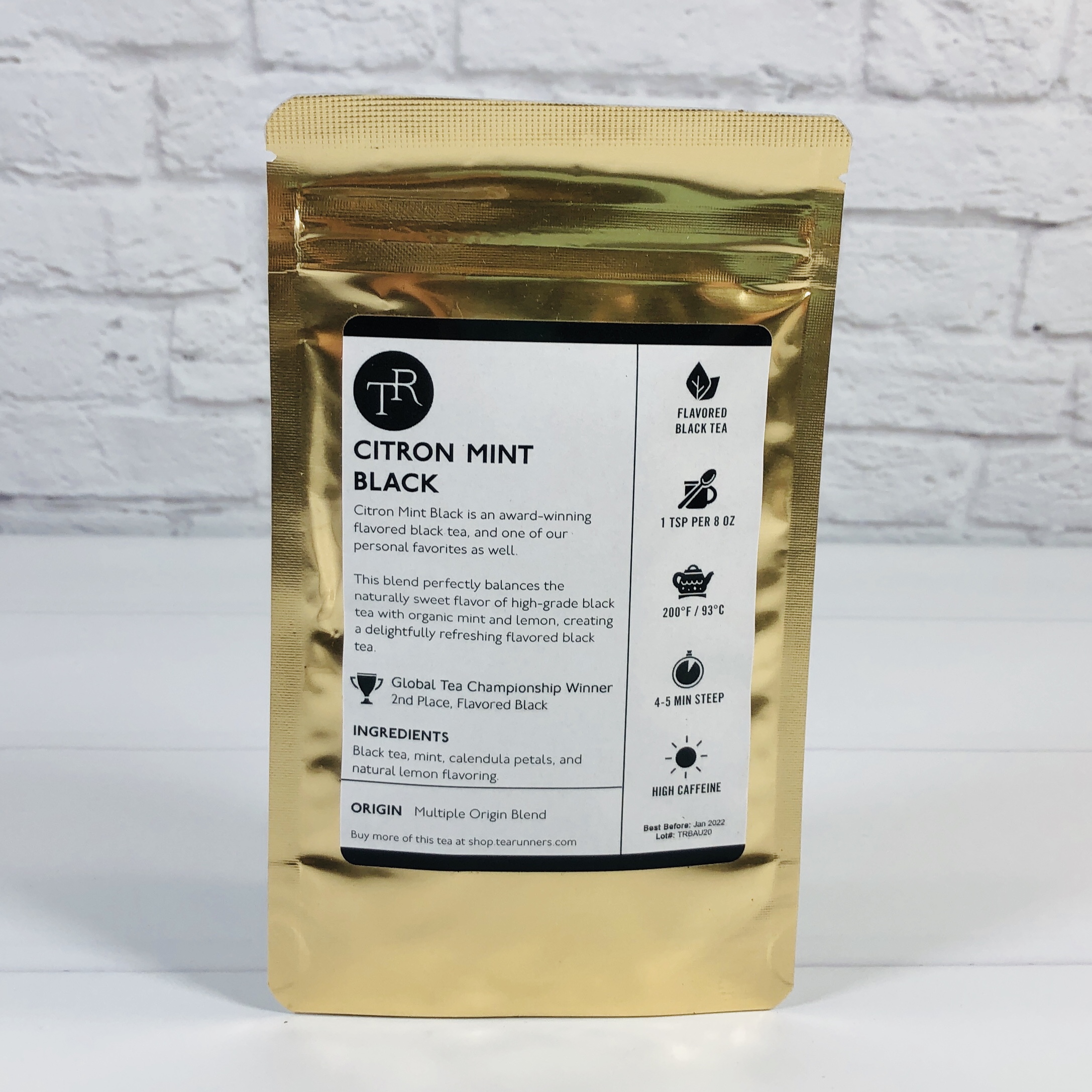 Citron Mint Black Usually when I drink black tea I add sugar and milk, but I skipped the milk because this tea didn't have that tannic bitterness and I don't want milk in a minty tea anyways!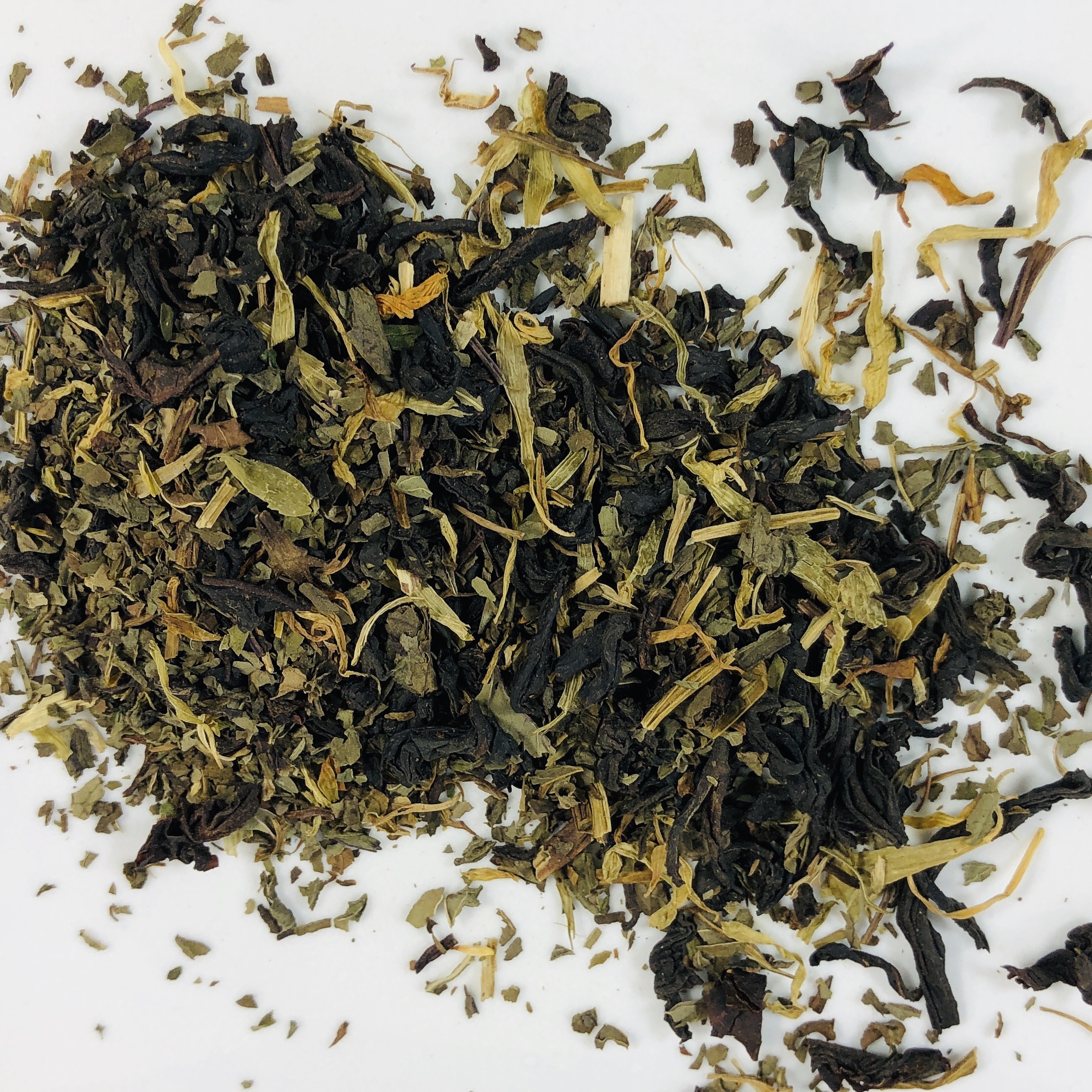 Yunnan black tea forms the base and mint, calendula, and lemon verbena provide the flavor. The mint hits me first, and this reminds me of a lovely mint black tea with a squeeze of lemon. I bet this would be especially nice iced.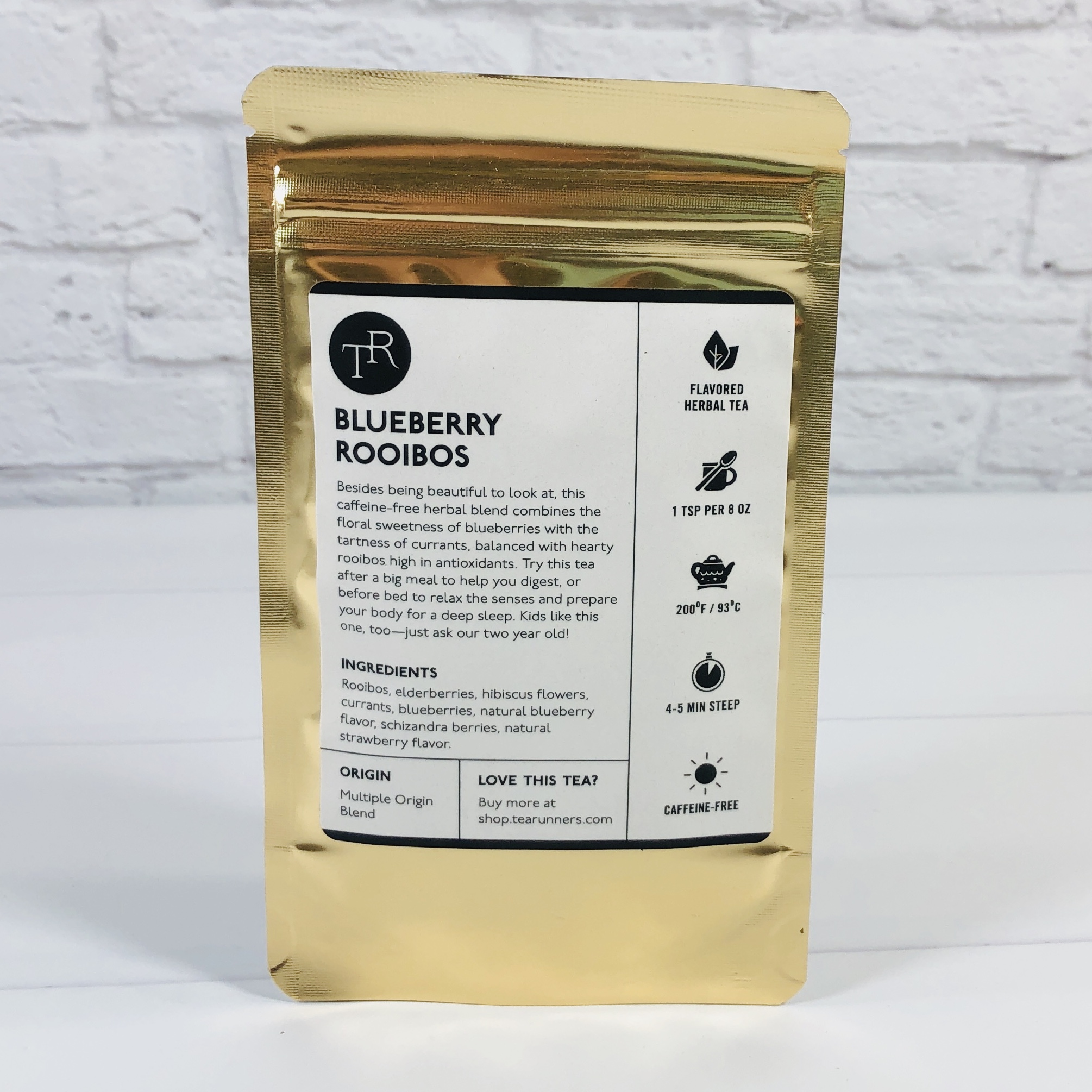 Blueberry Rooibos Rooibos makes for a strong tea-like base for an herbal tea – I think it makes it heartier than the usual floral based tisanes. This blend also contains blueberries, elderberries, and currants.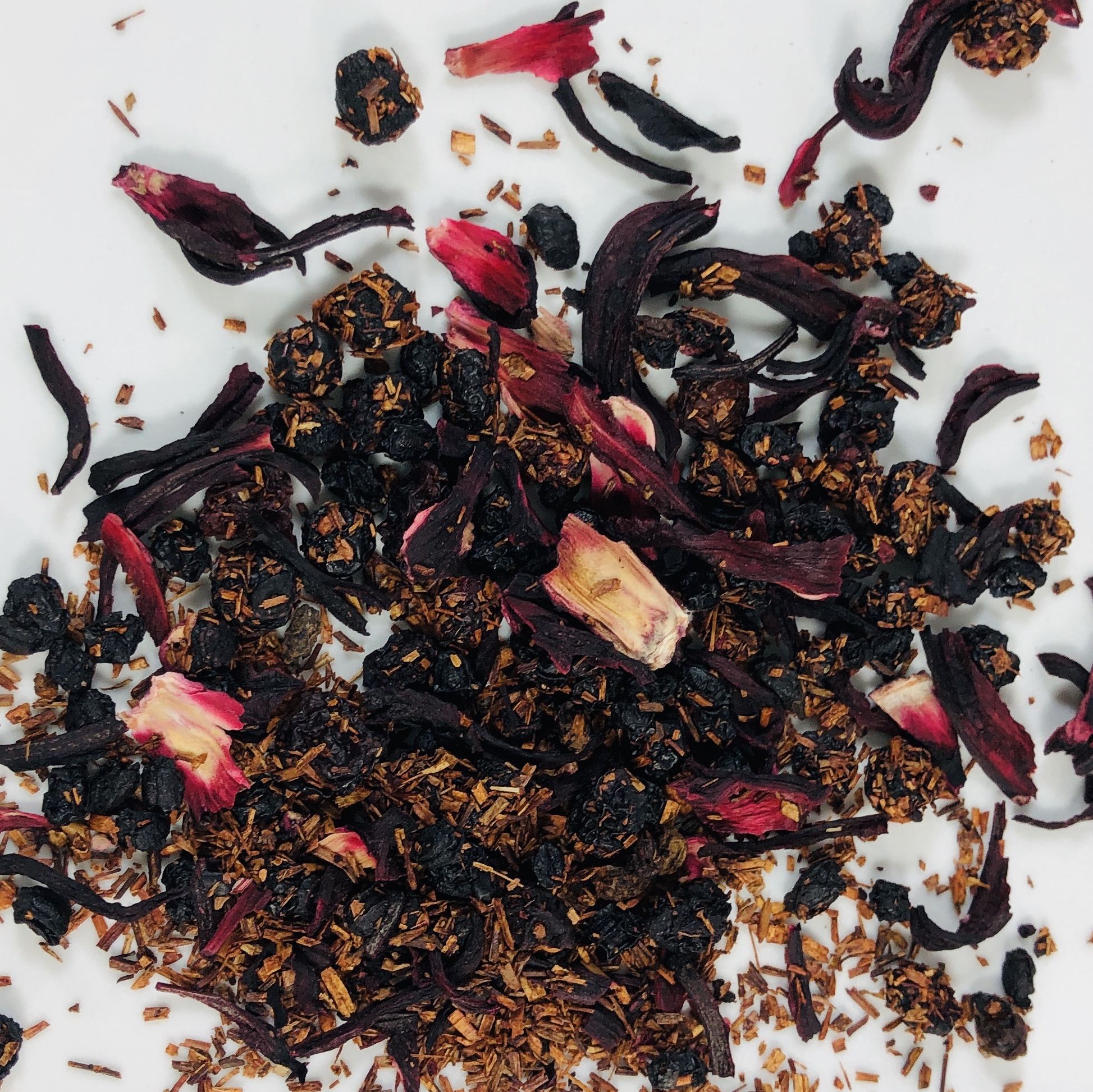 It turned out to be one of the best herbals I've ever enjoyed! I added sugar to tame the sourness from the hibiscus, which always gives me a cranberry juice sort of flavor. The berry flavor was strong, fruity, and floral and the rooibos gave this caffeine-free beverage a hearty mouthfeel, like drinking a full-bodied wine!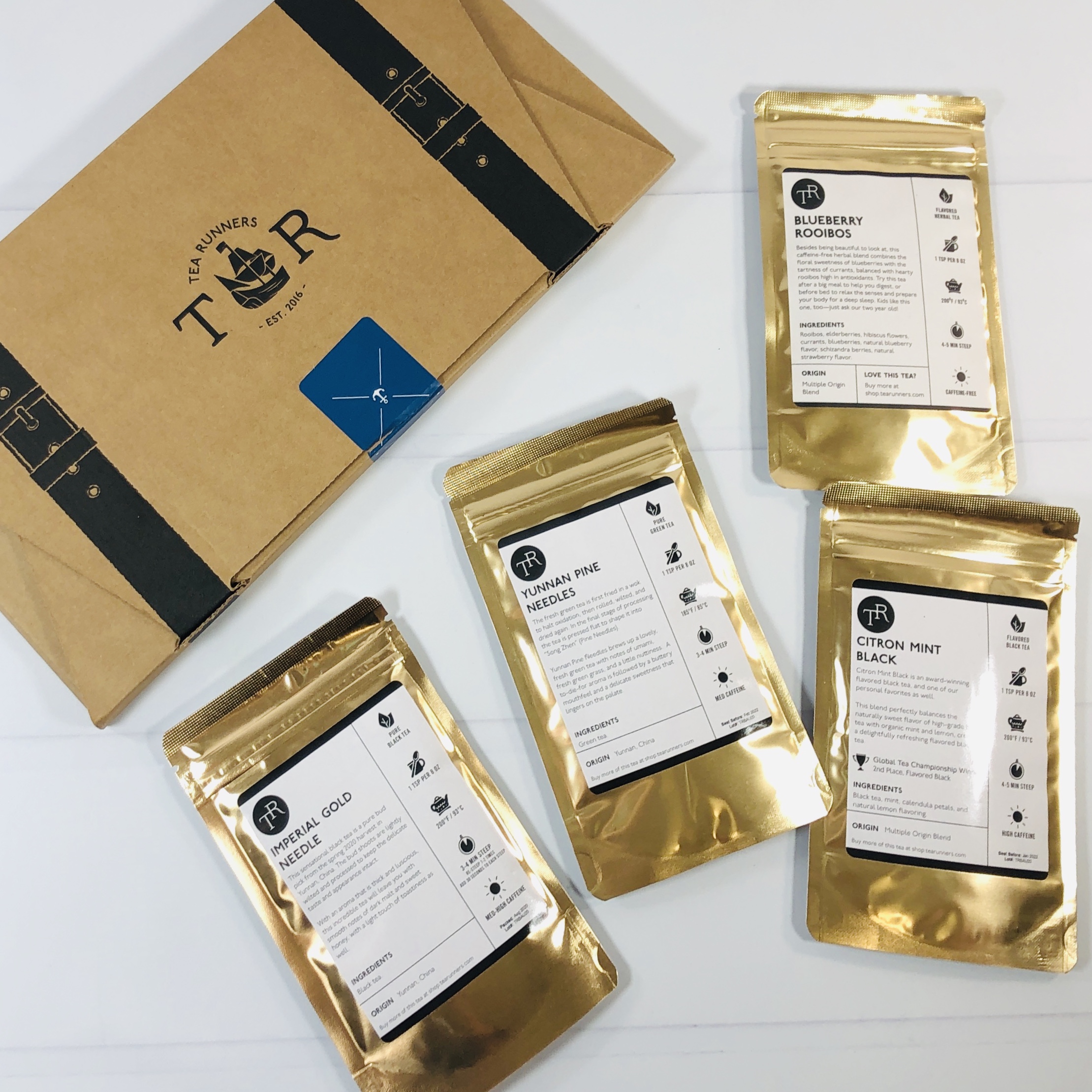 Tea Runners sent some unique and interesting flavors of tea, some I have never tried before! I got a kick out of the fact that two of the teas looked like the bottom of a forest floor! Citrus Mint was refreshing while Blueberry Rooibos turned out to be my favorite of the bunch. I really think it's cool that this subscription can be customized so that I can get more of the types of tea that I prefer, but no matter what you choose, you know it's going to be super tasty!
What do you think of Tea Runners? Let me know in the comments!