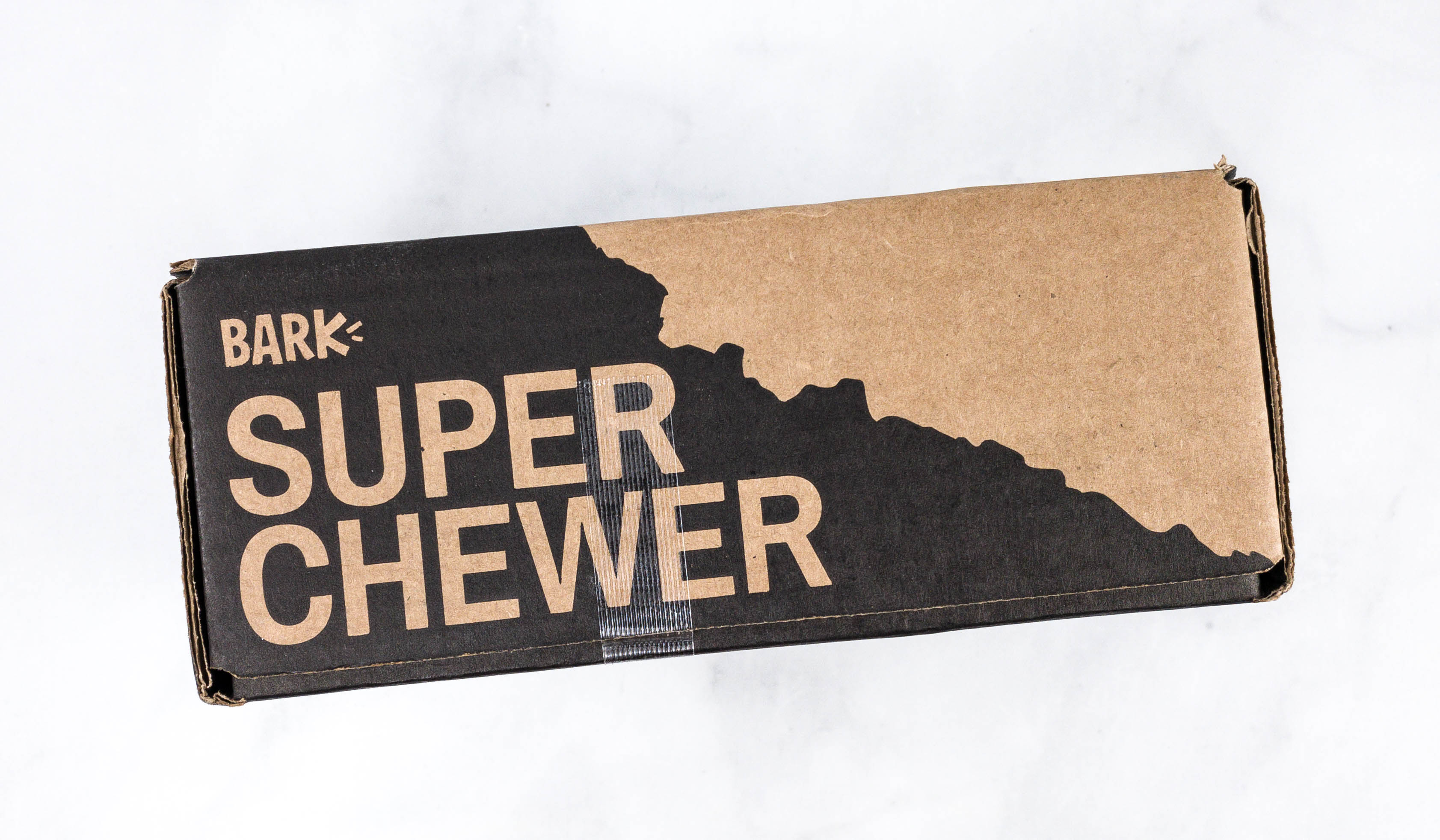 Super Chewer is a monthly subscription box for heavy chewer dogs. Each box is themed and includes 2 fluff-free toys, 2 full-sized bags of treats which are made either in the USA or Canada, plus 2 all-natural chews. A month-to-month plan is $39. It goes down to $34 per month for a 6-month plan, and $29 per month if you subscribe to a 12-month plan.
DEAL: Get 50% off on your first box on a 6+ month subscription! No coupon needed, just use this link to subscribe. OR when you subscribe to a 6- or 12-month SUPER CHEWER plan get FREE Extra month of BarkBox SUPER CHEWER!
LIMITED TIME: Use this link to get your first box made into a FREE double deluxe from BarkBox SUPER CHEWER when you purchase a 6- or 12-month subscription. Ends 9/20.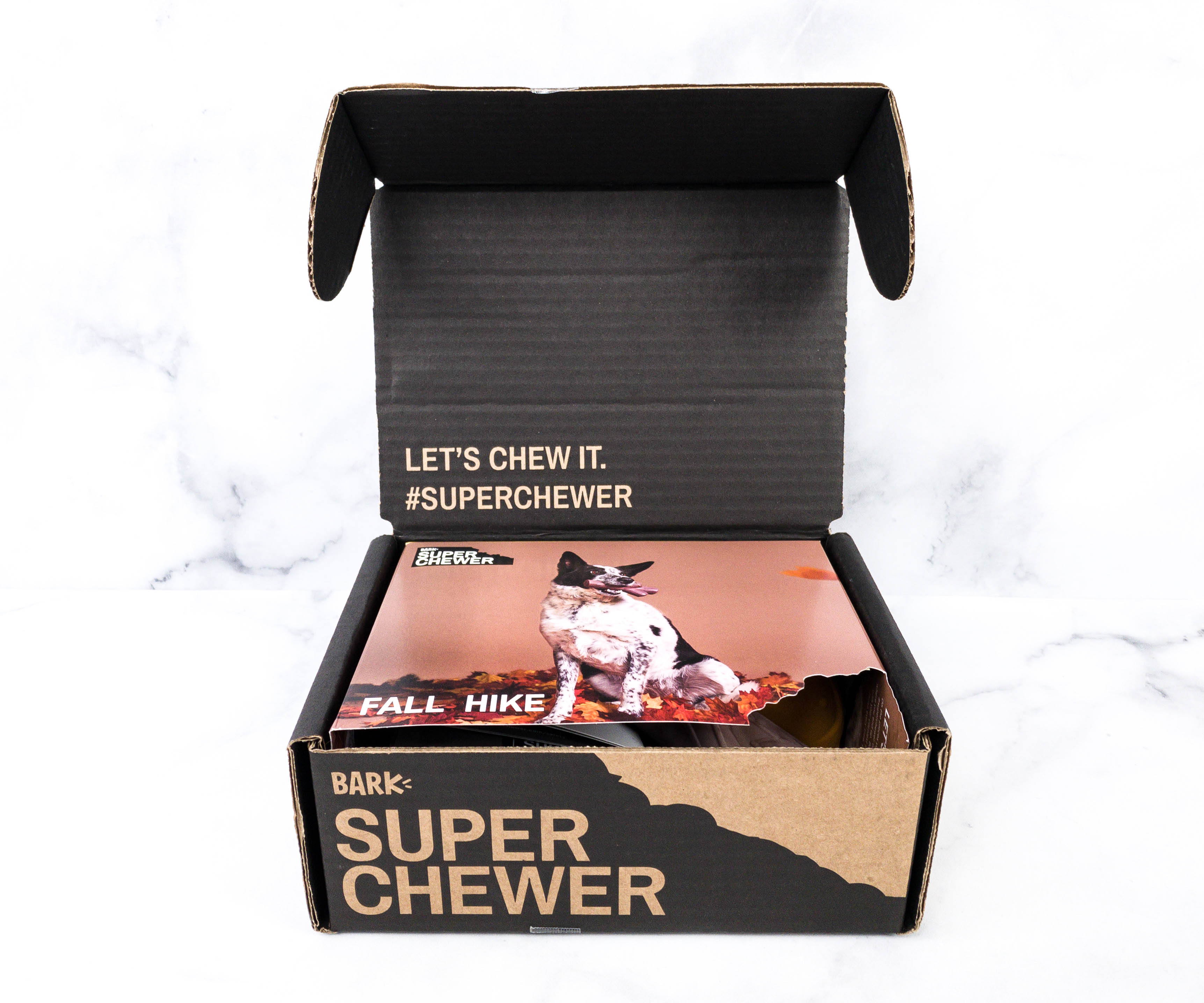 Super Chewer will replace a toy for free if your dog defeats it!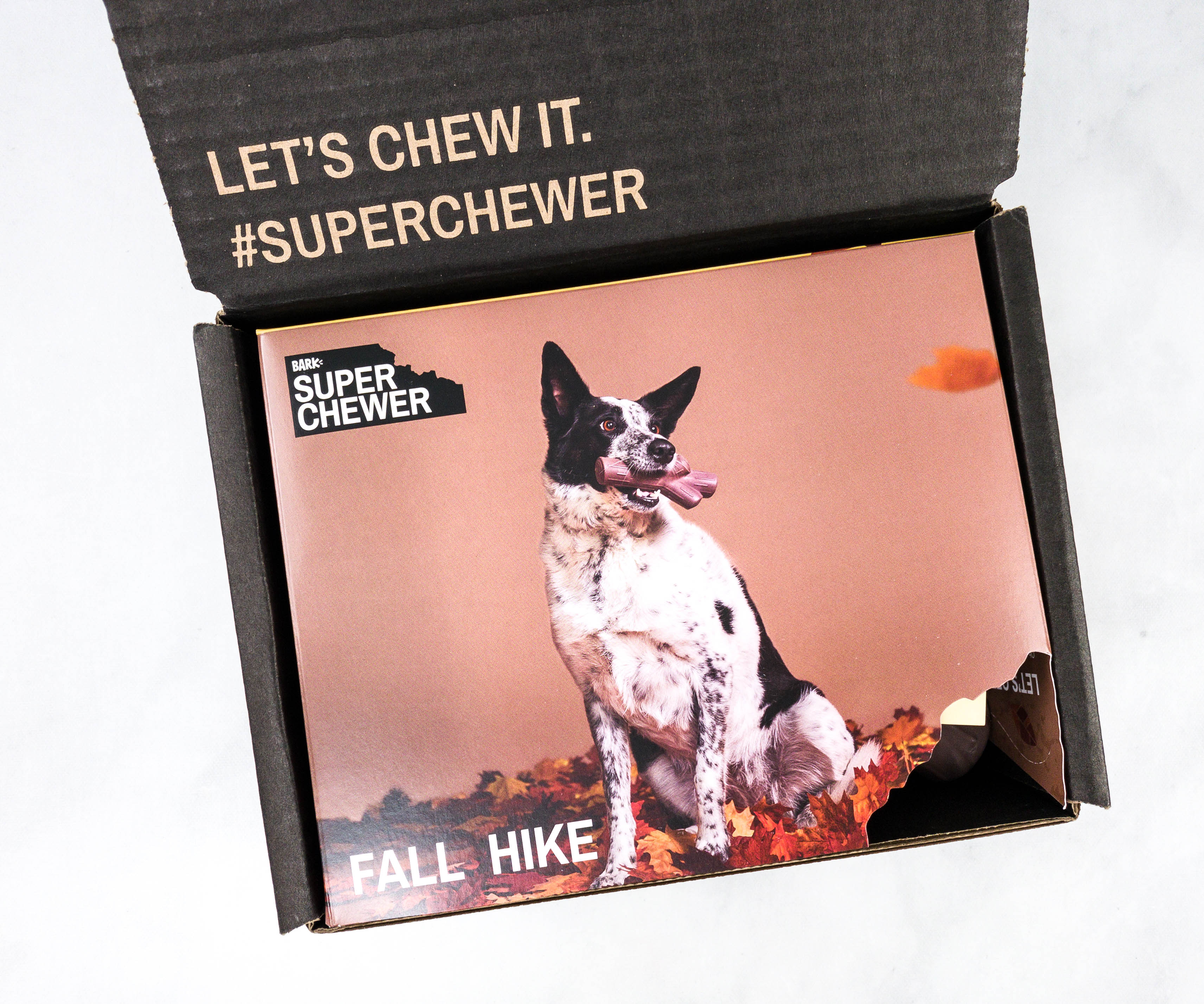 The September 2020 Super Chewer theme is Fall Hike!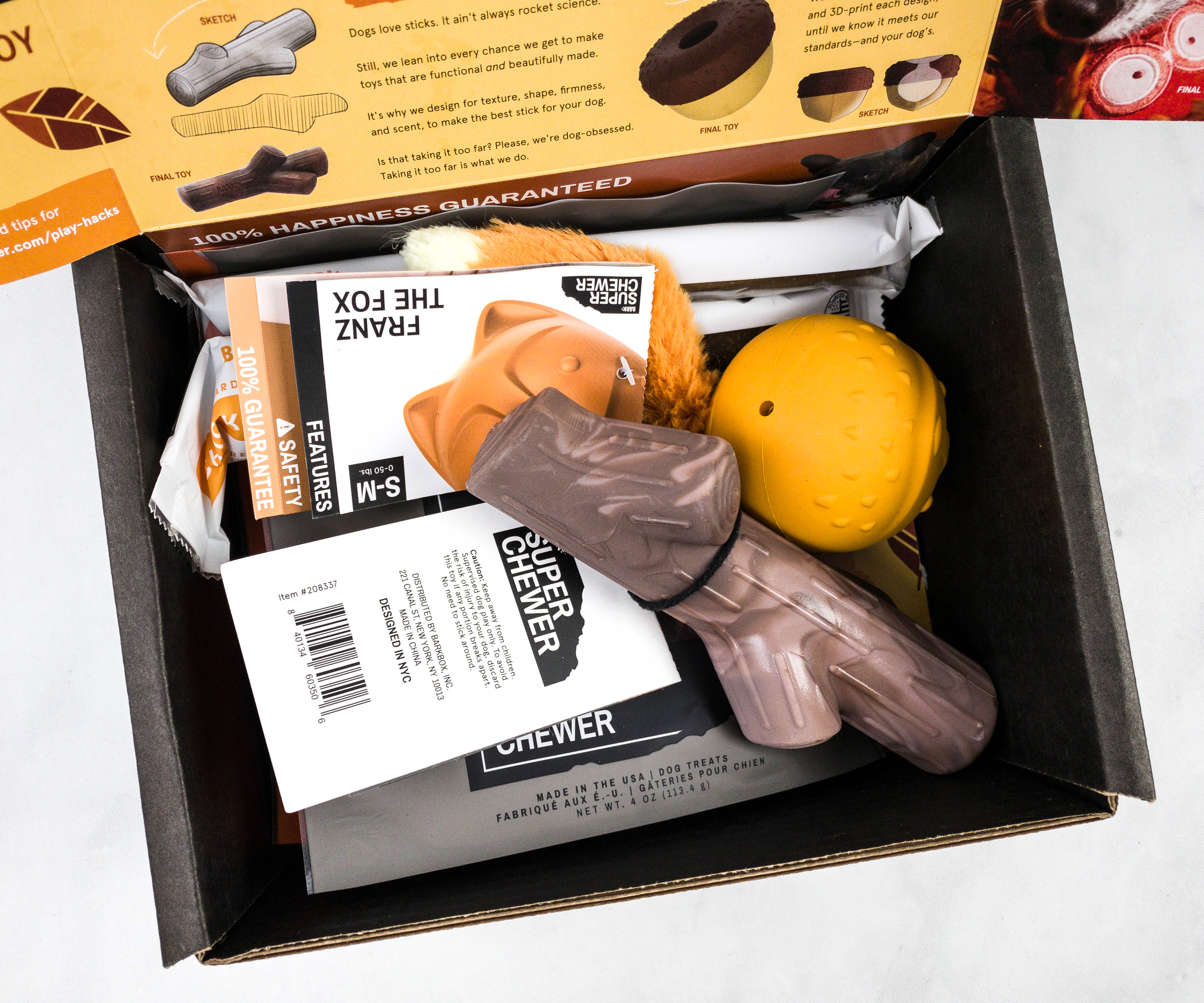 The box doesn't contain any extra packaging or fillers but the items still arrived in great condition.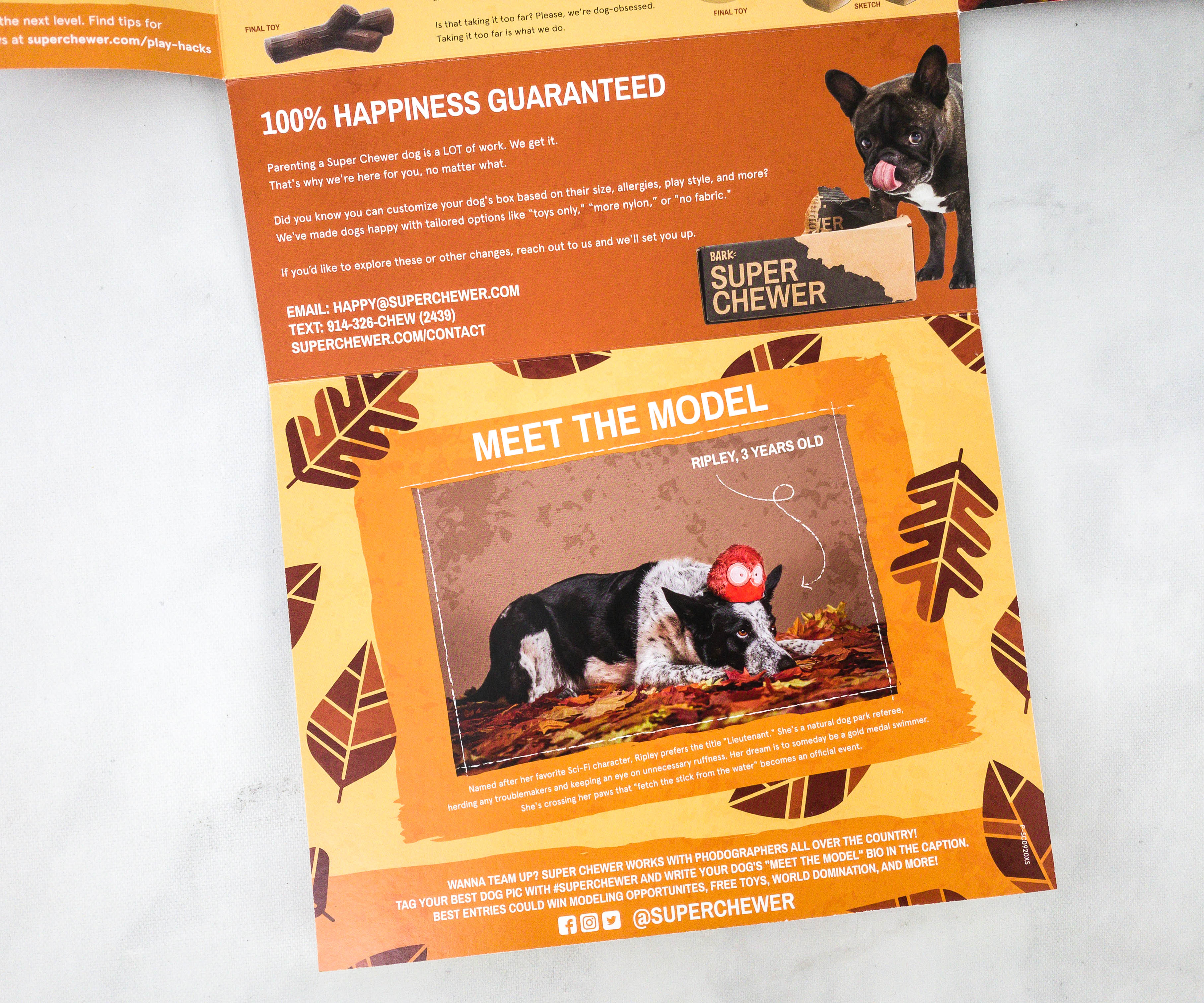 One of the inner flaps features photos of this month's dog model, Ripley!
Also printed inside the flap of the box are some of the items that might be included in this month's box!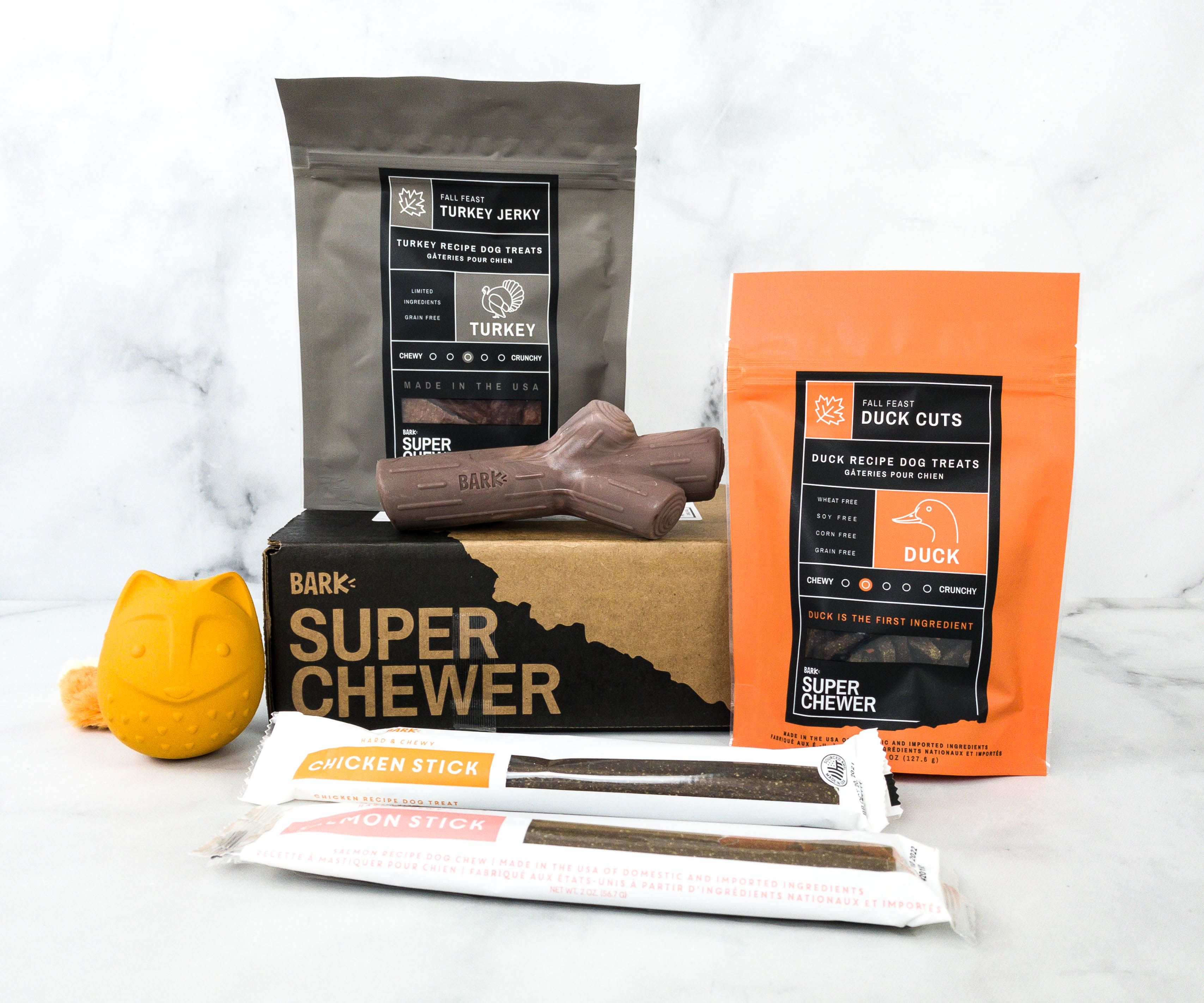 Here are all the items in our September 2020 Super Chewer Box!
This month's box includes a card from Super Chewer.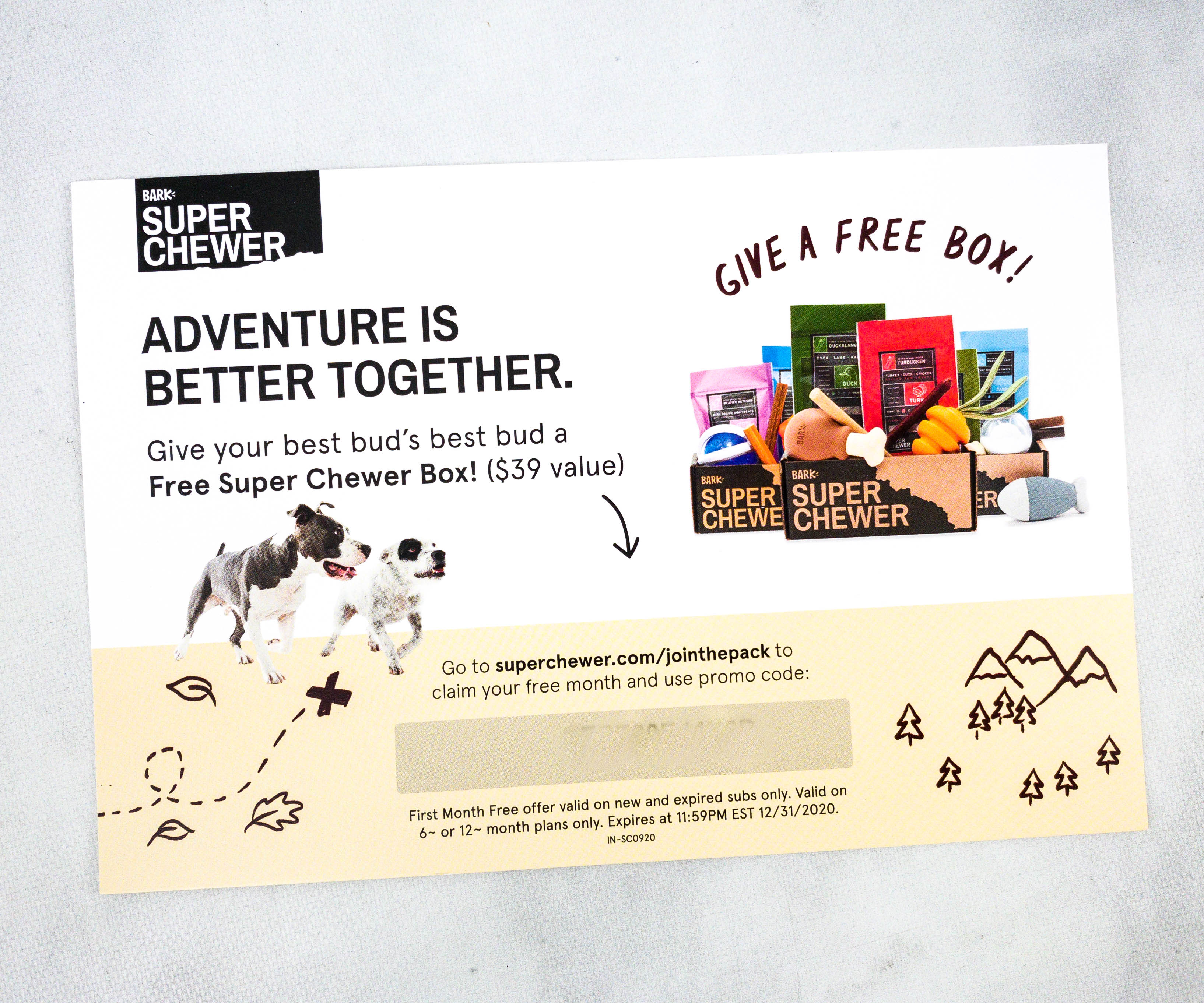 There's a coupon code for a free Super Chewer box at the back of the card!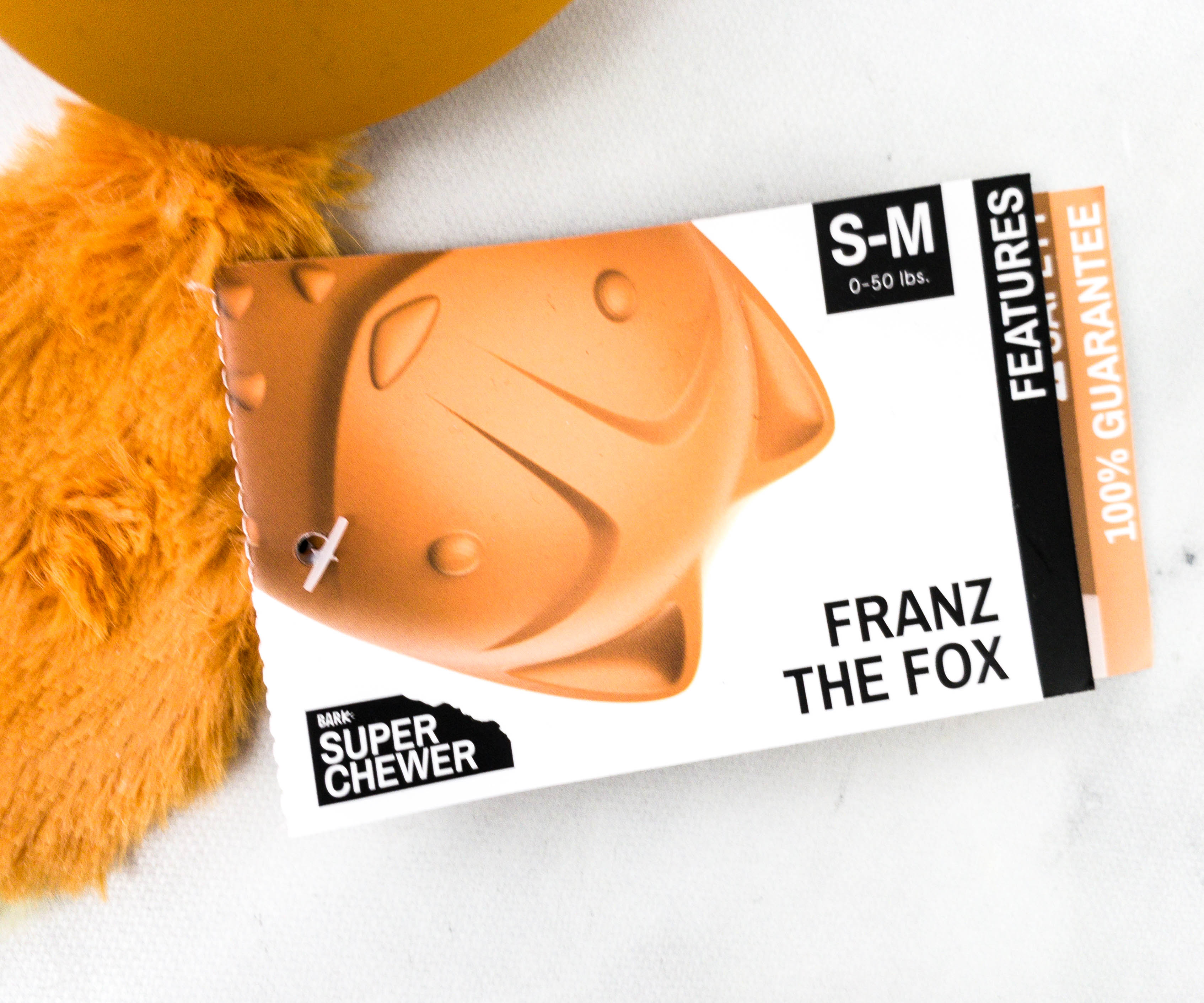 Franz The Fox Dog Toy. The first toy we received is named Franz The Fox! It's a cute fox toy designed for small-sized dogs that weigh 0-50 lbs.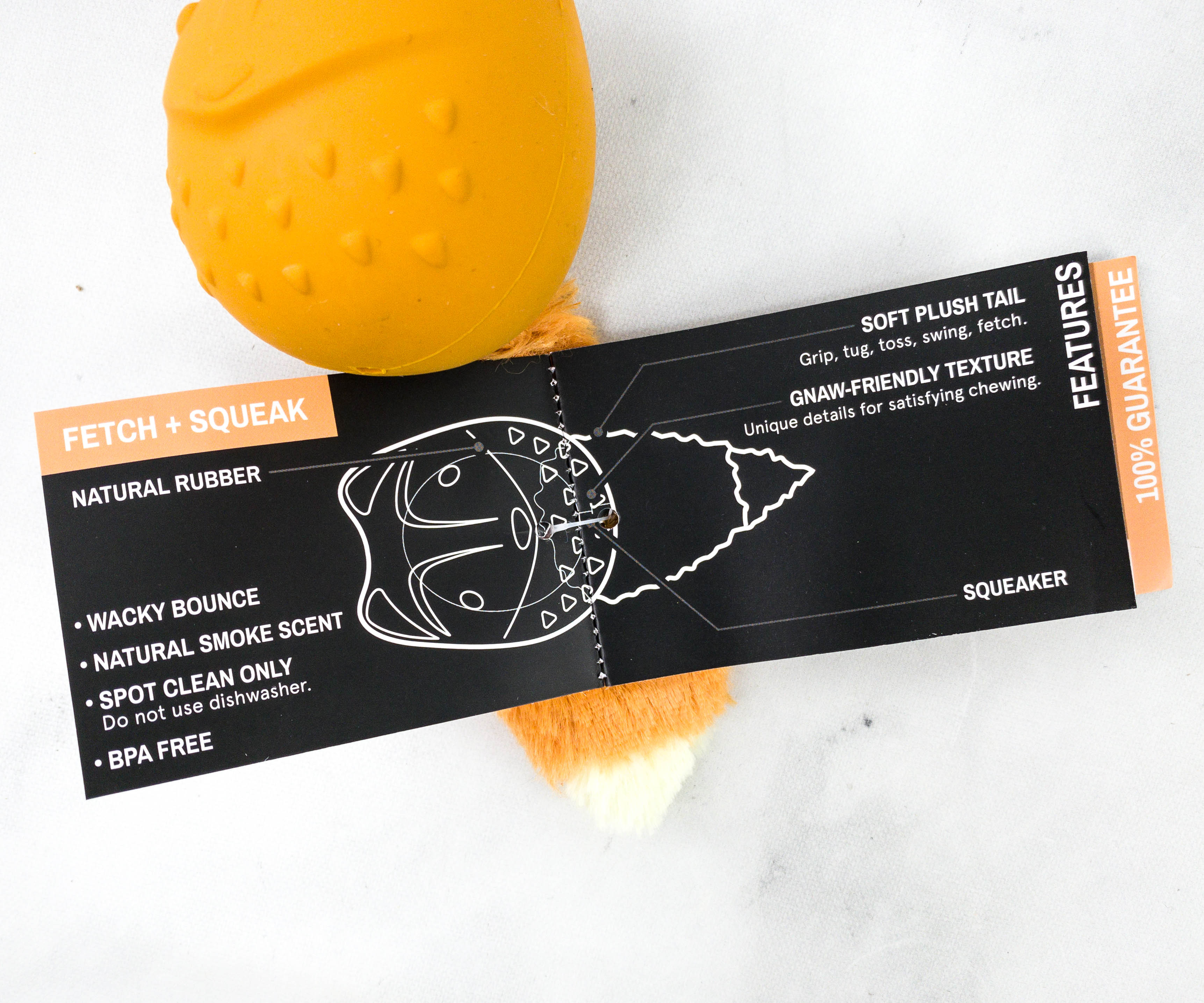 The toy comes with a mini-booklet that contains all the information you need to know about the product.
Franz The Fox is a squeaker toy made from BPA-free, natural rubber with an orange base color, gnaw-friendly texture, and natural smoke scent. What makes it more interesting for dogs is its wacky bounce!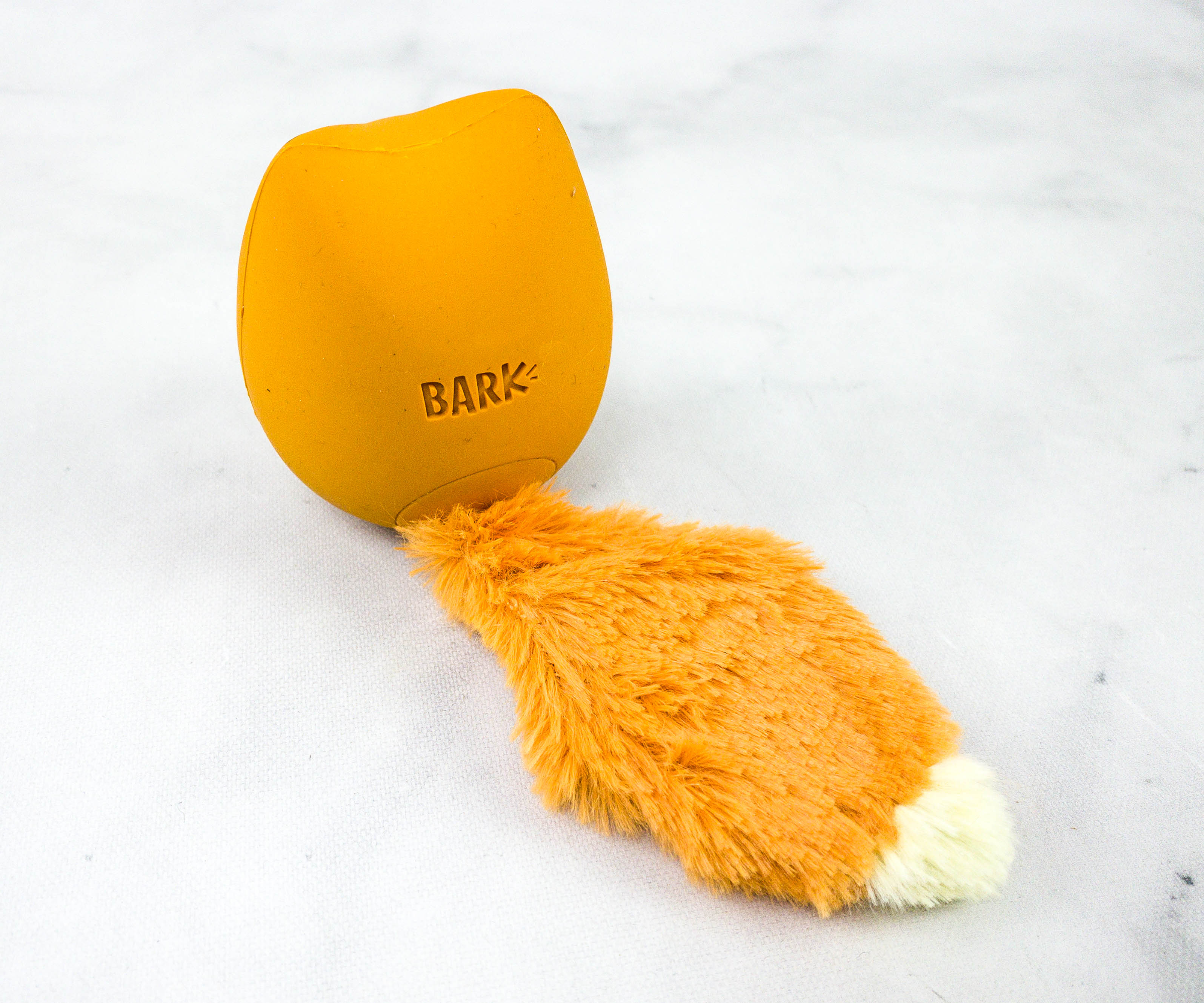 This toy also comes with a super soft and furry plush tail which you can use to play tug of war. This toy is also ideal for tossing or for a game of fetch with your pups!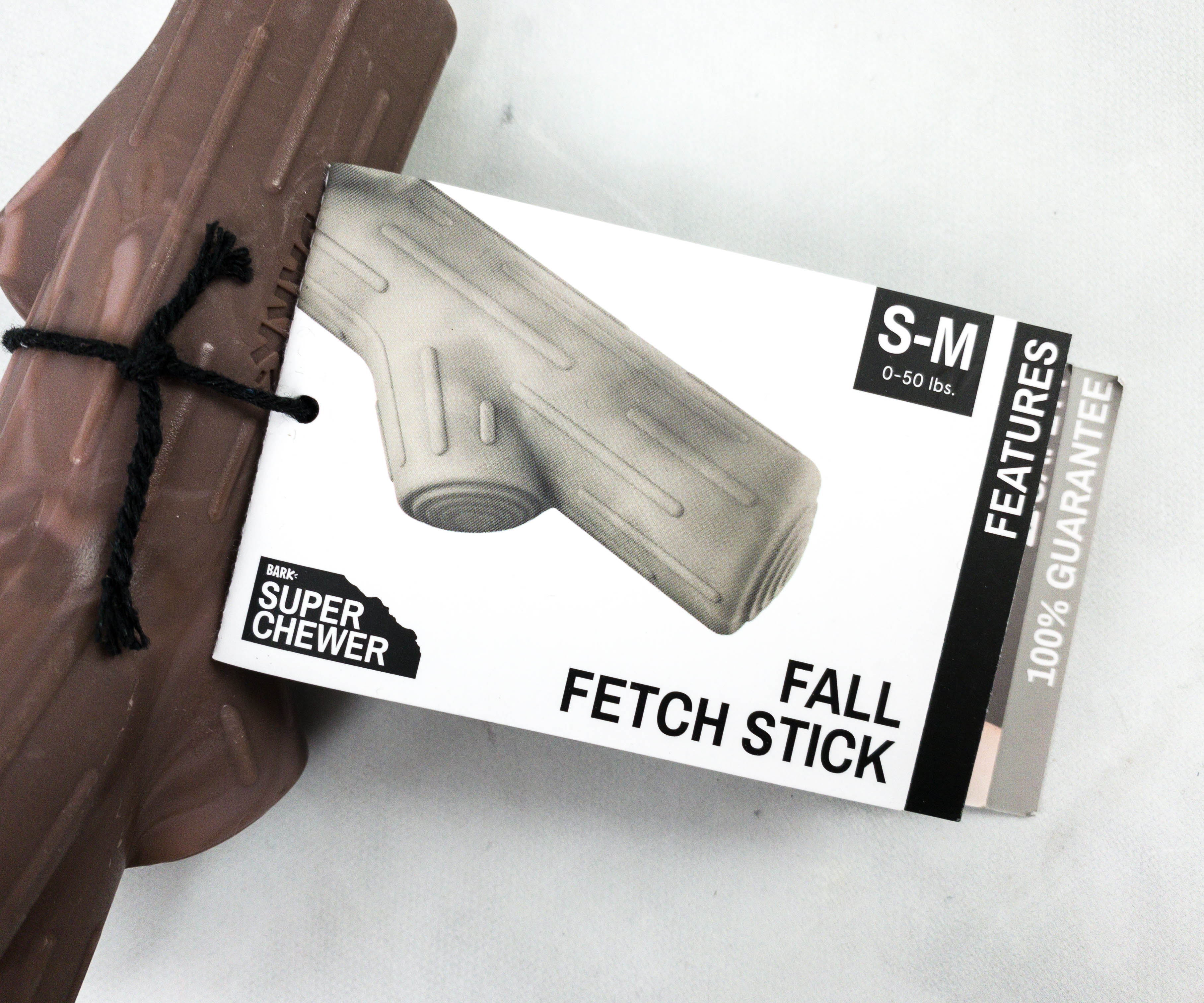 Fall Fetch Stick Dog Toy. Here's another fun toy for heavy chewers, a fetch stick made from solid nylon. It's designed for small to medium-sized pups!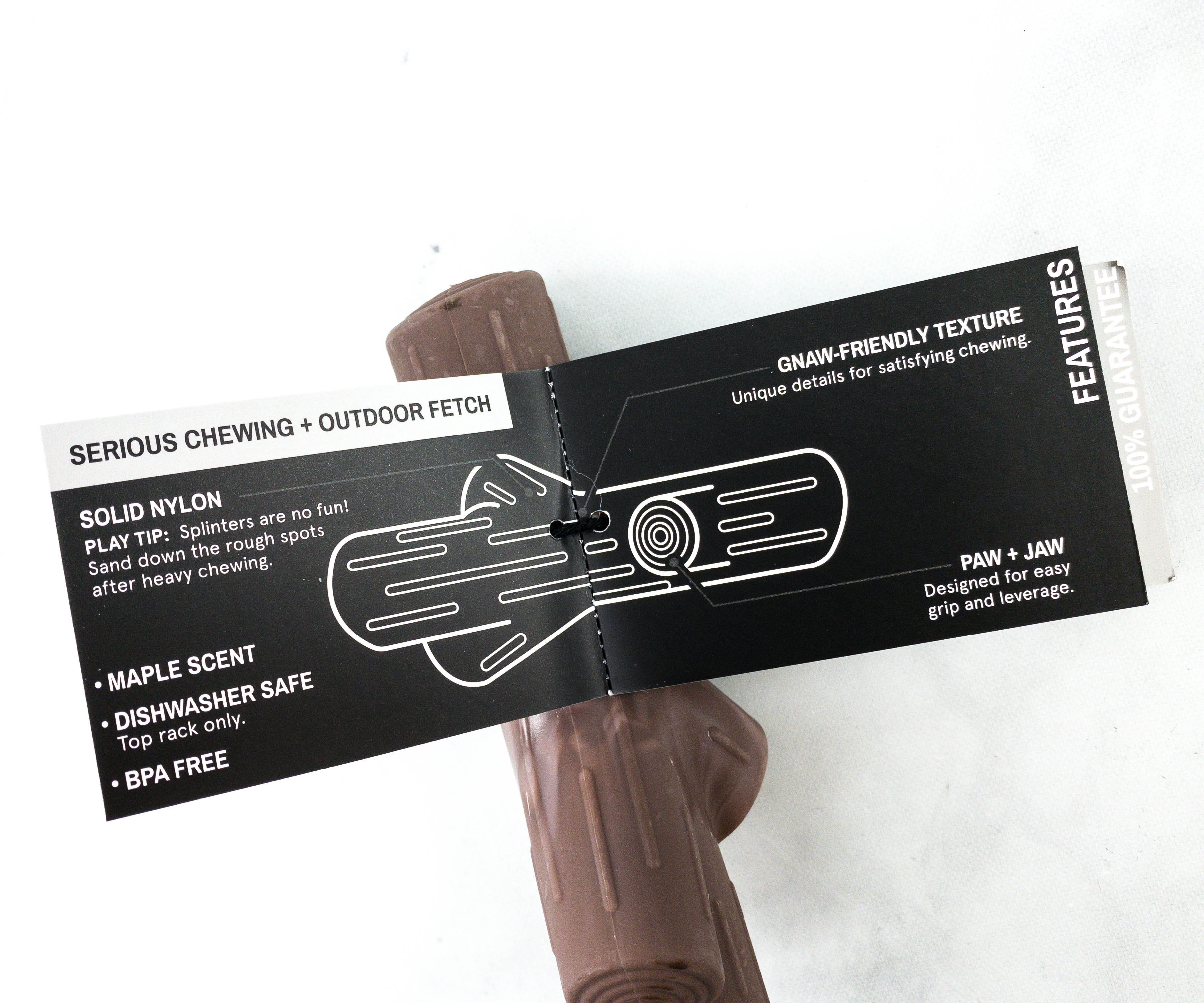 This toy also comes with a mini-booklet. According to it, this toy is ideal for serious chewing and outdoor fetch. They also included a play tip:
Splinters are no fun! Sand down the rough spots after heavy chewing.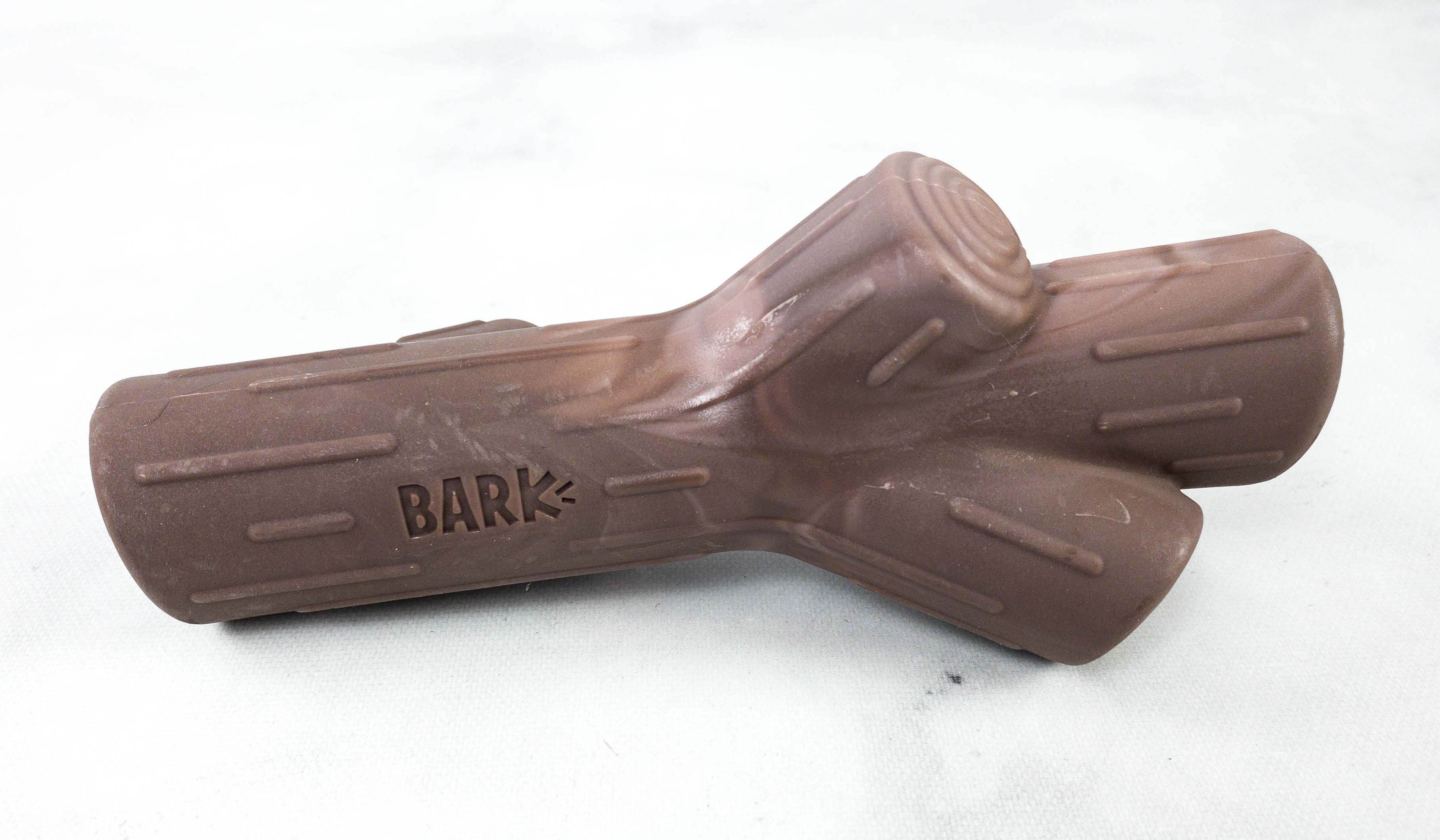 The material used for this toy is BPA-free and dishwasher safe. It also features a strong maple scent and unique texture for a satisfying chewing experience!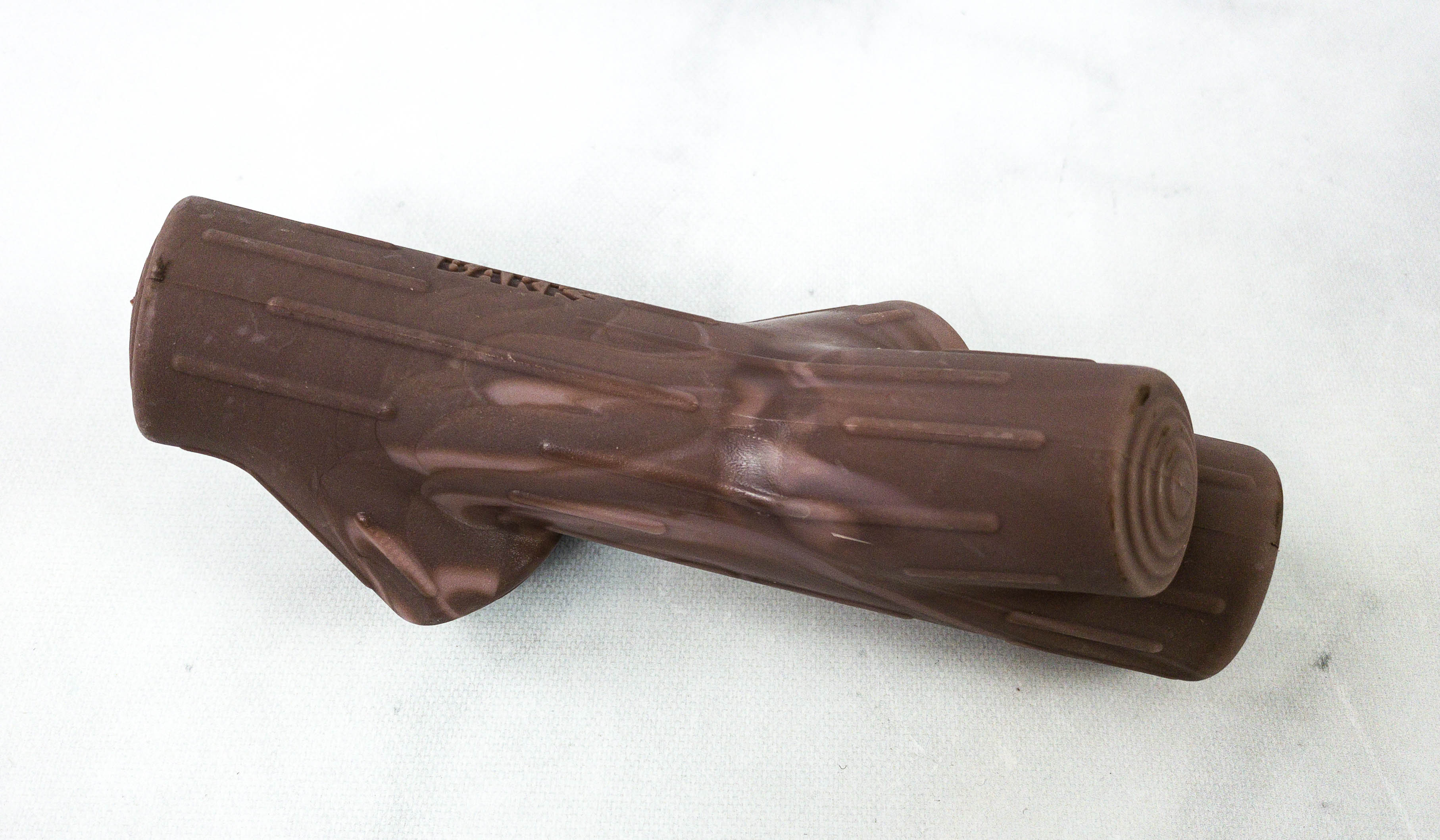 This stick also comes with a number of branches that your dog can use for an easier grip and leverage.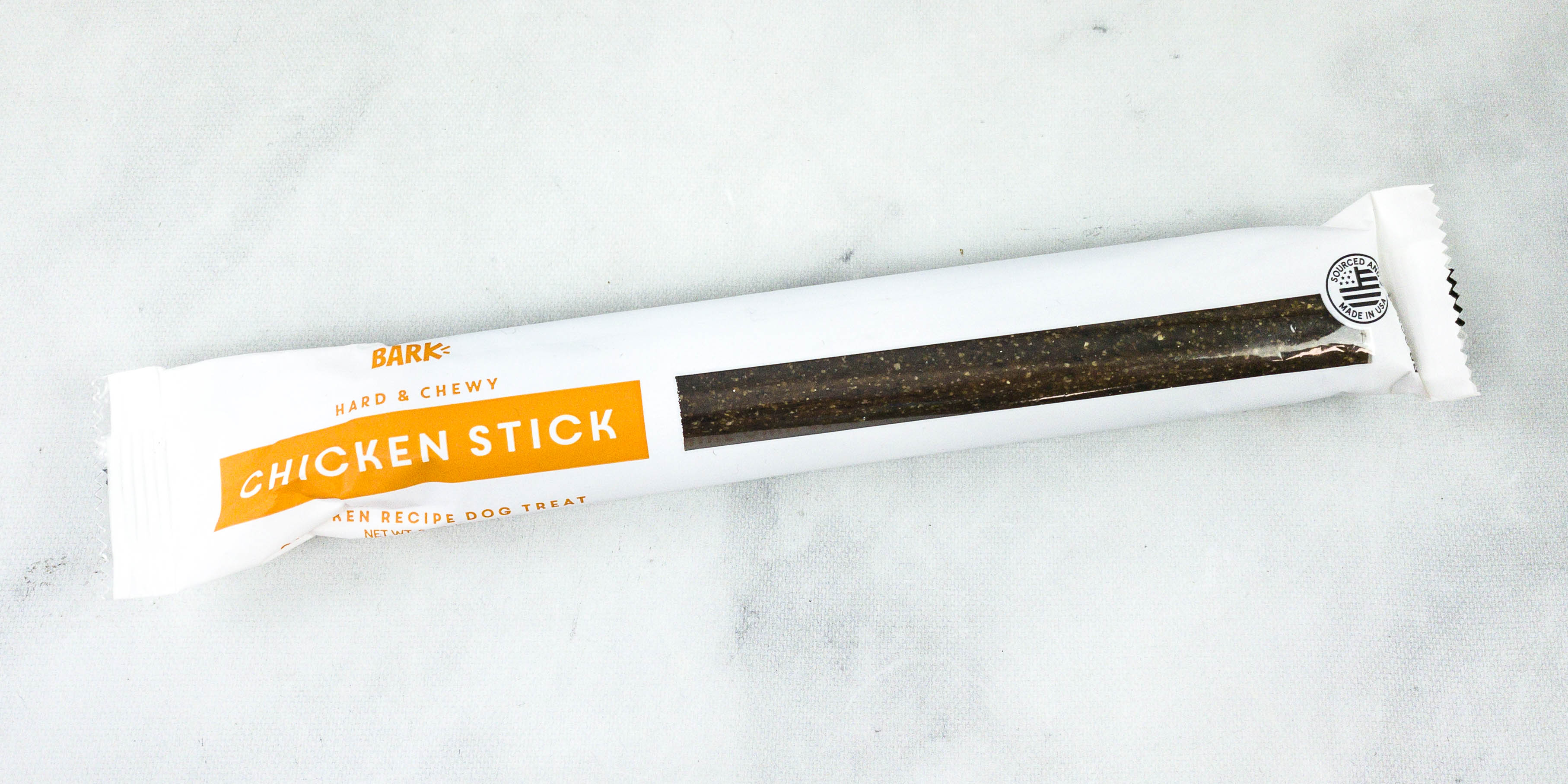 Chicken Stick Chicken Recipe Dog Treat. This month's box includes a pair of stick treats for dogs. The first one is chicken-flavored and it's rich in protein that dogs need to maintain their health!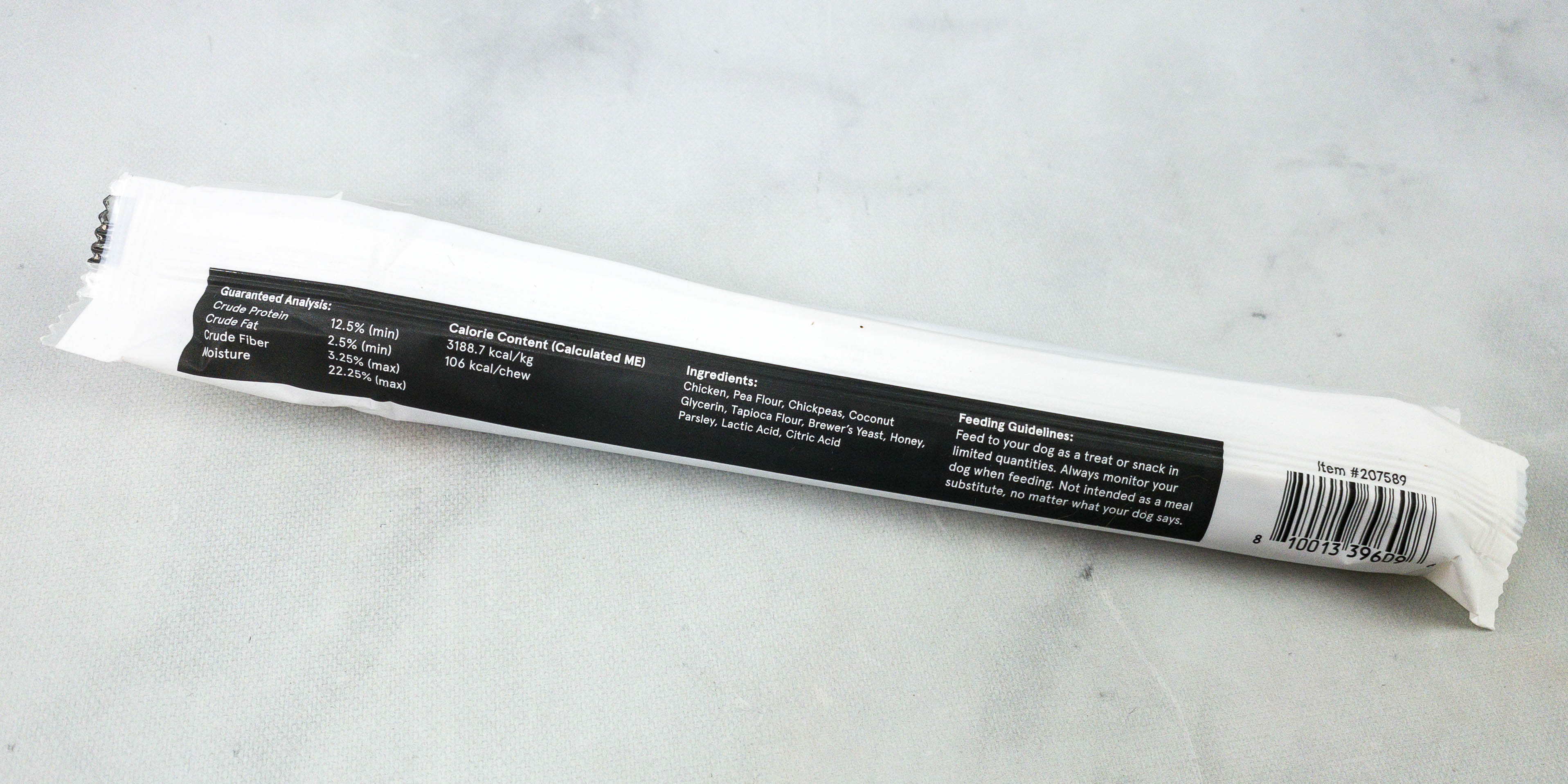 Aside from real chicken, it also contains pea flour, chickpeas, coconut glycerin, tapioca flour, honey, parsley, lactic acid, and citric acid. According to the feeding guidelines, you can give this to your dog as a treat or snack in limited quantities. It's not a substitute for any regular meal.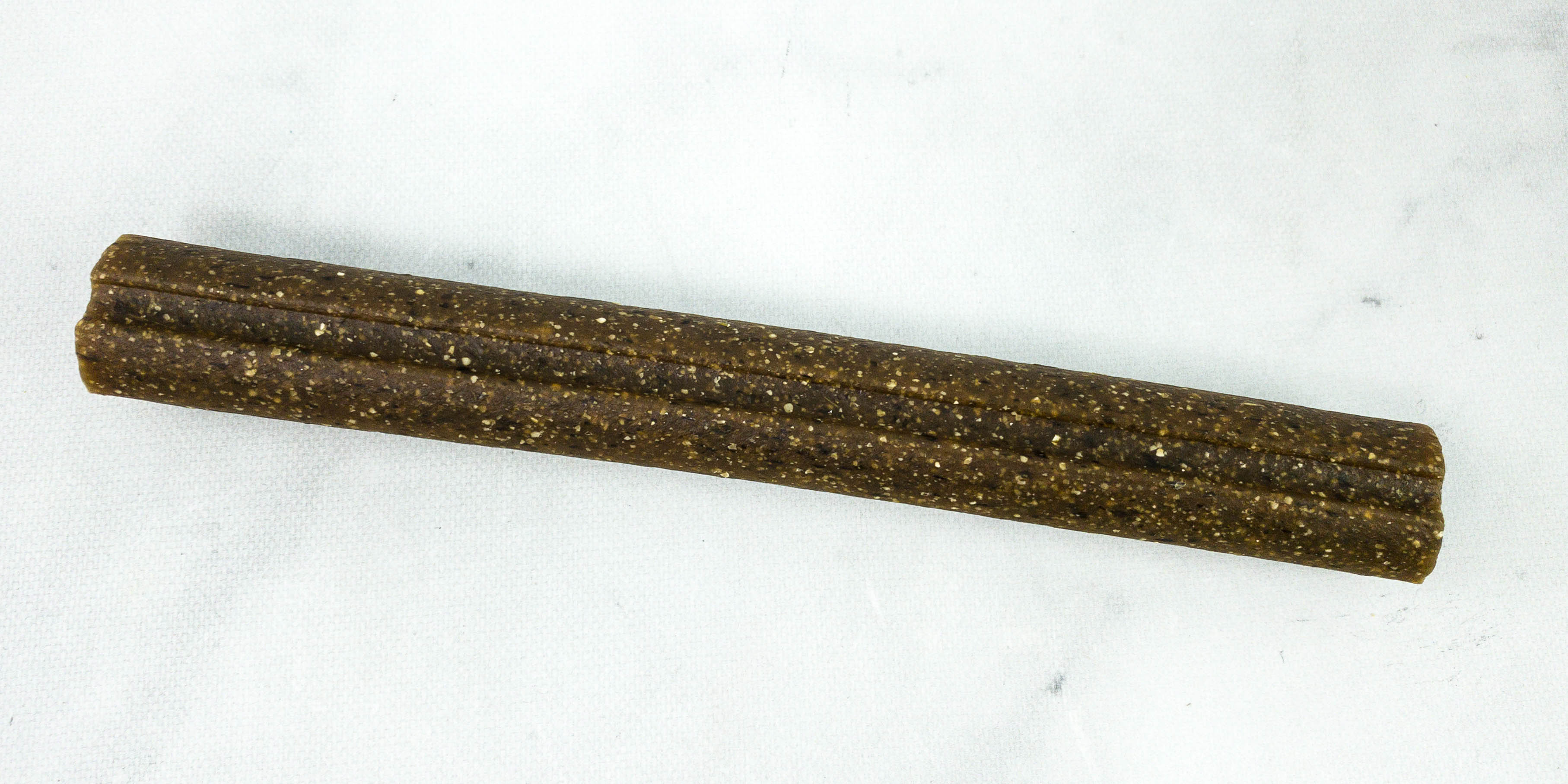 The snack stick is thick, hard, and chewy, making it an ideal treat or snack for heavy chewers.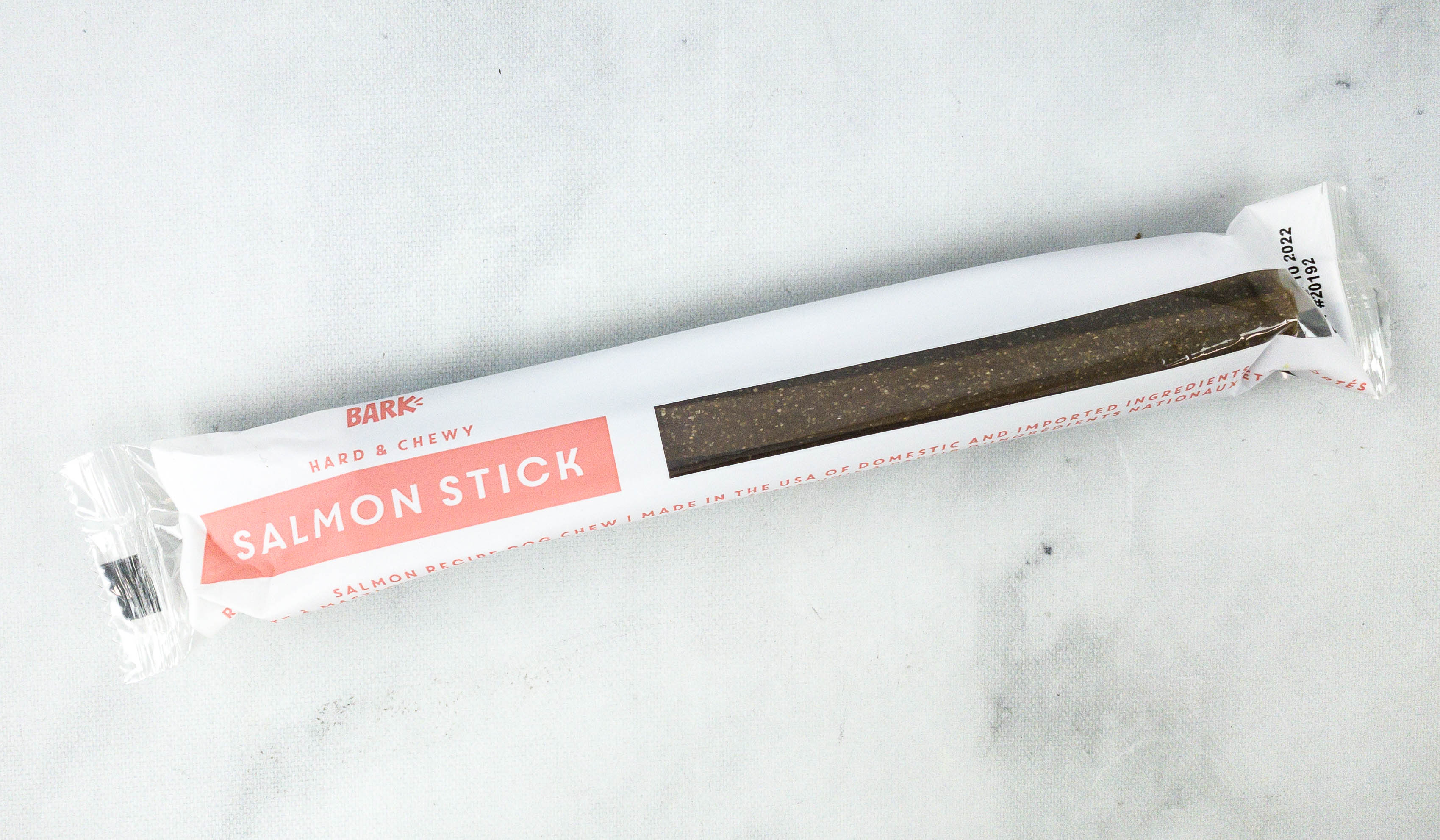 Salmon Stick Salmon Recipe Dog Toy. The second stick is salmon-flavored! It's packed with omega 3 fatty acids from salmon which supports a dog's immune system.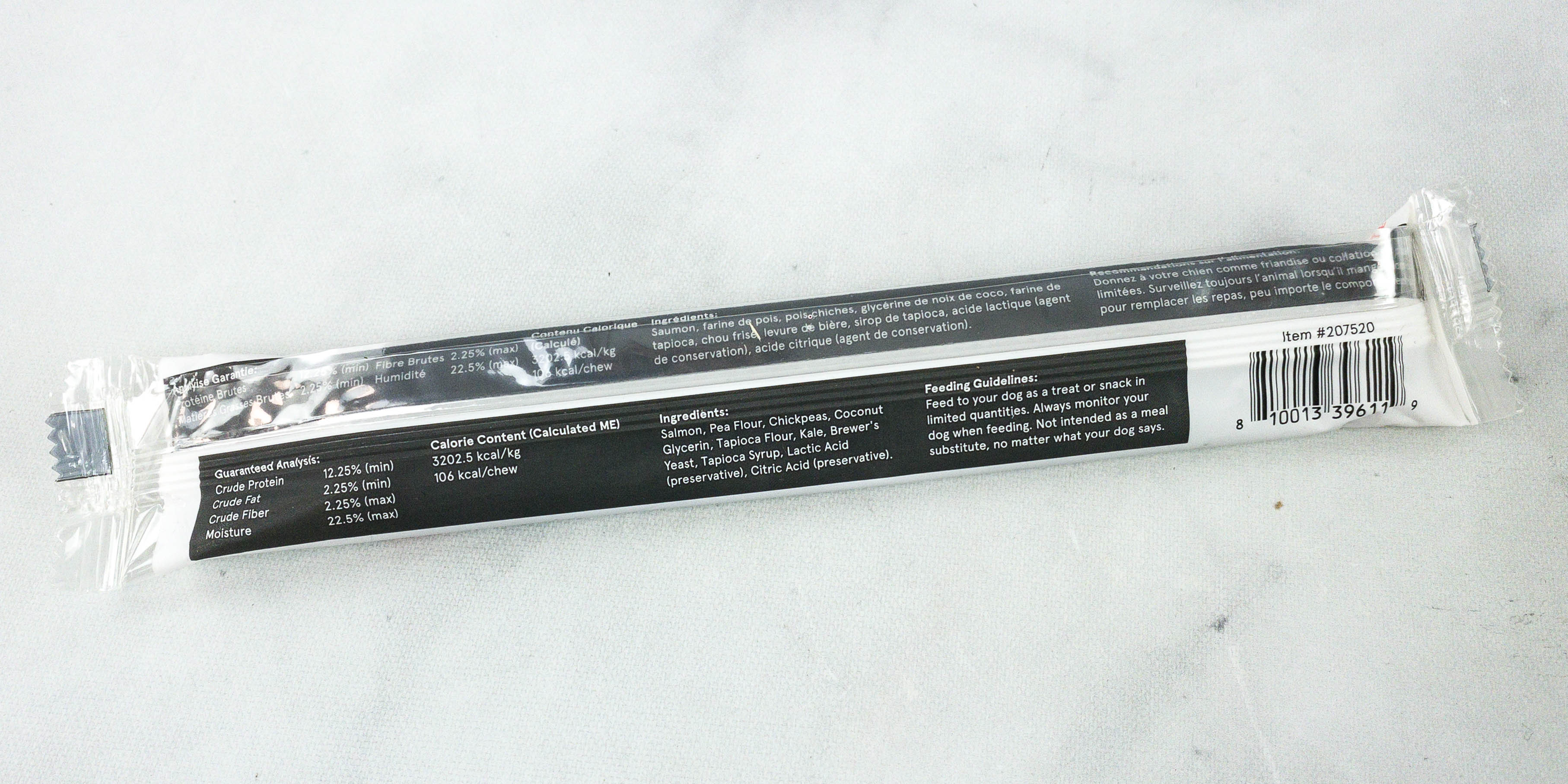 Aside from salmon, it contains chickpeas, coconut glycerin, tapioca flour, kale, brewer's yeast, and tapioca syrup.
It has a nice texture and, just like the first stick, it's also hard and chewy!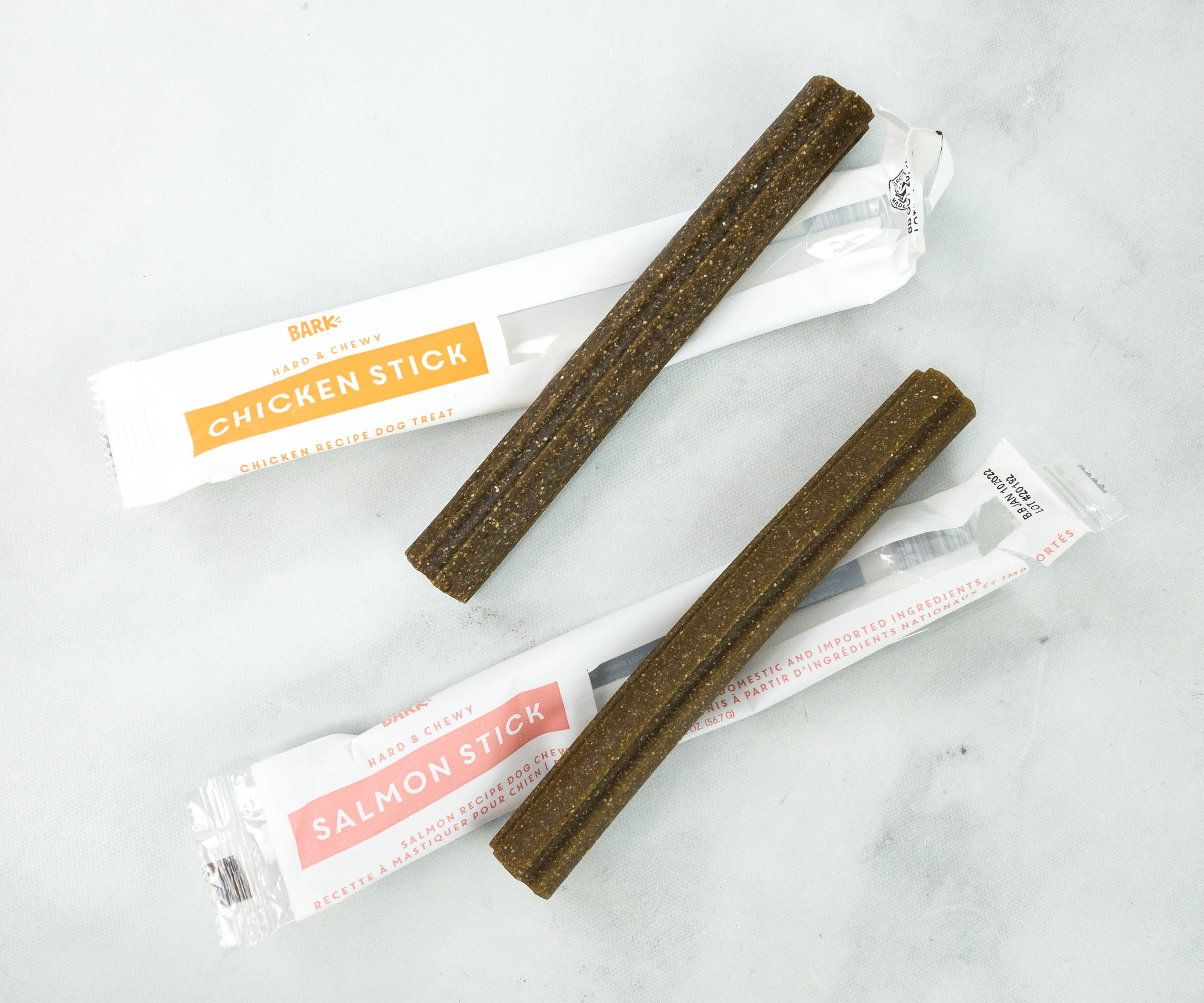 You can serve these sticks as is or break them into smaller pieces!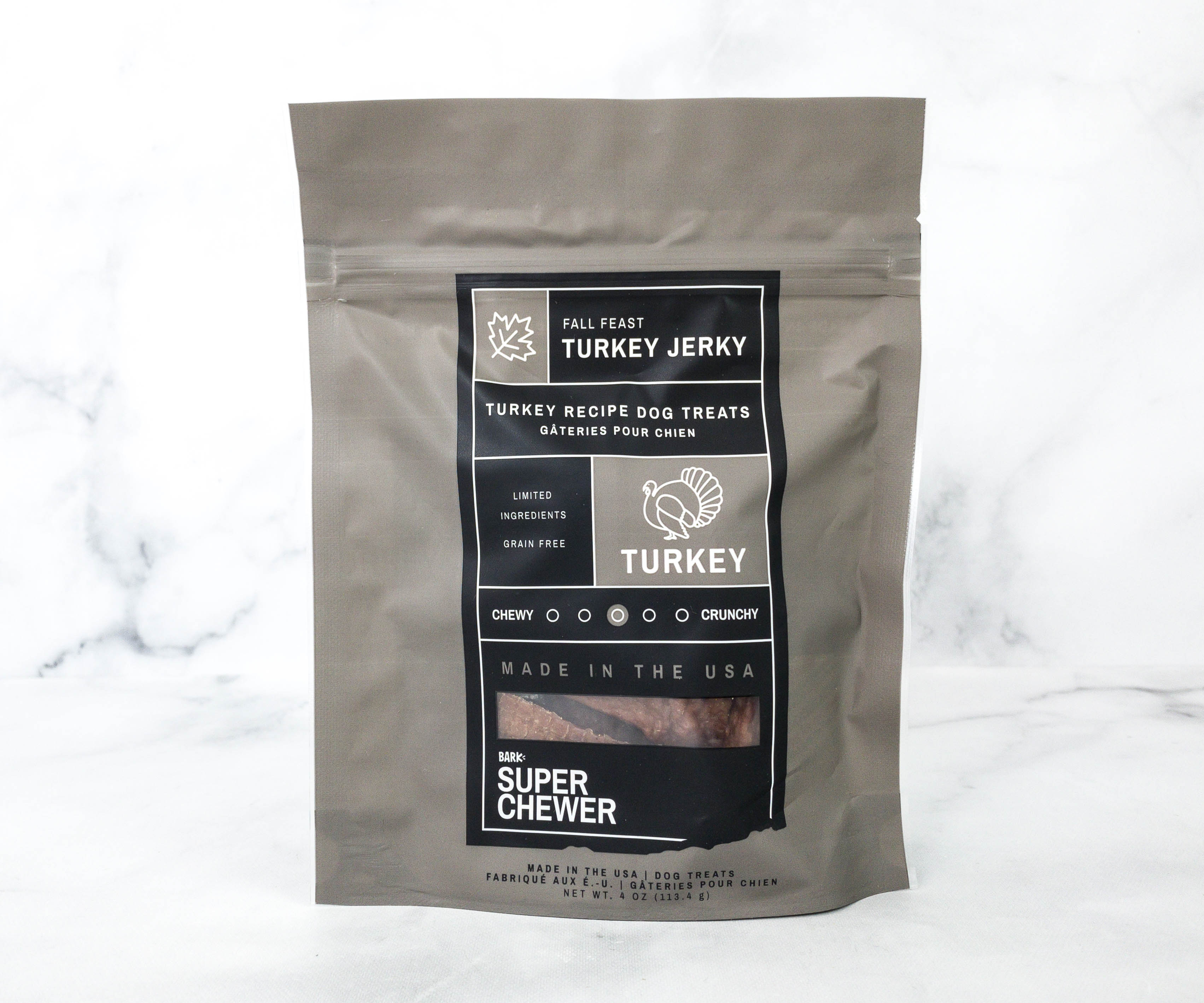 Fall Feast Turkey Jerky Turkey Recipe Dog Treats. Thanksgiving came early for our pups because this month's featured bag of treats is made from turkey!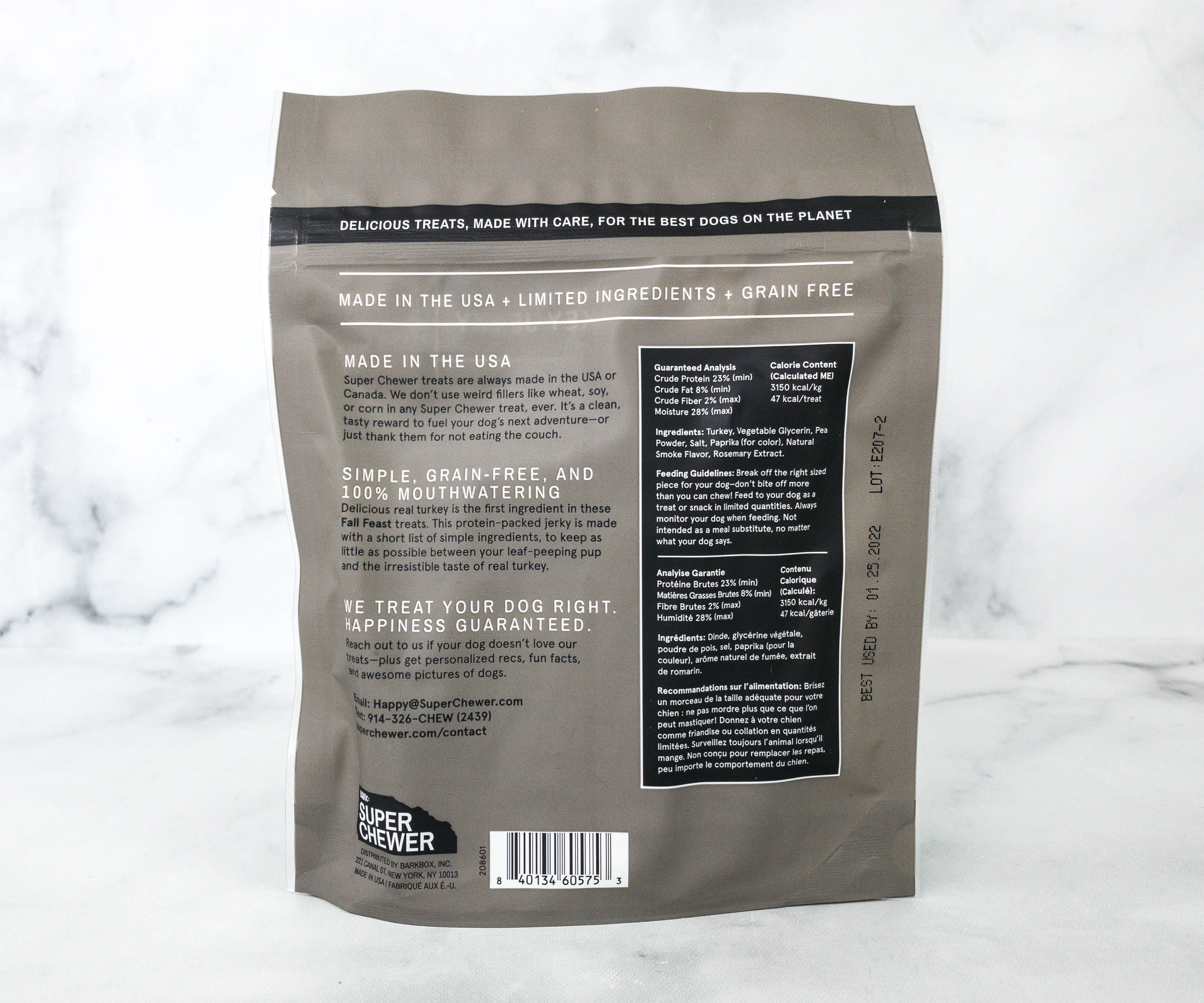 These snacks are low-calorie but high in protein. They are grain-free as well!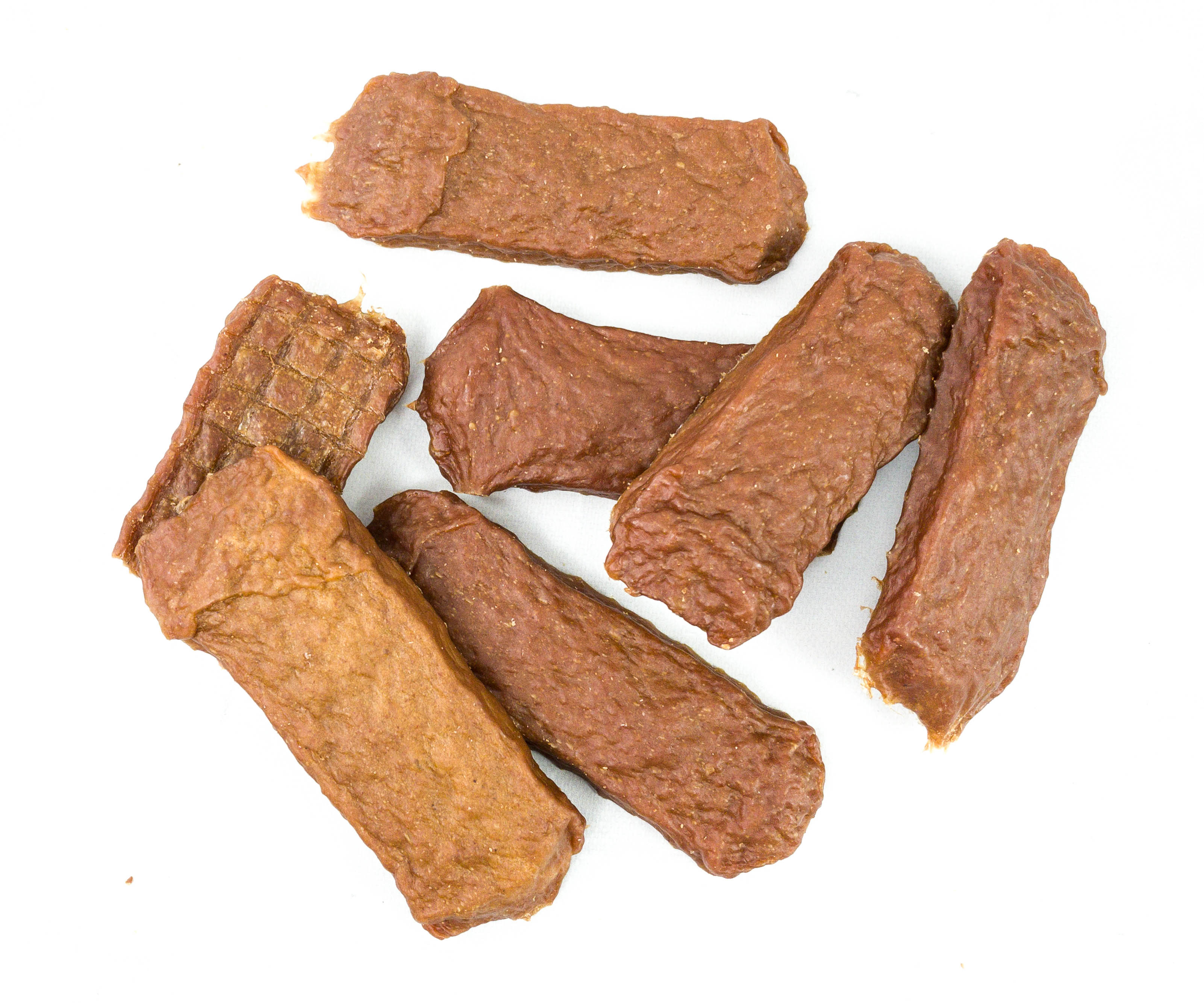 Here's a look at the chunky jerky treats. They are not too crunchy but not too chewy either, just the right texture that our pups enjoy. These can also be broken down into smaller pieces as a reward or a treat.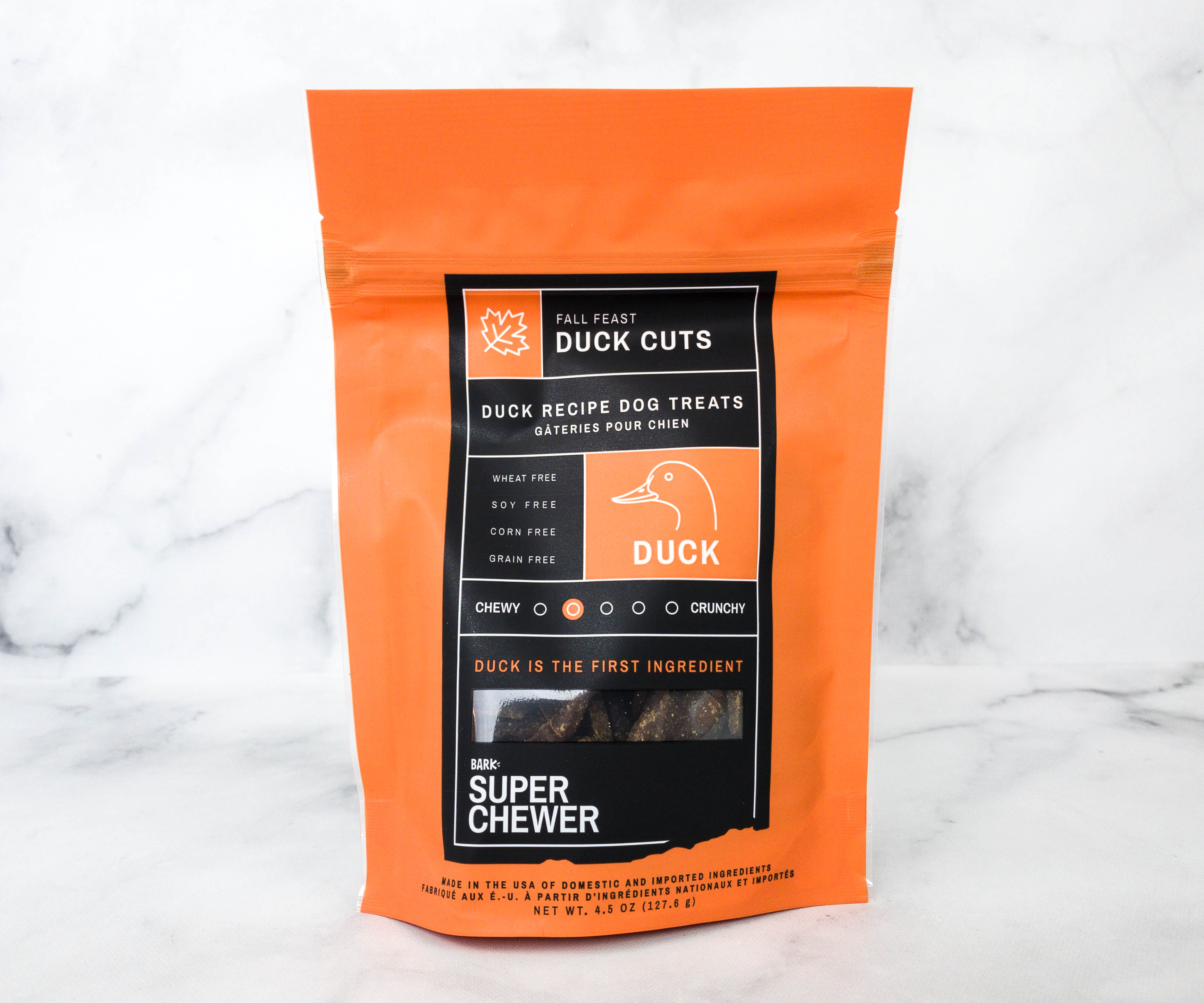 Fall Feast Duck Cuts Duck Recipe Dog Treats. Here's another bag of snacks for a fall feast, and this time it's made with duck. These are also free from grains, wheat, soy, and corn!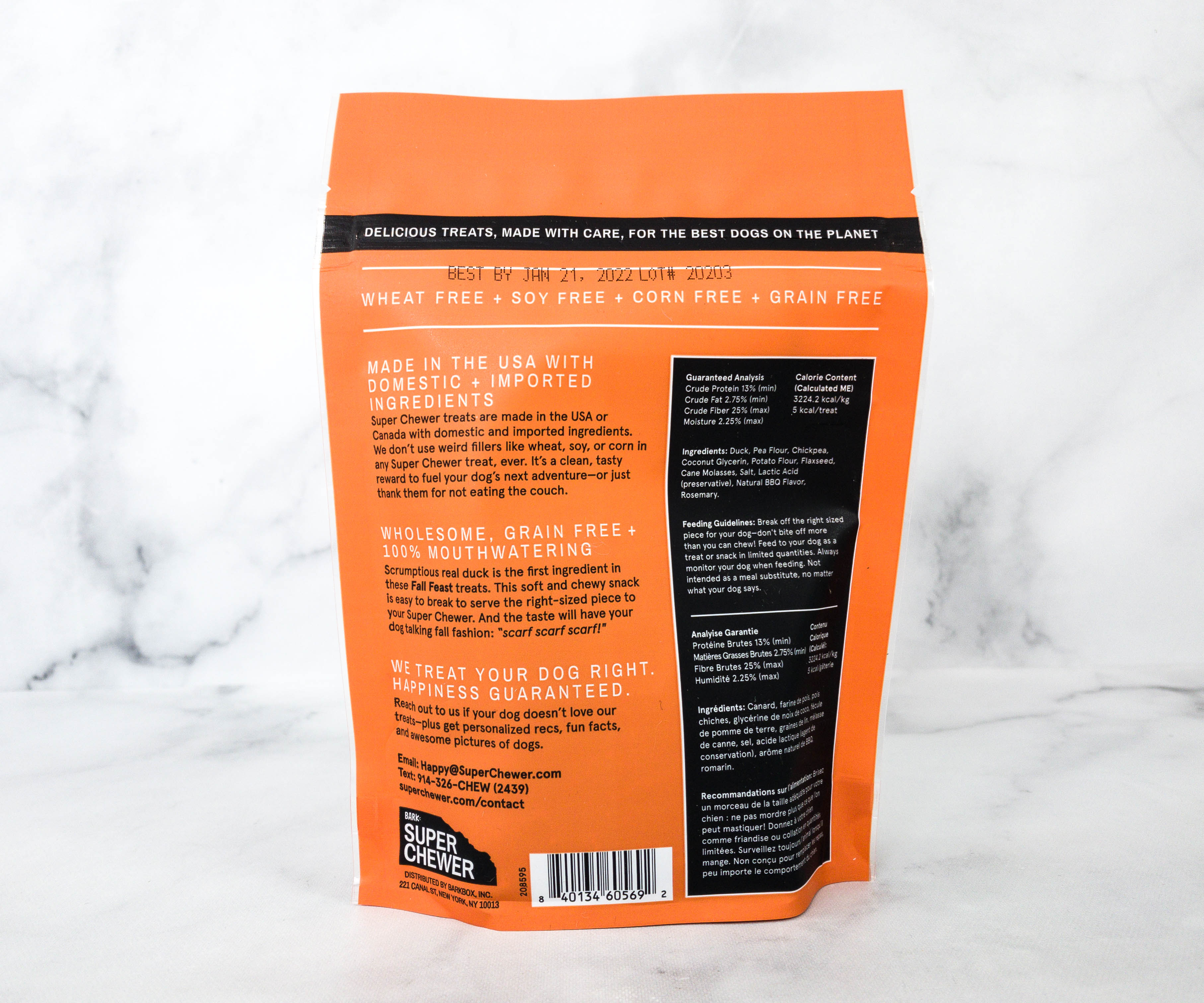 Other ingredients are pea flour, chickpea, coconut glycerin, potato flour, flaxseed, cane molasses, and natural barbecue flavor.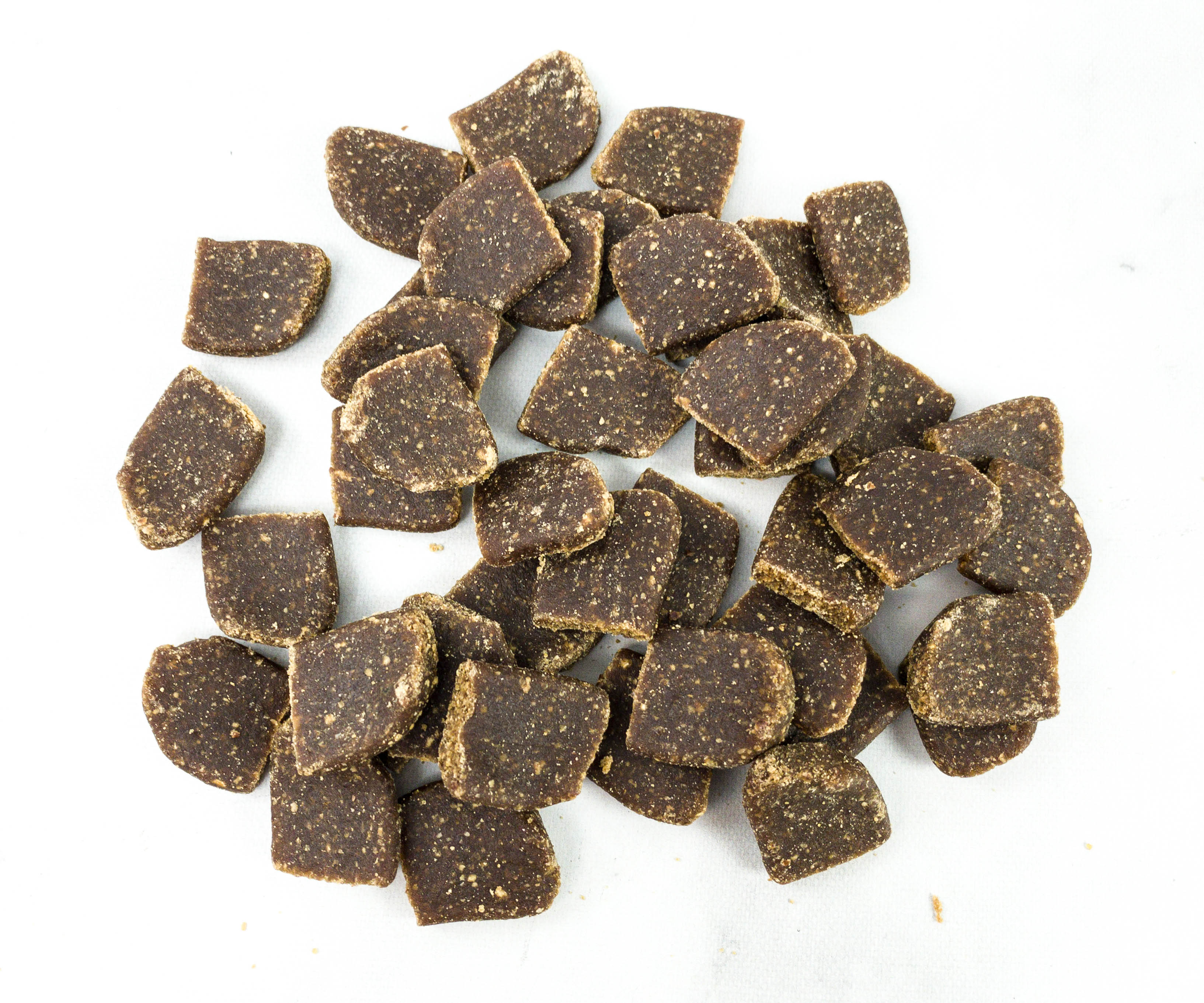 Inside the bag are these bite-sized treats! They are small but chewy, which our dogs really love!
It's another jampacked Super Chewer Box! This month, we received 2 nutritious bags of treats and 2 snack sticks, plus 2 tough toys. Everything is specially made for the satisfaction of heavy chewers! As pet parents, this subscription helps lessen our worries because we know that they only send dog treats made with healthy ingredients and toys made with durable, non-toxic materials. Our beloved pets deserve only the best and that's what this subscription has been sending us ever since!
What do you think of this month's Super Chewer Box?