Simple Loose Leaf is a monthly tea box, which delivers four hand selected, loose-leaf teas each month. Subscriptions are $10 and you can choose from 4 different tea types: Black, Green, Herbal, or Sampler. They send both single origin teas and blends and include linen bags for steeping. The teas are packed and shipped by employees with developmental disabilities so they can earn a paycheck and learn life skills. Boxes include:
4 new hand-selected premium loose leaf teas
10 grams (0.35oz) of each loose leaf tea
4 reusable linen tea filters Made in the USA
Information on each of the teas with tasting notes
DEAL: Get $3 off on your first tea order! Use coupon code 3B1TEA. OR Get $5 off on your first box! Use coupon code 05BOX001.
This is a review of the Black Tea Box!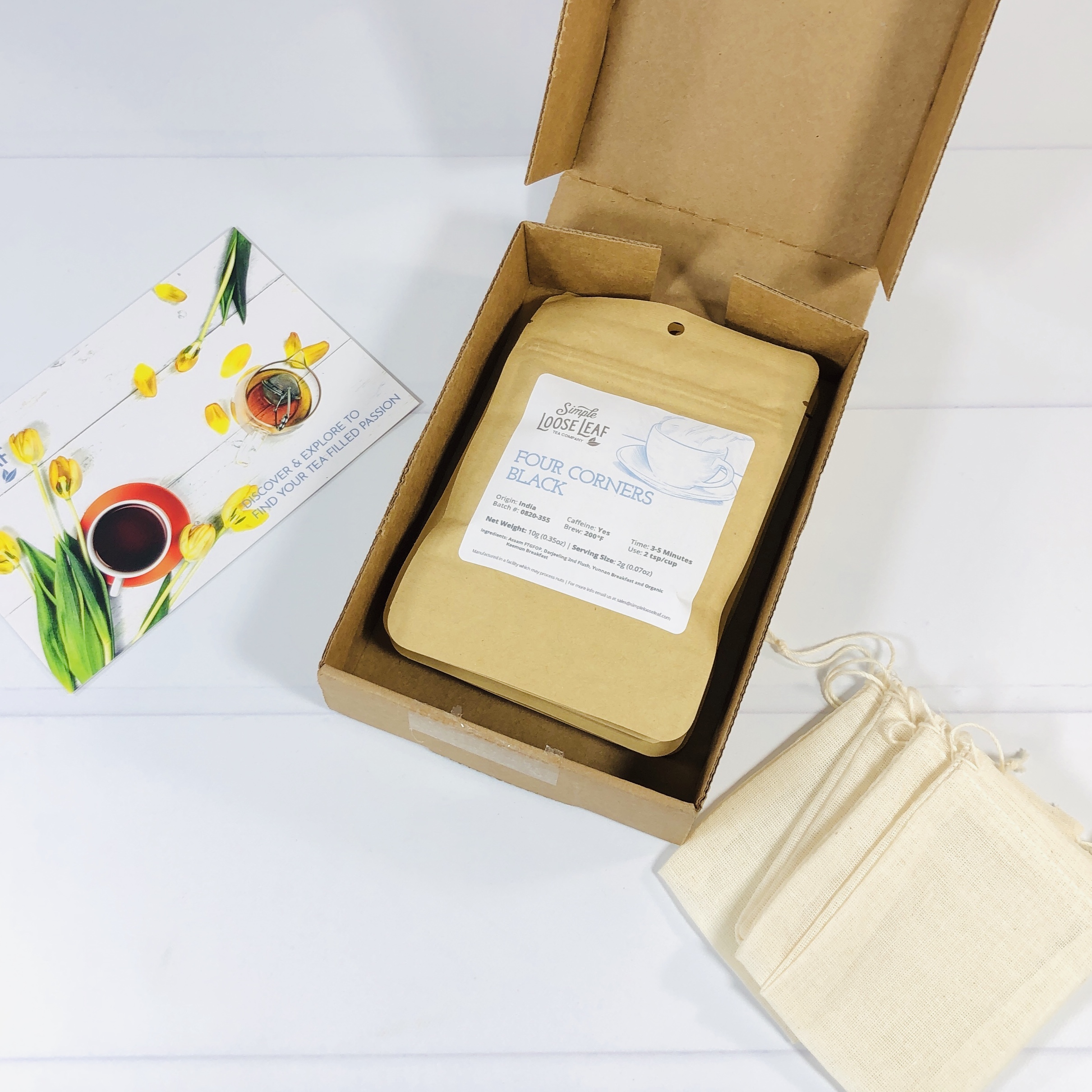 Black Tea Box

Each month receive 4 new black loose leaf teas or 3 black teas and something that black tea drinkers will love
The Black Tea Box is a great fit for the tea drinker that wants to experience the darker flavor profiles that black teas have to offer
Explore teas from China, India, Sri Lanka, and more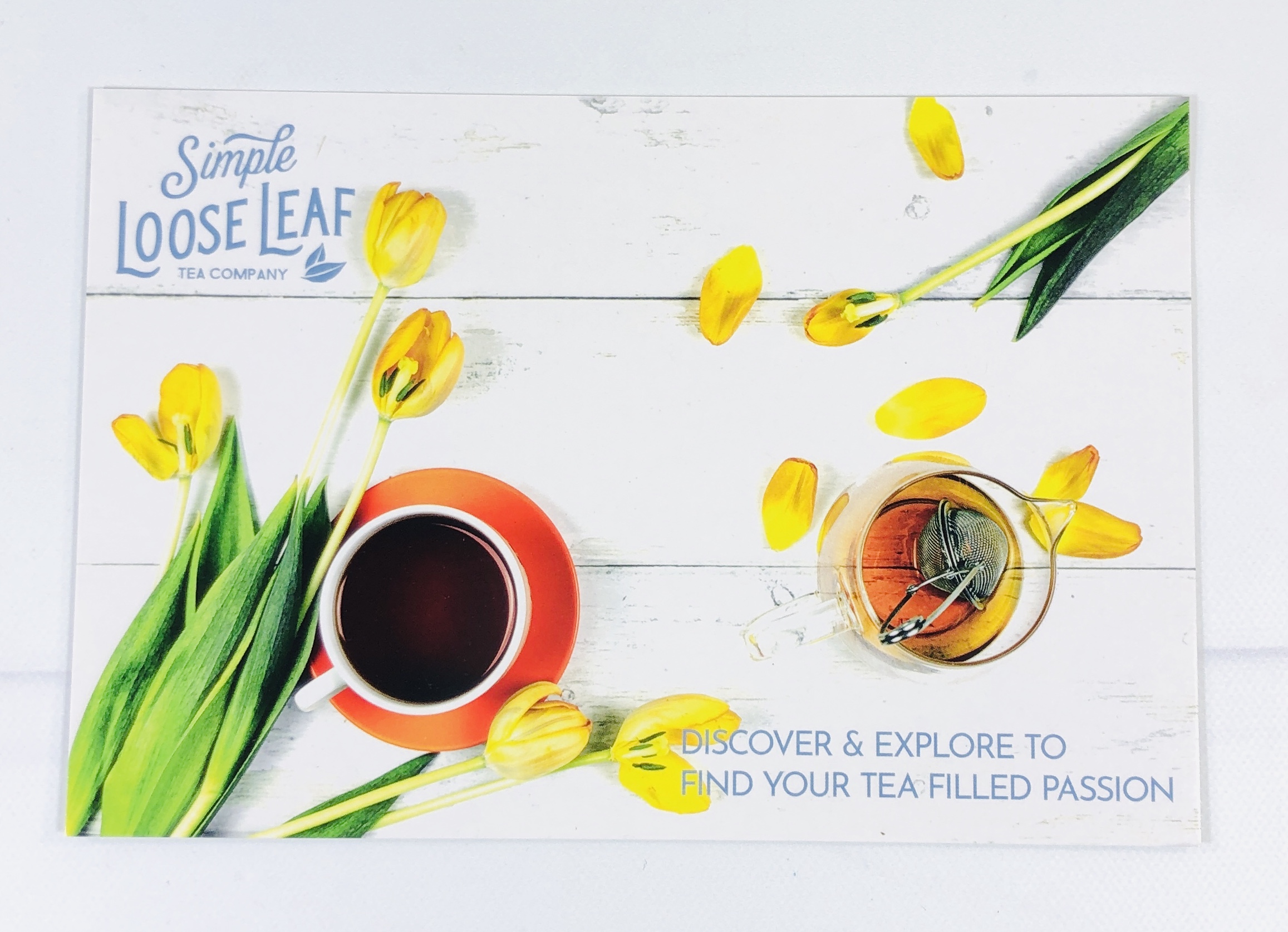 I received a tea postcard this month!
Time to send some snail mail!
I found four linen pouches in my box. Simple Loose Leaf sends, you guessed it, loose leaf teas. You will need a way to remove the leaves after steeping. I have a steeping system but you could use these bags, buy disposable paper bags, use a French Press, or strain your tea afterwards, whatever works for you.
The side of the box had some helpful tips for steeping times and water temps. For instance, green and white tea should never be steeped with boiling water or for longer than 3 minutes (they will turn bitter).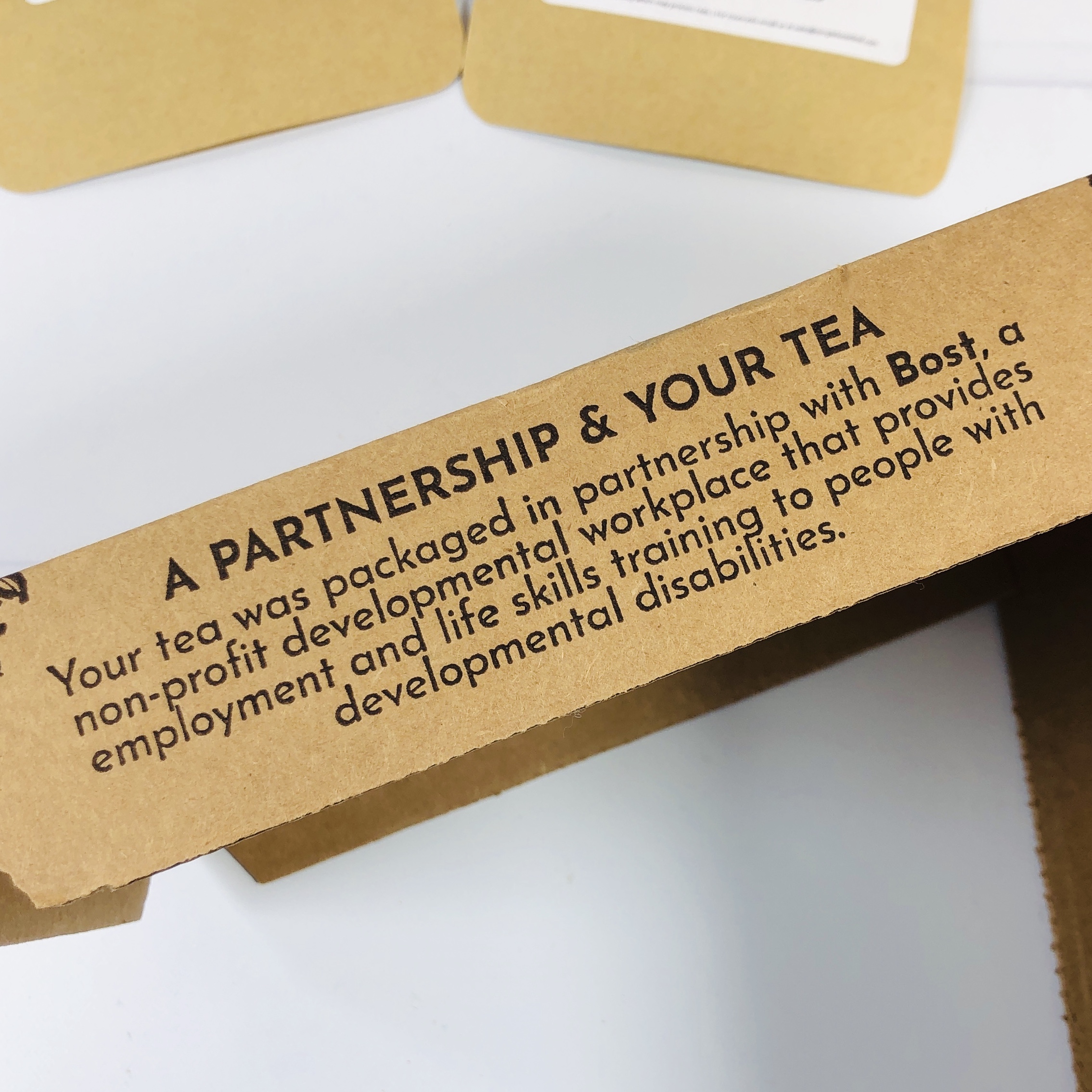 A reminder that employees are getting life skills through working is on the other side of the box.
Everything in my box! I usually find a paper that describes the teas but it was missing this month.
Super Pekoe Tea is made of black tea from Ceylon and when they say super, they mean it!
I decided to try this as an afternoon tea since it said the flavor was on the lighter side of black teas. It smelled fantastic, I can't quite place that note, but the flavor was superb.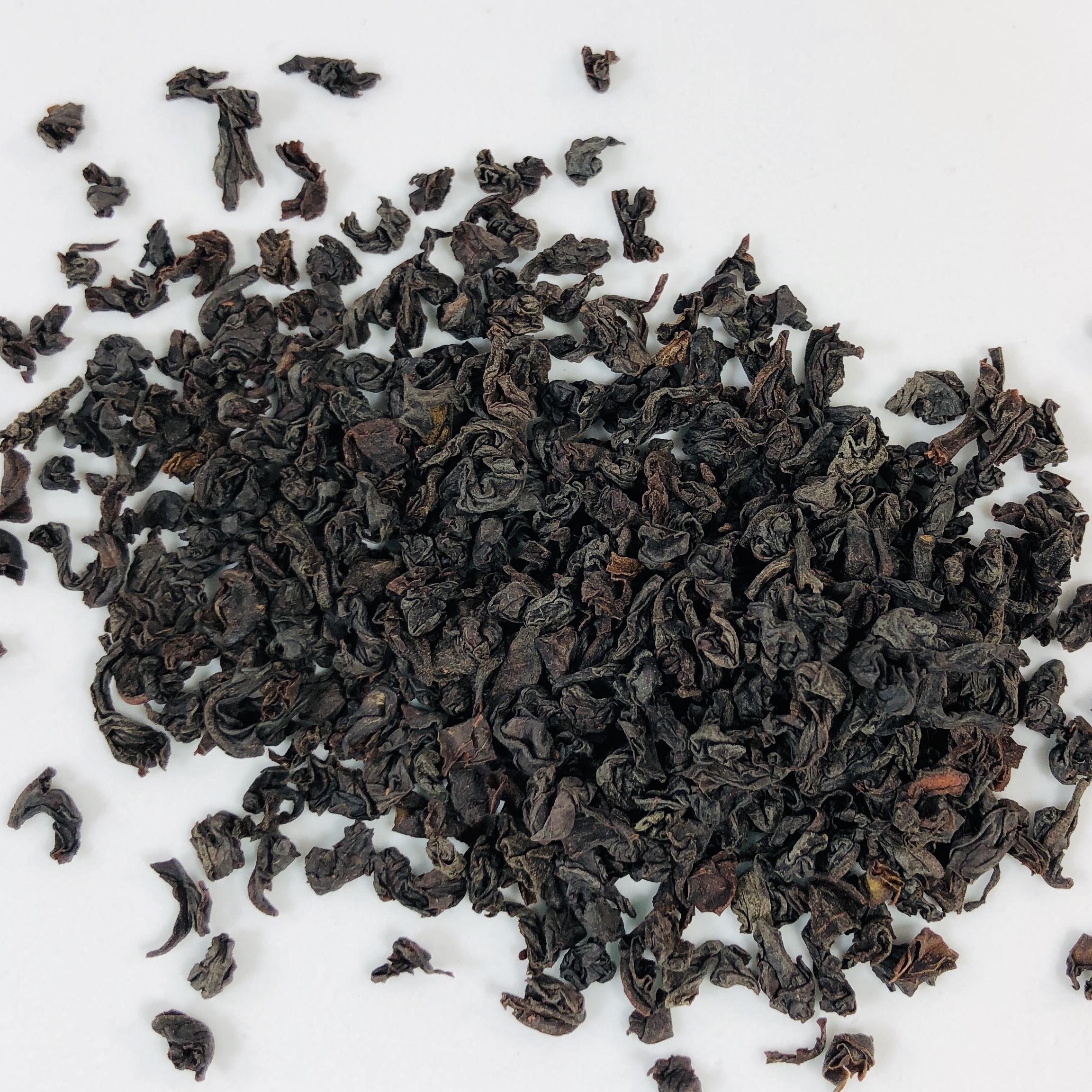 The flavor and strength were both on the wham bam side, so much flavor and such a tannic kick it made my mouth pucker. I added sugar and milk, then a little more sugar and it was such a good tea, so much to love here.
Simple Coconut Black Tea I wasn't quite sure what to think about coconut in my tea but turns out, it's pretty darn tasty!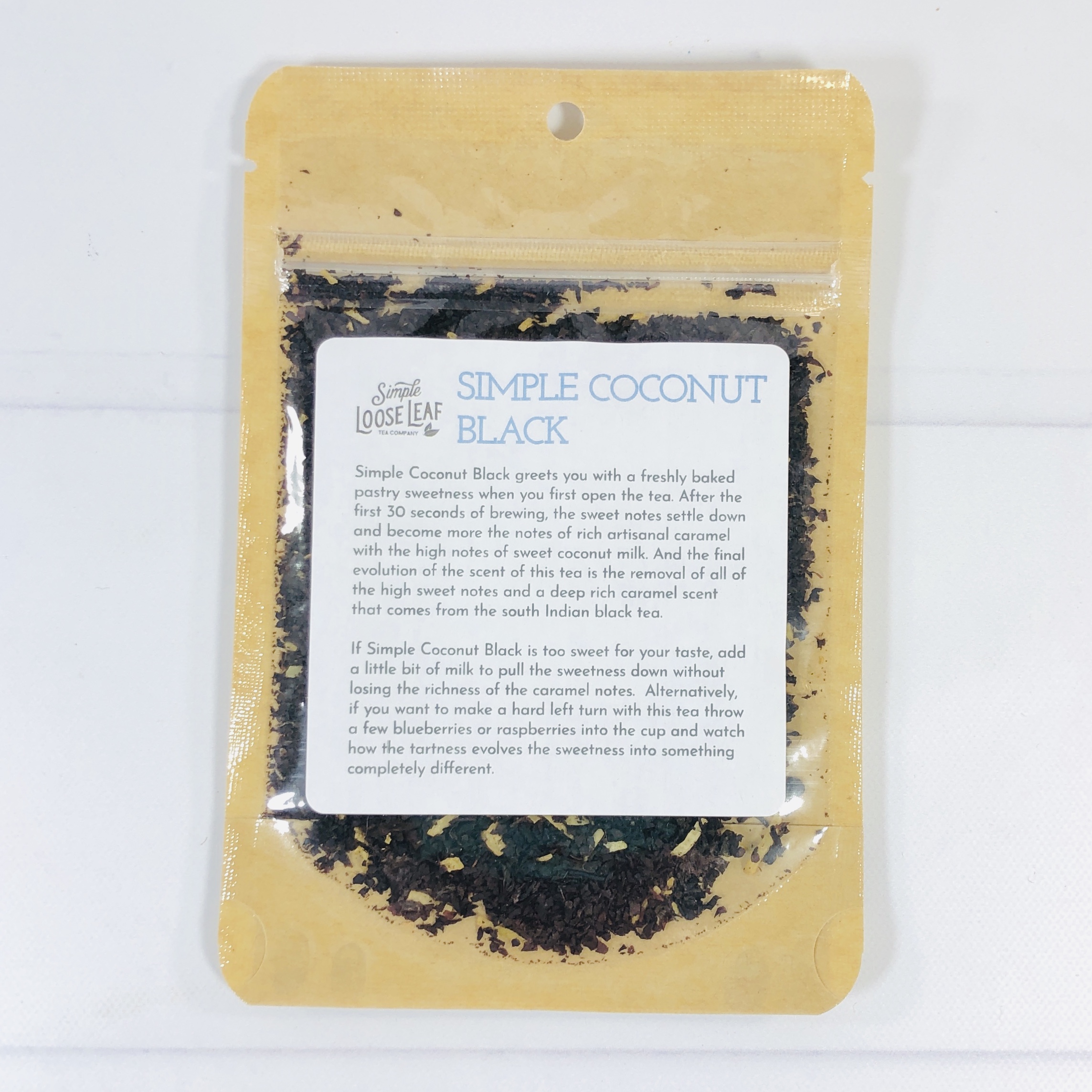 Some ideas on how to change the flavor a bit were noted.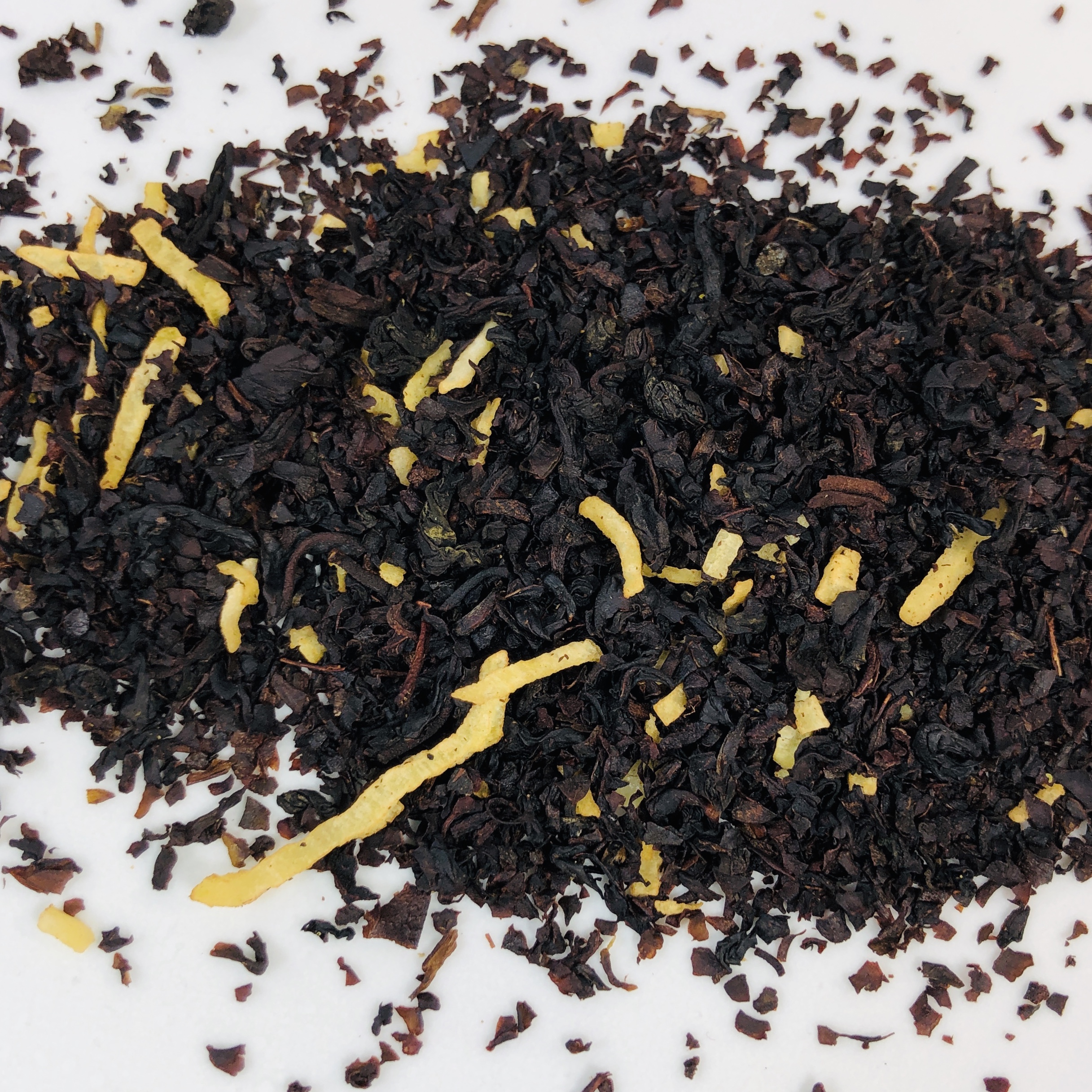 Black tea, coconut, and natural flavor were listed as the ingredients. It was more tannic than I expected so I added sugar and milk and it was like sipping coconut cream pie! Caramel notes were there too, this was a lush afternoon tea experience.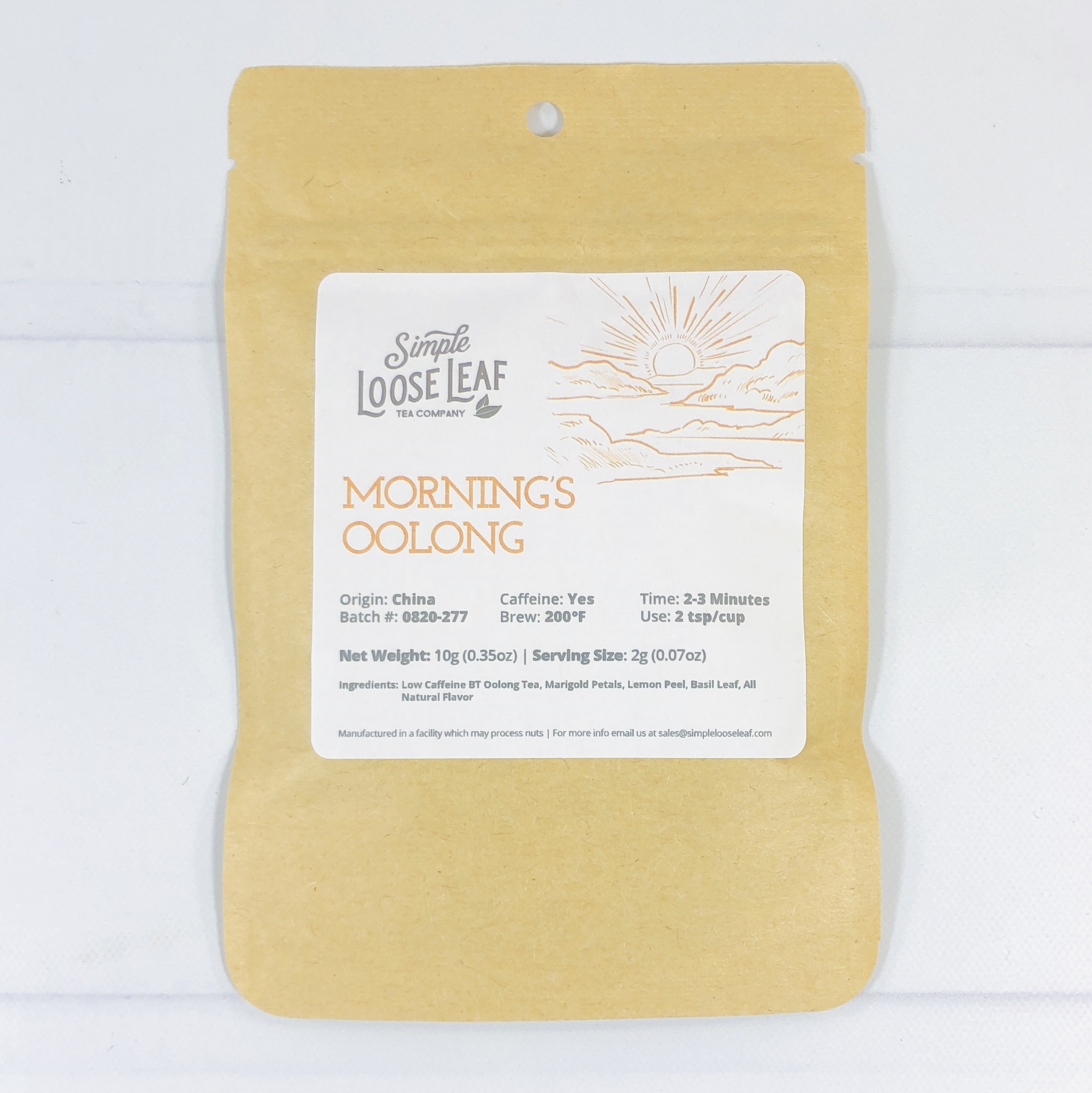 Morning's Oolong Tea is lower on the caffeine level since the tea isn't fully oxidized, it falls somewhere on the scale between green tea and black.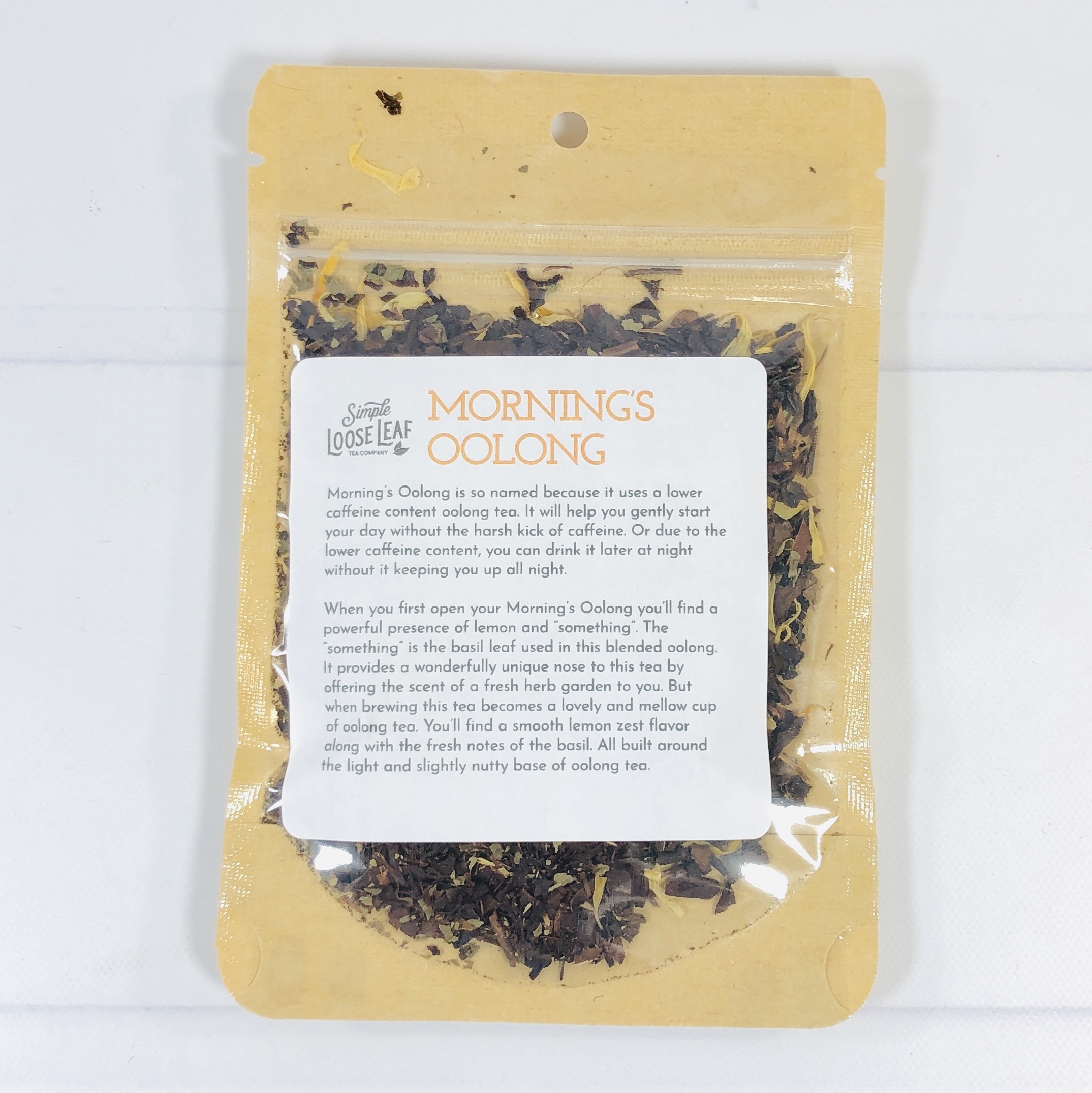 It has an oolong tea base along with lemon, basil, and marigold petal, plus natural flavor. I don't think this is the type of basil used in pesto, no spaghetti sauce flavor here. I believe the natural flavor is most likely lemongrass.
The scent smells very much like lemongrass before steeping, and is mild, herbal, and citrusy after adding water. I added sugar to sweeten it a bit, but this isn't bitter at all. No need to add milk, that would make it bland. I prefer this type of tea in the afternoon, such a wonderful scent and flavor overall.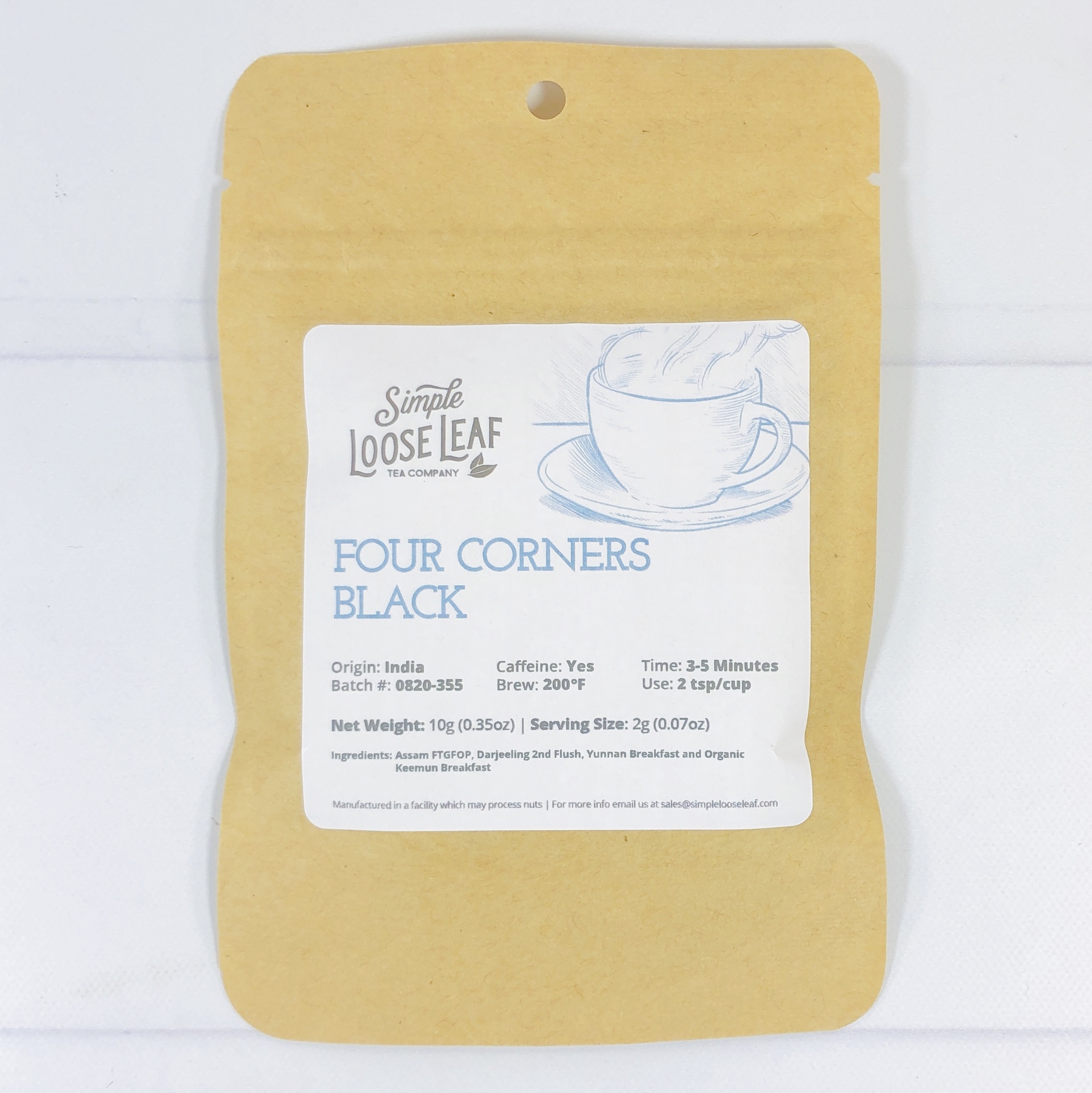 Four Corners Black Tea is comprised of four different black teas, two from China and two from India.
I love a strong black tea in the morning so I steeped this up first thing.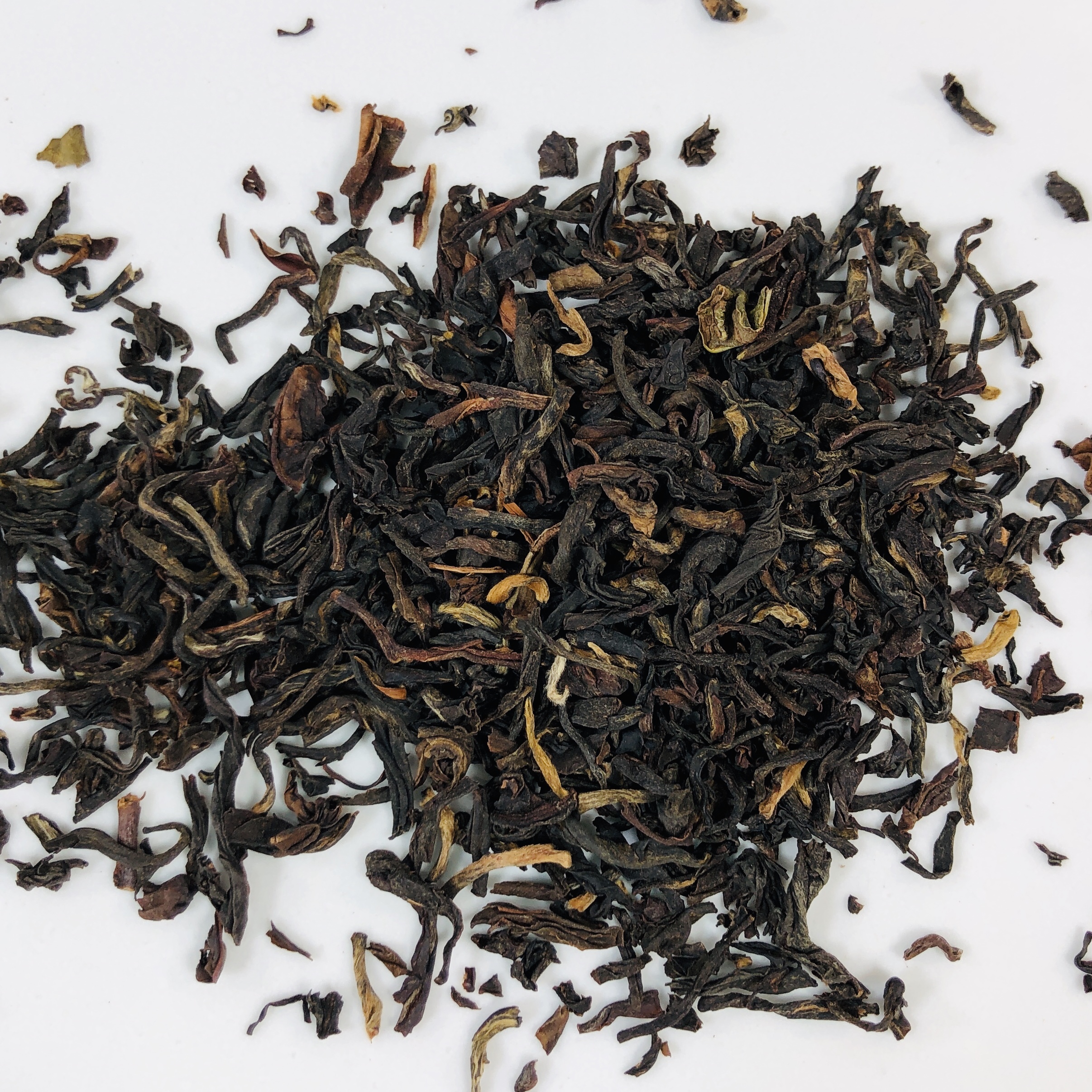 The tea wasn't quite as strong as my usual English Breakfast but it certainly had more flavor! There was a hint of both floral and smoke in this cup, so a treat for my nose and palate.
Simple Loose Leaf is a fun way to explore new tea flavors in packets with enough for several cups worth in each. If you discover one you love then you can order more at Simple Loose Leaf's website or on Amazon. The flavors this time were all different and delightful, and there was a lower caffeine sample this month too. I really look forward to this subscription every month and am crossing my fingers hoping they send some seasonal sips in the coming months!
What do you think of this month's box?