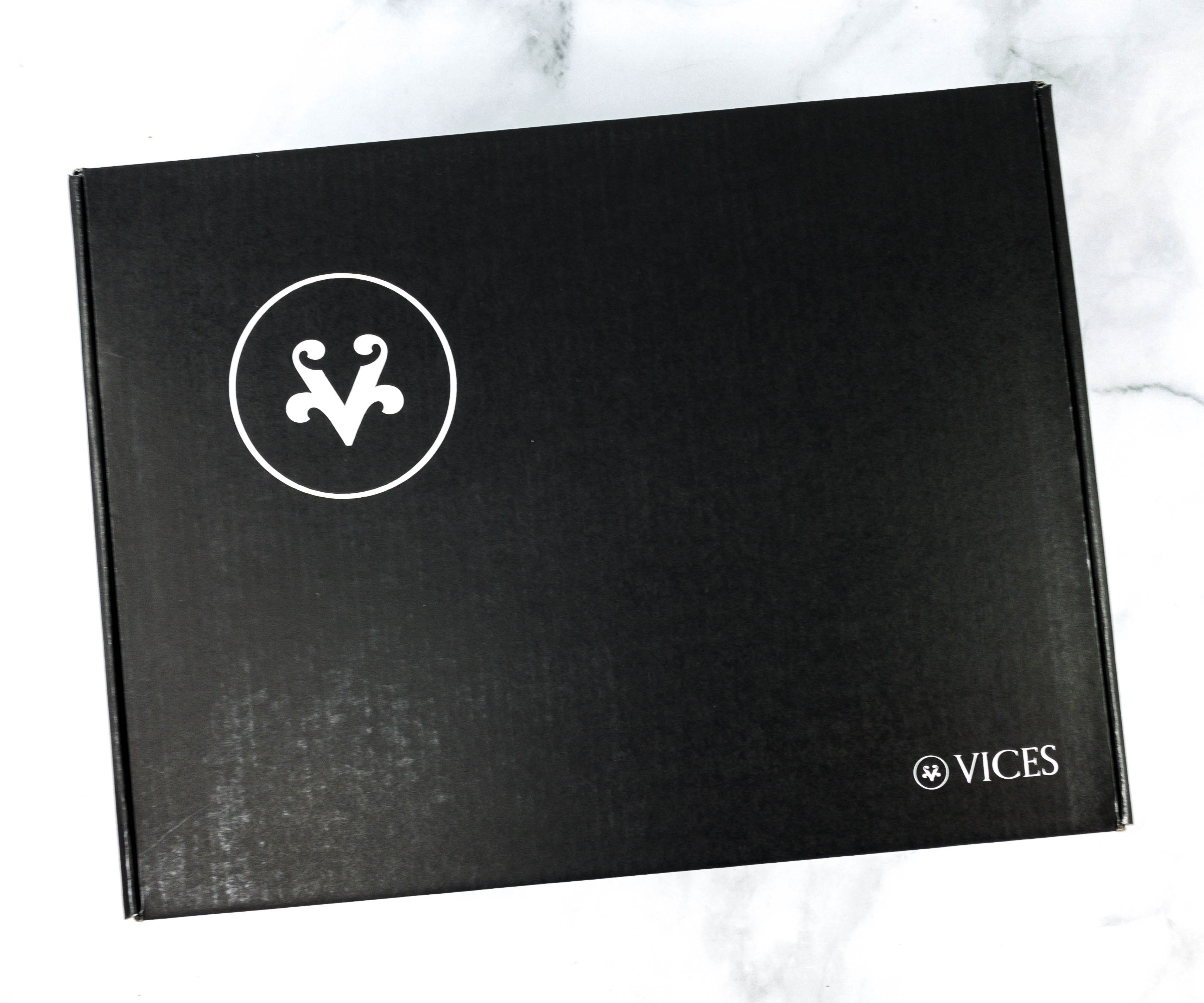 Robb Vices is a monthly luxury subscription service that delivers a collection of "storied treasures." The subscription costs $159.95 per month, and each box comes with a collection of incredible products and experiences that have been curated for your enjoyment.
DEAL: Get $50 off your first box! Use the coupon code LUXURY50 at checkout!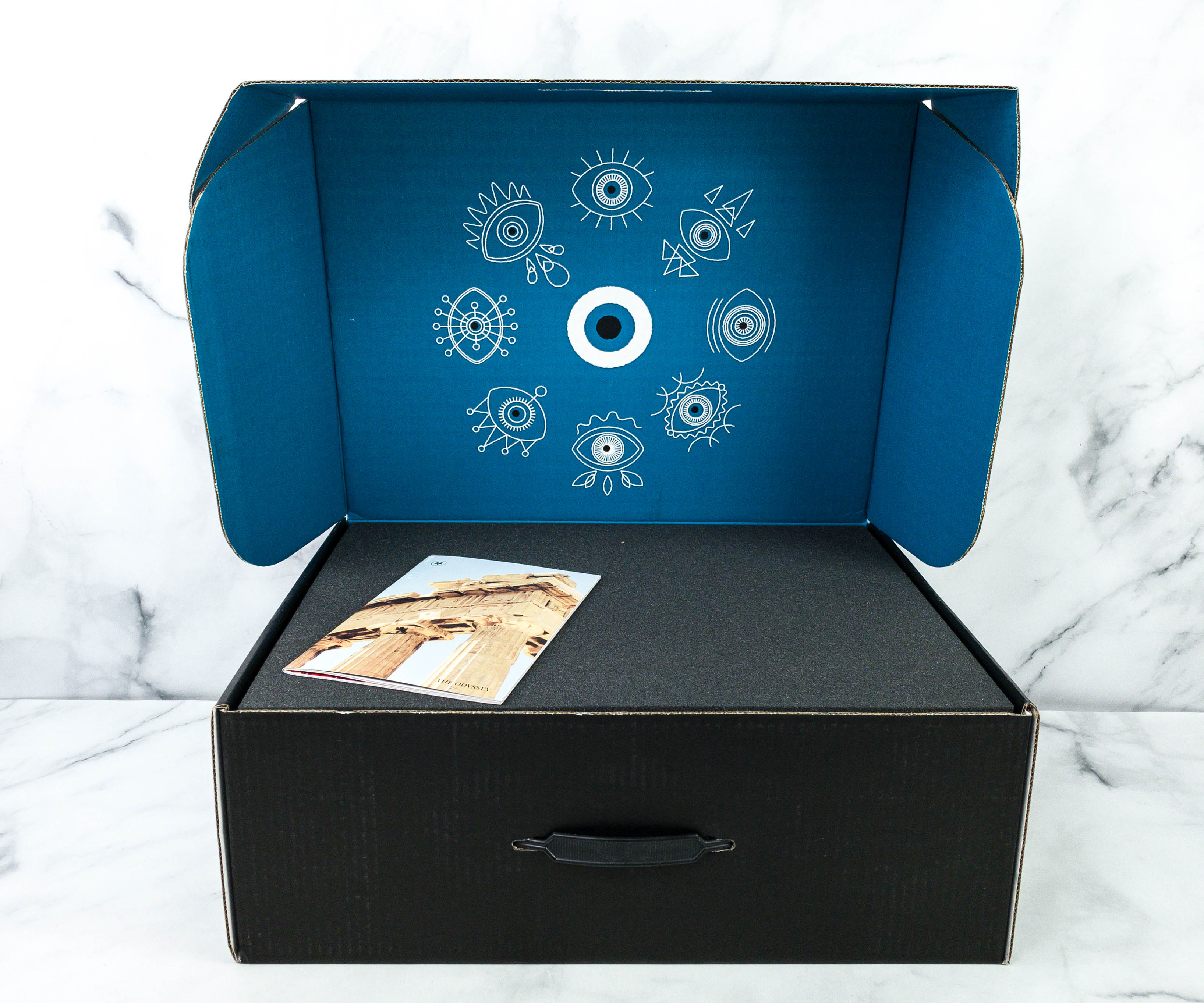 All the items are curated in a thick customized carton case with the Robb Vices booklet on top.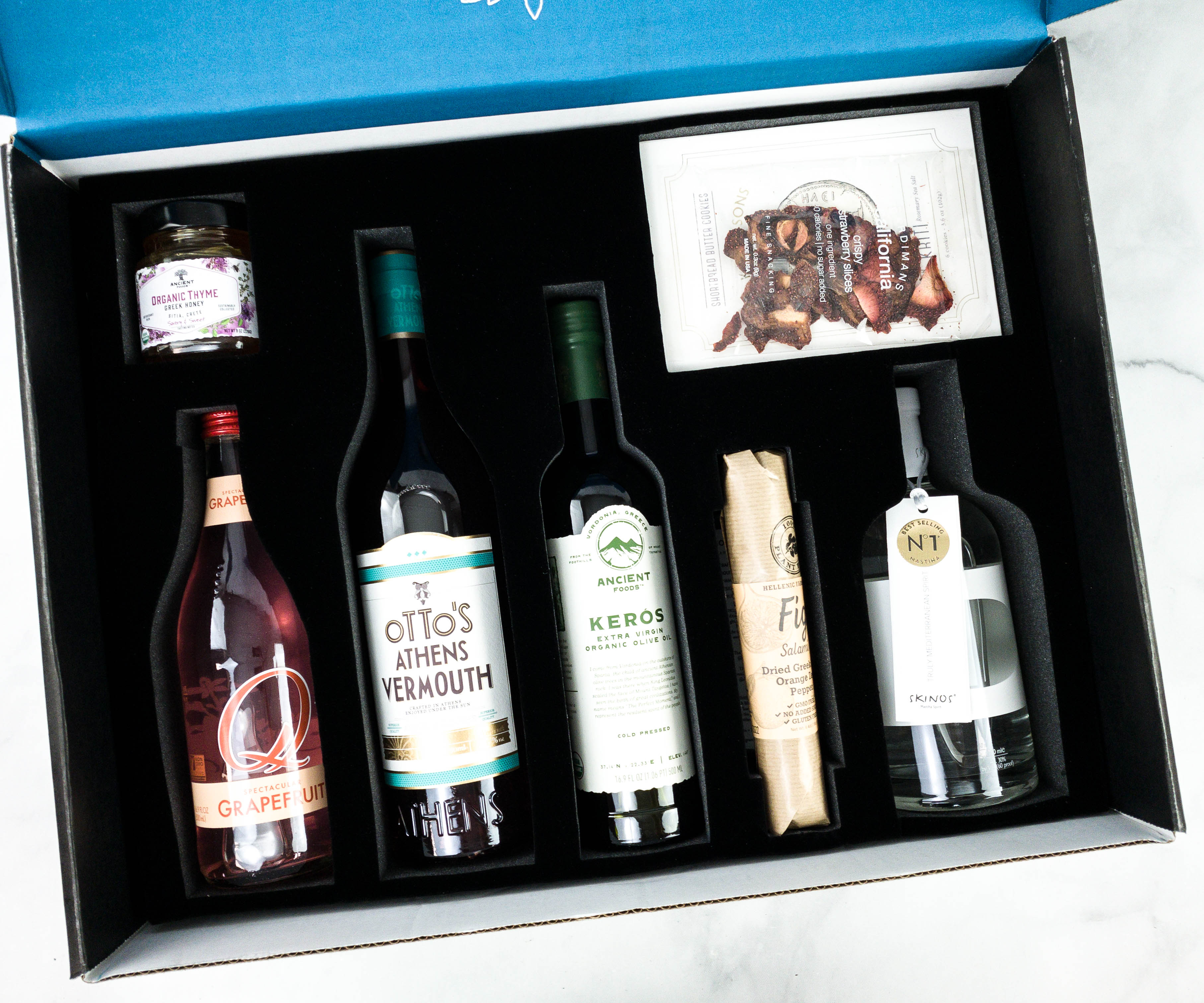 Each item is carefully cradled in a custom-fitted foam case to make sure that they arrive in their best condition.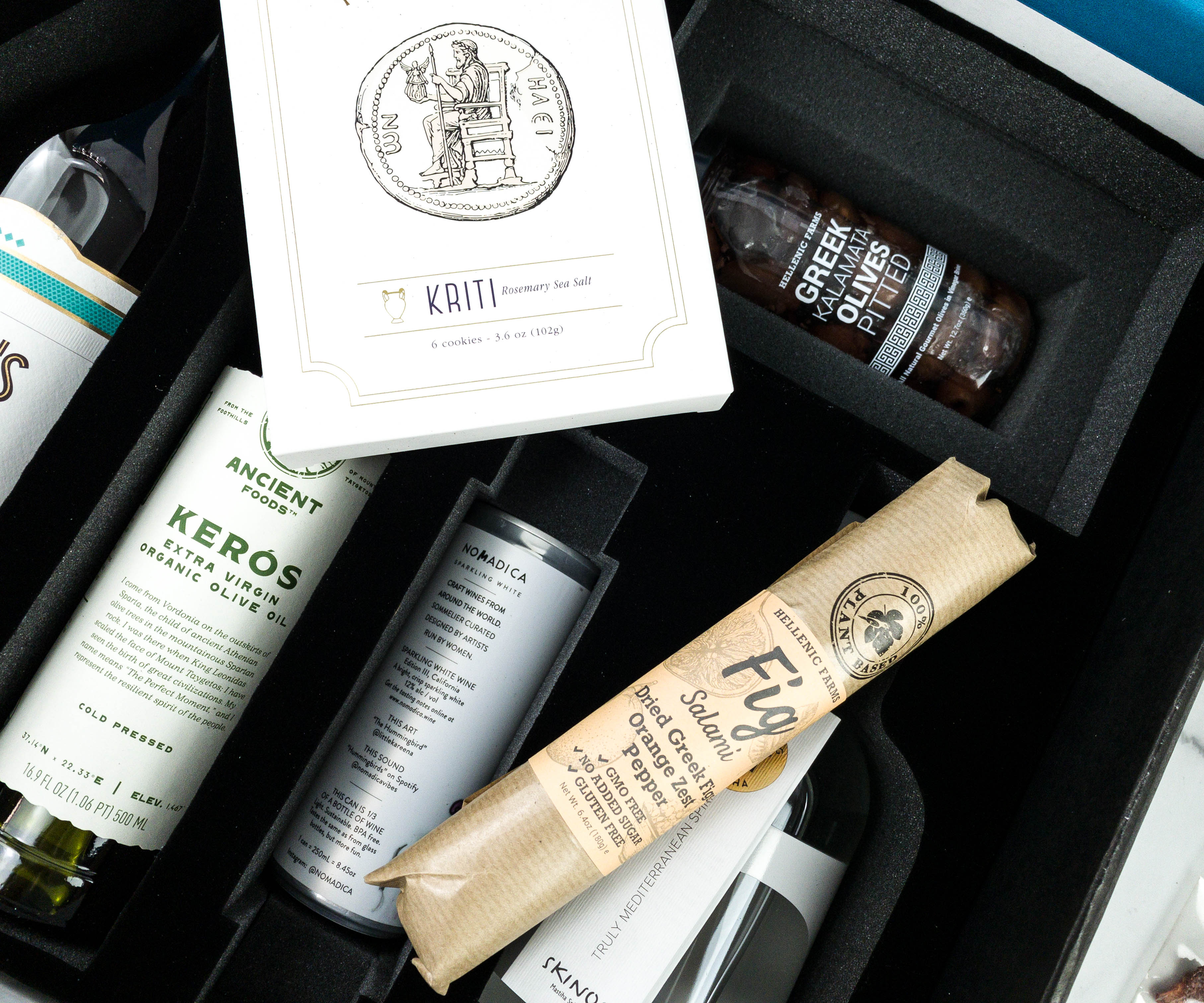 I like how elegant the items looked with their descriptive labels and packaging!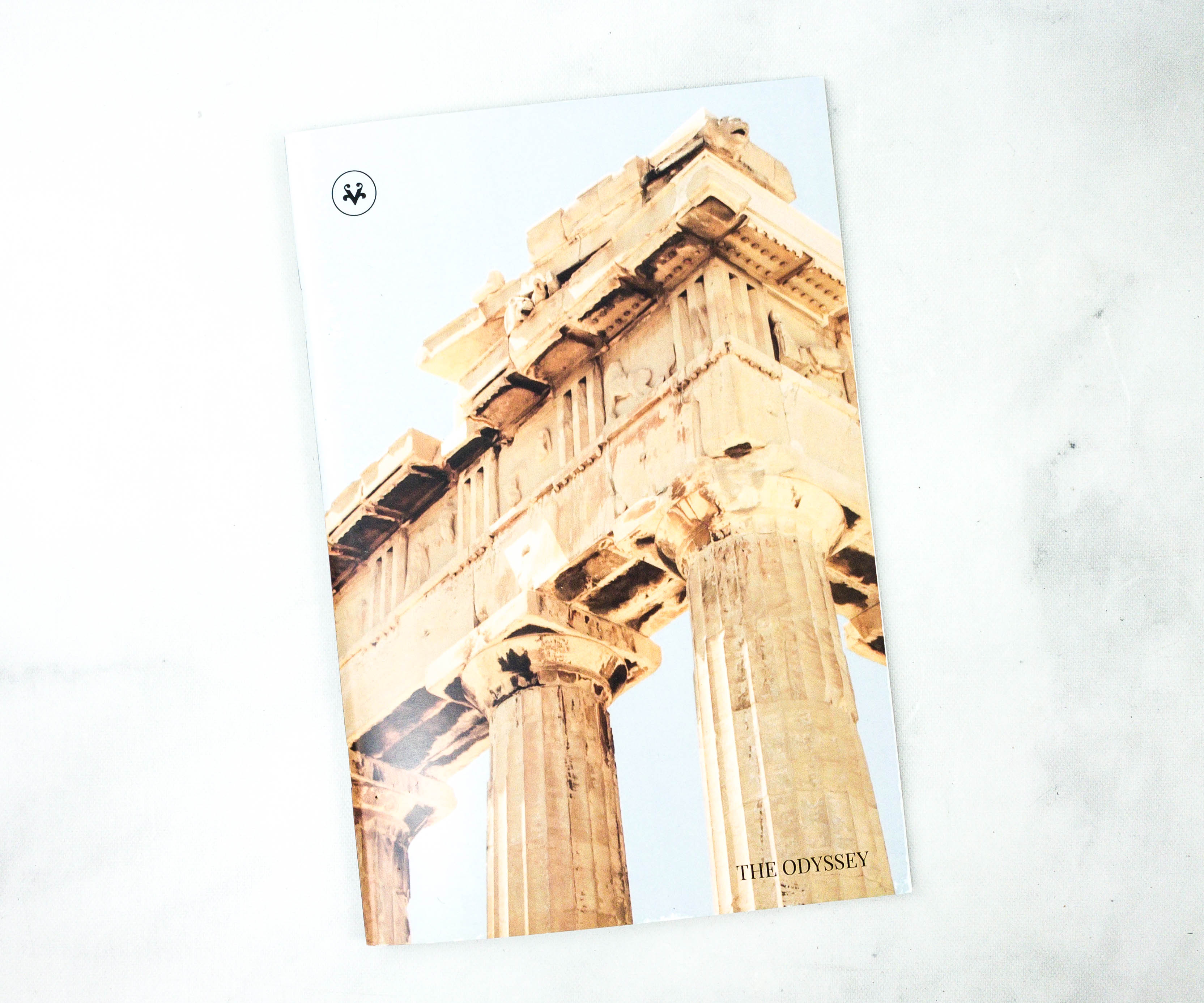 Included in this month's box is a booklet. It contains interesting features, plus information about the box's contents.
Inside the booklet is a message from Daniel Curtis, Founder of Robb Vices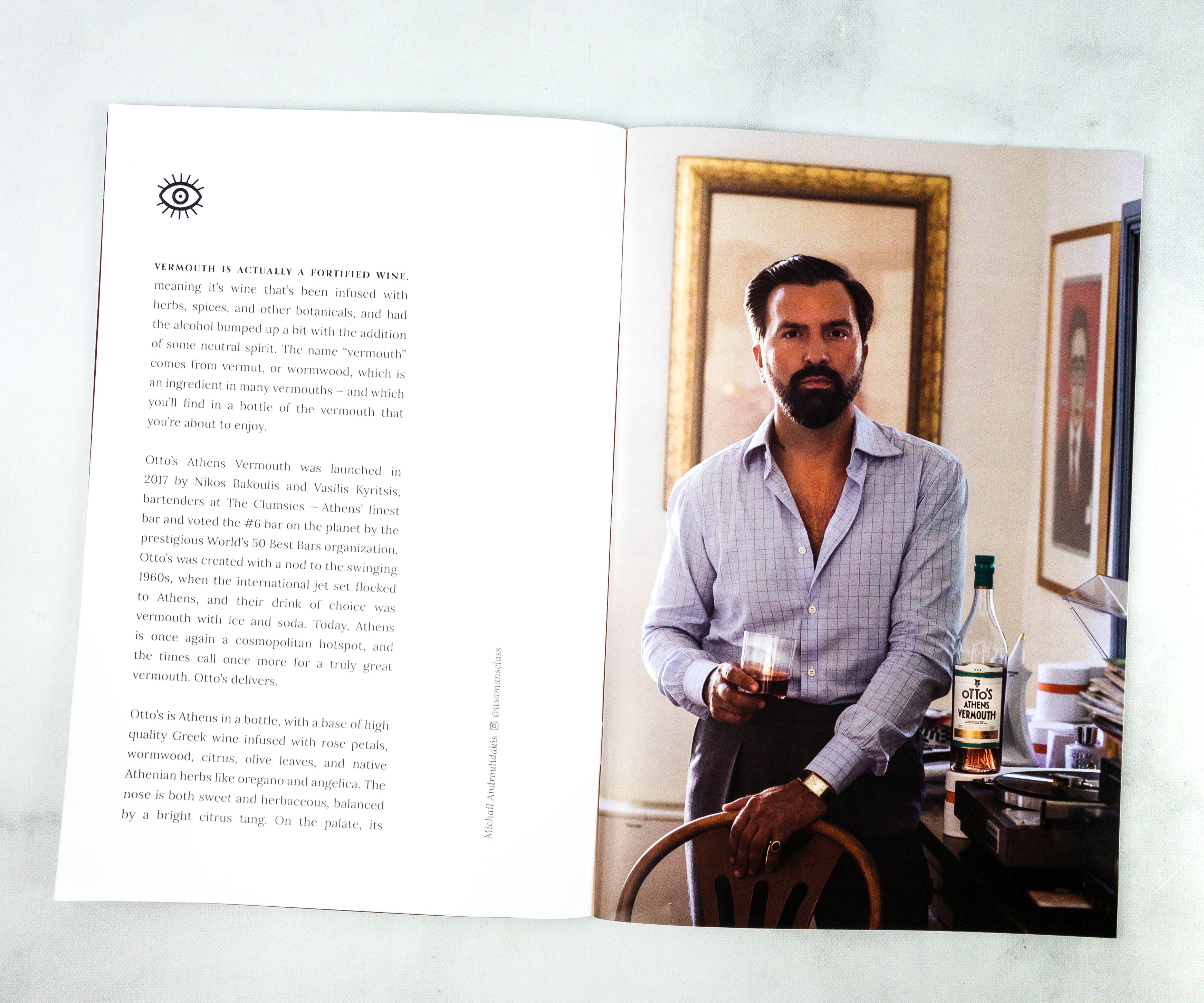 Vermouth actually being a fortified wine is discussed in this article.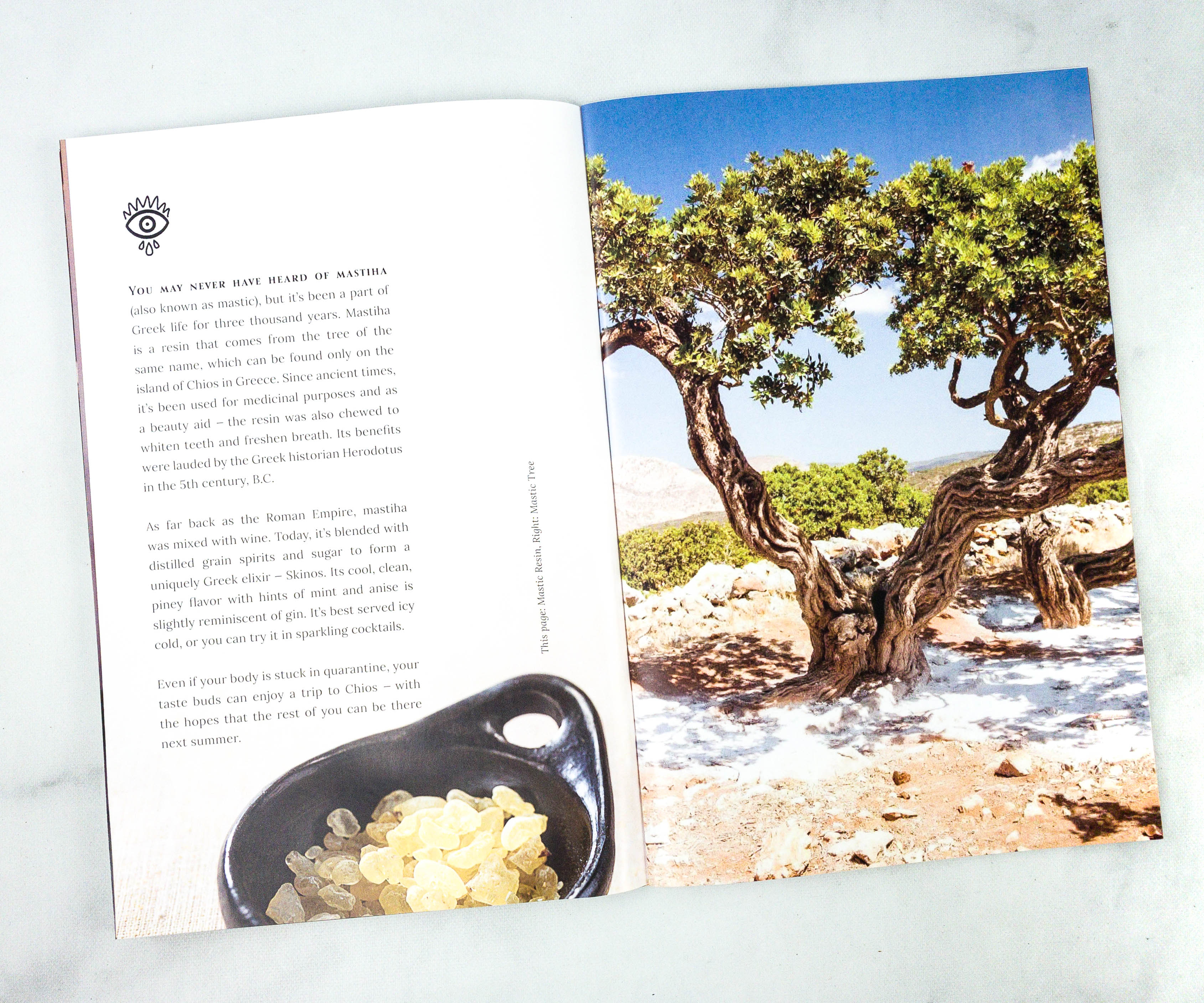 Mastiha, a resin that comes from a tree of the same name, is shown in this photo.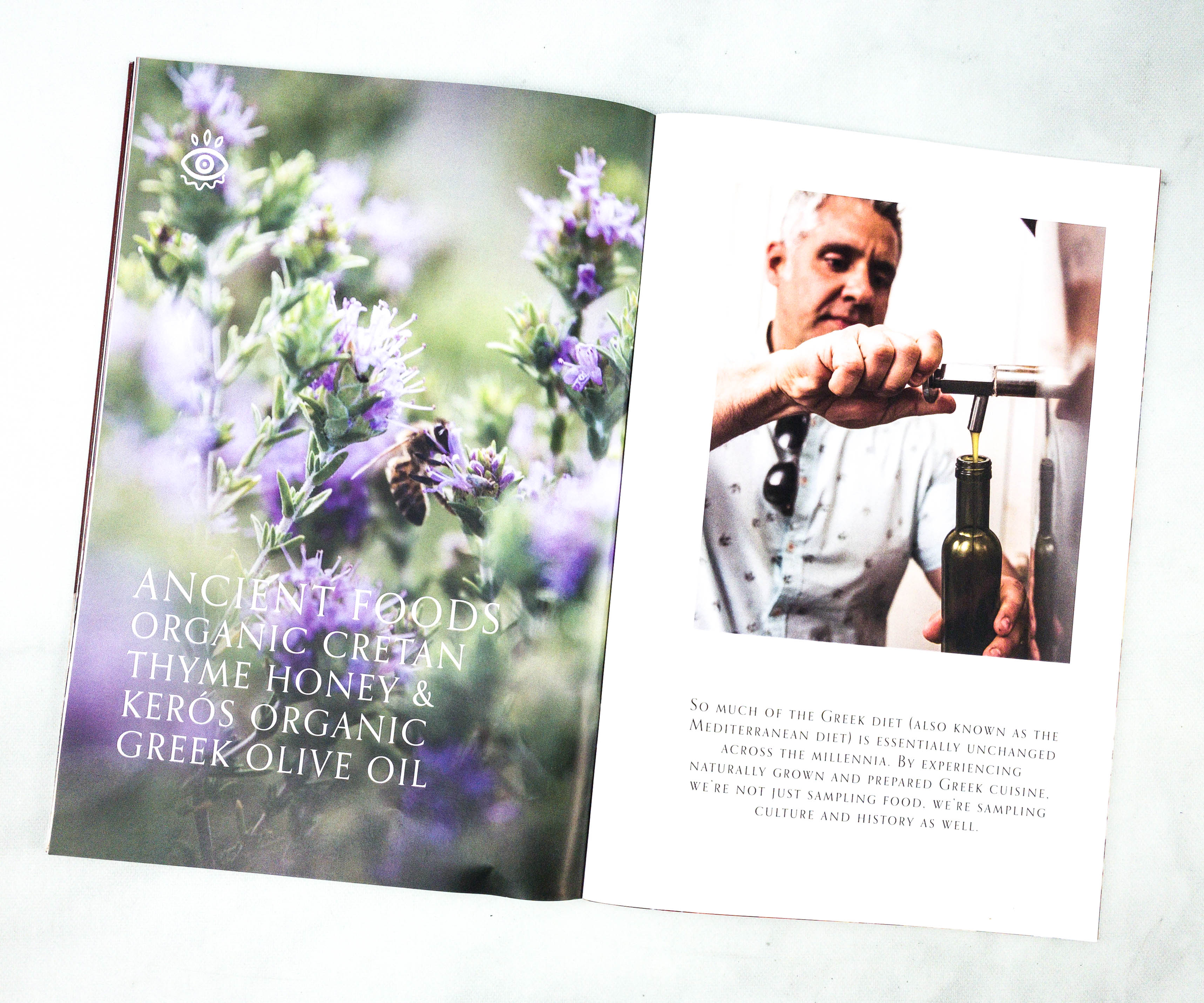 Another feature is about the Greek diet. It claims that ancient food is not just sampling the food, it samples culture and history as well.
The next article is about wines in a can and it's indeed a must-try for wine lovers!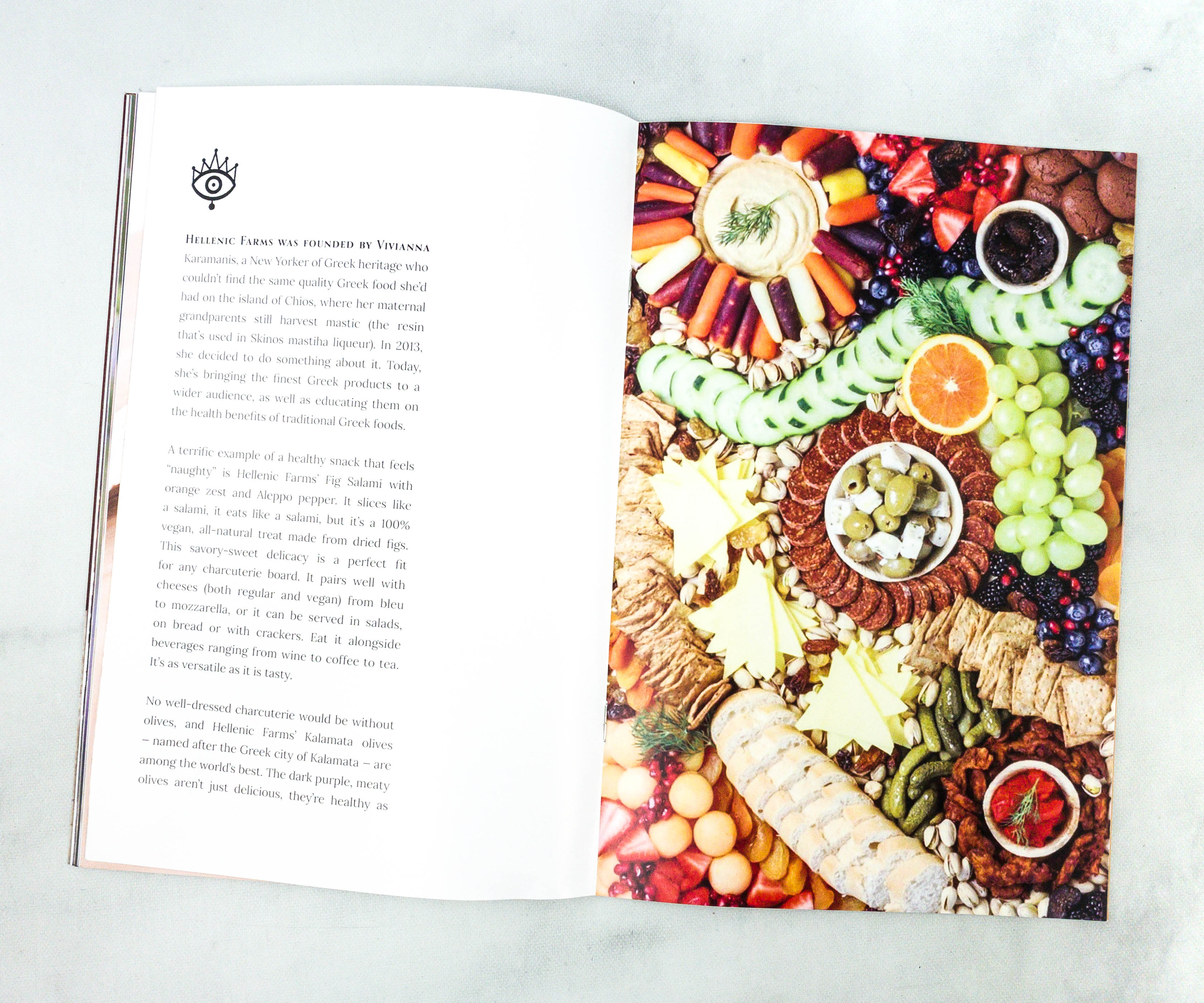 The traditional health benefits of Greek food is discussed next.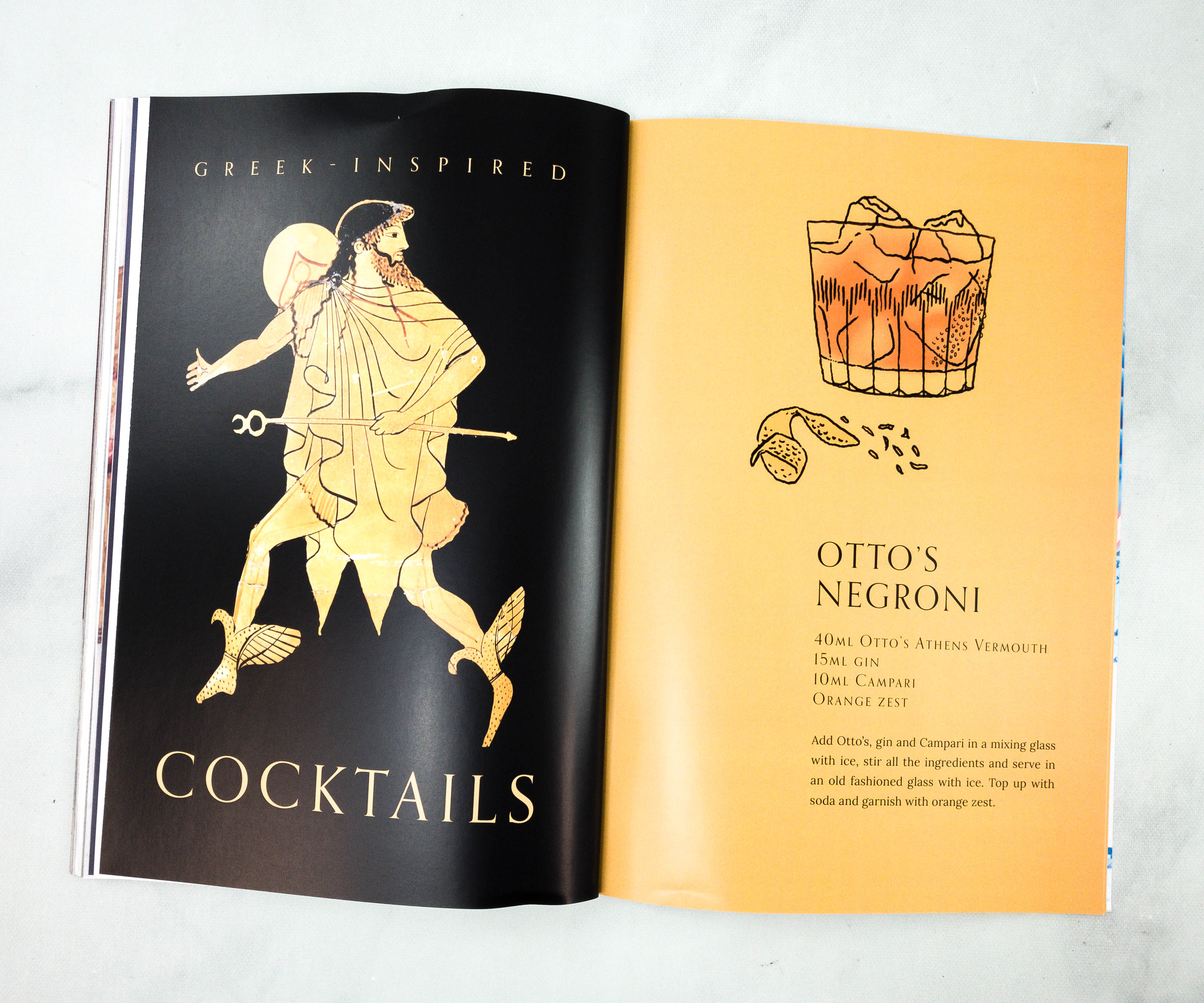 Greek-inspired cocktails, anyone? They included a few in the booklet!
Even the names of these cocktails are Greek-inspired, like Otto's Negroni, Athenian Sparkler, and Godmother!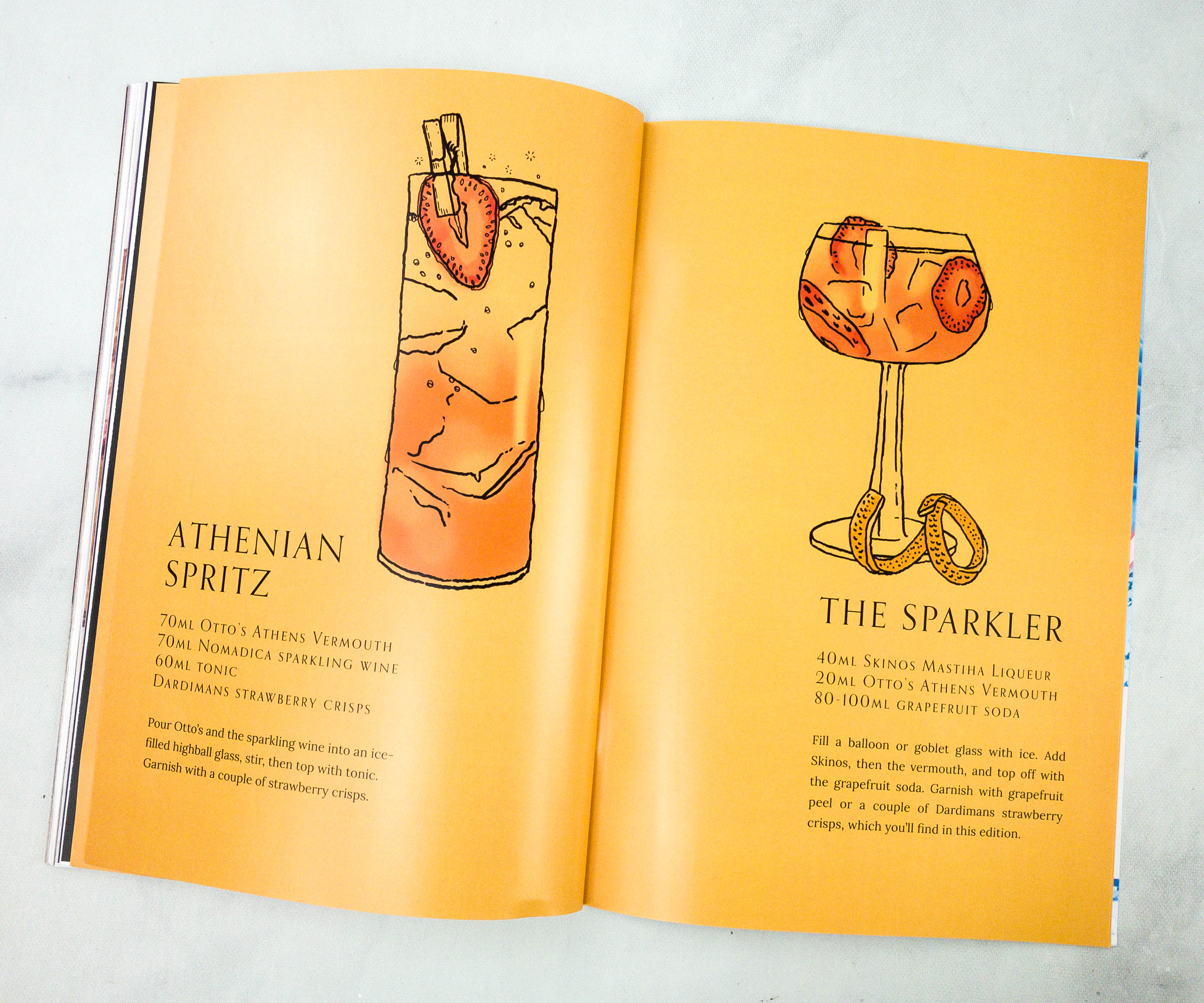 Next up is the Athenian Spritz and The Sparkler. These cocktails recipes are easy to follow!
Lastly, we're using tequila for Paloma and vodka for Greyhound. Both of these cocktails have a real kick!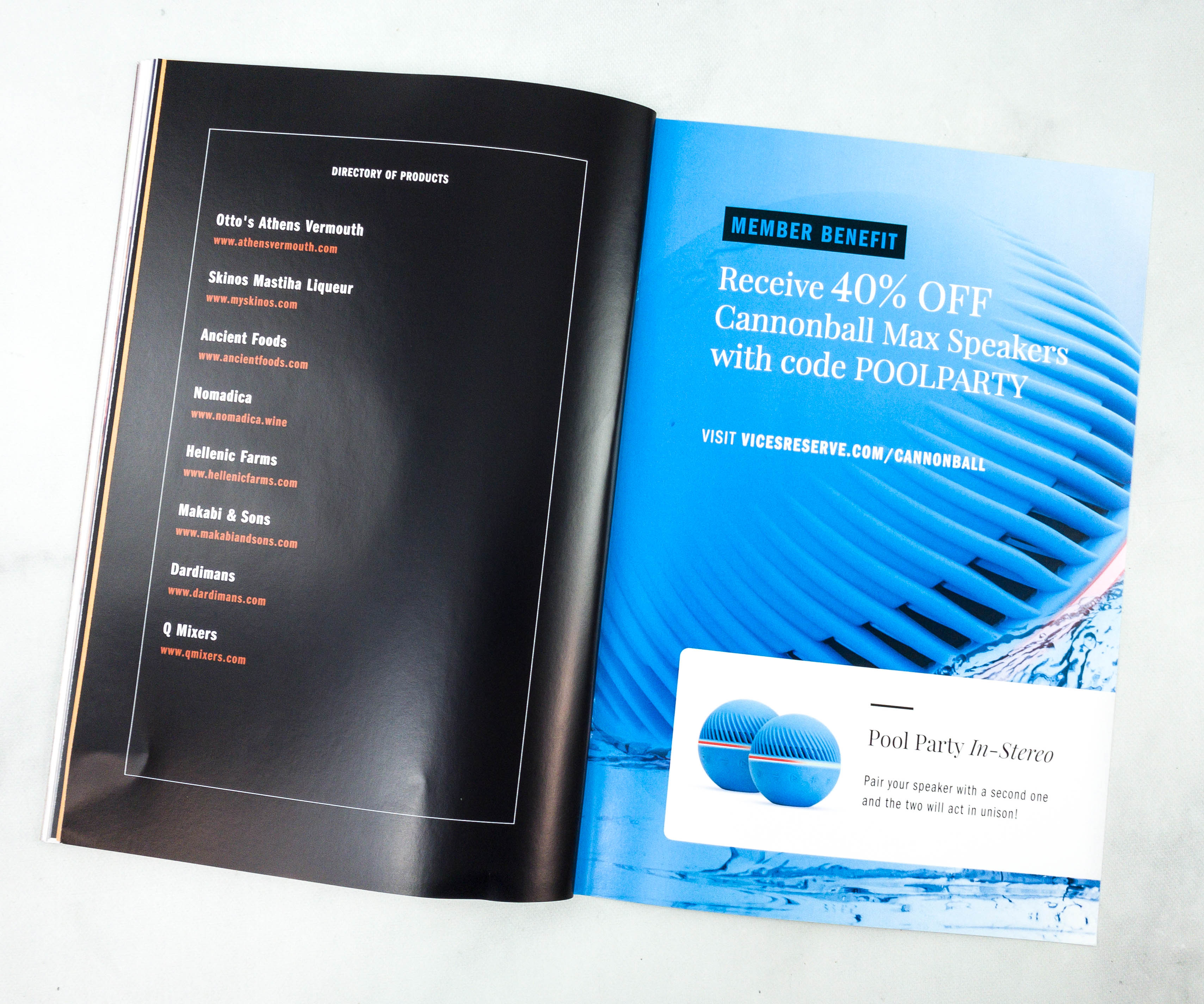 Here's a directory of the products! They also gave us a member-only 40% discount for Cannonball Max Speakers!
Everything in my August 2020 box!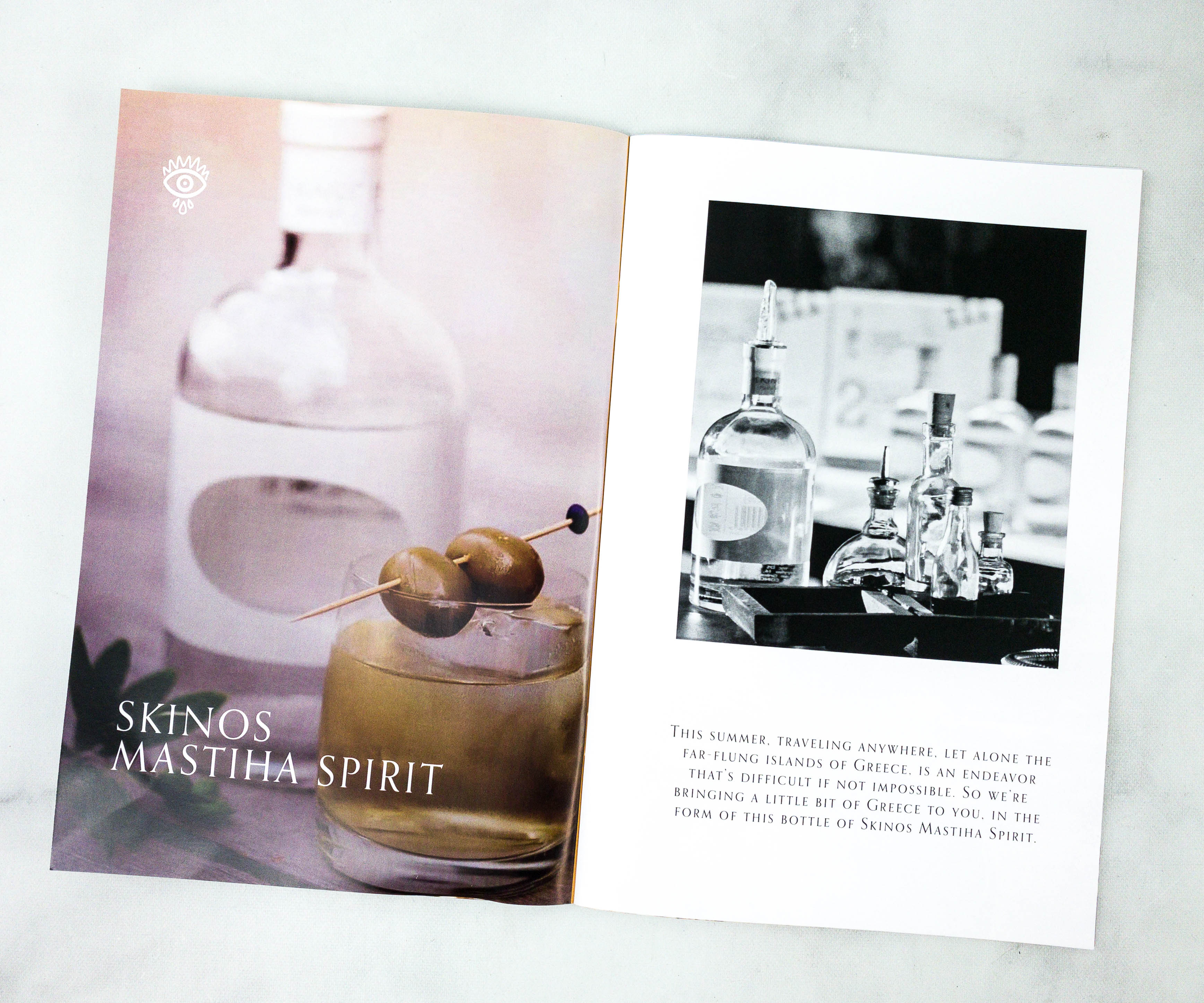 Skinos Mastiha Spirit ($32.96) This liquor is made from the resin of the Mastiha tree. It's distilled along with grain alcohol then they added just the right amount of sugar to balance the taste.
Best served icy cold, this drink is so refreshing and has traces of anise and mint!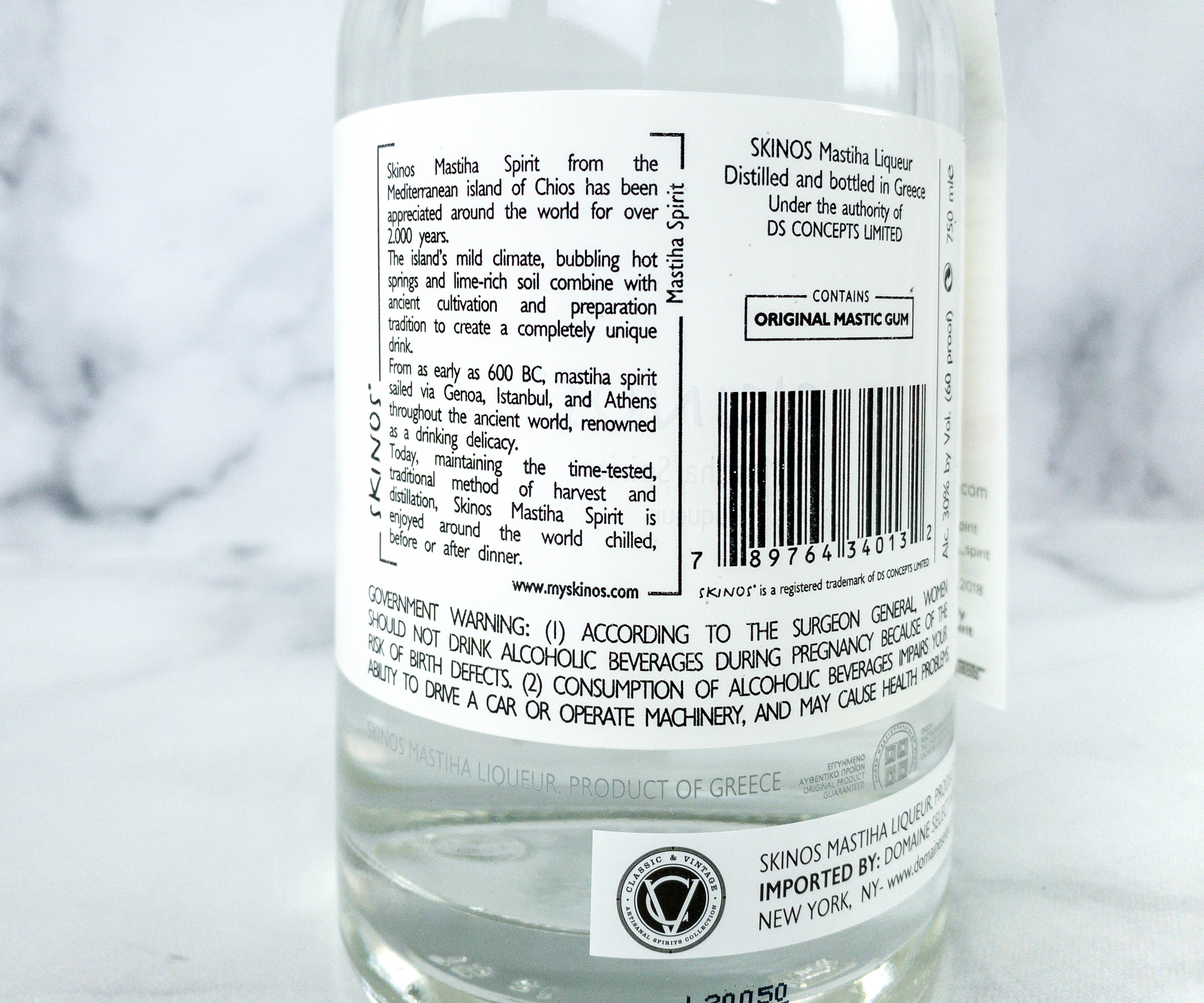 This can be used in cocktails, and some even use this as a flavor enhancer for Mediterranean dishes.
Otto's Athens Vermouth ($24) It's a refreshing and slightly bitter Vermouth, with notes of fresh rose petals and an aroma of citrus fruits and vanilla. It's perfect on the rocks!
A balance of sweetness with a slightly bitter flavor is rounded off by a hint lemon and orange aftertaste.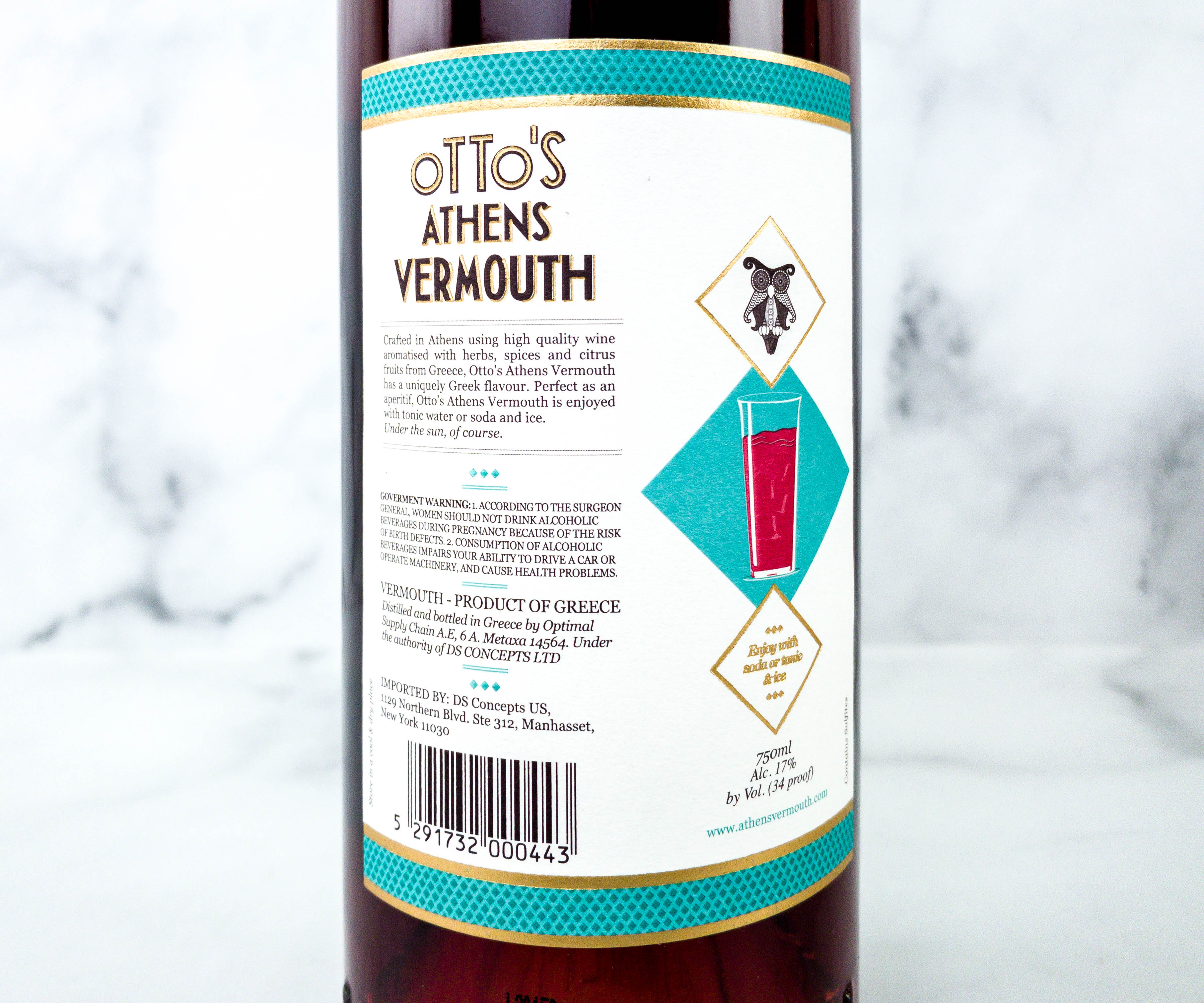 Its rich history and the fine selection of ingredients is more than enough to judge the quality of this drink. It works great with soda or tonic as a long drink. You can even mix it with tonic and proseco!
This next product claims that it tastes like the real thing and I'm excited to check it out!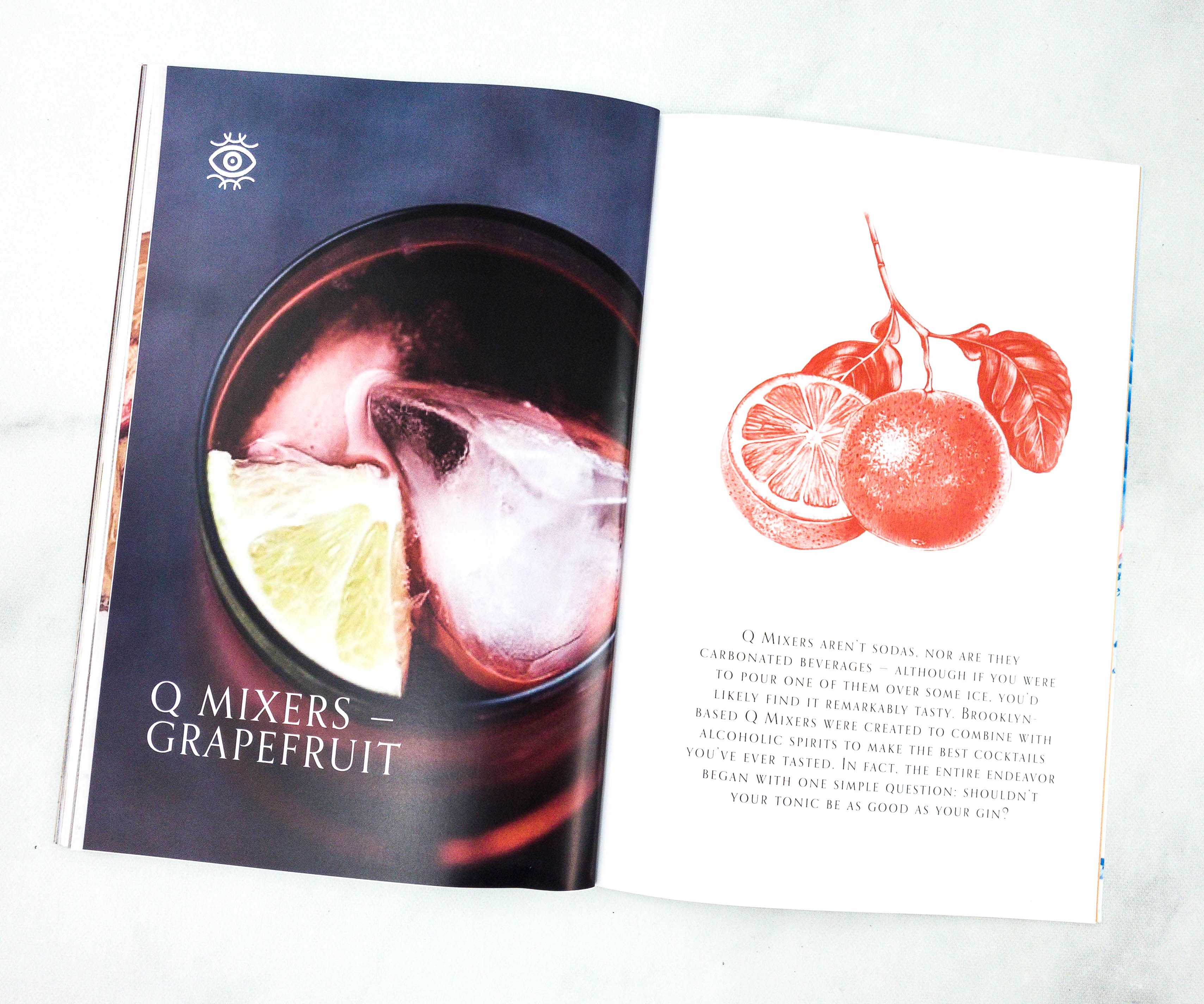 Q Mixers Grapefruit. A must-have for creating great cocktails, this made-in-the-USA mixer is made with real ingredients like grapefruit. It's also non-GMO and kosher.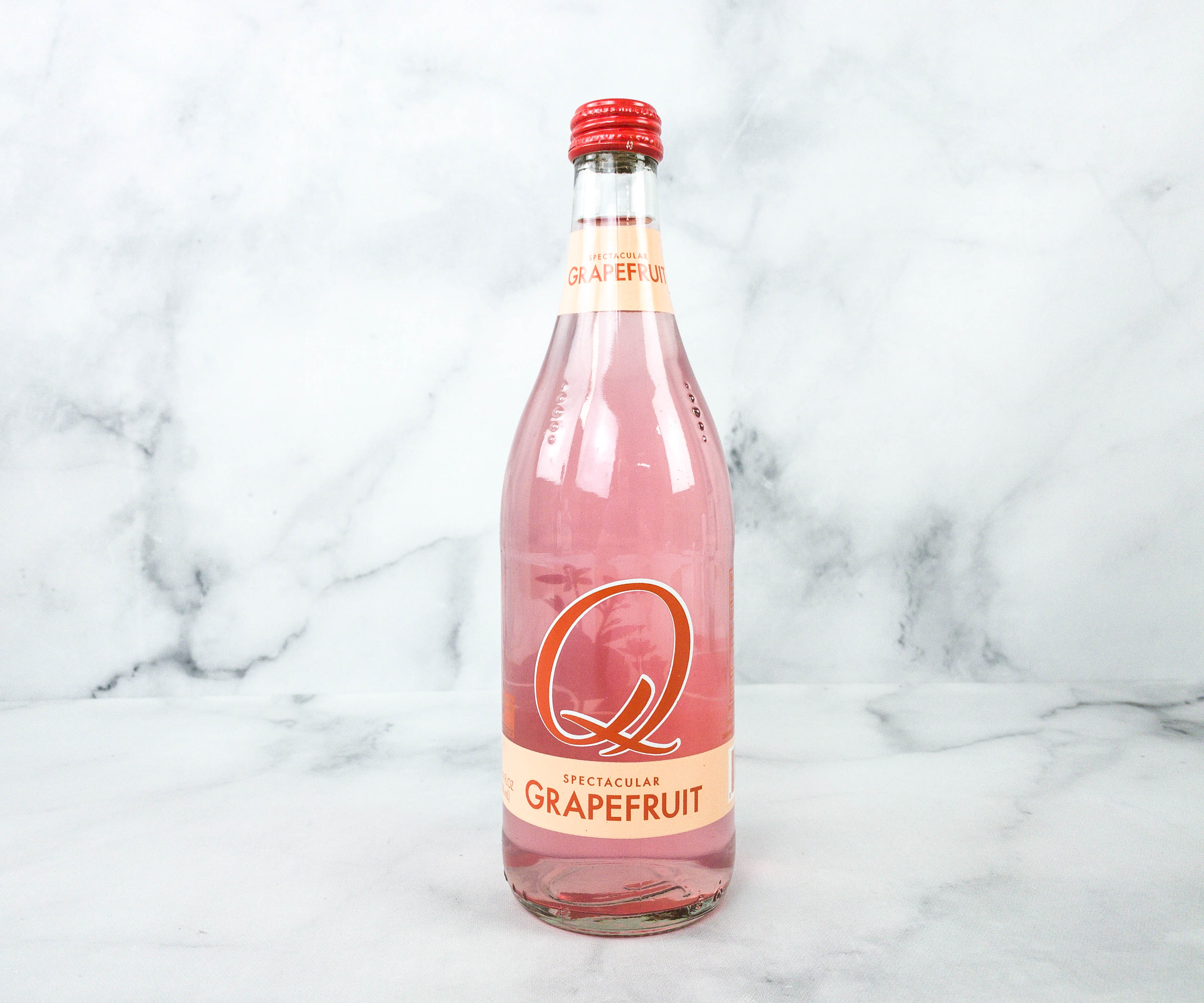 The mixer has a lovely pink color. It goes well with vodka and tequila!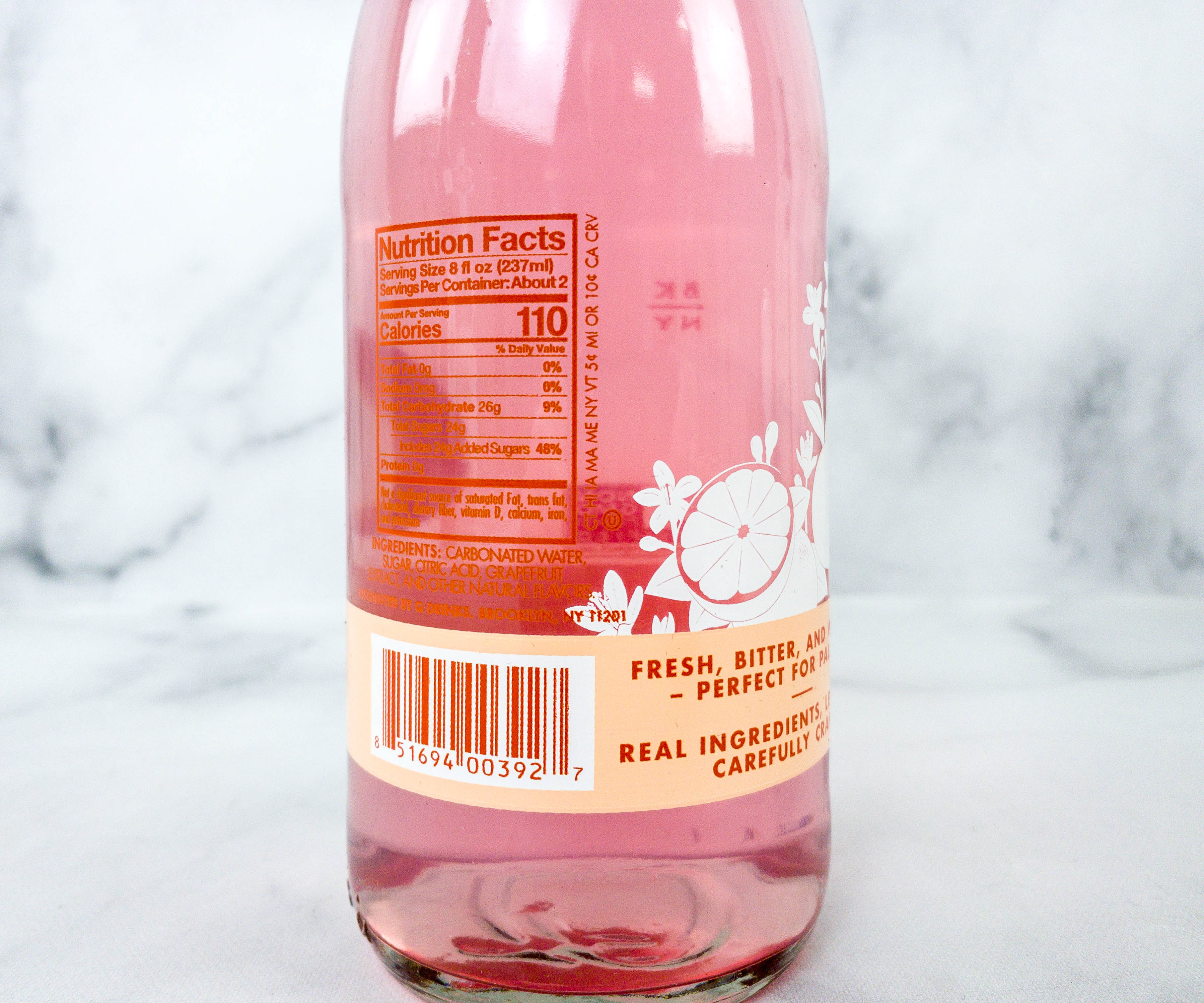 It's certainly not your usual mixer that's loaded with sugar. This uses a lot of actual grapefruits and adds just a hint of sweetness that help you achieve the perfect Paloma!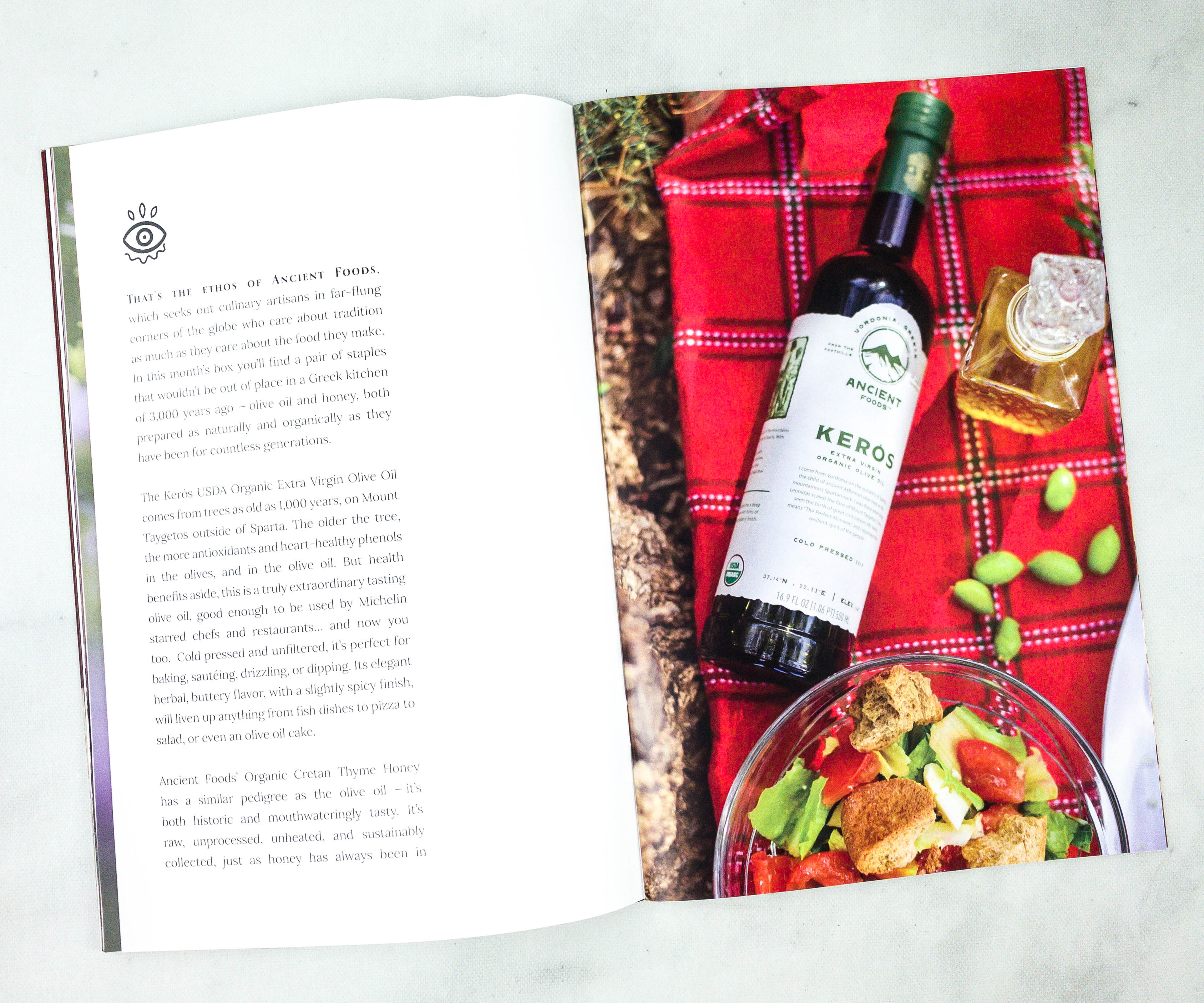 Ancient Foods Kerós Extra Virgin Olive Oil ($24) This unfiltered olive oil comes from 1000-year-old Athenoelia Olive Trees. It's said that the older the Olive Tree, the more antioxidants and phenols that our heart and body health benefit from!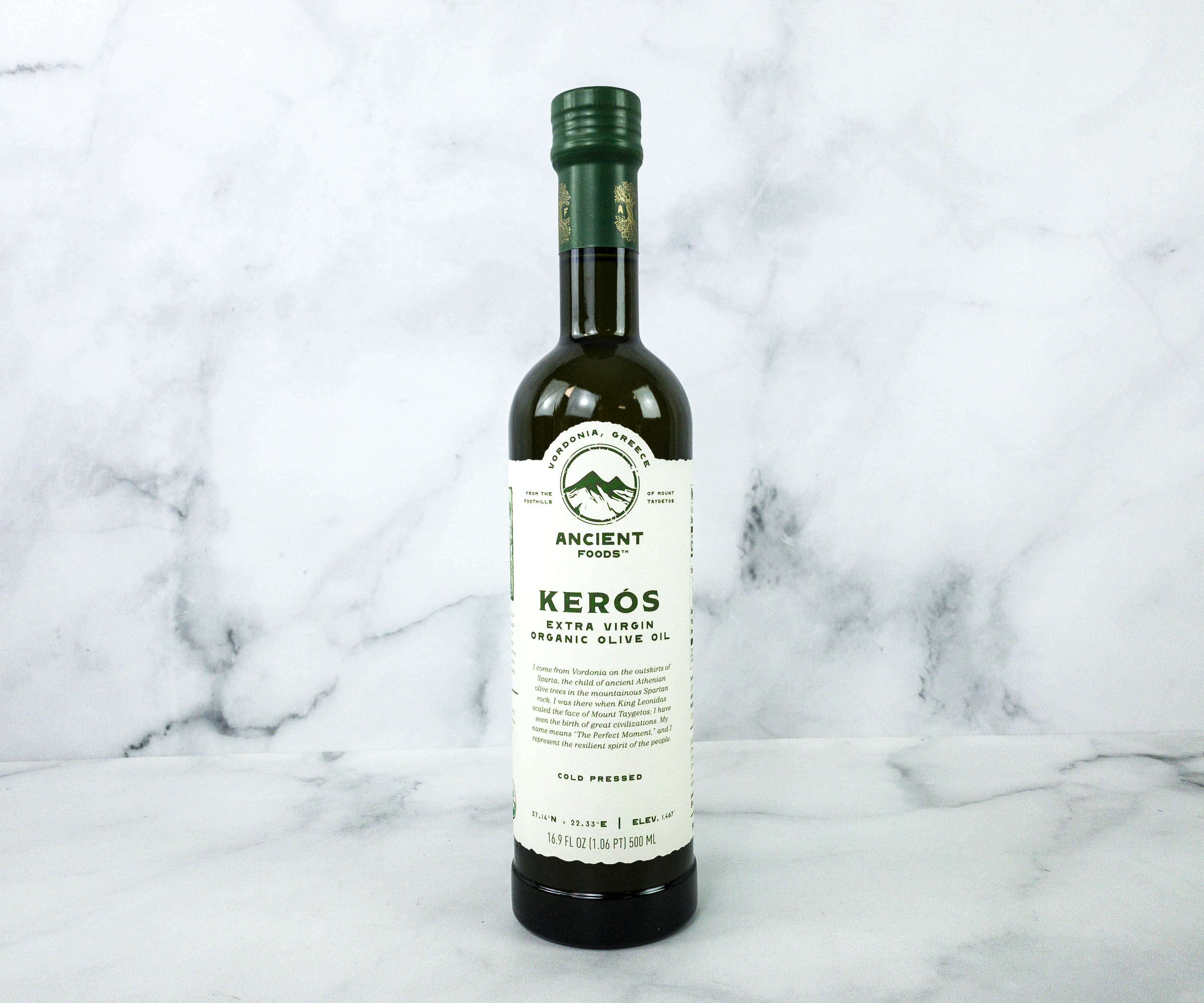 This olive oil is ideal for making Greek salads. It's also good to use for sautéing and baking.
Its flavor notes make it way better than regular olive oils. This one is rich and grassy with hints of fresh herbs, tied wonderfully by a buttery and peppery finish.
It's best to consume before the indicated date at the back label, which is a few years from now.
Nomadica Sparkling White Wine ($6.25) It's white wine in a can, made with a mix of Malvasia (fermented and aged in stainless steel) and Chardonnay (65% fermented and aged in stainless steel, 35% fermented and aged in neutral French oak).
Light and crisp, it's a good partner for Asian dishes including sushi and ramen.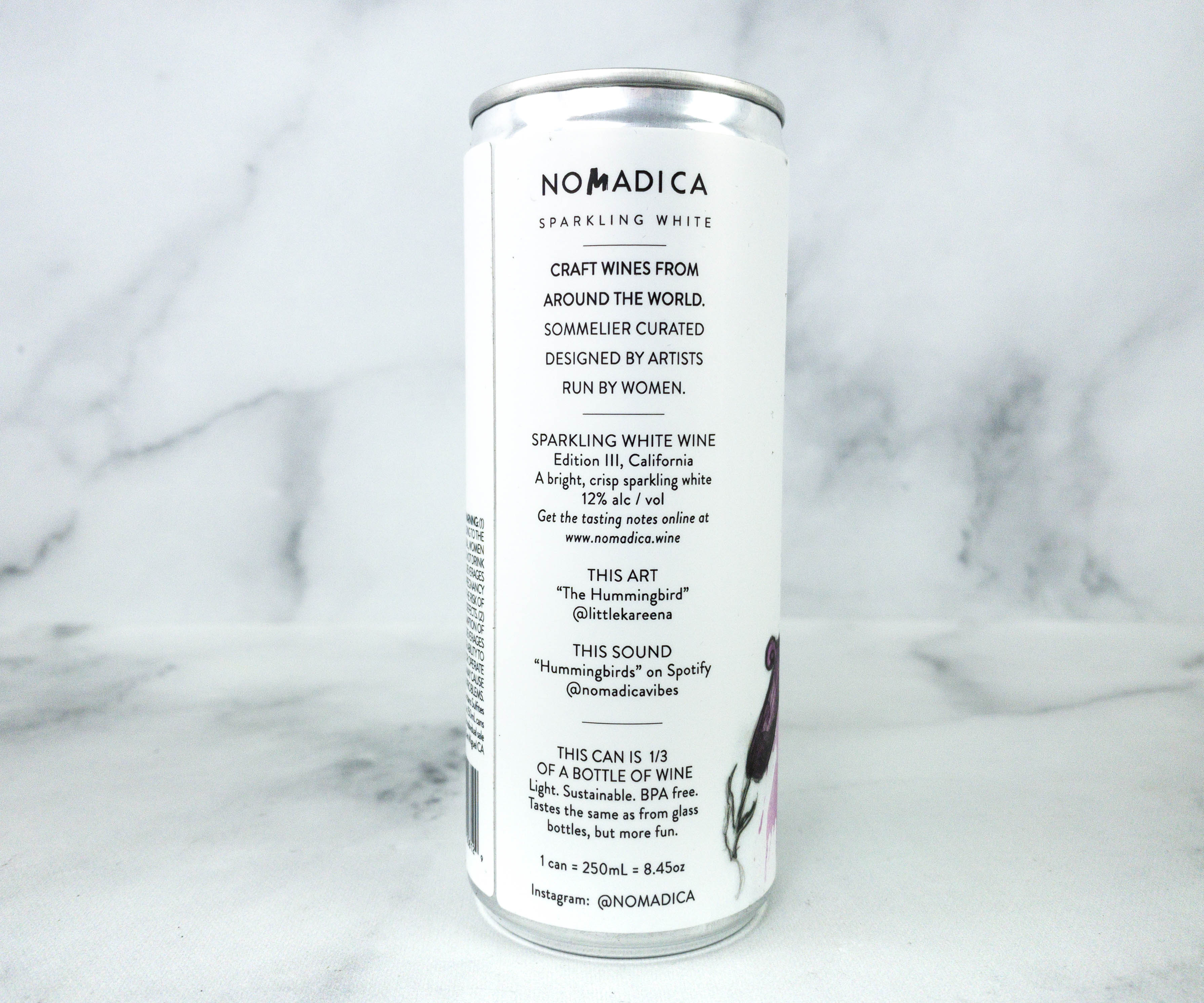 It has notes of jasmine flowers, honeysuckle, and green apple, and it tastes just as perfect as regular wines in a bottle.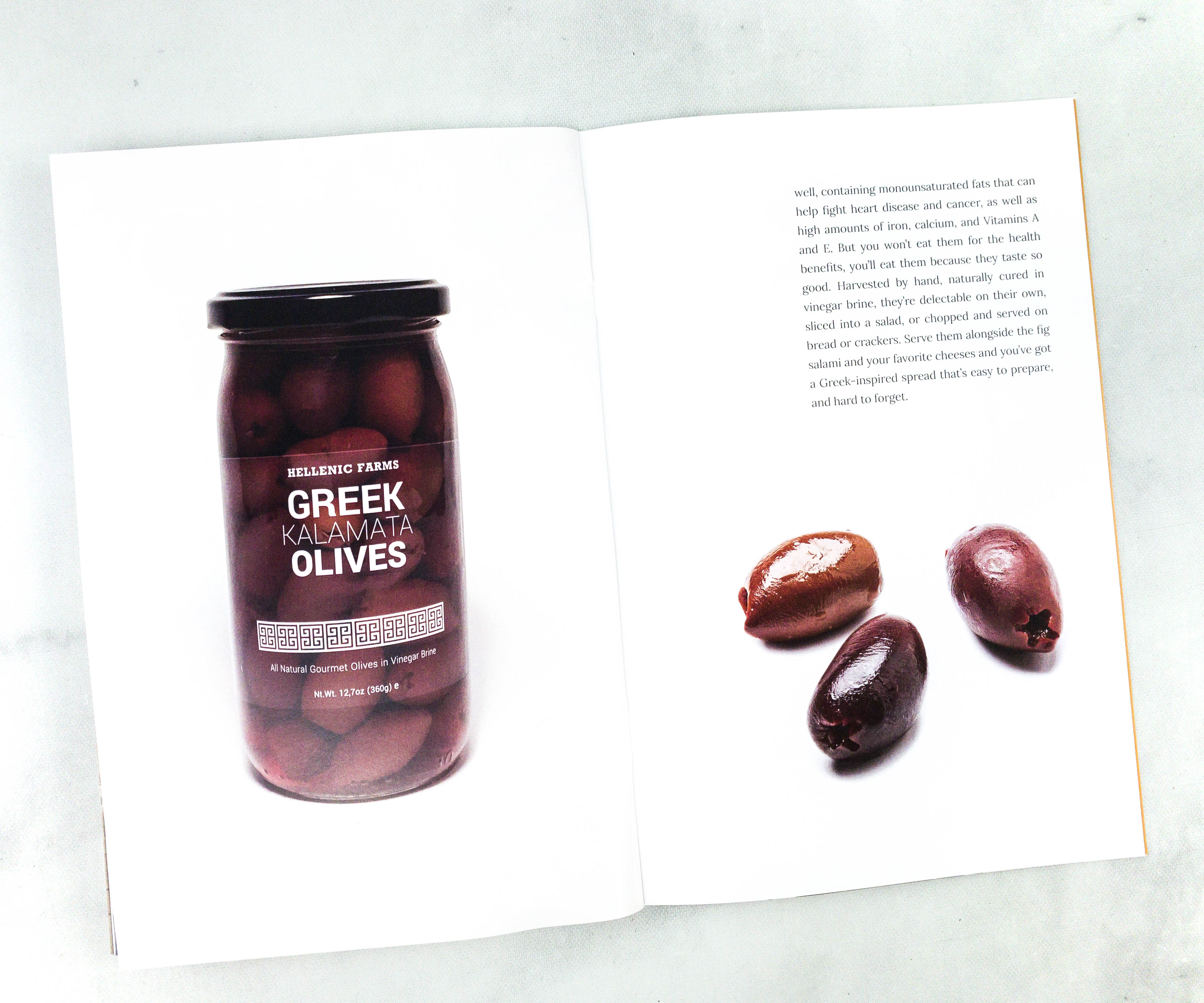 Hellenic Farms Greek Kalamata Olives ($12.99) Hellenic Farms is known for its extra-large, kalamata olives cured in an all-natural vinegar brine. These olives are hand-harvested in late fall and naturally cured to preserve their outstanding taste and high-grade quality!
These pitted olives are tasty on their own, but you can also add them to salads or served with bread or crackers in a Greek-inspired spread. It's also great to know that they have various health benefits, which include high amounts of iron, calcium, vitamin A, vitamin E, and monosaturated fats.
Ancient Foods Organic Thyme Greek Honey ($15.95) It's a gluten-free, pure raw organic honey made by wild bees that forage natural herbs near the sea.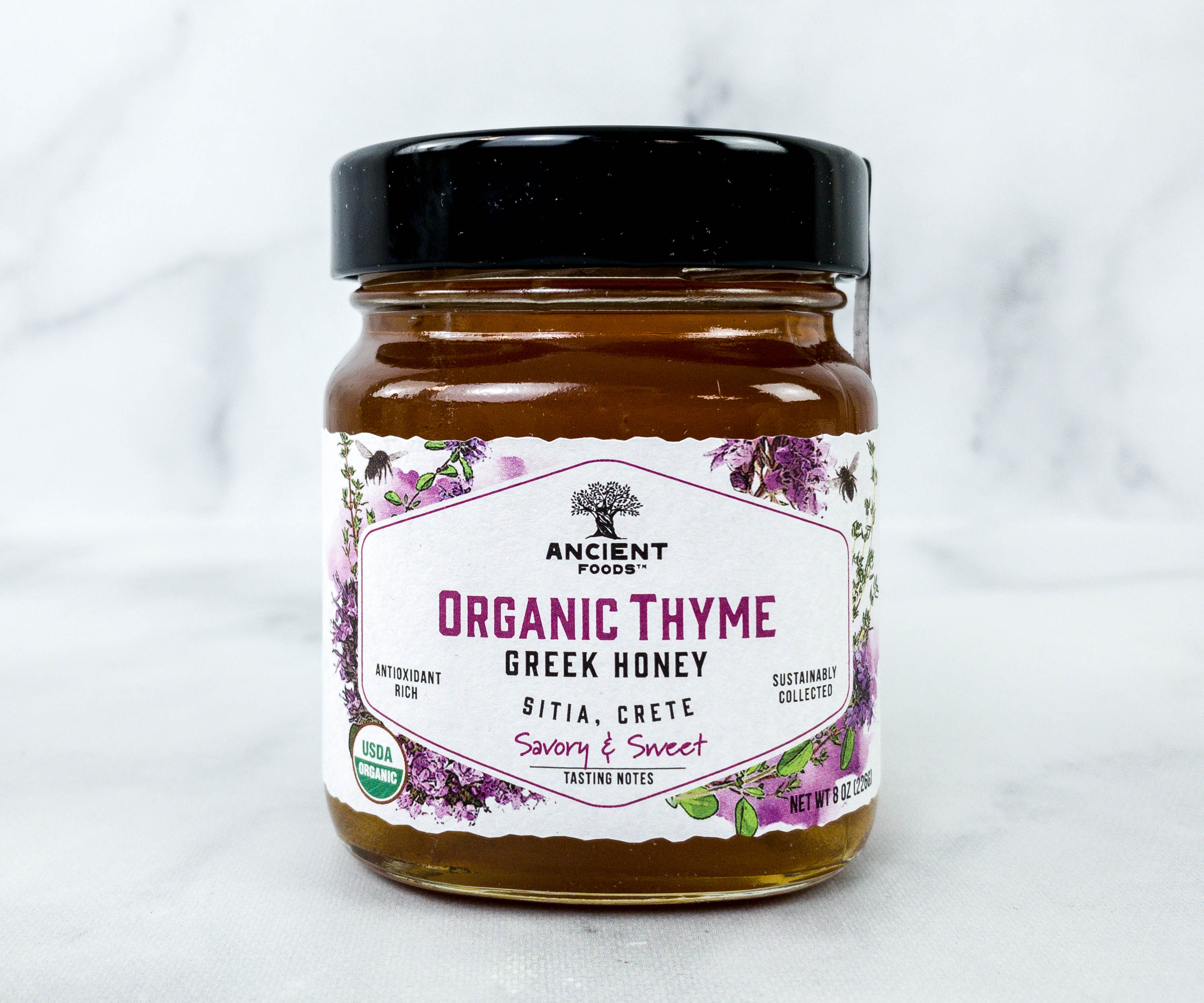 I love adding this to bread and desserts. It can also be consumed as-is if you want a health boost.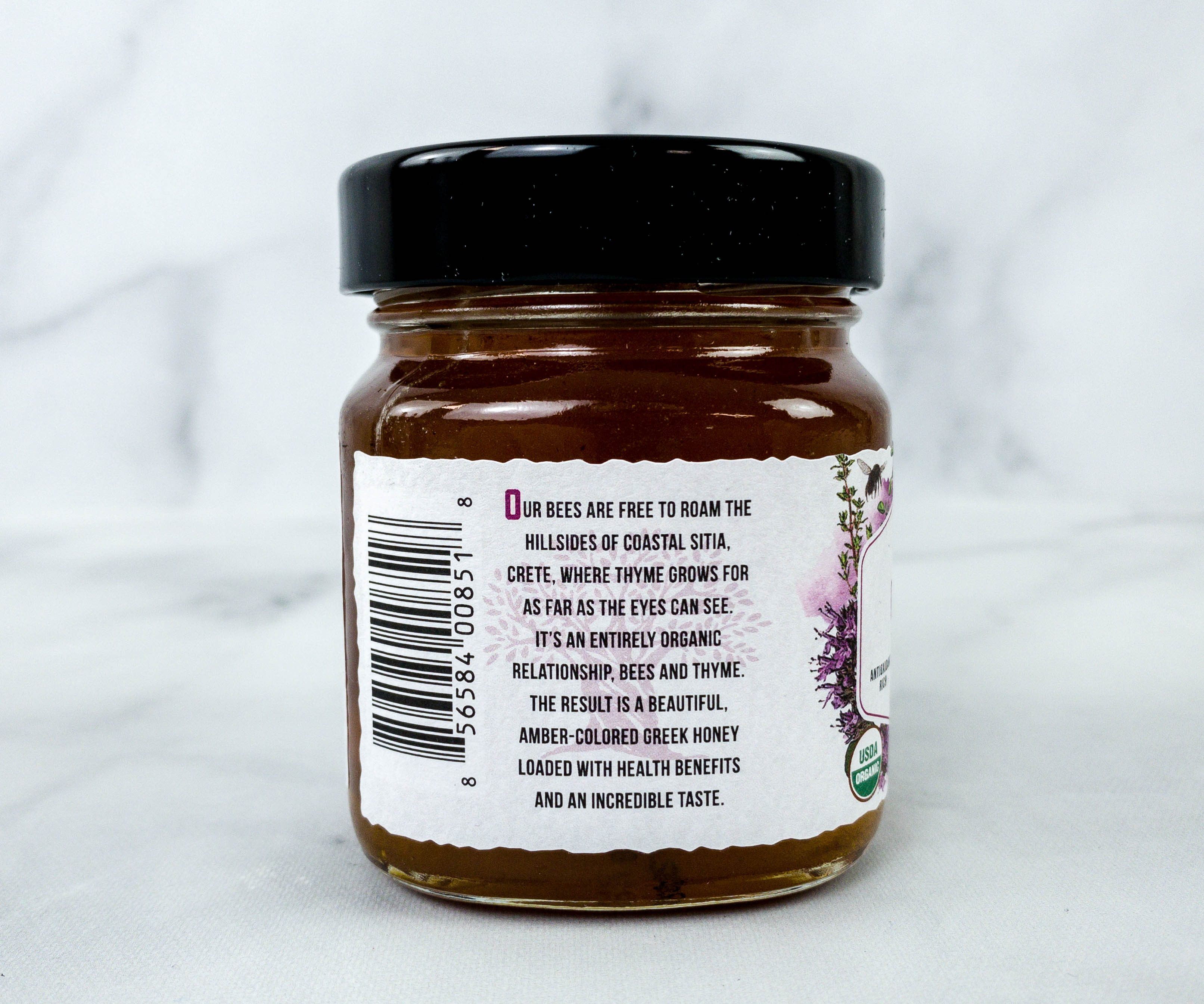 According to the label, the habitat of the bees plays a major role in producing high-grade honey!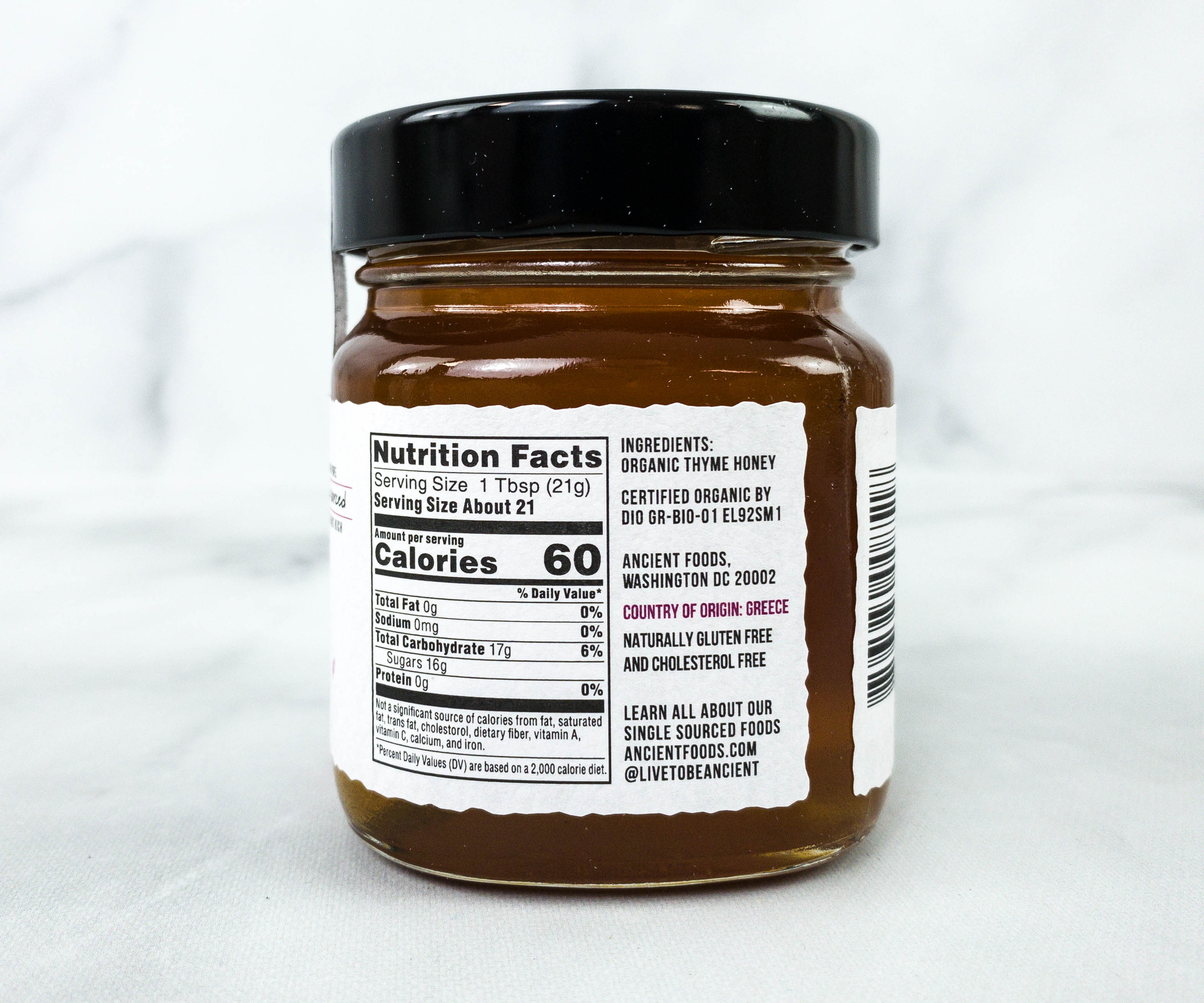 This authentic Greek honey is naturally gluten-free and cholesterol-free. It's also rich in antioxidants!
Dardimans Strawberry Crisps ($1.99) Another important ingredient for cocktails is this pack of strawberry crisps! It's made with fresh strawberries and without sugar or any other artificial flavoring. It makes a good alternative for citrus twists.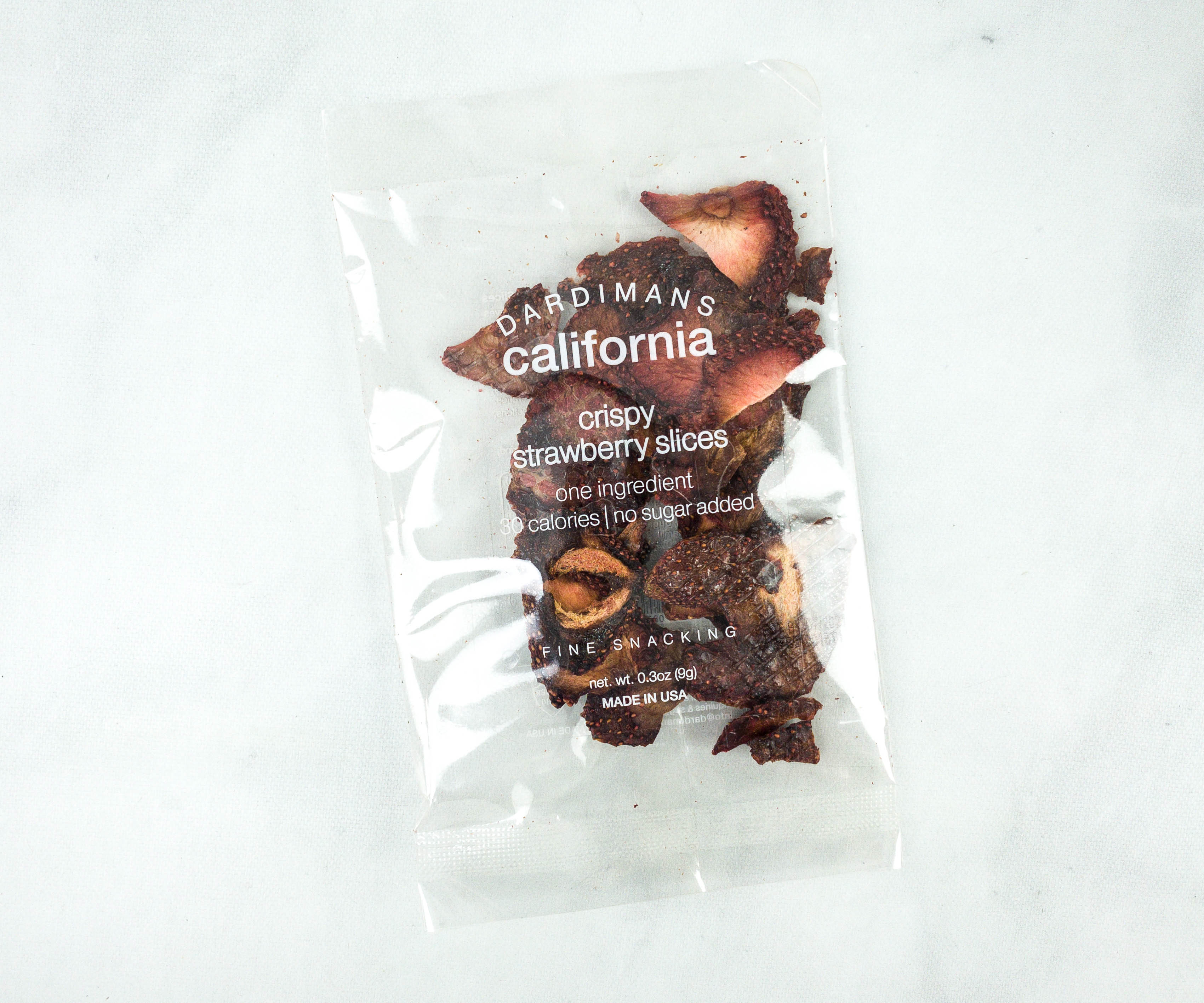 The dried strawberry slices are packed in a clear pouch so you can easily see what's inside.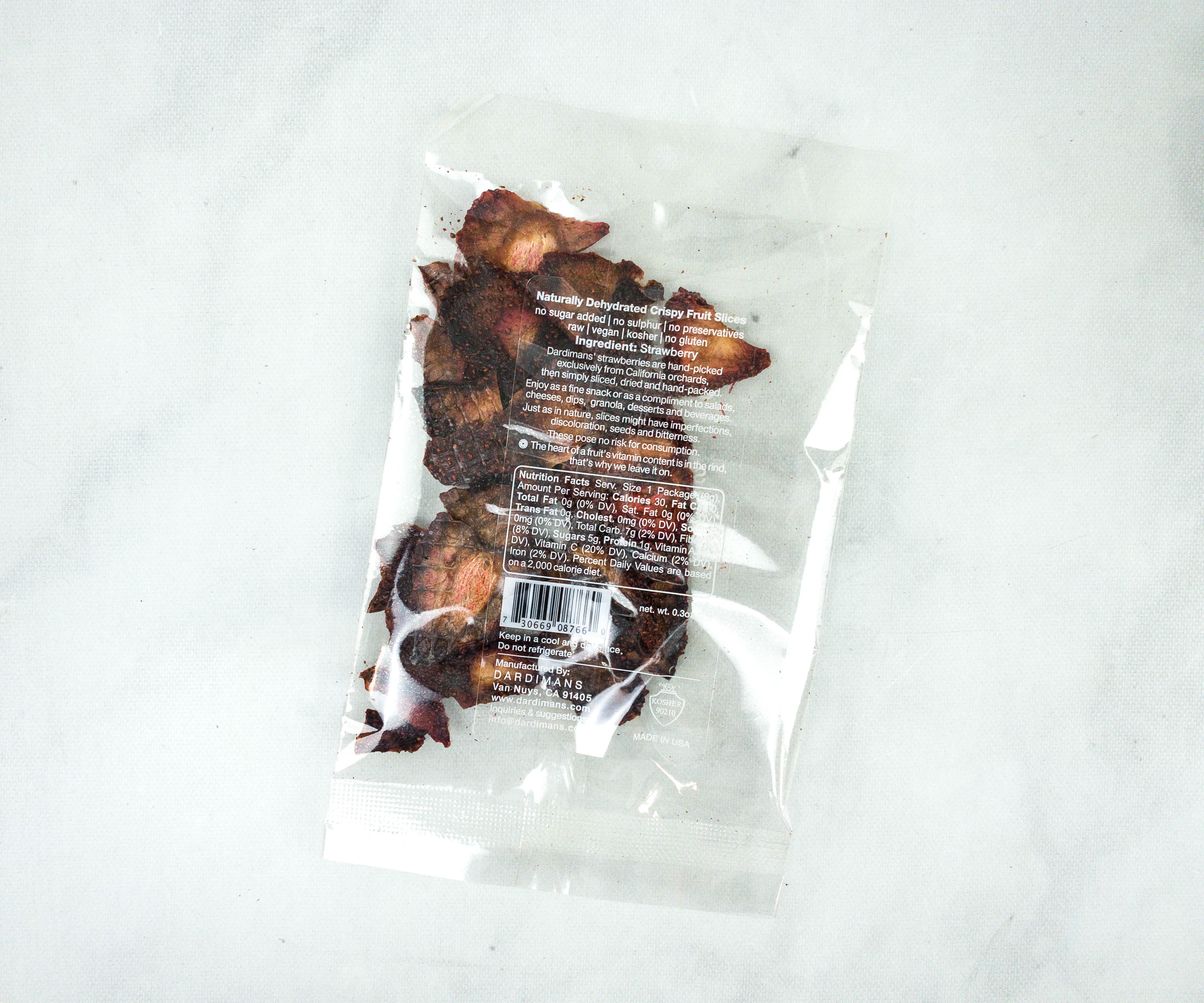 They taste fresh, as the tartness is exactly the same as a fresh strawberry. If you love strawberries, it might be hard not to consume everything in one sitting because it's that good!
Makabi & Sons Kriti + Rosemary Sea Salt Shortbread Butter Cookies ($7) A delight to the taste buds, these crisp, buttery flavored cookies are infused with aromatic rosemary and Maldon sea salt!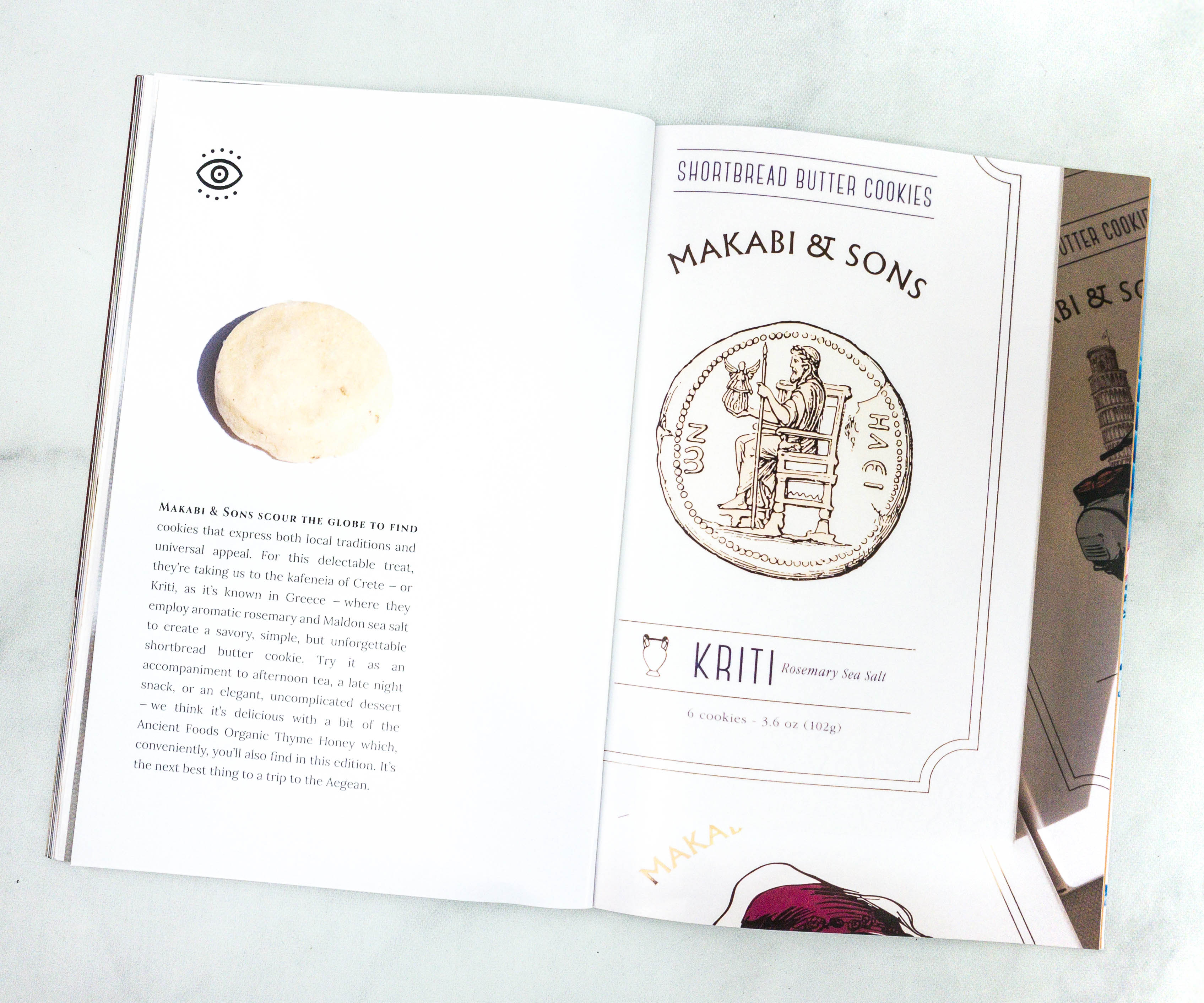 It's known as a perfect accompaniment for afternoon tea, but it tastes so delicious, you'd love to have it any time of the day or even as a dessert!
I like the custom made box because it makes for a beautiful gift!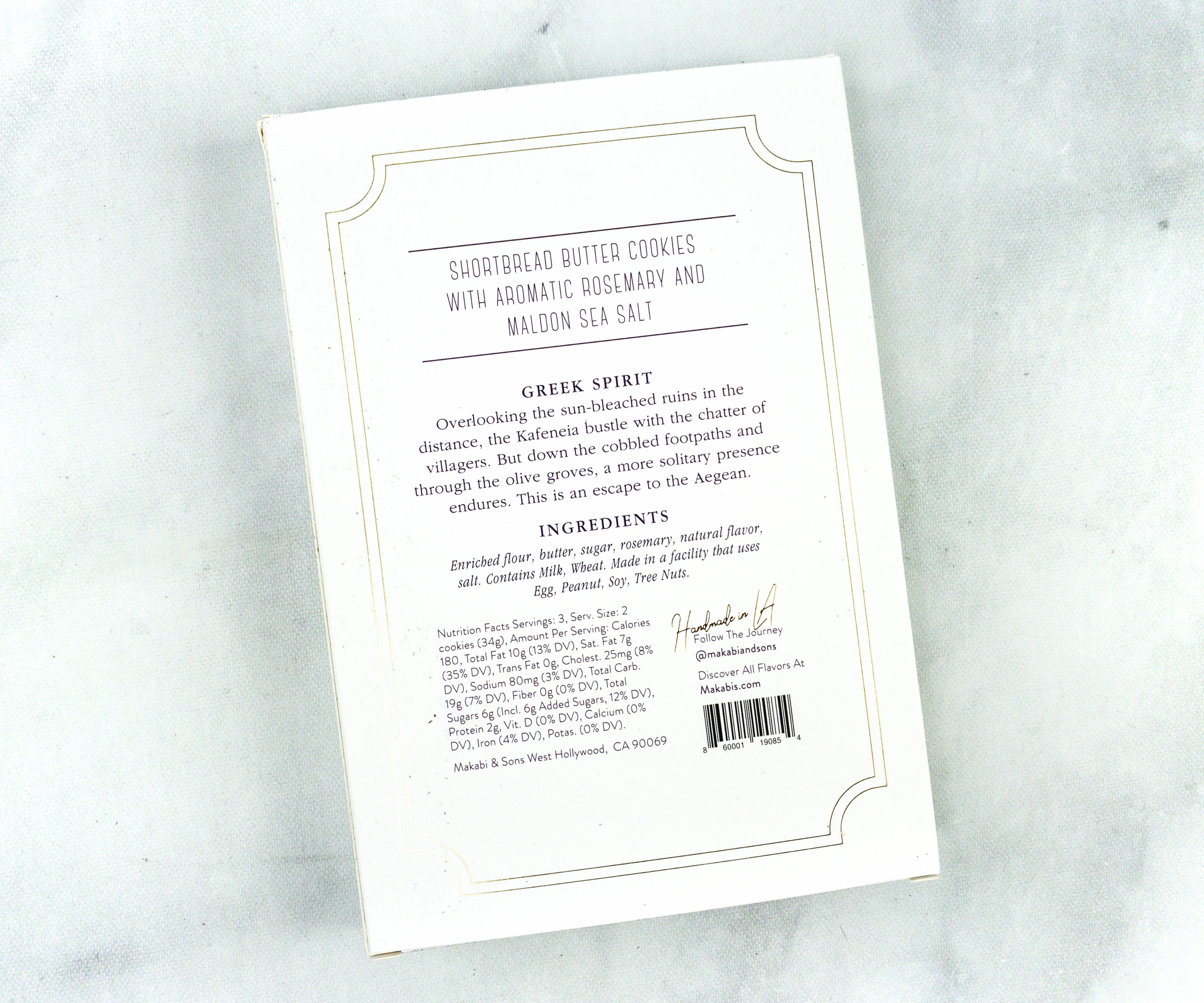 These cookies are made with enriched flour, butter, sugar, rosemary, salt, and other natural flavorings.
They came in a 6-piece tray, securely sealed for freshness.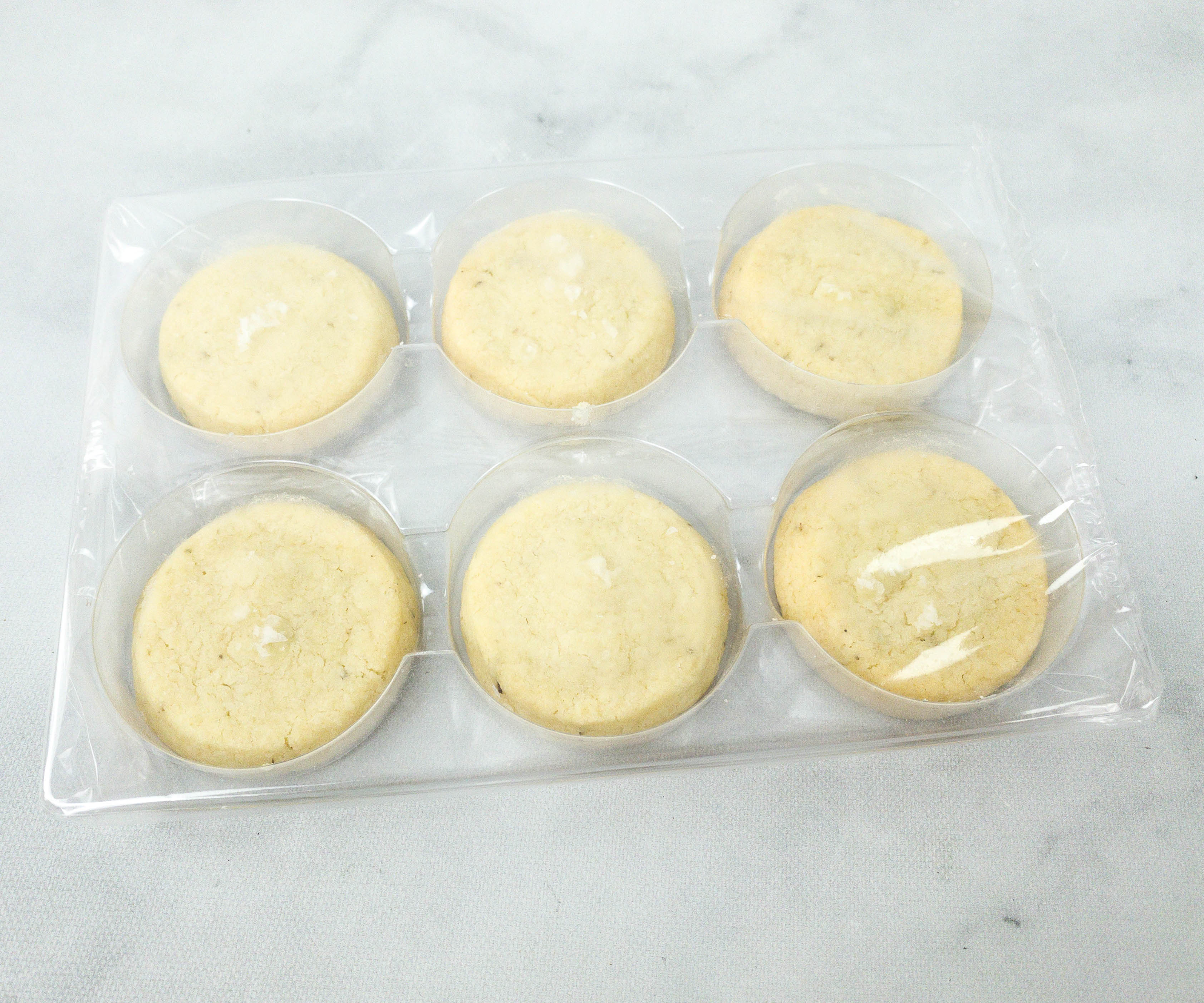 The tray is designed to keep the cookies in shape so they don't crumble during transit.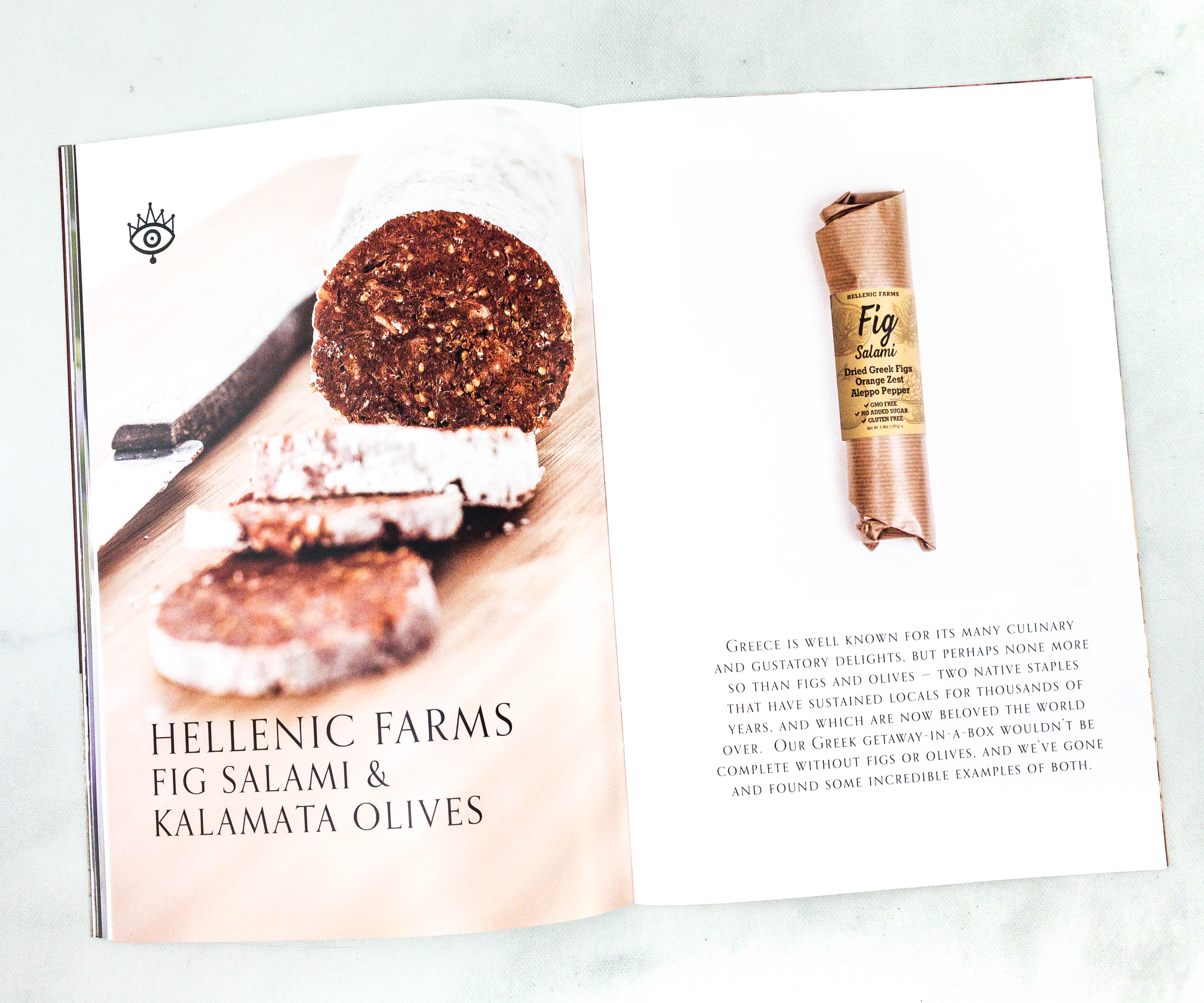 Hellenic Farms Fig Salami & Kalamata Olives ($10) This Greek getaway-in-a-box will not be complete without this native staple that has sustained the locals of Greece for thousands of years!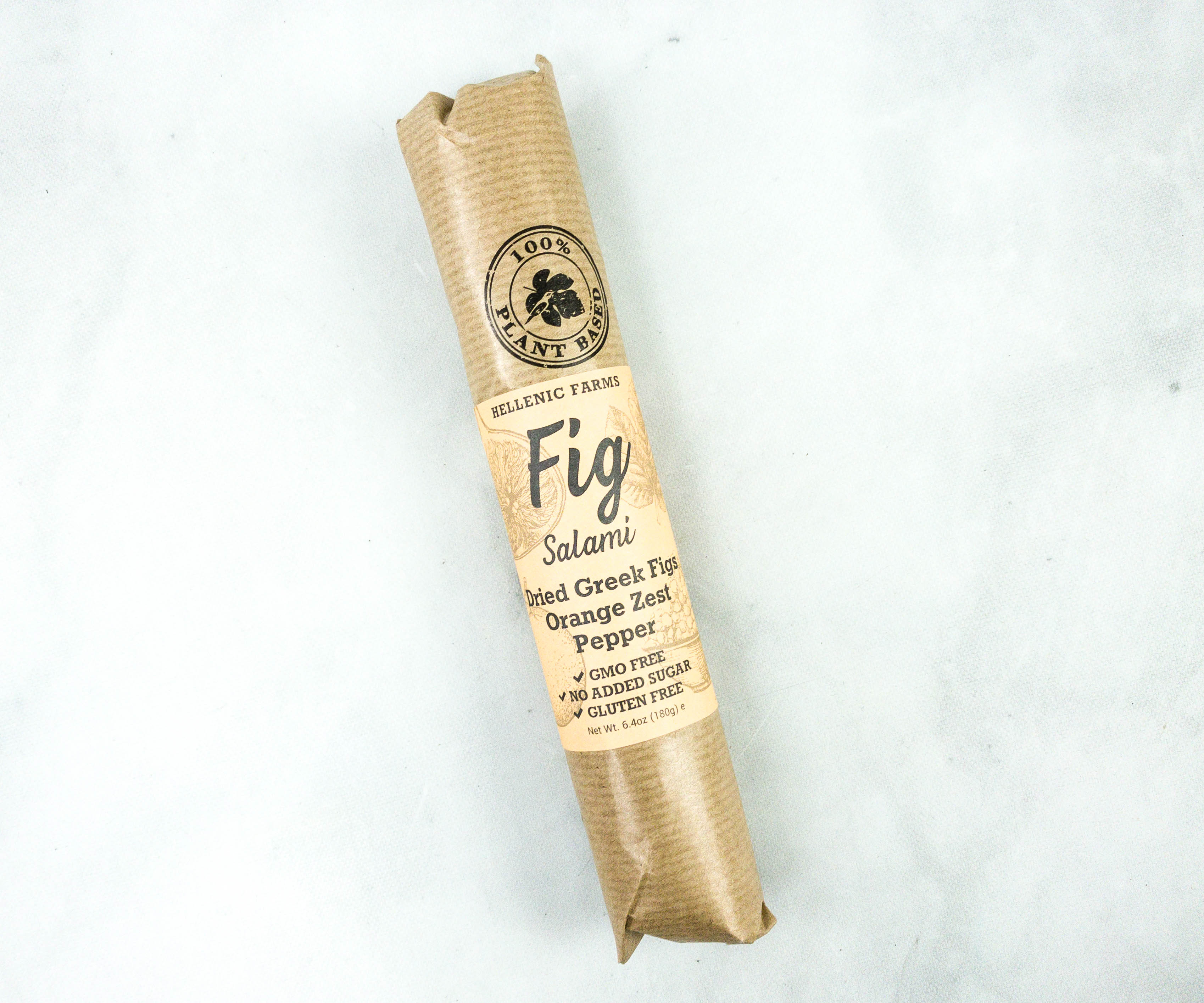 This fig-based salami has the right amount of chew. It's sweet and savory on every bite, but doesn't contain added sugars and other artificial flavorings. It's also gluten-free.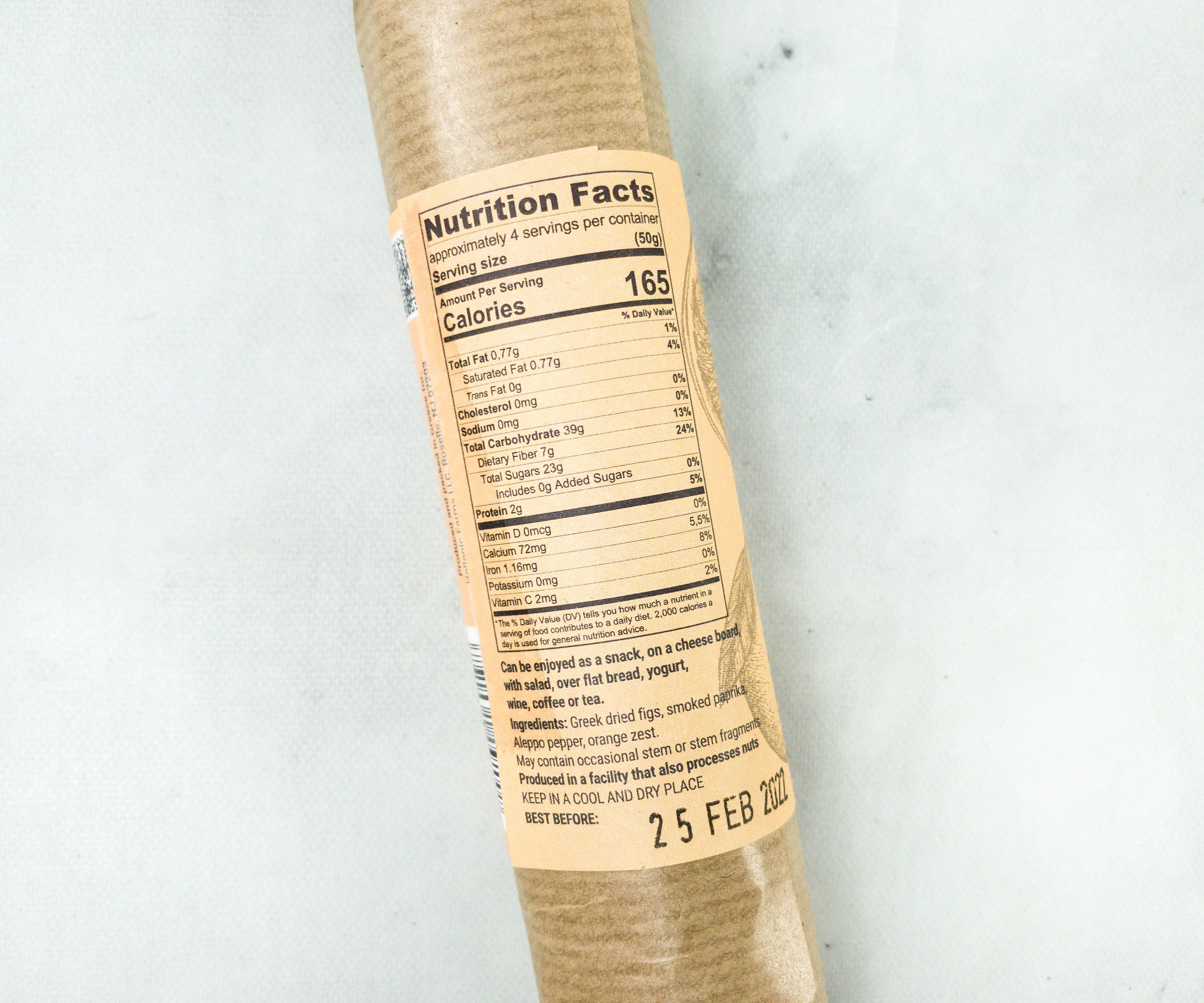 Other ingredients are smoked paprika, Aleppo pepper, and orange zest.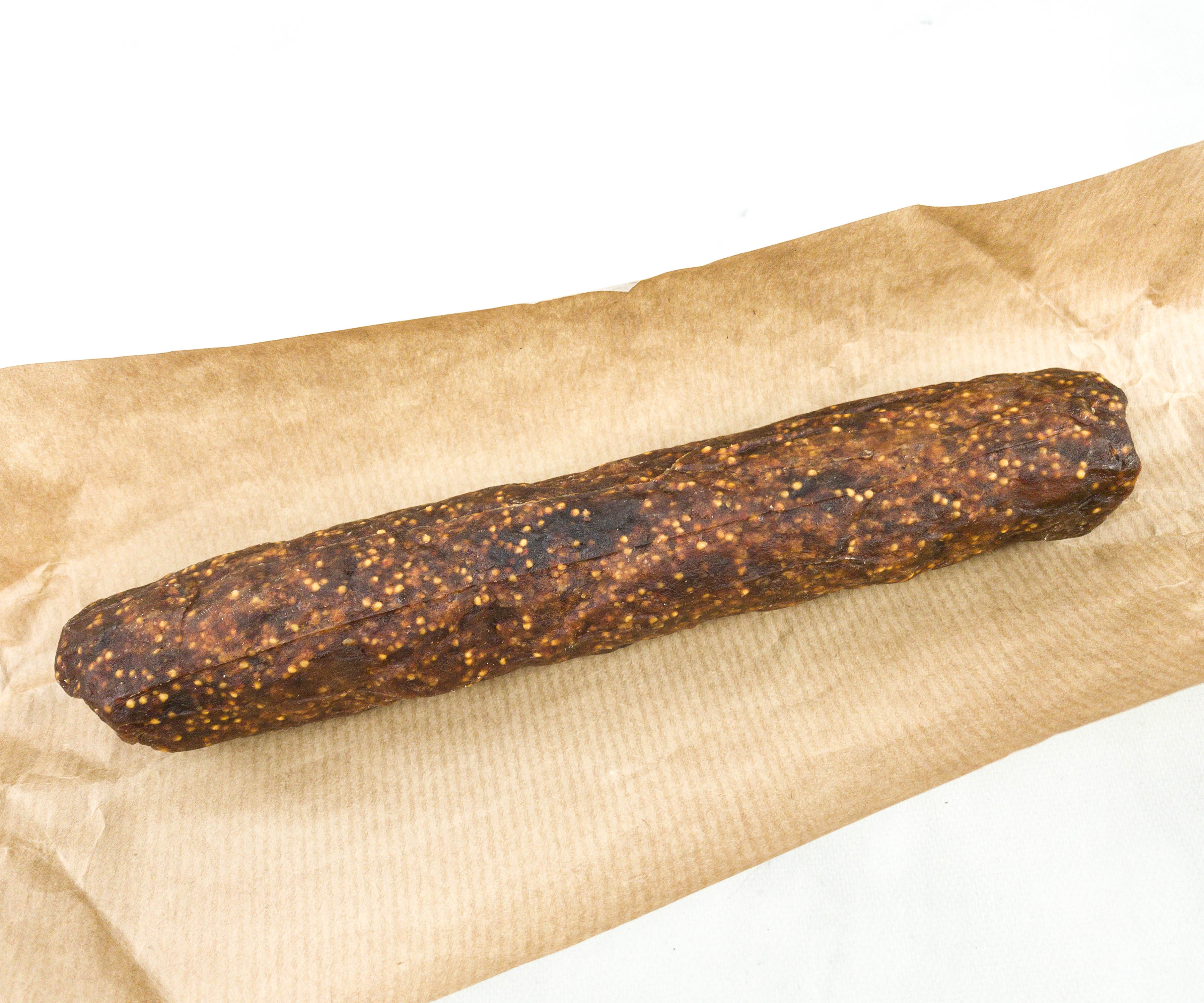 I can already imagine how good this will look on my next cheese board when sliced thinly!
Boxes from Robb Vices are always high-end curations! This month, I received another top-notch box and it's filled with Greek goodies and cocktail ingredients. There are liquors and a mixer, and even a pack of dried strawberries that can be used as toppers. Other items such as cookies and salami are ideal for making a charcuterie board. Reading the magazine while unboxing felt like I was being transported to Greece, so it was a great experience. They also shared bits of history and which I really enjoyed. It's hard to pick a favorite because instead of a single item standing out, the curation has items that complement each other well. If you're looking for a luxurious subscription to treat yourself with or give as a gift, this is a good choice! Dollar for dollar the value isn't always present in this box, but I also wonder how much time and shipping dollars it would take to put this together!
What do you think of this month's Robb Vices box?