Pipsticks is a monthly sticker subscription that sends new designs from their collection in a super shiny holographic pack every month! The stickers come in a reusable sparkly pouch and include sticker sheets, paper products, and Little Zippy, an exclusive sticker magazine. You also get 5% savings in the online store and more. You can choose to get stickers for adults (Pro Club) or kids (Kids Club). Both clubs come in Classic (15 sheets for $17.95 a month) or Petite (7 sheets for $11.95 a month). Shipping is free to the U.S., and Pipsticks can even be shipped worldwide for a fee.
C'mon. Who doesn't love stickers? Any stationery lover, crafter or pen pal knows the true magic of these little guys. Stickers motivate, inspire, entertain and delight with unmatched simplicity.

The Kids sticker pack is totally child-friendly, they can do everything by themselves which means it's a break for the parents – yay!
DEAL: Save $5 on your subscription! Use this link to subscribe and coupon code FRIENDSROCK.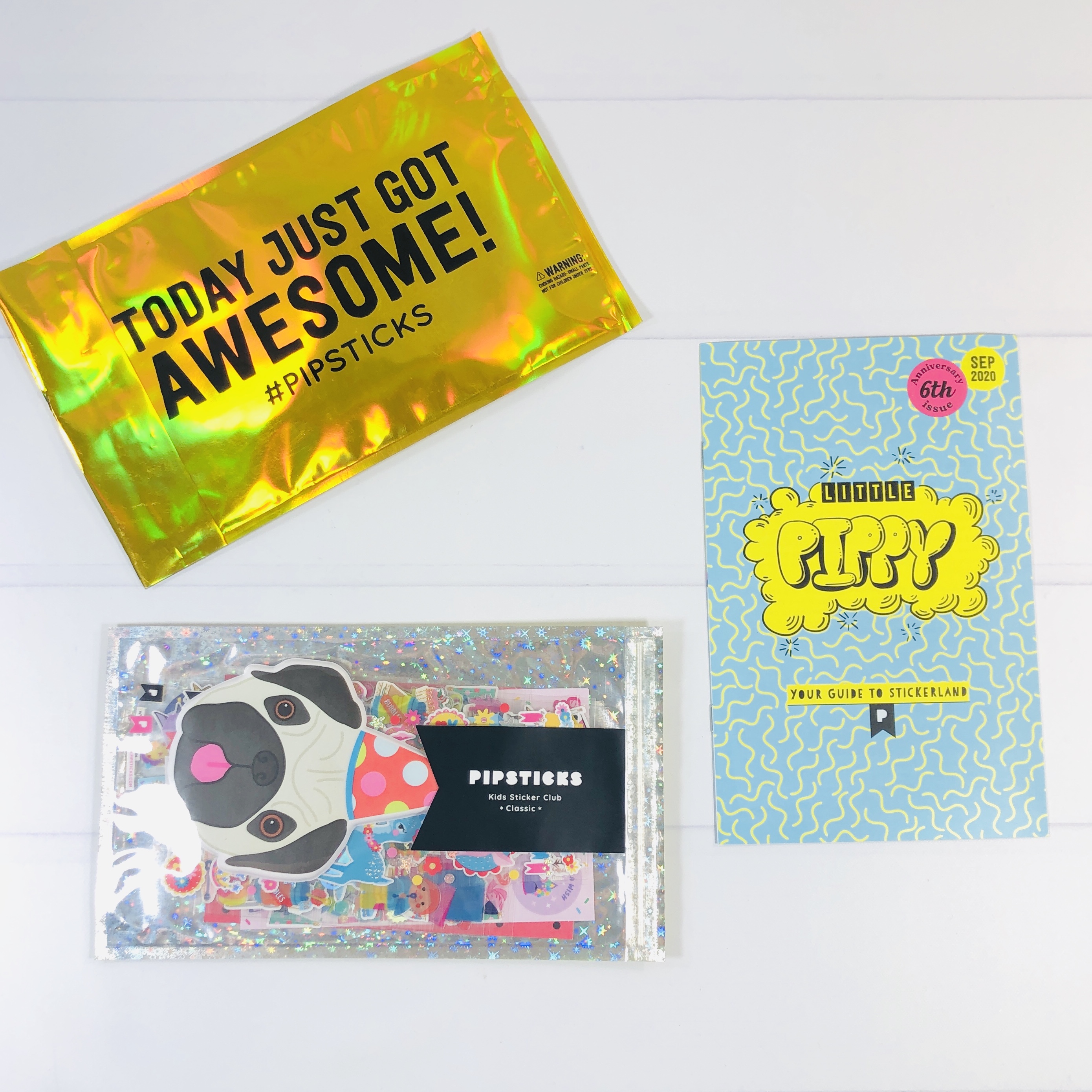 I am reviewing the Pipsticks Kids Club Classic! Each month subscribers can expect to receive 15 sheets of stickers, a coloring postcard, an activity booklet, a chance to win the monthly raffle, 5% savings in the online store, and more!
Pipsticks includes an exclusive magazine called Little Pippy.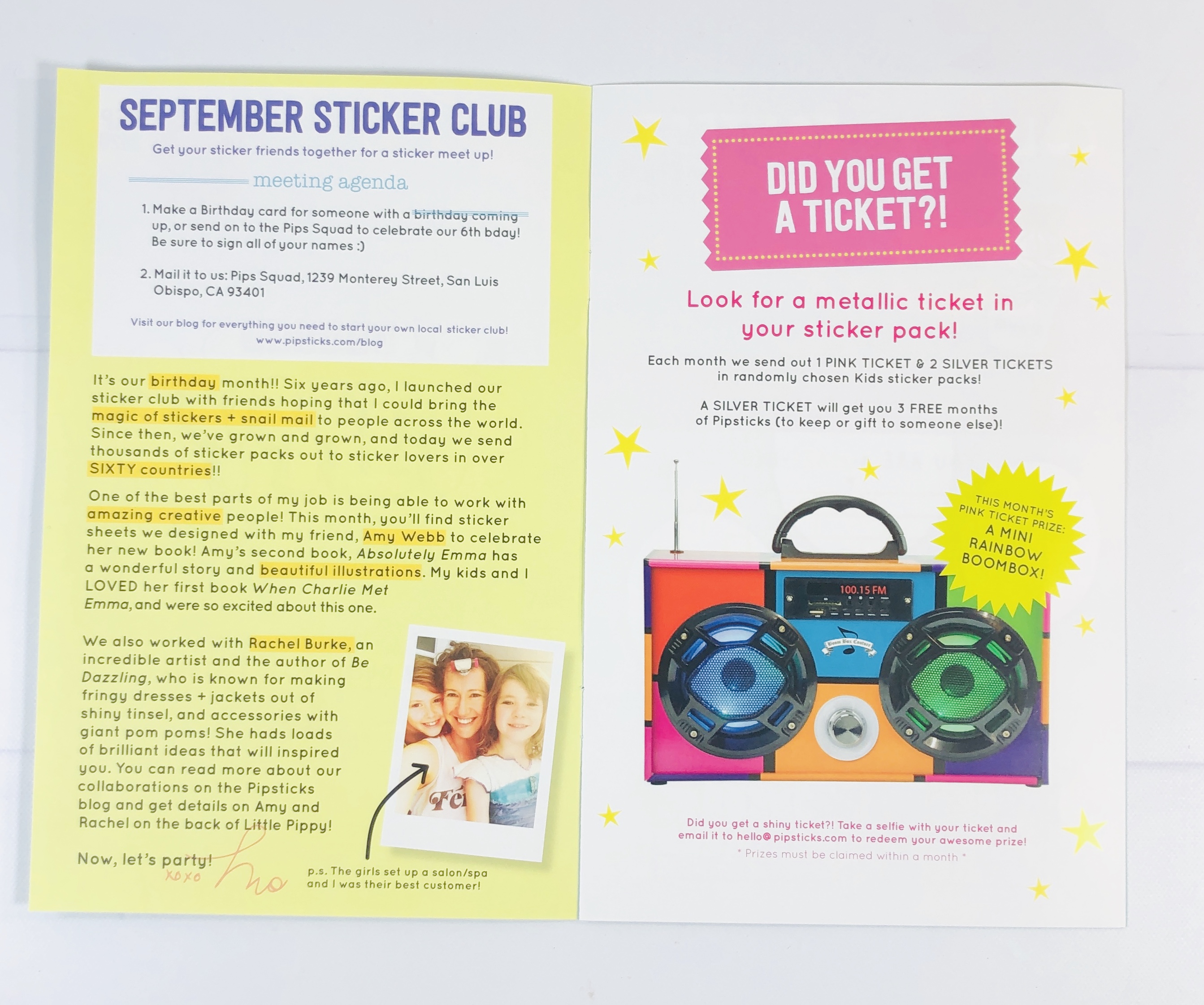 The booklet suggested meeting friends for a sticker club and making birthday cards – it's Pipsticks 6th birthday this month! There was also info on the monthly giveaway.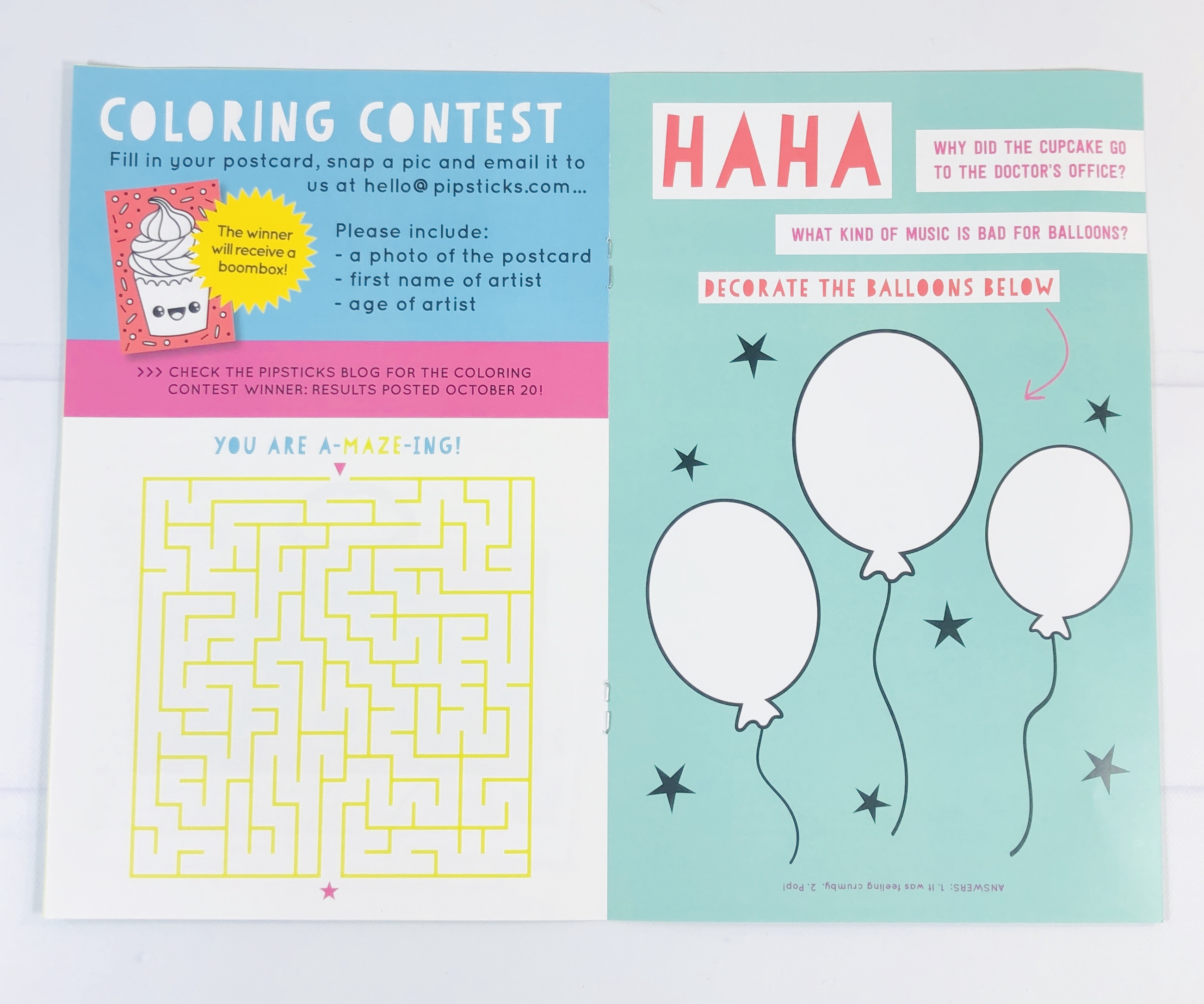 Info on the coloring contest was on this page, along with a decorating activity.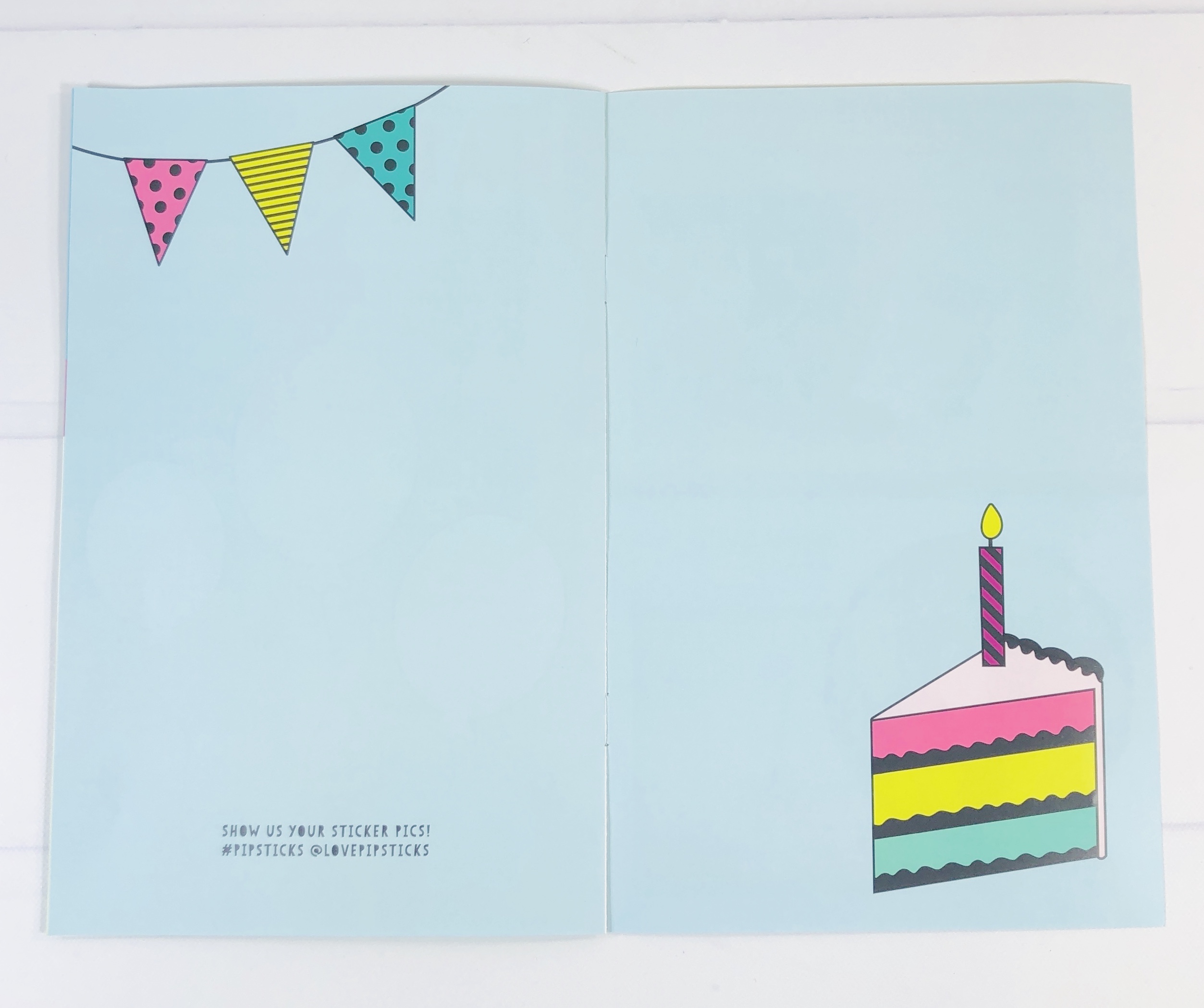 Decorate this page with some of your new stickers!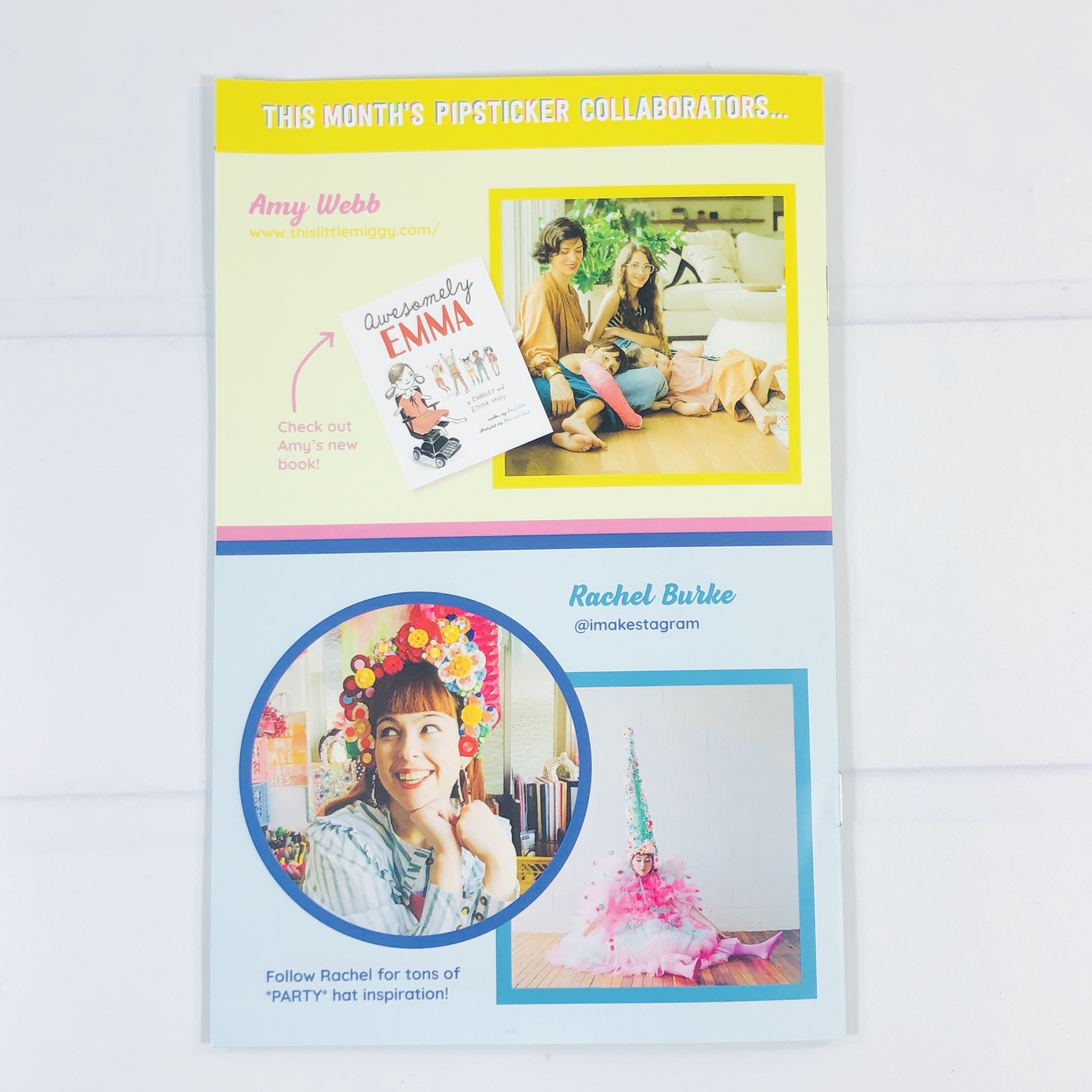 The back page showed this month's collaborators!
My stickers and goodies were tucked into this fabulous holographic zipper envelope. The back of this envelope is shimmery gold stars!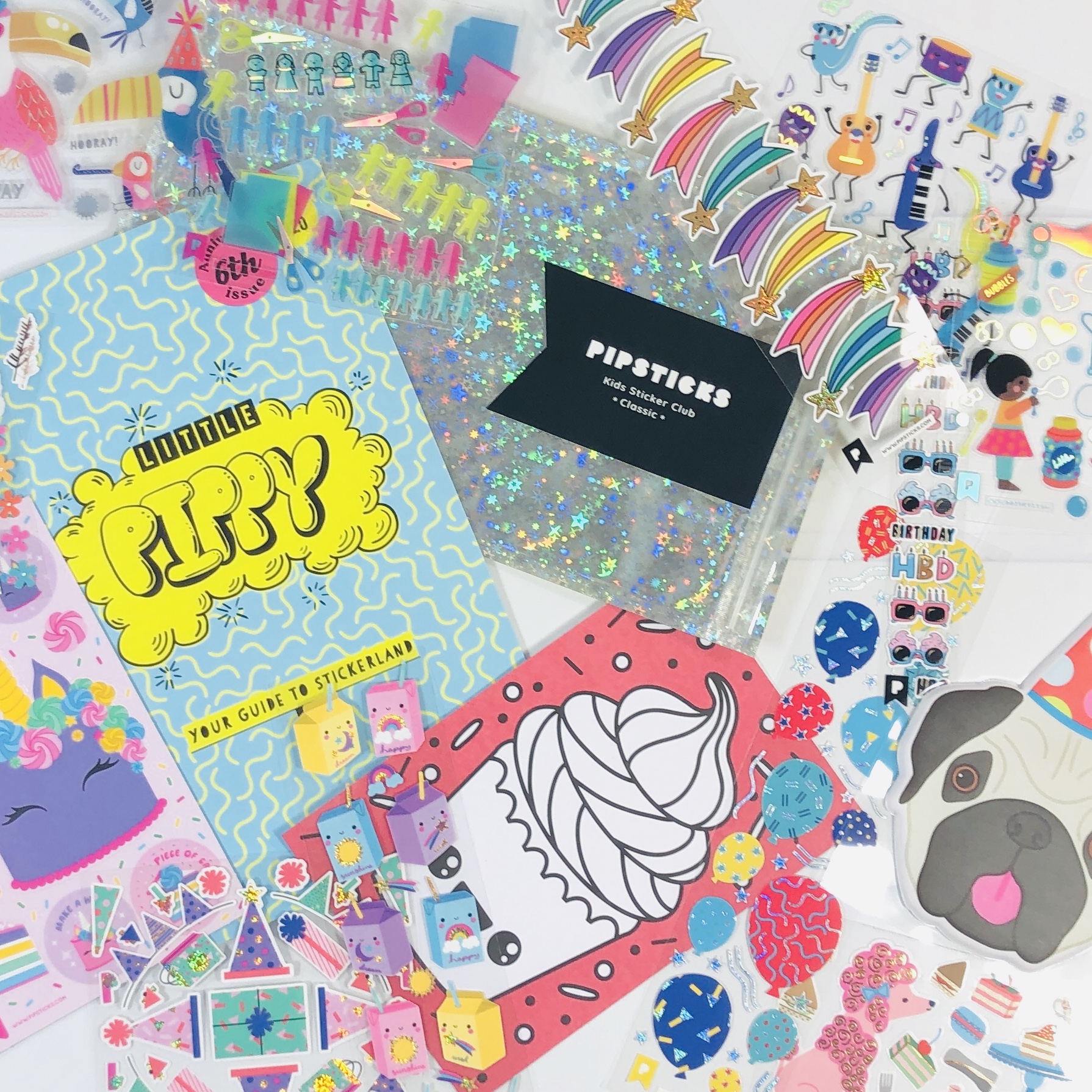 Everything in my box!
NOTE: You might be able to find the items in this month's pack in the Pipsticks online shop in the following month. They sometimes have previous packs available too.
Big Puffy Party Pug ($5.95) They aren't kidding when they called this big – it's 5.75″ tall!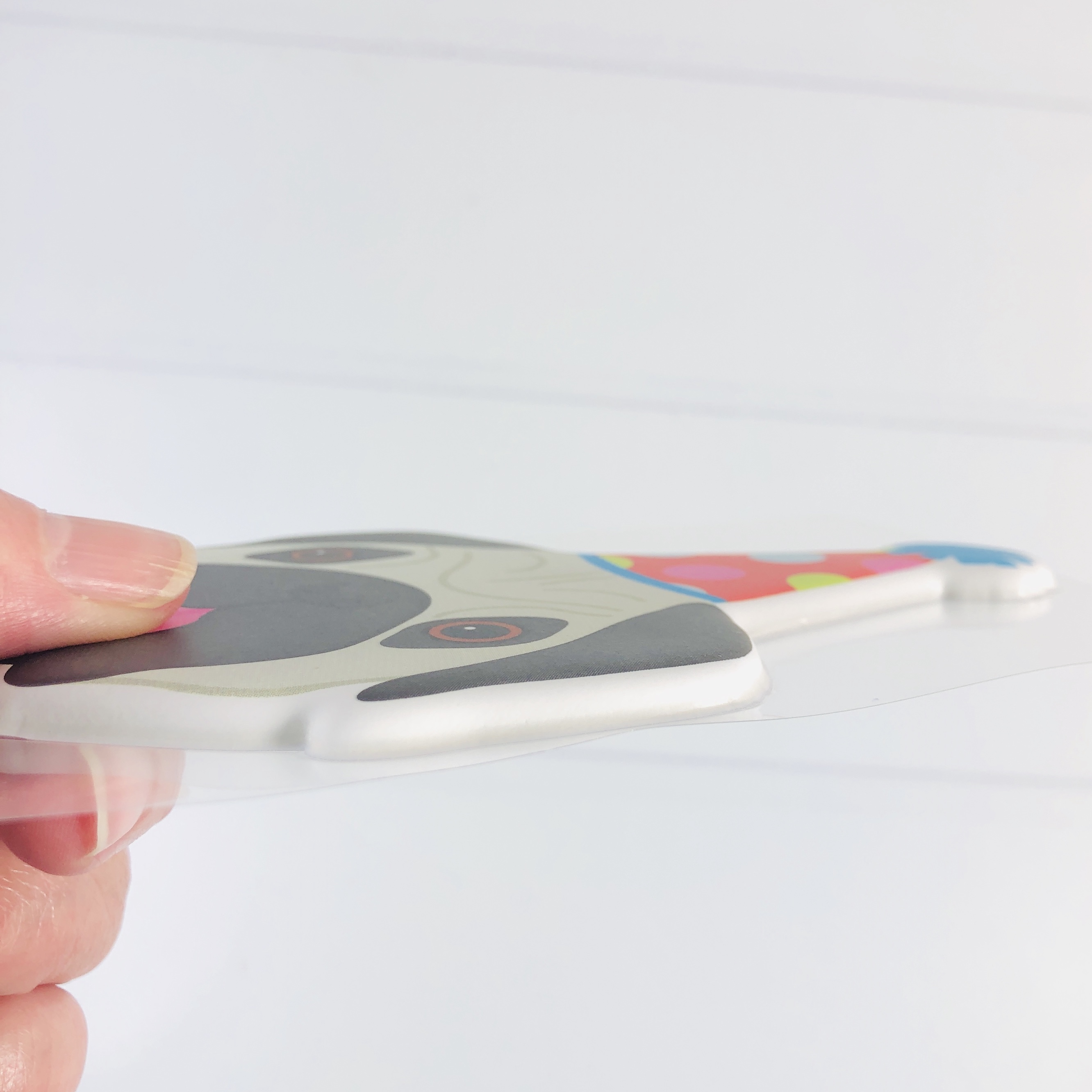 It's pretty thick too. I love his party hat!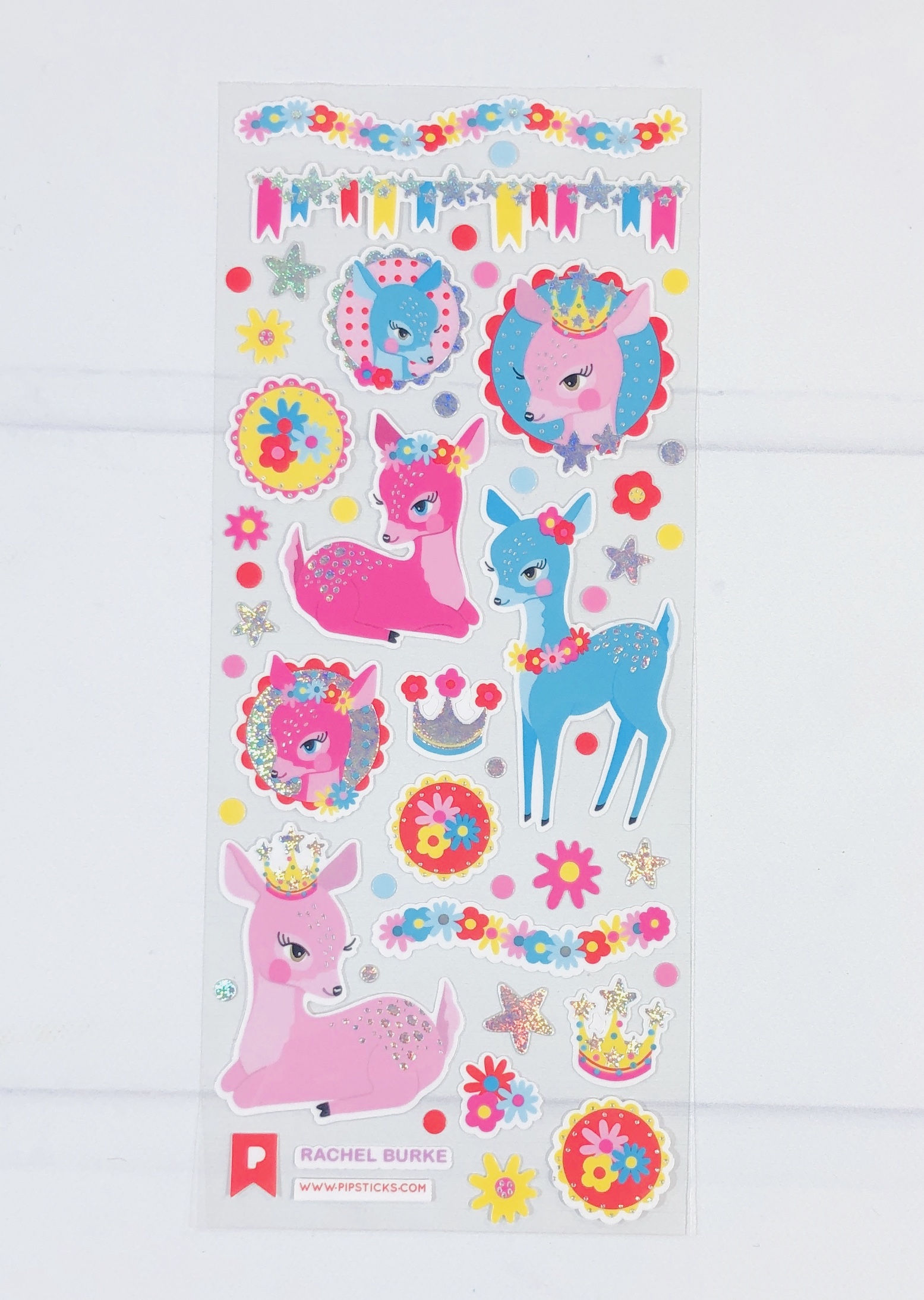 Little Deers by Rachel Burke ($3.95) is an exclusive Pipsticks sheet made by one of this month's collaborators. I like the faces on the deer, so sweet! PVC with silver glitter foil accents.
Bursts of Bubbles ($2.95) I was a preschool teacher for years and kids today still love blowing bubbles. PVC with holographic silver foil accents.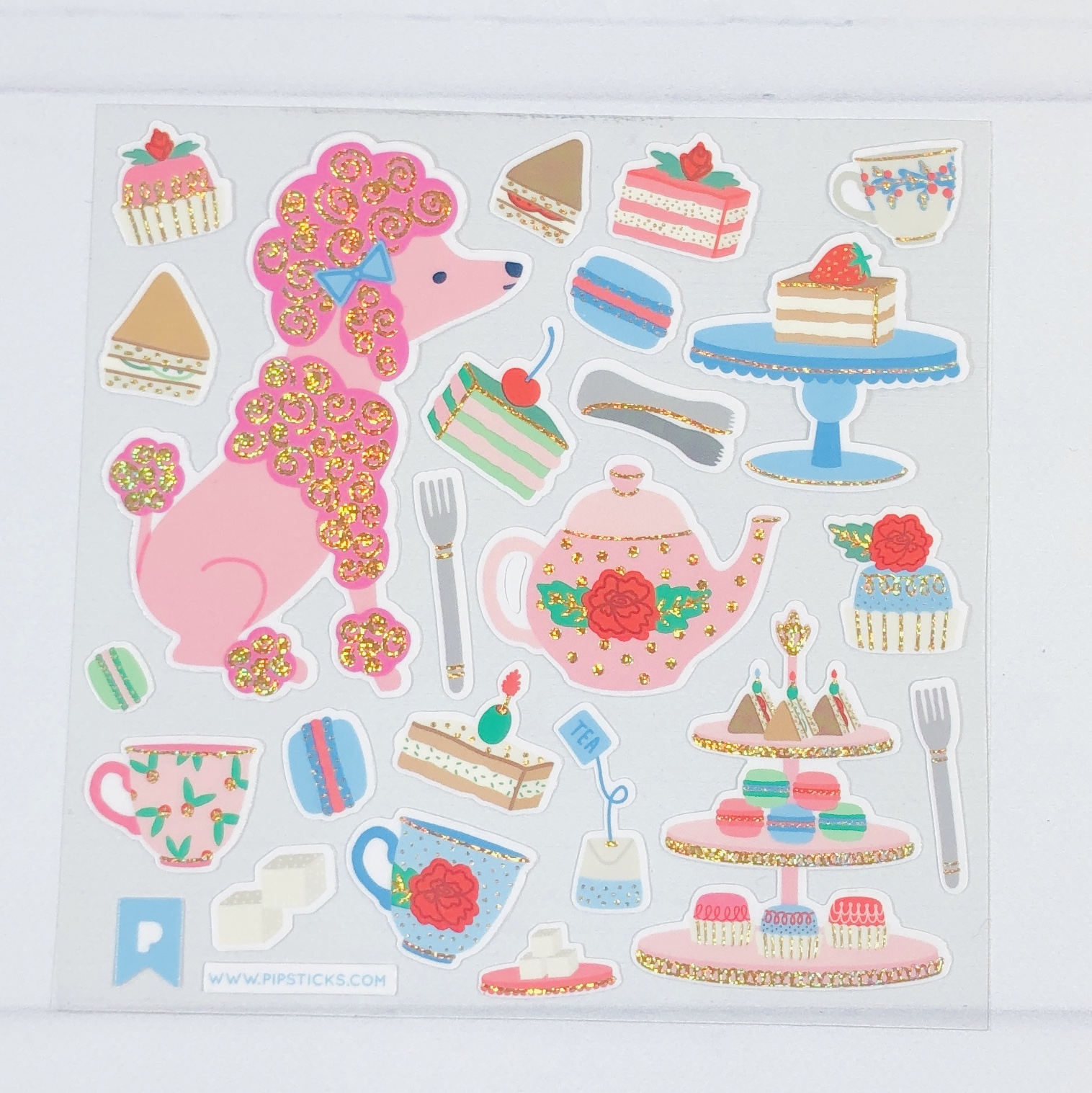 Poodle Patisserie ($2.95) has a pretty pink poodle with sweets from a French bakery. Who else besides Pipsticks does macaron stickers? Beautiful! PVC with gold glitter foil accents.
Juice So Happy ($2.95) has kawaii juice boxes with sweet little faces. I bet kids would drink more milk if they came in cute boxes like this! PVC with gold glitter foil accents.
You're A Cut Up ($2.95) features paper dolls. I never could figure out how to make these when I was a kid, but I can sure make a unique snowflake! PVC with holographic silver foil accents.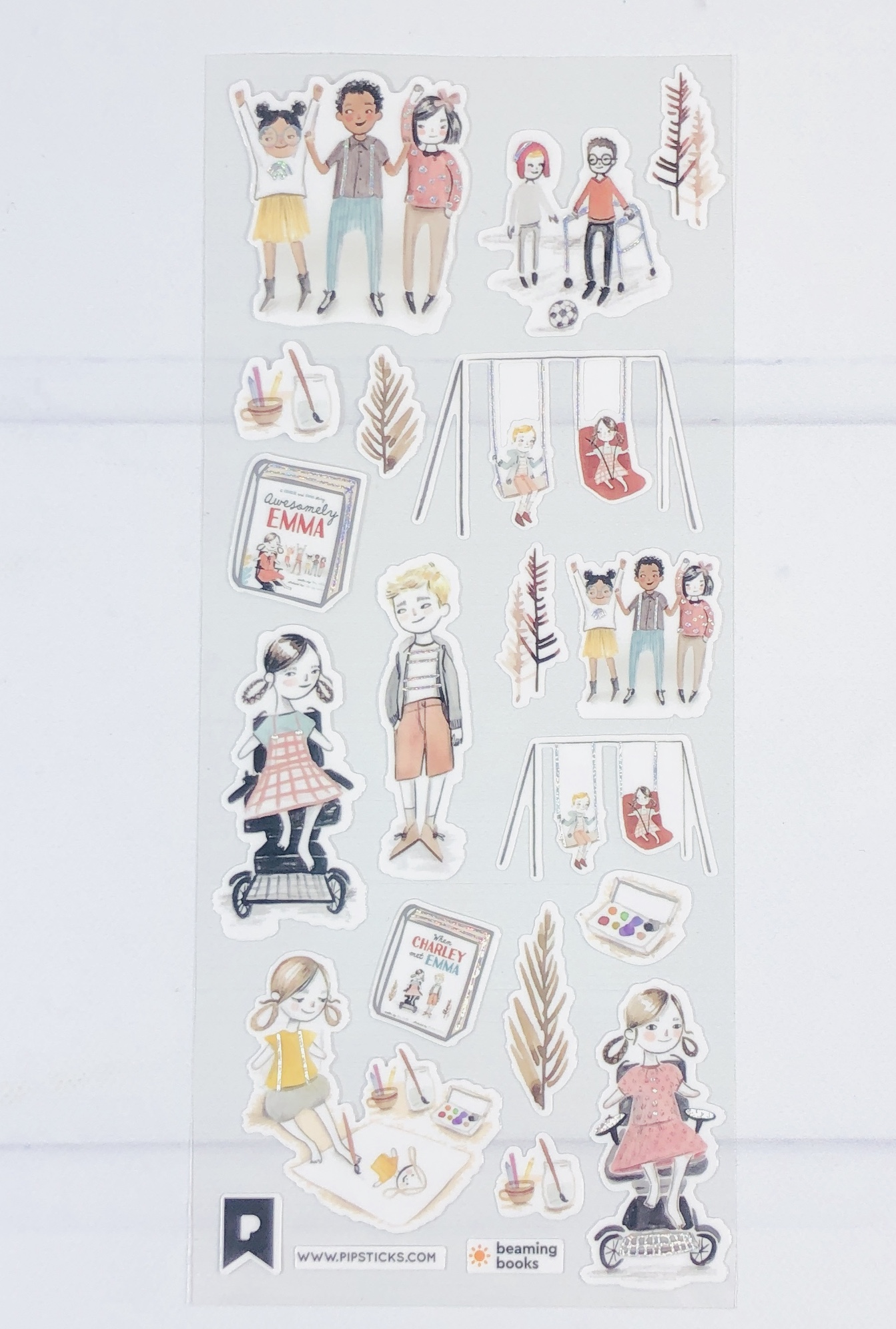 Emma's World by Beaming Books ($3.95) is another exclusive collaboration and is based on a children's book that raises awareness about people with disabilities. PVC with silver glitter foil accents.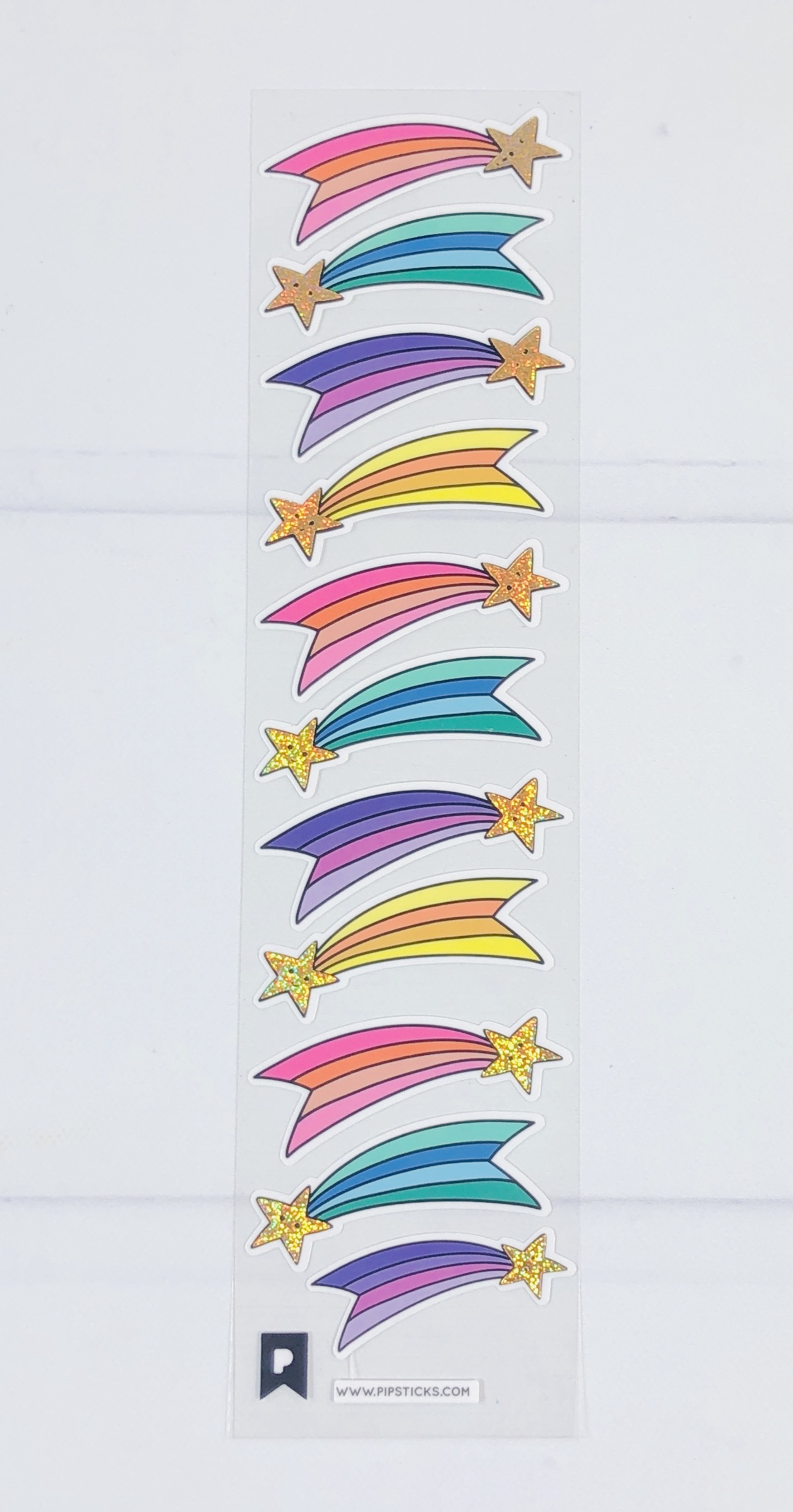 Superstars ($2.95) has lots of shooting stars with rainbow colored tails. PVC with gold glitter foil accents
Dance Band ($2.95) Look at all of those instruments dancing, they look wild! PVC with holographic silver foil accents.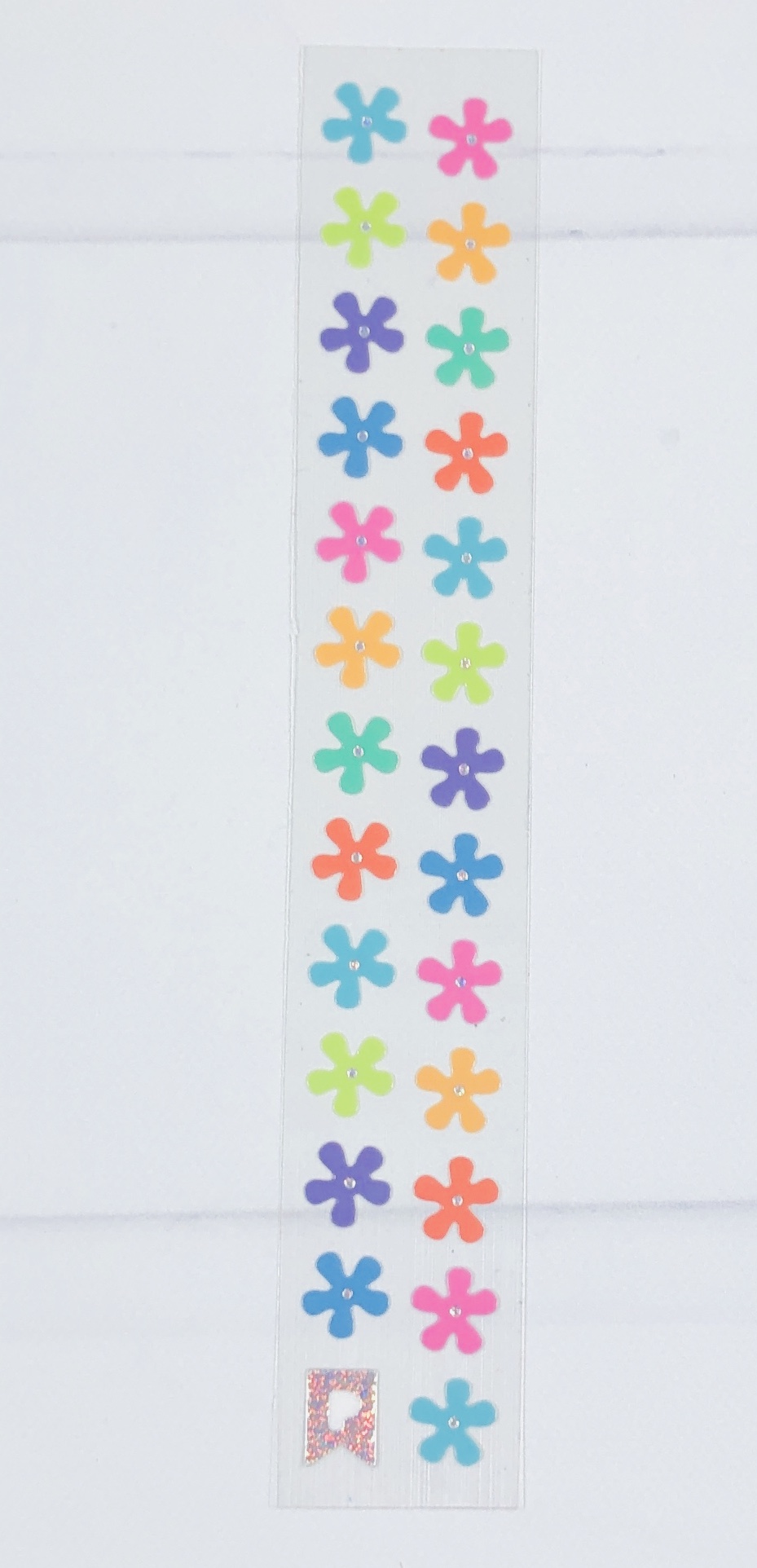 Hibiscus Minis ($1.95) remind me of the flowers that decorated the set of 1970's game show The Dating Game. PVC with silver glitter foil accents.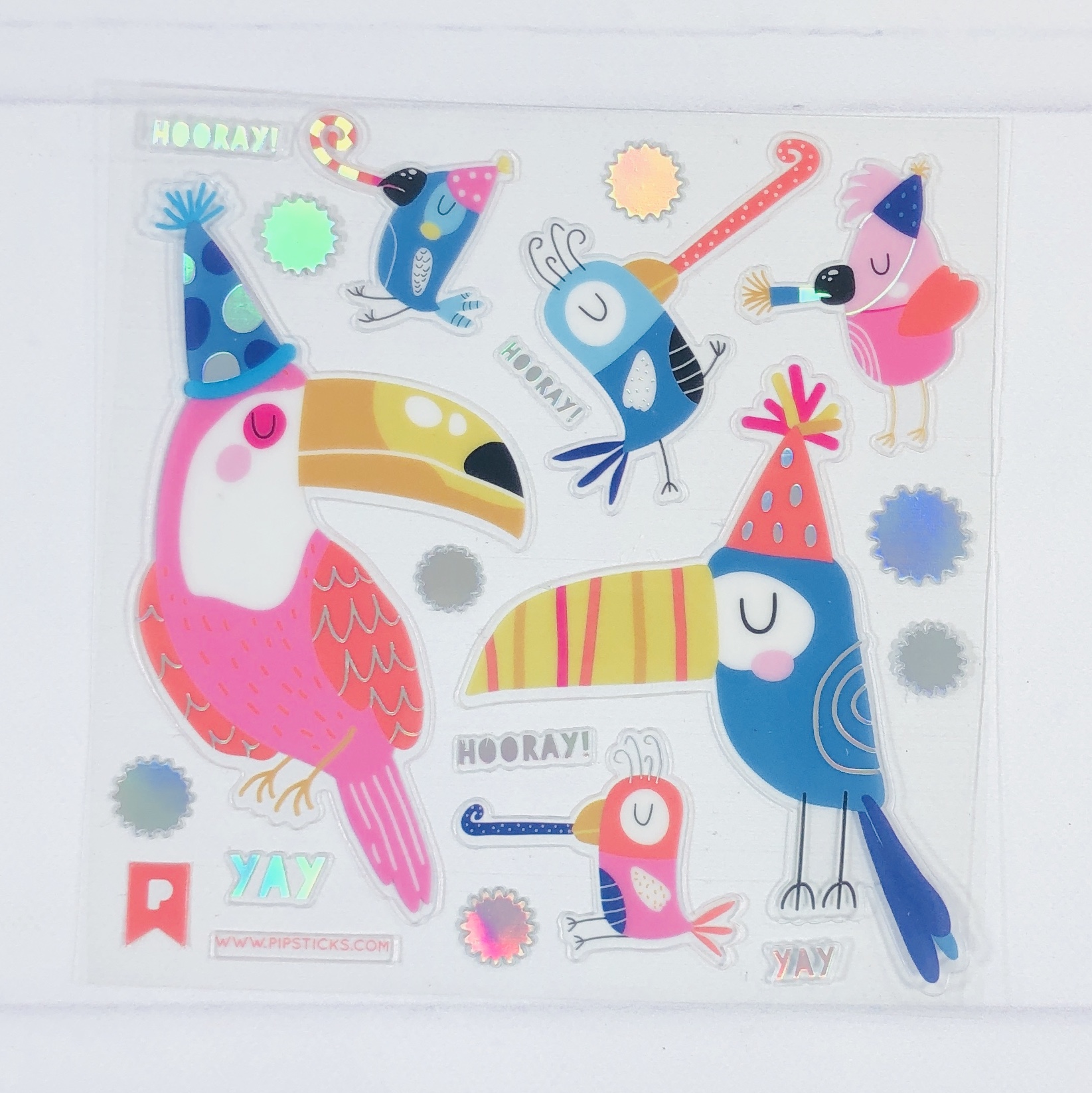 Toucan Tango ($2.95) look like they are ready to celebrate Pipsticks Birthday! PVC with holographic silver foil accents.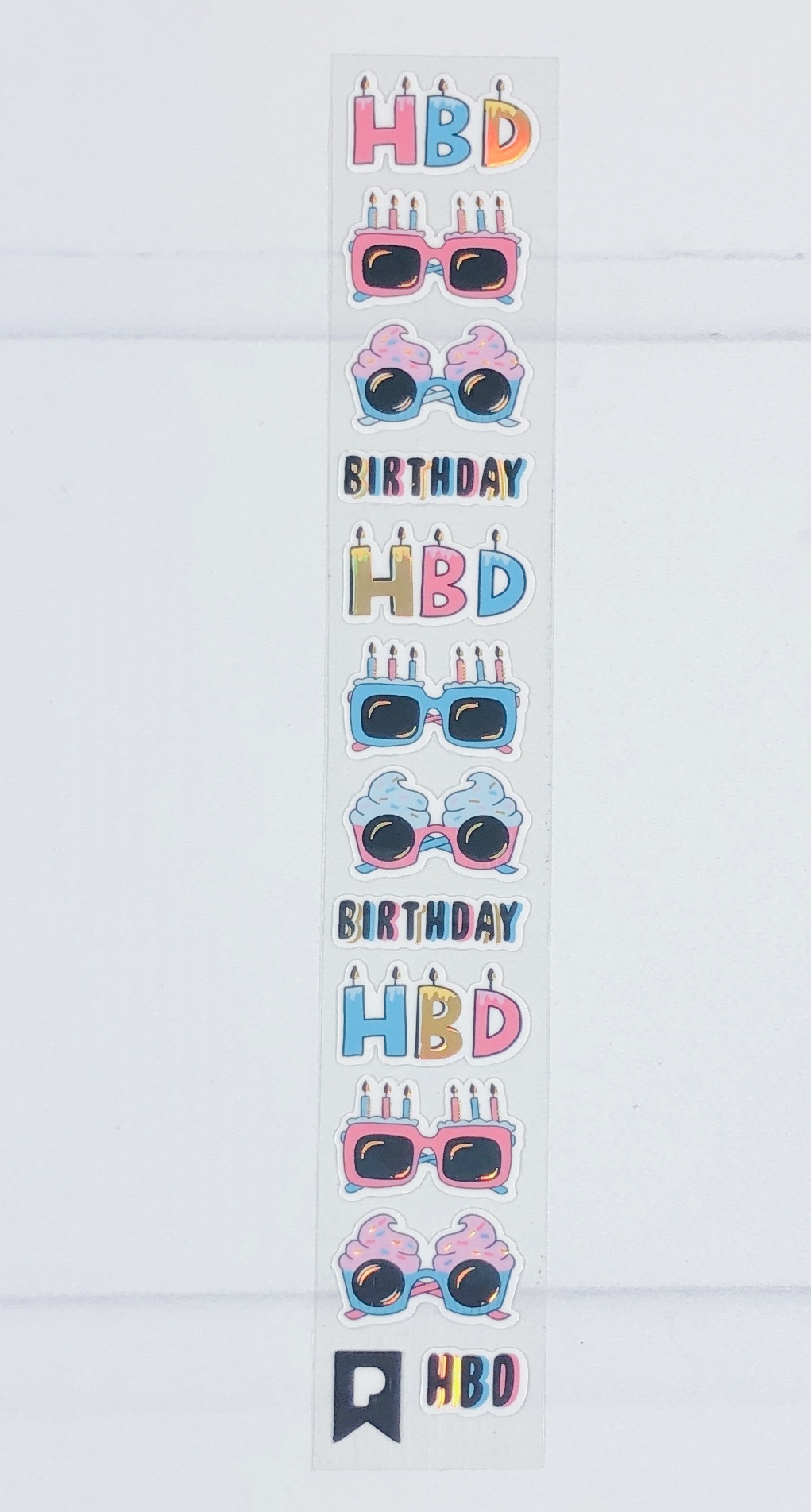 Happy Birthday Minis ($1.95) shows funky looking glasses, perfect for sticker bombing a card for a friend. PVC with gold foil accents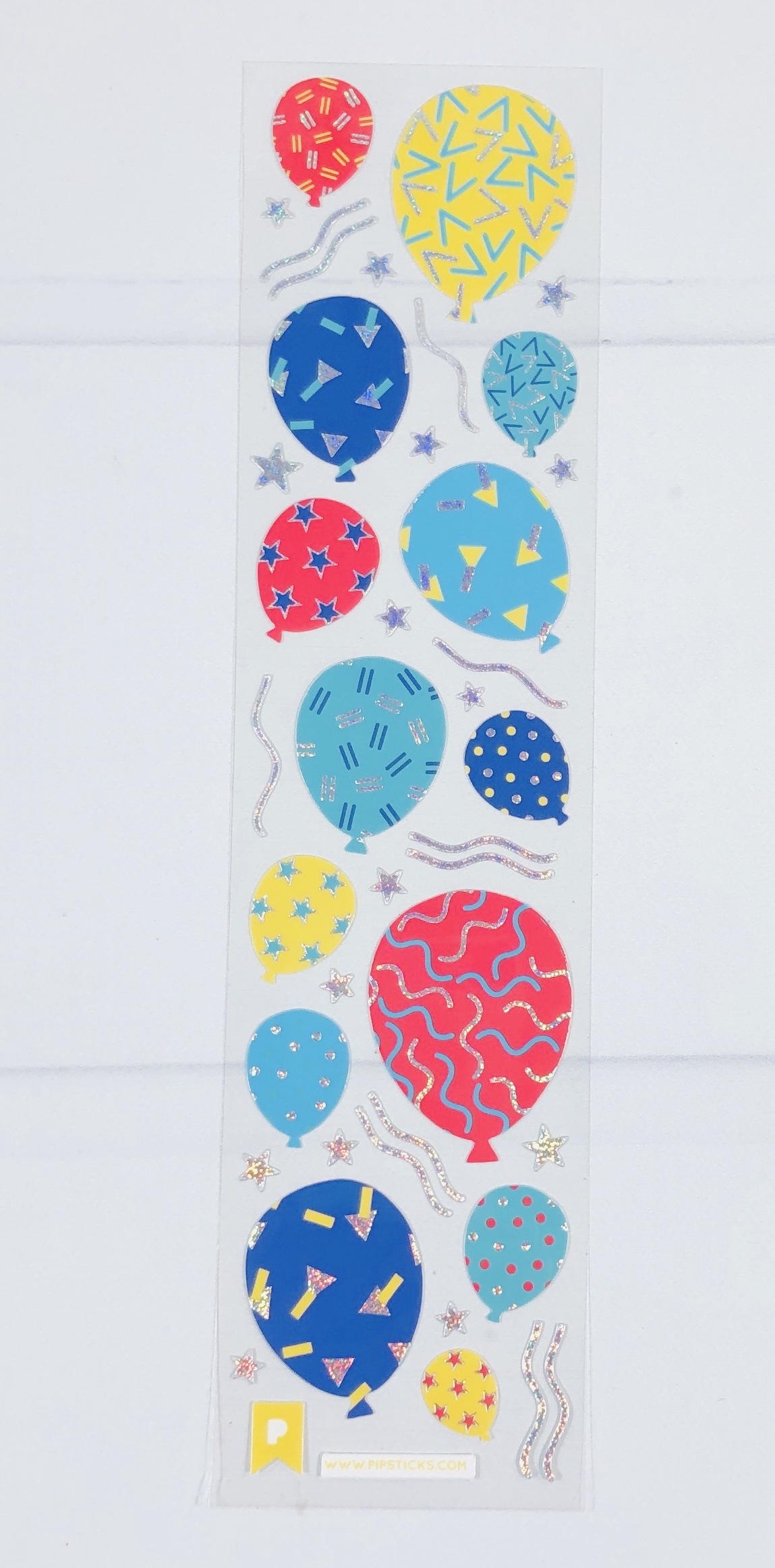 Up In The Air ($2.95) I think these are beautiful balloons and are pretty decent in size. PVC with silver glitter foil accents.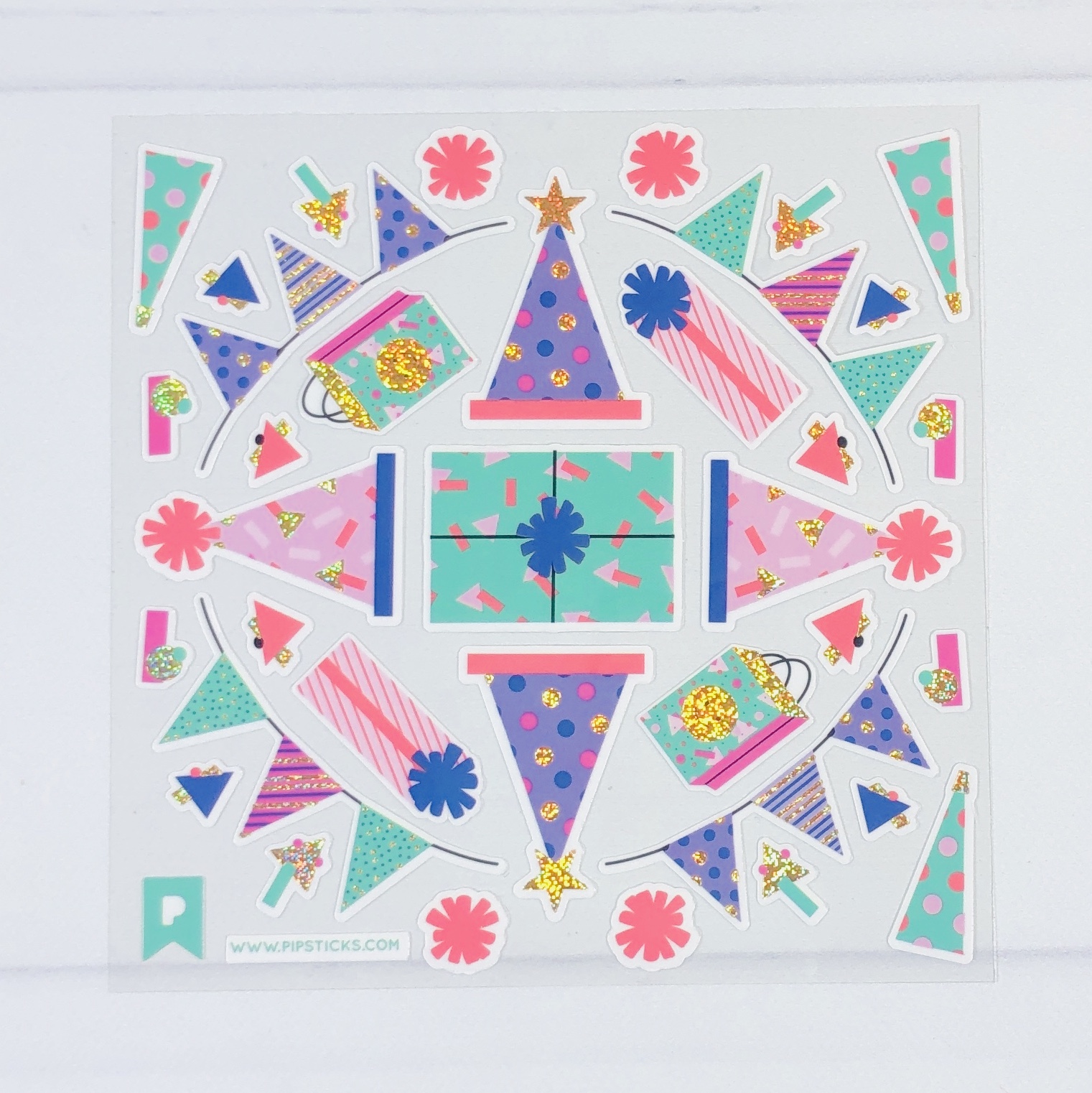 Party Props ($2.95) let you pick pink or purple party hats and lots of deco choices. PVC with gold glitter foil accents.
Unicorn Cake Scratch 'n Sniff ($3.95) are super adorable and are supposed to smell like vanilla cake, but mine smells more floral than anything.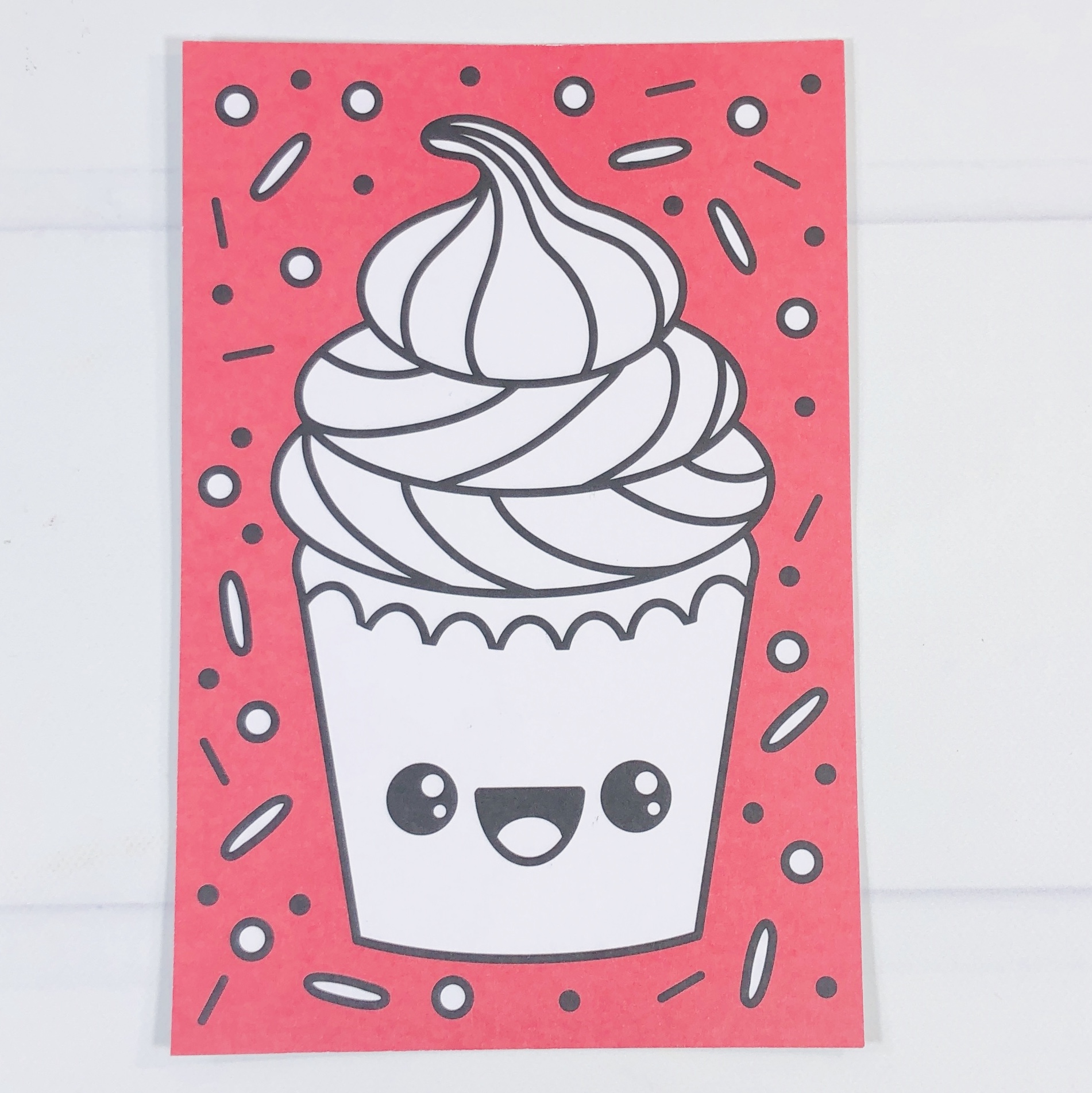 Cupcake Postcard is perfect for sending to a friend, but make sure to decorate it first with colors and stickers!
Pipsticks is celebrating a birthday but we got all kinds of birthday party and celebratory stickers this month! Pipsticks sends such adorable designs and I love the metallic and glittery effects that adorn almost every sticker sheet. These are perfect for letting kids decorate cards, notebooks, walls, wherever you allow them to use stickers basically and of course adults might want to keep some for their calendars and planners!
Are you getting any of Pipstick's subscriptions?